---
Hillary Clinton as a neocon warmonger
The only area in which she is highly qualified in selling out the American people to globalists. This despicable Wahhabism appeaser who tries to pretend to be a fighter for women rights voted for Iraq war, was the butcher of Libya and Syria. To rail against the Republican War on Women, while accepting millions in "donations," from despotic Middle Eastern regimes that stone women for adultery is the height of hypocrisy. She was instrumental in killing thousands of women and children. Her addiction to Wall Street money and Saudi money is impossible to break.
"Hillary Clinton will say anything to get elected, and nothing will change."
-- Barack Obama, 2008
Version 3.1, Aug 21, 2016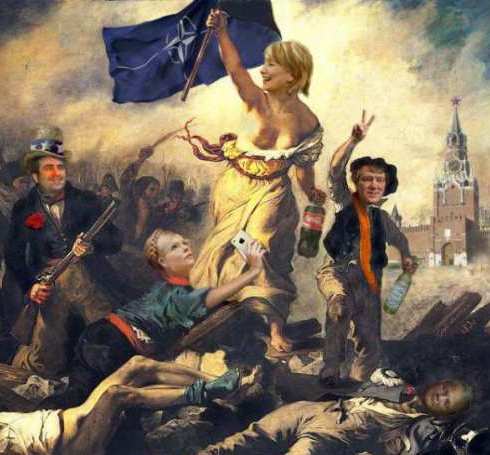 ---



Voting for Trump is like playing Russian Roulette with 3 bullets in the revolver. With Hillary, there are 5 bullets and a blank that will probably kill you anyway.

The Guardian, Jun 19, 2015 (from reader comments)

...voters see Hillary as just Obama 2.0... Those voters see the growing gap in American society that requires some serious remedies that Sanders is proposing, and they know that Bernie is not going to shift his priorities because of some corporate, Wall Street advisor or from lobbyist pressure. And they know he's not a flashy personality but what you see is what you get.

From comments to the article Sanders, O'Malley race to be the Clinton alternative - The Washington Post, July 4, 2015

Plain and simple, Hillary is a corporatist. Her five top donors are:

Citigroup Inc: $782,327
Goldman Sachs: $711,490
DLA Piper: $628,030
JPMorgan Chase & Co: $620,919
EMILY's List: $605,174

Comment from Grassroots movement working: Bernie Sanders gains on the Clinton machine Guardian, Jul 03, 2015]

As usual, the Clintons are sleeping with the enemy (corporate campaign cash and all its strings) so soundly that they become difficult to distinguish from the enemy.

Comment from Grassroots movement working: Bernie Sanders gains on the Clinton machine Guardian, Jul 03, 2015]
The Neoliberal globalization indeed is like proverbial king has no clothes fairy tale. But it is up to us to hold the current neoliberal elite accountable for the communist style deception of rising standard of living for all (promising neoliberal paradise on Earth) and robbing middle class under "free market" (why not "fair market?" ) rhetoric.
In 2016 the ruling Washington elite, all those Neocons and Neolibs, made their bet on Hillary Warmonger Clinton. And they still dominate the US political landscape. But she isn't exactly loved by the American People (approximately two third of voters do not trust her). In 2016 most American people want to throw out the Washington-entrenched neoliberal elites, who led the USA (and the world) into such a mess, while assuring them that everything is fine. Including king of "bait and switch" Obama, who is salivating about getting his 20 silver coins in private equity industry after leaving White House. But so far neoliberalism as a bipartisan political force (dominant in both Republican and Democratic parties) was too strong and managed to crush any resistance (for example, "Occupy Wall Street" movement), or institualize and immaculate them (like they did with Tea Party). If you did not see Trump Ad Hillary Clinton Crooked Warmonger (YouTube) I recommend you to watch it. It catches the main point: Stakes are too high to elect a neoliberal globalist warmonger like Hillary Clinton
The current situation in Democratic Party, which became a wing of a single "the Neoliberal Party of the USA" (much like the Communist Party in the USSR) is completely absurd. There is nothing even remotely Democratic in its platform. This is a pure neoliberal party. Since Bill Clinton administration the elite game plan as for trade unions and democratic working-class voters was: "they have nowhere to go, so let's f*ck them hard". And this game plan was executed perfectly fine for 25 years or so (since Bill Clinton presidency). No more. enter Donald Trump, the first challenger of neoliberal status quo. Now voting against Clintons became middle class version of showing middle finger to official Washington or a good practical joke on a sick neoliberalism-dominated political system. In other word, the dominant vote in November 2008 election will be the protest vote. The vote against, not for. They do want to show the middle finger to neoliberal establishment. That means voting against Hillary. That's the main distinction between 2008 and 2016 elections. Obama was still able to fool the voters with his "change we can believe in" crap and sell the middle class down the river to neoliberals the day after elections. But as unforgettable George W Bush uttered: "There's an old saying in Tennessee — I know it's in Texas, probably in Tennessee — that says, fool me once, shame on — shame on you. Fool me — you can't get fooled again."
Still during primaries she somehow managed to court southern Democratic establishment and get (real of fake, we do not know) minorities votes. She also riles on staunch feminism (first female president, dream of all girls in the USA and similar nonsense, as if gender matter more that principles). Add to this the fact that neoliberalism still strong and translational corporation still control the US political system and you understand that she still has chances.
But she probably organically unable to attract undecided voters, due to her character flaws, scandals and crimes against peace. So to win she needs to demonize Trump. That's why shills for Democratic Party try to present Hillary as lesser evil then Trump. But Hillary is a war criminal of a type that in the recent past went to Nuremberg tribunal and as such she represents absolute zero (much like Kelvin scale absolute zero in temperatures) of evilness of politicians. She committed what Nuremberg tribunal called "crimes against peace" (Nuremberg Trials - World War II - HISTORY.com)
The Allies eventually established the laws and procedures for the Nuremberg trials with the London Charter of the International Military Tribunal (IMT), issued on August 8, 1945. Among other things, the charter defined three categories of crimes: crimes against peace (including planning, preparing, starting or waging wars of aggression or wars in violation of international agreements), war crimes (including violations of customs or laws of war, including improper treatment of civilians and prisoners of war) and crimes against humanity (including murder, enslavement or deportation of civilians or persecution on political, religious or racial grounds). It was determined that civilian officials as well as military officers could be accused of war crimes.
You just can't be more evil. She was instrumental in destroying two countries (Libya and Syria), and killing hundreds of thousand civilians by unleashing civil wars in those countries. organizing two color revolutions (in Russia (failed) and, via her protégé Victoria Nuland, Ukraine (succeeded, and brought country into civil was, destroying the standard living of population) Aggressive wars are simply, as Jackson said at Nuremberg, the supreme international crime. You can't go lower then this. But neoliberalism like communism before does not accepts the legitimacy of any other social system. It want to convert all of them into global neoliberal empire led by the USA. So if a neoliberal is elected wars of neoliberal conquest are given. As Jill Stein aptly said "Terrible things we expect from Donald Trump, we've actually already seen from Hillary Clinton" and I would add we would expect "more of the same".
Both Trump and Hillary are questionable candidates, but Hillary in addition to all her warts as a person and a politician does have a very questionable health ( reminding me a couple of candidates for the position of General secretary of CPSU from Politburo of CPSU just before dissolution of the USSR).
The President does have primacy in deciding the direction of the USA foreign policy, as Congress was eliminated from this areas. Including launching wars of neoliberal conquest. From this point frail warmonger Hillary Clinton should scare hell out of an average US voter. But this is not the case because due to smoke screen of neoliberal propaganda an average US voter sees the US aggressive wars as defensive. Is it fair to consider such US citizens as delusional? Or if they were merely massively and comprehensively brainwashed?
The key question is that like in Iraq war the neoliberal dominated air scale -- via their propaganda outlets such as ABC, CBS and NBC. Is the Trump campaign able to sustain more then 200 days of 24 x 7 bombardments with disinformation and character assaults remains to be seen. Which during the last 100 days will be the most vicious. Is he smart enough to wage and sustain a campaign of counter-disinformation warfare remain to be seen. He has money to do so. That necessitates that he and his team be smart enough to "beat Hillary's teeth out of her mouth" on the topic her disastrous record both in foreign policy area and domestically. Those are very interesting questions (sic_semper_tyrannis, July 29, 2016).
Jack said in reply to Old Microbiologist...

OM,

"delusional citizens in the US see our aggression as defensive".

This is what happens when citizens have been propagandized for so long. And folks are inherently lazy. They'll buy into whatever whoever they trust say. Do you recall the majority of Americans believed that Saddam had WMD and was in cahoots with AQ and supported the invasion where we would be treated as liberators?

The first time in the recent past there is any dissonance in public discourse has been with Trump.
This time it looks like a good time for the working class voters as well as white collar jobs holders who are threatened by outsourcing to take their revenge at the polls. They now understand that they were taken for a ride by neocons and will never see promised by neoliberal propagandists "prosperity for all", only redistribution of wealth up at their expense. And paying for the wars of neoliberal expansion which benefited global corporations. But how many people understand the complex mechanism of impoverishing the county via neoliberal mechanisms and cur throw the thick smokescreen of neoliberal propaganda remains to be seen. Democratic primaries made me skeptical. Looks like enough Democratic voters were brainwashed to vote for Hillary. Here behaviour of the most dishonest of Democratic neoliberals -- the king of "bait and switch" Obama might help Trump if he continue to push for TPP. The fact that he betrays people who elected him twice in best Bill Clinton traditions can help Trump. Now Obama wants to became a venture capitalist himself, after he leave the position of POTUS. Such a "change we can believe in" ;-). But alternative to neoliberalism, which in the USA took the form of Paleoconservatism is still weak ideologically and financially. Also Trump do not adhere 100% to paleoconservative doctrine, although he comes close in foreign policy issues.
Hate that Hillary candidacy generates is connected not so much with her ugly personality and semi-criminal past, but mainly with the very real concerns over the impact of neoliberal globalization on lives of ordinary Americans, including a part of upper middle class. Lowly Untermensch which, as the US elite ("Masters of the Universe") thought are forever brainwashed and suppressed, recently started to show some signs of independent thinking and neoliberal MSM brainwashing suddenly lost at least 80% of its effectiveness. Most people now understand that neoliberal globalization is not much more than a scheme to cut labor costs with a think smokescreen of promises. The younger voters reject Hillary because they understand that she is a corrupt part of the old guard of neoliberal politicians serving the transnationals and financial oligarchy and will vote for candidates who serve social justice, or not vote at all.
Unemployed programmers, system administrators, oil and gas drillers and trackers, and other professionals (especially over 50) which skydive, say, $120K to $20K a year now are quite typical example of shrinking middle class. And in no way they will vote for Hillary. Moreover her ideological platform now sucks: the key tenet of neoliberalism which like socialism professed that the masses will get better with time, became another discredited illusion. And population became restless much like population of the USSR in 80th.
It may not be obvious to the political and media elites living in their hallowed, protected homes in privileged areas. A new aristocracy, if you wish, as detached from people needs as old ("let them eat cakes"). An increasing gulf between this rich "establishment crowd" , and those who have to live at the sharp end of neoliberal globalization led to the situation, which probably can be called a "revolutionary situation". The blind rage that characterized the first days of the US anti-establishment movement now have given way to political awakening. Which the current elite is unable to suppress and attempts to "bait and switch" voters, while were successful with Obama, now might not work. Brexit had shown that genie was let out of the bottle. There are several sides of any revolutionary situation:
The elite can not govern "as usual" and experience the crisis of legitimacy (the rejection ob Jeb!, Cruz and Rubio by Republican Party is nothing else but the crisis of legitimacy; the same is true for the number of votes that Sanders got in Democratic presidential contest against much better financed Hillary ( supported by the full power and the bag of dirty tricks of Democratic Party establishment). GB population vote for Brexit is nice illustration of this. Despite deafening propaganda from MSM the elite failed to brainwash people in secure the desirable outcome. British voters delivered a stunning repudiation of neoliberalism and austerity, the rejection of the legitimacy of their current political and economic elites A crippling blow to the neoliberal paradigm of globalization with its conversion of weaker nations into debt slaves, and huge speculative capital flows. With citizens reduced to consumers who have to fend for themselves in markets. And increasingly atomized, isolated workers at the mercy of employers who are determined to reduce labor costs and hoard the benefits of productivity gains for themselves.
The lower 90% no longer want to live "as usual" and became politically active and not only refuse to support the establishment candidates, but also provide more and more active support for their own candidates. They start rejecting "status quo" despite all the power of propaganda applied to quell them.
The elite itself became split and form several competing groups with at least one group which wants to challenge the "people at the top" (Sanders in the Democratic Party, Trump in the Republican Party) . See Elite [Dominance] Theory And the Revolt of the Elite and The Iron Law of Oligarchy. The last time such a revolt happened over "New Deal capitalism" during which neoliberal elite took power and eventually managed to cement their dominance with the election of Reagan in the USA and Thatcher on the UK. Now this elite find itself under the attack and the level of hate toward Hillary reflects the level of rejection of neoliberal elite by the society.
The ideology which brought the current elite to power became rotten. This is just another side of the crisis of legitimacy of the elite mentioned in above. That happened with Marxism in the USSR which in late 80th became completely discredited, this is now happening with the neoliberalism in the USA (which actually became dominant only in 1970th, or less then 50 years ago, so it will not give up without fierce fight; Marxism in the USSR lasted more then 70 years)
It is important to understand that it is not sufficient for lower and middle class realize that they are robbed by neoliberal elite. It is also necessary that the neoliberal elite experience a crisis of governance, the dramatic loss of legitimacy that make possible for demand of lower 90%, which typically suppressed, to enter the political scheme, iether via violent protests, civil disobedience or movement like "Occupy Wall Street" or anti establishment candidates on election of via referendums such as Brexit. In other words there should be the "crisis of confidence" in American government, values, and way of life, as the public expresses doubt in a better future for their own children.
This is the time when a considerable increase in the political activity of the loser 90% usually sedated and poisoned with consumerism and neoliberal ideology. Looks like opium of neoliberal ideology no longer works, or, at least, does not work as efficiently as before.
Opium of neoliberal ideology no longer works, or, at least, does not work as efficiently as before.
It is clear the Hillary is a quintessential establishment candidate, who will never voluntarily adopt any progressive, pro-middle class policy. As Obama noted, she will promise anything during election campaign in order to be elected, but she will never deliver. She is the same neoliberal sellout as her husband. Bill Clinton switched Democratic Party platform (and ideology) from the policy of Americanism (or "America first" in Trump terms) – focusing on what's good for America's middle class – to a policy of globalism (to neoliberal ideology), focusing on how to make more money for large corporations who can move their wealth and workers to foreign countries all to the detriment of the American worker and the American economy. Essentially he sold Democratic Party to Wall Street (and due to "Triumphal March of neoliberalism" after dissolution of the USSR he was followed by several other politicians in other countries doing exactly the same thing, like Tony Blair in Great Britain). While rise of Neoliberalism since the 1970s was partially a consequence of the deep, even "revolutionary" (Internet and global communications) changes in the world economy, it requires stooges to dismantle New Deal protections. Bill Clinton was one of such stooges, probably the most highly placed one. Neo-liberal counterrevolution lasted till 2008. At which point it proved to be a fiasco -- market failed to behave as self-regulating organism. Even the most hard nose-neoliberals, managers of big banks as well as representatives of the Bush-administration were urgently infusing billions to save neoliberals from themselves. But Hillary like many other neoliberals behave like in famous Talleyrand quote about the restored Bourbon dynasty "They had learned nothing and forgotten nothing". She remains a staunch neoliberal and, worse, a stanch neocon. Which is not surprising as her own wealth and "pay for play" deals via Clinton Foundation are closely connected and depend upon the success of neoliberal globalization.
In other words Hillary Clinton is the candidate the Republicans wished they had been able to field. A Kissinger protégé, a chickenhawk with bad instincts on the foreign policy front. A woman who can't wait to start a new war, who wants her sexually obsessed husband to continue to neoliberalize the US economy, who is more open to compromises with the Republican right then Obama. Despite the fact that Obama never put any fight and always preferred his classic "bait and switch" approach, so it's really challenging to compromise with far right Republicans more then him.
Hillary is the candidate who called the TPP the gold standard of trade agreements. As such she is a dream candidate for Wall Street. And she's counting on the support of Republican refugees rejecting Trump to help her win in November. Which is still possible, despite two major scandals:
Assuming she's the Democratic nominee, Hillary Clinton looks vulnerable. And taking into account her personal history and her real (not fake) beliefs she should be defeated. In a sense I also advocate "Anybody but Hillary" approach here. And not without a reason, taking into account her biography and personality. Please note that the case could be made that, for Hillary Trump is a "threat from the Left."
All her election promises does not worth electrons by which they are transmitted to our computer. This pathological liar will switch to defending Wall Street the moment she elected. That makes debating her more difficult She is way too sleazy and it is just unpleasant to touch her. And it is visibly clear that she was couched to death and some gambits used during debates with Sanders were homework.
In a ways, Sanders campaign at one point looks somewhat of a civil war in the Democratic Party between the neoliberal wing (also called the Third Way (Brairite) aka Clinton wing of the Party -- the dominant wing) and centrist democrats (Sanders is at best a centrist in European metric). Neoliberal wing managed to win. DNC is the core of the neoliberal faction of the party was strongly pro-Clinton by definition. Actually Rachel Maddoff aptly defined that king of "bait and switch" Obama also should be more properly vied as a moderate Republican, not a democrat. And Hillary Clinton is to the right of Obama in foreign policy (she is a neocon, a war hawk, or more correctly a chickenhawk), and is generally on the same page as for domestic policy.
It looks like there is a growing cross-parties consensus with the considerable number of Democrats taking the position "Anybody but Hillary"; along with traditional strong (and totally justified) suspicions toward Clinton family on the part of Republicans. Consensus that, despite being the establishment candidate, Hillary Clinton is not fit to be the President of the USA. There are several problems with her candidacy touching of which is carefully avoided by MSM, which instead provide usual smoke screen of emotionally charged garbage, instead of providing facts on which people can base their judgment about a particular candidate (I guess you cannot out bullshit those guys not matter how hard you try :-). The so-called MSM has become such a parody in their coverage of political issues that it's hard to sort out truth from fiction these days, hard to distinguish an Onion article from a New York Times article.
Here are some important objections against Hillary:
Health issues: Hillary Clinton has serious problems with health, problems that might make the position of POTUS, with the associated level of stress, far beyond her physical capabilities. Despite official verdicts that "she is fit to server" there are several pretty convincing signs that even her tightly regimented Presidential campaign (with very few interview with press) negatively affects her physical condition. She need to release her own health record because there are question about he mental capabilities. She need to have independent neurological evaluation.

Problems with her health (advanced age, history of serious health problems, blood clot removed from her brain, loss of stability, seizures, possible leak of document about her medical conditions ( Hillary Clinton Medical Records Leaked - Real or Fake - YouTube )
Problems with her character (sociopathic features, using deception while defending a rapist of a teenage (12 years old) girl, treating of staff, integrity, compulsive pathological lying, etc)

Hillary Clinton is a war hawk and unrepentant chickenhawk, extremely jingoistic woman who never saw the war she does not like. And who presents a clear and eminent danger of pushing the county into another war. Robert Parry: "...former Secretary of State Clinton has made it clear that she is eager to use military force to achieve "regime change" in countries that get in the way of U.S. desires. She abides by neoconservative strategies of violent interventions especially in the Middle East and she strikes a belligerent posture as well toward nuclear-armed Russia and, to a lesser extent, China."
Hillary Clinton as staunch neoliberal, promoter of neoliberal globalization and neoliberal wars and color revolutions to open the markets for transnational corporations (Iraq, Libya, Syria, Ukraine) or encircle states which do not fully support neoliberal globalization under Washington tutelage. She completely betrayed traditional Democratic Party principles and at best can be called a moderate republican to the right of Eisenhower and Nixon, if not a far right neocon. After 2008 neoliberalism can be viewed as a discredited ideology, that brought a lot of misery to the US citizen, while fantastically enriching the top 0.1%
Political incompetence, history of political blunders. Those two traits comes bungled with the complete absence of principles, constant flip-flopping of important and unimportant issues, pandering to powerful interests, to Israel, etc (voting for Iraq war, her role in Libya invasion and killing of Khadafy ("we saw, we came, he died" )
Corruption, constant attempts to enrich herself at the expense of public, even while occupying the post of Secretary of State, her connection with Wall Street (speeches as a hidden bribe, or advance for future favors, he refusal to publish any of them, etc)
Set of possibly criminal activities

Possible violation by her of Espionage Act and related legal problems within the framework of her private email server scandal
Problems with Clinton foundations and her activities directed to enriching Clinton foundation while being Secretary of State

Her problems as an accomplice of Bill Clinton

Bill Clinton is the person switched Democratic Party platform (and ideology) from the policy of Americanism (or "America first" in Trump terms) – focusing on what's good for America's middle class – to a policy of globalism (to neoliberal ideology), focusing on how to make more money for large corporations who can move their wealth and workers to foreign countries all to the detriment of the American worker and the American economy. Essentially he sold Democratic Party to Wall Street (and due to "Triumphal March of neoliberalism" after dissolution of the USSR he was followed by several other politicians in other countries doing exactly the same thing, like Tony Blair in Great Britain).
Her real role in covering Bill Clinton extramarital sexual activities as well as pushing Monica Lewinsky scandal to impeachment is more clear due to availability of several books on the subject.
Highly questionable Bill Clinton flights to Jeffrey Epstein's "pedophile paradise island" scandal: Bill Clinton identified in lawsuit against his former friend and pedophile Jeffrey Epstein who had 'regular' orgies at his Caribbean compound that the former president visited multiple times ( Daily Mail Online)

Jeffrey Epstein, a financier who was arrested in 2008 for soliciting underage prostitutes
A new lawsuit has revealed how Clinton took multiple trips to Epstein's private island where the latter kept young women as sex slaves'
Clinton was also apparently friend of a woman who collected naked pictures of underage girls for Epstein to choose from. He hasn't cut ties with that woman, however, and invited her to Chelsea's wedding
Hillary Clinton is what you get when a party, sold by Bill Clinton to Wall Street for 30 silver coins (aka 30 million "pension" in speeches and donations) becomes bankrupt of any real ideas other than personal greed. And most probably Hillary Clinton will be the Democrat contender in this Presidential race. Looks like the ruling elite and the Deep State has decided that it is OK for her to be the person to execute their directives. Hillary is preferable to Donald Trump, because the elite is keen on making sure all criticism and political activism is either marginalized or written off as hatred and thus not only dismissible, but worthy of a violent response by government. Criticism of Hillary will be deemed sexist the same way serious criticism of Obama is now considered racist.
She is a nepotism based incompetent (judging from her tenure the Secretary of State), jingoistic candidate and in her previous professional accomplishments (as a lawyer) was pretty average (if nor mediocre, or worse ). While it does not really matter much, she was not even able to pass Bar exam from the first try. Intellectually she is far below Sanders and Trump. But after Bush II the requirements for the candidate for the position of POTUS definitely do not require high IQ. Being a relative of a previous President is enough. Her self-congratulatory arrogance and blind adherence to neoliberalism and imperial domination are what the current elite needs in White House. "Let them eat cake" mentality prevails.
Hillary Clinton is running a Republican-style campaign (and she actually is a moderate republican, positioned to the right of Nixon and Eisenhower). While she tried to position herself as a moderate Republican in internal issues, in foreign policy she is a hawk pandering to neocon wing of the Republican Party (Robert Kagan, Cheney, and their Mayberry Machiavelli friends). Not only the style and tactics of her campaign are Republican. She edge closer and closer on substance as well and is really linked to Wall Street, Her campaign financing is by-and-large dependent on Wall Street political contributions. This is a typical evolution for neoliberals (aka "the third way" democrats) who are "democrats in name only". Her campaign is styled in classic "third way" sellout to Wall-Streeters, until it became clear that Sanders' campaign was catching on. then she tried to make some corrections, but you can't wash black got into white.
The sad fact is that the America of today is even more arrogant than the America in the days of Manifest Destiny and gunboat diplomacy. Indeed, the dissolution of the USSR cemented the national myth of superiority. The establishment of unparalleled industrial might, military victories in two world wars and on both sides of the globe, and the staggering economic defeat of Communism in the Cold War all have combined to cement America's presumption of chapters in a long history of escalating national illusions of pre-eminence and blind national egoism. The dominant view about the USA from most countries is that it has a split paranoid personality, a "Jekyll and Hyde" America, "a democracy inside, an empire outside." American policy makers, with their pretensions of global superiority after collapse of the USSR and with ever-increasing power of their military machine moved steadily toward making the whole globe a US preserve. Despite its vulgarity and borderline obsession with pornography (or may be because of that) the US culture made inroad all over the globe, and even in Europe and Russia despite rich cultural traditions of both. While the blatant American imperialism of the turn of the last century is now only a memory, today the nations face policies evidence more insidious brands of imperialism: cultural imperialism, economic imperialism, the imperialism of neoliberal ideology and forced globalization on the US terms. All are spread by the same national arrogance, the same cock-sure certainly that we are right. Many nations fear the United States practices a contemporary brand of "soft imperialism," enslaving nations with IMF debt mechanisms under the auspice of economic globalization. Converting the Third World in debt slaves or simply exploit it. In spite of such fears, and despite the setbacks, Americans remain convinced that eventually all nations are destined to fall into step and adopt "the American way." All the while, the US politicians decry the rigid fundamentalism of our enemies while we remain utterly blind to our own.
Now it is an established fact that she has a serious neurological disorder that might prevent her from adequate performing of duties of the President of the USA, if elected. Exact diagnosis still is a mystery, but some facts suggest that his might be an early stage of Parkinson disease (many specialists interpret her symptoms this way) or Subcortical Vascular Dementia (from leaks documents). In other words, there is no doubts that Hillary Clinton has serious problems with health, problems that might make the position of POTUS, with the associated level of stress, far beyond her physical capabilities.
And this is not exactly a news. Serious problems with health probably started around late 2012. So if this is Parkinson disease we have a 4 year progression from the first "sinister'" manifestations. New York Post published an article about this Hillary problem in 2015, or one year ago.
This past summer, Hillary's campaign released a report from her personal physician, Dr. Lisa Bardack, which said that Hillary had recovered from a concussion and a blot clot on her brain that caused her to faint in 2012. But that was not the whole story.

In fact, Hillary's uncertain health — including blinding headaches, dizziness, and a trembling in her hands — has forced her to cancel several meetings and cut back on her campaign schedule.

She tells friends that her doctors can't find any definitive problem, but Bill Clinton is so worried about her health situation that he urged her to travel with a full-time doctor to prevent another fainting spell, which could doom her campaign for president.
But this theme became really hot in August 2016. Despite official verdicts that "she is fit to server" there are several pretty convincing signs that even her tightly regimented Presidential campaign (with very few interview with press) negatively affects her physical condition. If the information that she suffers from Binswanger's Disease Information Page National Institute of Neurological Disorders and Stroke (NINDS) is true this is a serious argument against her candidacy:
Binswanger's disease (BD), also called subcortical vascular dementia , is a type of dementia caused by widespread, microscopic areas of damage to the deep layers of white matter in the brain. The damage is the result of the thickening and narrowing (atherosclerosis) of arteries that feed the subcortical areas of the brain. Atherosclerosis (commonly known as "hardening of the arteries") is a systemic process that affects blood vessels throughout the body. It begins late in the fourth decade of life and increases in severity with age. As the arteries become more and more narrowed, the blood supplied by those arteries decreases and brain tissue dies. A characteristic pattern of BD-damaged brain tissue can be seen with modern brain imaging techniques such as CT scans or magnetic resonance imaging (MRI).

The symptoms associated with BD are related to the disruption of subcortical neural circuits that control what neuroscientists call executive cognitive functioning : short-term memory, organization, mood, the regulation of attention, the ability to act or make decisions, and appropriate behavior. The most characteristic feature of BD is psychomotor slowness - an increase in the length of time it takes, for example, for the fingers to turn the thought of a letter into the shape of a letter on a piece of paper.

Other symptoms include forgetfulness (but not as severe as the forgetfulness of Alzheimer's disease), changes in speech, an unsteady gait, clumsiness or frequent falls, changes in personality or mood (most likely in the form of apathy, irritability, and depression), and urinary symptoms that aren't caused by urological disease. Brain imaging, which reveals the characteristic brain lesions of BD, is essential for a positive diagnosis.
The leak contain very worrying information ( Hillary Clinton Medical Records 'Leaked' ):
INTERIM MEDICAL HISTORY: Patient returns stating that she is still having complications following a concussion In early December of 2012 She states the blacking out. uncontrollable twitching, and memory loss have become worse over the last few months. Patient has been diagnosed with having Complex Partial Seizures in early 2013 and was diagnosed with having early-onset Subcortical Vascular Dementia
In mid 2013.

MEDICAL EXAMINATION: Patient shows signs of advancing Subcortical Vascular Dementia after a MMSE was performed. The patient scored significantly lower on today's test
than when tested In 2013. The patient is also showing signs of having more frequent Complex Partial Seizures.

DIAGNOSES: Complex Partial Seizures. Subcortical Vascular Dementia

IMPRESSION/PLAN: I discussed with the patient at length about the alternatives and we elected to maintain her on the present medications with only Increasing her medication for
the seizures. I have ordered another MRI to be performed and will schedule another office after the test is performed.

Lisa R. Bardack, M.D.
The information about the character of seizures can be deduced from YouTube. The most starting the one in which Hillary Clinton is startled by questions concerning Elizabeth Warren as her vice president:
She also often needs help when moving up and down flights of stairs. Plenty of pictures have been taken during multiple appearances where her security details have flanked Hillary's sides and visibly helped her move up and down steps.
No one from the Clinton camp is even responding to the numerous rumors and theories.
A fanatic is one who can't change his mind and won't change the subject. --Winston Churchill
People are never so completely and enthusiastically evil as when they act out of religious conviction. -- Umberto Eco
"Fanatics can justify practically any atrocity to themselves. The more untenable their position becomes,
the harder they hold to it, and the worse the things they are willing to do to support it." ― Mercedes Lackey, Changes
This woman is really ready to put the world on fire. In foreign policy area she acted like a neocon fanatic who is tried to implement the faulty vision of US global domination at all cost. With "brown people" paying the price for her fanaticism. In hundred thousand of lives of woman and children. Such a pro-woman candidate. Can a man-eater be a pro-women ?
Is Hillary candidacy a product of a runaway US nationalism (aka "American exeptionalism") ? The answer is yes, but not generic US nationalism, but its specific supremacist flavor called Neoconservatism, which is actually more close to Trotskyism then traditional ethnic nationalism. The relationship between nationalism and traditions of national superiority is circular. That is to say, feelings of national exceptionalism are a universal characteristic of nationalism; and historically embedded national superiority myths and self-serving notions of universal mission fuel the growth of potent varieties of nationalism. But Hillary is a specific product of neoliberalism, of the Golden Era of the Chickenhawk ( theguardian.com ):
...unhinged fantasizing has been the defining pattern of the Era of Endless War, in which people – old men, for the most part, a good number of them rich – who never experienced war – who in their youth ran as fast from it as they could – send young men and women – most of them middle- and working-class – across oceans to fight wars based on half-facts, cooked intelligence, and magical thinking on the grand geopolitical scale.

Surely it's no coincidence that the Era of the AUMF, the Era of Endless War, is also the Golden Era of the Chickenhawk. We keep electing leaders who, on the most basic experiential level, literally have no idea what they're doing.
Americans have been, and are today, exposed almost from birth to a particularly virulent strain of nationalism unlike that found in other modern nations. The resulting affliction stems from an unswerving faith in national superiority and uniqueness that is deeply ingrained in the American mind. Historically, these notions of superiority sprang from myths of the visions of closeness, and high destiny; from the myth of frontier self-sufficiency; and finally from the perceived universality of American ideology and dominance of US culture and English language over the globe. While in some of us, nationalist feelings are not that pronounced, few of us are immune, and that is especially visible in times of anger, or fear. In spite of, and perhaps because of, our many strengths, practically all of us as Americans share this particularly prideful, unlovely, and potentially fatal weakness. In one form or another and to some degree or another, we carry national pride across the invisible boundary that separates benign patriotism from malignant far right nationalism. Hillary candidacy demonstrates that this process went too far and became really malignant, reminding the hypocrisy of the period of when slavery was dominant economic model in Southern USA (which actually was not that long ago).
In foreign policy Hillary Clinton is no different than your garden variety Republican warmongers, including Senator McCain and any of staunch supports of the American world supremacy and of Military Industrial complex typical for neocons like Robert Kagan. In other words she is a dyed-in-the-wool neocon. Her positions of foreign policy issues are not that different from Victoria Nuland, who is actually her protégé. Her appeal to 9/11 to defend the size of Wall Street donations to her campaign was a classic Republican trick (Hillary Clinton Appeal to 9-11 to Defend Wall Street Donations Was Bad, But This Was Worse naked capitalism). Actually parasitism on 9/11 can be seen as a litmus test for neocons.
Here's some commentary by the establishment organ The Economist:

Mrs Clinton's reply combined indignation, an irrelevant appeal to feminist pride, and a bizarre riff about the September 11th attacks, by which she seemed to imply that taking money from big banks was her way of making sure that the terrorists behind that 2001 atrocity did not win… Readers with furrowed brows may be assured that it made no more sense when Mrs Clinton said it.
Family Guy predicted Hillary's 9/11 tragedy-distraction strategy way back in 2008. Life imitating art: http://youtu.be/Rm3d43HLyTI. For those who remember the Iraq War and Libya, Clinton proved pretty convincingly that she is a quintessential "warmonger." A neocon, not that different from John McCain and Dick Cheney. That means that Hillary Clinton is a menace for the US public and we need to understand this simple fact:
"Bottom line: You can always count on Hillary to say the most politically resonant thing of the moment," said Ray McGovern, a former senior CIA officer turned antiwar protester who was arrested in 2011 (and he claims beaten) for protesting during a Clinton speech. "It's bad enough to have that kind of person as secretary of State; do we really want her to be the president of the United States? I don't think so. She's a menace."
As the Secretary of State, Clinton used to belong to the most hawkish wing of President Obama's Cabinet, supporting air strikes in Libya and arms deliveries to rebels in Syria. Robert Kagan, the husband of Victoria Nuland and the veteran propagandist of interventionist foreign policy, recently gave a thumbs up to Clinton's foreign policy, telling The New York Times that it's "something that might have been called neocon."
Ever since she stepped down as secretary of state in 2013 (after blood clot issue), Hillary Clinton has been positioning herself to the right of Barack Obama on foreign affairs" (The New York Time)
Ever since she stepped down as secretary of state in 2013, Hillary Clinton has been positioning herself to the right of Barack Obama on foreign affairs. In her 2014 memoir, "Hard Choices," Clinton recalled her foreign policy differences with the president, stating that she had opposed demanding an Israeli settlements freeze in 2009 and warned about Russian President Vladimir Putin's malign intentions long before anyone else in the administration.

Since then she has gone on to compare Putin's annexation of Crimea to Hitler's takeover of the Sudetenland in 1938 and to support a no-fly zone in northern Syria. "Look," she told a group at the Council on Foreign Relations several days after the terrorist attacks in Paris in late 2015, "I have made clear that I have differences, as I think any two people do."
this extreme jingoism is mixed with unsaturable hunger for power. So if that suit her path to power goals she can change her opinions on the spot. Her candidacy was widely attacked on YouTube for corruption and incessant lying as well as changing her position on key political issues. Sometimes several times
Profiting from wars, Saudi Arabia
Hillary has a long history of shady deals and support of Wahhabism and Muslim Brotherhood, including taking Saudi bribes via Clinton Foundation for delivery of advanced weapons. And she infected State Department with those values. From Salon (Neocons and Liberal Interventionists -- Like Hillary -- Are Converging on Foreign Policy)
Fighting the so-called Islamic State, as the narrative is told in the West and the Sunni Gulf states, is becoming seen as "nakedly sectarian," as the Washington-based Syria commentator Hassan Hassan wrote in the Financial Times last week. The fighting in Fallujah and the prospective battle for Raqa'a, he wrote, "offer ISIS an opportunity to present itself as a custodian of the Sunni, especially in Iraq, where it has established itself as the only Sunni militant group able to stand up to militias supporting the Shia-dominated government."

It is a narrative that is gaining currency in Washington as the administration strains to dress up its allied fighters in northern Syria, which are dominated by the Kurdish group the YPG, as somehow national and not sectarian. Indeed, the U.S. administration seems highly susceptible to this accusation. The danger of appearing anti-Sunni by pursuing the war on ISIS may have some superficial plausibility but the allegation, in fact, is Orwellian in nature. ISIS and fellow takfiri jihadists, in their war against apostasy, are essentially following the doctrine of Muhammad ibn Abd al-Wahhab, one of the co-founders of Saudi Arabia.

Wahhab proclaimed those who did not accept his puritan monotheism as apostates and idolaters who should be killed immediately. And now, Shiites, Alawites, Zaidis, Druze, Ismailis — and Kurds, who are mostly Sunni Muslim — are defending themselves and their families from the truly fundamentalist zealotry of neo-Wahhabism that murders all whom it deems apostate. To reverse the narrative and cast their efforts to defend themselves as somehow sectarian is bizarre — especially since the bulk of the Syrian army and Kurds fighting ISIS are themselves Sunni Muslims.

To fight ISIS is not anti-Sunni. To fight ISIS is to be against Wahhab's revived doctrines. The leading Iraqi commentator Hayder al-Khoei highlighted that in a recent op-ed:

The tip of the spear in Falluja is not an Iranian-backed paramilitary group but the U.S.-created Counter Terrorism Service and its elite U.S.-trained Special Forces known locally as the Golden Division. These forces, besides being a mixed Shia-Sunni unit, are led by a Kurdish commander ... At a time when sectarian dynamics is one of many factors fueling the crises in Iraq and beyond, it is important for Western journalists and analysts to not be more sectarian than the Iraqis on the ground actually fighting ISIS.

In short, the ephemeral global narrative does not relate well to the facts on the ground where there is much less sectarianism than this Western-Gulf narrative purports to exist.

But let that pass. This narrative, echoed widely beyond the Financial Times, is Orwellian in another way. It serves another deeper purpose. It has much to do with finding and articulating, as Jim Lobe notes, the point of intersection between liberal interventionism and neoconservatism. This intersection is the subject of a May 16 report from the Center for a New American Security, which was drawn up by a bipartisan task force of 10 senior members of the U.S. foreign policy establishment and augmented by six dinner discussions with invited experts.

Their approach is to cast Iran as the source of all 'regional tensions' and to hold onto America's Gulf bases in order to be a 'force that can flex across several different mission sets and prevail.'

It is, in a sense, the riposte from the two interventionist wings of American politics to Trump's iconoclasm in foreign policy. And, Lobe writes, "it's fair to predict that the above-mentioned report is likely to be the best guide to date of where a Hillary Clinton presidency will want to take the country's foreign policy."

The report is all about how to maintain America's benevolent hegemony — or how to maintain and expand today's "rules-based international order," which implies maintaining and expanding the geo-financial order as much as the political order. As we saw in U.S. Defense Secretary Ashton Carter's interview with Vox, there are clear, though somewhat cushioned, echoes of the 1992 U.S. Defense Planning Guidance.

The CNAS report states, "[F]rom a resurgent Russia to a rising China that is challenging the rules-based international order to chaos, and the struggle for power in the Middle East, the United States needs a force that can flex across several different mission sets and prevail." The report simply restates in more nuanced language many of ideas that underline the concept of the "American Century" and U.S.-led unipolar world order.

What does this have to do with propagating the meme that the war on ISIS is a disguised sectarian war on Sunni Islam? Well, quite a lot. Consider this from the report (italics mine):

The United States should adopt a comprehensive strategy, employing an appropriate mix of military, economic and diplomatic resources, to undermine and defeat Iran's hegemonic ambitions in the Greater Middle East. Whether in Lebanon, Yemen, Syria or Bahrain, Tehran's advances and longer-term ambitions should be regarded as a threat to stability that it is in the U.S. interest to counter and deter.

The next administration must make abundantly clear that it has no interest in pursuing an off-shore balancing strategy, such as the 'new equilibrium' some have suggested, which envisages a significant U.S. military drawdown from the region. On the contrary, the Persian Gulf should be deemed a region of vital interest to the security of the United States. As such, U.S. military forces in the region should be sufficient to ensure the security of Gulf allies and the Strait of Hormuz against potential Iranian aggression. At the same time, Gulf allies should have access to sufficient defense articles and services to deter Tehran even if U.S. forces are not present or immediately available to assist.

We also reject Iran's attempt to blame others for regional tensions it is aggravating, as well as its public campaign to demonize the government of Saudi Arabia.

The last sentence is truly amazing. So the spread of cultural and militant Wahhabism has nothing to do with tension in the region? Here we see that the crux of the joint neocon, liberal-interventionist foreign policy for the Middle East is to cast Iran as the source of all "regional tensions" and secondly, to hold onto America's Gulf bases — in order to "flex across several different mission sets and prevail."

Saudi Arabia is mildly rebuked in the CNAS report for having helped radicalize Sunni Islamist groups in the past, but the Kingdom receives applause for its law enforcement and intelligence cooperation. It is very clear from the report's context that a makeover of Saudi Arabia's status as a U.S. ally is underway and that this rehabilitation is seen as integral to aiding America's "hard-nosed enforcement strategy ... to counter Iran's destabilizing activities throughout the region, from its support to terrorist groups like Hezbollah to its efforts to sow instability in the Sunni Arab states."

The old Western standby of using psychologically inflamed Sunni radicalism as a means to weaken opponents seems like it won't be dismantled completely.

Another gloss in the CNAS report is striking: while ISIS as a threat is made much of, and a call is issued to "uproot" it, when it comes to Syria, the report simply states that "it is also essential to assist in the formation of a Sunni alternative to ISIS and the [Syria President Bashar] Assad regime" and to create "a safe space ... where moderate opposition militias can arm, train, and organize." Yet there is no mention of Jabhat al-Nusra, al Qaeda's Syria wing. Its role simply is not addressed.

This conscious lacuna suggests that the authors do not want to embarrass Saudi Arabia for all its fired-up Sunni jihadist tools. The old Western standby of using psychologically inflamed Sunni radicalism as a means to weaken opponents seems like it won't be dismantled completely. It is fine, evidently, to make a hoo-ha about ISIS while Nusra is to be slipped quietly into the Syrian calculus in order to shift the military balance and convince Assad that he cannot remain in power.

This new/old policy platform is well assisted by broadcasting a narrative that those fighting ISIS on the ground (Iran and its allies) are the "naked sectarians" who compound their sectarian intent by provoking Sunnis to rally to ISIS, their defender. Thus, Iran becomes the threat to regional security, and the CNAS case against Iran is crystalized. This is working quite well, it seems, to judge by its play in the media.

It may be fairly asked however, why these eminent American foreign policy hands should be espousing what many might see as such a retrograde stance. Promoting Saudi Arabia and Gulf states as key U.S. allies would seem to go against the grain of contemporary — even Congressional — sentiment. Ditto for maintaining America's necklace of (expensive) military bases around the globe in order to project American military power. Are Americans not tiring of endless war? And has not the arming and training of a Sunni opposition in Syria been tried several times and failed? Why should this policy be any more successful next time around?

ISIS is the consensual scapegoat to be lambasted by all and sundry, but its spirit — neo-Wahabbism — is not to be rooted out.

It is not that the report's authors don't grasp these points, but if the neocons have one constancy, it has been their unwavering support for Israel. They think that the Gulf states are ready for a normalization with Israel and wish to do profitable business with it. What stands in the way of this rapprochement, in the neocon view, is Iran, Syria and Hezbollah's vehement opposition — and their ability to ignite public opinion across the Muslim world on behalf of the Palestinians.

So what is the final takeaway from all this? It is that ISIS is the consensual scapegoat to be lambasted by all and sundry, but its spirit — neo-Wahabbism — is not to be rooted out. It is too useful to Saudi Arabia and Turkey and to Western interests — to weaken Assad, for example, and to contain Iran and fight Hezbollah.

Whether in the form of Nusra or Ahrar al-Sham, another al Qaeda-allied rebel group in Syria, this chameleon-like Sunni jihadist force collectively provides a useful pivot around which neocons and liberal interventionists alike can pursue interventionism and the continuance of "the American Century." It also provides a valuable intersection between Israel and Gulf interests. As Lobe wryly notes, "the authors' undisguised hostility toward Tehran pours forth with specific policy recommendations that, frankly, could have been written as a joint paper submitted by Saudi Arabia and Israel."

Will the report, like the neocon Project for the New American Century, to which it is perhaps conceived as a successor, come to form the basis of American foreign policy if a Democrat won the forthcoming election? Possibly, yes.

But there is also an intangible feeling of something passé in these policy prescriptions, a sense that they belong to a former era. The current presidential campaign, with all its iconoclasm and evidence of widespread popular anger towards the status quo, suggests that such a palpable replay of the past is not tenable.
Hillary Clinton is a war hawk which means she is a militarist. Wikipedia offers a definition of militarism which seems to describe the dominant view of the US elite, especially neocon faction of the latter:
Militarism is the belief or desire of a government or people that a country should maintain a strong military capability and be prepared to use it aggressively to defend or promote national interests
I think it make more sense to talk about imperialism, rather than militarism. Military is just a tool. One could, for example, bribe another country's military leaders, or finance a paramilitary force in the targeted state, or just organize a violence-inciting mass-media campaign to produce the same result. In other words to promote neoconservative agenda.
Being a neocon is a sure way to position yourself as a favorite of the current Washington Political Establishment. That's why she get favorable treatment from both WaPo and NYT. That also means that Hillary's confrontational and somewhat psychopathic personality (observe her reaction on brutal killing of Gaddafi) will be described as an admirable attribute indicative of a strong leader the same way the psychopathic personalities of her male counterparts are described as the attribute of masters of statecraft (the word that in US political lexical is now synonymous with bombing small helpless nations and bailing out transnational banks).
Think smoke of propaganda is launched to hide facts about former Secretary of State Clinton and suppress anti-militarist sentiments of the US population (Anti-militarism — Crooked Timber):
My case for anti-militarism has two main elements.

First, the consequentialist case against the discretionary use of military force is overwhelming. Wars cause huge damage and destruction and preparation for war is immensely costly. Yet it is just about impossible to find examples where a discretionary decision to go to war has produced a clear benefit for the country concerned, or even for its ruling class. Even in cases where war is initially defensive, attempts to secure war aims beyond the status quo ante have commonly led to disaster.
Second, war is (almost) inevitably criminal since it involves killing and maiming people who have done nothing personally to justify this; not only civilians, but soldiers (commonly including conscripts) obeying the lawful orders of their governments.
Everything we see on television, and increasingly on the internet, "often surpasses expectations of media subservience to government propaganda," as Edward S. Herman noted nearly two decades. She is presented via rose glasses: her jingoism and ugly personality features are carefully and skillfully hidden. Opponents will be vilified an their positions will be distorted (The REALLY ANNOYING Don't-Wanna-Subsidize-Wealthy-Kids'-College-Tuition Canard , Nov 20, 2005, naked capitalism blog):
Stromberg, a Washington Post editorial writer who also blogs there, is an all-but-official Clinton campaign mouthpiece who last month, in a blog post and (unforgivably) a Post editorial (i.e., commentary with no byline, published on behalf of the Post's editorial board) baldly misrepresented what Clinton campaign spokesman Brian Fallon on Tuesday misrepresented about Sanders' single-payer healthcare insurance plan, but from a different angle: Stromberg said that the cost of the single-payer plan would be in addition to the cost of healthcare now. Actual healthcare, not just insurance premiums.

According to Stomberg and the Post's editorial board then, hospitals, physicians and other healthcare provides would receive full payment from private insurers and also full payment from the government. And employers, employees and individual-market policyholders would continue to pay premiums to private insurers while they also paid taxes to the federal government for single-payer—double-payer?—insurance.

A nice deal for some but not, let's say, for others. Also, a preposterous misrepresentation of Sanders' plan.

Fast-forward a month and Stromberg, this time speaking only for himself (as far as I know; I don't read all the Post's editorials) and for the Clinton campaign, picks up on Clinton's invocation of the horror of the public paying college tuition for Donald Trump's kids. But since he probably knows that Trump's kids no more went to public colleges than did Clinton's kid, he broadens it.
Media tries to avoid mentioning the main disaster of Hillary Clinton tenure as the Secretary of State and he main legacy: attack on Libya. for this female chickenhawk even now it looks like a resounding success :-). As US Navy Rear Admiral Charles R. Kubic pointed out (Hillary's Huge Libya Disaster ):
Before the revolution, Libya was a secure, prospering, secular Islamic country and a critical ally providing intelligence on terrorist activity post–September 11, 2001. Qaddafi was no longer a threat to the United States. Yet Secretary of State Hillary Clinton strongly advocated and succeeded in convincing the administration to support the Libyan rebels with a no-fly zone, intended to prevent a possible humanitarian disaster that turned quickly into all-out war.

... ... ...

Despite valid ceasefire opportunities to prevent "bloodshed in Benghazi" at the onset of hostilities, Secretary Clinton intervened and quickly pushed her foreign policy in support of a revolution led by the Muslim Brotherhood and known terrorists in the Libyan Islamic Fighting Group. One of the Libyan Rebel Brigade commanders, Ahmed Abu Khattala, would later be involved in the terrorist attack in Benghazi on September 11, 2012. Articulating her indifference to the chaos brought by war, Secretary Clinton stated on May 18, 2013, to the House Oversight Committee and the American
The same true for Syria where she also promoted Muslim Brotherhood. The question arise if Hillary Clinton can be changed in International court of justice? I think that yes, she can. Changes can include organizing a war of aggression, war crimes, false claims, misuse of intelligence, misleading Congress, malfeasance in public office, breaching constitutional duties.

Hillary is a member of the transnational neoliberal elite -- the entire network of economic, political and media elites which run the "New World Order" of Neoliberal Globalization, and it run from Washington by the Nobel Laureate Obama, who managed to bomb 7 countries in the first 6 years of his presidency, as well by EU bureaucracy and neoliberal governments of Germany, France, Spain, the Netherlands (the core of the Neoliberal Europe project).

The reason the elites are fighting to put tiara on Hillary and were fighting so hard against Brexit is because they know that Trump's victory could set in motion a domino effect that could damage neoliberal globalization like Brexit just did. And with anti-EU tsunami is blowing all over Europe, both in the South and in the North the last thing they need troubles in the USA.

Trump victory can set in motion forces that could lead to the dismantling of the neoliberal elites' globalization, which involves firstly the effective abolition of economic and national sovereignty within economic unions like the EU and, secondly, the unification of such unions through deals like the Transatlantic Trade and Investment Partnership (TTIP), which puts at risk even the NHS – the major social achievement of the post-war period. BTW poor Americans now have the same life expectancy as the Sudanese. In fact, the very reason that Obama rushed to London and then to Berlin was to co-ordinate the fight for TTIP, so that this agreement was not derailed by the Brexit.

But millions of Us workers who have lost their jobs since globalization began taking effect about 30 years ago now view the coming US election as a referendum on neoliberal globalization and they are supporting Trump despite smear companies in neoliberal MSM which reached the pitch typical for Soviet propaganda.

But like in 20th of the last century the victims of the neoliberal globalization now refuse to remain silent victims. They started to fight back As even such a stalwart of neoliberalism as Financial Times admitted that "we are close to the point where globalization and membership of the Eurozone in particular have damaged not only certain groups in society but entire nations".

Workers who now are forced to work for survival wages and moved from permanent position to contractors with reduced hours, not to mention the victims of a continuously deteriorating social welfare system (health, education and so on) are ready to fight back. How ready are people of the USA we will see in November. I think many are ready to fight against three major neoliberal "freedoms" (i.e. freedom in the movement of capital, commodities and of course labor).

Any democrat who plans to vote for Hillary needs to remember the quote: "The road to hell is paved with good intentions". Hillary Clinton is the clear candidate of the neoliberal globalization party., a war hawk who converted State Department into real neocon paradise (although that was an easy task as it was very close to reaching this state under two previous administrations). Neocon Robert Kagan (the husband of Victoria Nuland -- Cheney protégé, who became Hillary protégé) (with his Iraq war propagandist record) was even appointed as an advisor to the State Department. You can image what advice he provided.

Please note that Hillary Clinton has a proved record of a blood-soaked queen of chaos. Who favor color revolutions against even pretty neoliberal, totally corrupt and controlled by the USA puppet governments, if that advance State Department anti-Russian agenda (like in Ukraine against corrupt Yanukovich government ). Who if elected is certain to embroil us in pointless wars and spread death and devastation across even more countries. She has an unambiguous, undeniable record of such activates, that would make any neocon proud of himself/herself. Hillary is the neocon's neocon. right Sector's honorary storm trooper Vicky Nuland is a Hillary protégé. Whether during or shortly after Hillary's first 100 days in office, U.S. military engagement with Libya and Syria will likely be significantly greater than it is now. Here is one telling comment
Enrique Ferro | Jun 17, 2016 7:58:26 PM | 74

So Hillary, the bloodthirsty Goddess of War, is longing for a second Libya, i.e., a Syria smashed to smithereens, in ashes and ruins, ruled by a chaotic bunch of mad Takfiri extremists, at war all against all. The Queen of Chaos, indeed, loves these scenarios. Especially because her quick attack as first thing should she win the White House would shut the mouths of her critics wanting her prosecuted for her crooked political and business corruption. But she and her State Department surrogates would be in for a surprise: Russian and Syrian defences would not remain silent. And afterwards, what would be left? How would the Exceptionalist who "gets things done" proceed?
Recent document supposedly signed by pro-Hillary faction in State Department (51 US diplomats ) and cited by NYT a typical wet dream written by utterly incompetent neocons (Kagan's and Zoellik names are a tell), people who can not and must not be allowed to operate with serious strategic and operational categories in any "advisory" role.
She is not even DINO ("Democrat in name only") like typical neoliberal political mafia bought by Wall street (although she belongs to this mafia too). Neither she is a moderate republican like Barak ("wolf in sheep clothing"). She is a real far right (neocon) candidate -- Cheney in suit-pants. For any international problem she'll jumps to the military solution, ridiculing the notion of diplomacy from the very start (with another "Coalition for peace enforced by carpet bombing").
Hillary is a typical representative of the part of US elite (neocons) that is hell bent on world domination. It's not so much the problem with the American people as is the problem with American elite, which essentially keeps the country hostage in order to user is an enforce for securing their profits oversees. Bacevich recently wrote about it: http://www.washingtonpost.com/opinions/even-if-we-defeat-the-islamic-state-well-still-lose-the-bigger-war/2014/10/03/e8c0585e-4353-11e4-b47c-f5889e061e5f_story.html
In no way voice of American people matters. It's a just a nice pony show to provide legitimacy. Deep state rules. Real selection is within the elite. If they want to have more democratic president they will find one as happened in 1932 when Franklin D. Roosevelt <https://en.wikipedia.org/wiki/Franklin_D._Roosevelt> was allowed to be elected. The problem is that under neoliberalism the elite consider the USA as a host to parasite on. That's why this will not happen.
Hillary foreign policy stance now looks like completely detached from reality and produce the amount of hate that if materialize might really hurt the USA. In some countries the US companies are trying to mask as national and American Tourists pretend that they are from the other country. Spain is an example. France might be next. And the elite is ready to play "va bank" to preserve its world dominance even in cases that are not important for the US strategic interests like they did in Ukraine. Nobody in sound mind would assume that Poroshenko is less corrupt then Yanukovich.
And if any military provocation towards Russia or China yields any meaningful response, Hillary would storm out of the gates and blow any opposition on the grounds it being unpatriotic, much like happened with re-election of Bush II after 9/11. That's probably her only chance, so watch out. BTW, another ship goes close to Russia's backyard: http://navaltoday.com/2015/07/06/uss-porter-sails-into-the-black-sea/ To promote peace, stability and democracy, of course.
Pretty sickening to see how neocons from both Democrat and Republican parties synchronously attack Trump: NYT (Grey prostitute) and Faux News are clearly united in this sordid mission. Even old political rat Gingrich was dusted off for this purpose. As troika of Repug neocons Bush/Cruz/Rubio were eliminated from the race, dual shitizens like Wolfowitz, Krauthammer, Kristol, Kagan and the rest of neocon "collective" went crazy on the propaganda front. Hillary is their only hope now (or may be not the only, but still they definitely love her more :-)
I have no illusions that Trump will be much better, but Hillary ... This is not a choice between two bad option. This is a choice between disastrous and unpalatable. I hope Sanders will inflict some damage of this lady. That's the only hope. But I would call people who vote for her not simply stupid. This is something more sinister that simple stupidity.
This jingoistic neoliberal stooge voted for Iraq war -- this alone was IMHO a crime of the century that disqualifies her from public office. And this the most important, cornerstone event in her political biography was not discussed at all. I am disappointed the Bernie did not state this clear and load. Still any American voting for Hillary IMHO is a brainwashed lemming or, worse, a betrayer of this nation just on the base of her Iraq vote. Which, again, IMHO was a crime of the century. In any "real" democratic debate she would be asked about Iraq as the first question and graced with tattoo "We came, we saw, he died" on her forehead at the end.
Hillary Clinton is Democrat only in name. In reality she like her husband are neoliberals. Both of them are what can be called DINO (Democrats only in name) with Bill having a dubious distinction of selling the Democratic Party to Wall Street. And Hillary is doing the same with her recent "feeding frenzy" -- Wall Street speeches which brought her several million dollars and look more like bribes, then speaking engagements. Anis Shivani in his Salon article Our Neoliberal Nightmare Hillary Clinton, Donald Trump and Why the Wealthy Win Every Time (June 10, 2016) gives very unflattering portrait of Hillary as a neoliberal politician, always ready to sell electorate for personal gain and do everything possible to please her Wall Street friends. In a way she is a principled politician as in saying the "in the USA a principled politician is the one that one that once bought, stays bought. "
Notable quotes:
"... Neoliberalism presumes a strong state, working only for the benefit of the wealthy, and as such it has little pretence to neutrality and universality, unlike the classical liberal state. ..."
"... It's an interesting question if it was the stagflation of the 1970s, following the unhitching of the United States from the gold standard and the arrival of the oil embargo, that brought on the neoliberal revolution, with Milton Friedman discrediting fiscal policy and advocating a by-the-numbers monetarist policy, or if it was neoliberalism itself, in the form of Friedmanite ideas that the Nixon administration was already pursuing, that made stagflation and the end of Keynesianism inevitable. ..."
"... Neoliberalism is excused for the crises it repeatedly brings on -- one can think of a regular cycle of debt and speculation-fueled emergencies in the last forty years, such as the developing country debt overhang of the 1970s , the savings and loan crisis of the 1980s , the Asian currency crisis of the 1990s , and the subprime mortgage crisis of the 2000s -- better than any ideology I know of. This is partly because its very existence as ruling ideology is not even noted by the population at large, which continues to derive some residual benefits from the welfare state inaugurated by Keynesianism but has been led to believe by neoliberal ideologues to think of their reliance on government as worthy of provoking guilt, shame, and melancholy, rather than something to which they have legitimate claim. ..."
"... Neoliberalism loves chaos, that has been its modus operandi since the early 1970s, but only the kind of chaos it can direct and control. ..."
"... When Hillary Clinton frequently retorts -- in response to demands for reregulation of finance, for instance -- that we have to abide by "the rule of law," this reflects a particular understanding of the law, the law as embodying the sense of the market, the law after it has undergone a revolution of reinterpretation in purely economic terms. In this revolution of the law persons have no status compared to corporations, nation-states are on their way out, and everything in turn dissolves before the abstraction called the market. ..."
"... One way to sum up neoliberalism is to say that everything -- everything -- is to be made over in the image of the market, including the state, civil society, and of course human beings. Democracy becomes reinterpreted as the market, and politics succumbs to neoliberal economic theory, so we are speaking of the end of democratic politics as we have known it for two and a half centuries. As the market becomes an abstraction, so does democracy, but the real playing field is somewhere else, in the realm of actual economic exchange -- which is not, however, the market. We may say that all exchange takes place on the neoliberal surface. ..."
"... The neoliberal state -- actually, to utter the word state seems insufficient here, I would claim that a new entity is being created, which is not the state as we have known it, but an existence that incorporates potentially all the states in the world and is something that exceeds their sum -- is all-powerful, it seeks to leave no space for individual self-conception in the way that classical liberalism, and even communism and fascism to some degree, were willing to allow. There are competing understandings of neoliberal globalization, when it comes to the question of whether the state is strong or weak compared to the primary agent of globalization, i.e., the corporation, but I am taking this logic further, I am suggesting that the issue is not how strong the state is in the service of neoliberalism, but whether there is anything left over beyond the new definition of the state. Another way to say it is that the state has become the market, the market has become the state, and therefore both have ceased to exist in the form we have classically understood them. ..."
"... The project of neoliberalism -- i.e., the redefinition of the state, the institutions of society, and the self -- has come so far along that neoliberalism is almost beyond the need of individual entities to make or break its case. Its penetration has gone too deep, and none of the democratic figureheads that come forward can fundamentally question its efficacy. ..."
"... I said almost. The reason why Bernie Sanders, self-declared democratic socialist, is so threatening to neoliberalism is that he has articulated a conception of the state, civil society, and the self that is not founded in the efficacy and rationality of the market. ..."
"... The Trump supporters, I believe, are no longer driven by shame, as was true of the Tea Party, and as has been true of the various dissenting movements within the Republican party, evangelical or otherwise, in the recent past. Rather, they have taken the shackles off and are ready for a no-holds barred "politically incorrect" fight with all others: they want to be "winners," even at the cost of exterminating others, and that is not the neoliberal way, which doesn't acknowledge that there can be winners and losers in the neoliberal hyperspace. ..."
"... Neoliberalism, unlike classical liberalism, does not permit a fluidity of self-expression as an occasional participant in the market, and posits prison as the only available alternative for anyone not willing to conceive of themselves as being present fully and always in the market. ..."
"... I believe that the generation of people -- in their forties or older -- supporting Hillary have already internalized neoliberal subjectivity, which they like to frame as realism or pragmatism, refusing for instance to accept that free college or health care are even theoretical possibilities. After all, they have maintained a measure of success in the past three or four decades after conceptualizing themselves as marketplace agents. Just as the Tea Party supporters found it intolerable that government should help irresponsible homeowners by bailing them out of unsustainable debt, the Clinton supporters hold essentially the same set of beliefs toward those who dare to think of themselves outside the discipline of the market. ..."
"... Neoliberalism likes to focus on public debt -- in the Clinton years debt reduction became a mania, though George W. Bush promptly spent all the accumulated surpluses on tax cuts for the wealthy and on wars of choice -- rather than inequality, because the only way to address inequality is through a different understanding of public debt; inequality can only be addressed through higher taxation, which has by now been excluded from the realm of acceptable discourse -- except when Sanders, Trump, or Jeremy Corbyn in England go off script. ..."
"... Neoliberalism expects -- and education at every level has been redesigned to promote this -- that economic decision-making will be applied to all areas of life (parenthood, intimacy, sexuality, and identity in any of its forms), and that those who do not do so will be subject to discipline. Everyone must invest in their own future, and not pose a burden to the state or anyone else, otherwise they will be refused recognition as human beings. ..."
"... The danger for neoliberalism -- as is clear from the support of millions of displaced human beings for Trump -- is that with each crisis neoliberalism sheds more workers, makes individuals and firms more "disciplined," narrows the scope of opportunity even further. At times, the disciplining of the non-neoliberal other -- as with the killing of Michael Brown or Eric Garner -- explodes to surface consciousness in an unsavory way, so an expert manager like Clinton or Obama is required to tamp down the emotions of such unruly entities as Black Lives Matter which arise in response. If climate change, according to Clinton and her cohort, can and should have market solutions, then surely racial disparity, or police violence, should also have market solutions and no others; it is here that neoliberal multiculturalism, operating in the academy, is so insidious, because at the elite level it functions to validate market discourse, it does not step outside it. ..."
"... Unlike the interregnum between 1945-1973, the rising tide -- no matter the befuddlements Arthur Laffer and his fellow Reaganite ideologues proffered -- does not lift all boats today, it is outside the logic of neoliberalism that it do so, so the idea of reforming neoliberalism, or what is often called "globalization with a human face," is a rhetorical distraction. All of the policy innovations -- interpreted as "socialism" by the Tea Partiers -- offered by Barack Obama fall within the purview of neoliberalism, above all the Affordable Care Act, whose genesis was hatched in neoliberal think tanks decades ago . ..."
"... It is important to note that neoliberal economic restructuring necessarily means social restructuring, i.e., a movement toward disciplinarity and away from liberalism; the disciplinarity can take a Bushian, Clintonian, or Trumpian form, but these are manifestations of the same tendency. ..."
"... As Sanders has consistently noted , economic inequality leads to political inequality, which means that democracy, after a certain point, becomes only theoretical (viz. Citizens United and the electoral influence of such powerful entities as the Koch brothers). Both processes -- economic inequality and political inequality -- have accelerated after each downturn in the forty-five-year history of neoliberalism, therefore a downturn is always exciting, and even preordained, for a Bush, a Trump, or a Clinton. Again, economic inequality and political polarity (polarity is simply a manifestation of democracy having become dysfunctional) strongly correlate, and both have come to a head in this election. Neoliberalism's task, from this point on, is to mask and manage the increasing inequalities that are likely to befall humanity, especially as the planet reaches a crisis point in its health . In a way, George W. Bush threw a wrench -- he was a perverted Keynesian in a way, believing in war to prime the pump, or inflating unsustainable bubbles, or spending exorbitantly on grandiose gestures -- into the process of neoliberal globalization that was going very smoothly indeed under Bill Clinton and would likely have flourished under Al Gore as well. With Hillary Clinton, the movement will be toward further privatization of social welfare, "reforming" it along market principles, as has been true of every neoliberal avatar, whether it was Bill Clinton's incentives to work in the performance management makeover of welfare, George Bush's proposed private social security accounts, Mitt Romney's proposed private health care accounts, or the school vouchers that tempt all of them from time to time. ..."
"... What, indeed, does happen beyond Sanders, because as we have seen Hillary Clinton is one of the founders of neoliberal globalization, one of its central historical figures (having accelerated the warehousing of the poor, the attack on trade unions, and the end of welfare and of regulatory prowess), while Trump is an authoritarian figure whose conceptions of the state and of human beings within the state are inconsistent with the surface frictionlessness neoliberalism desires? To go back to Hillary Clinton's opening campaign commercial, to what extent will Americans continue to believe that the self must be entrepreneurially leveraged toward maximum market gains, molded into mobile human capital ever ready to serve the highest bidder? ..."
"... I would suggest that it is not that globalization causes or has caused neoliberalism, but that neoliberalism has pushed a certain form of globalization that suits its interests. This is a crucial distinction, on which everything else hinges. The neoliberal market doesn't actually exist; at the moment it is pure abstraction; what is actually filling up economic and political space can only be discussed when we step away from this abstraction, as Sanders has so ably done, and as the Occupy and Black Lives Matter movements tentatively set in motion. ..."
In foreign policy Hillary Clinton stands very close to Madeleine Albright and Dick Cheney (According to Obama, Hillary is "Cheney lite" in foreign policy (NYT, Jul 27, 2007).
"Her Thighness" (courtesy of Mark Levin, a man with a wicked sense of humor! ) got the Secretary of State position as a part of the deal with Obama to support him on the convention. The deal that was nothing short of capitulation of Obama before the convention and actually was an early warning about the essence of Obama presidency -- "switch and bait" with constant capitulations before the far right and neocons (in reality he was/is a neocon from the very beginning, just putting on a sheep clothing). Remember how candidate Clinton staked her credentials on her non-existent and dubious foreign policy experience? Which included dodging bullets on the tarmac in Bosnia. And an important (or at least significant) part in brokering Northern Ireland peace?
"I went [to Northern Ireland] more than my husband did. I was working to help change the atmosphere among people because leaders alone rarely make peace. They have to bring people along who believe peace is in their interests. I remember a meeting that I pulled together in Belfast, in the town hall there, bringing together for the first time Catholics and Protestants…"

–Hillary Clinton, Nashua, N.H. Jan. 6, 2008.
Obama argued during the primaries that it was time to move beyond the Clinton era and rightly attacked her fake claims to foreign policy experience as a first lady who circled the globe.
As Robert Parry explains, she is a staunch neocon very close in this respect to Robert Kagan, whom he actually made an advisor to State Department during her tenure in this position (Yes, Hillary Clinton Is a Neocon – Consortiumnews)
If there were any doubts that Hillary Clinton favors a neoconservative foreign policy, her performance at Thursday's debate should have laid them to rest. In every meaningful sense, she is a neocon and – if she becomes President – Americans should expect more global tensions and conflicts in pursuit of the neocons' signature goal of "regime change" in countries that get in their way.

Beyond sharing this neocon "regime change" obsession, former Secretary of State Clinton also talks like a neocon. One of their trademark skills is to use propaganda or "perception management" to demonize their targets and to romanticize their allies, what is called "gluing white hats" on their side and "gluing black hats" on the other.

So, in defending her role in the Libyan "regime change," Clinton called the slain Libyan leader Muammar Gaddafi "genocidal" though that is a gross exaggeration of Gaddafi's efforts to beat back Islamic militants in 2011. But her approach fits with what the neocons do. They realize that almost no one will dare challenge such a characterization because to do so opens you to accusations of being a "Gaddafi apologist."

Similarly, before the Iraq War, the neocons knew that they could level pretty much any charge against Saddam Hussein no matter how false or absurd, knowing that it would go uncontested in mainstream political and media circles. No one wanted to be a "Saddam apologist."

Clinton, like the neocons, also shows selective humanitarian outrage. For instance, she laments the suffering of Israelis under crude (almost never lethal) rocket fire from Gaza but shows next to no sympathy for Palestinians being slaughtered by sophisticated (highly lethal) Israeli missiles and bombs.

She talks about the need for "safe zones" or "no-fly zones" for Syrians opposed to another demonized enemy, Syria's President Bashar al-Assad, but not for the people of Gaza who face the wrath of Israeli Prime Minister Benjamin Netanyahu.

"Yes, I do still support a no-fly zone [in Syria] because I think we need to put in safe havens for those poor Syrians who are fleeing both Assad and ISIS and have some place that they can be safe," Clinton said. But she showed no such empathy for Palestinians defenseless against Israel's "mowing the grass" operations against men, women and children trapped in Gaza.

In Clinton's (and the neocons') worldview, the Israelis are the aggrieved victims and the Palestinians the heartless aggressors. Referring to the Gaza rocket fire, she said: "I can tell you right now I have been there with Israeli officials going back more than 25 years that they do not seek this kind of attacks. They do not invite the rockets raining down on their towns and villages. They do not believe that there should be a constant incitement by Hamas aided and abetted by Iran against Israel. …

"So, I don't know how you run a country when you are under constant threat, terrorist attack, rockets coming at you. You have a right to defend yourself."

Ignoring History

Clinton ignored the history of the Israeli-Palestinian conflict, which dates back to the 1940s when Israeli terrorist organizations engaged in massacres to drive Palestinians from their ancestral lands and murdered British officials who were responsible for governing the territory. Israeli encroachment on Palestinian lands has continued to the present day.

But Clinton framed the conflict entirely along the propaganda lines of the Israeli government: "Remember, Israel left Gaza. They took out all the Israelis. They turned the keys over to the Palestinian people. And what happened? Hamas took over Gaza. So instead of having a thriving economy with the kind of opportunities that the children of the Palestinians deserve, we have a terrorist haven that is getting more and more rockets shipped in from Iran and elsewhere."

So, Clinton made clear – both at the debate and in her recent AIPAC speech – that she is fully in line with the neocon reverence for Israel and eager to take out any government or group that Israel puts on its enemies list. While waxing rhapsodic about the U.S.-Israeli relationship – promising to take it "to the next level" – Clinton vows to challenge Syria, Iran, Russia and other countries that have resisted or obstructed the neocon/Israeli "wish list" for "regime change."

In response to Clinton's Israel-pandering, Sen. Bernie Sanders, who once worked on an Israeli kibbutz as a young man, did the unthinkable in American politics. He called out Clinton for her double standards on Israel-Palestine and suggested that Netanyahu may not be the greatest man on earth.

"You gave a major speech to AIPAC," Sanders said, "and you barely mentioned the Palestinians. … All that I am saying is we cannot continue to be one-sided. There are two sides to the issue. … There comes a time when if we pursue justice and peace, we are going to have to say that Netanyahu is not right all of the time."

But in Hillary Clinton's mind, the Israeli-Palestinian dispute is essentially one-sided. During her speech to the American Israel Public Affairs Committee last month, she depicted Israel as entirely an innocent victim in the Mideast conflicts.

"As we gather here, three evolving threats — Iran's continued aggression, a rising tide of extremism across a wide arc of instability, and the growing effort to de-legitimize Israel on the world stage — are converging to make the U.S.-Israel alliance more indispensable than ever," she declared.

"The United States and Israel must be closer than ever, stronger than ever and more determined than ever to prevail against our common adversaries and to advance our shared values. … This is especially true at a time when Israel faces brutal terrorist stabbings, shootings and vehicle attacks at home. Parents worry about letting their children walk down the street. Families live in fear."

Yet, Clinton made no reference to Palestinian parents who worry about their children walking down the street or playing on a beach and facing the possibility of sudden death from an Israeli drone or warplane. Instead, she scolded Palestinian adults. "Palestinian leaders need to stop inciting violence, stop celebrating terrorists as martyrs and stop paying rewards to their families," she said.

Then, Clinton promised to put her future administration at the service of the Israeli government. Clinton said, "One of the first things I'll do in office is invite the Israeli prime minister to visit the White House. And I will send a delegation from the Pentagon and the Joint Chiefs to Israel for early consultations. Let's also expand our collaboration beyond security."
After that Ms. Clinton appointed her own neocon team at the State Department drawn from most hawkish neocons available on the national scene. Such as Cheney protégé Victoria Nuland. That was how Obama tried to straiten out "the failed policies of George Bush."
Tony Cartalucci in his October 2012 article (US Department of Imperial Expansion ) made several relevant observation about the role Hillary Clinton played as the top US diplomat:
Deeper down the rabbit hole of US-backed color revolutions.
by Tony Cartalucci

Believe it or not, the US State Department's mission statement actually says the following:

"Advance freedom for the benefit of the American people and the international community by helping to build and sustain a more democratic, secure, and prosperous world composed of well-governed states that respond to the needs of their people, reduce widespread poverty, and act responsibly within the international system."

A far and treasonous cry from the original purpose of the State Department - which was to maintain communications and formal relations with foreign countries - and a radical departure from historical norms that have defined foreign ministries throughout the world, it could just as well now be called the "Department of Imperial Expansion." Because indeed, that is its primary purpose now, the expansion of Anglo-American corporate hegemony worldwide under the guise of "democracy" and "human rights."

That a US government department should state its goal as to build a world of "well-governed states" within the "international system" betrays not only America's sovereignty but the sovereignty of all nations entangled by this offensive mission statement and its execution.

Image: While the US State Department's mission statement sounds benign or even progressive, when the term "international system" or "world order" is used, it is referring to a concept commonly referred to by the actual policy makers that hand politicians their talking points, that involves modern day empire. Kagan's quote came from a 1997 policy paper describing a policy to contain China with.

....

The illegitimacy of the current US State Department fits in well with the overall Constitution-circumventing empire that the American Republic has degenerated into. The current Secretary of State, Hillary Clinton, gives a daily affirmation of this illegitimacy every time she bellies up to the podium to make a statement.

Recently she issued a dangerously irresponsible "warning" to Venezuela and Bolivia regarding their stately relations with Iran. While America has the right to mediate its own associations with foreign nations, one is confounded trying to understand what gives America the right to dictate such associations to other sovereign nations. Of course, the self-declared imperial mandate the US State Department bestowed upon itself brings such "warnings" into perspective with the realization that the globalists view no nation as sovereign and all nations beholden to their unipolar "international system."

It's hard to deny the US State Department is not behind the
"color revolutions" sweeping the world when the Secretary of
State herself phones in during the youth movement confabs
her department sponsors on a yearly basis.

If only the US State Department's meddling was confined to hubris-filled statements given behind podiums attempting to fulfill outlandish mission statements, we could all rest easier. However, the US State Department actively bolsters its meddling rhetoric with very real measures. The centerpiece of this meddling is the vast and ever-expanding network being built to recruit, train, and support various "color revolutions" worldwide. While the corporate owned media attempts to portray the various revolutions consuming Eastern Europe, Southeast Asia, and now Northern Africa and the Middle East as indigenous, spontaneous, and organic, the reality is that these protesters represent what may be considered a "fifth-branch" of US power projection.

CANVAS: Freedom House, IRI, Soros funded Serbian color revolution
college behind the Orange, Rose, Tunisian, Burmese, and Egyptian protests
and has trained protesters from 50 other countries.

As with the army and CIA that fulfilled this role before, the US State Department's "fifth-branch" runs a recruiting and coordinating center known as the Alliance of Youth Movements (AYM). Hardly a secretive operation, its website, Movements.org proudly lists the details of its annual summits which began in 2008 and featured astro-turf cannon fodder from Venezuela to Iran, and even the April 6 Youth Movement from Egypt. The summits, activities, and coordination AYM provides is but a nexus. Other training arms include the US created and funded CANVAS of Serbia, which in turn trained color-coup leaders from the Ukraine and Georgia, to Tunisia and Egypt, including the previously mentioned April 6 Movement. There is also the Albert Einstein Institute which produced the very curriculum and techniques employed by CANVAS.

2008 New York City Summit (included Egypt's April 6 Youth Movement)
2009 Mexico City Summit
2010 London Summit

As previously noted, these organizations are now retroactively trying to obfuscate their connections to the State Department and the Fortune 500 corporations that use them to achieve their goals of expansion overseas. CANVAS has renamed and moved their list of supporters and partners while AYM has oafishly changed their "partnerships" to "past partnerships."

Before & After: Oafish attempts to downplay US State Department's extra-legal
meddling and subterfuge in foreign affairs. Other attempts are covered here.

Funding all of this is the tax payers' money funneled through the National Endowment for Democracy (NED), the International Republican Institute (IRI), the National Democratic Institute (NDI), and Freedom House. George Soros' Open Society foundation also promotes various NGOs which in turn support the revolutionary rabble on the ground. In Egypt, after the State Department's youth brigades played their role, Soros and NED funded NGOs began work on drafting Egypt's new constitution.

It should be noted that while George Soros is portrayed as being "left," and the overall function of these pro-democracy, pro-human rights organizations appears to be "left-leaning," a vast number of notorious "Neo-Cons" also constitute the commanding ranks and determine the overall agenda of this color revolution army.

Then there are legislative acts of Congress that overtly fund the subversive objectives of the US State Department. In support of regime change in Iran, the Iran Freedom and Support Act was passed in 2006. More recently in 2011, to see the US-staged color revolution in Egypt through to the end, money was appropriated to "support" favored Egyptian opposition groups ahead of national elections.

Then of course there is the State Department's propaganda machines. While organizations like NED and Freedom House produce volumes of talking points in support for their various on-going operations, the specific outlets currently used by the State Department fall under the Broadcasting Board of Governors (BBG). They include Voice of America, Radio Free Europe, Radio Free Asia, Alhurra, and Radio Sawa. Interestingly enough, the current Secretary of State Hillary Clinton sits on the board of governors herself, along side a shameful collection of representatives from the Fortune 500, the corporate owned media, and various agencies within the US government.

Hillary Clinton: color revolutionary field marshal & propagandist,
two current roles that defy her duties as Secretary of State in any
rational sense or interpretation.


Judging from Radio Free Europe's latest headlines, such as "Lieberman: The West's Policy Toward Belarus Has 'Failed Miserably' " and "Azerbaijani Youth Activist 'Jailed For One Month,'" it appears that hope is still pinned on inciting color revolutions in Belarus and Azerbaijan to continue on with NATO's creep and the encirclement of Russia. Belarus in particular was recently one of the subjects covered at the Globsec 2011 conference, where it was considered a threat to both the EU and NATO, having turned down NATO in favor of closer ties with Moscow.

Getting back to Hillary Clinton's illegitimate threat regarding Venezuela's associations with Iran, no one should be surprised to find out an extensive effort to foment a color revolution to oust Hugo Chavez has been long underway by AYM, Freedom House, NED, and the rest of this "fifth-branch" of globalist power projection. In fact, Hugo Chavez had already weathered an attempted military coup overtly orchestrated by the United States under Bush in 2002.

Upon digging into the characters behind Chavez' ousting in 2002, it
appears that this documentary sorely understates US involvement.

The same forces of corporatism, privatization, and free-trade that led the 2002 coup against Chavez are trying to gain ground once again. Under the leadership of Harvard trained globalist minion Leopoldo Lopez, witless youth are taking the place of 2002's generals and tank columns in an attempt to match globalist minion Mohamed ElBaradei's success in Egypt.

Unsurprisingly, the US State Department's AYM is pro-Venezuelan opposition, and describes in great detail their campaign to "educate" the youth and get them politically active. Dismayed by Chavez' moves to consolidate his power and strangely repulsed by his "rule by decree," -something that Washington itself has set the standard for- AYM laments over the difficulties their meddling "civil society" faces.

Chavez' government recognized the US State Department's meddling recently in regards to a student hunger strike and the US's insistence that the Inter-American Human Rights Commission be allowed to "inspect" alleged violations under the Chavez government. Venezuelan Foreign Minister Nicolás Maduro even went as far as saying, "It looks like they (U.S.) want to start a virtual Egypt."

The "Fifth-Branch" Invasion: Click for larger image.


Understanding this "fifth-branch" invasion of astro-turf cannon fodder and the role it is playing in overturning foreign governments and despoiling nation sovereignty on a global scale is an essential step in ceasing the Anglo-American imperial machine. And of course, as always, boycotting and replacing the corporations behind the creation and expansion of these color-revolutions hinders not only the spread of their empire overseas, but releases the stranglehold of dominion they possess at home in the United States. Perhaps then the US State Department can once again go back to representing the American Republic and its people to the rest of the world as a responsible nation that respects real human rights and sovereignty both at home and abroad.

Editor's Note: This article has been edited and updated October 26, 2012.
Claims about Hillary Clinton competence are greatly exaggerated. The biography is a string of one fiasco after another, one scandal after another. The only really distinctive feature is her ability to survive those scandals. Some of them clearly point to corruption (Clinton cash scandal), some to amazing, mind blowing incompetence and arrogance (emailgate scandal), some on extreme pathological jingoism (Iraq war vote, her remark "We came, we saw, he died on Kaddafi violent death, her role in destruction of Lybia, Syria and Ukraine)
Systemic fraud was the second nature of corporatist regimes from its humble beginning in the first half of the XX century in Mussolini Italy to reincarnation of corporatism by Reagan. In this sense the terms corporatism and the term crony capitalism reflect the same social phenomenon. Both means the elimination of accountability. And first and foremost elimination of accountability for the financial sector, as fish rots from the top. According to Wikipedia corruption occurred on several different scales:
Petty corruption occurs at a smaller scale and within established social frameworks and governing norms. Examples include the exchange of small improper gifts or use of personal connections to obtain favors. This form of corruption is particularly common in developing countries and where public servants are significantly underpaid.
Grand corruption is defined as corruption occurring at the highest levels of government in a way that requires significant subversion of the political, legal and economic systems. Such corruption is commonly found in countries with authoritarian or dictatorial governments but also in those without adequate policing of corruption.
The government system in many countries is divided into the legislative, executive and judiciary branches in an attempt to provide independent services that are less prone to corruption due to their independence.
Systemic corruption (or endemic corruption)[5] is corruption which is primarily due to the weaknesses of an organization or process. It can be contrasted with individual officials or agents who act corruptly within the system. Factors which encourage systemic corruption include conflicting incentives, discretionary powers; monopolistic powers; lack of transparency; low pay; and a culture of impunity.[6] Specific acts of corruption include "bribery, extortion, and embezzlement" in a system where "corruption becomes the rule rather than the exception."[7] Scholars distinguish between centralized and decentralized systemic corruption, depending on which level of state or government corruption takes place; in countries such as the Post-Soviet states both types occur.[8]
Wikipedia conveniently omitted neoliberalism as the source of system corruption. At a deeper level it is corruption that form the backbone to globalization. As neoliberal regimes enforce deregulation, privatization, and structural adjustment policies, requiring civil service to shrink, the side effect of externality of this policies is outflow of money iether to G7 countries (for the third worlds) or to offshore jurisdictions (for the USA and other G7 countries). While Western governments, the World Bank and IMF denounce corruption, their own policies promote it on a systemic level.
Like Mussolini used to say (or was it attributed to him) the essence of corporatism is to [corporate] friends everything, to enemies the law. And that's the essence of Clinton-Bush-Obama regime if we are talking about high level executives. Small fish still can be fried, but big sharks are untouchable. No executives went to jail after 2008 financial crisis. No executives went to jail due to deception of people before Iraq war or due to incompetence or worse during 9/11.
Mussolini claimed that by elimination of accountability the dynamic (or heroic) capitalism based on private initiative could be prevented from degenerating into stale crony capitalism. But opposite is actually true. There is a short initial period when deregulation unleashed private energy, but after that corruption emerges and the situation can deteriorate deeper that it was under stale state capitalism regime.
There are currently two interrelated corruption related scandals that hurt Hillary Clinton election chances:
DNC emails scandal: swiftboating Bernie Sanders
"Clinton cash" scandal
Emailgate scandal
These people have no shame. Vote Trump!
USMarines, Guardian Jun 25, 2016
---
These people have no shame. Vote Trump!
USMarines, Guardian Jun 25, 2016
I didn't have a conspiracy with that woman, Debbie Wasserman Schultz. HRC
Today, while reading Hawthorne's The House of the Seven Gables ,
I unexpectedly came across a passage which fittingly describes the DNC:
They are practiced politicians, every man of them, and skilled to adjust those
preliminary measures which steal from the people, without its knowledge,
the power of choosing its own rulers…This little knot of subtle schemers
will control the convention, and, through it, dictate to the party.
Roland , July 28, 2016 at 7:39 am
The Democratic National Committee under its Obama-installed leader Wasserman-Schultz had from day one schemed against other primary candidates and first of all Sanders to get Clinton elected. If nothing else, the primary process revealed just how much the DNC has become a wholly-owned subsidiary of the Clinton family, that can't even maintain the pretense of neutrality or impartiality--as the DNC's charter requires. And it's also exposed just how much the Fourth Estate has abandoned even the pretense of being the public's watch-dogs for the role of being the Clinton's lapdogs -- fitting classic definition of the "courtier press". Now they are shamelessly preying on peoples' lack of understanding of computers trying to hide their criminal behaviour by "Putin did it" smoke screen. They are also shamelessly preying on naive peoples' trust in experts, which has serious downstream effects when these "experts" are debunked. The way that the Russia-Trump storyline has been pounded into our consciousness by the media and the Democratic Party, including at the convention in prime time, is a calculated effort to take our eye off the ball and is a classic "shoot the messenger" tactic.
Clinton is trying to market herself as the Serious/Safe candidate, and instead her campaign is acting hysterical. This whole Putin-hack thing is sabotaging her own brand. And this is not the first instance of "Hillary" poisonous effect on anything she touches. Let's remember that she went into State Department to get the foreign policy experience and now has a record on it that should have every sane person saying keep her away from sharp objects and things that go boom.
Funny though, formally Schultz takes her orders from Obama, as the Chairman of the Party, the DNC Board of Directors and team Hillary. If any blame should go around, it should splash onto all individuals in DNC, not just Schultz. Moreover, her boss, "constitutional scholar" Obama, in this particular case looks like a regular Mafiosi: he and his DNC accomplishes swindle the millions of Americans who donated $27 to Bernie's campaign on the basis that it was a fair contest...
Why did "Crooked Hillary" allowed the DNC to sabotage Bernie? She didn't need to having super delegates in her pocket from the very start. But like many sociopaths she did because she can. Now many Bernie backers won't vote for her. As this election is about establishment (and that means that people are not voting for, they're voting against) and Hillary is an establishment candidate. A female successor of neoliberal "bait and switch" king Obama; who is widely hated because of his support of TPP. ) i think she lost quit a bit of votes due to this scandal. This election cycle the vote against establishment politicians might be stronger than the vote for them. That's why Jeb Bush lost.
We shouldn't get roped into discussing allegations about who leaked the emails. That's what Hillary wants the conversation to be about. The fact is these emails show the DNC fixed the nomination for Hillary. This has been so downplayed by the mainstream media as it shows them in their true light. Compare this to the coverage Melania Trump's plagiarised speech got.
Clinton, who received 3.1m from Wall Street for speeches last year, and who was "extremely careless" with national security and who clearly lied under oath to Congress had the entire system rigged in her favour and millions of mostly younger people who supported Sanders have received a slap in the face by a corrupt Dem Party.

Clinton has dragged the party into the sewer with her. They should have told her to step down months ago. This is a shameful Dem convention
Like Clinton foundation and its affiliate entities, the DNC, could be considered a criminal enterprise or racketing influenced organization. Those who haven't realized that, or worse, who shill for them are willfully ignorant, amoral, or unethical. Clinton has dragged the party into the sewer with her. They should have told her to step down months ago. This is a shameful Dem convention