In infectiology Ė founded by Robert Koch himself Ė a traditional distinction is made between infection and disease. An illness requires a clinical manifestation. [1] Therefore, only patients with symptoms such as fever or cough should be included in the statistics as new cases.

In other words, a new infection Ė as measured by the COVID-19 test Ė does not necessarily mean that we are dealing with a newly ill patient who needs a hospital bed. However, it is currently assumed that five percent of all infected people become seriously ill and require ventilation. Projections based on this estimate suggest that the healthcare system could be overburdened.

My question: Did the projections make a distinction between symptom-free infected people and actual, sick patients Ė i.e. people who develop symptoms?
When the patient dies and the test was positive in no way this means that the virus is always primarily responsible for a patientís demise (A Swiss Doctor on Covid-19, Mar 19, 2020) :
According to the latest data of the Italian National Health Institute ISS, the average age of the positively-tested deceased in Italy is currently about 81 years. 10% of the deceased are over 90 years old. 90% of the deceased are over 70 years old.

80% of the deceased had suffered from two or more chronic diseases. 50% of the deceased had suffered from three or more chronic diseases. The chronic diseases include in particular cardiovascular problems, diabetes, respiratory problems and cancer.

Less than 1% of the deceased were healthy persons, i.e. persons without pre-existing chronic diseases. Only about 30% of the deceased are women.
But there are clues which will hint at a COVID-19 infection and which can increase the reliability of the test among them:
Imaging: people who show imaging features of coronavirus on an X-ray and/or CT scan are more likely to be infected.
Symptoms: people who have symptoms characteristic of coronavirus, such as fever, cough, and shortness of breath are more likely to be infected.
Location: there will be different probabilities of infection for people living in different places. People near the epicenter are more likely to be infected. People living near popular tourist destinations are more likely to be infected than people from isolated places like rural Alaska.
Travel history: travelers from places near the epicenter or other outbreak locations are more likely to have the infection (hence, why travelers are screened).
Social contacts: people who have close contact with the infected/those at risk of infection are more likely to be infected themselves.
An antigen is a substance recognized by the bodyís immune system, which can [then] respond by generating proteins called antibodies that specifically recognize that antigen. It detects the presence of a proteinóthe nucleocapsid protein,
While PCR tests look for genetic material from the virus, the antigen test looks for molecules on the surface of the virus. An antigen test provides results much faster than a PCR test. It is also known as a rapid diagnostic test. An antigen test is taken using a nasal or throat swab. It detects specific proteins on the surface of the virus(mit.edu ):
Unfortunately, thereís a trade-off between speed and accuracy, and antigen tests often fail to identify people who are actually infected, a shortcoming the FDA acknowledges. ďPositive results from antigen tests are highly accurate,Ē the FDA writes, ďbut there is a higher chance of false negatives, so negative results do not rule out infection.Ē Just as your doctor may order a throat culture to definitively rule out strep throat when a rapid strep test comes back negative, the FDA recommends using the more sensitive COVID-19 molecular test for symptomatic individuals who test negative with antigen tests ďprior to making treatment decisions or to prevent the possible spread of the virus due to a false negative.Ē
Antigen test results are usually available in an hour. Positive results are said to be highly accurate, according to the FDA and CDC, but negative tests may need to be confirmed with a molecular test.
Coronavirus (COVID-19) Update: FDA Authorizes Antigen Test as First Over-the-Counter Fully At-Home Diagnostic Test for COVID-19 December 15, 2020
The FDA reminds patients that all tests can experience false negative and false positive results. Individuals with positive results should self-isolate and seek additional care from their health care provider. Individuals who test negative and experience COVID-like symptoms should follow up with their health care provider as negative results do not preclude an individual from SARS-CoV-2 infection.

The Ellume COVID-19 Home Test uses a mid-turbinate nasal swab (sample is collected further back than the usual nasal swab, but not as far back as nasopharyngeal swabs, which are only appropriate for use by a trained health care provider) to detect certain proteins of the virus known as antigens. The Ellume COVID-19 Home Test correctly identified 96% of positive samples and 100% of negative samples in individuals with symptoms. In people without symptoms, the test correctly identified 91% of positive samples and 96% of negative samples. The Ellume COVID-19 Home Test uses an analyzer that connects with a software application on a smartphone to help users perform the test and interpret results. Results are delivered in as little as 20 minutes to individuals via their smartphone. The mobile application requires individuals to input their zip code and date of birth, with optional fields including name and e-mail address, and reports the results as appropriate to public health authorities to monitor disease prevalence. Ellume expects to produce more than three million tests in January 2021.

The FDA continues to work with test developers to expand access to COVID-19 testing and supports further development of COVID-19 tests that can be used completely at home.
Interim Guidance for Antigen Testing for SARS-CoV-2 Dec. 16, 2020
Antigen tests can be used for screening testing in high-risk congregate settings in which repeat testing could quickly identify persons with a SARS-CoV-2 infection to inform infection prevention and control measures, thus preventing transmission. In this case, and especially in settings where a rapid test turnaround time is required, there is value in providing immediate results with antigen tests, even though they may have lower sensitivity than NAATs.
Antibody tests show if you previously were infected and have specific antibodies. Antibody tests, which require a blood draw, are usually available the same day or up to three days later. Antibody tests do not show an active infection. According to the FDA, it can take days or weeks to build up enough antibodies to have a positive antibody result.
How long antibodies for the virus exists in formerly infected patients is totally unclear, but the current consensus is that it is more then six months.
COVID-19 has great similarities to seasonal flu and displayed the same patterns. It is not spreading exponentially outside small a small initial period of approximately 30 days in a given country. After that initial period the daily rate of growth drops. They effect is due to both growing "herd immunity", countermeasures, and increased people awareness about the danger, which lead to lifestyle changes. Human societies are very adaptable. In case of China peak was achieved somewhere between Feb 3 and Feb 15 or approx in 45 days from the beginning of the epidemic. If virus happened in spring like was the case in the USA it returns in autumn. That is what is not observed in many countries and incorrectly called the second wave (But, But, Masks!)
Nona Yobiznez, 12 hours ago (Edited)

Argentina has worn masks since April or even March. Their cases didn't stop rising. In fact they rose exponentially until a few weeks ago, which coincided with late spring for them. Seasonality overrides all other factors.
Like in neoclassical economic we see "mathiness" flourishing: flawed assumptions, poor & flawed math, invalid statistical analysis, failing to account enough pertinent scientific considerations (and failing to discount the invalid pseudo-medical/pseudo-scientific crap emitted by medical stooges serving neoliberalism).
There is a saying "Models are as good as underling assumptions are, and assumptions are often wrong." That means that "naive" models are highly deceiving and represent "fearmongering via mathiness", especially if they assume that all population is susceptible to the infection. In reality probably only somewhere between 10 to 30% are susceptible. Diamond Princess cruse ship cruel experiment (where all passengers and crew were tested) gave us 20% which should probably be assumed as working assumption. Wuhan medics represent an extreme case and they have 60% susceptibility which should be the upper bound for adult population (not total population, but only adult)
The ďgarbage in, garbage outĒ effect is fully applicable to all these mathematical models that are scaring the daylights out of the public. I would refer readers to the following article by John Ioannidis - Wikipedia , a prominent epidemiologist: In the coronavirus pandemic, we're making decisions without reliable data Ioannidisís 2005 paper ďWhy Most Published Research Findings Are FalseĒ has been the most downloaded technical paper from the journal PLoS Medicine and is considered foundational to the field
In other words number of people infected with this virus probably will stay lower then the number of people infected with seasonal flu.
Also human societies are highly adaptable and communications patterns of people are strongly group oriented. Random communication does not happen outside of air travel, international travel and such. Which limits infection to a particular set of groups to which the infected individual belongs. In other words there is no random propagation outside very early period of the spreading of the virus (say the first 30 days), when the virus is easily finds susceptible individuals. After approximately the first 30 days part of the people are already immunized or removed from contacts, and part is not susceptible so finding new victim became much more difficult and the speed of transmission slows down. Even in a bus traveling, say, to NYC from suburbs passengers soon start recognize each other. In the USA the speed of transmission slowed down from approximately March 24, 2020 when is dropped to 25% a say from the average of 32% a day.
utu , says: Show Comment March 25, 2020 at 11:20 am GMT

@Agathoklis

"Italian deaths are not rising exponentially. "

I am pretty sure they were in the initial period but once the epidemic spreads into areas with different population densities where doubling periods are different and when new countermeasures are being implemented you will see departures from the exponential growth.

Even w/o countermeasures when more and more people get infected the reproduction number R0 will be getting smaller resulting in a steady decrease of the exponential coefficient.

Zhanwei Du et al. studied the exponential growth in Wuhan in the period before quarantine was imposed. See the Appendix in

https://wwwnc.cdc.gov/eid/article/26/5/20-0146_article
The COVID-19 epidemic was growing exponentially during December 1, 2019Ė January 22, 2020, as determined by the following: dI(t) = I0 ◊ exp(λ ◊ t) in which I0 denotes the number of initial cases on December 1, 2019, and λ denotes the epidemic growth rate during December 1, 2019ĖJanuary 22, 2020.

What is important about Ron Unz approach is that by looking at daily death increments one can gage the number of new infections and as the epidemic progresses the changes in doubling period would be adjusted from daily death increments.

In times when very few tests are being done to asymptomatic patients and no serum tests are performed to determine who already went through infection and recovered this approach is very useful and simple method to estimate the extent of the epidemic.
The short answer is old males. The dominant affected category are people over 55, as the immune system weakens with age. Men became infected three-four time more frequently then women. The other fact is ethnicity: Afro-American and Asians for some reasons are affected more (can be social factor, not ethnicity per se). In any case, obesity and diabetes are more common among Afro-American. High blood pressure is also pretty common among Asians.
Paradoxically it is unclear if smoking affect your chances to get the diseases. Obesity doubles your risk. It looks like people who were vaccinated with BCG are less affected. There is some connection of infections with the deficiency of vitamin D. This is still hypothesis but some data do support it. Older men often have vitamin D deficiently.
But in any age category the virus in not capable to infect everybody. Percentage of susceptible people is around 20-60% depending on conditions (60% for medical workers who are constantly exposed to high viral loads probably represents upper bound). People with normal immune system who have already been exposed to other viral infections may have enhanced immunity against this coronavirus. This hypothesis is based on the fact that "it was recently shown that in an effort to limit viral infections, host cells that are infected by a number of viruses provoke an interferon response to inhibit the enzymatic activity of furin-like enzymes."
Air pollution is definitely a factor. This is this the hot spot of this epidemic are typically large cities with their extremely high density of population and poor air quality.
In any case much epends on locality: Virus spreads in a few hotspots within a given country. A large portion of the USA cases are centered on New York City. Since March 20, New York state, Connecticut and New Jersey have accounted for around 50% of all US cases. As of April 9, nearly 60% of all deaths from COVID-19 have been in these three states. The same is true for Italy. When Italy experienced its Corona carnage in Lombardy, every health Ďexpertí predicted that when the Ďvirusí slipped out of the rich Lombardy region and made it to the poor south, we would see real genocide. It didnít happen.
Like most infections it hits poor much harder then wealthy. It goes without saying. It also hit obese much harder than people with normal weight and obesity is concentrated on lower income population group. So countries with tremendous wealth discrepancies fare much worse then more equal countries (the USA has Gini coefficient over 40 while Finland, Belgium, Austria -- less then 30; List of countries by income equality - Wikipedia.) Add to this that in the USA there are many uninsured who simply are afraid to go to the hospital and you now can understand why the USA was hit so hard.
From formal standpoint corona viruses are classified as common colds rather than influenza. According to the CDC, symptoms of this new coronavirus include fever, dry cough, and shortness of breath, which can appear anywhere between two days and two weeks after the exposure.
Nausea is also occurring, but is not the leading symptom. The most distinctive pair of symptoms is dry cough, and later shortness of breath. Like all such viruses this virus causes an infection in the respiratory tract, or nose, throat and lungs (in mild cases mostly upper part -- brouchs (acute bronchitis), but is severe cases lower part -- alveoli causing pneumonia). The virus is iether inhaled with infected aerosol or transmitted, usually via your fingers, to the mucous membranes of the mouth, nose or eyes.
99% of infections happen in closed spaces. People who do not wear mask in closed spaces has higher chances to get infected, and, what is more important, to infect others. So the requirement that all people in public places wear masks is the logical first step is controlling the epidemic. That was not done in the USA and the country paid the price for the incompetence of its leaders.
The virus "travel" in droplets which make regular surgical masks or handmade masks very effective. They drop the probability of being infected at least five times (of course, they do not eliminate it) and to infect other by at least 10 times. In this sense N95 masks are an overkill: they do not filter exhausted air and an infected person in N95 mask will spread the virus too although nor as actively and on shorter distances as a person without such a mask. for a person without mask droplets will travel long (up to 2 meters) distance as in case of cough of sneezing. You can wear surgical or handmade mask only for approximately two hours; after that it becomes wet and should replaced with a new dry mask.
As immune system weaken with age (especially after 50) this category of people is at higher risk and should behave accordingly.
Washing your nose with the saline solution after being outdoor (only after cleaning your hands) might slightly help and generally is a good hygienic measure if used properly. See Is Rinsing Your Sinuses With Neti Pots Safe FDA Search web for "nasal irrigation" for more information.
COVID-19 infects men more frequently then women (around 66% of infected persons are men). Which might suggest that mans immune system deteriorates much quicker with age then for women.
There is only limited clarity about the groups of high risk. You can be certain that the virus prefers poor people. That's given. In addition it prefer men, especially over 55.
C.D.C. Releases Early Demographic Snapshot of Worst Coronavirus Cases

The agencyís study of hospitalizations for Covid-19 in March shows heightened numbers for those with underlying conditions, men and African-Americans.
There are few other relevant factors that are discussed The current working hypothesis is elderly (which is an established fact), smokers (less established fact) and people with hypertension (even less established fact) are more susceptible.
Among three major groups of risk for pneumonia are
Older people as they have weaker immune system; each ten year of age after 60 increase the risk and for people over 80 around 15% develop pneumonia and die. Both Chinese and Italian data suggest that men over 50 are at higher risk. For old people the risk is especially high and increase dramatically with each decade of lifespan (In Italy, Coronavirus Takes a Higher Toll on Men - NYT) For example, China CDC Weekly published data that among a subset of 44,700 infections confirmed through lab tests as of mid-February, more than 80% were at least 60 years old, with half over 70. The role of smoking is especially interesting in view of the mysterious "vaping pneumonia" epidemics that hit the USA in August of 2019 (see below). It is difficult to find this information on the Internet, and I suspect I know why.
People living in areas with very bad air quality and, especially, smokers (including smokers of electronic cigarettes) and people with chronic lung conditions such as asthma, emphysema, TB, etc ; this is a little bit speculative but generally the weaker lungs you have them worse is your prognosis. Part of high fatality of virus in Iran might be bad air quality plus the fact that most people over60 were subjected to effects of poison gases used by Iraq in the war with Iran. Plus that smoking is still quite widespread among Iranian men. Paradoxically those two are taking asthmatic drags might not that affected as other categories.
People with hypertension especially those who use ACE inhibitors : nearly 40% of the Italian fatalities were using ACE inhibitors (and this may be an underestimation as pre-admission medication charts were lacking). The virus binds to the pulmonary ACE2 receptor. Conceivably the use of ACE-inhibitors (or the related AT-receptor antagonists) induces upregulation of this receptor, but this is purely conjecture on my part. Anecdotally, use of this medication class is lower in Germany, which has been proffered among reasons for its lower fatality rates.
For people over 50 being male is a risk factor which doubles the risk. Especially if you are a smoker. The gender gap disappears only at 90, probably because there are much fewer men in this age group. In Italy, men represented over 60% of coronavirus cases, and over 70% of the deaths.
Another question is air quality. It looks like places with very bad air quality such as large cities (NYC, Los Angeles, etc) and industrial regions with high level of smog (Northern Italy, Wuhan) are more affected. The same is true about people who spend most of their day in badly ventilated spaces (most people in the USA). Spending 30 min or more on sun is an important prophylactic measure (Coronavirus and the Sun a Lesson from the 1918 Influenza Pandemic):
Patients treated outdoors were less likely to be exposed to the infectious germs that are often present in conventional hospital wards. They were breathing clean air in what must have been a largely sterile environment. We know this because, in the 1960s, Ministry of Defense scientists proved that fresh air is a natural disinfectant.[5] Something in it, which they called the Open Air Factor, is far more harmful to airborne bacteria ó and the influenza virus ó than indoor air. They couldnít identify exactly what the Open Air Factor is. But they found it was effective both at night and during the daytime.

Their research also revealed that the Open Air Factorís disinfecting powers can be preserved in enclosures ó if ventilation rates are kept high enough. Significantly, the rates they identified are the same ones that cross-ventilated hospital wards, with high ceilings and big windows, were designed for.[6] But by the time the scientists made their discoveries, antibiotic therapy had replaced open-air treatment. Since then the germicidal effects of fresh air have not featured in infection control, or hospital design. Yet harmful bacteria have become increasingly resistant to antibiotics.

Sunlight and Influenza Infection

Putting infected patients out in the sun may have helped because it inactivates the influenza virus.[7] It also kills bacteria that cause lung and other infections in hospitals.[8] During the First World War, military surgeons routinely used sunlight to heal infected wounds.[9] They knew it was a disinfectant. What they didnít know is that one advantage of placing patients outside in the sun is they can synthesise vitamin D in their skin if sunlight is strong enough. This was not discovered until the 1920s. Low vitamin D levels are now linked to respiratory infections and may increase susceptibility to influenza.[10] Also, our bodyís biological rhythms appear to influence how we resist infections.[11] New research suggests they can alter our inflammatory response to the flu virus.[12] As with vitamin D, at the time of the 1918 pandemic, the important part played by sunlight in synchronizing these rhythms was not known.
How big is the statistical difference between place with good air quality and places with bad air quality is unclear. Similar questions arise about different climatic zones. Are hot and humid places less susceptible to this virus epidemics?
The majority of cases in China are were mild (Data as of February 17 from https://www.worldometers.info/coronavirus/ ):
Currently Infected Patients: 58,625
in Mild Condition 46,830 (80%)
Serious or Critical 11,795 (20%)
Cases which had an outcome: 14,711

Recovered / Discharged 12,837 (87%)
Deaths 1,874 (13%)
#COVID19 China CDC releases largest dataset to date with >55,000 confirmed cases as per @WHO press briefinghttps://t.co/gIrb3iCsKK

Case fatality rates with significant sex and age difference

Ė Male 2.8%
Ė Female 1.7%

Data confirm children appear less susceptible to infection pic.twitter.com/1DYi98H1Dr

ó Andy Biotech (@AndyBiotech) February 17, 2020
Hereís an interesting breakdown of cases on the cursed cruise ship (passengers likely are significantly older than the general population):
From this report on #diamondprincess

454/1,723 positive ~ 26%
19/454 critically ill ~ 4%
181/454 asymptomatic ~ 40% (!)

Leaves 254 symptomatic of them 19/254 (7.5%) critically ill Still not final outcomes but this will be an important cohort analysis on clinical spectrum of #COVID19 https://t.co/8yU9xgImrZ

ó Matt Kuehnert MD (@drkuehnert) February 17, 2020
Those people who have "bystander" infections are probably in particular danger: ďBystanderĒ infection is a medical term for having a preexisting infection, which, when one is exposed to a new pathogen, might reduce oneís ability to combat the new pathogen. I wonder whether regular cold increases corona susceptibility or severity.
Not all people are susceptible to this virus. In Diamond Princess cruise chip epidemics only around 20% were infected. Among the initial members of Wuhan medical personnel (really worst case scenario) only 60% were infected. Those are two worst case scenario where everybody was exposed to the virus in huge doses. Moreover, in Diamond Princess AC might help to spread the virus to all cabins and the passengers were served by the crew that included asymptomatic carrier of the virus. In case of Wuhan medical personnel the concentration of virus was extremely high, while initially protective measures were not taken at all. They were literally flooded with the virus.
We can expect lesser percentage for less tough situations. For example, within the extended family set of people only around 10% develop any symptoms.
In other words 60% of population looks like the upper bound of the number infected (cases when one travels in infected person, prolonged contact in family, etc) while 10% or less looks probable for the "community" type of infections (grocery shops, churches, meetings, etc)
The number of people susceptible to the virus probably also decrease with the establishment of warm weather as immune system became stronger and they are more exposed to direct sunlight.
Not all people are susceptible to the virus. In Diamond Princess cruise chip epidemics only 20% were infected. Among Wuhan medical personnel only 60% were infected. Those are two worst case scenario were everybody was exposed to the virus (
in Diamond Princess AC might help to spread the virus to all cabin
) so we can expect lesser percentage for less tough situations.
The number of people susceptible to the virus probably decrease with the establishment of warm weather.
Looks like some politicians like Angela Merkel became too pessimistic: "60-70% of the population will be infected" - Angela Merkel about the COVID-19. In other words she does not believe in German people resilience and think that they will fare worse than Wuhan medics ;-)
And one of the most affected and the most neglected subgroup of population in this regard is medical personnel. One obvious measure is to try train medical personnel to use optimal defense measures (and providing all the necessary for that materials). What is unclear is what are optimal defense measures.
The pressure faced by medical staff in the centers of epidemic is enormous and Chinese social media was flooded with posts showing exhausted workers struggling to cope. Posts tell about doctors and nurses working without much food or rest for long hours while wearing poorly ventilated hazmat suits. The initial chaos in cities under lockdown across Hubei has led to shortages of virus testing kits and face masks. In late January the situation improved and drug stores started giving out five free masks to everyone. Paranoid people can buy N95 type masks but need to pay for them.
Among initial batch of medics in Wuhan around 60% became infected so this is serious threat, which should not be discounted. And it can lead to the depletion of the medical personal as recovery takes one month or so. More than 1,700 medical workers have been infected by the coronavirus, according to Chinaís National Health Commission, while 26 have died. Among them was 51-year-old Liu Zhiming, the director of Wuhanís central hospital, a 29 year old doctor Peng Yinhua, who postponed his wedding to fight the epidemics, and ophthalmologist Dr Li Wenliang, 33 who raise one of the first alarm about the virus. Most victims are men, but one 29 female doctor Xia Sisi, a gastroenterology physician also died. Most medical staff have been infected in Wuhan and the broader Hubei province, where the virus first emerged in December.
China has mobilized medical workers from across the country to help treat and care patients, as the virus spread and overwhelmed local hospitals. More than 25,000 medical workers, including top-line doctors and nurses from the countryís best hospitals in Beijing and Shanghai, have been dispatched to Hubei. The extra staff sent to Hubei included 450 military medics with experience of battling SARS and Ebola, state media said, who arrived in Wuhan on Jan 24, 2020.
Hazmat suits that were used by Chinese medics is probably an overkill as they cause quick exhaustion which make medical personnel more susceptible to the virus and also cause some unrelated deaths from pure exhaustion. Wuhan medic used adult pumpers as even visiting bathroom became complicated task.
For married medical personnel who are tested positive it might make sense to organize special quarters in order not to infect family members and to speed up recovery. That's what China actually did -- all tested positively went to hospitals, not to self-isolation.
For married medical personnel who are tested positive it might make sense to organize special quarters in order not to infect family members and to speed up recovery. That's what China actually did -- all tested positively went to hospitals not to self-isolation.
Like in case of war there should be some rotation of personnel in hot zones, so the medical personnel did not suffer infections of even death from exhaustion (China experience can help; they did infuse hot zone with medical personnel from less affected areas; I do not know whether they practiced rotation or not)
Current estimates suggest that mortality starts with 0.1% for teenagers, less then 1% for people younger then 40. It dramatically picks up for people over 50, reaching 15% for patients over 80 (who usually have other serious medical conditions; there are very few healthy 80+ year old).
As elderly dominate serious cases and deaths from this virus protective measures should be varied by age categories. California was the first state which made the decisive step in this direction and recommended to all seniors to stay home. But there are moral problems here as was pointed by a commenter in off-guardian.org:
Indefinite rolling lockdowns for the elderly Ė who in many cases will be in imposed solitary confinement Ė is a virtual death sentence for many. With emergency powers to detain, restrain (with reasonable force), and contain absconders in ĒappropriateĒ and ĒsecureĒ facilities Ösurely a short fever and a 14% chance of mortality are more humane?
First of all elderly should wear masks and provided special hours for shopping (for example the first hour as most older people get up early). It they order home delivery the order should be left at the door and direct contact is avoided. But lengthy lockdown might have for them negative effects too: it might gradually turn into torture. Where is the respect for the elderly? In a long term this might well be worse than the disease: the imprisonment potentially far more deadly than the virus.
But international travel for them (and may be all air travel) definitely should be prohibited. Traveling internationally to the countries known to be affected dramatically increases the risk.
Draconian countermeasures have been adopted in many countries. If the pandemic dissipates ó either on its own or because of these measures ó short-term extreme social distancing and lockdowns may be bearable. How long, though, should measures like these be continued if the pandemic churns across the globe unabated? How can policymakers tell if they are doing more good than harm?
Implemented properly those measure help to protect seniors and "flatten" the curve and avoid overcrowding of hospitals by elderly patients as well as give authorities some time to extend the number of necessary beds and ventilators within hospitals. Including creating temporary hospitals in severely affected areas like Chinese did.
First of all this is not a normal flu. It is more a serious disease. ďA normal fluĒ does not entail acute hypoxemia and typically has no long term consequences for those who recovered. Here the picture is fuzzy but definitely more dark. One thing is certain: the fatality is probably in the ballpark of seasonal influenza.
In the USA the scope of epidemic was dramatically increases by the CDC blunder with tests.
CDC blunder with the production and distribution of virus test really borders with criminal negligence
Good YouTube presentation that presents most available facts as of late February 2020 (as well as some historical background) is by Dr. Forest Arnold COVID-19 (SARS-CoV-2) Epidemic with Dr. Forest Arnold
There are two prognoses for the disease. Kind of two separate diseases under one roof, if you wish. And mangling them into one as done by the US MSM is a junk science.
Flu-like scenario. This scenario affects over 93-98% of patients. In such cases people develop only acute bronchitis and fully recover. There is no any long term consequences for their health. That's a typical case especially among younger people. That does not means that reckless people who ignore the danger and expose themselves will fare well if they caught it. A certain percentage of young people, especially among medical personnel treating patients, are not that lucky. Asymptomatic people and light cases (in which virus infects only upper respiratory tract) also serve as Trojan horses for the virus helping it to infect more people and prolong the epidemics. My fear is, that after 30-40 years of neoliberal indoctrination, no solidarity, or social responsibility exists anymore here.

This fly-like form the disease remains pretty rare. As of April 28, 2020 one million people or 0.3% of the USA population(331 million) was tested positively for the COVID-19 infection and around 57K died ("from it" + "with it"). In comparison, every year, from 5-20% (20 to 70 million) of the USA population become infected with influenza virus. An average of 200,000 of these people will require hospitalization and up to 50,000 will die. Older folks over the age of 65 are especially susceptible to virus infection, since the immune system becomes weaker with age. In addition, older folks are also more susceptible to long-term disability following virus infection, especially if they are hospitalized.

A new type of destructive virus pneumonia similar to one caused SARC and, paradoxically, similar to pneumonia observed during "vaping epidemic" in the USA in august 2019. This condition affects around 2-7% of infected people ( more in t he large populated cities like NYC). Virus pneumonia usually starts from the ninth day to the 14th of the disease. At this point the condition of the patient changes abruptly and qualitatively and becomes really life threatening. Here prognosis is very serious and there are long term health consequences for those who manage to recover (fibrosis of lungs or various degree). Some unknown but very small percentage of people with virus pneumonia suddenly develops Acute Respiratory Distress Syndrome (ARDS) which occurs when fluid builds up in the tiny, elastic air sacs (alveoli) in your lungs. Such patient typically requires oxygen and if conditions deteriorate sometimes even need to be put on ventilator. Around 40% of people with ARDS dies. Fortunately (or unfortunately depending on your age) this scenario concentrates among seniors and people with some predisposition, although we do not know exactly what they are (two supposed groups of risks are obese and people with high arterial pressure). It has to do something with their lung receptors "affinity" to the virus.
MSM hysteria about the total number of cases which is deceptive in a sense that they greatly overhype the treat. The cases that really matter are
ďSerious and critical casesĒ (which all are cases of virus pneumonia. ) In those cases COVID-19 is very similar to SARC.
The ďmedical workers who are in serious or critical conditions.Ē The last set of data (about medical workers) is important because this virus really is a serious threat for medical personnel which is overexposed to the virus and who as Wuhan proved will suffer consequences. It can cause the depletion of medical person which complicate prognosis for "commoners" This is the area where the behavior of the US government was clearly incompetent as it does not provide medical workers with training and clear instructions as for the use of protective gear as well as sufficient virus tests (there was a reported case, when a possibly infected nurse waited for a test for week or more.) CDC blunder with the production and distribution of virus test really borders with criminal negligence.

Also government should provide a shelter for medical personnel, so that they do not infect their families. Telling a probably infected person to shelter with their family, as is now done in the US will only kill more people. Around 80% of the cases in China got infected through direct family contact. The family chain must be broken to effectively stop the epidemic.
Pneumonia is a very common and pretty severe disease. Pneumonia affects approximately 450 million people globally (7% of the population) and results in about 4 million deaths per yea or around 2% of total death.
Virus pneumonia usually affects two lungs, while bacterial pneumonia usually affects more a single lung. Otherwise virus pneumonia is similar to severe cases of regular flu with bacterial pneumonia complications.
Patient positioning maneuvers (having patients lie on their stomach and sides) open up the lower and posterior lungs most affected in Covid pneumonia. Oxygenation and positioning helped patients breathe easier and seemed to prevent progression of the disease in many cases.
"Who will get virus pneumonia?" after being infected with COVID-19 is a very important question as currently there is no medicines that treats it directly. Because "regular" pneumonia vaccines target bacteria, they would not prevent pneumonia caused by a virus. Antibiotics are not effective per se but can be useful to prevent the development of baterial pneumonia.
So far the working hypothesis is that three factors are important: your age, status of your lungs tissue ( whether you live in the area with very bad air quality -- typical for large cities), possibly your ethnicity, and whether you take ACE inhibitors for hypertension
So far the working hypothesis is that the following factors are the most important:
Your age,
Serious chronic deseases (heart disease, hypertension, etc)
Obesity and diabetes
Your sex (males are in large disadvantage),
Status of your lungs tissue (one factor probably is living in area with a very bad air quality; another chronic diseases such as diabetes, asthma, hypertension)
Deficiency of vitamin D might also be a factor (old males typically have deficiently of vitamin D.)
The level of air pollution
The density of population in t he area you live (large cities dwellers are at might higher risk)
Your blood group.
In case of hypertension you prognosis became worse if you take ACE inhibitors for hypertension. Weakened immune system and patients who take or any drugs that affect immune system is another clear group of risk. Deficiency of vitamin D might also be a factor (old males typically have deficiently of vitamin D.) According to a 2011 study, 41.6% of adults in the US are deficient. This number goes up to 69.2% in Hispanics and 82.1% in African-Americans ( 3Trusted Source).
One interesting but unproven fact is that smokers infected with COVID-19 tend not to develop Acute respiratory distress syndrome (ARDS) which occurs when fluid builds up in the tiny, elastic air sacs (alveoli) in your lungs. Those who get ARDS has on average 40% death rate with older people over 50%
Less reliable factors that are mentioned are
Climate zone that you live in (In the whole of Africa there are only 7000 cases, and very few serious cases ). But the level of pollution probably plays more important role then the climate zone. People from highly polluted areas (especially close to steel mills) tend to be more susceptible to the virus. Most host spots are industrial centers or highly polluted cities with high density of population.
Your blood group. There was a study done in China the results of which suggested that people with blood group A were at higher risk of needing hospitalization if they were infected with COVID-19 compared to people with blood group O. The research was done on three groups of patients in two hospitals in Wuhan and one hospital in Shenzhen, and those groups may not be representative of Chinese people as a whole. The research did not study people who had COVID-19 but who did not need hospitalization.
Pneumonia is usually diagnosed by the presence of liquid in the lungs. The good news is that well over 90% COVID-19 cases exhibit only mild to moderate symptoms (acute bronchitis with severe dry cough) that donít require hospitalization. Doctors recommend that these patients self-isolate, stay hydrated, eat well, and manage their symptoms as best they can.
But not all infected are that lucky. In some case a new type of pneumonia ( atypical pneumonia or virus pneumonia ) develops approximately a week after the disease started. Which is a serious disease that can have long term health consequences for survivors (lung fibrosis). For those for whom lung fibrosis affects a substantial portion of lungs a large percentage will die in approximately five years period.
It disproportionally affects so called "high risk groups" What is known is that for people younger then 70 men are trice more severely affected then woman (66% vs. 33%). This ratio gradually equalizes at 90 as there far fewer men in this category then women.
Here is write-up of the development of virus pneumonia from the National Geographic Hereís what coronavirus does to the body
In the early days of an infection, the novel coronavirus rapidly invades human lung cells. Those lung cells come in two classes: ones that make mucus and ones with hair-like batons called cilia.

Mucus, though gross when outside the body, helps protect lung tissue from pathogens and make sure your breathing organ doesnít dry out. The cilia cells beat around the mucus, clearing out debris like pollen or viruses.

Frieman explains that SARS loved to infect and kill cilia cells, which then sloughed off and filled patientsí airways with debris and fluids, and he hypothesizes that the same is happening with the novel coronavirus. Thatís because the earliest studies on COVID-19 have shown that many patients develop pneumonia in both lungs, accompanied by symptoms like shortness of breath.

Thatís when phase two and the immune system kicks in. Aroused by the presence of a viral invader, our bodies step up to fight the disease by flooding the lungs with immune cells to clear away the damage and repair the lung tissue.

When working properly, this inflammatory process is tightly regulated and confined only to infected areas. But sometimes your immune system goes haywire and those cells kill anything in their way, including your healthy tissue.

ďSo you get more damage instead of less from the immune response,Ē Frieman says. Even more debris clogs up the lungs, and pneumonia worsens. (Find out how the novel coronavirus compares to flu, Ebola, and other major outbreaks).

During the third phase, lung damage continues to buildówhich can result in respiratory failure. Even if death doesnít occur, some patients survive with permanent lung damage. According to the WHO, SARS punched holes in the lungs, giving them ďa honeycomb-like appearanceĒóand these lesions are present in those afflicted by novel coronavirus, too.
Medical personnel is also high risk group for virus pneumonia, as they are exposed to the virus in quantities far exceeding the rest of the population.
Once inside the cells, the virus hijacks the protein manufacturing machinery of the cell to generate its own viral proteins and create more viral particles which when released infect other cells. While this process causes some lung injury, most of the symptoms and damage are actually caused by the immune response to the virus (What the flu does to your body, and why it makes you feel so awful):
The initial immune response involves cells of the bodyís innate immune system, such as macrophages and neutrophils. These cells express receptors that are able to sense the presence of the virus. They then sound the alarm by producing small hormone-like molecules called cytokines and chemokines. These alert the body that an infection has been established.

Cytokines orchestrate other components of the immune system to appropriately fight the invading virus, while chemokines direct these components to the location of infection. One of the types of cells called into action are T lymphocytes, a type of white blood cell that fights infection. Sometimes, they are even called ďsoldierĒ cells. When T cells specifically recognize influenza virus proteins, they then begin to proliferate in the lymph nodes around the lungs and throat. This causes swelling and pain in these lymph nodes.

After a few days, these T cells move to the lungs and begin to kill the virus-infected cells. This process creates a great deal of lung damage similar to bronchitis, which can worsen existing lung disease and make breathing difficult. In addition, the buildup of mucous in the lungs, as a result of this immune response to infection, induces coughing as a reflex to try to clear the airways. Normally, this damage triggered by arrival of T cells in the lungs is reversible in a healthy person, but when it advances, it is bad news and can lead to death.

The proper functioning of influenza-specific T cells is critical for efficient clearance of the virus from the lungs. When T cell function declines, such as with increasing age or during use of immunosuppressive drugs, viral clearance is delayed. This results in a prolonged infection and greater lung damage. This can also set the stage for complications including secondary bacterial pneumonia, which can often be deadly.
For all people who develop pneumonia, preexisting medical conditions instantly come into play. And often determines prognosis. Some of them such as cardiovascular disease, diabetes and hypertension make prognosis much worse:
PRE-EXISTING CONDITION
DEATH RATE confirmed cases
DEATH RATE all cases
Cardiovascular disease
13.2%
10.5%
Diabetes
9.2%
7.3%
Chronic respiratory disease
8.0%
6.3%
Hypertension
8.4%
6.0%
Cancer
7.6%
5.6%
no pre-existing conditions
0.9%
The current estimate of mortality for people younger then 50 and with no pre-exiting conditions is less then 1%.
For younger people with healthy lungs typically immune system usually jump into action and kill the virus in lungs, or virus is not able to bind with lung cells ACE2 receptors. Again, only 7% of infected and mostly older males are unlucky. Looks like older men, especially those who live in highly polluted areas (such as major industrial cities) are the main risk group. In general, males are twice more susceptible to the virus then women of the same age bracket. Data are based on Italian and China samples and it may well be because there are more smokers among them in those two countries.
Other part of the answer are difference in lifestyle between people. Overweight people with almost zero physical activities are another important risk group. The same, for lesser extent, is true for "coach potato". Especially, if they are living in area with highly polluted air, such as many large cities (traffic) and industrial regions, lungs receptors are more "inclined" to bind with virus and that makes this category of people more vulnerable. Several areas heavily affected by the virus are areas with a very bad quality of air (Northern Italy, Iran, Wuhan, NYC )
Spending on fresh air under direct sun 30 or more minutes a day improves you immune system and as such might help to became less susceptible to the virus, and if you got it improves prognoses. During Spanish flu epidemic sick people were moved in beds on flesh air and spend several hour under sun radiation. The results were encouraging.
Some medical conditions like high arterial pressure also probably increase chances of virus binding with lung receptors. But this is all speculation. Not reliable data are available. But there is strong indirect evidence that smoking makes you more susceptible to the development of this type of virus pneumonia
Looks like smoking or living in the area with bad air quality makes people more susceptible to COVID-19 pneumonia. That means that one of the first thing to do to protect yourself is to stop smoking
Old people generally have higher chances to get pneumonia as they have weaker immune system. After you got it other medical conditions come into play, especially cardiovascular diseases, diabetes and suppressed immune system (A Swiss Doctor on Covid-19, Mar 19, 2020) :
According to the latest data of the Italian National Health Institute ISS, the average age of the positively-tested deceased in Italy is currently about 81 years. 10% of the deceased are over 90 years old. 90% of the deceased are over 70 years old.

80% of the deceased had suffered from two or more chronic diseases. 50% of the deceased had suffered from three or more chronic diseases. The chronic diseases include in particular cardiovascular problems, diabetes, respiratory problems and cancer.

Less than 1% of the deceased were healthy persons, i.e. persons without pre-existing chronic diseases. Only about 30% of the deceased are women.
It looks like COVID-19 pneumonia is similar to SARC pneumonia. SARS (atypical pneumonia) is characterized by a cyclic course, pronounced intoxication, destruction of alveolus and in fatal cases the development of acute respiratory failure:
Coronaviruses affect the epithelium of the upper respiratory tract. The main target cells for the SARS virus are the cells of the alveolar epithelium, in the cytoplasm of which the virus replicates. After the assembly of the virions, they pass into the cytoplasmic vesicles, which migrate to the cell membrane and exocytose out into the extracellular space, and before that the virus antigens are not expressed on the cell surface, therefore, antibody formation and interferon synthesis are stimulated relatively late. Sorbing on the surface of cells, the virus contributes to their fusion and the formation of syncytium. In this way, the virus spreads rapidly into tissues. The effect of the virus causes an increase in the permeability of cell membranes and enhanced transport of a fluid rich in protein into the interstitial lung tissue and lumen of the alveoli. At the same time, the surfactant is destroyed, which leads to the collapse of the alveoli, as a result of which the gas exchange is severely affected. ...

Atypical pneumonia has an acute onset, the first symptoms of SARS are chills, headache, muscle pain, general weakness, dizziness, fever of 38įC or more. This febrile (febrile) phase lasts 3-7 days.

...Most patients have a mild form of the disease, and they recover after 1-2 weeks. Depressing patients after 1 week develops acute respiratory distress, which includes dyspnea, hypoxemia and rarely ARDS. Death occurs as a result of the progression of respiratory failure.

... ... ...

Thus, atypical pneumonia is a cyclically developing viral infection, in the development of which three phases can be distinguished.

Feverish phase. If the course of the disease is completed at this phase, the mild course of the disease is ascertained.
Respiratory phase. If the respiratory insufficiency characteristic for this phase is quickly resolved, the moderate course of the disease is ascertained.
The phase of progressive respiratory failure, which requires prolonged ventilation, often ends in a fatal outcome. This dynamic of the course of the disease is characteristic of the severe course of SARS.
In developing countries, and also among the very old pneumonia often shortens suffering among those who are already close to death and has thus been called "the old man's friend." For people with serious medical conditions, pneumonia always was the leading cause of death.
For people with serious medical conditions, pneumonia always was the leading cause of death.
The severe cases predominantly happen to people over 60 and constitute approx 7 to 12% of all COVID-19 infections. See https://www.worldometers.info/coronavirus/
Approximately 88-93% of cases of infection are mild and do not require medical attention. Only 7-12% of cases are severe. The Diamond Princess death rate is 0.19% with 7 deaths in a population of 3700 which has was much older then average. Outside of Hubei, Italy and Iran, mortality rate based on confirmed cased is under 1%. For those under 50 its less than 0.2%.
That fact does not correlate with media hype and many people noticed this discrepancy and reacted accordingly:
Stevie Boy, March 7, 2020 at 15:21

With all the (politically motivated ?) hype, I had a look at the official mortality figures for our annual common flu. Over the last five years the average death rate is 17,000 per year in England, with a high of 28,000 and low of 1,600 !!!

Apparently, we happily live with these large death rates without the ďThe worlds going to endĒ hyperbole. People go about their business, going to work, travelling and all the normal trappings of daily life.

What is it with this Corona virus tosh ? Whatís going on, whoís benefiting ? Is it part of the [anti] China propaganda ? Utter madness.
Changes to get pneumonia dramatically increase after 80. So there is nothing surprising that large percentage people killed by COVID-19 are people over 80 ( Pneumonia - Wikipedia )
Risk factors include cystic fibrosis, chronic obstructive pulmonary disease (COPD), asthma, diabetes, heart failure, a history of smoking, a poor ability to cough such as following a stroke and a weak immune s Diagnosis is often based on the symptoms and physical examination. Chest X-ray, blood tests, and culture of the sputum may help confirm the diagnosis. The disease may be classified by where it was acquired, such as community- or hospital-acquired or health care-associated pneumonia.

Vaccines to prevent certain types of pneumonia are available. Other methods of prevention include hand washing and not smoking. Treatment depends on the underlying cause. Pneumonia believed to be due to bacteria is treated with antibiotics. If the pneumonia is severe, the affected person is generally hospitalized. Oxygen therapy may be used if oxygen levels are low.

Pneumonia affects approximately 450 million people globally (7% of the population) and results in about 4 million deaths per year. Pneumonia was regarded by Canadian pathologist William Osler in the 19th century as "the captain of the men of death". With the introduction of antibiotics and vaccines in the 20th century, survival greatly improved.

Nevertheless, in developing countries, and also among the very old, the very young and the chronically ill, pneumonia remains a leading cause of death.

Pneumonia often shortens suffering among those already close to death and has thus been called "the old man's
If someone gets pneumonia early in the course of COVID-19 disease (during the first 14 days or so), thatís likely a sign the virus is to blame. If a patient gets pneumonia after he/she seems to recover a bit, the culprit is more likely bacteria.

Bacterial infections sometimes spread to the blood making patients critically ill. In such cases pneumonia can lead to lung or kidney failure. The virus itself, or the inflammatory response it instigates, can also attack heart muscle. That makes people more vulnerable to heart attacks and strokes for three to six weeks after they appear to have recovered

This virus pneumonia is really strange in a sense some suggest that shortness of breath is caused not only by fluid in the lungs but is complimented with the destruction of hemoglobin is blood like in case of malaria. That's not proven should be viewed as a weak hypothesis, but if is true, then increase the danger of this virus dramatically.

Itís not known how many people with COVID-19 develop pneumonia and 2-7% of infected is just an educated guess, but of the ones who do, about 20% get severely ill and develop Acute respiratory distress syndrome (ARDS) which occurs when fluid builds up in the tiny, elastic air sacs (alveoli) in your lungs and the level of oxygen in your blood drops dramatically damaging other organs. This group has 40% death rate. This is the situation when people need to be put on ventilator. Putting old people on ventilator often does not improve the prognosis. It just postpones inevitable.

Whether COBID-19 cause ARDS or it develops as the result of lung trauma of ventilator usage recently was actively discussed FROM NYC ICU DOES COVID-19 REALLY CAUSE ARDS!!. We can't exclude certain cases of medical malpractice and the desire of hospitals to get more money (patients who are on ventilator bring additional revenue for the hospital). Also
There is no Ďpneumoniaí nor ARDS. At least not the ARDS with established treatment protocols and procedures weíre familiar with. Ventilators are not only the wrong solution, but high pressure intubation can actually wind up causing more damage than without, not to mention complications from tracheal scarring and ulcers given the duration of intubation often requiredÖ They may still have a use in the immediate future for patients too far to bring back with this newfound knowledge, but moving forward a new treatment protocol needs to be established so we stop treating patients for the wrong disease.
ARDS is the abbreviation for Acute respiratory distress syndrome when your chest muscles are tied so that they can't provided necessary contraction and inflation of lungs (mayoclinic.org ):
Acute respiratory distress syndrome (ARDS) occurs when fluid builds up in the tiny, elastic air sacs (alveoli) in your lungs. The fluid keeps your lungs from filling with enough air, which means less oxygen reaches your bloodstream. This deprives your organs of the oxygen they need to function.

ARDS typically occurs in people who are already critically ill or who have significant injuries. Severe shortness of breath ó the main symptom of ARDS ó usually develops within a few hours to a few days after the precipitating injury or infection.

Many people who develop ARDS don't survive. The risk of death increases with age and severity of illness. Of the people who do survive ARDS, some recover completely while others experience lasting damage to their lungs.
Some specialist consider it more like high altitude sickness when you muscles are OK, but your blood can't get enough oxygen due to destruction of hemoglobin Covid-19 had us all fooled, but now we might have finally found its secret.
There is no Ďpneumoniaí nor ARDS. At least not the ARDS with established treatment protocols and procedures weíre familiar with. Ventilators are not only the wrong solution, but high pressure intubation can actually wind up causing more damage than without, not to mention complications from tracheal scarring and ulcers given the duration of intubation often requiredÖ

They may still have a use in the immediate future for patients too far to bring back with this newfound knowledge, but moving forward a new treatment protocol needs to be established so we stop treating patients for the wrong disease.

The past 48 hours or so have seen a huge revelation: COVID-19 causes prolonged and progressive hypoxia (starving your body of oxygen) by binding to the heme groups in hemoglobin in your red blood cells. People are simply desaturating (losing o2 in their blood), and thatís what eventually leads to organ failures that kill them, not any form of ARDS or pneumonia. All the damage to the lungs you see in CT scans are from the release of oxidative iron from the hemes, this overwhelms the natural defenses against pulmonary oxidative stress and causes that nice, always-bilateral ground glass opacity in the lungs. Patients returning for re-hospitalization days or weeks after recovery suffering from apparent delayed post-hypoxic leukoencephalopathy strengthen the notion COVID-19 patients are suffering from hypoxia despite no signs of respiratory Ďtire outí or fatigue.
That might explain why anti-malaria drag are effective New York Post
Holy Shit, This Is Not The Flu Medical Worker Describes Terrifying Lung Failure From COVID-19... Even In Young Patients
ďI have patients in their early 40s and, yeah, I was kind of shocked. Iím seeing people who look relatively healthy with a minimal health history, and they are completely wiped out, like theyíve been hit by a truck. This is knocking out what should be perfectly fit, healthy people.

Patients will be on minimal support, on a little bit of oxygen, and then all of a sudden, they go into complete respiratory arrest, shut down and canít breathe at all.Ē

They suddenly become unresponsive or go into respiratory failure.

ďWe have an observation unit in the hospital, and we have been admitting patients that had tested positive or are presumptive positive ó these are patients that had been in contact with people who were positive. We go and check vitals on patients every four hours, and some are on a continuous cardiac monitor, so we see that their heart rate has a sudden increase or decrease, or someone goes in and sees that the patient is struggling to breathe or is unresponsive.

That seems to be what happens to a lot of these patients: They suddenly become unresponsive or go into respiratory failure.Ē

The lung is filled with so much fluid, displacing where the air would normally be.

ďItís called acute respiratory distress syndrome, ARDS. That means the lungs are filled with fluid. And itís notable for the way the X-ray looks: The entire lung is basically whited out from fluid. Patients with ARDS are extremely difficult to oxygenate. It has a really high mortality rate, about 40%. The way to manage it is to put a patient on a ventilator. The additional pressure helps the oxygen go into the bloodstream.

ďNormally, ARDS is something that happens over time as the lungs get more and more inflamed. But with this virus, it seems like it happens overnight. When youíre healthy, your lung is made up of little balloons. Like a tree is made out of a bunch of little leaves, the lung is made of little air sacs that are called the alveoli. When you breathe in, all of those little air sacs inflate, and they have capillaries in the walls, little blood vessels. The oxygen gets from the air in the lung into the blood so it can be carried around the body.

ďTypically with ARDS, the lungs become inflamed. Itís like inflammation anywhere: If you have a burn on your arm, the skin around it turns red from additional blood flow. The body is sending it additional nutrients to heal. The problem is, when that happens in your lungs, fluid and extra blood starts going to the lungs. Viruses can injure cells in the walls of the alveoli, so the fluid leaks into the alveoli. A telltale sign of ARDS in an X-ray is whatís called Ďground glass opacity,í like an old-fashioned ground glass privacy window in a shower. And lungs look that way because fluid is white on an X-ray, so the lung looks like white ground glass, or sometimes pure white, because the lung is filled with so much fluid, displacing where the air would normally be.Ē
Life doesnít go on forever. It is a truism that old people tend to die more frequently. In 2017 people over 55 constitute 87% (2.4 million) of all US deaths (2.8 million) (cdc.gov). Of them people over 75 are approx half (55% or 1.5 million). So in "normal" times 8K of Americans each day move to other world. Of them 6.5K are people over 55 and 4K are people over 70.
Like other coronaviruses, this virus predominantly affects "Over 50" age category and might speed up death for those who have other serious conditions.
There are there main group of people who dies from the virus
People with very serious additional conditions ("the last straw effect")
People with weak immune system (that include anybody over 80)
Younger people for whom pneumonia develops into ARDS. This category includes some people younger then 30.
As of April 5, 2020 COVID-19 deaths currently does not distort the statistics of death in the USA as the number of death from the virus is still statistically insignificant . So the question arise, why such drastic measures were taken outside known hot spots such ad New York metropolitan area. It might make sense to classify regions into three category "high risk (hot spots), medium risk and low risk and treat them differently.

Another question why politicians like Cuomo overhype the treat and want tremendous amount of ventilators. Ventilator treatment will not make a survival difference to patients who are frail and that's the majority of COVID-19 patients. Typically around 50% on those who were put on ventilator dies while on ventilators (Mortality rate of COVID-19 patients on ventilators Physician's Weekly.) For those who survives signicant percentage will die too. As of Apr 5 there were only 38K hospitalized patients in the USA. Why Cuomo wants another 40K ventilators is a little bit unclear. Peak ventilator use is predicted to be 19,481 (95% UI 9,767 to 39,674) ventilators (https://gineersnow.com/industries/medical/forecast-deaths-hospitals-ventilators-covid-19-impact-usa) "What the authorities know that a regular overseer of events don't?

Peak ventilator use is predicted to be 19,481 (95% UI 9,767 to 39,674) ventilators.

Read more at: https://gineersnow.com/industries/medical/forecast-deaths-hospitals-ventilators-covid-19-impact-usa

Here are Italian data cited from Moon of Alabama blog:
According to the latest data of the Italian National Health Institute ISS, the average age of the positively-tested deceased in Italy is currently about 81 years. 10% of the deceased are over 90 years old. 90% of the deceased are over 70 years old.

80% of the deceased had suffered from two or more chronic diseases. 50% of the deceased had suffered from three or more chronic diseases. The chronic diseases include in particular cardiovascular problems, diabetes, respiratory problems and cancer.

Less than 1% of the deceased were healthy persons, i.e. persons without pre-existing chronic diseases. Only about 25% of the deceased are women.
The mortality figures from the Italian health ministry certain are surprising to say the least, and not in a way that support the MSM hysteria on this.
That suggests that the data we are getting from MSM is incomplete, hyped (especially about R0 and mortality) and does not allow to objectively size the treat. Only very crude numbers of cases and deaths are available and very little information about testing rates, pre-conditions for development of pneumonia (smoking and poor air quality are two factor suspected but nothing definitive known), very limited information is provided about the average ages of people who is being hospitalized (probably over 70), and especially those in intensive care. The question is who is dying from it ?
One important finding from the China study that is ignored by neoliberal MSM is the near absence of cases among children. The 10-19 age bracket comprised only one percent of all infections, and a single death. Children under 10 made up less than one percent, with no deaths reported
One important finding from the China study that is ignored by neoliberal MSM is the near absence of cases among children. The 10-19 age bracket comprised only one percent of all infections, and a single death. Children under 10 made up less than one percent, with no deaths reported
Oxfordís Centre for Evidence Based Medicine is providing regular updates of an estimate of the infection fatality rate for Covid-19. Their current estimate is 0.20% (95% CI, 0.17 to 0.25).

A Single Death is a Tragedy; a Million Deaths is a Statistic ~Stalin

If you shoot one person you are a murderer. If you kill a couple persons you are a gangster. If you are a crazy statesman and send millions to their deaths you are a hero. ó Watertown Daily Times.
Joseph Stalin once said ďa single death is a tragedyĒ and ďa million deaths is a statistic.Ē The observation was chilling because it has a grain of truth about how we process tragedies. The same is sometimes true legally. If a government kills one person, it is a murder.

If it kills thousands of people, it is a policy. That cold fact soon may be evident in a growing number of class action lawsuits now brought against China over its failure to notify the world promptly of the coronavirus, along with renewed allegations that the outbreak may have started in a laboratory in Wuhan.

In no way the Coronavirus death statistics are reliable. One of the big problems is the reliability of the data. To figure out a death toll you need to estimate how many people have the virus, and how many people died as a result. Both of those are very difficult problems, the first because testing is spotty and carries inherent systematic error. The second because of comorbidities and the possibility of attributing deaths from other viruses to this one. Accounting trick of assigning every death with a positive test to COVID-19 has, effectively, reassigned normal (cancer, diabetes, etc.) deaths to COVID-19.
The best way to estimate if a new disease is a significant danger is to compare death rate with the previous year (or average of 10 previous years) for a week or month with the current. For GB and Italy based on this metric increase of mortality caused by COVID-19 is statistically insignificant:
glib, March 25, 2020 at 3:38 pm GMT

This is the Euro mortality map for last week. I assume they highlight by standard deviations. Italy shows no excess. What is the weekly death rate in Italy?

On average about 6000/day, higher in late winter every year. the square root of 6000X7 is about 200.

If I read this table right, there have been less than 600 extra deaths in Italy this week. Compare with the winter 2014-2015, when there were 54,000 extra deaths for the whole winter, so some 3000/week.
But it is clearly looks like the amount of hysteria and panic is utterly disproportionate to the number of deaths. For this amount of panic I would expect hundreds of thousands of dead in the USA alone. Note that over 200K Americans die each year of preventable medical error. Does anyone panic about that, even though many of those errors are far easier to eliminate than a virus?
First of all it looks like that are at least two stains of this virus with different morality: S and L.
Second, the fact that swab tests produce a lot of false positives complicates correct estimation of mortality ? In any case what is measured is the mortality among tested patients, which is always higher then that mortality among infected patients, because outside cruise ships not all people are tested.
But the most important issue is that most countries include in COVID-19 death statistics all deaths "with the virus" along with all deaths "from the virus" The best definition would be: novel coronavirus antibodies test positive (proof of recent infection) plus ARDS (radiologically, if not pathologically, confirmed).
This happens because the majority of diseased patients are old and have at least one life threatening medical condition and virus was just the last straw that broke the camel neck. "Real" deaths from virus are deaths from virus pneumonia. They are probably a small fraction of the total deaths, as deaths are heavily biased toward older (over 70) population.
It seems hard to get any hands on this. Itís like a greased pig.
Again, there are very strong reasons to suspect that neoliberal MSM are deceiving us and the mortality figure promoted by MSM are over inflated: Patients who have been tested for SARS-CoV-2 are disproportionately those with severe symptoms and bad outcomes. Projecting the Diamond Princess mortality rate onto the age structure of the U.S. population, the death rate among people infected with Covid-19 would be 0.125% (statnews.com):
That huge range markedly affects how severe the pandemic is and what should be done. A population-wide case fatality rate of 0.05% is lower than seasonal influenza. If that is the true rate, locking down the world with potentially tremendous social and financial consequences may be totally irrational. Itís like an elephant being attacked by a house cat. Frustrated and trying to avoid the cat, the elephant accidentally jumps off a cliff and dies.

Could the Covid-19 case fatality rate be that low? No, some say, pointing to the high rate in elderly people. However, even some so-called mild or common-cold-type coronaviruses that have been known for decades can have case fatality rates as high as 8% when they infect elderly people in nursing homes. In fact, such ďmildĒ coronaviruses infect tens of millions of people every year, and account for 3% to 11% of those hospitalized in the U.S. with lower respiratory infections each winter.

... ... ...

Some worry that the 68 deaths from Covid-19 in the U.S. as of March 16 will increase exponentially to 680, 6,800, 68,000, 680,000 Ö along with similar catastrophic patterns around the globe. Is that a realistic scenario, or bad science fiction? How can we tell at what point such a curve might stop?

The most valuable piece of information for answering those questions would be to know the current prevalence of the infection in a random sample of a population and to repeat this exercise at regular time intervals to estimate the incidence of new infections. Sadly, thatís information we donít have.
Projecting the Diamond Princess mortality rate onto the age structure of the U.S. population, the death rate among people infected with Covid-19 would be 0.125% (statnews.com)
That raises question what if majority whose who died, died of the coronavirus have such serious medical conditions that the coronavirus just was the last straw that broke the camel back and flu would do for them the same. In other words the number of deaths can well be pure hype and the real mortality from this virus is close to mortality from a severe epidemic of the seasonal flu.
That raises question what if majority whose who died, died of the coronavirus have such serious medical conditions that the coronavirus just was the last straw that broke the camel back and flu would do for them the same. In other words the number of deaths can well be pure hype and the real mortality from this virus is close to mortality from a severe epidemic of the seasonal flu.
ďIt's not a tickle in your throat. You're not just clearing your throat. It's not just irritated. You're not putting anything out, you're not coughing anything up,Ē Schaffner explained. ďThe cough is bothersome, it's coming from your breastbone or sternum and you can tell that your bronchial tubes are inflamed or irritated.Ē

Shortness of breath is another key sign of respiratory infection related to the virus...

Beyond these key signs, Covid-19 can manifest through a number of flu-like symptoms, including aches, pains, a runny nose, congestion, and a sore throat. Some cases may even involve bouts of diarrhea.

Coronavirus Symptoms What Signs Should You Be Most Concerned About
It looks like there are two main mutations of this coronavirus: "L" and "S". The L is more common (especially in the USA) and the S (Wuhan mutation) is more lethal. All-in-all there are around two dozens of mutation (Chinese figures)
Symptoms vary. Slightly elevated temperature and early development of dry cough are two more typical symptoms. If shortness of breath is present this is a real warning sign. Loss of smell is a very important symptom and usually means that the patient is infected. In France they do not even test such people. Those two presentation gives you general information about symptoms:
Lost Sense of Smell May Be Peculiar Clue to Coronavirus Infection
blues , Mar 24 2020 4:32 utc | 165

This may be an important new clue:

~~~~~~~~~~~~~~~~~~~~ //
Lost Sense of Smell May Be Peculiar Clue to Coronavirus Infection
The New York Times - March 22, 2020

A mother who was infected with the coronavirus couldn't smell her baby's full diaper. Cooks who can usually name every spice in a restaurant dish can't smell curry or garlic, and food tastes bland. Others say they can't pick up the sweet scent of shampoo or the foul odor of kitty litter.

Anosmia, the loss of sense of smell, and ageusia, an accompanying diminished sense of taste, have emerged as peculiar telltale signs of Covid-19, the disease caused by the coronavirus, and possible markers of infection.

On Friday, British ear, nose and throat doctors, citing reports from colleagues around the world, called on adults who lose their senses of smell to isolate themselves for seven days, even if they have no other symptoms, to slow the disease's spread. The published data is limited, but doctors are concerned enough to raise warnings.
Here is one patient story Coronavirus survivor reveals what it's like to have Covid-19 This young and healthy person got a mild form of virus pneumonia, and despite aggravating his condition with alcohol survived.
Three typical symptoms include a slight fever (99-102F, around 98% of patients), dry cough (60% of patients), fatigue (90% of patients). Shortness of breath (labored breathing) allow to distinguish severe form from mild form of the disease and means that lungs are affected
Symptoms usually appear 2 to 14 days after youíre exposed to the virus (incubation period). Some of the less common symptoms include muscle pain, vomiting, abdominal pain, headache, dizziness and nausea.
Less the a third of patients difficulty breathing, and it takes about five days (on average) for a patient to have difficulty breathing after first showing symptoms. This probably suggest pneumonia.
There are several YouTube presentations of various quality that might help to understand this disease, for example:
Several symptoms associated with common colds Ė such as a headache or sore throat Ė were seen in only a small number of cases.
Coronavirus symptoms How the COVID-19 disease progresses day by day - Business Insider
Research from the Chinese Center for Disease Control suggests that about 80% of coronavirus cases are mild. About 15% of patients have gotten severe cases, and 5% have become critically ill.

Here's how symptoms progress among typical patients:

Day 1: Patients run a fever. They may also experience fatigue, muscle pain, and a dry cough. A small minority may have had diarrhea or nausea one to two days before.
Day 5: Patients may have difficulty breathing ó especially if they are older or have a preexisting health condition.
Day 7: This is how long it takes, on average, before patients are admitted to a hospital, according to the Wuhan University study.
Day 8: At this point, patients with severe cases (15%, according to the Chinese CDC) develop acute respiratory distress syndrome, an illness that occurs when fluid builds up the lungs. ARDS is often fatal.
Day 10: If patients have worsening symptoms, this is the time in the disease's progression when they're most likely to be admitted to the ICU. These patients probably have more abdominal pain and appetite loss than patients with milder cases. Only a small fraction die: The current fatality rate hovers at about 2%.
Day 17: On average, people who recover from the virus are discharged from the hospital after 2 1/2 weeks.

The first symptoms, however, may not come right after a person has been infected. Lauren Ancel Meyers, an epidemiologist at the University of Texas at Austin, told Business Insider that a typical patient might be infected without showing symptoms for five or more days.

Once symptoms do appear, they can be similar to those of pneumonia. But Paras Lakhani, a radiologist at Thomas Jefferson University, told Business Insider that COVID-19 could be distinguished from [bacterial] pneumonia because of the way it worsened over time.
Here is (rather strange) timeline of appearance of those symptoms from Opinion - U.S. Leaders' fatal error in virus response It is non-convincing but this is the best I could find:
Typically symptoms are evident on the fifth day of the disease or earlier. Most people recover in 3-4 weeks. Recovered people are immune to the disease.
Historically only around 14% of COVID-19 infections show severe symptoms (which means cases that they require medical attention and prescription drugs.) Some cases are without symptoms. Here are the currently available historical data for the sample of  44 415 cases:
Mild (regular flu scenario; no medical attention required): .............................................. 81% (36 160 cases)
Severe (some medical attention and prescription drags (severe cough, etc) are required) : .... 14% (6168 cases)
Critical (hospitalization is required ): ..................................................................................... 5% (2087 cases)
The main sophisticated feature this virus is that it spread from infected people which show little or no symptoms of the diseases (during incubational period) which is typically from five to seven days with the longest period being 14 day (What Doctors Treating Covid-19 in Wuhan Say About The Virus - Bloomberg, Mar 5, 2020):
ďFrom most of the publications right now the median incubation period is five to seven days, with the longest incubation period as 14 days,Ē said Du Bin, a member of Chinaís team of experts overseeing coronavirus treatment. ďThereís no data showing that an incubation period longer than 14 days ever existed.Ē

In some patients, the onset of the virus happened very slowly with only a mild fever before their conditions deteriorated rapidly 10 days later, according to Li Haichao, deputy director of the respiratory department at the First Hospital of Peking University

Some data suggest that 6-10% of infected people show no symptoms. Experience in China revealed that infections occurred in family clusters. The afflicted were tended to by the household, exposing everyone to the infection.
Cynically speaking "this pandemic is nothing to worry about for people of breeding age. If anything, it will reduce long term health care costs by running through the old people." (comment onunz.com)
Effects of COVID-19 are similar to OC43 (one of four other mild coronaviruses probably responsible for 25% of all ďcommon coldsĒ, which causes 15% severe cases and 0.2% fatal cases). As Marc Lipsitch, an infectious disease epidemiologist at Harvardís T.H. Chan School of Public Health points out, deaths are the most obvious and easy thing to catch, whereas infected people who stay at home and those with no symptoms are incredibly hard to account for. That tends to skew the fatality rate higher, especially earlier on in an epidemic.
The path of spreading currently is not very clear but probably include both droplets and infected surfaces (shopping cart handles, any ATM or payment device, parking meters) ... and then touching your nose eyes, and face in general:
The best prevention against getting this virus is simple: WASH YOUR HANDS REGULARLY AND DON'T TOUCH YOUR FACE. The virus lived on surfaces for at least Nine days. Things like public door handles, lift buttons, stair rails, supermarket trolleys, etc. that are touched by thousands of people daily are going to in all probability carry the virus. The virus can't get through dry skin, but if you rub your eye or suchlike the virus can get at your living tissue. Faces may also be a route. Clean toilets.

... ... ...

COVID19 also can infect the victim through a person's eyes. The sphere you want to avoid is up to 6 feet away from a known victim or one you suspect has/is a carrier of COVID19.

... ... ...

I'm told that pharmacists here in England are saying the masks are only useful if worn by an infected person in order to prevent transmission to others.
Median time for recovery is one month. Observed susceptibility is abound 20-60% of population. Which means that 40 to 80% of population are immune and is not getting sick after contact with s sick person (worst case was Wuhan personnel where 60% got infects; the other worst case scenario was Diamond Princess cruse chip where only 20% got infected).
The main danger is traveling with the infected person and living in the same household. In households children are as likely to be infected as adults.
Also some percentage of infected people never show any symptoms and the majority (over 80%) of cases never show symptom worse than a typical flu and continue regular life routine. That creates preconditions for a rapid spread of the disease and converting it into pandemic. In countries like the USA the situation is worsened by neoliberals cruel treatment of workers and lack of sick leaves (Wal-Mart and other retail giants ) , when people are often forced to work with flu like symptoms, this spreading the disease both at work and during the commute, if the use public transportation. Those greedy bastards from Wal-Mart merge sick leaves with vacations (which are also not easy to get from mangers) [Slate[.
Part time workers which are now substantial and growing part of the workforce are often work on really slave conditions, without any vacations of pay leaves. There is no national paid leave policy in the USA, making it in this respect a third world country.
The most typical complication is bacterial pneumonia which is often deadly for older people and people with weakened immune system (lasts from 6 to 41 days since admission for fatal cases).
The most typical complication is bacterial pneumonia which is often deadly for older people and people with weakened immune system (lasts from 6 to 41 days since admission for fatal cases):
ďThe median time from their first symptoms to when they became short of breath was five days; to hospitalization, seven days; and to severe breathing trouble, eight days.Ē

- Coronavirus Live Updates: Offers of Help Go Unanswered by China as Death Toll Grows Again (New York Times, 2/7/20)
Without complication the symptoms of the flu disappears in approximately two to four weeks (four to six weeks if we count incubation period). Like typically for coronavirus recovery includes a period of severe cough. That's a typical scenario for most healthy people. In this sense, it is nothing more then highly infectious seasonal flu. Like is the case with all influenza viruses mortality is higher in older population. China's CCDC found that the virus has the highest fatality rate around 15% for people aged 80 or older with co-occurring medical conditions.
So only for seniors it does represent a "clear and present danger" (with mortality reaching 8.0% for people over 70 I am a little bit concerned about Democratic Candidates in this sense ;-). But such mortality in not atypical -- such people usually have a couple of chronic diseases which make the prognosis far worse.
In many ways this coronavirus looks like a rerun of SARS (sharing approximately 80% of its genome) with four times lower mortality, but higher number of infected persons. So SARC statistic data can serve as a fuzzy guideline:
SARS:

Average period from admission to recovery: 23.5 days
Average period from admission to death: 35.9 days
Chances of complication are lower for people without chronic diseases, and people living outside densely populated and heavily polluted cities. As this virus can be called "virus pneumonia" it is more dangerous for males. So far we have 2.8% vs. 1.7% morality for make and female, correspondingly. In a sense virus has clear feminist bias.
In any cases mortality for this virus for people below 80 is in single digits ( and on average does not exceed 2 to 3% or approximately 25 times higher then seasonal flu: nearly 1800 people have died for over 70,000 have been infected ). The most compressive data about the epidemics I found do far are provided in the following discussion in Quora How serious is the 2019Ė20 Wuhan coronavirus - Quora which I encourage to read in full. It does provides a lot of interesting data.
From Quora discussion:
Case-Fatality Rates (CFR) China by Age as of 2/11/20

80+ 14.8%
70-79 8.0%
60-69 3.6%
50-59 1.3%
40-49 .4%
30-39 . 24% (18/7,600) 20-29 .19% (7/3,619)
10-19 .02% (1/549)
0 -09 .0 (0/416)
Young and healthy people, meanwhile, typically experience mild flu-like symptoms (some infected people do not display any symptoms -- asymptomatic cases -- dangerous because they still spread the virus) and are not in danger, according to the BBC. WHO recently stated that the virus manifests as only a minor infection in four out of five people who contracted it, according to the Guardian.
The most cruel natural experiment with the virus was its spread the Diamond Princess cruise ship (closed space, high level of contact between passengers, lack of qualified medical personnel and supplies, etc) Six people died (0.2% mortality) and around 700 people were infected out of 3700. For all other the immune system managed to kill the virus. Which suggests susceptibility rate of around 20%.
One of the defining feature of this virus is high infection rate of people who came into a contact with the virus. But even in this area while the virus is dangerous and protective measure were not taken, it is not catastrophically so.
We can view the epidemic on the Diamond Princess cruise ship as the worst case scenario (with much older then the average population; very close contact with infected people of the rest population of the ship via common areas) ended
Here is one assessment from the Moon of Alabama blog (note: There are 6 deaths and 696 confirmed infections out of 3,711 passengers and crew):
Hysteria here in NYC is palpable, even more so than usual. I still look to the cruise ship. 600 people on a boat with CoV19. Perfect conditions for virus to spread with common eating and common ventilation/AC. Many, many infected. How many dead? Two, both persons in their 80s.

Posted by: casey | Mar 5 2020 16:15 utc | 10
Patients are generally given supportive care for their symptoms, such a fluids and pain relievers. In acute cases hospitalized patients may need oxygen to support breathing.
One of the most important countermeasures is respiratory hygiene (Wikipedia)
Those who suspect they are infected should wear a surgical mask (especially when in public) and call a doctor for medical advice. By limiting the volume and travel distance of expiratory droplets dispersed when talking, sneezing, and coughing, masks can serve a public health benefit in reducing transmission by those unknowingly infected.

If a mask is not available, anyone experiencing respiratory symptoms should cover a cough or sneeze with a tissue, promptly discard it in the trash, and wash their hands. If a tissue is unavailable, individuals can cover their mouth or nose with a flexed elbow.

Masks are also recommended for those taking care of someone who may have the disease. Rinsing the nose, gargling with mouthwash, and eating garlic are not effective.

There is no evidence to show that masks protect uninfected persons at low risk and wearing them may create a false sense of security. Surgical masks are widely used by healthy people in Hong Kong, Japan, Singapore and Malaysia. Surgical masks are not recommended by the CDC as a preventive measure for the American general public.[144]

The WHO advises the following best practices for mask usage: respirators at least as protective as NIOSH-certified N95, EU standard FFP2, or equivalent...
Patients are still prescribed existing antiviral drugs which have shown their effectiveness. The main treatment is aimed at reducing the severity of symptoms and is similar to the treatment of traditional seasonal respiratory diseases, but the course of the duration of the disease (with acute period typical for many virus infection around seven days) and the speed of the recovery after it depends on the strength of the individual's immune system.
Planning is the most important aspect of the virus response, and countries need to know ahead of time how they are going to handle each patient entering a fever clinic, detect suspected cases, confirm if they have the virus in labs and isolate possible cases. For old people around 15% of cases advance to pneumonia, and it could be really bad
The old patients who actually need hospitalization for the disease often need mechanical ventilation, and this is a highly specialized resource that's in much shorter supply than mere hospital beds.
As old patients are the most severely affected and tend to overburden the local hospitals, the imposition of a voluntary quarantine on retired population in areas of active spread of infection is a sound measure. Two Japanese passengers - an 87-year-old man and an 84-year-old woman - were the first to die from the disease on February 19 pm Daemon Princess cruise ship. In the USA out six deaths at least four have been among residents of a long-term care facility called Life Care Center, where more than 50 residents and staff members had shown symptoms of the virus.
As old patients are the most severely affected and tend to overburden the local healthcare system, the imposition of a voluntary quarantine on retired population in areas of active spread of infection is a sound measure. The imposition of the requirement to wear mask for any person with cough and/or sneezing is another sound measure. The mass check of temperature of passengers of mass transit is a must
Coronaviruses do not have such a very high infection rates and typically epidemic is limited to the spring season and subside in summer. So epidemic last three-five months. But the period from infection to first symptom can last a week during which the person possibly can infect other people creating an illusion of high infection rates. The fact that the virus can be infectious even during the incubation period has not been proven
Currently patients are recommended to take medications that are prescribed for the prevention of seasonal respiratory virus infections. These are medications that produce endogenous interferon.
If coronavirus COVID-19 is like other Coronaviruses it probably, like President Trump suggested, will ďgo awayĒ in April, as temperatures increase and there will be a lot of sunny days. So far is did not reach the size of a typical flu epidemic with 8,000-plus deaths in US alone.
Most Coronaviruses are seasonal, but there was an outbreak in Dominical Republic resorts in summer 2018 which was atypical. So it itís not yet clear if the new virus will follow the same pattern ó and experts caution against banking on the weather to resolve this outbreak (Will the New Coronavirus 'Go Away' in April - FactCheck.org)
Several days later, in a White House meeting with state governors, he repeated the idea and was more specific on the outbreakís timeline.

Trump, Feb. 10: Now, the virus that weíre talking about having to do ó you know, a lot of people think that goes away in April with the heat ó as the heat comes in. Typically, that will go away in April. Weíre in great shape though. We have 12 cases ó 11 cases, and many of them are in good shape now.
As of March 3, 2020, the epidemics in China is already subsiding:
The health ministry on Tuesday announced just 125 new cases of the virus detected over the past 24 hours, the lowest number since authorities began publishing nationwide figures on Jan. 21. Another 31 deaths were reported, all of them in the hardest-hit province of Hubei. The figures bring China's total number of cases to 80,151 with 2,943 deaths.

Chinaís U.N. ambassador says the government believes that ďvictoryĒ over the coronavirus wonít be far behind the coming of spring.
Per country, currently the worst mortality was observed is 4.4% (Iran.) but that only can means that the number of cases are underreported or there are many cases that are asymptomatic and not included in statistics. For the graphic map, see
https://gisanddata.maps.arcgis.com/apps/opsdashboard/index.html#/bda7594740fd40299423467b48e9ecf6
Pray as though everything depended on God.
Work as though everything depended on you.

Saint Augustine

First of all, there is no reasons to panic. This is not another Black Death epidemics. Far from it. It looks like healthy people younger then 60 have little to fear but fear itself. Outside New York metropolitan area (and selected hot spots in other large cites) chances to get pneumonia are approximately the same as to get into serious auto crash. Children are rarely infected and typically are infected in family not in school setting:
"One of the striking epidemiologic features of this coronavirus is how little the pediatric population is involved" said William Schaffner, infectious diseases specialist at Vanderbilt University Medical Center.
The main mechanism of transmission is religious congregations, meetings and conferences as well as intra-family transmission. With minimum precautions chances to get infection in public transport (wearing mask in obligatory safety measure) and office are minimal. Transmission "hand to nose of eyes" can be effectively blocked with soup and hand sanitizers. Most shops now offer iether sanitizer or wipes as a courtesy for customers.
But fear is addictive and it looks like panic, including panic buying had spread in the USA, fueled by irresponsible MSM fearmongering. For example, reporting deaths from the virus neoliberal MSM do not split it by age groups as this would decrease the level of fear in the population ( and their profits ). In reality only severe and critical cases (when a patient develops virus pneumonia) matter. All other cases should be treated like flu cases are treated. Mortality for this virus is highly age dependent. This coronavirus pandemic is no nothingburger, it is a flu-epidemic-level spike in death of the elderly and infirm.
Another dirty trick that MSM resort to inflate panic to report just the number of death from the virus, not the deviation from the average number of deaths for a week or a month or so artificially increases panic. Around 8K people dies in the USA any particular day without any epidemic. So far maximum deviation from average mortality in any particular day of this epidemics was less then 20%. In many countries (including EU and GB) average weekly mortality is down not up.
Reporting deaths from the virus neoliberal MSM do not split it by age groups as this would decrease the level of fear in the population ( and their profits ). Also reporting just the number of death from the virus, not the deviation form the average number of deaths for a week or a month or so artificially increases panic.
Panic and fear artificially incited by neoliberal MSM are also amplified by cowardice to face the risks immanent in any epidemics (as well as driving the car) is doing more damage than the disease itself. They provoked the wave of panic hoarding in the USA which started in February with isopropyl alcohol and hand sanitizer (which in early March reached $60 for 8 ounces bottle on Amazon ;-) As of March 16 it is still in full force with empty shelves in supermarkets as it gradually spread starting from March 10 to many other products categories including paper towels, bathroom tissue, all types of sanitizers and non perishable food. Especially puzzling and irrational is hoarding bathroom tissue.
Sometime neoliberal MSM coverage of epidemics looks like a complete 100% departure from reality. More people will die in Yemen and Syria each day going forward, and no one cares. Many old people will serious chronic condition who are die from coronavirus induced pneumonia would die from flu induced pneumonia the same year as they are too weak to resist even flu. Winter is a very bad season for such people in any case.
Of course, another extreme is fatalism as expressed by Paul Bogdanich in his post at moonofalabama.org (Mar 11 2020 )
I should have clarified, I'm an American living in the United States. That said, it bothers me. The absolute lack of any detectable level of courage or fortitude in the face of diversity (hard times) is just stunning. Old people die. Everyone dies over time. Viruses like the flu or SARS, or COVID-19 accelerate that process from time to time. It's just what viruses do. There is no cure for either death or viruses. If you want, the biblical "Ye shall surely die."
Even in advanced age life has meaning and is exciting when you're solving concrete problems helping your family, or community, or humanity as a whole. Many outstanding achievements were made people over 70 year old (Donald Knuth published The Art of Computer Programming, Volume 4, Fascicle 5 Mathematical Preliminaries Redux; Introduction to Backtracking; Dancing at 81; Verdi wrote Othello at 74 and Falstaff (1893) being 80). People over 70 now dominate Presidential Elections in the USA ;-)
And unlike fatalists thinking, we do not need to apply to our life the moral metrics which are appropriate only to communities who live on a verge of survival. Loosing some part of annual national income to save lives via quarantine is affordable. Mass testing is a sure way to improve cost efficiency of quarantines and similar measures during virus epidemics. Retired people can and should stay home and avoid situation where they can catch the infection. Reckless behaviour during virus epidemics is a crime and need to be punished appropriately.
But it is true that the panic can do more damage than the virus itself. And that we need an objective perspective to access the level of threat inherent in this virus epidemics. In the USA a reasonable threshold for classifying the treat as serious are probably events that exceed car fatalities. In 2016 National Highway Traffic Safety Administration (NHTSA) registered 37,461 killed, an average of 102 per day.
In the USA a reasonable threshold for classifying the treat as serious are probably events that exceed car fatalities. Which means around 40K people killed per year with the average over 100 per day. The society accepts this level of fatalities as normal, so why this virus epidemics should be treated differently ? Nobody stops driving cars because of this level of risk.
We are still in single digits of victims per day with COVID-19. It did proved high infectious. But there is highly infectious and highly deadly pathogens are two distinct group that do not mix. It is as if viruses need to make choice between high mortality and high transmission: viruses that kill their host, before the host infects others, die with the host and this can't kill many hosts without eliminating themselves as well.
With this coronavirus, there seems to be a larger then usual window (aka incubation period) during which a person can be infected and transmitting the virus, without having symptoms. In a way this is a rather "clever" virus. But long incubation period does not eliminates biological reason why highly infectious viruses should evolve to become less deadly in order to succeed.
While the US government of Mar 13 declared the coronavirus a US national emergency and offered $50 billion for support of state and local governments to fight the virus with FEMA, additional measures will not have an immediate effect. But they will definitely slow down the spread of virus "flattening" the epidemics curve and this allowing more patients to survive.
The current dynamic of epidemic in the USA and the world so far is exponential growth of cases with most infections clustered in just half-dozen countries. Which is typical for an early stage of virus epidemic. Excluding China which now is past its peak and is in decline, the other fastest growing hotspots are Italy, Iran, Spain and France. As of Mar 10, 2020 in the USA -- only three states -- Washington State, New York, and California have over 100 cases
A typical flu epidemic in the USA infects tens of million people and cause approx 20-50K fatalities per year (somewhere between 0.1% and 1%) but does not create any headlines in neoliberal MSM. According to the CDCís weekly US flu report of February 22, 2020,
ďSo far this season there have been at least 32 million flu illnesses, 310,000 hospitalizations and 18,000 deaths from flu.Ē
For comparison the mortality rate in South Korea, where more than 1,100 tests have been administered per million residents, comes out to just 0.6% and concentrated in the old and/or with chronic conditions. In view of USA media hysteria about Coronavirus COVID-19, we need to concentrate on facts, not fears. Here is Craig Murray comparison with the Hong Kong flu pandemic of 1968/9:
The Hong Kong flu pandemic of 1968/9 was the last really serious flu pandemic to sweep the UK. They do seem extraordinarily regular Ė 1919, 1969 and 2020. Flu epidemics have much better punctuality than the trains (though I cheated a bit there and left out the 1958 ďAsian fluĒ). Nowadays ďHong Kong fluĒ is known as H3N2. Estimates for deaths it caused worldwide vary from 1 to 4 million. In the UK it killed an estimated 80,000 people.

If the current coronavirus had appeared in 1968, it would simply have been called ďfluĒ, probably ďWuhan fluĒ. COVID-19 may not be nowadays classified as such, but in my youth flu is definitely what we would have called it. The Hong Kong flu was very similar to the current outbreak in being extremely contagious but with a fairly low mortality rate. 30% of the UK population is estimated to have been infected in the Hong Kong flu pandemic. The death rate was about 0.5%, mostly elderly or with underlying health conditions.

But there was no massive panic, no second by second media hysteria, over Hong Kong flu. Let me start being unpopular. ďMan in his 80ís already not very well from previous conditions, dies of fluĒ is not and should not be a news headline. The coverage is prurient, intrusive, unbalanced and designed to cause hysteria.
See COVID-19 epidemic handing in the USA
Masks are less useful as a protection, but they are very useful for preventing people with no symptom infecting others. Most surgical masks are too loose to prevent inhalation of the virus. But they diminish the number of infected droplets you inhale (with proper fitting and during initial hour or two substantially), and do prevent you from touching your nose, and for many people that alone is a valuable service.
So wearing one is an important service to other people: if you are infected but has no symptoms that helps to prevent infecting others. In areas where there are active cases such as NYC or Seattle wearing masks is a necessary and useful precaution.
The most effective are the so-called N95 masks, which block 95 percent of very small particles.
Also the dynamic of the disease might be different and more severe if the virus initially gets directly in lungs then when it initially infect via other parts of the body.
As they can prevent you from passing along any infection wearing masks in public places need to be mandatory. Masks can be reusable as to provide disposable masks for all population is a difficult and resources consuming task. You can wash them. Detergent and hot water kills the virus instantly.
The advice to avoid masks outright is wrong. There is a place for them, but of course theyíre just not a panacea. And it true that if used improperly without washing/rubbing with alcohol your hands after removing they may actually increase your risk. The general problem is that is difficult to follow a proper "decontamination procedure" or what you do when you replace the mask with a new one or remove it completely create substantial burden on people and that means that few will be following it.
Also the period during which a single mask is effective is limited to approx two hours or so (enough for commute and shopping). After this period expire it needs to be disposed or disinfected (soap or soaking in 40% or higher alcohol mix is enough to kill all bacteria/viruses)
Terry A., February 15, 2019

5.0 out of 5 stars Exactly what I wanted

They fit great, easy to wear. Just an FYI...I was an operating room nurse for most of my career and we were instructed to wear masks for 2 hours and then dispose. As we breathe, the moisture from our airway dampens the mask and acts as a wick, drawing things in, rather than protecting us.
You can probably adapt some electrical purifier for this purpose two. See for example Amazon.com New True HEPA Filter Air Purifier - Anion Activated Carbon Filter Perfect for Smoking and Dust Mite Allergy Suffere. They dilute the stream of air that comes to your lung with purified air and as such diminish the chances of infection.

Officials are against mass wearing mass for several reason, one of which are shortages. As Dr. Sarah Borwein stated in her Exclusive Interview on COVID-19 with SARS Veteran published on MedLink:
The shortage of masks has many people feeling quite anxious and unprotected. But masks are NOT very effective at preventing transmission of viral infections, particularly when worn by healthy people. They are by no means the most important measure you can take to protect your health. In fact, if you wear a mask incorrectly, touch or adjust it frequently, re-use it, or fail to wash your hands before putting it on and after taking it off, you may actually increase your risk.

Who should wear a mask:

People who are sick, to prevent them spreading their viral droplets when they cough or sneeze.
People caring for sick people at close quarters.
In a health-care setting.
People whose occupation requires them to have close contact with clients.

As it has become socially unacceptable in Hong Kong to NOT wear a mask, there may be situations in which you might choose to wear a mask simply to make other people feel comfortable.

But in general, healthy people do not need to wear masks, except when they need to be in crowded places, or with possibly sick people.
In the USA epidemic started much later then in China (in late February, instead of November or early December in China) and as such closer to warm season, which should probably make it less severe. Every industrialized country in the world probably had been studying coronavirus after MERS and SARS. Some purely to defend against outbreaks, others to weaponized it. So a lot of information was available and some of it was used.
What is bad that it looks like the USA did not have a plan how to deal with the coronavirus epidemic. To add insult to the injury Trump disbanded the pandemic group. Trump Berates PBS Reporter Who Asked About Disbanded Pandemic Group - The National Memo
China made a few missteps at the start so its doubtful they knew what they were dealing with at the start other having a sudden batch of pneumonia due to a new virus. They reacted the same as any rational well organized country would react.
The USA started with full information about the virus and still CDC managed to botch production of test kits, which definitely made the epidemics more severe as fewer infected people were detected at early stages. Also travel restriction were ad hoc (compare with Israel mandatory 14 days quarantine for all air passengers)
In no way this is a new Spanish flu pandemic which killed by various estimate between 25 and 100 million people (with the majority of deaths from bacterial pneumonia). Here is some information from https://en.wikipedia.org/wiki/Influenza_pandemic#Spanish_flu
Main article: Spanish flu

The 1918 flu pandemic, commonly referred to as the Spanish flu, was a category 5 influenza pandemic caused by an unusually severe and deadly Influenza A virus strain of subtype H1N1.

The Spanish flu pandemic lasted from 1918 to 1920. Older estimates say it killed 40Ė50 million people while current estimates say 50 million to 100 million people worldwide were killed. This pandemic has been described as "the greatest medical holocaust in history" and may have killed as many people as the Black Death, although the Black Death is estimated to have killed over a fifth of the world's population at the time, a significantly higher proportion.

This huge death toll was caused by an extremely high infection rate of up to 50% and the extreme severity of the symptoms, suspected to be caused by cytokine storms. Indeed, symptoms in 1918 were so unusual that initially influenza was misdiagnosed as dengue, cholera, or typhoid. One observer wrote, "One of the most striking of the complications was hemorrhage from mucous membranes, especially from the nose, stomach, and intestine. Bleeding from the ears and petechial hemorrhages in the skin also occurred." The majority of deaths were from bacterial pneumonia, a secondary infection caused by influenza, but the virus also killed people directly, causing massive hemorrhages and edema in the lung.

The Spanish flu pandemic was truly global, spreading even to the Arctic and remote Pacific islands. The unusually severe disease killed between 2 and 20% of those infected, as opposed to the more usual flu epidemic mortality rate of 0.1%.

Another unusual feature of this pandemic was that it mostly killed young adults, with 99% of pandemic influenza deaths occurring in people under 65, and more than half in young adults 20 to 40 years old.

This is unusual since influenza is normally most deadly to the very young (under age 2) and the very old (over age 70). The total mortality of the 1918Ė1919 pandemic is not known, but it is estimated that up to 1% of the world's population was killed. As many as 25 million may have been killed in the first 25 weeks; in contrast, HIV/AIDS has killed 25 million in its first 25 years.
In comparison in China epidemics slowed down in two month, killing less then 10K people, due to drastic measures taken by the government MoA - Coronavirus - Statistical Change Causes Confusion - New Case Count Continues To Decline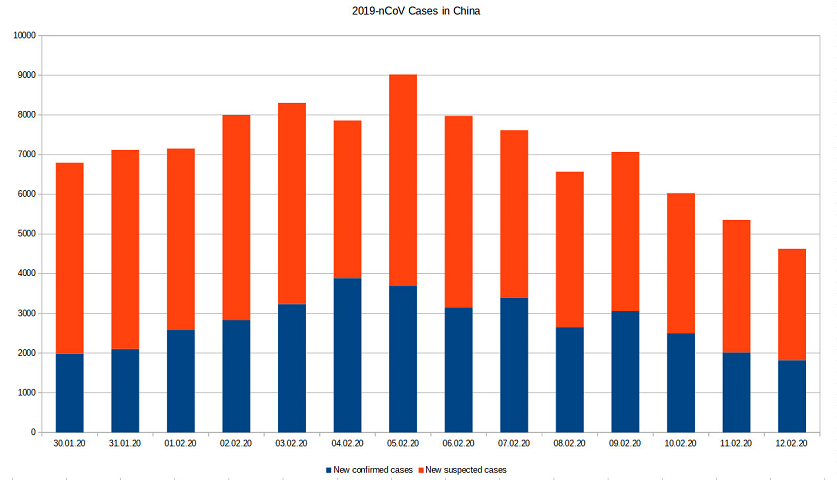 Deaths from is mostly limited to people with pre-existing health problems for whom pneumonia is deadly.
If we compare with the SARS coronavirus, which caused an outbreak of SARS in 2002-2003, we can state the its mortality rate of this new coronavirus is much lower. 17 years ago, the mortality rate from SARS was about 10%.
John Bolton declares China 'responsible' for coronavirus outbreak, says world must hold them 'accountable'

China silenced coronavirus whistleblowers, expelled journalists, destroyed samples, refused CDC help, and concealed counts of deaths and infections. It's fact there was a massive coverup. China is responsible. The world must act to hold them accountable.

AFAICT (after reading it on ZH) it's just part of the CYA propaganda that has appeared after US government's failure. This is just one of many articles posted by ZH that are transparent attempts to blame China.

<> <> <> <> <> <>

These are damning:

National Security Council's classifying all discussions about virus preparation (in mid January!);
Senator Richard Burr's warning his friends and supporters of the severity of the virus impact;
Health officials suppressing testing (as I described @79);
Blaming China for the West's failure to prepare - the West had all the info they needed (and kept it secret so they could game the response to benefit their own agenda).

If the Democratic Party were a Party of opposition instead of a Party of collaboration, they would be asking: What did the President know, and when did he know it?
There are four hypotheses that are circulating as for the origin of the virus:
It is the result of the jump from animal to human in China. This is the official, politically correct hypotheses. how true it is is difficult to say, but virus definably did not jump into human due to low sanitary standards and trading of meat of wild animals in Wuhan seefood market (The Wuhan wet market theory, compelling story it may be, has been debunked)

The virus originated in the USA and was introduced to China by by visiting American soldiers during the Military World Games, which took place in Wuhan in October 19-27, 2019 and also to Italy as first cases in Italy were registered in November-December timeframe. The most strong arguments supporting this hypotheses can be found in article An Alternative Media Selection - The Unz Review and the comments to this article at The Unz Review, Mar 22, 2020
Bioengineered in China and accidentally leaked from Wuhan lab. See Leading Bioweapons Expert Says Covid-19 Likely a Weaponized Virus Ė American Free Press
Bioengineered in the USA and accidentally leaked from Fort Detrick. Fort Detrick's labs are a very scary place See Last Man Standing, by Godfree Roberts - The Unz Review.

Proponents of this hypotheses point out than the USA was engaged in development and using bioweapons for a long time. And the organization behind the anthrax poisoning cases that happened after 9/11 was never uncovered; some attributed this tragic incident the desire of certain forces within the USA to pass Patriot Act by eliminating the resistance to it, which, if true, makes this accident suspiciously similar to Reichstag fire.
There was some strange accident in this lab in July, 2019 which led CDC to close of the lab due to ďbiosafety lapsesĒ at the facility:

ęThe U.S. Army Medical Research Institute of Infectious Diseases (USAMRIID) facility at Fort Detrick, Maryland ó the U.S. militaryís lead laboratory for ďbiological defenseĒ research since the late 1960s ó was forced to halt all research it was conducting with a series of deadly pathogens after the CDC found that it lacked ďsufficient systems in place to decontaminate wastewaterĒ from its highest-security labs and failure of staff to follow safety procedures, among other lapses. The facility contains both level 3 and level 4 biosafety labs. While it is unknown if experiments involving coronaviruses were ongoing at the time, USAMRIID has recently been involved in research borne out of the Pentagonís recent concern about the use of bats as bioweaponsĽ.

ęThe decision to shut down USAMRIID garnered surprisingly little media coverage, as did the CDCís surprising decision to allow the troubled facility to ďpartially resumeĒ research late last November even though the facility was and is still not at ďfull operational capability.Ē The USAMRIIDís problematic record of safety at such facilities is of particular concern in light of the recent coronavirus outbreak in China. As this report will soon reveal, this is because USAMRIID has a decades-old and close partnership with the University of Wuhanís Institute of Medical VirologyĽ outbreak of the first epidemic explosion, which now seems almost totally overcome in the country.

Bioengineered in Canadian biolab in Winnipeg and moved or stolen to China by researchers where it was accidentally released. A variant of the same hypothesis.
According to the South China Morning Post, the first case of someone suffering from what later came to be known as Covid-19 occurred in China on November 17. The number of cases grew in December, with the majority cases in Wuhan . The Chinese informed the World Health Organization of new pneumonia cases of unknown etiology on Dec 30, 2019. This is the 1st mention of the coronavirus before they knew what it was, from Reuters.com, Dec 30 2019:
"Chinese health authorities said they are investigating 27 cases of viral pneumonia in the central city of Wuhan."
Later they established that four of the five initial patients that they managed to trace have no contact with the wet market (which since was demolished). While the market was the first 'cluster' of cases it was not the source of the outbreak. Some suggest that the virus may originate in the USA:
New research by Chinese, Japanese and Taiwanese scientists seems to indicate that the Covid-19 coronavirus did not originate in China. In fact, Japanese and Taiwanese scientists have gone a step further and have stated that the virus came from the USA.

The same scientists claim that they believe the virus first appeared in the USA back in September 2019. At around the same time, two other things occurred.

200 Americans died of pulmonary fibrosis (inability to breathe) but the conditions and symptoms were not typical of the illness (these deaths were blamed on E-cigarettes and then hushed up).
Oh, and just before this incident, the bio-weapons research laboratory at Fort Detrick was hastily closed down...

https://richardhennerley.com/2020/03/05/coronavirus-it-just-got-even-weirder/
As reported in the BMJ, on January 11 and 12, the Chinese authorities shared the virusí genetic sequence for countries to use in ďdeveloping specific diagnostic kits.Ē 440 deaths had been confirmed by January 21. By the 22nd, seven cases had been confirmed OUTSIDE China, including one in the US. All were travelers from Wuhan. But the USA government was busy with other staff to pay attention to this threat -- they were preparing the assassination of Soleimani (Asleep at the wheel Why didnít Western politicians act quicker on Covid-19 spread ó RT Op-ed):
On January 22, the UK government announced that health teams would meet the three direct flights a week from Wuhan, China, the epicenter of the virus. At the same time, the risk level was raised from Ďvery lowí to Ďlowí. But as Neil Ferguson, director of the MRC Centre for Global Infectious Disease Analysis at Imperial College, London, pointed out, flight screening was no panacea.

ďThis measure will only identify people who have symptoms as they come off the plane. If someone was infected two days before they travelled, they will arrive without any symptoms at all.Ē He added, and I emphasize in bold:ďItís essential that the entire health system is alert to the possibility that there will be cases here.Ē

Lo and behold, the first British case was confirmed nine days later, on January 31, 2020, from Chinese nationals staying at a hotel in York. That very same day, the first cases were also confirmed in Italy. Guess what: they were two Chinese tourists in Rome. Italy is now the worldís number one coronavirus Ďhotspotí. Nearly 3,000 have died there and 60mn people are in quarantine.

Wouldnít it have been better, if instead of ineffective flight screening, all flights to Western countries from China had been stopped in January Ė and all travelers who had recently visited China been quarantined? France, by the way, got its first three cases on January 24 (a week before Italy and the UK). All three people had just come back from China. You donít have to be Sherlock Holmes to see the pattern, do you?

In the New Year, the number one priority of Western politicians should have been the new coronavirus and how best to protect their own populations from it. But their minds were clearly on other things.

Trump Ė egged on by Washingtonís Endless War Lobby Ė was engaged in an utterly reckless escalation of tensions with Iran. While Covid-19 was spreading in China, the New Year began with the assassination of General Soleimani, a man who had been fighting ISIS, but who was now portrayed as the Ďworst terrorist in the worldí. The ĎIran crisisí dominated the news cycle. Boris Johnson meanwhile began the year on holiday with his girlfriend in Mustique. The opposition Labour Party were focusing on a leadership election which neednít have taken place for several months. Three of the four candidates declared on television on February 13 Ė a day after the UN had activated its WHO-led Crisis Management team to deal with a rapidly escalating problem Ėthat their Ďnumber one priorityí wasÖ tackling Ďanti-Semitismí in the Labour Party. Yet after all the brouhaha about anti-Semitism being Ďrifeí in Labour, it was reported at the end of February that the police had ended up charging just one person, a former Labour member.
Here is another interesting post (by Walrus) on the origins of the virus ( A Short Note On Coronavirus COVID-19 By Walrus. - Sic Semper Tyrannis )
... ... ...

Comment: The virology timeline dates I saw indicated a very tightly linked set of actions by China, the World Health Organisation (WHO) and researchers once the alarm was raised.. By that I mean that China and the WHO responded and acted almost immediately - within one or two days, as new information was received and have and still are actively and openly communicating and assisting with further research.

In my opinion, such openness, honesty and actions are totally inconsistent with any of the multitude of conspiracy theories currently advanced.

So much for the virology.......

On the epidemiological front, there is also interesting news. The first is researcher opinion that this virus has probably been circulating at least in November and possibly in October. It is also believed that the mathematical models show that there are perhaps Ten times the cases world wide than are officially recorded. This partly because some cases are asymptomatic and currently available tests indicate false negative results. This is good news for the case fatality rate if proven because it is ten times less lethal than we currently estimate.

The researchers believe that the virus originated in Bats (notorious RNA Coronavirus carriers) and then infected Wuhan wet market produce - Pangolins, which then infected people. The initial cases were a group of men in the Wuhan wet market -which is also the cause of the error that the virus attacks men more than women, there are few female market workers. The apparent evidence for this is that large quantities of the virus have been found on the trading floor of another Wuhan wet market - the original Wuhan wet market was perhaps disinfected and its now demolished. (So much for the "bio weapon" BS.)

The best prevention against getting this virus is simple: WASH YOUR HANDS REGULARLY AND DON'T TOUCH YOUR FACE. The virus lived on surfaces for at least Nine days. Things like public door handles, lift buttons, stair rails, supermarket trolleys, etc. that are touched by thousands of people daily are going to in all probability carry the virus. The virus can't get through dry skin, but if you rub your eye or suchlike the virus can get at your living tissue. Faces may also be a route. Clean toilets.

Mask are a waste of time and money except in special cases.
Lessons of Wuhan
In China solidarity and nationwide effort, including sending medics to Wuhan, played an important role in eradiating the epidemic:
China suffered through the H1N1 coronavirus epidemic in 2008 largely because the CDC took 6 months to identify it and, as a result, 300,000 died prematurely. SARS (774 deaths) was the clincher. They created a hair-trigger alarm system, mandated post-mortem pneumonia DNA testing nationwide, and promoted the CDC head, Dr. George F. Gao[1] to Demigod.

Their Covid-19 emergency has now passed and must give Dr. Gao a B+ because, though his system contained a potential epidemic it suffered from a weakness: local politicians could delay, (but not stop) the alarm sounding. Doubtless for sound bureaucratic reasons, Wuhan officials delayed notifying Beijing for a few weeks but, after Beijing pried the information from the Wuhan Director of Public Health[2]They fired him the next day. Henceforth local politicians will be out of the loop and everyone will have a CDC hotline number., the system swung into action, everyone pitched in, and they literally killed it.

National cohesion and coordination were amazing, thanks to the Communist Party. They coordinated everything and filled all the gaps, no questions asked. Ninety percent of the frontline volunteer medical staffĖof whom 18 diedĖwere Party members sworn to Ďbear the peopleís burden first and enjoy their pleasures last.í Zhang Wenhong, a prominent Party member and Director of the Department of Infectious Diseases at Shanghaiís Huashan Hospital, became a local hero for his pep-talk to Party members [emphasis added]:

The first-aid team put themselves in great danger. They are tired and need to rest. We shouldnít take advantage of good people. From now on, Iíll replace all the frontline medics with Party members from different sectors. When we joined the Party, we vowed that we would always prioritize peopleís interests and press forward in the face of difficulties. This is the moment we live up to the pledge. All CPC members must rush to the front line. I donít care what you were actually thinking when you joined the party. Now itís time to live up to what you promised. I donít care if you personally agree or not: itís non-negotiable.

Altogether, 40,000 volunteers self-organized and showed up to help Wuhan.

1. Dr. Gao has made contributions to the study of inter-species pathogen transmission. He organized the first World Flu Day on November 1 2018, commemorating the centenary of the Spanish flu. It was also the 15-year commemoration of the severe acute respiratory syndrome outbreak, SARS, which led to China prioritising investment in the public health system. He is a virologist and immunologist. He has served as Director of the Chinese Center for Disease Control and Prevention since 2017 and Dean of the Savaid Medical School of the University of Chinese Academy of Sciences since 2015. Gao is an academician of the Chinese Academy of Sciences and The World Academy of Sciences, as well as a foreign associate of the US National Academy of Sciences and the US National Academy of Medicine. He was awarded the TWAS Prize in Medical Science in 2012 and the Nikkei Asia Prize in 2014.,
As of February 15, 2020 (01:30 UTC), there were 67K confirmed cases of infection, of which 66K were within mainland China. After that epidemics quickly dissipated with less then 200 cases a day reported recently
Wuhan is eleven million city and it has less then 100K cases as of Feb 2020 (approximately two months after the epidemics started; it started with zero protective measures in place and run wild probably for a month or so ), so we should probably have hope to survive ;-)
As Iíve said in other places about ďKung FluĒ: Wake me up when thereís a Small-pox outbreak: As contagious as the common cold with a 30% mortality rate at leastÖ No vaccines, no effective treatmentÖ and I suspect anyone under 50 would be at riskÖ
As of Feb 18, 2020 the spreading of the virus is decelerating and dropped from the local max of 64% (01/27/2020) to less then 3% a day (since 02/15/2020). Currently less then 100K people are infected. Here is know dynamic of infections (Timeline of the 2019Ė20 coronavirus outbreak in December 2019 Ė January 2020 - Wikipedia):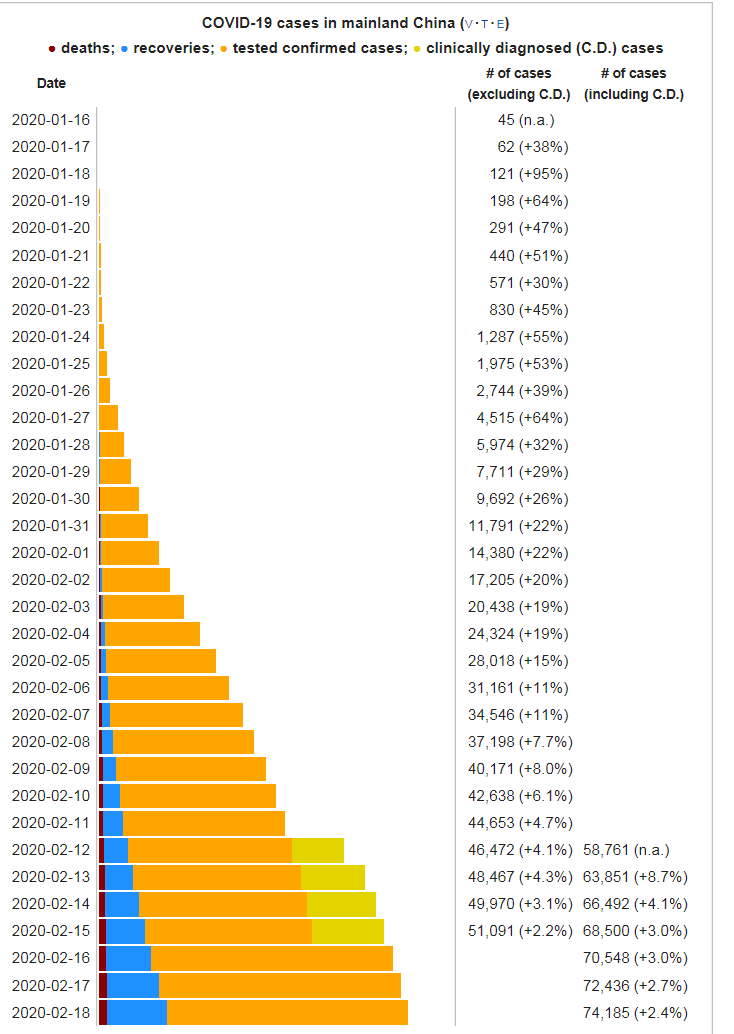 Data of tested cases is sourced from Chinese National Health Commission daily reports. Data of C.D. cases from 2020-02-12 to 2020-02-15 is sourced from Health Commission of Hubei daily reports.
On Mar 17 Washington Post reporter based in Peking provided the first-hand evidence that life in Peking is returning to normal. Restaurants have reopened.
At the same as Pepe Escobar reported:
Shanghai-based Dr. Zhang Wenhong, one of Chinaís top infectious disease experts, whose analyses have been spot on so far, now says China has emerged from the darkest days in the ďpeopleís warĒ against Covid-19. But he does not think this will be over by summer. Now extrapolate what heís saying to the Western world.
Pneumonia caused by the virus is somewhat similar to "vaping pneumonia" epidemic in the USA in summer of 2019 which was attributed to e-cigarette use:
As of Friday, there have been more than 450 possible cases of lung illness associated with using e-cigarettes reported to the CDC across 33 states and the US Virgin Islands. The numbers have been changing frequently.

Before the death in Kansas, five deaths were reported in California, Illinois, Indiana, Minnesota and Oregon.
Symptoms were remarkably similar to COVID-19 and while e-cigarettes were around for years epidemic happened in summer of 2019 (What You Need to Know About Vaping-Related Lung Illness - NYT,