---
PNAC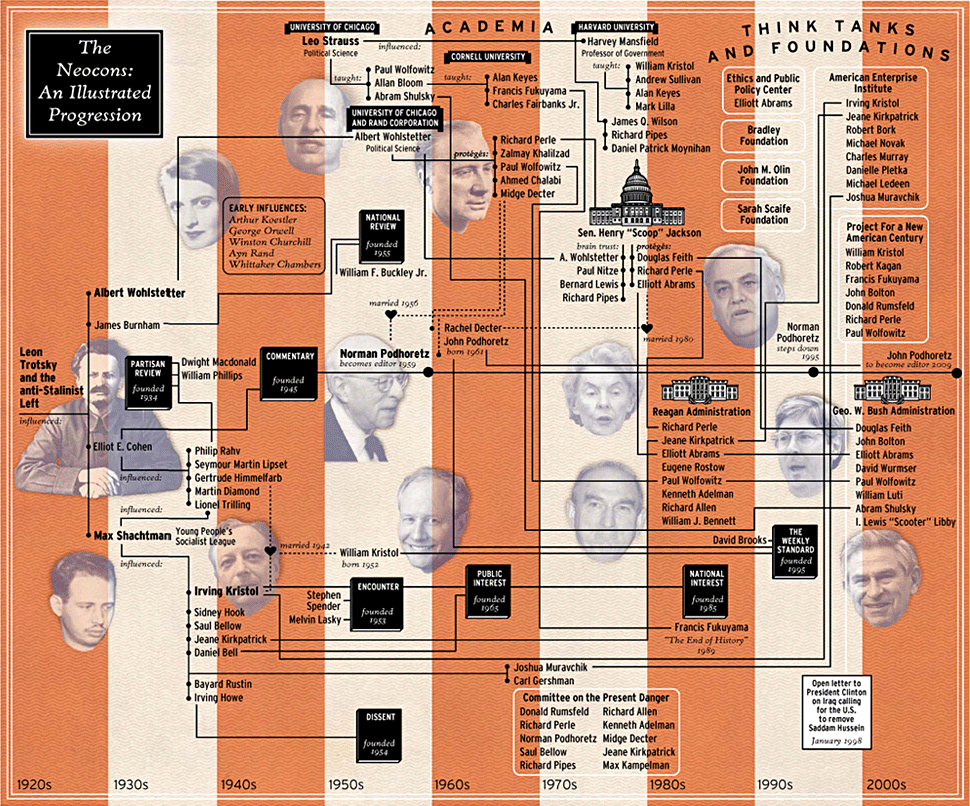 ...

An Imperial Strategy For a New World Order - The Origins of World War III

The War on Terror and the Project for the New American Century (PNAC)

When Bill Clinton became President, the neo-conservative hawks from the George H.W. Bush administration formed a think tank called the Project for the New American Century, or PNAC.

In 2000, they published a report called, Rebuilding America's Defenses: Strategy, Forces, and Resources for a New Century.

Building upon the Defense Policy Guidance document, they state that,
"the United States must retain sufficient forces able to rapidly deploy and win multiple simultaneous large-scale wars." [23]

Further, there is "need to retain sufficient combat forces to fight and win, multiple, nearly simultaneous major theatre wars," [24] and that "the Pentagon needs to begin to calculate the force necessary to protect, independently, US interests in Europe, East Asia and the Gulf at all times." [25]
Interestingly, the document stated that,
"the United States has for decades sought to play a more permanent role in Gulf regional security. While the unresolved conflict with Iraq provides the immediate justification, the need for a substantial American force presence in the Gulf transcends the issue of the regime of Saddam Hussein." [26]
However, in advocating for massive increases in defense spending and expanding the American empire across the globe, including the forceful destruction of multiple countries through major theatre wars, the report stated that,
"Further, the process of transformation, even if it brings revolutionary change, is likely to be a long one, absent some catastrophic and catalyzing event – like a new Pearl Harbor." [27]
That event came one year later with the events of 9/11. Many of the authors of the report and members of the Project for the New American Century had become officials in the Bush administration, and were conveniently in place to enact their "Project" after they got their "new Pearl Harbor."

The plans for war were,
"already under development by far right Think Tanks in the 1990s, organizations in which cold-war warriors from the inner circle of the secret services, from evangelical churches, from weapons corporations and oil companies forged shocking plans for a new world order."
To do this,
"the USA would need to use all means - diplomatic, economic and military, even wars of aggression - to have long term control of the resources of the planet and the ability to keep any possible rival weak."
Among the people involved in PNAC and the plans for empire,
"Dick Cheney - Vice President, Lewis Libby - Cheney's Chief of Staff, Donald Rumsfeld - Defence Minister, Paul Wolfowitz - Rumsfeld's deputy, Peter Rodman - in charge of 'Matters of Global Security', John Bolton - State Secretary for Arms Control, Richard Armitage - Deputy Foreign Minister, Richard Perle - former Deputy Defence Minister under Reagan, now head of the Defense Policy Board, William Kristol - head of the PNAC and adviser to Bush, known as the brains of the President, Zalmay Khalilzad," who became Ambassador to both Afghanistan and Iraq following the regime changes in those countries.[28]
Brzezinski's "Grand Chessboard"
Arch-hawk strategist, Zbigniew Brzezinski, co-founder of the Trilateral Commission with David Rockefeller, former National Security Adviser and key foreign policy architect in Jimmy Carter's administration, also wrote a book on American geostrategy.
Brzezinski is also a member of the Council on Foreign Relations and the Bilderberg Group, and has also been a board member of Amnesty International, the Atlantic Council and the National Endowment for Democracy. Currently, he is a trustee and counselor at the Center for Strategic and International Studies (CSIS), a major US policy think tank.

In his 1997 book, The Grand Chessboard, Brzezinski outlined a strategy for America in the world.
He wrote,
"For America, the chief geopolitical prize is Eurasia. For half a millennium, world affairs were dominated by Eurasian powers and peoples who fought with one another for regional domination and reached out for global power."

Further, "how America 'manages' Eurasia is critical. Eurasia is the globe's largest continent and is geopolitically axial. A power that dominates Eurasia would control two of the world's three most advanced and economically productive regions. A mere glance at the map also suggests that control over Eurasia would almost automatically entail African subordination." [29]
He continued in outlining a strategy for American empire, stating that,
"it is imperative that no Eurasian challenger emerges, capable of dominating Eurasia and thus of also challenging America. The formulation of a comprehensive and integrated Eurasian geostrategy is therefore the purpose of this book." [30]
He explained that,
"Two basic steps are thus required: first, to identify the geostrategically dynamic Eurasian states that have the power to cause a potentially important shift in the international distribution of power and to decipher the central external goals of their respective political elites and the likely consequences of their seeking to attain them: [and] second, to formulate specific U.S. policies to offset, co-opt, and/or control the above." [31]
What this means is that is it of primary importance to first identify states that could potentially be a pivot upon which the balance of power in the region exits the US sphere of influence; and secondly, to "offset, co-opt, and/or control" such states and circumstances. An example of this would be Iran; being one of the world's largest oil producers, and in a strategically significant position in the axis of Europe, Asia and the Middle East.
Iran could hold the potential to alter the balance of power in Eurasia if it were to closely ally itself with Russia or China, or both – giving those nations a heavy supply of oil as well as a sphere of influence in the Gulf, thus challenging American hegemony in the region.

Brzezinski removed all subtlety from his imperial leanings, and wrote,
"To put it in a terminology that harkens back to the more brutal age of ancient empires, the three grand imperatives of imperial geostrategy are to prevent collusion and maintain security dependence among the vassals, to keep tributaries pliant and protected, and to keep the barbarians from coming together." [32]
Brzezinski referred to the Central Asian republics as the "Eurasian Balkans," writing that,
"Moreover, they [the Central Asian Republics] are of importance from the standpoint of security and historical ambitions to at least three of their most immediate and more powerful neighbors, namely Russia, Turkey and Iran, with China also signaling an increasing political interest in the region.

But the Eurasian Balkans are infinitely more important as a potential economic prize: an enormous concentration of natural gas and oil reserves is located in the region, in addition to important minerals, including gold." [33]
He further wrote that,
"It follows that America's primary interest is to help ensure that no single power comes to control this geopolitical space and that the global community has unhindered financial and economic access to it." [34]
This is a clear example of America's role as an engine of empire; with foreign imperial policy designed to maintain US strategic positions, but primarily and "infinitely more important," is to secure an "economic prize" for "the global community." In other words, the United States is an imperial hegemon working for international financial interests.

Brzezinski also warned that,
"the United States may have to determine how to cope with regional coalitions that seek to push America out of Eurasia, thereby threatening America's status as a global power," [35] and he, "puts a premium on maneuver and manipulation in order to prevent the emergence of a hostile coalition that could eventually seek to challenge America's primacy."

Thus, "The most immediate task is to make certain that no state or combination of states gains the capacity to expel the United States from Eurasia or even to diminish significantly its decisive arbitration role." [36]

The War on Terror and Surplus Imperialism

In 2000, the Pentagon released a document called Joint Vision 2020, which outlined a project to achieve what they termed, "Full Spectrum Dominance," as the blueprint for the Department of Defense in the future.
"Full-spectrum dominance means the ability of U.S. forces, operating alone or with allies, to defeat any adversary and control any situation across the range of military operations."

The report "addresses full-spectrum dominance across the range of conflicts from nuclear war to major theater wars to smaller-scale contingencies. It also addresses amorphous situations like peacekeeping and non-combat humanitarian relief."

Further, "The development of a global information grid will provide the environment for decision superiority." [37]
As political economist, Ellen Wood, explained,
"Boundless domination of a global economy, and of the multiple states that administer it, requires military action without end, in purpose or time." [38]

Further, "Imperial dominance in a global capitalist economy requires a delicate and contradictory balance between suppressing competition and maintaining conditions in competing economies that generate markets and profit. This is one of the most fundamental contradictions of the new world order." [39]
Following 9/11, the "Bush doctrine" was put in place, which called for,
"a unilateral and exclusive right to preemptive attack, any time, anywhere, unfettered by any international agreements, to ensure that '[o]ur forces will be strong enough to dissuade potential adversaries from pursuing a military build-up in hope of surpassing, or equaling, the power of the United States'." [40]
NATO undertook its first ground invasion of any nation in its entire history, with the October 2001 invasion and occupation of Afghanistan.
The Afghan war was in fact, planned prior to the events of 9/11, with the breakdown of major pipeline deals between major western oil companies and the Taliban. The war itself was planned over the summer of 2001 with the operational plan to go to war by mid-October.[41]

Afghanistan is extremely significant in geopolitical terms, as,
"Transporting all the Caspian basin's fossil fuel through Russia or Azerbaijan would greatly enhance Russia's political and economic control over the central Asian republics, which is precisely what the west has spent 10 years trying to prevent. Piping it through Iran would enrich a regime which the US has been seeking to isolate.

Sending it the long way round through China, quite aside from the strategic considerations, would be prohibitively expensive. But pipelines through Afghanistan would allow the US both to pursue its aim of 'diversifying energy supply' and to penetrate the world's most lucrative markets." [42]
As the San Francisco Chronicle pointed out a mere two weeks following the 9/11 attacks,
"Beyond American determination to hit back against the perpetrators of the Sept. 11 attacks, beyond the likelihood of longer, drawn-out battles producing more civilian casualties in the months and years ahead, the hidden stakes in the war against terrorism can be summed up in a single word: oil."
Explaining further,
"The map of terrorist sanctuaries and targets in the Middle East and Central Asia is also, to an extraordinary degree, a map of the world's principal energy sources in the 21st century. The defense of these energy resources - rather than a simple confrontation between Islam and the West - will be the primary flash point of global conflict for decades to come."
Among the many notable states where there is a crossover between terrorism and oil and gas reserves of vital importance to the United States and the West, are Saudi Arabia, Libya, Bahrain, the Gulf Emirates, Iran, Iraq, Egypt, Sudan and Algeria, Turkmenistan, Kazakhstan, Azerbaijan, Chechnya, Georgia and eastern Turkey.
Importantly,
"this region accounts for more than 65 percent of the world's oil and natural gas production."

Further, "It is inevitable that the war against terrorism will be seen by many as a war on behalf of America's Chevron, ExxonMobil and Arco; France's TotalFinaElf; British Petroleum; Royal Dutch Shell and other multinational giants, which have hundreds of billions of dollars of investment in the region." [43]
It's no secret that the Iraq war had much to do with oil. In the summer of 2001, Dick Cheney convened an Energy Task Force, which was a highly secret set of meetings in which energy policy was determined for the United States.
In the meetings and in various other means of communication, Cheney and his aides met with top officials and executives of Shell Oil, British Petroleum (BP), Exxon Mobil, Chevron, Conoco, and Chevron.[44]
At the meeting, which took place before 9/11 and before there was any mention of a war on Iraq, documents of Iraqi oilfields, pipelines, refineries and terminals were presented and discussed, and,
"Saudi Arabian and United Arab Emirates (UAE) documents likewise feature a map of each country's oilfields, pipelines, refineries and tanker terminals." [45]
Both Royal Dutch Shell and British Petroleum have since received major oil contracts to develop Iraqi oilfields.[46]

The war on Iraq, as well as the war on Afghanistan, also largely serve specifically American, and more broadly, Western imperial-strategic interests in the region. In particular, the wars were strategically designed to eliminate, threaten or contain regional powers, as well as to directly install several dozen military bases in the region, firmly establishing an imperial presence.
The purpose of this is largely aimed at other major regional players and specifically, encircling Russia and China and threatening their access to the regions oil and gas reserves.
Iran is now surrounded, with Iraq on one side, and Afghanistan on the other.
Neocons and AIPAC's Iran deal
Neocons Who Brought You The Iraq War Endorse AIPAC's Iran Bill « LobeLog
by Jim Lobe
*Read an update to this post here.
The neoconservative Foreign Policy Initiative (FPI), the successor organization of the Project for the New American Century (PNAC), has just published another open letter (reproduced below) to Congressional leaders that implicitly endorses what I have called the "Kirk-Menendez Wag the Dog Act of 2013," known officially as the Nuclear Weapon Free Iran Act of 2013 (S. 1881). I say implicitly, because it doesn't come right out and urge support for the specific bill, which AIPAC and the Israel lobby, for which AIPAC is the vanguard, are flogging as hard as they possibly can. But the intention is pretty clear.
This letter — like PNAC, FPI is essentially a "letterhead organization" that issues manifestos, rather than a real think tank or grassroots membership organization — was signed by 72 "former U.S. government officials and foreign policy experts," the vast majority of whom are easily identified as neoconservatives, as opposed to "conservatives," the highly questionable term used by the Daily Beast's Josh Rogin, who reported on the letter even before it was published on the FPI website to describe the signatories. (One wonders whether Rogin was given the letter on the condition that the authors be described as "conservatives" rather than "neoconservatives," which really has become something of a dirty word over the past decade due to its association with the Iraq war and their enthusiasm over other ill-advised military adventures.)
Of the 72, I counted at least 25 who signed PNAC letters— most of them dealing with Iraq and the Middle East — dating back to its 1997 founding by Bob Kagan and Bill Kristol to its unceremonious demise in 2005. (Kagan and Kristol also co-founded the FPI with Dan Senor two years later during Bush's second term when most of the neocons who championed the Iraq War had either left the administration or been successfully marginalized by Secretary of State Condoleezza Rice and Pentagon chief Bob Gates.) Among them are stalwarts from the American Enterprise Institute (AEI), such as Danielle Pletka, Michael Rubin, Fred Kagan, and Gary Schmitt (and now Joe Lieberman!), which acted as a kind of annex to Doug Feith's Office of Special Plans (OSP) at the Pentagon in the run-up to and the immediate aftermath of the Iraq invasion.
Other signatories include AEI alumni Joshua Muravchik and Reuel Marc Gerecht, who also championed the Iraq debacle, but who, like Michael Ledeen, has since moved to the Foundation for Defense of Democracies (FDD)— a seemingly Likudist front that has increasingly partnered events, letters and policy papers with FPI. FDD signatories include Clifford May (who also signed PNAC letters); Mark Dubowitz, the Canadian citizen who has played a key role in crafting U.S. sanctions legislation and waging what he has repeatedly called "economic warfare" against Iran; John Hannah, who served as Dick Cheney's national security adviser during Bush's second term after the departure of Scooter Libby; as well as Gerecht. Then there's a group from the Hudson Institute, which also beat the drums of war in the run-up to the Iraq invasion, including its president, Ken Weinstein, Seth Cropsey, Jack David, Lee Smith, and Doug Feith himself.
As for former Bush officials, there are plenty: Elliott Abrams and his deputy on the NSC, Michael Doran; Feith and his successor as the Undersecretary of Defense for Policy, Eric Edelman (and an FPI director along with Kagan, Kristol, and Senor); Coalition Provisional Authority (CPA) czar Paul Bremer (and his then-spokesman, Senor); Cheney's deputy, the aforementioned Hannah; former head of Radio Free Europe/Radio Liberty Jeffrey Gedmin; former Pentagon Comptroller Dov Zakheim; former Undersecretary of State for Arms Control and International Security Robert Joseph and his deputy, Stephen Rademaker (Pletka's spouse); former Bush speechwriter Peter Wehner; former Undersecretary of State for Global Affairs Paula Dobriansky; and then a couple of people who worked in Rumsfeld's Pentagon or with the CPA, including AEI's Dan Blumenthal and Rubin, and Michael Makovsky, the current head of the Jewish Institute for National Security Affairs, or JINSA, whose motto is "Securing America, Strengthening Israel".
What I found particularly curious about the list of signers was the absence of some of the most visible (aside from Kristol) neoconservative champions of the Iraq war; in particular, AEI's Paul Wolfowitz and Richard Perle, and James Woolsey (as well as John Bolton, who is more of an aggressive nationalist than a neocon, but who also has pooh-poohed any diplomatic process with Iran from the get-go.) I don't think this is an indication that they disagree with the contents of the letter; rather, I believe they have decided (or been advised by their friends at AIPAC) that their public involvement in the debate could prove counter-productive precisely because they were so outspoken — and so disastrously wrong — about Iraq.
But, of course, anyone even remotely acquainted with the run-up to the Iraq war knows the roles played by PNAC, AEI, FDD, the Hudson Institute, as well as by many of the individuals — as noted above, almost all of whom are neoconservatives — who have signed the letter. Which is why I think it actually proves counter-productive to their purposes, even without the endorsement of Wolfowitz, Perle, and Woolsey. And while there are a few token Democratic signatories, such as former Congresswoman Shelley Berkley (for years, the biggest beneficiary of "pro-Israel PAC" money in the House behind Sen. Mark Kirk himself, according to the Center for Responsive Politics) and Lieberman (if he can be considered a Democrat), the overwhelming majority are identified with the Republican Party and/or the Bush administration. We'll soon see if this letter backfires by further portraying the Iran sanctions bill as a GOP/conservative-backed issue.
Indeed, while AIPAC has just about doubled the number of co-sponsors for the "Wag the Dog" Act since it was first introduced by Sens. Mark Kirk and Robert Menendez on Dec. 19 from 26 senators — equally divided between Republicans and Democrats — to 53 today, all but two of the new co-sponsors are Republicans. In other words, with each day, the bill is looking increasingly partisan in nature — a very worrisome trend for AIPAC and the lobby, which have long considered bipartisanship as key to their success, especially in Congress.
The more Republican the bill appears to be, the less inclined Democrats will be to desert their president. The fact that a strong majority of Senate Democrats is still resisting pressure from AIPAC and its donors to co-sponsors is highly significant, as, I think, is the statement issued today by the National Jewish Democratic Council (NJDC) that "We encourage Congress to support the President's foreign policy initiative by making stronger measures available should they be required." (Emphasis added.) A cleverly worded non-endorsement of the bill from an organization that routinely toes the AIPAC line.
The full text of the FPI/PNAC letter
January 9, 2014

Dear Speaker Boehner, Senator Reid, Senator McConnell, and Representative Pelosi:

We write in support of efforts to enforce Iranian compliance with the Joint Plan of Action that Iran agreed to on November 24, 2013, and in support of the ultimate goal of denying Iran nuclear weapons-making capability. Congress has a chance to play an important role in making clear the consequences of Iranian violations of the interim nuclear deal, in clarifying expectations with respect to future nuclear talks with Tehran, and in creating incentives for Iran to conclude a comprehensive nuclear agreement that protects the national security interests of the United States and its allies.

We support the use of diplomacy and non-military pressure, backed up by the military option, to persuade Iran to comply with numerous U.N. Security Council Resolutions and verifiably abandon its efforts to attain nuclear weapons-making capability. Congressional leadership has been indispensable in creating the framework of U.S.-led international sanctions that brought Iran back to the negotiating table. However, given Tehran's long history of violating its international nuclear obligations—and the lack of any explicit enforcement mechanisms in the Joint Plan of Action's text—congressional leadership is once again required to set clear standards for enforcing Iranian compliance with the interim nuclear deal.

As talks go forward, it is critical that Iran not use diplomatic talks as subterfuge for continued development of various aspects of its nuclear program. It is worth recalling Iranian President Hassan Rouhani's claim that, when he served as Iran's chief nuclear negotiator a decade ago, he used diplomatic talks to buy time for Iran to advance its nuclear program. Congressional leadership can help prevent Iran from using future negotiations as cover to further the growth of its nuclear weapons-making capability.

Congress should also use this opportunity to describe its expectations for a comprehensive nuclear agreement with Iran. Such an agreement would irreversibly close off Iran's path to a nuclear weapon through uranium enrichment or plutonium reprocessing, bring Iran into compliance with its international obligations for full transparency and cooperation regarding its nuclear program, and permit extraordinary inspection measures to safeguard against any undeclared Iranian nuclear activities.

Commenting on the likelihood of getting Iran to agree to a comprehensive nuclear agreement, President Obama recently commented, "I wouldn't say that it's more than 50/50." We can do better than a coin-toss. Congress now has the opportunity to make clear the consequences for Iran if it violates the interim nuclear deal or fails to conclude a comprehensive nuclear agreement. Congressional action can thus substantially improve the prospect that Iran's growing nuclear threat will be verifiably and irreversibly halted without the use of force. We urge Congress to seize this opportunity.

Sincerely,

| | |
| --- | --- |
| Elliott Abrams | James Kirchick |
| Dr. Fouad Ajami | Irina Krasovskaya |
| Dr. Michael Auslin | Dr. William Kristol |
| Congresswoman Shelley Berkley | Dr. Robert J. Lieber |
| Josh Block | Senator Joseph I. Lieberman |
| Dan Blumenthal | Tod Lindberg |
| Max Boot | Mary Beth Long |
| Ellen Bork | Dr. Thomas G. Mahnken |
| Ambassador L. Paul Bremer | Dr. Michael Makovsky |
| Dr. Eliot A. Cohen | Ann Marlowe |
| Senator Norm Coleman | Clifford D. May |
| Ambassador William Courtney | Robert C. McFarlane |
| Seth Cropsey | David A. Merkel |
| Jack David | Thomas C. Moore |
| James S. Denton | Dr. Joshua Muravchik |
| Dr. Paula J. Dobriansky | Governor Tim Pawlenty |
| Dr. Michael Doran | Dr. Martin Peretz |
| Mark Dubowitz | Danielle Pletka |
| Dr. Colin Dueck | John Podhoretz |
| Dr. Nicholas N. Eberstadt | Arch Puddington |
| Ambassador Eric S. Edelman | Stephen G. Rademaker |
| Douglas J. Feith | Dr. Michael Rubin |
| Dr. Jeffrey Gedmin | Randy Scheunemann |
| Reuel Marc Gerecht | Dr. Gary J. Schmitt |
| Abe Greenwald | Dan Senor |
| Christopher J. Griffin | Lee Smith |
| John P. Hannah | Henry D. Sokolski |
| Peter R. Huessy | Dr. Ray Takeyh |
| Dr. William C. Inboden | William H. Tobey |
| Bruce Pitcairn Jackson | Dr. Daniel Twining |
| Ash Jain | Peter Wehner |
| Dr. Kenneth D. M. Jensen | Dr. Kenneth R. Weinstein |
| Ambassador Robert G. Joseph | Leon Wieseltier |
| Dr. Frederick W. Kagan | Dr. Dov S. Zakheim |
| Dr. Robert Kagan | Roger Zakheim |
| Lawrence F. Kaplan | Robert Zarate |
---
---
Softpanorama Recommended
---
---
Society
Groupthink : Two Party System as Polyarchy : Corruption of Regulators : Bureaucracies : Understanding Micromanagers and Control Freaks : Toxic Managers : Harvard Mafia : Diplomatic Communication : Surviving a Bad Performance Review : Insufficient Retirement Funds as Immanent Problem of Neoliberal Regime : PseudoScience : Who Rules America : Neoliberalism : The Iron Law of Oligarchy : Libertarian Philosophy
Quotes
War and Peace : Skeptical Finance : John Kenneth Galbraith :Talleyrand : Oscar Wilde : Otto Von Bismarck : Keynes : George Carlin : Skeptics : Propaganda : SE quotes : Language Design and Programming Quotes : Random IT-related quotes : Somerset Maugham : Marcus Aurelius : Kurt Vonnegut : Eric Hoffer : Winston Churchill : Napoleon Bonaparte : Ambrose Bierce : Bernard Shaw : Mark Twain Quotes
Bulletin:
Vol 25, No.12 (December, 2013) Rational Fools vs. Efficient Crooks The efficient markets hypothesis : Political Skeptic Bulletin, 2013 : Unemployment Bulletin, 2010 : Vol 23, No.10 (October, 2011) An observation about corporate security departments : Slightly Skeptical Euromaydan Chronicles, June 2014 : Greenspan legacy bulletin, 2008 : Vol 25, No.10 (October, 2013) Cryptolocker Trojan (Win32/Crilock.A) : Vol 25, No.08 (August, 2013) Cloud providers as intelligence collection hubs : Financial Humor Bulletin, 2010 : Inequality Bulletin, 2009 : Financial Humor Bulletin, 2008 : Copyleft Problems Bulletin, 2004 : Financial Humor Bulletin, 2011 : Energy Bulletin, 2010 : Malware Protection Bulletin, 2010 : Vol 26, No.1 (January, 2013) Object-Oriented Cult : Political Skeptic Bulletin, 2011 : Vol 23, No.11 (November, 2011) Softpanorama classification of sysadmin horror stories : Vol 25, No.05 (May, 2013) Corporate bullshit as a communication method : Vol 25, No.06 (June, 2013) A Note on the Relationship of Brooks Law and Conway Law
History:
Fifty glorious years (1950-2000): the triumph of the US computer engineering : Donald Knuth : TAoCP and its Influence of Computer Science : Richard Stallman : Linus Torvalds : Larry Wall : John K. Ousterhout : CTSS : Multix OS Unix History : Unix shell history : VI editor : History of pipes concept : Solaris : MS DOS : Programming Languages History : PL/1 : Simula 67 : C : History of GCC development : Scripting Languages : Perl history : OS History : Mail : DNS : SSH : CPU Instruction Sets : SPARC systems 1987-2006 : Norton Commander : Norton Utilities : Norton Ghost : Frontpage history : Malware Defense History : GNU Screen : OSS early history
Classic books:
The Peter Principle : Parkinson Law : 1984 : The Mythical Man-Month : How to Solve It by George Polya : The Art of Computer Programming : The Elements of Programming Style : The Unix Hater's Handbook : The Jargon file : The True Believer : Programming Pearls : The Good Soldier Svejk : The Power Elite
Most popular humor pages:
Manifest of the Softpanorama IT Slacker Society : Ten Commandments of the IT Slackers Society : Computer Humor Collection : BSD Logo Story : The Cuckoo's Egg : IT Slang : C++ Humor : ARE YOU A BBS ADDICT? : The Perl Purity Test : Object oriented programmers of all nations : Financial Humor : Financial Humor Bulletin, 2008 : Financial Humor Bulletin, 2010 : The Most Comprehensive Collection of Editor-related Humor : Programming Language Humor : Goldman Sachs related humor : Greenspan humor : C Humor : Scripting Humor : Real Programmers Humor : Web Humor : GPL-related Humor : OFM Humor : Politically Incorrect Humor : IDS Humor : "Linux Sucks" Humor : Russian Musical Humor : Best Russian Programmer Humor : Microsoft plans to buy Catholic Church : Richard Stallman Related Humor : Admin Humor : Perl-related Humor : Linus Torvalds Related humor : PseudoScience Related Humor : Networking Humor : Shell Humor : Financial Humor Bulletin, 2011 : Financial Humor Bulletin, 2012 : Financial Humor Bulletin, 2013 : Java Humor : Software Engineering Humor : Sun Solaris Related Humor : Education Humor : IBM Humor : Assembler-related Humor : VIM Humor : Computer Viruses Humor : Bright tomorrow is rescheduled to a day after tomorrow : Classic Computer Humor
The Last but not Least Technology is dominated by two types of people: those who understand what they do not manage and those who manage what they do not understand ~Archibald Putt. Ph.D
---
Copyright © 1996-2021 by Softpanorama Society. www.softpanorama.org was initially created as a service to the (now defunct) UN Sustainable Development Networking Programme (SDNP) without any remuneration. This document is an industrial compilation designed and created exclusively for educational use and is distributed under the Softpanorama Content License. Original materials copyright belong to respective owners. Quotes are made for educational purposes only in compliance with the fair use doctrine.
FAIR USE NOTICE This site contains copyrighted material the use of which has not always been specifically authorized by the copyright owner. We are making such material available to advance understanding of computer science, IT technology, economic, scientific, and social issues. We believe this constitutes a 'fair use' of any such copyrighted material as provided by section 107 of the US Copyright Law according to which such material can be distributed without profit exclusively for research and educational purposes.
This is a Spartan WHYFF (We Help You For Free) site written by people for whom English is not a native language. Grammar and spelling errors should be expected. The site contain some broken links as it develops like a living tree...
| | |
| --- | --- |
| | You can use PayPal to to buy a cup of coffee for authors of this site |
Disclaimer:
The statements, views and opinions presented on this web page are those of the author (or referenced source) and are not endorsed by, nor do they necessarily reflect, the opinions of the Softpanorama society. We do not warrant the correctness of the information provided or its fitness for any purpose. The site uses AdSense so you need to be aware of Google privacy policy. You you do not want to be tracked by Google please disable Javascript for this site. This site is perfectly usable without Javascript.
Last modified: December 15, 2019