---
Cold War II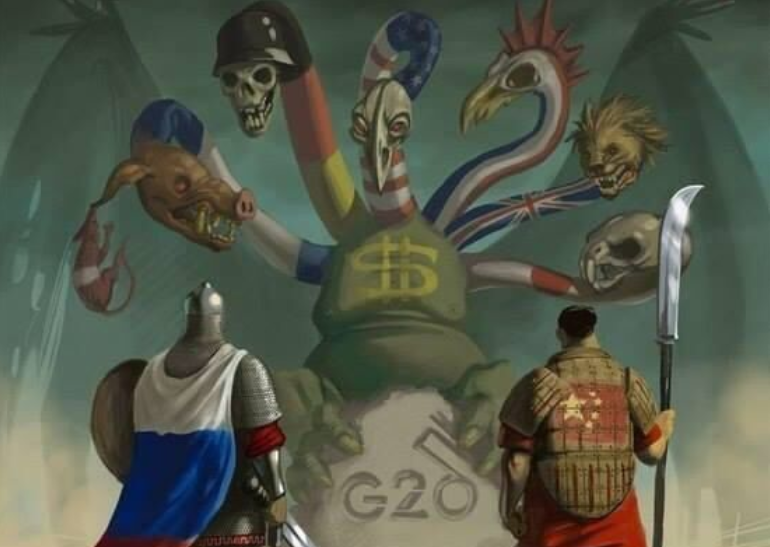 Skepticism > Political Skeptic > Fifth Column of Neoliberal Globalization > Color revolutions
The Russian and US perceptions of war are totally different: for a Russian the war is a fight for survival as an individual and as a nation, for a US person war and killing are just another day in the office. And that includes perception of the risks of "Cold War" turning into hot. Jingoism of the current US elite is really crazy: 'Kill Russians and Iranians, threaten Assad,' says ex-CIA chief backing Clinton. And this is not some drunk schmuck in the pub. This is a top CIA official, who twice served as the acting director of the agency
In an interview with Charlie Rose in August 2016, Morell blamed Syrian President Assad, Russia, and Iran for the death toll in Syria.[28] He called on the moderate opposition in Syria to make Russia and Iran "pay a price" for their involvement in Syria, in part by targeting their military personnel in the country.[29] He also called on the US to begin bombing Syrian government targets in order to bring Assad to the negotiating table.[30] Regarding President Bashar al-Assad, Morell argued "I want to go after those things that Assad sees as his personal power base. I want to scare Assad."[29]
You would think that this guys is a crazy psychopath (thanks God he retired form CIA in 2013). But his views reflect the views of a large swat of Washington political establishment. And President Trump actually fulfilled Hillary bidding and attacked Assad's military installations, the action which Morell argued for. Which opened a new chapter in Cold War II history.
Key events of Cold War II
Generally we can think about Cold War II as consisting of several phases, signified by particular events:
Phase I

Prehistory (1991-1999). The USA, especially Bill Clinton administration, wanted to weaken, isolate and subdue Russia since the dissolution of the USSR (using corrupt regime of drunk Yeltsin as a puppet and Harvard mafia as economic advisors; Russian neoliberals who came to power in Russia after the dissolution of the USSR allowed fox to guard the chickens and faced consequences ) and encouraged efforts to dismember it (via support of Chechen radicals and islamists, in general).
1999: War against Yugoslavia as the demonstration of Russia neo-colonial status. Primakov flight U-turn over Athlantic
2000: Putin ascendance to power as a reaction to Yeltsin regime failings and neo-colonization of Russia. Kursk submarile disaster CBS news then broke the story that the United States had three ships in the vicinity observing the naval exercise that Kursk was taking part in. Two of the three ships were submarines, later determined to be USS Memphis and USS Toledo, type 688 Los Angeles class fast attack submarines which are often used for covert intelligence gathering. USS Memphis, reported by Norway to be undergoing repairs at a Norwegian naval yard.
2001: Neocons get full power in Bush II administration and started to implement PNAC agenda. September 11, 2001 events. Invasion of Afghanistan with Russian support (via North Alliance) with large supplies of Russian arms.
2003: Colin Powell lies to UN in his speech about Iraq weapons of mass destruction(full text) falsely accusing Iraq regime of producing chemical weapons. Subsequent invasion of Iraq under false evidence and occupation of Iraq. The USA uses events in Afghanistan to establish military bases in former Soviet republics starting the operation of "encirclement" of Russia. For some period of time Russia allowed transport of military cargo via its territory. this stopped only after "NATO sanctions" were introduced in 2014.
2008: In august 2008 Georgia staged invasion of north Ossetia which resulted in Russian military operation against Georgia (called the war with Georgia). This was the first time Russia opposed US sanctioned actions of US allies. And did it militarily.
2011: "We say, we came, he died". The USA fooled Russian President Medvedev into supporting "no-fly zones" which were interpreted by West as the cart blanche for full scale bombing of Gaddafi regime. American and British naval forces fired over 110 Tomahawk cruise missiles,[20] the French Air Force, British Royal Air Force, and Royal Canadian Air Force[21] undertaking sorties across Libya and a naval blockade by Coalition forces. French jets launched air strikes against Libyan Army tanks and vehicles. The Libyan government response to the campaign was totally ineffectual. Regime soon fell and Gaddafi was brutally murdered.
2011-2012 attempt to stage a color revolution in Russia by Obama administration (with Hillary Clinton as the Secretary of State), using the power of NGOs and neoliberal fifth column to prevent return of Putin to power ("white revolution" of 2012)

Phase II

2014: Anti-Russian hysteria during Sochi Olympics, Ukrainian coup d'état and introduction of sanctions. Malaysian flight MH17 tragegy that points to a false flag operation
2015: Russian involvement in Syria and Ambush of Russian Su-24 bomber by Turkey.
2016: US deploy offensive and dangerous to Russian strategic forces "missile shield" in Poland and Romania, continuing the policy of encirclement of Russia. On May 12, 2016 US missile shield in Romania goes live to Russian fury
2016: Anti-Russian hysteria during and after Presidential elections. Democtatic Pary turns into the second War party in Washington and the level of jingoism and anti-Russian hysteria reached unprecedented level.
2017: As a reaction to Hillary loss in 2016 election fierce Neo-Mccratyism campaign against Russia was launched, with the level of demonization of Russia justifiable only if the USA is reading population for a war. The Congress starts the investigation of Russian meddling into the US Presidential Elections.
April 2017: Hopes about Trump more reasonable approach to foreign policy and detente with Russia vanished. Under relentless attacks of neocons, which actually resemble a color revolution" (called Purple revolution) Trump folded. Attack on Syrian airbase followed, which actually signify direct attack on Russian involvement (and policy) in Syria. It was masked as a reaction on Khan Sheikhoun gas attack (which, most probably, was a false flag operation)
Sanction as official start of Cold War II
What is called "sanctions" is essentially the "official" start of Cold War II. Not everybody understand this. Russians tend to obscure this fact with bravado. "Sanctions is not only a challenge, but also can serve as a useful resource for our country economic development" -- said the first deputy head of the Presidential Administration Vyacheslav Volodin, in his address to the seminar meeting with officials of the government of subjects of the Russian Federation and representatives of the Public Chamber of the Russian Federation which took place Dec 1-3.
"Today, the state conducts an internal policy that really reflects the interests and enjoys the support of the absolute majority of the Russian people. For example, the reunification of the Crimea and Sevastopol to Russia has supported more than 93% of Russian citizens" noted Vyacheslav Volodin. "But the highest level of support for government policy - not a reason to calm down and relax. This is the issue of preversing this huge level of credibility, great expectations of people. It is important to use this social energy for development of the country, addressing major social and economic problems. "
"The current economic situation is today is an inflected on us stress test for the government, for the economy, for the country as a whole," - said Vyacheslav Volodin.
"This is an opportunity to see who is who. World leaders of the 20th century took place at different times this path - the path of development in the face of opposition of the environment, trade wars, sanctions and restrictions. Some of the countries, such as China, have been able, in spite of the sanctions regime, to build one of the strongest economies in the world and dramatically improve the quality of life of its citizens. Such an opportunity does exist for us too. "
According to Vyacheslav Volodin, economic recovery should be a continuing priority for the country. Sanctions - this is an additional opportunity to resolve overdue to restructure the domestic market, provided support for domestic manufactures.
"Import substitution and new industrialization, which we discussed back in the pre-election articles and messages of the President of the Russian Federation in 2012 and 2013 - a key aspect of state sovereignty,"
I would recommend Volodin to listen famous Russian song, almost a hymn of Russian navy Varyag. Russia now faces the whole NATO alliance, which is by oprder or magnitute is more powerful economically.
Putin assessed situation in more sober way (From 28 min Putin discuss sanctions), but still I think underestimated the capabilities of the "collective West" led by the USA to wreck Russian economy. And while Biden is a regular neocon chickenhawk (essentially Hillary in pants), behind him like an aircraft carriers stand 500 largest US companies and the whole US military industrial complex which wants war:
The U.S. and the European Union imposed sanctions on people and companies close to President Vladimir Putin after Russia annexed the Black Sea Crimea peninsula in March. Ukraine has accused Russia of supplying weapons, military vehicles and mercenaries to separatists, which Russia denies. The two nations are also in conflict over gas, with Russia cutting off supplies this week because of unpaid bills.

U.S. Vice President Joe Biden said Putin's government faces the threat of further economic sanctions if it doesn't do more "to exercise its influence among the separatists to lay down their weapons and renounce violence, both of which Russia has thus far failed to do," according to a statement released by the White House yesterday.
And it is not accidental that the World Bank, one of the cornerstones of world neoliberal economic order, has designed two scenarios for the growth of the Russian economy in 2014 taking into account increased risks over the Crimean crisis (MOSCOW, March 26 (RIA Novosti)
The first variant is based on short-term influences of the events in Ukraine on Russia's economy, and the second, threats of a serious shock and downturn of the gross domestic product (GDP).
"The scenario with a low level of risk presupposes that actions over the Crimean crisis will be limited and short-term and with a prognosis of a slowing economic growth to 1.1 percent in 2014 and a slight increase to 1.3 percent in 2015,"
according to a World Bank report on the Russian economy published on Wednesday.
French politician Philippe de Villiers Without Russia Europe has no future by Viacheslav
Q: What do you think about the "war of sanctions" that Russia waged against the West?

Philippe de Villiers: I will answer you as a person, seriously studied history. It was not even a single case where sanctions would lead to the desired result. Moreover, they give the opposite result.

Country against which an embargo is introduced, usually finds the hidden reserves and becomes stronger. Sanctions by themselves - it is an act of war, they hurt the pride of the people, and those mobilized, concentrated, what is happening now in Russia. In French, one of the meanings of the word "sanctions" refers to a school dictionary. Teacher allowed to punish the student to apply to it "sanctions." But as far as I know, Mr. Putin is not a disciple of Mr Barroso. Sanctions lead to retaliatory sanctions to a dangerous chain of mutual blows.

Cooperation between countries - it is an act of peace. Our joint project of theme parks in Russia and indeed this is. Support him, President Putin has committed an act of peace. I appeal to all the French entrepreneurs to follow suit in order to strengthen ties and friendship between France and Russia.
The Colder War Has Begun… and Russia Is Winning!
Eye-opening new book reveals that Vladimir Putin has launched an ingenious yet devastating plan to strip America of its superpower status. And he's not using bombs or tanks to do it!

Free Book - The Colder War
Instead, he's grabbing control of the global energy trade—the largest source of demand for the dollar and the bedrock of American might and prosperity.

Should Putin win, he could nuke the US economy and cost the average American dearly.

That's why I want to send you a FREE copy of this book to help you prepare for this epic struggle that will define this decade and the century to come.


" The Colder War provides a reversing contrast from the hysterical "Putin is Stalin, Jr., let's restart the Cold War" message emanating from the neocon think tanks and the mainstream media. Marin Katusa shows the real threat to the American people... "

Ron Paul



Dr. Ron Paul
former US Congressman, founder of the Ron Paul Institute for Peace and Prosperity
Dear Reader,

Putin has transformed Russia from a sickly former Soviet state into an energy powerhouse to become:
The second-largest oil exporter in the world, on pace to pass Saudi Arabia very soon;
The largest uranium exporter in the world, powering 1 in 10 American homes;
The largest natural gas exporter in the world, doling out with an iron fist and willing to cut off supply and watch harsh winters kill thousands to get its way.

While America and the West weren't watching all this develop, Marin Katusa had a front-row seat. He's seen Putin's mounting influence on the global energy trade firsthand.

And as you'll discover in his new book, The Colder War, the US can no longer afford to ignore Putin.


" Marin Katusa is raising some good questions about how the world's energy markets really work. He provides some good answers too. Many readers are not going to like them. Those are the people who most need to read this book."

William Bonner
---
---
For the list of top articles see Recommended Links section
Looks like Professor Karlan operated on the level very close to this man.
Notable quotes:
"... Rodney Lee Davis ..."
"... "I just saw you ... on the TV. You backing the Russians, boy?" ..."
It would appear all the escalating rhetoric from a month of impeachment hearings - including one Democratic congressman asking fellow lawmakers to imagine the teenage daughter of Ukraine's president tied up in Trump's basement - have sparked more than just verbal assaults on Republicans ( just as Maxine Waters would had suggested previously ).

The Hill reports that a man in Illinois has been charged after allegedly threatening to shoot Rep. Rodney Davis (R-Ill.) and accusing the congressman of "backing the Russians."

Rodney Lee Davis

64-year-old Randall Tar of Rochester, Ill. was charged with communicating threats to injure a person and threatening to assault, kidnap or murder a federal official, according to court documents released this week (full release below).

Contacted at his home Thursday, Tarr said he saw a television ad in which Davis, a Republican from Taylorville, claimed that Ukraine, not Russia, was responsible for meddling in the 2016 U.S. elections , and it angered him enough to call.

Prosecutors say Tarr called Davis's district office last month and left a profanity-filled voicemail, saying:

"I just saw you ... on the TV. You backing the Russians, boy?"

"Stupid son of a bitch, you're gonna go against our military and back the Russians?" he allegedly added.

"I'm a sharpshooter. ... I'd like to shoot your f---ing head off you stupid motherf---er."

Tarrlater reportedly told The Associated Press :

"I screwed up," Tarr said.

"I don't even have a weapon to do it, is the silliest thing."

"I wish I could just take it all back and just say he's a lousy (expletive) for backing the Russian theory."

Of course, the only problem with all this is that the Democrats' constant spewing of the narrative that Ukraine did not 'meddle' in the 2016 election is entirely false .

---

Dr Anon , 45 minutes ago link

The bigger story is the number of mentally unstable Americans. When you go driving next, remember that about 20% of them are gorked on prescribed medications. The behavior you will observe makes complete sense in that context.

greek mafia , 46 minutes ago link

Damn...64 and still stupid as hell

Pendolino , 47 minutes ago link

" I'm a sharpshooter "

Well he certainly knows how to shoot his mouth off.
by John Quiggin on December 14, 2019

Now that Brexit is almost certainly going to happen, I'm reposting this piece from late 2016 , with some minor corrections, indicated by strike-outs. Feel free to have your say on any aspect of Brexit.

Since the collapse of faith in neoliberalism following the Global Financial Crisis, the political right has been increasingly dominated by tribalism Trumpism. But in most cases, including the US, this has so far amounted to little more than Trilling's irritable mental gestures . To the extent that there is any policy program, it is little more than crony capitalism. Of all the tribalist Trumpist groups that have achieved political power the only ones that have anything amounting to a political program are the Brexiteers.

The sustainability of tribalism Trumpism as a political force will depend, in large measure, on the perceived success or failure of Brexit. So, what will the day after Brexit (presumably, sometime in March 2019) look like, and more importantly, feel like? I'll rule out the so-called "soft Brexit" where Britain stays in the EU for all practical purposes, gaining some minor concessions on immigration restrictions. It seems unlikely and would be even more of an anti-climax than the case I want to think about.

Hidari 12.14.19 at 9:14 am (no link)

Doubtless one of the attractions of Brexit at least to those who thought it up (Farrage etc.) is that it is a completely token rebellion: it appears to change very much while in reality changing very little.

Only one thing:

'On the contrary, it seems pretty clear that all EU citizens will get permanent residence, even those who arrived after the Brexit vote.'

Are we completely sure about this?

'One thing that this post missed completely is that Brexit is an entirely English project, imposed on the Scots and Irish. That's become more and more evident, and looks sure to dominate the days after Brexit happens.'

I kept on putting this point forward in various CT threads, getting, for some reason, massive pushback*, despite the fact that it is obviously true and always has been. Perhaps a colour coded map of the 'new' UK (which shows, essentially, the entirety of England as blue, with the exception of larger conurbations), the Welsh speaking ('outer') parts of Wales as green, essentially the entirety of Scotland as yellow, and the majority of the North of Ireland as being green, will make that point for me.

*I'm not sure why, but I think it's something to do with an unwillingness to see that in all four sections of the 'United' Kingdom we are seeing an eruption of nationalism: the SNP in Scotland, Sinn Fein in NI, Plaid in Wales and of course the Tories in England, with the Tories now functioning as, so to speak, the political wing of UKIP, or, if you want, UKIP/the Brexit Party with the 'rough edges' shaved off.

'Liberal' intellectuals have always had a blind spot for nationalism, and have always tended to reason that because nationalism is 'irrationalism' or whatever, that no one could 'really' think that way and that, therefore, nationalism doesn't 'really' exist. It obviously does, as a 1 second glance at the 'new' UK map will demonstrate.

likbez 12.14.19 at 4:57 pm (no link)

Everything Trump does is consistent with regular conservatism

I respectfully disagree. It is not. Paleoconservatives hate Trump. Neocons for some strange reason also hate Trump, although it is not clear why -- he completely folded and conduct their foreign policy. Which is as far from classic conservatism as one can get.

I view Trumpism as specific for the USA flavor of "national neoliberalism" -- domestic neoliberalism without neoliberal globalization, or with globalization of a different type. The one based on bilateral treaties where stronger state can twist hands of the weaker state and dictate the conditions -- kind of neo-imperialism on steroids ( neoliberalism always was neo-imperial in foreign policy toward weaker states) .

The irony of Corbin defeat is that he was/is a critic of the EU imperialism, which by-and-large is Franco-German imperialism (EU role in Yugoslavia, Iraq, Ukraine, Libya, Syria, Greece) . The EU is not the dominant superpower, so it can't bully the US or China, or Russia. It can do it only when dealing with lesser powers. That's why it's difficult for anyone living inside a major EU-member to actually notice such a behavior: the desire to crush resistance of any lesser country and to force it to abide by its very own rules, whether the other countries want it or not.

The Blairites euphoria that the left was defeated, and neoliberalism still reins supreme is IMHO unwarranted. Neoliberalism as an ideology is dead and that means that Labour Party in its current form is dead as well. The same is true about the US Dems. They can achieve some tactical successes but they can't overturn their strategic defeat.

And Brexit means more close alliance with the USA (in a form of subservience) as alone GB can't conduct previous imperialist policies. It was punching above her weight within the EU (with Scripals false flag as the most recent example, see Tony Kevin take on the subject https://consortiumnews.com/2019/12/08/a-determined-effort-to-undermine-russia ) , and this opportunity no longer exists.
Once again, Russia is suffering from the tainted judgment of non-transparent Western institutions, this time from the World Anti-Doping Agency, which just banned Russia from all international sporting events. The reason for the arbitrary judgment should surprise no one.

The globalists certainly never banked on Russia rising so fast and furious from the ruins of the Soviet Union to the point where it is now in the position to deter Western intrigues around the world. This was witnessed first and foremost in the miraculously recovering hot-spot of Syria – which, unlike the tragic fate that awaited doomed countries like Ukraine, Iraq and Libya – managed at the 11th hour to escape the jaws of NATO's regime-change juggernaut. Syria's salvation was due overwhelmingly to Russian military and diplomatic intervention.

Moscow's efforts, which could best be described as humanitarian in nature, did not come without a price tag for Russia on the propaganda front. From being wrongly accused of meddling in the 2016 US presidential elections, to being unjustly blamed by a Dutch-led probe for the downing of Flight MH17, it is more than apparent that Russia is under full-scale fake news attack.

❌ No flag
❌ No anthem

Here's what the WADA ban means for Russia ⬇️ https://t.co/HYqkT7nauG

-- RT Sport (@RTSportNews) 9 декабря 2019 г.

This week proved no exception as the West's anti-Russia machine shifted into overdrive as the World Anti-Doping Agency slapped Russia with a ban from all international sporting events – including the 2020 Tokyo Games and the 2022 World Cup – for four years. The reason is exactly the same as it was ahead of the 2018 PyeongChang Winter Games: the alleged tampering in Moscow of athletes' laboratory drug-test results. Russia has vehemently denied that any manipulations occurred inside of its labs, and vowed to appeal the decision.

Clearly, the motivation here is to humiliate, provoke and punish Moscow by any means available – even on the field of dreams. Any Russian athlete who wishes to challenge the verdict and participate in the upcoming Games will be required to "prove their innocence" first. If they pass that stage and are allowed to compete, they will not be permitted to don the Russian tricolors, nor will the Russian national anthem be played. Russian athletes, who will be branded as 'Olympic Athlete from Russia,' will have to settle for pledging allegiance to the generic Olympic flag as opposed to the Russian national flag. If ever there were a litmus test for a One World globalist government, where athletes play for some singular monolithic entity, this might just be it.

Euro 2020 LOC chief Alexey Sorokin tells RT 'WADA ban will not affect Russian part of Euro 2020'

Says UCL final in St. Peterbsurg unlikely to be moved

Full story on RT Sport https://t.co/FRhwWBHaN9 |

-- Danny Armstrong (@DannyWArmstrong) 10 декабря 2019 г.

Aside from punishing Moscow for scuttling Western designs in Syria and beyond (incidentally, news of WADA's ban came just as Vladimir Putin was sitting down in Paris for the Normandy Four summit with Angela Merkel, Volodymyr Zelensky and Emmanuel Macron in an effort to stabilize the situation in Eastern Ukraine, as well as relations between Moscow and Kiev), the Western capitals have never quite recovered from Russia's flawless handling of the 2018 World Cup , hosted by 11 Russian cities and visited by an estimated 3 million fans from around the world.

Here was a golden opportunity for Russia to prove firsthand that the Western media has been portraying Russia in a completely misleading light for many years. And much to everyone's apparent surprise it worked. In what amounted to a massive PR disaster for the Western world, those millions of visitors took home with them glowingly positive reviews about Russia and the Russian people, thereby flushing many years of Western anti-Russia propaganda down the proverbial toilet.

According to FIFA President Gianni Infantino: "Everyone discovered a beautiful country, a welcoming country that is keen to show the world that everything that has been said before might not be true. A lot of preconceived ideas have been changed because people have seen the true nature of Russia."

Infantino also went on record as calling Russia 2018 "the best World Cup ever."

Needless to say, the Western policymakers would like nothing more than to deny Russia from receiving any further global accolades in the future.

Danny Armstrong, a Moscow-based sports commentator for RT, described the folly of attempting to ban Russia from Euro 2020 next year, where four games are already scheduled to be held in St. Petersburg.

"Would fans, organizers and commentators be banned from stating they are in Russia? We're do you draw the line?

"I think given that this level of scrutiny isn't generally applied to other nations and the cynical calls for heightened stringency from USADA in reaction – who has had more than its fair share of doping scandals – there's more than a whiff of motivation to potentially eliminate a rival," Armstrong said via email.

Just had a very good meeting with Foreign Minister Sergey Lavrov and representatives of Russia. Discussed many items including Trade, Iran, North Korea, INF Treaty, Nuclear Arms Control, and Election Meddling. Look forward to continuing our dialogue in the near future! pic.twitter.com/tHecH9a9ck

-- Donald J. Trump (@realDonaldTrump) 10 декабря 2019 г.

Russian Foreign Minister Sergey Lavrov, who was meeting with Donald Trump in side of the Oval Office when the WADA decision was made public, couldn't resist taking some cracks at members of Congress who predictably criticized the high-ranking Russian delegation being invited to the White House.

"If [Adam] Schiff can describe the ministerial-level contacts normal to any country and my meeting with the president in such a way, then I believe that they will soon accuse our diplomats, just as they have our athletes, of doping and call for criminal punishment," Lavrov told reporters.

Although it is certainly a positive sign to see one of the highest ranking Kremlin officials respond to these ongoing attacks against Russia in a tongue-in-cheek manner, fully aware of the derangement syndrome that is motivating them, there can be no doubt that such actions against Russia are being viewed in Moscow as passive forms of very real aggression that cannot go unchallenged forever.

In other words, the world should be very wary of the other shoe dropping when that shoe belongs to a nuclear-armed military power whose patience must be wearing very thin.
FOX 10 Phoenix 722K subscribers The U.S. attorney who is conducting a wide-ranging investigation of the origins of the Trump-Russia probe released a rare statement Monday saying he disagrees with conclusions of the so-called FISA report -- after DOJ Inspector General Michael Horowitz found in that review that the probe's launch largely complied with DOJ and FBI policies. "Based on the evidence collected to date, and while our investigation is ongoing, last month we advised the Inspector General that we do not agree with some of the report's conclusions as to predication and how the FBI case was opened," U.S. Attorney John Durham said in a statement. Horowitz released his report Monday saying his investigators found no intentional misconduct or political bias surrounding efforts to launch that 2016 probe and to seek a highly controversial Foreign Intelligence Surveillance Act (FISA) warrant to monitor former Trump campaign adviser Carter Page in the early months of the investigation. Still, it found that there were "significant concerns with how certain aspects of the investigation were conducted and supervised." "I have the utmost respect for the mission of the Office of Inspector General and the comprehensive work that went into the report prepared by Mr. Horowitz and his staff," Durham said. "However, our investigation is not limited to developing information from within component parts of the Justice Department. Our investigation has included developing information from other persons and entities, both in the U.S. and outside of the U.S." As Horowitz has conducted his review of DOJ actions during the Russia probe, Durham, the U.S. attorney for Connecticut, has also been conducting a wider inquiry into alleged misconduct and alleged improper government surveillance on the Trump campaign during the 2016 presidential election. Fox News reported in October that Durham's ongoing probe has transitioned into a full-fledged criminal investigation. Meanwhile, Attorney General William Barr ripped the FBI's "intrusive" investigation after the release of Horowitz's review, saying it was launched based on the "thinnest of suspicions." "The Inspector General's report now makes clear that the FBI launched an intrusive investigation of a U.S. presidential campaign on the thinnest of suspicions that, in my view, were insufficient to justify the steps taken," Barr said in a statement. Barr expressed frustration that the FBI continued investigating the Trump campaign, even as "exculpatory" information came to the light.

---

When the FBI lies to a court it's called an "Irregularity" When you or I lie to a court, it's called "Perjury" and we go to jail.

Are See , 2 days ago

The history of FBI and DOJ lying and legal abuse is much older than Trump. Read Sidney Powell's LICENSED TO LIE. Been going on since at least the Enron prosecutions. And judges are just as much to blame.

Terry R , 2 days ago

This is what we get for having so many lawyers in office.

Guitarguts63 , 2 days ago

16 minutes and 30 seconds in should be labeled as treason

Liam Daniels , 2 days ago

The evidence is glaring. Indictments need to be handed out or else this is a mockery of justice

Geena Gador , 2 days ago

Talk is cheap. DO something to bring justice to the perpetrators.

sethgabel , 2 days ago

Page and Strzok conversation is more like insurgency than pillow talk.

SWFL Motorsports Fan , 2 days ago

Thank God for: Lindsey Graham, Ted Cruz, Doug Collins, Jim Jordan, and Louie Gohmert to represent our country in this mess to shed light on whats been going on. Drain the swamp in Washington!

Wynette Greer , 2 days ago

The CIA are just as corrupt as the FBI , they have even more power to abuse !

Lillie Holmes , 2 days ago

WOW all the investigations they did on Trump was just to set him up, James Comey should be arrested

Karlyn Pinson , 2 days ago

HOROWITZ'S IS A DEEP STATE SWAMP RAT. FIRE HIM

Arlene Duran , 2 days ago

CNN should be sued and barred from all angles of media. Dangerous very very dangerous situation.

Michael Carr , 2 days ago

And the tax payers of the United States spent 40 million dollars investigating Trump because of the Steele Dossier. Terrible, just awful.

Crystal kellim , 1 day ago

Why aren't Lisa page and stroke in cuffs by NOW, this is conspiracy, treasonous behavior.... biased and they think they are above Americans.
---

The dems slandered Barr and Durham but not Horowitz, now we know why .

Tim Burton , 4 days ago

Graham running cover for the Deep-State and directing us to low-level offenders NOT obama/hillary/DNC and their FAILED CoupD'etat's

SwapPart, LLC , 4 days ago

Horowitz is just afraid of being added to the Clinton's body count.

William Bailey , 4 days ago

Well folks there you have it. The deep state investigated themselves and found no evidence of wrongdoing.

Rice Family , 4 days ago (edited)

It's insane to say there were "17 material omissions, miss-representations (lies) and errors" - but no evidence of bias. This is like accidentally shooting someone 17 times.
Highly recommended!
Clapper and Brennan will be shaking in their boots after watching Barr's interview: done in "bad faith" = SEDITION !!!! Deep State operatives...ie, Brennan, Clapper, Comey, Stork, Lisa, McCabe, should be held accountable. Obama should probably be impeached.
The hard fact is, that the top of the FBI knew, in advance, that the "dossier" was just bs invented by Russian liars, for money, to be used as political lies for kilary's campaign. It Wasn't evidence and Comey knew far in advance of crossfire hurricane. I can't see less than 20 years in comey's future. That same includes barak, brennan and clapper, who were all informed, willing accomplices in this crime.
10:30 Whoever in FBI that intentionally misled the court using the Steele dossier knowing that the dossier was "total rubbish" as Barr states, needs to be inditing immediately. Why we are continuing to investigate instead of inditimg while continuing to investigate. Until these people are held accountable I don't think our country will begin to heal and media and others apologize to the country for the damage they have done.
7:49 - "Comey refused to sign back up for his security clearance, and therefore couldn't be questioned about classified matters." Well now, isn't that interesting. Haven't heard that one before.
In an exclusive interview, Attorney General William Barr spoke to NBC News' Pete Williams about the findings on the Justice Department Inspector General's report on the Russia investigation and his criticisms of the FBI.

---

It appears that none of AG Barr's answers were what Pete Williams wanted to hear.

Gary Ellis , 2 days ago

I sincerely hope that the Durham investigation brings people to justice for what they have done to our country.

greg j , 2 days ago

The man just admitted "this may be the biggest conspiracy in U.S Political History." Ouch!

Jeremy Elice , 3 days ago

Shame we didn't get to see Pete William's face during Barr's answer accusing "an irresponsible press of fanning the flames."

JOHN DRUMHELLER , 2 days ago

Here's the adult in the room. Look out children.

Hart , 1 day ago

This is like if Watergate was on steroids and then some. Everyone involved should be prosecuted including the person who bought the dossier

Russell McAfee , 1 day ago (edited)

The FBI never got the actual DNC server. Crowdstrike has it. The FBI got a 'forensic copy'

Richard McLeod , 1 day ago

The FBI has now been proven to be corrupt at its' highest levels.

King Eris , 1 day ago

I could listen to AG Barr talk for hours. He's so calm and professional.

Noble Victory , 1 day ago

Barr is so intelligent and just. He's smoothe like the way he plays the Bagpipes. Pretty amazing! 🇺🇸👍

Nolan Gleason , 3 days ago

Death to the swamp

ctafrance , 1 day ago

The press is hopelessly corrupt. If we didn't know it already, this interview proves it.

Roman King , 1 day ago (edited)

I'm So glade we have a competent attorney General pushing back on the massive disinformation narrative that comes from Giant News outlets of which are used to being unchallenged, unchecked by today's "journalistic standards"

Clarion Call , 2 days ago

I so respect and admire this man's brain and logical thinking. His vocabulary is great as well.

wkcw1 , 2 days ago

NBC realizing they need to take a bath on this whole thing. Probably a bit too late now.

barbandrob1 , 1 day ago

Barr just basically clarified and justified Fox news reporting over the last 2 years.. Thanks NBC

Faris Hamarneh , 3 days ago

I love Barr's nonchalant style. But this is real big and heads are going to roll

Craig Bigelow , 2 days ago

Obama spied on Trump. Obama should have known about the FISA warrant!

Luis Santiago , 1 day ago

so this guy really asked Bahr"why not open an investigation even with little evidence?" because is a violation of civil liberties to invade the privacy of law abiding citizens. You need compelling evidence for something so huge

macfan128 , 1 day ago

17:44 "Why should the Attorney General care that the FBI was spying on a presidential candidate?" LOLOLOLOL Our media is a jooooooooke.

David , 3 days ago

NBC did a straight up interview??? This is shocking. Who told them that they could start doing journalism again?

Bill the Cat , 2 days ago

Clapper and Brennan will be shaking in their boots after watching Barr's interview.

Horowitz should be instructed to edit or update his Report to discuss The Question of Bias and Evidence of Bias. He has clearly misguided Americans with his choice of words and has omitted important facts underpinning bias.

MegaTrucker65 , 1 day ago

I haven't looked into Ukraine YET.

Gamer John3:18 , 1 day ago

AG Barr is an outstanding role model, a man of integrity and wisdom, calm in a raging political storm. I have full confidence he will make those who fabricated evidence and hid exculpatory evidence finally face justice. AG Barr for President 2024!

Yo Mama , 2 days ago

Barr is a straight shooter and I love it. It sounds like we will get to the real truth eventually through Durhams investigation I just hope it doesnt take another year to get to the prosecutions.

---

So, I watched the interview... The video is called, "Full Interview: Barr Criticizes Inspector General Report On The Russia Investigation." Not once did I hear him criticize the I.G.'s report. In fact, A.G. Barr clarified that the I.G.'s report was limited in scope because of the limitations put on the I.G. He said that the report was appropriate.

Wolverines Fight , 1 day ago

It's scary to see how powerful the corruption of the Democratic Party has grown. It represents a serious threat to all our personal freedom. The Democratic Party has to be stopped.

Benny .Burmeister Jørgensen , 3 days ago

Ok after watching this interview its quite clear that Barr and Durham is going after these criminals and people are going to jail. Maybe there is hope for US yet becuase this dane consider US atm a banana republic. Spying on political candidates? Forging documents? You FBI behaving like Stalins secret police. Lets see what happen.

Mike Dorsey , 1 day ago

God Bless Bill Barr. I'm glad there's still some adults in government that will speak their mind intelligently, rationally and unabashedly.

protochris , 1 day ago

This guy is brilliant; he's clearly exposing the FBI and the barking dogs on the alphabet networks.

Dan Kuo , 1 day ago

Amazing for the AG to go in deep into enemy territory at the heart of the opposition media to lay out a case for the criminal activities that undermined our country prior to and after the 2016 election. The deep state is trembling at the prospect of being held accountable after all the facts are laid out to the american people that these activities cannot be brushed aside or swept under the carpet if we are to continue as a country.

Jbyrd Texas , 2 days ago

The corrupt media is trying to act like they have not been involved in this treasonous scam since the beginning working directly with the treasonous cabal. The media has been lying and pushing fake news for 3 years calling Trump a Russia agent and called him treasonous. I knew the whole time that they were lying there was evidence from day one that this was all lies and if I can see that from the public then they can definitely see that from the inside they are purposefully lying.

Stephan Coutts , 1 day ago

I dare anyone on here to research Barr's History back to his involvement in the assignation of JFK, the cover up, defending Nixon, Epstein, and many other illegal and immoral activities. After reviewing the evidence, I walked away believing that Barr is trying to cover up his tracks so he does do jail time. No need to reply. Either take my dare or not. God Bless America and ALL her people, Stephan

Worlds Best Metal Detectorist , 2 days ago

The public are sick of waiting . I find myself skipping through a half hour news show in 5 minutes flat looking for arrests ,whereas before I was rivited to every minute of the half hour show but it goes on and on and at the there is Nothiing .The Democrats are the masters , it's obvious . If they break the law they get off scott free . If you are republican wave bye bye , you will be in jail for years . America is not the free and fair country it is all cracked up to be . It is corrupted by the democrats who have peoiple in high places that thwart real justice.

Right Thinking , 3 days ago

Mifsud approached George! Who was Mifsud working for (western asset) and why did he approach George? He's the one who offered George dirt on Hill. Then invited him to meet the fake "niece", of Putin, in England! What about this information? Someone set George up to make this happen outside the US, because of EO 12333. It had to happen outside the US so they could go to the fisa court!

dethtrk Jones , 3 days ago

I dont trust Christopher Wrey. He keeps slow-walking all the FBI documents and declassifications. He also fights judicial watch and judges that rule in their favor and continue not giving over what is ordered! This last judge was ready to hold him in contempt for refusing to cooperate with court ordered documents.

Brad Brown , 2 days ago

Why did the FBI continue to investigate Trump after January when the case collapsed? To try and find a way to impeach Trump. Remember the Washington Post headlined article right after the inauguration "The effort to impeach President Donald John Trump is already underway." The FBI "insurance" policy was essential!
This is Washington corruption, and they wonder why Trump was voted in.

human151 , 2 days ago

Does Horowitz really expect people to believe his conclusions? The guy is obviously dirty.
Notable quotes:
"... While the typical BubisAmericanus will have forgotten all the details by then, me thinks the hard core democrats, I mean nomal'ish people that usually vote blue, simply stay home. ..."
"... Was this whole impeachment thing completely designed for the dems to fall on their sword and put the Donald back in for another 4? Dunno. ..."
squid, 7 hours ago link

They want to do it by Christmas in the vain hope that this circus will all blow over by November. I think not.

While the typical BubisAmericanus will have forgotten all the details by then, me thinks the hard core democrats, I mean nomal'ish people that usually vote blue, simply stay home.

Part of me, however, thinks back to something that Harry Truman said, "in politics there are no accidents" .

Was this whole impeachment thing completely designed for the dems to fall on their sword and put the Donald back in for another 4? Dunno.

The Republicans will have both houses when in 2024 the the tax take will barley cover interest.

Meme Iamfurst , 6 hours ago link

designed for the dems to fall on their sword and put the Donald back in for another 4? Dunno.

Been thinking along the same lines. May be the last thing they want is to be "on line" in 2021. I even wonder if CNN and BSNBC, etc, are there to DRIVE the decent Democrat to the Republicians.

I do think that things are not adding up.
Md4 , 8 hours ago link

No reputable legal authority would fear ensuring due process for an accused, unless it had no evidence of an actual crime to justify prosecution...but DID have ulterior motives and nefarious purposes for doing so.

Let's be clear.

To date, not a single shred of actual evidence has ever been produced to prove Russian involvement or interference in the 2016 presidential election.

***.

Nada.

We have the opinion of domestic intelligence agencies, but we have no physical or direct evidence.

On the contrary, we have as much reason to believe some or all of them interfered in the Trump campaign, to orchestrate and execute a foreign interference hoax against Trump, before and after his election.

Daily, and throughout this sick prog left congressional abuse of power, we have repeatedly heard claims of an "ongoing war with Russia" in Ukraine.

Which war is this? Is this a continuation of the non-invasion of the Donbas in 2014? The specious and false claims of Russian troop concentrations, and tanks rolling, that even spy satellites didn't see? Are we still lying about this? If so, where are the media reports of Russian airstrikes, burning Ukrainian villages, or body bags?

In any "on-going" war with Russia, we would've been treated to near-constant news video of Russian armor all over eastern Ukraine. Have we? Perhaps this war they keep telling us about is like the Russian "invasion" of Crimea that didn't happen either.

We clearly remember the two Crimean-initiated referenda which put them back in their ancestral Russian homelands, but none of that had anything to do with invading Russians, who already had a substantial military presence in Crimea for decades.

No sir, Professor Turley. ​​​​​​

There is no basis whatsoever for Trump's impeachment.

There is mounting evidence of a continued coup against this president, and the substantial number of Americans who actually elected him.

We too are closely monitoring the actual situation...
The recent shootings of three U.S. soldiers in Florida at the hands of a Saudi citizen raises a standard question in the U.S. government's perpetual "war on terrorism": "Why do they hate us?"

Soon after the 9/11 attacks, the official mantra began being issued: The terrorists just hate us for our "freedom and values." No other explanation for motive was to be considered. If anyone suggested an alternative motive -- such as "They are retaliating for U.S. governmental killings over there" -- U.S. officials and interventionists would immediately go on the attack, heaping a mountain of calumny on that person, accusing him of treason, hating America, loving the terrorists, and justifying their attacks.

It happened to me and other libertarians who dared to challenge the official motive behind the 9/11 attacks. Shortly after the attacks, I spoke at a freedom conference in Arizona consisting of both libertarians and conservatives. When I pointed out that the attacks were the predictable consequence of a foreign policy that kills people over there, another of the speakers was filled with anger and rage over such an "unpatriotic" suggestion. Then, a few weeks after the 9/11 attacks, FFF published an article by me entitled, " Is This the Wrong Time to Question Foreign Policy? " in which I pointed out the role that U.S. interventionism had played in the attacks. FFF was hit with the most nasty and angry attacks I have ever seen.

Eighteen years later, the evidence is virtually conclusive that the reason that the United States has been suffering a constant, never-ending threat of terrorism is because U.S. military and CIA forces have been killing people in the Middle East and Afghanistan since at least the end of the Cold War, and even before.

After all, if the terrorists hate us for our "freedom and values," why haven't they been attacking the Swiss? They have pretty much the same freedom and values that Americans have. And they are much closer geographically to Middle East terrorists than the United States is. Why haven't the terrorists been attacking them?

The answer is simple: the Swiss government, unlike the U.S. government, hasn't been killing, maiming, and injuring people and hasn't been bombing and destroying countries in the Middle East and Afghanistan.

A long history of U.S. interventionism

U.S. interventions in the Middle East began, of course, long before the 9/11 attacks. There was the 1953 CIA coup that destroyed Iran's experiment with democracy with a coup that replaced the democratically elected prime minister of the country with a tyrannical pro-U.S. dictator. Not surprisingly, that produced the violent Iranian revolution almost 25 years later. The Iranian revolutionaries didn't hate America for its "freedom and values." They hated America for the U.S. government's installation, training, and support of the tyrannical regime against which they revolted.

In the 1980s, there was the sending of U.S. troops into Lebanon as interventionist "peacekeepers." The terrorists ended up blowing up a Marine barracks, killing 241 U.S. soldiers. The terrorists didn't hate America for its "freedom and values." They hated America for the federal government's interventionism into Lebanon. As soon as all U.S. troops were withdrawn from Lebanon, which was the right thing to do, there were obviously no more deaths of U.S. soldiers in that country.

It was after the Pentagon and the CIA lost their official Cold War enemy, the Soviet Union (i.e., Russia), that they proceeded headlong into the Middle East and began killing multitudes of people. There was the Persian Gulf War, waged without the constitutionally required congressional declaration of war, where thousands of Iraqis were killed or injured. That was followed by a decade of brutal sanctions against Iraq, which contributed to the deaths of hundreds of thousands of Iraqi children.

Thus, when Ramzi Yousef, one of the terrorists who tried to bring down the World Trade Center with a bomb in 1993, appeared before a federal judge for sentencing, he angrily told the judge that it was U.S. officials who were the butchers, for killing multitudes of innocent children in Iraq.

As those Iraqi children were dying, there were retaliatory terrorist strikes on the USS Cole and the U.S. embassies in East Africa. Once again, however, U.S. officials continued to steadfastly maintain that was all about hatred for America's "freedom and values" and had nothing to do with the deadly and destructive U.S. interventionism in the Middle East.

Then came Osama bin Laden's declaration of war against the United States, in which he expressly cited U.S. interventionism in the Middle East as his motivating factor. That was followed by the 9/11 attacks, along with other terrorist attacks both here and abroad. Through it all, U.S. officials and interventionists have blindly maintained that the terrorists hate us for our "freedom and values," not because the U.S. government kills, maims, injures, and destroys people over there.

The recent Florida killings

And now we have the latest killing spree, this one at the hands of a Saudi citizen in Florida. According to a story in yesterday's Washington Post about the killing of three U.S. soldiers, the killer, Ahmed Mohammed al-Shamrani was described as "strange" and "angry." "He looked like he was angry at the world," said one person who knew him. Another said that he looked at people in an "angry, challenging" way.

The article says that "the FBI has not yet determined a motive for the mass shooting."

Well, of course it hasn't. That's undoubtedly because the FBI hasn't yet found any statements in which the killer states that he hates America for its "freedom and values."

But the Post article does point out something quite interesting. The article states: "The gunman, who was shot dead by a sheriff's deputy responding to the shooting, is thought to have written a 'will' that was posted to the account a few hours before the rampage. In it, he blasts U.S. policies in Muslim countries."

Well, isn't that interesting! Unfortunately, the Post didn't provide a verbatim transcript of the killer's "will" in which he "blasts U.S. policies in the Muslim countries." The Post does point out though that "the writer says he does not dislike Americans per se -- 'I don't hate you because of your freedoms,' he begins -- but that he hates U.S. policies that he views as anti-Muslim and 'evil.'"

I n an article at antiwar.com entitled, " Pensacola: Blowback Terrorism ," Scott Horton provides a verbatim transcript of the killer's "will," in which the killer states in part:

I'm not against you for just being American, I don't hate you for your freedom, I hate you because every day you supporting, funding, and committing crimes not only against Muslims but also humanity. I am against evil, and America as a whole has turned into a nation of evil. What I see from America is the supporting of Israel which is invasion of Muslim countrie, I see invasion of many countries by it's troops, I see Guantanamo Bay. I see cruise missiles, cluster bombs and UAV.

Now, if one goes back to Ramzi Yousef's sentencing hearing in 1995 -- some 24 years ago -- one will see that Yousef angrily said much the same thing to the federal judge who was getting ready to sentence him to jail for his 1993 terrorist attack on the World Trade Center.

Americans have a choice:

One, continue the U.S. government's decades-long killing spree in the Middle East, in which case America will continue to experience never-ending terrorist retaliation, the perpetual "war on terrorism, and the ongoing destruction of our liberty and privacy at the hands of our government, which is purportedly protecting us from the terrorist threats that it produces with its foreign interventionism.

Or, two, stop U.S. forces from killing any more people, bring them all home and discharge them, which would help get America back on the right track, one toward liberty, peace, prosperity, morality, normality, and harmony with the world.

This post was written by: Jacob G. Hornberger Jacob G. Hornberger is founder and president of The Future of Freedom Foundation. He was born and raised in Laredo, Texas, and received his B.A. in economics from Virginia Military Institute and his law degree from the University of Texas. He was a trial attorney for twelve years in Texas. He also was an adjunct professor at the University of Dallas, where he taught law and economics. In 1987, Mr. Hornberger left the practice of law to become director of programs at the Foundation for Economic Education. He has advanced freedom and free markets on talk-radio stations all across the country as well as on Fox News' Neil Cavuto and Greta van Susteren shows and he appeared as a regular commentator on Judge Andrew Napolitano's show Freedom Watch . View these interviews at LewRockwell.com and from Full Context . Send him email .
As Tony Kevin reported (watch-v=dJiS3nFzsWg) at one small fundraiser Bill Clinton made an interesting remark. He said that the USA should always have enemies. That's absolutely true, this this is a way to unite such a society as we have in the USA. probably the only way. And Russia simply fits the bill. Very convenient bogeyman.
Notable quotes:
"... The experience of the USSR in that country should have sent up all kinds of red flags to the invading US military but it apparently did not. Both USSR and America lost thousands of military lives -- but nothing has changed in the country. Life in Afghanistan is actually worse now than before the multiple invasions. The only think which has improved is the cultivation of poppies and the export of opium. ..."
One aspect of this report in the NYT is very troubling but not a great surprise to those who pay attention to Asian affairs.

The reports that US military leaders had no idea of what to do in Afghanistan and constantly lied to the public should rouse citizens in America to take a different view of military leaders. That view must be to trust nothing coming from the Pentagon or from spokespersons for the military. Included must be any and all secretaries of defence, and all branches of the military.

It is totally unacceptable that 1-2 trillion dollars and several thousand lives were spent by America for some nebulous cause. This does not include many thousands of civilians.

During the Vietnam disaster, it became obvious that American military was lying to the public and taking many causalities in an unwinnable war. Nothing was learned about Asia or Asian culture because America entered Afghanistan without a real plan and no understanding of the country or it's history.

The experience of the USSR in that country should have sent up all kinds of red flags to the invading US military but it apparently did not. Both USSR and America lost thousands of military lives -- but nothing has changed in the country. Life in Afghanistan is actually worse now than before the multiple invasions. The only think which has improved is the cultivation of poppies and the export of opium.
vk , Dec 13 2019 12:03 utc | 47

@ Posted by: Sunny Runny Burger | Dec 13 2019 7:26 utc | 34

We don't need to waste time discussing it: Putin himself publicly said (more than once) that he also would like to have the USSR back.

His scuffle with Lenin lies in the fact of the ethnicities issue.

This debate indeed happened during the very formation of the USSR: Lenin defended each ethnicity of the old Russian Empire should have the right to have their own republic, and, after the fact, they should have the right to freely decide if they want to join the Union or not (many did, others, like Poland and Finland, did not; the Baltic nations were conquered during WWII). Stalin defended the ethnicites shouldn't have any rights to any kind of nation (he even published a book about it).

Putin claims Lenin commited a huge mistake by giving the ethnicities their own republics. He said it caused a lot of problems, some of them still existing today.

I don't doubt Lenin would have preferred to have one single soviet republic without any ethnic distinctions if he could. The problem was that the situation in the Russian Empire was unsustainable. It was a melting pot ready to explode. And he had to win the civil war before he had to think about any political system -- the support of the ethnic minorities being of fundamental importance.

In my opinion, Putin is anachronic by blaming Lenin for the fragmentation of the Russian Empire. First, he has a very idyllic vision of the Empire: its capitalist reforms of the 1860s were a monumental failure, it had just came from a humiliating loss to the Japanese (1905) and the economy had deteriorated to a point it had to constantly crush ethnic revolts in its corners. By 1917, the Russian Empire was still considered a power -- but definitely a second rate one, and falling (even the Japanese were considered a more important empire by that time). The situation was so unsustainable that the Provisory Government of February invited Nicholas II to head it as head of State -- and he refused. The tsardom had simply given up.

Secondly, Putin may be disproportionally influenced by that French sociologist's theory from the 1980s, which stated the USSR would fall through its ethnic divisions -- specially the Muslim populations of its "underbelly". The USSR definitely didn't fall because of its ethnic divisions, although it may have appeared to be the case in the Iron Curtain -- in which Putin served as KGB.

Whatever his reasons, the fact is that the Russian Federation is an objectively worse social experiment than the USSR. It will grow only 1.5% this year. Even Putin's boom of the early 2000s were nothing spectacular, being worse than all the Soviet booms and comparable to Brazil Lula's boom at exactly the same time.

Passer by , Dec 13 2019 12:18 utc | 48

Posted by: vk | Dec 13 2019 12:03 utc | 47

Actually the IMF estimates that Russia, even under sanctions and low oil prices, will be growing faster than the US and the EU for the next 5 years (2 % vs 1,5 %). Not to mention that it is zero debt economy with triple surpluses - in trade, current account and federal budget. So this is not a small achievment.
Highly recommended!
The USA "Full Spectrum Dominance" doctrine requires weakening and, if possible, partitioning Russia.
Retired Australian diplomat Tony Kevin tells the audience that Skripals poisoning was a false flag operation. 7:00
He also point several weak points in Western politicians narrative about MH17
Notable quotes:
"... Cold War patterns of thinking about Russia show no sign of weakening in America ..."
"... Putin made it clear when he said the next war would not be fought inside Russia. The troglodytes in the West are unable to grasp not only what that means, but why he said it. ..."
"... The latest efforts at attacking Russia via smear, allegation and Doublespeak have been, are via that US supported supposed oversight committee, WADA which has done what the US-UK wanted: banned Russia for four years from international sporting events including the upcoming Tokyo Olympics and World Cup (Football – soccer to Americans). ..."
"... I am really sick of the smearing of Russia done by the US and UK. The Skripal as well as the MH17 case are plain ridiculus. Anybody can see through these silly plants. US and UK obviously don't feel obliged to respect any international rules any more. (The one person who is suffering most at the moment from the decline in respect is Julian Assange, an Australian citizen!) ..."
"... There is "cause." Russia was our latest vassal under Yeltsin. Putin stopped the looting, and worked to benefit average Russian citizens. Just watch "The Magnitsky Act, behind the scenes" to know the "cause". ..."
"... Much of the West (i.e. Germany) has been dragged by force into damage control mode. The Magnitsky Act monster, the election interference hysteria, are just 2 crying examples met with shock and disbelief across the pond. The Fiona Hill testimony was a very telling moment for the inner workings of a self perpetuating logic. ..."
"... "Russia is no lightweight by any means, and not always friendly. But it has regularly done the right thing in international conflicts which the Kremlin seems to understand better than all of "the Western" intelligence combined." ..."
Retired Australian diplomat Tony Kevin, in conversation with former Australian Foreign Minister Bob Carr, says the West is unnecessarily determined to undermine Russia.

A t an event last week in Sydney, Kevin and Carr discussed how the West, led by the United States, has been on an aggressive campaign to destabilize Russia, without cause.

When Kevin said he returned to Russia after more than 40 years in 2016 he realized he "had to take sides" in the U.S.-Russia standoff when all Nato countries boycotted the Moscow celebrations of the 70th anniversary of the end of the Second World War.

"I had to take a moral position that it is not right for the West to be ganging up on Russia," Kevin says in his conversation with the former Australian foreign minister.

The New Cold War can traced back to a broken promise made to Moscow on Nato expansion eastward. "London and Washington are orchestrating a disinformation" campaign today against Russia, as the New Cold War has heated up over Syria, Ukraine, NATO troops on Russia's borders and Russiagate.

Watch the hour-long in depth discussion which was filmed and produced by Consortium News' CN Live! Executive Producer Cathy Vogan.

https://www.youtube.com/embed/dJiS3nFzsWg?feature=oembed

Tags: Bob Carr Russia Russiagate Russophobia Tony Kevin Vladimir Putin

---

Tom Culpeper , December 11, 2019 at 16:03

Putin & the Russian citizenry play chess on this 3-dimensional world.! The Americas and their inane elites attempt checkers on their flat Earth . Pity, some such as Noam Chomsky are admirable world citizens..! Pity again.! WE will miss men of this honest calibre and down- to-earth intelligence. Bob Carr is of this cohort.

Eugenie Basile , December 10, 2019 at 03:36

The 'Russia did it' mantra is a gift for the powers in the Kremlin. It rallies most Russians behind their leaders because they are proud of their country and don't accept the West's moral hypocrite grandstanding.

Just recently the WADA proclaimed sporting ban against Russia is a perfect example. It excludes all Russian athletes because they happen to represent their country while U.S. athletes who have been caught cheating in the past are allowed to participate .

Jerry Alatalo , December 10, 2019 at 00:30

It is very encouraging to know there are good people like Mr. Tony Kevin and Mr. Bob Carr alive and sharing their powerful wisdom at this dangerous historical point on planet Earth. Mr. Kevin and Mr. Carr's immensely important and courageously honest discussion should become – immediately, and for many years to come – required study in university classrooms and government halls around this world.

Peace.

ElderD , December 9, 2019 at 15:03

Tony's (especially!) and Bob's sane and sensible view of this dangerous and destructive state of affairs deserve the widest possible distribution and attention.

George McGlynn , December 9, 2019 at 13:27

A quarter century has passed since the fall of the Soviet Union, and little has changed. Cold War patterns of thinking about Russia show no sign of weakening in America. The further we distance ourselves from the end of the Cold War, the closer we come to its revival. Hostility to Russia is the oldest continuous foreign policy tradition in the United States. It is now so much of a part of America's identity that it is unlikely to be ever cured.

peter mcloughlin , December 9, 2019 at 10:45

It is a dangerous miscalculation to think the "New Cold War" will end like the first. Russia (the USSR) had a buffer zone then, it doesn't today. For Moscow the coming war (world war) will be about survival. All that is left is the fall-back position of nuclear deterrence doctrine – annihilation. I don't think western capitals see how perilous the situation is.

Lois Gagnon , December 9, 2019 at 17:30

I agree. Putin made it clear when he said the next war would not be fought inside Russia. The troglodytes in the West are unable to grasp not only what that means, but why he said it.

AnneR , December 9, 2019 at 07:48

The latest efforts at attacking Russia via smear, allegation and Doublespeak have been, are via that US supported supposed oversight committee, WADA which has done what the US-UK wanted: banned Russia for four years from international sporting events including the upcoming Tokyo Olympics and World Cup (Football – soccer to Americans).

Then there were allegations – of those "highly likely" (therefore one knows to be untrue and unadulterated propaganda to increase Russophobia) sort – about Russian hackers (always giving the impression that the "Kremlin" is behind itl) being the Labour Party's source of the Tory party's US-UK trade deal which would/will deliberately and finally destroy the NHS and replace it with (of course) US "health" insurance company profiteering.

(Always the Tory intention from the NHS's initiation in May of 1948; only its popularity among many Tory party supporters among the working and lower middle classes prevented them from a full-frontal killing off the NHS; the Snatcher's government began the undermining, via installing a top-heavy bureaucratization, siphoning off a sizable proportion of the funds that would otherwise have gone to medical care, demanding that hospitals not "lose" money – a concept completely beyond the remit of the NHS as originally conceived and constructed and like exactions.)

Then there are snide remarks about the meeting today concerning the Ukrainian Azov (Neo-Nazi) attacks on the Donbass (NOT how either the BBC or NPR speaks of this of course) in France. This struggle, between the Russian-speaking Donbass peoples and the neo-Nazis of western Ukraine, has killed many thousands of people (most likely mostly those of the Donbass). The Donbass fighters are spoken of as "Russian-supported" in an attempt to deny them and the reasons for their struggle *any* legitimacy (meanwhile the support for the neo-Nazis goes unmentioned, leaving the listener with the impression that they are the Ukrainian military, thus legitimately fighting a foreign funded and manned insurgency).

Someone even suggested that President Putin needed to be diplomatic. Really? From what I've read the man is the most diplomatic and intelligent politician (not just political leader) along with Xi Jinping and the Iranian government that exist on the world stage. None of them are hubristic, solipsistic, eager beaver killers of peoples in other countries. Unlike their western "world" political counterparts.

Jeff Harrison , December 8, 2019 at 18:30

Mad Dog Mattis spoke the truth when he said that an opponent wasn't defeated until they agreed they were defeated. The US merely assumed that Russia agreed that they were defeated and are doubling down when they now suddenly realize that Russia never said any such thing.

St. Ronnie's whole thing back in the 80's was to outspend Russia militarily and it worked well. We're trying to do it again but Russia isn't playing the same game this time and now it is the US that has a mountain of debt and Russia that doesn't.

SIPIRI tags US military spending at $650B and Russian military spending at $62B. But we know that the $650B number is bogus because it doesn't include our in-violation-of-the-NNPT nuclear program which is in the energy department or our veteran's expenses which are in HHS. I don't know what's missing from Russia's $62B but I'll bet they can sustain that a whole lot better than we can sustain our $650B and rising bill.

Antonio Costa , December 9, 2019 at 13:17

Good point regarding Russia's downsizing the Soviet Union. From Gorbachev to Putin there was NEVER a surrender, intended in any way. The intent has been multilateral partnerships. For Russia the US/West won nothing at all except the opportunity to live and work in peace. (By the way this policy has a long Russian history.)

They gave up the Warsaw Pact and America with our worthless "word" expanded NATO.

The US foreign policy has lost even the semblance of sanity. Our naked aggression is clear as never before, a mad man throwing a global fit armed with megaton nuclear projectiles on trigger first strike alert. What could go wrong?

nondimenticare , December 8, 2019 at 15:56

If, magically, Consortium News/CN Live! were a mass-distribution network/magazine (hence universally consulted), allowing the light in for the mass of the viewing and listening public, it could change the world – both an exalting and despairing thought.

Lily , December 8, 2019 at 09:52

It is a great joy to listen to this conversation!

I am really sick of the smearing of Russia done by the US and UK. The Skripal as well as the MH17 case are plain ridiculus. Anybody can see through these silly plants. US and UK obviously don't feel obliged to respect any international rules any more. (The one person who is suffering most at the moment from the decline in respect is Julian Assange, an Australian citizen!)

I wish people would have the courage to break away from the group pressure originated by a nation which has been started by killing more than 90% of the indigenous people in their country and since then has turned the worl into a very insecure place.

Chapeau, Tony Kevin! Thanks to Bob Carr and Consortiums News.

Lily , December 9, 2019 at 01:18

It seems that some facts are beginning to be realized in the military department.

www(dot)zerohedge(dot)com/geopolitical/pentagon-alarmed-russia-gaining-sympathy-among-us-troops

JOHN CHUCKMAN , December 8, 2019 at 07:30

"At an event last week in Sydney, Kevin and Carr discussed how the West, led by the United States, has been on an aggressive campaign to destabilize Russia, without cause."

The American establishment's problem with Russia is simply that Russia is the only country on earth capable of obliterating the United States. Not even China has yet reached that capacity.

"Carthago delenda est"

Skip Scott , December 9, 2019 at 06:13

There is "cause." Russia was our latest vassal under Yeltsin. Putin stopped the looting, and worked to benefit average Russian citizens. Just watch "The Magnitsky Act, behind the scenes" to know the "cause".

Bruno DP , December 8, 2019 at 02:34

The West is ganging up on Russia? Replace "West" by "United States of America", and I will agree.

Much of the West (i.e. Germany) has been dragged by force into damage control mode. The Magnitsky Act monster, the election interference hysteria, are just 2 crying examples met with shock and disbelief across the pond. The Fiona Hill testimony was a very telling moment for the inner workings of a self perpetuating logic.

Russia is no lightweight by any means, and not always friendly.

But it has regularly done the right thing in international conflicts which the Kremlin seems to understand better than all of "the Western" intelligence combined.

Martin Schuchert , December 8, 2019 at 17:33

I'm German, living in the US, and I agree with your comment. I especially love the last two sentences:

"Russia is no lightweight by any means, and not always friendly. But it has regularly done the right thing in international conflicts which the Kremlin seems to understand better than all of "the Western" intelligence combined."
Freedom4Wessex , 10 Dec 2019 14:44

And this is where we must listen to the wisdom of Trump..

"As of a couple of months ago, we have spent $7 trillion in the Middle East. Seven trillion dollars. What a mistake. But it is what is," Trump said Monday at a White House meeting on with officials and lawmakers on infrastructure. "We're trying to build roads and bridges and fix bridges that are falling down, and we have a hard time getting the money. It's crazy."

"Think about it: As of a couple of months ago, $7 trillion in the Middle East and the Middle East is far worse now than it was 17 years ago when they went in and not so intelligently, I have to say, went in. I'm being nice.'' 2/13/18 Newsweek

''..when they went in and not so intelligently, I have to say, went in. I'm being nice...''
Unprecedented brazenness December 11, 2019 PaulR 6 Comments 'Something is rotten with the state of Denmark', or if not Denmark then certainly the United States of America. It's the only conclusion one can draw from the way the absolutely normal is nowadays treated as the most extraordinary drama.

On Monday, US President Donald Trump met Russian foreign minister Sergei Lavrov. It's about as normal a diplomatic event as one could possibly imagine, but it caused much of the American commentariat to go into a collective meltdown.

'Trump welcoming Russia's top diplomat to the Oval Office is one of his most brazen moves yet,' declared the Washington Post , which makes you think that Trump really needs to step up his game on the brazenness front. The Post isn't alone in thinking this way, however. What one might call the 'liberal' TV channels leapt on the story too, dragging in some representatives of the American security apparatus to ram home the point (there was a time when liberals regarded the FBI and CIA with suspicion, but such days are apparently long gone).

And so it was that CNN brought on as a guest former FBI deputy director Andrew McCabe to 'explain why the photograph tweeted by President Trump of his meeting with Russian foreign minister Sergei Lavrov is so extraordinary.' As McCabe told CNN :

There's no doubt there's something deeply odd about the way this president interacts with Russia. We've never seen anything like this before. Russia is our most significant enemy on the world stage. I don't think that we've ever seen a photograph out of the Oval Office on the lines of the one we saw today.

Meanwhile, MSNBC had its own star witness, former Under Secretary of State Richard Stengel. 'Why is a head of state meeting with the Russian foreign minister?' Stengel asked , 'Vladimir Putin doesn't meet with Mike Pompeo when he comes to Moscow. So it's very curious and it's very strange.'

Actually Rick, dear boy, Putin does meet with Pompeo, as you can see from this photo here. But when did one ever let little details like factual accuracy get in the way of a good line?

Stengel wasn't MSNBC's only witness to Trump's suspicious behaviour. Former US ambassador to Russia Michael McFaul also put in an appearance. 'He's obsessed with the East, like a certain world leader in the 1940s was obsessed with the East. Why is this guy obsessed with meeting with Russians all over the place', the host asked McFaul. The latter let pass the gratuitous Hitler comparison, and gave his learned response: 'It's truly bizarre. I confess I do not have a rational explanation for it,' said McFaul .

Just in case you think it was only the media, FBI, and the State Department, others were on the ball too. The Trump-Lavrov meeting had Twitter abuzz. Anne Applebaum, for instance, had the following to say.

It's all simply nuts. Trump is Hitler. A former ambassador can't think of any reason why representatives of two major powers might wish to meet. A former deputy head of the US foreign service thinks that heads of state never meet foreign ministers. And all of them believe that a photograph of the US President and the Russian foreign minister is totally unprecedented and suggestive of something deeply suspicious, though exactly what they can't quite tell us. Which makes you wonder what they'd all make of this picture.

I don't know about you, but that looks a lot like Sergei Lavrov and President Obama to me. So, was Obama a Russian agent? Was he secretly selling out US interests to a foreign power? Should we be investigating him as well? It's all rather suspicious, don't you think?

I'll leave the last word to the excellent Fred Weir of the Christian Science Monitor:

It's pretty clear by now that no normal dialog is going to be possible between Russia and the US. Perhaps ever again. It's not my job to advise the Russians what to do, but if it were I would suggest they just give it up. Spend your time going to Beijing, Delhi, Ankara, even Berlin and Paris, but give Washington a miss.
It's the most peculiar damned thing I have ever seen. Even at the lowest depths of the Cold War, the Washington Post would never have run a headline that described a US president meeting a Soviet leader in the Oval Office as "one of his most brazen moves yet."
Analyzing the official photo of Trump and Lavrov in the Oval Office, the main -- disapproving -- takeaway the WaPo has to offer here is: "Judging by the expressions on their faces, the conversation does not seem to have been particularly acrimonious." Geez.
Kratoklastes , says: December 12, 2019 at 3:42 am GMT

started by an unemployed Englishman named Eliot Higgins

Good on him – being able to create a thing that rises to such prominence in such a short space of time speaks volumes about this Higgins guy's entrepreneurial ability. And if he wasn't mobbed-up to begin with, he sure as fuck is now – which is a double- mitzvah (for him).

If he did so starting from being unemployed, then anybody who turned down a job application from the guy must be kicking themselves. (' Unemployed ' is obviously used pejoratively in the blockquote; 'Englishman' is purely-descriptive).

.

Also, the entire article accepts Bernays' conclusion, but disagrees as to which objectives should be pursued.

Bernays' conclusions are hardly controversial: most people are gullible imbeciles . It's not clear to me how much more empirical evidence we need before that becomes just a thing that everyone with an IQ above 115 accepts.

So the question then becomes " OK, now what? ".

As usual, the right answer is " Depends " – and not just for those with bladder control problems.

If you want to do things that are just , exploiting gullible imbeciles would appear to violate the playing conditions. It would be hors jeu ; not done; just not cricket .

As the Laconian famously said . " IF ."

For those for whom the 'if' condition returns 'false', it does very little to bleat about how awful they are. You're not going to cause a little switch in their brain to flick on (or off?), whereupon they realise the error of their ways and make a conscious decision to leave the gullible imbeciles unexploited.

It's even unlikely to affect their victims (remember, they're imbeciles) – because otherwise some infra-marginal imbeciles would have to process their way through quite a bit of cognitive dissonance, and they're not wired for introspection (or processing).

So the sole real purpose (apart from κάθαρσις catharsis ) is prophylaxis (προ + φύλαξις – guarding ). Both good enough aims obviously the writer is the one who gets the cathartic benefit, but who is going to be on heightened alert as a result of this Cassandra -ish jeremiad -ing?

Non-imbeciles don't need it; imbeciles won't benefit.

Here's the thing: the gullible imbeciles are going to be exploited by someone .

.

This is something that people of my persuasion struggle with. It boils down to the following:

Let's assume that a reprehensible thing exists already, and is unlikely to be overthrown by my opposition to it. Should I just participate and line my pockets?

The resources used are going to be used whether I participate or not, so it may as well be me who gets them. After all, I will put them to moral uses – and while inside, I can do things that are contrary to the interests of the reprehensible thing.

There is no satisfactory counter-argument to that line of reasoning, and yet I reject it.

Then again: I was dropped on my head as an infant, so YMMV.
Richard Thorton , 10 Dec 2019 15:03

Any particular American war has no purpose, but the USA waging it does. The main points of what war does:

1. Transfers wealth from social services to the military industrial complex. Americans don't have education, infrastructure, or healthcare, but they do have a generation of soldiers with PTSD, national debt, worldwide hatred, and an ever increasing sense of exceptionalism.

2. Traps Americans in a cycle of fear and persecution. Americans don't need a bogeyman, but our corporate overlords do, its how they monetize the populace. Find some disparate population of brown people who want self autonomy, send in the CIA to fuck them up, and when they retaliate tell Americans that people who live in a 3rd world land locked country several thousands of miles away are a threat to their very existence and way of life because they don't like God and Walmart.

---

CourgetteDream , 10 Dec 2019 14:36

Sadly the US uses the MIC to keep a large chunk of its population under control, as well as providing a convenient coverup of the actual numbers of people who are unemployable or would be unemployed if it were'nt for the taxpayer funding humungous spending in the so-called defence sector, which needs a a constant supply of conflict to keep going. The frankly moronic 'thank you for your service' soundbite drives me insane but it shows how much the American public has been brainwashed.

jimbomatic -> Michael Knoth , 10 Dec 2019 14:36

For years my home state of Washington had a New Deal Democrat Senator named Henry Jackson, AKA the Senator from Boeing.
He did good things for the state & was hugely popular here. One reason being that because he brought the Federal pork back home.
IMO the things Gen. Butler wrote about in the 1920s are still the modus operandi of US foreign policy.

Rikyboy , 10 Dec 2019 14:11

If the Afghanistan war ends, the USA will go to war with someone else. You cannot spend so much on military & not be at war. America must have an enemy. And, don't forget, they always have "God on our side!"

Mauryan , 10 Dec 2019 13:05

The neocons in power during 2001 were hell bent on taking out Saddam Hussein. When 9/11 happened, they were looking for avenues to blame Iraq so that they could launch the war on that nation. Since things could not be put together, and all evidence pointed to Afghanistan, they took a detour in their war plan with a half hearted approach.

In fact Afghanistan was never the problem - It was Pakistan that held Afghanistan on the string and managed all terror related activities. Everything related to 9/11 and beyond pointed directly at Pakistan. Whatever threat Bush and his cronies projected about Iraq was true in the case of Pakistan. The war was lost when they made Pakistan an ally on the war on terror. It is like allying with Al Capone to crack down on the mafia.

Pakistan bilked the gullible American war planners, protected its assets and deflected all the rage on to the barren lands of Afghanistan. They hid all key Al Qaeda operatives and handed off the ones that did not align with their strategic interests to the US, while getting reward for it. War in Iraq happened in a hurry because the Bush family had scores to settle in Iraq. Pressure was lifted on Afghanistan. This is when the war reached a dead end.

The Taliban knew time was on their hands and waited it out. Obama did understand the situation and tried to put Af-Pak together and tightened the grip on Pakistan. He got the troops out of Iraq. Pakistan is almost bankrupt now for its deep investment on terror infrastructure. The US has drained billions of dollars and lives in Afghanistan due to misdirected goals. I am surprised Bush and Cheney have not been sent to jail on lies to launch the Iraq war and botching the real war on terror.
Redswordfish , 10 Dec 2019 15:05

I read Bob Woodward's book, "FEAR: Trump in the White House" which has a section talking about a time when Trump wanted to withdraw a substantial number of troops from Afghanistan. Lindsey Graham, Mattis, and Tillerson all opposed the withdrawl and spoke to him in person about it. They all just kept saying that we needed troops in Afghanistan "to prevent the next 9/11." Lindsey Graham was especially forceful about this. "If you withdraw those troops, then you're responsible for the next 9/11" he says [paraphrase].

This is the only section of the book where I actually found myself agreeing with Trump. How exactly does keeping troops in Afghanistan "prevent the next 9/11"? It seems like a bizarre non sequitur.

GalahadThreepwood , 10 Dec 2019 12:37

And this is a surprise because? There is a revolving door between Washington D.C. and defence contractors. When you have a multi trillion dollar industry making stuff that goes bang, the customers will want to use it. And the more the industry can encourage them to use it, the more money they make. Better still, when they have finished blowing a foreign country to hell, their friends in the civil engineering and construction companies can make more trillions rebuilding it all.

And if you then claim victory and withdraw enough of your troops, the incumbent Neanderthals can start slaughtering their own people all over again, giving the perfect excuse to go back in and blow it all to hell again.

With careful planning, you can maintain the cycle of profits for decades, if not centuries.

Next week - bears implicated in forest defecation scandal.
... Women have proven over the centuries that they can be just as bloodthirsty when in power. Indeed one of them is busy in The Hague as we speak.
---

The US lied about the Gulf of Tonkin in order to justify attacking North Vietnam, it then proceeded to lie about the conduct of the war and the terrible genocide it was committing. No lesson learned because in a heartbeat the US was lying about Chile, Brazil, Argentina, Colombia, Nicaragua and El Salvador, committing a wide range of atrocities in each.

Add Somalia, Libya, proxy wars in Angola and Yemen, efforts to destabilize Cuba, Venezuela and Iran, illegal wars in the Lebanon and Syria, the annihilation of Afghanistan in retaliation for what was actually a Saudi terrorist act, the destruction of modern Iraq and her people using trumped up claims, to say nothing of Clinton's cheery disregard for the welfare of Balkan residents when the US rained (illegal) uranium bombs down on the hapless inhabitants.

And now the WP and Congress are worked up over spending a trillion dollars when plainly they could care less about the Afghan casualties and American war crimes. Heck this goes back to Theodore Roosevelt seizing Cuba claiming he was saving it from the ravages of Spain or even further back to government backed settler land grabs "saving their white women from the savages". Savages, indeed. Zero accountability and Britain still playing faithful lap dog.

Irascible45 , 10 Dec 2019 12:08

My take on this is that the American Department of Defense war machine remained in a state of perpetual excitement after their successes in WW11.. almost as if they had to continuously invent an enemy in order to maintain their war time budget.. (and therefore demonstrate their ongoing prowess etc etc) in a cycle of wars starting with Korea and bringing us up to date with Afghanistan.. so that's nearly 70 years worth of international hubris on display.


All on the excuse of spreading their version of democracy.. is money talks!!

UnrepentantPunk -> NadaZero , 10 Dec 2019 11:57

It wasn't a mistake. It was a deliberate decision from a bunch of warmongers

The last patriotic Republican, President Dwight D Eisenhower, warned US against the military-industrial complex in his farewell address .

In the councils of government, we must guard against the acquisition of unwarranted influence, whether sought or unsought, by the military-industrial complex. The potential for the disastrous rise of misplaced power exists and will persist. We must never let the weight of this combination endanger our liberties or democratic processes. We should take nothing for granted. Only an alert and knowledgeable citizenry can compel the proper meshing of the huge industrial and military machinery of defense with our peaceful methods and goals, so that security and liberty may prosper together.

DoctorWibble , 10 Dec 2019 11:55

That both the Afghan war and the invasion of Iraq could happen at all tells us that the UN Security Council is not fit for purpose. These wars also told us that British pretense at being the voice of reason or the steadying hand that prevents US foreign policy being subsumed by the visceral and synthesised reactions of a US public is no more than empty cant.

If the US is unable to prevent foreign and defence policy being captured by money interests and remains inclined to deliver revenge to its public on demand howsoever it might be misdirected then the US should not be on the UN Security Council at all. They are fast becoming the number one major rogue state. And the outlook suggests this is more likely to get worse than improve. Whatever happens to Trump One more (and likely smarter) Trumps are coming down the track. More Dick Cheneys too. More Bushes, more Rumsfelds, more Nixons, Boltons, Kissingers, Johnsons and a host of others we'd all much rather were one offs. The US is the biggest extant threat to world peace. It is too powerful and far too easily played by warmongers and terrorists of every stripe and every persuasion. And by those seeking to profit from war.

BaronVonAmericano , 10 Dec 2019 11:54

To call war profiteering and murder a geopolitical "mistake" is to EXCUSE criminal activity.

Anyone responding to this latest revelation of military dishonest as a "mistake" is actually part of the crime. They are aiding the abettors. Everyone in Congress knows what everyone in this comments section knows: our military and its global actions are, first and foremost, a financial fraud.

thedisciple516 -> sijacks , 10 Dec 2019 11:50

But not American oil companies which were basically shut out outside of a few minor service and procurement contracts. Looks like all the "Blood for Oil" poster were BS.

The Iraq War was only partly, however, about big profits for Anglo-American oil conglomerates - that would be a bonus (one which in the end has failed to materialise - not for want of trying though).

- Nafeez Ahmen Guardian 2014

thedisciple516 -> Boltedhorse01 , 10 Dec 2019 11:42

Yes, and it made no conclusion as to whether the war was legal or not.

" The inquiry did not reach a view on the legality of the war , saying this could only be assessed by a "properly constituted and internationally recognised court", but did make a damning assessment of how the decision was made."

- Guardian 2016

Cronus Titan , 10 Dec 2019 11:40

Just think - the USA spends more on its military then the combined amount of the next 10 nations in the list (incl. China/Russia/India). That is a major major spend commitment. A small percentage of that could be used for US citizens to fund their healthcare - but I suppose they prefer to spend it to threaten and bomb other nations to their will.

Just to think - a similar report was produced post Vietnam and in the 50's even Eisenhower was worried about the US military backed by private companies becoming a perpetual spending machine.

capatriot , 10 Dec 2019 11:39

But there's one big question the Post report raises but does not address: why? Why did so many people – from government contractors and high-ranking military officers, to state department and National Security Council officials – feel the need to lie about how the war in Afghanistan was going?

Because "how the war is going" is not the operating question. Because it does not matter if the war is just or unjust, whether it's winnable or not winnable, nor whether it's supported in the "homeland" or not. No, the operating principle is that there is a war. By its existence, the war creates funding and jobs and profits for the people that matter, the people the author mentions, from the Security/Military complex corporations all the way to careerists in the Pentagon and State.

So, it is NOT a waste of $1 trillion dollars ... it is just as it was supposed to be. That is why the war president (W), the peace president (Obama), and the swamp drainer (Trump) have all supported it. The war is doing what it's supposed to do.

GraphiteCommando , 10 Dec 2019 11:36

In time, the US national debt will force them to rein in their military spending. By lowering taxes while continuing to spend like drunken sailors on military adventures the national debt is ballooning. US government debt is currently rated AA whereas Canada is AAA. US debt to GDP is significantly higher than Canada's. (and that's just Canada vs the US). Trump is trying to create a mafia style protection racket to force other countries to subsidize reckless US military spending. "Pay up or who knows what might happen?" It is high time US taxpayers ask why the US can't lower its' out of control military spending rather than pressuring others to match their profligate ways? Some US citizens say they pay low taxes but it seems they get nothing in return; no health care, no equal access to education, decaying public infrastructure, etc. The rest feel overtaxed when they realize they get nothing in return but don't question the elephant in the room. If other countries maintain responsible levels of military spending the US will dig itself deeper into debt until the debt markets force them to see sense.

DenryMachin , 10 Dec 2019 11:22

Military spending is a fine way to transfer wealth from the general population to the rich. War has always been a fabulous business opportunity, but what has never been so very clear is how, even for the winning side, it represents a major defeat as wealth is transferred from the common good into the hands of the rich.

In such matters always consider 'Who will prosper'.
Follow the money...

kropotkinsf , 10 Dec 2019 11:09

Considering the United States has been involved in one war or another, directly or indirectly, for all but about 20 years of its existence, this latest revelation shouldn't shock anyone. We're a violent country with a violent history and never more so than now, with our built-on-conflict empire losing steam. We point fingers ("It's the Russians!" "It's the Chinese!" It's the Iranians!") to deceive ourselves and others, but we're the real threat to peace. Us. The United States.

CTanner52 , 10 Dec 2019 11:09

Every time I see a person on the street nobly collecting 50ps or the odd fiver for a good cause like Cancer Research or some other charity, I wonder why they have to do this when the US has spent over a USD$1 trillion on the Afghan war and other militaries continue to soak up massive amounts of funding. How much more could we have achieved by now for the real good of humanity if these funds were focused on research and real human need?

damientrollope , 10 Dec 2019 11:09

Te US military has been practicing genocide around the world since WW2, millions have been murdered and still are. But hey, they are the leaders of the free world, the corruption in the US government, corporations, and military has no bounds. Their own poorer members of this society are dying in their thousands for lack of medical care, innocent black people are murdered by police, yet the greed must go on nothing else matters. The only question now being, which country will they invade next, which government will they plot to overthrow. How many will be murdered in the process, not that it matters, greed cannot be measured in dead people.

BaronVonAmericano , 10 Dec 2019 11:09

For crying out loud, it was never a mistake.

World peace and the safety of the American public has never been a priority. Entirely the opposite. Standard procedure: foment fear to wage immoral, endless, profitable war.

This isn't conjecture or "conspiracy theory"; it's as obvious as the sun rising. Anyone casting this in any other way is either behind the curve or dangerously soft pedaling -- or lying to stave off actual accountability.

Please stop pretending that our "leaders" are mistaken. They aren't They're doing the jobs for which they were paid.

manoftheworld , 10 Dec 2019 11:00

It's worse even than a crime... it's insanity to keep excusing a failed 18 year strategy costing a trillion dollars, resulting in the death of more than 100,000, and the country ending up worse than when they started. The military, politicians and the media are all to blame. The military for being too frightened and too stupid to admit they were losing and had no idea how to correct it.. the politicians for being too frightened to call out their beloved but incompetent military, and for not "getting it" after more than a trillion dollars had already been spent; the press and media for being embedded (sometimes literally) with the military and acting as no more than unquestioning cheerleaders for a self-evidently failed strategy. It is a terrible indictment of the US on so many levels... where were the public anti-war protests or activists? Couldn't they see or didn't they care? Either way it's pathetic.

Almost every year US generals stood before the media and politicians, jutting jaws and feeble minds, to say that this year was going to be decisive against the Taliban. The fact is, after Al Qaeda was scattered in 2001, the US picked on the Taliban pointlessly. They stayed pretending they were engaged in countering the return of al Qaeda (that was never going to happen) but actually made a new enemy of the Taliban by picking the wrong side in what was a civil war. The US never understood what it was trying to do so it lied and lied out of fear of being found out. I find it sickening that this country -the US - pretends it is a force for good in the world when they are quite prepared to keep killing innocent people in order to mask the generals' cowardice about facing the truth of their own incompetence.

tenientesnafu , 10 Dec 2019 10:55

A terrible but interesting dichotomy. You have Governments and a broad part of the public fiercely opposed to public spending and any kind of redistribution. It is all about the individual.

Yet they sport and actually worship an institution where the individual counts for naught. In the military it always is about the collective. They throw huge swaths of money to the military. Which is the only place in the US where dreaded universal healthcare, pensions and free education exists. Not only that, even the army shops sell goods as subsidised prices, something unthinkable outside the barracks.

lalaeuro -> GeraldLobOn , 10 Dec 2019 10:53

Entirely intentional according the PNAC document Rebuilding America's Defences, Orwellian for we're going to make a lot of pointless weapons with huge mark-ups for profit by bombing the shit out of foreigners.

kapsiolaaaaa , 10 Dec 2019 10:37

I was listening to NPR about how Veterans turned against the Vietnam war. The people of south Vietnam would collect shells and explosives that did not detonate and gave to US troops for a small financial reward. In one such case - the shell exploded killing few kids and injuring a girl. That girl was refused treatment from US medics because she was one of them. That soldier involved later joined the anti war movement.
All the veterans were surprised with the image that soldiers coming back from war were spat at and disrespected by the anti war protesters - this could not have been further from truth.

Back in Vietnam you were taught how to destroy a village, poison drinking water sources etc. And understandably many GIs fought back.

There are similar stories out of Afghanistan - the naked prisoners with soldiers acting as if they are engaging in a sexual act and many such shameless incidents. These soldiers were acquitted which is another way of saying - An Afghan and his life and honor are below us. It has de-stabilized the region for many decades.

There is a bright side to Donny and his conmen - maybe there will be less intervention and more introspection - which can only be good for the World.
---

NickStanford , 10 Dec 2019 12:24

I think it should have been seen as a thirty year campaign and the same with Iraq and Libya. The northern Ireland campaign took 30 years and many people are as bitter as they ever were much of it secondhand from younger people who weren't even alive during the conflict. The idea of a quick war is a very big mistake I think and flawed short-term thinking.

Piet Pompies -> MrMopp , 10 Dec 2019 12:24

Most decorated Marine officer ever? I thought that was Chesty Puller?

sammer -> tenientesnafu , 10 Dec 2019 12:24

That was very well put. Thank you for being so succinct.

easterman -> MrMopp , 10 Dec 2019 12:23

The process of waging war is lucrative - positive outcomes (gas and oil) are a bonus.

MyViewsOnThis , 10 Dec 2019 12:22

The West and the USA in particular have always taken the stand that their ideology is the only right one. That they have a right to interfere in the interns, affairs of other countries but their own internal affairs are sacrosanct.

So - USA, with UK support decided that Saddam Hussein had to be removed. They moved in to do so - they killed Saddam but had no plan to return the country to a functioning nation. Instead they facilitated the unleashing of internal wars and have now left the citizens of that country in utter turmoil.

& then went and repeated the exercise n Libya.

Decades ago, Britain decided that Palestinians could be thrown out of their homes to make way for the creation of Israel and laid the foundation for the Middle-East turmoil that has caused untold misery and suffering. They followed that up with throwing out the Chagosians out of their homes and making them homeless. Invited Caribbean's to the 'Mother Country' to serve their erstwhile lords, ladies, masters and mistresses only to then drive to despair the children and grandchildren of the invitees who had contributed to the 'Mother Country' for decades.

easterman , 10 Dec 2019 12:21

Lest we forget Cheney salivating over the gas in the Caspian Basin http://news.bbc.co.uk/2/hi/world/west_asia/37021.stm

Piet Pompies -> cephalus , 10 Dec 2019 12:19

Yep, biggest terrorist state in the world, ever.

KoreyD , 10 Dec 2019 12:19

We are 18 years into an illegal invasion and occupation of Afghanistan. We are the invaders, the terrorists. The Taliban are fighting for their country, they may use brutal methods but so did the French, Dutch, Russian freedom fighters during the Nazi invasions. America's puppet regime in Afghanistan is reminiscent of the Quislings of WW2. And to use drones to kill Afghans and to say it is progress that there is more transparency is the height of hubris. All it does is show the corrosive effect of unfettered power in America and it's military. Why do we tolerate this inhuman action on another country's society? America is by far the greatest contributor to the rise in terrorism in the world and if not somehow stopped the greatest threat to world peace. It keeps on invading country after country with it's MSM propaganda machine claiming it is spreading Democracy throughout the globe. Thank you America !
Guide to the Supervision of... Blogview Fred Reed Archive Blogview Fred Reed Archive On Rogues and Rogue States Old, New, and Improved Fred Reed December 10, 2019 1,600 Words 76 Comments Reply Listen ॥ ■ ► RSS

https://www.facebook.com/plugins/like.php?app_id=&channel=https%3A%2F%2Fstaticxx.facebook.com%2Fconnect%2Fxd_arbiter.php%3Fversion%3D44%23cb%3Df20fadd9a2d123e%26domain%3Dwww.unz.com%26origin%3Dhttps%253A%252F%252Fwww.unz.com%252Ff18ef16ad7bc507%26relation%3Dparent.parent&container_width=75&href=https%3A%2F%2Fwww.unz.com%2Ffreed%2Fon-rogues-and-rogue-states%2F&layout=button_count&locale=en_US&sdk=joey&send=false&show_faces=false&width=90

https://www.facebook.com/plugins/share_button.php?app_id=&channel=https%3A%2F%2Fstaticxx.facebook.com%2Fconnect%2Fxd_arbiter.php%3Fversion%3D44%23cb%3Df3d79ea7fcbc54%26domain%3Dwww.unz.com%26origin%3Dhttps%253A%252F%252Fwww.unz.com%252Ff18ef16ad7bc507%26relation%3Dparent.parent&container_width=0&href=https%3A%2F%2Fwww.unz.com%2Ffreed%2Fon-rogues-and-rogue-states%2F&locale=en_US&sdk=joey&type=button

Email This Page to Someone
Remember My Information


=> List of Bookmarks ◄ ► ◄ ► ▲ ▼ Remove from Library B Show Comment Next New Comment Next New Reply Read More Reply Agree/Disagree/Etc. More... This Commenter This Thread Hide Thread Display All Comments
AgreeDisagreeLOLTroll These buttons register your public Agreement, Disagreement, Troll, or LOL with the selected comment. They are ONLY available to recent, frequent commenters who have saved their Name+Email using the 'Remember My Information' checkbox, and may also ONLY be used three times during any eight hour period. Email Comment Ignore Commenter Follow Commenter
Bookmark Toggle All ToC ▲ ▼ Add to Library Search Text Case Sensitive Exact Words Include Comments Search Clear Cancel

I have just finished reading William Shirer's Berlin Diary . (This may not fascinate you, but I am coming to something.) I first encountered it in high school. It is of course Shirer's account as a correspondent in Germany of the rise of the Nazis. Most of it is well known to the educated. The Nazis, who had control over the domestic press, convinced the German population that the Poles were threatening Germany, as plausible as Guatemala threatening the United States. The Poles were said to be committing atrocities against Germans.

Then the Reich, with no justification whatever, having absolute air superiority, attacked Poland, bombing undefended cities and killing huge numbers of people. It was a German pattern several times repeated. Many reporters told of the smell of rotting bodies, of refugees dying of hunger and thirst. Today the Reich is endlessly remembered as a paragon of evil. It was.

How did Nazi Germany differ from the United States today? There is the same lying. Washington insisted that Iraq was about to get nuclear weapons, biological agents, that it had poisonous gas. None of this was true. The government, unimpeded by the media, persuaded over half of the American population that Iraq was responsible for Nine-Eleven. Now it says that Iran works to get nuclear weapons, and of course that the Russians are coming. The American press, informally but strictly controlled, carefully doesn't challenge any of this.

Having prepped the American public as the Nazis prepped theirs, Washington unleashed a savage attack against Iraq, deliberately destroying infrastructure, leaving the country without power or purified water. The slaughter was godawful. But, said America, the war was to rid the Iraqi people of an evil dictator, to bring them democracy, freedom, and human rights. (The oil was entirely incidental. The oil is always incidental.)

Fallujah, Iraq, after the American military brought it democracy, human rights, and freedom. Guernica, after the visit of the Kondor Legion. For the historically challenged, this was the Spanish city bombed during the Spánish Civil War by the Germans in support of the Falangists.

Washington never sleeps in its campaigns to improve the lives of people whose most fervent wish is that America stop improving their lives. To give the Afghans democracy, human rights, and American values, the US has for eighteen years been bombing, bombing, bombing a largely illiterate population in a nation where America has no business. It is a coward's war with warplanes butchering peasants who have no defenses. The pilots and drone operators who do this deserve contempt, as does the country that sends them. How many more years? For what purpose? And how were the German Nazis different?

The German Gestapo perpetrated sickening torture in hidden basements. America does the same, mainltaining torture prisons around the world. In these, men, and no doubt women, are hung by their wrists for days, naked in very cold rooms, kept awake and periodically beaten (exactly as described by survivors of Soviet torture. Nazis, whether American, Russian, or German, are Nazis.)

Photos of Iraqis at the American torture operation at Abu Ghraib showed prisoners, almost naked, lying in pools of blood. Tell me, please, how this differs from what was done by the Reich? (The bloodier photos are no longer online. Many that remain seem to have been edited.)

Abu Ghraib. A happy American girl soldier. Note rubber gloves. The US military used many female soldiers for this duty. They apparently were kinky, as they seemed to get a kick out of it. A female general ran the operation.

Gina Haspel, head of the CIA, is a sadist who tortured Moslem prisoners, reminiscent of Ilse Koch, the notorious Nazi torturess, who also worked in prisons. It is easy to find victims there, I suppose.

An Abu Ghraib pic apparently no longer online. I found it on an ancient memory stick. Are we having fun yet?

President Trump has just pardoned several American war criminals, saying he wanted to give US soldiers the "confidence to fight." This amounts to blanket permission to commit atrocities. A purpose of military training being to extirpate human decency and mercifulness, the obscene barbarism is not surprising. Atrocities are what soldiers do, and will do as long as the wars go on, being furiously denied by the government. (When I covered Force Recon, the Marine Corps Special Forces, the motto on the wall was "Crush Their Skulls and Eat Their Faces.")

Perhaps the best known example of implied approval was Nixon's pardon of Lt. Calley, who ordered the murder of Vietnamese villagers, for which he received three years of house arrest.

The Germans wanted empire, lebensraum, and resources, in particular oil. Americans want empire and oil, control of which allows control of the world They go about getting them by invasion and intimidation. Thus America wants to bring democracy and human rights to Iraq, Iran, Venezuela, and Nigeria, which have lots of oil, while it has occupation troops in Saudi Arabia, Kuwait, and elsewhere in the Mideast. What part of Syria is Trump occupying? Surprise, surprise! The part with the oil. Oil for the Americans, land for the Germans.

As Shirer points out, the German public was not enthusiastic about the war, at least not through 1940, as neither is the American public today. Neither public showed any concern about the hideousness its government inflicted around the world. What is the difference?

The parallels with the Reich are not complete. Washington does not essay genocide against Jews or blacks or any other internal population, being content with killing whoever its bombs fall upon. Trump cannot reasonably be likened to Hitler. He lacks the vision, the backbone, and apparently the viciousness. Hitler was a very smart, very evil man who knew exactly what he was doing, at least politically. This cannot be said of Trump. However, Hitler was, and Trump is, surrounded by freak-show curiosities of great bellicosity. Adolf had Goering, Goebbels, Himler, Rheinhardt Heydrich, Julius Streicher, Eichman. Trump has John Bolton, as amoral and pathologically aggressive as any in the Fuehrer's entourage, or under a log. Pompeo, a bloated toad of a man, bears an uncanny resemblance to Goering. Both he and Pence are Christian heretics, Evangelicals, who believe they are connected to God on broadband. O'Brien sounds like Bolton. All want war with Iran and perhaps with China and Russia. Sieg heil, and run like hell.

My Lai, after Lt. Calley of the SS Totenkopf Div excuse me, the Americal Division, I meant to say, brought human rights, freedom, and the American way.

Wikipedia: "Between 347 and 504 unarmed people were killed by U.S. Army soldiers Victims included men, women, children, and infants. Some of the women were gang-raped and their bodies mutilated as were children as young as 12.")

For this Calley got three years house arrest, less than the sentence for a bag of methamphetamine, until pardoned by Nixon. Many Americans said, and many still say, that he should not have been punished at all, that we needed to take the gloves off, let the troops fight. Again, this is what Trump said.

The German Nazis worshiped Blood and Soil, the land of Germany and the Teutonic race, which they believed to be genetically superior to all others. Americans can't easily worship race. Instead they think themselves Exceptional, Indispensable, a Shining City on a Hill, the greatest civilization the world has known. Same narcissism and arrogance, slightly different foundation.

Nazi Germany was, like Nazi America, intensely militaristic. The US has hundreds of bases around the world (China has one overseas base, in Djibouti), spends appallingly on the military despite the lack of a credible military enemy. It currently buys new missile submarines (the Columbia class), aircraft carriers (the Ford class), intercontinental nuclear bombers (the B21), and fighter planes (the F-35).

Nazi Germany attacked Poland, Norway, Belgium, France, Russia, America, and England. America? Iraq, Afghanistan, Libya, Somalia, Syria, supports a brutal proxy war against Yemen (Yemen is a grave threat to America), threatens Venezuela, China, and Iran with attack, embargoes Cuba. These are recent. Going back a bit, we have Laos, Cambodia, Vietnam, Yugoslavia, the intervention in Panama, on and on. Millions and millions killed.

The Third Reich was, and America is, the chief threat to peace on the planet, a truly rogue state.

Is this something to be proud of?

Other stuff

La FIL, Feria Internacional de Libros , International Book Fair, Guadalajara, an annual event. I post the photo with the joyous sense of mischief of an eleven-year-old poking a nest of wasps. It will infuriate the Dissident Right, or Alt Right, or Race Realists. Their leaders excepted, most of these are ill-tempered naifs who insist, and seem to hope desperately, that Latin Americans are illiterate. I occasionally have conservative friends down and they are astonished to find that Guadalajara, a large international city, has the sorts of bookstores had by large international cities. Duh. (If interested, here are a couple of dozen.)

Another and cherished conceit of the Dissident Right is that Latin Americans who can read must be white. Well, I guess. Why, you could easily mistake the crowd above for Norwegians. Their ancestors probably arrived with Leif Erikson.

Merry Christmas to all! Happy "Winter Holidays" to none.

Write Fred at jet.possum@gmail.com . Put the letters "pdq" anywhere in the subject line to avoid autodeletion. All read, reply not guaranteed due to volume.

This meritorious and beneficial column will go into hibernation until after New Year, after which it will likely return.
It's almost a century since Smedley Butler wrote his incisive pamphlet War is a Racket.

If you've never read it, it takes about 15-20 minutes to do so. It will astound, anger and depress you that the only thing that's changed is the number or zeroes on the eye waterering profits. Oh, and the players. What is it exactly that makes the Kingdom of Saudi Arabia untouchable? (Answers on a postcard C/O Beelzebub.)

Smedley Butler knew of what he lectured about, being the most decorated officer in the history of the Marine Corps.

A brief insight into this insightful all American action man man Hollywood seems to have overlooked:

"I spent thirty-three years and four months in active military service as a member of this country's most agile military force, the Marine Corps. I served in all commissioned ranks from Second Lieutenant to Major-General. And during that period, I spent most of my time being a high class muscle-man for Big Business, for Wall Street and for the Bankers. In short, I was a racketeer, a gangster for capitalism.

"I helped make Mexico, especially Tampico, safe for American oil interests in 1914. I helped make Haiti and Cuba a decent place for the National City Bank boys to collect revenues in.
I helped in the raping of half a dozen Central American republics for the benefits of Wall Street.

"The record of racketeering is long. I helped purify Nicaragua for the international banking house of Brown Brothers in 1909-1912. I brought light to the Dominican Republic for American sugar interests in 1916. In China I helped to see to it that Standard Oil went its way unmolested.

"During those years, I had, as the boys in the back room would say, a swell racket. Looking back on it, I feel that I could have given Al Capone a few hints. The best he could do was to operate his racket in three districts. I operated on three continents."

There's been a century of endless war and profits since then with this century shaping up nicely for the racketeers, whose finest day might well have been September 11th, 2001.

Anyway, here's a link to a pdf file of War is a Racket if you're interested.
Chiropolos , 10 Dec 2019 15:56

This war is 18 years old. It's no longer a minor in the eyes of the law. It's old enough to think for itself, to vote, to move out of the house and get it's own place. Afghanistan will figure it out. Once we withdraw to allow Afghanistan to return to self-governance.
Notable quotes:
"... This is because it's easy cash cow for the old boys club by sending working class kids to be killed in a far off land. ..."
Why did so many people -- from government contractors and high-ranking military officers, to state department and National Security Council officials -- feel the need to lie about how the war in Afghanistan was going?

This is because it's easy cash cow for the old boys club by sending working class kids to be killed in a far off land.

The pentagon with the full cooperation of MSM will sell it as we are defending our ways of life by fighting a country 10,000 kms away. This show the poor literacy, poor analytical thinking of US population constantly brain washed by MSM, holy men, clergy, other neo con organisations like National rifle club etc.

i been to Cambodia a few years ago.

I never knew USA dropped 2.7 millions tons of bombs and now so many left unexploded and its same in Vietnam, Cambodia as neutral,
but i met so many injured kids etc from the bombs,.

the total MADNESS OF USA IS NAZI SM AT ITS BEST,.NO SHAME OR COMPASSION FOR THE VICTIMS.

I cannot comprehend the money it cost USA,. AN ALSO PROFITS FOR SOME,.

Heisham , 10 Dec 2019 14:10

With the exceptions of two attacks on American soil-Pearl Harbor and 911- the American people and for the most part their legislative representatives in Congress- will always remain cluless what the United States Government does overseas.

This country runs on its own drum beats. The ordinary man on the street needs to take care of his economic needs. The Big Boys always take care of themselves. That includes the military establishment, that is always entitled to an absurd amounts of monies, fueled by an empire building machinery, pushed by the elites that control the fate of economic might, and political orchestra that feeds its ego and prestige.
Time and again, our American sociopaths in power have a strangle hold on us, regardless of the destruction and animosity they heap on distant peoples and lands the world over in the name of national security and the democratic spiel, as they like to tell us ....
Richard Nixon, John Kennedy, Lyndon Johnson- Vietnam and the South East Asian countries of Laos , Cambodia, are an example .
Years later, the establishment manufactures blatant cover-ups with lies upon lies to accuse on record, as general Powell eloquently presented at the United Nations: That Iraq has weapons of mass destruction and needs to be held accountable.And now, this report on Afghanistan with all this pathological violence.

Is it reasonable to conclude that our democracy and its pathological actors in government and big business will always purchase it by demagoguery and self vested interest, because the ordinary man whose vote should count will never have the ultimate say when it comes to war and destruction!
Notable quotes:
"... a single American ..."
Just as was true when the Mueller investigation closed without a single American being charged with criminally conspiring with Russia over the 2016 election, Wednesday's issuance of the long-waited report from the Department of Justice's Inspector General reveals that years of major claims and narratives from the U.S. media were utter frauds .

Before evaluating the media component of this scandal, the FBI's gross abuse of its power – its serial deceit – is so grave and manifest that it requires little effort to demonstrate it. In sum, the IG Report documents multiple instances in which the FBI – in order to convince a FISA court to allow it spy on former Trump campaign operative Carter Page during the 2016 election – manipulated documents, concealed crucial exonerating evidence, and touted what it knew were unreliable if not outright false claims.

If you don't consider FBI lying, concealment of evidence, and manipulation of documents in order to spy on a U.S. citizen in the middle of a presidential campaign to be a major scandal, what is? But none of this is aberrational: the FBI still has its headquarters in a building named after J. Edgar Hoover – who constantly blackmailed elected officials with dossiers and tried to blackmail Martin Luther King into killing himself – because that's what these security state agencies are. They are out-of-control, virtually unlimited police state factions that lie, abuse their spying and law enforcement powers, and subvert democracy and civic and political freedoms as a matter of course.

In this case, no rational person should allow standard partisan bickering to distort or hide this severe FBI corruption. The IG Report leaves no doubt about it. It's brimming with proof of FBI subterfuge and deceit, all in service of persuading a FISA court of something that was not true: that U.S. citizen and former Trump campaign official Carter Page was an agent of the Russian government and therefore needed to have his communications surveilled.
Rudy Giuliani Can Barely Contain Himself Over His Ukraine Findings by Tyler Durden Fri, 12/13/2019 - 17:05 0 SHARES

Rudy Giuliani is grinning like the Cheshire cat. His standard smile.

For the past several weeks, the personal attorney to President Trump has been in Ukraine, interviewing witnesses and gathering evidence to shed light on what the Bidens were up to during the Obama years, and get to the bottom of claims that Kiev interfered in the 2016 US election in favor of Hillary Clinton. He has enlisted the help of former Ukrainian diplomat, Andriy Telizhenko, to gather information from politicians and ask them to participate in a documentary series in partnership with One America News Network (OANN) - which will make the case for investigating the Bidens as well as Burisma Holdings - the natural gas firm which employed the son of a sitting US Vice President in a case which reeks of textbook corruption.

https://www.youtube.com/embed/zi2UWTO2DyY

According to the Journal , Giuliani will present findings from his self-described "secret assignment" in a 20-page report .

Trump and Giuliani say then-Vice President Biden engaged in corruption when he called for the ouster of a Ukrainian prosecutor who had investigated a Ukrainian gas company where Hunter Biden served on the board. The Bidens deny wrongdoing, and ousting the prosecutor was a goal at the time of the U.S. and several European countries . - Wall Street Journal

( Note the Wall Street Journal's use of a straw man when they write: "The allegations of Ukrainian election interference are at odds with findings by the U.S. intelligence community that Russia was behind the election interference ."

Apparently the three journalists who collaborated on the article didn't get the memo that two countries can meddle at the same time, nor did any of them read the January, 2017 Politico article: Ukrainian efforts to sabotage Trump backfire - which outlines how Ukrainian government officials conspired with a DNC operative to hurt the Trump campaign during the 2016 election - a move which led to the disruptive ouster of campaign chairman Paul Manafort).

Rudy Giuliani's trip to Kyiv this month, which he described as a "secret assignment," included a meeting with Ukrainian lawmaker Andriy Derkach. PHOTO: PRESS OFFICE OF ANDRIY DERKACH/ASSOCIATED PRESS

Telizhenko, the former diplomat, tells the Journal that the plan for the series was conceived during the impeachment hearings as a way for Giuliani to tell his side of the story. The former Ukrainian diplomat flew to Washington on November 20 to film with Giuliani, while in early December he accompanied America's Mayor on the Kiev trip - stopping in Budapest, Vienna and Rome.

Rudy comes home

Upon his return to New York on Saturday, Giuliani says he took a call from President Trump while his plane was still taxiing down the runway, according to the Wall Street Journal .

" What did you get? " Trump asked. " More than you can imagine ," answered the former New York mayor who gained notoriety in the 1980s for taking down the mob as a then-federal prosecutor.

According to the 77-year-old Giuliani, Trump instructed him to brief Attorney General William Barr and GOP lawmakers on his findings. Soon after, the president then told reporters at the White House, " I hear he has found plenty ."

Rudy has been working on this project for a while. In late January, he conducted phone interviews with former Ukrainian prosecutors Viktor Shokin and Yiury Lutsenko. On the call was George Boyle - Giuliani's Chief Operating Officer and Director of Investigations. Boyle started as a NYPD beat cop in 1987, and was promoted to detective - eventually joining the Special Victims Squad. In short, the ever-grinning Giuliani has some serious professionals working on this.

" When he believes he's right, he loves taking on fights ," said longtime Giuliani friend, Tony Carbonetti.

NEVER MISS THE NEWS THAT MATTERS MOST

ZEROHEDGE DIRECTLY TO YOUR INBOX

Receive a daily recap featuring a curated list of must-read stories.

Please enter a valid email Thank you for subscribing! Something went wrong. Please refresh and try again.

That said, Giuliani's efforts have not gone off without a hitch. In October, two associates - Lev Parnas and Igor Fruman, both of whom assisted with his Ukraine investigation, were related in October on campaign-finance charges. Both men have pleaded not guilty, while Giuliani denies wrongdoing and says they did not lobby him. Parnas, notably, was also on the January call with Shokin and Lutsenko as a translator.

https://www.youtube.com/embed/tc4nQD6eiW4

In pressing ahead on Ukraine, Mr. Giuliani has replaced the translation skills of Messrs. Parnas and Fruman with an app he downloaded that allows him to read Russian documents by holding his phone over them . But on his recent trip, he said, "despite whatever else you can say, I missed them." - Wall Street Journal

Trump opponents insist Giuliani is conducting shadow foreign policy and orchestrated the ouster of former US Ambassador to Ukraine, Marie Yovanovitch - who Ukraine's new president Volodomyr Zelensky complained on a now-famous July 25 phone call accused of not recognizing his authority.

In the impeachment hearings, witnesses accused Mr. Giuliani of conducting a shadow foreign policy and orchestrating the ouster of the U.S. ambassador to Ukraine. He was described as "problematic" and "disruptive" and, in testimony that cited former national security adviser John Bolton, likened to a "hand grenade that's going to blow everybody up." Mr. Giuliani has said he kept the State Department apprised of his efforts and that he was working at the president's behest. - Wall Street Journal

" Just having fun while Dems and friends try to destroy my brilliant career ," Giuliani wrote in a text message while conducting his investigation overseas.

---

Surftown , 8 minutes ago link

If it doesn't fit the Mueller narrative.

It doesn't fit the Horowitz narrative.

It fits the impeachment narrative.

- Pelosi, Podestas, Bidens, Clinton, Soros, washing foreign aid money, -- So the manufactured whistleblower handlers including DNI IG are dirty.

- But if nobody heard a conversation they Only heard "about" -- who in NSA or CIA ( Ciaramella) gave the illegal surveillance to Schiff?

That sounds like Brennan still doing his dirty work.

His name was Seth Rich.

J S Bach , 12 minutes ago link

Never forget... Giuliani was up to his neck in the treasonous happenings on 9/11. For that, he can NEVER be forgiven... no matter how much dirt he digs up in this inane Ukranian circus.

SolidGold , 6 minutes ago link

I get it. 911 was a deep state, CIA, Mossad type deal.

Giuliani was just the mayor.

rosiescenario , 12 minutes ago link

Maybe Rudy discovered just what the Ukraine arms dealer got in return from Pelosi and Schiff for their money?

precarryus , 18 minutes ago link

Three j ournalists also wrote a WSJ piece October 22, '19; one author same as December 13 piece. ( Identify a narrative?)

Excerpts:
" Mr. Trump and Mr. Giuliani have repeatedly promoted an unsubstantiated theory that Ukraine was behind the hacking of the Democratic National Committee before the 2016 election, and that a related computer server is now located there. That theory is sharply at odds with the findings of a special counsel investigation and a 2017 U.S. intelligence community report that found Russia was responsible for the hack and leak of Democratic emails as part of a broader operation intended to aid Mr. Trump."... ...

... ... " Mr. Giuliani, who didn't respond to a request for comment, had for months pressed for Ukraine to investigate issues related to the 2016 election as well as Mr. Biden, a potential 2020 rival of Mr. Trump. As vice president under President Obama, Mr. Biden led an anti-corruption drive in Ukraine at the same time as his son received $50,000 a month for sitting on the board of a Ukrainian gas company, an arrangement Mr. Trump has called corrupt. Mr. Biden and his son have denied any wrongdoing, and no evidence of wrongdoing has been presented. "

https://www.wsj.com/articles/u-s-diplomat-urged-ukrainian-president-to-convince-trump-he-would-investigate-corruption-11571770997?mod=hp_lead_pos6
Former Attorney General Eric Holder, the first AG in history to be held in both criminal and civil contempt by Congress for failing to turn over ' Fast and Furious ' documents, says that current Attorney General William Barr is "nakedly partisan" and unfit for office.

In a Wednesday night op-ed in the Washington Post , Holder - who previously described himself as President Obama's 'wing-man,' wrote that Barr is employing "the tactics of an unscrupulous criminal defense lawyer" by vilifying critics of President Trump.

Holder slammed Barr's recent comments at a Federalist Society event, in which the AG "delivered an ode to essentially unbridled executive power" by "dismissing the authority of the legislative and judicial branches."

When, in the same speech, Barr accused "the other side" of "the systematic shredding of norms and the undermining of the rule of law," he exposed himself as a partisan actor, not an impartial law enforcement official. Even more troubling -- and telling -- was a later (and little-noticed) section of his remarks, in which Barr made the outlandish suggestion that Congress cannot entrust anyone but the president himself to execute the law. -Eric Holder

"It undermines the need for understanding between law enforcement and certain communities and flies in the face of everything the Justice Department stands for," wrote Holder, adding "I and many other Justice veterans were hopeful that he would serve as a responsible steward of the department and a protector of the rule of law."

So - Eric Holder thinks Barr should be an "impartial law enforcement official," and not a "partisan actor," yet described himself in a 2013 interview as President Obama's "wing-man."

In 2012, 'scandal-free' Obama claimed executive privilege over Fast and Furious documents "gunwalking" operation sought by House investigators investigating the death of Border Patrol agent Brian Terry at the hands of foreign nationals who used a weapon obtained through illegal straw purchases orchestrated by Obama's ATF.

Holder blasted the contempt votes as "politically motivated" and "misguided."

---

Silentwistle , 8 minutes ago link

You know, when everyone speaks of people who should be in jail we always forget about Holder. Thanks for reminding us again what a POS Holder is.

Salsa Verde , 13 minutes ago link

I dream of the day when families in Mexico who's loved one's were killed by F&F guns get their hands on Holder and tear him to pieces.

Tachyon5321 , 17 minutes ago link

As a result of his stupidity, Attorney General Eric Holder's actions killed US Boarder and Mexican police . Holder should have been charged with homicide for the murders of the US Boarder Gaurds.

mtumba , 21 minutes ago link

The Obama turds continue to float to the top of the toilet bowl.

Cthonic , 19 minutes ago link

clinton turd

http://jimbovard.com/blog/2014/08/27/eric-holder-waco-coverup/

two hoots , 23 minutes ago link

Holder is another protection card to play, yesterday it was Bill Clinton. They are reaching desperation, bottom of the barrel, and soon all will be naked and exposed. Easy to lose sight of the damage to our nation wrought by this one party that puts it's survival and needs above us all.
Russian FM Sergey Lavrov and US Secretary of State Mike Pompeo have briefed the media after talks in Washington, DC, the first such meeting since 2017. Speaking at the press conference on Tuesday, Pompeo said the US was seeking a "better relationship" with Russia and that the two countries have been working on improving relations since his visit to Sochi in May. He said lines of communication between Moscow and Washington were open and relations were candid.

Lavrov echoed that, saying the two met regularly and also spoke frequently by phone. "It is useful to talk to each other," he said. "Always better than not talking to each other."

//www.youtube.com/embed/bp-uZHwMSWA

In a nod to the ongoing anti-Russia hysteria in the US, Lavrov said their joint work was, however, " hindered by the wave of suspicions that have overcome Washington." Calling allegations of Russian interference in US internal affairs "baseless," Lavrov said Moscow had "many times" asked the Trump administration to publish all correspondence between Trump and Putin from October 2016 and 2017, but that it had received "no response."

Allegations of Russian interference in US internal affairs are 'baseless': 'We have not seen any evidence, because it does not exist' – Lavrov pic.twitter.com/M1Ezgs22kd

-- RT (@RT_com) December 10, 2019

Russia is hoping the current anti-Russia feeling dissipates like the McCarthyism of the 1950s, Lavrov added.

Pompeo said that cooperation on anti-terrorism is one of the main focuses of the relationship, particularly in relation to Syria.

"We want to make sure Syria never again becomes a safe haven for ISIS or other terrorist groups," he said.

On Ukraine, Pompeo said the resolution of conflict in the eastern regions of the country begins "with adherence to the Minsk agreements."
Notable quotes:
"... The FBI agents and lawyers intentionally lied to the court. Their violations were not mistakes. All 51 of them were in favor of further spying on members of the Trump campaign and on everyone they communicated with. ..."
"... The FBI has used the Steele dossier to gain further FISA application even after it had talked with Steele's 'primary source' (who probably was the later 'buzzed' Sergei Skripal ) and after it had learned that the allegations in the dossier were no more than unconfirmed rumors. ..."
The FBI agents and lawyers intentionally lied to the court. Their violations were not mistakes. All 51 of them were in favor of further spying on members of the Trump campaign and on everyone they communicated with.

The FBI has used the Steele dossier to gain further FISA application even after it had talked with Steele's 'primary source' (who probably was the later 'buzzed' Sergei Skripal ) and after it had learned that the allegations in the dossier were no more than unconfirmed rumors.

Michael Droy , Dec 11 2019 18:42 utc | 16

Great stuff as ever. How useful is it that Skripal is Unavailable but not Dead? For example does it affect redaction of material linked to him?

JR , Dec 11 2019 19:41 utc | 20

By now Steele's credibility is zero. Time to revisit Steele's involvement with the debunked "Russia bought the soccer World Champion games", the Litvinenko polonium poisening and the Skripal novichok poisening. The timing of the Skripal matter deserves some scrutiny in relation to Skripal possibly being Steele's source for the infamous Trump dossier. There might be a motive hidden there.

Jen , Dec 11 2019 22:27 utc | 42

I know on a recemt MoA Open Thread comments forum that there was a link to this recent John Helmer / Dances With Bears article mentioning that Sergei and Julia Skripal were being held at an airbase in Gloucestershire being used by the United States Air Force (USAF) at the time that Julia Skripal was interviewed by a Reuters representative in May last year. I consider that link and the news worth mentioning again in this comments thread as some commenters have already mentioned Sergei Skripal in connection with Christopher Steele's dossier.

As early as August 2018 , there had been speculation that the Skripals were being held at USAF Fairford airbase, based on audiovisual evidence in the background garden scene where the interview took place. Helmer's sources (they requested anonymity) spotted a chicken coop in the background which they say is a crow ladder trap. This is one indication that the garden scene was located near a runway. Background noises included the roar of jet engines.

If Helmer's information is correct, then we can now understand why the British government never gave Russian embassy staff access to the Skripals: London was in no position to do so, the Skripals were on US territory.

One implication of this new information is that the Skripals may no longer be in Britain and may now be living in North America somewhere with new identities. Should something happen to them (or have happened to them already), they will not be missed by their new neighbours. The Skripals will never be allowed to return to Russia and Sergei Skripal will never see or be allowed to communicate with his elderly mother again.

It really does look as if Sergei Skripal may have had something to do with that Orbis dossier after all, even if as a minor source or as a reference rather than the primary source of disinformation about Donald Trump's past activities in Moscow. What other work has Skripal done for his American masters?

Jen , Dec 11 2019 22:44 utc | 47

JR @ 20:

It looks as if Sergei Skripal may not be the primary source of the disinformation in Christopher Steele's dossier. Perhaps the person who is the primary source is not a Russian at all.

RJPJR , Dec 11 2019 23:56 utc | 50

JR | Dec 11 2019 19:41 utc | 20 brings up a revisiting of the Litvinenko polonium poisoning.

It is worth mentioning that a tiny but crucial and virtually never mentioned detail of the official inquiry (considered the last word on the matter) is that those conducting the official inquiry were never allowed access to the autopsy report -- which should have been (which would have been, in any honest effort at inquiry) the bedrock starting point. The report has right along been sequestered by Scotland Yard in the interests of... you guessed it: national security. Go figure...

bevin , Dec 12 2019 1:46 utc | 53

It strikes me that the best explanation of the attack on the Skripals is not that he was responsible for the Steele Dossier in any way, but that he could easily prove that it was a fantasy. And was planning to do so.

He knew better, though, than to say so in the UK which suggests that he was on his way home with his daughter when MI6 caught up with him and poisoned them both.

Steele, Pablo Miller and Skripal were old partners in crime.

I'm wondering whether the mistake Sergei made was not to leave the house -- probably worth lotsa rubles -- behind and just go. On the other hand he was almost certainly under constant surveillance.

@50 The Official Report to which you refer was also very careful to enter extensive caveats regarding its conclusions for which there was almost no real evidence.

Cynica , Dec 12 2019 1:48 utc | 54

@Jackrabbit #12, @karlof1 #15

It seems important to note that Mr. Lavrov refers to administrations in his comments, not presidents per se. As there are many staff in presidential administrations, it seems entirely possible that 1) the requests from the Russians never reached Obama or Trump personally, and 2) either or both presidents were therefore not even aware of the requests. In the case of Trump, that would be consistent with the fact that many members of his administration have been revealed to have operated contrary to his wishes.

@Jen #42

The Skripals residing on US territory would definitely indicate that the US has been the senior partner in the "Skripal operation". This seems to be part of a general pattern.

@Jackrabbit #48

For the Steele dossier to be intentional bullshit (meaning its creator(s) knew it was false when they created it) doesn't seem all that surprising. Intelligence agencies promote disinformation all the time. That in no way means that Trump is in on the game.

pretzelattack , Dec 12 2019 2:04 utc | 55

by this point i don't know if either Skripal is still alive. Why keep them alive if they could debunk the oh so precious propaganda?

karlof1 , Dec 12 2019 3:20 utc | 58

Cynica @54--

Both Putin and Lavrov have stated that they talked directly with Obama and Trump about the issues involved with their relations, so there's no excuses or obfuscation possible is this case.
Passer by , Dec 9 2019 16:39 utc | 102

Russia got just banned from the Olympics and the FIFA Cup.

Now, i thought that the US and the West would be imploding at any minute? That the US is rapidly collapsing? That no one cared about what the US wants? This is what i was told by alt media. How is this possible?

I'm tired of low quality Alt Media analysis from people who consistently underestimate their opponents.

I'm tired of people with rose colored glasses and people with confirmation bias.

And then i'm tired of the low quality analysis about how Trump wants to break the system, how Trump is a secret ally to Russia, how Trump wants to dismantle the US Empire, etc.

Nothing could be further from the truth. The Trump admin is far more aggressive and imperialist than all before him in modern times. It did far more against Russia than what Obama did. And don't tell me how he (Mister "Let's take the Syrian and Iraqi Oil and do you know that we could nuke Afghanistan") does not want wars. He does not want big wars only because there is no money for that. But the aggression and hatred is still there. Only the capacity to wage military aggression has declined. But if things with the US economy were good, you would be seeing the same wars over and over again.

The US has started (or it is starting) a full blown cold war against China and Russia. And it intends to sabotage the global economy and globalisation in order to keep its advantage. All will lose, but in such scenario, the US will lose less. Thus they gain in relative power. This is what their aim is. So prepare for bad economic times ahead. The globalisation window (1990 - 2017) is over.

I'm also tired of low quality analysis about how Europe would rebel at any moment against the US. (Europeans instead pushed heavily in the WADA to ban Russia). These people do not understand Europe. Europe is castrated and will go down with the US ship because their whole psychology is based on it. On the Big Daddy US liberating them from themselves and keeping order. They don't know any better than that or how to think, as this "could lead to another world war". Only the US can and does. They can only be puppets to those "who know better". It is impossible to fix it. They will go down with the US until they are destroyed.

And one day, when the population changes with non-europeans, it is then when this is going to end. it is then when US and European imperialism will end. Because it is based on white people. On the narcisitic poison of "knowing better", hiding today behind universalist liberalism. See US polls about attitudes towards other countries, whites are generally more hostile to other countries. The liberals are the same imperialists as the old school racists. I say that as a white person. Yes, this imperialism is coming from white people, both the liberals and the racists. Together of course with the zionists living in simbiotic relationship with them. And when they finally get replaced by immigrant people, this mania about ruling the world will end, and will be replaced by a real multipolar system.

A non-white USA will be less aggressive USA and a non-white Europe will be less aggressive Europe. And both will be less pro-Israel as well. This is when this is going to end.

---

psychohistorian , Dec 9 2019 16:47 utc | 104

Lots to respond to

I think that Russia athletes being banned from Olympics is a stupid move because I think other countries may pull out in support of this...like China and others

@ uncle tungsten about Gazprom with the question about what happens next.
I see the world in a standoff of sorts waiting to see who blinks first.....and I think it will be empire
Read the two links below in support of my thinking that

Williams: "They've Effectively Lost Control Of The System"

Fed's Third "Year-End" Repo Oversubscribed Again Amid Liquidity Scramble As Dec 16 Tax Day Looms

The take away quote from the 2nd link
"
As a reminder, since the Sept 16 repo blow up, the Fed has injected $208 billion via "temporary" rolling overnight and term repos, and $114 billion via permanent T-Bill purchases.
"

john brewster , Dec 9 2019 17:00 utc | 105 vk , Dec 9 2019 17:02 utc | 106

@ Posted by: Passer by | Dec 9 2019 16:39 utc | 102

Well, the only USA that matters to the rest of the world is the USA-as-the-world's-sole-superpower. If that version of the USA disappears, then we would be talking about a completely different geopolitical architecture ("multipolar").

The USA itself doesn't need to collapse or disintegrate for that to happen.

My opinion is that the USA is losing its "sole superpower" status, albeit at a very slow pace. It couldn't be another way, since the USA is a nuclear superpower, so its competitors must deactivate its hegemony slowly and gently.

I also believe the USA will disappear some day, but in a different way than the USSR. Since the USA is a capitalist economy, it will desintegrate rather than collapse, and this disintegration will happen more a la Roman Empire (Crisis of the Third Century and beyond) rather than a la USSR. Capitalism has an anarchic way of producing and distributing its wealth, resulting in a decentralized web of institutions. First the institutions will decline. Second, the State will decline. Third, the economy will decline and only after this "phase 3" that we'll be able to se the real desintegration of the USA.

I don't believe the USA will fall by conquest, mostly because it has MAD, second because its geographic location favours a defensive war of its territory. More probable would be the gradual secession of some States after the economy has degraded enough. I wouldn't consider the loss of one peripheral State as the formal end of the USA, but if it goes to the stage of it losing more or less the Southern States or the Midwest States, then I think some historians would use these as a useful event to mark the formal end of the USA.

But before that, I belive the USA will remain a very influent regional superpower for the forseeable future. It would have to take the entire capitalist structure to fall for the USA to really enter its desintegration phase. I've talked with some Marxists, and the most optimistic of them belive the USA still has some 150-200 years of tranquil existence. Of course, we're not psychics, so they are all wild guesses.
refl , says: December 9, 2019 at 2:11 pm GMT

@AnonFromTN It is heartening that there are people who are expecting salvation from Germany. Let me tell you guys, it is GONE. And it is certainly not heroic to say this, but I can live with having past my service at an old peoples home, instead, and I can live with not sending my son off to a trench. And I absolutely subscribe to what Jim Christian said (thanks for his comments, as for quite some others! ), if you touch my wife or son, I will get wild, but the rest is not worth defending.

But here is my thought: Agreed, that western and american military is today disfunctional and deluded about themselves. But they are absolutely superior when it comes to psyop. 9/11 was marvellously executed and to root up the whole middle east and pump the destitute people from there into Europe to blow it up, that is quite something.

From that perspective,

refl , says: December 9, 2019 at 2:11 pm GMT

@AnonFromTN It is heartening that there are people who are expecting salvation from Germany. Let me tell you guys, it is GONE. And it is certainly not heroic to say this, but I can live with having past my service at an old peoples home, instead, and I can live with not sending my son off to a trench. And I absolutely subscribe to what Jim Christian said (thanks for his comments, as for quite some others! ), if you touch my wife or son, I will get wild, but the rest is not worth defending.

But here is my thought: Agreed, that western and american military is today disfunctional and deluded about themselves. But they are absolutely superior when it comes to psyop. 9/11 was marvellously executed and to root up the whole middle east and pump the destitute people from there into Europe to blow it up, that is quite something.

From that perspective, Russiagate is a gift. If any argument was still needed to tell the peoples of the world that the western empire is terminaly deranged, that is it.

Peace to all of you.
LEEPERMAX , 2 minutes ago link

BOTH the AG and federal prosecutor Durham REJECT the findings. Durham has the ability to conduct a criminal investigation that Horowitz did not. Given this, the IG found evidence to criminally refer FBI officials and campaign spies.

-- GEORGE PAPADOPOULOS (@GEORGEPAPA19) DECEMBER 9, 2019

Remember: the Durham probe became a CRIMINAL investigation as soon as he left Rome with information on Mifsud. IG said he wasn't working for the FBI. Leaves only one other option: CIA, and why Brennan and his team have all lawyered up. Bye bye, Brennan.

-- GEORGE PAPADOPOULOS (@GEORGEPAPA19) DECEMBER 9, 2019
This is selective quotes from anti-Trump of neocon author. The general tone of the article is completely different from presented quotes.
Notable quotes:
"... ..."This was an overthrow of government, this was an attempted overthrow -- and a lot of people were in on it," Trump declared , while Barr insisted , in a more lawyerly fashion, "The Inspector General's report now makes clear that the FBI launched an intrusive investigation of a U.S. presidential campaign on the thinnest of suspicions that, in my view, were insufficient to justify the steps taken." ..."
The report confirmed that the Russia investigation originated, as has been previously reported, with the Trump campaign adviser George Papadopoulos bragging to an Australian diplomat about Russia possessing "dirt" on Hillary Clinton, which the IG determined "was sufficient to predicate the investigation." The widespread conservative belief that the investigation began because of the dubious claims in the Steele dossier was false. "Steele's reports played no role" in the opening of the Russia investigation, the report found, because FBI officials were not "aware of Steele's election reporting until weeks later."

...The IG also "did not find any records" that Joseph Mifsud, the professor who told Papadopoulos the Russians had obtained "dirt" on Clinton, was an FBI informant sent to entrap him.

...Page "did not play a role in the decision to open" the Russia investigation, and that Strzok was "was not the sole, or even the highest-level, decision maker as to any of those matters."

...the IG did determine that the Page FISA application was "inaccurate, incomplete, or unsupported by appropriate documentation," which misled the court as to the credibility of the FBI's evidence when seeking authority to surveil Page.

..."This was an overthrow of government, this was an attempted overthrow -- and a lot of people were in on it," Trump declared , while Barr insisted , in a more lawyerly fashion, "The Inspector General's report now makes clear that the FBI launched an intrusive investigation of a U.S. presidential campaign on the thinnest of suspicions that, in my view, were insufficient to justify the steps taken."

Adam Serwer is a staff writer at The Atlantic , where he covers politics.
Notable quotes:
"... Ms. Rion spoke with Ukrainian former Prosecutor General Yuriy Lutsenko who outlines how former Ambassador Marie Yovanovitch perjured herself before Congress . ..."
"... What is outlined in this interview is a problem for all DC politicians across both parties. The obviously corrupt influence efforts by U.S. Ambassador Yovanovitch as outlined by Lutsenko were not done independently. ..."
"... Senators from both parties participated in the influence process and part of those influence priorities was exploiting the financial opportunities within Ukraine while simultaneously protecting Joe Biden and his family. This is where Senator John McCain and Senator Lindsey Graham were working with Marie Yovanovitch. ..."
Former Ukrainian Prosecutor Exposes Yovanovich Perjury, George Kent's Motive To Impeach Trump by Tyler Durden Mon, 12/09/2019 - 19:40 0 SHARES

Authored by Sundance via the Conservative Treehouse

In a fantastic display of true investigative journalism, One America News journalist Chanel Rion tracked down Ukrainian witnesses as part of an exclusive OAN investigative series. The evidence being discovered dismantles the baseless Adam Schiff impeachment hoax and highlights many corrupt motives for U.S. politicians.

Ms. Rion spoke with Ukrainian former Prosecutor General Yuriy Lutsenko who outlines how former Ambassador Marie Yovanovitch perjured herself before Congress .

https://www.youtube.com/embed/KgKGjoIkaXU

What is outlined in this interview is a problem for all DC politicians across both parties. The obviously corrupt influence efforts by U.S. Ambassador Yovanovitch as outlined by Lutsenko were not done independently.

Senators from both parties participated in the influence process and part of those influence priorities was exploiting the financial opportunities within Ukraine while simultaneously protecting Joe Biden and his family. This is where Senator John McCain and Senator Lindsey Graham were working with Marie Yovanovitch.

Imagine what would happen if all of the background information was to reach the general public? Thus the motive for Lindsey Graham currently working to bury it.

You might remember George Kent and Bill Taylor testified together.

It was evident months ago that U.S. chargé d'affaires to Ukraine, Bill Taylor, was one of the current participants in the coup effort against President Trump. It was Taylor who engaged in carefully planned text messages with EU Ambassador Gordon Sondland to set-up a narrative helpful to Adam Schiff's political coup effort.

Bill Taylor was formerly U.S. Ambassador to Ukraine ('06-'09) and later helped the Obama administration to design the laundry operation providing taxpayer financing to Ukraine in exchange for back-channel payments to U.S. politicians and their families.

In November Rudy Giuliani released a letter he sent to Senator Lindsey Graham outlining how Bill Taylor blocked VISA's for Ukrainian 'whistle-blowers' who are willing to testify to the corrupt financial scheme.

Unfortunately, as we are now witnessing, Senator Lindsey Graham, along with dozens of U.S. Senators currently serving, may very well have been recipients for money through the aforementioned laundry process. The VISA's are unlikely to get approval for congressional testimony, or Senate impeachment trial witness testimony.

U.S. senators write foreign aid policy, rules and regulations thereby creating the financing mechanisms to transmit U.S. funds. Those same senators then received a portion of the laundered funds back through their various "institutes" and business connections to the foreign government offices; in this example Ukraine. [ex. Burisma to Biden]

The U.S. State Dept. serves as a distribution network for the authorization of the money laundering by granting conflict waivers , approvals for financing (think Clinton Global Initiative), and permission slips for the payment of foreign money. The officials within the State Dept. take a cut of the overall payments through a system of "indulgence fees", junkets, gifts and expense payments to those with political oversight.

If anyone gets too close to revealing the process, writ large, they become a target of the entire apparatus. President Trump was considered an existential threat to this entire process. Hence our current political status with the ongoing coup.

Ambassador Marie Yovanovitch, Senator Lindsey Graham and Senator John McCain meeting with corrupt Ukraine President Petro Poroshenko in December 2016.

It will be interesting to see how this plays out , because, well, in reality all of the U.S. Senators (both parties) are participating in the process for receiving taxpayer money and contributions from foreign governments.

A "Codel" is a congressional delegation that takes trips to work out the payments terms/conditions of any changes in graft financing. This is why Senators spend $20 million on a campaign to earn a job paying $350k/year. The "institutes" is where the real foreign money comes in; billions paid by governments like China, Qatar, Saudi Arabia, Kuwait, Ukraine, etc. etc. There are trillions at stake.

[SIDEBAR: Majority Leader Mitch McConnell holds the power over these members (and the members of the Senate Intel Committee), because McConnell decides who sits on what committee. As soon as a Senator starts taking the bribes lobbying funds, McConnell then has full control over that Senator. This is how the system works.]

The McCain Institute is one of the obvious examples of the financing network. And that is the primary reason why Cindy McCain is such an outspoken critic of President Trump. In essence President Trump is standing between her and her next diamond necklace; a dangerous place to be.

So when we think about a Senate Impeachment Trial; and we consider which senators will vote to impeach President Trump, it's not just a matter of Democrats -vs- Republican. We need to look at the game of leverage, and the stand-off between those bribed Senators who would prefer President Trump did not interfere in their process.

McConnell has been advising President Trump which Senators are most likely to need their sensibilities eased. As an example President Trump met with Alaska Senator Lisa Murkowski in November. Senator Murkowski rakes in millions from the multinational Oil and Gas industry; and she ain't about to allow horrible Trump to lessen her bank account any more than Cindy McCain will give up her frequent shopper discounts at Tiffanys.

Senator Lindsey Graham announcing today that he will not request or facilitate any impeachment testimony that touches on the DC laundry system for personal financial benefit (ie. Ukraine example), is specifically motivated by the need for all DC politicians to keep prying eyes away from the swamps' financial endeavors. WATCH:

https://www.youtube.com/embed/HnMb1R1XsyM

This open-secret system of "Affluence and Influence" is how the intelligence apparatus gains such power. All of the DC participants are essentially beholden to the various U.S. intelligence services who are well aware of their endeavors.

There's a ton of exposure here (blackmail/leverage) which allows the unelected officials within the CIA, FBI and DOJ to hold power over the DC politicians. Hold this type of leverage long enough and the Intelligence Community then absorbs that power to enhance their self-belief of being more important than the system.

Perhaps this corrupt sense of grandiosity is what we are seeing play out in how the intelligence apparatus views President Donald J Trump as a risk to their importance.

---

bhakta , 48 minutes ago link

It is all about cash. Nothing else matters to these people in DC.

Helg Saracen , 42 minutes ago link

Everyone loves money. I like money. The only question is how to earn them. Neither I, nor you, nor many of us will cross a certain moral and ethical line (border), but there are people without morality, without ethical standards, without conscience. We all look the same outwardly, but we are all completely different inside.

Colonel Klinks Ghost , 59 minutes ago link

Jesus Christ I'm glad McStain is gone. So many other corrupt officials need a good brain cancer.

Helg Saracen , 47 minutes ago link

You are an evil person. It was a tragedy. Surgeons failed to save the unfortunate tumor from McCain. ;)

Helg Saracen , 1 hour ago link

Ukraine is Obama's **** , this is not Trump's ****. Trump's stupidity was only one - he got into this ****. I wrote, but I repeat - USA acted as the best friend in relation to Russia, having taken off a leech from Russia and hanging it on itself. Do you know such an estate of Rothschilds - called Israel and its role in the life of USA?

So, Ukraine was for the Russians the same Israel in terms of meaningless spending. Look at Vlad, in 2014 he looked like a fox who was eating a chicken, and on January 1, 2020 he will look like a fox who eating a whole brood of chickens. I think he has portraits of Obama and Trump in his bedroom.

Cat Daddy , 4 hours ago link

Yes, indeed. Lindsey will bury the story, he is on the take. Your tax dollars at work. By the way, the Fed picked up all of the Ukies gold for safekeeping at 33 Liberty St. NY, with Yats permission, of course.... https://www.zerohedge.com/news/2014-11-18/ukraine-admits-its-gold-gone

hanekhw , 4 hours ago link

A glimpse into how elected officials accumulate millions, retire wealthy, pampered and privileged....and I'm not talking pensions I'm talking corruption. Obama, Biden, Hillary, Kerry, Holder, Rice and ALL the senior Obama Administration officials knew of each other's corrupt sinecures.

Soloamber , 4 hours ago link

I am willing to give Graham the benefit of doubt because the alternative means some serious **** is coming .

The politicians have gotten comfortable that people will do nothing . BIG mistake .

Biden seems see oblivious to what he's done and perhaps this explains it . It's ******* routine .

Lets see their financial records from the day they were elected to the present .

SoDamnMad , 20 minutes ago link

You will find very little information. City of London offshore trusts cover their tracks.

Dumpster Elite , 4 hours ago link

The author actually seems to know what's going on behind the curtain, and not just blindly speculating.

docloxvio , 2 hours ago link

Well, it is based on a OAN story. Believe it or not, they actually sent a reporter to Ukraine to talk to people with knowledge of the matter and look what they came up with. Kind of makes you wonder why other well funded news organizations never thought to do something like that.

peippe , 2 hours ago link

it's been known for at least weeks that the embassy Kunt withheld travel visas for Ukraine State attorneys.

so this in endemic,

till Trump. I love this.

Soloamber , 4 hours ago link

How does Obama buy a $ 11+ million water front estate ?

Book sales ? Nah don't think so .

You know what it costs to operate a house and property that big each year plus all the other trappings ?

He ain't driving a 64 Cricket automatic .

Gore left politics with what $2 million and now has over $200 million .

Saving the planet pays big doesn't ?

If Lindsey Graham is part of this where does it end ?

The politicians and central bankers are bankrupting the country , dumping $trillions in debt on kids that can't vote

and now we find out they are taking massive bribes ?

Really not sure if Trump can fix the broken system by himself .

If this is true the Senate will vote him out .

Serrano , 4 hours ago link

Sen. Graham tells Maria Bartiromo he will end impeachment quickly: 1 min. 27 sec.

Birdbob , 5 hours ago link

Shocker Lindsay Graham willing to betray public trust for Dollars? That is what we deserve.

Lord Raglan , 4 hours ago link

I don't know that we deserve this. We are all working people, with families to raise, taxes to pay and the Dems and Commies have been working against us 24/7. And most of them get paid to do so from government jobs that pay them 8 hours a day when many work 1 hour a day, all the while scheming against us.

If Trump wins a second term, he is gonna **** these people up good.

PrideOfMammon , 3 hours ago link

No he isnt. He IS these people.

teolawki , 5 hours ago link

Now that I've read the article, I'm both shocked and appalled at learning that Ukraine is a money laundering operation for the politically connected. (They provide many other 'perks' as well.)

I've warned about light in the loafers Lindsey as well as McConnell before and more than once. Sessions should also be denied a re-admission into the swamp. There are others.
Clueless Joe , Dec 9 2019 16:28 utc | 100

John Brewster - 90
Did you by chance confuse Russia with Italy? Because Russia has close to 150M people, not 65M, significantly more than Germany. Granted, less than USSR back in 1939, but militarily more powerful compared to Germany - and possibly with more exploited resources.

vk - 79
I tend to agree with the view that the key factor in USSR's demise was that it couldn't sustain the competition with the Kapital and wasn't able to develop, "progress", "grow" at the rate the West was showing off. US and USSR levels were far closer back in 1950 than in 1980, and the discrepancy was only growing. Reagan fanboys might argue that he sped up the decaying process, but troubles and upheavals were going to happen, no matter what. Now, why this rate of progress was so different is another matter, and probably the most important one - both for 20th century history and for the fate of the West in this century.
It's also painfully obvious that the only path outside downright servitude for Europe is to distance itself from the USA and seek if not a direct alliance at least a clear partnership with Russia and a "detente" with clear rules on their borders and a common declaration of neutrality over Ukraine - as in: no side will try to annex the whole country, which either would be split up or ideally would have a heavy dose of decentralization and localism. But it is of vital importance for the actual survival of Europe that atlanticists and Russiaphobes be hunted down and expelled from any position of power or influence - be it from economy, media, politics.

Wherefore President Trump, by such conduct, has demonstrated that he will remain a threat to national security and the Constitution if allowed to remain in office, and has acted in a manner grossly incompatible with self-governance and the rule of law. President Trump thus warrants impeachment and trial, removal from office, and disqualification to hold and enjoy any office of honor, trust, or profit under the United States.
I agree with everything you say in the article, Mr. Larison. And yet, I have serious qualms about whether Congress should impeach and remove Trump.

From a purely legal perspective, they should. But impeachment is a blend of legalism and politics. And the politics here are murky at best. The problem is that Congress does not come to these issues with clean hands. It is common knowledge that Congress, too, is corrupt and sells out the national interest in favor of their own political and personal interests on a daily basis. They have no moral credibility here; who are they to judge the President? Neither the impeachment itself, nor the subsequent, apparently inevitable, acquittal by the Senate will be seen as legitimate, except by partisans of the respective acts. It is all the more problematic because an election is less than a year away.

Yes, I want Trump out of office, too. But unfortunately our Congress lacks the moral legitimacy to do this; the impeachment and trial will serve only to reinforce each party's views of the other as treasonous. The impeachment will be seen as an attempted coup, and the acquittal will be seen as a whitewash and cover-up. (If by some odd circumstance he is removed rather than acquitted, it will be seen as a successful coup, an undoing of the 2016 election.)

There are no really good outcomes from this scenario. It would, I think, be better for the the country were the Democrats to reverse course and leave the removal of Trump to the people next November. We have survived nearly three years of him, we can survive one more. I fear the fallout from impeachment and trial will create more problems than are solved.
likbez
Clyde Schechter
I agree. I also respectfully disagree with Larrison's judgment and consider this development as very dangerous for the Republic. We need to weight our personal animosity toward Trump with the risks of his forceful removal on dubious charges.

Please remember that nobody was impeached for the Iraq war. That creates a really high plank for the impeachment. And makes any Dems arguments for Trump impeachment not only moot but a joke.

The fundamental question is: How is lying the country into the Iraq war not impeachable, and this entrapment impeachable?

The furor over Russian interference in the election, which was extremely minor, if existed at all, compared to what Churchill did in 1940, was primarily about excusing the corrupt and incompetent Clinton wing of Democratic Party leadership (Neoliberal Democrats.) Political "shelf life" for whom is over in any case as neoliberalism is dead as an ideology and entered zombie ( bloodthirsty ) stage. Hillary political fiasco taught them nothing. Russiagate was and still is a modern witch hunt, the attempt to patch with Russophobia the cracks in the neoliberal facade. Neo-McCarthyism, if you wish.

In view of the Iraq war, the impeachment of Trump means the absolute contempt for the plebs. Again, Trump's election happened because neoliberalism as ideology died in 2008, and plebs in 2016 refused to follow corrupt neoliberal democrats and decided to show them the middle finger. They will not follow the neoliberal elite in 2020, impeachment, or no impeachment. So the whole "Pelosi gambit" (and from the point of view of Nuremberg principles she is a war criminal like Bush II and Co ) will fail.

The House Democrats did not act as ethical prosecutors. They have failed to develop the evidentiary record, and provide the equality of procecutor and the defense in the process which is the fundamental part of the Due Process prior to filing charges. A large part of their witnesses (Karlan, Hill, Vindman) were just "true believers" (Karlan) or corrupt Deep Staters (Hill, Vindman) taking a stand to defend their personal well-being, which is based on warmongering. And protect their illegal role in formulating the USA foreign policy (actually based on the quality of Fiona Hill book alone, she should be kept at mile length from this area; she is a propagandist not a researcher/analyst)

Among State Department witnesses there could well be those who were probably explicitly or implicitly involved in the money laundering of the US aid money via Ukraine (Biden-lights so to speak)

The article of impeachment saying:

Wherefore President Trump, by such conduct, has demonstrated that he will remain a threat to national security and the Constitution if allowed to remain in office and has acted in a manner grossly incompatible with self-governance and the rule of law. President Trump thus warrants impeachment and trial, removal from office, and disqualification to hold and enjoy any office of honor, trust, or profit under the United States.

opens a huge can of worms (this is essentially the Moscow show trials method of removing politicians.) This is equivalent to a change in the Constitution, introducing the vote of no confidence as the method removal of the top members of the executive branch.

Impeachment is always a political decision. And here I am not sure the "Pelosi gambit" will work. I think many independents, who would stay home or would vote for Dems in 2020 now will vote for Trump as a protest against the abuse of impeachment by the Neoliberal/Corporate Dems.
That people are still dredging up the ludicrous Russiagate conspiracy theory is beyond pathetic. If that were not enough, there is no evidence that "Russian hackers" or anyone "screw[ed] with swing states' election databases".
Notable quotes:
"... If Russia spending $100,000 on Facebook ads constitutes election interference, and Donald Trump asking Ukraine to investigate the Bidens is too - then Hillary Clinton takes the cake when it comes to influence campaigns designed to harm a political opponent. ..."
"... The article suggests that former Trump campaign aide Carter Page "has opened up private communications with senior Russian officials - including talks about the possible lifting of economic sanctions if the Republican nominee becomes president." ..."
"... Steele told us that in September [of 2016] her and Simpson gave an "off-the-record" briefing to a small number of journalists about his reporting, " reads page 165 of the FISA report, which says that Steele "acknowledged that Yahoo News was identified in one of the court filings in the foreign litigation as being present. " ..."
"... Put another way, Hillary Clinton paid Christopher Steele to feed information to the MSM in order to harm Donald Trump right before the 2016 election . Granted, there were intermediaries; the Clinton campaign paid law firm Perkins Coie, which paid Fusion GPS, which paid Steele. And if asked, we're guessing Clinton would claim she had no idea this happened - which simply isn't plausible given the stakes. Whatever the case - the act of Simpson paying Steele to peddle fiction to the media for the purpose of harming Trump, by itself , constitutes blatant election meddling by every standard set by the left over the past three years. ..."
If Russia spending $100,000 on Facebook ads constitutes election interference, and Donald Trump asking Ukraine to investigate the Bidens is too - then Hillary Clinton takes the cake when it comes to influence campaigns designed to harm a political opponent.

Contained within Monday's FISA report by the DOJ Inspector General is the revelation that Fusion GPS, the firm paid by the Clinton campaign to produce the Steele dossier, " was paying Steele to discuss his reporting with the media. " ( P. 369 and elsewhere)

(h/t @wakeywakey16 )

And when did Steele talk with the media - which got him fired as an FBI source ? Perhaps most notably was Yahoo News journalist Michael Isikoff , who says he was invited by Fusion GPS to meet a "secret source" at a Washington restaurant . That secret source was none other than Christopher Steele , who fed Isikoff information from his now-discredited dossier - and which appeared in a September 23, 2016 article roughly six weeks before the election - which likely had orders of magnitude greater visibility and impact coming from a widely-read, MSM source vs. $100,000 in Russian Facebook ads.

The article suggests that former Trump campaign aide Carter Page "has opened up private communications with senior Russian officials - including talks about the possible lifting of economic sanctions if the Republican nominee becomes president."

This claim was found by special counsel Robert Mueller report to be false . Moreover, the FBI knew about it in December, 2016, when DOJ #4 Bruce Ohr told the agency as much.

Steele told us that in September [of 2016] her and Simpson gave an "off-the-record" briefing to a small number of journalists about his reporting, " reads page 165 of the FISA report, which says that Steele "acknowledged that Yahoo News was identified in one of the court filings in the foreign litigation as being present. "

Put another way, Hillary Clinton paid Christopher Steele to feed information to the MSM in order to harm Donald Trump right before the 2016 election . Granted, there were intermediaries; the Clinton campaign paid law firm Perkins Coie, which paid Fusion GPS, which paid Steele. And if asked, we're guessing Clinton would claim she had no idea this happened - which simply isn't plausible given the stakes. Whatever the case - the act of Simpson paying Steele to peddle fiction to the media for the purpose of harming Trump, by itself , constitutes blatant election meddling by every standard set by the left over the past three years.

We're sure Hillary can explain that if and when she jumps into the 2020 race.
They poisoned with the USA with Russophobia for decades to come, and that really increases the risk of nuclear confrontation, which would wipe out all this jerks, but also mass of innocent people.
Notable quotes:
"... The only way to prevent it, IMHO, is having a Western public shifting just 5 % of their "breads and circuses" paradigm to that issue. Just 5. Not holding my breath I am afraid. ..."
"... Which proves the main point of mine: access to information means shit in the real world of power play. Sheeple didn't care then; they care even less now (better distractions). ..."
---

peterAUS , says: December 10, 2019 at 8:07 pm GMT

O.K.

I was, actually, thinking about: https://en.wikipedia.org/wiki/Pershing_II#Protests Or, just follow this trend of "who has a bigger dick" as it is.

Sooner or later you'll have this, IMHO: Reaction time 7 minutes . You know, decision-making time to say "launch" or not. The decision-maker in the White House, Downing Street and Elysees Palace either a geriatric or one of this new multiracial breed. Just think about those people

Add to that the level of overall expertise by the crews manning those systems, its maintenance etc. Add increased automation of some parts of the launch process with hardware/software as it's produced now (you know, quality control etc.).

It will take a miracle not to have that launch sooner or later. Not big, say .80 KT. What happens after that is anybody's guess. Mine, taking the second point from the fourth paragraph .a big bang.

The only way to prevent it, IMHO, is having a Western public shifting just 5 % of their "breads and circuses" paradigm to that issue. Just 5.
Not holding my breath I am afraid.

My 2 cents, anyway.

Anon [138] Disclaimer , says: December 10, 2019 at 9:30 pm GMT

@peterAUS The rational actor false supposition has it that the biologics can't be used because they don't recognize friend from foe.

Rational actors? Where? Anthrax via the US mail.

One rational actor point of view is that you have to be able to respond to anything. Anything. In a measured or escalating response. Of course biologics are being actively pursued to the hilt. Just like you point out about Marburg.

But, the view from above is that general panic in the population cannot be allowed, and so all biologics have to be down played. "of course we would never do anything like that, it would be insane to endanger all of humanity". Just like nukes. So professors pontificate misdirection, and pundits punt.

So don't expect real disclosure, or honest analysis. "We only want the fear that results in more appropriations. Not the fear that sinks programs." Don't generate new Church commissions. Hence the fine line. some fear yes, other fears, no.

peterAUS , says: December 10, 2019 at 10:23 pm GMT

@Anon

Rational actors? Where?

Well Washington D.C.
Hahahahaha sorry, couldn't resist.

So don't expect real disclosure, or honest analysis.

I don't.

But I also probably forgot more about nuclear war than most of readers here will ever know. And chemical, when you think about it; had a kit with atropine on me all the time in all exercises. We didn't practice much that "biologics" stuff, though. We knew why, then. Same reason for today. Call it a "stoic option" to own inevitable demise.

Now, there is a big difference between the age of those protests I mentioned and today. The Internet. The access to information people, then, simply didn't have.

Which proves the main point of mine: access to information means shit in the real world of power play. Sheeple didn't care then; they care even less now (better distractions).

Well, they will care, I am sure. For about ..say in the USA ..several hours, on average.

We here where I am typing from will care for "how to survive the aftermath" .. for two months.Tops.
12/10/2019

In her usual succinct and clarifying manner, The Wall Street Journal's Kimberley Strassel took to Twitter overnight to summarize the farcical findings within the Horowitz Report (and Barr and Durham's responses).

In sixteen short tweets , Strassel destroyed the spin while elucidating the key findings of the Horowitz report (emphasis ours):

Yup, IG said FBI hit threshold for opening an investigation. But also goes out of its way to note what a "low threshold" this is.

Durham's statement made clear he will provide more info for Americans to make a judgment on reasonableness.

The report is triumph for former House Intel Chair Devin Nunes, who first blew the whistle on FISA abuse. The report confirms all the elements of the February 2018 Nunes memo, which said dossier was as an "essential" part of applications, and FBI withheld info from FISA court

Conversely, the report is an excoriation of Adam Schiff and his "memo" of Feb 2018.

That doc stated that "FBI and DOJ officials did NOT abuse the [FISA] process" or "omit material information."

Also claimed FBI didn't much rely on dossier.

In fact, IG report says dossier played "central and essential role" in getting FISA warrants.

Schiff had access to same documents as Nunes, yet chose to misinform the public. This is the guy who just ran impeachment proceedings.

The Report is a devastating indictment of Steele, Fusion GPS and the "dossier."

Report finds that about the only thing FBI ever corroborated in that doc were publicly available times, places, title names. Ouch.

IG finds 17 separate problems with FISA court submissions, including FBI's overstatement of Steele's credentials. Also the failure to provide court with exculpatory evidence and issues with Steele's sources and additional info it got about Steele's credibility.

Every one of these "issues" is a story all on its own.

Example: The FBI had tapes of Page and Papadopoulos making statements that were inconsistent with FBI's own collusion theories. They did not provide these to the FISA court.

Another example: FBI later got info from professional contacts with Steele who said he suffered from "lack of self awareness, poor judgement" and "pursued people" with "no intelligence value." FBI also did not tell the court about these credibility concerns.

And this: FBI failed to tell Court that Page was approved as an "operational contact" for another U.S. agency, and "candidly" reported his interactions with a Russian intel officer. FBI instead used that Russian interaction against Page, with no exculpatory detail.

Overall, IG was so concerned by these "extensive compliance failures" that is has now initiated additional "oversight" to assess how FBI in general complies with "policies that seek to protect the civil liberties of U.S. persons."

The Report also expressed concerns about FBI's failure to present any of these issues to DOJ higher ups; its ongoing contacts with Steele after he was fired for talking to media; and its use of spies against the campaign without any DOJ input.

Remember Comey telling us it was no big deal who paid for dossier?

Turns out it was a big deal in FBI/DOJ, where one lawyer (Stuart Evans) expressed "concerns" it had been funded by Clinton/DNC. Because of his "consistent inquiries" we go that convoluted footnote.

IG also slaps FBI for using what was supposed to be a baseline briefing for the Trump campaign of foreign intelligence threats as a surreptitious opportunity to investigate Flynn .

Strassel's last point is perhaps the most important for those on the left claiming "vindication"...

NEVER MISS THE NEWS THAT MATTERS MOST

ZEROHEDGE DIRECTLY TO YOUR INBOX

Receive a daily recap featuring a curated list of must-read stories.

Please enter a valid email Thank you for subscribing! Something went wrong. Please refresh and try again.

When IG says he found no "documentary" evidence of bias, he means just that: He didn't find smoking gun email that says "let's take out Trump."

And it isn't his job to guess at the motivations of FBI employees.

Instead... He straightforwardly lays out facts.

Those facts produce a pattern of FBI playing the FISA Court--overstating some info, omitting other info, cherrypicking details.

Americans can look at totality and make their own judgment as to "why" FBI behaved in such a manner.

Finally, intriguing just how many people at the FBI don't remember anything about anything. Highly convenient.
" [T]hese irregularities, these misstatements, these omissions were not satisfactorily explained, " said Barr in a lengthy interview with NBC , just one day after DOJ Inspector General Michael Horowitz released the so-called FISA report.

"And I think that leaves open the possibility to infer bad faith . I think it's premature now to reach a judgment on that, but I think that further work has to be done and that's what Durham is doing," he added, referring to US Attorney John Durham - who Barr hand picked to lead a concurrent investigation into the 2016 US election.

Barr described Durham's role as "Looking at the issue of how it got started. He's looking at whether or not the narrative of Trump being involved in the Russian interference actually preceded July, and was it in fact what precipitated the trigger for the investigation."

"He's also looking at the conduct of the investigation," added Barr - who then said that he instructed Durham to look just as carefully into the "post-election period."

"I did that because of some of the stuff that Horowitz has uncovered, which to me is inexplicable. Their case collapsed after the election, and they never told the court, and they kept on getting renewals on these applications. There was documents falsified in order to get these renewals . There was all kinds of withholding of information from the court. And the question really is 'what was the agenda after the election that kept them pressing ahead, after their case collapsed?' This is the president of the Untied States!"

https://www.youtube.com/embed/sNhEYGLLS4U

Barr, who has characterized the FBI's actions during Trump-Russia investigation as spying , slammed the Obama DOJ and the press for the Russiagate narrative that President Trump and his campaign colluded with Russia to win the election.

---

Surftown , 5 minutes ago link

Are the judges on the FISA court with Chief Justice Roberts' oversight immune from scrutiny?

Congress just quietly reauthorized the FISA Act last March( 85 pct of them Obama appointees)

Do these judges have a hand in the impeachment conspiracy with a blind rubber stamp?


I think they were part of the manufactured 'coup.

THORAX , 9 minutes ago link

The potential timing of the Durham Report release and announcements of indictments for Comey, Clapper, Brennan, Lynch and the rest of the traitors must horrify the demoncrats!

Hungarian Pengos , 10 minutes ago link

Horowitz? Schiff? Nadler?

What do they have in common? So here's the deal - I am a dumb goyim that works in banking and finance, which is about 50%+ dominated by the Chosenites.

They also rule politics and the Media, despite being 2% of the country.

What do you need to know? They lie. Repeatedly and boldly. Don't freak out, just understand that culture does not believe in an afterlife where they are judged, so they lie and steal everything in sight. That's this whole impeachment - crazy lies by sociopaths that aren't afraid to lie.

If you know that going in, you can always protect yourself and even be decent business allies (but not too close). That's where Trump has gone all wrong. His daughter even married one of these goofballs who frankly is probably leaking all of the embarrassing stuff. Plan accordingly.

Lord JT , 15 minutes ago link

Perception management is the name of the game...until some of those responsible are in cuffs, I don't believe anything.

gilhgvc , 19 minutes ago link

IT WAS A ******* COUP. If repubs had done 1/10th of what dems have we would ALREADY be in a hot civil war

mojo_jojo , 21 minutes ago link

Best part of the Barr interview..."The greatest charge is having an incumbent government use the apparatus of the state to spy on political opponents and influence the outcome of the election. This is the first time I am aware that the incumbent administration spied on a presidential candidate."

Yes he said that.

chubbar , 24 minutes ago link

I want to hear Durham and Barr start using the word TREASON. The sooner we can get down to brass tacks the better.

tmosley , 25 minutes ago link

Why does everybody keep confusing Barr's citation of the IG report with damnation of the IG report?

This is all going to be part of his case.

Teamtc321 , 17 minutes ago link

You are exactly correct. The Horowitz review was initiated to look into how the DOJ and FBI secured a Title-1 FISA surveillance warrant against U.S. person Carter Page. IG Horowitz was never investigating the predicate claims that initiated the CIA/FBI operation known as "Crossfire Hurricane". So how exactly would AG Barr and IG Horowitz be diverging on an aspect to a predicate that Horowitz was never reviewing?

Additionally, IG Horowitz was never tasked or empowered to interview CIA officers who are known to have been at the heart of the pre-July 2016 operation. Horowitz was/is focused on the DOJ and FBI compliance with legal requirements for the FISA application that was assembled for use in October 2016, and renewed throughout 2017. - The Conservative Treehouse
So CIA agent Carter Page joins Trump campaign and then do several "improper" moves like travel to Moscow and contracts with Russian officials things in order to create a pretext for FBI investigation. Which of course was promptly started. This is called false flag operation.
From comments: "He wasn't a victim, he was an asset. When actors portray a victim, they are ACTING!!!"
Notable quotes:
"... "The media's the most powerful entity on earth. They have the power to make the innocent guilty and to make the guilty innocent, and that's power. Because they control the minds of the masses". - the esteemed Malcolm X. ..."
"... Seth Rich downloaded the emails on a potable drive. Was he Russian? ..."
"... DNC/ FBI/ CIA/ CNN/ NBC have merged into the 5 headed serpent. ..."
"... Roger Stone got some minor facts wrong and is facing jail time, Brennan and Comey outright lied to Congress, when are they going to jail? ..."
"... "June 2017, CIA told FBI lawyer Kevin Clinesmith that Carter Page was working for them (the CIA)." Clinesmith then changed that notification so he could submit the last (FISA) renewal. ..."
"... "Lets hope Carter Page spends the rest of his life sueing everyone..." lol Thats the meanest thing ive ever heard you say! O:) ..."
---

John Brennan lied to Congress, why is he not behind bars?

der Jakob 🇺🇸 , 5 hours ago

Falsifying documents is a crime

Robin John , 5 hours ago

I will believe the swamp is draining when the arrests begin.

Electric Eclectic , 5 hours ago

There are so many crooked actors and actresses hired by the MSM it is just pathetic. They are not reporters, they are there only to put on a show for the masses.

Christopher , 5 hours ago

"The media's the most powerful entity on earth. They have the power to make the innocent guilty and to make the guilty innocent, and that's power. Because they control the minds of the masses". - the esteemed Malcolm X.

Patton Was Right , 5 hours ago

"WE DEFEATED THE WRONG ENEMY!" Now we are paying the price

2legit B , 5 hours ago

Seth Rich downloaded the emails on a potable drive. Was he Russian?

LB Helms , 4 hours ago

DNC/ FBI/ CIA/ CNN/ NBC have merged into the 5 headed serpent.

Mr.762 , 4 hours ago

The FBI and CIA need to be dismantled!

Silly Goose , 5 hours ago

Roger Stone got some minor facts wrong and is facing jail time, Brennan and Comey outright lied to Congress, when are they going to jail?

reminaya , 4 hours ago

"June 2017, CIA told FBI lawyer Kevin Clinesmith that Carter Page was working for them (the CIA)." Clinesmith then changed that notification so he could submit the last (FISA) renewal.

Theta Kongpancake , 4 hours ago

5:55 - "Lets hope Carter Page spends the rest of his life sueing everyone..." lol Thats the meanest thing ive ever heard you say! O:)

Christopher Wojciechowski , 2 hours ago

The FBI was never innocent. They're guilty as hell and heads need to roll over.

---

Allowing ONE person to decide if crimes where done by the most powerful people in america for decades. Horowitz was bought one way or another.

Joe Montano , 4 hours ago

1:52 - This is what a paid shill looks like. If the money is good, they'll read whatever is on the prompter. Years from now when they're demonized by the corrupt media they'll scratch their head and ask... What happened to integrity in our country???

lrm21 , 46 minutes ago

High crimes and misdemeanors. Where is John Brennan?

P MA , 2 hours ago

If you asked me 20 years ago wether I would be watching Fox News to get the most rational point of view in politics, I would have said you were crazy. Another great job Tucker! In my opinion, you're one of the best news men of our current time; questioning needless wars, and calling out politicians, gvmnt officials and your counterparts at other news desks with rational arguments. Well done sir!

ita-glo jgv , 41 minutes ago

Personally seen these types of things/cases in lower levels, police chiefs and officials, judges, prosecutors, mayor, FBI, and so on. Not surprisingly it happens elsewhere. ...But very disappointed of it all.

cat nerp , 4 hours ago

Politics is like religion. Facts mean very little before the over powering light of belief

TaggsR85 , 1 hour ago

How does Horowitz believe this wasn't politically motivated? What was the motivation to lie to surveillance to be put on carter page?

VAMPYRE ANGELUS , 4 hours ago

fbi is the mafia with badges..

Bruce Lee , 4 hours ago

The FBI has too much power. It's not about a few bad apples, it's what can happen with a few bad apples.

Duncan McCockiner , 33 minutes ago

If I were an American citizen, I'd be very concerned about the utter incompetence of the FBI that the IG report exposed. The dems don't seem to be bothered by this at all. Go figure.

Patrick Ryan , 1 hour ago

The Establishment has played this game many times before .. remember PM Harold Wilson was put up as a Russian Agent .. sure they won that game but NOT this time .. they fear President Trump because the have nothing over him .

Richard Ralph Roehl , 5 hours ago

NOTHING will happen. There will be no indictments of any major deep-$tate players.

tamimerkaz , 2 hours ago

The Democ-rats and the media (I repeat myself) are shamelessly LYING through their teeth to the American People. There was NO Russian collision—it's a HOAX made by LOSERS who can't accept their loss in 2016 so they were up to smear the winner, President Trump, by all means, possible including Illegal surveillance, fraud and manipulation—ABUSE of government power for political prosecution.

Cherrie Dee , 5 hours ago

Steele dossier......fake evidence bought and payed for by the democrats and presented to the FISA court by James Comey...........FELONY FELONY FELONY!......this one can't be talked away!

Scott Thompson , 4 hours ago

Tucker, thank you for being a constant drumbeat for the criminal activity undertaken by the FBI and CIA to ultimately unseat a duly elected President. No rest until they are held accountable.

Aisha Mohammed , 52 minutes ago

How could the FBI be innocent? We saw the emails. We saw them cover up for Bill Gates, Clinton, Epstein, Brunel, and all the others. We saw how they protected these abusers of children. We saw how they worked to overthrow a sitting president. We saw how they protected the Awan's and Huma.

BC Stud , 4 hours ago

THE FIX WAS IN - People are saying that Nellie Orr the Russian Expert is best friends with the IG's Horowitz wife - So nice - Bruce your husband is a lap dog and works for the FBI . People should be outraged as the cover up continues . Just like OJ - they have 10 times the evidence that would convict anyone else - have them charged , arrested , tried and jailed . Different rules for corrupt politicians and their friends in law enforcement .

2 Cent , 5 hours ago

Michael Cohen In prison, Papadopulos went to prison, Flynn is going to prison, Roger Stone is going to prison, Manafort is in prison and Devin Nunes and Rudy Giuliani are under investigation.....Lock them up, lock them up!!!!

Jessica Greene , 4 hours ago

CIA tells FBI who in turn uses their corrupt media to spread the lies as truth. The less intelligent among us believe them as gospel and thus we get "Russian Collusion, or Quid Pro Quo, or Iraq has weapons of mass destruction " and on and on.....

Susan Byers , 2 hours ago

Carter Page is scarcely a victim, he was a CIA informant. He was a plant. He was an excuse to do surveillance EVERYONE.

Jennifer Griffin , 2 hours ago

Ukraine and Barisma may be corrupt, but after reading the summary of this report, this country better not be calling any country corrupt. The USA is following Rome. Soon it will die.

kenh2o , 4 hours ago

FBI is totally corrupted by it's unchecked power, these deep states have the guts to repeatedly use FALSE Information again & again to spy on the opposition political party presidential candidate campaign. The Fake News medias continue to cover for them, it is sickening!

Rick Atkins , 5 hours ago

The FBI based on the IG report are either criminally liable for deceiving FISA courts, or the most inept, bumbling criminal investigation agency ever. Looks like both to me. Any FBI agent or employee who knew the FBI was breaking the law, and remained silent needs to be fired immediately and prosecuted along with the principals, for aiding and abetting criminal activity. This sounds like RICO violations.

Daryl Leckt , 34 minutes ago (edited)

if Carter Page didn't run the 2016 "Trump Election Campaign Committee of Moscow" from the ROSNEFT bureau offices inside the Kremlin, where did Carter Page run the "Trump Election Campaign Committee of Moscow" ?

BrianC6234 , 2 hours ago

Horowitz needs to stop being a wuss and tell the whole truth. His report is a big lie. The whole thing was a political attack. It started with John McCain and he handed it off to Obama and Crooked Hillary. There was no reason at all to investigate Trump. Is the IG part of the deep state? Democrats are acting like this report is good news for them.

Pal VB , 1 hour ago (edited)

Steele was not the author of the fake dossier, DNC FusionGPS Glen Simpson was, and Steele used as cover. Coming in the Durham findings. 17 FBI "mistakes" in a row all against Trump? No bias? B S.

Me King , 4 hours ago

How Trump has "conned" the American tax payer: This is just a few of his fraud actions!He set up a foundation to benefit the military, then him and his family pocketed our money.He started a Fake University, then stole the money from the American people.He cheated on his wives, then paid them to keep quiet so it wouldn't damage his chances in the election.He stiffed 100's of worker's he hired and then made up an excuse y they didn't get paid

Maclain Hunter , 2 hours ago

If Donald Trump was a Russian spy it would've been the deepest cover of any secret agent ever....he came here after his lgb training as a young man and became a celebrity for 30 years before finally putting his dastardly plan to go from pageant owner to president into action! If that were anywhere close to true the Russians did so much work I think they earned the 4-8 years in the White House! I know that at this point I'd rather have Vladimir Putin as President than any of the top democrats!

The World Through My Mind , 1 hour ago

Folks..All this soap opera is just a smoke screen to hide what is really important and is happening right now at this very minute. The Federal Reserve Banking cartel is pumping 100s of billions of dollars into insolvent banks again like they did in 2008. This time it is more and we taxpayers will again foot the bill. The banks are getting this money called REPO loans. Watch your cash everyone as the Federal Reserve has only 1 product and that is printing money( debt) that they will use to steal your assets and future.

lenchienlon , 3 hours ago

There are many opinions about the Horowitz report. As with a prior report Horowitz lays out damning evidence and then draws exactly the wrong conclusion. Why does he have to draw ANY CONCLUSIONS? His job is to present the facts and the evidence and to let "We the People' draw conclusions. Reminds me of Comey declaring that Hillary's actions were irresponsible but not criminal. Why? She didn't act with intent. She was just incompetent! Tucker is absolutely right! What does it matter what their motive was? Like Clinton, they behaved in a criminal fashion.
Highly recommended!
The tread is reproduced as is. And out 100 posts available in NYT "all view mode 90% can be classified as plain vanilla Neo-McCarthyism
If they are representative sample of the country, the country is crazy.
This editorial can also be classified as lunatic. But in reality it is much worse: the paper became completely subservant to intelligence agencies. Should probably be renamed the Voice of the CIA. .
Opinion With Trump, All Roads Lead to Moscow

Monday's congressional hearing and the inspector general's report tell a similar story.

By Jesse Wegman Mr. Wegman is a member of the editorial board.

When it comes to Donald Trump and Russia, everything is connected.

That's the most important lesson from the two big events that played out Monday on Capitol Hill -- the House Judiciary Committee's hearings on President Trump's impeachment and the release of the report on the origins of the F.B.I.'s investigation into ties between the Trump campaign and the Russian government.

One of these involved the 2016 election. The other involves the 2020 election. Both tell versions of the same story: Mr. Trump depends on, and welcomes, Russian interference to help him win the presidency. That was bad enough when he did it in 2016, openly calling for Russia to hack into his opponent's emails -- which Russians tried to do that same day . But he was only a candidate then. Now that Mr. Trump is president, he is wielding the immense powers of his office to achieve the same end.

That is precisely the type of abuse of power that the founders were most concerned about when they created the impeachment power, and it's why Democratic leaders in the House are pressing ahead with such urgency on their inquiry. They are trying to ensure that the 2020 election, now less than a year away, is not corrupted by the president of the United States, acting in league with a foreign power. "The integrity of our next election is at stake," said Representative Jerry Nadler, the chairman of the Judiciary Committee. "Nothing could be more urgent."

On Monday morning, lawyers for the Democrats on the House Judiciary and Intelligence committees presented the clearest and most comprehensive narrative yet of President Trump's monthslong shakedown of the new Ukrainian president, Volodymyr Zelensky, for Mr. Trump's personal political benefit. They explained in methodical detail how the president withheld a White House meeting and hundreds of millions of dollars in crucial, congressionally authorized military aid to Ukraine, all in an effort to get Mr. Zelensky to announce two investigations -- one into Mr. Trump's political rival, Joe Biden, and his son, Hunter, and another into Ukraine's supposed interference in the 2016 election.

David Leonhardt helps you make sense of the news -- and offers reading suggestions from around the web -- with commentary every weekday morning.

Who would benefit from these announcements? Mr. Trump, who believes his re-election prospects are threatened most by Mr. Biden, and Vladimir Putin, the president of Russia, who has been working for years to make Ukraine the fall guy for his own interference in the 2016 election. Mr. Putin has not fooled serious people, like those in the American intelligence community who determined that his government alone was responsible for meddling on Mr. Trump's behalf . But he has fooled Republicans in Congress, who have degraded themselves and their offices by faithfully parroting Mr. Putin's propaganda in the mainstream press.

... ... ...

---

sdavidc9 Cornwall Bridge, Connecticut 12m ago

Republicans are in lawyer mode, advocating for Trump as if he were their client. Lawyers make the best case they can for their clients. It helps if they believe in the case, but it also helps to know the case's weaknesses so they can avoid them. The best lawyers can do both at the same time. Republicans are called on by the Constitution to exit lawyer mode and enter juror mode (which is, or should be, similar to why-did-this-aircraft-crash mode). So far, they are not heeding this call. From all appearances, they are mouthing the words of the Constitution while avoiding or refusing to hear or understand them. They took an oath to support the Constitution, but they are deaf to its call, or have moved to a place beyond understanding it.

Mark Larsen Cambria, CA 26m ago

The issue of whether to impeach was made by the President when he engaged in an abuse of his office for personal gain and then obstructed Congress' oversight function. We all understand the political downside arising from an acquittal in the Senate but that interest needs to be secondary to doing the right thing. On these facts, the decision representatives must make of whether to impeach really is no decision at all. Just do the right thing.

Twg NV 26m ago

When Senator John McCain died, he scripted his own funeral as a full bore defense against Trumpian Nationalism, and as an admonishment against a GOP too willing to sell the soul of our nation out to a cultist repudiation of objective fact, truth, and Constitutional order. McCain was a controversial maverick –a person I both admired and disliked in equal proportion. But there is one thing I will always admire him for: his final letter to the nation. It was a warning! He blew a golden bugle to sound the alarm against those entities both within and without our nation who wish to do our democratic republic harm. McCain, whether you agreed with the premise of the Vietnam war or not, was an American hero who served his country and his fellow soldiers with incontrovertible valor and love. President Donald Trump has no concept of what that dedication and sacrifice entails – and sadly, neither do many of the GOP members who continue to lie and make excuses for a president who is clearly abusing his office for personal gain. McCain characterized Trump's actions in Helsinki as an unfathomable 'abasement of the U.S. presidency.' All I can say is the GOP sure ain't the party of my father who fought in WWII against fascism and autocracy. It aggrieves me to no end to witness what too many members of Congress have become: tyrants toward the very meaning of American democracy. God save us from our own duplicity.

Jagmont Rousel Fresburg, Ca. 12m ago

@Twg Well said, and though I sometimes did not agree with McCain on matters of policy, I wish he were still with us, hopefully to show his fellow republicans what integrity looks like, and what America is supposed to be about. The Republican party I have known and respected is alas, like Senator McCain, no longer with us.

Consiglieri NYC 34m ago

Americans have to realize that the whole world is mocking us, and that doesn't necesarily inspire respect. That cold be dangerous. Many medical professionals have noticed a decay in the mental abilities of the president, and certain abnormalities. It would be wise to suggest to the family that maybe the best way forward, with minimal losses would be to motivate a retirement. That would be face saving for them, and save the country from a bitter impeachment spectacle that would not be positive for the USA.

Jennifer Francois Holland, Michigan 1h ago

I'm waiting for Trump's financial info to be released. There's something in there he doesn't even want his base to know . I think the logical conclusion is that whatever financials DJT has hidden do indeed lead to Moscow. Actually, all of this is very, very alarming. Does Putin have a political asset planted here? Y or N I wish the answer was no and that we had a different President. Can we as a nation hold things together when our leader wants to tear us apart?

AL NY 1h ago

All roads lead to the highest bidder(s). 21st century America in the era of Citizens United. Market pricing and the government is open for transactional business domestic and international. Alternate realities per GRU/FOX/GOP misinformation. Combine foreign money carefully grooming an in-need Trump, and a party worshipping money and you have a perfect storm removing any sense of civic duty. Hundreds of years to build and unwound in a few decades, the breathtaking and tragic fall of greatness and hope in our lifetime. It's not fiction, and every day I have to check if it's really happening, and shockingly it is.

DO5 Minneapolis 1h ago

There was no Russian meddling, only Ukraine who meddled in 2016 and they are still at it. Listening to the Judiciary Committee hearings, it seems that the Russians have hacked into the Republican Party servers and are sending talking points to Republicans who are defending the indefensible president.

We'll always have Paris Sydney, Australia 1h ago

At some point, Republicans have to ask themselves which is better for their party and the country. Slavish devotion to Trump, or losing an election and leaving Democrats a mess to clean up, as in 1932 and 2008?

Mike S. Eugene, OR 2h ago

Block witnesses from testifying, then say that the hearing is incomplete. Romney told America at the Republican Convention in 2012 that Russia was our biggest enemy, DJT wanted them to help Republicans win in 2016, said he believed Putin in 2018, and wants to convince us that it was really the Ukraine in 2019. The House has to impeach, even if politically it may be a bad move, because it is the right thing to do; indeed, the very actions I've seen in the past several weeks has given me glimmers of hope for the country.

Federalist California 2h ago

Trump will be reelected for the reason that the Russian intelligence agencies are still able to hack our election results, because Trump has blocked fixing the weaknesses. That is what happens when a Manchurian candidate is elected and then allowed to obstruct justice. It is not clear the US will survive Trump. One key thing he did was arrange to have the teams at DHS that watch for smuggled nuclear bombs were stood down and disbanded. See the report in the LA Times last July "Trump administration has gutted programs aimed at detecting weapons of mass destruction".

David Rochester 2h ago

I don't suppose a constructed transcript of Trump's meeting with Foreign Minister Sergei Lavrov tomorrow will be offered up as a token of our leader's transparency.

Markymark San Francisco 2h ago

It's clear now that AG William Barr isn't interested in enforcing the rule of law with fellow republicans, and especially the president. How can there be no recourse when an attorney general completely sells out to a criminal president? Can the employees of the Justice Dept hold a vote of no confidence in the AG? Can 10,000 attorneys nationwide express the same? The prospect of Trump and Barr running roughshod over the rule of law for another year is truly frightening.

Aluetian Contemplation 2h ago

65,845,063 voters knew clearly who this man was from the beginning and voted for what would have been a better now and future. It was never any secret. 62,980,160 voters also knew clearly who this man was and voted for him anyway. If the Democrats can ensure that we have a fair election in 2020. I'm confident they will win the majority in the house and senate and retake the White House and the end game for Trump will be jail. The problem is, he might not be the only one who's crimes come to light and I suspect a good lot of the GOP are threatening and blackmailing each other to hold the line. If there's any good men or women left in the GOP, your country and history are calling you.

Edwin a physician, scientist and realist 2h ago

It has easy to predict Trump's next move for the last 3 years. Just ask, "What would both benefit Trump, and benefit Putin?" Trump supporters = Putin supporters.

Kevin CO 2h ago

Do you know the American people are fed up with the discourse of all politicians. The republicans are fed up with any decency for the republic. The democrats are fed up with the republicans not facing the common sense of a exec not capable of being the President of the United states. I as a person am fed up with a political system that is not working for all people, just a select few. It's time too have term limits for all positions in gov't. That means all people that serve the people whether it be judges, senators or congressmen/women. It's time to find common sense again in our society as a whole society. We on this earth are all HUMAN.

Eben Spinoza 2h ago

Unfortunately their are serious problems with term limits. Just consider yourself in the role of a Congressional Representative limited to 4 terms. You know that in 8 years, you'll be be back on the job market. You can selflessly work for the public and damage your ability to get a job or tend to people who can hire you after you leave office. You're rational. Which future would you pick?

REBCO FORT LAUDERDALE FL 2h ago

Trump needs to keep Putin happy lest he unleash with all the damaging info he has collected on Trump and his financial crooked deals with Russians over decades. THe Russian mob reports to Putin as a former KGB agent he knows how to collect compromat on a politician and how to use it to get Trump to break into a giddy smile when he sees Putin his master it's obvious to most keen observers.

M. Barsoum Philadelphia 2h ago

Folks it is simple. Can we hear what Trump and Putin said to each other a few months ago. It is recored and on a server it should not be on. I am not sure why nobody is talking about these transcripts.

Nelly Half Moon Bay 2h ago

Finally! We get someone stating the obvious fact of Trump/Putin. Why are the Dems not talking about this all the time? Why are Congressmen and women not asking the witnesses about this? This is the ONE thing the Republicans are afraid of, so it is the one thing Democrats should do. I have been disappointed that the Russian asset thing hasn't been brought up....It's as if it is purposely bold. Trump is a Russian asset, either witting or unwitting. I doubt if there is one upper Intelligence Official that wouldn't say this. So find the right one and have them sit as a witness for this inquiry. And now the Russian big wig Diplomat and KGb spy, Lavarov, is visiting tomorrow. Good grief! Everyone is thinking this, so get out and say it Dems! Dr. Fiona Hill tried to lead into this direction but still the Dem Committee would take it up and aske her what she thought. Say it: All of Trump's Roads Lead to Russia.

Ro Laren Santa Monica 2h ago

Any American adult who has made an effort to educate himself or herself about Mr. Mueller's investigation or these impeachment proceedings understands that yes, with Trump all roads lead to Russia. Now if the poll numbers mean anything, Trump's crimes and Russia's involvement only matter to about 60% of us. As Trump's poll numbers remain steady, some 40% of Americans don't care what lawbreaking he is involved with or whether other nations now control our elections. Stop and think about this for a minute. Trump supporters know but literally do not care that Russia is tampering with our elections (2016 and 2020). Their cult-like support for Trump is why the Republican Senate will not remove him. There is no other reason Trump will remain in office. Trump has mesmerized his supporters like a modern day Rasputin. They will do literally anything for him, and Senate Republicans know this. Trump voters do not mind that Putin controls our nation at the highest levels of decision making. Again - think about this - they know he does, and they do not care. So I ask the rest of us. Is this the America we want to live in? To raise our families in? Where a large, rabid minority is in thrall to a lunatic puppet whose strings are firmly in Putin's hands? Because this is very much the America we live in now. The time will come, though, when we, the majority, will no longer tolerate the Trump/Putin regime. But the longer we wait, the harder it will be oust these tyrants.

Tracy Washington DC 2h ago

In 2008, Donald Trump Jr. said Russia was an important source of funding for the Trump businesses. American banks wouldn't lend him money. Saudi Arabia likely bailed out Jared's disastrous real estate investment in NYC. Follow. The. Money.

Huge Grizzly Seattle 2h ago

You say that Mr. Putin "has fooled Republicans in Congress, who have degraded themselves and their offices by faithfully parroting Mr. Putin's propaganda in the mainstream press." You are correct on all counts, except that the Republicans have not been fooled by Putin. They have gone along, headlong and absolutely willingly, in a complete sellout of personal and national principle and integrity. They should not be forgiven for this conduct, any more than Mr. Trump should be forgiven for his sellout of America.

Look Ahead WA 2h ago

For Republicans who believe so fervently in their counterfactual narrative, there is an immediate remedy. Bring facts and evidence to the Committees and testify under oath. Without witnesses and evidence presented under oath, all of the GOP antics simply look foolish and very much like they are defending the guilty. It is unfortunate that there is no penalty for elected officials who share unfounded conspiracy theories, engage in innuendo and obstruct process in official Committee hearings. It is also regretable that this President is not held accountable for trying to intimidate witnesses in real time during testimony. And it is a sad reality that one of the most corrupt rulers in the world, who rules a hostile power, has managed to entirely win over one of our major parties.

Gerard PA 2h ago

The strangest defense advanced today was the idea that the alleged state of the economy was reason not to impeach the President: the Republicans assert that America, the Constitution, the principle of our government are for sale to be bought by the rising stock market and a plethora of low-wage jobs. We are Faust, and the smell of sulphur is nauseating.

richard wiesner oregon 2h ago

If the IG's report on the 2016 Russia investigation had found the only problem was that two of the agents involved had horrible hangnails, Barr and Trump would have condemned it.

Asian Philosopher Germany 2h ago

Whatever Trump is doing, he always care about his main benefactors, Putin and MBS. This is the first time I have witnessed in history that an American president became a Russian puppet with all his Republican followers at the Congress and Senate. American constitutional crisis happening right in front of the world. I heard the cries of James Madison, John Adams and Benjamin Franklin from their graves.

trudds sierra madre, CA 2h ago Times Pick

Sir, do you honestly think that House Republicans have been "fooled" by Mr. Putin? On the contrary, it's pretty obvious they understand and believe the conclusions from our Intel community. These are instead willful lies for political gain. And while some Americans may actually be misled by the theater presented as rebuttal to the impeachment, it's hard to imagine for most it's once again, not conviction but convenience that places such "patriots" solidly in Russia's back pocket.

Michele Seattle 2h ago Times Pick

The pattern of behavior is clear and compelling: Trump is selling out this country, its national security, its integrity and sovereignty, in order to keep power and avoid his own prosecution, and protect his financial interests. We must get the truth about his relationships and indebtedness to Putin, the Saudis, and Erdogan. Our country has been hijacked and Trump will continue to corrupt the US and turn it into an autocracy if he is not stopped and held accountable under the law.

Linus Internet 2h ago

The country voted for this President knowing he is a flawed man in many ways. I don't think anything changes here - the Senate will speedily acquit him and the voters in the swing states will have to decide if they want to give Mr. Trump a second chance while the rest of the country impotently watches.

David CT 2h ago

If one looks at all of his actions as "How could this benefit Russia?" most of it makes sense. Why start a trade war with China and Western allies? Why withdraw from Syria? Why try to polarize the American public? Effectively showing this to the public is critical.

Mark New York 2h ago

Excellent piece. We all know Trump, Inc. turned to Russian oligarchs after '08 for condo sales. It just so happened that those same oligarchs (read as kleptocrats) were laundering money through Deutsche Bank, who was the only bank willing to lend to Trump. Trump's loan officer amazingly was SC Justice Anthony Kennedy's son. Trump was and is a desperate man in need of cash/ Putin is a desperate man who knows that the geyser of oil money that funds his national budget, and has done so since the 1920's, is coming to an end. Russia has no large material economic exports other than oil and gas, but it does still have a large military, hence the military incursions into Moldova, Ossetia, Georgia, Ukraine and Syria. Desperate men do desperate things, and desperately try to project power with weak hands.

turbot philadelphia 2h ago

The Republicans in Congress were not fooled by the Russians. They believe in Trump no matter what the Russians do. The bottom line is - What does Putin have on Trump

stan continople brooklyn 2h ago

I don't understand why there hasn't been more of a pushback by the military. They went heavily for Trump in 20116, with many bases in the South and many recruits from economically devastated areas, but in the interim, they have seen his reckless, lurching foreign policy, worship of Putin, and clear evidence that somehow everything he does benefits Russia. A commander's first obligation is to their troops, so knowing the man in charge considers their lives subject to both Trump's whims, and Putin's whispers should provoke some reaction. No?

Steven Auckland 3h ago

Unfortunately - to put it mildly - impeachment will have no effect on the conduct of the 2020 election. The wheels are already turning, everyone knows their part, and only a massive commitment by an honest intelligence apparatus (if there is one) can stop it. One can only hope that, in 2020, the American people make a statement so overwhelming that there can be no doubt as to their intent, despite whatever meddling there may have been. It is entirely possible that there will never be a truly credible election again as long as there are bad actors who are power hungry or bent on destabilizing democratic governments. And make no mistake, these threats are coming from right wing autocracies, and they are in the ascendancy all over the world. American centrists and liberals are the only force that can change that. Are those stakes big enough for you?

Michael Kittle Vaison la Romaine, France 3h ago

We may finally have the answer as to why Trump is so accommodating to Putin. Trump has so many investments in Russia dependent on Putin's support. Trump financial reports will reveal this collusion between Trump and Putin. This should not come as a surprise to attentive Americans. Think of the worst an American president can do and that will bring you close to understanding Trump.

Ray Haining Hot Springs, AR 3h ago

Nobody's saying how Trump withholding military aid to Ukraine would benefit Putin and Russia in their WAR against Ukraine. It was, indeed, MILITARY aid he was withholding, was it not? I understand that this is not the impeachable offense of attempting to enlist a foreign government to win an election, but I believe this aspect of the situation should be brought out.

Socrates Downtown Verona. NJ 3h ago

The Republican Party has been officially reduced to a giant miasma of fraud, fiction, fantasy, conspiracy theory, deflection, misdirection and prevarication. After tax cuts for rich people and rich corporations...the GOP has no other public policy ideas (except for bankrupting the government). A civilized country needs little things like infrastructure, education, technology, voting rights, law and order, regulations, fair taxation and facts to move forward. But none of those things are ever mentioned by the Republican Party; conspiracy-mongering and tax cuts are now the official governing planks of the Grand Old Propaganda/Grand One Percent party. This is no way to manage a nation anywhere except into the ground. Americans need to hit the Trump-GOP eject button before these Lord of the Fly Republicans take us over a very steep right-wing cliff of insanity.

Bob Hudson Valley 3h ago

The Republican Party is now Trump's party and the Republicans know it and are acting accordingly. You could call them opportunists following the way the political winds are blowing. The Constitution is based on members of Congress caring about the Constitution and searching for the truth. Since this is now not the case when if comes to the Republicans the Constitution has no remedy for this situation. The only remedy is an election and if Trump can manipulate elections to his advantage using foreign powers then there is no remedy and the system of government set up by the founders will be no more. The new system replacing it will be controlled by Trump. Putin figured out how to control Russian elections so he always wins and it is likely that Trump has a goal of imitating Putin. Ultimately this would mean taking over the press as Putin did. Trump cannot declare total victory as long as the there is a free press which he has labeled the enemy of the people.

DAWGPOUND HAR NYC 3h ago

From an acute perspective ..indeed shocking to say the least of the nature of this peculiar relationship. But looking at the big picture as evidence by all that has occurred in his or during this eye opening period for all the world to see....not so much so...For me, this dynamic is much expected.

James Ricciardi Panama, Panama 3h ago

"The witness has used language which impugns the motives of the president and suggests he's disloyal to his country, and those words should be stricken from the record and taken down," Mr. Johnson said. The Johnson rule effectively reads the impeachment power out of the constitution. How can you impeach a president if no one can say anything bad about him/her?

Bruce Rozenblit Kansas City, MO 3h ago

We have yet to plow the most fertile road yet. What does Trump care about over all else? Trump. How does Trump gauge his progress? His money. Where does his money come from? Good question. We all know he has filed for bankruptcy 6 times. We all know that because of those bankruptcies, American banks will not loan him any money. We all know he has significant financial dealings with Deutsche Bank. Now, who put the money in Deutsche Bank that ended up financing Trump's business.? That is the two billion dollar question. We also know that Russian oligarchs deal in billions of dollars. We also know that Trump has close relations with Russian business interests. We also know that Trump kowtows to Putin like Pence kowtows to him. We also know that Trump is doing everything possible to conceal his financial dealings from everyone and everything. So, we know that one billion plus one billion equals two billion. But does it also equal Trump? This money road is one we should take a ride on. Will it also take us to Putin?

Mark New York 2h ago

@Bruce Rozenblit No, but it will take us to those who are surrogates for him. Those whose wealth only continues because of Vova's "good will."

Gluscabi Dartmouth, MA 3h ago

The first Democratic candidate who labels Trump a "Russian agent" will own the simplest and most effective tag line going into the general election, provided of course that that candidate does his best to channel his inner Trump by never backing down but instead doubling down every chance he or she gets. Is Trump a Russian agent, paid for and accounted for? Not easy to say without some doubt, but that doesn't really matter because he sure as shoottin' acts like one. And when have the facts ever stopped Trump from going on the attack? The more Trump denies the label, the more he'll be digging his own grave. The real crime here is not so much the strong arming of Zelenskyy for a Biden investigation. That's small potatoes compared to Trump's withholding congressionally designated US military aid from a country engaged in a hot war with Russia, the same cast of characters who starved anywhere from one to eleven million Ukrainians during the 1930's. The Russian agent must go.

Alan Columbus OH 3h ago

I would not say Trump's lying "is effective", I would say it "has been effective". At some point, the public and his party may have had it with the thuggery and we do not know when that breaking point is.

abigail49 georgia 3h ago

For the sake of protecting our 2020 elections from Russian hackers and disinformation, the House is justified in moving forward fast, over the process howls of Republicans, with the compelling evidence they have surrounding Ukraine. But they need to continue investigating his business and financial ties to Russia and any other autocratic governments and their oligarchs, e.g. Turkey and Saudi Arabia. Especially if he is not convicted and removed by the Senate and stands for re-election, Americans need to know what conflicts of interest he has in making foreign policy and military decisions because American soldiers' lives are at stake. The Mueller investigation did not go down that road. Any businessman with global interests is automatically compromised, even more than a vice president whose son sits on a foreign corporation's board of director. Trump's own children continue to do business in foreign countries and we have no idea what Ivanka and Jared, sitting in the White House with top security clearances, are doing. In short, Ukraine should not be the only concern of congressional oversight committees. There's a lot more.

Peter Portland OR 3h ago

Trump must believe that Russian help in 2016 did help him to win. He must feel that fake evidence presented by an "independent" investigator such as a foreign government appears to carry more weight that the same fake evidence from a partisan investigator. Otherwise why would he be taking such chances to duplicate via Ukraine what he got from the Russians in 2016. But now that the Russian connection is outed, he can't go back to that well.

NA Wilson Massachusetts 3h ago

I worry it's all for naught. Dems in the House vote to impeach, GOP in the Senate vote to acquit. Trump remains highly competitive in 2020 election, Russia and other adversaries interfere, Trump stays put. Then what?

Rafael SC 3h ago

@NA Wilson Think of this situation differently. To have all possible scope to defeat him, we must support everything we can to undermine him. Lack of impeachment would have been business as usual. At some point his finances will get out and then all bets are off.

Tracy Washington DC 2h ago

@NA Wilson: It's all Hands on deck to save the country. Don't just vote, donate what money you can, work for candidates, knock doors, make calls. It's the only way out of this nightmare.

N. Smith New York City 3h ago

The Impeachment hearings weren't really necessary to prove what most everyone who's been paying attention knows. With Trump, all roads lead to Moscow. In fact, he's already acting very Putin-esque in his own way by forbidding anyone in the White House to respond to subpoena, by installing the fear of God in those who do, by punishing anyone who dares to think or act on their own, and then there's the act of holding a foreign country ransom until they agree to do his bidding -- not to mention inviting outside interference in our presidential elections. All the signs are not only there but they are ominous. By holding himself above the U.S. Constitution, Trump has declared war on this country and all the laws that govern it. And while entertainment-starved Americans laugh and cheer at his rallies, he and the Republicans drain our right to vote, and with it our Democracy. Today wasn't an epiphany. It was a warning.

bl rochester 3h ago

There seems to be no discussion of the financial backing trump received after '08-09 from sources inside Russia and how these actors would have expressed their support (or conditions for their silence) to the trump campaign during '15-16. Did the FBI not identify and investigate the funders behind trump and their interactions with the campaign during 2016? Would this not have been reasonable for an investigation to look into when its entire raison d'etre was to detect sources of Russian influence?

Jim TX 3h ago

I wonder if Mr. Wegman believes that this editorial will change anyone's mind or influence how anyone votes in the upcoming presidential election. Basically, this is classic preaching to the choir and sadly mostly a wasted effort. I would like to read articles with proven ideas that worked to change the minds of Republicans and other like them. Such articles might give me some better ideas to convince my pro-Trump friends and neighbors to Vote for America next November.

Kingfish52 Rocky Mountains 3h ago

"When it comes to Donald Trump and Russia, everything is connected." This! This is the central fact of all the things Trump has done (so far), and yet, the Democrats have failed to make this the central focus of the case against him. Instead, they've focused on one incident, and not even the most egregious one, to justify impeachment and removal from office. This was a terrible miscalculation. No, there is no doubt that Trump attempted to coerce Ukraine into helping with his re-election by announcing a bogus investigation of the Bidens. Nor any doubt that this constituted "high crimes and misdemeanors". But this was not the highest of crimes he's committed, nor have the Dems been able to convince any Republicans, or many independents, that this deserves Trump's removal. Moreover, they failed to produce the "smoking gun" of one witness or document in Trump's own words directing the quid pro quo. They gave plenty of room for the Republican attack machine to cast enough doubt and confusion that all but ensures Trump's acquittal in the Senate. Instead of focusing only on this one incident, the Democrats should have built their case around the theme that "with Trump, all roads lead to Russia". That is a crime that even the most skeptical doubter can grasp, and when linked together, all of his crimes can be shown to be of a pattern of serving Putin, and not the people of the United States. All roads lead to Putin, but the Democrats chose to follow a dead end.

DW Philly 2h ago

@Kingfish52 I completely agree with you and truly don't understand why the Democrats have not been shouting this from the rooftops. For mercy's sake! The problem is not just that the president solicited help from a foreign power for his own personal gain! That's bad enough, but isn't the point that he did this because he is beholden to Russia? Russia. is. not. our. friend. Why aren't the Democrats explaining this clearly to the American people? Trump is Putin's puppet and it could not be more obvious! Don't people understand that it doesn't just happen to be Ukraine that Trump took a notion to squeeze for his "personal gain"? He doesn't just want to win because it is so nice to win elections. He has to do what Putin tells him. Obviously, every last Republican in Congress understands this clearly. Why can't the Democrats explain it to the American people clearly?

Mike Republic Of Texas 4h ago

Obama did not provide lethal aid to Ukraine, after the Russians invaded Crimea. Obama did not Russia prevent the Iranian nuclear deal. Trump cancelled the Iranian nuclear deal, then provided lethal aid to Ukraine. Now I get it. Trump is working for Putin.

Mick Montclair 3h ago

By March 2015, the US had committed more than $120 million in security assistance for Ukraine and had pledged an additional $75 million worth of equipment including UAVs, counter-mortar radars, night vision devices and medical supplies, according to the Pentagon's Defense Security Cooperation Agency. That assistance also included some 230 armored Humvee vehicles. Trump appears to be echoing a critique leveled at the Obama administration by the late Republican Sen. John McCain. "The Ukrainians are being slaughtered and we're sending blankets and meals," McCain said in 2015. "Blankets don't do well against Russian tanks." While it never provided lethal aid, many of the items that the Obama administration did provide were seen as critical to Ukraine's military. Part of the $250 million assistance package that the Trump administration announced (then froze and later unfroze) included many of the same items that were provided under Obama, including medical equipment, night vision gear and counter-artillery radar. The Trump administration did approve the provision of arms to Ukraine, including sniper rifles, rocket launchers and Javelin anti-tank missiles, something long sought by Kiev.

Ivan Memphis, TN 2h ago

@Mike Trump was not the one providing lethal aid to Ukraine. It was the house and senate that proposed and forced this aid into an appropriation bill - against the wishes of the Trump administration. After Trump realized he could not block this funding he did the second best thing - he used it to blackmail the Ukraine government to provide him with dirt on Biden and support for Putin's favorite narrative (that it was Ukraine not Russia that interfered in the 2016 election).

Mark New York 2h ago

@Mike It also took two acts of Congress to get the aid to Ukraine. Trump had nothing to do with it. Only the Impound Inclusion Act for foreign aid allows the President to time the release of the funds, which Trump did not follow. The Act was created because Nixon, like Trump, was playing fast and loose with our tax dollars. Who was the last President who asked for help from a foreign intelligence agency? Which President favored foregn intelligence agencies over his own? Answer no one other than Trump. If that doesn't show he's in someone's pocket, nothing does.
karlof1 , Dec 8 2019 22:32 utc | 45

To the Bar--

What I see is copious amounts of wailing from the usual sources about the demise of what was supposed to be an era of Unipolar dominance by the Evil Outlaw US Empire and blame being thrown in all directions hoping some sticks instead of directing it at themselves for they are he true authors of the Empire's decline--they being the Current Oligarchy and their Congressional, Administrative, and BigLie Media accomplices. The Empire's current "defense" doctrine calls for war to be waged against the nation(s) impeding the Empire's unilateralism. The brats are spoilt beyond belief and 100% believe they're entitled to having Full Spectrum Dominance because of their exceptionalist ideology--they've destroyed their own basic law to attain that goal; the impeachment derangement is just the most overt symptom being shown at the moment. Just look at the unanimity on the two recent anti-China votes--Congress is in almost 100% lockstep with Marco Rubio's insanity.

IMO, there were saner heads in 1962 than now, particularly in Congress. What's worse than an Evil Outlaw US Empire is it's becoming deranged.
---

slightlyskeptical , 3 minutes ago link

"The report concludes that despite nearly everybody investigating President Trump hating him - and that evidence was fabricated by at least one FBI attorney, and that they misrepresented Christopher Steele's credentials, none of their bias 'tainted' the investigation , and the underlying process was sound."

Who investigating major criminal acts actually likes the perp? It was such a juvenile argument from day 1.

I bet the truth is stretched a bit in just about every subpoena issued, not just FISA ones. It is the nature of things, since you are trying to obtain evidence of crimes that are currently unproven but suspected. As such all subpoena's are issued based on the perception of guilt and not any actual proof of that guilt. This was a non-starter from the beginning.

Cassandra.Hermes , 4 minutes ago link

Steele said he had visited Ivanka Trump at Trump Tower and had been "friendly" with her for "some years". He described their relationship as "personal". The former British government spy had even given her a "family tartan from Scotland" as a present, the report quoted him as saying.

spiderman5968 , 5 minutes ago link

Horowitz's report is mostly meaningless.

It all comes down to the Barr/Durham investigation and indictments that follow.

Will they indict the top dogs (Comey, Clapper, Clinton, Brennan, Rosenstein, Obama, Strokz, Page, Ohr, McCabe, Yates, Priestap, etc.) and make the long-needed changes to Fed Gov't or indict just a bunch of low-level "Fall Guys" in the alphabet agencies to try to make the public release some steam and then drop it all like a hot potato and keep the Deep State intact.???

If REAL justice isn't served up at that point gov't as we know it will collapse as America descends into anarchy and lawlessness.

The political class and mainstream media needs to be purged and the U.S. Constitution fully restored.

morethan1 , 1 minute ago link

Unfortunately, NOTHING will happen. I've seen this movie before.

teolawki , 7 minutes ago link

Not 'tainted' by political bias. Bullfuckingshit!

As I stated not that long ago. You cannot have a corrupt FBI without a corrupt DOJ. And you cannot have a corrupt agency without a corrupt IG. Period. Remember the IRS IG clearing Lois Lerner? Hmmm?

JoeTurner , 11 minutes ago link

https://twitter.com/JackPosobiec/status/1204144525578518528

General Flynn had to be targeted by Deep State because he was the ultimate whistleblower

PopeRatzo , 12 minutes ago link

The only crimes committed were by the Trump campaign and administration. Try to pay attention. Do you need a list of Trump associates who are either in jail or have been convicted and are on their way to jail?

Meanwhile, Hillary's laughing it up with Howard Stern.

It must suck to be you.

JoeTurner , 12 minutes ago link

https://www.youtube.com/watch?v=ipI-uHKizbg&feature=youtu.be

Wow, even fake news NBC is pooping themselves over FISA mishandling. I predict whiplash with how fast the fake news, drive-by media throws Comey, Clapper and Brennan under the bus to protect Hillary and Obongo.

Ophiuchus , 9 minutes ago link

Don't bet on anyone taking a fall. All animals are equal, but some animals, especially pigs, are more equal than others.
Anti-Semitism in UK serves the same role as Neo-McCartyism in the USA as demonstrated by RussiaGate.
There is a deep analogy between neo-McCarthyism complain in the USA nad anti-Semitism campaign in the US Parliament.
Notable quotes:
"... Luciana Berger (image on the right), a Jewish MP who has highlighted what she sees as an anti-Semitism problem under Corbyn, led the charge, stating at the Independent Group's launch that she had reached "the sickening conclusion " that Labour was "institutionally racist". ..."
"... She and her allies claim she has been hounded out of the party by "anti-semitic bullying". Berger has suffered online abuse and death threats from a young neo-Nazi who was jailed for two years in 2016. There have been other incidences of abuse and other sentences, including a 27-month jail term for John Nimmo , a right-wing extremist who referred to Berger as "Jewish scum" and signed his messages, "your friend, the Nazi". ..."
"... That is one reason why anti-semitism smears have been so maliciously effective against anti-Zionist Jews in the party and used with barely a murmur of protest – or in most cases, even recognition that Jews are being suspended and expelled for opposing Israel's racist policies towards Palestinians. ..."
"... The Blairites in Labour, joined by the ruling Conservative Party, the mainstream media and pro-Israel lobby groups, have selected anti-semitism as the terrain on which to try to destroy a Corbyn-led Labour Party, because it is a battlefield in which the left stands no hope of getting a fair hearing – or any hearing at all. ..."
Breakaway MPs hope that smearing Corbyn will obscure the fact that they are remnants of an old political order bankrupt of ideas

The announcement by seven MPs from the UK Labour Party on Monday that they were breaking away and creating a new parliamentary faction marked the biggest internal upheaval in a British political party in nearly 40 years, when the SDP split from Labour.

On Wednesday, they were joined by an eighth Labour MP, Joan Ryan , and three Conservative MPs. There are predictions more will follow.

With the UK teetering on the brink of crashing out of the European Union with no deal on Brexit, the founders of the so-called Independent Group made reference to their opposition to Brexit.

The chief concern cited for the split by the eight Labour MPs, though, was a supposed "anti-semitism crisis" in the party.

The breakaway faction seemingly agrees that anti-Semitism has become so endemic in the party since Jeremy Corbyn became leader more than three years ago that they were left with no choice but to quit.

Corbyn, it should be noted, is the first leader of a major British party to explicitly prioritize the rights of Palestinians over Israel's continuing belligerent occupation of the Palestinian territories.

'Sickeningly racist'?

Luciana Berger (image on the right), a Jewish MP who has highlighted what she sees as an anti-Semitism problem under Corbyn, led the charge, stating at the Independent Group's launch that she had reached "the sickening conclusion " that Labour was "institutionally racist".

She and her allies claim she has been hounded out of the party by "anti-semitic bullying". Berger has suffered online abuse and death threats from a young neo-Nazi who was jailed for two years in 2016. There have been other incidences of abuse and other sentences, including a 27-month jail term for John Nimmo , a right-wing extremist who referred to Berger as "Jewish scum" and signed his messages, "your friend, the Nazi".

In an interview with the Jewish Chronicle, the former Labour MP said the Independent Group would provide the Jewish community with a " political home that they, like much of the rest of the country, are now looking for".

In a plea to keep the party together, deputy leader Tom Watson issued a video in which he criticised his own party for being too slow to tackle anti-Semitism. The situation "poses a test" for Labour, he said, adding: "Do we respond with simple condemnation, or do we try and reach out beyond our comfort zone and prevent others from following?"

Ruth Smeeth , another Jewish Labour MP who may yet join a later wave of departures, was reported to have broken down in tears at a parliamentary party meeting following the split, as she called for tougher action on anti-semitism.

Two days later, as she split from Labour, Ryan accused the party of being "infected with the scourge of anti-Jewish racism".

Hatred claims undercut

The timing of the defections was strange, occurring shortly after the Labour leadership revealed the findings of an investigation into complaints of anti-semitism in the party. These were the very complaints that MPs such as Berger have been citing as proof of the party's "institutional racism".

And yet, the report decisively undercut their claims – not only of endemic anti-semitism in Labour, but of any significant problem at all.

That echoed an earlier report by the Commons home affairs committee, which found there was "no reliable, empirical evidence " that Labour had more of an anti-semitism problem than any other British political party.

Nonetheless, the facts seem to be playing little or no part in influencing the anti-semitism narrative. This latest report was thus almost entirely ignored by Corbyn's opponents and by the mainstream media.

It is, therefore, worth briefly examining what the Labour Party's investigation discovered.

Over the previous 10 months, 673 complaints had been filed against Labour members over alleged anti-semitic behaviour, many based on online comments. In a third of those cases, insufficient evidence had been produced.

The 453 other allegations represented 0.08 percent of the 540,000-strong Labour membership. Hardly "endemic" or "institutional", it seems.

Intemperate language

There is the possibility past outbursts have been part of this investigation. Intemperate language flared especially in 2014 – before Corbyn became leader – when Israel launched a military operation on Gaza that killed large numbers of Palestinian civilians, including many hundreds of children.

Certainly, it is unclear how many of those reportedly anti-semitic comments concern not prejudice towards Jews, but rather outspoken criticism of the state of Israel, which was redefined as anti-semitic last year by Labour, under severe pressure from MPs such as Berger and Ryan and Jewish lobby groups, such as the Board of Deputies and the Jewish Labour Movement.

Britain's Witchfinders Are Ready to Burn Jeremy Corbyn

Seven of the 11 examples of anti-semitism associated with the International Holocaust Remembrance Alliance's definition adopted by Labour concern Israel. That includes describing Israel as a "racist endeavour", even though Israel passed a basic law last year stripping the fifth of its population who are not Jewish of any right to self-determination, formally creating two classes of citizen.

Illustrating the problem Labour has created for itself as a result, some of the most high-profile suspensions and expulsions have actually targeted Jewish members of the party who identify as anti-Zionist – that is, they consider Israel a racist state. They include T ony Greenstein, Jackie Walker, Martin Odoni, Glyn Secker and Cyril Chilson .

Another Jewish member, Moshe Machover , a professor emeritus at the University of London, had to be reinstated after a huge outcry among members at his treatment by the party.

Unthinking prejudice

Alan Maddison , who has been conducting statistical research on anti-semitism for a pro-Corbyn Jewish group, Jewish Voice for Labour, put the 0.08 percent figure into its wider social and political context this week.

He quoted the findings of a large survey of anti-semitic attitudes published by the Institute for Jewish Policy Research in 2017. It found that 30 percent of respondents from various walks of society agreed with one or more of eight anti-semitic views, ranging from stereotypes such as "Jews think they are better than other people" to Holocaust denial.

However, lead researcher Daniel Staetsky concluded that in most cases, this was evidence of unthinking prejudice rather than conscious bigotry. Four-fifths of those who exhibited a degree of anti-semitism also agreed with at least one positive statement about Jewish people.

This appears to be the main problem among the tiny number of Labour Party members identified in complaints, and is reflected in the predominance of warnings about conduct rather than expulsions and suspensions.

Far-right bigotry

Another of the institute's findings poses a particular problem for Corbyn's opponents, who argue that the Labour leader has imported anti-semitism into the party by attracting the "hard left". Since he was elected, Labour membership has rocketed.

Even if it were true that Corbyn and his supporters are on the far-left – a highly questionable assumption, made superficially plausible only because Labour moved to the centre-right under Tony Blair in the late 1990s – the institute's research pulls the rug out from under Corbyn's critics.

It discovered that across the political spectrum, conscious hatred of Jews was very low, and that it was exhibited in equal measure from the "very left-wing" to the "fairly right-wing". The only exception, as one might expect, was on the "very right-wing", where virulent anti-semitism was much more prevalent.

That finding was confirmed last week by surveys that showed a significant rise in violent, anti-semitic attacks across Europe as far-right parties make inroads in many member states. A Guardian report noted that the "figures show an overwhelming majority of violence against Jews is perpetrated by far-right supporters".

Supporters of overseas war

So what is the basis for concerns about the Labour Party being mired in supposed "institutional anti-semitism" since it moved from the centre to the left under Corbyn, when the figures and political trends demonstrate nothing of the sort?

A clue may be found in the wider political worldview of the eight MPs who have broken from Labour.

All but two are listed as supporters of the parliamentary "Labour Friends of Israel" (LFI) faction. Further, Berger is a former director of that staunchly pro-Israel lobby group, and Ryan is its current chair, a position the group says she will hold onto, despite no longer being a Labour MP.

So extreme are the LFI's views on Israel that it sought to exonerate Israel of a massacre last year, in which its snipers shot dead many dozens of unarmed Palestinian demonstrators in Gaza in a single day. Faced with a social media backlash, it quietly took down the posts .

The eight MPs' voting records – except for Gavin Shuker, for whom the picture is mixed – show them holding consistently hawkish foreign policy positions that are deeply antithetical to Corbyn's approach to international relations.

They either "almost always" or "generally" backed "combat operations overseas"; those who were MPs at the time supported the 2003 Iraq war; and they all opposed subsequent investigations into the Iraq war.

Committed Friends of Israel

In one sense, the breakaway group's support for Labour Friends of Israel may not be surprising, and indicates why Corbyn is facing such widespread trouble from within his own party. Dozens of Labour MPs are members of the group, including Tom Watson and Ruth Smeeth.

Smeeth, one of those at the forefront of accusing Corbyn of fostering anti-semitism in Labour, is also a former public affairs director of BICOM, another stridently pro-Israel lobby group .

None of these MPs were concerned enough with the LFI's continuing vocal support for Israel as it has shifted to the far-right under Prime Minister Benjamin Netanyahu to have stepped down from the group.

'Wrong kind of Jews'

Anti-semitism has taken centre stage in the manoeuvring against Corbyn, despite there being no evidence of significant hatred against Jews in the party. Increasingly, it seems, tangible abuse of Jews is of little interest unless it can be related to Corbyn.

The markedly selective interest in anti-semitism in the Corbyn context among the breakaway MPs and supposed anti-semitism watchdogs has been starkly on show for some time.

Notably, none expressed concern at the media mauling of a left-wing, satirical Jewish group called Jewdas when Corbyn was widely attacked for meeting "the wrong kind of Jews". In fact, leading Labour figures, including the Jewish Labour Movement, joined in the abuse .

And increasingly in this febrile atmosphere, there has been an ever-greater indulgence of the "right kind of anti-semitism" – when it is directed at Corbyn supporters.

A troubling illustration was provided on the TV show Good Morning Britain this week, when Tom Bower was invited on to discuss his new unauthorised biography of Corbyn, in which he accuses him of anti-semitism. The hosts looked on demurely as Bower, a Jewish journalist, defamed fellow Jewish journalist Michael Segalov as a " self-hating Jew " for defending Corbyn on the show.

Revenge of the Blairites

So what is the significance of the fact that the Labour MPs who have been most outspoken in criticising Corbyn – those who helped organise a 2016 leadership challenge against him, and those who are now rumoured to be considering joining the breakaway faction – are heavily represented on the list of MPs supporting LFI?

For them, it seems, vigorous support for Israel is not only a key foreign policy matter, but a marker of their political priorities and worldview – one that starkly clashes with the views of Corbyn and a majority of the Labour membership.

Anti-semitism has turned out to be the most useful – and damaging – weapon to wield against the Labour leader for a variety of reasons close to the hearts of the holdouts from the Blair era, who still dominate the parliamentary party and parts of the Labour bureaucracy.

Perhaps most obviously, the Blairite wing of the party is still primarily loyal to a notion that Britain should at all costs maintain its transatlantic alliance with the United States in foreign policy matters. Israel is a key issue for those on both sides of the Atlantic who see that state as a projection of Western power into the oil-rich Middle East and romanticise Israel as a guarantor of Western values in a "barbaric" region.

Corbyn's prioritising of Palestinian rights threatens to overturn a core imperial value to which the Blairites cling.

Tarred and feathered

But it goes further. Anti-semitism has become a useful stand-in for the deep differences in a domestic political culture between the Blairites, on one hand, and Corbyn and the wider membership, on the other.

A focus on anti-semitism avoids the right-wing MPs having to admit much wider grievances with Corbyn's Labour that would probably play far less well not only with Labour members, but with the broader British electorate.

As well as their enthusiasm for foreign wars, the Blairites support the enrichment of a narrow neo-liberal elite, are ambivalent about austerity policies, and are reticent at returning key utilities to public ownership. All of this can be neatly evaded and veiled by talking up anti-semitism.

But the utility of anti-semitism as a weapon with which to beat Corbyn and his supporters – however unfairly – runs deeper still.

The Blairites view allegations of anti-Jewish racism as a trump card. Calling someone an anti-semite rapidly closes down all debate and rational thought. It isolates, then tars and feathers its targets. No one wants to be seen to be associated with an anti-semite, let alone defend them.

Weak hand exposed

That is one reason why anti-semitism smears have been so maliciously effective against anti-Zionist Jews in the party and used with barely a murmur of protest – or in most cases, even recognition that Jews are being suspended and expelled for opposing Israel's racist policies towards Palestinians.

This is a revival of the vile "self-hating Jew" trope that Israel and its defenders concocted decades ago to intimidate Jewish critics.

The Blairites in Labour, joined by the ruling Conservative Party, the mainstream media and pro-Israel lobby groups, have selected anti-semitism as the terrain on which to try to destroy a Corbyn-led Labour Party, because it is a battlefield in which the left stands no hope of getting a fair hearing – or any hearing at all.

But paradoxically, the Labour breakaway group may have inadvertently exposed the weakness of its hand. The eight MPs have indicated that they will not run in by-elections, and for good reason: it is highly unlikely they would stand a chance of winning in any of their current constituencies outside the Labour Party.

Their decision will also spur moves to begin deselecting those Labour MPs who are openly trying to sabotage the party – and the members' wishes – from within.

That may finally lead to a clearing out of the parliamentary baggage left behind from the Blair era, and allow Labour to begin rebuilding itself as a party ready to deal with the political, social, economic and environmental challenges of the 21st century.

*

Note to readers: please click the share buttons below. Forward this article to your email lists. Crosspost on your blog site, internet forums. etc.

Jonathan Cook, a British journalist based in Nazareth since 2001, is the the author of three books on the Israeli-Palestinian conflict. He is a past winner of the Martha Gellhorn Special Prize for Journalism. His website and blog can be found at: www.jonathan-cook.net He is a frequent contributor to Global Research.
Olympism and other major international sports events are all about profiteering, exploiting athletes, scandalous wheeling, dealing, collusion, and bribery, marginalizing the poor, other disenfranchised groups, and affected communities, sticking taxpayers with the bill, and providing nothing in return but hype and the illusion of amateur athletics at their best.

International sports competition is also highly politicized.

In December 2017, the International Olympic Committee (IOC), complicit with US hostility toward Moscow, banned Russian athletes from participating under their nation's flag -- despite no evidence of state-sponsored doping.

The practice occurs in amateur and professional sports, athletes on their own using performance enhancing drugs.

Banning clean athletes from countries for actions of rules violators breaches the letter and spirit of international sports competition.

On Monday, Tass reported the following:

"The Executive Committee of the World Anti-Doping Agency (WADA) has approved recommendations of the Compliance Review Committee (CRC) to strip Russia of the right to participate in major international sports tournaments, including the Olympics and World Championships, for the period of four years" -- citing a WADA press statement, adding:

"WADA has also banned Russian state officials, ROC and RPC officials, from attending global sports tournaments."

They include the Olympics, Paralympics, and FIFA World Cup. RT reported that Russian athletes not accused of doping will be allowed to compete as "neutrals."

Union of European Football Associations (UEFA) championships games scheduled for St. Petersburg and the 2021 EUFA Champions League final in the city aren't affected by the ban.

Russia's Foreign Ministry slammed WADA for "squeez(ing) Russia out of international sports," a politicized action.

Last month, WADA's Compliance Review Committee called for punitive actions against Russia's Anti-Doping Agency (RUSADA), along with banning the country from hosting major international sporting events for four years.

Individual athletes should be held accountable for their actions, along with personal trainers or others if found to be complicit – not entire teams or nations without what's known as evidentiary standards and burdens of proof required in credible legal proceedings.

These standards require "clear and convincing evidence," beyond a reasonable doubt, the highest evidentiary standard.

Arbitrarily banning Russia from participating in major international sports competition is a politicized move, unrelated to legal standards -- part of unacceptable US-sponsored Russia bashing.

In 2016, WADA claimed over 1,000 Russian athletes were involved in state-sponsored doping – credible evidence proving the allegation not provided.

WADA's latest politicized action is further evidence of international sports competition's dark side, polar opposite the spirit of amateur athletics at their best.

*

Note to readers: please click the share buttons below. Forward this article to your email lists. Crosspost on your blog site, internet forums. etc.

Award-winning author Stephen Lendman lives in Chicago. He can be reached at lendmanstephen@sbcglobal.net . He is a Research Associate of the Centre for Research on Globalization (CRG) His new book as editor and contributor is titled "Flashpoint in Ukraine: US Drive for Hegemony Risks WW III."
Notable quotes:
"... Hillary Clinton, Her husband Bill and Barak Obama are all deep cover CIA agents in addition to their other positions, as documented in the book "CIA: Crime Incorporated of America". ..."
"... The arms came from more places than simply Libya, although Libya was the central shipping and gathering point to go to Turkey and then on to Syria. Turkey was part of the Obama enablers of ISIS and ISIL big time ! Obama made sure ISIS got all the weapons and munitions and equipment we left behind and did literally nothing to stop them at all. He, Brennan, Hillary as well as Kerry all have massive blood on their hands via the atrocities of ISIS ! ..."
"... Not forgetting William Browder, part of the same gang, whose grandfather was the Leader of the US Communist Party. No doubt with close ties to Allen Dulles and ''peration Paperclip'. ..."
"... Will never forget Brennan, going to Ukraine, with instructions, just prior to 2 May 2014 and the Odessa Trade Union Massacre. Coincidence or what? ..."
"... Brennan may well have already been CIA when he joined the CPUSA. In any case, he's scum. ..."
"... Tucker Carlson and the author of this article asks, How can someone like Brennan be provided security clearance for top secrets in the CIA. A very easy answer: the entire American financial/judicial/military/spy organizations have become highly corrupt. Meanwhile, millions of adult Americans could care less. ..."
"... "When the full extent of your venality, moral turpitude, and political corruption becomes known, you will take your rightful place as a disgraced demagogue in the dustbin of history. You may scapegoat Andy McCabe, but you will not destroy America...America will triumph over you". https://t.co/uKppoDbduj -- John O. Brennan (@JohnBrennan) March 17, 2018 ..."
Let's get something clear from the start. In 1976, in his 20s, John Brennan was a card carrying communist who supported the then Soviet Union, at the height some might say of the Cold War, so much so he voted and assisted Gus Hall, the communist candidate for President against a devout Christian, Jimmy Carter who ultimately won the Presidency.

Yet under four years later, just after the then Soviet Union invaded, just weeks before, Afghanistan and months after the tumultuous Iranian revolution of 1979, which at the time many thought the Soviet Union had a hand in, Brennan was accepted into the CIA as a junior analyst.

At that time, John Brennan should have never got into the CIA, or any Western Intelligence agency given his communist background.

Think on that carefully as you continue to read this.

Also reflect on the fact that Brennan, later in his CIA career, was surprisingly elevated from junior analyst to the prestigious position of Station Chief in Saudi Arabia where he spent a few years.

Its said he was appointed purely for 'political' reasons, alleged to have been at the direct request of Bill Clinton and other Democrats not because of a recommendation or merit from within the Agency.

Its further said that the Saudis liked Brennan because he became very quickly 'their man' so to speak. Some reports, unsubstantiated, even allege Brennan became a Muslim while there to ingratiate himself with the Saudis.

Important to read is an NBC news article entitled 'Former Spooks Criticize CIA Director John Brennan for Spying Comments' by Ken Dilanian dated March 2nd, 2016.

The article contains many revealing facts and evidence, while giving a flavour, of the feelings of many in the CIA who felt that Brennan was totally unsuitable and unqualified to be Director of the Central Intelligence Agency.

(This is the link to the above referenced article: https://www.nbcnews.com/news/ us-news/brennan-joking-when- he-says-cia-spies-doesn-t- steal-n529426. )

A final controversy is the little known fact of Brennan's near four year departure from the CIA into the commercial world, having been 'left out in the cold' from the CIA, from November 2005 to January 2009 when he was CEO of a private company called 'The Analysis Corporation'.

So why was he then reinstated into the CIA, to the surprise of CIA's senior management, by newly elected President Obama, to head the CIA? No answer is available as to why he left the CIA in 2005.

(An important link that gives background to his experience in the commercial world can be read here: https://www.thedailybeast.com/ cia-slammed-brennans- disingenuous-contract-bid- wikileaks-show)

Lastly let's not forget Brennan's many failures as CIA head in recent years, one most notable is the Benghazi debacle and the death of a US Ambassador and others there. Something else to ponder.

Back to the present an the issue of security clearances.

In early August, on the well known American TV Rachel Maddow Show, Brennan back tracked on his Trump traitor claim by saying "I didn't mean he (Trump) committed treason. I meant what he has done is nothing short of treasonous." Rachel Maddow responded correctly "If we diagram the sentence, 'nothing short of treason' means it's treasonous?"

A simple question follows. Since he is no longer in the CIA, why does he need a security clearance other than to commercially exploit it?

Tucker Carlson explains succinctly here:

https://www.youtube.com/embed/Kzxf9TcJ_3k

Last month what can be described as 200+ 'friends of Brennan', former CIA officials of varying rank, responded against the removal of former CIA Director Brennan's security clearances, in support of him.

These men and women too most likely will have their clearances revoked.

And why not?

Since the only purpose they retain it is to make money as civilians?

A potentially more serious issue than 'the Brennan controversies' is that the US intelligence community has around 5 million people with security clearances as a whole includes approximately 1.4m people holding top secret clearances. It is patently a ridiculously high number and makes a mockery of the word secret.

Former CIA veteran Sam Faddis is one of the few people brave enough and with the integrity required, that has stood up and told some of the real truths about Brennan in an 'Open Letter', yet this letter's contents have hardly at all been reported in the media.

Generally by nature, CIA Officers sense of service and honour to their Country, their professionalism and humility, and disdain for publicity has dissuaded most of them to enter the current very public Brennan controversy; but for how much longer?

As stated earlier, former CIA professional Sam Faddis explains what's wrong with Brennan in his revealing letter, abbreviated for space below. A link to the complete letter is: http://thepoliticsforums.com/ threads/107849-Scathing-Open- Letter-to-Mr-Brennan-by-Retired-CIA-Case-Officer:

Dear Mr. Brennan,

I implore you to cease and desist from continuing to attempt to portray yourself in the public media as some sort of impartial critic concerned only with the fate of the republic. I beg you to stop attempting to portray yourself as some sort of wise, all-knowing intelligence professional with deep knowledge of national security issues and no political inclinations whatsoever.

None of this is true.

You were never a spy. You were never a case officer. You never ran operations or recruited sources or worked the streets abroad. You have no idea whatsoever of the true nature of the business of human intelligence. You have never been in harm's way. You have never heard a shot fired in anger.

You were for a short while an intelligence analyst. In that capacity, it was your job to produce finished intelligence based on information provided to you by others. The work of intelligence analysts is important, however in truth you never truly mastered this trade either.

In your capacity as an analyst for the Central Intelligence Agency, while still a junior officer, you were designated to brief the President of the United States who was at that time Bill Clinton. As the presidential briefer, it was your job to read to the president each morning finished intelligence written by others based on intelligence collected by yet other individuals. Period.

While serving as presidential briefer you established a personal relationship with then President Bill Clinton. End of story.

Everything that has transpired in your professional career since has been based on your personal relationship with the former president, his wife Hillary and their key associates. Your connection to President Obama was, in fact, based on you having established yourself by the time he came to office as a reliable, highly political Democratic Party functionary.

All of your commentary in the public sphere is on behalf of your political patrons. It is no more impartial analysis then would be the comments of a paid press spokesman or attorney. You are speaking each and every time directly on behalf of political forces hostile to this president. You are, in fact, currently on the payroll of both NBC and MSNBC, two of the networks most vocally opposed to President Trump and his agenda.

There is no impartiality in your comments. Your assessments are not based on some sober judgment of what is best for this nation. They are based exclusively on what you believe to be in the best interests of the politicians with whom you long since allied yourself.

It should be noted that not only are you most decidedly not apolitical but that you have been associated during your career with some of the greatest foreign policy disasters in recent American history.

Ever since this President was elected, there has been a concerted effort to delegitimize him and destabilize him led by you. This has been an unprecedented; to undermine the stability of the republic and the office of the Presidency, for solely partisan political reasons. You and your patrons have been complicit in this effort and at its very heart.

You abandoned any hope of being a true intelligence professional decades ago and became a political hack. Say so.

Sam Faddis

EPILOGUE:

I decided to update this article with this epilogue that summarises events since its first publication, but by not writing more. By simply adding links showing Brennan speaking in March just before Meuller's Report was released, and excerpts of other interviews and commentaries.

In this way, reader's can judge for themselves Brennan's essentially undoubtable despicable character which shines through by watching and reading the below 8 links up to 1st April 2019. There are many more, but in consideration of space, I've selected these links.

These are not in chronological order, date/time wise.

I would add that, for his own 'survival', and that of his co-conspirators, there will, I predict, over the coming days and weeks, be an attempt by Brennan to STILL try and fabricate 'dirt' on President Trump to justify his treacherous behaviour against importantly more than just Trump, but 'the Office of the President', something for which, in my opinion, he and those involved should be prosecuted for, even some jailed for.

Most particularly in addition to Brennan is clearly Obama himself, Clinton, Clapper and Comey et al.

1. Brennan https://www.thegatewaypundit.com/2019/04/john-brennan-is-lying-no-way-he-wasnt-involved-with-russia-hoax-from-the-beginning/

2. Brennan's treasonous behaviour. https://www.foxnews.com/entertainment/ex-cia-director-john-brennan-admits-he-may-have-had-bad-information-regarding-president-trump-and-russia.amp?__twitter_impression=true

3. John Brennan Now Says His Months of Attacks on Trump "May Be Based on Bad Information"!

https://www.youtube.com/embed/bQvY4aD7T9o

4. Ex-CIA Boss Got "Bad Information", Now "Relieved" Trump Not a Criminal. https://www.youtube.com/embed/g5X3MbGShRg

5. Fox News – John Brennan Admits He had 'Bad Information' on Mueller Report.

6. Ex-CIA director Brennan backs down from calling Trump's claims of no collusion 'hogwash'

https://www.youtube.com/embed/wXVLgB6SbsE

7. Deep State former CIA Director John Brennan is unhinged and in deep trouble (Video) – August 2018

Deep State former CIA Director John Brennan is unhinged and in deep trouble (Video)

8. Russian collusion was no more than "conspiracy porn" created by Clinton and Obama.

---

Herbert Dorsey • 17 days ago ,

The CIA operation in Benghazi was smuggling weapons captured from the Libyan army to Syria via Jordan and Turkey to arm the anti Assad forces. This operation was directed by Brennan, Clinton, Obama and General Petraeus and was in total violation of national and international law.

Ambassador Stevens was aware of this operation and allowed to die by delaying a military rescue operation, as part of a cover up of this illegal operation. Dead men tell no tales.

Herbert Dorsey AM Hants • 17 days ago ,

Hillary Clinton, Her husband Bill and Barak Obama are all deep cover CIA agents in addition to their other positions, as documented in the book "CIA: Crime Incorporated of America".

They don't like Trump because he is the first non CIA President in a long while (George W. Bush was not CIA but under his father's influence) and not part of the secret team. Hopefully, they eventually will be punished for their crimes. Qanon gives hope!

Down to Earth Thinking Herbert Dorsey • 14 hours ago ,

The arms came from more places than simply Libya, although Libya was the central shipping and gathering point to go to Turkey and then on to Syria. Turkey was part of the Obama enablers of ISIS and ISIL big time ! Obama made sure ISIS got all the weapons and munitions and equipment we left behind and did literally nothing to stop them at all. He, Brennan, Hillary as well as Kerry all have massive blood on their hands via the atrocities of ISIS !

AM Hants Garry Compton • 17 days ago ,

Not forgetting William Browder, part of the same gang, whose grandfather was the Leader of the US Communist Party. No doubt with close ties to Allen Dulles and ''peration Paperclip'.

Which provided safe passage and new identities for the Nazi and Bolshevik Elite. Funny how the stench behind the overthrow of he Russian Empire, can still be found, firmly embedded in the swamps of the 21st century.

Will never forget Brennan, going to Ukraine, with instructions, just prior to 2 May 2014 and the Odessa Trade Union Massacre. Coincidence or what?

Wasn't McCain's father also good friends with Allen Dulles? Wonder where Clinton fitted into the work of Dulles?

Taras77 • 17 days ago ,

One of the more murky issues is the murder of Michael Hastings. A lot of information died with his murder but some info indicates that he was working on a major report on Brennan. He reportedly advised his friends that the fbi was working on an investigation on him and he was fearful for his survival

As many will recall, Hastings died in June 2013 in fiery crash of his Mercedes which was speeding at up to 100 mph in a calif neighborhood.

Also, many will recall, the leaking of "Vault 7" by wikileaks indicated that one of the tools revealed was the ability to remotely control a vehicle without any input from the driver, positive or negative. This ability is described in detail in the following:

https://www.wired.com/2015/...

A "conspiracy theory" article summarizes the murkiness of the death of Michael Hastings:

Nassim7 Taras77 • 17 days ago ,

How do you think the Royal Family killed princess Diana? If they can control a drone on the other side of the globe, they can certainly control the accelerator, brakes and steering of a motor vehicle.

Billo • 16 days ago ,

Only the most creepy evil people are allowed to be in our government. They have done a terrible job. Our country is like a plane in a death spiral, and the same list of creeps keeps getting into the White House. The same people no matter who we elect. Trump has the same people, or worse than Obama or Hillary or Bush had. It's past time to try and salvage whatever is left of this country.

Bill Rood • 4 hours ago ,

Brennan may well have already been CIA when he joined the CPUSA. In any case, he's scum.

Marv Sannes • 14 hours ago ,

100 Stinger shoulder launch ground-to-air missiles. Stevens tried to block the shipment, the embassy was attacked by a highly skilled, armed, assault team - the story told by "Tonto", one of the military contractors involved in the attempted rescue. All those Americans in Benghazi were sacrificed in the same way the USS Liberty crew was sacrifice.

Greater Israel is the base of all this violence. Incidentally, "Tonto" and his mates had to commandeer a private jet, after the fire-fight, that got them to Germany - the US/CIA/State Dept., etc. left them to their own methods and they got out, to the consternation of the Obama/Clinton Administration.

Chelsea Yorkshire • 15 days ago ,

Tucker Carlson and the author of this article asks, How can someone like Brennan be provided security clearance for top secrets in the CIA. A very easy answer: the entire American financial/judicial/military/spy organizations have become highly corrupt. Meanwhile, millions of adult Americans could care less.

Well............Those two contrasts will be intriguing to watch how the grandchildren and great-grandchilren will fare when the US Empire becomes so degraded, that the young will have to forage on their own for housing, water, and food.

Sam Adams Sean Kuyler • 16 days ago ,

It is axiomatic that the Democrats always accuse others of what they themselves are guilty of. Never forget that.

Sean Kuyler • 16 days ago ,

"When the full extent of your venality, moral turpitude, and political corruption becomes known, you will take your rightful place as a disgraced demagogue in the dustbin of history. You may scapegoat Andy McCabe, but you will not destroy America...America will triumph over you". https://t.co/uKppoDbduj -- John O. Brennan (@JohnBrennan) March 17, 2018

luluka • 16 days ago ,

He has to be part of a CIA "cleansing" operation. Better put him in jail with no rights whatsoever . Let that turd rot in some humid dungeon . That's for the rats like this one .
Notable quotes:
"... there is something to the idea that American political culture is becoming increasingly Sovietized ...&qu