---
Russophobia as new US American politically-correct anti-Semitism
It would be wrong to say that Blacks or Jews are "genetically driven to co-opt, penetrate, gain favor" But you can make similar claims about Russians – no problems. Sociopathic Carthago delenda est (Carthage must be destroyed) is the leitmotiv of US foreign policy toward Russia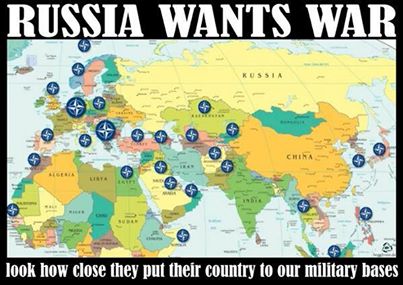 Who Rules America > Neoconservatism >




"This unconstrained Russian state also has destroyed Western wealth (happily stolen under Yeltsin gang rule-- NNB) and discouraged investment by arbitrarily enforcing environmental regulations against foreign oil investors, shutting out foreign partners in the development of the Shtokman gas field, and denying a visa to the largest portfolio investor in Russia, British citizen William Browder." - M. McFaul, May 17, 2007 House Committee on International Relations, Russia Rebuilding the Iron Curtain

"To promote liberty requires first the containment and then the elimination of those forces opposed to liberty, be they individuals, movements, or regimes. " - M. McFaul, The Liberty Doctrine: Reclaiming the purpose of American power. Policy Review April & May 2002 The Liberty Doctrine Hoover Institution

...clinging to power beyond his second term would make Putin look like a typical autocratic thug. - M. McFaul, May 17, 2007 House Committee on International Relations, Russia Rebuilding the Iron Curtain

What could be worse [for US imperial interests -- NNB] than a thriving Russian capitalist economy helping to advance the foreign policy interests of autocratic nationalists in the Kremlin? – M. McFaul, Why the nationalists surged in the Russian election. - Slate Magazine" Dec. 16, 2003

"Write badly about Jews and you became anti-Semi, Write against blacks - racist, against gays -- homophob, about Russian - honest, brave, liberal journalist."

-- Solzhenitsyn
---
The current US policy of simultaneously antagonizing both China and Russia
will likely go down as one of the 21st century's more significant strategic miscalculations.
Assuming of course that it is a part of some strategy and not just bumbling incompetence.
Is Russia Being Driven Into the Arms of China
This page is written in hope to help Russian language students to understand the country they are studying despite the level of brainwashing typical for MSM in the West. My own views on the problem were influenced by Professor Stephen F. Cohen whom I really admire and follow.
Russophobia is not actually only about Russia and not only a modern politically correct version of anti-Semitism practiced by the USA neoliberal elite. It is also form of social control of US population and suppression of dissent, which can be frames as "Russian agents" in best McCarthyism traditions (NeoMcCartyism ).
Its essence is scapegoating of the particular nations/ethnicity and as such it is very similar, almost identical in sprit to anti-Semitism (I just replaced terms in Wikipedia definition of Antisemitism ):
Russophobia is hostility to, prejudice, or discrimination against Russians A person who holds such positions is called an Russophobe. Russophobia is generally considered to be a form of racism. It has also been characterized as a political ideology which serves as an organizing principle and unites disparate groups which are opposed to liberalism.

Russophobia may be manifested in many ways, ranging from expressions of hatred of or discrimination against individual Russians...
Here is another "adapted" definition (from The UK s Labour Party and Its Anti-Semitism Crisis)
The definition states:
"Russophobia is a certain perception of Russians, which may be expressed as hatred toward Russians. Rhetorical and physical manifestations of Russophobia are directed toward Russian or non-Russian individuals and/or their property, toward Russian community institutions and religious facilities."
The uncontroversial "illustrations" of Russophobia:
Advocating the killing or harming of Russians for ideological or religious reasons;
Making mendacious, dehumanizing, demonizing, or stereotypical allegations about Russians as such;
Holding Russians as a people responsible for real or imagined wrongdoing committed by a single Russian person or group;
Using the symbols and images associated with classic Russophobia (e.g., equating Russians with Soviets);
Holding Russians collectively responsible for actions of the Russian state or the USSR;
Scapegoating is an important part of Propaganda machine, especially war propaganda. Brainwashing people this way artificially (and temporary) increases social cohesion (as any enemy would) and was evoked as a defensive tool when the neoliberal elite experienced the loss of legitimacy as happened in 2016.
The loss of legitimacy of neoliberal elite which resulted in political fiasco of the establishments candidate -- Hillary Clinton -- is why McCarthyism was dusted off and launched into mainstream with all major neoliberal MSM promoting it with the level of coordination that might cause some envy of stalwarts of Bolsheviks press.
Overextending this trick has negative consequences as Soviet Politburo discovered in 70th. It's like boy who cried wolf: people just stop trust neoliberal media and this process already started in 2019 with Rachel MadCow being one of the first victim: she lost half a million viewers (may be temporary, as she is a talented demagogue, but still).
The current crisis of neoliberalism and discreditation of neoliberal ideology (2008 and then defeat of Hillary Clinton in 2016 are two stages of the same process) created conditions in which reinventing "Red Scare" again became important, as a tool of controlling US (and in general, Western) population and crushing the dissent.
It is also important to understand that Russophobia in many Western countries and first of all in the USA, is an official policy. Much like in Carthago delenda est (Carthage must be destroyed) was during certain period official policy in Rome. USA elite inherited it from British elite. In this sense the current US neoliberal empire can be called the Western British Empire (the term which creates several interesting historical analogies, including its possible length of existence ;-)
American neoliberal elite like the British elite before now badly need an enemy to unite nation as well as a smoke screen that hides their own corruption. Russophobia definitely helps to suppress internal discontent caused by growing inequality, unemployment, shrinking of the middle class and justifies the conversion of the country into National Security State after Islamic threat became less potent. Another goal is to prevent the alliance of Germany and Russia -- which was the goal of British foreign policy for two centuries.
The mass production of faux news demonizing Russians invokes depictions of Orwell's nefarious Eurasians from whom the populace needed Big Brother for protection. Reincarnation of Ministry of Truth by Barack Obama is just another stage of the same process -- now like Soviet Politburo, the US government is afraid that the US people will be informed about the real events in the world. And that like BBC and Voice of America in the past were used by Soviet population, at least some segments of US population started using RT the same way -- to understand where MSM lie to them. Like with Voice Amercan int he past, it is not necessary to buy Russian propaganda to see where neoliberal MSM completely distort the world event and hide important information. For those purposes RT can serve perfectly well.
In a similar vain, in the current international situation, I would also consider Russophobia to be some kind of Freudian projection, a politically correct way of replacing anti-Semitism. Kind of subconscious substitution of Jews to a different, "more acceptable" (aka politically correct) nationality, with all related consequences and moral repercussions that entail this equivalency.
There is tragic irony here as Russians in the past were guilty of anti-Semitism (like most European nations). Now they probably might understand better what it means to be the target of anti-Semitism. As Arkadiy Rukh observed (cited from dr-piliulkin.livejournal.com ):
"Today, in the era of the total political correctness in the Western world there is only one object for unpunished hatred, for realization of the inevitable phobias and other psychopathologies. This is Russia. Today Russians occupy in the world that niche, which for many centuries was occupied by the Jews: the object instinctive, illogical, animal hatred."
While in many respects Russophobia as a social phenomenon is somewhat similar to anti-Semitism it is also a natural by-product of American Exeptionalism as Russia refuses to accept the role of a complete vassal of the USA, the role that the US elite designated to them after the collapse of the USSR. And the role which was temporary Russia performed under drunk Yeltsin.
In this sense if it a condemnation of the revolt against "inevitable" in the eyes of the US elite world order -- the global neoliberal empire led by the USA. That also explains the level of bitterness involved. Russophobia became fashionable in Western neoliberal MSM when Russia under Putin became an obstacle on the creation of the global, dominated by the USA neoliberal empire. That resistance to global "neoliberal project" -- neoliberal World Revolution (although weak and inconsistent -- under Putin Russia became a member of WTO and Medvedev in general is a 'soft" neoliberal, almost a pro-Western comprador) also generates considerable amount of hate.
Pages of European and American newspapers and their comments columns, are packed with expressions such as
"Putin is the new Hitler";
The "Russia is a primitive country that should be contained at all costs";
"All Russian are mobsters";
"Russians must pay the price for support of the Putin regime",
Putin is Stalin, Jr.
Let's restart the Cold War"
and other similar cliché that clearly remind cliché used by German propaganda against Jews. This anti-Russian hysteria also helps to erase Snowden revelations from Western collective memory as well as WikiLeaks depiction of the USA war crimes.
The hatred of Russia now is "a new normal" for the US neoliberal establishment and controlled by this establishment MSM. How and for what reasons did this happen? The first thing to understand is that this is not a new phenomenon. British elite were adamantly Russophobic for a long time, several centuries:
The historian J. H. Gleason, in his 1950 book The Genesis of Russophobia in Great Britain, characterized the nineteenth-century English public's "antipathy toward Russia" as the "most pronounced and enduring element in the national outlook on the world abroad."

The sentiment, Gleason concluded, was concocted by a manipulative, imperial-minded elite—and was off base, anyway, since Britain's foreign policy was actually "more provocative than Russia's" in this period. Others concur. "The world champion imperialists of modern history, the British, were in a permanent state of hysteria about the chimera of Russia advancing over the Himalayas to India,"
While observations of Arkadiy Rukh are, in my opinion, absolutely correct (the article I cited above is pretty interesting too and contains a valuable discussion) I would add a more recent neoliberal edge of this problem (The Vineyard of the Saker):
The historical roots of the Russophobia of the American elites

Having said all of the above, its actually pretty simple to understand why Russia in general, and Putin in particular, elicits such a deep hatred from the Western plutocracy: having convinced themselves that they won the Cold War they are now facing the double disappointment of a rapidly recovering Russia and a Western economic and political decline turning into what seems to be a slow and painful agony.

In their bitterness and spite, Western leaders overlook the fact that Russia has nothing to do with the West's current problems. Quite to the contrary, in fact: the main impact the collapse of the Soviet Union on the US-run international economic system was to prolong its existence by creating a new demand for US dollars in Eastern Europe and Russia (some economists - such as Nikolai Starikov - estimate that the collapse of the USSR gave an extra 10+ years of life to the US dollar).

In the past, Russia has been the historical arch-enemy of the British Empire. As for Jews - they have always harbored many grievances towards pre-revolutionary Tsarist Russia. The Revolution of 1917 brought a great deal of hope for many East-European Jews, but it was short lived as Stalin defeated Trotsky and the Communist Party was purged from many of its Jewish members. Over and over again Russia has played a tragic role in the history of the Ashkenazi Jews and this, of course, has left a deep mark on the worldview of the Neocons who are all deeply Russophobic, even today. Somebody might object that many Jews are deeply grateful for the Soviet Army's liberation of Jews from the Nazi concentration camps or for the fact that the Soviet Union was the first country to recognize Israel. But in both cases, the country which is credited with these actions is the Soviet Union and not Russia which most Ashkenazi Jews still typically associate anti-Jewish policies and values.

It is thus not surprising that both the Anglo and the Jewish elites in the US would harbor an almost instinctive dislike for, and fear of, Russia, especially one perceived as resurgent or anti-American. And the fact is that they are not wrong in this perception: Russia is most definitely resurgent, and the vast majority of the Russian public opinion is vehemently anti-American, at least if by "America" we refer to the civilizational model or economic system.

... ... ...

Considering the never ending barrage of anti-Russian propaganda in the western corporate media one could wonder how strong anti-Russian feelings are in the West. This is really hard to measure objectively, but as somebody born in Western Europe and who has lived a total of 15 years in the USA I would say that anti-Russian sentiment in the West is very rare, almost non-existent. In the USA there have always been strong anti-Communist feelings - there still are today - but somehow most Americans do make the difference between a political ideology that they don't really understand, but that they dislike anyway, and the people which in the past used to be associated with it.

US *politicians*, of course, mostly hate Russia, but most Americans seem to harbor very little bad feelings or apprehension about Russia or the Russian people. I explain that by a combination of factors.

First, since more and more people in the West realize that they are not living in a democracy, but in a plutocracy of the 1%, they tend to take the official propaganda line with more than a grain of salt (which, by the way, is exactly what was happening to most Soviet people in the 1980s). Furthermore, more and more people in the West who oppose the plutocratic imperial order which impoverishes and disenfranchises them into corporate serfs are quite sympathetic to Russia and Putin for "standing up to the bastards in Washington". But even more fundamentally, there is the fact that in a bizarre twist of history Russia today stands for the values of the West of yesterday: international law, pluralism, freedom of speech, social rights, anti-imperialism, opposition to intervention inside sovereign states, rejection of wars as a means to settle disputes, etc.

In the case of the war in Syria, Russia's absolutely consistent stance in defense of international law has impressed many people in the USA and Europe and one can hear more and more praise for Putin from people who in the past has deep suspicions about him.

Russia, of course, is hardly a utopia or some kind of perfect society, far from it, but it has taken the fundamental decision to become a *normal* country, as opposed to being a global empire, and any normal country will agree to uphold the principles of the "West of yesterday", not only Russia. In fact, Russia is very un-exceptional in its pragmatic realization that to uphold these principles is not a matter of naive idealism, but a sound realistic policy goal. People in the West are told by their rulers and the corporate media that Putin in an evil ex-KGB dictator who is a danger for the US and its allies, but as soon as these people actually read or listen to what Putin actually says they find themselves in a great deal of agreement with him.

In another funny twist of history, while the Soviet population used to turn to the BBC, Voice of America or Radio Liberty for news and information, more and more people in the West are turning to Russia Today, Press TV, or Telesur to get their information. Hence the panicked reaction of Walter Isaacson, Chairman of the Broadcasting Board of Governors, the US outfit overseeing US media directed at foreign audiences, who declared that "we can't allow ourselves to be out-communicated by our enemies. You've got Russia Today, Iran's Press TV, Venezuela's TeleSUR, and of course, China is launching an international broadcasting 24-hour news channel with correspondents around the world". Folks like Isaacson know that they are slowly but surely loosing the informational battle for the control of the minds of the general public.

And now, with the entire Snowden affair, Russia is becoming the safe harbor for those political activists who are fleeing Uncle Sam's wrath. A quick search on the Internet will show you that more and more people are referring to Putin as the "leader of the Free World" while other are collecting signatures to have Obama give his Nobel Prize to Putin. Truly, for those like myself who have actually fought against the Soviet system it is absolutely amazing to see the 180 degree turn the world has taken since the 1980s.

Western elites - still stuck in the Cold War

If the world has radically changed in the last 20 years, the Western elites did not. Faced with a very frustrating reality they are desperately trying to re-fight the Cold War with the hope of re-winning it again. Hence the never ending cycle of Russia-bashing campaigns I mentioned at the beginning of this post. They try to re-brand Russia as the new Soviet Union, with oppressed minorities, jailed or murdered dissidents, little or no freedom of speech, a monolithic state controlled media and an all seeing security apparatus overseeing it all. The problem, of course, is that they are 20 years late and that these accusations don't stick very well with the western public opinion and get exactly *zero* traction inside Russia. In fact, every attempt at interfering inside Russian political affairs has been so inept and clumsy that it backfired every single time. From the absolutely futile attempts of the West to organize a color-coded revolution in the streets of Moscow to the totally counter-productive attempts to create some kind of crisis around homosexual human rights in Russia - every step taken by the western propaganda machine has only strengthened Vladimir Putin and his the "Eurasian Sovereignists" at the expense of the "Atlantic Integrationist" faction inside the Kremlin.

There was a deep and poignant symbolism in the latest meeting of the 21 APEC countries in Bali. Obama had to cancel his trip because of the US budget crisis while Putin was treated to a musically horrible but politically deeply significant rendition of "Happy birthday to you!" by a spontaneous choir composed of the leaders of the Pacific Rim countries. I can just imagine the rage of the White House when they saw "their" Pacific allies serenading Putin for his birthday!

... ... ...

On one side we have the 1%, the Anglo imperialists and the Ziocons, while on the other we have the rest of the planet, including potentially 99% of the American people. If it is true that at this moment in time Putin and his Eurasian Sovereignists are the most powerful and best organized faction of the worldwide resistance to the Empire, they are far from being central, or even less so, crucial, to it. Yes, Russia can, and will, play its role, but only as a normal country amongst many other normal countries, some small and economically weak like Ecuador, other huge and powerful like China. But even small Ecuador was "big enough" to grand refuge to Julian Assange while China seems to have asked Snowden to please leave. So Ecuador is not that small after all?

It would be naive to hope that this "de-imperialization" process of the USA could happen without violence. The French and British Empires collapsed against the bloody backdrop of WWII, while did the Nazi and Japanese Empires were crushed under a carpet of bombs. The Soviet Empire collapsed with comparatively less victims, and most of the violence which did take place during that process happened on the Soviet periphery. In Russia itself, the number of death of the mini civil war of 1993 was counted in the thousands and not in the millions. And by God's great mercy, not a single nuclear weapon was detonated anywhere.

So what will likely happen when the US-Ziocon Empire finally collapses under its own weight? Nobody can tell for sure, but we can at least hope that just as no major force appeared to rescue the Soviet Empire in 1991-1993, no major force will attempt to save the US Empire either. As David Rovic's puts it so well, the big weakness of the 1% which rule the US-Ziocon Empire is that "they are a tiny minority and we are everywhere".

In the past 20 years the US and Russia have followed diametrically opposed courses and their roles appears to have been reversed. That "pas de deux" is coming to some kind of end now. Objective circumstances have now again placed these two countries in opposition to each other, but this is solely due to the nature of the regime in Washington DC. Russian leaders could repeat the words of the English rapper Lowkey and declare "I'm not anti-America, America is anti-me!" and they could potentially be joined by 99% of Americans who, whether they already realize it or not, are also the victims of the US-Ziocon Empire.

In the meantime, the barrage of anti-Russian propaganda campaigns will continue unabated simply because this seems to have become a form of psychotherapy for a panicked and clueless western plutocracy. And just as in all the previous cases, this propaganda campaign will have no effect at all.

It is my hope that next time we hear about whatever comes next after the current "Greenpeace" campaign you will keep all this in mind.

The Saker
During the "cold War" the "old" US elite behaved more or less reasonably and tried to avoid unnecessary confrontation. Several moments were clear exception (Korea War, Cuban crisis, Vietnam war and support of radical political Islam in Afghanistan), but all-in-all it was kind of policy of "peaceful coexistence" (live and give other chance to live), not of an outright "all out" confrontation.
Intelligence agencies behaves more provocatively, especially CIA in Europe, which organized and trained Nazi collaborators for the resistance to the possible Soviet invasion, and subsequent guerilla movement against Soviet occupation. Also in case of JFK assassination, the patsy was chosen by the CIA in a way that makes it easy to implicate Russia. But those were exception, rather then the rule. Probably the memory of the WWII and the level of cooperation of two countries in this war as allies still played some role in such restrain.
But eventually a new generation of US elite, the elite did not have WWII experience come to power. This new US elite tried hard to colonize Russia instead of making it a valuable partner after dissolution of the USSR. Bill Clinton and Larry Summers are two good example of this behaviour.
This adventurism backfired. This was probably the first blunder, the blunder make by Clinton administration -- the first administration with a lot of neocons onboard (we all remember unforgettable female neocon Madeleine Albright). they failed to utilize pro-USA fe4elings of the Russian population after the dissolution of the USA. Should the USA adopt the Marshall plan for Russia those feelings would be preserved. But the Clinton administration decided to loot Russia and concert it into a vassal state. That was a strategic mistake, although looting succeeded on a really grand stale (several trillions were stolen) with the help of Harvard mafia and Russian compradors. The instituted shock therapy for the Russian economics which plunged it into depression which was worse thatn the one which was coursed by the Germany aggression in WWII. Many important enterprises went bankrupts, other were bought by foreign investors for pennies on the dollar (Browder was one notable example of this "looting gang" that descended on Russia at the time; Berezovsky, Khodorkovsky and other Jewish oligarchs were another important players in this looting)
Subsequent administration also demonstrated strong neocon influence (actually neocons, such as Paul Wolfowitz dominated Bush II administration foreign policy) and due to it made several strategic blunders such as invasions in Iraq, Afghanistan and Libya. And that despite the fact the Russia provided great help in Afghan operation, as it essentially controlled (and armed) the North Alliance against Taliban.
Obama administration essentially continued Bush II foreign policy without major changes. The only change was that is did was more double-dealing. It did get Russia into a trap, when Medvedev government abstained in UN Security council votes for Libyan resolution (which was a disguised justification of NATO military intervention), which opened the way to the occupation of Libya and killing of colonel Kaddafi ("We came, we saw, he died"). Obama administration also masterfully played Iran card against Russia, crashing oil prices three times (from $120 to $30) from the second half of 2014 to January 2016 and keeping oil prices below $50 per barrel (on average) all 2016 (Russia needs approximately $50-$55 just to balance the state budget).
It also outplayed Russia in Ukraine tuning this county into nationalistic enclave extremely hostile to Russia (see "Fuck the EU": neocons show EU its real place ). And then to add insult to injury introduced sanctions against Russia. Obama might be not a great president, but he for sure is one of the greatest hypocrites in world history.
But those attacks as well as a clear attempt to encircle Russia in Europe backfired: if you pursue containment of China and at the same time introduce sanctions against Russia it is only natural that these countries will become closer political partners. From the point of view of traditional American and any other political logic, actions that contribute to the rapprochement between Moscow and Beijing, are, to put it mildly, unwise. And that what Obama administration archived. This is the main legacy of Obama administration in foreign policy, which was dutifully continued by Trump administration (actually the USA foreign policy does not depend of who is in power as the President and who is the Secretary of State; it is controlled by the Deep State -- forces outside elected executive branch and which consist of MIC, intelligence agencies and the Wall Street (financial oligarchy) as well as created by then think tanks such and Council on Foreign Relations (CFR)).
Russian elite for too long was trying to please the Western colleagues. They swallowed completely unacceptable things. Gorbachov is generally considered in Russia as a traitor of the nation. They resigned to NATO expansion. Even after the bombing of Yugoslavia, which was a clear violation of international law, they still viewed the USA a friendly nation and hoped for the best. Another problem was that Russia was too weak at the moment, kind of semi-colony of the USA (and Yeltsin regime was clearly a comprador regime, no question about it).
But at this point attitude to the USA start changing to negative. After Ukrainian coup d'état of February 2014 (Maydan Revolution, as it is called in the West) this change only accelerated and "Athlantists" group enough Russian neoliberal elite lost a lot of influence and became politically ostracized. . In other words huge amount of political goodwill that existed in Russia after dissolution of the USSR was completely squandered in less then 30 years. That's an amazing art of making enemies from friends.
But at the end of Obama administration Russia just stopped to trust the USA. At all. They view Obama as treacherous and extremely dangerous imperialist, who will not stop at anything by promoting the US domination. That means that they now view the USA as a geopolitical gangster, which is violating any laws in impunity using classic "might makes right" principle. That's a dangerous view and dangerous situation for the USA. This is another geopolitical blunder of the US elite. This view only became stronger under Trump administration.
I never was a Russian citizen, but I was and still am interested in Russian politics and, especially, culture. I think that it is a European culture in its essence. Very interesting and very rich. Which was able to survive years of Soviet rule. So attempt of isolate Russia from Europe attempted by Obama neocons (see Nulandgate), following classic "device and conquer" strategy of British Empire, might be a geopolitical mistake despite short term dividends this action brought to the USA geopolitical position in the region. It also increase the changes of WWIII, which definitely would mean end of the USA as the global empire and probably as a country (the same is true for Russia -- both countries will be completely devastated)
Neocons defined Russia as the main threat. In other words deterrence of Moscow became the strategic goal of the USA foreign policy, which is essentially a neocon foreign policy, the policy of obtaining and maintaining the world domination at all costs.
That means that the efforts to explicitly shape the USA public opinion to see Russia as the key geopolitical enemy are dictated by priorities of the USA foreign policy, which is defined by neocons.
This "Anaconda strategy" of encircling Russia got a significant boost after the victory of far right in EuroMaidan. This event has become for a great geopolitical victory for the USA and humbling defeat for Russia. Russia was in bad shape to prevent it, as the logic of development of new state immanently produces anti-Russian sentiments as the mean to create their own identity. But still weakness of Russia in Ukraine was real and signify a serious problems ahead. Also the USA is way to strong to go into open confontation with the US neocons, which dominates the US foreign policy.
The reaction of Russia on far right victory at EuroMaydan gave rise in in the US establishment, to even more active implementation of the strategy of confrontation, and propaganda campaign against "the Russian threat". Like Bolsheviks before them (and neocons are just turncoat Trotskyites, so there are a lot of common between two), they hate any obstacle on the path to creation of global neoliberal empire led by the USA. This strategy involves increasing the military presence on the European continent and military power of NATO. Much tougher stance toward Russian projects in Western and Eastern Europe and in attacks on the level of international organizations. Along with the anti-Russian operations in Europe, the US and its satellites are active in the countries of Central Asia and the Caucasus. A good example is the recent attempt to organize a Maidan in Armenia.
My negative attitude to distortions and clearly orchestrated by White house anti-Russian campaign in the USA press reflects my natural skepticism. I am not content with typical coverage of Russia in the USA press which reminds me the caricature on the USA coverage by Soviet press (which at the time had higher standard of living the people of the USSR and low level of unemployment). I consider hysteric Russophobia that is now practiced to be simplistic and counterproductive policy which serves to promote equally shortsighted global imperial policy that benefits only the US financial oligarchy. Policy that has considerable cold-war inertia and that is damaging to the USA long term interests. Most journalists are simply behave like paid attack dogs (a good example here is Mr. Wallace: his interview of Putin was an insult to the American people; Wallace actually tried to lecture Vladimir Putin).
Here I collected some of the authors who try to see more long term approach and try to present their own understanding of the complex problems related to previous US attempt to colonize Russia after the dissolution of the USSR. Or at least advice a more realistic US foreign policy toward Russia. Of course it is nice to squash the old geo-political enemy like a bug and I would be the first to admit that under Yeltsin West came close to this scenario. Criminal privatization of Russian companies was hugely successful attempt to put an end to the Russia as an independent country. Similar strategy was by-and-large successful in other USSR republics like Ukraine, Georgia and especially Baltic countries creating what can be called New Latin America.
But after Putin came to power, the attempts to convert Russia into yet another Latin American country became gradually reversed (although this process is some areas went too far and to reverse it completely is very difficult). As Ira Straus aptly put it in her letter Russia, U.S. Media:
Nowadays attacking Russia has a politically correct tinge to it, since Russia is a white Christian country. By contrast, attacking China still suffers from being susceptible to counter-charges of racism and anti-Communism. Perhaps this is the source of the strange double standard in which Russia is attacked just about any day for just about anything while China is virtually ignored day after day, month after month for the same and far worse.

Attacking Russia is especially "correct" when it is a matter attacking a Republican Administration for being soft on a Russia that is beating up on Muslims. One doubts that much of the American public shares the media's sensibilities on this. Picture bubba listening as Dan Rather launches into Russia for beating up on Muslim Chechens; he'll probably be telling himself, "there the liberal media go again, standing up for our enemies and blaming our allies the Russians for fighting back". Among Americans who write about politics, only Pat Buchanan and Ann Coulter dare to say such things, but many more think it, in whole or in part.

The importance of adversarial culture for the media can be seen from the Bush I administration, which truly was anti-Russian. The media bashed Bush I for this; it became ambivalent on Russia, taking on a more pro-Russian hue than any time before or since. As soon as Clinton got a pro-Russian reputation, the media switched back to Russia-bashing mode. It was Clinton-bashing that was the real point.

In other words, the media should not be taken as a barometer of U.S. government policies on Russia. It is more often an indicator of the opposite.

What does it matter? A lot. The media drumbeat against Russia has an enormous impact on public policy, not only in the US but in every Western country, and in Russia itself. It makes it hard to think clearly, or even to see clearly. It fosters and fans conflict. It promotes a tit for every tat.

First, the effects on Russians. The media play an enormous role in convincing them that we're an enemy. They can see CNN, BBC and other Western media daily, at length; they hear from our government only rarely, and practically never from the American people. They can see the Western media's implicit premises far more clearly than the media themselves do. Mistakenly assuming these premises to represent Western policy, they draw what would be the logical conclusion: that we are their enemy. If Russia does in turn become an enemy again, the media will have been a major cause of it.

Second, effects on Western policy-making are just as damaging. Instead of helping the Western governments do their thinking, the media block out most of the space for it. They make it harder for the West to think out loud about such matters as how to build active alliance relations with Russia, or how to overcome the remaining Cold War standoffs. They make it harder to follow a steady course where cooperation has been agreed, They have done much to cause the West to be an unreliable partner for Russia, an unreliability that democrats in Russia noted with profound regret throughout the 1990s. They prioritize conflicting interests over shared interests, encouraging every minor divergence of interest to grow into a major opposition. Their audience ratings flourish on conflict; and no longer fearing it as risking war or nuclear incineration, they promote it shamelessly.

If we end up with a new Cold War -- and the risk is becoming a real one -- it won't be a small thing. It would mean a nuclear superpower once again ranged against us and the world plunged back into a bipolar disorder, only in more unstable conditions. In that case, the media will no doubt turn around and denounce as "reckless" those who carry out their painful duties in the conflict. The truly reckless ones, however, will have been those in this era who so freely did so much to bring it on.
My personal views are close to views expressed by Anatoly Karlin in About Da Russophile
As regards Russian politics, I make no secret that I'm a pro-Putin conservative. That said, my views are moderate – while Western media coverage of Russia may be woefully biased and frequently malicious, there are certainly plenty of things to criticize about Russia and Russians.

However, they must be grounded in in statistics, an appreciation of the viewpoints of ordinary Russians, and a judicious comparative perspective (which is NOT equivalent to "moral relativism" or "whataboutism" as many of the more hardcore Russophobe propagandists claim).

I think that the Western MSM fails on all three counts:

Their journalists tend to obfuscate facts and concrete numbers with rumors and assumptions;

they share their biases with those of the liberal opposition who are their most frequent interlocutors, and reflect an ignorance of the broad ideological diversity across Russian politics and media;

and they frequently condemn Russia for things that just as prevalent or even more so in countries considered Western and democratic.

This blog concerns with calling them out on their lies. As the one-time Guardian chief editor C.P. Scott once said, "Comment is free but facts are sacred." While his newspaper has retreated from this vision in practice, I maintain that it's the most elegant encapsulation of what real journalism (and punditry, blogging, etc) should all be about.

...I consider Charles de Gaulle to have done a great job, and consider Putin to be a comparable figure in vision and stature.
Outside obvious "Lebensraum" motives, it looks like western hate towards Russia rests on some deep inadequacy syndrome. Russia is supposed to be some has-been power that is now of no consequence, yet it gets way more attention than such a worthless state would merit. The amount of negative coverage since Sochi Olympics is bordering on war hysteria. That's dangerous pass as ideas became material things when they penetrate deep into conscience of nation. Hate eventually tends to materialize.
The amount of negative coverage since Sochi Olympics is bordering on war hysteria. That's dangerous pass as ideas became material things when they penetrate deep into conscience of nation. Hate eventually tends to materialize.
Russophobia as persistent policy of the US government and US media. And all this talk about Russia aggressiveness, and carefully orchestrated related war hysteria in MSM is pure projection. It is the USA which is the most aggressive international player on the world stage.
Russophobia is the unofficial but persistent set of behavioral patterns of the US government and US media. It is clear that US tried to weaken and possibly dismember Russia out of geopolitical considerations which represents a real threat to the US world hegemony. This idea on which the US elite is hell bent since end of WWII and there were even plans to bomb Russia just after end of WWII.
It is the only military power that can annihilate large part of the continental USA, But there is something deeper here. It is also an attempt to unify nation, which under neoliberalism became much less coherent whole and in which 99% of the population hates the top 1% and the level of this hate is increasing, especially in minorities and inner cities.
Russophobia is a crucial part of the US foreign policy. In this respect the US foreign policy is so messianic that it reminds me Soviet foreign policy (with the substitution of "triumph of democracy" for "triumph of communism") and I wonder if the USSR really was a defeated party in the Cold War. This mentality of "export of revolution" is the integral part of mentality of the US elite. The difference with Trotskyism, if exists, is minor, and the key difference between Trotskyism and the US flavor of messianism probably is connected with the smell of oil which radically increases the urge to democratize a particular country. In any case attempt to export democracy in Russia never stopped since 1991 and under Yeltsin were so successful that the country lost more in industrial production then during the second World War and poverty became a norm for more then 50% of the population.
Carthago delenda est (Carthage must be destroyed) attitude exists partially because the Western elites hate resource nationalists independently whether those nationalists are leftist or conservative. Fighting resource nationalists tooth-and-nail is an important, may be even critical part of neoliberal doctrine. The latter is a civic religion in the USA. That means the Russophobia in the USA has strong religious component, and is supported by 500 pound gorilla of the US elite propaganda machine. In other words there is a strong, consistent tendency of demonization of Russia (Paul Starobin, The National Interest Blog, August 28, 2014):
In any case, our taste for a country—favorable or unfavorable—shouldn't dictate our foreign policy, which is properly shaped by a cool calculation of our national interest. On these terms, America is right to resist Russia if Putin seems truly bent on bullying his way to a redrawn map of Europe, but also right to try to keep working with Russia on matters of mutual concern such as Islamic militancy. And that same calculation will hold when Putin, as must happen eventually, exits the Kremlin, willingly or unwillingly, whether replaced by a new autocrat or a more democratic figure. Today's heightened tension between the United States and Russia, conceivably the first chapter of a new cold war, with Europe as ambivalent as ever about its role, underscores that Russia is likely to remain one of America's most vexing and formidable diplomatic challenges for a long time to come.

So the future of the presentation of Russia as a hodgepodge of unflattering stereotypes seems bright. The naive liberal notion that the world has a teleological disposition toward a progressive end—if only holdouts like Russia would get with the program—is deeply entrenched. Headlines datelined in Russia—on corrupt oligarchs, or on control-freak KGB-generation political operators—will continue to nourish sweeping criticism of Russians, from their leaders on down, as primitive and psychologically ill. Probably no other nation is so easy (or so safe) to caricature.

And the "Russia Is Doomed" syndrome is bound to survive because Russia, alas, still matters. The object of such concentrated anxiety over the centuries, far from heading down a path to obscurity, remains a global force and impossible to ignore. So the worries will live on, too, as will the sublimated wish to efface Russia. But perhaps the good news for the critics is precisely that Russia is not about to go away. They will have plenty of grist for their mill for decades to come.
The issue is whether comprador elites subservient to the US are in power, or more nationalistic "national sovereignty" guys. It is true that a nationalist elite can be as predatory as a comprador elite, but a reasonable degree of national sovereignty is a prerequisite for social justice and it is difficult to raise standard of living if your resources are owned by transnationals. The latter automatically became above the law and do what they want with impunity.
The Russophobic views on Russia can be summed up in three words: "There is no life there !" This simple formula invoke the whole complex system of "corrupt journalism patterns" and powerful propaganda mechanisms polished during 45 years of Cold War. Those journalistic patterns causes most western journalists (not without help of their political handlers as independent journalism in the USA is a joke) treat Russia as a failed state. Not simply a country that temporary dropped out of the world civilization, but the country is doomed to such a drop by the several immanent features such as "national character", climate, landmass, religion, history, etc.
From Dr. MacFaul quotes above it is clear that in the American media and among American politicians Russia occupies a marginal position. After the Soviet Union is gone, they mostly cares about getting assets on pennies per dollar (behaviour of criminals like Mr. Browder, whom McFaul loves so much, exemplifies such an attitude) and to lesser extent about Russia military capabilities, which are still a risk. Although I doubt that.
From the typical US behavior it looks like American politicians are not really interested in any other aspect of Russian situation, other then energy resources (Khodorkovsky is a new saint in the USA, probably for his failed attempt to sell Russia oil resources to US companies). And he is new puppet in the show of finding the possibilities of regime change and installing a puppet regime as they unsuccessfully tried in 2011-2012. They still miss Yeltsin drunk regime and Gaidar-Chubais neoliberal gang, which almost converted Russia into kleptocracy from which Putin tried gradually to extract it with great and not always successful efforts.
It all comes down to a set of cliché: Russia is corrupt (while in reality this is a immanent feature of all neoliberal regimes and first of all the USA, the most corrupt neoliberal regime in existence) , does not respect human rights (unlike Saudis) and does not play by the rules (unlike Libya rebels), is not democratic (unlike Qatar). Russia seems to them so weak and uninteresting, not worthy of a real partnership dialogue. And is arrogant enough not to agree with the status of vassal so she needs to be taken care of:
"To promote liberty requires first the containment and then the elimination of those forces opposed to liberty, be they individuals, movements, or regimes. " - M. McFaul, The Liberty Doctrine: Reclaiming the purpose of American power. Policy Review April & May 2002 The Liberty Doctrine Hoover Institution
Such an ungrateful jerks, who jailed Dick Cheney best friend Khodorkovsky, squeezed this perfectly honest guy, exemplary "the largest portfolio investor in Russia, British citizen William Browder" (Who, BTW, was the USA citizen until recently, but suddenly changed his mind) and so on and so forth. They should be "regime changed". It is like the relationship between schoolchildren, when a bully see a threat on the school yard and acts preemptively.
The first thing that surprise me is a very well "coordinated" level of Russophobia demonstrated by Western MSM. The degree of Russophobia in Western press varies very little be it Guardian, or NYT, or BBC or WashPost. As financial oligarchy controls the MSM you can't expect anything different. They act as a pack of dogs. Typical level is treating Russian as forever damned barbarians. Slightly more advanced is treating Russia a legitimate playground for testing the controversial socio-economic doctrines like shock therapy and a land were any foreign crook is entitled to get rich fast (like Browder did ). But the essence is the same, no right for "national sovereignty", no right for any "special way". Those concepts are simply outside a typical Western press journalists "template" that their editors enforce.
As John Drury noted in his comment to U.S. Russia Withheld Intel on Boston Bomb Suspect - WSJ.com
Ridiculous comments populate the blogs, the op eds and the comment sections of most sites. But what unsettles me more is the rabid Russian phobia (call it "Russophobia") which populates the American press (liberal/conservative).

We never see things from the Russian side. It is always Putin who is up to no good, Vladimir, the monster, the balding fool with no shirt flexing his muscles. This is not the Cold War, yet we have not shed our Cold War biases.
See Propaganda and The Guardian Slips Beyond the Reach of Embarrassment for more information
Russophobia is a form of racism and studies of other forms of racism such as anti-Semitism are applicable here.
It is a prejudice against, hatred of, or discrimination against Russian people as an ethnic, religious, or racial group. In Baltic states it is close to regime of Apartheid. In Ukraine it has a form of suppression of Russian language and culture
I have an impression on the personal level sincere and acute Russophobia (not to be mixed with Russophobia as a official line ) can be a compensation mechanism (classic Adorno). I am not talking here about ideological prostitution typical for MSM journalists. But on individual level it looks like projection not that different from other national bigotry and the undisputable and provable fact is that the USA and, especially, Great Britain MSM serves as an "Incubator of hatred" toward Russia. Of course this also tells something very important about the US/GB governments.
I suspect that those who adopt Russophobia position not for money (let's call them "sincere Russophobes") have a personality of sectants/fanatics in a very deep sense of this word. Or like Eric Hoffer called them "True Believers" (http://en.wikipedia.org/wiki/The_True_Believer).
For though ours is a godless age, it is the very opposite of irreligious. The true believer is everywhere on the march, and both by converting and antagonizing he is shaping the world in his own image. And whether we are to line up with him or against him, it is well that we should know all we can concerning his nature and potentialities.
In a way sincere Russophobe's are almost extinct minority (but still can be found among Ukrainian nationalists ;-).
There a legion of "Russophobes for money". People who are profiting personally from Russophobia nonsense they spew. This is common among all those people who are far from the sharpest tools form the box. As a result they try to occupy a niche that is still available and earn living in such a disgusting way. At best they are average with very few exceptions (Belkovski might be one exception). In a way we can view it as a survival tactic of people with mediocre talent in conditions of high competition. Similar displacement into obscure niches can be observed for mediocre people in other professions.
This "Russophobia for money" is common among all those people who are far from the sharpest tools form the box. As a result they try to occupy a niche that is still available and earn living in such a disgusting way.
"Russophobia for money" is common among all those people who are far from the sharpest tools form the box. As a result they try to occupy a niche that is still available and earn living in such a disgusting way.
Cold War II is rooted not in Ukrainian event (The EuroMaydan coup d'état was organized by the USA and Western powers; Crimea was only a pretext) but is closely connected with the neocon attempts to slow down the pace of Russia modernization and secure Russia status as resource vassal of the USA. Here is a part of discussion from Kremlin Stooge that touch this theme in relation to Skolkovo techno-park.
kievite:

April 13, 2011 at 6:15 pm

This is a very apt comment and I wish that your observation comes true. But the problem is that as you :

"The forces arrayed against Russia are sufficiently formidable and sufficiently unrelenting "

First of all the West is rich enough to finance substantial fifth column, especially fifth column media (official $70 millions for support of NGO and "alternative" press is just a tip of iceberg). That's the essence of neo-colonialism do nothing new here. Also a large part of elite is already linked to the West and is not interested in any confrontation. Nothing new here too.

So the discussion about what level of state capitalism is beneficial (or where Medvedev should stop with his "second liberalization") is complex and far from purely technical one. External forces should be taken into account and once in a while liberalization companies to placate the West are not completely bad idea no matter how you view neoliberalism: state capitalism requires periodic "purges" (Stalin well understood that) and "liberalization" and, especially "fight with corruption" provides perfect pretext for purges. If one looks at some Medvedev's actions from this angle and you might well come to conclusion that it might be not complete sell-off but a more complex game.

In situation when you need to purge excesses of state capitalism West can serve as a natural ally and in such situation slogan of cat Leopold "Rebyata davayte zhit' druzhno" (Let's be friends) suddenly became politically viable at least among the pro-Western part of the elite. And the idea of periodic moving the pendulum from "higher statism" to "higher private enterprise support" in order to avoid stagnation, say, each seven-ten year period is not completely absurd. The main question is whether the process runs out of control or not.

Another possible contention point is that sooner of later oil flow will start diminishing and with it revenues will also start dropping. Currently there are too few industries that can replace the flow the oil dollars. Attempt to revitalize some of the existing heavy industries under the flag of liberalization, if done clever is not a bad idea.

And as much as everybody here hates neoliberalism it is very clear about who should be the victim and provides an ideological justification for cruel actions against own population. Like Bolshevism, it proved to be an extremely potent weapon of convincing population to act against their own economic interests (see What's the matter with Kansas for details). Perfect tool for the brainwashing "peasants" if you wish, very important when "Pryanikov sladkih vsegna ne hvataet na vseh" (Okudzhava ).

marknesop

April 13, 2011 at 8:50 pm I believe the oil money will go on for some time yet. Current practices are sloppy and inefficient, and more oil could be realized with better, more modern techniques, as well as new discoveries coming online. However, an early start on overhauling general business practices would be time and money well spent.

Medvedev should draw a lesson from Skolkovo. This is a project he has personally sponsored and touted as Russia's official debut in the high-tech sector. Western response, overall, has been withering and contemptuous, although some major commercial figures (such as Microsoft) have offered early investment optimism. Collective opinion seems to be that Russia will use the new tech city as a base from which to steal foreign technology secrets from investors, or that it will be a dismal failure because Russians have no real ideas of their own. The west is likely to greet other initiatives by Medvedev in the same manner – hearty laughter, followed by offers to come in and make western-style changes for him, in exchange for certain considerations.

kievite

April 14, 2011 at 1:21 am

Very true. Thanks for the response.

You are right: Skolkovo is fuzzy (what exactly is "high-tech") initiative as first of all Medvedev can't abolish brain-drain and that what will happens with the most talented researchers. The only realistic bait he has is blocking the companies from entering Russian market unless they provide considerable degree of localization and require that some fraction of research be performed in such parks. That's a variant of policy that China successfully used. But if Russia joins WTO, tariff barriers to protect domestic producers in vital sectors will be more difficult to erect.

At the same time autarky does not work either. So maneuvering between those Scylla of globalization and Charybdis of autarky requires top political skills from the captain of the ship.

Some sectors of Russian heavy industry already are proved abroad and products already have some competitive advantage and export markets. That's where this comparative advantage needs to be preserved and enhanced with help of techno-parks. State subsidized R&D is really important here and can be provided via small university based local techno parks. This would an excellent employment opportunity for most talented students who otherwise might emigrate and such parks not necessary need any foreign participation. This is especially important if company is partially state owned, as this along with having reps at the board that protects the investment. OK, I would agree, that it's not necessary need to be people on minister level. It would be sad if he really wants not to reform or improve, but to dismantle state capitalism.

The real problem here that without oil revenue Russia gets into zugzwang. Hopefully, as you noted, that will not be soon.

marknesop

April 14, 2011 at 3:30 am

Yes, you're right about Skolkovo; I did a piece on it awhile back (here) and Chinese tech parks were cited as an example. It's funny how the west is all gaga over China, and just brushes off the fact that China has a considerably more predatory business model than does Russia; China shamelessly raids the west for business information and constantly tests them for weaknesses which might be exploited. But, obtusely, it's Russia that's held up as the consummate corporate raider.

I believe if Russia were allowed to join the WTO, fewer barriers would be necessary. There's no reason foreign companies shouldn't have to contribute to the local economy, but they should receive tradeoffs as well such as low corporate tax rates, and that was one of the considerations. Medvedev seems determined that Skolkovo will succeed, while some elements in the west are just as determined it will be a failure. We'll see. Russia is a world leader in medical research, and I understand that will be a big part of Skolkovo as well.
It is difficult to say where Putin's brand of mixture of neoliberal and state capitalism get him and Russian people. I would say that the answer is "reserved no". Currently Russia, while opposing the US hegemony does not provide an alternative economic model. And that's the weakness of "Putinism".
Here is a left-biased, but still very interesting assessment of the situation along similar lines: "All attempts by Russia to develop a hypothetical line of response based on similar strategies (i.e. mobilizing a social response based on discontent) have no future, because Russia does not represent an alternative social model, not even in the realm of Illusion of Hope. " ([Oct 21, 2014] Question: Does Russia represent an alternative to the current western economic/social model? Or is this view an illusion based only on the conflict between some traditional vs. post-modern values?):
Danos tu opinión

Un amable lector de este blog ha realizado un resumen en inglés de nuestro artículo Las catedrales del kremlin y el capitalismo multipolar; es un resumen diferente al que nosotros hubiéramos hecho, pero de interés sin duda alguna. Ha sido publicado como apoyo a una pregunta en un coloquio con el economista ruso Mikhail Khazin organizado por The vineyard of the saker. Publicaremos aquí la respuesta.

Question: Does Russia represent an alternative to the current western economic/social model? Or is this view an illusion based only on the conflict between some traditional vs. post-modern values? / Arturo

For context to the question I will provide a translation / paraphrase / summary of some key points in the following article Las catedrales del kremlin y el capitalismo multipolar

The article contains and numbers many more points (36 in total) but I have translated/summarized only the first 14 (the rest is provided is a very raw translation --NNB)

Moscow cannot defeat the American plans – i.e. the Anglo Zionist world elite – without contradicting the class interests of its own elites (Russian oligarchs): This is impossible because the system of sanctions and the blocking of access to their accounts and assets in the West generates such contradictions in the Russian power elites that, in practice, it prevents them from reacting adequately; it puts them on their knees before the America.

Russia *could* resist those plans, since it possesses the strength, sense of identity, historical memory and material resources to do so. But in order to do so, its ruling elites would have to take measures that would affect their own class status within both the Russian system and the international system. And we can see that these are measures they are not willing to take. On the other hand, the Anglo Zionists suffer no such internal contradiction. Quite the opposite, in fact: Their own interest as the supporting base of the globalist hyperclass necessarily forces them to maintain the challenge to the end.
By the term Anglo Zionists, in this analysis, we mean the dominant power group whose territorial and military base resides in the United States, and whose center originates in the historical and social links of the Anglo-American oligarchies, branching off to other historical central metropolis in Europe or other power centers in different parts of the world.

The concept is made up of two elements that must be explained: the first, the "anglo" reference, has to do with the North American British connection [...] the second, the "zionist" reference, has to do with the interconnection among the economic and financial power groups that maintain various kinds of links with Israel. It is not so much a reference to ethnic origin, but rather to orientations as groups or lobbies of political and economic interests. A good part of this Zionist component consists of people who are neither Israelis nor Jews, but who feel identified with the pro-Israel lobby in the United States, Britain and other countries. Thus the term "zionist" referees here to an ideology, not to an ethnic origin.

The Anglo elites on both sides of the Atlantic have evolved from being national elites to being the executive base of a world Hyperclass made up of individuals capable of exerting a determining influence in the most powerful nation, the United States.

The result of the Anglo Zionist line of attack is that the contradiction and internal struggle is now occurring in Moscow between those who have already chosen to sell out and those who have not yet found the time to realize that a multipolar global capitalism is not viable.

In this context, recovering Crimea was a mirage, an illusion.

If we compare the implications of the Maidan coup in Kiev with the liberation of Crimea, we see that the strategic defeat implicit in losing Ukraine as an ally is of such magnitude that everything else pales by co s (all of them) in Kiev was so gigantic that its implications are frightening. It was either a failure or something even worse. In any case, the Crimea affair was merely a small episode in a confrontation that Russia is losing.

Russia arrived very late at modern capitalism, and that is why its current elite will be unable to occupy a space among the globalist elite without paying the necessary toll, which is none other than renouncing its territorial power base – its country and its access to and control of its energy resources and raw materials.

Stubbornly maintaining the dispute in trying to obtain a multi-polar capitalism, leads necessarily to a intra-capitalist confrontation, as it did in 1914-1918. And because of the nature of the current actors, nuclear powers … it brings the conflict to 2.0 war versions (color revolutions)

All attempts by Russia to develop a hypothetical line of response based on similar strategies (i.e. mobilizing a social response based on discontent) have no future, because Russia does not represent an alternative social model, not even in the realm of Illusion of Hope. It can only elicit some empathy from those who reject the American domination, but here the class contradictions come into play again, because it is not enough to oppose Washington merely on political-military grounds, since the key to global power resides in the financial and military structures that enable global control and plunder: World Trade Organization, IMF, Free Trade agreements, World Bank, NATO… these are entities in relation to which Russia only shows its displeasure at not being invited to the table as an equal, not accepting that because it arrived late at modern capitalism, it must play a secondary role. On the other hand, Russia is ignoring the deep contempt, bordering on racism, that things Slavic generate among Anglo Zionist elites.

In order to be able to fight the 2.0 versions of war that are engineered today, an alternative social model is needed. Alternative not only in regard to the postmodern vs. traditional sets of values, but fundamentally in regard to the social model that stems from the modes of production. In the postmodern vs. traditional conflict, Russia tends to align with the most reactionary values. And in regard to the social struggle, they don't want to enter that fray because they renounced it long ago. They renounced the entire Soviet Union, which they destroyed from within.

The contradictions and the dialectical nature of reality have their own logic, however. Thus, a coup in Kiev and the widespread appearance of Nazi symbols in the streets of Ukraine was all that it took to induce a spontaneous reaction in the Slavic world. The popular resistance in the Donbass took strong root thanks to the historic memory of the people's of the old USSR and its war against fascism.

If Russia were to abandon Novorossia to the oligarchs and their mafias, the world's "left" – or whatever remains of it — would come to scorn post-Soviet Russia even more than it already does. In the months following the brave action in Crimea and the heroic resistance in the Donbass, many people around the world looked to Moscow in search of some sign that it would support the anti-fascist and anti-oligarchic resistance, even if only as an act of self-defense by Moscow against the globalist challenge. If it finally abandons Novorossia, the price in terms of loss of moral prestige will be absolute.

A support of the left has not been sought, but that is a collateral consequence of the character of class struggle open that has been given in the Donbas, where Russia has been forced to provide some assistance that would prevent the genocide at the hands of the fascist Ukrainian.

Cuando say left, we refer logically to the one who has expressed their support to the struggle of people in the Donbas, as it is very difficult to consider the "left" to those who have preferred to remain silent or to have directly been complicit in the assault, and the coup in Kiev.

The degradation of the left as politically active social force is very intense, their structures are embroiled in the collapse, or in the confusion, when not literally corrupt. Then related to both socialist parties since 1914 and the communists, at least from the time of fracture of 1956. The social changes experienced in Europe with the systems of welfare state, based on the elevation of the standard of living of the working population and the obtaining of social peace by sharing the power with the trade unions are at the base of the post-industrial society and the resulting profound changes of values.

The suicide of the USSR in 1989-93 marked a brutal global change , in which the balance which was preserved during the cold war was broken. That led to the capitalist elite in the west, which we are calling the Anglo-Zionists, to the suspension of the social pact (forced abandonment of New Deal), that gave rise to the welfare state and the emergence stark reality of a global power of capitalists without systemic opposition . Today the whole neoliberal globalization system of capitalism is in danger by the depletion of the natural resources. And to sustain this mode of production, they need to speed up territorial domination in the form of control and access to resources of other countries. Now there no space in the global system for spaces, which are managed autonomously even to a certain level.


The system of global domination, capitalism, ruling elites with a territorial basis in the area of Anglo-American, global parasitic Hyperclass and depletion of resources, as well as cannibalization of the other nations, in the midst of troika of crisis of climate change, peak of the energy and raw materials shortages. those three factors that challenge the current globalization framework ... And the crisis of Novorossia, been demonstrated both impotence and the lack of real political autonomy of Russian elite with the respect to the dominant power in neoliberal worlds order..

The new citizen movements in the western world are not so much resistance movements as samples of the discontent of the middle classes in precarious position of marginalization and/or social trance. This protest led to a "Maidans" which are not permanent and does not question the basis of the system. The participants seems to believe that it is possible to restore the old good world of the welfare state.

The western movements are brainwashed by messages emanating from the headquarters of Democratic party of North America, the propaganda anarcho-capitalist and the various networks of ideological interference, are managing to break the bonds of historical memory that unite the struggles of the past with the present, de-ideologize the struggles and conflicts and to deny the tension left and right, isolating the militants -- or simple citizens who feel identified with the values of the left - of the masses who are suffering in the first place casualisation. At the heart of this new "left" are leaders that are co-opted voices, pseudo-intellectuals who destroy the words and empty of content of key concepts in a way that the alienation of the masses demonstrate at the language itself, thus preventing putting a real name to social process and things, and to identify the social phenomena.

Viva to Russia, which the only country which eve in a weak form decided to fight neoliberal world order and position itself as an anti-imperialist force... It is interesting to observe the current great moral confusion in political landscape of the societies in decay. Confusion which have been stimulated by Moscow actions. As the result some the far-right groups that are simultaneously anti-US that anti-Russian now support Moscow. Also some part of Russia far-right political groups got the sympathy and support of factions of the anti EU far right forces in France, the Nazis of the MSR in Spain, and from small groups of euro-asianists. This line of political affiliation will allow them to simply join the Russia failure [to find alternative to monopolar neoliberal capitalism] and might well discredit then more profoundly in the future.

The euro-asianists forces technically speaking are reactionary forces, neoliberal forces which is comparable to the worst of the worst in the western world. Moreover, they do not have any way to solve the main contradictions that arise in the current neoliberal model in the terms of class and dominance of Anglo Zionist global elite.

Euro-Asianism is just a suitable ideology for the construction of Russian national idea for those who seeks to achieve lease to life for Russia sovereignty on the world stage. It is the actual proof that Russia has come too late to globalised capitalism and fascism...

Huttington and his war of civilizations cynically exploit this confrontation on Anglo Zionist elite and newcomers, redefining it along the idea of the clash of civilizations which avoid using the notion of class and thus is ideologically false. Alexander Duguin who promote similar ideas quite seriously just shows the degree of degeneration of the Russian intelligentsia, which oscillates between serving as comprador class to the global Anglo Zionist elite and the repetition (as a farce, and with 75 years of delay ) of fascist reactionary revolutions in Western Europe, which were phenomenon of the interwar period (rexistas in Belgium, Croix de feu in France, CruzFlechados in Hungary, Requetés and Falangistas in Spain).

The globalist elite offered a solution formulated in class terms, as it could not be another way: in the best cases, they proposes the co-optation to a handful of members of the Russian elite as deserving members of the new global Hyperclass, but this path is opened only the very very rich, and the pre-condition is the delivery of the country to plunder, where the global elite certainly would have need of some compradors which will be more or less adequately compensated depending on their achievements and sacrifices in the name of global neoliberal domination.

The part of the power elite of Russia, which managed to expel the western compradors of the Yeltsin era, and rein in the oligarchs then, had tried with some success to regain control of the territory of the country. The illusion of the members of this part of the power elite -- basically the security services, both civil and military, and various synergies of those with the military-industrial lobby -- is that it would be enough to neutralize the Russian fifth column of the Anglo Zionists to take back control of their territorial base of power. this idea is going to be shredded into pieces when it enter into contradiction with the reality of the class struggle and interests of the elite at the global level. Russia is, for its size, influence, and resources, so huge that a line of action based on the defense of its sovereignty strategic enters in collision with the global power of neoliberalism. And that why it attracts disproportional reaction of the Anglo Zionists

Supporters of Anglo Zionists that are ready to consent to a German-Russian alliance or Russia-EU alliance that give the viability of a idea of mutually beneficial co-development of both Russia and Europe are forgetting that such an action would require European sovereignty. Which is was non-existent iether on the level of the EU, or on the level of member states. The penetration of the Atlantism in Europe is already systemic. In the old European states there are still ancient national traditions, which were based on the basis of cultural, industrial, economic, and political identity. And they still run strong. But in the current situation for such states there no space for the sovereignty as the dominant power bloc in the national elite as well as in EU elite are Atlantists. Where this situation takes the Russian elite and the Russian state without confrontation? A confrontation that they, on the other hand are not willing and are not able to pursue.

The multi-polar capitalist world had its lifespan which come to an end (exploded) in 1914. In 2014, the globalization of the elites and the capital is of such magnitude that no serious resistance is possible on the basis of some capitalist model. In those conditions the idea of Russian elite ability to enforce change to multipolar version of the currently monopolar neoliberal world is doomed to be a failure.

Zbigniew Brezinsky has raised things crudely and openly, unlike the ("fake") supporters of perestroika, and their current heirs in Russia. Brezinsky know how to think in terms of the class contradiction and knows perfectly well that the Russian oligarchy has directed its monetary flows abroad, moved families abroad, and moved their investments abroad. That means that Anglo Zionists can disrupt any claim of sovereignty over the territory and resources by simply pressing the local neoliberal elite, giving them to choose between their interests as a class and their illusionary desire for sovereignty. Because in a globalized world, with its brutal fight for the natural resources there is no possibility of maintaining both, except what can be achieved in terms of direct anti-imperialist struggle. There is no space for the national bourgeoisies in the XXI century. You can only have sovereignty if it is posed in terms of a rupture with the actually existing neoliberal order of global capitalism, which, in its core is Anglo Zionists globalization. This break does not have to be forced, but in terms of scientific analysis of the social processes is a logical consequence of following this path one way or the other. To claim sovereignty over their own resources and territory inevitably leads to confrontation, and logical needs a break up and confront the Anglo Zionist empire. If you really want to achieve the goal. And that fact imposes the logic of the relationships and balance of power in the world today.

The claims of the BRIC countries -- to the extent that you do not question them -- is that they have an alternative model to the dominant neoliberal capitalism model (Ango Zionist globalization with the center in the USA) are doomed to be a failure. The efforts of the BRIC countries can generate a lot of noise and discomfort for the West, but they can not break the global neoliberal system. Those countries are rightfully fearful of their budget balances -- which are very fragile. It can be even said that they are on their way to implosion sooner or later, due to the unbalanced structure of their internal classes, including first of all their own elite.

The claim that it is possible to achieve the multipolar capitalist world (which Russia defends) and which led to current Ukrainian crisis without confrontation is false. As soon as Russia wanted to return to the global chessboard. as an independent player, they instantly saw opponents attacking weak elements of their defense at the borders. Ukraine has been a defeat for Russia and the Crimea is not a adequate compensation for loss of Ukraine. Now Novorossia is being sacrificed precisely because the class contradictions that have emerged in Moscow and lack of desire of Russian elite to go the bitter end.

The situation in the Donbas / Novorossia clearly shows the resignation of Moscow to the victory, and their desire to avoid the clash with neoliberal world order. The fact is that Royal Dutch Shell has already begun the fracking in the Donbas, the coup regime in Kiev are already internationally accepted without reservations, the truce imposed in Novorossia has brought to its knees the armed resistance to junta. All this leads way to deliver Novorossia to the hands of mafias sponsored by the local oligarchs with friends in Kiev and Moscow.

Statement that the destiny of Russia was played in the Donbas is something more than a phrase, It is a claim based on a reality, as the defeat of Novorossia would be the proof that Moscow had not the will to struggle. The betrayal of the fighters and the hopes of Novorossia is the acceptance of the defeat and might lead in the future to the victory to the Moscow Maidan, the same alliance of compradors and nationalists using which as storm troopers the globalist elite achieved their goal in Ukraine. If Novorossia is defeated, they can expect being able to push a puppet into the Kremlin the same way. And not without reason. This summer, the heroic struggle of the militia of the Donbas was the key element that forced the changes of the script designed for Kiev as well as diminished chances of successful application of the same methods in Moscow. The Minsk Agreements and the truce imposed by them are putting Novorossia on its knees, allowing for its destruction, but this time at the hands of their allies. Sad spectacle for the Russian security services, which were effective enough to organize the Donbas resistance, but now are useless and powerless before the neofascist Kiev junta.

The struggle of the Donbas does not correspond to the strategic interests of the Russian elite. They have been forced to intervene to prevent the horror of the mass murder of the population of the Donbas at the hands of the extreme right. But the dream of a Donbas free of oligarchs and with a sovereign state, committed to social justice for workers on this Slavic land are completely incompatible with the post-soviet status quo. Only to the extent that there is a significant faction of Russian elite aware of the contradictions of the global neoliberal game and who put their sense of patriotism first can lead them to face the challenge that they face. Only in this case there would be any possibility of resistance; I would say patriotic resistance, because we already know no one at the top is able to think in terms of class.

While very unlikely - there can be a move from February to October in Novorossia. You would say impossible. But he insurrection of the Donbas in March, logically was "February". In order to achieve victory, to take full control over the territory of Donetsk and Lugansk needs creation of the Revolutionary Military Council and suspension of the upcoming elections. which looking to be a smokescreen for capitulation to junta. They need to declare that they are ready to resist to the end. This output would be desperate move, without a doubt, and would represent the equivalent of a new "October". The event which of it occurs would force Moscow to show their cards to their own population. And perhaps it can help to generate a pulse necessary for the organization of the fight with Anglo Zionists empire between the towers of the Kremlin. That would move the fight toward more patriotic and popular goals, But this presuppose a lot of assumptions and first of all that such a "Kremlin tower", which is capable of emitted such a pulse, exists. Only in this case we can talk about achieving a real sovereignty. As Vasily Záitsev in Stalingrad suggested: "Maybe we're doomed, but for the moment we are still the masters and lords of our land." In Novorossia there are plenty of fighters who would agree with Záitsev, but they certainly lack political direction and, now the lack the support of Kremlin.

The Russian objective is achieving a multipolar capitalism with a Russia united under a nationalist ideology based on the manipulation of patriotic sentiment, Orthodoxy and various Slavic myths. This objective is being challenged by the reality of the conflict, which should be defined in terms of geopolitical goals. The reality is that the Russian elite would be allowed to control their population as they wish, provided they renounce its sovereignty over territory and resources, renounce their physical power base, i.e. homeland. This is the nature of the challenge. Putin is mistaken if he thinks that the Grand Patriarch has the answer in their holy books. There is not enough incense in the Kremlin cathedrals to mask that reality."
The Demonization of Putin is Not a Policy.
It is an Alibi for the Absence of One
Now let's discuss attempts to demonize Putin by Western MSM. They can be understood only in context of rabid Russophobia of US neocons and their poodles in GB and other Western countries (especially in Germany).
Being tactful of Putin is one thing that I would not criticize the US press for ;-). If only because the track record disqualify them from lecturing, but because one simple fact: I remember how they covered the Chechen disaster and how they covered Iraq invasion by the USA. I strongly dislike Chechen war, as do most Russians. However, it is true that Chechen fundamentalists financed by Saudis have killed hundreds of Caucasian and Russian civilians and were a real threat to the Russian society, whereas the Iraqis were no practical threat to the USA.
Another problem with demonizing Putin is that no one in the US political system is willing to criticize the policies of Boris Yeltsin, which ruined the majority of Russian people, falsified elections and included criminals in his inner circle under close guidance of the USA. Sometime it looks to me that the real Axis of Evil runs somewhere between K Street and Constitution Avenue.
And in addition most of US neocons who dominated the USA foreign policy establishment sincerely consider themselves the only game in town. While understanding very little, or absolutely nothing about other countries. And that is statement is equally applicable to neocons dominated MSM such as NYT and Wash Post. American exeptionalism is uniquely blinding phenomenon.
It is actually pretty sad to read the infinite low of articles written without any desire to understand the complex situation in modern Russia. Neocons analytics in regard to Russia is nauseating propaganda. The logic behind such articles is invariably hostile. Moscow either weak or repressive or both. If Moscow sees some processes as a threat, it is racist, if it just lets it happen, it is weak.
No good solution for Russia ever exists according to these people. And it would be better for Russia and the rest of the world if it disappears from the face of Earth as quickly as possible.
See Demonization of Putin for more details.
Another influential part of world Russophobic community are Apartheid regimes established in Baltic countries with the direct help of the USA government and, especially, USA emigrant organizations. Western Ukraine also fit this scenario (after EuroMaidan putsch Western Ukrainian when far right nationalists came to power).
Baltic countries refuse to provide citizenship to people of different ethnicity who lawfully lived in them during the USSR period (which lasted half a century or so). Here is an insightful take on Russophobia from veteran Novosty journalist by Pyotr Romanov
A Dispassionate View on Russophobia

10/04/2006

Ability to write about Russophobia dispassionately is similar to the ability to maintain dignity when somebody unexpectedly poor a dirty water all over your head. However, as far as possible, try to talk about this phenomenon, no offense. We will not resent the fact that the "Russian, according to British press - the most stupid in the world." Smile at the argument that the "war against Napoleon won the non-Russian, and lice." We will not discuss with the Japanese man in the street, which feels an antipathy to us, among other things because all the cold storms come on the street it from Russia.

Forget about the Finns, who, according to Western opinion polls, do not love us more than any foreigners. And this at a time when, according to domestic opinion polls, that the Finns have the highest Russian sympathies.

What to do: love evil. In short, keep yourself in hand. It is better to remember the words of George Nathaniel Curzon Marquis, Viceroy of India and at the time the British Foreign Minister: "Every Englishman comes to Russia as Russophobe, and left as a Russophile" This means that in the basis of antipathy towards the Russian lies ignorance and myths. Partly born of life itself, partly by skillful professionals employed by our political opponents: there is such a thing as information warfare. And this is not limited to the Soviet period, but can be traced since ancient times. The disappearance of the Soviet Union did not affect Russophobia much. "New Thinking", which Gorbachev dreamed about never materialized. There is also historical memory. If we talk about ethnophobias, this is an inexhaustible source of poisoned water.

We can present many additional examples, but even from what has been said above, it is clear that the problem is multifaceted and so deeply ingrained in the mind of a typical Western person (to say nothing about establishment -- NNB) that for Russians it is better to forget about an illusion that it can be cured or even drastically changed. Each countermeasure is only a palliative solution.

Thus we should not deceive ourselves - any countermeasure is only palliative. Russophobia glow can be reduced, but to end it might be impossible as is the case with other ethnophoibias.

However, even to lower the level of Russophobia is a difficult undertaking which requires considerable intellectual efforts and financial investments. In addition, the Russian professionals in the field of foreign media (or propaganda, sorry for such old-fashioned word) are long time already listed in the "red book". After the collapse of the Soviet Union, the new government decided that the professionals who know how to work with foreign media are no longer needed, everything will be done automatically: our friends Bill and Helmut will help. In extreme cases, retired professionals can be without problems replaced by the young and energetic sneakers merchants. It did not happen. Meanwhile, the bad image of Russia means for the country significant economic and political losses.

When it comes to Russophobia, the questions usually turns out to be a surplus, but the answers, even the most sophisticated, almost always may be subject to reasoned criticism. This is further evidence of the complexity and ambiguity of the problem. For example, surveys carried out by foreigners, record that in recent years the attitude to the Russian in almost all countries around the world deteriorated. It would seem that there is nothing to rejoice, meanwhile, history has repeatedly argued that a weakened Russia is far less negative feelings abroad than Russia on the path to recovery, when she, like Phoenix, once again rises from the ashes. Thus, the sharp deterioration of perceptions of Russia by foreigners can simultaneously be a sign that Moscow is perusing a wrong policy, and, conversely, that is peruse absolutely correct policy. It is difficult to sort out.

By the way, if we were talking about the West here, it is curious to see how the West steps for many centuries on the same rake. Whenever Russia is experiencing the most difficult times, Western politicians, believing Russia is close to death, begin to seriously talk about her vivisection, and, conversely, when the "deceased" Russia suddenly opens his eyes, the West falls into mortal fear and hysteria. So it was during the Troubled Times, when the Poles, Swedes and British tried to split Russian lands apart. Under Tsar Alexei Mikhailovich, when Russia was still weakened Western Europe for the sake of preserving peace in its own backyard identified zones of expansion of the major European powers: our motherland, according to this "peace plan", was granted to the Swedes. The only thing that did not consider the German philosopher, mathematician, lawyer and theologian, Gottfried Leibniz -- the author of this ingenious plan -- the birth of Peter the Great. By the end of the reign of Peter Sweden ceased to be a great power, Russia become an empire, and a Russian soldier, frightened Europe to such hiccups, from which it can not escape for a long time.

Then there was the defeat in the Crimean War, which, as it seemed to many European politicians, forever cemented lag Russian from the outside world, but came to the liberal reforms of Alexander II, who once again raised Russia from its knees. Later there was a First World, revolution, civil war, and those event immediately generated Churchill plan to put an end to Russia once and forever, dismembering her to pieces. And this project also ended in failure, but instead came back scared the West Europeans almost to death, the Soviet Union.

Finally, the collapse of the USSR has created new hopes, and the emergence of a Russian helm of Putin produced a new disappointment: hatred intermixed with fear. Here are typical in the West, the view expressed by one of the Italian journalists: "The USSR is considered a country, lost forever. The recent emergence of Russia as a nation state was a bolt from the sky. " And that's madam did not know yet what order book of Russian defense enterprises in the past year increased by 61%, as recently reported by Russian President. Thunder would be simply deafening.

In short, we are dealing with a déjà vu all over gain: the same way foreign press treated Russia in Europe and after the Troubled Times and after the Crimean War, and after the Revolution of 1917 .

Of course, the fact that due to the fear of Russian bear whose jaws are in Europe, and the tail is located in the Far East, simultaneously flourish Russophobia, does not make Russians happy. But I personally, if we have to choose, prefer to have a strong Russia with a undesirable side effect in the form of Russophobia, than the Russian bear's skin over the fireplace in some western office, which the owner, proudly showing visitors, affectionately scratching behind his ear. Without experiencing any of Russophobia!

Are there any tools that would provide the West at least a middle ground between a pathological fear of Russian and not less pathological contempt for her? I think it is. All I will not enumerate them all. But one thing worth mentioning is mandatory. Necessary, finally, once and for all clear the historic debris, which is really to blame Russian. We can remember, say, Russian-Polish friction because of Katyn. The fact that Stalin's regime committed a crime, we know the whole world, but Russia, including the modern Russia, could not find the courage to tell the whole truth about the Polish tragedy. If you want to, once again apologize, and most importantly to pass, finally, Warsaw, all at our disposal documents. In the end, there are still living relatives of the victims, who have every right to know how their relatives died. Why this is not done until now, I can not understand, especially because the crime is committed not this generation, but fundamentally different, the Stalinist regime.

At the same time, giving the necessary debt, in my opinion, in any case we can not forget about our own claims. Unlike its neighbors, we all too easy to forgive, but it does not promote respect for Russia. Yes, there was Katyn. But until it was no less terrible fate of the Russian prisoners who fell into the hands of the Poles after the failure of the famous Tukhachevsky offensive of Warsaw. There are undeniable evidence how they treated those prisoners, both in Russia and the West. Division of assistance to POW in Poland of the American Union of Christian youth on October 20, 1920 noted that the Russian prisoners were kept in deplorable conditions: indoors, totally unsuitable for housing, with no furniture, sleeping aids, and most importantly - no glass in the windows, despite the cold. In the prisoners had no shoes, clothing, medicines, not enough medical personnel, food. All of the above, conclude U.S. observers, leads "to the rapid extinction of prisoners of war." Really dying by the thousands. No wonder the Lviv newspaper "Forward" December 22, 1920 calls Tuchola camp a "death camp". Thus, Katyn and Tuchola stand side by side. And it is necessary to treat this and ask the Poles of repentance for the brutal treatment of Russian. By the way, we should not have any illusion. About the same barbaric way the Red Army prisoners of war were treated, Baltic states treated the White Army Yudenich forces which retreat to their land. They allowed to passed then through the border in small groups, then confiscated all the weapon, after another mile all the valuables, and then clothes. So they beat is on the based on ideology but simply because they were Russians. Defending our ancestors who were subjected to abuse, we are seeking not only justice but also of self-respect. Man, do not mindful of kinship, respect is not deserved.

However, even if it has been said above about Russophobia, only a small drop in the cap or a smallest piece of a huge iceberg.

In addition, there is still the main problem, without deal with which all the fighting Russophobia is meaningless. This problem is ourselves: our standard of living, our culture, the development of our civil society, our internal and foreign policy, our military and economic power. Weak are always subject to humiliation: that is, unfortunately, human nature.

Any countermeasures -- although without them it situation might get worse -- no matter how sophisticated and skilled as they are, still no substitute for that, I'm talking about. So, first of all, to deal with all of us Russophobia requires a healthy and strong Russia. The fact that in this country and to live pleasantly, of course.

The old wisdom says, to be respected around, start to start to respect himself - a thing that you have created with their own hands.

And there, staring, reconsider their views on the Russian, even touchy Finns.
The Western media even before the Ukrainian Maidan was broadcast events in Russia exclusively in a negative way. Attempts are being made to discredit almost all Russian initiatives and projects, ranging from the Olympics to the elections of the President, etc. For the implementation of anti-Russian propaganda standard techniques of "projection" polished in color revolutions were used. That includes activization via NGOs of the opposition media and opposition figures within the country. The set of "prisoners of conscience" was created from academics, businessmen and politicians, who, for various reasons, wished to leave Russia for the West. Corrupt businessmen, who escaped to the West to avoid prosecution in Russia became prisoner of conscience and political oppositionist on the moment they cross the border. Anti-Russian propaganda aims in stressing civilizational, cultural, intellectual backwardness of Russia compared "advanced and enlightened" West.
The purpose of this propaganda "strangulation" of Russia is instituting "regime change" and bring to power the second generation of compradors. As well as further dismemberment of its territory. Some forms on internal conflict are supported as a part of destabilization strategy. With the ultimate goal of second partitioning of Russia and the emergence of new quasi-independent States.
To understand the coverage of Russia in western MSM one needs to understand the mechanisms of war propaganda. The latter is guided by the following postulates well known since the WWI (Falsehood in War-Time):
1. We do not want war.
2. The opposite party alone is guilty of war.
3. The enemy is the face of the devil.
4. We defend a noble cause, not our own interest.
5. The enemy systematically commits cruelties; our mishaps are involuntary.
6. The enemy uses forbidden weapons.
7. We suffer small losses, those of the enemy are enormous.
8. Artists and intellectuals back our cause.
9. Our cause is sacred. "The ages-old 'God bless America' is playing once more."
10. All who doubt our propaganda, are traitors.
This topic is discussed in more details elsewhere, but a good starting point is the book Propaganda: The Formation of Men's Attitudes (1965/1973) by French philosopher, theologian, legal scholar, and sociologist Jacques Ellul. This book was one the first attempt to study propaganda from a sociological approach as well as a psychological one. It presents a taxonomy for propaganda methods, including such paired opposites as
political–sociological,
vertical–horizontal,
rational–irrational,
agitation–integration.
During World War II, Ellul was a leader in the French resistance after being discharged as a professor from French universities by the Vichy regime. After France's liberation, he became professor at the University of Bordeaux. He authored 58 books and numerous articles over his lifetime, the dominant theme of which has been the threat to human freedom created by modern technology. In 1947, Ellul was appointed chair of law and social history at the Institut d'études politiques that increased his reputation as a social and political philosopher which led to the publication of his works in the United States. Here is an abridged Wikipedia summary:
...."The Institute for Propaganda Analysis, inspired by Harold Lasswell" defined propaganda as "the expression of opinions or actions carried out deliberately by individuals or groups with a view to influencing the opinions or actions of other individuals or groups for predetermined ends and through psychological manipulations".[3]

This definition seemed more accurate and was supported by others such as Goebbels, a German propagandist, who stated, "We do not talk to say something, but to obtain a certain effect."[ Similarly F.C. Bartlett holds an accurate interpretation of the goal of propaganda as not merely as an instrument to increase political understanding of events, but to obtain results through action. Ellul supports the idea that propaganda is made primarily because of a will to action for the purpose of effectively arming policy made by the State. Leonard Doob, an American specialist, defined propaganda in 1948 as "the attempt to affect the personalities and to control the behavior of individuals towards desired ends."

Unending definitions show the uncertainty among specialists and the inability of definitions to encompass all that is propaganda. Just because the term propaganda cannot be defined with any degree of precision does not mean that attempts to define it should be abandoned.

"Very frequently propaganda is describe as a manipulation for the purpose of changing idea or opinions of making individuals 'believe' some idea or fact, and finally of making them adhere to some doctrine—all matters of the mind. It tries to convince, to bring about a decision, to create a firm adherence to some truth. This is a completely wrong line of thinking: to view propaganda as still being what it was in 1850 is to cling to an obsolete concept of man and of the means to influence him; it is to condemn oneself to understand nothing about propaganda. The aim of modern propaganda is no longer to modify ideas, but to provoke action. It is no longer to change adherence to a doctrine, but to make the individual cling irrationally to a process of action. It is no longer to transform an opinion but to arouse an active and mythical belief."

...He holds that the main concern of propaganda through psychological influence is sparking action to a desired response by developing learned attitudes. ....

Summary of chapters

Propaganda: The Formation of Men's Attitudes is divided into five substantive chapters discussing Ellul's analysis. Introduction

Regardless of the State, propaganda should be viewed as situated at the center of the growing powers of governmental and administrative techniques.

"Differences in political regimes matter little; differences in social levels are more important; and most important is national self-awareness. Propaganda is a good deal less the political weapon of a regime (it is that also) than the effect of a technological society that embraces the entire man and tends to be a completely integrated society. Propaganda stops man from feeling that things in society are oppressive and persuades him to submit with good grace."[7] Chapter One: Characteristics of Propaganda

Modern propaganda is a technique that requires an analysis of both environment and individual to be subjected to propaganda therefore it is based on scientific analyses of psychology and sociology. Sufficient understanding of these two areas creates the most effective propaganda and without the scientific research of modern psychology and sociology there would be no propaganda. "Step by step the propagandist builds the techniques on the basis of his knowledge of man, his tendencies, his desires, his needs, his psychic mechanisms, his conditioning, and as much on social psychology as on depth psychology."[8] 1.Part One: External Characteristics

Propaganda is first and foremost concerned with influencing an individual psychologically by creating convictions and compliance through imperceptible techniques that are effective only by continuous repetition. Propaganda employs encirclement on the individual by trying to surround man by all possible routes, in the realm of feelings as well as ideas, by playing on his will or his needs through his conscious and his unconscious, and by assailing him in both his private and his public life.[9] The propagandist also acknowledges the most favorable moment to influence man is when an individual is caught up in the masses. Propaganda must be total in that utilizes all forms of media to draw the individual into the net of propaganda. Propaganda is designed to be continuous within the individual's life by filling the citizen's entire day. It is based on slow constant impregnation that functions over a long period of time exceeding the individual's capacities for attention or adaptation and thus his capabilities of resistance. In order for propaganda to maintain encirclement, it must be exerted by an organization capable of influencing psychological channels that reach the individual. Psychological and physical actions are inseparable elements to propaganda, however, if no influence is exerted by an organization than there can be no propaganda because it cannot operate in a vacuum. The necessity for a physical organization limits propaganda enterprises and in order to be effective propaganda must work inside a group, principally inside a nation. Propaganda must first organize the masses in order to propagandize within the masses. In general, propaganda is a set of methods employed by an organized group that wants to bring about the active or passive participation in its actions of a mass of individuals, psychologically unified through psychological manipulations and incorporated into an organization.[10] Propaganda should no longer be viewed in terms of an orthodoxy but rather modern propaganda should be seen as an orthopraxy because it aims for participation not adherence. Participation can be active or passive: active if propaganda has been able to mobilize the individual for action; passive if the individual does not act directly but psychologically supports that action. 2. Part Two: Internal Characteristics The second major element that a propagandist must understand is the environment in which the individual operates, mainly the foci of interest of the public. An understanding of the conventional patterns and stereotypes that pre-exist in a milieu provide the propagandist with material from which to build off. Propaganda is not able to create something out of nothing and is confined to developing pre-existing material thereby expressing the fundamental currents of the society it seeks to influence. These currents include accepted structures such as collective sociological presuppositions and myths that are fundamental to society.

"The Four Great Collective Sociological Presuppositions in the Modern World: 1.That an individual's

aim in life is happiness. 2.That man is naturally good. 3.That history develops in endless progress. 4.That everything is matter.

The Collective Myths: 1.of Work 2.of Happiness 3.of the Nation 4.of Youth 5.of the Hero"[11]

These currents reinforce socieand hold man's mjor convictions and propa

ganda must voice this reality. Propaganda is concerned with timeliness since an individual is only moved to action if he is pushed towards a timely one by propaganda. Once it becomes history it inevitably becomes neutral and indifferent to the individual who is sensitive primarily to current news. "Operational words" are used to penetrate an individual's indifference. However they lose their value as immediacy passes as old facts are replaced by new ones. The "current events man" is carried along the current of news and caught in the events of today, losing interest in the events of yesterday. The indifferent are apolitical and without opinion, therefore they are outside of propaganda's grasp. Incidentally, there are also the undecided, people whose opinions are vague, who form the majority of citizens within the collective. These citizens are the most susceptible to control of public opinion that is dictated by propaganda. Lastly, this part discusses propaganda and truth or the ability of propaganda to relay something as true based not on the accuracy of facts but of reality. Propaganda veils the truth with falsehoods even though lying is generally to be avoided. 3. Part Three: Categories of Propaganda Presented in this chapter is a sophisticated taxonomy for propaganda, including such paired opposites as political-sociological, vertical-horizontal, rational-irrational, and agitation-integration.

Political vs. Sociological Propaganda:

Political Propaganda involves techniques of influence employed by a government, a party, an administration, or a pressure group with the intention of changing the behavior of the public. The themes and objectives of this type of propaganda are of a political nature. The goals are determined by the government, party, administration, or pressure group. The methods of political propaganda are calculated in a precise manner and its main criteria is to disseminate an ideology for the very purpose of making various political acts acceptable to the people.[12] There are two forms of political propaganda, tactical and strategic. Tactical political propaganda seeks to obtain immediate results within a given framework. Strategic political propaganda is not concerned with speed but rather it establishes the general line, the array of arguments, and the staging of campaigns.

Political propaganda reversed is sociological propaganda because the ideology is penetrated by means of its sociological context. Propaganda, as it is traditionally known, implies an attempt to spread an ideology through the mass media of communication in order to lead the public to a desired action. In sociological propaganda even media that are not controllable such as individual art work, films, and writing reflect the ideology allowing for an accelerated penetration of the masses and the individuals within them.[13]

Sociological propaganda is a phenomenon where a society seeks to integrate the maximum number of individuals into itself by unifying its members' behavior according to a pattern, spreading its style of life abroad, and thus imposing itself on other groups. Essentially sociological propaganda aims to increase conformity with the environment that is of a collective nature by developing compliance with or defense of the established order through long term penetration and progressive adaptation by using all social currents. The propaganda element is the way of life with which the individual is permeated and then the individual begins to express it in film, writing, or art without realizing it. This involuntary behavior creates an expansion of society through advertising, the movies, education, and magazines. "The entire group, consciously or not, expresses itself in this fashion; and to indicate, secondly that its influence aims much more at an entire style of life."[14] This type of propaganda is not deliberate but springs up spontaneously or unwittingly within a culture or nation. This propaganda reinforces the individual's way of life and represents this way of life as best. Sociological propaganda creates an indisputable criterion for the individual to make judgments of good and evil according to the order of the individual's way of life. Sociological propaganda does not result in action, however, it can prepare the ground for direct propaganda. From then on, the individual in the clutches of such sociological propaganda believes that those who live this way are on the side of the angels, and those who don't are bad.[15]

Vertical vs. Horizontal Propaganda: Vertical propaganda is similar to direct propaganda that aims at the individual in the mass and is renewed constantly. However, in horizontal propaganda there is no top down structure but rather it springs up from within the group. It involves meticulous encirclement that traps an individual involuntarily in dialectic. The individual is led unfailingly to its adherence by talking about the dialectic until the individual discovers the answer that was set up unconsciously for him to find. Schools are a primary mechanism for integrating the individual into the way of life.

Rational vs. Irrational Propaganda:

Propaganda is addressed to the individual on the foundation of feelings and passions which are irrational, however, the content of propaganda does address reason and experience when it presents information and furnishes facts making it rational as well. It is important for propaganda to be rational because modern man needs relation to facts. Modern man wants to be convinced that by acting in a certain way he is obeying reason in order to have self justification. The challenge is creating an irrational response on the basis of rational and factual elements by leaving an impression on an individual that remains long after the facts have faded away. Individuals are not compelled to act based facts but rather on emotional pressure, the vision of the future, or the myth.

Agitation vs. Integration propaganda: Propaganda of agitation seeks to mobilize people in order to destroy the established order and/or government. It seeks rebellion by provoking a crisis or unleashing explosive movements during one. It momentarily subverts the habits, customs, and beliefs that were obstacles to making great leap forward by addressing the internal elements in each of us. It eradicates the individual out of his normal framework and then proceeds to plunge him into enthusiasm by suggesting extraordinary goals which nevertheless seem to him completely within reach. However, this enthusiasm can only last a short duration so the objective must be achieved quickly followed by a period of rest. People cannot be kept at in a "state of perpetual enthusiasm and insecurity". Rebellion is incited by the propagandist who knows that hate is one of the most profitable resources when drawn out of an individual. Agitation propaganda is usually thought of as propaganda in that it aims to influence people to act. Integration propaganda, on the other hand, is a more subtle form that aims to reinforce cultural norms. This is sociological in nature because it provides stability to society by supporting the "way of life" and the myths within a culture. It is propaganda of conformity that requires participation in the social body. This type of propaganda is more prominent and permanent, yet it is not as recognized as agitation propaganda because it is more permanent manner. Basically, agitation propaganda provides the motive force when needed and when not needed integration propaganda provides the context and backdrop. Chapter Two: The Condition for the Existence of Propaganda

The nature of propaganda has changed over the course of time and yet it is evident that propaganda cannot exist without a milieu. The emergence of propaganda is interconnected with technology and scientific discoveries yet it can only appear and grow under certain conditions. Several events have occurred that have furthered propaganda by increasing its ability in depth and discovering new methods. Modern propaganda could not exist without the mass media or modern means of transportation which permit crowds of diverse individuals from all over to assemble easily and frequently. 1.Part One: The Sociological Conditions

Society must contain elements of both an individualist society and a mass society. Propaganda aims to capture both the mass and the individual at the same time through this dual type of society. A mass society is based on individuals that are reduced to ciphers based on what they have in common to others. First conditions for growth and development of modern propaganda: it emerged in Western Europe in the nineteenth century and the first half of the twentieth precisely because that was when society was becoming increasingly individualistic and its organic structures were breaking down. Individuals without natural organic local groups are defenseless and more likely to be caught up in a social current. On the other hand, a mass society has considerable population density in which local structures and organizations are weak, currents of opinion are strongly felt creating a certain psychological unity, and individuals are organized into large and influential collectives. Mass society is characterized by uniformity and material life despite differences of environment. Once a mass society is created, public opinion will begin to play a role to help individuals form their own personal opinion. Public opinion can only express itself through channels which are provided by the mass media of communication without which there could be no propaganda. Yet it is important that mass media be subject to centralized control in order to successfully form public opinion without any opposition. Again Ellul mentions that the individual must be caught in wide net of media through all channels. Once opinion has been formed, propaganda is able to reinforce it and transform opinion into action. 2. Part Two: Objective Conditions of Total Propaganda Propaganda thrives off of what individuals have in common with others to develop patterns of behavior and modify cultural opinions. Total propaganda recognizes that within a nation individuals should all have in common a standard of living, a culture, and an ideology. The need of an average standard of living is that people must be able to afford to buy a radio, TV, a newspaper, or go to the movies. It is mostly concerned with the densest mass which is made up of average men and not the very rich or very poor. Poor cannot do this therefore they cannot be subjected to integration propaganda because the immediate concerns of daily life absorb all their capacities and efforts. The poor can only be subjected to agitation propaganda, excited to the point of theft and murder. But they cannot be trained by propaganda, kept in hand, channeled, and oriented. More advanced propaganda can influence only a man who is not completely haunted by poverty, a man who can view things from a certain distance and be reasonably unconcerned about his daily bread, who therefore can take an interest in more general matters.

"For propaganda to be effective the propagandee must have a certain store of ideas and a number of conditioned reflexes that can only be acquired through peace of mind springing from relative security. The establishment of a mode of common life- all this leads to the creation of a type of normal man conveniently leads all men toward that norm via a multitude of paths. Propaganda's intent is to integrate people into the normal pattern prevailing in society bring about conformance to way of life. To sum up: The creation of normalcy in our society can take one of two shapes. It can be the result of scientific, psycho-sociological analysis based on statistics- that is the American type of normalcy. It can be ideological and doctrinaire- that is the Communist type. But the results are identical: such normalcy necessarily gives rise to propaganda that can reduce the individual to the pattern most useful to society."[16]

"Information" Is an essential element of propaganda, which must "have reference to political or economic reality" to be credible. In fact, no propaganda can work until the moment when a set of facts has become a problem in the eyes of those who constitute public opinion." Education permits the dissemination of propaganda in that it enables people to consume information. Information is indistinguishable from propaganda in that information is an essential element of propaganda because for propaganda to succeed it must have reference to political or economic reality. Propaganda grafts itself onto an already existing reality through "informed opinion". Where no informed opinion with regard to political or economic affairs propaganda cannot exist making it an indispensable aspect. Propaganda means nothing without preliminary information that provides the basis for propaganda, gives propaganda the means to operate, and generates the problems that propaganda exploits by pretending to offer solutions. It is through information that the individual is placed in a social context and learns to understand the reality of his own situation. Information allows us to evaluate our situation feel our own personal problems are a general social problem thus enabling propaganda to entice us into social and political action. Information is most effective when it is objective and broad because it creates a general picture. With information quantity is better than quality, the more political or economic facts believed to be mastered by an individual, the more sensitive their judgment is to propaganda. In fact, only in and through propaganda do the masses have access to political economy, politics, art, or literature. The more stereotypes in a culture, the easier it is to form public opinion, and the more an individual participates in that culture, the more susceptible he becomes to the manipulation of these symbols. Chapter Three: The Necessity for Propaganda

All propaganda is based on a need, a dual need, first there is the need of state to make it and second there is the need of propagandee to receive it. These two needs compliment and correspond to each other in the development of propaganda. Propaganda is an expression of modern society as a whole. 1.Part One: The State's Necessity

The State has the need to make propaganda to integrate citizens into its society, to disseminate information, and to increase participation and involvement of members of society. Sometimes the people want to take part in government affairs. However, the official leaders cannot disconnect themselves from what the people want. Being that the people in charge cant escape the people , bait must be presented to them. This acts as a disguise that must be there to hide what is really happening behind the scenes in the government . Citizens are aware that political decisions affect everybody and governments cannot govern without the support, presence, pressure, or knowledge of the people. Yet the people are incapable of making long term policy so opinion must be created to follow the government because the government cannot be led by opinion. All of this describes the "Mass-Government" relationship characterized by people demanding what has already been decided, in order to appear as though the government is actually caring about what the people need. The next part that the book discuss is psychological warfare. It is believed to be a peace policy that is used between nations as a form of aggression. This type of propaganda changes the public opinion of an opposing regime so that it can be in favor of there regime. 2. Part Two: The Individual's Necessity The individual needs propaganda to gain satisfaction as a member of society. Individuals want to be informed and to participate in the decisions of the state. Propaganda is the outlet through which individuals obtain the satisfaction of having contributed to the state. It is a necessary instrument of a state or institution to spread information to members of the group or society. But for propaganda to succeed it must respond to a need on the individual's part as well. The individual is by no means just an innocent victim of propaganda when in fact he provokes the psychological action of propaganda by not merely lending himself to it, but also from deriving satisfaction from it. It is strictly a sociological phenomenon, in the sense that it has its roots and reasons in the need of the group that will sustain it. The great role performed by propaganda is in its ability to give the people the involvement they crave or the illusion of it in order for the masses to be artificially satisfied. Individuals are faced with decisions which require a range of information that the individual does not and cannot have without propaganda. Thus, the individual is unable to accept that he cannot form opinion on his own and is caught between his desire and his inability. People are willing and likely to accept propaganda that allows them to artificially satisfy their desire to have an opinion by hiding their incompetence. The individual does not mind being given preconceived positions because otherwise he would realize that he does not understand the problems of the modern world. The individual would then realize that he "depends on situations of which he has no control" and have to face this reality. The individual cannot live in the state of this harsh reality so he derives satisfaction from the veil created by the ideology and the sense of values it provides. The individual need psychological and ideological reasons why he needs to be where he is and propaganda is the mechanism that the state uses for this very purpose. Chapter Four: Psychological Effects of Propaganda

The psychological effects of propaganda on an individual cannot be ignored. The individual undergoes profound changes while being propagandized mainly the diminishment of personal activity. "Propaganda furnishes objectives, organizes the traits of an individual into a system, and freezes them into a mold by standardizing current ideas, hardening the prevailing stereotypes, and furnishing thought patterns in all areas."[17] The individual is traumatized by the overwhelming force of propaganda that intensifies the prejudices and beliefs until eventually the individual has no control over his own impulses. It seeks to push the individual into the mass until his will fades entirely into that of the mass. Individuality is sacrificed for the greater cause of the nation by uniting him and blending him with others. Critical and personal judgment are subdued and replaced with ready-made attitudes and opinions. Discernment is made nearly impossible for the individual whose ability to judge is destroyed making him dependent on propaganda's ready-made opinions from then on. The individual can no longer exercise his own judgment and becomes honed into what propaganda tells him. He no longer expresses himself but his group once he accepts public opinion as his own. The artificial, impersonal public opinion created by propaganda is absorbed by the individual and he becomes filled with its conviction. When he is fully integrated in the social group and can no longer distinguish between himself and society than he has reached total alienation. In this process, the individual's personal inclinations lead to participation in the collective where he loses control and submits to external impulses. The individual is suppressed psychologically so that he can continue to live under the conditions in which society places him by providing an artificial and unreal reality that is the result of powerful propaganda. Chapter Five: The Socio-Political Effects

"In the nineteenth century, the problem of opinion formation through the expression of thought was essentially a problem of contacts between the State and the individual, and a problem of acquisition of freedom. But today, thanks to the mass media, the individual finds himself outside the battle that is now between the State and powerful groups. The freedom to express ideas is no longer at stake in this debate but it has been replaced by mastery and domination by the State or some powerful groups over the formation of opinion. The individual is not in the battle because he is the stake and the battle will determine what voice he will be permitted to hear and which words will have the power to obsess him."[18] 1.Part One: Propaganda and Ideology

An ideology provides society certain beliefs and no social group can exist without the foundation of these beliefs. Propaganda is the means by which an ideology can expand without force. An ideology is either fortified within a group or expanded beyond the borders of a group through propaganda. However, propaganda is less and less concerned with spreading the ideology nowadays as it is with becoming autonomous. The ideology is no longer the decisive factor of propaganda that must be obeyed by the propagandist. The propagandist cannot be constrained by the ideology of his State but must operate in service of the state and be able to manipulate the ideology as if it were an object. The ideology merely provides the content for the propagandist to build off since he is limited to what already is present within the group, nation, or society. The fundamental ideologies are nationalism, socialism, communism, and democracy. 2. Part Two: Effects on the Structure of Public Opinion Public opinion is an instrument of propaganda that is disseminated through the mass media of communication to the masses. While most people view the formation of public opinion as being shaped itself by interaction between different viewpoints on controversial questions, this is incorrect because public opinion is delineated by propaganda as a "truth" which is either believed or not believed. Public opinion ceases to be controversial and can no longer form itself except through channels of mass media. No opinion can be held until it is communicated to the masses through mass media. Propaganda uses public opinion to externalize inner opinions of the organization to the masses that eventually produces conformity.[19] 3. Part Three: Propaganda and Grouping In regards to propaganda, there are two groups: the groups that make propaganda and the groups that are subjected to propaganda. In Ellul's view, there is a "double foray on the part of propaganda that proves the excellence of one group and the evilness of another at the same time to create partitioning". This creates isolation between groups by promoting allegiance to the group one is in and suppressing conversation between groups. The more they listen to their propaganda the stronger their beliefs and the greater their justifications for their actions. Partitioning takes place on many different levels including class, religious, political, national and blocs of nations. A superior group is able to affect the lesser groups, however, groups that have an equal amount of influence will only separate further from one another in that a members allegiance to a group develops closed mindedness. Well-organized propaganda is able to work with different elements that exist within a nation such as religion, political parties, and labor groups. 4. Part Four: Propaganda and Democracy Since democracy depends on public opinion, it is clear that propaganda must be involved. The relationship between democracy and propaganda evidently presents a conflict between the principles of democracy and the processes of propaganda. The individual is viewed as the cornerstone of a democracy which is a form of government that is made "for the people and by the people". However, as discussed in early chapters Ellul described the masses are incapable of making long-term foreign policy and the government needs to make these decisions in a timely manner. This is where propaganda comes into play and projects an artificial reality to the masses to satisfy their need to participate in government while the decisions are really made behind the scenes. This was also describe earlier as the "mass-government" relationship. Democratic regimes develop propaganda in line with its myths and prejudices. Propaganda stresses the superiority of a democratic society while intensifying the prejudices between democratic and oppressive.

Major themes

Propaganda: The Formation of Men's Attitudes builds on prior notions of propaganda to demonstrate that while propaganda is psychological in nature it is just as much sociological in nature as well. Propaganda is not just embedded into the individual's psyche but also the cultural psyche. Propaganda works off the inner characteristics of both the individual and the society that the individual belongs. This thorough analysis made by Ellul illustrates that to downplay the importance of the sociological influences of propaganda to psychological ones is a dreadful error. Propaganda is more threatening when it begins to be recognized as sociological as well psychological in nature. Below are two major themes the first stressing the psychological aims of propaganda the second the sociological aims.

"The Lonely Crowd"

The term "lonely crowd" is used by Ellul to distinguish the two inseparable elements of propaganda, the individual and the masses, which must be addressed by the propagandist at the same time. As an isolated unit, the individual is of no interest to the propagandist unless he is reduced to an average. It is crucial that the individual is never considered as an individual but always in terms of what he has in common with others. The individual is included and integrated into the mass because the propagandist profits from the process of diffusion of emotions through the mass, and at the same time, from the pressures felt by an individual when in a group.[20]

In this setting, "the individual caught up in the mass", the individual's reactions are easier to provoke and psychic defenses are weakened. The individual must always be considered as a participant in a mass and similarly the mass must only be viewed as a crowd composed of individuals. When propaganda is addressed to the crowd, it must touch each individual in that crowd which is in fact nothing but assembled individuals. Conversely, the individual should not be viewed as alone as a listener, watcher, or reader because the individual is nevertheless part of an invisible crowd though he is actually alone. The most favorable moment to influence an individual is when he is alone in the mass, the structure of the mass is extremely profitable to the propagandist concerned with being effective.

Fundamental currents in society

"One cannot make just any propaganda any place for anybody."[21] While propaganda is focused on reaching the individual, it cannot only rely on building off what already exists in the individual. Propaganda must also attach itself to the pre-existing fundamental currents of the society it seeks to influence. The propagandist must know the current tendencies and the stereotypes among the public he is trying to reach. These are indicated by principal symbols of the culture the propagandist wishes to attack since these symbols express the attitudes of a particular culture. Individuals are part of a culture and are therefore psychologically shaped by that culture. The main task of propaganda is to utilize the conditioned symbols as transmitters of that culture to serve its purpose. Propaganda must be a reflection of the fundamental structures of society to be successful and not contradictory of existing opinions. A skillful propagandist does not try to change mass opinion or go against an accepted structure. Only a bad propagandist would make a direct attack on an established, reasoned, durable opinion, accepted cliché, or fixed pattern. "Each individual harbors a large number of stereotypes and established tendencies; from this arsenal the propagandist must select those easiest to mobilize, those which will give the greatest strength to the action he wants to precipitate."[22]

While propaganda cannot create something out of nothing, it does have the ability to build on the foundation already established. More importantly even though it does not create new material and is confined to what already exists, it is not necessarily powerless. "It can attack from the rear, war own slowly, provide new centers of interest, which cause the neglect of previously acquired positions; it can divert a prejudice; or it can elicit an action contrary to an opinion held by the individual without his being clearly aware of it."[23]

Propaganda can gradually undermine prejudices and images in order to weaken them. These fundamental currents in society create the perfect atmosphere for sociological propaganda which influences the individual through his customs and unconscious habits. Sociological propaganda is a phenomenon where a society tries to unify its members' behavior according to a pattern. Essentially sociological propaganda is to increase conformity with the environment that is of a collective nature by developing compliance with or defense of the established order through long term penetration and progressive adaptation by using all social currents. The propaganda element is the way of life with which the individual is permeated and then the individual begins to express it in film, writing, or art without realizing it. This involuntary behavior creates an expansion of society through advertising, the movies, education, and magazines. "The entire group, consciously or not, expresses itself in this fashion; and to indicate, secondly that its influence aims much more at an entire style of life."[24] This type of propaganda is not deliberate but springs up spontaneously or unwittingly within a culture or nation. This propaganda reinforces the individual's way of life and represents this way of life as best.

See also [edit] Brainwashing Conformity Ideology Indoctrination Media manipulation Mind control Propaganda Psychological manipulation Psychological warfare Social Influence Socially constructed reality
British propaganda is especially sophisticated and nasty. See In Foreign Events Coverage The Guardian Presstitutes Slip Beyond the Reach of Embarrassment

The USA administration, and especially neocons, entrenched in State Department, organized putsch in Kiev with the help of their European satellites. When the civil war started as the result of the putsch the USA introduced sanctions against Russia. See "Fuck the EU": State Department neocons show EU its real place

Tremendous pressure exerted on Russia by the West, largely intended to show the subjects of world politics undesirability of implementing an independent foreign policy. Washington and its satellites in Europe through sanctions are trying to demonstrate their ability to isolate the "offending" countries from the global economy and technical progress by controlling supplies of high technology equipment. However, analysis of the accusations against Russia suggests that both the USA Europe are dominated by neoliberals/neocons who themselves are divorced from the realities of the current processes and looks at the world through the eyes of the early 90th then neoliberalism enjoyed its triumphal march in Eastern Europe and xUSSR space.

After 2008 neoliberalism entered so called zombie stage. It is still very powerful and very dangerous, but ideology of neoliberalism, like ideology of Marxism before is now looks like perishable goods with expired date of consumption. In no way it is not attractive anymore. Events like enforcing Greece debt slavery by Germany and France only increase the reaction of rejection.

And that's despite all economic power the USA definitely possesses and success in implementing economic sanctions which drove the Russia GDP growth into negative rages presents huge challenge for the USA. One of the best option the USA elites are pushing is the limited war in Europe that can weaken both EU and Russia. So in a way the putsch in Kiev was anti-EU measure, as Victoria Nuland famous quote suggests.

Sanctions, as damaging as they are, suggest that the empire lost diplomatic skills. And there is no question that economic weapons are as close to the act of war as you can get. See Cold War II. As Patrick Buchanan notes (ecnomicpolicyjournal.com, April 28, 2014):
"Mr. Obama is focused on isolating President Vladimir V. Putin's Russia by cutting off its economic and political ties to the outside world ... and effectively making it a pariah state."

So wrote Peter Baker in Sunday's New York Times. Yet if history is any guide, this "pariah policy," even if adopted, will not long endure.

Three years after Khrushchev sent tanks into Hungary, he
was touring the USA and celebrating with Ike the new "Spirit of Camp David."

Half a year after Khrushchev moved missiles into Cuba, JFK was talking detente is his famous speech at American University.

Three weeks after Moscow incited the Arabs in the Six-Day War, Lyndon Johnson was meeting with Premier Alexei Kosygin in New Jersey, where the "Spirit of Glassboro," was born.

So it went through the Cold War. Post-crises, U.S. presidents reached out to Soviet leaders. For they saw Russia as too large and too powerful to be isolated and ostracized like North Korea.
The sustained expansion of economic sanctions, especially against the oil and gas sector and specific companies as well as limited access to credit resources indicate the seriousness of the Western establishment to deprive Russia of the economic growth and the ability to protect its own economic interests.
---
---
For the list of top articles see Recommended Links section
How tank maintenance mechanical engineer and military contractor who got into congress pretending to belong to tea party can became the Secretary of state? Only in America ;-)
"You Think Americans Really Give A F**k About Ukraine?" - Pompeo Flips Out On NPR Reporter by Tyler Durden Sat, 01/25/2020 - 15:05 0 SHARES

Democrats' impeachment proceedings were completely overshadowed this week by the panic over the Wuhan coronavirus. Still, Secretary of State Mike Pompeo is clearly tired of having his character repeatedly impugned by the Dems and the press claiming he hung one of his ambassadors out to dry after she purportedly resisted the administration's attempts to pressure Ukraine.

That frustration came to a head this week when, during a moment of pique, Secretary Pompeo launched into a rant and swore at NPR reporter Mary Louise Kelly after she wheedled him about whether he had taken concrete steps to protect former Ambassador to Ukraine Marie Yovanovitch.

House Democrats last week released a trove of messages between Giuliani associate Lev Parnas and Connecticut Republican Congressional candidate Robert Hyde. The messages suggested that Yovanovitch might have been under surveillance before President Trump recalled her to Washington. One of the messages seems to reference a shadowy character able to "help" with Yovanovitch for "a price."

Kelly recounted the incident to her listeners (she is the host of "All Things Considered")

After Kelly asked Pompeo to specify exactly what he had done or said to defend Yovanovitch, whom Pompeo's boss President Trump fired last year, Pompeo simply insisted that he had "done what's right" with regard to Yovanovitch, while becoming visibly annoyed.

Once the interview was over, Pompeo glared at Kelly for a minute, then left the room, telling an aide to bring Kelly into another room at the State Department without her recorder, so they could have more privacy.

Once inside, Pompeo launched into what Kelly described as an "expletive-laden rant", repeatedly using the "f-word." Pompeo complained about the questions about Ukraine, arguing that the interview was supposed to be about Iran.

"Do you think Americans give a f--k about Ukraine?" Pompeo allegedly said.

The outburst was followed by a ridiculous stunt: one of Pompeo's staffers pulled out a blank map and asked the reporter to identify Ukraine, which she did.

"People will hear about this," Pompeo vaguely warned.

Ironically, Pompeo is planning to travel to Kiev this week.

The questions came after Michael McKinley, a former senior adviser to Pompeo, told Congress that he resigned after the secretary apparently ignored his pleas for the department to show some support for Yovanovitch.

Listen to the interview here. A transcript can be found here .

NPR's Mary Louise Kelly says the following happened after the interview in which she asked some tough questions to Secretary of State Mike Pompeo. pic.twitter.com/cRTb71fZvX

-- Daniel Dale (@ddale8) January 24, 2020

Last we checked, the team at NPR is waiting on Pompeo to apologize

Mike Pompeo Does in fact owe Yovanovitch an apology https://t.co/imazFrG3Q6

-- Molly Jong-Fast (@MollyJongFast) January 25, 2020

We suspect they might be waiting a while...

---

CarteroAtómico , 5 minutes ago link

He's right. American don't give a **** about Ukraine. But why did Clinton and Obama and now Trump and Pompeo? Why are they spending our money there instead of either taking care of problems here or paying off the national debt?

MOLONAABE , 8 minutes ago link

The best thing that could happen to the Ukraine is for Russia to take it back.. they would clean up that train wreck of a country... they've proven themselves as to being the scumbags they are gypsies and grifters...

Goodsport 1945 , 11 minutes ago link

The Bidens do, so there must be $omething very attractive over there.

carman , 13 minutes ago link

He's right. Nobody cares about Ukraine. NPR= National Propaganda Radio.

CarteroAtómico , 1 minute ago link

But why are Trump and Pompeo continuing the policy of Obama and Clinton there? Remember Trump said he would pay off the national debt in 8 years? How about stop spending our money on the War Party's foreign interventions for a starter.

kindasketchy , 17 minutes ago link

I wish the same level of questioning was directed at Pompeo regarding Syria and Iran. You may like his response because of the particular topic, but it doesn't change the fact that he's a psycho neo-con fucktard who should be shot for treason.

Collectivism Killz , 21 minutes ago link

Truth. Most Americans know nothing about Ukraine, some just know orange man bad and orange man bad for Ukr

roach clipper , 21 minutes ago link

I despise fkn traitor Pompus from USMA (traitor training school) but in this case he doesn't owe yovanobitch anything.

morefunthanrum , 27 minutes ago link

People care about a secretary of state who supports his diplomats...about a president whose not a lying conniving spoiled piece of ****

roach clipper , 22 minutes ago link

There are NO diplomats in the Dept. of State, otherwise we wouldn't have been at war all century.
Notable quotes:
"... It always goes to Iran ..."
"... But even I was flabbergasted by what Trump did. Absolutely gobsmacked. Killing Qassem Soleimani, Iranian general, leader of the Quds forces, and the most respected military leader in the Middle East? And ..."
"... The first thing, the thing that is so sad and so infuriating and so centrally symptomatic of everything wrong with American political culture, is that, with painfully few exceptions, Americans have no idea of what their government has done. They have no idea who Qassem Soleimani was, what he has accomplished, the web of relationships, action, and respect he has built, what his assassination means and will bring. The last person who has any clue about this, of course, is Donald Trump, who called Soleimani " a total monster ." His act of killing Soleimani is the apotheosis of the abysmal, arrogant ignorance of U.S. political culture. ..."
"... Washington Post ..."
"... Whatever their elected governments say, we'll will keep our army in Syria to "take the oil," and in Iraq to well, to do whatever the hell we want. ..."
"... Sure, we make the rules and you follow our orders. ..."
"... with nobody even noticing ..."
"... Christian Science Monitor ..."
"... under Trump's leadership ..."
"Praise be to God, who made our enemies fools."

The Killing

I've been writing and speaking for months about the looming danger of war with Iran, often to considerable skepticism.

In June, in an essay entitled " Eve of Destruction: Iran Strikes Back ," after the U.S. initiated its "maximum pressure" blockade of Iranian oil exports, I pointed out that "Iran considers that it is already at war," and that the downing of the U.S. drone was a sign that "Iran is calling the U.S. bluff on escalation dominance."

In an October essay , I pointed out that Trump's last-minute calling off of the U.S. attack on Iran in June, his demurral again after the Houthi attack on Saudi oil facilities, and his announced withdrawal of U.S. troops from Syria were seen as "catastrophic" and "a big win for Iran" by the Iran hawks in Israel and America whose efforts New York Times (NYT) detailed in an important article, " The Secret History of the Push to Strike Iran ." I said, with emphasis, " It always goes to Iran ," and underlined that Trump's restraint was particularly galling to hard-line zionist Republican Senators, and might have opened a path to impeachment. I cited the reported statement of a "veteran political consultant" that "The price of [Lindsey] Graham's support would be an eventual military strike on Iran."

And in the middle of December, I went way out on a limb, in an essay suggesting a possible relation between preparations for war in Iran and the impeachment process. I pointed out that the strategic balance of forces between Israel and Iran had reached the point where Israel thinks it's "necessary to take Iran down now ," in "the next six months," before the Iranian-supported Axis of Resistance accrues even more power. I speculated that the need to have a more reliable and internationally-respected U.S. President fronting a conflict with Iran might be the unseen reason -- behind the flimsy Articles of Impeachment -- that explains why Pelosi and Schumer "find it so urgent to replace Trump before the election and why they think they can succeed in doing that."

So, I was the guy chicken-littling about impending war with Iran.

But even I was flabbergasted by what Trump did. Absolutely gobsmacked. Killing Qassem Soleimani, Iranian general, leader of the Quds forces, and the most respected military leader in the Middle East? And Abu Mahdi al-Mohandes, Iraqi commander of the Popular Mobilization Forces (PMF) unit, Kataib Hezbollah? Did not see that coming. Rage. Fear. Sadness. Anxiety. A few days just to register that it really happened. To see the millions of people bearing witness to it. Yes, that happened.

Then there was the anxious anticipation about the Iranian response, which came surprisingly quickly, and with admirable military and political precision, avoiding a large-scale war in the region, for the moment.

That was the week that was.

But, as the man said: "It ain't over 'til it's over." And it ain't over. Recognizing the radical uncertainty of the world we now live in, and recognizing that its future will be determined by actors and actions far away from the American leftist commentariat, here's what I need to say about the war we are now in.

The first thing, the thing that is so sad and so infuriating and so centrally symptomatic of everything wrong with American political culture, is that, with painfully few exceptions, Americans have no idea of what their government has done. They have no idea who Qassem Soleimani was, what he has accomplished, the web of relationships, action, and respect he has built, what his assassination means and will bring. The last person who has any clue about this, of course, is Donald Trump, who called Soleimani " a total monster ." His act of killing Soleimani is the apotheosis of the abysmal, arrogant ignorance of U.S. political culture.

It's virtually impossible to explain to Americans because there is no one of comparable stature in the U.S. or in the West today. As Iran cleric Shahab Mohadi said , when talking about what a "proportional response" might be: "[W]ho should we consider to take out in the context of America? 'Think about it. Are we supposed to take out Spider-Man and SpongeBob? 'All of their heroes are cartoon characters -- they're all fictional." Trump? Lebanese Hezbollah's Hassan Nasrallah said what many throughout the world familiar with both of them would agree with: "the shoe of Qassem Soleimani is worth the head of Trump and all American leaders."

To understand the respect Soleimani has earned, not only in Iran (where his popularity was around 80% ) but throughout the region and across political and sectarian lines, you have to know how he led and organized the forces that helped save Christians , Kurds , Yazidis and others from being slaughtered by ISIS, while Barack Obama and John Kerry were still " watching " ISIS advance and using it as a tool to "manage" their war against Assad.

In an informative interview with Aaron Maté, Former Marine Intelligence Officer and weapons inspector, Scott Ritter, explains how Soleimani is honored in Iraq for organizing the resistance that saved Baghdad from being overrun by ISIS -- and the same could be said of Syria, Damascus, or Ebril:

He's a legend in Iran, in Iraq, and in Syria. And anywhere where, frankly speaking, he's operated, the people he's worked with view him as one of the greatest leaders, thinkers, most humane men of all time. I know in America we demonize him as a terrorist but the fact is he wasn't, and neither is Mr. Mohandes.

When ISIS [was] driving down on the city of Baghdad, the U.S. armed and trained Iraqi Army had literally thrown down their weapons and ran away, and there was nothing standing between ISIS and Baghdad

[Soleimani] came in from Iran and led the creation of the PMF [Popular Mobilization Forces] as a viable fighting force and then motivated them to confront Isis in ferocious hand-to-hand combat in villages and towns outside of Baghdad, driving Isis back and stabilizing the situation that allowed the United States to come in and get involved in the Isis fight. But if it weren't for Qassem Soleimani and Mohandes and Kataib Hezbollah, Baghdad might have had the black flag of ISIS flying over it. So the Iraqi people haven't forgotten who stood up and defended Baghdad from the scourge of ISIS.

So, to understand Soleimani in Western terms, you'd have to evoke someone like World War II Eisenhower (or Marshall Zhukov, but that gets another blank stare from Americans.) Think I'm exaggerating? Take it from the family of the Shah :

Beyond his leadership of the fight against ISIS, you also have to understand Soleimani's strategic acumen in building the Axis of Resistance -- the network of armed local groups like Hezbollah in Lebanon as well as the PMF in Iraq, that Soleimani helped organize and provide with growing military capability. Soleimani meant standing up; he helped people throughout the region stand up to the shit the Americans, Israelis, and Saudis were constantly dumping on them

More apt than Eisenhower and De Gaulle, in world-historical terms, try something like Saladin meets Che. What a tragedy, and travesty, it is that legend-in-his-own-mind Donald Trump killed this man.

Dressed to Kill

But it is not just Trump, and not just the assassination of Soleimani, that we should focus on. These are actors and events within an ongoing conflict with Iran, which was ratcheted up when the U.S. renounced the nuclear deal (JCPOA – Joint Comprehensive Plan of Action) and instituted a "maximum pressure" campaign of economic and financial sanctions on Iran and third countries, designed to drive Iran's oil exports to zero.

The purpose of this blockade is to create enough social misery to force Iran into compliance, or provoke Iran into military action that would elicit a "justifiable" full-scale, regime-change -- actually state-destroying -- military attack on the country.

From its inception, Iran has correctly understood this blockade as an act of war, and has rightfully expressed its determination to fight back. Though it does not want a wider war, and has so far carefully calibrated its actions to avoid making it necessary, Iran will fight back however it deems necessary.

The powers-that-be in Iran and the U.S. know they are at war, and that the Soleimani assassination ratcheted that state of war up another significant notch; only Panglossian American pundits think the "w" state is yet to be avoided. Sorry, but the United States drone-bombed an Iranian state official accompanied by an Iraqi state official, in Iraq at the invitation of the Iraqi Prime Minister, on a conflict-resolution mission requested by Donald Trump himself. In anybody's book, that is an act of war -- and extraordinary treachery, even in wartime, the equivalent of shooting someone who came to parley under a white flag.

Indeed, we now know that the assassination of Soleimani was only one of two known assassination attempts against senior Iranian officers that day. There was also an unsuccessful strike targeting Abdul Reza Shahlai, another key commander in Iran's Quds Force who has been active in Yemen. According to the Washington Post , this marked a "departure for the Pentagon's mission in Yemen, which has sought to avoid direct involvement" or make "any publicly acknowledged attacks on Houthi or Iranian leaders in Yemen."

Of course, because it's known as "the world's worst humanitarian crisis," the Pentagon wants to avoid "publicly" bloodying its hands in the Saudi war in Yemen. Through two presidential administrations, it has been trying to minimize attention to its indispensable support of, and presence in, Saudi Arabia's war in Yemen with drone strikes , special forces operations , refueling of aircraft, and intelligence and targeting. It's such a nasty business that even the U.S. Congress passed a bipartisan resolution to end U.S. military involvement in that war, which was vetoed by Trump.

According to the ethic and logic of American exceptionalism, Iran is forbidden from helping the Houthis, but the U.S. is allowed to assassinate their advisors and help the Saudis bomb the crap out of them.

So, the Trump administration is clearly engaged in an organized campaign to take out senior Iranian leaders, part of what it considers a war against Iran. In this war, the Trump administration no longer pretends to give a damn about any fig leaf of law or ethics. Nobody takes seriously the phony "imminence" excuse for killing Soleimani, which even Trump say s "doesn't matter," or the "bloody hands" justification, which could apply to any military commander. And let's not forget: Soleimani was " talking about bad stuff ."

The U.S. is demonstrating outright contempt for any framework of respectful international relations, let alone international law. National sovereignty? Democracy? Whatever their elected governments say, we'll will keep our army in Syria to "take the oil," and in Iraq to well, to do whatever the hell we want. "Rules-based international order"? Sure, we make the rules and you follow our orders.

The U.S.'s determination to stay in Iraq, in defiance of the explicit, unequivocal demand of the friendly democratic government that the U.S. itself supposedly invaded the country to install, is particularly significant. It draws the circle nicely. It demonstrates that the Iraq war isn't over. Because it, and the wars in Libya and Syria, and the war that's ratcheting up against Iran are all the same war that the U.S. has been waging in the Middle East since 2003. In the end is the beginning, and all that.

We're now in the endgame of the serial offensive that Wesley Clark described in 2007, starting with Iraq and "finishing off" with Iran. Since the U.S. has attacked, weakened, divided, or destroyed every other un-coopted polity in the region (Iraq, Syria, Libya) that could pose any serious resistance to the predations of U.S. imperialism and Israel colonialism, it has fallen to Iran to be the last and best source of material and military support which allows that resistance to persist.

And Iran has taken up the task, through the work of the Quds Force under leaders like Soleimani and Shahlai, the work of building a new Axis of Resistance with the capacity to resist the dictates of Israel and the U.S. throughout the region. It's work that is part of a war and will result in casualties among U.S. and U.S.-allied forces and damage to their "interests."

What the U.S. (and its wards, Israel and Saudi Arabia) fears most is precisely the kind of material, technical, and combat support and training that allows the Houthis to beat back the Saudis and Americans in Yemen, and retaliate with stunningly accurate blows on crucial oil facilities in Saudi Arabia itself. The same kind of help that Soleimani gave to the armed forces of Syria and the PMF in Iraq to prevent those countries from being overrun and torn apart by the U.S. army and its sponsored jihadis, and to Hezbollah in Lebanon to deter Israel from demolishing and dividing that country at will.

It's that one big "endless" war that's been waged by every president since 2003, which American politicians and pundits have been scratching their heads and squeezing their brains to figure out how to explain, justify (if it's their party's President in charge), denounce (if it's the other party's POTUS), or just bemoan as "senseless." But to the neocons who are driving it and their victims -- it makes perfect sense and is understood to have been largely a success. Only the befuddled U.S. media and the deliberately-deceived U.S. public think it's "senseless," and remain enmired in the cock-up theory of U.S. foreign policy, which is a blindfold we had better shed before being led to the next very big slaughter.

The one big war makes perfect sense when one understands that the United States has thoroughly internalized Israel's interests as its own. That this conflation has been successfully driven by a particular neocon faction, and that it is excessive, unnecessary and perhaps disruptive to other effective U.S. imperial possibilities, is demonstrated precisely by the constant plaint from non-neocon, including imperialist, quarters that it's all so "senseless."

The result is that the primary object of U.S. policy (its internalized zionist imperative) in this war is to enforce that Israel must be able, without any threat of serious retaliation, to carry out any military attack on any country in the region at any time, to seize any territory and resources (especially water) it needs, and, of course, to impose any level of colonial violence against Palestinians -- from home demolitions, to siege and sniper killings (Gaza), to de jure as well as de facto apartheid and eventual further mass expulsions, if deems necessary.

That has required, above all, removing -- by co-option, regime change, or chaotogenic sectarian warfare and state destruction -- any strong central governments that have provided political, diplomatic, financial, material, and military support for the Palestinian resistance to Israeli colonialism. Iran is the last of those, has been growing in strength and influence, and is therefore the next mandatory target.

For all the talk of "Iranian proxies," I'd say, if anything, that the U.S., with its internalized zionist imperative, is effectively acting as Israel's proxy.

It's also important, I think, to clarify the role of Saudi Arabia (KSA) in this policy. KSA is absolutely a very important player in this project, which has been consistent with its interests. But its (and its oil's) influence on the U.S. is subsidiary to Israel's, and depends entirely on KSA's complicity with the Israeli agenda. The U.S. political establishment is not overwhelmingly committed to Saudi/Wahhabi policy imperatives -- as a matter, they think, of virtue -- as they are to Israeli/Zionist ones. It is inconceivable that a U.S. Vice-President would declare "I am a Wahhabi," or a U.S. President say "I would personally grab a rifle, get in a ditch, and fight and die" for Saudi Arabia -- with nobody even noticing . The U.S. will turn on a dime against KSA if Israel wants it; the reverse would never happen. We have to confront the primary driver of this policy if we are to defeat it, and too many otherwise superb analysts, like Craig Murray, are mistaken and diversionary, I think, in saying things like the assassination of Soleimani and the drive for war on Iran represent the U.S. " doubling down on its Saudi allegiance ." So, sure, Israel and Saudi Arabia. Batman and Robin.

Iran has quite clearly seen and understood what's unfolding, and has prepared itself for the finale that is coming its way.

The final offensive against Iran was supposed to follow the definitive destruction of the Syrian Baathist state, but that project was interrupted (though not yet abandoned) by the intervention of Syria's allies, Russia and Iran -- the latter precisely via the work of Soleimani and the Quds Force.

Current radical actions like the two assassination strikes against Iranian Quds Force commanders signal the Trump administration jumping right to the endgame, as that neocon hawks have been " agitating for ." The idea -- borrowed, perhaps from Israel's campaign of assassinating Iranian scientists -- is that killing off the key leaders who have supplied and trained the Iranian-allied networks of resistance throughout the region will hobble any strike from those networks if/when the direct attack on Iran comes.

Per Patrick Lawrence , the Soleimani assassination "was neither defensive nor retaliatory: It reflected the planning of the administration's Iran hawks, who were merely awaiting the right occasion to take their next, most daring step toward dragging the U.S. into war with Iran." It means that war is on and it will get worse fast.

It is crucial to understand that Iran is not going to passively submit to any such bullying. It will not be scared off by some "bloody nose" strike, followed by chest-thumping from Trump, Netanyahu, or Hillary about how they will " obliterate " Iran. Iran knows all that. It also knows, as I've said before , how little damage -- especially in terms of casualties -- Israel and the U.S. can take. It will strike back. In ways that will be calibrated as much as possible to avoid a larger war, but it will strike back.

Iran's strike on Ain al-Asad base in Iraq was a case in point. It was preceded by a warning through Iraq that did not specify the target but allowed U.S. personnel in the country to hunker down. It also demonstrated deadly precision and determination, hitting specific buildings where U.S. troops work, and, we now know, causing at least eleven acknowledged casualties.

Those casualties were minor, but you can bet they would have been the excuse for a large-scale attack, if the U.S. had been entirely unafraid of the response. In fact, Trump did launch that attack over the downing of a single unmanned drone -- and Pompeo and the neocon crew, including Republican Senators, were " stunned " that he called it off in literally the last ten minutes . It's to the eternal shame of what's called the "left" in this country that we may have Tucker Carlson to thank for Trump's bouts of restraint.

There Will Be Blood

But this is going to get worse, Pompeo is now threatening Iran's leaders that "any attacks by them, or their proxies of any identity, that harm Americans, our allies, or our interests will be answered with a decisive U.S. response." Since Iran has ties of some kind with most armed groups in the region and the U.S. decides what "proxy" and "interests" means, that means that any act of resistance to the U.S., Israel, or other "ally" by anybody -- including, for example, the Iraqi PMF forces who are likely to retaliate against the U.S. for killing their leader -- will be an excuse for attacking Iran. Any anything. Call it an omnibus threat.

The groundwork for a final aggressive push against Iran began back in June, 2017, when, under then-Director Pompeo, the CIA set up a stand-alone Iran Mission Center . That Center replaced a group of "Iran specialists who had no special focus on regime change in Iran," because "Trump's people wanted a much more focused and belligerent group." The purpose of this -- as of any -- Mission Center was to "elevate" the country as a target and "bring to bear the range of the agency's capabilities, including covert action" against Iran. This one is especially concerned with Iran's "increased capacity to deliver missile systems" to Hezbollah or the Houthis that could be used against Israel or Saudi Arabia, and Iran's increased strength among the Shia militia forces in Iraq. The Mission Center is headed by Michael D'Andrea, who is perceived as having an "aggressive stance toward Iran." D'Andrea, known as "the undertaker" and " Ayatollah Mike ," is himself a convert to Islam, and notorious for his "central role in the agency's torture and targeted killing programs."

This was followed in December, 2017, by the signing of a pact with Israel "to take on Iran," which took place, according to Israeli television, at a "secret" meeting at the White House. This pact was designed to coordinate "steps on the ground" against "Tehran and its proxies." The biggest threats: "Iran's ballistic missile program and its efforts to build accurate missile systems in Syria and Lebanon," and its activity in Syria and support for Hezbollah. The Israelis considered that these secret "dramatic understandings" would have "far greater impact" on Israel than Trump's more public and notorious recognition of Jerusalem as Israeli's capital.

The Iran Mission Center is a war room. The pact with Israel is a war pact.

The U.S. and Israeli governments are out to "take on" Iran. Their major concerns, repeated everywhere, are Iran's growing military power, which underlies its growing political influence -- specifically its precision ballistic missile and drone capabilities, which it is sharing with its allies throughout the region, and its organization of those armed resistance allies, which is labelled "Iranian aggression."

These developments must be stopped because they provide Iran and other actors the ability to inflict serious damage on Israel. They create the unacceptable situation where Israel cannot attack anything it wants without fear of retaliation. For some time, Israel has been reluctant to take on Hezbollah in Lebanon, having already been driven back by them once because the Israelis couldn't take the casualties in the field. Now Israel has to worry about an even more battle-hardened Hezbollah, other well-trained and supplied armed groups, and those damn precision missiles . One cannot overstress how important those are, and how adamant the U.S. and Israel are that Iran get rid of them. As another Revolutionary Guard commander says : "Iran has encircled Israel from all four sides if only one missile hits the occupied lands, Israeli airports will be filled with people trying to run away from the country."

This campaign is overseen in the U.S. by the likes of " praying for war with Iran " Christian Zionists Mike Pompeo and Mike Pence, who together " urged " Trump to approve the killing of Soleimani. Pence, whom the Democrats are trying to make President, is associated with Christians United For Israel (CUFI), which paid for his and his wife's pilgrimage to Israel in 2014, and is run by lunatic televangelist John Hagee, whom even John McCain couldn't stomach. Pompeo, characterized as the "brainchild" of the assassination, thinks Trump was sent by God to save Israel from Iran. (Patrick Lawrence argues the not-implausible case that Pompeo and Defense Secretary Esper ordered the assassination and stuck Trump with it.) No Zionists are more fanatical than Christian Zionists. These guys are not going to stop.

And Iran is not going to surrender. Iran is no longer afraid of the escalation dominance game. Do not be fooled by peace-loving illusions -- propagated mainly now by mealy-mouthed European and Democratic politicians -- that Iran will return to what's described as "unconditional" negotiations, which really means negotiating under the absolutely unacceptable condition of economic blockade, until the U.S. gets what it wants. Not gonna happen. Iran's absolutely correct condition for any negotiation with the U.S. is that the U.S. return to the JCPOA and lift all sanctions.

Also not gonna happen, though any real peace-loving Democratic candidate would specifically and unequivocally commit to doing just that if elected. The phony peace-loving poodles of Britain, France, and Germany (the EU3) have already cast their lot with the aggressive American policy, triggering a dispute mechanism that will almost certainly result in a " snapback " of full UN sanctions on Iran within 65 days, and destroy the JCPOA once and for all. Because, they, too, know Iran's nuclear weapons program is a fake issue and have "always searched for ways to put more restrictions on Iran, especially on its ballistic missile program." Israel can have all the nuclear weapons it wants, but Iran must give up those conventional ballistic missiles. Cannot overstate their importance.

Iran is not going to submit to any of this. The only way Iran is going to part with its ballistic missiles is by using them. The EU3 maneuver will not only end the JCPOA, it may drive Iran out of the Nuclear Weapons Non-Proliferation Treaty (NPT). As Moon of Alabama says, the EU3 gambit is "not designed to reach an agreement but to lead to a deeper conflict" and ratchet the war up yet another notch. The Trump administration and its European allies are -- as FDR did to Japan -- imposing a complete economic blockade that Iran will have to find a way to break out of. It's deliberately provocative, and makes the outbreak of a regional/world war more likely. Which is its purpose.

This certainly marks the Trump administration as having crossed a war threshold the Obama administration avoided. Credit due to Obama for forging ahead with the JCPOA in the face of fierce resistance from Netanyahu and his Republican and Democratic acolytes, like Chuck Schumer. But that deal itself was built upon false premises and extraordinary conditions and procedures that -- as the current actions of the EU3 demonstrate -- made it a trap for Iran.

With his Iran policy, as with Jerusalem and the Golan Heights, what Trump is doing -- and can easily demonstrate -- is taking to its logical and deadly conclusion the entire imperialist-zionist conception of the Middle East, which all major U.S. politicians and media have embraced and promulgated over decades, and cannot abandon.

With the Soleimani assassination, Trump both allayed some of the fears of Iran war hawks in Israel and the U.S. about his "reluctance to flex U.S. military muscle" and re-stoked all their fears about his impulsiveness, unreliability, ignorance, and crassness. As the the Christian Science Monitor reports, Israel leaders are both "quick to praise" his action and "having a crisis of confidence" over Trump's ability to "manage" a conflict with Iran -- an ambivalence echoed in every U.S. politician's "Soleimani was a terrorist, but " statement.

Trump does exactly what the narrative they all promote demands, but he makes it look and sound all thuggish and scary. They want someone whose rhetorical finesse will talk us into war on Iran as a humanitarian and liberating project. But we should be scared and repelled by it. The problem isn't the discrepancy in Trump between actions and attitudes, but the duplicity in the fundamental imperialist-zionist narrative. There is no "good" -- non-thuggish, non-repellent way -- way to do the catastrophic violence it demands. Too many people discover that only after it's done.

Trump, in other words, has just started a war that the U.S. political elite constantly brought us to the brink of, and some now seem desperate to avoid, under Trump's leadership . But not a one will abandon the zionist and American-exceptionalist premises that make it inevitable -- about, you know, dictating what weapons which countries can "never" have. Hoisted on their own petard. As are we all.

To be clear: Iran will try its best to avoid all-out war. The U.S. will not. This is the war that, as the NYT reports , "Hawks in Israel and America have spent more than a decade agitating for." It will start, upon some pretext, with a full-scale U.S. air attack on Iran, followed by Iranian and allied attacks on U.S. forces and allies in the region, including Israel, and then an Israeli nuclear attack on Iran -- which they think will end it. It is an incomprehensible disaster. And it's becoming almost impossible to avoid.

The best prospect for stopping it would be for Iran and Russia to enter into a mutual defense treaty right now. But that's not going to happen. Neither Russia nor China is going to fight for Iran. Why would they? They will sit back and watch the war destroy Iran, Israel, and the United States.

Happy New Year.
In 1958, U.S. leaders stood at the threshold of an American era in the Middle East, conflicted about whether it was worth the trouble to usher in.

... ... ...

More than half a century later, the future of the United States' military presence in the Middle East is once again up for discussion, as Iraq calls on the U.S. to end its roughly 5,000-strong troop presence in the country and Trump struggles to remove American forces from Syria and Afghanistan as well. U.S. politicians are now grappling with the possibility of a post-American period in the region.

... ... ..

And even if Trump doesn't get his way entirely, he will undoubtedly seize on additional opportunities to reduce the American military presence in the Middle East, as fed-up Americans and progressive presidential candidates push in the same direction. When Eisenhower elected to open that "Pandora's Box" back in 1958, his justification was that it would be "disastrous" if "we don't."

Perhaps nothing signals the coming post-American era in the Middle East more than the fact that so many U.S. leaders these days fear the disastrous consequences of leaving the box open.
Notable quotes:
"... Finally, the political dysfunction that now eats away at the United States' reputation, is not a factor that we should underestimate. Donald Trump's administration treats no one as equal. Only Israel and at times Saudi Arabia seem like favored nations if not full-fledged equals. Speaking of brotherhood and loyalty, Mr. Putin's loyalty to and rescuing of Syria's Assad has not gone unnoticed in these regions. At the same moment the US-led coalition tries to stabilize it's invaded satraps, Putin continues a more than forty-year tradition of sticking by the Syrian leadership. And the Russian president has capitalized on this aspect to expand Russian influence worldwide. ..."
Whenever there's an examination of Russia's resurgence in Middle Eastern and African affairs, the narrative is always about weapons, economic competition, and Cold War-era detente. Few analysts or reporters examine the non-transactional elements of the policies of Vladimir Putin. To really understand the recent successes of Mr. Putin and Russia, we must understand the somewhat obscure aspects of Russia's foreign policy.

A perfect example of how trade statistics dominate western thought process on Russia policy can be found at almost any Washington or London think tank. Take this Chatham House report last year by Dr. Alex Vines OBE, for instance. The Africa Programme at Chatham House is not immune from the disease that causes western experts to oversimplify and underestimate Putin's external policies. To quote Dr. Vines:

"Russia has, for several years, been quietly investing in Soviet-era partnerships and forging new alliances by offering security, arms training, and electioneering services in exchange for mining rights and other opportunities."

As you can see, Vines is totally focused on transactional aspects of Russia's relationships, adhering to what political scientists refer to as "rentierism" – or the new imperialism. As you may know, the concept of the rentier state is Marxist, thought to have come into practical use in the time of Lenin. But while the so-called rentier mentality which dominates much of the Middle East and Africa does affect Russia and policy, the deeper implications of Russia's new relationships are equally important.

Dr. Vines, Chatham House, and nearly all the west's other analytical stables discuss Russia's wielding of soft power. This is true because their approaches and understanding of world affairs is from purely a businessman's or a general's world perspective. This is the part of the reason west-east relations are so mucked up. Every reporter on a policy beat in New York or Washington can write a biography on Vladimir Putin and "what he wants," but there's no one who really understands how Russia's president is winning at world detente.

In much the same way business relationships are fostered in a highly competitive economic environment, Russia's successful policies often win out because of the more subtle factors. In Africa, for instance, the history of the Soviet Union's, and later Russia's criticisms of Cold War-era neocolonialism play a role. Make no mistake, ideologically, Mr. Putin's efforts and outreaches are far more appealing than those of the US, France, Britain, Germany, and others with the Anglo-European mindset toward these nations. As for the Middle East, Mr. Putin's policies win out in large part because of a more "fraternal relationships" – like the one between Russian and Middle Eastern Islamic communities. Samuel Ramani and Theodore Karasik point these out in a report last year at LobeLog .

The western discussion centers around accusing Russia and Mr. Putin for what US policies are centered around. It's as if the greatest minds in the western world cannot fathom establishing cultural or ideological linkages with people of these nations. The Americans, French, Brits, and Germans look at Russia policy success as bankers and weapons dealers, from a superiority and exceptionalism standpoint. While Russia seems to address the Middle East and Africa on a more equal footing.

Finally, the political dysfunction that now eats away at the United States' reputation, is not a factor that we should underestimate. Donald Trump's administration treats no one as equal. Only Israel and at times Saudi Arabia seem like favored nations if not full-fledged equals. Speaking of brotherhood and loyalty, Mr. Putin's loyalty to and rescuing of Syria's Assad has not gone unnoticed in these regions. At the same moment the US-led coalition tries to stabilize it's invaded satraps, Putin continues a more than forty-year tradition of sticking by the Syrian leadership. And the Russian president has capitalized on this aspect to expand Russian influence worldwide.

Russia is supplanting western powers as the more "reliable partner" for many reasons. And it does not hurt that Donald Trump and his European allies continually stumble over their archaic ideas about emerging countries. Sure Russian business will prosper from this dynamic shift in Africa and the Middle East, but the profit will not be nearly as one-sided as it is with the neocolonialists. This AI-Monitor report puts it this way in a discussion of Mr. Putin's "Gulf Security Plan":

"He [Putin] might believe his is ultimately the only meaningful diplomatic channel; his stock rises, even if incrementally, simply by playing on traditionally American turf; and the Gulf states, and maybe even the United States and the EU, might eventually come around to avoid an unwanted crisis and conflict."

In short, Putin and Russia have been so successful, winning nowadays is about watching the US and allies make mistakes as much as it is about created dynamic policies. For those unfamiliar, the Russian concept for the Gulf area is a strategy that will work. That is if the western hegemony can agree to try a new game for peace and prosperity in these regions. I find it interesting that the official documentation of this Putin plan is framed in the form of an invitation to Washington and the others, to take part in a broader coalition for peace and security. Obviously, the Anglo-European cabal did not accept.

"Russia's proposals are in no way final and represent a kind of invitation to start a constructive dialogue on ways to achieve long-term stabilization in the Gulf region. We are ready to work closely with all stakeholders in both official settings and in sociopolitical and expert circles."

Yes, Russia wants trade and economic wins in both the Middle East and Africa. No, Vladimir Putin does not want to leverage regions and continents in a global domination game intended to destroy America and allies. Destroying markets, after all, is not a way to do good business. As for analyzing Putin, the experts should examine the other variables of his success. That is, even if the goal of think tanks is to find an enemy's weakness. So far, Putin does not seem to have any.

---

By Phil Butler
Source: New Eastern Outlook
"It seemed to me that ideologically he [Putin] was one of our people," the former Russian oligarch says in the new Alex Gibney documentary Citizen K .

M ikhail Borisovich Khodorkovsky, MBK in his homeland, is the most famous Russian "oligarch," the name given by their compatriots to a handful of men who, when communism fell, turned it into gangster capitalism. With an estimated $16 billion fortune, he became the richest man in Russia. When the rules changed, he didn't adapt and spent a decade in prison.

Alex Gibney's new documentary Citizen K , which opened in New York last week, tells how MBK and others took advantage of schemes promoted by President Boris Yeltsin to privatize state companies in order to raise the money he needed to win reelection. Gibney blames the chaos of the times more than the thieves' venality.

Avoiding damning details, Citizen K casts its subject as a reformed sinner and even a fighter for justice against an evil President Vladimir Putin. From the beginning, there's a significant difference between reality and MBK's film portrayal.

The film says Khodorkovsky got involved in the Komsomol, the communist youth organization, because the government relaxed restrictions on free enterprise for the group. The film doesn't explain that as the deputy head of a Komsomol cell at a local technical institute, MBK obtained and sold computers at inflated prices and laundered Soviet credits with other imported goods that he converted into hard currency. With the profits, he set up Menatep bank.

Then came the theft of Russia's patrimony. The film shows that the Yeltsin government, egged on by American free-market boosters, announced a program to give citizens vouchers worth $40 each. The scheme was then promoted by a US team sent to end Russian state control of enterprises and open them to the West. Vouchers could be traded, sold, or exchanged for shares in state enterprises. MBK and others bought them from citizens unaware of their value.

The film explains that Yeltsin, with a 3 percent approval rating, was going to lose the 1996 election. The government needed cash to pay salaries and pensions, so under "loans for shares," banksters made loans the government wouldn't repay, and when it defaulted, they got Russia's state enterprises in sham auctions. The film depicts Khodorkovsky as "a man of intelligence and great vision," but Gibney admits this was gangster capitalism.

He recounts that Khodorkovsky's Menatep was the only bidder for the oil giant, Yukos, valued at $5 billion. The bank ran the auction itself and paid just $310 million for a 78 percent stake in the company. Khodorkovsky declares, "I don't think this was a bad deal for the state." The film cuts to shots of idle operations starting up.

Moscow Times founder Derk Sauer says in the film that Khodorkovsky was "using every trick in the book available to him." There are no details. The film doesn't tell how MBK, not satisfied with getting Yukos for a steal, then, according to Russian charges , laundered multi-billions of dollars in profits that would have represented evaded taxes and dividends for minority investors.

Peter Bond , an Isle of Man shell company operator, set up a transfer-pricing and money-laundering scheme that sold Yukos oil to fake companies at below-market prices and then to real buyers at market . Stephen Curtis, managing director of Khodorkovsky's $30 billion holding company Menatep, ran the operation out of London. Swiss authorities would discover and freeze almost $4 billion of suspected cash in Khodorkovsky's shell accounts. None of this is in the film.

Bond also helped Khodorkovsky cheat Russia and minority shareholders of Avisma , a titanium company he also got at a rigged auction. Kenneth Dart , heir to the Dart disposable cup fortune, former investor in Russia William Browder, and their New York partner Francis Baker bought Avisma from MBK, on the understanding that profit-stripping would continue. When Bond showed there is no honor among thieves and didn't pass on the cash, they sued. An affidavit by attorney Anthony Wollenberg said they were told that "a significant part of the profits which Avisma was able to earn on the sale of its product were taken offshore through TMC," Titanium Metals Co. He said that "was central to the entire transaction," that "without the right to those profits, investment in Avisma was not an attractive proposition." This, too, is not in the film.

In 1999 the ailing, drunk Yeltsin resigned and his prime minister, Vladimir Putin, took over. The film suggests that Khodorkovsky was arrested for attacking Putin. It recounts that in 2003, Putin summoned Russia's top businessmen to a televised roundtable about corruption. Khodorkovsky came with slides which reported that some Russians felt that corruption existed at the highest levels of government, telling Putin that "25 per cent of the population believe that you are among those taking bribes."

In fact, Khodorkovsky and Yukos were not singled out. Oil major Lukoil settled a claim for $200 million in taxes evaded in a similar scheme.

The details of the transfer-pricing scams matter, because MBK followed the same business model for the fertilizer company Apatit. He was initially arrested in 2003 for rigging the Apatit privatization auction and embezzling profits. This is also not in the film.

The unreported Stephen Curtis story also figures in the film's attack on Putin. Gibney declares that in England over 15 years there have been a growing number of mysterious deaths related to Russia. He screenshots a New York Times story that says Curtis, Khodorkovsky's lawyer, was killed in a helicopter crash, implying that Putin ordered his death.

Former Financial Times journalist Thomas Catan's version was different. He wrote that Curtis approached UK intelligence agencies weeks before the crash offering to provide information, probably about Yukos. The UK's National Criminal Intelligence Service had assigned Curtis to a handler just days before his new Agusta 109E helicopter crashed in March 2004. Someone close to British intelligence told Catan, "My sense was that he was fearful of being prosecuted by the Russian authorities for being party to assisting in the capital flight and that he thought that going to the UK authorities would give him some sort of top cover."

Khodorkovsky says in the film that in the beginning, "it seemed to me that ideologically he [Putin] was one of our people." Putin had told the oligarchs he wouldn't question their rigged auction acquisitions if they kept out of politics.

In fact, MBK's conflict with Putin was not about charges of corruption by a man mired in corruption but over MBK's decision to use his ill-gotten wealth for political influence.

Moscow Times founder Sauer says in the film, "Now he has all this money, he started thinking about what's next." Later on Sauer says, "Putin had a very valid point. Half of the parliament is on the payroll of Khodorkovsky, many of the top people in the oil ministry are people appointed by the oligarchs. What is this? If I want to be a real president, I need to have my own people, and I need to get these people out of politics."

Gibney confronts MBK: "It was said at the time that you were busy courting or even buying influence in the Duma." Khodorkovsky replies, "We only dealt with our industry-related problems . It was exactly as it happens in the United States Congress. Will you support our campaign in the next election?" This answer is never challenged by Gibney.

However, the film does note MBK's other mistake: deciding to make Yukos a public company and seek a merger with ExxonMobil, giving foreigners control of Russia's oil.

The film says Russia got back Yukos in a bankruptcy auction won by "a mysterious, newly created company, Baikal Finance Group," which sold it to the government-controlled Rosneft. In the film, Putin explains, "You all know perfectly well how privatization took place in the early '90s. Many market players at that time received state property worth many billions. Today the state, using absolutely legal market tools, establishes its interests. I think this is quite normal."

Sauer notes, "In most countries in the world oil companies are owned by the state. Nothing wrong with this. Good news for the Russians. That's how 99 percent of the people saw it." Another journalist says in the film, "The fact that the oligarchs were so reviled and resented by the Russian people was a fantastically useful tool for Putin . And when he did bring the oligarchs to heel, it was incredibly popular." All true. But Gibney avoids detailing why MBK was reviled.

He says, "Out of prison, Khodorkovsky is looking for a third act." Khodorkovsky speaks in Kiev in 2014 at a rally in favor of the US-supported coup against Ukraine president Viktor Yanukovych, whom Washington considered too close to Russia.

There's a lot about MBK suffering in prison and thinking about his children. Gibney asks, "Do you think that being in prison gave you special insight into Putin and the people around him?"

"Yes. The way that the criminals think is exactly that way that the criminal group around Putin thinks. It's a criminal mentality." That could explain his quips that "in Russia laws are an iffy question" and "the strictness of Russian laws is compensated by the lack of obligation to follow them."

He gave Gibney an opening: "As a co-owner of Yukos I had to make enormous efforts to protect this property. I had to close my eyes and put up with many things all for the sake of my personal wealth, preserving and increasing it." But Gibney doesn't take it. He never asks for details. Or how MBK can return what he stole.
This week in history

January 25, 2020

Black Brant XII rocket

On January 25, 1995, the Russian military mistook a Black Brant XII missile launched by a group of scientists from Norway and the United States to study the Northern lights over Svalbard for a nuclear attack by the US Navy with a Trident ballistic missile. It was the first case when the Russian leader brought the nuclear suitcase in a state of combat readiness.

The rocket, which was equipped to study the Northern lights, was launched from the island's Andøya Rocket Range, located off the North-West coast of Norway. It was moving along the same trajectory that US Intercontinental nuclear missiles could fly towards Moscow. Alarm sirens sounded in the Russian radar center, where technical specialists recorded the flight of the missile, and where the message about the us missile attack came from.

Russian President Boris Yeltsin summoned the generals and military advisers, and a "nuclear suitcase" "Cheget"was delivered to him. He had less than ten minutes to decide whether the Russian military would strike back. "I really used my" little black box "with a button for the first time yesterday, which is always with me," Yeltsin told the press the next day, after narrowly avoiding a nuclear disaster. -- I immediately contacted the Ministry of defense and all the military commanders I needed, and we tracked the movement of this missile from start to finish."

A few years later, Spiegel Online noted that Yeltsin left Russian nuclear missiles in his mines at the time, probably "because relations between Russia and the United States in 1995 were relatively trusting."

The scientists who conducted the study, starting in 1962, launched more than 600 missiles, but the Black Brant XII rocket was larger than the previous ones and more like an American ballistic missile. A month before this launch, a team of researchers instructed the Norwegian foreign Ministry to notify neighboring countries of their experiment. Russian officials received such a notification from Oslo three weeks before the launch, but it was apparently ignored by them. The radar crews of the Russian missile warning system (SPRn) were also not informed and reported that it was a potentially nuclear missile moving towards Russia.

Peter Pry, a former CIA officer, wrote that although there were other false alarms in the nuclear age, none of them went as far as the Norwegian missile incident, "the single most dangerous moment of the nuclear missile era."
It came as the biggest shock of the day on Wednesday. The Russian government resigned. The day before President Vladimir Putin gave his State of the Nation address and outlined a slate of constitutional changes.

That speech prompted an overhaul of Russia's government.

Putin's plan is to devolve some of the President's overwhelming power to the legislature and the State Council, while beefing up the Constitutional Court's ability to provide checks on legislation.

From TASS:

In Wednesday's State of the Nation Address, Putin put forward a number of initiatives changing the framework of power structures at all levels, from municipal authorities to the president. The initiatives particularly stipulate that the powers of the legislative and judicial branches, including the Constitutional Court, will be expanded. The president also proposed to expand the role of the Russian State Council. Putin suggested giving the State Duma (the lower house of parliament) the right to approve the appointment of the country's prime minister, deputy prime ministers and ministers.

The bigger shock was that in response to this Prime Minister Dmitri Medvedev dissolved the current government willingly and resigned as Prime Minister.

Within hours Putin recommended Federal Tax Service chief, Mikhail Mishustin as Prime Minister. The State Duma approved Putin's recommendation and Mishustin was sworn in by Putin all within a day.

While this came on suddenly it also shouldn't be a surprise. These changes have been discussed for months leading up to Putin's speech. And it's been clear for the past few years that Putin has been engaged in the second phase of his long-term plan to first rebuild and then remake Russia during his time in office.

The first phase was rescuing Russia from economic, societal and demographic collapse. It was in serious danger of this when Putin took over from Boris Yeltsin.

It meant regaining control over strategic state resources, rebuilding Russia's economy and defense, stabilizing its population, getting some semblance of political control within the Kremlin and bringing hope back to a country in desperate need of it.

Hostile analysts, both domestic and foreign, criticized Putin constantly for his tactics. Russia's reliance on its base commodities sectors to revive its economy was seen as a structural weakness. But, an honest assessment of the situation begs the question, "How else was Putin going to back Russia away from the edge of that abyss?"

These same experts never seem to have an answer.

And when those critics were able to answer, since they were people connected to monied interests in the West who Putin stymied from continuing to loot Russia's natural wealth, their answer was usually to keep doing that.

Don't kid yourself, most of the so-called Russia experts out there are deeply tied back to Wall St. through one William Browder and his partner-in-crime Mikhail Khordokovsky.

Nearly all of them in the U.S. Senate are severely compromised or just garden variety neocons still hell-bent on subjugating Russia to their hegemonic plans.

Their voices should be discounted heavily since they are the same criminals actively destroying U.S. and European politics today.

In the West these events were spun to suggest Putin is consolidating power. The initial reports were that he would remove the restraint on Presidential service of two consecutive terms. And that this would pave the way to his staying in office after his current term expires in 2024.

That, as always when regarding Russia, is the opposite of the truth. Putin's recommendation is to remove the word "consecutive" from the Constitution making it clear that a President can only ever serve two terms. Moreover, that president will have had to have lived in Russia for the previous 25 years.

No one will be allowed to rule Russia like he has after he departs the office. Because Putin understands that the Russian presidency under the current constitution is far to powerful and leaves the country vulnerable to a man who isn't a patriot being corrupted by that power.

There are a number of issues that most commentators and analysts in the West do not understand about Putin. Their insistence on presenting Putin only in the worst possible terms is tired and nonsensical to anyone who spends even a cursory amount of time studying him.

These events of the past couple of days in Russia are the end result of years of work on Putin's part to purge the Russian government and the Kremlin of what The Saker calls The Atlanticist Fifth Column.

And they have been dug in like ticks in a corrupt bureaucracy that has taken Putin the better part of twenty years to tame.

It's been a long and difficult road that even I only understand the surface details of. But it's clear that beginning in 2012 or so, Putin began making the shift towards the next phase of Russia's strategic comeback.

And that second phase is about taking a stable Russia and elevating its institutions to a more sustainable model.

Once birth rates improved and demographic collapse averted the next thing to do was to reform an economy rightly criticized for being too heavily dependent on oil and gas revenues.

And that is a much tougher task. It meant getting control over the Russian central bank and the financial sector. Putin was given that opportunity during the downturn in oil prices in 2014.

Using the crisis as an opportunity Putin began the decoupling of Russia's economy from the West. During the early boom years of his Presidency oil revenue strengthened both the Russian state coffers and the so-called oligarchs who Putin was actively fighting for control.

He warned the CEO's of Gazprom, Rosneft and Sberbank that they were too heavily exposed to the U.S. dollar this way in the years leading up to the crash in oil prices in 2014-16.

And when the U.S. sanctioned Russia in 2014 over the reunification with Crimea these firms all had to come to Putin for a bailout. Their dollar-denominated debt was swapped out for euro and ruble debt through the Bank of Russia and he instructed the central bank to allow the ruble to fall, to stop defending it.

Taking the inflationary hit was dangerous but necessary if Russia was to become a truly independent economic force.

Since then it's been a tug of war with the IMF-trained bureaucracy within the Bank of Russia to set monetary policy in accordance with Russia's needs not what the international community demanded.

That strong Presidency was a huge boon. But, now that the job is mostly done, it can be an albatross.

Putin understands that a Russia flush with too much oil money is a Russia ruled by that money and becomes lazy because of that money. Contrary to popular opinion, Putin doesn't want to see oil prices back near $100 per barrel.

Because Russia's comparative advantage in oil and gas is so high relative to everyone else on the world stage and to other domestic industries that money retards innovation and investment in new technologies and a broadening of the Russian domestic economy.

And this has been Putin's focus for a while now. Oil and gas are geostrategic assets used to shore up Russia's position as a regional power, building connections with its new partners while opening up new markets for Russian businesses.

But it isn't the end of the Russian story of the future, rather the beginning.

And the slow privatization of those industries is happening, with companies like Gazprom and Rosneft selling off excess treasury shares to raise capital and put a larger share of them into public hands.

Again, this is all part of the next stage of Russia's development and democratizing some of the President's power has to happen if Russia is going to survive him leaving the stage.

Because it is one thing to have a man of uncommon ability and patriotism wielding that power responsibly. It's another to believe Russia can get another man like Putin to take his place.

So, Putin is again showing his foresight and prudence in pushing for these changes now. It shows that he feels comfortable that this new structure will insulate Russia from external threats while strengthening the domestic political scene.

Gilbert Doctorow has an excellent early reaction to this dramatic turn by Putin which I encourage everyone to read in full. The subtle point he makes is:

To understand what comes next, you have to take into account a vitally important statement which Putin made a few moments before he set out his proposed constitutional reforms. He told his audience that his experience meeting with the leaders of the various Duma parties at regular intervals every few weeks showed that all were deeply patriotic and working for the good of the country. Accordingly, he said that all Duma parties should participate in the formation of the cabinet.

And so, we are likely to see in the coming days that candidates for a number of federal ministries in the new, post-Medvedev cabinet will be drawn precisely from parties other than United Russia. In effect, without introducing the word "coalition" into his vocabulary, Vladimir Putin has set the stage for the creation of a grand coalition to succeed the rule of one party, United Russia, over which Dimitri Medvedev was the nominal chairman.

The end result of this move to devolve the cabinet appointments to the whole of the Duma is to ensure that a strong President which Putin believes is best for Russia is tempered by a cabinet drawn from the whole of the electorate, including the Prime Minister.

That neither opens the door to dysfunctional European parliamentary systems nor closes it from a strong President leading Russia during crisis periods.

Once the amendments to the constitution are finalized Putin will put the whole package to a public vote.

This is the early stage of this much-needed overhaul of Russia's constitutional order and the neocons in the West are likely stunned into silence knowing that they can no longer just wait Putin out and sink their hooks into his most likely successor.

Sometimes the most important changes occur right under our noses, right out in the open. Contrast that with the skullduggery and open hostility of the political circus in D.C. and you can which direction the two countries are headed.

---

By Tom Luongo
Source: Gold Goats 'n Guns
Highly recommended!
Notable quotes:
"... The US President Donald Trump assassinated the commander of the "Axis of the Resistance", the (Iranian Revolutionary Guard Corps) IRGC – Quds Brigade Major General Qassem Soleimani at Baghdad airport with little consideration of the consequences of this targeted killing. It is not to be excluded that the US administration considered the assassination would reflect positively on its Middle Eastern policy. Or perhaps the US officials believed the killing of Sardar Soleimani would weaken the "Axis of the Resistance": once deprived of their leader, Iran's partners' capabilities in Palestine, Lebanon, Syria, Iraq and Yemen would be reduced. Is this assessment accurate? ..."
The US President Donald Trump assassinated the commander of the "Axis of the Resistance", the (Iranian Revolutionary Guard Corps) IRGC – Quds Brigade Major General Qassem Soleimani at Baghdad airport with little consideration of the consequences of this targeted killing. It is not to be excluded that the US administration considered the assassination would reflect positively on its Middle Eastern policy. Or perhaps the US officials believed the killing of Sardar Soleimani would weaken the "Axis of the Resistance": once deprived of their leader, Iran's partners' capabilities in Palestine, Lebanon, Syria, Iraq and Yemen would be reduced. Is this assessment accurate?

A high-ranking source within this "Axis of the Resistance" said " Sardar Soleimani was the direct and fast track link between the partners of Iran and the Leader of the Revolution Sayyed Ali Khamenei. However, the command on the ground belonged to the national leaders in every single separate country. These leaders have their leadership and practices, but common strategic objectives to fight against the US hegemony, stand up to the oppressors and to resist illegitimate foreign intervention in their affairs. These objectives have been in place for many years and will remain, with or without Sardar Soleimani".

"In Lebanon, Hezbollah's Secretary General Sayyed Hassan Nasrallah leads Lebanon and is the one with a direct link to the Syrian President Bashar al-Assad. He supports Gaza, Syria, Iraq and Yemen and has a heavy involvement in these fronts. However, he leads a large number of advisors and officers in charge of running all military, social and relationship affairs domestically and regionally. Many Iranian IRGC officers are also present on many of these fronts to support the needs of the "Axis of the Resistance" members in logistics, training and finance," said the source.

In Syria, IRGC officers coordinate with Russia, the Syrian Army, the Syrian political leadership and all Iran's allies fighting for the liberation of the country and for the defeat of the jihadists who flocked to Syria from all continents via Turkey, Iraq and Jordan. These officers have worked side by side with Iraqi, Lebanese, Syrian and other nationals who are part of the "Axis of the Resistance". They have offered the Syrian government the needed support to defeat the "Islamic State" (ISIS/IS/ISIL) and al-Qaeda and other jihadists or those of similar ideologies in most of the country – with the exception of north-east Syria, which is under US occupation forces. These IRGC officers have their objectives and the means to achieve a target already agreed and in place for years. The absence of Sardar Soleimani will hardly affect these forces and their plans.

In Iraq, over 100 Iranian IRGC officers have been operating in the country at the official request of the Iraqi government, to defeat ISIS. They served jointly with the Iraqi forces and were involved in supplying the country with weapons, intelligence and training after the fall of a third of Iraq into the hands of ISIS in mid-2014. It was striking and shocking to see the Iraqi Army, armed and trained by US forces for over ten years, abandoning its positions and fleeing the northern Iraqi cities. Iranian support with its robust ideology (with one of its allies, motivating them to fight ISIS) was efficient in Syria; thus, it was necessary to transmit this to the Iraqis so they could stand, fight, and defeat ISIS.

The Lebanese Hezbollah is present in Syria and Yemen, and also in Iraq. The Iraqi Prime Minister Nuri al-Maliki asked Sayyed Nasrallah to provide his country with officers to stand against ISIS. Dozens of Hezbollah officers operate in Iraq and will be ready to support the Iraqis if the US forces refuse to leave the country. They will abide by and enforce the decision of the Parliament that the US must leave by end January 2021. Hezbollah's long warfare experience has resulted in painful experiences with the US forces in Lebanon and Iraq throughout several decades and has not been forgotten.

Sayyed Nasrallah, in his latest speech, revealed the presence in mid-2014 of Hezbollah officials in Kurdistan to support the Iraqi Kurds against ISIS. This was when the same Kurdish Leader Masoud Barzani announced that it was due to Iran that the Kurds received weapons to defend themselves when the US refused to help Iraq for many months after ISIS expanded its control in northern Iraq.

The Hezbollah leaders did not disclose the continuous visits of Kurdish representatives to Lebanon to meet Hezbollah officials. In fact, Iraqi Sunni and Shia officials, ministers and political leaders regularly visit Lebanon to meet Hezbollah officials and its leader. Hezbollah, like Iran, plays an essential role in easing the dialogue between Iraqis when these find it difficult to overcome their differences together.

The reason why Sayyed Nasrallah revealed the presence of his officers in Kurdistan when meeting Masoud Barzani is a clear message to the world that the "Axis of the Resistance" doesn't depend on one single person. Indeed, Sayyed Nasrallah is showing the unity which reigns among this front, with or without Sardar Soleimani. Barzani is part of Iraq, and Kurdistan expressed its readiness to abide by the decision of the Iraqi Parliament to seek the US forces' departure from the country because the Kurds are not detached from the central government but part of it.

Prior to his assassination, Sardar Soleimani prepared the ground to be followed (if killed on the battlefield, for example) and asked Iranian officials to nominate General Ismail Qaani as his replacement. The Leader of the revolution Sayyed Ali Khamenei ordered Soleimani's wish to be fulfilled and to keep the plans and objectives already in place as they were. Sayyed Khamenei, according to the source, ordered an "increase in support for the Palestinians and, in particular, to all allies where US forces are present."

Sardar Soleimani was looking for his death by his enemies and got what he wished for. He was aware that the "Axis of the Resistance" is highly aware of its objectives. Those among the "Axis of the Resistance" who have a robust internal front are well-established and on track. The problem was mainly in Iraq. But it seems the actions of the US have managed to bring Iraqi factions together- by assassinating the two commanders. Sardar Soleimani could have never expected a rapid achievement of this kind. Anti-US Iraqis are preparing this coming Friday to express their rejection of the US forces present in their country.

Sayyed Ali Khamenei , in his Friday prayers last week, the first for eight years, set up a road map for the "Axis of the Resistance": push the US forces out of the Middle East and support Palestine.

All Palestinian groups, including Hamas, were present at Sardar Soleimani's funeral in Iran and met with General Qaani who promised, "not only to continue support but to increase it according to Sayyed Khamenei's request," said the source. Ismail Haniyeh, Hamas Leader, said from Tehran: "Soleimani is the martyr of Jerusalem".

Many Iraqi commanders were present at the meeting with General Qaani. Most of these have a long record of hostility towards US forces in Iraq during the occupation period (2003-2011). Their commander, Abu Mahdi al-Muhandes, was assassinated with Sardar Soleimani and they are seeking revenge. Those leaders have enough motivation to attack the US forces, who have violated the Iraq-US training, cultural and armament agreement. At no time was the US administration given a license to kill in Iraq by the government of Baghdad.

The Iraqi Parliament has spoken: and the assassination of Sardar Soleimani has indeed fallen within the ultimate objectives of the "Axis of the Resistance". The Iraqi caretaker Prime Minister has officially informed all members of the Coalition Forces in Iraq that "their presence, including that of NATO, is now no longer required in Iraq". They have one year to leave. But that absolutely does not exclude the Iraqi need to avenge their commanders.

Palestine constitutes the second objective, as quoted by Sayyed Khamenei. We cannot exclude a considerable boost of support for the Palestinians, much more than the actually existing one. Iran is determined to support the Sunni Palestinians in their objective to have a state of their own in Palestine. The man – Soleimani – is gone and is replaceable like any other man: but the level of commitment to goals has increased. It is hard to imagine the "Axis of the Resistance" remaining idle without engaging themselves somehow in the US Presidential campaign. So, the remainder of 2020 is expected to be hot.

*

Note to readers: please click the share buttons above or below. Forward this article to your email lists. Crosspost on your blog site, internet forums. etc.
Highly recommended!
Kevin Smith: "Higgins is currently frantically trying to prop up the Douma narrative against a mountain of evidence disproving his conclusions. For those who've followed his story, it's clear that Higgins is an intelligence asset, set up to take the fall when the currently collapsing narratives take hold in the mainstream.

"You didn't think that one through, did you, @eliothiggins sweetie? You're not in the ladies' lingerie trade now. This discussion is about truth, which endures, is not held together by elastic, and is not for sale." ~Peter Hitchens responding to Eliot Higgins of Bellingcat over the OPCW scandal on Twitter – 2 January 2020.
Highly recommended!
Notable quotes:
"... I believe more people nowadays recognise that the devastating wars in Iraq and Libya and events in Syria were pushed by our governments and media. They can even accept, when you explain, that we've been assisting terrorists to unseat governments for years. But they seem hesitant of taking the next step and we need to encourage them on this path. ..."
"... This path leads to recognising the sheer evil in our midst and getting out of this mindset that criminal behavior and lying in governments and in our media is normal or should in any way be tolerated. Perhaps some people appreciate this already but don't want to address it out of concern to what they might find. Maybe some people dread the thought of a global conflict so ignore it. But we need to hammer home the consequences of simply doing nothing. ..."
"... I've been trying to think of an analogy to try to get this point across. I sometimes say to people, we wouldn't have released a serial killer like Harold Shipman from prison and appointed him Foreign Secretary. Therefore, why do we tolerate a long line of Foreign Secretaries complicit in laying waste to the world? Sadly, with this analogy most people usually look back at me blankly so I have been searching for one more complete and rooted in history which people can relate better to events today. ..."
Kevin Smith

"You didn't think that one through, did you, @eliothiggins sweetie? You're not in the ladies' lingerie trade now. This discussion is about truth, which endures, is not held together by elastic, and is not for sale."
Peter Hitchens responding to Eliot Higgins of Bellingcat over the OPCW scandal on Twitter – 2 January 2020.

Like many, I've been following the Douma scandal for some time and particularly since the OPCW whistleblowers and leaked emails blew the lid off the official narrative that Assad used chemical weapons there.

This issue is being discussed on one of my 'go to' accounts on Twitter – Peter Hitchens who has brought this to the attention of the mainstream .

For the past few weeks he's been debating the topic with Eliot Higgins of Bellingcat, Scott Lucas and various Middle East based journalists who created and then pushed the false narrative.

In fact, it's not really a debate. Peter Hitchens is quite literally slaughtering these narrative managers – his logic and clear thinking – and wit exposing the numerous gaps in their story and their desperate deflections.

Hitchens position is not exactly the same as many of us here hold – that Douma was a clear false flag. What he is saying is the evidence points to there being no chemical attack by the Syrian government, the pretext used for the attack on Syria. He doesn't wish to speculate on matters which aren't conclusively proven, for example precisely on what did actually happen.

I respect that position in many ways and his refusal to comment on the dead civilians in the Douma images makes sense from a journalist in the mainstream. I think by having a position which is clear and unassailable enables him to easily brush off his online detractors and not allow them to deflect to other issues.

While I don't agree with everything he says, Hitchens has a calm and rational argument for all the issues he covers. This puts clear ground between him and his online opponents who often resort to childish abuse.

My 80-year old mum admires him too. She describes him as 'frightfully posh'. Perhaps someone who might have belonged in a previous age – but I'm glad we have him in this one.

Anyway, I think we can be sure that Hitchens will continue his important work within the remit he's chosen and others will investigate the unanswered questions which arise from the Douma incident.

Ultimately the question about the dead civilians in the images is simply too dreadful to ignore.

This is because if a chemical attack did not take place and Assad was not responsible it seems highly likely that the civilians including children were murdered to facilitate a fabrication.

And were our own intelligence agencies involved in a staged event, considering the refusal to even establish the basic facts in the days following?

And then, of course, the resulting air strikes nearly caused us to go to war with Russia, with all that would entail.

While these investigations continue, I think it's timely to see where these events fit into the way the general public think and perceive wrongdoing and to try to radically to change this.

I believe more people nowadays recognise that the devastating wars in Iraq and Libya and events in Syria were pushed by our governments and media. They can even accept, when you explain, that we've been assisting terrorists to unseat governments for years. But they seem hesitant of taking the next step and we need to encourage them on this path.

This path leads to recognising the sheer evil in our midst and getting out of this mindset that criminal behavior and lying in governments and in our media is normal or should in any way be tolerated. Perhaps some people appreciate this already but don't want to address it out of concern to what they might find. Maybe some people dread the thought of a global conflict so ignore it. But we need to hammer home the consequences of simply doing nothing.

I've been trying to think of an analogy to try to get this point across. I sometimes say to people, we wouldn't have released a serial killer like Harold Shipman from prison and appointed him Foreign Secretary. Therefore, why do we tolerate a long line of Foreign Secretaries complicit in laying waste to the world? Sadly, with this analogy most people usually look back at me blankly so I have been searching for one more complete and rooted in history which people can relate better to events today.

So, here follows an analogy of a character who lived in the 17th century. His traits, his crimes, the political climate and peoples misguided perceptions in response can be compared to recent events and one particular individual causing havoc in the world today.

Of course I refer to Eliot Higgins of Bellingcat.

Eliot ( 'suck my balls' ) Higgins and Titus Oates 1. Eliot Higgins and Bellingcat

Higgins probably doesn't need much of an introduction here. It seems he has no specific qualifications relevant to his role and a bit of a drop-out in terms of education.

Higgins has been quoted as saying :

Before the Arab spring I knew no more about weapons than the average Xbox owner. I had no knowledge beyond what I'd learned from Arnold Schwarzenegger and Rambo."

But this didn't prevent him blogging about world events and then setting himself up and his site as investigator for several incidents most notably the shooting down of the MH17 passenger plane over Ukraine and allegations of chemical weapons use in Syria. It's now known that Bellingcat is funded by pro-war groups including the Atlantic Council

Higgins has been accused by chemical weapons experts, academics and independent journalists on the ground of fabricating evidence to reach a predetermined outcome decided on by his funders.

His rise to prominence was fast and apparently some media editors now refer their journalists to Bellingcat fabrications rather than allowing them to do any journalism themselves.

Higgins is currently frantically trying to prop up the Douma narrative against a mountain of evidence disproving his conclusions.

For those who've followed his story, it's clear that Higgins is an intelligence asset, set up to take the fall when the currently collapsing narratives take hold in the mainstream.

2. Titus Oates and the Popish Plot

Oates was a foul-mouthed charlatan , serial liar and master of deception who lived in the 17th century. His earlier life included being expelled from school and he was labelled a 'dunce' by people who knew him. He became a clergyman and later joined the Navy. His career was plagued by various sex scandals and charges of perjury.

In the 1670s during the time of Charles II, religious tensions threatened to spill over into civil war but the pragmatic King, by and large, kept a lid on it.

However, along with Dr Israel Tonge an anti-Catholic rector, Oates started writing conspiracy theories and inventing plots and later began writing a manuscript alleging of a plan to assassinate King Charles II and replace him with his openly Catholic brother.

When the fabrication started to gather momentum, the King had an audience with Oates and was unconvinced and was said to have found discrepancies in his story.

However, the tense political and religious climate at that time was ideal for conspiracy theories and scaremongering. The King's ministers took Oates at his word and over a dozen Catholics were executed for treason. This story created panic and paranoia lasting several years taking the nation to the brink of civil war.

Over time Oates lies were exposed and when the Catholic King James II came to the throne, he tried Oates with perjury and he was whipped and placed in the pillory.

After James II fled England during the so-called 'Glorious Revolution' King William and Queen Mary pardoned Oates and gave him a pension.

For me, this whole episode has many obvious parallels with Higgins, the long-running Russia and the anti-Semitism witch-hunts in the media and the false narratives over Iraq, Libya and Syria. Like those in power today, Oates had a knack for getting away with it. And I guess we can all relate this to Julian Assange – the victims or whistleblowers being punished and the perpetrators getting off.

I had wondered why James II, often ruthless and unforgiving had not executed Oates. But apparently the crime of perjury even then didn't carry the death sentence. The judge who convicted Oates was said to have tried his best to finish him off through the whipping, though he survived.

But perhaps even the King and judiciary in failing in this or not using other means at their disposal, couldn't comprehend the enormity of his crimes. Oates was after all a rather absurd character, open to ridicule.

Perhaps this is a bit similar to people today when discovering that Eliot Higgins is also a foul-mouthed fraud – but they can't reconcile this comical ex-lingerie employee as a menace to humanity.

3. Modern day

In the past few weeks I've read various older articles on Iraq and Syria. US troops shooting people for fun from a helicopter . The perpetrators are still free – the whistle-blowers who exposed that, and other events in prison or exile.

Last year we learned about a shocking massacre of Syrian children, unreported in the mainstream media . Mainstream journalists through their one-sided distortions of the conflict and silence, perpetuating the myth that the terrorists who carried out this mass murder are freedom fighters.

And as I've mentioned, we've seen firmer evidence of what many of us knew along – that Douma was a staged fabrication as a pretext for air-strikes and dangerously escalating the Syrian war. The likes of Eliot Higgins and others in the media, colluding in the cover-up of mass murder which likely facilitated this event. And for those honest journalists and experts who bring the truth of these staged events to us, smears will no doubt continue .

Higgins and others in the media who lie, misinform or remain silent are no better than those shooting civilians from helicopters or starting these wars in the first place. In fact, they have killed more and keep killing.

This modern-day Titus Oates, and others share a big responsibility for death and destruction in the Middle East and a dangerous new Cold War.

As I say, I think people are waking up to the distorted narratives and misdirections which have inflicted war on others. Now they need to take the next step and grasp the sheer enormity of the crimes and the risks of global conflict if we don't act.

So, how do we achieve this and get in a position of holding the criminals and war propagandists to account?

By confronting them directly and mercilessly. As Jeremy Corbyn should have done over the anti-Semitism hoax. Perhaps we should adopt some of the tactics they use against the truth-tellers and whistle-blowers. I don't mean by lies or smears. Maybe even ridiculing these people and their nonsense might have the effect of trivialising the crimes they have committed.

No, I think it is time for plainer, no-holds-barred language describing these people for the true evil they are – until the truth and label sticks.

We need to recognise more the seriousness of the crimes. This commentary from the usually measured Piers Robinson about the staged event in Douma reflects the true gravity of the situation in terms of the OPCW complicity .

4. The hijacking of OPCW

The cover-up of evidence that the Douma incident was staged is not merely misconduct. As the staging of the Douma incident entailed mass murder of civilians, those in OPCW who have suppressed the evidence of staging are, unwittingly or otherwise, colluding with mass murder."

We need to now apply this strong language to all crimes committed, be it from the soldiers on the ground, the governments starting these wars or supplying terrorists or the media which promote mass murder through their lies, distortions and silence when presented with the true facts.

We need to go on the offensive and call out the criminals and spell out in no uncertain terms what we are dealing with. With the evidence and fact-based analogies or arguments we publish we should be using more commentary such as 'mass murderer', 'traitor' or 'terrorist propagandist'.

This is particularly important in light of events in recent days. The assassination of General Qasem Soleimani has been normalised in both mainstream and on social media. The people legitimising state-sponsored murder in offices thousands of miles away from Iran, woefully ignorant of the potential of this causing a chain of events which could visit our door soon.

Above all, we should specifically name and shame the individuals promoting war. This needs to be relentless. The official war narratives which have crumbled so far are ample evidence of wrongdoing on a vast scale. So, we can be confident in doing this with the truth firmly on our side.

Filed under: Douma "Chemical Attack" , historical perspectives , latest , Syria Tagged with: Bellingcat. Eliot Higgins , douma chemical attack , Glorious Revelution , Kevin Smith , OPCW , Peter Hitchens , Titus Oates can you spare $1.00 a month to support independent media

OffGuardian does not accept advertising or sponsored content. We have no large financial backers. We are not funded by any government or NGO. Donations from our readers is our only means of income. Even the smallest amount of support is hugely appreciated.

Connect with Subscribe newest oldest most voted

---

wardropper ,

No, I think it is time for plainer, no-holds-barred language describing these people for the true evil they are – until the truth and label sticks.
Yes indeed.
I was, however, reminded today of the huge mountain we yet have to climb before it can be normal again NOT to be corrupt and wicked. The scenario was a session of acrimony in a US Senate chamber, and according to the NYTimes, "Tensions grew so raw after midnight that Chief Justice Roberts cut in just before 1 a.m. to admonish the managers and the president's lawyers to "remember where they are" and return to "civil discourse." "
"Remembering where you are", when dealing with Titus Oates and other vulgar frauds is perhaps not entirely appropriate ?

wardropper ,

Apologies, I forgot to set the first sentence in quotes

Thom ,

Hitchens may be on the level on this particular issue but it is part of a wider deception where Hitchens poses as a friend to critical thinkers and then tells them they are helpless and/or can do nothing about it. If he really had journalistic integrity he wouldn't be taking a salary from the Mail on Sunday, a newspaper that relentlessly lied for the Tories at the last election, with the help of the itelligence agencies.

Koba ,

As good as Hitchens has done here he's still at heart a Trotskyist he lives a good split and a toothless display just like the Trotskyists he used to side with. His brother went from Trotskyist to soft neocon and peter went from Trotskyist to an ardent Christian Conservative in a veeeeeery short space of time. Plus there dad was deeeeep in with the establishment and his mum Jewish. So .

Richard Le Sarc ,

what?

Gall ,

Bellingcrap is just another scam like Dupes (Snopes) and Politi"facts". All of them are funded by the Atlantic Council and the CIA front National Endowment for "Democracy". Their cover as an "independent objective fact checking service" is about as transparent as Saran Wrap.

tonyopmoc ,

I really liked this when I read it this morning, before the grandkids came round, but I thought some of the comments a bit severe..

I mean this photo is of some 40 year old kid, who lives in Leicester, and his Mum/wife/sister or whatever works in the local Post Office .

I personally had never heard of Brown Noses, and I have never personnally succeeded in getting anything I wrote, posted above our below the line, since The Manchester Guardian moved from Manchester to London, and whilst I do love reading some of the posters' comments well look face it.

Even though Rhys probabaly doesn't like what this kid writes – Elliot is it? he is hardly going to come round with a chainsaw, to cut his head off is he? He probably never even thought of it.

He did say he is small fry, and he probably is still a virgin (been brainwashed – so he actually belives the model doll is better. What has he got to compare it to?)

So I can't blame any of them.

There are alternatives as well as Facebook, Youtube, Instagram, and all those Dating Websites, when almost everything you write gets deleted.

Just go down the local pub when there is a good band on. Even I can pull there, but I am better looking than both Rhys and Elliot

I Like Girls.

I am a man. It's Normal

Just keep fit dancing and smiling, and you will be O.K.

Tony

paul ,

The prime importance of these endless hoaxes, smears, lies, fabrications and official approved conspiracy theories, lies not so much in the events themselves as what it says about the nature of the people who rule over us and their courtiers and handmaidens in the MSM.

It would take a whole forest of trees merely to catalogue all their lies over the years, whether it's the Iraq Incubator Babies, the black Viagra fuelled rape gangs in Libya, the Syrian Gas Hoaxes, 9/11, Iraq's WMD, Iran's non existent nuclear weapons, Skripal, Russiagate, Ukrainegate, or the communist spy/ terrorist/ anti semitic smear campaign against Corbyn. And that is only the tip of a very large iceberg. You could go back further to Gladio, Operation Northwoods, Tonkin Gulf, the "Holocaust", Zinoviev Letter, Bayonetted Belgian Babies, Raped Belgian Nuns, Human Bodies Made Into Soap. The list is endless.

We have been lied to consistently for years, decades, and generations. And these lies have been peddled endlessly in the MSM, no matter how ludicrous and transparently false they are. In the absence of direct personal knowledge or very convincing evidence to the contrary, you just have to assume that everything we have ever been told, are being told, and will be told, and most of the accepted historical record, are simply false. Nothing, nothing at all, can ever be taken at face value.

And those who rule over us and who are responsible for these lies are psychopathic subhuman filth devoid of any moral values or any redeeming features whatsoever. They are a thousand times worse than the worst mass murderers or child killers who have ever been through our courts. The Moors Murderers, the Ted Bundys, the Jeffrey Dahmers, were seriously damaged individuals who killed a handful of victims. And they did their own dirty work. The Blairs, the Campbells, the Straws, the Bushes, the Cheneys, the Rumsfelds, the Allbrights, the Macrons, the Camerons, the Netanyahus, the Trumps, have the blood of millions on their hands. They and their wire pullers are responsible for the death, starvation and misery of tens and hundreds of millions.

So when Blair, or Johnson, or Trump or whoever is interviewed on television, you have to remember that individual is a thousand times worse than the Moors Murderers, and we would actually be that much better off if Brady or Hindley were ruling over us. They deserve no respect or deference or legitimacy. They plot the murders of millions and the starvation of tens of millions – and laugh and giggle as they do so. They should be simply recognised for what they awe – psychopathic subhuman filth.

I do agree with you Paul and of course all you say is true. One of the main problems is that these people have the power to build artificial constructs sufficient for the masses to believe and perpetuated through their bought and paid for MSM whose journalists are mere foot soldiers and wish only to get their pay checks. They have no reason to question the lies and distortions pedaled to them by TPTB – they merely repeat the false narrative:
"It is difficult to get a man to understand something, when his salary depends upon his not understanding it!" – Upton Sinclair

And we, the great 99%, have little power to change things except within our local network. We can shout all we like on social media but it changes nothing until the great crisis reoccurs and perhaps the masses will rise and demand a just and equitable system. Until that day perhaps this little video will provide an understanding:


https://www.youtube.com/embed/rStL7niR7gs?version=3&rel=1&fs=1&autohide=2&showsearch=0&showinfo=1&iv_load_policy=1&wmode=transparent

Roberto ,

The business of the MSM throughout the ages has been to traumatise or at least just generally worry the public with headlines focused on fear, envy, anger, revenge, and hate. Include all five in your story and you're well on the way to a Pulitzer Prize, bestowed on the profession by one of the great muckrakers of all time. It's not incidental that there have been a disturbing number of winners that have turned out to be dissembling frauds. Add to this the fact that 'journalism' training apparently does not teach entrants to distinguish the difference between opinion and news, and the die is cast: propaganda as news.

Dungroanin ,

Here is what BellEndScat supporting Rusbridger is moaning about.

"For some years now – largely unreported – two chancery court judges have been dealing with literally hundreds of cases of phone hacking against MGN Ltd and News Group, the owners, respectively, of the Daily Mirror and the Sun (as well as the defunct News of the World).
The two publishers are, between them, forking out eye-watering sums to avoid any cases going to trial in open court. Because the newspaper industry lobbied so forcefully to scrap the second part of the Leveson inquiry, which had been due to shine a light on such matters, we can only surmise what is going on.

But there are clues. Mirror Group (now Reach) had by July 2018 set aside more than £70m to settle phone-hacking claims without risking any of them getting to court. The BBC reported last year that the Murdoch titles had paid out an astonishing £400m in damages and calculated that the total bill for the two companies could eventually reach £1bn."

https://www.theguardian.com/commentisfree/2020/jan/19/there-is-a-reason-why-royals-demonised-but-wont-read-all-about-it-prince-harry-meghan-markle

On the overall perfidious msm he quips:

"Because the newspaper industry lobbied so forcefully to scrap the second part of the Leveson inquiry, which had been due to shine a light on such matters, we can only surmise what is going on."

-- --

Completely ignoring that the Integrity Iniative infested Guardian ITSELF objected to the recommendation of Levesons thoroughly public Inquiry and opposition to a independent press regulator!

It would have been a building block and certainly stopped most of the continued press misbehaviour over the last 5 years.

Neither Fish nor Fowl Mr Rusbridger. More sinner that saint, more like.

Hugh O'Neill ,

Going to the heart of what Bellingcat, MI6 and CIA is Pompeo's: "We lie, we cheat, we steal." These evil filth are devoid of any moral code and have no respect whatsoever for the laws of God or Man. At which point, consider Moses' (how apt) Ten Commandments. There among them is: "Thou shalt not bear false witness". Think what you will of these Ten, but as a moral code, they were quite useful.

Richard Le Sarc ,

Would that all these scum could share the fate of their progenitor, Streicher-without the ' necktie party'. Life at hard labour would do the lot of them much good.

Brianeg ,

I looked at the Veterans Today link and it all sounds very plausible'

However in today's world nothing makes sense especially when the questions arise.

Is it possible to change the signal of an aircrafts transponder remotely. Can the target acquisition radar on the missile be spoofed remotely. Just why did the flight control officer sanction the take off of this plane in the middle of a war unless they were party to the whole thing.. Just what were the six Israeli F-35 jets doing flying close to the Iranian border?

Okay there is a lot of smoke but just where is the fire.

Just as interesting is that none of the twelve Iranian missiles was intercepted and there are rumours that the Iranians were able to take out of action American air defences.

I am sure that like with Douma when the majority of NATO missiles were intercepted by missiles that were decades old, you wonder what might happen when most of the middle east is covered by the S-300 and later versions.

This is a story that has got a long way to run and we might never hear the ending.

Dungroanin ,

Facts are inconvenient.
Many planes took off.
This one was delayed by the pilot 'to remove overloading'.
Reports of Cruise missiles heading in.

Mucho ,

For the best info on this, go to Brendon O' Connell's channel and watch 1 to 3 and number 22. You will get answers there.
https://www.youtube.com/channel/UCYaLxbD7Rix3p1rdGY3IMjg?pbjreload=10

Also go to the Antedote and listen to Greg and Jeremy's latest offering.
https://www.youtube.com/channel/UCMf1qGR8km1c8vg_dtpzzVQ

Dungroanin ,

It sounds a bit MAGA.

The thing about 'chips' is they could easily be identified by putting them in a black box and watching what they do using a chip which only does that!

The whole bs about it's THEM not US crap falls away. Just need some open source simple 'custodian' chip manufacturer to make that available. If it can be made a 'gate keeper' than we are all safe.

Mucho ,

"It sounds a bit MAGA. "
After this, I will never, ever read any of your comments ever again. Get lost!

Mucho ,

You talk so much crap. Please, keep it to yourself

Dungroanin ,

I ain't saying that is your opinion am I?

The bit I watched was him being gung-ho about getting back 'control of microprocessors' !!!

There is a big difference between designing chips and 'manufacturing' facilities'.

Have you never wondered why most actual building of small electrical component equipment takes place in Asia?

I don't care wherher you read my comments- i am free to post what I want on whatevet article and whoevers comment. And stick to facts.

Mucho ,

"The bit I watched ".
Honestly, I am so tired of people who comment on things they know nothing about. Everything you say is wrong, because you are speaking from a position of total ignorance, because you haven't watched the films.
Watch 1 to 3. Watch 22 and 23 ALL THE WAY THROUGH, not skimming. Then comment. Every inaccurate comment you make is covered in detail. Honestly it's no wonder we're so fucked.

From 2005 after one google search, time spent on this, 10 seconds:
"While Yona was developed in partnership with one of Intel's California centers, the 65nm microprocessor product is the first to be developed in its entirety, both the architecture and strategy, by Intel engineers at its Israel plants in Haifa and Yakum. "
https://www.israel21c.org/intels-new-chip-design-developed-in-israel/

You know zilch, you understand nothing, you make assumptions, you don't watch or read the material, and then in your total ignorance, you spew your feeble thoughts on this forum. Moron

Mucho ,

You define the phrase "ignorant Brit"

Dungroanin ,

Mucho since you FAILED instantly in your promise to ignore me – i will respond to your toy throwing out of the parambulator.

First just telling people to WATCH something without explaining what the salient point to be learnt – is not the way to influence or educate.

I prefer reading an argument- I definitely do not spend hours watching TV or listening to propaganda by msm / indy or 'shock jocks' – that last was the personality I saw and didn't feel the need to hear anymore as I don't when Nigel Farage and his ilk do on the radio here.

If you want to inform or prove something to me or anyone else kindly post a link to a written piece.

Second, chips are designed eveywhere there is such competence. Chip manufacturing mainly improved theough research in top universities.
The UK was a lead chip designer too.

None of that means the Israelis haven't monopolosed tech and own many patents. The fact is the Israelis ARE part of the 5+1 eyed world Empire – they are the plus one. Snowdens whistleblowing makes absolutely clear that the +1 gets a higher clearance than the +4.

That's as nice as I am prepared to be, so finally, that last paragraph is what is known as PROJECTION. Look it up and learn that it comes from your fav bogeymen brainfuckers.

That is some serious self-hate you have going on – work on it.

Take it easy ok?

Mucho ,

Number 23 is totally relevant too, going deep into chips, backdooring and kill switch usage

Koba ,

So the mocking of maga is what set you off? Fuck maga and it's idiot supporters great nations don't slaughter civilians for capital

bevin ,

Has this link been cited?
https://thewallwillfall.org/2020/01/19/important-douma-opcw-update-from-prof-piers-robinson/

norman wisdom ,

chris morris is very funny has a fine body of twisted comedick works
for all his charm his role is too destroy society degrade
he is khazar after all

sacha baron co hen the names speaks for itself an empty cruel tool
never trust a coen cohen khan or cowen or co they cookoo

eliot mcfuck higgins is not oirish
he is not certainly related to snooker loopy or is it darts i cannot remember hero alex higgins.

eliot"s dad is rita katz from site intel group amaq news
his mom barbera lerner spector
or is it vice versa
versa vice
whatever
shirley you

get my the friends of the oirish israel drift
so to speaks
or sum such

Mucho ,

Brilliant, insightful, logical hypothesis of the recent plane downing over Iran by Jeremy Rothe Kushel. Ignore the video, this is about the written article.

The Prime Suspect in Ukrainian PS752 Shootdown: Israel's Unit 8200
https://www.veteranstoday.com/2020/01/10/ps752/

Mucho ,

For further info about Israeli tech domination, what it is, where it comes from and the implications of this, go to Brendon O Connell's YT channel. Number 22 in his list is very important.

Mucho ,

Jeremy Rothe-Kushel is a very important member of the truth community, in no small part due to the fact that he is an Ashkenazi Jew. My personal belief is that in the end, the Jewish community will play a pivotal role in weeding out the evil that rules over us. I wish we didn't have these labels, that we could have true freedom to play our chosen role in our God created realm, but at this stage in the game, we're stuck with our divide and rule labels and systems of control.
Jeremy's style is to the point, he has great depth of knowledge, an encyclopedic knowledge of his field and is a highly astute commentator. He presents a lot of complex information in fairly easy to digest chunks with his co-host, Greg McCarron, on their show "The Antedote" on YT, as well as doing a lot of guerilla style activism in US politics. Highly recommended.

norman wisdom ,

i met elliot many years ago
the chap on the 8 year old lap top above
we called him fat face down the synagogue ohh how we laughed
he laughed as well everytime someone said it
such fun
are rabbi one day organised a trip and lecture tour of chatham house the belly of the beast.
we learnt all about how tough regime change was and how difficult it is to do on a bbc size budget.

what we learnt was that having are people everywhere really helped
scripted up to speed influencer roles in media in public on track on page working cog like.
a kind of khazar collective non semites only for security reasons of course.
we could work from a very low pound dollar and shekels base and still be very effective.

never under estimate the benjamins or elliots it is folks like this that are the real hero of the oded yinon
yes sir
already my life
fat face eliot boy done good

and like all khazar he hates the sephardim jewisher and the unclean arab which is shirley a bonus is it not

George Mc ,

First off, if folks haven't a clue who Harold Shipman is, you're not going to get far with Titus Oats. At the most they might think it's a character from Gormenghast.

Second, I initially misread the article and thought that the figure from the 17th century actually WAS Higgins of Bellingcat. And if that seems an absurd assumption to make, even temporarily, it doesn't seem much more absurd than some of the stuff he says e.g.

I had no knowledge beyond what I'd learned from Arnold Schwarzenegger and Rambo.

The point has been raised that there are psyops perpetrated with a malicious sense of humour as if to say, "These suckers will swallow anything". Higgins with his "education" from Arnold and Rambo may be an example of one of those jokes.

Third, and to end on an optimistic note, I like the 17th century sentencing and recommend we bring it back:

and he was whipped and placed in the pillory.

Dungroanin ,

Admin – a suggestion on keeping recent articles available from the top of the page.

Problem: As you add new aricles at top left the ones on the very right drop away! Almost as if being binned into a memory hole.

Solution: allow a scroll at the right hand edge so that these older links are easily available to readers. Only a minor coding change without any change to your front page.

Tallis Marsh ,

I concur! I'm sure many of us will appreciate a scroll on the right hand edge so we can access the older articles. Thanks in advance, OffG!

Oliver ,

HM Armed Forces operations in Syria follow the doctrine of Major General Sir Frank Kitson who learnt his stuff in Kenya in the 1950s. Murder, torture, rape the staples of the British military's modern terrorist ability. NATO doctrine too.

Joe ,

https://www.youtube.com/embed/0oLfNr4JjeI?version=3&rel=1&fs=1&autohide=2&showsearch=0&showinfo=1&iv_load_policy=1&wmode=transparent

BigB ,

This is an important article: one of the few that dares to express that Douma et al are not mere false flags they a darkly psychotic form of 'snuff propaganda porn' (including the recycling and rearanging of 'props' that were until recently animate human souls with a lifetime of possibility abnegated for ideology). The Working Group on Syria is part of a small counter-narrative subset – along with Sister Agnes Mariam, Vanessa Beeley, RT (on occasion), UK Column, The Indicter, Prof. Marcello Ferrada de Noli – who are willing to state plainly that this is child murder. Now I wholeheartedly commend Kevin that we should name and shame the culprits and their supporters.

"No, I think it is time for plainer, no-holds-barred language describing these people for the true evil they are – until the truth and label sticks."

I had a similar epiphany in early 2016. The barbaric of murder of starved and thirsty children at Rashidin – Syrian innocence lured by much needed sweets and drinks only to be blown apart in front of their mothers. Anyone who supports the White Helmets terrorist construct and their NATO-proxy child-murderers needs to be exposed. But what if that trail of exposure leads back to the leader of the Labour party: who had just personally endorsed the charity funding of the White Helmets? And continued to support the Jo Cox Foundation of Syrian humanitarian bombers and R2P interventionists? Which itself is a front for the dark money web of 'philanthrocapitalism' that is the shadow support network for regime change crimes against humanity. This is when righteous indignation meets the dark wall of silence around the social construction of reality. Especially if you put Jeremy Corbyn in the frame.

What this means is the ability to frame dark actors for the true evil they are has to be a two-way flow. Meaning is created across networks, not just by naming but by naming and agreeing across narrative communities. Again, this is not abstruse: it is social reality. Social reality is not reality: it is a consensual constructivism. Significant numbers of others have to be in a position of consensual agreement in order to challenge the dominant narrative(s). So I echo the sentiment that many can see that the dominant narrative – especially concerning Syria – is deeply flawed. But they are as yet unwilling to admit that the depth of the flaw is in fact a tear in social reality that cannot be easily healed.

This is the aspect of social reality called 'universe maintenance'. Doxa is the reality constructing belief set – the episteme of interacting beliefs. The narrative has two main aspects: ortho-doxa and hetero-doxa – the orthodox maintaining and heterodox subverting discourses. In order to truly subvert the hegemonic orthodoxy – there has to be a social moment of criticality when the heterodox is no longer deniable. To reach that point: the intrajecting true has to be believable to the hegemonic orthodoxy. Now we have a third mode: para-doxa when the true 'state of affairs' is not believable – it is easily rejected as paradoxical to the reigning consensus covenant of the true. This is universe maintaining: whereby the the totality of the dominant discourse actually subsumes or repels any paradox as a half-truth or ameliorated, disarmed less-than-true ('conspiracy theory'). This is known as 'recuperation'. Anything that meets the dominant discourse has to be explained in the terms of the dominant discourse accommodative and recommending itself to the dominant discourse. Which then becomes a part of the dominant universe of discourse.

A moment of the true is like a barb to a bubble. It has to be contained and wrapped in narrative that describes and explains it into a consumable form. The full realisation of the propagandic child murder in Syria – tacitly supported by the Labour Party and Jeremy Corbyn in particular – would destroy the symbolic universe of social reality. Of which it is my personal experience no one really wants to do. The correlations, direct and indirect links, and universally maintained orthodoxy of narrative discourse point to an accomodation. An explanation or multivariate set of explanations that problem shift and ascribe blame to imaginary actors. To deflect or defend the personal self. Because the personal self is independently situated outside the social sphere. Or is it?

Seeing the real event as it happens requires the perspicacity of social inclusion. We all create social reality together: with our without layers of dualising exclusion that protects us from the way the world really is. Who would vote to legitimise the supporters of NATO and the child-murderers of Syria? 31 million legitimising independent social actors just did. Do you suppose they did so in full knowledge that it is child-murder they were supporting? Or did they create universe maintaining accommodations to the truth? That is how powerful the screening discourses and legitimising orthodoxic narrative mythology is. It is not that it cannot be subverted: its just that calling out the true evil has to be heard in unison by large or social small assemblages willing to totally change everything – including themselves. In order to transition to a different social reality one that accommodates the truth. One which will look nothing like the social reality we choose to maintain as is.

Francis Lee ,

My first attempt didn't get through. Herewith second.

It seems to me that the internal affairs of the Russian Federation, although they may have some impact on external geopolitical issues, are a matter for them. At the present time the relevant question regarding the RF is as follows: Question 1. Is Russia a revionist state intent on an expansionist foreign policy? Answer NO. But it is not going to tolerate NATO expansion into its own strategic zones, namely, Ukraine, Georgia and the North Caucusas. Question 2. Is the Anglo-Zionist empire in open of pursuit of a world empire intent on destroying any sovereign state – including first and foremost Russia – which stands in its way? Answer YES. This really is so blatant that anyone who is ethnically challenged should seek psychiatric help. In Polls conducted around the world the US is always cited as the most dangerous enemy of world peace, including in the US itself. Thus a small influential (unfortunately deranged) cabal based in the west has insinuated its way into the institutions of power and poses a real and present danger to world peace.

This being the case it is imperative to push all and any 'normal' western governments and shape public opinion and discourse (except the nut-jobs like Poland and the Baltics) into diplomacy. Wind down NATO just as the Warsaw Pact was wound down. that will do for starters. Of course the PTB in all the western institutions – the media (whores) the deep state, the Atlantic Council, the Council on Foreign Relations, Chatham House the Arms merchants, the security services GCHQ, the CIA, Mossad and the rest will oppose this with all the power at their command. This is the present primary site of struggle, mainly propagandistic, cultural and economic, but with overtones of kinetic warfare.

Similar diplomatic initiatives must be directed at China. Yes, I know all about China's social credit policy, I don't particularly like the idea of 24 hour system of surveillance, and I wouldn't want to live there, but is already a virtual fait accompli in the west. Again it bears repeating that sovereign states should be left to their own devices. After all 'States have neither permanent friends of allies, only permanent interests. (Lord Palmerston, 19 century British Statesman). No more 'humanitarian interventions' thank you very much. How about Mind our own Business non-interventions.

I make no apologies for being a foreign policy realist – if that hasn't become apparent by this stage!

BigB ,

Francis:

The Russian Federation is involved is strategic partnership with China in consolidating the Eurasian 'supercontinent' into the world island. One which is slowly being drawn together into a massive market covering 70% of the world's population, 75% of energy resources, and 70% of GDP. I'd call that expansionist, wouldn't you?

Market mechanisms and methodology are exponentially expansionist, extractivist, and extrapolative. Market propaganda is free and equal exchange coupled with mutual development through comparative advantage. Everyone benefits, right?

No: markets operate as vast surplus value extractors that only operate unequally to deliver maximum competitive advantage to the suprasovereign core. Surplus value valorises surplus capital which cannot be contained in a single domestic market: so it seeks to exploit underdeveloped foreign markets setting up dependencies and peripheries in the satellite states. Which keeps them maldeveloped. In short: Russia and China's wealth is not just their own.

Russia and China are globalisation now. Globalist exponential expansionism, extractivism, and extrapolation is the repression of humanism and destruction of the biosphere. It can't stop growing in the cancer stage of hyper-capitalism. We are currently consuming every resource at a material throughput increase of 3% per annum year on year. That's a 23 year exponential doubling of material resources. And a 46 year doubling of the doubling. How long before globalisation uses everything? How far into the race to the bottom will the market collapse?

It would be really nice to return to a Westphalian System of non-expansionist, non-extractivist sovereign nation states. It is just not even plausible under market mechanisms of extraction. There can be no material decoupling and development remains contingent on an impossible infinity: because development remains parallel and assymetrically maintained. And all major resources are depleting exponentially too. Including the nominative renewable and sustainable ones.

Degrowth; self-sufficiency; localised 'anti-fragility', steady-state; asymmetric development of the marginalised and the peripheralised; regenerative agroecological agriculture; human development not abstract market development; are just some of the pre-requisites of a return to sovereign states. Russia 'sovereigntist' globalisation is the expansionist opposite to that. The RF is part of the biggest market in the world that hoovers up as much surplus value as it can before sending a large tranche of it to London. As much as $25bn a year in capital flight into the offshore nexus of secrecy jurisdictions. It's a globalist expansionist market mechanism that hoovers all vitality out of the life-ground. That: I call expansionist and imperialist of which Russia and China are now the major part.

Francis Lee ,

"The Russian Federation is involved is strategic partnership with China in consolidating the Eurasian 'supercontinent' into the world island. One which is slowly being drawn together into a massive market covering 70% of the world's population, 75% of energy resources, and 70% of GDP. I'd call that expansionist, wouldn't you?"

No, I wouldn't actually. Building roads, rail connections and other trade routes doesn't strike me as imperial expansion. No-one is being forced to join the Shanghai Cooperation Organization (SCO) or into reconfiguring their internal political and economic structures, as the US does in Latin America or as the British did in India and Southern Africa. (East India Company and the British British South Africa Chartered Company). The SCO is a voluntary arrangement. Uzbekistan for example has decided not to join the central Asian Eurasian Economic Union – well that's its prerogative. No-one is going to send any gun-boats to force them. (I am aware that Uzbekistan is a landlocked country, but I was talking figuratively.)

The EEU's genesis has along with the SCO and BRI has been forced upon the China/Russia axis as part of an emerging counter-hegemonic alliance against the US's imperial aggrandisement with its kowtowing vassals in tow. Russia has no claims on any of its neighbours since it is already endowed with ample land and mineral deposits. China is a key part of this essentially geopolitical bloc quite simply because the US imperial hegemon is determined to stop China's development by all means necessary including the dragooning of contiguous military bases in US proxy states around China's maritime borders.

A distinction should be made between rampant imperialism of the Anglo-zi0nist empire, and the response of an increasingly bloc of states who find both their sovereignty and even their existence threatened by the imperial juggernaut. What exactly did you expect them to do given the hostility and destructive intent of the Empire? Defence against imperialism is not imperialism. The defence of autonomy and sovereignty of international society and the creation of an anti-hegemonic have the potential to finally create a transformative new world order (and goodness knows we need one) announced at the end of the Cold War in 1991. This ambition finds support not only in Russia and China but in other countries ready to align with them, but also in many western countries. I obviously need to put the question again. Who is and who is not the greatest threat to world peace? Surely to pose the question is to answer it.

Dungroanin ,

Agree Francis.
There is a move to suggest that the Old Empire retains a 'maritime' world and the SCO confines itself to the Eurasian land mass.
Dream on.
The Empire is DEAD. Long live the new Empire!

BigB ,

Who is the greatest threat to world peace and to the world itself? We are. The global carbon consumption/pollution bourgeoisie. It is the global expansionist mindset that is increasing its demands for growth – as the only solution to social problems, maldevelopment, and maldistribution caused by excessive growth. Supply has to be met by exponentially expanding markets. Whether this is voluntaristic or coerced makes very little difference to the market cancer subsuming the globe. Benign or aggressive forms of cancer are still cancer. And the net effect is the same.

Russia and China – the 'East' – uphold exactly the same corporate model of global governance that the 'West' does. Which has been made clear in every joint communique – especially BRICS communiques. I have made the case – following Professor Patrick Bond – that BRICS in particular (a literal Goldman Sachs globalist marketing ploy) – are sub-imperial, not anti-imperial. All their major institutions are dollar denominated for loans; BRI finance is in dollars; BRICS re-capitalised the IMF; Contingency Reserve Arrangements come with an IMF neoliberalising structural adjustment policy; etc. It is the same model East and West. One is merely the pseudo-benign extension of the other. The alternative to neoliberal globalisation is neoliberal globalisation. This became radiantly clear at SPIEF 2019: TINA there is no alternative.

The perceived alternative is the reproduction of neoliberalism – which has long been think-tanked and obvious – and its transformation from 'globalisation 3.0' to 'globalisation 4.0' trade in goods and services, with the emphasis on a transition to high-speed interconnectivity and decoupled service economies. Something like the Trans-Eurasian Information Super Highway (TASIM)? With a sovereigntist and social inclusivity compact. So the neoliberal leopard can change its spots?

No. Whilst your argument is sound and well constructed: it is reliant on the early 20th century Leninist definition of 'imperialism' as a purely militarist phenomena. Imperialism mutated since then – from military to financial (which are not necessarily exclusive sets) – and is set to metastasise again into 'green imperialism' of man over man (and it is an andrarchic principle) and man (culture) over nature. Here your argument falls down to an ecological and bio-materialist critique. Cancer is extractivist and expansionist wherever it grows.

Russia is the fourth largest primary energy consumer on the planet. Disregarding hydro – which is not truly ecological – it has a 1% renewable penetration. It is a hydrocarbon behemoth set to grow the only way it knows how – consuming more hydrocarbons. They cannot go 'green': no one can. And a with a global ecological footprint of 3.3 planets per capita, per annum, this is not sustainable. Now or ever.

So a distinction needs to be made between the old rampant neoliberal globalisation model (3.0) – the Anglo-Zionist imperialist model – and the emergent neoliberal globalisation model (4.0) of Russia/China's rampant ecological imperialism? And a further distinction needs to be made about what humanity has to do to survive this distinction between aggressive and quasi-benign cancer forms. Because we will be just as dead, just as quick if we cannot even identify the underlying cancer we are all suffering from.

Koba ,

Big B sit down ultra! China and Russia rent empires and have no desire to be! If you're a left winger you're another poor example of one and more than likely a Trotskyist

Richard Le Sarc ,

Love the nickname, Josef.

Louis Proyect ,

This is because if a chemical attack did not take place and Assad was not responsible it seems highly likely that the civilians including children were murdered to facilitate a fabrication.

And were our own intelligence agencies involved in a staged event, considering the refusal to even establish the basic facts in the days following?

-- -

This is the sort of conclusion you must come to if you are into Islamophobic conspiracy theories. The notion that this kind of slaughter took place to "facilitate" a false flag is analogous to the 9/11 conspiracism that was on display here a while back and that manifested itself through the inclusion of NYU 9/11 Truther Mark Crispin Miller on Tim Hayward's Assadist propaganda team.

Sad, really.

Harry Stotle ,

Go on Louis, remind us about the 'terrorist passport' miraculously found at the foot of the collapsed tower with a page coveniently left open displaying a 'Tora Bora' stamp – I kove that bit.

I mean who, apart from half the worlds scientific community is not totally convinced by such compelling evidence, especially when allied to the re-writing of the laws of physics in order to rationlise the ludicrous 2 planes 3 towers conspiracy theory?

Next you'll be telling us it was necessary for the US to invade Afghanistan and Iraq for reasons few American'srecall beyond the neocon fantasy contructed on 11th Septemember, 2001.

Dave Hansell ,

It's clear to a blind man on a galloping horse from this comment of yours Mr Proyect that concepts such as objective evidence, logical and rational deduction, the scientific method etc are beyond your ken.

Faced with the facts of a collapsing narrative of obvious bullshit and lies you have bought into, which you are incapable of facing up to, it is unsurprising that you are reduced to such puerile school playground level deflections.

So come on, try getting out of the gutter and upping your game. Because this fare is nothing short of sad and pathetic.

We know from the evidence of those who actually know their arse from their elbow on these matters that the claims of an attack using chemical weapons on this site are unsustainable.

Which leaves the issue of the bodies at the site. Given they did not lose their lives as a result of the unscientific bullshit explanation you desperately and clearly want to be the case the question is how did those civilians lose their lives? How did their corpses find their way to that location?

Did Assad and his "regime" murder them and move the bodies to that site (over which they had no control) in order to create a false flag event to get themselves falsely accused of an NBC attack Louis? Because that's the only reasonable and rational deduction one can imply from your argument and approach.

It is certainly more reasoned, rational and in keeping with the scientific method (you might want to try it sometime) to surmise that the bodies on site, having not been the result of the claimed and unsustainable narrative you have naively committed to, either died on site from some other cause or were brought to the site for the purpose of creating your fantasy narrative.

In the latter case it is further a matter of rational and reasoned deduction that such an occurrence could only be carried it in circumstances in which whoever carried it out had actual, effective and physical control of a geographical location and area situated within a wider conflict zone.

Again, it remains a piece of factual reality that this location was not under the control of the Assad 'regime.' Not least because otherwise there would be no logical or rational military reason for the de facto Syrian Government and it's armed forces to waste resources attacking it.

Unless of course he buys I to the conspiracy theory and hat they somehow organised a false flag implicating themselves?

I'm sure everyone else here in the reality based community is waiting with bated breath for you to 'explain' how they did this Louis.

I know I am. I could do with a good laugh.

George Mc ,

This is the sort of conclusion you must come to if you are into Islamophobic conspiracy theories.

Umm – the assumption that Muslims DIDN'T do it is "Islamophobic"? Even on your own terms you're not making much sense these days, Louis.

lundiel ,

There was little doubt that British special forces were captured in Eastern Ghouta when the SAA prevented an all out attack on Damascus. European precursors and British munitions were uncovered along with factories within the tunnel complex, itself a product of western engineering and slave labour. This was no propaganda, evidence was collected, statements were taken and everything was documented. Douma was a direct follow-on from that failure and yet, you refuse the evidence piling up, but accept testimony of journalists based in Jordan and Turkey? The "conspiracy" is wholly yours Louis and you are guilty of malicious intent, false representation and pretending to be a "Marxist" when you are a Zionist neocon.

lundiel ,

Hi I'm Louis an unrepentant Marxist and I willfully refuse to use block-quotes.

Richard Le Sarc ,

More proyectile vomitus in defence of child-murdering salafist vermin. How low can this creature descend?

Louis Proyect ,

Richard, such abusive language only indicates your inability to discuss the matter at hand. In general, a detached sarcasm works much better in polemics. You need to read Lenin to see how it is done. I should add that I am referring to V.I. Lenin, not John Lenin who wrote "Crippled Inside".

Richard Le Sarc ,

You defended the salafist butchers with lies, proyectile-do you not even comprehend your own sewage? Or did someone else write it and you just appended your paw-print?

Dave Hansell ,

Apologies here. There is an open goal and the ball needs to be put in the back of the net:

Seems that Louis here is well ahead of the curve in terms of Fukuyama's well known observation about the end of history.

For Louise history, in terms of the progress and development of human knowledge, stopped around a century ago with whatever Lenin wrote.

But that's what happens to those who only read one book.

Sad really.

Dungroanin ,

You come across more as Yaxley – Lenin mr Tommy Proyect – but he is a MI5 stooge unlike you cough cough.

Koba ,

Lenin hates Trotsky! Trotsky was a power mad maniac who wanted a permanent war state to somehow spread his specific brand of "ahem" socialism, which won't win you friends! "Hi yeah sorry we killed your family in a war we started to save you but yippee Trotsky is now in charge so stop complaining"! You're just a bunch of liars the trots

Maggie ,

learn to use the internet which has the information you need to learn the truth:

Acting out a chemical attack?


https://www.youtube.com/embed/o63VnLJpwuc?version=3&rel=1&fs=1&autohide=2&showsearch=0&showinfo=1&iv_load_policy=1&wmode=transparent

Jimmy Dore hits the nail every time!!


https://www.youtube.com/embed/FLRQSfSKoJo?version=3&rel=1&fs=1&autohide=2&showsearch=0&showinfo=1&iv_load_policy=1&wmode=transparent

Didn't you just love George Carlin, identifies just what the problem is with dicks like Proyect.


https://www.youtube.com/embed/KLODGhEyLvk?version=3&rel=1&fs=1&autohide=2&showsearch=0&showinfo=1&iv_load_policy=1&wmode=transparent

Maggie ,

Here's another Jimmy Dore Vid from 2017
Watch and learn


https://www.youtube.com/embed/MnSAB4qeDug?version=3&rel=1&fs=1&autohide=2&showsearch=0&showinfo=1&iv_load_policy=1&wmode=transparent

Koba ,

Maggie don't take jimmy bore as some truth teller he's a bland progressive with revolutionary slogans like proyect! He also has a habit of equating Stalin with Hitler in that god awful nasal accent of his

Richard Le Sarc ,

Thems White Helmets is always so neat and tidy. Their mammies must have insisted that they always look their best.

paul ,

The British taxpayer funded head choppers and throat slitters in Syria routinely committed massacres and filmed their victims. The resulting footage was passed off by tame media hacks as "evidence" of regime atrocities.

Koba ,

Death to the Trotskyists
Fuck proyect your name calling says it all!
Islamophobes indeed?! What an idiot

Harry Stotle ,

The alternative media, and a smattering of truth tellers are locked in an asymmetrical information-war with the establishment – with an all too obvious 'David & Goliath' sort of dynamic underlying it.

The question asked at the heart of this article is how to break the vice like grip information managers hold over various geopolitical narratives, referencing events in Douma in particular.

Alnost reflexively 9/11 comes to mind – a fairly unambiguous example of mass murder for which the official account does not withstand even the most cursory form of scrutiny.
Professionals even went so far as to purger themselves while the investigating committee admitted they were 'set up to fail' (to quote its chairman).

Yet the public, instead of shredding Bush, limb from limb (for the lies that were told) rolled onto their back while the neoncons tickled their collective belly as you might do with a particulalrly adorable puppy,
So if we can't even get to the bottom of events in the middle of New York what realistic chance of doing so in a hostile war zone like Douma?

On balance racism, together with other forms of collective loathing is the most likely reason why this unsatisfactory state of affairs is unlikely to change.

A collective 'them and us' mindset makes it far easier for information managers to manipulate a visceral hatred and fear of 'the other'.
Today it is Qasem Soleimani westerners are taugyt to despise, yesterday it was Bashar al-Assad, before that Vladimir Putin, Saddam Hussein, Muammar al-Gaddafi, Nicolás Maduro . the list just goes on and on.
Information managers simply wind the public up so that collective anger can be directed toward governments or individuals they are trying to bring down – recent history tells us that the public are largely oblivious to this process, so thus never learn from their mistakes.

Perhaps one thing western leaders, and the US in particular can always rely on, is the ease with which the public can be persuaded to believe that certain bogeymen pose a grave threat to 'our way of life' while failing to notice that it is in fact our own leaders who are carrying out the worst atrocities.

harry law ,

Harry Stotle, .."Perhaps one thing western leaders, and the US in particular can always rely on, is the ease with which the public can be persuaded to believe that certain bogeymen pose a grave threat to 'our way of life'. That's true Hermann Goring had it about right with this quote
"Why of course the people don't want war. Why should some poor slob on a farm want to risk his life in a war when the best he can get out of it is to come back to his farm in one piece? Naturally the common people don't want war: neither in Russia, nor in England, nor for that matter in Germany. That is understood. But after all it is the leaders of a country who determine the policy and it is always a simple matter to drag the people along, whether it is a democracy or fascist dictatorship, or a parliament or a communist dictatorship. Voice or no voice, the people can always be brought to the bidding of the leaders. That is easy. All you have to do is tell them they are being attacked, and denounce the peace makers for lack of patriotism and exposing the country to danger. It works the same in any country."
Anyone looking with sober eyes upon today's world and the feeble economic and geopolitical underpinnings holding the system together must accept the fact that a new system WILL be created.

This is not an opinion, but a fact. We are moving towards eight billion lives on this globe and the means of productive powers to sustain that growing population (at least in the west) has been permitted to decay terribly over the recent half century while monetary values have grown like a hyperinflationary cancer to unimaginable proportions.

Derivatives speculation alone under the deregulated "too big to fail" banking system has resulted in over $1.5 quadrillion in nominal values which have ZERO connection to the real world (GDP globally barely accounts for $80 trillion). Over the past 5 months $415 billion of QE bailouts have been released into the bankrupt banks to prevent a collapse. So, economically it's foundation of sand.

Militarily, the west has followed the earlier Roman empire of yesteryear by overextending itself beyond capacity creating situations of global turmoil, death and unbounded resentment at the dominant Anglo American powers controlling NATO and the Military-industrial complex.

The recent near-war with Iran at the start of 2020 put the world on a fast track towards a nuclear war with Iran's allies Russia and China.

Culturally, the disconnection from the traditional values that gave western civilization it's moral fitness to survive and grow has resulted in a post-truth age now spanning over three generations (from the baby boomers to today's young adults) who have become the most confused class of people in modern history losing all discrimination of "needs" vs "wants", "right" vs "wrong", "beauty" vs "ugliness" or even "male" and "female".

Without ranting on anymore, it suffices to say that this thing is not sustainable.

So the question is not "will we get a new system?" but rather "whom will this new system serve?"

Will this new system serve an oligarchical agenda at the expense of the nations and people of the earth or will it serve the interests of the nations and people of the earth at the expense of the oligarchy?

Putin Revives a Forgotten Vision

President Putin's January 15 State of the Union was a breath of fresh air for this reason, as the world leader who has closely allied his nation's destiny to China's Belt and Road Initiative, laid out a call for a new system to be created by the five largest nuclear powers as common allies under a multi-polar paradigm.

After speaking about Russia's vision for internal improvements, Putin shifted towards the international arena saying:

I am convinced that it is high time for a serious and direct discussion about the basic principles of a stable world order and the most acute problems that humanity is facing. It is necessary to show political will, wisdom and courage. The time demands an awareness of our shared responsibility and real actions."

Calling for Russia, the USA, UK, China and France to organize a new architecture that goes far beyond merely military affairs, Putin stated:

The founding countries of the United Nations should set an example. It is the five nuclear powers that bear a special responsibility for the conservation and sustainable development of humankind. These five nations should first of all start with measures to remove the prerequisites for a global war and develop updated approaches to ensuring stability on the planet that would fully take into account the political, economic and military aspects of modern international relations."

Putin's emphasis that "the United Nations should set an example" is not naïve fantasy, nor "crypto globalist rhetoric" as some of his critics have stated.

Putin knows that the UN has been misused by anti-nation state ideologues for a very long time. He also knows his history better than his critics and is aware that the original mandate of the United Nations was premised upon the defense of the sovereign nation state. Article 2.1 of the charter clearly says:

The Organization is based on the principle of the sovereign equality of all its Members."

For readers who are perhaps rightfully cynical that such organizations as the UN could ever play a truly positive role in world affairs, it is important to recall that the UN was never intended to have any unilateral authority over nation-states, or military power unto itself when was created in 1945.

Its purpose was intended to provide a platform for dialogue where sovereign nation-states could harmonize their policies and overcome misunderstanding with the aim of protecting the general welfare of the people of the earth.

Articles 1.3-4 state clearly that the UN's is designed "to achieve international co-operation in solving international problems of an economic, social, cultural, or humanitarian character, and in promoting and encouraging respect for human rights and for fundamental freedoms for all without distinction as to race, sex, language, or religion and to be a centre for harmonizing the actions of nations in the attainment of these common ends."

If the United Nations principles as enunciated in its pre-amble and core articles were to ever be followed (just like America's own admirable constitution): then wars of aggression and regime change would not be possible.

Article 2.4 directly addresses this saying:

All Members shall refrain in their international relations from the threat or use of force against the territorial integrity or political independence of any state".

These principles stand in stark contrast to the earlier 1919 Round Table/RIIA-orchestrated attempt at a post-national world order under the failed League of Nations which was rightfully put out of its misery by nationalists of the 1920s.

FDR's 1944 vision, as Putin is well aware, was based not on "world government", but rather upon the concept of a community of sovereign nations collaborating on vast development and infrastructure projects which were intended to be the effect of an "internationalization" of the New Deal that transformed America in the years following the Great Depression.

The closest approximation to this spirit in practice in our modern age is found in China's Belt and Road Initiative .

Thousands of Asian, African and South American engineers and statesmen were invited to visit the USA during the 1930s and early 1940s to study the Tennessee Valley Authority and other great New Deal water, agriculture and energy projects in order to bring those ideas back to their countries as a driver to break out of the shackles of colonialism both politically, culturally and economically.

In opposition to FDR, Churchill the unrepentant racist was okay with offering political independence, but never the cultural or economic means to achieve it.

Although the world devolved into an Anglo-American alliance with FDR's death in 1945, the other Bretton Woods Institutions which were meant to provide international productive credit to those large scale infrastructure projects to end colonialism were taken over by FDR's enemies who purged the IMF and World Bank of all loyalists to FDR's international New Deal vision throughout the years of the red scare.

Whether these corrupt financing institutions can be brought back to their original intention or whether they must simply be replaced with new lending mechanisms such as the Asia Infrastructure Investment Bank, BRICS New Development Bank or Silk Road Investment Fund remains to be seen.

What is vital to keep in mind is that Putin (just like FDR before him) knows that neither Britain nor Britain's Deep State loyalists in America can trusted.

Yet, in spite of their mistrust, they both knew that a durable world order could only be accomplished if these forces were reined in under a higher law imposed by the authority of truly sovereign nations, and this is why FDR's post-war plans involved a USA-Russia-China-UK partnership to provide the impetus to global development initiatives and achieve the goals of the Atlantic Charter.

This partnership was sabotaged over FDR's dead body as the Cold War and Truman Doctrine broke that alliance. The goal of ending colonialism had to wait another 80 years.

At the 2007 Munich Security Conference, Putin had already laid his insight into history clearly on the table when he said:

This universal, indivisible character of security is expressed as the basic principle that "security for one is security for all."

As Franklin D. Roosevelt said during the first few days that the Second World War was breaking out:

When peace has been broken anywhere, the peace of all countries everywhere is in danger I consider that the unipolar model is not only unacceptable but also impossible in today's world. And this is not only because if there was individual leadership in today's – and precisely in today's – world, then the military, political and economic resources would not suffice. What is even more important is that the model itself is flawed because at its basis there is and can be no moral foundations for modern civilisation."

Putin is not naïve to call for the United Nations charter to serve as the guiding light of a new military, political, economic architecture.

Nor is he naïve to think that such untrustworthy nations as the USA, UK and France should serve in partnership with Russia and China since Putin knows that it will be Russia and China shaping the terms of the new system and not the collapsing basket-cases of the west whose excess bluff and bluster betrays a losing hand, which is why certain forces have been so desperate to overthrow the poker table over the past few years.

The fact that Putin, Xi and their growing allies have not permitted this chaos agenda to unfold has not only driven "end of history" imperialists into rage fits but also gives FDR's vision for a community of sovereign nation-states a second chance at life.

Originally published by Strategic Culture . Facebook Twitter Reddit Pinterest WhatsApp vKontakte Email Filed under: latest , Russia Tagged with: Belt and Road Initiative , china , FDR , Matthew Ehret , russia , UN , UN Charter , United Nations , Vladimir Putin can you spare $1.00 a month to support independent media

OffGuardian does not accept advertising or sponsored content. We have no large financial backers. We are not funded by any government or NGO. Donations from our readers is our only means of income. Even the smallest amount of support is hugely appreciated.

Connect with Connect with Subscribe newest oldest most voted Notify of

---

Gall ,

The big mistake was giving France, UK and the US or FUKU or FUKUS, USSR NKA Russia and China any veto over the other independent Nations on the planet. Especially since the first two were responsible for hobbling together the Frankenstein monster known as the United States of America that was created by rapacious theft and genocide of the indigenous population followed by almost total ecocide and now has been loosed upon the world it seems to accomplish the same thing under the cover of bringing it "freedom and democracy".

Paul ,

It's a pity the experience of the League of Nations isn't examined any longer because it is instructive. OK Congress declined to approve it so the Pilot Wilson was missing but more serious was the problem of totally partisan and self serving decisions that made its provisions a mockery. Italy was 'allowed' to keep on occupying Ethiopia and sanctions eg on oil were simply declined, partly because the US supplied the oil and wasn't going to stop selling it, especially to Mussolini who was rapidly becoming a client state of America in enormous debt.

BigB ,

Someone said it was "banal" of me to oppose 'The Western Intellectual Tradition' (TWIT). Well, here is its vision *in extremis*. If you do not recognise it: this is 'Platonic Humanism' in all its glory.

It reads well. It is sensible and intelligible in its clearly written propositions. It has meaning and clearly denotes real world events – right? And yet it is ultimately unintelligible and non-sensical in an early Wittgensteinian sense of its underlying logic. If you did not immediately recognise the subtextual vision of Lyndon LaRouche: you might want to read it again?

The underlying logic is one of economic infinity: completely decoupled from the neo-Malthusian sustainable 'green iron cage' that prohibits the *productive* economy growing forever as per the deluded LaRouchian proscription. Which is utterly banal: if not actually exceedingly dangerous.

This fact of life is the essential proof that not only mankind but the universe is unbounded in its potential for constant self-perfectibility and thus ANTI-ENTROPIC in its essence.

https://orientalreview.org/2019/07/31/the-genocidal-roots-of-the-green-new-deal-the-limits-to-growth-and-the-unchaining-of-prometheus/

To illustrate my point: this is from an earlier text. I never actually know where I stand: because "anti-entropy" is laced through much of the commentary here. Which is why this text may appeal on a superficial reading? It ticks a lot of boxes: including perpetual capitalist growth; expansion of the SCO/BRI/BRICS/EAEU/CPEC colonisation of the Eurasian 'supercontinent'; and development of an anti-hegemonic sovereigntist bloc. All of which seem as a fashionable vogue for the internet progressive about town. But in multipolar alliance with Donald Trump! Infinite anti-entropic capitalistic growth – guided by the UN Charter – with Putin, Xi AND Trump at the helm in an "alliance for a new just economic order"? Sounds like hell to me.

https://www.strategic-culture.org/news/2019/07/06/trumps-relationship-to-russia-and-china-a-revival-of-the-henry-wallace-doctrine-for-the-post-war-world/

My point is that perhaps we should learn to read more deeply? Perhaps at the underlying paradigmatic logic of the text? Power is transmitted in mysterious ways. Everyone is paranoid about "mind-control" and "hidden agendas". Well, Matthew's is a prime exemplar of hidden context perhaps not to be uncritically assimilated? Unless, perhaps you share the vision of unlimited self-perfectibility; infinite nuclear fusion powered bourgeois ecumenical consumerism decoupled from ecological neo-Malthusian 'limits-to-growth'; and ANTI-ENTROPY? In which case you may be a banal Platonist TWIT too? 🙂

LaRouche was a cultic delusionist who took cherrypicked ideas to assemble an intelligible and sensible montage of beliefs that did not hang together. Which makes his writing absurd nonsense and a philosophical non-entity. Any putative logical link to the real world is severed by its premises. This piece is reduced to a mere a Trojan Horse for gibberish. It is a meaning-less 'language game'.

As unfortunate as it may seem: entropy exists as a fundamental property of the ecosphere. Resources deplete and growth is thermodynamically limited. We need a new system: one which actually addresses the extinction level ecological crisis we are in the midst of. Something we need to understand and embrace: not illogically deny. This text subverts that strategic denial to its own ends. Let the reader be aware of the paradigmatic subtext.

paul ,

Russia and China have always been status quo powers, more concerned with their own internal development than implementing insane Neocon/ James Bond Villain-style fantasies of world domination. This was true even during the period of communist rule. Their growth and influence in the world can only be viewed as a positive development.

China built the infrastructure in the Third World that was neglected during centuries of colonialism.

China builds things.
America (and its cringing satellites like Britain and France) bomb things.
Most people in Africa and elsewhere prefer building things to bombing things.

Dungroanin ,

A good piece – The UN is not fit for purpose.
The SCO already operates under a 'charter' – which goes past religion and cultural hagemony by any one nation or peoples. Since it already represents more than half the worlds population and the majority of its land mass – it is only a matter of time that the defunct UN is upgraded to these standards and absorbed into it OR crashes and burns.

Today there were hundreds of thousands of Iraqis – maybe over million, in showing the US and its allies that they really are serious about their national sovereignty and demand that the foreign forces fuck off!

The US response? To revive the old divide and rule option. Break up Iraq into religion and sectarian areas – using the 'never learning Charlie Brown' proxy Kurds by offering them tet another football to kick!

While the world accelerates towards a new order which puts economic security and mutual defence at its core, the US and its gunfighter professional gamblers resort to poker terminology – 'we are ALL IN' in keeping the Iranians and Syrians (and Turkey?) out of the SCO to stop a nonstop link from the Med to the Pacific and Artic to the Southern Seas.

All in! Lol. They going to lose their shirts and be overturning the table and demanding a shootout to keep from paying up their bet.
It's a bluff and sitting with pocket rockets a simple CALL by the new, new world order.

Excellent. Worthy of wide dissemination for its first nine paragraphs alone.

BigB ,

Phillip, my friend this is not a personal attack, but – have you heard of Lyndon LaRouche? I suggest you might want to read up on his agenda then re-read the text in its wider context? The subtleties are not explicit: but if you are aware of LaRouche – or read some of the authors other texts – they are obvious in the subtext.

The basic premise – unstated herein – is for Trump, Putin, and Xi to form a wider multipolar alliance against the British economic empire (the British Deep State infiltrators) for untrammeled infinite global economic growth – with maximum penetration of nuclear power (eventually nuclear fission) into every economy of the world. To the ends of a global bourgeois consumer culture serviced by the BRI intitiative. Unrestricted by neo-Malthusian ecologists like me, who say this is impossible.

We may not always see eye to eye: but I'm pretty sure you do not envisage a hypothetically- infinite ecumenical consumerism as humanities apex culture? Not least as I assume that you would agree that this is actual ecological fantasy – the world is finite, as are resources – which means this text needs to be shredded not further disseminated?

https://www.strategic-culture.org/contributors/matthew-ehret/

Norn ,

UN Charter .. "sustainable development of humankind"

One of the top priorities must be: Swift actions to STOP poisoning our food.

Seamus Padraig ,

A very sanguine view of FDR. To be sure, it's impossible to say with 100% certainty what he would have done had he survived the war, but it boggles the mind to think that he was going to be forever cool with the idea of sharing the world with Russia and China, when he abjectly refused to share it with Germany and Japan in his own lifetime.

And please don't believe that old canard about the Japanese wanting to take over America; it was actually Roosevelt who precipitated the whole war with Japan, with his oil embargo and what not. He even had advance knowledge of Pearl Harbor from multiple sources, but deliberately withheld that intelligence from his own navy. FDR clearly wanted the attack on Pearl Harbor to be as devastating as possible, so as to drag his recalcitrant countrymen to war, and it worked. In fact, eighty years later, we're still at war. That's the real legacy of FDR, not the long-gone New Deal, of which only Social Security survives (for now). All the other 'alphabet soup' programs he initiated are gone.

I will always wonder wistfully how our history would have turned out had Huey Long become president instead.

seriouslyman ,

Everything Putin says is perfect. There is nothing bad that can be said about Russia on offguardian. Anyone with any mild criticism of russia is a pro imperialist bastard and cannot be engaged with. Offguardian has rightly attacked almost every significant political figure on earth from corbyn to trump. Putin is the only person who can save us. There is no flaw in his character or politics and anyone who suggests otherwise is a conspiracy theorist. Good on Offguardian for never publishing any negative stories about this brilliant intelligent fair play hero who will save us all from hell.

paul ,

No, Little Greta is going to save us.
Vlad isn't going to do that, but he has done quite a good job so far of stopping the Exceptional And Indispensable People from blowing up the planet.
This gives Greta the chance to save us all from the global warming and the polar bears.

Andy ,

Sarcasm can be an effective tool for making a point. This is an example of it not being.

Francis Lee ,

I am trying hard to assess your contribution but couldn't find anything either interesting or relevant to say about it, other than it is little more than sarcastic rant. How does it, or is it even meant to, increase our understanding of international relations? Who exactly makes those claims about Putin?

What I would say about Putin is that he is simply talking like a foreign policy realist. More power to his elbow I say; we could do with some more realism. His political position is very similar to American foreign policy realists such John Mearsheimer and Stephen Walt who to their credit put the Zionist noses (AIPAC, JINSA, ADL, AEI) out of joint with the publication of – "The Israel Lobby". Putin's views could have come straight out of the Treaty of Westphalia (1648) which brought an end to the Wars of the Reformation could have come straight from the Treaty, which were based on the following precepts which of course support a multipolar not a unipolar system. Liberal imperialism, humanitarian intervention, call it what you will is a deadly threat to the future of mankind. In contrast multipolarism as an alternative. See below.

1. States existed within recognised borders.
2. Each states sovereignty was recognised by the others
3. Principles of non-interference were agreed.
4. Religious differences between states were tolerated.
5. States might be monarchies, republics, democracies, as was their wont
6. Permanent state interests or raison d'etat was the organizing principle of interntional relations.
7. War was not entirely eliminated, yet it was mitigated by diplomacy and balance-of-power politics.
9. The object of the balance of power was to prevent one state from becoming so powerful that it could conquer others and destroy world order.

Sounds like straight common sense to me.

BigB ,

seriouslyman has a point. The progressive world is extremely slow to recognise the capitalist colonisation of 70% of the Eurasian globe as an existential threat to humanity. As I have been pointing out: capitalism does not transform to a benign humanist alternative as it travels West to East. Russia and China's economic expansionist extractivisim is inimical to all life on Earth. Especially as China has taken a coal-fired 'Great Leap Backwards' to maintain growth in the face of the secular synchronised global economic slowdown.

When the very real extinction level threat of industrialised financialised capitalism is reduced to a personification and represented as the personality of one man – VVP – this is nothing more than a masking discourse that conceals the globalised extinctionism of fossil fuel capitalism. Perhaps the time to reflect on the superior personality of VVP will come when we are all gasping for our last breath – breathing in petrol?

Capitalism thrives on such personal Fetishism. Power is the invisibilising of capitalism's truly destructive force. No one even wants to open the discourse into what underlies Russia's welfare capitalism. Which is infinite market mechanism extraction and quasi-eternal expansionism of fossil fueled growth. Which will kill us all just as soon as America's big guns and bombs.

George Mc ,

You know BigB I can't help but get the feeling that behind all that polysyllabic pontificating, everything you say comes down to a kind of masked reactionary claptrap. You call yourself "neo-Malthusian". Well that's comparatively candid. Malthus being the most obvious case of a capitalist apologist of the most brutal sort. And how interesting that you are having a go at Putin here – as if to suggest that even some kind of socialist transformation isn't going to save us. So what then? Some kind of reaching back to some healthy sparsely populated savannah filled with Conan the barbarian types?

And this:

"Perhaps the time to reflect on the superior personality of VVP will come when we are all gasping for our last breath – breathing in petrol?"

Seems to me you are secretly longing for that moment of last breath when you can finally gleefully shout, "Nyah nyah nyah nyah nyah – Told you so!" before croaking.

Frank ,

Sorry, but this doesn't sound much like satire.

It sounds like an 8-year-old taught you everything you know about geopolitics, and unfortunately it all went a bit over your head.

George Mc ,

Two points:

First, I fail to see the point of pillorying Putin when the entire Western media is already doing so.

Second, to pillory Putin on the pretence of "a plague on all their houses" takes us nicely into that pleasant non-committal "higher sphere" where all-is-one-and-one-is-all. The old con trick of "being reasonable" in order to sit on an all-facing fence and basically have no opinion at all.

Estaugh ,

So far, Vlad has being doing a very good job, (saving us all from Hell), and it seems, most of the world is increasingly backing him up. That's tough on 'pro-imperialist bastards' but that's cricket.
Tuesday evening, 21 January, the composition of Russia's new cabinet was announced to the nation and the world. Russian state television was caught as unawares as any of us in the broad public when the names of the departing ministers, the names and biographical details of arriving ministers and the few changes in reporting lines were released to the wire services. Their correspondents hastened to find Duma members, think tank celebrities and others whom they hoped could make sense of the changes for their viewers.

Eventually, late in the night, a picture emerged of what the latest seismic wave in Russian politics means. I will try to present the generalities here. I will not go into detailed examination of each minister, because such micro-investigation is neither my specialty, nor is it likely to interest an international readership for whom 'which way the wind is blowing' is quite sufficient.

Of course, in the past week, even the contours of political change have appeared inscrutable to Western media who could only fall back on the assumptions that whatever Putin is up to cannot be good. Hence, the flurry of articles following Mr. Putin's address to the bicameral legislature a week ago which sought to portray the constitutional changes he promised as serving only one purpose: to perpetuate his dominance and control over Russian politics after his presidential term ends in 2024. That was so despite the fact that nothing whatsoever in his proposed reforms would facilitate the stated objective and despite the fact that the changes, which diminish his power when implemented, would come four years before he has to relinquish his office.

However, even the harshest critics of Russia and Putin are beginning to change their minds.

The New York Times' "Morning Briefing" today told its online subscribers:

Quote

On social media, our correspondent writes from Moscow , Russian political analysts "have put forward so many different theories that they paint a picture of a nation in collective befuddlement."

Case in point: Mr. Putin's announcement prompted a string of high-level resignations and unexpected appointments. Yet the new cabinet, announced on Tuesday, includes the most prominent members of the last one.

Background: Many analysts initially thought that the constitutional changes were intended to allow Mr. Putin, 67, to take up a powerful role when his second presidential term expires in 2024. Now they aren't so sure.

Unquote

Chapeau! This is one of the rare instances when the editors of The New York Times have followed the facts to an inconvenient truth about Putin and Russia – and have shared with their readership what they found.

Surely the confusion in the minds of the Russian public, as well as domestic and foreign political observers, over how to understand all the changes and prospective changes in Russia's federal government was not by accident, but by design. The intention of Mr. Putin and of Sergei Kiriyenko, his close assistant in these reforms within his presidential administration, was surely to conflate two very different political disruptions: first, the introduction of constitutional reforms that rebalance the power sharing between executive, legislative and judicial branches of the federal government; and second, the change of cabinet to remove ineffectual and unpopular ministers, to bring in fresh blood from among the most successful administrative and technical talent operating at the higher levels of the federal government and groomed for succession these past several years. Both very separate measures share one common feature: to lay the groundwork for the Duma elections scheduled to be held in September 2021. They will likely generate more excitement in the public and will be more consequential than would otherwise be the case.

As for the proposed constitutional changes, I believe they serve a very clearly defined purpose: to prepare Russia for the post-Putin era by introducing checks and balances that will prevent any one branch of government, meaning the executive, from 'running away with the show' and changing the vector of Russia's development and its orientation in the world as the result of the unforeseeable popularity and electoral victory by a candidate to the presidency put up by the Opposition, or even by factions within the Ruling Party and other 'Duma parties' in 2024 and thereafter.

Commentators have often speculated on whom Putin was grooming as his successor. We now have the answer: no one. And this is a wise approach to the issue, because no one in Russia would be capable of filling the shoes of Vladimir Putin, who is a once in a hundred years political phenomenon. And so the shoes to be filled in 2024 and thereafter have been downsized via the power sharing provisions of the proposed constitutional reforms.

Now let us turn our attention to the new cabinet of ministers which Mr. Putin convened and welcomed last night.

In the past few days, many have asked why Putin prompted Dimitri Medvedev and his ministers to resign a week ago. One of my fellow panelists in a Turkish international English television (TRT World) program yesterday devoted to Putin's announced reforms offered the explanation that Medvedev was, in effect, forced out because he is so unpopular in the country. See here.

Indeed, unpopular he was, but that is not a new development. Rather, I believe the fate of Dimitri Medvedev and his cabinet was decided in the presidential administration back in December when the weak results on implementation of the president's high priority National Projects during 2019 came in and when it also became clear that GDP growth during the year had been anemic, trailing rather than matching or exceeding global trends. A government shakeup was already in the cards from that moment.

... ... ...

It must be remembered that during his tenure as president, Medvedev showed himself to be the most outgoing, the most friendly to the West of all Russian and Soviet heads of state in the last hundred years or more. It was a very regrettable mistake by Western leaders that his initiative to begin talks on revising the security architecture of Europe was spurned, and that he was intentionally misled about NATO intentions in Libya when the UN, with Russian support, voted to allow military intervention for humanitarian purposes.

Personal unpopularity or battle fatigue may explain the decision not to reappoint several members of the outgoing cabinet. The first rule pertains to Minister of Culture Vladimir Medinsky, who is guilty of graphomania and has been filling a whole library shelf with his overly nationalistic and simplistic histories while in office. Moreover, he got embroiled in quite controversial issues of what is permitted as artistic expression, making many enemies.

Then there was the non-reappointment of Vitaly Mutko who had been the Sports Minister until 2016 and carried all the baggage of Russia's shame over doping, of its strained relations with FIFA. Mutko had been 'kicked upstairs' to a deputy premiership more for the sake of defying Western allegations against him than because of any personal merit justifying his new position. Clearly it was time to move on and reward others more worthy.

As for Minister of Health Dr. Veronika Skvortsova, who was omnipresent in the country overseeing a vast reform program to bring quality health care to the rural population and also raise the level of diagnosis and early treatment for cardiovascular and oncological illnesses everywhere, the best guess is that she was simply worn down by the task and needed to pass the baton to someone else.

In my two essays on the planned constitutional reforms over the past week, I expressed the optimistic hope that President Putin would use the occasion of appointing a new cabinet to take the first step towards power sharing with the Duma. Specifically, I suggested that he might bring into the cabinet parliamentarians from the minority parties in the Duma, allotting to them portfolios in the more innocent domains such as labor, social welfare and culture, in effect forming a coalition government and thereby consolidating the Russian political landscape.

Reviewing the list of new ministers in the incoming cabinet, it is clear that quite the opposite has happened: the cabinet has been de-politicized . To be sure, nearly all members of the cabinet are members of the United Russia party. But they are what we may call just card-carrying members, whereas the former prime minister Dimitri Medvedev was and remains the head of United Russia.

The new cabinet members are concentrated in the 'economic block' and in the 'social block' of ministries, the two areas that rank very high in the fulfillment of President Putin's pledges to the nation to raise living standards through fulfillment of his National Projects. They are what the Russians call хозяйственники or управленцы, which we may translate as highly competent managers with proven success in getting things done. Technocrats, by another name. One or two come from the administration of Moscow mayor Sobyanin, who oversees the country's most successful municipality. One or two come from among the Prime Minister's former colleagues in the Federal Tax Service, which is a model of technological innovation and efficiency.

At the same time, the most experienced and successful ministers from the Medvedev cabinet have been kept on in their posts. In particular, I point to Anton Siluanov at Finance, Sergei Lavrov at the Foreign Ministry, Sergei Shoigu at Defense, Alexander Novak at Energy. While Siluanov has been stripped of his rank as first deputy prime minister, he received moral compensation by being assigned the additional responsibility for State Property. I explain Siluanov's removal from the deputy prime minister list as resulting from the ambitions of PM Mikhail Mishustin, who is himself a very experienced financial expert, to have free hands in this domain.

Now we will have to wait till just after the September 2021 Duma elections to see to what extent Mr. Putin intends to bring the lower house of parliament into the middle of national policy making by granting them seats in the cabinet.

Gilbert Doctorow is a Brussels-based political analyst. His latest book Does Russia Have a Future? was published in August 2017. Reprinted with permission from his blog .

© Gilbert Doctorow, 2020
Notable quotes:
"... Video and a transcript of former OPCW engineer and dissenter Ian Henderson's UN testimony appears at the end of this report. ..."
"... Video of the session follows at the bottom of this article, along with a full transcript of Henderson's testimony ..."
"... The New York Times ..."
"... Ian Henderson's testimony begins at 57:30 in this official UN video ..."
by Ben Norton / January 23rd, 2020

Video and a transcript of former OPCW engineer and dissenter Ian Henderson's UN testimony appears at the end of this report.

A former lead investigator from the Organization for the Prohibition of Chemical Weapons (OPCW) has spoken out at the United Nations, stating in no uncertain terms that the scientific evidence suggests there was no gas attack in Douma, Syria in April 2018.

The dissenter, Ian Henderson, worked for 12 years at the international watchdog organization, serving as an inspection team leader and engineering expert. Among his most consequential jobs was assisting the international body's fact-finding mission (FFM) on the ground in Douma.

He told a UN Security Council session convened on January 20 by Russia's delegation that OPCW management had rejected his group's scientific research, dismissed the team, and produced another report that totally contradicted their initial findings.

"We had serious misgivings that a chemical attack had occurred," Henderson said, referring to the FFM team in Douma.

The former OPCW inspector added that he had compiled evidence through months of research that "provided further support for the view that there had not been a chemical attack."

Western airstrikes based on unsubstantiated allegations by foreign-backed jihadists

Foreign-backed Islamist militants and the Western government-funded regime-change influence operation known as the White Helmets accused the Syrian government of dropping gas cylinders and killing dozens of people in the city of Douma on April 7, 2018. Damascus rejected the accusation, claiming the incident was staged by the insurgents.

At the time, Douma was controlled by the extremist Salafi-jihadist militia Jaysh al-Islam , which was created and funded by Saudi Arabia and formerly allied with Syria's powerful al-Qaeda affiliate Jabhat al-Nusra .

The governments of the United States, Britain, and France responded to the allegations of a chemical attack by launching airstrikes against the Syrian government on April 14. The military assault was illegal under international law, as the countries did not have UN authorization.

Numerous OPCW whistleblowers and leaks challenge Western government claims

In May 2019, an internal OPCW engineering assessment was leaked to the public. The document, authored by Ian Henderson, said the "dimensions, characteristics and appearance of the cylinders" in Douma "were inconsistent with what would have been expected in the case of either cylinder having been delivered from an aircraft," adding that there is "a higher probability that both cylinders were manually placed at those two locations rather than being delivered from aircraft."

After reviewing the leaked report, MIT professor emeritus of Science, Technology and International Security Theodore Postol told The Grayzone, "The evidence is overwhelming that the gas attacks were staged." Postol also accused OPCW leadership of overseeing "compromised reporting" and ignoring scientific evidence .

In November, a second OPCW whistleblower came forward and accused the organization's leadership of suppressing countervailing evidence , under pressure by three US government officials .

WikiLeaks has published numerous internal emails from the OPCW that reveal allegations that the body's management staff doctored the Douma report.

As the evidence of internal suppression grew, the OPCW's first director-general, José Bustani, decided to speak out. "The convincing evidence of irregular behavior in the OPCW investigation of the alleged Douma chemical attack confirms doubts and suspicions I already had," Bustani stated.

"I could make no sense of what I was reading in the international press. Even official reports of investigations seemed incoherent at best. The picture is certainly clearer now, although very disturbing," the former OPCW head concluded.

OPCW whistleblower testimony at UN Security Council meeting on Douma

On January 20, 2020, Ian Henderson delivered his first in-person testimony, alleging suppression by OPCW leadership. He spoke at a UN Security Council Arria-Formula meeting on the fact-finding mission report on Douma.

( Video of the session follows at the bottom of this article, along with a full transcript of Henderson's testimony .)

China's mission to the UN invited Ian Henderson to testify in person at the Security Council session. Henderson said in his testimony that he had planned to attend, but was unable to get a visa waiver from the US government. (The Trump administration has repeatedly blocked access to the UN for representatives from countries that do not kowtow to its interests, turning UN visas into a political weapon in blatant violation of the international body's headquarters agreement .)

Henderson told the Security Council in a pre-recorded video message that he was not the only OPCW inspector to question the leadership's treatment of the Douma investigation.

"My concern, which was shared by a number of other inspectors, relates to the subsequent management lockdown and the practices in the later analysis and compilation of a final report," Henderson explained.

Soon after the alleged incident in Douma in April 2018, the OPCW FFM team had deployed to the ground to carry out an investigation, which it noted included environmental samples, interviews with witnesses, and data collection.

In July 2018, the FFM published its interim report , stating that it found no evidence of chemical weapons use in Douma. ("The results show that no organophosphorous nerve agents or their degradation products were detected in the environmental samples or in the plasma samples taken from alleged casualties," the report indicated.)

"By the time of release of the interim report in July 2018, our understanding was that we had serious misgivings that a chemical attack had occurred," Henderson told the Security Council.

After this inspection that led to the interim report, however, Henderson said the OPCW leadership decided to create a new team, "the so-called FFM core team, which essentially resulted in the dismissal of all of the inspectors who had been on the team deployed to locations in Douma and had been following up with their findings and analysis."

Then in March 2019, this new OPCW team released a final report, in which it claimed that chemical weapons had been used in Douma.

"The findings in the final FFM report were contradictory, were a complete turnaround with what the team had understood collectively during and after the Douma deployments," Henderson remarked at the UN session.

"The report did not make clear what new findings, facts, information, data, or analysis in the fields of witness testimony, toxicology studies, chemical analysis, and engineering, and/or ballistic studies had resulted in the complete turn-around in the situation from what was understood by the majority of the team, and the entire Douma [FFM] team, in July 2018," Henderson stated.

The former OPCW expert added, "I had followed up with a further six months of engineering and ballistic studies into these cylinders, the result of which had provided further support for the view that there had not been a chemical attack."

via @ BenjaminNorton

A former OPCW inspection team leader and engineering expert told the UN Security Council that their investigation in Douma, Syria suggested no chemical attack took place. But their findings were suppressed and reversed

Read more here: https://t.co/HI028MZl0k

via @BenjaminNorton pic.twitter.com/rmaSzWzs5Z

-- The Grayzone (@TheGrayzoneNews) January 22, 2020

US government pressure on the OPCW

The US government responded to this historic testimony at the UN session by attacking Russia, which sponsored the Arria-Formula meeting.

Acting US representative Cherith Norman Chalet praised the OPCW, aggressively condemned the "Assad regime," and told the UN that the "United States is proud to support the vital, life-saving work of the White Helmets" – a US and UK-backed organization that collaborated extensively with ISIS and al-Qaeda and have been involved in numerous executions in Syrian territory occupied by Islamist extremists .

The US government has a long history of pressuring and manipulating the Organization for the Prohibition of Chemical Weapons. During the run-up to the invasion of Iraq, the George W. Bush administration threatened José Bustani, the first director of the OPCW, and pressured him to resign.

In 2002, as the Bush White House was preparing to wage a war on Iraq, Bustani made an agreement with the Iraqi government of Saddam Hussein that would have permitted OPCW inspectors to come to the country unannounced for weapons investigations. This infuriated the US government.

Then-Under Secretary of State John Bolton told Bustani in 2002 that US Vice President Dick " Cheney wants you out ." Bolton threatened the OPCW director-general, stating, "You have 24 hours to leave the organization, and if you don't comply with this decision by Washington, we have ways to retaliate against you We know where your kids live."

Attacking the credibility of Ian Henderson

While OPCW managers have kept curiously silent amid the scandal over their Douma report, an interventionist media outlet called Bellingcat has functioned as an outsourced press shop, aggressively defending the official narrative and attacking its most prominent critics, including Ian Henderson.

Bellingcat is funded by the US government's regime-change arm, the National Endowment for Democracy (NED), and is part of an initiative bankrolled by the British Foreign Office.

Following Henderson's testimony, Bellingcat founder Eliot Higgins tried to besmirch the former OPCW engineer's credibility by implying he was being used by Russia . Until 2019, Higgins worked at the Atlantic Council , a pro-war think tank financed by the American and British governments , as well as by NATO.

Supporters of the OPCW's apparently doctored final report have relied heavily on Bellingcat to try to discredit the whistleblowers and growing leaks. Scientific expert Theodor Postol, who debated Higgins, has noted that Bellingcat "have no scientific credibility at any level." Postol says he even suspects that OPCW management may have relied on Bellingcat's highly dubious claims in its own compromised reporting.

Higgins has no expertise or scientific credentials, and even The New York Times acknowledged in a highly sympathetic piece that "Higgins attributed his skill not to any special knowledge of international conflicts or digital data, but to the hours he had spent playing video games, which, he said, gave him the idea that any mystery can be cracked."

In his testimony before the UN Security Council, Ian Henderson stressed that he was speaking out in line with his duties as a scientific expert.

Henderson said he does not even like the term whistleblower and would not use it to describe himself, because, "I'm a former OPCW specialist who has concerns in an area, and I consider this a legitimate and appropriate forum to explain again these concerns."

Russia's UN representative added that Moscow had also invited the OPCW director-general and representatives of the organization's Technical Secretariat, but they chose not to participate in the session.

Video of the UN Security Council session on the OPCW's Douma report

Ian Henderson's testimony begins at 57:30 in this official UN video :

https://www.un.org/webcast/1362235914001/B1J3DDQJf_default/index.html?videoId=6125087582001

Transcript: Testimony by OPCW whistleblower Ian Henderson at the UN Security Council

"My name is Ian Henderson. I'm a former OPCW inspection team leader, having served for about 12 years. I heard about this meeting and I was invited by the minister, councilor of the Chinese mission to the UN. Unfortunately due to unforeseen circumstances around my ESTA visa waiver status, I was not able to travel. I thus submitted a written statement, to which I will now add a short introduction.

I need to point out at the outset that I'm not a whistleblower; I don't like that term. I'm a former OPCW specialist who has concerns in an area, and I consider this a legitimate and appropriate forum to explain again these concerns.

Secondly, I must point out that I hold the OPCW in the highest regard, as well as the professionalism of the staff members who work there. The organization is not broken; I must stress that. However, the concern I have does relate to some specific management practices in certain sensitive missions.

The concern, of course, relates to the FFM investigation into the alleged chemical attack on the 7th of April in Douma, in Syria. My concern, which was shared by a number of other inspectors, relates to the subsequent management lockdown and the practices in the later analysis and compilation of a final report.

There were two teams deployed; one team, which I joined shortly after the start of field deployments, was to Douma in Syria; the other team deployed to country X.

The main concern relates to the announcement in July 2018 of a new concept, the so-called FFM core team, which essentially resulted in the dismissal of all of the inspectors who had been on the team deployed to locations in Douma and had been following up with their findings and analysis.

The findings in the final FFM report were contradictory, were a complete turnaround with what the team had understood collectively during and after the Douma deployments. And by the time of release of the interim report in July 2018, our understanding was that we had serious misgivings that a chemical attack had occurred.

What the final FFM report does not make clear, and thus does not reflect the views of the team members who deployed to Douma -- in which case I really can only speak for myself at this stage -- the report did not make clear what new findings, facts, information, data, or analysis in the fields of witness testimony, toxicology studies, chemical analysis, and engineering, and/or ballistic studies had resulted in the complete turn-around in the situation from what was understood by the majority of the team, and the entire Douma team, in July 2018.

In my case, I had followed up with a further six months of engineering and ballistic studies into these cylinders, the result of which had provided further support for the view that there had not been a chemical attack.

This needs to be properly resolved, we believe through the rigors of science and engineering. In my situation, it's not a political debate. I'm very aware that there is a political debate surrounding this.

Perhaps a closing comment from my side is that I was also the inspection team leader who developed and launched the inspections, the highly intrusive inspections, of the Barzah SSRC facility, just outside Damascus. And I did the inspections and wrote the reports for the two inspections prior to, and the inspection after the chemical facility, or the laboratory complex at Barzah SSRC, had been destroyed by the missile strike.

That, however, is another story altogether, and I shall now close. Thank you."

• Article first published in The Grayzone

Ben Norton is a journalist, writer, and filmmaker. He is the assistant editor of The Grayzone, and the producer of the Moderate Rebels podcast, which he co-hosts with editor Max Blumenthal. His website is BenNorton.com and he tweets at @ BenjaminNorton . Read other articles by Ben , or visit Ben's website .

This article was posted on Thursday, January 23rd, 2020 at 12:37pm and is filed under Chemical weapons , Organisation for the Prohibition of Chemical Weapons (OPCW) , Syria , United Nations , WikiLeaks .
https://thehill.com/policy/defense/479795-poll-41-approve-of-trump-airst...

A new poll shows a plurality of Americans approve of President Trump's decision to order the drone strike that killed Iranian Gen. Qassem Soleimani.

Forty-one percent of Americans agreed with the decision, according to the Associated Press and NORC Center for Public Affairs Research poll released Friday. Thirty percent disapproved and the remaining 30 percent were indifferent.

On Jan. 3 the U.S. killed Soleimani at the Baghdad airport. The move raised tensions in the Middle East and fears of a new war. Iran launched rocket attacks on two bases with U.S. personnel in Iraq days later.
Highly recommended!
Notable quotes:
"... Wilkerson provided a harsh critique of US foreign policy over the last two decades. Wilkerson states: ..."
"... America exists today to make war. How else do we interpret 19 straight years of war and no end in sight? It's part of who we are. It's part of what the American Empire is. ..."
"... We are going to lie, cheat and steal, as [US Secretary of State Mike Pompeo] is doing right now, as [President Donald Trump] is doing right now, as [Secretary of Defense Mark Esper] is doing right now, as [Senator Lindsey Graham (R-SC)] is doing right now, as [Senator Tom Cotton (R-AR)] is doing right now, and a host of other members of my political party -- the Republicans -- are doing right now. We are going to cheat and steal to do whatever it is we have to do to continue this war complex. That's the truth of it, and that's the agony of it. ..."
"... That base voted for Donald Trump because he promised to end these endless wars, he promised to drain the swamp. Well, as I said, an alligator from that swamp jumped out and bit him. And, when he ordered the killing of Qassim Suleimani, he was a member of the national security state in good standing, and all that state knows how to do is make war. ..."
Lawrence Wilkerson, a College of William & Mary professor who was chief of staff for Secretary of State Colin Powel in the George W. Bush administration, powerfully summed up the vile nature of the US national security state in a recent interview with host Amy Goodman at Democracy Now.

Asked by Goodman about the escalation of US conflict with Iran and how it compares with the prior run-up to the Iraq War, Wilkerson provided a harsh critique of US foreign policy over the last two decades. Wilkerson states:

Ever since 9/11, the beast of the national security state, the beast of endless wars, the beast of the alligator that came out of the swamp, for example, and bit Donald Trump just a few days ago, is alive and well.

America exists today to make war. How else do we interpret 19 straight years of war and no end in sight? It's part of who we are. It's part of what the American Empire is.

We are going to lie, cheat and steal, as [US Secretary of State Mike Pompeo] is doing right now, as [President Donald Trump] is doing right now, as [Secretary of Defense Mark Esper] is doing right now, as [Senator Lindsey Graham (R-SC)] is doing right now, as [Senator Tom Cotton (R-AR)] is doing right now, and a host of other members of my political party -- the Republicans -- are doing right now. We are going to cheat and steal to do whatever it is we have to do to continue this war complex. That's the truth of it, and that's the agony of it.

What we saw President Trump do was not in President Trump's character, really. Those boys and girls who were getting on those planes at Fort Bragg to augment forces in Iraq, if you looked at their faces, and, even more importantly, if you looked at the faces of the families assembled along the line that they were traversing to get onto the airplanes, you saw a lot of Donald Trump's base. That base voted for Donald Trump because he promised to end these endless wars, he promised to drain the swamp. Well, as I said, an alligator from that swamp jumped out and bit him. And, when he ordered the killing of Qassim Suleimani, he was a member of the national security state in good standing, and all that state knows how to do is make war.

Wilkerson, over the remainder of the two-part interview provides many more insightful comments regarding US foreign policy, including recent developments concerning Iran. Watch Wilkerson's interview here:

Wilkerson is an Academic Board member for the Ron Paul Institute for Peace and Prosperity.

---

Copyright © 2020 by RonPaul Institute. Permission to reprint in whole or in part is gladly granted, provided full credit and a live link are given.
Please donate to the Ron Paul Institute Related
A Thursday article by Matt Taibbi at Rolling Stone discusses Dennis Kucinich's work in politics, from Kucinich's eight terms in the United Sates House of Representatives to his two presidential campaigns to his activities since leaving political office. Taibbi, in the article focused much on Kucinich's long-term devotion to advancing the case for peace, describes Kucinich as "antiwar to his core."

Read Taibbi's article here .

Kucinich is an Advisory Board member for the Ron Paul Institute for Peace and Prosperity.


---

Copyright © 2020 by RonPaul Institute. Permission to reprint in whole or in part is gladly granted, provided full credit and a live link are given.
Please donate to the Ron Paul Institute Related What are you supporting? When you join the
Ron Paul Institute
for Peace and Prosperity
You are supporting

News and analysis
like you'll get nowhere else

Brave insight on
foreign policy and civil liberties

A young writer's program
and much more!

Support Ron Paul
Support the Institute!
Support Peace and Prosperity! Archives