---
Neoliberal war on reality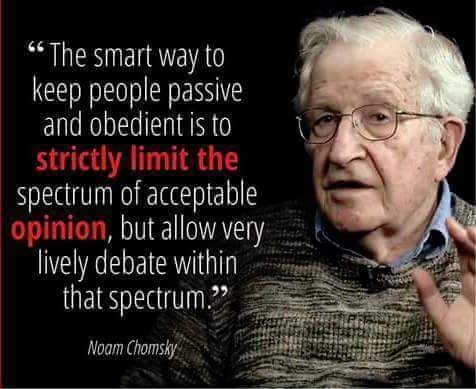 "We'll know our disinformation program is complete when everything the American public believes is false" ~ CIA Director William Casey (attributed)
"Empire of illusions": The triumph of entertainment and fake news under neoliberalism
"The truth is that the newspaper is not a place for information to be given, rather it is just hollow content, or more than that, a provoker of content. If it prints lies about atrocities, real atrocities are the result."

Karl Kraus, 1914

WAR IS PEACE. FREEDOM IS SLAVERY. IGNORANCE IS STRENGTH

1984

We are the world, we are exceptional, we cannot fail. The elite will lie, and the people will pretend to believe them. Heck about 20 percent of the American public will believe almost anything if it is wrapped with the right prejudice and appeal to passion. Have a pleasant evening.

jessescrossroadscafe.blogspot.com, Feb 04, 2015
---
Controlling the narrative is how society operate -- it preserves the society cohesion. Which is a good thing, unless price is too high. If the question of controlling the narrative arise, that means that elite became too detached from the regular people (let then eat cakes situation), and there are cracks in the society facade, line now there are cracks in neoliberals facade today. They are patched with lies and distortions. And it work until it does not.
In such cases the elite usually resort to policies which in the USA are called McCarthyism: attempt to smear and suppress dissidents claiming that they are associated with the particular (presented as hostile like Russia today, or really hostile like the USSR was) power.
While MSM supporting the "Party line" are masquerading as impendent new outlets.
Correlation with the foreign power policies might be actually accidental if this particular power " see future deeper" as unforgettable Madeline "Not So Bright" Allbright quipped. For example now correlation with RT policies does undermine the US foreign policy. We need only decide whether this is a good or bad thing and whether the US imperial policies are good for American people, or only for large transnational corporations. I think Tucker Carlson also undermines the US foreign policy and as such you can find a correlation between his positions and RT position. Now what ?
In such case elite presents association with the foreign power as a "politically correct" reason for suppression. So the only new moment is blatant hypocrisy. But that's how all societies work and in this sense there is nothing special in the fact that dissident voices are suppressed. In middle ages heretics were burned at the stake. If you are a dissident you fate in most societies are far from rosy.
The current situation in the USA is interesting because neoliberalism is definitely on the decline and as such represent now (unlike say 10 year ago) a rich target of attacks. And as the USA acquired since WWII, expanded after collapse of the USSR and try to preserve its neoliberal empire such attacks usually attack the US foreign policy. The real question is what alternative the particular outlet proposes -- the return to the New Deal Capitalism in some form or shape, or new socialist experiment is some form of shape.
Meanwhile the US became "an empire of illusions", when both elite and common people entertain various myths, which has nothing to do with the reality, the process that started after WWII and entered a new phase in 1962, when an important historic event (JFK assassination) became distorted by the fabricated by CIA illusion and false narrative (The United States of America's Doll House, by Edward Curtin):
In a 1969 interview, Jim Garrison, the District Attorney of New Orleans and the only person to ever bring to trial a case involving the assassination of President John F. Kennedy, said that as a result of the CIA's murderous coup d'état on behalf of the military-industrial-financial-media-intelligence complex that rules the country to this day, the American people have been subjected to a fabricated reality that has rendered them a nation of passive Eichmanns, who sit in their living rooms, popping pills and watching television as their country's military machine mows down people by the millions and the announcers tell them all the things they should be afraid of, such as bacteria on cutting boards and Russian spies infiltrating their hair salons. Garrison said:

The creation of such inanities as acceptable reality and unacceptable reality is necessary for the self-preservation of the super-state against its greatest danger: understanding on the part of the people as to what is really happening. All factors which contribute to its burgeoning power are exaggerated. All factors which might reveal its corrosive effect on the nation are concealed. The result is to place the populace in the position of persons living in a house whose windows no longer reveal the outside but on which murals have been painted. Some of the murals are frightening and have the effect of reminding the occupants of the outside menaces against which the paternal war machine is protecting them. Other murals are pleasant to remind them how nice things are inside the house.

But to live like this is to live in a doll's house. If life has one lesson to teach us, it is that to live in illusion is ultimately disastrous.

In the doll's house into which America gradually has been converted, a great many of our basic assumptions are totally illusory.
That is not the case for most Americans. When approximately 129 million people cast their votes for Donald Trump and HilIary Clinton in the 2016 presidential election, you know idiocy reigns and nothing has been learned. Ditto for the votes for Obama, Bush, Clinton, et al. You can keep counting back. It is an ugly fact and sad to say. Such a repetition compulsion is a sign of a deep sickness, and it will no doubt be repeated in the 2020 election. The systemic illusion must be preserved at all costs and the warfare state supported in its killing. It is the American way.

It is true that average Americans have not built the doll's house; that is the handiwork of the vast interconnected and far-reaching propaganda arms of the U.S. government and their media accomplices. But that does not render them innocent for accepting decades of fabricated reality for so-called peace of mind by believing that a totally corrupt system works. The will to believe is very powerful, as is the propaganda. The lesson that Garrison spoke of has been lost on far too many people, even on those who occasionally leave the doll house for a walk, but who only go slightly down the path for fear of seeing too much reality and connecting too many dots. There is plain ignorance, then there is culpable ignorance, to which I shall return.
In many respects, the media creates reality, so perhaps the most effective route toward changing reality runs through the media. "Controlling the narrative" is the major form of neoliberal MSM war on reality. By providing "prepackaged" narrative for a particular world event and selectively suppressing alternative information channels that contradict the official narrative, neoliberals control and channel emotions of people in the direction they want. Often in the direction of yet another war for the expansion of the global neoliberal empire led from Washington, DC.
libezkova said in reply to Fred C. Dobbs... January 29, 2017 at 08:31 AM
It is hard to disagree with the notion which was put by several authors that American society is living in a cocoon of illusion which conveniently isolates them from reality: entertainment and escapism infuse our society, economy, and political system with severe consequences. Among such authors are Aldous Huxley, C. Wright Mills, Sheldon Wolin, Ralph Nader, Karl Polanyi, Jared Diamond, Paul Craig Roberts, Chris Hedge and several others. If we compare dystopias of Huxley and Orwell, and it clear that Huxley in his famous New Brave World predicted the future much better:
"Huxley feared was that would be no reason to ban a book, for there would be no one who wanted to read one... the truth would be drowned in a sea of irrelevance."
The central idea here is that we now live as a society in which citizens become so distracted (and by extension detached) from reality that they lost any ability to influence their political or economic destiny. It is the same phenomenon that is described under the label of Inverted Totalitarism.
This is one of the truly malevolent aspects of today's modern neoliberal world order and we need to confront it. It allows the old game of blaming the weak and the marginal, a staple of neo-fascist and despotic regimes; this illusion empower the dark undercurrents of sadism and violence in American society and deflect attention from the neoliberal financial vampires who have drained the blood of the country
"The tragedy is that we have become a screen culture, televisions, computers, phones, tablets, etc. Our electronic hallucinations have produced a society that has little time or patience for introspection or deep thinking. It reinforced my decision to maintain a television free life. For some, what Chris has to say may cut to close to the bone. But those with the courage to do so are usually the ones that care the most."
The biggest and most invisible elephant in the American psyche is this: our government has long since abandoned the goal of managing this nation as a nation. Instead, America as a nation is managed as a means to global empire.
For example the loss of the critical skills of literacy (seven million total illiterates, another 27 million unable to read well enough to complete a job application, and still another 50 million who read at a 4th-5th-grade level) have led large part of the US population to become incapable of thinking for ourselves.
In fact they have become as malleable as children. 80% of U.S. families did not buy or read a single book in a year. Despite technology and internet access we are becoming a society of functionally ignorant and illiterate people.
For example there is widespread illusion of inclusion. This is the illusion that we are or will be included among the fortunate few because misfortune happens only to those who deserve it. There are plenty of people who understand that the corporate model is one in which there are squeezers and those who are to be squeezed. So the illusion of inclusion provides what can be called "a plantation morality" that exalts the insiders and denigrates the outsiders. Those content with this arrangement obviously view themselves as insiders even when they work for companies that are actively shedding employees. Many of these people are happy to be making good money for digging graves for others, never stopping to wonder if maybe someday one of those graves might be their own.
One of the first recorded metaphors which explained this phenomenon of substitution of reality with illusion was Plato's tale about cave dwellers, who thought the shadows on the wall were the actual reality. Illusion can also serve as a deliberate distraction, isolation layer that protects form unpleasant reality. The point is that now it is illusions that dominate American life; both for those that succumb to them, and for those that promote and sustains them. It is the use of illusions in the US society that become prevalent today, converting like into the cinema or theater, where primary goal is entertainment.
Modern MSM are driven by postmodernism which includes among other things substitution of reality with artificial reality, fragmentation of history and push for historical amnesia, substitution of the subject with emotions, and juxtaposition of opposites. But the key feature is controlling the narrative.
The Journalist Udo Ulfkotte ashamed today that he spent 17 years in the Frankfurter Allgemeine Zeitung. ...he reveals why opinion leaders produce tendentious reports and serve as the extended Arm of the NATO press office. ...the author also was admitted into the networks of American elite organizations, received in return for positive coverage in the US even a certificate of honorary citizenship.

In this book you will learn about industry lobby organisations. The author calls hundreds of names and looks behind the Scenes of those organizations, which exert bias into media, such as: Atlantic bridge, Trilateral Commission, the German Marshall Fund, American Council on Germany, American Academy, Aspen Institute, and the Institute for European politics. Also revealed are the intelligence backgrounds of those lobby groups, the methods and forms of propaganda and financing used, for example, by the US Embassy. Which funds projects for the targeted influencing of public opinion in Germany

...You realize how you are being manipulated - and you know from whom and why. At the end it becomes clear that diversity of opinion will now only be simulated. Because our "messages" are often pure brainwashing.

Gekaufte Journalisten - Medienwelt Enthüllungen Bücher - Kopp Verlag
Controlling the narrative means control and deliberate selection of the issues which can be discussed (and by extension which are not) in MSM. It represents real war on reality. Non-stop, 24 by 7 character of modern media help with this greatly (The Unending Anxiety of an ICYMI World - NYTimes.com):
We used to receive media cyclically. Newspapers were published once (or sometimes twice) a day, magazines weekly or monthly. Nightly news was broadcast, well, each night. Television programs were broadcast on one of the major networks one night a week at a specific time, never to return until a rerun or syndication. Movies were shown first in theaters and on video much later (or, before the advent of VCRs, not until a revival). There were not many interstices, just discrete units — and a smaller number of them.

Now we're in the midst of the streaming era, when the news industry distributes material on a 24-hour cycle, entire seasons of TV shows are dumped on viewers instantaneously, most movies are available at any time and the flow of the Internet and social media is ceaseless. We are nearly all interstitial space, with comparatively few singularities.
Media became out windows to the world and this window is broken. The notion of 'controlling the narrative' points to dirty games played by PR gurus and spin merchants with event coverage (especially foreign event coverage) to ensure the rule of elite. A good part of the White House budget and resources is spent on controlling the narrative. Creation of the narrative and "talking points" for MSM is the task of State Department. Former State Department spokesperson Jen Psaki was a pretty telling "incarnation" of the trend.
And MSM are doing an exemplary job controlling the political narrative. This way they demonstrate their faithful service to the state and the ruling political class. Nowhere is more evident then in coverage of wars.
Only social media can smash the official version of events. And in some case that has happened. The USA MSM honchos are now scratching heads trying to understand how to control their version of events despite Twitter, Facebook and other social networks.
On Ukraine, despite the most coordinated propaganda offensive of Western MSMs, the Western elite failed to fully control the narrative: a sizable number of Europeans are still clinging to the notion that this story had two sides. You can see this trend from analysis of Guardian comments (The Guardian Presstitutes Slip Beyond the Reach of Embarrassment ). More importantly the EU political establishment has failed to maintain a central lie inside official narrative -- that the EU is benign and a force for good / peace / prosperity. EU elite has shown its ugly face supporting Ukrainian far right.
Another example were initially MSM totally controlled the narrative (the first two-three weeks) and then when the narrative start slipping away they need to silence the subject Shooting down Malaysian flight MH17
The thing is, once you've lost control of the narrative, as happened with coverage MH17 tragedy, there's no way back. Once Western MSM lost it, no-one any longer believed a word they said about the tragedy.
And little can be done to win back that credibility on the particular subject. Moreover, due to this Europeans are becoming more and more receptive of a drip of alternative media stories that completely destroy official EU narrative. They came from a multitude of little sources, including this site and they collectively cements the loss of trust to the EU elite.
There also more subtle nuances of controlling the narrative. Actually controlling the narrative does not mean that you need to suppress all the negative news (like propagandists in the USSR often did -- leading to complete discreditation of official propaganda in minds of the USSR people -- it simply became the subject of jokes). As John V. Walsh noted:
There is a simple rule that is followed scrupulously by U.S. commentators of every stripe on world affairs and war – with a very few notable exceptions, Paul Craig Roberts and Pepe Escobar among them.

This rule allows strong criticism of the U.S. But major official adversaries of the U.S., Iran, Russia and China, must never, ever be presented as better than the US in any significant way. The US may be depicted as equally bad (or better) than these enemies, but never worse.
In other words, any strong criticism of the US presuppose scapegoating and vicious propaganda campaign against major official adversaries of the US such as Russia. It must never, ever be presented in a better light then the US in any significant way. In selected cases, the US may be depicted as equally bad, but never worse.
The most recent incarnation of this rule was during Hillary Clinton campaign for POTUS in 2016.

The informational function of the media would be this to help us forget, to serve as the very agents and mechanism for our historical amnesia.

But in that cast of two features of postmodernism on which I have dwelt here -- the transformation of reality into images, the fragmentation of 'me' into a series of perpetual presents -- are bother extraordinary consolant with this process.

... We have seen that there is a way in which postmodernism replicates or reproduces -- reinforces -- the logic of consumer capitalism.

Frederic Jameson "Postmodernism and Consumer Society
Chris Hedge Empire of Illusion is a penetrating analysis of this effort of "entertainment society" and converting everything including politics into entertainment. It was published in 2010. Hedges discuss complex issues and a clear, succinct way. You might agree with him, you might disagree with him but you will enjoy his brilliant prose.
Those who manipulate from the shadows our lives are the agents, publicists, marketing departments, promoters, script writers, television and movie producers, advertisers, video technicians, photographers, bodyguards, wardrobe consultants, fitness trainers, pollsters, public announcers, and television news personalities who create the vast stage for the Empire of Illusion. They are the puppet masters. No one achieves celebrity status, without the approval of cultural enablers and intermediaries. The sole object is to hold attention and satisfy an audience. These techniques of theater leeched into politics, religion, education, literature, news, commerce, warfare, and even crime. It converts that society into wrestling ring mesh with the ongoing dramas on television, in movies, and in the news, where "real-life" stories, especially those involving celebrities, allow news reports to become mini-dramas complete with a star, a villain, a supporting cast, a good-looking host, and a neat, if often unexpected, conclusion (p. 15-16).
The first big achievement of Empire of Illusion was "glorification of war" after WWIII. As the veterans of WW II saw with great surprise their bitter, brutal wartime experience were skillfully transformed into an illusion, the mythic narrative of heroism and patriotic glory sold to the public by the Pentagon's public relations machine and Hollywood. The extreme brutality and meaninglessness of war could not compete against the power of the illusion, the fantasy of war as a ticket to glory, honor, and manhood. It was what the government and the military wanted to promote. It worked because it had the power to simulate experience for most viewers who were never at Iwo Jima or in a war. Few people understood that this illusion was a lie. p. 21-22.
Media evolved into branch of entertainment. He gives great insight on American society. Several chapters should be a required read for all sociology, film, journalism students, or government leaders. Much like Paul Craig Robert's How America Was Lost you might feel unplugged from the matrix after reading this book. This is the book that corporate America, as well as the neoliberal elite, do not want you to read. It's a scathing indictment against everything that's wrong with the system and those that continue to perpetuate the lie in the name of the almighty dollar. In a way the USA as the rest of the world are amusing itself into a post apocalyptic state, without an apocalypse. It is simply cannibalizing itself.
That books also contains succinct, and damning condemnation of globalization (and, specifically, the USA's role in it). You can compare it with Klein's 'Shock Doctrine', but it cuts a wider swath.
The discussion the follows was by-and-large adapted from D. Benor Amazon review of the book
We consume countless lies daily, false promises that if we buy this brand or that product, if we vote for this candidate, we will be respected, envied, powerful, loved, and protected. The flamboyant lives of celebrities and the outrageous characters on television, movies, and sensational talk shows are peddled to us, promising to fill up the emptiness in our own lives. Celebrity culture encourages everyone to think of themselves as potential celebrities, as possession unique if unacknowledged gifts. p. 26-7. Celebrity is the vehicle used by a corporate society to sell us these branded commodities, most of which we do not need. Celebrities humanize commercial commodities. They present the familiar and comforting face of the corporate state. p. 37.
Reporters, especially those on television, no longer ask whether the message is true but rather whether the pseudo-event worked or did not work as political theater for supporting particular (usually State Department in case of foreign events) talking points. Pseudo-events are judged on how effectively we have been manipulated by illusion. Those events that appear real are relished and lauded. Those that fail to create a believable illusion are deemed failures. Truth is irrelevant. Those who succeed in politics, as in most of the culture, are those who create the most convincing fantasies. This is the real danger of pseudo-events and why pseudo-events are far more pernicious than stereotypes. They do not explain reality, as stereotypes attempt to, but replace reality. Pseudo-events redefines reality by the parameters set by their creators. These creators, who make massive profits selling illusions, have a vested interest in maintaining the power structures they control. p. 50-1.
A couple quotes: "When a nation becomes unmoored from reality, it retreats into a world of magic. Facts are accepted or discarded according to the dictates of a preordained cosmology. The search for truth becomes irrelevant." (p. 50) "The specialized dialect and narrow education of doctors, academics, economists, social scientists, military officers, investment bankers, and government bureaucrats keeps each sector locked in its narrow role. The overarching structure of the corporate state and the idea of the common good are irrelevant to specialists. They exist to make the system work, not to examine it." (p. 98) I could go on and on citing terrific passages.
The flight into illusion sweeps away the core values of the open society. It corrodes the ability to think for oneself, to draw independent conclusions, to express dissent when judgment and common sense tell you something is wrong, to be self-critical, to challenge authority, to grasp historical facts, to advocate for change, and to acknowledge that there are other views, different ways, and structures of being that are morally and socially acceptable. A populace deprived of the ability to separate lies from truth, that has become hostage to the fictional semblance of reality put forth by pseudo-events, is no longer capable of sustaining a free society.

Those who slip into this illusion ignore the signs of impending disaster. The physical degradation of the planet, the cruelty of global capitalism, the looming oil crisis, the collapse of financial markets, and the danger of overpopulation rarely impinge to prick the illusions that warp our consciousness. The words, images, stories, and phrases used to describe the world in pseudo-events have no relation to what is happening around us. The advances of technology and science, rather than obliterating the world of myth, have enhanced its power to deceive. We live in imaginary, virtual worlds created by corporations that profit from our deception. Products and experiences - indeed, experience as a product - offered up for sale, sanctified by celebrities, are mirages. They promise us a new personality. They promise us success and fame. They promise to mend our brokenness. p. 52-3.

We have all seen the growth of a culture of lies and deception in politics, banking, commerce and education. Hodges points out how this has been facilitated by our abandoning the teaching of values and analysis in our schools.

The flight from the humanities has become a flight from conscience. It has created an elite class of experts who seldom look beyond their tasks and disciplines to put what they do in a wider, social context. And by absenting themselves from the moral and social questions raised by the humanities, they have opted to serve a corporate structure that has destroyed the culture around them.

Our elites - the ones in Congress, the ones on Wall Street, and the ones being produced at prestigious universities and business schools - do not have the capacity to fix our financial mess. Indeed, they will make it worse. They have no concept, thanks to the educations they have received, of how to replace a failed system with a new one. They are petty, timid, and uncreative bureaucrats superbly trained to carry our systems management. They see only piecemeal solutions that will satisfy the corporate structure. Their entire focus is numbers, profits, and personal advancement. They lack a moral and intellectual core. They are as able to deny gravely ill people medical coverage to increase company profits as they are to use taxpayer dollars to peddle costly weapons systems to blood-soaked dictatorships. The human consequences never figure into their balance sheets. The democratic system, they believe, is a secondary product of the free market - which they slavishly serve. p. 111.

I quote Hodges at some length because of his cogent, clear summaries of the problems leading us to self-destruction and to ways we might someday restructure society to be supportive and healing to the individual - rather than exploiting people and viewing them only as valuable as they can be manipulated into being gullible consumers.

This is one of the clearest and best focused discussions I have seen on the problems of modern society that are leading us to societal suicide
Hedges points out how a cycle sustains itself between elite educational institutions (Harvard, Yale, Princeton, etc.), the Government (think Congress in particular) and Corporations. Ivy league schools basically turn-out lackeys that do whatever is necessary to maintain their elite, self-absorbed status. The last chapter is entitled, "The Illusion of America," and this is where Hedges does a fantastic job of pulling together all the elements of this dysfunctional society. Other books touch the same themes, sometimes more forcefully but in this book most important elements of this picture put together.
Among the booksHedges cites:
The book Gekaufte Journalisten by Udo Ulfkotte was a revelation. Of cause, we suspected many things he described, but now we know detailed methods and mechanisms of suppressing alterative opinion in German society, methods that are probably more effective that anything propagandists in the DDR and the USSR ever attempted. One of the central concept here is the concept of "Noble Lie".
Guardian became neoliberal as soon as Tony Blaire became Prime minister. As any neoliberal publication is subscribes to the notion of "noble lie". The latter actually came from neocons playbook. No they knowingly try to dumb down their reader substituting important topic with celebrity gossip and hate speech. Even political issue now are "served" to the public as dishes under heavy sauce of personalities involved, which is a perfect way to obscure the subject and distract the readers.
geronimo -> MurkyFogsFutureLogs 14 Mar 2015 12:31

Indeed...

Under the retiring editor, all politics seems to have been reduced to 'identity' politics. Forget about class, war, class war and so on... If it can't be reduced to Hillary's gender or Putin's, er... transcendental evil... then it's barely worth a comment above the line.

As I've said before, for the Guardian 'the personal is the political' - or rather, for the Guardian as for Hillary, the political reduces to the personal.

A marriage made, not so much in heaven, but somewhere in political-fashionista North London.
In reality most prominent journalists are on tight leash of "'deep state". As Udo Ulfkotte book attests this is a rule, not an exception. While this was known since Operation Mockingbird was revealed, nothing changed. As revealed by Senator Frank Church investigations (Select Committee to Study Governmental Operations with Respect to Intelligence Activities) in 1975. In his Congress report published in 1976 the authors stated:
"The CIA currently maintains a network of several hundred foreign individuals around the world who provide intelligence for the CIA and at times attempt to influence opinion through the use of covert propaganda. These individuals provide the CIA with direct access to a large number of newspapers and periodicals, scores of press services and news agencies, radio and television stations, commercial book publishers, and other foreign media outlets."
According to the "Family Jewels" report, released by the National Security Archive on June 26, 2007, during the period from March 12, 1963, and June 15, 1963, the CIA installed telephone taps on two Washington-based news reporters. Church argued that misinforming the world cost American taxpayers an estimated $265 million a year.[20]
In February 1976, George H. W. Bush, the recently appointed Director of the CIA, announced a new policy:
"Effective immediately, the CIA will not enter into any paid or contract relationship with any full-time or part-time news correspondent accredited by any U.S. news service, newspaper, periodical, radio or television network or station." He added that the CIA would continue to "welcome" the voluntary, unpaid cooperation of journalists.[21]
But at this point only handlers and methods changed, not the policy. They are still all controlled by deep state. The most recent revelations of this fact were published by Udo Ulfkotte's in his bestseller book Bought Journalists. Here is one Amazon review of the book:
Unicorns & Kittenson May 1, 2015

I've managed to read a bit of the German version ...

I've managed to read a bit of the German version and now I think I understand why this is still not available in English although it was supposed to be released in this and other languages seven months ago. I will be very surprised if this shocking and destabilizing book (which names names) is made available to Americans ... even though it's primarily about the abusive tactics of American intelligence agencies. Please keep asking why it isn't published - despite being a best-seller in Germany -- and how we can get it here on Kindle.
As one Amazon reviewer said "This book will change for ever the way you read and watch the mainstream media! " Here is some additional information from russia-insider:
... ... ...

Ironically, however, it's likely that one of the biggest threats (especially in Europe) to Anglo-American media credibility about Ukraine and other issues is coming from a very old-fashioned medium – a book.

Udo Ulfkotte's bestseller Bought Journalists has been a sensation in Germany since its publication last autumn. The journalist and former editor of one of Germany's largest newspapers, Frankfurter Allgemeine Zeitung, revealed that he was for years secretly on the payroll of the CIA and was spinning the news to favour U.S. interests. Moreover he alleges that some major media are nothing more than propaganda outlets for international think-tanks, intelligence agencies, and corporate high-finance.

"We're talking about puppets on a string," he says, "journalists who write or say whatever their masters tell them to say or write. If you see how the mainstream media is reporting about the Ukraine conflict and if you know what's really going on, you get the picture. The masters in the background are pushing for war with Russia and western journalists are putting on their helmets." [8]

In another interview, Ulfkotte said:

"The German and American media tries to bring war to the people in Europe, to bring war to Russia. This is a point of no return, and I am going to stand up and say…it is not right what I have done in the past, to manipulate people, to make propaganda against Russia, and it is not right what my colleagues do, and have done in the past, because they are bribed to betray the people not only in Germany, all over Europe." [9]

... ... ...

Apparently, Pomeranzev has forgotten that important October 2004 article by Ron Suskind published in the New York Times Magazine during the second war in Iraq (which, like the first, was based on a widely disseminated lie). Suskind quoted one of George W. Bush's aides (probably Karl Rove): "The aide said that guys like me [journalists, writers, historians] were 'in what we call the reality-based community,' which he defined as people who 'believe that solutions emerge from your judicious study of discernible reality…That's not the way the world really works anymore,' he continued. 'We're an empire now, and when we act, we create our own reality. And while you're studying that reality – judiciously, as you will – we'll act again, creating other new realities which you can study too, and that's how things will sort out. We're history's actors…and you, all of you, will be left to just study what we do'." [12]

It's a rather succinct description of Orwellian spin and secrecy in a media-saturated Empire, where discerning the truth becomes ever more difficult.

That is why people believe someone like Udo Ulfkotte, who is physically ill, says he has only a few years left to live, and told an interviewer,

"I am very fearful of a new war in Europe, and I don't like to have this situation again, because war is never coming from itself, there is always people who push for war, and this is not only politicians, it is journalists too… We have betrayed our readers, just to push for war…I don't want this anymore, I'm fed up with this propaganda. We live in a banana republic and not in a democratic country where we have press freedom…" [13]

Recently, as Mike Whitney has pointed out in CounterPunch (March 10), Germany's newsmagazine Der Spiegel dared to challenge the fabrications of NATO's top commander in Europe, General Philip Breedlove, for spreading "dangerous propaganda" that is misleading the public about Russian "troop advances" and making "flat-out inaccurate statements" about Russian aggression.

Whitney asks, "Why this sudden willingness to share the truth? It's because they no longer support Washington's policy, that's why. No one in Europe wants the US to arm and train the Ukrainian army. No wants them to deploy 600 paratroopers to Kiev and increase U.S. logistical support. No one wants further escalation, because no wants a war with Russia. It's that simple." [14] Whitney argued that "the real purpose of the Spiegel piece is to warn Washington that EU leaders will not support a policy of military confrontation with Moscow."

So now we know the reason for the timing of the April 15 U.S. House Foreign Affairs Committee hearing, "Confronting Russia's Weaponization of Information." Literally while U.S. paratroopers were en route to Kiev, the hawks in Washington (and London) knew it was time to crank up the rhetoric. The three witnesses were most eager to oblige.
---
---
For the list of top articles see Recommended Links section
ay_arrow

---

HedgeJunkie , 15 hours ago

I guess the swamp is draining Trump.

Kinskian , 15 hours ago

Trump is a clumsy and transparent Zionist stooge.

PT , 14 hours ago

Gotta admit, if you're going to have a Zionist stooge then you are better off having a clumsy and transparent one.

Pliskin , 9 hours ago

You're all idiots!

Can't you see that this is just another multi-dimensional chess move to 'drain the swamp' by filling the swamp with swamp creatures!

Genius move...pure 'stable' genius move!

Bokkenrijder , 10 hours ago

"No Difference Between John Bolton, Brian Hook Or Elliott Abrams": Iran FM

Trump: "I'll hire the best people and drain the swamp." 🙄

What Trump meant was: I'll hire neocons and war criminals and continue the US Empire and funnel more money to the MIC.

Thank you Trumpturds!

Oldwood , 14 hours ago

The only thing provoking Trump is the unending criminal attacks to remove him.

Most people can deal with competition until it becomes obvious the the game is rigged. Once rigging is accepted, most will still try to figure a way to work within those biased rules even when it is apparent that they are designed to your disadvantage..

But when the rigging is not for simple advantage but for your elimination, your demise, then you've got to get out.

Trump can't get out. Once he loses the protection of his office, they will do all in their power to destroy him, his family and friends and ANYONE who openly supported him.

Keep that in mind, because there's lots of deplorables out there who have been very open in his support.

Trump MUST win reelection to simply survive. He's cornered now and will be making lots of compromises. But he may also get dirty...dirty like a Democrat.

And given our weak *** support, our hiding I fear while complaining of his failures, he may just risk igniting the fires of hell that progressives have been threatening him with.

Exciting times.

May we all survive to laugh about it. Many won't.

Element , 10 hours ago

"Pardoned by George H.W. Bush in 1992, Abrams was a pivotal figure in the foreign-policy scandal that shook the Reagan administration, lying to Congress about his knowledge of the plot to covertly sell weapons to the Khomeini government and use the proceeds to illegally fund the right-wing Contras rebel group in Nicaragua ," NY Mag reviews.

This is warped bullcrap. Iran was at war with Iraq.

The real purpose of selling weapon shipments to Iran then were as an inducement for Iran to free western hostages being held in Lebanon, during the whole of the 1980s by Iranian backed "paramilitary groups".

The funds from those weapon sales were eventually used in other operations in central America, but that is not why it was done.

Read Colonel Oliver North's account of what occurred, and why it was done.

BTW, the CONTRAS were engaging large numbers of hard-core communist death-squads in the country at that time, who were supported by Castro in Havana and Moscow. It was absolutely the right thing to do to fund a military action to find and eliminate those communist death-squads who were murdering people all over the country, they particularly loved to murder Catholic Priests and Nuns at the time, who dared to speak out against the foreign-backed communist murder-squads, who were murdering local people in very large numbers to force them all to shut up and not resist a communist take over. The same sorts of things were occurring in El Salvador and Honduras.

It was these people who prevented all of central America falling to communist mass-murderers.

Jkweb007 , 10 hours ago

Seriously you back your arguement by Olly North? No the fact is the Iran Contra ordeal happened. First we enticed Saddam lol our ally to attack Iran then we back doored a deal so the CIA could have thier little war with the Sandinista.

I loved the part that if this wasnt done Nicaragua would likely attack us you know like Vietnam the domino thoery where the world would fall to the commis. The military Industrial complex made bank, poor kids died all with the front keeping freedom. Right like that exists in south american countries, good grief look at the Mexican drug cartel runs everything. I am surprised we havent attacked Mexico but they arent commis.

If the dollar does not die soon who knows a war with China. The dollar printing just feeds the war machine. If we were fiscal prudent we would not be waring the past 30 years. Every fiat currency has been destroyed the same way, no one learns or is it greed?
---

Max21c , 6 hours ago

Makes sense since Pompeo is such a brilliant strategist when it comes to Foreign Policy. Pompeo is not just your everyday ordinary run of the mill Washingtonian genius. Nor is Pompeo your typical off the rack Ivy League genius. Mike Pompeo is not merely an everyday CIA brilliant wizard like the common folk wizards in the state security apparatus, intelligence community, secret police community, inside the beltway think tanks industry, National Security Council type.

Ms No , 6 hours ago

" Chiefly had men's views confided to me privately. Some of the biggest men in the United States , in the field of commerce and manufacture, are afraid of something . They know that there is a power somewhere so organized, so subtle, so watchful, so interlocked, so complete, so pervasive, that they better not speak above their breath when they speak in condemnation of it. " - President Woodrow Wilson

NuYawkFrankie , 9 hours ago

There's a BIG difference between Bolton and Abrams: Bolton is just a fcking imbecile...
play_arrow

Pernicious Gold Phallusy , 15 hours ago

I understand it's only occasionally bad to lie to Congress.
Takes one to know one? New 'Russian disinformation' scare-sheet by State Department's propaganda arm is full of projection Helen Buyniski

is an American journalist and political commentator at RT. Follow her on Twitter @velocirapture23 6 Aug, 2020 12:42 Get short URL FILE PHOTO. The State Department Building is pictured in Washington, U.S., January 26, 2017. © REUTERS/Joshua Roberts 16 1 Follow RT on The State Department has released a report purporting to unmask "Russia's disinformation and propaganda ecosystem," highlighting supposed Russian proxies in an effort to cast all opposition to US policy as Kremlin-linked.

Behind every narrative unfriendly to US geopolitical aims is a Russian proxy typing madly away, according to the Global Engagement Center (GEC), the State Department's "counter-propaganda" vehicle, which released a report to that effect on Wednesday titled "Pillars of Russia's Disinformation and Propaganda Ecosystem."

More than half of the 76-page paper consists of "proxy site profiles" – writeups of websites deemed to be secretly (or not-so-secretly) operated by the Kremlin. While some are openly connected to the Russian government (New Eastern Outlook, an official publication of the Russian Academy of Sciences), others – like Montreal-based Global Research – are not.

READ MORE 'We must deal with Russia as it is, not as we wish it to be': US ex-diplomats, academics call for engagement with Moscow

In the eyes of the GEC, however, all "serve no other purpose but to push pro-Kremlin content" (which might be news to the websites' operators). Most have previously appeared on lists of "Russian propaganda websites" such as the sprawling blacklist published by PropOrNot – a shady outfit linked to pro-war think tank, the Atlantic Council – in November 2016.

While the report is supposedly dedicated to "exposing Russia's tactics so that partner and allied governments, civil society organizations, academia, the press, and the international public" can arm themselves against evil Kremlin propaganda, its focus on specific websites, their social media follower counts, and the amount of traffic they get seems tailor-made for legitimizing government censorship. Any ideas which resemble the content of these particular websites are to be squashed, sidelined, and suppressed, as are any other sites who publish writers associated with the "proxy sites."

The "ecosystem" metaphor is deployed to explain why some alleged Russian proxies occasionally come out with material opposing the Russian government line – they're just "muddying the waters of the information environment in order to confuse those trying to discern the truth."

As for "truth," the report has an interesting interpretation of the concept. The claims that it deems to constitute "disinformation" include the assertion that "financial circles and governments are using the coronavirus to achieve [their] own financial and political goals" (are there any that aren't?).

They also include claims that "EU bureaucrats and affiliated propaganda bodies are blaming Russia for the crisis over the outbreak of coronavirus" (who knew the Financial Times was a Kremlin disinfo outlet too?)

READ MORE Credibility of European Court of Human Rights lies in ruins after judges' links to Soros revealed

Also included are claims that "George Soros' tentacles entangle politics and generate chaos around the world" (if the shoe fits ).

The GEC report wouldn't be a Russia scare-sheet if it didn't include a heavy dose of projection, and this one does not disappoint. The Kremlin's "weaponization of social media" and "cyber-enabled disinformation" are deemed "part of its approach to using information as a weapon," while Moscow is accused of "invest[ing] massively in its propaganda channels, its intelligence services and its proxies to conduct malicious cyber activity to support their disinformation efforts."

But the CIA and US military intelligence have been engaging in pre-emptive cyber-warfare for two years with the full knowledge and consent of the executive branch – a legitimization of covert activities that previously ran on a don't-ask-don't-tell basis dating at least back to the development of the Stuxnet virus that devastated Iran's nuclear sites over a decade ago.

US weaponization of social media is so pervasive the US Army was recently booted off streaming platform Twitch for relentlessly propagandizing teenage users. The Pentagon has been spreading pro-US propaganda using hordes of "sock puppets" – fake social media accounts purporting to be real people – for upwards of a decade. Indeed, the report hints at these very operations, praising the "thriving counter-disinformation community" that is "pushing back" against those naughty Russians.

With social media platforms jittery over the looming US election in November, the report appears designed to serve as a handy cheat-sheet as to which opinions to censor to avoid a repeat of President Donald Trump's upset victory in 2016 – even though none of the listed "proxies" could be considered pro-Trump by any stretch of the imagination. It also provides a portable reference for Americans worried about committing thought-crime, though the complete lack of fanfare accompanying its publication – Secretary of State Mike Pompeo mentioned it in passing during a press conference on Wednesday – would seem to suggest it is not meant for the hoi polloi.

The statements, views and opinions expressed in this column are solely those of the author and do not necessarily represent those of RT.



Secretary of Defense Mark Esper: "So we can all deter Russia and avoid peace in Europe".
Priceless!

Thank you Patrick Armstrong.

Posted by: Jim | 06 August 2020 at 04:14 PM
Highly recommended!
Notable quotes:
"... Like George Carlin once said "political correctness is fascism disguised as politeness" ..."
"... "Almost nobody has any idea what they are talking about." That's the problem with this internet age giving every moron a voice. ..."
"... Social Justice Warriors = political correctness on steroids. ..."
"... "It starts off as a halfway decent idea and then it goes completely wrong" Sums up all this stupidity in the wake of the BLM protests. What started out as legitimate anger about the murder of an unarmed black man by a police officer has denigrated to people trying to cancel comedy shows from 20 years ago and bitching about "inappropriate language" and just ..."
"... Take any ethical position to its extreme and if it holds together it's good. - Kant. Liberalism taken to an extreme fails. Get a clue. ..."
"... I love how Cleese puts it. Fundamentalism does not just have to do with religion, or the far right. It is taking anything to an extreme. The same goes with political correctness. ..."
"... John Cleese outclasses Bill Maher by an absolutely massive margin ..."
"... Political correctness is another way of stating: " I want to make rules of tolerance that only apply to everyone else in society. But only don't apply to everyone on the same side as the group I'm with" ..."
"... Political correctness and Social Justice isn't about protecting minorities, or protecting the LGTBQ community etc, its about control and censoring through bullying. its about telling you how to think, and what you can say. Our Great Grandparents died to protect our right to think and speak freely, and to tell me how to think and speak, you are literally pissing on the graves of the people who died to protect that right, and THAT offends me. ..."
---

'Political correctness is fascism pretending to be manners.' George Carlin

Jimmy Jenkinson , 1 year ago

Like George Carlin once said "political correctness is fascism disguised as politeness"

njaime70 , 1 year ago

I am Mexican and we joke badly about ourselves. These two guys are amazing.

bobbytookalook , 5 years ago

Cleese's huge laugh at the "religion of peace -- a piece of you here, a piece of you there" was wonderful -- he laughed so hard -- almost as though he'd never heard that before -- and perhaps he hadn't -- but he sure seemed to enjoy it, as did I!

elseptimo77 , 11 months ago

"The world wouldn't work without stupidity." ....was the lost and forgotten conversation.

Lord FRIEZA , 11 months ago (edited)

1:47 absolutely amazing. An elderly man swearing. That's pure comedic gold

M. Strain Jr. , 1 year ago

"Almost nobody has any idea what they are talking about." That's the problem with this internet age giving every moron a voice. Used to be that you had to have some kind of intelligence or talent to get recognition.

11Kralle , 1 year ago (edited)

How were the early protestants teased by the catholic hierarchy: "They read the bible as if it was true!"

harperjack99 , 1 year ago

"He threw the money lenders out of the temple" Clever John, clever.

Evi1M4chine , 5 years ago

Social Justice Warriors = political correctness on steroids.

Kevin Kibble , 1 month ago

"It starts off as a halfway decent idea and then it goes completely wrong" Sums up all this stupidity in the wake of the BLM protests. What started out as legitimate anger about the murder of an unarmed black man by a police officer has denigrated to people trying to cancel comedy shows from 20 years ago and bitching about "inappropriate language" and just

Chris Bonnett , 1 year ago

Take any ethical position to its extreme and if it holds together it's good. - Kant. Liberalism taken to an extreme fails. Get a clue.

Haftepaff , 5 years ago

I love these guys, the whole "political correctness" is an absurd illusion. In my country we love to make jokes about western countries and specifically our neighbors, but you will most certainly get arrested if you make joke about other nationalities, origin or "that" religion.

Marc Law , 5 months ago

PC is just a way of conditioning us into a controlled submission. Fack PC,an individual should be able to be themselves.

winterlandboy , 5 years ago

For John Cleese Fans.. If you've never seen an old 80,s film of his called "Clockwise" Please check it out. Small budget film By Handmade Fims which was in part George Harrison's company.. and very very funny FYI

Jyotsna Gokhale , 2 years ago

"...Stupidity, I've heard you're against it "!!!!! "Australians are so well balanced, because they've a chip on each shoulder"!!!!!! 3:30 "religion of piece - there's a piece of you over there, there's a piece of you over there, ..."!!!!

Michael Rogers , 1 year ago

Understand the following like you have understood nothing else before: (Maher and Cleese obviously had not at the time of this interview.)

'Political Correctness' is now a construct utilised almost exclusively to trivialise and dismiss anything that seeks to redress injustice, unfairness and the unequal distribution of wealth, power, and privilege.

Whatever the issue it will be dismissed as being only 'political correctness' and even common decency of courtesy are disparaged as 'political correctness gone mad' . It has also become at the same time a 'weasel' term used by cowards and bullies to avoid having to openly state that the have no care for the rights, concerns, feelings and well-being of others.

Look for how and by whom 'political correctness' is currently used and you will see what Maher, Cleese and posters commenting on this clip hve not and be less likely to be misled and duped.

MisterCharlton , 4 years ago

I love how Cleese puts it. Fundamentalism does not just have to do with religion, or the far right. It is taking anything to an extreme. The same goes with political correctness.

John Smith , 2 years ago (edited)

It's hard for rich liberal like Maher to be truly subversive against an Establishment they largely control.

AmerginMacEccit , 5 years ago

"Political incorrectness... Could we just bitch about that?"... And here I sense feminist hysteria storm coming Bill Maher's way. I definately prefer the British style. John Cleese was one of those people I looked up to and thought "I want to be like him when I grow up".

Crescendo , 1 year ago

John Cleese outclasses Bill Maher by an absolutely massive margin and Bill Maher is so full of himself he always thinks he's the smartest, most important person on the show. Bill Maher is embarassing to watch.

Bill Cleveland , 3 years ago

George Carlin - Political Correctness is Fascism pretending to be Manners..................

Gulzat Matisakova , 1 year ago

Despite loving Mr. Cleese, I want to point out that when you joke about oppressed group it becomes part of oppression. That's why joking about Mexicans in USA or Britain it is different than joking about Mexicans in Mexico by Mexicans. Context is everything

Robert McElwaine , 2 years ago (edited)

Cleese's logic here is irrefutable; and really shines a light on the incredible double standards that are prevalent in contemporary society. It's rewarding to know; watching this when he speaks about Jesus that there are religious academics, and representatives that see the wise satirical insight of; Life of Brian. If only we had a movie now that lampooned radical Isalm. Oh wait there is; its called; Four Lions.

clarence crawford , 5 years ago

If you read Fahrenheit 451...

Bill Cleveland , 3 years ago

Political correctness is another way of stating: "I not only want my piece of the cake to eat for myself, but I also want the whole cake to eat for myself too." Political correctness is another way of stating: " I want to make rules of tolerance that only apply to everyone else in society. But only don't apply to everyone on the same side as the group I'm with"

Ron Cooney , 5 years ago

Cleese is so spot-on about the madness of political correctness. Goebbels would have loved it, except this fascism is of the left, in the heads of "open-minded" liberals (so-called.)

lachazaroony , 1 month ago

Political correctness and Social Justice isn't about protecting minorities, or protecting the LGTBQ community etc, its about control and censoring through bullying. its about telling you how to think, and what you can say. Our Great Grandparents died to protect our right to think and speak freely, and to tell me how to think and speak, you are literally pissing on the graves of the people who died to protect that right, and THAT offends me.

Ben Jamin , 4 years ago

So annoying watching bill maher. He's so arrogant and conceited. He's always cutting in awkwardly to say some middle-of-the-road boring hum-drum to get an obligatory clap from his audience. Can't we just listen to the fantastic john cleese and not the wannabe political spokes-person?

Jim Coppersmith , 3 weeks ago

It seems to me thar racial tensions in particular or worse now than they Were before they shoved this whole political correctness thing down our gullets. And that statement goes back to before the Minneapolis police killed a man for using a counterfeit $20 bill(being black). Forcing political correctness on people doesn't work. You're not changing peoples ideas you're just suppressing them. When you suppress a persons ideas those ideas fester. When suppressed ideas fester they build up pressure and eventually explode. Instead of telling people what they can't say or do, we need to re-educate our people to except those that are different. Humor is a very good way of getting people to see how ignorant their ideas are.


v1e1r1g1e1 , 2 years ago

''Political correctness'' is for people who have achieved nothing, done nothing, and ARE nothing. It is their way of pretending to have power over REAL people. That's why celebrities and Hollywood actors love being PC so much.

Ozzy Bacchus , 4 years ago

Punching up or across is funny. Punching down isn't funny.
Highly recommended!
Radicals have never had a sense of humor. They are unbalanced. "In jest, there is truth". -- Roman proverb. Radicals has problems with truth. Therefore, they don't like humor.
Notable quotes:
"... Monty Python was the pinnacle of contemporary comedy precisely because it drew attention to the absurdity of modern society and it pompous hypocrisy ..."
---

hooligan2009 , 2 hours ago

i saw a joke today

big female BLM supporter wearing a nappy mask that says "i can't breathe" on it

soccer mom says "well take the stupid mask off"

MartinG , 3 hours ago

How many Wokesters does it take to change a light bulb?

One to complain that the light bulb is white.
One to complain that the light is white.
One to blame boomers for wearing out the old bulb.
One who doesn't know how.
And one Wokester who says there must be change as he changes the bulb.

tardpill , 3 hours ago

the only one that can possibly change the bulb with it out being a racist privilege is not available because they are too busy burning **** down

DaBard51 , 2 hours ago

You forgot:

--One who complains that there isn't enough diversity in light bulbs.
--One who says "Bulb Lives Matter!"
--One who complains that screwing the bulb is sexist.
--One who can't decide whether the bulb is DC or AC.

When nine hundred years old you become, look this good you will not.

<edit> whoever up-voted, my thanks. Shadow-banned, I am not, now, I see...

Roger Casement , 3 hours ago

They are the joke.

philipat , 2 hours ago

Yes, and that is why humor is so important, especially at the margin. Politicians, especially Democrat politicians, don't like comedy because it draws attention to the absurdity of most of what they do.

Monty Python was the pinnacle of contemporary comedy precisely because it drew attention to the absurdity of modern society and it pompous hypocrisy. It gave me more laughs more consistently than anything I have come across since. 'God speed John, you stay with what you believe and ***k the humorless wokesters who need to get a life and lighten up for their own sake and for that of all the rest of us!

45North1 , 2 hours ago

An Antifa member, a BLM'er and a Proud Boy go into a Bar.....

EvlTheCat , 2 hours ago

"Woke" in itself is a joke and a oxymoron, which if you know the definition makes it ironic also. Touches all bases John.
Highly recommended!
---


Steven Moore , 1 month ago

What's really sad is this is like, 40 years old and is exactly true today

Juan Ferreira , 1 week ago

Jesus Christ this so true despite this being so old this is why I don't take sides! God I hate current year politics!

J A , 1 month ago

Still completely accurate today. What a brilliant mind.

Illavick , 9 years ago

@valleyshrew He never says that having enemies makes you an extremist. He said being an extremist gives you justification to make enemies and to blame them for everything.

GeorgeBecky Dragan , 1 month ago

"...almost all kinds of authorities, the city, police, Americans..." Bwahahaha!

tehreporter , 10 years ago

this is the best description of extremism I have ever heard

tjbrinjak , 5 years ago

"keep your man focused on the war....not so much his ailing mother....." - C.S. Lewis "The Screwtape Letters"

Stungun Notapplicable , 1 month ago

Some of these people have probably since jumped from one enemy list to another. But it's still overall a timeless message. Sadly.

RyanRocker , 6 months ago

Funny how Russia is listed as an enemy of the hard right in this clip. How times have changed!
lathrop 08.05.20 at 12:52 am (
189 )

I can only imagine what lead Mark Twain to write this; undoubtedly one of his own opinions he forbore from publishing from the need to preserve his own book sales:

"In our country we have those three unspeakably precious things: freedom of speech, freedom of conscience, and the prudence never to practice either."
Notable quotes:
"... The state of US domestic insecurity: citizens don't trust the enforcers of the power structure, but don't want to be thrown to the wolves, whether it's black or white. ..."
The Gallup poll , released Wednesday, was conducted throughout July and involved over 36,000 adults across the US.

A whopping 81 percent of black respondents said they want police to spend the same amount of time in their neighborhoods that they already do or to have even more of a presence. The results are similar across races, with 88 percent of white Americans, 83 percent of Hispanic Americans, and 72 percent of Asian-Americans all saying the same thing.

The poll also confirmed that black Americans are more likely to see police presence in their communities, with 73 percent of respondents answering that they notice cops in their neighborhoods "sometimes" or "very often." That's compared to 65 percent of non-black respondents.

... ... ...

ALSO ON RT.COM 'Do as they say': Minneapolis police warn people to obey criminals for their own safety as violent crime surges amid BLM protests

If you like this story, share it with a friend!


---

pogohere 2 hours ago

The state of US domestic insecurity: citizens don't trust the enforcers of the power structure, but don't want to be thrown to the wolves, whether it's black or white.
AGPhillbin Fred Bowman • 2 hours ago

Personally, i am voting for Incitatus in the presidential election. Incitatus was supposedly appointed to the Roman Senate by the emperor Caligula. He was also a horse. How about this for a slogan:

IT'S TIME TO VOTE FOR A WHOLE HORSE...

Bungalow Bill • 2 hours ago

... As George Carlin said, "garbage in, garbage out."
Yes the stupidity of Daniel Heintz is obvious. Neoliberal Dems use Antifa and BLM as tool acting as a ram, similar to Ukrainian oligarchs, expecting no repercussion. But than Crimea and Donbass happened all at once.
Just change the name Maidan in CHAZ :-) CHAZ did not last that long, though. But Portland might be another story.
Notable quotes:
"... The physical layout of Maidan is both impressive and inspiring. Piles of sandbags, tires, household furniture and concrete paving blocks form the barricades that guard the entrances to the square. Inside are countless tents and makeshift shelters which people have occupied for nearly four months now. ..."
An American in Maidan by Daniel Heintz

Suspecting that neither Ukrainians nor people elsewhere were being given an accurate portrayal of what has been going on in Kyiv, I felt I had no choice but to travel there and offer an honest portrait of Maidan as I saw it.

The physical layout of Maidan is both impressive and inspiring. Piles of sandbags, tires, household furniture and concrete paving blocks form the barricades that guard the entrances to the square. Inside are countless tents and makeshift shelters which people have occupied for nearly four months now. Graffiti, fliers and stickers, written in Ukrainian, Russian and English, cover any vacant space on walls; dozens of Ukrainian flags flap in the wind And there's no way you can miss the flowers.

Piles upon piles of flowers, spread all over Maidan, commemorate those who lost their lives there. Scattered among the flowers you can find photographs of Maidan's lost 'Heavenly Hundred', with a constant flow of family members, friends and fellow countrymen quietly mourning nearby.
Fred | 22 July 2020 at 03:59 PM

To all professional athletes, black and white, here is an important announcement -- the "white" Americans who bought tickets to watch you play and plunked down thousand for sports merchandise in the past are fed up.

If you think these pampered millionaires have struck a nerve by proclaiming to the world that they are victims of a ruthless capitalist system of oppression that did nothing to help them get where they are and that everyone who came before was an evil racist supremecist you're probably on to something.
Notable quotes:
"... They're making fools of themselves. First they were blaming China for everything, now it's blame Russia time again. Maybe The UK should look in the mirror, that way they'll see the one who is responsible for all its problems. ..."
"... ...but it's good that he's able to ask a question without the threat of being pushed out of a 5th floor window ..."
Russian Embassy, UK

Russian Embassy, UK

@RussianEmbassy Jul 22

"So what has Russia done?" - "That's the question." Love it.

@RussianEmbassy Jul 22

@RussianEmbassy

They're making fools of themselves. First they were blaming China for everything, now it's blame Russia time again. Maybe The UK should look in the mirror, that way they'll see the one who is responsible for all its problems.

@RussianEmbassy Jul 22

@RussianEmbassy

...but it's good that he's able to ask a question without the threat of being pushed out of a 5th floor window
This is from The Hitch Hiker's Guide to the Galaxy "
The net result for Homo Sapiens was really dismal, if we look at Biden ;-)
Notable quotes:
"... "I will be the best, the best, you know, you know the thing!" ..."
"I will be the best, the best, you know, you know the thing!"
- Joe Biden

Grope and Hope
Highly recommended!
loveyajimbo , 3 hours ago link

Trump DID commit obstruction of justice... he refused to force HIS Dept of Justice to indict Hillary, Comey, Brennan and Clapper for their obvious major felonies.

And YES... he could have.
Reg Cæsar , says: July 31, 2020 at 10:51 pm GMT

The media could care less about the devastation and ruined lives.

No, they couldn't. It's impossible to care less than they do now.

If you water down your cynicism, you'll never understand these people.
Mick Jagger gathers no Mosque , says: August 1, 2020 at 12:25 pm GMT

Why should the Russians have all the fun of remaking a world ?"

This is the concluding sentence in

A New Deal , a book by Stuart Chase published late in 1932
Chris Moore , says: Website
librul , Jul 31 2020 16:41 utc | 7

To NYT subscribers: "You pay for your own indoctrination?"

I need to keep this clip from The New York Times in my wallet. Laminating it would be a good idea.


"Adding to these challenges, democracy in Latin America has also lost a champion in the United States, which had played an important role in promoting democracy after the end of the Cold War by financing good governance programs and calling out authoritarian abuses.

https://caitlinjohnstone.com/2020/07/31/when-corporate-power-is-your-real-government-corporate-media-is-state-media/

Contrary to claims by the media and the ego maniac Dr. Fauci about a tidal wave of Covid infections, I have first hand, albeit anecdotal evidence, that there is a lot of bullshit surrounding reports of people who have "tested" positive for Covid.
Notable quotes:
"... The dems are as corporatist as you can get ..."
swingchef771 1 point· 2 days ago

The dems have added so much Marxism to their platform and general beliefs, that they are blind to the direction they are taking us. I see a civil insurrection in our future. It's getting that bad.

Atschmid 1 point· 2 days ago

WTF are you talking about? The dems are as corporatist as you can get
spudski , Aug 1 2020 18:03 utc | 128

"Never use the word "whore" to refer to a sex worker; they earn an honest and respectable living and they shouldn't be demeaned for it. That word should only ever be used for members of the mainstream news media." - Caitlin Johnstone
Trump did not lose his edge: this is really bulleye hit
Notable quotes:
"... You make all kinds of recommendations. You make comments on dating, on baseball and everything you could imagine. ..."
You make all kinds of recommendations. You make comments on dating, on baseball and everything you could imagine. "

Trump, who appeared to be watching the proceedings, weighed against his Democratic critics on Twitter: "Our massive testing capability, rather than being praised, is used by the Lamestream Media and their partner, the Do Nothing Radical Left Democrats, as a point of scorn. This testing, and what we have so quickly done, is used as a Fake News weapon. Sad!"
Notable quotes:
"... PBS News Hour ..."
Democratic Congressman Believes a Black Woman on the Supreme Court Is a Priority Over VP

A top Democratic lawmaker said Friday that it was more important to have a Black woman on the U.S. Supreme Court than as a running mate for presumptive Democratic presidential nominee Joe Biden.

"The V.P. is good on style, but, on substance, give me an African American woman on the Supreme Court," House Majority Whip James Clyburn said during a segment on PBS News Hour . "That's where we determine how our democracy will be preserved."

... "I long for an African American woman to sit on the United States Supreme Court," he said. "It's a shame that we have had three women to sit on the United States Supreme Court, and no one has ever given the kind of consideration that is due to an African American woman."
Indeed, the media's commitment to tempering their descriptions of violent riots sweeping the nation as "mostly peaceful" is relentless – that particular phrase has become a media cliché practically overnight . Of course, America's police officers could also be accurately described as "mostly peaceful," but any journalist who dared to give cops the same generous benefit of the doubt would likely cause a riot in their own newsroom.
ARIUSARMENIAN July 31, 2020 at 3:39 pm

The US MSM is a giant propaganda machine used by the elites to control major narratives in the heads of the public. They have learned the lesson well from the British and US Empires: divide and conquer – keep the people in fear and hatred fighting with each other so the elites can continue to acquire more power and money and wars while they drop crumbs to the people.

The elites have bought off everything in the US – that is the gift of turbo charged capitalist neoliberal economics which went on a privatization tear after the end of Cold War v1.

They made millions on the outsourcing of jobs and industry to Asia but now that the pickings are getting slim and China is going its own way they are running demonization narratives on China to march the American people into another Cold War while they make more millions (since they are still the insiders pushing the buttons).

And most Americans are just childlike and ignorant enough to march along blaming China for their jobs going overseas. This will go on until US elites have turned America into a dried out husk.
Rearranging chairs of Democratic Titanic or old wine in a new bottle... I wonder how the organization "Well versed in de-escalation skills and mental health support" will deal with an armed bank robber?
The Seattle City Council advanced legislation on Friday which would replace the 'racist institution of policing' with a civilian-led activities and organizations under a new 'Department of Community Safety & Violence Prevention.'

The bill justifies the move by pointing to the prevalence of 'white supremacy culture' and the Seattle PD's role in 'perpetuating racism and violence.'

"WHEREAS, the Council is committed to confronting the structural and institutional racism as a fundamental step towards addressing the racist institution of policing ,"

" Whereas, these protests forced many nationwide and in Seattle to confront the racism that has been plaguing the Black community for centuries and spread to other communities of color, the harmful impacts of white supremacy culture , and the Seattle Police Department's (SPD) role in perpetuating racism and violence. "

The organizations replacing the SPD will need to demonstrate several characteristics, including:

Culturally-relevant expertise rooted in community connections
Well versed in de-escalation skills and mental health support
Trauma-informed, gender-affirming, anti-racist praxis
Connected to resources like housing, food security, and other basic needs
Notable quotes:
"... They say imitation is the sincerest form of flattery lolz ..."
---

Bob_Marleff 6 hours ago

Rampant state propaganda, troops pulling out from Afghanistan and Germany, tanking economy and geriatric leaders. They say imitation is the sincerest form of flattery lolz

sndiousdfiohgs 2 hours ago

Interesting comparison to Brezhnev. Perhaps the American empire will go through a similar decline to the soviet one. A "stagnation" period of gerontocracy with very old fools like Trump and Biden in charge before it falls apart, maybe after a last gasp with a charasmatic Gorbachev trying to keep it together but destroying it accidentally instead.

ninaaaaa 58 minutes ago

He is not the first one that doesn't know where he is. Should not forget Bush who seemed to be totally intellectually retarded. Or should we forget sexual ma...c who couldn't stop laughing or the one who didn't sleep at night. And yes Reagan who went to meet with the Pope, both of them totally mentally gone, sleeping at the meeting.

CrabCoon 1 hour ago

He is the best America has to offer.

bobRT 3 hours ago

Brezhnev slurred because he had nerve damage in his cheek from being hit by shrapnel. It got worse as he got older...

westernman 5 hours ago

You know, i think a half functioning malleable idiot is a far preferred choice over a fully functioning psychopath

allan Kaplan 3 hours ago

No price is big enough for the ordinary Americans to pay for the Deep State and its network of criminals
Abusing prescription drugs at such an advanced age greatly increases probability of hallucinations
Pelosi upbraids counterintel chief in private briefing over Russian meddling

Speaker Nancy Pelosi and other top House Democrats admonished the country's top counterintelligence official during a classified election security briefing Friday, accusing him of keeping Americans in the dark about the details of Russia's continued interference in the 2020 campaign. Pelosi hinted at the conflict upon emerging from the briefing Friday morning, saying she thought the administration was "withholding" evidence of foreign election meddling.
Max.Power , 11 hours ago

Yeah, all this put many other things in perspective. It may turn out that Trump is the most decent US president of last 30 years. Who would've thought...

theory , 12 hours ago

AND........
Who was running the FBI at the time........???????

Good old Bob Mueller.......!!!!!!!!!!!!

El Chapo Read , 11 hours ago

That was "out of his purview"

MongoStraight , 12 hours ago

It's hard to believe that Marvin Minsky would have to pay for it.

Jam Akin , 12 hours ago

This is a real life Minsky moment...
lester1 , 11 hours ago

Republicans want to build a billion dollar new FBI building in the coronavirus stimulus bill. Lol
Highly recommended!
So Obama managed to beat Clinton? Incredible achievement !
Tucker Carlson described former President Obama as "one of the sleaziest and most dishonest figures in the history of American politics" after his eulogy at the funeral of civil rights icon Rep. John Lewis (D-Ga.) on Thursday.

© The Hill tucker Carlson

Carlson, who also described the former president as "a greasy politician" for calling on Congress to pass a new Voting Rights Act and to eliminate the filibuster, which Obama described as a relic of the Jim Crow era that disenfranchised Black Americans, in order to do so.

"Barack Obama, one of the sleaziest and most dishonest figures in the history of American politics, used George Floyd's death at a funeral to attack the police," Carlson said before showing a segment of Obama's remarks.

Watch the latest video at foxnews.com
Just when we thought the woke PC madness of 2020 couldn't get anymore absurd, a local incident out of Michigan is so astoundingly stupid that even the AP reported on it with a tone that aptly captures the inanity :

Owners of a Michigan bed and breakfast have removed a Norwegian flag outside of their business after being accused of promoting racism from people who think that it is a Confederate flag .

Kjersten and Greg Offenecker, owners of The Nordic Pineapple, hung the flag opposite of the American flag after they moved into the Civil War-era mansion in 2018, the Lansing State Journal reported. They took both flags down last week.
---

A faction of BLM hijacked cities today: It's a madhouse! A madhouse!

Brasidas • 5 days ago

Sounds like a worthy read.

Vitam Regit Fortuna, Non Sapientia
Fortune rules the world, not Wisdom
Cicero

Caeca dea est rerum rectrix; Fortuna vocatur:
Non minus at caeci, quos dea caeca regit.
A blind goddess rules the world, called Fortune.
But they are no less blind whom the blind goddess rules.
Owen

"Sh*t happens."
Anonymous

"Life is a crapshoot."
Me

Brasidas • 5 days ago

" Imagine a t-shirt that reads S**T HAPPENS*" and then, in much smaller print below, "*subject to selective evolutionary pressures."
Its difficult for me to speak objectively because I haven't read a newspaper in reliably for about 40 years and even then I got very tired on news reporting always being biased to the left and sensationalizing the news which was right around the time when real objective investigatory news ended and commentator based news as well as entertainment news started to take over.

kalendjay L RNY • an hour ago

A leftist newspaper is always the one that advertises butt lifts and lawyers.
THE HEAVENS -- Admonishing His flock for concerning themselves with human affairs beyond the ballpark, God, Our Heavenly Father and the Creator of the Universe, reminded angels Wednesday that helping struggling baseball teams was their number-one priority. "If I don't see you giving a lackluster batter the strength to hit a home run, I'm shipping your ass out," said the Lord Our Savior, clarifying that MLB players experiencing family strife, which could be solved with a World Series win, should receive priority status. "I understand some of you are new here and want to help poor and sick people, but you need to understand that we focus on scrappy ball clubs. That's the point of religion. Sure, every now and then I'll grant a dying child's wish, but that's for Me to worry about. You should spend most of your day distracting elite baseball teams, so tenacious underdogs can score off errors." At press time, God banished six angels from His heavenly kingdom for gambling on the Yankees.
STANFORD, CA -- In a survey of how the nation's local officials have responded to the pandemic in the absence of a consistent federal approach, Stanford University researchers confirmed Monday that more cities have begun offering drive-thru Covid-19 injection sites to put citizens out of their misery. "By injecting people with SARS-CoV-2, these pop-up locations provide an effective way to escape the endless anguish, gloom, and isolation this virus has inflicted upon us -- and all from the convenience of one's car," said report co-author Sara Pappas, explaining that a certain percentage of those receiving the injection inevitably die, but whether through death or immunity, all those infected receive sweet release from an untenable situation they just can't take anymore. "Individuals who have experienced feelings of hopelessness or despair in recent months may wish to seek out one of these drive-up facilities. Restaurant and service workers who interact with the public on a regular basis can generally receive their injections for free, and those with health insurance are covered as well, with most insurers paying the full cost of the injection and up to 10% of any subsequent hospitalizations." Pappas went on to state that if only 80 to 90% of Americans would visit these Covid-19 injection sites, the pandemic would be over in weeks.
Actually the fact that Ford foundation and Soros Open Society finance this cult makes the picture below much less funny.
The picture also say something about the myth of high IQ of Asian students. Or, more correctly, that high IQ persons can be a obscure cult members too. This girl probably understand that at the foundation of inequalities of blacks in moden society lies neoliberalism, and outsourcing of jobs which deprive many black so menaningful way to earn their living.
Feelings don't care about facts. The mass hysteria that's gripped the Western world after the death of George Floyd can't be explained in rational terms

... the facts are almost irrelevant. We're dealing with faith , religious ecstasy. We're in the midst of BLMania.

Collective frenzies aren't new. Almost every American knows about the Salem witch trials, during which Christians claimed they saw demons and devils.

Ann Coulter analyzed mobs in her 2011 book Demonic . She heavily cited Gustave Le Bon's famous 1895 book The Crowd: A Study of the Popular Mind . Miss Coulter said a mob is "an irrational, childlike, often violent organism that derives its energy from the group" and is "intoxicated by messianic goals."

This new faith even has holy sites and sacred rites. The site of George Floyd's killing is now a shrine , with white activists declaring it "holy ground." According to journalist Michael Tracey , the unwashed police generally do not enter this sanctum sanctorum .

What can we call this death-cult? Some leftists, including Ignatiev, called for "abolishing" the white race.

The creed's violence, militancy, and destructiveness lead me to call it Eradicationism. Like some Christian sects, whites who embrace it want collectively to abandon the world, if not through suicide then by failing to reproduce. Instead of making the world better "for ourselves and our posterity," they will expunge their blood guilt by ending their line. White Saviors share a curious mix of self-hatred and self-exaltation, something we see when white protesters post themselves indulging in BLMania online.

Worse, because this creed is impervious to truth, it must always seek new scapegoats (or devils) for egalitarianism's continuing failure. Despite the constant funding, programs, and repression, equality never arrives.

Black Lives Matter is more sacred than the American flag or Christ. Federal agents , police , military , athletes , politicians , and many others all genuflect before BLM. Many would never bow before God. This new, powerful faith even has a liturgical calendar and a hymn built on a sacred myth.

This is the thinking of a fanatic religious sect, like the one Jim Jones led . "We were too good for this world," Jones said before the infamous mass suicide.

This ends in denying truth itself. Claire Lehmann found a slide at an education conference in Washington that said that "if you conclude that outcomes differences [sic] by demographic subgroup are a result of anything other than a broken system, that is, by definition, bigotry." Actually, bigotry is "obstinate or intolerant devotion to one's own opinions and prejudices." We've now come full circle, and define bigotry as not being bound by opinions and prejudices.
AnonFromTN , says: July 29, 2020 at 6:48 pm GMT

In the next US presidential election, we are going to have a choice between a psychologically immature moron and a senile moron. If that is Putin's fault, he should be faulted for solar eclipses.
>

WaywardSand
It's Not Awful, But Not Great Either

3.0 out of 5 stars It's Not Awful, But Not Great Either Reviewed in the United States on June 24, 2020 Verified Purchase I went for the Kindle edition.. because of the large credit back to purchase other kindle books. So I was only out of pocket a few buck to directly read for myself what Bolton has penned here.

1) Bolton is going to need prolonged physical therapy for the damage done to his arm with so much self-serving patting of his own back. Seriously... he devalues his entire effort with this sort of narcissistic bent.

2) There is not that much new in the book, that is not already publicly known through real journalists reporting on the Trump administration. I think some folks were gleeful to see a warhawk republican turn on Trump... but honestly.... nothing impacts what Trump does.. so this is largely fantasy wishes by anti-Trumpers. Note: I am an anti-Trumper.

3) If you want to read the sorted snippets of "rumors" from within the white house.... this book will provide entertainment.... but again.. nothing much new. And we already have numerous books and real journalist coverage of all of this already.

4) I guess it is possible that some journalist will find some new clue to pursue in reading this book... but time will tell on that.

5) you do get a much clearer view of Bolton's ideology and world view in this book.. and that is because that is really what Bolton is focused on...... pushing Bolton ideology and world view in foreign policy.

6) while I rarely agree with Bolton's viewpoint on anything... at least he is honest and transparent about his viewpoints... AND.. unlike Trump... consistent.

3 months from now.. nobody will be talking about or reading this book. So.. this is yet another flash in the pan of "inside dirt" on Trump. Bolton will keep his big fat advance, and book royalties, but he will also have Trump hounding him in court for years... demanding every single dime earned be taken away and given to Trump as some sort of "reparations"... and that will be the most interesting outcome from this book... Trump V Bolton in court.
What do you call 435 lawyers and/or Congress critters on the bottom of the ocean floor? A good start. nadler can't win the party against Barr. If this were chess Barr is a grossmeister and Wander is a wanna-be.
One big gotcha show, offending everyone's sense of fair play. Appalling, but will play very differently on both sides of the fence.

Democrats forget how many were totally disgusted by the media's relentless gotcha shows in 2016. So watching all the Democrat congress people engage in the exact same sh*t show for three hours was disgusting.

Thank goodness for both Barr and Jordan not losing their cool. Favorite line was Barr claiming they could have held the hearing without him, when one complained how long they had waited to "ask" him questions.

Posted by: Deap | 28 July 2020 at 05:04 PM

What do you call 435 lawyers and/or Congress critters on the bottom of the ocean floor? A good start.

Posted by: Rick Merlotti | 28 July 2020 at 07:54 PM
Nadler looks like an arrogant narcissist of Schiff vintage. Remember politicians were the same obnoxious kids in high school who never got over the thrill of being class secretary.
The lack of decorum create a very strong impression of a accomplished conversion to the banana republic. From comment "Congressional porch apes flinging their feces during the Barr "hearing".
Notable quotes:
"... Democrats don't have a shred of decency to run on in 2020. ..."
Deap , 29 July 2020 at 12:17 AM

"Reclaiming my time" - one minute supercut: https://news.grabien.com/story-supercut-democrats-demand-ag-barr-testify-not-actually-talk

Deap , 29 July 2020 at 12:25 AM

Part Two: "Reclaiming my time", sauced up with in your face insults at Barr: https://www.weaselzippers.us/453114-barr-was-barely-allowed-to-answer-a-single-question-today/

Anyone who missed watching the full hearing, you can now get the flavor of the entire three hours in only these two minutes of takeout clips. I can only wonder what Nancy Pelosi really thought - not what she will say - but she is a savvy pol - what she really thought. Between the Biden-Harris ticket and the disgusting clown show today, Democrats don't have a shred of decency to run on in 2020.
vk , Jul 28 2020 12:32 utc | 149

US Citizens in Iceland Want Ambassador Removed Amid Firearms Dispute, COVID-19 Controversy

A petition to relieve US Ambassador to Iceland Jeffrey Ross Gunter of his duties has been placed on the White House site.

In the petition, Gunter is accused of "misrepresenting" the people of the US in Iceland, as well as mismanaging consular services and offending Iceland, an "invaluable US ally".

One of the reasons for their discontent is that Gunter, despite being assigned to a country that has consistently ranked as the most peaceful in the world, wanted the State Department to obtain a special permission to carry a gun. CBS described Gunter as "paranoid" about his security since coming to the Icelandic capital of Reykjavik and reported that he also sought door-to-door armoured car service, as well as a stab-proof vest. At the same time, the US Embassy in Iceland placed a job listing in Icelandic newspapers looking for local bodyguards in what US government officials described as a bid to "placate Gunter's irrational concerns".

Those annoying provincials. They don't know civilization...
aquadraht , Jul 28 2020 5:36 utc | 121

Just read an "opinion piece" demonstrated how remote from reality are not only people like Pompeo from a"liberal" commentator:

https://www.msn.com/en-us/news/world/pompeos-surreal-speech-on-china/ar-BB17bk0t

The Chinese Communist Party wants a tributary international system where smaller countries are deferential to larger powers, instead of a rules-based international order where small countries enjoy equal rights.

HAHAHA!
Joe Biden's alternate reality: "I know a fair amount about American foreign policy." Reality Check from Robert Gates, Obama/Biden's former defense secretary: Biden has "been wrong on nearly every major foreign policy and national security issue over the past four decades."
BTW t he US death rate per capita is below that of Belgium, the UK, Spain, Italy, Sweden, Peru (which is surprising), Chile (another surprise), and France.
I remember signs on businesses that said "No shirts, no shoes: no service". I don't recall morons screaming at underpaid clerks about their constitutional right not to wear a shirt or shoes.
Population density has at least something to do with it. Big cities are the hardest hit, as would be expected and they shoud insist of people wearnign masks in closed spaces. No exception. .
I fail to see your problem with masks. My grandfather wore a gas mask on the front during World War 1. I wear a mask, indeed a N99 mask, when sawing concrete or doing fine wood sanding. When I was in the chemical process industry, some stations had Oxygen rebreathers to deal with the hazards in case of accidents. Medical staff have always worn respirators around patients with airborne diseases, as have researchers handling such agents. Covid-19, Tuberculosis, and late stage plague are all airborne. Wearing a mask when in a situation when you are potentially exposed is common sense.

So wearing my N99 mask when I go shopping is a trivial additional step. I actually wear nitrile gloves as well - I had them for dealing with paints and solvents.

Now I have had to give up eating out and going to my professional society meetings. I am not happy about that, but I am not willfully stupid. I am approaching 70...
People's old ways of understanding what's going on in the world just aren't holding together anymore.

Trust in the mass media is at an all-time low, and it's only getting lower.
People are more aware than ever that anything they see can be propaganda or disinformation.
Deepfake technology will soon be so advanced and so accessible that nobody will even trust video anymore.
The leader of the most powerful country on earth speaks in a way that has no real relationship with facts or reality in any way, and people have just learned to roll with it.
Ordinary people are hurting financially but Wall Street is booming, a glaring plot hole in the story of the economy that's only getting more pronounced.
The entire media class will now spend years leading the public on a wild goose chase for Russian collusion and then act like it's no big deal when the whole thing turned out to be completely baseless.

... ... ...

New Cold War escalations between the U.S.-centralized empire and the unabsorbed governments of China and Russia are going to cause the media airwaves around the planet to become saturated in ever-intensifying propaganda narratives which favor one side or the other and have no interest in honestly telling people the truth about what's going on.
It's difficult to understand what's going on in the world because powerful people actively manipulate public understanding of what's going on in the world.

Powerful people actively manipulate public understanding of what's going on in the world because if the public understood what's going on in the world, they would rise up and use their strength of numbers to overthrow the powerful.

The public would rise up and use their strength of numbers to overthrow the powerful if they understood what's going on in their world because then they would understand that the powerful have been exploiting, oppressing, robbing, cheating and deceiving them while destroying the ecosystem, stockpiling weapons of Armageddon and waging endless wars, for no other reason than so that they can maintain and expand their power.

The public do not rise up and use their strength of numbers to overthrow the powerful because they have been successfully manipulated into not wanting to.
Remember, Antifa is a myth, folks
In a perfect example of the disconnect between Ivory tower Democrats and reality, Rep. Jerry Nadler (D-NY) gave a shocking answer when writer-producer Austen Fletcher asked him if he would disavow Antifa violence in cities like Portland.

After a brief pause, Nadler said it was a "myth that's being spread only in Washington D.C."

To which Fleccas replies: "Sir, there's videos everywhere online. There's fires and riots and they're throwing fireworks at federal officers. DHS is there. Look online."
Authored by Rick Moran via PJmedia.com,

If you're looking for peak idiocy from academic institutions who are falling all over themselves to kowtow to the mob's notions of "social justice," look no further.

The English Department at Rutgers University has declared that proper use of grammar is a hidden form of racism because it disadvantages students of "multilingual, non-standard 'academic' English backgrounds."

---

JoePorkChop , 19 minutes ago

This complements nicely the goal to dumb down all students attending university. Why try and build up those so called disadvantaged when you can bring everyone else down to their level... Brilliant.

zipit , 19 minutes ago

Ebonics, yo.

Ajax_USB_Port_Repair_Service_ , 19 minutes ago

The University of Wisconsin didn't like my English at all. My English professor told my I was flunking her class after I submitted my first assignment. I think I could really fit in at the Rutgers English Department.

Downhill from here , 5 minutes ago

Depends entirely on your gender and ethnicity.
We need to stop reading MSM. Go fishing. Go for a walk. Take up a hobby. Ignore mainstream media and politics.
"Looking at Biden vs Trump almost makes me long for the days of the 2016 election – almost. As I have written, Trump is out of his depth dealing with these crises, and the generals who could have helped him are long gone – and gone on bad terms, at that. Biden is so visibly senile the only question is whether he drops out as soon as his VP is announced (who then moves into the lead slot & picks her own VP), or is propped up through the election like Brezhnev in his final year.

"Trump it seems has boxed himself into a corner. This situation needed decisive, tough action up front, and that didn't happen. Now we have simmering violence & renewed lockdowns to keep the pot boiling. We simply may not make it to November without a three (or four?) – sided civil war – I would hate to make book on it either way, the right spark and the whole thing blows up. But if we get to the election, what then? If Trump wins, the DNC-Antifa-BLM "Axis of REAL Evil" which is fueling these crises (aided by the MSM, of course) will shriek 'foul!' and the cities burn again, at which point old guys like me & my veteran neighbors & younger versions of us pick up our AR-15s and fight it. If Trump loses, the same thing happens between November & January. We are, my old friend (well, younger friend .!) heading between political versions of Scylla & Charybdis with broken rudders. Barring a miracle (and I hope SO much I am wrong!), this will make the 1861-65 war seem like a walk in the park."

obwandiyag , says: July 23, 2020 at 7:26 pm GMT

@Kevin Barrett

Thank you for that. I oppose BLM "antiracism" color-revolution whatever-it-is, and I oppose police brutality, too. Am I crazy?
Christian J. Chuba , Jul 26 2020 15:54 utc | 7

Made the mistake of watching Fareed Zakaria show

The good , a 5 minute segment where a guest picked winner / loser countries post covid19 world.
Winners: Germany, Taiwan, and Russia, Loser: United States.
It was amusing to watch Zakaria's face contort at the mention of Russia being named a winner, 'wha-whaaaaaaat?' The guest had to reassure Zakaria that Russia is a crap country and only benefits because of Putin's Fortress Russia campaign and low debt making it capable of weathering storms. Zakaria's face still frozen in a mask of horror.

The bad a rather long segment on Russia, China, and Iran's meddling campaign for our next election. This was more painful to me then when I had appendicitis and had to wait several hours before anyone could drive me to the emergency room.
1. Two experts, a China hater and a Russia hater from different 'Institutes'

2. The gratuitous adding of Iran to the list without explanation. Pro-Iranian views are invisible.

3. Russian hatefest was over the top. It was a classic case of accusing Russia of what we do. Russia (aka United States) nihilistically creates trouble and by amplifying discord in other countries in order to deflect from their own domestic problems and foreign adventurism in places like Syria and Ukraine.

Nihilistic spoilers? We the U.S. lost in Syria but are now trying to create a quagmire for Russia and are pulling out all of the stops to make Syrians brutally suffer with a full scale trade embargo and partition of their country.
fzrkid , 4 hours ago

I wonder why the BLM clowns havnt said anything about all the 'brown' people the military has killed, woman and children included...
By Graham Dockery, Irish journalist, commentator, and writer at RT. Previously based in Amsterdam, he wrote for DutchNews and a scatter of local and national newspapers.

Dark, incisive, and anti-authoritarian, George Carlin was a rebel until death. Now the woke left have claimed him as their own, a figurehead in their anti-Trump crusade. But George's legacy isn't one of feelgood social justice.

"They call it the American dream, because you have to be asleep to believe it," Carlin sneered in a famous 2005 monologue. In a devastating broadside against politicians, the media, corporate interests, and the "dumb ass motherf**kers" who remain ignorant to the "big red white and blue d**k jammed up their a**holes everyday," Carlin takes no prisoners, and the crowd delights in his shredding of the status quo.

Now, a group of activists based in Portland have repackaged the famous monologue, putting it alongside video clips of President Donald Trump's America: race riots, coronavirus deaths, and of course, Trump shaking hands with Vladimir Putin. "#AmericaWakeUp," reads a caption at the end of the clip.

https://platform.twitter.com/embed/index.html?creatorScreenName=RT_com&dnt=false&embedId=twitter-widget-0&frame=false&hideCard=false&hideThread=false&id=1287284095286796291&lang=en&origin=https%3A%2F%2Fwww.rt.com%2Fusa%2F495910-george-carlin-trump-video%2F&siteScreenName=RT_com&theme=light&widgetsVersion=9066bb2%3A1593540614199&width=550px

Released on Sunday, the video was cheered by the anti-Trump brigade. "This video is completely devastating for Trump," one activist wrote . "George Carlin gives him the finger from the grave." More commenters shared the video, encouraging their followers to vote Democrat in November.

However, Carlin's hatred for politicians and the elite was not just limited to the Republican Party. Throughout his career, Carlin ripped on the "criminal" administration of Ronald Reagan, both Bushes' fondness for "bombing brown people," and Bill Clinton, who he said "might be full of shit, but at least he lets you know it."

The "big club" Carlin talked about in the latest video included Democrat and Republican lawmakers, and Carlin didn't shy away from skewering both.

Furthermore, Carlin's best and most loved routines were written and performed when the right held more cultural sway in the US. From Nancy Reagan's moralizing to the media-enforced patriotism of the post-9/11 years, Carlin could count on the right as a reliable target. Times have changed though, and the left holds far more power now than it did two decades ago. Conservatives are regularly 'deplatformed' on college campuses, politically incorrect speech can jeopardize one's career, and the consensus enforced by the mainstream media is overwhelmingly a liberal one, no matter how many clips of Fox News' Tucker Carlson the Portland activists can splice into their video.

"Political correctness is America's newest form of intolerance," Carlin wrote in 2004, adding "political correctness is just fascism pretending to be manners." In an autobiography published a year after his death in 2008, he was even more explicit.

"The habits of liberals, their automatic language, their knee-jerk responses to certain issues, deserved the epithets the right wing stuck them with," he wrote. "Here they were, banding together in packs, so I could predict what they were going to say about some event or conflict and it wasn't even out of their mouths yet Liberal orthodoxy was as repugnant to me as conservative orthodoxy."

Carlin is unfortunately not alive to offer his opinion on the times we live in. However, it's not difficult to imagine him scoffing at the media's non-stop 'Russiagate' hysteria , just as he scoffed at the media's coverage of the Gulf War in the 1990s, accusing the press of working as an "unofficial public relations agency for the United States government." It's also easy to picture him tuning out of the 'Orange Man Bad' liberal consensus on Trump, even if he would probably savage his policies and personality.

That's assuming he would even have a stage in the first place. After all, Carlin delighted in provoking the would-be speech police, with his 1970s '7 Dirty Words' routine aimed explicitly at angering the censors. An updated version of this routine could well see him canceled by the woke torchbearers of the social justice movement.
Closing consulates is far from the best foreign policy and fat Pompeo known it. It just starts the unnecessary and counter productive spiral of retaliation and Chinese have more leverage over the USA as more the USA diplomatic personnel woks in China than the china diplomatic personnel in the USA. They were always burned in Russia and now they stepped on the same rake again.
---

Musum , 8 hours ago

One good turn deserves another.

Maybe fat Pompeo knows he's on his way out and desperate to make a lasting mark on the geopolitical stage on behalf of the West Point mafia and his brothers-in-arm at the Jweish mafia.

QABubba , 8 hours ago

Quit stealing Russian consulates, Chinese consulates, etc.

It serves no purpose.

Haboob , 7 hours ago

Closing diplomacy with nations as USA shrinks on the world stage shows America's juvenile behavior.

Salisarsims , 7 hours ago

We are a young twenty something nation what do you expect but drama.

Haboob , 7 hours ago

It is funny how the young and arrogant always think they are right and have manifest destiny over the old and wise. The young never listen to the old and as the story goes they are defeated everytime. China is older than America, older than the west, they understand this world we are living in far more than we do.

me or you , 9 hours ago

He is right!

The world has witnessed the US is not more than a banana Republic with a banana healthcare system

To Hell In A Handbasket , 9 hours ago

I love seeing how gullible the USSA dunces are susceptible to hating an imaginary enemy. Go on dunces wave the star spangled banner, and place the hand over the heart, you non-critical thinking imbeciles. I told you fools years ago we are going to invoke the Yellow Peril 2.0, and now we are living it. China bad, is just as stupid as Russia bad, while the state stenographers at the MSM netowrks do all in their power to hide our rotten behaviour.

Who falls for this ****? The poorly educated, and the inherently stupid.

To Hell In A Handbasket , 8 hours ago

No, it's called nationalism or self preservation.

What are the citizens of the US suppose to do,

You are wrong on so many levels, but ultimately the Chinese have beaten us at our own rigged game. When I was riling against unfettered free-markets, and the movement of capital, that allowed the west for centuries to move into undeveloped foreign markets and gain a stranglehold, I was called a communist, and a protectionist.

While the USSA money printing b@stards was roaming around the planet like imperialists, and their companies was not only raping the planet, but gouging foreign markets, the average USSA dunce was brainwashed into believing USSA companies were the best.

Now these same market and economic rules we the west have set for the last several hundred years no longer work for us, we want to change the rules. Again, my point is "where was you on this position 5-10-20-30 years ago?" I've always seen this outcome, because logic said so. To reject our own status quo, and return to mercantilism, makes us look like the biggest hypocrites ever.
Roberto Gentilli , says: July 24, 2020 at 3:59 pm GMT

If you allow a foreigner to give advice (although I should mind my own business) this is one proposal to save America. President Trump goes to the Republican Convention and says: "I admit that I am problematic, we all know that it is unfair, but we had four years of lies and derangement, and it was not my fault, but anyway I don't accept the nomination, I step back and I propose as candidate Tucker Carlson. Please give him a standing ovation". Then have a live TV debate between Carlson and Biden.

obwandiyag , says: July 25, 2020 at 2:36 am GMT

@Roberto Gentilli

Sounds wonderful.

You know, of course, that Carlson is just as compromised, more probably, as Trump or Obama or Biden or you name it, don't you? And just as blackmailable and just as bribable?
"There is no good future for the US if neoliberalism, and neoliberal elites, continue to rule." -- Ian Welsh
How can there be a constitutional crisis when neither party, nor any federal or local law enforcement, actually recognizes the constitution any more? It's absurd.

Submitted by The Wizard on Wed, 07/22/2020 - 1:06pm The Deep State is in fact extra-constitutional

The CIA, NSA, and all the other XYZs in the War Department believe strongly that they set policy. In effect, that they are in charge and know best. How does that fit in with the Constitution. Where are these powers specified?

The Treaty Clause is part of Article II, Section 2, Clause 2 of the United States Constitution that empowers the President of the United States to propose and chiefly negotiate agreements between the United States and other countries, which, upon receiving the advice and consent of a two-thirds supermajority vote of the United States Senate, become binding with the force of federal law .

(My Bold)

Since we ratified the UN Charter that makes all of our wars of aggression unconstitutional and war crimes. Our use of phosphorus and napalm are war crimes.
The more money a member of Congress accepts from the defense industry, the higher the probability that they'll vote how the defense industry wants them to vote. (So probably what you expected.)

... ... ...

If you order the members of Congress based on the amount each of them accepted from the defense sector (2020 cycle) with their respective votes then break your list down (roughly) into fourths, you'll get something that looks like this:

Amount member accepts from defense
industry Likelihood that member lets us down Less than $3,000 70% $3,000-$9,999 77% $10,000-$29,999 84% More than $30,000 More than 98% Notes

41 House Democrats didn't let us down (in this case)

These 41 received (on average) $7,005.63 in campaign contributions from the defense industry so far in this election cycle

179 House Democrats did let us down

These 179 received (on average) $30,075.85 in campaign contributions from the defense industry so far in this election cycle

Adam Smith , Democratic Chair of the House Armed Services Committee, has received $376,650.00 in campaign contributions from the defense industry so far in this election cycle. (He also named the NDAA after his Republican counterpart.)
Zalamander

One by one the so-called Russiagate "evidence" have collapsed. The fake Steele Dossier, "Russian spy" Joseph Mifsud who is actually a self-admitted member of the Clinton Foundation, Roger Stone's non-existant Wikileaks contacts, Russian Afgan bounties, etc. But the neoliberal mainstream media still presents these as "facts" with no retractions.

This is not journalism, its disinformation designed to distract the American public from the failures of capitalism.
MARK CHAPMAN July 24, 2020 at 9:14 am

With some tweaks for technique, the same method bragged about by Bill Browder as "The Hermitage Effect", and if truth be known, a similar method to those of venture capitalists everywhere. Nobody has time to wait anymore for a company's stock to take off, and guess right so that you are ahead of the curve – investors want to be rich nownownow, and venture capitalists have learned you can make your own luck. Browder billed himself as an 'activist investor', because his claim was that he was actually doing the company a favour, trying to help it succeed with western governance procedures and transparency and all that. He would identify a company which he assessed was undervalued, and then begin a whisper campaign against it – the bosses were on the take, lots of merchandise going out the back door, cooking the books to conceal the losses, bla, bla, bla. The company's stock would fall, and Hermitage would buy in when it felt the government's attention had been attracted and it would try to save the company. Government investigation, some management changes and maybe a government contract or some orders. Confidence returns, stock goes up, Browder rakes in the cash and virtuously claims to have saved the company's bacon, when it was his destabilizing efforts that made it shaky in the first place.

Singer is more like Richard Gere's billionaire capitalist in "Pretty Woman" – buying up companies, busting them up, stripping off the salable assets and selling the husk; a real-life example would be Mitt Romney.

https://www.rollingstone.com/politics/politics-news/greed-and-debt-the-true-story-of-mitt-romney-and-bain-capital-183291/
---

Roger Thornhill 2 hours ago If I recall correctly, Obama gave the Russians all of 48 hours to leave their consulate in San Francisco, which had been occupied since the 19th Century. This was around Christmas time in 2016. So I don't find this particularly surprising. Two days to have the diplomats, staff, and families completely out of the country.
he FBI agents who gave Donald Trump his first intelligence briefing during the 2016 election season had already opened an investigation into ties between Trump's team and Russian officials, a document declassified on Thursday shows.

That document is a seven-page summary of the briefing on August 17, 2016, written about two weeks later and filed as part of the Crossfire Hurricane investigation. The summary was written by agent Joe Pientka, who took part in the briefing, and approved by Peter Strzok and Kevin Clinesmith. (Strzok was dismissed from the FBI following the leak of his politically-charged, anti-Trump texts, while Clinesmith is a lawyer accused of altering a document used to renew a FISA warrant on former Trump-campaign adviser Carter Page.)
Notable quotes:
"... CaitlinJohnstone.com ..."
"... The New York Times ..."
"... The Washington Post ..."
"... This article was re-published with permission. ..."
"... The views expressed are solely those of the author and may or may not reflect those of Consortium News. ..."
COVID-19: 'Putin Hacked Our Vaccine' Is Dumbest Story Yet July 17, 2020 Save

Caitlin Johnstone tackles the latest "Russiavape" story.

By Caitlin Johnstone
CaitlinJohnstone.com

O MG you guys Putin hacked our coronavirus vaccine secrets!

Today mainstream media is reporting what is arguably the single dumbest Russiavape story of all time, against some very stiff competition.

"Russian hackers are targeting health care organizations in the West in an attempt to steal coronavirus vaccine research, the U.S. and Britain said," reports The New York Times .

"Hackers backed by the Russian state are trying to steal COVID-19 vaccine and treatment research from academic and pharmaceutical institutions around the world, Britain's National Cyber Security Centre (NCSC) said on Thursday," Reuters reports .

"Russian news agency RIA cited spokesman Dmitry Peskov as saying the Kremlin rejected London's allegations, which he said were not backed by proper evidence," adds Reuters.

https://platform.twitter.com/embed/index.html?dnt=true&embedId=twitter-widget-0&frame=false&hideCard=false&hideThread=false&id=1283787832549691395&lang=en&origin=https%3A%2F%2Fconsortiumnews.com%2F2020%2F07%2F17%2Fcovid-19-putin-hacked-our-vaccine-is-dumbest-story-yet%2F&theme=light&widgetsVersion=9066bb2%3A1593540614199&width=550px

I mean, there are just so many layers of stupid.

First of all, how many more completely unsubstantiated government agency allegations about Russian nefariousness are we the public going to accept from the corporate mass media? Since 2016 it's been wall-to-wall narrative about evil things Russia is doing to the empire-like cluster of allies loosely centralized around the United States, and they all just happen to be things for which nobody can actually provide hard verifiable evidence.

Ever since the shady cybersecurity firm Crowdstrike admitted that it never actually saw hard proof of Russia hacking the DNC servers, the already shaky and always unsubstantiated narrative that Russian hackers interfered in the U.S. presidential election in 2016 has been on thinner ice than ever. Yet because the mass media converged on this narrative and repeated it as fact over and over they've been able to get the mainstream headline-skimming public to accept it as an established truth, priming them for an increasingly idiotic litany of completely unsubstantiated Russia scandals, culminating most recently in the entirely debunked claim that Russia paid Taliban-linked fighters to kill coalition forces in Afghanistan.

Secondly, the news story doesn't even claim that these supposed Russian hackers even succeeded in doing whatever they were supposed to have been doing in this supposed cyberattack.

"Officials have not commented on whether the attacks were successful but also have not ruled out that this is the case," Wired reports .

Thirdly, this is a "vaccine" which does not even exist at this point in time, and the research which was supposedly hacked may never lead to one. Meanwhile, Sechenov First Moscow State Medical University reports that it has "successfully completed tests on volunteers of the world's first vaccine against coronavirus," in Russia.

Fourthly, and perhaps most importantly, how obnoxious and idiotic is it that coronavirus vaccine "secrets" are even a thing?? This is a global pandemic which is hurting all of us; scientists should be free to collaborate with other scientists anywhere in the world to find a solution to this problem. Nobody has any business keeping "secrets" from the world about this virus or any possible vaccine or treatment. If they do, anyone in the world is well within their rights to pry those secrets away from them.

https://platform.twitter.com/embed/index.html?dnt=true&embedId=twitter-widget-1&frame=false&hideCard=false&hideThread=false&id=1283875929152909312&lang=en&origin=https%3A%2F%2Fconsortiumnews.com%2F2020%2F07%2F17%2Fcovid-19-putin-hacked-our-vaccine-is-dumbest-story-yet%2F&theme=light&widgetsVersion=9066bb2%3A1593540614199&width=550px

This intensely stupid story comes out at the same time British media are blaring stories about Russian interference in the 2019 election, which if you actually listen carefully to the claims being advanced amounts to literally nothing more than the assertion that Russians talked about already leaked documents pertaining to the U.K.'s healthcare system on the internet.

"Russian actors 'sought to interfere' in last winter's general election by amplifying an illicitly acquired NHS dossier that was seized upon by Labour during the campaign, the foreign secretary has said," reports The Guardian .

"Amplifying." That's literally all there is to this story. As we learned with the ridiculous U.S. Russiagate narrative , with such allegations, Russia "amplifying" something can mean anything from RT reporting on a major news story to a Twitter account from St. Petersburg sharing an article from The Washington Post . Even the foreign secretary's claim itself explicitly admits that "there is no evidence of a broad spectrum Russian campaign against the General Election."

"The statement is so foggy and contradictory that it is almost impossible to understand it," responded Russia's foreign ministry to the allegations. "If it's inappropriate to say something then don't say it. If you say it, produce the facts."

https://platform.twitter.com/embed/index.html?dnt=true&embedId=twitter-widget-2&frame=false&hideCard=false&hideThread=false&id=1283786417206956034&lang=en&origin=https%3A%2F%2Fconsortiumnews.com%2F2020%2F07%2F17%2Fcovid-19-putin-hacked-our-vaccine-is-dumbest-story-yet%2F&theme=light&widgetsVersion=9066bb2%3A1593540614199&width=550px

Instead of producing facts you've got the Murdoch press pestering Jeremy Corbyn, the Labour Party candidate, on his doorstep over this ridiculous non-story, and popular right-wing outlets like Guido Fawkes running the blatantly false headline "Government Confirms Corbyn Used Russian-Hacked Documents in 2019 Election." The completely bogus allegation that the NHS documents came to Jeremy Corbyn by way of Russian hackers is not made anywhere in the article itself, but for the headline-skimming majority this makes no difference. And headline skimmers get as many votes as people who read and think critically.

All this new Cold War Russia hysteria is turning people's brains into guacamole. We've got to find a way to snap out of the propaganda trance so we can start creating a world that is based on truth and a desire for peace.

Caitlin Johnstone is a rogue journalist, poet, and utopia prepper who publishes regularly at Medium . Her work is entirely reader-supported , so if you enjoyed this piece please consider sharing it around, liking her on Facebook , following her antics on Twitter , checking out her podcast on either Youtube , soundcloud , Apple podcasts or Spotify , following her on Steemit , throwing some money into her tip jar on Patreon or Paypal , purchasing some of her sweet merchandise , buying her books " Rogue Nation: Psychonautical Adventures With Caitlin Johnstone " and " Woke: A Field Guide for Utopia Preppers ."

This article was re-published with permission.

The views expressed are solely those of the author and may or may not reflect those of Consortium News.

---

Putin Apologist , July 19, 2020 at 17:50

"How many more completely unsubstantiated government agency allegations about Russian nefariousness are we the public going to accept from the corporate mass media?"

The Answer is none. Nobody (well, nobody with a brain) believes anything the "corporate mass media" says about Russia, or China, Iran or Venezuela or anything else for that matter.

James Keye , July 19, 2020 at 10:26
Guy , July 18, 2020 at 15:32
But,but, but we never heard the words "highly likely" ,they must be slipping.LOL

DH Fabian , July 18, 2020 at 13:41
The Democrat right wing are robotically persistent, and count on the ignorance of their base. By late last year, we saw them begin setting the stage to blame-away an expected 2020 defeat on Russia. Once again, proving that today's Democrats are just too dangerous to vote for. Donald Trump owes a great deal to his "friends across the aisle."
jayc , Jul 22 2020 18:40 utc | 21

There's no way the trillion in T-bills will be seized/defaulted/whatever. The damage to US credibility will be unrecoverable.

It is certainly crazy time. AG Barr threatened major US corporations Disney & Apple with having to register as "foreign agents" due to their Chinese investments. Earlier in the year, the FBI and Congress decided to destroy the career of one of America's top scientists over failure to submit relatively inconsequential paperwork. These are the types of things which should result in a determined pushback against an intrusive national security state, but the balance of power in USA may have flipped.

J W , Jul 22 2020 17:01 utc | 4

Am I in an IMAX theater? Because there is so much projection going on here.
JOHN CHUCKMAN , July 17, 2020 at 11:18

"'Putin Hacked Our Vaccine' Is Dumbest Story Yet"

Agreed. It does seem almost as though there's a race for producing the dumbest in the ongoing stories. Maybe Pompeo offers secret bounties?

Russia and China have good vaccine candidates well along in testing.

It is sad that Western, American-dominated governments commit so much time and resources to the effort .

The flow of stories just never stops. It follows the old advertising and propaganda principle that if you throw enough crap at the wall, some of it will stick.

Just ask yourself, are there any figures in today's world leadership more dishonest and less trustworthy than the Trump tribe of Pompeo and Grenell and Bolton et al?

I just don't think so. Trump has been caught, again and again, lying to us about many matters, and his own niece says he is a sociopath.

Here is a well-written, incisive piece by a former Canadian security service man, expert on Russia, which sheds a great deal of light on all of this nonsense about Russia:

see: strategic-culture.org/news/2020/07/17/real-russian-playbook-written-english/
Prince Harry and Meghan Markle are perfect brand ambassadors for Black Lives Matter, which poses as a radical threat to the status quo, but, in reality, is one of the most elite-backed movements ever.

,,, News that the LA-based formerly royal duo, Prince Harry and Meghan Markle, are "shifting their focus " and will be putting their energy into supporting the Black Lives Matter movement is so predictable it's positively reassuring.

According to the US publication Entertainment Tonight , Meghan is "passionate" about supporting Black Lives Matter. Its royal expert opines: "the...movement matters to Meghan and it matters to Harry. And I understand that this is going to be an area where we're going to see the couple doing a lot more work and taking a lot more interest."

Of course they are! The only surprise is that anyone thought a slipped-out announcement was needed. The Duke and Duchess of Sussex have been leading us up to this point with all the subtlety of a bulldozer in front of a Confederate statue. From the first days of their relationship, they have highlighted every perceived slight and countered every criticism with accusations of racism.
vinnieoh , July 17, 2020 at 11:34

"Fourthly, and perhaps most importantly, how obnoxious and idiotic is it that coronavirus vaccine "secrets" are even a thing?? "

As I started in on this piece, I desperately hoped Caitlin would make this point. Just as soon as China sequenced the genome of this virus THEY PUBLISHED IT FOR ANYONE TO USE. Without that crucial grunt work, efforts to create a vaccine would be stumbling around in the dark.

But in the US it is disaster capitalism on parade.

There was a good joke posted by b, over at MoA:

Q: "What borders on insanity?"
A: "Canada and Mexico."
A UK charity arts chief has suggested British museums are hypocrites for showing solidarity with the Black Lives Matter movement, while the colonial artefacts they display are similar to that of Nazi-looted works.

Dr. Errol Francis, CEO and artistic director of arts charity 'Culture&', who has called for British museums and galleries to support the decolonization of their collections and reword racially sensitive artwork titles, has hit out at their recent public statements in support of BLM.

Francis accused the UK cultural institutions of hypocrisy for appearing to show support for oppressed black people on the one hand, while on the other still possessing items taken by force from African nations, such as the Benin Bronzes that were looted by the British in the late 19th century.
Neocon presstitutes like Appelbaum (actually a well paid MIC lobbyist in disguise) and MI6 connected criminals like like Browder are the feature of the US political landscape, not a bug. I actually did laugh at Browder's piece on the BBC though, were a money launderer and tax evader who left his book keeper to die in a Russian prison telling us we shouldn't trust the Russians.
US economic problems are greatly enhanced by the tremendous amount of defense expenditures (outspending the combined next seven leading countries in arms expenditures) and tax payer's money being wasted on paranoid obsessions likes what's mentioned here: http://markcrispinmiller.com/2020/07/a-visit-from-the-fbi/
A.I.S. JULY 21, 2020 AT 11:33 AM

How can anyone think that Bowder is an authority of anything other then high level Nigerian crown prince scams? Enrique JULY 22, 2020 AT 9:55 PM

Russia's goal? ..to sap and impurify all of our precious bodily fluids, of course. Didn't you read the report? Mikhail JULY 22, 2020 AT 8:18 AM

Talk about "Garbage In-Garbage Out", the idiocy behind that is how she/he/it punked out of live discussion:

https://www.bbc.co.uk/blogs/worldhaveyoursay/2007/08/a_new_cold_war.html

Much easier to lob pot shots from a distance where there's little, if any challenge. Enrique JULY 22, 2020 AT 9:31 PM

I think she finally found a husband and stopped ragging on western expats drooling over slavic women like schoolboys.


Enrique JULY 22, 2020 AT 9:11 PM

The article mentions Steele as a discredited participant but what about Applebaum, or are we to forget how her Polish husband was demoted by his own government for concocting a story about Putin offering to split Ukraine with Poland, at an alleged meeting that he was shown to have never attended. Poland no doubt sanctioned him for fabricating such an easily disproved event, certainly not out of any such notion as a search for truth.

That said, not having invited even a token moderate voice to this august 'panel of experts' speaks volumes about either the ignorance, the incompetence, the perfidy or just plain 'We don't really care what you think. We've done our duty' arrogance of the report's authors.
---


John R , July 18, 2020 at 11:15

The Russians did it (pick from the list of provided baseless accusations or add your own as desired, ie. the Russians stole my car) – it's the new version of "the dog ate my homework", only weaker.

michael888 , July 18, 2020 at 05:08

"We've got to find a way to snap out of the propaganda trance so we can start creating a world that is based on truth and a desire for peace."

Obviously Caitlin is on some strong recreational drug. This post-truth fact-free easily manipulated world view is EXACTLY where the DNC/ CIA/ Establishment MICIMATT wants us!

Tim Jones , July 18, 2020 at 01:15

"I mean, there are just so many layers of stupid." True, and Caitlin also helped me to see the humor in it.

Tom , July 18, 2020 at 01:00

The hacking fake news story indeed is very, very stupid one meant to be digested by stupid people. Firstly the global scientific community shares findings and information and publishes it in scientific magazines. Secondly if the UK had New or advanced research data that could lead to an effective and reliable vaccine, why than was it Russia who was able to produce that new vaccine and not the UK. The fake narrative simply does not add up. It's trash. The western media is a propaganda media.

Zhu , July 17, 2020 at 22:32

Too many Americans seem to be post-modernists, convinced there are no facts, only opinions. When reality bites their butts, they hop around like a scalded cat, looking for scapegoats.

Randal Marlin , July 17, 2020 at 21:15

The shame is not that a country might spy on vaccination research in search of a counter to a pandemic killing many thousands or even millions. It is that the principle of protecting profit over lives dooms the poor while preserving the lives of the rich. I think I know what Jesus would say about that principle.

DH Fabian , July 18, 2020 at 13:44

A pandemic requires a cooperative INTERNATIONAL effort, with scientists around the world working together, sharing data.

Daniel P. , July 17, 2020 at 12:15

Russiagate has made unbearably righteous twits of main stream Democrats. And it is completely disheartening to see the continued use of this psy-op to keep unthinking Dems in line.
Shame on the D party for foisting this fraud upon the public and pitting Dems against each other. But I guess that's what they do, isn't it?
ET AL July 21, 2020 at 6:01 am

This is a biggie:

Al's Jizz Error: Egypt's parliament approves troop deployment to Libya
https://www.aljazeera.com/news/2020/07/egypt-legislators-vote-deploying-troops-libya-200720141515828.html

Move comes as Libya gov't and Turkey demand an end of foreign intervention in support of commander Khalifa Haftar.
####

I suspect In'Sultin Erd O'Grand is a mole of the garden kind. He goes about digging one hole for himself after another. If he keeps this up, all the holes will merge in to one and he will disappear! It would give the West a chance to have someone running Turkey with a more reliably western perspective though I think it is clear that whatever comes next, Turkey will not allow itself to be treated as a western annex and pawn.
MOSCOWEXILE July 21, 2020 at 6:57 am

Rainsford of the BBC on that report (it's labelled as an "analysis"):

What this report has done is to present a broad picture of Russia as a powerful foe.
And I don't think in the Kremlin they will be too unhappy at that.

Cos Russia is really weak, see, and it wants to be big and strong, but it can't be because . because they're dullards and because . well, because they don't make anything, see, and their military is shit, it appears as terribly fearsome one, but it really is shit, Russian crap . although it is a real threat to the "Free World" because it is strong . but at the same time weak.

Russia is strong AND weak, see, and that's what peeves the Orcs because they want respect, see; they want the USSR back and they want a big tough tsar as well, see, which they have now, an autocrat, as in Russian imperial days of
glory, when everybody was scared shitless of them. But back then as now, Russia was strong AND weak, see, but you can never be too careful with Russians: they're genetically sly and deceitful, always denying the wicked things that we all know they have done.

They want to be the big boy on the block, see, and knock the USA off it's pedestal as leader by example and guiding light to the "Free World". And if that happened, wel civilization as we know it would cease and we would enter a new Dark Age.

That's why Sarah Rainsford, BBC Moscow correspondent, believes that they in the Kremlin will not be "too unhappy" in learning that the West views Russia as a "serious foe".

Of course, she hasn't a fucking clue about what "they" think in the Kremlin.

If I were one of "them" in the Kremlin, though, I would tell Rainsford to fuck off back to London. And to take her pal Rosenberg back with her as well.

I would tell them both to fuck off out of Russia before midnight tonight.

Heap of shite source:

Russia report: UK failed to investigate interference in elections

ET AL July 21, 2020 at 7:20 am

Maybe the real reason is that British intellience services gave little to the committee because they saw what a useless bunch of pompous pricks they are and were likely to do more damage if they were trusted with anything of note. After all, the Committee has nothing to lose by Russia bashing, whereas there is still cooperation on organized crime, terrorism (Russian tabs on western and foreign sponsored jihadis etc.) and other stuff that the UK services that are of significant value. This stuff is not publicised of course.
This is not simply projection on the part of UK MI5/MI6 duet, this is a real war on reality. UK false flag operation with Skripla poisoning (which probably was designed to hide possible role of Skripal in creating Steele dossier) now will forever be textbook example of evilness MI5/MI6 honchos.
If we think that GRU is the past was able to fight Abwehr to standstill, they really would now be worried about the blowback from Skripal mess.
A highly-anticipated report by the U.K. Parliament into Russia n interference in the country was released on Tuesday, claiming that Russian influence in the U.K. is the "new normal."

The Russia Report, published after months of delay, is the culmination of two years of fact finding by the U.K. Parliament's Intelligence and Security Committee (ICS), providing insights on the Salisbury Novichok poisonings , Russian financial influence and social media disinformation. The report said the U.K. was a "top target" for Russian interference.

The publication of the report comes a week after security services in the U.S., U.K. and Canada said that Russian hackers had been attempting to hack into global coronavirus vaccine research . The Kremlin has denied the accusations.

However, the report will likely disappoint observers who expected the ICS to detail how far Russia interfered in the bitterly contested Brexit Referendum of 2016 . Prime Minister Boris Johnson's was accused of withholding the publication of the report until after the election of December 2019, a claim they denied.
debard 1 day ago

The praetorian guard has become indistinguishable from the yellow journalists. Indict them all for treason.

russellremmert 1 day ago

is steel in prison yet Reply 12

DonEstif -> russellremmert 1 day ago

Almost, he's an expert pundit used by CNN

Ban-me Fagggot 1 day ago

If Russia stole the election when Obama was President, why wouldn't they steal the election when Trump is President? Democrats should protest by not voting. It wont make a difference.

TGrade1 1 day ago

Behind all of this, hidden behind the curtain, is a pants suit...

Justis -> TGrade1 11 hours ago

And more importantly, the then leader of the free world, Obama...
Trump has penchant to sticky nicknames ;-)
The the National Institute of Allergy and Infectious Diseases was actually on sidelines and did not yet contribute anything signigicat in understadning this coronavirus
The level of subservience of Fauci to Big Pharma is open for review
WASHINGTON -- Dr. Anthony Fauci on Monday rejected President Donald Trump's recent criticism of him in which he called the infectious disease expert an "alarmist."

... Fauci warned last week that the coronavirus pandemic could be as bad as the 1918 flu pandemic, which is estimated to have killed at least 50 million people worldwide. He also warned late last month that the number of COVID-19 cases could top 100,000 a day.
Tom 07.20.20 at 1:37 pm (
23 )

As a share of GDP, military spending today is half of what it was in 1986. Data here:

https://data.worldbank.org/indicator/MS.MIL.XPND.GD.ZS?locations=US

I am not a fan of military spending – following an excellent post by John about Eisenhower's famous speech (more tanks or more hospitals), I often use it as an example opportunity cost when teaching. One can certainly claim that the budget should be lower but, as a share of overall economic resources, the budget has been cut substantially in the last 30 years.

likbez 07.22.20 at 3:46 am ( 25 )

Your comment is awaiting moderation.

@Tom 07.20.20 at 1:37 pm

Funny, but "not a fan of military spending" for some reason sounds like a military contractor or, worse, MIC lobbyist ;-)

If you are not fun of military spending how do you explain

https://data.worldbank.org/indicator/MS.MIL.XPND.CD?end=2018&locations=US&start=1960&view=chart
MARK CHAPMAN July 18, 2020 at 9:58 am

I once thought the whole thing was a Big-Pharma scam to grab a shitload of cash. But Big Pharma – I don't think – would have engineered it to start in China, and it's not made-up;
MOSCOWEXILE July 17, 2020 at 9:17 am

Well waddya know!

White Helmets co-founder stole aid money destined for Syria – report

A former British officer and gentleman, no less!
MARK CHAPMAN July 17, 2020 at 11:58 am

Maybe this will give some people a different perspective on Lukashenko. He was offered ten times the previous amount discussed in negotiations for IMF loans, if he would impose a lockdown and follow western quarantine measures. He told them to get stuffed.

https://www.anti-empire.com/imf-demanded-lockdown-as-a-condition-of-loan-to-belarus-lukashenko-turned-it-down/

PATIENT OBSERVER July 17, 2020 at 12:16 pm

So, the IMF tried coercion to maintain the COVID hysteria. I wonder if other sorts of "inducements" were offered Russia.
---

MOSCOWEXILE July 19, 2020 at 10:03 am

Trump is a moron!

https://mobile.twitter.com/atrupar/status/1284846580747640835

By the way, Fort Bragg was named after Confederate General Braxton Bragg, and he was bloody useless -- in my opinion, the worst CSA general bar none!

MOSCOWEXILE July 19, 2020 at 10:07 am

Bum link, I think.

This is what the moron tweeted:

"We won two world wars. Beautiful world wars. That were vicious and horrible. And we won them out of Fort Bragg, we won them out of all of these forts, and now they want to throw those names away" .

MARK CHAPMAN July 19, 2020 at 11:07 am

Absent his usual ridiculous grandstanding and his babbling about 'I love that state' when he probably does not know what state Fort Bragg is in, I have to broadly agree with him.

... ... ...
MOSCOWEXILE July 19, 2020 at 9:33 pm

From what I have just read, creepy, touchy-feely Uncle Joe has an 11-point lead over the Moron:
ET AL July 20, 2020 at 1:56 am

Not much different from the British public (media). UKgov was in trouble last week for failing to have their own man as head of the toothless rubberstamping parliamentary intelligence and security committee, shortly afterwards UKGov amped up 'Russia wot stole our vaccine' and the whole UK media ran with it, save a couple of articles qustioning the 'timing'.

The thinking the US & UK have in common is that there is no cost to their lying. They're only thinking of the short term obviously, but they depend on the other to turn the cheek ignore it as 'domstic politiking.' Last saturday I saw the al-Beeb s'allah preview of RusAmb interview to be broadcast on Sunday. The anchor had an 'expert' to help her. Cue cherry brief picked quotes from the interview to make the Ambassador look weak and the 'expert' saying 'that's what you would expect them to say.'

Today I see that Scotland is now the target, i.e. that Russia 'interfered' with the independence referendum. It's not even anything goes August yet. This whole year has been August reporting.
MOSCOWEXILE July 19, 2020 at 7:35 pm

I just cannot see why the US public -- better said, some of the US public. -- fall for that torrent of verbal diarrhoea that Maddow regularly gushes forth on TV about all things Russian.

The shite that she so regularly spews out is patently untrue and clearly propagandistic. Time and time again, the content of "The Rachel Maddow Show" (Why "show" FFS? Is it because that is what it is -- a distraction, an entertainment vehicle for the uncritical masses?) has repeatedly been shown to be untrue, but never an apology from Maddow.

Oh, what a surprise! Her paternal grandfather's family name was Medvedev, a Four-by-Two who fled the Evil (Romanov) Empire and set up shop in the "Land of the Free".

Something that has often puzzled me is this: If the Russian Empire was such a "Prison of Nations", all crushed by the autocratic state, how come Western Europe and the USA is swarming with the descendants of the Tsar's former Jewish subjects?

To be fair to Maddow -- though I see no reason why I should be, for she is a lying cnut -- her family background is not really kosher: her mother hails from Newfoundland and is of English/Irish descent, and one of her grandmother's forebears were from the Netherlands. Furthermore, Maddow says that she had a conservative Catholic upbringing. I suppose that's why she's now a liberal lesbian. And guess what: she's a Rhodes Scholar with an Oxford PhD.

That wanker Cecil has a lot to answer for!
I found headlines such as these: Former CIA Director Outlines Russian Playbook for Influencing Unsuspecting Targets (May 2017) ; Fmr. CIA op.: Don Jr. meeting part of Russian playbook (Jul 2017) ; Americans Use Russian Playbook to Spread Disinformation (Oct 2018) ; Factory of Lies: The Russian Playbook (Nov 2018) ; Shredding the Putin Playbook: Six crucial steps we must take on cyber-security -- before it's too late. (Winter 2018) ; Trump's spin is 'all out of the KGB playbook': Counterintelligence expert Malcolm Nance (May 2019) .

Of course, all these people are convinced Moscow interfered in the 2016 presidential election. Somehow. To some effect. Never really specified but the latest outburst of insanity is this video from the Lincoln Project . As Anatoly Karlin observes: "I think it's really cool how we Russians took over America just by shitposting online. How does it feel to be subhuman?" He has a point: the Lincoln Project, and the others shrieking about Russian interference, take it for granted that American democracy is so flimsy and Americans so gullible that a few Facebook ads can bring the whole facade down. A curious mental state indeed.

So let us consider The Russian Playbook. It stands at the very heart of Russian power. It is old: at least a century old . Why, did not Tolstoy's 1908 Letter to a Hindu inspire Gandhi to bring down the British Indian Empire and win the Great Game for Moscow? The Tolstoy-Putin link is undeniable as we are told in A Post-Soviet 'War and Peace' ...

... ... ...

What can we know about The Playbook? For a start it must be written in Russian, a language that those crafty Russians insist on speaking among themselves. Secondly such an important document would be protected the way that highly classified material is protected. There would be a very restricted need to know; underlings participating in one of the many plays would not know how their part fitted into The Playbook; few would ever see The Playbook itself. The Playbook would be brought to the desk of the few authorised to see it by a courier, signed for, the courier would watch the reader and take away the copy afterwards. The very few copies in existence would be securely locked away; each numbered and differing subtly from the others so that, should a leak occur, the authorities would know which copy read by whom had been leaked. Printed on paper that could not be photographed or duplicated. As much protection as human cunning could devise; right up there with the nuclear codes .

So, The Russian Playbook would be extraordinarily difficult to get hold of. And yet every talking head on U.S. TV has a copy at his elbow! English copies, one assumes. Rachel Maddow has comprehended the complicated chapter on how to control the U.S. power system . Others have read the impenetrably complex section on how to control U.S. voting machines or change vote counts . Many are familiar with the lists of divisions in American society and directions for exploiting them . Adam Schiff has mastered the section on how to get Trump to give Alaska back . Susan Rice well knows the chapter "How to create riots in peaceful communities".

There is no Russian Playbook, that's just projection. But there is a "playbook" and it's written in English, it's freely available and it's inexpensive enough that every pundit can have a personal copy: it's named " From Dictatorship To Democracy: A Conceptual Framework for Liberation " and it's written by Gene Sharp (1928-2018) . Whatever Sharp may have thought he was doing, whatever good cause he thought he was assisting, his book has been used as a guide to create regime changes around the world. Billed as "democracy" and "freedom", their results are not so benign. Witness Ukraine today. Or Libya. Or Kosovo whose long-time leader has just been indicted for numerous crimes . Curiously enough, these efforts always take place in countries that resist Washington's line but never in countries that don't. Here we do see training, financing, propaganda, discord being sown, divisions exploited to effect regime change – all the things in the imaginary "Russian Playbook". So, whatever he may have thought he was helping, Sharp's advice has been used to produce what only the propagandists could call " model interventions "; to the "liberated" themselves, the reality is poverty , destruction , war and refugees .
Notable quotes:
"... Missouri has a castle doctrine. They were well within their rights. ..."
Silentwistle , 24 minutes ago

Missouri attorney general is getting involved with the case. He's pissed. Good.

Silentwistle , 21 minutes ago

...Missouri has a castle doctrine. They were well within their rights.

Joe A , 30 minutes ago

Trying to prosecute personal injury lawyers while they have the backing of the governor and the president?

Good luck with their counter sue where they will claim mental personal injury. They will clean you out dry.
And this Big Pharma stooge was right: in open spaces unless you are inthe dence coud there is no reason to wear any mask
Notable quotes:
"... No – for a solid hour, I heard the following: that COVID19 – in reality, at most, a moderately serious flu virus – is the worst medical threat the United States has ever faced. ..."
Blue Dotterel , Jul 20 2020 9:13 utc | 96

For anyone who has forgotten, Fauci told 60 Minutes that:

There's no reason to be walking around with a mask. When you're in the middle of an outbreak, wearing a mask might make people feel a little better and it might even block a droplet, but it's not providing the perfect protection that people think it is. And often there are unintended consequences – people keep fiddling with the mask and they keep touching their face."

But he does make an astute point:

"Recently I had the poor judgment to turn on National Public Radio for about an hour, under the impression that I was going to learn something about the day's news.
...
No – for a solid hour, I heard the following: that COVID19 – in reality, at most, a moderately serious flu virus – is the worst medical threat the United States has ever faced.
...
But the real theme of the hour was masks, masks, masks: how to make them, how to wear them, their different types, who doesn't seem to have enough of them, and why muffling our faces (even though no such thing was ever demanded of us during dozens of past viral outbreaks) is absolutely, positively good for us all."
Angela Davis has endorsed the Democratic nominee
lay_arrow

---

Stonewall Jackson , 4 hours ago

Look for the last time you Media Matter or Anti Fa Twinks who come here incessantly... If Trump was balls deep into the activities of that Island:

1)Epstein would have a video as he likely did for all of his guests.

2)The Deep State led by the Turds of the Obama administration including the Chief Turd himself would have released said video faster than crap through a goose.

The Washington Establishment has spent four years of endless investigations and you numbnutses think that the corrupt FBI and the intelligence agencies with guys like Mueller Rosenstein, Strzok and a caste of others inside the bureaucracy would not have leaked such stuff which would effectively end Trump.

But at least you are on topic here... it is about Trump. You silly sod twinks usually have some stupid comment about Trump no matter what the topic.

JoJo Kracko , 4 hours ago

Well Trump would know first hand if it was a cesspool right?

Stonewall Jackson , 4 hours ago

Second hand due to the social circles of New York. William Jefferson Clinton would know first hand. Epstein had an adorable portrait of him on the Island.

d_7878 , 3 hours ago

Trump's secretary of labor, Alexander Acosta, cut a sweetheart plea deal in 2008 with Epstein allowing him to continue on his spree.

disagreeableness , 3 hours ago

You mean the US Attorney for the Southern District of Florida under Obama? Who's administration was in power when the deal was cut, and who's boss' boss was Obammy hisself?
disagreeableness , 3 hours ago

I'm a bit mystified by the entire Trump presidency. It's a given that the structure of corruption is intractable, but if the point of his tenure was to drain the swamp, it just seems there'd be a bit more muck on display by now.

It certainly could be that the plans for firing up the sumps was deferred until his second term upon the occasion of his first inauguration, but that speaks a level of caution that I find it difficult to muster enthusiastic support for.

"Damn the torpedoes, tomorrow"! Is not all that inspiring a battle cry.

It's mid July in an election year, if Trump had any serious intentions towards swamp draining, he best get to it, post haste.

Johny Galt , 3 hours ago

I always enjoy quality sarcasm!

Lucius Quinctius , 58 minutes ago

Like in the cartoon ,"Peanuts", Lucy pulls the football away at the last minute.Fooled again. Clinton and," don' t stop thinking about tomorrow" ,Obama,"Hope and change",Trump ,"make America great again".The sincere hopes of good Americans for their country offered up to this stratum of cons and quislings.
WTFUD , 1 hour ago

Trump loves/worships 3 things -

1) The Stock Market

2) His zionist buddies, Adelson & Netanyahu

3) Himself.

The rest is noise with little substance.

Thordoom , 2 hours ago

This president is a total idiot who doesn't understand the severity of his actions. He is a literal moron who gave a blank cheque to CIA.

This moron doesn't understand that the other side will now do the same and US is far more vulnerable to cyberwarfare than China or Russia.

Non of those 2 use contractors and other idiotic stuff .

Weedlord Bonerhitler , 2 hours ago

I love that this is "breaking news" in the age of Stuxnet and random facility explosions. Oh I truly do.
Yet another evil rumor designed to poison relations with Russia. This time from Yahoo
---

Ink Pusher , 1 hour ago

Yahoo! is a digital plague on the internet.

Kinda like a digital form of chlamydia combined with binary syphilis , it never seems to wanna go away no matter how many times you treat it.

alex kalish , 1 hour ago

Oh Yahoo News - why does ZH reprint blatant crap ? Is their source Christopher Steele ? LMAO. A 17 year old pimple face kid could hack the CIA and they are going on the offensive ? They may blow up Hoover damn or shut down the electric grid by mistake....

Encroaching Darkness , 1 hour ago

********, top to bottom.

(A) Yahoo news - seriously, Yahoo news?

(B) Brennan wanted to overthrow Flynn / Trump - his proteges are still roaming through the agency. Why would Trump trust Brennan's underlings to hold a cookout at Langley, let alone unsupervised operations?

(C) Why MUST the CIA be responsible for Iran's explosions? Aren't the Israelis (with much higher motivation, closer location and more contacts) capable of doing this all by themselves?

Article full of unsupported and unsupportable assumptions, from a pseudo-news organization, trying to blame Trump for Iranian incompetence. Major fail!

DaBard51 , 1 hour ago

The source is... Yahoo News? Yahoo News is the new "Paper of Record"?

The same Yahoo News that "corroborated" the Steele dossier?

Keter , 1 hour ago

Yahoo News? What a scoop.

NoPension , 1 hour ago

Yeah right. Russia version 6.5
Highly recommended!
Yet another evil rumor designed to poison relations with Russia. This time from Yahoo
JLee2027 , 1 hour ago

according to former U.S. officials with direct knowledge of the matter.

So, it's made up garbage.
New documents show the FBI was aware that the infamous dossier used as a pretext to spy on President Donald Trump's campaign was unreliable, and that the New York Times published false information about the 'Russiagate' probe.

---

Mickey Mic 1 day ago What on Earth does Hillary Clinton got to do to be arrested ? Wow, still I hear no handcuffs...
The neoliberal establishment hates any form of collective action.
Notable quotes:
"... History repeats twice: once as a tragedy, and once as a farce. ..."
BM , Jul 18 2020 17:43 utc | 1

The signers of the letter against the 'cancel culture' had cancelled Glenn Greenwald from signing it.
I am not sure who should be more embarrassed about this - Greenwald or the other signers.

No reason for Greenwald to be embarrassed - he is a fake Liberal like many of the others, and should have been allowed on the platform.

Interesting Chomsky was on the list, very contradictory character, hard to finger. I'd be interested what other people think about Chomsky.

vk , Jul 18 2020 17:54 utc | 2

From a historical perspective, the term that most attracted my attention was "[the forces of] illiberalism", which is an obvious recall of the term "totalitarianism" from the post-war "center-left" intellectuals from the West.

History repeats twice: once as a tragedy, and once as a farce.

By the way, the letter has also been called as bullshit by the British leftism's newspaper The Canary: 'Cancel culture' is a myth. So is the idea that the political right is under siege The key here is proportion. What is concretely happening? What are the facts on the field? What are the material results of each opinion?
We know that coronavirus death counts are being inflated - we just don't know by how much. After all, how could they not be when there is a financial incentive for states and municipalities to report deaths as coronavirus deaths? And for some states, there may even be a political incentive...

Which is why it shouldn't come as a total surprise when a man who suffered a fatal motorcycle accident in Florida last week was added to the state's Covid-19 death count.

Fox 35 did an investigation where they talked to Orange County Health Officer Dr. Raul Pino about two deaths of people in their 20s that were labeled coronavirus deaths. When they asked if the people who died had underlying conditions, Pino responded: "The first one didn't have any. He died in a motorcycle accident."
Look at the picture of the arrested
[Jul 18, 2020] Polls lie by Lloyd Pettigrew
"The reason why we shouldn't believe most of the current or future polling results about President Trump can be summarized in two words: Social Desirability..."

I've long wondered what the numbers would look like if the pollsters cataloged every response along the lines of "go f*** yourself" as a vote for Trump...
MOSCOWEXILE July 17, 2020 at 9:17 am

Well waddya know!

White Helmets co-founder stole aid money destined for Syria – report

A former British officer and gentleman, no less!

MARK CHAPMAN July 17, 2020 at 9:29 am

Honour among thieves – he says he didn't mean to steal, it was a mistake, and they conduct an investigation on the down-low so the press doesn't get wind of it, or is warned that it should not. The same cooperative that solemnly preaches western morality, and screeches 'Russia!!!' as soon as anything happens before it can be attributed to someone else. I think I understand Russia a little better every time something like this happens – it's a honour to be hated by such a crooked and wretched entity, and approbation by the same would be an implication that one has as little a sense of values.
RobG , Jul 16, 2020 10:44 PM

To paraphrase Galloway, you can always tell a Russian agent because they have snow on their boots.
john • an hour ago • edited

....Are the Chinese going to lend us the money to fight them?
Or did he? Yet another evil rumor designed to poison relations with Russia. This time from Yahoo
Still Trump has not only appointed the aggressive Michael D'Andrea, the 'Prince of Darkness', to head the CIA's Iran Mission Center but he gave the CIA wide ranging new powers to run cyber attacks against the country:
Notable quotes:
"... When has the CIA ever had oversight? ..."
"... Pretty sure oversight jumped out the 84th floor window very early on. Voluntarily of course. ..."
andrewp111 , 29 minutes ago

I'm sure Trump thinks - Let the CIA play in their cyber sandbox. The Norks dissed Trump and the others deserve it, so, so what? It keeps the spooks happy and occupied, and out of Trump's hair.

play_arrow 1

m0ckingbird , 6 minutes ago

are you sure trump thinks? like AT ALL? you give your grown man-child way too much credit

ExposeThem511 , 1 hour ago

When has the CIA ever had oversight?

metanoic , 54 minutes ago

Pretty sure oversight jumped out the 84th floor window very early on. Voluntarily of course.
Anonymous [661] Disclaimer , says: July 14, 2020 at 10:09 am GMT

The Talmud is the absolute paradigm for racial supremacy, intolerance and hatred, a satanic bible compiled for psychopaths and pedophiles. Anyone who burns it gets my vote for a statue.
GMC , says: July 14, 2020 at 7:05 am GMT

Sarc. Yep those nasty Russians – they keep interfering with our elections and our country – we need to sanction them some more! Hard to believe that the USAs population , can't see past those big nose greedy suckers and their accomplices, that have totally ripped the country apart and stolen the wealth and future of the Nation. The best writers , in decades, are now riding Paul Revere's horse, writing articles, books and making documentaries/videos, trying to warn the People , that their country is in huge Peril – yet only about 15% are aware of it. Thanks UNZ Review.

gotmituns , says: July 14, 2020 at 8:43 am GMT

One thing you can take to the bank is that if the statue is taken down, it will be done by a White owned rigging company by White workers. Blacks could never do such a project.
Highly recommended!
Soviet joke: TASS communicated that "Today, being in dangerous state of health and without regaining consciousness Konstantin Ustonivich Chernenko took up the duties of Secretary General" (the first part of the sentence is the common beginning of state leaders' obituaries)
Although only medical evaluation can tell the truth, the inability to hold on to his own train of thought, slurring of his speech, forgetting where he is and who he's with, grossly incorrect use of language, and inappropriate behavior are typical early symptoms of dementia. Excessive irritability and paranoia is also a symptom.
Over time though, I began to pity Joe as I realized the untenable situation Democrats had placed him in. What is wrong with his family, allowing him to be humiliated on a daily basis? Some think he is being "set up"
Elite rotation clearly is not working in the USA. Just look at Pelosi.
On the other hand Reagan was clearly senile, and that was no hindrance to him becoming President -- so why should it be any different in the case of Biden?
With questions continuing to swirl about his mental health, a new Rasmussen poll has found that only 54 per cent of Americans believe Joe Biden is capable of debating President Trump.

The national telephone survey found that just over half of likely voters thought Biden could take part in a debate with Trump while 36 per cent disagree and say he is not capable. A further 11 per cent are not sure either way.

... Polls show that 38 per cent of American voters think Biden has "some form of dementia," including one in five Democrats. 61 per cent of voters also think Biden should address the dementia issue publicly.

CB March 9, 2020 at 13:07

Today, NPR has been playing clips from Biden's terrifyingly incoherent St. Louis speech. He sounds like he's falling down drunk.

Here's my transliteration of 31:10 on C-SPAN:

"You're all part ma movemen a moob men that has a backbone the backbone of the Democratic Party a mooin's gun defeat Donald Trump."

Hearing the clip this morning put tears in my eyes because it so acutely reminded me of the final speech patterns of my grandfather, a brilliant nuclear physicist who died of Alzheimers at age 78.

I also cried at clip #33 because the pain in Jill Biden's eyes projected me right back into the helplessness of witnessing Granddad's cognitive decline.

It's tragically time to take away Biden's car keys, and yet these endorsements are trying to buy him a Maserati. How can this nightmare be happening. Thank you, Caitlin Johnstone, for maintaining this much-needed reality check.
Navarro wrote in the op-ed for USA TODAY Tuesday that "Fauci has a good bedside manner with the public, but he has been wrong about everything I have interacted with him on."

...

The White House's deputy chief of staff for communications, Dan Scavino, who has been by the president's side since the 2016 campaign, on Sunday posted a cartoon on Facebook depicting Fauci as a running faucet washing the U.S. economy down the drain.

"Sorry, Dr. Faucet! At least you know if I'm going to disagree with a colleague, such as yourself, it's done publicly -- and not cowardly, behind journalists with leaks. See you tomorrow!" Scavino wrote in a caption accompanying the cartoon.



Brad Ellison , 1 month ago

I can't wait to see Hillary identify as a strong black woman.

Duane Fernandes , 5 months ago

Dark humor is like health care in America, y'know, not everyone gets it.
GeeBee , says:
GMC , says: July 15, 2020 at 7:59 am GMT

Good article, yes I remember 2016 and the power grid that was taken out by the Ukies. A lot of generators were sold that summer /year. lol I see Putin and Russia – just sitting /waiting it out – patiently as usual. Time is on their side and bad things are happening fast in the domestic west.

Of course Russia is part of the NWO because they have to be. They sell oil, gaz and natural resources internationally and have Corporations that have a big sayso in the Government. I think Putin, a long time ago , decided to spare his people from the same fate of the Western populace or at least , make it as comfortable, as can be expected – in these times. It helps by not having the Ghettos, Gangs, Dysfunctional Melting Pot, POlice state, and a slew of Wars to deal with -- for starters. Like the Saker said – Russian problems are – all the BS directed at them from ther West .
Notable quotes:
"... Jonathan-Cook.net ..."
"... The New York Review of Books ..."
"... for themselves and those like them ..."
"... The Wall Street Journal ..."
"... The New York Times ..."
"... The New York Times ..."
"... unless it applies to himself ..."
"... The Wall Street Journal ..."
"... The New York Times ..."
"... on its merit too ..."
"... This article is from his blog ..."
"... The views expressed are solely those of the author and may or may not reflect those of Consortium News. ..."
'Cancel Culture' Letter Really About Stifling Free Speech July 15, 2020 Save

Most of the signers are simply pleading for a return to the status quo, writes Jonathan Cook.

By Jonathan Cook
Jonathan-Cook.net

A n open letter published by Harper's magazine, and signed by dozens of prominent writers and public figures, has focused attention on the apparent dangers of what has been termed a new "cancel culture."

The letter brings together an unlikely alliance of genuine leftists, such as Noam Chomsky and Matt Karp, centrists such as J. K. Rowling and Ian Buruma, and neoconservatives such as David Frum and Bari Weiss, all speaking out in defense of free speech.

Although the letter doesn't explicitly use the term "cancel culture," it is clearly what is meant in the complaint about a "stifling" cultural climate that is imposing "ideological conformity" and weakening "norms of open debate and toleration of differences."

It is easy to agree with the letter's generalized argument for tolerance and free and fair debate. But the reality is that many of those who signed are utter hypocrites, who have shown precisely zero commitment to free speech, either in their words or in their deeds.

Further, the intent of many them in signing the letter is the very reverse of their professed goal: they want to stifle free speech, not protect it.

To understand what is really going on with this letter, we first need to scrutinize the motives , rather than the substance, of the letter.

A New 'Illiberalism'

"Cancel culture" started as the shaming, often on social media, of people who were seen to have said offensive things. But of late, cancel culture has on occasion become more tangible, as the letter notes, with individuals fired or denied the chance to speak at a public venue or to publish their work.

The letter denounces this supposedly new type of "illiberalism":

"We uphold the value of robust and even caustic counter-speech from all quarters. But it is now all too common to hear calls for swift and severe retribution in response to perceived transgressions of speech and thought.

Editors are fired for running controversial pieces; books are withdrawn for alleged inauthenticity; journalists are barred from writing on certain topics; professors are investigated for quoting works of literature in class; The result has been to steadily narrow the boundaries of what can be said without the threat of reprisal. We are already paying the price in greater risk aversion among writers, artists, and journalists who fear for their livelihoods if they depart from the consensus, or even lack sufficient zeal in agreement."

Tricky Identity Politics

David Frum in 2013. (Policy Exchange, CC BY 2.0, Wikimedia Commons)

The array of signatories is actually more troubling than reassuring. If we lived in a more just world, some of those signing – like Frum, a former speechwriter for President George W. Bush, and Anne-Marie Slaughter, a former U.S. State Department official – would be facing a reckoning before a Hague war crimes tribunal for their roles in promoting "interventions" in Iraq and Libya respectively, not being held up as champions of free speech.

That is one clue that these various individuals have signed the letter for very different reasons.

Chomsky signed because he has been a lifelong and consistent defender of the right to free speech, even for those with appalling opinions such as Holocaust denial.

https://platform.twitter.com/embed/index.html?dnt=true&embedId=twitter-widget-0&frame=false&hideCard=false&hideThread=false&id=1279780405902802944&lang=en&origin=https%3A%2F%2Fconsortiumnews.com%2F2020%2F07%2F15%2Fcancel-culture-letter-really-about-stifling-free-speech%2F&theme=light&widgetsVersion=9066bb2%3A1593540614199&width=550px

Frum, who coined the term "axis of evil" that rationalized the invasion of Iraq, and Weiss, a New York Times columnist, signed because they have found their lives getting tougher. True, it is easy for them to dominate platforms in the corporate media while advocating for criminal wars abroad, and they have paid no career price when their analyses and predictions have turned out to be so much dangerous hokum. But they are now feeling the backlash on university campuses and social media.

Ian Buruma, at right, with the writer Martin Amis at 2007 New Yorker Festival. (CC BY-SA 2.0, Wikimedia Commons)

Meanwhile, centrists like Buruma and Rowling have discovered that it is getting ever harder to navigate the tricky terrain of identity politics without tripping up. The reputational damage can have serious consequences.

Buruma famously lost his job as editor of The New York Review of Books two years ago after after he published and defended an article that violated the new spirit of the #MeToo movement. And Rowling made the mistake of thinking her followers would be as fascinated by her traditional views on transgender issues as they are by her Harry Potter books.

'Fake News, Russian Trolls'

But the fact that all of these writers and intellectuals agree that there is a price to be paid in the new, more culturally sensitive climate does not mean that they are all equally interested in protecting the right to be controversial or outspoken.

Chomsky, importantly, is defending free speech for all , because he correctly understands that the powerful are only too keen to find justifications to silence those who challenge their power. Elites protect free speech only in so far as it serves their interests in dominating the public space.

If those on the progressive left do not defend the speech rights of everyone, even their political opponents, then any restrictions will soon be turned against them. The Establishment will always tolerate the hate speech of U.S. President Donald Trump or Brazilian President Jair Bolsonaro over the justice speech of U.S. Senator Bernie Sanders or Jeremy Corbyn, the former leader of the Labour Party in the U.K.

By contrast, most of the rest of those who signed – the right-wingers and the centrists – are interested in free speech for themselves and those like them . They care about protecting free speech only in so far as it allows them to continue dominating the public space with their views – something they were only too used to until a few years ago, before social media started to level the playing field a little.

The center and the right have been fighting back ever since with claims that anyone who seriously challenges the neoliberal status quo at home and the neoconservative one abroad is promoting "fake news" or is a "Russian troll." This updating of the charge of being "un-American" embodies cancel culture at its very worst.

Social Media Accountability

In other words, apart from the case of a few progressives, the letter is simply special pleading – for a return to the status quo. And for that reason, as we shall see, Chomsky might have been better advised not to have added his name, however much he agrees with the letter's vague, ostensibly pro-free speech sentiments.

What is striking about a significant proportion of those who signed is their self-identification as ardent supporters of Israel. And as Israel's critics know only too well, advocates for Israel have been at the forefront of the cancel culture – from long before the term was even coined.

For decades, pro-Israel activists have sought to silence anyone seen to be seriously critiquing this small, highly militarized state, sponsored by the colonial powers, that was implanted in a region rich with a natural resource, oil, needed to lubricate the global economy, and at a terrible cost to its native, Palestinian population.

Nothing should encourage us to believe that zealous defenders of Israel among those signing the letter have now seen the error of their ways. Their newfound concern for free speech is simply evidence that they have begun to suffer from the very same cancel culture they have always promoted in relation to Israel.

They have lost control of the "cancel culture" because of two recent developments: a rapid growth in identity politics among liberals and leftists, and a new popular demand for "accountability" spawned by the rise of social media.

Cancelling Israel's Critics

Former Labour Leader Jeremy Corbyn at campaign rally in Glasgow, December 2019. (Jeremy Corbyn, Flickr)

In fact, despite their professions of concern, the evidence suggests that some of those signing the letter have been intensifying their own contribution to cancel culture in relation to Israel, rather than contesting it.

That is hardly surprising. The need to counter criticism of Israel has grown more pressing as Israel has more obviously become a pariah state. Israel has refused to countenance peace talks with the Palestinians and it has intensified its efforts to realize long-harbored plans to annex swaths of the West Bank in violation of international law.

Rather than allow "robust and even caustic counter-speech from all quarters" on Israel, Israel's supporters have preferred the tactics of those identified in the letter as enemies of free speech: "swift and severe retribution in response to perceived transgressions of speech and thought."

Just ask Jeremy Corbyn, the former leader of the Labour Party who was reviled, along with his supporters, as an anti-Semite – one of the worst smears imaginable – by several people on the Harper's list, including Rowling and Weiss . Such claims were promoted even though his critics could produce no actual evidence of an antisemitism problem in the Labour party.

Similarly, think of the treatment of Palestinian solidarity activists who support a boycott of Israel (BDS), modelled on the one that helped push South Africa's leaders into renouncing apartheid. BDS activists too have been smeared as anti-Semites – and Weiss again has been a prime offender .

Pro-Israel counter demonstration against the Boycott, Divestment and Sanctions demonstration outside School of Oriental and African Studies in London, April 2017. (Philafrenzy, CC BY-SA 4.0, Wikimedia Commons)

The incidents highlighted in the Harper's letter in which individuals have supposedly been cancelled is trivial compared to the cancelling of a major political party and of a movement that stands in solidarity with a people who have been oppressed for decades.

And yet how many of these free speech warriors have come forward to denounce the fact that leftists -- including many Jewish anti-Zionists -- have been pilloried as anti-Semites to prevent them from engaging in debates about Israel's behavior and its abuses of Palestinian rights?

How many of them have decried the imposition of a new definition of anti-Semitism, by the International Holocaust Remembrance Alliance, that has been rapidly gaining ground in Western countries?

That definition is designed to silence a large section of the left by prioritising the safety of Israel from being criticised before the safety of Jews from being vilified and attacked – something that even the lawyer who authored the definition has come to regret .

Why has none of this "cancel culture" provoked an open letter to Harper's from these champions of free speech?

Double-Edge Sword

The truth is that many of those who signed the letter are defending not free speech but their right to continue dominating the public square – and their right to do so without being held accountable.

Bari Weiss, before she landed a job at The Wall Street Journal and then The New York Times , spent her student years trying to get Muslim professors fired from her university – cancelling them – because of their criticism of Israel. And she explicitly did so under the banner of "academic freedom," claiming pro-Israel students felt intimidated in the classroom.

The New York Civil Liberties Union concluded that it was Weiss, not the professors, who was the real threat to academic freedom. This was not some youthful indiscretion. In a book last year Weiss cited her efforts to rid Columbia university of these professors as a formative experience on which she still draws.

Weiss and many of the others listed under the letter are angry that the rhetorical tools they used for so long to stifle the free speech of others have now been turned against them. Those who lived for so long by the sword of identity politics – on Israel, for example – are worried that their reputations may die by that very same sword – on issues of race, sex and gender.

[Weiss just quit her post at The New York Times , citing an illiberal environment. As part of her full statement she writes, "Twitter is not on the masthead of The New York Times. But Twitter has become its ultimate editor. As the ethics and mores of that platform have become those of the paper, the paper itself has increasingly become a kind of performance space. Stories are chosen and told in a way to satisfy the narrowest of audiences, rather than to allow a curious public to read about the world and then draw their own conclusions."]

Narcissistic Concern

To understand how the cancel culture is central to the worldview of many of these writers and intellectuals, and how blind they are to their own complicity in that culture, consider the case of Jonathan Freedland, a columnist with the supposedly liberal-left British newspaper The Guardian . Although Freedland is not among those signing the letter, he is very much aligned with the centrists among them and, of course, supported the letter in an article published in The Guardian.

Freedland, we should note, led the "cancel culture" campaign against the Labour Party referenced above. He was one of the key figures in Britain's Jewish community who breathed life into the anti-Semitism smears against Corbyn and his supporters.

Jonathan Freedland in 2013. (Chatham House, CC BY 2.0, Wikimedia Commons)

But note the brief clip below. In it, Freedland's voice can be heard cracking as he explains how he has been a victim of the cancel culture himself: he confesses that he has suffered verbal and emotional abuse at the hands of Israel's most extreme apologists – those who are even more unapologetically pro-Israel than he is.

He reports that he has been called a "kapo," the term for Jewish collaborators in the Nazi concentration camps, and a "sonderkommando," the Jews who disposed of the bodies of fellow Jews killed in the gas chambers. He admits such abuse "burrows under your skin" and "hurts tremendously."

https://platform.twitter.com/embed/index.html?dnt=true&embedId=twitter-widget-1&frame=false&hideCard=false&hideThread=false&id=1280447330890768386&lang=en&origin=https%3A%2F%2Fconsortiumnews.com%2F2020%2F07%2F15%2Fcancel-culture-letter-really-about-stifling-free-speech%2F&theme=light&widgetsVersion=9066bb2%3A1593540614199&width=550px

And yet, despite the personal pain he has experienced of being unfairly accused, of being cancelled by a section of his own community, Freedland has been at the forefront of the campaign to tar critics of Israel, including anti-Zionist Jews, as anti-Semites on the flimsiest of evidence.

He is entirely oblivious to the ugly nature of the cancel culture – unless it applies to himself . His concern is purely narcissistic. And so it is with the majority of those who signed the letter.

Conducting a Monologue

The letter's main conceit is the pretence that "illiberalism" is a new phenomenon, that free speech is under threat, and that the cancel culture only arrived at the moment it was given a name.

That is simply nonsense. Anyone over the age of 35 can easily remember a time when newspapers and websites did not have a talkback section, when blogs were few in number and rarely read, and when there was no social media on which to challenge or hold to account "the great and the good."

Writers and columnists like those who signed the letter were then able to conduct a monologue in which they revealed their opinions to the rest of us as if they were Moses bringing down the tablets from the mountaintop.

In those days, no one noticed the cancel culture – or was allowed to remark on it. And that was because only those who held approved opinions were ever given a media platform from which to present those opinions.

Before the digital revolution, if you dissented from the narrow consensus imposed by the billionaire owners of the corporate media, all you could do was print your own primitive newsletter and send it by post to the handful of people who had heard of you.

That was the real cancel culture. And the proof is in the fact that many of those formerly obscure writers quickly found they could amass tens of thousands of followers – with no help from the traditional corporate media – when they had access to blogs and social media.

Silencing the Left

Occupy Wall Street protesters engaging in the "human microphone," Sept. 30 2011. (David Shankbone, CC BY 3.0, Wikimedia Commons)

Which brings us to the most troubling aspect of the open letter in Harper's . Under cover of calls for tolerance, given credibility by Chomsky's name, a proportion of those signing actually want to restrict the free speech of one section of the population – the part influenced by Chomsky.

They are not against the big cancel culture from which they have benefited for so long. They are against the small cancel culture – the new more chaotic, and more democratic, media environment we currently enjoy – in which they are for the first time being held to account for their views, on a range of issues including Israel.

Just as Weiss tried to get professors fired under the claim of academic freedom, many of these writers and public figures are using the banner of free speech to discredit speech they don't like, speech that exposes the hollowness of their own positions.

Their criticisms of "cancel culture" are really about prioritizing "responsible" speech, defined as speech shared by centrists and the right that shores up the status quo. They want a return to a time when the progressive left – those who seek to disrupt a manufactured consensus, who challenge the presumed verities of neoliberal and neoconservative orthodoxy – had no real voice.

The new attacks on "cancel culture" echo the attacks on Bernie Sanders' supporters, who were framed as "Bernie Bros" – the evidence-free allegation that he attracted a rabble of aggressive, women-hating men who tried to bully others into silence on social media.

Bernie Sanders' 2020 Campaign Co-chair Nina Turner at Los Angeles City Hall rally, March 2019. (Sara Mossman, Flickr)

Just as this claim was used to discredit Sanders' policies, so the center and the right now want to discredit the left more generally by implying that, without curbs, they too will bully everyone else into silence and submission through their "cancel culture."

If this conclusion sounds unconvincing, consider that President Donald Trump could easily have added his name to the letter alongside Chomsky's. Trump used his recent Independence Day speech at Mount Rushmore to make similar points to the Harper's letter. He at least was explicit in equating "cancel culture" with what he called "far-left fascism":

"One of [the left's] political weapons is 'Cancel Culture' -- driving people from their jobs, shaming dissenters, and demanding total submission from anyone who disagrees. This is the very definition of totalitarianism This attack on our liberty, our magnificent liberty, must be stopped, and it will be stopped very quickly."

Trump, in all his vulgarity, makes plain what the Harper's letter, in all its cultural finery, obscures. That attacks on the new "cancel culture" are simply another front – alongside supposed concerns about "fake news" and "Russian trolls" – in the establishment's efforts to limit speech by the left.

Attention Redirected

This is not to deny that there is fake news on social media or that there are trolls, some of them even Russian. Rather, it is to point out that our attention is being redirected, and our concerns manipulated by a political agenda.

Despite the way it has been presented in the corporate media, fake news on social media has been mostly a problem of the right. And the worst examples of fake news – and the most influential – are found not on social media at all, but on the front pages of The Wall Street Journal and The New York Times .

What genuinely fake news on Facebook has ever rivalled the lies justifying the invasion of Iraq in 2003 that were knowingly peddled by a political elite and their stenographers in the corporate media. Those lies led directly to more than a million Iraqi deaths, turned millions more into refugees, destroyed an entire country, and fuelled a new type of nihilistic Islamic extremism whose effects we are still feeling.

Most of the worst lies from the current period – those that have obscured or justified U.S. interference in Syria and Venezuela, or rationalized war crimes against Iran, or approved the continuing imprisonment of Julian Assange for exposing war crimes – can only be understood by turning our backs on the corporate media and looking to experts who can rarely find a platform outside of social media.

https://platform.twitter.com/embed/index.html?dnt=true&embedId=twitter-widget-2&frame=false&hideCard=false&hideThread=false&id=1267092438205808641&lang=en&origin=https%3A%2F%2Fconsortiumnews.com%2F2020%2F07%2F15%2Fcancel-culture-letter-really-about-stifling-free-speech%2F&theme=light&widgetsVersion=9066bb2%3A1593540614199&width=550px

Algorithms Changed

I say this as someone who has concerns about the fashionable focus on identity politics rather than class politics. I say it also as someone who rejects all forms of cancel culture – whether it is the old-style, "liberal" cancel culture that imposes on us a narrow "consensus" politics (the Overton window), or the new "leftwing" cancel culture that too often prefers to focus on easy cultural targets like Rowling than the structural corruption of western political systems.

But those who are impressed by the letter simply because Chomsky's name is attached should beware. Just as "fake news" has provided the pretext for Google and social media platforms to change their algorithms to vanish leftwingers from searches and threads, just as "antisemitism" has been redefined to demonise the left, so too the supposed threat of "cancel culture" will be exploited to silence the left.

Protecting Bari Weiss and J K Rowling from a baying leftwing "mob" – a mob that that claims a right to challenge their views on Israel or trans issues – will become the new rallying cry from the Establishment for action against "irresponsible" or "intimidating" speech.

Progressive leftists who join these calls out of irritation with the current focus on identity politics, or because they fear being labelled an antisemite, or because they mistakenly assume that the issue really is about free speech, will quickly find that they are the main targets.

In defending free speech, they will end up being the very ones who are silenced.

UPDATE:

Noam Chomsky. (Duncan Rawlinson)

You don't criticize Chomsky however tangentially and respectfully – at least not from a left perspective – without expecting a whirlwind of opposition from those who believe he can never do any wrong.

But one issue that keeps being raised on my social media feeds in his defense is just plain wrong-headed, so I want to quickly address it. Here's one my followers expressing the point succinctly:

"The sentiments in the letter stand or fall on their own merits, not on the characters or histories of some of the signatories, nor their future plans."

The problem, as I'm sure Chomsky would explain in any other context, is that this letter fails not just because of the other people who signed it but on its merit too . And that's because, as I explain above, it ignores the most oppressive and most established forms of cancel culture, as Chomsky should have been the first to notice.

Highlighting the small cancel culture, while ignoring the much larger, Establishment-backed cancel culture, distorts our understanding of what is at stake and who wields power.

Chomsky unwittingly just helped a group of mostly Establishment stooges skew our perceptions of free speech problems so that we side with them against ourselves. There is no way that can be a good thing.

UPDATE 2:

There are still people holding out against the idea that it harmed the left to have Chomsky sign this letter. And rather than address their points individually, let me try another way of explaining my argument:

Why has Chomsky not signed a letter backing the furor over "fake news," even though there is some fake news on social media? Why has he not endorsed the "Bernie Bros" narrative, even though doubtless there are some bullying Sanders supporters on social media? Why has he not supported the campaign claiming the Labour Party has an anti-Semitism problem, even though there are some anti-Semites in the Labour Party (as there are everywhere)?

He hasn't joined any of those campaigns for a very obvious reason – because he understands how power works, and that on the left you hit up, not down. You certainly don't cheerlead those who are up as they hit down.

Chomsky understands this principle only too well because here he is setting it out in relation to Iran:

"Suppose I criticise Iran. What impact does that have? The only impact it has is in fortifying those who want to carry out policies I don't agree with, like bombing."

For exactly the same reason he has not joined those pillorying Iran – because his support would be used for nefarious ends – he shouldn't have joined this campaign. He made a mistake. He's fallible.

Also, this isn't about the left eating itself. Really, Chomsky shouldn't be the issue. The issue should be that a bunch of centrists and right-wingers used this letter to try to reinforce a narrative designed to harm the left, and lay the groundwork for further curbs on its access to social media. But because Chomsky signed the letter, many more leftists are now buying into that narrative – a narrative intended to harm them. That's why Chomsky's role cannot be ignored, nor his mistake glossed over.

UPDATE 3:

Apologies for yet another update. I had not anticipated how many ways people on the left might find to justify this letter.

Here's the latest reasoning. Apparently, the letter sets an important benchmark that can in future be used to protect free speech by the left when we are threatened with being "cancelled" – as, for example, with the anti-Semitism smears that were used against anti-Zionist Jews and other critics of Israel in the Labour Party.

I should hardly need to point out how naive this argument is. It completely ignores how power works in our societies: who gets to decide what words mean and how principles are applied. This letter won't help the left because "cancel culture" is being framed – by this letter, by Trump, by the media – as a "loony left" problem. It is a new iteration of the "politically correct gone mad" discourse, and it will be used in exactly the same way.

It won't help Steven Salaita, sacked from a university job because he criticized Israel's killing of civilians in Gaza, or Chris Williamson, the Labour MP expelled because he defended the party's record on being anti-racist.

https://platform.twitter.com/embed/index.html?dnt=true&embedId=twitter-widget-3&frame=false&hideCard=false&hideThread=false&id=1281281345243799552&lang=en&origin=https%3A%2F%2Fconsortiumnews.com%2F2020%2F07%2F15%2Fcancel-culture-letter-really-about-stifling-free-speech%2F&theme=light&widgetsVersion=9066bb2%3A1593540614199&width=550px

The "cancel culture" furor isn't interested in the fact that they were "cancelled." Worse still, this moral panic turns the whole idea of cancelling on its head: it is Salaita and Williamson who are accused – and found guilty – of doing the cancelling, of cancelling Israel and Jews.

Israel's supporters will continue to win this battle by claiming that criticism of Israel "cancels" that country ("wipes it off the map"), "cancels" Israel's Jewish population ("drives them into the sea"), and "cancels" Jews more generally ("denies a central component of modern Jewish identity").

Greater awareness of "cancel culture" would not have saved Corbyn from the anti-Semitism smears because the kind of cancel culture that smeared Corbyn is never going to be defined as "cancelling."

For anyone who wishes to see how this works in practice, watch Guardian columnist Owen Jones cave in – as he has done so often – to the power dynamics of the "cancel culture" discourse in this interview with Sky News. I actually agree with almost everything Jones says in this clip, apart from his joining yet again in the witch-hunt against Labour's anti-Zionists. He doesn't see that witch-hunt as "cancel culture," and neither will anyone else with a large platform like his to protect:

https://platform.twitter.com/embed/index.html?dnt=true&embedId=twitter-widget-4&frame=false&hideCard=false&hideThread=false&id=1281957010880307201&lang=en&origin=https%3A%2F%2Fconsortiumnews.com%2F2020%2F07%2F15%2Fcancel-culture-letter-really-about-stifling-free-speech%2F&theme=light&widgetsVersion=9066bb2%3A1593540614199&width=550px

Jonathan Cook is a freelance journalist based in Nazareth. S upport his work via his blog.

This article is from his blog Jonathan Cook.net .

The views expressed are solely those of the author and may or may not reflect those of Consortium News.
Peter AU1 , Jul 13 2020 4:56 utc | 150

JC 143

Plenty of decent people have headed to five eyes thinking they would find a better life, but we also take in the scum of the world that can be used against their own countries. These generally rise to high places.
Imperial France seems of the same mindset and Chechen freedom fighters are now fighting for their freedom in France. Yankistans freedom fighter Osama Bin Larden was just fighting for freedom apparently. Like the AQ media wing 'White Helmets' that UK and Canada took in, not to mention the nazi's that participated in the genocides in their own countries in WWII.

When peasants living conditions are constantly improving, there will be no revolt and no civil war. Yankistan propaganda can't even come up with an opposition in China.

Angloshere propaganda mostly projects onto target countries what they themselves are doing.
PATIENT OBSERVER July 10, 2020 at 10:16 am

Not a profound observation but consider these two stories

https://www.rt.com/op-ed/494433-deblasio-blm-new-york-protests/

Bill de Blasio has decided that summer is cancelled for New Yorkers unless they're campaigning for BLM. The New York City mayor has announced that all big events for the summer season in the Big Apple are called off in order to tame Covid-19, the only exception being if those gatherings are in the name of social justice.

https://www.medpagetoday.com/infectiousdisease/covid19/86266

n Louisiana, African Americans accounted for 70% of COVID-19 deaths, while comprising 33% of the population. In Michigan, they accounted for 14% of the population and 40% of deaths, and in Chicago, 56% of deaths and 30% of the population. In New York, black people are twice as likely as white people to die from the coronavirus.

Isn't the focus on anti-virus measures to protect susceptible populations from exposure? Yet, we have De Blassio and his ilk pushing for events virtually guaranteed to worsening the infection rate in a vulnerable group. Three possibilities:
– he is simply pandering
– the need to cower resistance is paramount
– Black Lives Don't Matter to him and his cohorts

Side note – here in the heartland, the cynicism regarding politician and the media has never been stronger. If Trump were not such a fucking moron, he could waltz into the White House after the election.

Despite his moronism, Trump can still win. Biden looks like a block of wood with eyes glued to the teleprompter. His mind is gone.



Cloned Poster , Jul 13 2020 12:11 utc | 173

Situation and trends
There were 1.35 million road traffic deaths globally in 2016.

There were 1.35 million road traffic deaths globally in 2016, with millions more sustaining serious injuries and living with long-term adverse health consequences. Globally, road traffic crashes are a leading cause of death among young people, and the main cause of death among those aged 15–29 years. Road traffic injuries are currently estimated to be the eigth leading cause of death across all age groups globally, and are predicted to become the seventh leading cause of death by 2030.

At least she didn't say: "Shut your fucking gob!" :-)
MOSCOWEXILE July 10, 2020 at 5:59 am

Simonyan loses her cool:

Margarita Simonyan, editor-in-chief of RT, asked a diplomat at the American embassy in Moscow to shut her mouth after she had tried to shame the Russian Federation about arrested journalists. U.S. embassy spokeswoman Rebecca Ross said Washington was keeping an eye on successive arrests in Russia.

Simonyan said in response that allegations of an attempt against the "freedom of the press" are especially cynical in the light of the numerous arrests of journalists in the United States. During the riots in the United States alone, 58 journalists have been arrested and more than 470 injured at the hands of the police.

But Simonyan did not say "mouth", as it says in the lead of the Russian article linked below:

Just shut your gobs, right! And do not open them until you have rewritten your methodology manuals so that your couriers are able to work, observing at least a minimal illusion of connection with reality. Otherwise, this [what you say] is completely ridiculous , writes the editor-in-chief of RT in Telegram.

https://yandex.ru/turbo/s/tsargrad.tv/news/simonjan-obratilas-k-posolstvu-ssha-zakrojte-uzhe-past-pravda_265494?utm_source=yxnews&utm_medium=mobile
vk , Jul 13 2020 18:57 utc | 2

Funny how the visa-free map from before the COVID-19 pandemic is roughly equal to the extent of the American Empire itself.

And the loss of foreign students signifies much more than the mere loss of income for the American universities: it also means the loss of grip over the provinces' regional elites.

Most of the foreign students in the USA are sons and daughters of the regional elites. They live the American way of life, get westernized, and go back to their countries (which they will likely rule) with a liberal ideology ingrained in their minds. They are the rough equivalent to what the hostage was during Antiquity. To lose 263,000 hostages in less than one year would be a devastating blow to American diplomacy.

Peter AU1 , Jul 13 2020 19:09 utc | 4

vk

One commenter mentioned a brain drain in relation to foreign students no longer coming to America but I guess the brain drain will occur when out of work professors start heading off to other countries like China in search of work.
Richard Steven Hack , Jul 13 2020 11:53 utc | 172

The Church paid out over $200 million in sexual abuse claims - and gets 7 times that much from the taxpayer.

AP: Catholic Church lobbied for taxpayer funds, got $1.4B

Hackers - rev your engines!



"It is unusual for countries to publicly talk about cyberwarfare tactics" Is not the USA position itself to consider such an attack to be a declaration of war?
I think "Russian toll factory" was shut down much earlier then 2018. So whom he did attack?
REUTERS/Yuri Gripas

President Trump confirmed in an interview with the Washington Post that the US launched a cyberattack against infamous Russian troll farm the Internet Research Agency (IRA) during the 2018 midterms.

The Post reported the attack in February 2019, but this is the first time Trump has confirmed it took place. It is unusual for countries to publicly talk about cyberwarfare tactics.

The IRA was indicted by special counsel Robert Mueller in 2018 for conspiracy to interfere with the 2016 presidential election. Russian influence campaigns were also detected during the 2018 midterms .
Peter AU1 , Jul 13 2020 4:56 utc | 150

JC 143

Plenty of decent people have headed to five eyes thinking they would find a better life, but we also take in the scum of the world that can be used against their own countries. These generally rise to high places.
Imperial France seems of the same mindset and Chechen freedom fighters are now fighting for their freedom in France.

Yankistans freedom fighter Osama Bin Larden was just fighting for freedom apparently. Like the AQ media wing 'White Helmets' that UK and Canada took in, not to mention the nazi's that participated in the genocides in their own countries in WWII.

When peasants living conditions are constantly improving, there will be no revolt and no civil war. Yankistan propaganda can't even come up with an opposition in China.

Angloshere propaganda mostly projects onto target countries what they themselves are doing.
T he ultimate surreal moment in politics will be a Trump-Keynes ticket.
PATIENT OBSERVER July 8, 2020 at 7:02 am

So, Kayne West is running for President. If he goes through with it and is registered as a candidate in key states, he could draw a fair fraction of the black vote otherwise going to Biden.

https://sputniknews.com/us/202007081079828964-bringing-back-fear-and-love-of-god-is-at-heart-of-kanye-wests-bonkers-2020-presidential-manifesto/

I wonder if Trump figured in this gambit. Hardly 3-D chess but there is some sense to it.
MOSCOWEXILE July 6, 2020 at 5:08 am

Nice one, Mark!

In a word, Straw is a Blairite twat.

I remember him as far back as 1969, when he was president of the National Union of Students. He was already a grade-A tosser then.

Now just take a gander at this:

BBC
Last Updated: Monday, 27 February 2006, 19:11 GMT
Straw's warning to Russian tycoon
Boris Berezovsky
Berezovsky was granted political asylum in the UK in 2003

Jack Straw has warned a Russian tycoon that his refugee status could be reviewed after he reportedly said he was planning a coup in Russia.

London-based Boris Berezovsky, 59, was granted asylum three years ago and has a fortune estimated at £800m.

He told a Russian radio station in January he wanted to replace what he called the "anti-constitutional regime" of President Vladimir Putin.

The foreign secretary condemned his remarks in a written Commons statement.

Russia – 'a valued partner'

Mr Straw said the government would "take action against those who use the UK as a base from which to foment violent disorder or terrorism in other countries".

"Advocating the violent overthrow of a sovereign state is unacceptable and we condemn these comments unreservedly," he said.

The UK Government respects Russia's constitutional arrangements and the territorial integrity of the Russian Federation.

"We enjoy a close working relationship with Russia, as a valued partner of the UK."

Mr Straw said Mr Berezovsky, who is wanted in Russia for fraud and tax evasion, had not entered the UK on the government's invitation.

"Those granted asylum in the United Kingdom have duties to the UK which require, in particular, that they conform to its laws and regulations," said Mr Straw.

"They are advised that their refugee status can be reviewed at any time where it is considered their presence is not conducive to the public good."

Former computer scientist Mr Berezovsky sold the Sibneft oil giant in 1997 for £1bn and was ranked 50th in the Sunday Times Rich List last year.

What a two-faced twat!

http://news.bbc.co.uk/2/hi/uk_news/politics/4756880.stm

By the way, BBC: Berezovsky was indeed a mathematician before becoming departmental head of the institute of Control Sciences.

Berezovsky, having in 1989 taken advantage of the opportunities presented by traitor Gorbachev's perestroika founded LogoVAZ with his Georgian business partner Badri Patarkatsishvili and senior managers from Russian automobile manufacturer AvtoVAZ.

LogoVAZ developed software for AvtoVAZ, sold Soviet-made cars and serviced foreign cars.

And then the feeding frenzy began in the Glorious Yeltsin years.

The big automobile scam that Berezovsky then organized profited from hyperinflation by taking cars on consignment and paying the producer at a later date when the money had lost much of its value.

There were competitors in this automobile skulduggery and Tolyatti, the city where The AvtoVaz (Lada) plant was located became for a while the murder capital of Russia.

There were also turf wars in Moscow over control of car dealerships. Nice Mr. Businessman Berezovsky's enforcement team consisted of Chechens. I well remember how there was once an infamous firefight in Moscow between team Berezovsky and another gang of armed gunmen. Whenever Berezovsky was asked about his car dealer activities and the killing spree that was associated with it, he always claimed he didn't know anything about gunfights and gangs, of course.

And then there was the murder of US citizen Klebnikov, Editor of the Russian "Forbes". Klebnikov had had the temerity to write a book about businessman Berezovsky, daring to label him as "The Godfather of the Kremlin".

Needless to say, Berzovsky and clan Yeltsin were at the time as thick as thieves.

They were, in fact, thieves.

And didn't Washington just love that drunken bastard Yeltsin! How Boris and Bill chuckled together at the White House in front of the cameras!

MARK CHAPMAN July 6, 2020 at 12:03 pm

Yes, it's hard to believe Jack Straw – with his other face on – once argued that Berezovsky should be careful of Russia's feelings. And the holier-than-thou psalm about not overthrowing sovereign governments was too precious to believe. It was around this time, when Boris Berezovsky was the subject of tentative deportation investigations, that the poisoned-pen scheme was dreamed up, and authenticated by Litvinenko, so Berezovsky got to stay because Putin tried to kill him.

https://www.theguardian.com/politics/2007/apr/14/uk.russia

Also hard to believe now that Berezovsky was himself a suspect in the murder of Litvinenko. The idea!!

"Among the 100 suspects is Mr Berezovsky, who has accused the Kremlin of being behind Mr Litvinenko's death – a claim Russian officials deny. Mr Berezovsky has been the subject of two extradition attempts; the total cost to the UK taxpayer of Russia's attempt to extradite oligarchs is put at £3m. His asylum stems from a court claim that an agent had been sent to kill him with a poisoned pen."

Luckily, Christopher Steele happened along and told them it was a Russian state hit.
The New York Times claims that the agreement would entail an economic and military partnership
Notable quotes:
"... one day the cost of obeying will be greater than the cost of saying "Go fuck yourself". ..."
ET AL July 13, 2020 at 8:45 am

Antiwar.com : US Warns Iran and China Against Major Investment and Security Deal
https://news.antiwar.com/2020/07/12/us-warns-iran-and-china-against-major-investment-and-security-deal/

State Dept vows to impose costs on both nations

####

Must. Pass. Foreign. Relations. Policy. Past. USDoS. First. Well that is unforgiveable for the Masters of the Universe(TM). No-one knows exactly what's in it except that it is substantial. Still, the USDoS is having a public aneurism tells us that they care a lot.

MARK CHAPMAN July 13, 2020 at 10:49 am

Every time you "impose costs" on another country, you make more enemies and inspire more end-around plays which take you as an economic player out of that loop. And by and by what you do is of no great consequence, and your ability – your LEGAL ability, I should interject – to 'impose costs' is gone.

Sooner or later America's allies are going to refuse to recognize its extraterritorial sanctions, which it has no legal right to impose; it gets away with it by threatening costs in trade with the USA, which is a huge economy and is something under its control.

But that practice causes other countries to gradually insulate themselves against exposure, and one day the cost of obeying will be greater than the cost of saying "Go fuck yourself".

... ... ...
---

MARK CHAPMAN July 7, 2020 at 8:25 am

Why do western politicians always claim these actions send a 'clear message'? What is it? We are good, and you are evil? Roughly the same number of individuals get banned on each side in tit-for-tat, so is the Russian side also sending a 'clear message'? Is it maybe 'fuck you'? And for God's sake stop with the 'blood-drenched' hyperbole – I'm pretty sure I remember Britain chopping up fuzzy-wuzzies by the score in its drive to extend its Empire ever further into countries which most definitely did not welcome it. If you make laws that supposedly send a 'clear message' to your own populations and then ignore them yourself, aren't you a dictator?

ET AL July 7, 2020 at 9:58 am

Maybe it's a typo, rather the British government sending a clear massage ?

MARK CHAPMAN July 7, 2020 at 8:20 am

Of course they need justification to be shown to the public to substantiate decisions which may have far-reaching commercial consequences – a Scandahoovian 5G network is going to cost more, for sure, and probably not be as good although we only have the word of industry insiders for that. Enter a made-up threat so they can say "We had to act". But they have learned a little from the Litvinenko and Skripal fabrications – learned at least that they are not very good at making up convincing stories, and so the public had perhaps best only see the headlines and not the content, because the public has proved quite adept at picking apart the content.

ET AL July 7, 2020 at 2:53 am

Ever wondered what happened to our mouth foaming favorite russophobe, Ed Lucas?

Daily Fail: EDWARD LUCAS: At last! The end of the age of appeasing Beijing bullies
https://www.dailymail.co.uk/debate/article-8495983/EDWARD-LUCAS-end-age-appeasing-Beijing-bullies.html
Cyril , Jul 13 2020 2:56 utc | 140

@JC | Jul 12 2020 22:37 utc | 109

[China invented the dinner fork] Good one

Thanks.


I wouldn't be surprised Trump sincerely believe Xi Jinping is peeing in his pant if he tried threaten China...

Someone who lies so much, like Trump, will often have trouble keeping things straight. I wouldn't be surprised if he started believing his own propaganda.


Trump wanna China to be with Russia on the nuclear armaments talks, China's Fu Cong said "I can assure you that if the U.S. says that they are ready to come down to the Chinese level, China will be happy to participate the next day"

Heh, Fu knows he can say that safely, since there's absolutely no way the US will ever cut its nukes down to China's level.

Hello, Peter Ludlow here, CEO of InGen, the company behind the wildly successful dinosaur-themed amusement park, Jurassic Park. As you're all aware, after an unprecedented storm hit the park, we lost power and the velociraptors escaped their enclosure and killed hundreds of park visitors, prompting a two-month shutdown of the park. Well. I'm pleased to announce that, even though the velociraptors are still on the loose, we will be opening Jurassic Park back up tc the public!

Now, I understand why some people might be skeptical about reopening an amusement park when there are still blindingly fast, 180-pound predators roaming around. But the fact of the matter is, velociraptors are intelligent, shifty creatures that are not going to be contained any time soon, so we might as well just start getting used to them killing a few people every now and then.

Some might argue that we should follow the example of other parks that have successfully dealt with velociraptor escapes. But here at Jurassic Park, we've never been ones to listen to the recommendations of scientists, or safety experts, or bioethicists, so why would we start now?
Richard Steven Hack , Jul 13 2020 0:59 utc | 120

American Passports Are Worthless Now (Map)
Oh the places you can't go

Now all those countries should make that permanent...

lex talionis , Jul 13 2020 1:17 utc | 123

@114 - I would also add that Oppenheimer's follow up film "The Look of Silence" is well worth a watch, too.

@120 - At least we can still go to Ukraine!
This DNC supported and financed movement is a joke. While it managed to channel some resentment against the system into riots and iconoclasm, it is in its core (and leaders) a neoliberals attempt to depose Trump and it will harm blacks fight for equlity in a long run, creating real racial animosities in the country. This process of polarization already started.
blues , Jul 13 2020 1:36 utc | 128

I'm a Moron, and damn proud of it!

Moron Lives Matter! MLM!

Antonym , Jul 13 2020 1:44 utc | 131

@ Jen 114
"As long as this continues, the likelihood that similar persecutions and genocidal purges of outsider groups and individuals, be they Chinese, Christian, Shi'a and other heterodox Muslim, academics, trade unionists, separatists in Maluku, West Papua or other parts of Indoneisa, and all these purges supported by the West in some way, will occur in the future is strong."

Yeah, "we" Anglos" are the only bad guys on this planet - not.
The CIA & co are not yet into slaughtering of Christians. Extremist Indonesian Sunni Muslims were guilty in the above atrocities, continuing as harassments till today. Hard to swallow: bad brown people do exist!
Sen. Lindsey Graham (R-S.C.) said on Sunday that he will agree to a Democratic request to have former special counsel Robert Mueller testify about his investigation into Russian election meddling and the Trump campaign.

"Democrats on the Senate Judiciary Committee have previously requested Mr. Mueller appear before the Senate Judiciary Committee to testify about his investigation," Graham said in a statement.

"That request will be granted," he added.

The statement from Graham, which was also posted to Twitter, comes after Mueller published a Washington Post op-ed defending his team's findings on President Trump's associate Roger Stone after Trump moved to commute Stone's sentence.

Stone "remains a convicted felon, and rightly so," Mueller wrote.

He added that he felt compelled to "respond both to broad claims that our investigation was illegitimate and our motives were improper, and to specific claims that Roger Stone was a victim of our office. Stone was prosecuted and convicted because he committed federal crimes."

Graham referenced the Washington Post op-ed, saying that Mueller is "apparently ... willing-and also capable-of defending" the investigation.

William Gruff , Jul 12 2020 0:58 utc | 45

juliania 39

JC is correct. Neoliberalazis have zero tolerance for ethnic slurs against Black Americans (though not necessarily those against Black Africans... odd) but are willing to excuse those against Asians.

It is funny, but when discussing "diversity" on college campuses, that "diversity" never includes Asians, or for that matter Eastern Europeans, or Syrians, or Iranians or so on. In fact, "diversity" often doesn't even include Latin Americans. It is strange how narrow neoliberal middle class Americans' concerns about "diversity" are.
Would CNN's Don Lemon cancel himself over shockingly unwoke 2013 tips to black community?

A vintage clip of CNN anchor Don Lemon telling black people to act civilized and disregard "street culture" has the woke pundit's detractors' jaws on the floor, wondering what happened to him over the intervening seven years. In the 2013 clip, Lemon praises Fox News host Bill O'Reilly as the Republican pundit decries the " disintegration of the African-American family ," even arguing O'Reilly " doesn't go far enough " when he denounces " street culture. " The video was posted to social media by " Panda Tribune " on Wednesday and quickly circulated among conservatives, who had a hard time reconciling this Lemon with his painfully-PC modern-day counterpart.

Fox News host Tucker Carlson aired the segment on his show Wednesday night, marveling that if Lemon or one of his colleagues came out with those lines in 2020, " that would be their last live broadcast ever - they'd be fired immediately ."
Authored by Karol Markowicz via Spectator,

Wealthy white [neo]liberals don't suffer the consequences of their fringe ideologies...

Walk along the leafy streets of any neighborhood in so-called 'brownstone Brooklyn', Park Slope, Carroll Gardens, Brooklyn Heights, and you'll see 'Defund the Police' in many a home window.

Owners of $3 million dollar brownstones proudly proclaim their agreement with a fringe policy, designed to remove resources from police squads, as a solution to police violence. How exactly less funding for police will result in better policing is unclear, but virtue signaling of the kind that has rich people pushing for fewer resources for poor people doesn't get tangled up in the details.

The details are specifically grim. The New York Post reported on Monday that 'between Monday, June 29, and Sunday, July 5, the city saw 74 shooting incidents with 101 victims'. Those numbers are more than tripled from the same period in 2019.

... The issue, of course, is that these shootings are largely happening in majority-black neighborhoods around the five boroughs. Brownsville, Brooklyn has been hit particularly hard. Upper Manhattan. Harlem. Dozens shot , many dead. No shootings have taken place in Park Slope, Carroll Gardens, Brooklyn Heights. The position 'Defund the Police' can easily be shorthand for 'I'm rich'.
This is about a new generation of Red Guards, not so much about watching Bruce Springsteen And Dionne Warwick Be Pelted With Dogshit For Singing We Are the World
Notable quotes:
"... This Marxian denunciation of the defense of free speech as cynical capitalist ruse was brought to you by the same Ezra Klein who once worked with Yglesias to help Vox raise $300 million . This was just one of many weirdly petty storylines. Writer Thomas Chatterton Williams, who organized the letter, found himself described as a " mixed race man heavily invested in respectability politics ," once he defended the letter, one of many transparent insults directed toward the letter's nonwhite signatories by ostensible antiracist voices. ..."
"... The whole episode was nuts. ..."
"... In this conception there's nothing to worry about when a Dean of Nursing at the University of Massachusetts-Lowell is dismissed for writing "Black Lives Matter, but also, everyone's life matters " in an email, or when an Indiana University Medical School professor has to apologize for asking students how they would treat a patient who says 'I can't breathe!' in a clinical setting, or when someone is fired for retweeting a study suggesting nonviolent protest is effective. The people affected are always eventually judged to be "bad," or to have promoted "bad research," or guilty of making "bad arguments," etc. ..."
"... In this case, Current Affairs hastened to remind us that the people signing the Harper's letter were many varieties of bad! They included Questioners of Politically Correct Culture like "Pinker, Jesse Singal, Zaid Jilani, John McWhorter, Nicholas A. Christakis, Caitlin Flanagan , Jonathan Haidt, and Bari Weiss ," as well as "chess champion and proponent of the bizarre conspiracy theory that the Middle Ages did not happen, Garry Kasparov," and "right wing blowhards known for being wrong about everything" in David Frum and Francis Fukuyama, as well as -- this is my favorite line -- "problematic novelists Martin Amis, Salman Rushdie , and J.K. Rowling." ..."
"... Where on the irony-o-meter does one rate an essay that decries the "right-wing myth" of cancel culture by mass-denouncing a gymnasium full of intellectuals as problematic? ..."
"... Mao and his Red Guard invented cancel culture. This is the Chinese cultural revolution American style. Same ****, just round eyes instead of slant eyes. ..."
Authored by Matt Taibbi. As excerpted from " If it's Not "Cancel Culture," What Kind of Culture is it ? "

Any attempt to build bridges between the two mindsets falls apart, often spectacularly, as we saw this week in an online fight over free speech that could not possibly have been more comic in its unraveling.

A group of high-profile writers and thinkers, including Pinker, Noam Chomsky, Wynton Marsalis, Salman Rushdie, Gloria Steinem and Anne Appelbaum, signed a letter in Harper's calling for an end to callouts and cancelations.

"We refuse any false choice between justice and freedom," the authors wrote, adding, "We need to preserve the possibility of good-faith disagreement without dire professional consequences."

This Hallmark-card-level inoffensive sentiment naturally inspired peals of outrage across the Internet, mainly directed at a handful of signatories deemed hypocrites for having called for the firings of various persons before.

Then a few signatories withdrew their names when they found out that they would be sharing space on the letterhead with people they disliked.

"I thought I was endorsing a well meaning, if vague, message against internet shaming. I did know Chomsky, Steinem, and Atwood were in, and I thought, good company," tweeted Jennifer Finney Boylan, adding, "The consequences are mine to bear. I am so sorry."

Translation: I had no idea my group statement against intellectual monoculture would be signed by people with different views!

In the predictable next development -- no dialogue between American intellectuals is complete these days without someone complaining to the boss -- Vox writer Emily VanDerWerff declared herself literally threatened by co-worker Matt Yglesias's decision to sign the statement. The public as well as Vox editors were told:

The letter, signed as it is by several prominent anti-trans voices and containing as many dog whistles towards anti-trans positions as it does, ideally would not have been signed by anybody at Vox His signature on the letter makes me feel less safe.

Naturally, this declaration impelled Vox co-founder Ezra Klein to take VanDerWerff's side and publicly denounce the Harper's letter as a status-defending con.

"A lot of debates that sell themselves as being about free speech are actually about power," tweeted Klein, clearly referencing his old pal Yglesias. "And there's a lot of power in being able to claim, and hold, the mantle of free speech defender."

This Marxian denunciation of the defense of free speech as cynical capitalist ruse was brought to you by the same Ezra Klein who once worked with Yglesias to help Vox raise $300 million . This was just one of many weirdly petty storylines. Writer Thomas Chatterton Williams, who organized the letter, found himself described as a " mixed race man heavily invested in respectability politics ," once he defended the letter, one of many transparent insults directed toward the letter's nonwhite signatories by ostensible antiracist voices.

The whole episode was nuts. It was like watching Bruce Springsteen and Dionne Warwick be pelted with dogshit for trying to sing We Are the World .

This being America in the Trump era, where the only art form to enjoy wide acceptance is the verbose monograph written in condemnation of the obvious, the Harper's fiasco inspired multiple entries in the vast literature decrying the rumored existence of "cancel culture." The two most common themes of such essays are a) the illiberal left is a Trumpian myth, and b) if the illiberal left does exist, it's a good thing because all of those people they're smearing/getting fired deserved it.

In this conception there's nothing to worry about when a Dean of Nursing at the University of Massachusetts-Lowell is dismissed for writing "Black Lives Matter, but also, everyone's life matters " in an email, or when an Indiana University Medical School professor has to apologize for asking students how they would treat a patient who says 'I can't breathe!' in a clinical setting, or when someone is fired for retweeting a study suggesting nonviolent protest is effective. The people affected are always eventually judged to be "bad," or to have promoted "bad research," or guilty of making "bad arguments," etc.

In this case, Current Affairs hastened to remind us that the people signing the Harper's letter were many varieties of bad! They included Questioners of Politically Correct Culture like "Pinker, Jesse Singal, Zaid Jilani, John McWhorter, Nicholas A. Christakis, Caitlin Flanagan , Jonathan Haidt, and Bari Weiss ," as well as "chess champion and proponent of the bizarre conspiracy theory that the Middle Ages did not happen, Garry Kasparov," and "right wing blowhards known for being wrong about everything" in David Frum and Francis Fukuyama, as well as -- this is my favorite line -- "problematic novelists Martin Amis, Salman Rushdie , and J.K. Rowling."

Where on the irony-o-meter does one rate an essay that decries the "right-wing myth" of cancel culture by mass-denouncing a gymnasium full of intellectuals as problematic?

Continued reading on Matt Taibbi's Substack

---

booboo , 16 seconds ago

How long before Tiabbi is forced into a life of dumpster diving. I am pretty sure his world is rocking right now but free speech needs all of the defenders it can get.

Jackprong , 7 minutes ago

They're even throwing Orwell to the dogs! They have no shame!

Secret Weapon , 10 minutes ago

Mao and his Red Guard invented cancel culture. This is the Chinese cultural revolution American style. Same ****, just round eyes instead of slant eyes.

Justus_Americans , 13 minutes ago

The Overton Window The Illusion Of Choice Free Speech Respectful Discourse The Best Interests of USA

" The smart way to keep people passive and obedient is to strictly limit the spectrum of acceptable opinion, but allow very lively debate within that spectrum—even encourage the more critical and dissident views. That gives people the sense that there's free thinking going on, while all the time the presuppositions of the system are being reinforced by the limits put on the range of the debate " Noam Chomsky
When Colin Powell of all people has to appear on MSNBC to slam fake reporting you know mainstream media has lost the plot.

In a rare moment, the former Secretary of State under Bush slammed the wall-to-wall coverage of the Russian bounties in Afghanistan story as "almost hysterical" . It's all the more awkard for MSNBC, which had him on the network Thursday to talk about it, given he's one of those 'never Trump' Bush-era officials, who despite a legacy of having fed the world lie after lie to invade Iraq, has since been given "resistance hero" status among liberals.

Describing that military commanders on the ground didn't give credence to The New York Times claim that Russia's GRU was paying Taliban and other militants to kill American soldiers, Powell said the media "got kind of out of control" in the first days after the initial report weeks ago.

"I know that our military commanders on the ground did not think that it was as serious a problem as the newspapers were reporting and television was reporting," Powell told MSNBC's Andrea Mitchell. "It got kind of out of control before we really had an understanding of what had happened. I'm not sure we fully understand now."

"It's our commanders who are going to go deal with this kind of a threat, using intelligence given to them by the intelligence community," Powell continued. "But that has to be analyzed. It has to be attested. And then you have to go find out who the enemy is. And I think we were on top of that one, but it just got almost hysterical in the first few days."

He also deflated the ongoing manufactured atmosphere which seeks to maintain a perpetual Washington hawkish position vis-a-vis Moscow, based on perceived "Russian aggression".

"I don't think we're in a position to go to war with the Russians," Powell said. "I know Mr. Putin rather well. He's just figuring out a way to stay in power until 2036. The last thing he's looking for is a war, and the last thing he's looking for is a war with the United States of America."
Submitted by Paul Sperry of RealClearInvestigations

The unnamed FBI "Supervisory Intelligence Analyst" cited by the Justice Department's watchdog for failing to properly vet the so-called Steele dossier before it was used to justify spying on the Trump campaign teaches a class on the ethics of spying at a small Washington-area college, records show.

Above, Brian J. Auten, the FBI analyst who vetted applications to spy on Carter Page, has taught a course on spying ethics at Patrick Henry College since 2010

The senior FBI analyst, Brian J. Auten, has taught the course at Patrick Henry College since 2010, including the 11-month period in 2016 and 2017 when he and a counterintelligence team at FBI headquarters electronically monitored an adviser to the Trump campaign based on false rumors from the dossier and forged evidence.

Auten, identified by congressional sources who spoke on condition of anonymity, never confirmed the most explosive allegations in the dossier compiled by ex-British intelligence officer Christopher Steele, cutting a number of corners in the verification process, Justice Inspector General Michael Horowitz pointed out in his December report on FBI abuses of the Foreign Intelligence Surveillance Act.

By January 2017, the lead analyst had ample evidence the dossier was bogus. Auten could not get sources who provided information to Steele to support the dossier's allegations during interviews. And collections from the wiretaps of Trump aide Carter Page failed to reveal any confirmation of the claims. Auten even came across exculpatory evidence indicating Page was not the Russian asset the dossier alleged, but was in fact a CIA asset helping the U.S. spy on Moscow.

Nonetheless, he and the FBI continued to use the Steele material as a basis for renewing their FISA monitoring of Page, who was never charged with a crime.
Highly recommended!
---

Realist , says: July 3, 2020 at 10:38 am GMT

Does the Next Presidential Election Even Matter?

No just like the elections, for at least, the last 35 years.

AnonFromTN , says: July 3, 2020 at 7:42 pm GMT

It is indeed shameful that narcissistic moron Trump is the sanest person among the US politicians. They are all corrupt and narcissistic, but most Dems appear to be insane at the same time. Biden is simply senile (used to be corrupt before he lost his marbles). The Empire will slide further down regardless who is in the White House. Dems will cause an irreparable destruction of the US as a country, as well. Senile Biden is a perfect "leader" for that. So, what's to be done? Pinch your nose and vote Trump, as never-Trumpers are also scum, and much more despicable.

mark tapley , says: July 3, 2020 at 9:05 pm GMT

@Trinity

I know that you think Trump is the lesser of the two evils compared to Biden, but this is all just a circus using these puppet actors in order to give the illusion that the goyim are really making a difference.

gotmituns , says: July 3, 2020 at 9:10 pm GMT

It's a race between Draft Dodger #2 & Draft Dodger #3 – take your pick. Draft dodger #1 if you don't know was clinton.
William Gruff , Jul 8 2020 11:30 utc | 64

Skeletor @53 Re: Using compromised "Operation Mockingbird" corporate mass media as sources even though that mass media is known to deliberately disinform.

Corporate mass media products, like news segments or written articles, can be viewed on two different levels. The surface level, and the level at which the product is intended to be consumed by the public and installed in their heads as revealed Truth©, is the narrative . Much of this narrative is usually contained in the headline for an article as most people don't read beyond that anyway. This narrative is false, or at least intentionally misleading, 100% of the time.

These articles and news segments can be analysed at a deeper level, though. To build up to their Big Lie of the story's narrative , the corporate mass media must use small pieces of fact and truth, which they assemble in deceptive ways, to make their false narrative palatable. It is the job of the analyst to look beyond the intended narrative of a corporate mass media product to find the fact and truth fragments that they are using to sell the false narrative .

What I get the biggest kick out of is that the creators of these corporate mass media false narratives are often themselves the loudest voices protesting our host using their own products to counter their narratives . They really hate it when their own words are used to discredit their own narratives , and so they whine that if you are not going to swallow their vile narrative , then you should not refer to their words. Poor babies!

While it is true that inattentive readers who are prone to uncritically installing false narratives in their own heads should avoid consuming those mass media products, analysts who are skilled at filtering out and separating the narrative from the supporting text of articles can easily dig out facts from that media ore without risk of contamination of their minds with crap. Our host is one of those kinds of analysts. Unfortunately, since you, Skeletor, cannot tell the difference between narrative and information, you run a great risk of being remote controlled by the false narrative if you consume unprocessed corporate mass media products. I recommend that you avoid them.
Highly recommended!
Did CIA launched this provocation on its own or this is another Ciaramella from NSC in play? This psy-op was a stunning success. But reaction of the part of the US audience was very damaging for the NYT credibility, if such was left.
y_arrow

---

libfrog88 , 1 hour ago

NYT is not journalism. It's good only to wipe your ***.

Salsa Verde , 1 hour ago

Doesn't matter what gets proven or disproven; rumors and baseless allegations ARE the new "facts" of the woke left.

naro , 2 hours ago

NYSlimes has lost all credibility. When I see "anonymouse" source I just see a lazy, lying, affirmative action hired reporter. ay_arrow

WTFUD , 2 hours ago

The only way you can stop this diarrhea is to publicly hang the perpetrators.

fackbankz , 2 hours ago

I can't believe they're still trying to sell that "Russian interference" nonsense.

No, actually, I can because they're still trying to sell this COVID-1984 nonsense.

scaleindependent , 2 hours ago

Now they tells us, right after the fake story was used to cancel the end of the Afghanistan war.

JedClampIt , 3 hours ago

I'm surprised Tyler hasn't yet ripped apart today's NYT editorial, which proves that when you're wrong, just keep repeating it louder.

Stable-Genius , 3 hours ago

I would trust a Russian far more than I would trust any democrat

zerohedgeguy , 3 hours ago

Here's another theory : the democrats placed these bounties

Thordoom , 3 hours ago

It doesn't matter it was a BS story.

Everybody who at least have some sense and knowledge of the world knew it made no sense whatsoever.

The damage has been done.

Most of the americans now hate russians even more than ever and even want them dead or sanctioned to hell.

This psy-op was a stunning success.

consider me gone , 3 hours ago

Like the Taliban needs money to inspire them to kill Americans. They do that as community service work on their days off. Now if you told me the Russians gave them some weapons to help, I wouldn't be the least bit surprised. But the US would never do that to the Russians and certainly not in Afghanistan.

Son of Captain Nemo , 3 hours ago

Question:

Why isn't Russia raising the murder of the U.S. involvement in Andrei Karlov's assassination ( https://en.wikipedia.org/wiki/Assassination_of_Andrei_Karlov )?... Vitaly Churkin ( https://www.independent.co.uk/news/world/europe/russia-diplomats-deaths-theories-putin-kremlin-a7602201.html )?... Michel Lesin ( https://www.zerohedge.com/news/2018-01-28/fbi-releases-docs-claiming-rt-founder-beat-himself-death-his-hotel-room )?.... Or for that matter Iran in Qasem Soleimani's execution ( https://www.aljazeera.com/news/2020/07/killing-iran-qasem-soleimani-unlawful-expert-200707132312296.html ) by U.S./CIA/DOD?!!!...
Down South , Jul 8 2020 8:12 utc | 56

Kay Fabe 33

I disagree with you.

The campaign against Trump has been too ferocious and has been carried on for far too long for it to be fake.

It started with the Obama administration using the FBI to derail the Trump campaign long before the election even took place. We know the FBI used the fake dossier and even lied to the FISA court to get a warrant to spy on members of the Trump campaign and it has simply progressed from there.

The Mueller investigation, the impeachment, the relentless pursuit of Trump by the media to the point that have have lost all credibility. If you just look at the lengths the Democrats have gone to to overthrow Trump. It is quite clear that a colour revolution is currently underway in the US.

All these point to a serious, persistent and relentless effort to remove Trump. Why? Behind the scenes Barr and Durham have been investigating how the FBI was used against Trump in the run up to the election (Obamagate) . The Durham report is ready from what I've read and reportedly at least 3 dozen indictments are being prepared.

In Trump's interview with Hannity recently he made an interesting comment. When he first came to Washington he knew no-one ) which explains why his first term was so chaotic) but now he knows everyone. Trump second term will be a whole different ballgame.
Notable quotes:
"... as usual, by the time the truth had its boots on the lie had already spread halfway around the world ..."
pretzelattack , Jul 8 2020 0:09 utc | 38

The New York Times has just published an editorial about this propaganda fiasco (40 min ago):

Don't Let Russian Meddling Derail Afghanistan Withdrawal Plans

Looks like a sophisticated admission of defeat to me, while preparing the terrain for a comeback. Don't know for sure.

as usual, by the time the truth had its boots on the lie had already spread halfway around the world . the liars have an intrinsic edge here as long as they still have some credibility with the msm consuming public. as long as they own the msm.
Notable quotes:
"... I basically doubt that Trump will matter more then Obama did. Didn't Trump claim more or less directly Obama created ISIS by withdrawing the troops from Iraq? ..."
"... Only when foreign-policy elites cease to cite isolationism to explain why the "sole superpower" has stumbled of late will they be able to confront the issues that matter. Ranking high among those issues is an egregious misuse of American military power and an equally egregious abuse of American soldiers. Confronting the vast disparity between U.S. military ambitions since 9/11 and the results actually achieved is a necessary first step toward devising a serious response to Donald Trump's reckless assault on even the possibility of principled statecraft. ..."
moon , Jul 7 2020 23:40 utc | 35

We're under attack so we must stay to get killed??

...
@Caliman | Jul 7 2020 17:25 utc | 1

I basically doubt that Trump will matter more then Obama did. Didn't Trump claim more or less directly Obama created ISIS by withdrawing the troops from Iraq?

The Old Normal. Why we can't beat our addiction to war, by Andrew J. Bacevich, Harper's March 2020 issue:

http://archive.vn/7NjMh#selection-839.0-839.559

Only when foreign-policy elites cease to cite isolationism to explain why the "sole superpower" has stumbled of late will they be able to confront the issues that matter. Ranking high among those issues is an egregious misuse of American military power and an equally egregious abuse of American soldiers. Confronting the vast disparity between U.S. military ambitions since 9/11 and the results actually achieved is a necessary first step toward devising a serious response to Donald Trump's reckless assault on even the possibility of principled statecraft.
In an oped on Thursday McFaul presented a long list of Vladimir Putin's alleged crimes, offering a more ostensibly sophisticated version of amateur Russian specialist, Rep. Jason Crow's (D-CO) claim that: "Vladimir Putin wakes up every morning and goes to bed every night trying to figure out how to destroy American democracy."

Francis Lee , July 4, 2020 at 04:49

"Vladimir Putin wakes up every morning and goes to bed every night trying to figure out how to destroy American democracy."

Yes, of course it is a well-known 'fact' that Putin has nothing better to do than destory American democracy, and I bet he has dreams about it too! But I am minded to think that if anybody has a penchant for destroying American democracy it is the powers that be in the US deep state, intelligence agencies, and zionist cliques controlling the President and Congress.

"Those whom the gods would destroy they first make mad."

The American establishment seems to be suffering from a bad case of 'projection' as psychiatrists call it. That is to say accusing others of what they are themselves actually doing.

The whole idiotic circus would be hilarious if it were not so serious.
Authored by Alex Nitzberg via JustTheNews.com,

As protesters target statues around the nation, one town is becoming a statue sanctuary city for monuments honoring select figures.

Newton Falls, Ohio City Manager David M. Lynch has signed a proclamation that states that the city will accept and display spurned statues of people including George Washington, Abraham Lincoln, and certain other prominent figures.

"A Proclamation declaring that Newton Falls is a Statuary Sanctuary City and declaring a general amnesty for George Washington, Abraham Lincoln, Thomas Jefferson, Ulysses S. Grant, Patrick Henry, Francis Scott Key, Theodore Roosevelt and Christopher Columbus as represented by the statues of these great leaders, and volunteering to accept these statues that have been removed throughout the USA and place them in a location of honor in our community," the proclamation says, according to a copy posted by 21-WFMJ .

"They founded our nation, they ended slavery, and established and protected our national parks," Lynch said, according to Fox 8 .

"Yes, they had warts but they laid the foundation for what we have today," he said.

Protesters in Baltimore, Maryland on July 4th toppled a statue of Christopher Columbus and dumped it into the city's Inner Harbor.



CitizenX , Jul 6 2020 18:49 utc | 114

..
"Three weeks into the war, Marine Sgt. Ed Chin got the order: Help the Iraqis celebrating in Baghdad's Firdos Square topple the statue of Saddam Hussein.

"My captain comes over and he's got like this package. He hands it to me and he's like, he tells me there's an American flag in there and when I get up there, you know, he's like, show the boys the colors," said Chin.

https://www.cbsnews.com/news/a-decade-after-saddam-husseins-statue-falls-a-tale-of-two-memories/


I'll speak very slowly and simply just for you.

Are you seriously incapable of making a connection regarding the hypocrisy of the US Govt/US military wrapping an American Flag on the Saddam Statue and destroying it for a media photo op while cheering about it? And the condemnation of the US Govt declaring statues should not be destroyed?

Do you see no insanity regarding the US Regime illegally invading and destroying another Nation and its statues (war crime w/millions dead)? The very same Nation celebrating a "bad" Iraqi statue being destroyed is suddenly disgusted when its own statues are being destroyed by its own people?

My point is obvious if you can step back from your myopic view. The US is a mentally ill Nation ridden with hypocrisy. I personally do not put much merit into statues, cultural idolatry comes to mind, just as foolish as religious idolatry.

So what are your thoughts on the destruction of the Saddam statue sanctioned by the US govt and military?

dh , Jul 6 2020 21:40 utc | 125

@114 I expect V will be along at some point but here are my thoughts on the Saddam statue.....

The US is ridden with hypocrisy as you say ....no surprise there. The statue was actually pulled down by a rentamob of Iraqi Saddam haters while American troops high-fived each other.

They wouldn't see anything wrong with pulling the statue down because Saddam was a 'bad guy' and an American enemy.

Those same troops would probably not feel the same way about Confederate generals.....who just happened to be Americans who kept slaves and picked the losing side. They would be seen as major figures in American history.

That is how a lot of Americans would justify it. Of course it is rank hypocrisy..
karlof1 , Jul 6 2020 16:59 utc | 110

The verbal truth assault continues at Global Times today with this op/ed , "US threatens world's epidemic control with 'low human rights advantage'":

"Many people are wondering what is wrong with the US. The self-proclaimed defender of human rights has attached no importance to human life; instead, it has been using the sort of 'low human rights advantage' to pay the price for Washington's ineptitude in fighting the COVID-19....

"The right to life is of prime concern to human rights. But the US keeps preaching about human rights without really caring about it, with its top leader downplaying the 100,000-plus deaths, as he believes it could have been up to 2 million if not for his leadership. Regrettably, the democracy that many Americans are so proud of has failed to do them justice ... People from other countries now see the US as a helpless underdeveloped country.

"Money is needed to guarantee human rights. This is why lieutenant governor of Texas Dan Patrick immorally suggested that fellow seniors should sacrifice their health for the sake of the country's economy. But China - a country frequently blamed by the US for "infringing human rights" - has left no one in its COVID-19 fight, safeguarding the life of every Chinese at tremendous economic cost. The US would never consider a similar option, so it is sitting back idly to get rid of economic burdens. Could there be any country more immoral than the US?

"The US has not only failed to reflect on its poor performance in defending the right to life but also continued to make use of its low human rights advantage, while simultaneously using human rights as a stick to beat others. The raging epidemic in the US will continuously hurt the world and stop the world from taking a turn for the better. Performance in the US has severely dragged the progress of epidemic control worldwide."

What's most troublesome about this op/ed is the fact that it's not propaganda--it's reporting the facts of the matter. 130K deaths and rising while Trump lies about his Do Nothing Policy. As one of my wife's co-workers observed: Trump gets tested and is informed of COVID-19's progress daily, so he knows what's happening, but he clearly doesn't give a Damn about the deaths and economic disruption.
El Dato , says: July 6, 2020 at 1:32 pm GMT

https://www.unz.com/isteve/who-will-have-more-shootings-for-the-4th-of-july-weekend-veteran-chicago-or-new-contender-new-york/#comment-4015701

For some reason, the anti-capitalist revolution has not touched the Goldman Sachs headquarters and the expensive so-called art collection in its lobby. Wall Street is mysteriously untouched by this alleged anti-capitalist revolution. Really makes you think. In fact, lower Manhattan overall is largely unaffected. Life is good, if really quiet.

The ONE place in New York that looks like Escape From New York is directly adjacent to City Hall. The so-called autonomous zone in New York is literally a large stretch of sidewalk adjacent to City Hall. City Hall Park itself is locked down by the NYPD. The pathetic pseudo-revolutionaries only control a small stretch of sidewalk.

The only buildings in Lower Manhattan that are covered by ACAB, F12 and KILL PIGS graffiti are CITY BUILDINGS, the Surrogate Court and the old Tweed Courthouse which is now the Department of Education. I REPEAT, the only buildings in Manhattan that are covered in KILL COPS graffiti are controlled by THE MAYOR. The rest of the City is largely clean of anti-cop graffiti. Again, it really, really makes you THINK.

Emily , says: July 6, 2020 at 1:54 pm GMT

@KenH

...From the Duran
https://theduran.com/businesses-who-are-supporting-the-antifa-and-blm-riots-video/
CitizenX , Jul 6 2020 3:41 utc | 87

---

Peter AU1 , Jul 6 2020 5:07 utc | 90

Destruction of monuments in the US is meaningless. Considering the types they have running the country, the clowns destroying monuments are a few hundred years behind the times. At the moment, they have the chance to destroy many war criminals, but being brainless americans they destroy stuff that's long past. Reminds me of the Rove quote about creating new reality while everyone is still studying past reality. PC americans are a few centuries behind current reality.

Paco , Jul 6 2020 5:53 utc | 91

I sent the link of the lincoln project ad to a russian friend, the reaction was: что это за хрень? what the f*** is that?
The level of idiocy reached by the greatest empire in the history of mankind.
https://youtu.be/eUBAAeuBpPQ

CitizenX , Jul 6 2020 1:03 utc | 71

"In China, you cannot change the party, but you can change the policies.
In America, you can change the parties but never the policies"

To be fair the only policy changes I've seen from either party in the US have been consistently worse...and generally in lock step with each other. Both "parties" should be crashed and bashed.

-Or as Americans are fond of quoting "Caedite eos. Novit enim Dominus qui sunt eius" the origin of the modern phrase, "Kill them all and let God sort them out." Another civil war in the states would be doing the world a great justice. Let the Americans lovingly slaughter each other rather than the rest of the world. Even the bible thumpers love to do "gods work"
450.org , Jul 6 2020 21:07 utc | 122

@114
Now only complete idiot agrees with Albright "We stand tall and we see further than other countries into the future, and we see the danger here to all of us"
CitizenX , Jul 6 2020 1:56 utc | 76

"Iran will have to respond, 4 attacks in less than 2 weeks is really taking the piss and makes them look weak. Quite a reversal from the Iran that was seizing tankers, acting on its threats and dictating the tempo of escalation."
Posted by: Et Tu | Jul 5 2020 23:07 utc | 56

...

Iran is playing Chess, the US are still trying to find the checkerboard yelling "King Me".

US military policy has been misguided for decades based on militarism as economic profiteering, not on the life or death principle of a Nation under attack.

Pure Propaganda-
"SECRETARY ALBRIGHT: But if we have to use force, it is because we are America; we are the indispensable nation. We stand tall and we see further than other countries into the future, and we see the danger here to all of us. I know that the American men and women in uniform are always prepared to sacrifice for freedom, democracy and the American way of life.

MR. LAUER: Secretary of State Madeleine Albright." Interview on NBC-TV "The Today Show" with Matt Lauer
Columbus, Ohio, February 19, 1998
...

1997 The Grand Chessboard: American Primacy and Its Geostrategic Imperatives -Zbigniew Brzezinski.

War profiteering, stealing resources and destroying other nations/economies is not much of a Grand long term Strategy. Iran is preparing, organizing and waiting- the Iranian Red Flag of "Revenge" for Soleimani is flying while Americans burn their own flag.
Jul 06, 2020 |