---
FBI contractor Fusion GPS
FBI Mayberry Machiavellians went va bank and lost. Dossier was a part of a covert operation to fuel Russiagate hysteria and get FISA warrant to spy on Trump team during elections? Was FBI the evil force behind dossier (via Fusion GPS) and Steele just a patsy?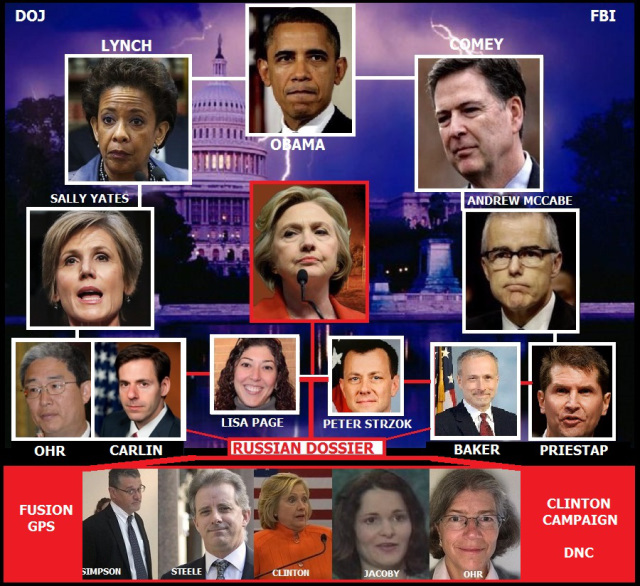 Hat tip to The Last Refuge
FBI contractor Fusion GPS fingerprints are all over Steele dossier and Was Natalia Veselnitskaya meeting with Trump Jr. a trap?. It was instrumental in establishing surveillance on members fo Trump team. As theconservativetreehouse.com repoted:
This timeline is entirely too obvious.

What plan came from that April 19th,2016 White House meeting? What plan did Mary Jacoby and Glenn Simpson present to use the information they had assembled? How and who would they feed their information to; and how do they best use that 'valuable' information?

This appears to be where Fusion-GPS contracting with Christopher Steele comes in.

What happens next?

Glenn Simpson and Mary Jacoby (Fusion-GPS) hires Nellie Ohr:

Contacted by Fox News, investigators for the House Permanent Select Committee on Intelligence (HPSCI) confirmed that Nellie H. Ohr, wife of the demoted official, Bruce G. Ohr, worked for the opposition research firm last year.

The precise nature of Mrs. Ohr's duties – including whether she worked on the dossier – remains unclear but a review of her published works available online reveals Mrs. Ohr has written extensively on Russia-related subjects. HPSCI staff confirmed to Fox News that she was paid by Fusion GPS through the summer and fall of 2016. (link)

DOJ Deputy Bruce Ohr and his wife Nellie Ohr had a prior working relationship with Fusion-GPS founder Glenn Simpson. Together they worked on a collaborative CIA Open Source group project surrounding International Organized Crime. (pdf here) Page #30 Screen Shot Below.

Keep in mind, AFTER April 18th, 2016, Fusion-GPS knows the NSA compliance division is reviewing all of their FISA-702(17) search "query" activity conducted while contracted by the FBI.

The Clinton campaign hired Fusion GPS (April 2016). Fusion sub-contracted retired British MI6 agent Christopher Steele to write the opposition research report "The Trump Russia Dossier"; and they hire a former intelligence community colleague, Nellie Ohr.

Nellie Ohr is a subject matter expert on Russia, speaks Russian, and also is well versed on CIA operations. Nellie Ohr's skills would include how to build or create counterintelligence frameworks to give the appearance of events that may be entirely fabricated.

Knowing the NSA was reviewing FISA "Queries"; and intellectually accepting the resulting information from those queries was likely part of the framework put together by Glenn Simpson and Mary Jacoby;

Accepting the FBI was utilizing Fusion-GPS as a contractor, there is now an inherent clarity in the relationship between: FBI agent Peter Strzok, Fusion-GPS Glenn Simpson, and 'Russian Dossier' author Christopher Steele. They are all on the same team.

The information that Fusion-GPS Glenn Simpson put together from his advanced work on the 'Trump Project', was, in essence, built upon the foundation of the close relationship he already had with the FBI.

Simpson, Jacoby and Ohr then passed on their information to Christopher Steele who adds his own ingredients to the mix, turns around, and gives the end product back to the FBI. That end product is laundered intelligence now called "The Trump/Russia Dossier".

It is a circle of intelligence information.

The FBI turn around and use the "dossier" as the underlying documents and investigative evidence for continued operations against the target of the entire enterprise, candidate Donald Trump. As Peter Strzok would say in August 2016: this is their "insurance policy" per se'.

"I want to believe the path you threw out for consideration in Andy's office that there's no way he gets elected – but I'm afraid we can't take that risk. It's like an insurance policy in the unlikely event you die before you're 40."

In October 2016, immediately after the DOJ lawyers formatted the FBI information (Steele Dossier etc.) for a valid FISA application, the head of the NSD, Asst. Attorney General John P Carlin, left his job. His exit came as the NSD and Admiral Rogers informed the FISC that frequent unauthorized FISA-702 searches had been conducted. Read Here.

The FISA court declassified their opinion of the DOJ and FBI conduct, in May of 2017, and that's the way the public discovered the 2016 admissions by the DOJ, FBI and ultimately the compliance department of the NSA.

Yes, the FBI was working with Christopher Steele through their contractor Fusion-GPS. Yes, the FBI and Clinton Team were, in essence, both paying Christopher Steele for his efforts. The FBI paid Steele via their sub-contractor Fusion-GPS.

Lastly, when the DOJ/FBI used the Steele Dossier to make their 2016 surveillance activity legal (the October FISA application), they are essentially using the outcome of a process they created themselves in collaboration with both Fusion GPS and the Clinton campaign.
All research indicates the intelligence information the DOJ and FBI collected via their FISA-702 queries, combined with the intelligence Fusion GPS created in their earlier use of contractor access to FISA-702(17) "about queries", was the intelligence data delivered to Christopher Steele for use in creating "The Russian Dossier".

Christopher Steele was just laundering intelligence. The Steele "dossier" was then used by the DOJ to gain FISA-702 approvals – which provided retroactive legal cover for the prior campaign surveillance, and also used post-election to create the "Russian Narrative".

Ten days after the election, November 17th 2016, Admiral Rogers traveled to Trump Tower without telling ODNI James Clapper. Rogers likely informs President-elect Trump of the prior surveillance activity by the FBI and DOJ, including the likelihood that all of Trump Tower's email and phone communication were reviewed within the FISA-702 abuse.

♦ On November 17th, 2016, NSA Director Admiral Mike Rogers went to see President-Elect Donald Trump in Trump Tower, New York. –SEE HERE– Director Rogers never told his boss DNI, James Clapper.

♦ On November 18th, 2016, the Trump Transition Team announced they were moving all transition activity to Trump National Golf Club in Bedminster, New Jersey. –SEE HERE– Where they interviewed and discussed the most sensitive positions to fill. Defense, State, CIA, ODNI.

The transition team was set up in Trump Tower. The very next day, November 18th 2016, Trump moves the entire transition team to Bedminister New Jersey.

♦Ultimately, the people within all of these unlawful intercepts of information is what Devin Nunes discovered when he looked at the "unmasking requests" which were a result of those FISA 702(17) collections on Team Trump. That's why Devin Nunes was so stunned at what he saw in February and March 2017.
The ENTIRE SYSTEM of FISA-702 surveillance and data collection was weaponized against a political campaign. The DOJ and FBI used the FISA Court to gain access to Trump data, and simultaneously justify earlier FISA "queries" by their contractor, Fusion GPS. FISA-702 queries were used to gather information on the Trump campaign which later became FBI counterintelligence surveillance on the officials therein.
---
---
Softpanorama hot topic of the month
Softpanorama Recommended
---
---
FAIR USE NOTICE This site contains copyrighted material the use of which has not always been specifically authorized by the copyright owner. We are making such material available in our efforts to advance understanding of environmental, political, human rights, economic, democracy, scientific, and social justice issues, etc. We believe this constitutes a 'fair use' of any such copyrighted material as provided for in section 107 of the US Copyright Law. In accordance with Title 17 U.S.C. Section 107, the material on this site is distributed without profit exclusivly for research and educational purposes. If you wish to use copyrighted material from this site for purposes of your own that go beyond 'fair use', you must obtain permission from the copyright owner.
ABUSE: IPs or network segments from which we detect a stream of probes might be blocked for no less then 90 days. Multiple types of probes increase this period.
Society
Groupthink : Two Party System as Polyarchy : Corruption of Regulators : Bureaucracies : Understanding Micromanagers and Control Freaks : Toxic Managers : Harvard Mafia : Diplomatic Communication : Surviving a Bad Performance Review : Insufficient Retirement Funds as Immanent Problem of Neoliberal Regime : PseudoScience : Who Rules America : Neoliberalism : The Iron Law of Oligarchy : Libertarian Philosophy
Quotes
War and Peace : Skeptical Finance : John Kenneth Galbraith :Talleyrand : Oscar Wilde : Otto Von Bismarck : Keynes : George Carlin : Skeptics : Propaganda : SE quotes : Language Design and Programming Quotes : Random IT-related quotes : Somerset Maugham : Marcus Aurelius : Kurt Vonnegut : Eric Hoffer : Winston Churchill : Napoleon Bonaparte : Ambrose Bierce : Bernard Shaw : Mark Twain Quotes
Bulletin:
Vol 25, No.12 (December, 2013) Rational Fools vs. Efficient Crooks The efficient markets hypothesis : Political Skeptic Bulletin, 2013 : Unemployment Bulletin, 2010 : Vol 23, No.10 (October, 2011) An observation about corporate security departments : Slightly Skeptical Euromaydan Chronicles, June 2014 : Greenspan legacy bulletin, 2008 : Vol 25, No.10 (October, 2013) Cryptolocker Trojan (Win32/Crilock.A) : Vol 25, No.08 (August, 2013) Cloud providers as intelligence collection hubs : Financial Humor Bulletin, 2010 : Inequality Bulletin, 2009 : Financial Humor Bulletin, 2008 : Copyleft Problems Bulletin, 2004 : Financial Humor Bulletin, 2011 : Energy Bulletin, 2010 : Malware Protection Bulletin, 2010 : Vol 26, No.1 (January, 2013) Object-Oriented Cult : Political Skeptic Bulletin, 2011 : Vol 23, No.11 (November, 2011) Softpanorama classification of sysadmin horror stories : Vol 25, No.05 (May, 2013) Corporate bullshit as a communication method : Vol 25, No.06 (June, 2013) A Note on the Relationship of Brooks Law and Conway Law
History:
Fifty glorious years (1950-2000): the triumph of the US computer engineering : Donald Knuth : TAoCP and its Influence of Computer Science : Richard Stallman : Linus Torvalds : Larry Wall : John K. Ousterhout : CTSS : Multix OS Unix History : Unix shell history : VI editor : History of pipes concept : Solaris : MS DOS : Programming Languages History : PL/1 : Simula 67 : C : History of GCC development : Scripting Languages : Perl history : OS History : Mail : DNS : SSH : CPU Instruction Sets : SPARC systems 1987-2006 : Norton Commander : Norton Utilities : Norton Ghost : Frontpage history : Malware Defense History : GNU Screen : OSS early history
Classic books:
The Peter Principle : Parkinson Law : 1984 : The Mythical Man-Month : How to Solve It by George Polya : The Art of Computer Programming : The Elements of Programming Style : The Unix Hater's Handbook : The Jargon file : The True Believer : Programming Pearls : The Good Soldier Svejk : The Power Elite
Most popular humor pages:
Manifest of the Softpanorama IT Slacker Society : Ten Commandments of the IT Slackers Society : Computer Humor Collection : BSD Logo Story : The Cuckoo's Egg : IT Slang : C++ Humor : ARE YOU A BBS ADDICT? : The Perl Purity Test : Object oriented programmers of all nations : Financial Humor : Financial Humor Bulletin, 2008 : Financial Humor Bulletin, 2010 : The Most Comprehensive Collection of Editor-related Humor : Programming Language Humor : Goldman Sachs related humor : Greenspan humor : C Humor : Scripting Humor : Real Programmers Humor : Web Humor : GPL-related Humor : OFM Humor : Politically Incorrect Humor : IDS Humor : "Linux Sucks" Humor : Russian Musical Humor : Best Russian Programmer Humor : Microsoft plans to buy Catholic Church : Richard Stallman Related Humor : Admin Humor : Perl-related Humor : Linus Torvalds Related humor : PseudoScience Related Humor : Networking Humor : Shell Humor : Financial Humor Bulletin, 2011 : Financial Humor Bulletin, 2012 : Financial Humor Bulletin, 2013 : Java Humor : Software Engineering Humor : Sun Solaris Related Humor : Education Humor : IBM Humor : Assembler-related Humor : VIM Humor : Computer Viruses Humor : Bright tomorrow is rescheduled to a day after tomorrow : Classic Computer Humor
---
Copyright © 1996-2016 by Dr. Nikolai Bezroukov. www.softpanorama.org was created as a service to the UN Sustainable Development Networking Programme (SDNP) in the author free time. This document is an industrial compilation designed and created exclusively for educational use and is distributed under the Softpanorama Content License.
The site uses AdSense so you need to be aware of Google privacy policy. You you do not want to be tracked by Google please disable Javascript for this site. This site is perfectly usable without Javascript.
Original materials copyright belong to respective owners. Quotes are made for educational purposes only in compliance with the fair use doctrine.
FAIR USE NOTICE This site contains copyrighted material the use of which has not always been specifically authorized by the copyright owner. We are making such material available to advance understanding of computer science, IT technology, economic, scientific, and social issues. We believe this constitutes a 'fair use' of any such copyrighted material as provided by section 107 of the US Copyright Law according to which such material can be distributed without profit exclusively for research and educational purposes.
This is a Spartan WHYFF (We Help You For Free) site written by people for whom English is not a native language. Grammar and spelling errors should be expected. The site contain some broken links as it develops like a living tree...
| | |
| --- | --- |
| | You can use PayPal to make a contribution, supporting development of this site and speed up access. In case softpanorama.org is down you can use the at softpanorama.info |
Disclaimer:
The statements, views and opinions presented on this web page are those of the author (or referenced source) and are not endorsed by, nor do they necessarily reflect, the opinions of the author present and former employers, SDNP or any other organization the author may be associated with. We do not warrant the correctness of the information provided or its fitness for any purpose.
Last modified: February, 17, 2018