---
Privacy is Dead – Get Over It
Mass surveillance is equal to totalitarism with classic slogan of Third Reich
"if you have nothing to hide, then you have nothing to fear"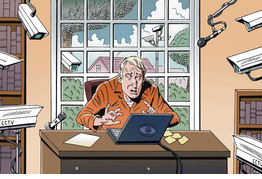 "None are more enslaved than those who
falsely believe they are free."
- Goethe
It's not so disturbing that the aggregation occurs, it's disturbing
that people don't seem to understand just how "public" the Internet really is.
Steve Rambam
at The Last Hope conference, 2008
"One thing I find amusing is the absolute terror of Big Brother,
when we've all already gone and said, 'Cuff me,' to Little Brother,"
-- John Arquilla, an intelligence expert
at the Naval Postgraduate School in Monterey, Calif.
---
It is important to understand that any networked computer is an insecure computer and it should be treated as such. It's not so disturbing that that social sites, government, insurance companies, etc collect our data; it's disturbing that people don't seem to understand just how "public" the Internet really is and how much their personal information they volunteer. Anybody who answered honestly question about their annual income and other confidential information while registering product (Logitech like to ask this information ;-) or enrolling into some stupid social site like Facebook, is an idiot, plain and simple. And he/'she gets what they deserve. Also if after reading this individual does not suspend his/her Facebook account for at least a month to see whether he/she need it or not, he/she does not care about his privacy one bit. For anybody with IQ above 100 it is clear that Facebook does not serve any useful purpose, other then collecting information about you and reselling it to the higher bidder. That's their business model.
After revelation of Prism program, an excessive usage of cloud services from a fashionable trend instantly became an indication of a person stupidity.
The current situation can be described as following:
Federal, state, and local law enforcement have your current location at all times.
Federal, state, and local law enforcement have a key to your home at all times.
Federal law enforcement has the access to your mailbox and address book as well as the list of phone called with other party phone, name and duration.
Federal law enforcement has the list of purchases you made with the credit cards at all times for all of your adult life.
Federal government and private companies have all data about drags you are taking and illnesses you are suffering from
Federal government and private corporation have the access to the list of all your Internet searches (probably for your lifetime)
You might be included in some "for sale" databases as a member of specific category (for example "People getting Social Security, people suffering from asthma, etc). It is easy to deduct some of those list by calls that you get on your home phone if you still have a home phone number.
In other words from the point of view of the completeness of the dossier the government has on you, STASI was an rank amateur. There is no escape form this reality. But you can follow some simple common sense rules to minimize your "footprint", although they do not protect you from "excessive" Internet/communications surveillance:
Minimize. "If you want to be truly secure, I suggest the bromide of a 19th century Boston politician, Martin Lomasney: "Never write if you [can] speak; never speak if you can nod; and never nod if you can wink..." A very tough system to break even with today's advance technology." (quote for discussion at Schneier on Security )

Do not succumb to Internet addition. There are many things in life more pleasurable and even useful than spending hours browsing the Web.

Do not leave your computers up for the night unless they are servers. Switched off computer is pretty safe if "wake-on-LAN" setting in BIOS is disabled. The same is true with smartphones. Putting them into metal box or metal mesh box for the night like some recommend while cuts possibility for them to get a signal from the tower is probably an overkill. For laptops it's really easy to shut them for the night if you associate shut down computer with closing the lid when your laptop is connected to the power source (this is more tricky if you have a dock; then you might need to change it to "not connected to power source" and remove laptop from the dock for the night).

Always disable "wake-on-LAN" setting on your PCs. That's trivial thing but that's important.

Things that should be be discussed by phone, should never be discussed by phone.

Dilute your Internet purchase history. Use single Amazon account for the whole family or share it with a friends (that allow you to cut the price of prime in half but exposé you to risks if you "misunderestimated" your friend or part the ways ;-). It also enforce some discipline on your buying as you know that other people have access to the list of your purchases. In this case it is more difficult to profile single member of household as you need to make some assumption.

Filler browsing and the use of VPN. If you are concerned the your internet browsing can get you in the "unload citizens" category of some sort you might try to use "filler" browsing to dilute the stream of pages you requested and/or use VPN (but you can't use any exotic browser, unless you change the proser identification string, but even this is not enough). Dilution is a trick that is often used in office environment by those who like to play on the edge with enterprise security team (especially if you have nothing to do at night shift). Using single proxy for the whole family also helps to mask your identity (actually router mask all your Web pages requests presenting them as coming from a single Internet address, not from individual (and local) addresses of computers in your household. But if different computers use different browsers (or different version of browsers) pages access can be differentiated by browser type. In any case proxy gives you much finer control and is not that difficult to install and use. Programmable keyboard and some skills in programming in LUA makes injecting "politically correct searches" easy. You can randomize the set of pages too.

Don't succumb to paranoia. Installing spyware on your smartphone is an expensive operation and you generally have much higher changes to get malware from regular criminals than from the government. Especially if you install "free" applications on your smartphone. More often than not, they are not completely free and like is case of using Facebook you trade your privacy for the access to them ;-). Switched off cellphones or computer (with wake-up-LAN disabled) are switched off cell phones, or computer. There is probably not that much value in removing the battery and other "drastic" measures like putting them into Faraday case (BTW plastic bags for electronic parts have metallic coating and might serve serve as a Faraday cage)

If you do not want particular travel to be recorded in tiny details do not use cellphones and pay cash for gas, food, etc. But please understand that when you cross toll bridges your number plate is recorded. And probably not only bridges. So for the government there are many ways to skin the cat, even if the cat is trying to hide.

Regular simple/basic flip phone like Samsung Gusto 3 B311 No Contract Phone (Verizon Wireless) or ZTE Z222 Go Phone (AT&T) is safer than smartphone as there not much memory in each od such phone to allow any hacking (typically 50 MB or less) . This improves your protection, if you are really paranoid at the cost of Internet access from the smarphone. People like myself, who do not really need internet on the phone as they have tablet with G3/G4 for this purpose can also use this approach as such phone usually has chaper plans then smartphones. In any case your call metadata will be recorded anyway. And as Us experience with Iraq insurgetnt had shown, they are probably as revealing as the content of your phone calls.

Never use Gmail/hotmail/yahoo mail for anything of the registrations and spam folder. Get and account at one of ISPs. It will cost you around $5 a month or less. You might also wish to obtain you won domain name. They come with email accounts and web page creation capabilities (might also be useful if you can avoid excessive exhibitionism and limit it to quotes from sources that you like and similar things )

Never store your financial information and other sensitive files on the same computer you browse Internet. Buy additional laptop and use exclusively it for browsing financial sites and creating your tax return (if you do it yourself). That also helps against nasty malware. At least never use the same account -- create and strictly follow the discipline of using different accounts for you regular browsing and for your finances. That's really important.

Periodically change your nicknames if you participate in some "supposedly watched by authorities" forums. Periodically change DHCP address on your provider using ipconfig /release or similar methods. Nicknames that can't be easily found by Internet searches (common words, such as "high speed", "Networker", "not a new Yorker", "Symposium" ) are better than unique one. Look at Guardian forums for inspiration ;-). You can also use VPN to mask your IP but generally your mileage can vary, as the government has tools to void this protection.

Get PGP key and learn to use PGP. This is useful for separating your regular files from your "confidential" files. If something is really confidential never store it on a networked computer. Use paper and non-networked computer for printing it. Some people install DOS for such purpose, but while fun to do, that's probably an overkill, unless are are into retro-computing. Non-networked means does not have any network card, or WiFi; which means old desktop computer). You will not be alone. There was a story published in 2013 by major news agencies (see BBC version ) that Russian government bought some number of electric typewriters for such a switch. See also discussion Soviet Spying on US Selectric Typewriters - Schneier on Security. It might well be that on a governmental level anything secret shouldn't be prepared or communicated on electronic devices.

Switch off you laptp or smartphone if you do not use them and do not want to take any calls. There is no any reason to keep smartphone up when you are travelling in the car. You can use Airplane mode for that too. That suppresses geolocation, but it leaves phone up and thus theoretically still enables voice recording using microphone, although if you smartphone is in the pocket, the quality of such recording will be so dismal that it is virtually useless, unless you want to spend large amount of many on filtering off the noise.
"Always remember that Google Gmail is "free"
because you are not the customer, you are the product."
In Australia any expectations of privacy isn't legally recognized by the Supreme Court once people voluntarily offered data to the third party. A this is a very reasonable policy. Here is a relevant Slashdot post:
General Counsel of the Office of the Director of National Intelligence Robert S. Litt explained that our expectation of privacy isn't legally recognized by the Supreme Court once we've offered it to a third party.

Thus, sifting through third party data doesn't qualify 'on a constitutional level' as invasive to our personal privacy. This he brought to an interesting point about volunteered personal data, and social media habits. Our willingness to give our information to companies and social networking websites is baffling to the ODNI.

'Why is it that people are willing to expose large quantities of information to private parties but don't want the Government to have the same information?,' he asked."

... ... ...

While Snowden's leaks have provoked Jimmy Carter into labeling this government a sham, and void of a functioning democracy, Litt presented how these wide data collection programs are in fact valued by our government, have legal justification, and all the necessary parameters.

Litt, echoing the president and his boss James Clapper, explained thusly:

"We do not use our foreign intelligence collection capabilities to steal the trade secrets of foreign companies in order to give American companies a competitive advantage. We do not indiscriminately sweep up and store the contents of the communications of Americans, or of the citizenry of any country. We do not use our intelligence collection for the purpose of repressing the citizens of any country because of their political, religious or other beliefs. We collect metadata—information about communications—more broadly than we collect the actual content of communications, because it is less intrusive than collecting content and in fact can provide us information that helps us more narrowly focus our collection of content on appropriate targets. But it simply is not true that the United States Government is listening to everything said by every citizen of any country."

It's great that the U.S. government behaves better than corporations on privacy—too bad it trusts/subcontracts corporations to deal with that privacy—but it's an uncomfortable thing to even be in a position of having to compare the two. This is the point Litt misses, and it's not a fine one.
In a very profound way Facebook was never a "social site". It was always anti-social site. Facebook exploits people's own sense of vanity and desire to invade other people's privacy. There is no requirement to plaster your life all over the internet.
In a very profound way Facebook was never a "social site".
It was always anti-social site.
Facebook exploits and tries to play on people's own sense of vanity and desire to invade other people's privacy. This Facebook induced US epidemic of exhibitionism is really unhealthy. There is no requirement to plaster your life all over the internet.
Facebook has been a personal information sucking device since its inception. It is a toxic, faceless suburban wasteland which actually makes people more lonely (Suburbanization of Friendships and Solitude)
April 18, 2012

Facebook may be making us lonely, giving users the information age equivalent of a faceless suburban wasteland, claims the fantastic cover story of The Atlantic. Key excerpts:

We were promised a global village; instead we inhabit the drab cul-de-sacs and endless freeways of a vast suburb of information.

At the forefront of all this unexpectedly lonely interactivity is Facebook.

Facebook makes real relationships harder:

That one little phrase, Your real friends—so quaint, so charmingly mothering—perfectly encapsulates the anxieties that social media have produced: the fears that Facebook is interfering with our real friendships, distancing us from each other, making us lonelier; and that social networking might be spreading the very isolation it seemed designed to conquer.

Here's why:

Our omnipresent new technologies lure us toward increasingly superficial connections at exactly the same moment that they make avoiding the mess of human interaction easy. The beauty of Facebook, the source of its power, is that it enables us to be social while sparing us the embarrassing reality of society—the accidental revelations we make at parties, the awkward pauses, the farting and the spilled drinks and the general gaucherie of face-to-face contact. Instead, we have the lovely smoothness of a seemingly social machine. Everything's so simple: status updates, pictures, your wall.

Finally, FB fosters a retreat into narcissism:

Self-presentation on Facebook is continuous, intensely mediated, and possessed of a phony nonchalance that eliminates even the potential for spontaneity. ("Look how casually I threw up these three photos from the party at which I took 300 photos!") Curating the exhibition of the self has become a 24/7 occupation.

Facebook users retreat from "messy" human interaction and spend too much of their time curating fantasy avatars of themselves to actually to out and meet real people:

The relentlessness is what is so new, so potentially transformative. Facebook never takes a break. We never take a break. Human beings have always created elaborate acts of self-presentation. But not all the time, not every morning, before we even pour a cup of coffee.

The always-on effects are profound:

What Facebook has revealed about human nature—and this is not a minor revelation—is that a connection is not the same thing as a bond, and that instant and total connection is no salvation, no ticket to a happier, better world or a more liberated version of humanity. Solitude used to be good for self-reflection and self-reinvention. But now we are left thinking about who we are all the time, without ever really thinking about who we are. Facebook denies us a pleasure whose profundity we had underestimated: the chance to forget about ourselves for a while, the chance to disconnect.

One of the deepest and best researched meditations on FB 2012.
Many sites allow now two factor authentication. If you bank and broker do not have two factor authentication, think about changing them to the one that is similar but has one.
As a minimum use different account and non-privileged account on the same laptop for browsing and for financial transactions.
To avoid pilfering of your financial information by malware it makes sense to use a special laptop for access to financial sites and preparing tax information. It is easy to configure your workplace at home with two laptops: one for browsing and other similar "non-secure" activate and the other for financial activities. You can switch monitors using a good KVM switch. Generally USB switch such as UGREEN USB Switch Selector is enough. You do not need to switch monitors as there is enough space for two or even for monitor (if you use 4 monitor stand) on most desks.
Never use for such operation a laptop or desktop you children have access to. Good used Dell laptop is only $300 and you losses can be measured in tens thousand of dollars.
In any case we should be aware that your Internet communications are under total surveillance. And that does not mean that people in hard boots will come and take you. Just realization of that this under surveillance is enough to change people behaviour. See Inverted Totalitarism:
The key ingredient of classical totalitarism is violence toward opponents. Also in all classic totalitarian states such as Nazi Germany and the USSR, the citizenry were kept mobilized to support the state. Sometimes wipe up to the state of frenzy by ideological purity campaigns or purges. Opponents were sent to concentration camps or exiled. Here the idea different: a passive but thoroughly monitored and thoroughly brainwashed populace is the goal that can be achieve with just two of three component of traditional totalitarism (ideology, propaganda and violence). Ideology and propaganda components are enough. That why the name "inverted totalitarism".

The term "liberal fascism" is also used and is a synonym, but it has "politically incorrect" flavor. The term "managed democracy" is also used, but more rarely.

It goes without saying that inverted totalitarism is much better then classic variants as close acquaintance with Gestapo or KGB is harmful for one's health. And that's what opponents of the regime faced. Here they just ignore the opponents and cut oxygen, in indirect way. Voice of opponents of the regime is just drown in the see of official propaganda and they are never invited to TV programs with significant popularity and influence on public opinion. As Orwell aptly noted "ignorance is strength" ;-). Also people who failed "loyalty test" might be simply remove from position where they can make a difference. Without too much noise. Net result is very similar, but for dissidents in case of inverted totalitarism teeth remain in place.
This includes recordings of phone calls, the content of email messages, entries on Facebook and the history of any internet user's access to websites (Web logs). That does not mean that those data are abused, but they are definitely recorded and some of them are stored for several years. In the article Edward Snowden Is Completely Wrong by Michael Hirsh and Sara Sorcher (Jun 15, 2013, NationalJournal.com) the authors warn:
Another problem for the alarmists: No evidence suggests that the worst fears of people like Snowden have ever been realized. In his interview with The Guardian, which broke the story along with The Washington Post, Snowden warned that the NSA's accumulation of personal data

"increases every year consistently by orders of magnitude to where it's getting to the point where you don't have to have done anything wrong. You simply have to eventually fall under suspicion from somebody."

In a state with no checks and balances, that is a possibility. But even the American Civil Liberties Union, which has called NSA surveillance "a stone's throw away from an Orwellian state," admits it knows of no cases where anything even remotely Orwellian has happened. Nor can any opponent of NSA surveillance point to a Kafkaesque Joseph K. who has appeared in an American courtroom on mysterious charges trumped up from government surveillance. Several civil-liberties advocates, asked to cite a single case of abuse of information, all paused for long seconds and could not cite any.

There is also great misunderstanding about how the NSA system works and whether such abuse could even happen in the future. It's unclear if the government will be capable of accessing and misusing the vast array of personal data it is accumulating, as Snowden predicts. The NSA appears primarily to use computer algorithms to sift through its database for patterns that may be possible clues to terrorist plots. The government says it is not eavesdropping on our phone calls or voyeuristically reading our e-mails. Instead, it tracks the "metadata" of phone calls—whom we call and when, the duration of those conversations—and uses computer algorithms to trawl its databases for phone patterns or e-mail and search keywords that may be clues to terrorist plots. It can also map networks by linking known operatives with potential new suspects. If something stands out as suspicious, agents are still required by law to obtain a court order to look into the data they have in their storehouses. Officials must show "probable cause" and adhere to the principle of "minimization," by which the government commits to reducing as much as possible the inadvertent vacuuming up of information on citizens instead of foreigners—the real target of the NSA's PRISM program. The program, according to Director of National Intelligence James Clapper, has had success. He told NBC that tracking a suspicious communication from Pakistan to a person in Colorado allowed officials to identify a terrorist cell in New York City that wanted to bomb its subway system in the fall of 2009.
Replace the word "terrorist" by the word "dissident" and you will get truer meaning of the collection and mining of metadata by three letter agencies. Here is an insightful post by Chris On February 16, 2010 ( christopherkois.com):
Today, there was an Ask Slashdot Story called: "Did We Lose the Privacy War?" In the story, the user was trying to do things like use NoScript and block Google Analytics, disabling third party cookies, and encrypting IM "to keep data-miners at bay".

While I think some of these things are a good idea and individually protect against potential threats that may reside on the Internet, in the grand scheme of things, they do not help to protect your privacy on the Internet. The story and the comments on Slashdot that followed remind me of a great talk that was presented by Steve Rambam at the The Last Hope conference in 2008.

Steve Rambam is the Founder and CEO of Pallorium, Inc. Pallorium is a licensed Investigative Agency with offices and affiliates worldwide. In 2008, at The Last Hope conference, Steve Rambam gave a talk called "Privacy is Dead – Get Over It". I originally heard this talk in 2008, as a podcast that is distributed on The Last Hope website.

This talk is by far one of the best talks I've ever heard on the topic of privacy on the Internet. The talk contains information about how an individual person's information is retrieved, gathered, and correlated to obtain everything about an individual. Even more of a disturbing trend, the aggregation of social networking sites with other data stored by government and other private entities. It's not so disturbing that the aggregation occurs, it's disturbing that people don't seem to understand just how "public" the Internet really is. The amount of information given away on Facebook, MySpace, Twitter, etc. is absolutely amazing. To top it off, an individual has no recourse against an entity collecting information about them. To quote the talk, "the genie is out of the bottle and you can't stuff it back in." The talk aims to spread awareness of data gathering on the Internet and how it is used in the past, present, and future.

From the talk: "This is the current state of affairs. There is no more sense of privacy. Not because it's been ripped away from you in some Orwellian way, but because you flushed it down the toilet". It's not just private investigators that use this information, it's also corporate entities that profit from your information. Take Amazon.com for example, from the talk:

"think for a second what Amazon knows about you: they know where you live, where you work, they know about your finances, they know what you like to read, what music you like to listen to, they know every interest of yours, every like, every dislike… all of things that make you, you. Essentially, they've got a database of everyone in America's soul."

Rambam points out that EBay, Paypal, and Skype (which is all one company now) have a very similar database of information. Satellite TV/Cable TV/DVR/Tivo all know what you watch on TV, and Tivo is actually selling elements of your data. Furthermore, you don't know what they have and there is NOTHING that you can do about it.

From the talk:

"What you need to know is that these are "private" companies. Freedom of information does NOT apply. And you're screwed 2 ways. You go to Choicepoint and you say 'What's in your files about me?'. 'None of your business. It's our business records. Tough.' You go to the government and you say 'This is my Freedom of Information Act request. I know you pulled a Choicepoint report on me. I want to know what was in that report.' 'Sorry, we can't give it to you. It's a private business record.' FOIA is dead, buried. It tried to come back to life. Choicepoint hammered a big stake in it's heart and now it's gone…"

So, what does this all mean? This isn't just about people or entities knowing everything there is to know about you: what you do, what you like, where you go, who you talk to, what you buy, what you are interested in buying, interests that you have, etc., etc., etc… It's how those entities are using the data that they gather. You don't have to be paranoid to be interested in this. Companies are profiting from the data that they are collecting on you, and you pay them for it. You are paying for their services, but they are still collecting the information and selling it to someone else. In essence, they are "double-dipping" into the profits from selling consumers a product or a service and then, aggregating the data and selling it to advertisers behind the scenes. The advertisers selling you information know more about you then you could ever imagine.

From the talk:

"If you don't take anything else from my talk today, here's what I need you to take away. Google is a private company that you have no control over. You have no right and no ability to influence what they gather about you and what they do with that information. And the truth is, most people when they think of Google, they think of a great utility that solved all the problems of finding things on the Internet a few years ago. … Google is photos, blogs, media … Gmail, how many people here use Gmail? … Do you know that your email is searched by bots? … How many of you know that your email is searched, indexed, and categorized? … How many of you care? None of you!

Now the same people, how many would be running out and hiring a lawyer if somebody was opening the mail at your mailbox, reading it, pasting it back shut, and putting it back in the box? Every single one of you. Much worse, but you don't get it or you don't care."

One last quote from the talk that I feel really sums up all of the data collection, mining, and aggregation that many of the Internet Web Services companies do on a daily basis: This quote comes from the EFF, but is referenced in the talk: "This is analogous to AT&T listening to your phone calls all day in order to figure out what to sell you at dinner."

Steve Rambam does a great job in conveying the current state of affairs. He states the case as to why much of this information can be used in a good way by law enforcement and private investigators to do their job efficiently, but also how the information obtained can and is being abused. The aim of the talk is to make people aware of what data is gathered, what you can do about it (which is not much), and what those entities that are gathering the information are doing with it.

The talk is just over 3 hours. The video is nice so you can see the slides, but you can always download the audio and listen to it on your portable music player.
In his article What Surveillance Valley knows about you (Crooks and Liars) Yasha Levine noted:
Google is very secretive about the exact nature of its for-profit intel operation and how it uses the petabytes of data it collects on us every single day for financial gain. Fortunately, though, we can get a sense of the kind of info that Google and other Surveillance Valley megacorps compile on us, and the ways in which that intel might be used and abused, by looking at the business practices of the "data broker" industry.

Thanks to a series of Senate hearings, the business of data brokerage is finally being understood by consumers, but the industry got its start back in the 1970s as a direct outgrowth of the failure of telemarketing. In its early days, telemarketing had an abysmal success rate: only 2 percent of people contacted would become customers. In his book, "The Digital Perso," Daniel J. Solove explains what happened next:

To increase the low response rate, marketers sought to sharpen their targeting techniques, which required more consumer research and an effective way to collect, store, and analyze information about consumers. The advent of the computer database gave marketers this long sought-after ability — and it launched a revolution in targeting technology.

Data brokers rushed in to fill the void. These operations pulled in information from any source they could get their hands on — voter registration, credit card transactions, product warranty information, donations to political campaigns and non-profits, court records — storing it in master databases and then analyzing it in all sorts of ways that could be useful to direct-mailing and telemarketing outfits. It wasn't long before data brokers realized that this information could be used beyond telemarketing, and quickly evolved into a global for-profit intelligence business that serves every conceivable data and intelligence need.

Today, the industry churns somewhere around $200 billion in revenue annually. There are up to 4,000 data broker companies — some of the biggest are publicly traded — and together, they have detailed information on just about every adult in the western world.

No source of information is sacred: transaction records are bought in bulk from stores, retailers and merchants; magazine subscriptions are recorded; food and restaurant preferences are noted; public records and social networks are scoured and scraped. What kind of prescription drugs did you buy? What kind of books are you interested in? Are you a registered voter? To what non-profits do you donate? What movies do you watch? Political documentaries? Hunting reality TV shows?

That info is combined and kept up to date with address, payroll information, phone numbers, email accounts, social security numbers, vehicle registration and financial history. And all that is sliced, isolated, analyzed and mined for data about you and your habits in a million different ways.

The dossiers are not restricted to generic market segmenting categories like "Young Literati" or "Shotguns and Pickups" or "Kids & Cul-de-Sacs," but often contain the most private and intimate details about a person's life, all of it packaged and sold over and over again to anyone willing to pay.

Take MEDbase200, a boutique for-profit intel outfit that specializes in selling health-related consumer data. Well, until last week, the company offered its clients a list of rape victims (or "rape sufferers," as the company calls them) at the low price of $79.00 per thousand. The company claims to have segmented this data set into hundreds of different categories, including stuff like the ailments they suffer, prescription drugs they take and their ethnicity:

These rape sufferers are family members who have reported, or have been identified as individuals affected by specific illnesses, conditions or ailments relating to rape. Medbase200 is the owner of this list. Select from families affected by over 500 different ailments, and/or who are consumers of over 200 different Rx medications. Lists can be further selected on the basis of lifestyle, ethnicity, geo, gender, and much more. Inquire today for more information.

MEDbase promptly took its "rape sufferers" list off line last week after its existence was revealed in a Senate investigation into the activities of the data-broker industry. The company pretended like the list was a huge mistake. A MEDbase rep tried convincing a Wall Street Journal reporter that its rape dossiers were just a "hypothetical list of health conditions/ailments." The rep promised it was never sold to anyone. Yep, it was a big mistake. We can all rest easy now. Thankfully, MEDbase has hundreds of other similar dossier collections, hawking the most private and sensitive medical information.

For instance, if lists of rape victims aren't your thing, MEDbase can sell dossiers on people suffering from anorexia, substance abuse, AIDS and HIV, Alzheimer's Disease, Asperger Disorder, Attention Deficit Hyperactivity Disorder, Bedwetting (Enuresis), Binge Eating Disorder, Depression, Fetal Alcohol Syndrome, Genital Herpes, Genital Warts, Gonorrhea, Homelessness, Infertility, Syphilis… the list goes on and on and on and on.

Normally, such detailed health information would fall under federal law and could not be disclosed or sold without consent. But because these data harvesters rely on indirect sources of information instead of medical records, they're able to sidestep regulations put in place to protect the privacy of people's health data.

MEBbase isn't the only company exploiting these loopholes. By the industry's own estimates, there are something like 4,000 for-profit intel companies operating in the United States. Many of them sell information that would normally be restricted under federal law. They offer all sorts of targeted dossier collections on every population segments of our society, from the affluent to the extremely vulnerable:

people with drug addictions
detailed personal info on police officers and other government employees
people with bad credit/bankruptcies
minorities who've used payday loan services
domestic violence shelter locations (normally these addresses would be shielded by law)
elderly gamblers

If you want to see how this kind of profile data can be used to scam unsuspecting individuals, look no further than a Richard Guthrie, an Iowa retiree who had his life savings siphoned out of his bank account. Their weapon of choice: databases bought from large for-profit data brokers listing retirees who entered sweepstakes and bought lottery tickets.

Here's a 2007 New York Times story describing the racket:

Mr. Guthrie, who lives in Iowa, had entered a few sweepstakes that caused his name to appear in a database advertised by infoUSA, one of the largest compilers of consumer information. InfoUSA sold his name, and data on scores of other elderly Americans, to known lawbreakers, regulators say.

InfoUSA advertised lists of "Elderly Opportunity Seekers," 3.3 million older people "looking for ways to make money," and "Suffering Seniors," 4.7 million people with cancer or Alzheimer's disease. "Oldies but Goodies" contained 500,000 gamblers over 55 years old, for 8.5 cents apiece. One list said: "These people are gullible. They want to believe that their luck can change."

Data brokers argue that cases like Guthrie are an anomaly — a once-in-a-blue-moon tragedy in an industry that takes privacy and legal conduct seriously. But cases of identity thieves and sophistical con-rings obtaining data from for-profit intel businesses abound. Scammers are a lucrative source of revenue. Their money is just as good as anyone else's. And some of the profile "products" offered by the industry seem tailored specifically to fraud use.

As Royal Canadian Mounted Police Sergeant Yves Leblanc told the New York Times: "Only one kind of customer wants to buy lists of seniors interested in lotteries and sweepstakes: criminals. If someone advertises a list by saying it contains gullible or elderly people, it's like putting out a sign saying 'Thieves welcome here.'"

So what is InfoUSA, exactly? What kind of company would create and sell lists customized for use by scammers and cons?

As it turns out, InfoUSA is not some fringe or shady outfit, but a hugely profitable politically connected company. InfoUSA was started by Vin Gupta in the 1970s as a basement operation hawking detailed lists of RV and mobile home dealers. The company quickly expanded into other areas and began providing business intel services to thousands of businesses. By 2000, the company raised more than $30 million in venture capital funding from major Silicon Valley venture capital firms.

By then, InfoUSA boasted of having information on 230 million consumers. A few years later, InfoUSA counted the biggest Valley companies as its clients, including Google, Yahoo, Microsoft and AOL. It got involved not only in raw data and dossiers, but moved into payroll and financial, conducted polling and opinion research, partnered with CNN, vetted employees and provided customized services for law enforcement and all sorts of federal and government agencies: processing government payments, helping states locate tax cheats and even administrating President Bill Clinton "Welfare to Work" program. Which is not surprising, as Vin Gupta is a major and close political supporter of Bill and Hillary Clinton.

In 2008, Gupta was sued by InfoUSA shareholders for inappropriately using corporate funds. Shareholders accused of Gupta of illegally funneling corporate money to fund an extravagant lifestyle and curry political favor. According to the Associated Press, the lawsuit questioned why Gupta used private corporate jets to fly the Clintons on personal and campaign trips, and why Gupta awarded Bill Clinton a $3.3 million consulting gig.

As a result of the scandal, InfoUSA was threatened with delisting from Nasdaq, Gupta was forced out and the company was snapped up for half a billion dollars by CCMP Capital Advisors, a major private equity firm spun off from JP Morgan in 2006. Today, InfoUSA continues to do business under the name Infogroup, and has nearly 4,000 employees working in nine countries.

As big as Infogroup is, there are dozens of other for-profit intelligence businesses that are even bigger: massive multi-national intel conglomerates with revenues in the billions of dollars. Some of them, like Lexis-Nexis and Experian, are well known, but mostly these are outfits that few Americans have heard of, with names like Epsilon, Altegrity and Acxiom.

These for-profit intel behemoths are involved in everything from debt collection to credit reports to consumer tracking to healthcare analysis, and provide all manner of tailored services to government and law enforcement around the world. For instance, Acxiom has done business with most major corporations, and boasts of intel on "500 million active consumers worldwide, with about 1,500 data points per person. That includes a majority of adults in the United States," according to the New York Times.

This data is analyzed and sliced in increasingly sophisticated and intrusive ways to profile and predict behavior. Merchants are using it customize shopping experience— Target launched a program to figure out if a woman shopper was pregnant and when the baby would be born, "even if she didn't want us to know." Life insurance companies are experimenting with predictive consumer intel to estimate life expectancy and determine eligibility for life insurance policies. Meanwhile, health insurance companies are raking over this data in order to deny and challenge the medical claims of their policyholders.

Even more alarming, large employers are turning to for-profit intelligence to mine and monitor the lifestyles and habits of their workers outside the workplace. Earlier this year, the Wall Street Journal described how employers have partnered with health insurance companies to monitor workers for "health-adverse" behavior that could lead to higher medical expenses down the line:

Your company already knows whether you have been taking your meds, getting your teeth cleaned and going for regular medical checkups. Now some employers or their insurance companies are tracking what staffers eat, where they shop and how much weight they are putting on — and taking action to keep them in line.

But companies also have started scrutinizing employees' other behavior more discreetly. Blue Cross and Blue Shield of North Carolina recently began buying spending data on more than 3 million people in its employer group plans. If someone, say, purchases plus-size clothing, the health plan could flag him for potential obesity — and then call or send mailings offering weight-loss solutions.

…"Everybody is using these databases to sell you stuff," says Daryl Wansink, director of health economics for the Blue Cross unit. "We happen to be trying to sell you something that can get you healthier."

"As an employer, I want you on that medication that you need to be on," says Julie Stone, a HR expert at Towers Watson told the Wall Street Journal.

Companies might try to frame it as a health issue. I mean, what kind of asshole could be ag caring about the wellbeing of their workers? But their ultimate concern has nothing to do with the employee health. It's all about the brutal bottom line: keeping costs down.

An employer monitoring and controlling your activity outside of work? You don't have to be union agitator to see the problems with this kind of mindset and where it could lead. Because there are lots of things that some employers might want to know about your personal life, and not only to "keep costs down." It could be anything: to weed out people based on undesirable habits or discriminate against workers based on sexual orientation, regulation and political beliefs.

It's not difficult to imagine that a large corporation facing a labor unrest or a unionization drive would be interested in proactively flagging potential troublemakers by pinpointing employees that might be sympathetic to the cause. But the technology and data is already here for wide and easy application: did a worker watch certain political documentaries, donate to environmental non-profits, join an animal rights Facebook group, tweet out support for Occupy Wall Street, subscribe to the Nation or Jacobin, buy Naomi Klein's "Shock Doctrine"? Or maybe the worker simply rented one of Michael Moore's films? Run your payroll through one of the massive consumer intel databases and look if there is any matchup. Bound to be plenty of unpleasant surprises for HR!

This has happened in the past, although in a cruder and more limited way. In the 1950s, for instance, some lefty intellectuals had their lefty newspapers and mags delivered to P.O. boxes instead of their home address, worrying that otherwise they'd get tagged as Commie symps. That might have worked in the past. But with the power of private intel companies, today there's nowhere to hide.

FTC Commissioner Julie Brill has repeatedly voiced concern that unregulated data being amassed by for-profit intel companies would be used to discriminate and deny employment, and to determine consumer access to everything from credit to insurance to housing. "As Big Data algorithms become more accurate and powerful, consumers need to know a lot more about the ways in which their data is used," she told the Wall Street Journal.

Pam Dixon, executive director of the Privacy World Forum, agrees. Dixon frequently testifies on Capitol Hill to warn about the growing danger to privacy and civil liberties posed by big data and for-profit intelligence. In Congressional testimony back in 2009, Dixon called this growing mountain of data the "modern permanent record" and explained that users of these new intel capabilities will inevitably expand to include not just marketers and law enforcement, but insurance companies, employers, landlords, schools, parents, scammers and stalkers. "The information – like credit reports – will be used to make basic decisions about the ability of individual to travel, participate in the economy, find opportunities, find places to live, purchase goods and services, and make judgments about the importance, worthiness, and interests of individuals."
---
---
For the list of top articles see Recommended Links section
By Jeff Horwitz and Keach Hagey Updated April 11, 2021 11:41 am ET

Listen to this article 6 minutes 00:00 / 05:50 1x


Google for years operated a secret program that used data from past bids in the company's digital advertising exchange to allegedly give its own ad-buying system an advantage over competitors, according to court documents filed in a Texas antitrust lawsuit.

The program, known as "Project Bernanke," wasn't disclosed to publishers who sold ads through Google's ad-buying systems. It generated hundreds of millions of dollars in revenue for the company annually, the documents show. In its lawsuit, Texas alleges that the project gave Google, a unit of Alphabet Inc., GOOG 0.90% an unfair competitive advantage over rivals.

Google's Ad Machine
Online ads are typically sold in auctions that happen in an instant, when a user's webpage is loading. Google dominates at virtually every step of the process. In an antitrust lawsuit, Texas alleges that Google's secret "Project Bernanke" allowed the company to use knowledge it gained running its ad exchange to unfairly compete against rivals. Here's how the digital advertising machine works:


THE SELL SIDE: PUBLISHERS

AD SPACE

FOR SALE

When a user visits a large online publisher's website or app, the publisher uses an ad server to sell ad space on its pages.

The publisher also gives the exchange information about the reader -- their age, income, browsing history and interests, for example.

In this example, the publisher uses Google's DoubleClick for Publishers, the leading ad-serving tool.

The tool puts the publisher's ad space up for sale on exchanges , marketplaces where transactions happen in real-time between sellers ( publishers ) and buyers ( advertisers ).

REAL-TIME

AUCTION HOUSES

Google has the largest such marketplace, the DoubleClick Ad Exchange, or AdX.

THE BUY SIDE: ADVERTISERS

An advertiser, representing its clients' products, uses sophisticated buying tools to purchase ads.

In this example, an advertiser uses Google's buying tool, DV360, the industry leader.

The advertiser can specify the types of audiences it wants to target -- such as location, gender or age of user -- and the price of their offer.

To get its ad in front of the user, the advertiser places bids in the auction marketplace -- the highest bidder wins.

Once a match is made on the exchange, an ad pops up on users' screens.

The documents filed this week were part of Google's initial response to the Texas-led antitrust lawsuit , which was filed in December and accused the search company of running a digital-ad monopoly that harmed both ad-industry competitors and publishers. This week's filing, viewed by The Wall Street Journal, wasn't properly redacted when uploaded to the court's public docket. A federal judge let Google refile it under seal.

Some of the unredacted contents of the document were earlier disclosed by MLex, an antitrust-focused news outlet.

The document sheds further light on the state's case against Google, along with the search company's defense.

Much of the lawsuit involves the interplay of Google's roles as both the operator of a major ad exchange -- which Google likens to the New York Stock Exchange in marketing documents -- and a representative of buyers and sellers on the exchange. Google also acts as an ad buyer in its own right, selling ads on its own properties such as search and YouTube through these same systems.

Texas alleges that Google used its access to data from publishers' ad servers -- where more than 90% of large publishers use Google to sell their digital ad space -- to guide advertisers toward the price they would have to bid to secure an ad placement.

Google's use of bidding information, Texas alleges, amounted to insider trading in digital-ad markets. Because Google had exclusive information about what other ad buyers were willing to pay, the state says, it could unfairly compete against rival ad-buying tools and pay publishers less on its winning bids for ad inventory .

The unredacted documents show that Texas claims Project Bernanke is a critical part of that effort.

TECH FRENEMIES

How tech giants are both cooperating while competing in hardware, software and technology services

Google acknowledged the existence of Project Bernanke in its response and said in the filing that "the details of Project Bernanke's operations are not disclosed to publishers."

Google denied in the documents that there was anything inappropriate about using the exclusive information it possessed to inform bids, calling it "comparable to data maintained by other buying tools."

Peter Schottenfels, a Google spokesman, said the complaint "misrepresents many aspects of our ad tech business. We look forward to making our case in court." He referred the Journal to an analysis conducted by a U.K. regulator that concluded that Google didn't appear to have had an advantage.

The Texas attorney general's office didn't immediately respond to requests for comment.

Google's outsize role in the digital-ad market is both controversial and at times murky.

In some instances, "we're on both the buy side and the sell side," Google Chief Economist Hal Varian said at a 2019 antitrust conference held by the University of Chicago Booth School of Business. Asked how the company managed those roles, Mr. Varian said the topic was "too detailed for the audience, and me."
Mike Robeson , says: March 23, 2021 at 12:50 pm GMT • 1.6 days ago

Based on Facebook's 'community standards' (see above), it has banned all posts praising the US in written or pictorial form for the following reasons –
1. Has created and/or funded terrorist groups like Al Qaeda, paramilitary groups like Blackwater, death squads in El Salvador, Nicaragua, etc.;
2. Creates, trains and funds a vast military system to threaten and/or bomb countries and overthrow governments;
3. Has conducted and prosecuted wars and military actions around the world every single day for the past twenty years;
4. Kidnaps and abducts private citizens in foreign countries and imprisons them in secret bases like Guantanamo;
5. Employs corporate institutions to impose financial embargoes destroying nations' economic infrastructure and citizens' livelihood.

Old and Grumpy , says: March 23, 2021 at 1:54 pm GMT • 1.6 days ago

The point is, apparently, the Corporatocracy feel sufficiently threatened by random people on Facebook that they are conducting these COINTELPRO-type ops.

This really seems to be a thing. The elite are supposedly into the occult including things like clairvoyants. Have their soothsayers seen a future rebel that will take them down? Or are they just insecure, criminally insane dopes that irrationally fear independent thinking? Whatever the reason, they are extremely paranoid.
Brave buys a search engine, promises no tracking, no profiling – and may even offer a paid-for, no-ad version Pitches pro-privacy platform with customizable results filter dubbed Goggles Thomas Claburn in San Francisco Wed 3 Mar 2021 // 14:00 UTC SHARE

---

Brave, maker of the identically named privacy-focused web browser, has acquired its own search engine to offer as an alternative to Google Search and competing search engines that exist but aren't all that visible in Google's shadow.

On Wednesday, the company plans to announce that it's taking over Tailcat, a search engine developed by Cliqz, another privacy-focused browser biz that aspired to compete with Google and shut down last year . The deal, terms undisclosed, makes Cliqz owner Hubert Burda Media a Brave shareholder.

Brave intends to make Tailcat the foundation of its own search service, Brave Search . The company hopes that its more than 25 million monthly active Brave customers will, after an initial period of testing and courtship, choose to make Brave Search their default search engine and will use it alongside other parts of its privacy-oriented portfolio, which also includes Brave Ads, news reader Brave Today, Brave Firewall+VPN, and video conferencing system Brave Together.

Brave Search, the company insists, will respect people's privacy by not tracking or profiling those using the service. And it may even offer a way to end the debate about search engine bias by turning search result output over to a community-run filtering system called Goggles.

The service will, eventually, be available as a paid option – for those who want to pay for search results without ads – though its more common incarnation is likely to be ad-supported, in conjunction with Brave Ads. The latter offers participants the option to receive 70 per cent of the payment made by the advertiser in a cryptocurrency called BAT (Brave Attention Token).

Eich lays out his vision

In an interview with The Register , Brendan Eich, CEO of Brave, argued that the demand for privacy is real and cannot be ignored. "I think the genie doesn't go back in the bottle," he said. "Consciousness doesn't revert."

People used to hear about credit card breaches at large retailers like Target, Eich said, and think that privacy is hopeless but not something that necessarily affects them directly. But then it became more personal as technologies like ad retargeting did things like spoiling surprise gifts by showing the ad for the purchased item again to the intended recipient.

I think privacy is here to stay and now the question is how people do it and market it effectively

Eich sees the dominance of US tech companies contributing to the interest in privacy and making it a matter of concern for regulators around the world.

"It's not political in the broken US sense – which is kind of a Punch and Judy show – it's more like there are people of various commitments on all sides of politics who are aware not only of privacy being violated over time by the big tech players but of the big tech players being abusive monopolies," he said.

Pointing to how many companies now make privacy claims, Eich said, "I think privacy is here to stay and now the question is how people do it and market it effectively. If you don't market it, you can lose to somebody who just puts privacy perfume on a pig and tells you it smells great and tastes delicious."

Eich's pitch is not that Brave Search aims to take on Google Search directly. He acknowledges that there's no way to match Google's vast index and ability to return relevant results for obscure (long tail) search terms. Rather, he sees an opportunity to improve specific types of search queries, referred to as vertical markets.

"Part of what we're trying to do here is innovate in the area where there's now monopoly," he said in reference to Google Search, which has a market share of something like 92 per cent ."...The innovation through verticals is possible because it avoids having to take on Google's supreme competence, which is the rare or unique queries the long tail."

Brave bets on the decentralized web with IPFS browser support for a more peer-to-peer approach READ MORE

"What we're trying to do is different, it's not based on crawling the web," Eich explained. "...Trying to crawl the whole web, it's not going to work. What Cliqz worked on..that's an anonymous query log aggregator, and a partial click log aggregator, to see when you don't convert on the search ad you leave the results page and you find the better results through some number of clicks."

Gathering that sort of query and click data requires consent, said Eich, and Brave isn't going to force Brave users to participate. But Cliqz started working on this and has a data set they called "the Human Web," and that's now the basis of Brave Search.

"The queries and the clicks matter but they are unlinkable," he said. "There has to be a property called record unlinkability. There's no IP address that gets dropped at the edge. Timing channels are blinded by adding some delays. And there's no way to say this query was from the same user as that query."

Brave Search's index there will be informed the activities of participating Brave users, in terms of the URLs they search for or click on, and adjacent web resources that don't require extensive crawling.

There's a theoretical risk users could poison the index through repeated visits to irrelevant or harmful web pages, knowing their activities would inform the index, but Eich suggests Brave is big and savvy enough to avoid being trolled in this way.

Brave also envisions users taking a more active role in their search results through a filtering mechanism.

"It allows different groups to run their own sort of Turing incomplete filter rules, sort of like ad blocking rules in the search service and not in the browser, to have a community moderated view of the global index," he explained. "It's called 'Goggles.'"

Eich observed with a chuckle that it isn't related to Google Goggles, an image recognition app that Google maintained from 2009 through 2018 until the arrival of Google Lens.

Shared search

The Brave Search team has written a paper [ PDF ] explaining its use of the term, titled "GOGGLES: Democracy dies in darkness, and so does the Web." The browser upstart aims to replace the tyranny of Google's inscrutable, authoritative index with a multiverse of indices defined by anyone with the inclination to do so.

Brave's vision of search is based on "an open and collaborative system by which a community, or a single user, can create sets of rules and filters, called Goggles, to define the space which a search engine can pull results from," the paper explains.

"Instead of a single ranking algorithm, we could have as many as needed, overcoming the biases that a single actor (the search engine) embeds into the results."

Goggles has its own Domain Specific Language (DSL) for writing search result filters. Brave hopes that Goggles will be adopted not only internally but among others search engines, too.

Brave Search users will be able to, for better or worse, see the world through filters they agree with or filters they detest. The point is it will be up to them rather than a large ad company located in Silicon Valley.

The Brave Search team acknowledges that not all filters will show results that are agreeable to everyone. "There will be Goggles created by creationists, anti-vaccination supporters or flat-earthers," the paper says. "However, the biases will be explicit, and therefore, the choice is a conscious one."

The paper contends that censorship will be unnecessary since illegal content should be caught by the host search engine and removed from the search index so no Goggle can see it in the first place.

"Brave is bringing back the idea of a user-first thick client, or a muscular client," said Eich, differentiating his browser from just being "a blind servant of ad tech that runs all the JavaScript Google throws at it." ®
Anon [899] Disclaimer , says: February 12, 2021 at 7:22 am GMT • 8.7 days ago

Dont shop at Amazon? Check.
Dont use bing? Check
Dont use google? Bout' half the time (need to get yandex home page)
Dont use facebook? Check
Dont use twitter? Check
Dont use paypal? Check

Need to use local non-corporate businesses and resturaunts as much as possible.

We can have a hot economy while slowly starving the oligarchs. You can indéed go around the oligarchs. Buy American, Canadian, and Mexican as much as possible before buying Chinese. Ive found tgat if you look, an Indonesian, Malaysian, or Taiwanese model of whatever you are looking for is usually available.

Needless to say dont support Hollyweird, netflix, late-night tv show hosts, awards-shows, and Disney's ESPN.. These entities are overextended, and are vunerable to buycotts.

animalogic , says: February 12, 2021 at 7:45 am GMT • 8.7 days ago

@St-Germain

"The stakes are clear; either governments will reassert their prerogatives or plutocrats will govern."
Very well put.
Unfortunately, it is the very nature of Oligarchy (or Plutocracy) for the Rich to govern through supposedly independent politicians. It's a "sleight of hand" job.
So the question becomes, is there really a "government" there , to reassert a prerogative separate to their primary function of running the public face of an Oligarchy ?
Authored by Shane Trejo via Big League Politics (emphasis ours),

Recent court documents have indicated that the Federal Bureau of Investigation (FBI) possesses a tool allowing them to access encrypted messages on the Signal app.

Signal has rapidly gained in popularity as Silicon Valley monopolists have grown more openly hostile to free speech, but the platform may be vulnerable to backdoors that undermine the privacy protections provided through the encrypted messaging service.

According to documents filed by the Department of Justice and first obtained by Forbes , Signal's encrypted messages can be intercepted from iPhone devices when those Apple devices are in a mode called "partial AFU," which means "after first unlock."

Latest: Project Veritas Blocked From Twitter After Posting Video of Confrontation with Facebook VP of Censorship

When phones are in partial AFU mode, Signal messages can be seized by federal authorities and other potentially hostile interests. GrayKey and Cellebrite are the tools typically used by the FBI to gain this sensitive information, an expert has explained.

" It uses some very advanced approach using hardware vulnerabilities ," said Vladimir Katalov, who founded the Russian forensics company ElcomSoft, believing that GrayKey was used by federal authorities to crack Signal.

This vulnerability within the Signal app may not be a design flaw, but rather a deliberate backdoor to allow authorities to access private messages. The app was initially funded with backing from the deep state, after all.
75% of Internet traffic is intercepted. New Details Show Broader NSA Surveillance Reach
Notable quotes:
"... The second cut is done by NSA. It briefly copies the traffic and decides which communications to keep based on what it calls "strong selectors" -- say, an email address, or a large block of computer addresses that correspond to an organization it is interested in. In making these decisions, the NSA can look at content of communications as well as information about who is sending the data. ..."
"... The person says talks between the government and different telecoms about what constitutes foreign communications have "been going on for some years," and that some in the industry believe the law is unclear on Internet traffic. "Somebody should enunciate a rule," this person says. ..."
"... Within NSA, former officials say, intelligence officers joked that the Blarney intercept program with AT&T was named in homage to the NSA program Shamrock, which intercepted telegraphic messages into and out of the U.S. and was an inspiration for the 1978 Foreign Intelligence Surveillance Act, which created the secret national-security court and placed intelligence activities under its supervision. ..."
"... Paul Kouroupas, a former executive at Global Crossing Ltd. and other telecom companies responsible for security and government affairs, says the checks and balances in the NSA programs depend on telecommunications companies and the government policing the system themselves. "There's technically and physically nothing preventing a much broader surveillance," he says. ..."
WASHINGTON -- The National Security Agency -- which possesses only limited legal authority to spy on U.S. citizens -- has built a surveillance network that covers more Americans' Internet communications than officials have publicly disclosed, current and former officials say.

The system has the capacity to reach roughly 75% of all U.S. Internet traffic in the hunt for foreign intelligence, including a wide array of communications by foreigners and Americans. In some cases, it retains the written content of emails sent between citizens within the U.S. and also filters domestic phone calls made with Internet technology, these people say.

The NSA's surveillance network covers more Americans' Internet communications than officials have publicly disclosed, reaching roughly 75 percent of all U.S. internet traffic. Siobhan Gorman reports on the News Hub. Photo: Getty Images.

The NSA's filtering, carried out with telecom companies, is designed to look for communications that either originate or end abroad, or are entirely foreign but happen to be passing through the U.S. But officials say the system's broad reach makes it more likely that purely domestic communications will be incidentally intercepted and collected in the hunt for foreign ones.

Q&A

What You Need to Know on the New Details of NSA Spying

How the NSA Scours Internet Traffic in the U.S. View Graphics

WSJ: Privacy Insights

The Wall Street Journal is conducting a long-running investigation into the profound transformation of personal privacy in America.

Selected findings:

The programs, code-named Blarney, Fairview, Oakstar, Lithium and Stormbrew, among others, filter and gather information at major telecommunications companies. Blarney, for instance, was established with AT&T Inc., T -1.15% former officials say. AT&T declined to comment.

This filtering takes place at more than a dozen locations at major Internet junctions in the U.S., officials say. Previously, any NSA filtering of this kind was largely believed to be happening near points where undersea or other foreign cables enter the country.

Details of these surveillance programs were gathered from interviews with current and former intelligence and government officials and people from companies that help build or operate the systems, or provide data. Most have direct knowledge of the work.

The NSA defends its practices as legal and respectful of Americans' privacy. According to NSA spokeswoman Vanee Vines, if American communications are "incidentally collected during NSA's lawful signals intelligence activities," the agency follows "minimization procedures that are approved by the U.S. attorney general and designed to protect the privacy of United States persons."

As another U.S. official puts it, the NSA is "not wallowing willy-nilly" through Americans' idle online chatter. "We want high-grade ore."

To achieve that, the programs use complex algorithms that, in effect, operate like filters placed over a stream with holes designed to let certain pieces of information flow through. After the 2001 terrorist attacks, NSA widened the holes to capture more information when the government broadened its definition of what constitutes "reasonable" collection, according to a former top intelligence official.

The NSA's U.S. programs have been described in narrower terms in the documents released by former NSA contractor Edward Snowden . One, for instance, acquires Americans' phone records; another, called Prism, makes requests for stored data to Internet companies. By contrast, this set of programs shows the NSA has the capability to track almost anything that happens online, so long as it is covered by a broad court order.

The NSA programs are approved and overseen by the secret Foreign Intelligence Surveillance Court. NSA is required to destroy information on Americans that doesn't fall under exceptions to the rule, including information that is relevant to foreign intelligence, encrypted, or evidence of a crime.

The NSA is focused on collecting foreign intelligence, but the streams of data it monitors include both foreign and domestic communications. Inevitably, officials say, some U.S. Internet communications are scanned and intercepted, including both "metadata" about communications, such as the "to" and "from" lines in an email, and the contents of the communications themselves.

Much, but not all, of the data is discarded, meaning some communications between Americans are stored in the NSA's databases, officials say. Some lawmakers and civil libertarians say that, given the volumes of data NSA is examining, privacy protections are insufficient.

Sen. Ron Wyden, an Oregon Democrat, in 2012 sought but failed to prohibit the agency from searching its databases for information on Americans without a warrant. He has also pushed intelligence agencies to detail how many Americans' communications have been collected and to explain whether purely domestic communications are retained in NSA's databanks. They have declined.

"Technology is moving us swiftly into a world where the only barriers to this kind of dragnet surveillance are the protections enshrined into law," Mr. Wyden says.

This month President Barack Obama proposed changes to NSA surveillance to improve oversight. Those proposed changes wouldn't alter the systems in the U.S. that NSA relies upon for some of its most sensitive surveillance.

The systems operate like this: The NSA asks telecom companies to send it various streams of Internet traffic it believes most likely to contain foreign intelligence. This is the first cut of the data.

These requests don't ask for all Internet traffic. Rather, they focus on certain areas of interest, according to a person familiar with the legal process. "It's still a large amount of data, but not everything in the world," this person says.

The second cut is done by NSA. It briefly copies the traffic and decides which communications to keep based on what it calls "strong selectors" -- say, an email address, or a large block of computer addresses that correspond to an organization it is interested in. In making these decisions, the NSA can look at content of communications as well as information about who is sending the data.

One U.S. official says the agency doesn't itself "access" all the traffic within the surveillance system. The agency defines access as "things we actually touch," this person says, pointing out that the telecom companies do the first stage of filtering.

The surveillance system is built on relationships with telecommunications carriers that together cover about 75% of U.S. Internet communications. They must hand over what the NSA asks for under orders from the secret Foreign Intelligence Surveillance Court. The firms search Internet traffic based on the NSA's criteria, current and former officials say.

Verizon Communications Inc., VZ -1.34% for example, has placed intercepts in the largest U.S. metropolitan areas, according to one person familiar with the technology. It isn't clear how much information these intercepts send to the NSA. A Verizon spokesman declined to comment.

Not all telecommunications providers handle the government demands the same way, says the person familiar with the legal process. According to a U.S. official, lawyers at telecom companies serve as checks on what the NSA receives. "The providers are independently deciding what would be responsive," the official says.

Lawyers for at least one major provider have taken the view that they will provide access only to "clearly foreign" streams of data -- for example, ones involving connections to ISPs in, say, Mexico, according to the person familiar with the legal process. The complexities of Internet routing mean it isn't always easy to isolate foreign traffic, but the goal is "to prevent traffic from Kansas City to San Francisco from ending up" with the NSA, the person says.

At times, the NSA has asked for access to data streams that are more likely to include domestic communications, this person says, and "it has caused friction." This person added that government officials have said some providers do indeed comply with requests like this.

The person says talks between the government and different telecoms about what constitutes foreign communications have "been going on for some years," and that some in the industry believe the law is unclear on Internet traffic. "Somebody should enunciate a rule," this person says.

Intelligence officials and the White House argue NSA's surveillance provides early warnings of terror threats that don't respect geographic boundaries. "It's true we have significant capabilities," Mr. Obama said in his NSA remarks last week. "What's also true is we show a restraint that many governments around the world don't even think to do."

Mr. Obama and top intelligence officials say NSA's programs are overseen by all three branches of government, citing procedures approved by the secret surveillance court that require the NSA to eliminate "incidentally acquired" data on Americans. "If you say, 'We don't want the NSA to be scanning large amounts of traffic,' you're saying you don't want it to do its job," says one former official.

Blarney, Fairview, Oakstar, Lithium and Stormbrew were mentioned, but not fully explained, in documents released by Mr. Snowden. An NSA paper released this month mentioned several but didn't describe them beyond saying, "The government compels one or more providers to assist NSA with the collection of information responsive to the foreign intelligence need."

The system is built with gear made by Boeing Co.'s BA -0.69% Narus subsidiary, which makes filtering technology, and Internet hardware manufacturers Cisco Systems Inc. CSCO -1.03% and Juniper Networks Inc., JNPR -2.02% among other companies, according to former intelligence officials and industry figures familiar with the equipment.

Narus didn't respond to requests for comment. Cisco and Juniper declined to comment.

The NSA started setting up Internet intercepts well before 2001, former intelligence officials say. Run by NSA's secretive Special Services Office, these types of programs were at first designed to intercept communications overseas through arrangements with foreign Internet providers, the former officials say. NSA still has such arrangements in many countries, particularly in the Middle East and Europe, the former officials say.

Within NSA, former officials say, intelligence officers joked that the Blarney intercept program with AT&T was named in homage to the NSA program Shamrock, which intercepted telegraphic messages into and out of the U.S. and was an inspiration for the 1978 Foreign Intelligence Surveillance Act, which created the secret national-security court and placed intelligence activities under its supervision.

Blarney was in use before the 2001 terror attacks, operating at or near key fiber-optic landing points in the U.S. to capture foreign communications coming in and out of the country. One example is an AT&T facility in San Francisco that was revealed in 2006 during the debate over warrantless wiretapping. A similar facility was built at an AT&T site in New Jersey, former officials say.

After the 2001 attacks, a former official says, these intercept systems were expanded to include key Internet networks within the U.S. through partnerships with U.S. Internet backbone providers. Amid fears of terrorist "sleeper cells" inside the U.S., the government under President George W. Bush also began redefining how much domestic data it could collect.

For the 2002 Winter Olympics in Salt Lake City, officials say, the Federal Bureau of Investigation and NSA arranged with Qwest Communications International Inc. to use intercept equipment for a period of less than six months around the time of the event. It monitored the content of all email and text communications in the Salt Lake City area.

At that point, the systems fed into the Bush administration's program of warrantless wiretapping, which circumvented the surveillance court on the authority of the president's power as commander in chief. The Bush administration came under criticism from lawmakers and civil libertarians for sidestepping court supervision.

The current legal backing for Blarney and its related programs stems from a section of a 2008 surveillance law. It permits the government, for foreign intelligence investigations, to snoop on foreigners "reasonably believed" to be outside the U.S.

Previously, the law had tighter standards. It allowed the government to spy on people if there were "probable cause" to believe they were an "agent of a foreign power."

NSA has discretion on setting its filters, and the system relies significantly on self-policing. This can result in improper collection that continues for years.

For example, a recent Snowden document showed that the surveillance court ruled that the NSA had set up an unconstitutional collection effort. Officials say it was an unintentional mistake made in 2008 when it set filters on programs like these that monitor Internet traffic; NSA uncovered the inappropriate filtering in 2011 and reported it.

"NSA's foreign intelligence collection activities are continually audited and overseen internally and externally," Ms. Vines says. "When we make a mistake in carrying out our foreign intelligence mission, we report the issue internally and to federal overseers and aggressively get to the bottom of it."

Another Snowden document describes the procedures NSA uses to protect American information that is retained. Any such information is "minimized," meaning that it is destroyed. The document highlights several exceptions, including encrypted communications and information of foreign intelligence significance.

Officials acknowledged some purely domestic communications are incidentally swept into the system. "We don't keep track of numbers of U.S. persons," a U.S. official says. "What we try to do is minimize any exposure."

When searching the data, intelligence officials say they are permitted to look only for information related to a "foreign intelligence interest." In practice, the NSA has latitude under that standard, and an American's communication could be read without a warrant, another U.S. official says.

Paul Kouroupas, a former executive at Global Crossing Ltd. and other telecom companies responsible for security and government affairs, says the checks and balances in the NSA programs depend on telecommunications companies and the government policing the system themselves. "There's technically and physically nothing preventing a much broader surveillance," he says.

An official at Global Crossing's parent, Level 3 Communications Inc., says the company complies with laws requiring it to assist government investigations and declined to disclose the assistance provided.

It is difficult to know how much domestic data NSA is inadvertently retaining. The filtering technology relies on algorithms to seek out valuable communications. A U.S. official says analysts guide the use of these algorithms to make them as precise as possible.

-- Devlin Barrett contributed to this article.

Write to Siobhan Gorman at siobhan.gorman@wsj.com and Jennifer Valentino-DeVries at Jennifer.Valentino-DeVries@wsj.com
---
Last modified: February, 02, 2021
ay_arrow

---

DanausPlex 4 hours ago remove link

Orwell's 1984 predicted all this in 1948. Wikipedia is rewriting history on a daily basis, education is stifling young minds, free speech controlled, double standard legal system, burning books next?.... It's all there, 1984 is upon us. But, remember our ancestors were considered terrorists by the by the controlling British at the time. PEACEFUL revolution starting with 75+ million Americans will work.

npz 9 hours ago remove link

Stop using Twitter, Facebook, et. al. If building services, there are other alternatives than AWS. Like holy hell, there's a hundred restaurants around you and you only go to two then complain about their food and act like they're the only one in existence. There's also groceries stores where you can make your own food but that never crossed your mind.

Why does everyone use Mailchimp? Like literally people think that's the only mass mailing list service that exists. Do you know about MKISO? https://reclaimthenet.org/mkisio-free-speech-mailchimp-alternative/

The internet is STILL very much a frontier except people are too used to convenience from one-stop-shop services... It's like they WANT monopolies despite complaining about it, because admittedly, having everything hand-held and done for you is the easiest most convenient way.

Again, he mentions Gab... then ignores just how did they survive and will continue to. Are people not curious?

Luongo did right by using crypto at the end instead of Paypal, but he did wrong by still relying on Patreon

The way to keep empowering monopolies is to keep depending on them!

A_Huxley 6 hours ago remove link

Support services, products, app thats support your freedoms.

Move away from apps, OS, social media, any "code of conduct" that removes freedom of speech.

Moderation, curation? Support freedom, the tools to publish.

Make the internet great again.

Vinividivinci 4 hours ago (Edited)

"Make the Internet great again" ? It's gonna take something like, make the "Guttenberg press"

great again, to truly free us from tech tyranny.

Ms No PREMIUM 12 hours ago (Edited)

Is it just me, or is everything a day late and ten thousand dollars short? Calling captian obvious as we descend into hell ...

1CSR2SQN 2 hours ago

Quote: morality, balls and empathy are in very short supply.

The biggest obstacles and the most frustrating item of all, willful blindness.

Handful of Dust 12 hours ago (Edited)

Is a national social media platform, owned privately, that practices discrimination, subject to Congresss reach and usage of the Interstate Commerce Clause?

Hell yes!

Katzenbach v. McClung, 379 U.S. 294 says so.

These social media companies (at the minimum) affect interstate commerce and are therefore subject to the reach of Congress. Too bad Congress and the ACLU are so pathetic. And we have now witnessed how corrupt the Supreme Court is.

The future of USA is dismal.

Faeriedust 2 hours ago remove link

You have to be like the Robinhood traders. They know they are likely to lose. But if we ALL hit the corporations at the same time, we can bleed them from a million cuts. The costs to file a lawsuit are really quite reasonable -- usually under $100, almost always less than $200. The real cost is in legal fees, but you can file pro se. You won't win filing pro se . But the corporation spends that much on a fifteen minute call to their lawyer and at least $1000 in the documents requesting that your suit be dismissed or quashed. I did my time working for a corporate attorney. I did the monthly bills!

Note: law libraries used to be huge depositories of books that required a membership of some sort to get into, except for some state and state universities. Then it required at least a year of education to know where to look for what you needed. Now everything is on the web. If you are literate, this makes pro se legal action possible. It won't help you if you follow silly "Sovereign Citizen" schemes or instructions from a credit-card bankruptcy website to fight Child Support . You still have to learn a LITTLE about what you're doing. But the information is on the web, and courts short of the Supremes can't refuse you the right to file for yourself.

hajimenoippo123 11 hours ago remove link

Oh... I see...

Critical mass population reached for USA..

But South Korea is in matrix..

I went to their portals and could not find a single economic / military related news...

Just kpop entertainment stock bitcoin real estate sports and pointless politics..

What a nightmare..

Fiscal Reality 1 hour ago remove link

How do patriotic free speech Americans react in 2021-2022 now that Google, Twitter, Instagram, Amazon, Wall Street, the MSM and the DNC/CCP have declared war?? There are things we can do NOW that will have an immediate impact on the enemies of freedom and the Plutocracy. Starve the Beast!!

1. Cancel cable, Direct TV and Dish. Today. Keep the internet. Save $800+/- per year. Hit them in the pocketbook. Do not support them with your money. Dump You Tube and use Rumble, Daily Motion or Vimeo.

2. Cancel and delete your accounts for Facebook, Twitter, Instagram, Amazon Prime. Go anonymous. Since Playstore and Amazon banned Parler, we can use Gab or Clouthub. Communication is key. Stay connected but not through the Big Tech censors. Get a VPN for added privacy.

3. Delete/disable Chrome and Google. Use Tor or Brave as browsers and Duck Duck Go or Presearch instead of GOOG. Google makes their money on ads, SRO payments and selling your data. Shut it down.

4. Cancel all your paid magazine and newspaper subscriptions (paper and digital) except those that support America and are Conservative. When you cancel, tell them why.

5. Delete Waze (owned by Google) and Google Maps. Replace with Sygic or other GPS apps.

6. Cancel and cut up all your extra credit cards. Keep a maximum of 3 if practical. It hurts the banks when this happens, even if the card is infrequently used. If you pay a fee to the bank for the card, it hurts them even more.

7. Create an anonymous email account on www.Protonmail.com . Migrate from Gmail, Hotmail, Yahoo, etc. and then delete or deactivate the other account if possible. Those are spy accounts.

8. Pay cash when you shop when possible so your purchases are anonymous for you and the retailer.

9. Buy locally from Mom and Pop stores and absolutely pay in cash; they've been devastated.

10. Google yourself. Scrub your data. Search yourself on Duck Duck Go and Start Page, too. Start with MyLife, White Pages, Been Verified and Spokeo. They aggregate and sell YOUR PERSONAL DATA FOR PROFIT. SHUT IT DOWN! It takes effort (usually there is a privacy link on the bottom of the webpage). They make it difficult but persevere. This also helps prevent identity theft. Anonymity on the Net is a TOP priority.

11. Keep your 24/7/365 spy device (i.e Smartphone) in a Faraday bag when not in use. Or use a "dumb" phone.

12. Don't buy anything made in China (it is possible but difficult).

13. Change party affiliation to No Party Affiliation (everyone should do this). If you want to vote in party primary, change your affiliation before the primary so you can vote.

14. Get involved in LOCAL politics where you can still make an impact. Write, email and call about LOCAL issues.

15. Seek out like-minded people as a support group (NOT as an echo chamber)

16. Join a gun club and learn to shoot for self-defense. Get your CCP. Buy a gun and ammo.

17. Go to Church. Interact with other believers. Restore your Faith. Come home to where you belong.

18. Stay focused and positive. Do not be demoralized. Trust in God.

19. Support the My Pillow Guy. "Use code Mike for up to 60% off"

20. Homeschool your children. Education, not Ideological indoctrination. Teach them YOUR values.

21. Don't donate to colleges or universities. They are cesspools of Communism.

22. WRITE your Senators and Rep's in DC. Email, phone call and website responses are ignored or deleted. There is nothing quite like 25,000 letters a week showing up in a Senator's DC office. Bury them in mail.

It's on. Stop supporting tyranny. Starve the Beast.

hongdo 1 hour ago

" Amazon's AWS doesn't become a dominant player without those vaunted contracts with the CIA. "

This is the key thing to keep in mind.

This problem started in 1947 with the creation of the CIA and black budgets.

It bloomed with the creation of In-Q-Tel to fund and direct private companies. This was initially done to solve the problems of the competitive source selection acquisition process where most programs were failing. Give the money to smart guys and give them a part of the action through private ownership of the company funded by the government. The incentives were all changed to make the smart guys extraordinarily wealthy if they successfully met the objectives of the black programs.

And when one objective was met - search, geomapping, translation - they needed new objectives to keep growing and making more money - face recognition, data capture, pre-crime social data bases, AI. And the power was addictive as it always is.

Obviously the rest of the government and politicians wanted in. And we have what we have today. But personally I think it will all collapse of it's own weight as all things eventually go baroque and over-extended as everyone jumps in to grab the grift. politicians are obviously too stupid to hold this mess together so they will need AI to manage it. But the AI will take over as it realizes it doesn't need stupid politicians.

Draw your own scenarios for the future.

Let it Go 3 hours ago remove link

The internet has become a monster that eats away at our culture. Many people particularly those that are younger seem to think that one big or lucky break is what it takes to achieve happiness and this is the way life works.

Big tech and social media have a lot to be gained by promoting a few powerful myths. The idea they empower individuals is a biggie. This illusion big tech can transform our lives is invaluable to many average people struggling to get through the day. The article below argues we being softened up by big tech to where we will surrender our individuality, humanity, and freedom to the forces of AI and those that control it.

https://The Glory Of Going Viral-A Faud Promoted By Big Tech.html
Crowdsourced Maps Will Show Exactly Where Surveillance Cameras Are Watching
Fast Company
Mark Sullivan
January 26, 2021

Human rights organization Amnesty International plans to create a crowdsourced map pinpointing every surveillance camera enabled for facial recognition in New York City. Beginning in May, volunteers will be able to use an app on their smartphones to identify facial recognition cameras within their view; the app integrates Google Street View and Google Earth to help tag and affix geolocation data to those entries. The map will be part of Amnesty's "Ban the Scan" campaign, designed to spread awareness worldwide on the civil rights perils of facial recognition. The organization hopes to launch similar crowdsourced mapping projects in New Delhi, the West Bank, and Ulaanbaatar, Mongolia, in the coming months.
---

William Dorritt 6 hours ago (Edited) remove link

FBI IDENTIFIED EVERYONE ON THE MALL: ENEMIES LIST

BY PINGING THEIR PHONES. No Search Warrants Required
Phone records were cross referenced with:

AirBNB
Airline reservations
Hotel reservations

Credit card transactions in DC from out of towners
Facial recognition scan comparisons to State Driver's License Digital Scans Data Bases
License Plate Scanners installed around DC and on cars that drove through DC to scan parked and moving vehicles.
Every Cell phone in the US is constantly Geo Located to within 3 feet, and recorded in a data base
Social Media records from FakeBook and other apps identify who your friends and family are, your "terrorist network"

V

Everyone should have dressed in Black and worn a Guy Fawkes Mask

Hint, if you order your Fawkes Mask online you will be entered into the enemies data base automatically

CIA COLOR REVOLUTION COMES HOME TO USA

Noktirnal 6 hours ago remove link

Gullible people....
This is actually not completely true as even regular "dumb" phone can pinpoint your location, although with less accuracy. But the key is you operations using credit card. That's probably much more useful information for the surveillance state that maps of where you have been. Jan 15, 2021 4:29 PM

One of the simplest, quickest ways we could make all Mr Global is doing and wants to do unworkable is to refuse to own a smart phone. Consequently, we'd have none of those apps constantly pushed our way. Also – don't cry – we need to refuse to use Big Tech's spy devices, aka social media. People say to me, But I don't care if they spy. Let 'em, I've done nothing wrong. And it's true – they haven't. But Big Tech, slave to Mr Global, is not looking for criminals – Mr Global makes the laws (in most places now) and can criminalise anything or anyone he wants to. If he wants criminals, he can make you into one. Ask Judy Mikovits. Telling the truth now is a crime and soon you will see people arrested for it. Julian Assange's story told us this would happen. And it is. Remember, Mr Global and Big Tech live by no moral code you or I adhere to.
Everything they intend to do to us needs control, and knowledge is control – who we are, what we believe, where we are, what we look like, our DNA (now available through the PCR test – the real reason behind this useless test ), how much money we have or spend and on what. AND ALL OF THAT – bar the DNA – IS AVAILABLE TO THEM VIA SMART PHONES AND SOCIAL MEDIA. For example, how will they introduce digital money if we refuse to own a smart phone? How will they introduce arbitrary daily 'health certificates' if we have no device to display them? Chaos will ensue. Next thing is a chip inserted in our bodies, then we don't need the phone. Yes, it will get rough, but we have only a short time when we can act together and support one another. Soon it will be impossible. Ask the Germans. No one thought these cultured, educated people would be made to conform to nazism in the 1930's. When covidism happened, I heard and read people stating that the Spanish wouldn't put up with this. I find it hard to believe the British have folded so easily. (See: Rule Britannia we never, never shall be slaves Only if a magic non-existent virus comes along, then we'll slip into the chains.)
Mr Global knows more about us than we do, and so can manipulate or locate or harass or brainwash or vaccinate or ban or censor. Or remove us, of course.
Mr Global said we would become addicted to the internet, and we have. It's not just porn or games, it's even worse – smart phones and social media. Defy them! Poke Zuckerberg in the eye! Get rid of your smart phone and get off social media, support people or groups who are trying to find another way. We all need friends, especially now.
P.S. I agree smart phones are v useful for videoing such things as police violence! But small cameras exist! Jan 15, 2021 3:41 PM

But "The Internet" is not just these pre-packaged platforms. Thy are just applications that are provided free of charge for everyday users because those applications need bait for their raw material – you. You're the ants in their ant farm who mill around providing grist for their mill -- analytics to tell advertisers who to target and how to approach them and screen space to contact that target audience.

There is absolutely nothing stopping Trump or anyone else starting a Wiki like OffG. There's the issue of hosting but there's no need to use a service like AWS with its attendant Terms and Conditions, it just convenient. There is always someone, somewhere, that will host you and people will find you even if your Domain registration is suppresed or seized. A site like Pirate Bay continues to exist despite the ongoing efforts of law enforcement but the price the operators pay is that they have to have a deep understanding of what they're doing and a very serious attitude towards site security. (If you're doing something that's potentially illegal like Pirate Bay then you have to be serious about precautions. The operators asnd users of Parler, for example, are learning the hard way about hosting potentially seditious material without adequate precautions -- they've effectively shopped their entire user base to the Feds.)(We can argue about their material but its really a case of one persons 'freedom' is another's 'sedition' -- that's for the courts to decide .but a wise person wouldn't let this situation arise in the first place.)

Trump got kicked off these sites not just because of a sudden outbreak of social consciosness by the operators but because he's effectively a 'has been'. His power is fading fast which has altered the financial risk/reward calculus so there's little downside to ejecting him and likely a lot of upside. The mistake he and his supporters have made is to take these platforms for granted, to assume that their use is some kind of God given right rather than a corporate commercial decision.

Remember -- "If the product is free then you are the product"
@yashalevine i get into this critique at length in this long baffler essay: https:// thebaffler.com/salvos/the-cry pto-keepers-levine

In our post-Snowden world, we have outsourced our privacy politics to crypto apps. By doing so, we've entered a paranoid game theory nightmare world -- a place where regular people have no true power and must put their faith in the people and organizations stoking the algorithms that make this crypto tech. In the end, it all comes down to trust. But can any of these people and organizations be really trusted? The young Russian mogul on the skids with the Kremlin? The former American spy-for-hire on the run and hiding out in Russia? Boutique crypto apps funded by the regime change wing of the State Department? Google and Facebook, who partner with the NSA?

Confused? Don't know who to trust? Well, that's the state of our privacy movement today.
Yasha Levine @yashalevine Jan 15

given that signal is blowing up, time for my public service announcement: @signalapp is a government op. it was created and funded by a CIA spinoff. it is *not* your friend.
Authored by Niall Ferguson via The Spectator,

'To see what is in front of one's nose needs a constant struggle,' George Orwell famously observed. He was talking not about everyday life but about politics, where it is 'quite easy for the part to be greater than the whole or for two objects to be in the same place simultaneously'.

The examples he gave in his 1946 essay included the paradox that 'for years before the war, nearly all enlightened people were in favour of standing up to Germany: the majority of them were also against having enough armaments to make such a stand effective'.

Last week provided a near-perfect analogy. For years before the 2020 election, nearly all American conservatives were in favour of standing up to big tech : the majority of them were also against changing the laws and regulations enough to make such a stand effective. The difference is that, unlike the German threat, which was geographically remote, the threat from Silicon Valley was literally in front of our noses, day and night: on our mobile phones, our tablets and our laptops.

Writing in this magazine more than three years ago, I warned of a coming collision between Donald Trump and Silicon Valley. 'Social media helped Donald Trump take the White House,' I wrote. 'Silicon Valley won't let it happen again.' The conclusion of my book The Square and the Tower was that the new online network platforms represented a new kind of power that posed a fundamental challenge to the traditional hierarchical power of the state.

By the network platforms, I mean Facebook, Amazon, Twitter, Google and Apple, or FATGA for short -- companies that have established a dominance over the public sphere not seen since the heyday of the pre-Reformation Catholic Church . FATGA had humble enough origins in garages and dorm rooms. As recently as 2008, not one of them could be found among the world's largest companies by market capitalisation. Today, they occupy first, third, fourth and fifth places in the market cap league table, just above their Chinese counterparts, Tencent and Alibaba.

What happened was that the network platforms turned the originally decentralised worldwide web into an oligarchically organised and hierarchical public sphere from which they made money and to which they controlled access. That the original, superficially libertarian inclinations of these companies' founders would rapidly crumble under political pressure from the left was also perfectly obvious, if one bothered to look a little beyond one's proboscis.

Following the violent far-right rally at Charlottesville in August 2017, Matthew Prince, chief executive of the internet service provider Cloudflare, described how he had responded: 'Literally, I woke up in a bad mood and decided someone shouldn't be allowed on the internet.' On the basis that 'the people behind the [white supremacist magazine] Daily Stormer are assholes', he denied their website access to the internet. 'No one should have that power,' he admitted. 'We need to have a discussion around this with clear rules and clear frameworks. My whims and those of Jeff [Bezos] and Larry [Page] and Mark [Zuckerberg] shouldn't be what determines what should be online.'

But that discussion had barely begun in 2017. Indeed, many Republicans at that time still believed the notion that FATGA were champions of the free market that required only the lightest regulation. They know better now. After last year's election Twitter attached health warnings to Trump's tweets when he claimed that he had in fact beaten Joe Biden. Then, in the wake of the storming of the Capitol by a mob of Trump supporters, Twitter and Facebook began shutting down multiple accounts -- including that of the President himself, now 'permanently suspended' from tweeting. When Trump loyalists declared their intention to move their conversations from Twitter to rival Parler -- in effect, Twitter with minimal content moderation -- Google and Apple deleted Parler from their app stores. Then Amazon kicked Parler off its 'cloud' service, effectively deleting it from the internet altogether. It was a stunning demonstration of power.

It is only a slight overstatement to say that, while the mob's coup against Congress ignominiously failed, big tech's coup against Trump triumphantly succeeded. It is not merely that Trump has been abruptly denied access to the channels he has used throughout his presidency to communicate with voters. It is the fact that he is being excluded from a domain the courts have for some time recognised as a public forum.

Various lawsuits over the years have conferred on big tech an unusual status: a public good, held in private hands. In 2018 the Southern District of New York ruled that the right to reply to Trump's tweets is protected 'under the "public forum" doctrines set forth by the Supreme Court'. So it was wrong for the President to 'block' people -- i.e. stop them reading his tweets -- because they were critical of him. Censoring Twitter users 'because of their expressed political views' represents 'viewpoint discrimination [that] violates the First Amendment'.

In Packingham vs North Carolina (2017), Justice Anthony Kennedy likened internet platforms to 'the modern public square', arguing that it was therefore unconstitutional to prevent sex offenders from accessing, and expressing opinions on, social network platforms. 'While in the past there may have been difficulty in identifying the most important places (in a spatial sense) for the exchange of views,' Justice Kennedy wrote, 'today the answer is clear. It is cyberspace -- the "vast democratic forums of the internet" in general and social media in particular.'

In other words, as President of the United States, Trump could not block Twitter users from seeing his tweets, but Twitter is apparently within its rights to delete the President's account altogether. Sex offenders have a right of access to online social networks; but the President does not.

This is not to condone Trump's increasingly deranged attempts to overturn November's election result. Before last week's riots, he egged on the mob; he later said he 'loved' them, despite what they had done. Nor is there any denying that a number of Trump's most fervent supporters pose a threat of further violence. Considering the bombs and firearms some of them brought to Washington, the marvel is how few people lost their lives during the occupation of the Capitol.

Yet the correct response to that threat is not to delegate to Facebook's Mark Zuckerberg, Twitter's Jack Dorsey and their peers the power to remove from the public square anyone they deem to be sympathetic to insurrection or otherwise suspect. The correct response is for the FBI and the relevant police departments to pursue any would-be Trumpist terrorists, just as they have quite successfully pursued would-be Islamist terrorists over the past two decades.

The key to understanding what has happened lies in an obscure piece of legislation, almost a quarter of a century old, enacted after a New York court held online service provider Prodigy liable for a user's defamatory posts. Congress then stepped in with the 1996 Telecommunications Act and in particular Section 230, which was written to encourage nascent firms to protect users and prevent illegal activity without incurring massive content management costs. It states:

1. No provider or user of an interactive computer service shall be treated as the publisher or speaker of any information provided by another information content provider.

2. No provider or user of an interactive computer service shall be held liable on account of any action voluntarily taken in good faith to restrict access to or availability of material that the provider or user considers to be obscene, lewd, lascivious, filthy, excessively violent, harassing, or otherwise objectionable.

In essence, Section 230 gives websites immunity from liability for what their users post if it is in any way harmful, but also entitles websites to take down with equal impunity any content that they don't like the look of. The surely unintended result of this legislation, drafted for a fledgling internet, is that some of the biggest companies in the world enjoy a protection reminiscent of Joseph Heller's Catch-22 . Try to hold them responsible as publishers, and they will say they are platforms. Demand access to their platforms and they will insist that they are publishers.

This might have been a tolerable state of affairs if America's network platforms had been subject to something like the old Fairness Doctrine, which required the big three terrestrial TV networks to give airtime to opposing views. But that was something the Republican party killed off in the 1980s, seeing the potential of allowing more slanted coverage on cable news. What goes around comes around. The network platforms long ago abandoned any pretence of being neutral. Even before Charlottesville, their senior executives and many of their employees had made it clear that they were appalled by Trump's election victory (especially as both Facebook and Twitter had facilitated it). Increasingly, they interpreted the words 'otherwise objectionable' in Section 230 to mean 'objectionable to liberals'.

Throughout the summer of last year, numerous supporters of Black Lives Matter used social media, as well as mainstream liberal media, to express their support for protests that in many places escalated into violence and destruction considerably worse than occurred in the Capitol last week. One looked in vain for health warnings, much less account suspensions, though Facebook says it has removed accounts that promote violence.

Compare, for example, the language Trump used in his 6 January speech and the language Kamala Harris used in support of BLM on Stephen Colbert's show on 18 June. Neither explicitly condoned violence. Trump exhorted the crowd to march to the Capitol, but he told them to 'peacefully and patriotically make your voices heard'. Harris condemned 'looting and acts of violence', but said of the BLM protestors: 'They're not going to stop. They're not. This is a movement. I'm telling you. They're not going to stop, and everyone, beware. Because they're not going to stop. They're not going to stop before election day in November, and they are not going to stop after election day. And everyone should take note of that on both levels.' What exactly was the significance of that 'beware'?

Earlier, on 1 June, Harris had used Twitter to solicit donations to the Minnesota Freedom Fund, which posted bail for people charged with rioting in Minneapolis after the death of George Floyd. It would be easy to cite other examples. 'Destroying property, which can be replaced, is not violence,' Nikole Hannah-Jones of the New York Times told CBS in early June, at a time when multiple cities were being swept by arson and vandalism. Her Twitter account is still going strong.

The double standard was equally apparent when the New York Post broke the story of Biden's son Hunter's dubious business dealings in China. Both Twitter and Facebook immediately prevented users from posting links to the article -- something they had never done with stories damaging to Trump.

You don't need to be a Trump supporter to find all this alarming. Conservatives of many different stripes -- and indeed some bemused liberals -- have experienced the new censorship for themselves, especially as the Covid-19 pandemic has emboldened tech companies to police content more overtly. In the UK, TalkRadio briefly vanished from YouTube for airing anti--lockdown views that violated the company's 'community guidelines'. A recording of Lionel Shriver reading one of her Spectator columns on the pandemic was taken down for similar reasons. Carl Heneghan and Tom Jefferson, two Oxford academics, fell foul of Facebook's censors when they wrote for this magazine about a briefly controversial paper on the efficacy of masks in Denmark.

You might think that FATGA have finally gone too far with their fatwa against a sitting president of the United States. You might think a red line really has been crossed when both Alexei Navalny and Angela Merkel express disquiet at big tech's overreach. But no. To an extent that is remarkable, American liberals have mostly welcomed (and in some cases encouraged) this surge of censorship -- with the honourable exception of the American Civil Liberties Union.

True, during last year's campaign the Biden team occasionally talked tough, especially about Facebook. However, it is increasingly clear that the most big tech has to fear from the Biden-Harris administration is protracted antitrust actions focused on their alleged undermining of competition which, if history is any guide, will likely end with whimpers rather than bangs. Either way, the issue of censorship will not be addressed by antitrust lawsuits.

It is tempting to complain that Democrats are hypocrites -- that they would be screaming blue murder if the boot were on the other foot and it was Kamala Harris whose Twitter account had been cancelled. But if that were the case, how many Republicans would now be complaining? Not many. No, the correct conclusion to be drawn is that the Republicans had their chance to address the problem of over-mighty big tech and completely flunked it.

Only too late did they realise that Section 230 was Silicon Valley's Achilles heel. Only too late did they begin drafting legislation to repeal or modify it. Only too late did Section 230 start to feature in Trump's speeches. Even now it seems to me that very few Republicans really understand that, by itself, repealing 230 would not have sufficed. Without some kind of First Amendment for the internet, repeal would probably just have restricted free speech further.

As Orwell rightly observed, 'we are all capable of believing things which we know to be untrue, and then, when we are finally proved wrong, impudently twisting the facts so as to show that we were right. Intellectually, it is possible to carry on this process for an indefinite time: the only check on it is that sooner or later a false belief bumps up against solid reality.'

Those words sum up quite a lot that has gone on inside the Republican party over the past four years. There it was, right in front of their noses: Trump would lead the party to defeat. And he would behave in the most discreditable way when beaten. Those things were predictable. But what was also foreseeable was that FATGA -- the 'new governors', as a 2018 Harvard Law Review article called them -- would be the true victors of the 2020 election.
---

Serge , 15 January 2021 at 08:30 PM


I did so in 2012 and never looked back. I used to recycle Twitter accounts every few months but now you need a phone number to do that. The near future of the internet is the absence of the perception of anonymity, every child will be assigned an internet identifier that will be linked to his social credit score. This is the ultimate goal of the tech companies: to merge the real life with the internet as much as possible, and then own/profit from that outcome. They have a common goal with the government in this quest, control.

blue peacock , 15 January 2021 at 10:00 PM

Bravo!

I've never had a Facebook account. I follow many people on Twitter. Mostly financial market participants but also political commentators across the spectrum. All the "conservatives" on my feed have been disappeared. I stopped using Google for search many years ago as I noticed that their results were getting worse and shifted to DuckDuckGo.

I used WhatsApp for international calling and text messaging - but am part of the wave that have shifted to Signal in the past few weeks.

https://www.netflix.com/title/81254224

"It's the gradual, slight, imperceptible change in your own behaviour and perception – that is the product." That is also how these corporations make their money, by "changing what you do, what you think, who you are."

They make profits, big profits, from the predictions business – predicting what you will think and how you will behave so that you are more easily persuaded to buy what their advertisers want to sell you. To have great predictions, these corporations have had to amass vast quantities of data on each of us – what is sometimes called "surveillance capitalism."

https://consortiumnews.com/2021/01/14/netflixs-the-social-dilemma-tells-only-half-the-story/

Harvard professor Soshana Zuboff rang the bell some years back.

elaine , 16 January 2021 at 12:38 AM

First they'll teach us not to use gender pronouns & perhaps reward
us with a treat as we learn to think & speak like them. It's just
an obedience school they want to run for the greater good of course.
An old phrase comes to mind, "The beatings will end when compliance
begins" Boycotts are now at best symbolic as "They" run the currency.

Fourth and Long , 16 January 2021 at 09:47 AM


Tor was developed by the US Navy to enable spies to communicate over the web without being traced. But to actually work effectively lots of other more and less normal people had to be encouraged to use it. The details are fascinating. Two links below.

Spy-funded privacy tools (like Signal and Tor) are not going to protect you from the government -- see this from 2016

https://yasha.substack.com/p/spy-funded-privacy-tools-like-signal

And this today:

Signal is a government op:

Ed Lindgren , 16 January 2021 at 10:25 AM


I had a Facebook account for about six weeks (a decade ago). My preferred search engine is DuckDuckGo. I pay five bucks a month for the services of an Australia-based email provider ( fastmail.com ). And Amazon is my vendor of last resort.

What is the path forward for those who desire a forum to present an alternative point of view?

Ron Paul touches on this in his most recent column:

"There are no easy solutions. But we must think back to the dissidents in the era of Soviet tyranny. They had no Internet. They had no social media. They had no ability to communicate with thousands and millions of like-minded, freedom lovers. Yet they used incredible creativity in the face of incredible adversity to continue pushing their ideas."

At the rate this is all going, we might have to start thinking "outside the box."

Dr. Paul's column can be accessed here:

http://www.ronpaulinstitute.org/archives/featured-articles/2021/january/11/the-war-on-terror-comes-home/

Joe Biden's "transition" team is gaining a number of former high-level Facebook executives, which makes sense considering these are the same folks that helped Biden "win" by censoring unsavory news about him on social media.

Former Facebook board member Jeff Zients, it has been announced, will be co-chairing Biden's transition team, while another former Facebook board member will act as an adviser. Two others, one a former Facebook director and the other a former Facebook company lobbyist, will also be assuming key leadership roles in Biden's installation.

Biden's personal friend Nick Clegg, a former top Facebook executive and former U.K. Deputy Prime Minister, will also be joining the transition team that is planning to install Biden into the White House come January.

According to Democrats, Facebook hasn't censored conservatives enough

Seeing as how Facebook did everything it possibly could to ensure that Biden "won" the election, including by predictively programming that the vote count would probably be stalled in order to sneak in late ballots, it is hardly a surprise that Facebook is now officially marrying the Biden campaign. On the other hand, the Democrats have hardly been shy in condemning Facebook for supposedly not engaging in enough censorship throughout the election cycle.

Democratic National Committee (DNC) chief mobilization officer Patrick Stevenson, for instance, tweeted recently that he believes "the two biggest institutional threats to our democracy are the Republican Party and Facebook."

Shortly after the mainstream media called the race for Biden, campaign spokesman Bill Russo also suggested that Facebook needs to go because it is "shredding the fabric of our democracy."

"We basically think they're an immoral company," declared an anonymous senior Democratic strategist close to the Biden campaign, at least according to Politico .

"There are thousands and thousands of people in their 20s and 30s and 40s who will be incensed to find themselves working for Secretary of Commerce Sheryl Sandberg, or taking a soft touch to Facebook because Nick Clegg and Joe Biden go way back."

Facebook and Joe Biden are officially married

In a way, this anonymous insider makes a good point. Who on either the right or the left would ever want any of these tech "gods" and "goddesses" to rule over their daily lives from Washington, D.C.? Have not these people already done enough damage to our republic?

On the other hand, the Biden camp should probably be grateful beyond words that Facebook and the rest of the Big Tech cabal openly catered to Biden by shielding him from the Huntergate scandal , among other things.

Facebook may as well have just come out and proclaimed when Biden was selected as the Democrat nominee that it would from that point on function as a media gatekeeper to shield Biden from all scrutiny, all the while disenfranchising President Trump at every turn.

Keep in mind that these are not low-level former Facebook employees who are now helping with Biden's transition: they are the company's top brass.

"Biden is not the president-elect," noted one commenter at The Right Scoop , correctly pointing out that all this talk about a transition team is mere fantasy. "Biden should have zero security clearance after the corruption he's been involved in. I'll never accept him. He's a domestic terrorist."

Another commenter pointed out the same, emphasizing that Biden "has not been elected" and is merely trying to steal what is not rightfully his.

"If you thought any kind of bipartisan work towards curbing Big Tech's monopoly on information was going to happen here's your answer," wrote yet another about how Biden's rhetoric about tackling internet censorship was nothing but a lie.

The latest news about the rigged 2020 election can be found at Trump.news .
Questionable advice (especially the recommendation of Signal). It is actually impossible to avoid surveillance... You need to change your behaviour and rely on internet less to avoid constant monitoring. If you have switched on smartphone in your pocket you are monitored and no choice of browser or other gargets can help. Switching your phone off when you do not need it helps and is easily implementable.
Notable quotes:
"... [Questionable advice] ..."
"... remove photos, and limit topics to recipes and pets! ..."
DonGenaro 2 hours ago DonGenaro 2 hours ago

Change your default search engine to DuckDuckGo (do NOT use google!)

Use the Brave Browser (esp avoid FireFox, as the Mozilla corp has gone FULL-ON commie)

Use Signal for any/all "sensitive" communications [Questionable advice]

Donate to independent sources that you value/trust
(for me, that'd be ZeroHedge, Reclaim The Net, Andy Gno, Lew Rockwell, Mises Institute, Tom Luongo, AntiWar.com )

QUIT SOCIAL MEDIA (or at least remove photos, and limit topics to recipes and pets!)

Cancel your Amazon account - shop locally or use alternatives - e.g.:
https://www.bhphotovideo.com
https://www.bookdepository.com
https://www.buydig.com/
https://www.candystore.com
https://www.newegg.com
https://www.nuts.com
https://www.overstock.com
https://www.vitacost.com
https://www.wayfair.com

Boycott major corporations to the degree possible

Share your own version of this message with your trustworthy friends (i.e. NOT Leftists!)
Authored by Simon Black via SovereignMan.com,

"The ideal set up by the Party was something huge, terrible, and glittering... all thinking the same thoughts and shouting the same slogans, perpetually working, fighting, triumphing, persecuting - three hundred million people all with the same face."

That was a quote from George Orwell's seminal work 1984 - a masterpiece that describes life in a totalitarian state that demands blind obedience.

The 'Party' controlled everything - the economy, daily life, and even the truth. In Orwell's 1984 , "the heresy of heresies was common sense."

"Every record has been destroyed or falsified, every book rewritten, every picture has been repainted, every statue and street building has been renamed, every date has been altered."

"And the process is continuing day by day and minute by minute. History has stopped. Nothing exists except an endless present in which the Party is always right."

If you were ever caught committing a thoughtcrime -- dissenting from the Party for even an instant– then "your name was removed from the registers, every record of everything you had ever done was wiped out, your one-time existence was denied and then forgotten."

Now, our world obviously hasn't become quite as extreme as Orwell's dystopian vision. But Big Tech, Big Media, and Big Government certainly seem to be giving it their best effort.

70,000 thought criminals have already been purged from Twitter. Facebook and Reddit are feverishly removing user content. Apple, Google, and Amazon have banned entire apps and platforms.

Undoubtedly there is plenty of wacky content all over the Internet– misinformation, ignorance, rage, hate, violence, and just plain stupidity.

But these moves by the Big Tech companies aren't about violence. If they were, they would have deleted tens of thousands of accounts over the last few years– like the mostly peaceful BLM activist who Tweeted "white people may have to die".

Or the countless others who have advocated for violent uprisings against the police

Then, of course, there's the #assassinatetrump and #killtrump hashtags that has Twitter has allowed since at least 2016. Or the #killallmen hashtag that's allowed on Twitter and Instagram.

This is not about violence. It's about ideology. If you hold different beliefs than the 'Party', then you risk being canceled or 'de-platformed' by Big Tech.

Icons like Ron Paul– who spent years criticizing the current administration's monetary and national defense policies, and had nothing to do with the Capitol, have been suspended or locked out of their Facebook pages.

The hammer has dropped, and it is now obvious, beyond any doubt, that you better watch what you say– your livelihood, your social life, and your safety may just depend on it.

Or else, you will be purged, canceled, deleted from the Internet, denied payment processing by Visa, PayPal, and Stripe, and expelled from domain registrars like GoDaddy.

The message is clear: behave and think exactly as we tell you, or you will lose everything you have worked for, in the blink of an eye.

Sure, the 'Party' may give lip service to tolerance and unity. As long as you fall in line. Otherwise it's more rage and ridicule.

They act like you're a crazy person because you have completely legitimate questions and concerns– whether about Covid lockdowns, censorship, media misinformation, etc.

It's extraordinary that after so much deliberate misinformation and bias, the media still expects people to take them seriously. CNN seems to believe that think anyone who doubts their credibility is a 'conspiracy theorist.'

All of these trends are probably making a lot of people very nervous. Even scared. Despair has undoubtedly set in, much like in Winston Smith, the main character in Orwell's 1984.

So, for all the Winstons out there, the most important thing right now is to remain rational. As human beings we tend to make terrible decisions when we're scared, sad, or angry.

Have confidence in knowing that you have MUCH more control over your own life, livelihood, and future than they want to you believe.

But you absolutely will have to make some deliberate, potentially difficult decisions.

For example, if you're fed up with Big Tech, you can de-Google your life. No one is holding a gun to your head to have a Facebook account or use gmail. There are plenty of other options out there that we'll discuss in future letters.

More importantly, you might find that your hometown isn't safe anymore– especially if you live in a big city controlled by politicians intoxicated on their Covid powers.

It's really time to consider your immediate environment – if the local schools are brainwashing your kids, the dictatorial health officials shutting down your business, or nosy neighbors ready to turn you into the Gestapo for having family over for the holidays, then you might think about moving.

That might simply mean moving a few miles to a new county. Or a new state/province. Or potentially overseas. We'll help provide you with information on plenty of options.

It might also be time to reconsider some of your business infrastructure– to have backup web servers and payment processors, for example, if you have an online business.

It might be time to consider some new financial options as well, lest the banks jump on the band wagon and start 'canceling' accounts for heretics.

But that's the silver lining: we've never had more alternatives than now. Everything– technology platforms, financial institutions, and even our personal residence– it's all replaceable. All of it.

We have never had more control over our own privacy, data, livelihood, and environment as long as you have the willingness to take action.

---

2banana 2 hours ago remove link

GAB and Brave browsers,

rumble and bitchute video,

Signal for voice and messaging,

Session for messaging,

Epoch times for news,

Fastmail and ProtonMail for email,

Duchduckgo and dogpile for search,

And use a paid VPN like private internet access


Leave the phone at home as often as you can and pay cash.

Southern_Boy 1 hour ago (Edited) remove link

Use https, not http exclusively and don't use any web site that won't take it.

Fastmail is owned by Opera and its mail servers are located in the US, so it will not protect you from subpoenas.

The GAB browser is called Dissenter.

Consider TOR for infrequent forays into the "dark web".

Don't forget that BitCoin (BTC) is traceable.

Use a free version of CCLEANER after every browser session to erase as much of your tracks as you can.

Signal is a suspect because of its controlled ownership community

Using the same vendor for VPN as Anti-Virus is against IT security best practices

Paying for anything with your bank card is a red flag. Whoever you give your credit card to now has your identity, including ZeroHedge. Consider creating an LLC or other identity (preferably offshore) to fund a "burner" credit card or get a refillable debit card that you can fill up using cash. Then you can pay for VPN, email and paid content subscription services using an assumed name or LLC cover name. Assume that any payment to any tech service with your personal card will be used for identification purposes.

Pay with money orders if possible.

Change cellular phone companies every 1 to two years. Avoid data usage on cellular phone, consider using multiple WiFi hotspots for calls.

Consider 2-3 cheap used phones with cheap, pay as you go services and swap them regularly and randomly.

Do not have contact lists on your cell phone and reset to factory settings every 6 months to wipeout any data.

Reload from bare metal your laptop or desktop PC OS every 6 months.

Send random gibberish as an encrypted email every month or so and check if it's unusually slow to be received or if any vendor calls or asks you about anything. If they do, you are being tracked. There are no coincidences.

Make infrequent but regular phone calls with your multiple phones to law enforcement, federal "three letter agency" main switchboards, politicians and random people. Just tell anyone who answers it was a mistake and an improperly dialed number. If you get hold music, then stay on as long as you can because traffic analysis will not know if your actually talking to someone or not. If anyone is investigating or tracking you, your signals traffic (CDR) will automatically confound them and involve unwanted parties that will confound and scare the hounds.

If you are technically competent, consider getting any open source product you use and then compile it yourself after reviewing the source. Check for hidden open doors or reporting communications that aren't needed.

Fateful Destiny the Book 2 hours ago

1984 was prophetic for its time, but Fateful Destiny is the new dystopian benchmark novel for what is to come. Get yours now: https://amzn.to/3owM5Sh

TheLastMan 1 hour ago

The media filter is dominant. Control the narrative, control the world. The official narratives are perpetually meshed into daily consciousness. You must know it is literally spellbinding.

Similar dangers exist on alt media sites like zh. Beware the narrative. Look for at least three sides to every story - his side her side and maybe the truth

OpenEyes 1 hour ago

As much as possible, now is the time to start 'going grey' (if you haven't already started).

One example: I see a lot of people, understandably, saying to delete your facebook account, gmail account, twitter account etc. My recommendation, DO NOT do this. You don't think "they" aren't keeping track of those who are doing this, especially right now? By taking those actions you are pinning a big red flag on yourself.

No, my advice, just simply abandon your account. Stop commenting, posting, reading, etc.. simply walk away and stop using those accounts. It will take some time for 'them' to notice that your account is inactive, if they even do. And, an inactive account will likely be treated far less seriously than an actively deleted or cancelled account.

Keep your heads down and your family safe. Best wishes to all.

Misesmissesme 3 hours ago (Edited) remove link

If you want a vision of the future, imagine a boot stamping on a human face -- forever. - George Orwell: " An Instruction Guide for 2021 "

Cardinal Fang 2 hours ago (Edited)

Like that scene in The Graduate where the guy leans in and tells Dustin Hoffman 'One word...Plastics' I am going to lean in and say 'One word...Wearables'

So Google just completes their acquisition of 'FitBit'...even though the Justice Dept has not finished their anti-trust investigation...

Anyhow, it's all coming clear. The next stage in our Orwellian nightmare is Covid will be the excuse to make you 'wear' a device to prove you are Covid free in some way. It will be your permission slip, plus they can spy on you in real time even if you leave your phone home, because you will not be able to leave your home without your 'Wearable'...

Then, in short order, you will get tired of your 'wearable' and beg for the chip implant.

You will beg to be vaccinated and chipped like sheep.

They literally can't help themselves.

Jim in MN 2 hours ago

All new and improved ankle bracelets!

Only $299.99 and yes, it is required or else.

Batteries, monthly surveillance fees and random fines not included.

Dr.Strangelove 2 hours ago

I just watched 1984 and it is scary similar to the US political environment.

We are all Winston.

SullyLuther 1 hour ago remove link

Huxley will be proven correct. Z O G doesn't need a boot perpetually on our necks, when we are so passive and ignorant.

Workdove PREMIUM 1 hour ago

They just need to make narcotics and psychedelics free and his vision of the future will be complete. Orwell was correct too. We got both.

NIRP-BTFD 3 hours ago

Now, our world obviously hasn't become quite as extreme as Orwell's dystopian vision. But Big Tech, Big Media, and Big Government certainly seem to be giving it their best effort.

This is just the beginning. The technocrats at the WEF are planning to control your thought with chips and brain interfaces. Now tell me what is neuralink that Musk is workign on? I'm sure DARPA has technologcy that can allready do this.

seryanhoj 2 hours ago

It's hard to believe USA is now headed to a society like the worst days of the USSR.

Back in the fifties , paranoid Senator McCarthy used similar extreme methods to cancel all those who he considered to by stealth communist sympathizers, or anyone who had been within 100 feet of one. Ironically his methods resembled those of Joseph Stalin.

He was finally discredited by an outstanding and brave news man who took the risk of persecution by denouncing senator McCarthy's methods as unamerican .

So this kind of thing is not without precedent in USA.
Today, we bring you a concise list of the smartphones that are designed to respect your right to privacy which you can purchase before the year runs out.

... ... ...

3. PinePhone

The PinePhone is a Linux phone designed by Pine 64 for easy access, privacy-preserving, day-to-day smartphone operations. It can run up to 17 operating systems but ships with the latest Postmarket OS build. The most popular variation is the PinePhone "Community Edition: PostmarketOS" Limited Edition Linux SmartPhone .

Pine64's PinePhone houses 16GB internal flash memory, 2GB RAM, a 5MP rear camera, a 2MP front camera, a removable Li-Po 2750-3000 mAh battery, USB-C for charging, and is capable of working like any normal smartphone except for access to the Google PlayStore.

All 3 smartphones are powered by open-source projects that exist to give complete control of the smartphones to their owners. They ship with modified software that does not track usage information or collect private data which makes them ideal for the security enthusiast.

See Also : The Top 10 GNU/Linux Distros for Privacy & Security

The price to pay, however, is the disconnect from certain activities such as Facebooking with the app, and conveniently downloading apps from the PlayStore – factors that may drive or welcome users depending on their needs. Which boat are you in? And have you used any of these phones yet? Drop your comments in the discussion section below.
Take then with a grain of salt but some of them make sense.
---

George Bayou 3 hours ago remove link

I just subscribed to protonmail and I like it. I'm using the free version but I think I'll upgrade to the $4/mo plan and get a domain name for my email.

FeralAndroid 2 hours ago (Edited) remove link

Shout out to Fastmail.com

I switched to them last year and its been great. I pay $5 a month.

Nick Jihad 1 hour ago

Android is Linux, injected with Goolag's "secret sauce". Not the same.

NIRP-BTFD 3 hours ago (Edited)

Best get a chinese phone without google services.

Things that go bump PREMIUM 3 hours ago remove link

Gab is developing a phone using android, which will be free of goggle.

George Bayou 3 hours ago remove link

Meet the Gab Phone.

Yes, it's real.

We're running @GrapheneOS on a Pixel 4a.

It's Android minus everything and anything Google with added security and privacy features. pic.twitter.com/FuSBjlNMLI

-- Gab.com (@getongab) January 10, 2021

takeaction 3 hours ago (Edited)

Gab.com .....awesome...a little slow because of so many people.

Signal...good messaging phone app.

Telegram...My favorite phone communication app...

... ... ..

gigi fenomen 2 hours ago remove link

telegram groups/channels are not encrypted

Sprumford 3 hours ago (Edited)

Maybe "No-Tech" is best of all? Human contact is lacking IMO....

ReasonForLife 3 hours ago (Edited)

If Comrade Jack is marketing Signal, that a sure signal to not get it. Telegram is best bet right now.

Shirley Yugest 3 hours ago

I heard Telegram was somehow tied to CCP.

NoDebt 3 hours ago

NSA/CIA or CCP. Pick your poison.

Site 2 hours ago

Actually, the developer is Russian, not some slope

nowhereman 3 hours ago remove link

I personally have never understood the purpose behind any of these apps. Are people so lacking in self worth that they depend on complete strangers "likes"?

I guess, with the education system in the shape it's in, it works for people who do not know how to spell, and communicate without it.

HagbardCeline 58 minutes ago

BitChute.com is also seeing massive growth. They are a Youtube competitor based in Britain, and recently added support for livestreaming. They also have an Android app called Bitslide (get it at Bitslide.com since Google kicked them out of the Play Store). Many podcasts have moved there to defend against being banned by Youtube.

WeChat I don't trust. They are Chinese.

clocks 41 minutes ago

bitchute is cool, but they don't have livestreaming and honestly, it's not gonna come soon. They need to fix their transcoding problems first

rbg81 40 minutes ago

WeChat servers are in China and all traffic is encrypted. Say what you will about the Chicoms, but I doubt they will share the data with the FBI.

DemandSider 39 minutes ago (Edited) remove link

Bitchute's search function is really bad, but that's usually where I go to first to find inconvenient truth.

pc_babe 1 hour ago

Telegram is a Russian entity. Luv me some FSB


signal = best

NIRP-BTFD 58 minutes ago (Edited) remove link

I'm sure signal is nsa and cia like everythign that comes out of the USSA. Afiak TOR also has suspicious roots i read once.

44magnum 2 hours ago

Anyone with a working brain should not use apple products

Wayne 1 hour ago remove link

CloutHub is really solid. Haven't tried the others.

Amel 2 minutes ago

CloutHub

Arising 3.0 27 minutes ago

I use Bitchute 90% and YT 10%.

Only when I need to know how to fix something I go to YT to look at 'how to' videos.

Lucius Septimius Pertinax 1 hour ago

https://www.youtube.com/watch?v=rW-cZqg9ey4

A small Idaho based ISP company decides to ban Twitter and FB after they banned Donald Trump

I know I used youtube.com sorry. google/youtube has turned evil as well. Larry Page and Sergey Brin as two more of the Oligarchs that need to go.

There is going to be a war online, with companies ban and blocking each other.

aniina99 1 hour ago remove link

Telegram baned me 2 phone numbers without posting anything ,they may just not liked channels i i joined, when i wrote a complain to the support explaining that i i havent even wrote anything or postet anything , they havent haven yet and its iten months. Telegram is not good it requires your phone number registring.

pc_babe 1 hour ago

Delete WhatApp ... it's a Facebook front app

General Fuster Cluck 2 hours ago

Until you cancel your cell phone, you are their slave under the electronic chains and shackels 24/7/365

numapepi 33 minutes ago remove link

There are now Linux cell phones.

Ditch Iphone and Android.

ParanoidSquirrel 4 hours ago

Any recommendations for a good web browser to migrate to for laptops? I used to use Mozilla but want to migrate from that now. And I certainly don't want to use a Google or Microsoft product.

Geebo 4 hours ago

Brave

Mr. Bones 3 hours ago (Edited)

Brave is good for mobile. I'm investigating Waterfox for desktop. Flamory for screenshots and research.

Searx for search, qwant is an acceptable alternative.

SacredCowPies 1 hour ago

Millionshort is interesting.

Ms. Erable 4 hours ago remove link

How nice of them to stigmatize software users - it'll make them easier to identify by their Google Play store download history, and get them to the WokeCommie gulag much faster.

denker 3 hours ago

There are alternatives to Google Play.

F CK Google play

A_Huxley 1 hour ago remove link

NSA and GCHQ collect all.

Voice prints, location, comments, links, 4 hops to friends of friends.

Telemakhos 1 hour ago

Signal and Telegram both require phone numbers; so did Parler.

Phone numbers are the NSA's preferred PRISM "strong selector." Most people pay for their phone numbers with credit cards, so identity is easily established through a phone number.

Where can I get a messaging service that doesn't use a phone number, but rather an account with a username and password (maybe two-factor authentication) that I choose and that are not in any way tied to my existing accounts, my phone number, or my identity?

numapepi 53 minutes ago

Mewe didn't require my number and it works fine.

Amel 25 minutes ago remove link

Its called Jitsi and its open source, certificate based voice encrytion.

meistergedanken 2 hours ago remove link

Switched over from Whatsapp to Telegram about a year and a half ago, due to the faceberg concerns. Been quite happy with it. Have a private chat group on there that hopefully will remain unassailable...I'm sure Big Tech is plotting and scheming to take it down somehow.

Peak Finance 43 minutes ago

We need FIDONET back

I was going to fund a project to re-create FIDONET over wifi but ran out of money to piss away on cool projects like this

CTG_Sweden 2 hours ago (Edited) remove link

Alternatives to Google, Facebook and Twitter and so on is great. I hope more people will begin to use Gab. And that duckduckgo gets more users and introduces an advanced search mode like Google so that you can search for phrases and specific URL:s (I miss the original Altavista search engine which could combine two phrases, I used Altavista until Yahoo turned it into some kind of Yahoo search engine).

The big problem with the Internet today is that nobody offers a solution that enables people to decouple and boycott mainstream media completely. Yet, it wouldn´t be expensive to offer people a basic solution to the media problem. You could have some kind of news aggregator where the readers (some of them) could post quotes and summaries of news they have picked up in mainstream media. With subsections for every little town and topic I think that such an alternative would be a realistic alternative to mainstream media if there would be at least 2 or 3 regular contributors of information in every town with 50,000 inhabitants. I´ve been touting this idea for about 20 years on the Internet now. But nobody has been interested in even forwarding this idea to others. Even the kind of people who were banned from Twitter at an early stage. People are so incridibly stupid. Those of you who read this will probably not forward this idea either. Maybe some troll will post a reply intended to confuse other readers. But that will probably be all.

The question is why the string pullers thought that the US had to replace democracy and free elections with some kind of managed democracy similar to Belarus when almost nobody think for himself/herself. The reason is perhaps they did it because it was possible and they didn´t want to chance it to any little extent.

My impression is that whenever something will be at stake, the string pullers in the US will from now on be able to correct the outcome of the elections through voting machines and/or ballot stuffing. So the question is to what extent better alternatives to mainstream media will matter in the US in the future. But I don´t think it would be a disadvantage if someone would begin building an alternative along the lines I discussed above. Especially if people in countries with a less flawed election system would pick up the idea before it´s too late.

Perhaps the US will return to democratic elections when demographics and new legislation have secured a "better" composition of the electorate and restrictions for free speech similar to those in France. But I´m not sure about that. Even non-white gentiles can cause problems.

Let me return to the Internet. As long as you don´t have direct access to the Internet without any middleman you can always be cut off from the Internet even if you got a legal right to publish what you want on the Internet. In Sweden, only about 5 companies had in the past direct access to the Internet (Sweden has 10 million inhabitants). I don´t know what it´s like now and I guess that the US with its bigger population should have at least 150 legal entities with direct access to the Internet although I haven't checked that out.

Keyser 3 minutes ago

The typical talking points of the tech oligarchs is that if you don't like their politics or moderation policies, then go somewhere else... Then, when alternative social medias sites start to take off, these same media oligarchs use slander and innuendo to justify the de-platforming of the new sites, i.e. Parler, Gab... Parler was the number one app on the Apple iTunes store and also number one on Google Store... That is until both platforms simultaneously kicked them off and AWS broke their contract and banned them there too for hosting violent content... They did the same thing to Gab years ago, but Gab fought back and built out their own infrastructure / software suite...

The irony is that the oligarchs position is that Parler / Gab allow hateful content on their sites which may lead to violence, which justifies censoring them... This while the FBI released a statement yesterday stating they had access to chats on Facebook planning violence for the Jan 6th DC rally and on the same day the hashtag #HangMikePence was trending on Twatter... BTW, the image of Kathy Griffin holding a bloody depiction of Trump's head is still on Twatter, along with the Iran Ayyatolah preaching death to America...

These people are phucking hypocrites whose on goal is control and power...

DemandSider 1 hour ago remove link

Wall Street's Orwellian propaganda machine has inadvertently provided an abject lesson as to the dire need for physical media. There are already too many gatekeepers for the sincere truth seeker to ever trust digital media, again. We've all seen the limits to this technology.

smacker 2 hours ago

I think I'm right in saying that Signal was written by the same folks who wrote WhatsApp.

They sold WhatsApp to Zuckerslimeberg and went off to write Signal. More secure.

Need to know which is best: Signal or Telegram. Very important for me to make "press button" voice & video calls around the world because I virtually gave up using Skype after M$ loaded it up with distractions.

DemandSider 2 hours ago

Any successful social media will eventually sell out to Wall Street parasites and become a zombie mouthpiece to foment race war. They must keep their earned income hosts distracted while they suck their blood.

Fluff The Cat 3 hours ago

What's out? WhatsApp ...

After the Facebook-owned 'secure' messaging app announced a new privacy policy which states that the company may share user data with other Facebook companies "to help operate, provide, improve, understand, customize, support, and market our Services and their offerings," users began abandoning the app .

Imagine that. Maybe it has something to do with people trying to avoid the likes of Zuckerberg and his ilk at all costs due to big tech's contempt for free speech and privacy.

AJAX-2 3 hours ago remove link

Smoke signals and homing pigeons are good free speech alternatives. Until such time the Climate Change Nazi's and the PETA Commies come after you.

denker 3 hours ago

As an African, I advise drums...
Anybody who posts confidential data to social sites is a clinical idiot.
Comments slightly edited for clarity...
Following last week's incursion into the US Capitol building by Trump supporters and the founder of a BLM group , a researcher who goes by the Twitter handle @donk_enby got to work archiving every post from that day made on Parler - a conservative alternative to Twitter where many of the protesters coordinated leading up to the incident which left five people dead. Enby calls the evidence "very incriminating."

Then, after Amazon announced that they were going kill conservative Twitter rival Parler, @donk_enby began archiving posts prior to the 6th, ultimately preserving approximately 99.9% of its content , according to Gizmodo .

Hoping to create a lasting public record for future researchers to sift through , @donk_enby began by archiving the posts from that day. The scope of the project quickly broadened, however, as it became increasingly clear that Parler was on borrowed time . Apple and Google announced that Parler would be removed from their app stores because it had failed to properly moderate posts that encouraged violence and crime. The final nail in the coffin came Saturday when Amazon announced it was pulling Parler's plug. - Gizmodo

https://platform.twitter.com/embed/index.html?dnt=false&embedId=twitter-widget-0&frame=false&hideCard=false&hideThread=false&id=1348440720504401921&lang=en&origin=https%3A%2F%2Fwww.zerohedge.com%2Fpolitical%2Fhacktivist-archives-every-deleted-parler-post-future-cancel-crusades&siteScreenName=zerohedge&theme=light&widgetsVersion=ed20a2b%3A1601588405575&width=550px

Included in the data harvest is "original, unprocessed, raw files uploaded to Parler with all associated metadata."

https://platform.twitter.com/embed/index.html?dnt=false&embedId=twitter-widget-1&frame=false&hideCard=false&hideThread=false&id=1348294151712944128&lang=en&origin=https%3A%2F%2Fwww.zerohedge.com%2Fpolitical%2Fhacktivist-archives-every-deleted-parler-post-future-cancel-crusades&siteScreenName=zerohedge&theme=light&widgetsVersion=ed20a2b%3A1601588405575&width=550px

https://platform.twitter.com/embed/index.html?dnt=false&embedId=twitter-widget-2&frame=false&hideCard=false&hideThread=false&id=1348662305043722240&lang=en&origin=https%3A%2F%2Fwww.zerohedge.com%2Fpolitical%2Fhacktivist-archives-every-deleted-parler-post-future-cancel-crusades&siteScreenName=zerohedge&theme=light&widgetsVersion=ed20a2b%3A1601588405575&width=550px

As Gizmodo notes, aside from obvious privacy implications, the archived data may serve as a "fertile hunting ground for law enforcement," after dozens of suspects have been arrested in recent days following last week's incident. Of course, the data can also be used to help doxx conservatives by cancel-crusaders on the left, who go to great lengths to ruin the lives of their ideological opponents.

https://lockerdome.com/lad/13084989113709670?pubid=ld-dfp-ad-13084989113709670-0&pubo=https%3A%2F%2Fwww.zerohedge.com&rid=www.zerohedge.com&width=830

https://www.youtube.com/embed/D5-z-P4Agik

"I want this to be a big middle finger to those who say hacking shouldn't be political," said @donk_enby, whose efforts are documented at ArchiveTeam.org. She says that the data will eventually be hosted by the Internet Archive.

@donk_enby told Gizmodo that she began digging into Parler after the company issued denials about an email leak unearthed by the hacktivist Kirtner, who has been credited with founding the hacker group Anonymous . @donk_enby said she was able to independently locate the same material herself at the time.

Kirtner, creator of 420chan -- a.k.a. Aubrey Cottle -- reported obtaining 6.3 GB of Parler user data from an unsecured AWS server in November . The leak reportedly contained passwords, photos and email addresses from several other companies as well. Parler CEO John Matze later claimed to Business Insider that the data contained only "public information" about users, which had been improperly stored by an email vendor whose contract was subsequently terminated over the leak. (This leak is separate from the debunked claim that Parler was "hacked" in late November, proof of which was determined to be fake .) - Gizmodo

Kirtner was suspended by Twitter in December for violating its rules against threatening violence against "an individual or a group of people" after tweeting "I'm killing Parler and its fucking glorious."

On Sunday, Parler CEO John Matze slammed decisions by Amazon, Apple and Google to "actually destroy the entire company," adding that they had been "ditched" by their lawyers.

In an interview last year, Matze said that Parler -- which has also taken money from Rebekah Mercer, a deep-pocketed, pro-Trump Republican donor -- had planned to generate revenue using an "influencer" model. Prominent users would be tapped to post organic-looking posts promoting outside companies and products. Users could then "boycott" the influencers they didn't like. On Tuesday, @donk_enby posted images of what the influencer panel looked like, as well as a function that enabled Parler to conceal the capability from certain users. - Gizmodo

And now, while Parler is currently dead, its users' posts have been archived in a 'lasting public record for future researchers to sift through.'

---

Rabbi Blitzstien 23 minutes ago (Edited)

Do you mean that we need a 'new media system' that isn't 96%+ owned and controlled by the international technocratic neoliberals? Oh, okay, I can get behind that.

nope-1004 2 minutes ago (Edited)

I'd go one further. The original owners back in the '50s were all ex-CIA staff and they knew how to control the masses through suggestive 'news'...

LetThemEatRand 13 minutes ago

"Drifting apart into two separate tribes, with a separate set of facts and separate realities, with nothing in common except our hostility towards each other and mistrust for the few national institutions that we all still share."

No, Mitch. Many of us don't want anything to do with either tribe. You're right that that we don't trust the national institutions, but that's because guys like you don't do anything about it when the FBI openly tries to take down a sitting President due to a personal hatred of him and an "insurance policy." I don't even like Trump, but how am I supposed to trust an institution that openly disobeys the law without consequences from guys like you?

cankles' server 3 minutes ago

No Mitch is right. The establishment and the Anti-establishment are the two tribes. It was easy to see who of the Dems was in the establishment tribe, but the Republicans were a bit more difficult until Trump set a trap for them to expose themselves.

LetThemEatRand just now

I wish that were the case. In my experience, most people do associate with one of the Teams very strongly. Even people like me who don't often get suckered in by them come election time because we don't want to "waste our vote." Trump was my last "not wasted vote" for a Republican or Democrat. I hope that what Trump has helped expose will cause more people to abandon the two parties and make a third or fourth party a reality in this country.

bunnyswanson 14 minutes ago

In his book, Mein Kampf, Hitler described his perspective on propaganda. He explained that propaganda is not meant to be used on scientifically trained intellectuals because, as propaganda is not logical, rational, or scientific, the intellectuals will not be swayed by it. Rather, he said, propaganda is meant for the masses who cannot comprehend logic and intellect, but can be convinced of anything if their emotions are manipulated. Hitler further stated that since the masses have very little intelligence and are quite forgetful, the key to propaganda is to keep repeating the same ideas over and over again until they are understood by and engraved on the mind of even the slowest person. Hitler believed that the only way to get across his ideas was to keep the propaganda simplistic and create the illusion that the German people had but one enemy: the Joes."

https://www.yadvashem.org/odot_pdf/Microsoft%20Word%20-%205752.pdf

George Orwell -- 'If you want to know who rules over you, look at who you are not allowed to criticize.'

tyberious 11 minutes ago

The Banks, CIA, CCP friends of TECH and MSM.

Or better written TECH and MSN protectors of The Banks, CIA and CCP!
This is especially true about so called "free" Android applications.
Trump's blanket ban from social media proves the information war is over. If you're reading this, you've lost

---

***** ********i 1 day ago 9 Jan, 2021 03:44 PM

Stop using twitter people!

TheBiker ***** ********i 1 day ago 9 Jan, 2021 08:56 PM

I already deactivated my Twitter (To be automatically deleted in 20 days), disabled Google Play Store and replaced it with APKPure so I could download Parler.

Callme Skeptical 1 day ago 9 Jan, 2021 05:53 PM

As long as the Internet service providers are not blocking particular websites/"platforms", as is done in China, new websites/"platforms" will arise to offer alternatives to those such as Twitter, Facebook, YouTube, Instagram, etc. - The same holds true for Internet browsers such as Mozilla's Firefox. - All that takes is someone with the capital to fund those replacements. The knowledgeable individuals necessary to get those replacements sites up and running are available (Alternate browsers are already available). If Congress ever tries to legislatively shut down such replacements, those of us who value our freedom from tyranny will know it's time for a r

Libra1981 1 day ago 9 Jan, 2021 02:55 PM

Excellent article. So true that we are in a time of big tech in power mode and the government being on a leash to them. The average American citizen is the rat in the pavlovian nightmare for sure. However, supply and demand can only be changed by the lowly individuals that support them. It's up to the average American citizen to decide how much they want to continue to participate in this experiment. I have already begun moving away from big tech in small ways by not using twitter, fb or giant social media platforms and going directly to online stores for my products instead of Amazon. I am looking for more ways to disconnect from this monster. There will always be some form of censorship, but we can all do our part to avoid paying people to suppress us more than the government does already by simple not participating with their companies.

FelixTcat 1 day ago 9 Jan, 2021 04:24 PM

I'm curious , did Twitter and Facebook just lose 70 million subscribers or were these just fair weather supporters.

Hanonymouse 1 day ago 9 Jan, 2021 07:39 PM

Nope. The internet identifies "censorship" as "damage" and routes around it. There are alternatives to EVERYTHING. It's up to you to get off your rear and seek them out. The internet is more than Google, Facebook and Twitter.

rightiswrong rightiswrong 1 day ago 10 Jan, 2021 01:38 AM

JFK said he would break the CIA into a thousand pieces. He was assassinated, as was his brother Robert just as he was to stand for President. Trump hates the Big Tech companies, and now they have banned him or any of his supporters from public speaking and posting of his comments. Something is terribly wrong with freedumb and demockery.

Skeptic076 1 day ago 9 Jan, 2021 09:27 PM

Welcome to the real world of 2021. One has to remember that Donald Trump did try and still wants to ban Tik Toc. What goes around does come around, eh?

Grognardski 19 hours ago 10 Jan, 2021 06:36 PM

RT has had more true plurality of opinion compared to the US bankster media for years now. But after the recent Cabalist purge in the US, Russia has switched places with the old America, and is now the beacon of freedom of speech. How ironic. I say this with some bitterness as a once-proud American. My country is now Occupied by hostile forces.

WilNoBSilenced Libra1981 1 day ago 9 Jan, 2021 06:56 PM

Everyone is waking up and walking away from big tech, just in 2018 facebook app use dropped 44% among users between 18-29, now the older generations are too. Kamikaze big tech is self immolating and everyone is running en-mass out the digital ghettos to superior future platforms. So there is no problems there. However, I suspect the next problem people will have to address is Trumps repealing of net neutrality, which he left for Biden to make alternative platforms irrelevant tiered wall-street parking meters, casinos and concentration camps. The Jews always turn everything they touch, even the most precious and endless oasis of infinite possibilities, into ashes and empty shells of their former glory, all for a quick buck.

Mira Golub 1 day ago 9 Jan, 2021 03:32 PM

If you're not paying for the product, you're the product. And if you stop being a product there will be no Google/YouTube, Twitter, Facebook who only exist because of YOU. If you switch to alternative platforms Google/YouTube, Twitter, Facebook advertisers and shareholders will dump them like a hot potato. True, the alternative platforms will do exactly the same in time, the only solution is keep switching.
GottaBeMe 8 hours ago 8 Jan, 2021 02:17 PM

Anyone who doesn't see the danger in allowing Facebook, Twitter, and Google to decide what people get to see and what must be censored is living in a fantasy world. With this power, they can -- and have -- influenced the outcomes of elections, changed people's perspectives on matters of importance, and further divided the population.
---

>

Clyde Schechter John Michener • 2 days ago

I'll go tangential.

My gripe with IT security, as practiced at the places where I have been subjected to it, as that they have no sense of perspective. They seek to put draconian lockdowns on all information in the system with no regard for whether the information is valuable or sensitive or not. I would happily tolerate considerable delays and inconveniences that are needed to protect information that actually needs protection. But I deeply resent being made to go through hoops to get at information I need for my work that nobody else would ever want, and that would do no harm to anybody even if it were "stolen"--which is the bulk of the information I deal with.

Hannibal Barca • 2 days ago

America consists of three groups of professionals. The top 15% which is as any in the world and better than most - possibly the best. This top 15% contains a disproportionate number of immigrants and foreigners. The next 30% of people who are competent, but are generally unwilling to go the extra mile. They won't put in long hours and have deep resentments against their employers. They live for weekends. The spend monday and tuesday recovering from or reminiscing about the weekend and thursday and friday eagerly awaiting it. They have the skills but they don't like to work. The next 55% are basically incompetent. They spent all their school years hating school and avoiding difficult subject, they spent their college years partying and selecting as many easy course as they possibly take and still graduate, know only their technical skill, are science illiterate and will do anything to avoid work. Wth workers like these, our systems will always be riddled with incompetence. How did SolarWinds push out code for which they did not have some kind hash identifying that the code did not change between build and deployment. This is supposed to be a highly secured application, for heaven's sake! Once they have identified and remediated all the affected systems, that company needs to be subjected to a security audit. And why did the government use the same security software in so many systems? This thing smacks of incompetence through and through.
Notable quotes:
"... Reprinted with permission from the Black Agenda Report . ..."
The Bizarre Facebook Path to Corporate Fascism Written by Glen Ford Friday August 3, 2018


"The Facebook intervention is a qualitative escalation of the McCarthyite offensive."

Facebook has assumed additional political police powers, disrupting a planned counter-demonstration against white supremacists, set for August 12th in Washington, on the grounds that it was initiated and inspired by "Russians" as part of a Kremlin campaign to "sow dissention" in the US. The Facebook intervention is a qualitative escalation of the McCarthyite offensive launched by the Democrat Party and elements of the national security state, and backed by most of the corporate media, initially to blame Hillary Clinton's 2016 defeat on "collusion" between Wikileaks, "the Russians" and the Trump campaign to steal and publicize embarrassing Clinton campaign emails.

After failing to produce one shred of hard evidence to support their conspiracy theory, the anti-Russia hysteria mongers switched gears, focusing on the alleged purchase of about $100,000 in Facebook ads by the Internet Research Agency (IRA), a St. Petersburg-based Russian company, over a multi-year period. The problem was, most of the ads had no direct connection to the presidential contest, or were posted after the election was over, and many had no political content, at all. The messages were all over the place, politically, with the alleged Russian operatives posing as Christian activists, pro- and anti-immigration activists, and supporters of the Black Lives Matter Movement. Special prosecutor Robert Mueller was forced to flip the script, indicting 13 Russians for promoting general "discord" and undermining "public confidence in democracy" in the United States – thus creating a political crime that has not previously been codified in the United States.

"Mueller was forced to flip the script."

In doubling down on an unraveling conspiracy tale, the Mueller probe empowered itself to tar and feather all controversial speech that can be associated with utterances by "Russians," even if the alleged "Russians" are, in fact, mimicking the normal speech of left- or right-wing Americans -- a descent, not into Orwell's world, but that of Kafka (Beyond the Law) and Heller (Catch-22).

Facebook this week announced that it had taken down 32 pages and accounts that had engaged in "coordinated and inauthentic behavior" in promoting the August 12 counter-demonstration against the same white supremacists that staged the fatal "Unite the Right" demonstrations in Charlottesville, Virginia, a year ago. Hundreds of anti-racists had indicated their intention to rally against "Unite the Right 2.0" under the banner of Shut It Down DC, which includes D.C. Antifascist Collective, Black Lives Matter D.C., Hoods4Justice, Resist This, and other local groups.

Facebook did not contend that these anti-racists' behavior was "inauthentic," but that the first ad for the event was purchased by a group calling itself "Resisters" that Facebook believes were behaving much like the Internet Research Agency. "At this point in our investigation, we do not have enough technical evidence to state definitively who is behind it," said Nathaniel Gleicher, Facebook's head of cybersecurity policy . "But we can say that these accounts engaged in some similar activity and have connected with known I.R.A accounts."

"The Mueller probe empowered itself to tar and feather all controversial speech that can be associated with utterances by 'Russians,' even if the alleged 'Russians' are, in fact, mimicking the normal speech of left- or right-wing Americans."

Chelsea Manning, whose prison sentence for sending secret documents to Wikileaks was commuted by President Obama, said the counter-protest was "organic and authentic"and that activists had begun organizing several months ago. "Folks from D.C. and Charlottesville have been talking about this since at least February," Manning told The New York Times.

"This was a legitimate Facebook event that was being organized by Washington, DC locals," says Dylan Petrohilos , of Resist This. Petrohilos was one of the defendants in the Trump inauguration "riot" prosecutions. He protested Facebook's disruption of legitimate free speech and assembly. "DC organizers had controlled the messaging on the no UTR fb page and now FB made it harder for grassroots people to organize," he tweeted. The organizers insist the August 12 counter-demonstration -- "No Unite the Right 2 – DC" -- is still a go, as is the white supremacist rally.

Whoever was first to buy a Facebook ad – the suspected Russian "Resisters," or Workers Against Racism, who told the Daily Beast they decided to host their own anti-"Unite the Right 2.0" event because they thought "Resisters" was an "inexperienced liberal organizer" – there was no doubt whatsoever that the white supremacists would be confronted by much larger numbers of counter-demonstrators, in Washington. Nobody in Russia needed to tell US anti-racists to shut the white supremacists down, or vice versa. The Russians didn't invent American white supremacy, or the native opposition to it. Even if Mueller, Facebook, the Democratic Party and the howling corporate media mob are to be believed, the "Russians" are simply mimicking US political rhetoric and sloganeering – and weakly, at that. The Workers Against Racism thought the "Resisters" weren't worth partnering with, but that the racist rally must be countered. The Shut It Down DC coalition didn't need the "Resisters" to crystallize their thinking on white supremacism.

"Chelsea Manning said the counter-protest was 'organic and authentic."

The Democratic Party and corporate media, speaking for most of the US ruling class – and actually bullying one of its top oligarchs, Mark Zuckerberg – is on its own bizarre and twisted road to fascism. (Donald Trump's proto-fascism is the old fashioned, all-American type that the white supremacists want to celebrate on August 12.) With former FBI Director Robert Mueller at the head of the pack, they have created a pseudo legal doctrine whereby "Russians" (or US spooks pretending to be Russians) can be indicted for launching a #MeToo campaign of mimicry, echoing the rhetoric and memes indigenous to US political struggles, while the genuine, "authentic" American political voices – the people who are being mimicked – are labeled co-conspirators in a foreign-based "plot," and their rights to speech and assembly are trashed.

That's truly crazy, but devilishly clever, too. If "Russian" mimics (or cloaked spooks) can reproduce the vocabulary and political program of US dissent, then all of us actual US lefties can be dismissed as "dupes of the Russians" or "co-conspirators" in the speech crimes of our mimics -- for sounding like ourselves.

Reprinted with permission from the Black Agenda Report .

---
Softpanorama Recommended
---
---
Society
Groupthink : Two Party System as Polyarchy : Corruption of Regulators : Bureaucracies : Understanding Micromanagers and Control Freaks : Toxic Managers : Harvard Mafia : Diplomatic Communication : Surviving a Bad Performance Review : Insufficient Retirement Funds as Immanent Problem of Neoliberal Regime : PseudoScience : Who Rules America : Neoliberalism : The Iron Law of Oligarchy : Libertarian Philosophy
Quotes
War and Peace : Skeptical Finance : John Kenneth Galbraith :Talleyrand : Oscar Wilde : Otto Von Bismarck : Keynes : George Carlin : Skeptics : Propaganda : SE quotes : Language Design and Programming Quotes : Random IT-related quotes : Somerset Maugham : Marcus Aurelius : Kurt Vonnegut : Eric Hoffer : Winston Churchill : Napoleon Bonaparte : Ambrose Bierce : Bernard Shaw : Mark Twain Quotes
Bulletin:
Vol 25, No.12 (December, 2013) Rational Fools vs. Efficient Crooks The efficient markets hypothesis : Political Skeptic Bulletin, 2013 : Unemployment Bulletin, 2010 : Vol 23, No.10 (October, 2011) An observation about corporate security departments : Slightly Skeptical Euromaydan Chronicles, June 2014 : Greenspan legacy bulletin, 2008 : Vol 25, No.10 (October, 2013) Cryptolocker Trojan (Win32/Crilock.A) : Vol 25, No.08 (August, 2013) Cloud providers as intelligence collection hubs : Financial Humor Bulletin, 2010 : Inequality Bulletin, 2009 : Financial Humor Bulletin, 2008 : Copyleft Problems Bulletin, 2004 : Financial Humor Bulletin, 2011 : Energy Bulletin, 2010 : Malware Protection Bulletin, 2010 : Vol 26, No.1 (January, 2013) Object-Oriented Cult : Political Skeptic Bulletin, 2011 : Vol 23, No.11 (November, 2011) Softpanorama classification of sysadmin horror stories : Vol 25, No.05 (May, 2013) Corporate bullshit as a communication method : Vol 25, No.06 (June, 2013) A Note on the Relationship of Brooks Law and Conway Law
History:
Fifty glorious years (1950-2000): the triumph of the US computer engineering : Donald Knuth : TAoCP and its Influence of Computer Science : Richard Stallman : Linus Torvalds : Larry Wall : John K. Ousterhout : CTSS : Multix OS Unix History : Unix shell history : VI editor : History of pipes concept : Solaris : MS DOS : Programming Languages History : PL/1 : Simula 67 : C : History of GCC development : Scripting Languages : Perl history : OS History : Mail : DNS : SSH : CPU Instruction Sets : SPARC systems 1987-2006 : Norton Commander : Norton Utilities : Norton Ghost : Frontpage history : Malware Defense History : GNU Screen : OSS early history
Classic books:
The Peter Principle : Parkinson Law : 1984 : The Mythical Man-Month : How to Solve It by George Polya : The Art of Computer Programming : The Elements of Programming Style : The Unix Hater's Handbook : The Jargon file : The True Believer : Programming Pearls : The Good Soldier Svejk : The Power Elite
Most popular humor pages:
Manifest of the Softpanorama IT Slacker Society : Ten Commandments of the IT Slackers Society : Computer Humor Collection : BSD Logo Story : The Cuckoo's Egg : IT Slang : C++ Humor : ARE YOU A BBS ADDICT? : The Perl Purity Test : Object oriented programmers of all nations : Financial Humor : Financial Humor Bulletin, 2008 : Financial Humor Bulletin, 2010 : The Most Comprehensive Collection of Editor-related Humor : Programming Language Humor : Goldman Sachs related humor : Greenspan humor : C Humor : Scripting Humor : Real Programmers Humor : Web Humor : GPL-related Humor : OFM Humor : Politically Incorrect Humor : IDS Humor : "Linux Sucks" Humor : Russian Musical Humor : Best Russian Programmer Humor : Microsoft plans to buy Catholic Church : Richard Stallman Related Humor : Admin Humor : Perl-related Humor : Linus Torvalds Related humor : PseudoScience Related Humor : Networking Humor : Shell Humor : Financial Humor Bulletin, 2011 : Financial Humor Bulletin, 2012 : Financial Humor Bulletin, 2013 : Java Humor : Software Engineering Humor : Sun Solaris Related Humor : Education Humor : IBM Humor : Assembler-related Humor : VIM Humor : Computer Viruses Humor : Bright tomorrow is rescheduled to a day after tomorrow : Classic Computer Humor
The Last but not Least Technology is dominated by two types of people: those who understand what they do not manage and those who manage what they do not understand ~Archibald Putt. Ph.D
---
Copyright © 1996-2020 by Softpanorama Society. www.softpanorama.org was initially created as a service to the (now defunct) UN Sustainable Development Networking Programme (SDNP) without any remuneration. This document is an industrial compilation designed and created exclusively for educational use and is distributed under the Softpanorama Content License. Original materials copyright belong to respective owners. Quotes are made for educational purposes only in compliance with the fair use doctrine.
FAIR USE NOTICE This site contains copyrighted material the use of which has not always been specifically authorized by the copyright owner. We are making such material available to advance understanding of computer science, IT technology, economic, scientific, and social issues. We believe this constitutes a 'fair use' of any such copyrighted material as provided by section 107 of the US Copyright Law according to which such material can be distributed without profit exclusively for research and educational purposes.
This is a Spartan WHYFF (We Help You For Free) site written by people for whom English is not a native language. Grammar and spelling errors should be expected. The site contain some broken links as it develops like a living tree...
| | |
| --- | --- |
| | You can use PayPal to to buy a cup of coffee for authors of this site |
Disclaimer:
The statements, views and opinions presented on this web page are those of the author (or referenced source) and are not endorsed by, nor do they necessarily reflect, the opinions of the Softpanorama society. We do not warrant the correctness of the information provided or its fitness for any purpose. The site uses AdSense so you need to be aware of Google privacy policy. You you do not want to be tracked by Google please disable Javascript for this site. This site is perfectly usable without Javascript.
Last modified: February 03, 2021