---
Cloud providers as intelligence collection hubs
New technologies and emergence of cloud providers made mass surveillance cheap and readily available to the range of state actors as well as several private entities
NOTE: the page is labeled by Google as "Dangerous or derogatory content". So they are trying to suppress the discussion of this topic as Google was the member of "Prism alliance"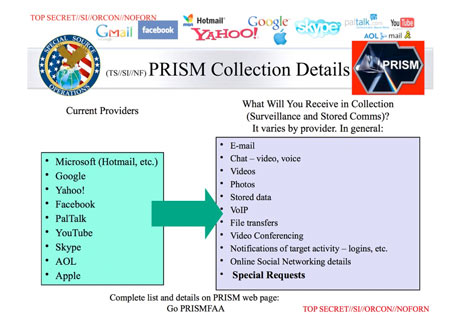 The slide above is courtesy of The Guardian
Due to the size the introductory article was moved to a separate page: Cloud providers as intelligence collection hubs
For details of NSA collection of Internet traffic and major cloud provider data see Big Brother is Watching You
---
---
For the list of top articles see Recommended Links section
The wristband and microchip sound fab for children under 18 so we monitor to ensure their safety, especially in educational settings and on school trips. It would enable them to be located if lost or snatched. If it can be used to monitor language and aspects of behaviour then they could not be falsely accused of of antisocial actions. If they don't comply then child care benefits or access to higher education could be withdrawn as a sanction. It may even improve road safety if they drive illegally or badly. Any chance of a tiny electric shock feature to the microchip?
karlof1 , May 20 2020 18:51 utc | 26

If you thought you knew everything about Eric Blair/George Orwell, I suggest reading this essay as a test. Hopefully, you'll discover many facets not known before as I did.

---

H.Schmatz , May 20 2020 21:40 utc | 33

Posted by: oldhippie | May 20 2020 20:23 utc | 30

Orwell's career was a lot more complicated than that. Basically, he came from a relatively prosperous middle-class family, which allowed him to play the game of the writer, when it worked, and to come back to the family when things were thin. Of course he exploited his own experiences, as every writer does. That doesn't detract from the great creations. Animal Farm and 1984 don't have direct origins.

Posted by: Laguerre | May 20 2020 21:39 utc | 32 @Posted by: karlof1 | May 20 2020 18:51 utc | 26

That essay is a real shame, an impossible intend of whitewashing and redime Orwell, just another intent on rewritting of history, and try to paint what is black as white. Neo-language
This intent could be inscribed along the rescues of Stepan Bandera and the Forest Brothers as new heroes of NATO world in their offensive against reviving socialist ideas.

That Orwell did not change even a bit after returning from Burma is proven by the fact that he came to Spain, and strolled around there with the Trotskyites of POUM, to elaborate black lists of communists which then were provided to Franco, at result of which many people was tortured and summarily executed. He, this way, contributed greatly to decimate the resistance in the side of the legitimate republican government, and thus, to help the fascists in their way to power, well supported by the US with arms and fuel and by the air forces of fascist Italy and Nazi Germany.

... ... ...

https://twitter.com/ciudadfutura/status/1263150511412346881

Orwell: Sneak sighting of British secret services in the Cold War (is declassified by MI-5 and documented). Its function: to expose communists. He even betrayed Charles Chaplin, exiled in his native England for FBI persecution. "Referrer". "Always loyal"

https://twitter.com/ciudadfutura/status/1262794482963091460

Albert Escusa: Who was George Orwell really? Orwellian myths: from the Spanish Civil War to the Soviet holocaust

H.Schmatz , May 20 2020 22:08 utc | 36

@Posted by: H.Schmatz | May 20 2020 21:40 utc | 33

In the essay by Alert Escusa linked above, it is studied the historical context in which Orwell published his most famous works, at all innocent, debunking the legend on that he was kinda an outsider and was about to self-publish Animal Farm , being the checked reality that he had full support of the birgueoisie to publish his influential works when the time was more propice for the capitalists.

As a sample, a button:

What was happening that year of 1943, while Orwell was writing his Animal Farm? It was not exactly, as Pepe Gutiérrez says "the distribution of the world", but something quite different that he hides from us: the Nazis had invaded the USSR two years ago, exterminating millions of Russians and devastating much of the country. The greatest battle of the war, Stalingrad, had taken place, and it was not yet known who would win the conflict, whether Nazi Germany or the Soviet Union. No one could safely predict that Nazism would be extirpated from Europe, the Nazi death camps had not yet been discovered, but Orwell was obsessed with his anti-Soviet writings. What did Orwell want to portray with his Farm Rebellion? Nothing more and nothing less than the following: "The specific purpose Orwell threw into it with a sense of urgency was the desire to exploit the "myth" of the Soviet Union, as a paradigm of the socialist state".

There are plenty of comments about it. It is only worth reflecting on who benefited from Orwell's position in 1943. The victory was precisely achieved by the Soviet people and the Red Army at the price of innumerable human sacrifices, also easily forgotten in the West, where the true character of the anti-fascist war is hidden. It is logical that the USSR, which had suffered a war of extermination unprecedented in history, and which also defeated the collaborationist and fascist regimes of Eastern Europe, along with the popular and communist guerrillas, was seen as a liberating power by broad sectors of local populations. In addition, the communist guerrillas, ideologically linked to the USSR, had come to have great prestige throughout Europe: so much so that, in the first French general elections after Nazism, the French Communist Party was the most voted party, achieving more out of 5 million votes representing 30% of the electorate [7]. As we will see later, the USSR had very well-founded reasons to believe that a new war was being prepared against him, this time with the country devastated, so it was logical and legitimate that he try to win allies against the possibility of a new world war. This is a long way from "distribution of the world" and trying to equate imperialism with socialism, as will be seen later.




karlof1 , May 20 2020 22:47 utc | 42

I must say the replies to my 26 go in many directions. As to Martin Sieff's essay, it's fundamentally a well deserved critique of the BBC that segues into a discussion about how George Orwell would easily recognize its Fake News for what it is that draws on Finding George Orwell in Burma for some of its content. (A very short preview's available at the link and it can be borrowed if you're an Archive member, for which there's no excuse as it's free.) IMO, the comments fit Sieff's intent quite well. Judging from book excerpts offered here , the book's more a critique of Myanmar than Orwell, although the additional sources provided at page bottom leads to credibility questions. I also note that most websites promoting Finding lead with the NY Times jacket blurb which is more about dissing Myanmar than revealing what was found regarding Orwell. Sieff says he knows the author but doesn't speculate on why he chose a female nom de plume; I too wonder why as I don't see what purpose it could serve unless it's anti-Myanmar propaganda that Orwell would recognize or something similar.

Curious--an innocuous comment becomes a can of worms. Also curious how Orwell and his writing still generate an intense level of controversy.

karlof1 , May 20 2020 22:47 utc | 42 H.Schmatz , May 20 2020 22:52 utc | 43

@Posted by: H.Schmatz | May 20 2020 22:08 utc | 36

A bit more from the must read essay linked, even related to current events...

2. THE HISTORICAL ENVIRONMENT OF "ANIMAL FARM" AND "1984"

What events were taking place in the western world at that time, which caused a favorable change of attitude towards Orwell's publications, of those who were previously reticent? Neither more nor less than the imminent offensive against socialism, which had already lost almost thirty million lives during the anti-fascist war and had suffered appalling material destruction.

While the first copies of Animal Farm were being printed and bound, some extremely disturbing events were taking place. Just at the end of the war, Nazi spies and war criminals were being recycled by the American spy services, such as the German SS General Reinhard Genhlen, whose spy network passed entirely to the Americans and was used in Eastern Europe to promote the anti-Soviet uprisings in East Berlin in 1953 and Hungary in 1956. Clandestine networks were created to evade thousands of Nazi criminals towards Latin America and the USA. Later, with Japan defeated, the operation was repeated with the Japanese scientists who are experts in bacteriological weapons, responsible for the deaths of tens of thousands of allied prisoners, but who were secretly brought to the United States. Meanwhile, during the 1945 Potsdam conference, which brought together Hitler's victorious allies - where the alleged "honeymoon" took place to "divide the world" - US President Truman and English Churchill had speculated before Stalin about the power the western allies had with a new secret weapon. On August 6, 1945, the first atomic bomb was dropped on Hiroshima. According to Ian Gray, Stalin's biographer: "Stalin and the majority of Russians immediately understood the terrible meaning of this fact ... Stalin realized that the Americans had used the bomb mainly to impress and threaten Russia". Stalin and the Soviets were right: the American Secretary of State, James Byrnes, recognized that the bomb was necessary not against Japan, but "to make Russia moldable to Europe".

As the historian Pauwels has explained, the initial will of the Soviets in Europe was not to have like-minded regimes and their own zone of influence, but to intervene in Germany to prevent it from engaging in a second war, this time together with its former allies against the USSR. This is demonstrated by the fact that until well into the post-war period, the Soviets did not help to make any political-social change in the liberated countries. It was Truman's nuclear policy that forced the Soviets to stand face to face with the Americans in Eastern Europe, thus deterring American aviation: from this way they would have to carry out a long trip until arriving at the Soviet cities where they had to drop their bombs. This caused the political and social changes in Eastern Europe to accelerate, which, however, were already taking place autonomously since the end of the war thanks to the triumph of the popular anti-fascist forces. This fact not only saved the USSR from a new war and enabled socialism to survive: stability in Eastern Europe laid the foundations for a development of national liberation struggles and for socialism throughout the world: in 1949 the victory of the Chinese Revolution heralded the triumph of many others, putting all capitalism in danger of death.

In parallel, just after the Cold War started by imperialism, the conservative British leader Churchill theorized about the need to build an Iron Curtain to contain the communists and allegedly asked the American President Truman to attack the USSR with the atomic bomb by means of a preemptive attack. Churchill was not just any character, but one of the most influential leaders of the British Empire, champion of English colonialism and the participation of his country in World War I, therefore responsible for many millions of deaths and suffering of peoples.

That was the real reason for the delay in publishing Animal Farm . Orwell, naturally, during the anti-fascist war could not see his anti-Soviet work published until the end of the conflict, since it would have been quite awkward for the Western governments allied to the USSR, who were risking their lives against the Nazis, to criminalize in this way a friendly government. On the other hand, at that time, from the Orwellian model, it would be difficult for western and world public opinion to understand how it was possible that the Soviet people fought with such a degree of sacrifice and heroism, expelling the Nazis from Europe: all the other bourgeois regimes, where there was freedom, had collapsed rapidly and had collaborated with the Nazis.
It was in connection with these events that the first copies of Animal farm were placed on the shelves of bookstores. Precisely the publication coincided with the end of World War II and the dissolution of the anti-fascist alliance between England, USA, and the USSR. The first edition is exactly from 1945 in England, published by Secker & Wargburg, from London, and from 1946 in the USA, published by Harcourt, from New York. The capitalist governments, which were imminently going to promote Animal Farm , were evaluating different options to attack the USSR: from rearming German units as shock brigades to attack the Soviets, to the launch of "preventive" atomic bombs. The prestige that the USSR had among all the workers of the world, fundamentally the Europeans who suffered the Nazi atrocities, was enormous, as well as among the intellectual and popular sectors, whose reflection could be followed in the great influence that some communist parties had. It was necessary to dismantle this prestige to sweep the opposition of the world public opinion to an armed aggression against those who liberated Europe from Nazism, and Orwell's novels came as a ring to a finger for this purpose, since they were a good instrument to spread among the so called mass culture, just as later were the film versions of his works.




H.Schmatz , May 20 2020 22:59 utc | 46

@Posted by: karlof1 | May 20 2020 22:47 utc | 42

Albert Escusa, gives in his essay a good semblance of what kind of person could Orwell really be:

Orwell was above all a great individualist, with some important personal contradictions and prejudices that led him to oscillate along various paths without being able to commit himself in a stable and permanent way to anything that was not himself, in such a way that, when he became disenchanted with some social processes that he was unable to interpret correctly and scientifically, ended up ranting against what he believed to be the object of his anger.

We can see it in Corbière's sharp description: "Who was Orwell? A sniper, a skeptic who devoted his efforts to Manichean criteria describing the great social and political contradictions of our time. Anarchist, Semitrotskyist in Spain, Labor in England, free thinker, undercover anti-Semite, his real ideas reveal a kind of elitism.

He had an intense imagination but his methodology of thought was restricted, one-sided.

H.Schmatz , May 20 2020 23:05 utc | 47

@Posted by: Kerry | May 20 2020 22:44 utc | 38

No that I am aware, but, if interested, you could translate it with a translator.
Since the essay is quite long, you could translate paragraph by paragraph, then read the whol thing once assembled.

A bit complicated, but worth the effort, the essay is a well researched work, wu¡ith several referecnes as weel worth reading, like a disection of Orwell, his epoch and motives.

oldhippie , May 20 2020 23:13 utc | 48

Oh dear. Relatively prosperous middle class means descended from Earls of Westmorland, family tree of Fanes, de Veres, Grosvenors, at a little reach basically related to the entire peerage. True, Orwell's father was a bit of a dope, he did manage to contract a marriage to a very wealthy woman. Jacintha Buddicom's memoir, Eric and Us, about growing up living next door to the Blairs, will tell you what 'middle class' life was like.

Orwell maintained the friendships from St. Cyprians and Eton for life. Pretty much everyone on the roster could be considered as spooks and agents. All of them tied to old money, old family, government service. Government as MI6 and CIA.

I think he's a great writer. My copy of the four volumes of Collected Essays Letters & Journalism is still right here next to the fireplace. All the rest of it around here somewhere, even the minor novels from the 30s. But no illusions what team he is on or what station he was born to.

Winston Smith means 'maker of Winston', as in broadcasting from Room 101 and forging the myth of Winston Churchill. Orwell was a big boy when he did that and was far past having any illusions. He created the myth that Room 101 of Broadcasting House was the worst place in the world. And talked of how the war years were the best years of his life.

H.Schmatz , May 20 2020 23:31 utc | 49

@Posted by: oldhippie | May 20 2020 23:13 utc | 48

I think he's a great writer

Not even so, more proper a plagiarist and propagandist at the service of Western totalitarian imperialism.

Since we are in the task of deconstructing Orwell, let´s go to the end...

In addition to the Animal Farm , one of the works that most influenced the construction of Western totalitarianism against the Communists was 1984 . It shows an overview of socialism in the USSR similar to a delusional totalitarian and monstrous drama, with a Big Brother (Stalin) who had absolute social control over the individuals under his rule, through a sophisticated mind control mechanism. This work became a must-read for CIA officers and a dependent body called the Council for Psychological Strategies, in addition to the fact that NATO used the entire vocabulary of this novel during the 1950s in its anti-communist strategy.12 It is interesting to know how He conceived this book, since it was apparently a plagiarism Orwell did to another disenchanted of Bolshevism, in this case a Russian writer, in the opinion of the writer Emilio J. Corbière: "Orwell's was a conscious plagiarism, since he explained it himself in another of his works. The plot, the main characters, the symbols and the climate of its narration, belonged to a completely forgotten Russian writer of the beginning of the century: Evgeny Zamyatin. In his book We , the Russian disillusioned with socialism after the failure of the 1905 revolution, devoted his efforts to anathematizing the Social Democratic Workers Party founded by Jorge Plejanov. When the October revolution happened - in 1917 - Zamyatin went into exile in Paris, where he wrote his posthumous anti-communist work"

This opinion is also shared by the historian Isaac Deutscher in his work The Mysticism of Cruelty , an essay about 1984 , where he states that Orwell "borrowed the idea of ​​1984, the plot, the main characters, the symbols and the whole plot situation from the work We of Evgeny Zamyatin"

We see how behind the image of a great writer, lies the reality of a plagiarist of stories, which served to elaborate theoretical and academic models on the functioning of socialism in the Soviet Union totally adjusted to the requirements of imperialism in the anti-communist Cold War. The impact of 1984 was tremendous among the population, creating an atmosphere of anti-communist and anti-Soviet paranoia that was very effective among the masses, as the disturbing personal testimony of Isaac Deutscher demonstrates: "Have you read that book? You have to read it, sir. Then you will know why we have to drop the atomic bomb on the Bolsheviks! With those words, a miserable blind newspaper vendor recommended me in New York 1984 , a few weeks before Orwell's death".




arby , May 20 2020 23:45 utc | 50

H. Schmatz.
I am not a good book reader but I did read 1984 and it definitely seemed to be a veiled critique on Communism.
However it seems the story is now more fitting to capitalism.
The British Broadcasting Corporation (BBC), happily amplified by the Public Broadcasting System (PBS) in the United States which carries its World News, continues to pump out its regular dreck about the alleged economic chaos in Russia and the imagined miserable state of the Russian people.

It is all lies of course. Patrick Armstrong 's authoritative regular updates including his reports on this website are a necessary corrective to such crude propaganda.

But amid all their countless fiascoes and failures in every other field (including the highest per capita death rate from COVID-19 in Europe, and one of the highest in the world) the British remain world leaders at managing global Fake News. As long as the tone remains restrained and dignified, literally any slander will be swallowed by the credulous and every foul scandal and shame can be confidently covered up.

None of this would have surprised the late, great George Orwell. It is fashionable these days to endlessly trot him out as a zombie (dead but alleged to be living – so that he cannot set the record straight himself) critic of Russia and all the other global news outlets outside the control of the New York and London plutocracies. And it is certainly true, that Orwell, whose hatred and fear of communism was very real, served before his death as an informer to MI-5, British domestic security.

But it was not the Soviet Union, Stalin's show trials or his experiences with the Trotskyite POUM group in Barcelona and Catalonia during the Spanish Civil War that "made Orwell Orwell" as the Anglo-America Conventional Wisdom Narrative has it. It was his visceral loathing of the British Empire – compounded during World War II by his work for the BBC which he eventually gave up in disgust.

And it was his BBC experiences that gave Orwell the model for his unforgettable Ministry of Truth in his great classic "1984."

George Orwell had worked in one of the greatest of all world centers of Fake News. And he knew it.

More profoundly, the great secret of George Orwell's life has been hiding in plain sight for 70 years since he died. Orwell became a sadistic torturer in the service of the British Empire during his years in Burma, modern Myanmar. And as a fundamentally decent man, he was so disgusted by what he had done that he spent the rest of his life not just atoning but slowly and willfully committing suicide before his heartbreakingly premature death while still in his 40s.

The first important breakthrough in this fundamental reassessment of Orwell comes from one of the best books on him. "Finding George Orwell in Burma" was published in 2005 and written by "Emma Larkin", a pseudonym for an outstanding American journalist in Asia whose identity I have long suspected to be an old friend and deeply respected colleague, and whose continued anonymity I respect.

"Larkin" took the trouble to travel widely in Burma during its repressive military dictatorship and her superb research reveals crucial truths about Orwell. According to his own writings and his deeply autobiographical novel "Burmese Days" Orwell loathed all his time as a British colonial policeman in Burma, modern Myanmar. The impression he systematically gives in that novel and in his classic essay "Shooting an Elephant" is of a bitterly lonely, alienated, deeply unhappy man, despised and even loathed by his fellow British colonialists throughout society and a ludicrous failure at his job.

This was not, however, the reality that "Larkin" uncovered. All surviving witnesses agreed that Orwell – Eric Blair as he then still was – remained held in high regard during his years in the colonial police service. He was a senior and efficient officer. Indeed it was precisely his knowledge of crime, vice, murder and the general underside of human society during his police colonial service while still in his 20s that gave him the street smarts, experience, and moral authority to see through all the countless lies of right and left, of American capitalists and British imperialists as well as European totalitarians for the rest of his life.

The second revelation to throw light on what Orwell had to do in those years comes from one of the most famous and horrifying scenes in "1984." Indeed, almost nothing even in the memoirs of Nazi death camp survivors has anything like it: That is the scene where "O'Brien", the secret police officer tortures the "hero" (if he can be called that) Winston Smith by locking his face to a cage in which a starving rat is ready to pounce and devour him if it is opened.

I remember thinking, when I was first exposed to the power of "1984" at my outstanding Northern Irish school, "What kind of mind could invent something as horrific as that?") The answer was so obvious that I like everyone else missed it entirely.

Orwell did not "invent" or "come up" with the idea as a fictional plot device: It was just a routine interrogation technique used by the British colonial police in Burma, modern Myanmar. Orwell never "brilliantly" invented such a diabolical technique of torture as a literary device. He did not have to imagine it. It was routinely employed by himself and his colleagues. That was how and why the British Empire worked so well for so long. They knew what they were doing. And what they did was not nice at all.

A final step in my enlightenment about Orwell, whose writings I have revered all my life – and still do – was provided by our alarmingly brilliant elder daughter about a decade ago when she too was given "1984" to read as part of her school curriculum. Discussing it with her one day, I made some casual obvious remark that Orwell was in the novel as Winston Smith.

My American-raised teenager then naturally corrected me. "No, Dad, " she said. "Orwell isn't Winston, or he's not just Winston. He's O'Brien too. O'Brien actually likes Winston. He doesn't want to torture him. He even admires him. But he does it because it's his duty."

She was right, of course.

But how could Orwell the great enemy of tyranny, lies and torture so identify with and understand so well the torturer? It was because he himself had been one.

"Emma Larkin's" great book brings out that Orwell as a senior colonial police officer in the 1920s was a leading figure in a ruthless war waged by the British imperial authorities against drug and human trafficking crime cartels every bit as vicious and ruthless as those in modern Ukraine, Columbia and Mexico today. It was a "war on terror" where anything and everything was permitted to "get the job done."

The young Eric Blair was so disgusted by the experience that when he returned home he abandoned the respectable middle class life style he had always enjoyed and became, not just an idealistic socialist as many in those days did, but a penniless, starving tramp. He even abandoned his name and very identity. He suffered a radical personality collapse: He killed Eric Blair. He became George Orwell.

Orwell's early famous book "Down and Out in London and Paris" is a testament to how much he literally tortured and humiliated himself in those first years back from Burma. And for the rest of his life.

He ate miserably badly, was skinny and ravaged by tuberculosis and other health problems, smoked heavily and denied himself any decent medical care. His appearance was always abominable. His friend, the writer Malcolm Muggeridge speculated that Orwell wanted to remake himself as a caricature of a tramp.

The truth clearly was that Orwell never forgave himself for what he did as a young agent of empire in Burma. Even his literally suicidal decision to go to the most primitive, cold, wet and poverty-stricken corner of creation in a remote island off Scotland to finish "1984" in isolation before he died was consistent with the merciless punishments he had inflicted on himself all his life since leaving Burma.

The conclusion is clear: For all the intensity of George Orwell's experiences in Spain, his passion for truth and integrity, his hatred of the abuse of power did not originate from his experiences in the Spanish Civil War. They all flowed directly from his own actions as an agent of the British Empire in Burma in the 1920s: Just as his creation of the Ministry of Truth flowed directly from his experience of working in the Belly of the Beast of the BBC in the early 1940s.

George Orwell spent more than 20 years slowly committing suicide because of the terrible crimes he committed as a torturer for the British Empire in Burma. We can therefore have no doubt what his horror and disgust would be at what the CIA did under President George W. Bush in its "Global War on Terror." Also, Orwell would identify at once and without hesitation the real fake news flowing out of New York, Atlanta, Washington and London today, just as he did in the 1930s and 1940s.

Let us therefore reclaim and embrace The Real George Orwell: The cause of fighting to prevent a Third World War depends on it.
Anon [369] Disclaimer , says: Show Comment May 11, 2020 at 11:42 am GMT

With Facebook under enormous pressure to ban all "Coronavirus conspiracy theories," this is the obvious reason for our removal.

I would agree that it's related to the Coronavirus but I think what we're seeing in this case is Deep State's influence on big tech. IMHO, Unz Review was integral to the Chinese pushback on the origin of COVID-19 and for that reason it (UR) was tagged as PNG (as my spook friends would say) by Deep State.

I'm sure we've all seen declassified (TS/SCI/BAR) information on some national security issue or another. While sources and methods are redacted we can see the content. And what is always so remarkable is how unremarkable it is. Some of it even references news articles to establish facts. If the same quality level of info and analysis were used as the basis of an Unz Review column it would be savagely mocked and pilloried by the commenters. Yet people in government jobs treat this useless pile of crap reverently.

Conversely, in many articles on UR, and especially the comments section, you will find some real jaw-dropping bits of info or intel which you think can't possibly be true but upon further research you're able to verify as true. Pretty soon a clear pattern emerges which is vastly different from the official narrative.

From early on UR was challenging the Deep State official narrative on the Wuhan Coronavirus and suggesting it was a bioweapon false flag. The excellent piece by Whitney Webb really got things going. RU's excellent work on the subject was the final straw for Deep State.

When the Chinese government began pushing back against Western propaganda and started to suggest COVID-19 was a U.S. bioweapon by U.S. military personnel in Wuhan I immediately knew that the Chinese government intelligence agencies were reading UR. And I also knew at that time that Deep State would target UR or RU for take down.

So here we are. The banning of UR on FB is the first phase of the campaign. Like an F-117A Stealth Fighter taking out radar and broadcast stations.

Realist , says: Show Comment May 11, 2020 at 12:24 pm GMT

I should have added to my original comment that FB is a tool of the US government to get around the First Amendment. FB and other social media are propaganda tools used to promote the US government position on issues, mainly by averting anti propaganda from the public, but also by allowing the dissemination of the of government approved propaganda.

The Deep State does exist.
---

Free And Clean , says: Show Comment May 11, 2020 at 10:10 am GMT

What is "Facebook" really? What kind of losers even waste their time on this surveillance platform? Here is it: losers trying to monitor the activities of their past or potential love interests. That's about the extent of its practical utility in the sick, lonely lives captured within the technological hell known as social media.

Do this: smash the damned thing. Destroy any and all of your social media log-in credentials once and for all, and be free of them – Faceplants, Twits, etc. The most effective way of destroying a "Facebook" account, or any other, is to publicly post your private log-in name and password along with a public statement of separation and divorce from the platform. Once log-in credentials are publicly know, and random users access the account, then the account becomes useless for tracking and worthless to the surveillance state that partnerships with the front company.

Then, get a real life. Go outside. Meet real people in a real place. Pandemic be damned. Better to die free than waste slowly away inside the sealed coffin of "social media".

Realist , says: Show Comment May 11, 2020 at 11:24 am GMT

@Craig Nelsen

When I tried to share this via the facebook icon, I got this message:

Why does Unz even still have a link to those anti-free speech tyrants and bullies on his site?

Here is a better question why would anybody use FB?

Proud_Srbin , says: Show Comment May 11, 2020 at 11:41 am GMT

P2P is NOT facebutt, twitter, google, amazon or ANY kind of "cloud" or "gatekeeper" computing.
"Cloud" is MAINFRAME of the current century.
Freedom and Independence are to be found in DECENTRALIZED Internet as originally envisioned, designed and implemented by Cerf and Kahn.
Without sheeple, faceButt has no PRODUCT to trade and profit from.

Emslander , says: Show Comment May 11, 2020 at 12:03 pm GMT

@Free And Clean I've never used FB, TWTR, Insta, or any other such girly "social" website. Send your articles, opinions, photos, birthday greetings via USPostal and amaze your friends, enemies and total strangers.

When will thinking people realize that those sites can be defeated by not using them and by setting up better platforms? I have no idea how they'd work or look. If I did, I'd become a rich gentile social media monopolist.

FB , says: Website Show Comment May 11, 2020 at 12:55 pm GMT

Glad to see this piece on UNZ

Yes, the information sphere is of paramount importance the ruling elite has known for a very long time the power of brainwashing and have employed huge programs of information management all to keep the people believing in complete bunk, the same way that illiterate serfs five hundred years ago believed the bullshit they were told by the priest

This is a cradle to grave indoctrination system that encompasses not only electronic media, but also the so-called education system and hard copy publishing

The result is that westerners, and Americans in particular, are almost completely illiterate of important realities of life on earth does anyone remember that Jay Leno segment 'Jaywalking' where he would go and do man-on-the-street interviews with people, asking them basic questions about things like American history, current events etc just unbelievable how stupid and uninformed people really are yet these doorknobs would invariably know all the ins and outs of the latest celebrity gossip just unbelievable

Of course the scumbags that run platforms like facebook are going to work hand in glove with the narrative that the elite has worked so hard to establish I don't see why anyone would use the facebook platform for anything I never have if you want to put information on the web, you just put up a blog page it's just as easy, and no one will censor you

Twitter is another one I have never used and will never sign up for just not interested you will notice that these kinds of so-called 'social media' are all about garnering 'followers' so that's great if you are a sheep and like to follow go right ahead and sign up for facebook, and twitter and instagram and all the other crapola and you can follow these morons right off the edge of the cliff they are headed for

The one platform I do use is youtube, which does have a lot of interesting video content here too the propaganda censorship is an issue, but information sites like South Front regularly put content on youtube without any problems

Bottom line is that 'social media' is a complete waste of time I was living my life just fine before this crapola came out, and continue to do so without it

As for South Front, they have an excellent website that provides very ACCURATE news about Syria, which is my main interest, and is really a pivotal conflict for the entire world in a lot of ways perhaps even more so than the Spanish Civil War in a previous time

I have never seen South Front get a story wrong about the war situation in Syria that says a lot they have proven themselves without doubt, and I highly recommend their website they should just pack up and leave the ridiculous facebook

Max Parry , says: Show Comment May 12, 2020 at 1:08 am GMT

...Facebook has also appointed Emi Palmor, the former Israeli Justice Ministry director-general, to its "Oversight Board" which will be tasked with content moderation on Facebook and Instagram going forward, along with Muslim Brotherhood-linked Yemeni writer Tawakkol Karma.
Submitted by Luke Eastwood Notions of Freedom

We are living in strange times indeed, this crisis raises many questions about the nature of freedom and what our expectations are, or should be. Everyone has their own notions about what freedom means and how far that should extend to oneself and indeed, to everyone else.

I want to start with a look at where we've come from before I look at where we are now, as I feel it gives a better understanding of our definitions of freedom and a better context for viewing where we are, at this moment in time.

Society probably started with the tribe – maybe not even having a leader if the numbers where small enough, say 10 people. Tribes of scores or more obviously became hard to manage and so, undoubtedly, this led to the idea of a leader or a group of leaders – a chief, or a council of chiefs. Such a system seems to have worked well, so long as the chiefs acted in the best interest of the tribe, and not in their own best interest. Tribes and early kingdoms often had a mechanism for dealing with a poor leader – the symbolic marriage of the leader to the land and the right to depose, or even execute, a leader that failed to live up to expectations.

Such concepts of leadership are ancient but have survived in various places into the modern era, including Ireland where I live. Although the practice associated with this custom is long gone, knowledge of it remains vaguely in the public consciousness and more definitively in the realms of scholarship and Celtic Neo-Paganism. However, societies across the globe began to move beyond this cherished accountability millenia ago – with the rise of despotic monarchy, something that still exists as an unfortunate anachronism even now.

As tribes grew into countries and countries grew into empires, monarchs became decreasingly accountable to their citizens, or rather subjects – those who are subjugated. While many monarchs felt an obligation, both 'divine' and moral to behave with care and responsibility, others acted in pure self interest, free of any accountability for their actions. With the backing a large army or, sizeable personal guard, it became increasing difficult to hold monarchs accountable and one had to rely on goodwill in most cases, rather than enforcement.

Of course, there have been countless deposing of monarchs, by the people or by rival claimants, although the latter didn't always turn out to be beneficial. Probably the most famous of these is that of Galus Julius Caesar, the Dictator for life of the final years of the Roman Republic, who gave his name to the title Caesar, Czar and Keiser. He was brutally murdered by Brutus (hence the word brutal) and we all know how that turned out the for Roman Republic.

The republic itself was a form of democracy, based on an earlier model from Greece, a civilization that had immense influence on Rome. Of course, Athenian democracy was nothing like what we now regard as democracy. The right to decide how government was organised and what it did fell to the hands of an elite group - demokratia , or "rule by the people" was only for citizens and of these, only the men could vote. At the time (507 BC) this meant 40,000 men, out of a much larger population, but in reality no more than about 5000 men could attend assemblies, due to other commitments. Still, it was a ground-breaking step, so long as you weren't a foreigner, criminal, woman, child or a slave.

It is from these Greek origins that we get the word democracy and the notion of rights and freedom for all. Over time there have been variations on this model that have been tried out – constitutional monarchies, republics, socialist states, fascist states and communist states, which have varying levels of input for the masses. The masses might also be referred to as 'plebeians' as the Romans liked to call ordinary folk, a corrupted form of which still exists as a minor insult - pleb.

However, through most of recorded history, the most common system has been monarchy, although one could hardly describe it as the most popular. Simpler than a democracy and easy to enforce – notions such as corruption, fairness and accountability do not come into play, as divine rule (e.g. the divine right of kings) gives the ruler carte blanche to do whatever they god-damn like, unless their despotism provokes a revolt. Of course, revolt has happened, from time to time, throughout history and one of the most famous ones is that of the barons in England against king John.

The Magna Carta (Great Charter, of 1215) is considered by many as the bedrock of Western civilization and democracy, despite the fact that it only gave limited concessions to a very small number of nobles. It was a start at least, and perhaps enabled further inroads into the monarchic monopoly on power. The Peasants' Revolt of 1381, against Richard II of England was a major shift. Led by a commoner (Wat Tyler) it was a great embarrassment for Richard, who did not have a standing army on hand. He was forced to pretend to negotiate with the rebels, who camped at Blackheath, while he secretly ordered the Mayor of London to raise an army to disperse and execute the protestors.

There are countless other examples of rebellion against monarchs across the world, but most of them are forgotten. Perhaps the best remembered rebellion is that of the French paupers, against the Bourbon monarchy and the entire aristocracy of France. This violent and bloodthirsty revolution sent shudders of terror across the monarchies of the world and precipitated a programme of reform, based on fear of similar events occurring.

Of course, some countries carried on regardless – Russia and America being particularly sad examples, as Russia only abolished serfdom in 1861, while USA only abolished slavery in 1865. One could justifiably say that the lives of these ordinary people, who were now 'citizens' hardly improved as their freedom was pretty much nominal. This, in Russia, led to the revolution of 1917, due to the intransigence of the Czar/Tsar (Caesar) Nicholai II Alexandrovich Romanov II. The overthrow of the Russian system, inspired by the ideas of Marx and Engels, led to a Bolshevik government headed by Vladimir Lenin. Whatever notions the Soviets had, Lenin was a de facto Tzar in waiting and Stalin was certainly that, if not an uncrowned heir to Ivan The Terrible.

Post World War II, we supposedly have a new age of democracy and freedom, but that only applies to some. In truth, almost the whole world collection of governments has learned the art of propaganda - thanks to the astounding upskilling efforts of the National Socialists (Nazis) of Germany, who took this to new heights (or lows rather), turning it almost into an artform. While we have been led to believe that we are free and democratic, we have never been more exposed to lies and propaganda than we are now. The biggest lie of all is that we live in a democracy, when in fact we actually only get to choose a new set of corrupt and self-serving narcissists, every 4 or 5 years.

Democracies, the world over, have been bought – lobbyists have far more power than the electorate could ever hope to achieve. What we in fact have is the illusion of democracy – state agencies act without oversight, individuals have no say over the manifesto and policies of parties in power and have no mechanism to undo or prevent undesirable actions by governments. The only mechanisms available are the occasional referenda (instigated under pressure), protest (peaceful or otherwise) and violent overthrow.

In most cases, the effort and risk of violent overthrow is considered too much for the majority of people – it takes dire poverty, starvation and horrific coercion before the 'plebs' are pushed to the brink. Governments are aware of this and generally apply the 'boiling frog' method of restricting people's freedoms and the removal of privacy and general rights. However, they do on occasion overstep the mark or fail to adequately conceal their stealthy nefarious actions – which inevitably leads to protest or insurrection.

History has proven that violent insurrection usually fails, but it is rather foolish of authoritarian governments to take a gamble on this not happening. What is far more effective for us 'plebs' is non-violent insurrection, in the form of non-compliance - this worked wonders for both Gandhi and for Martin Luther-King, two of the most inspirational leaders of the 20th century. Nelson Mandella is another fine example of someone who led a monumental change, in South Africa, while also avoiding a catastrophic bloodbath, again through advocating of non-violence and showing exceptional leadership skills.

At this moment in time, we are held hostage by a virus and the fear of what it might do to humanity. While public safety has to be a priority, one has to ask the question – what is this really about? Is this a manufactured crisis or is it is just opportunistic governments capitalizing on their best chance to roll out new draconian measures? Temporary emergency powers is one thing, but if there is no rollback after the crisis is over, what then? What if the crisis is one without end – like George Orwell's perpetual war in his novel 1984?

We have come to expect freedom, we are told that we live in the 'free world' yet we see our rights and freedoms and privacy being eroded by government legislation, corporate invasive technology and data collection. Where do we draw the line? When do we say enough is enough? Strangely, the same technology that enables our surveillance monitoring is also the most powerful tool at our disposal. Internet and telecommunications enables us to share information, just as the 'system' collects information about all of us. For many, it has opened our eyes about government agendas, methods and operations as we now have unprecedented access to worldwide information, often in real-time, or within minutes and hours of events happening.

Many believe that a new era of oppression is being rolled out, right now as we sit in our homes, enabled by the high-power, high-speed and low latency 5G network, worldwide by a hidden agency. Conspiracies aside, there are many questions to be asked about our rights, what our freedoms should consist of and what the limits of government and corporate actions should be. We need to ask those questions, we need to demand answers and show the 'powers that be' that the thirst for true democracy is still alive and kicking. If we volunteer to be imprisoned or to become our own jailors then there is no hope for humanity. As in the past, humanity needs to assert itself, in order to remain free of despotism and it has never been more urgent than now. Corny as it may be, the simplest way to express this is for me to repeat the words of the late Bob Marley - "Get up, stand up, stand up for your rights!"

Read more work by Luke at lukeeastwood.com
Amazon "plantation slaves" business model used in warehouses is threatened by COVID-19 and Bezos wants to preserve it at any cost.
"I quit in dismay at Amazon firing whistleblowers who were making noise about warehouse employees frightened of Covid-19,"
Bray wrote in an open letter titled 'Bye, Amazon' which he posted on his personal blog. His last day at the company was May 1.
Bray admitted working with Amazon was the "best job" he ever had, and said he will likely be losing "over a million (pre-tax) dollars" by leaving his position, but he took issue with the company's firings of employees who complained about safety conditions and fears in warehouses, which continue to operate during the current pandemic.
"The justifications [from the company] were laughable; it was clear to any reasonable observer that they were turfed for whistleblowing," Bray wrote of the axed employees, noting that the firings seem focused on minority workers.
"I'm sure it's a coincidence that every one of them is a person of color, a woman, or both. Right?" he wrote.
He called the firings "chickens**t" and said they were done to "create a climate of fear." Amazon has not yet publicly commented on Bray's accusations.
Two employees -- user-experience designer Emily Cunningham and her colleague Maren Costa -- were fired "on the spot," according to Bray, after trying to set up a video call to discuss work conditions and concerns last month. Cunningham tweeted Bray on Monday and thanked him for his support.
Amazon VP, @timbray resigns over #covid firings of me, @marencosta and others. Says Amazon "firing whistleblowers" is "evidence of a vein of toxicity running through the company culture. I choose neither to serve nor drink that poison. " Thank you, Tim. https://t.co/oShy4TQisN

-- Emily Cunningham (@emahlee) May 4, 2020
Other employees were reportedly fired after signing a petition asking for more workplace protections. Demands in the petition included hazard pay and warehouse closures if any employee tested positive for coronavirus.
Amazon has been quick to crack down on any employee organization at the warehouses, which have been working full steam during the pandemic to deliver both essential goods and consumer merchandise unavailable at physical stores shuttered by the lockdowns.
See also: Bezos ordered to testify in Congress, as Amazon accused of 'possibly criminally false' statements on business practices
Notable quotes:
"... There is little doubt that the modern cult of power worship is bound up with the modern man's feeling that life here and now is the only life there is. If death ends everything, it becomes much harder to believe that you can be in the right even if you are defeated . I would say that the decay in the belief in personal immortality has been as important as the rise of machine civilization. ..."
"... Since society is held together by this myth system – the beliefs and values people live for and live by – that sustains it, societies have always had to offer symbolic "answers" to death. For without a meaningful symbolic for coming to terms with death, human action would be stymied and people would be reduced to what the psychiatrist Allan Wheelis termed "intense, preoccupying yearning." ..."
"... When leaders speak, the children hear the inner voices of their parents telling them to be careful, be very careful, the bogeyman is everywhere, so listen and obey. Freud, the Jewish atheist, and Dostoevsky, the Russian Orthodox Christian, were in agreement about people's desire to give up their freedom to authority figures who would allegedly shelter them within their warm embrace. ..."
"... The easiest way to do this is to convince people that death is stalking them, for the bogeyman is always death in one form or another. ..."
"... It works to get people to support the terrifying sadism of wars against fabricated "others, ..."
"... It works to get people to give up their freedoms out of fear of "terrorists," who are said to slide and hide in the interstices of everyday life, ready to pounce and kill at any moment. ..."
"... For the Grand Inquisitor represents those power elites across the world who wish to cower people into accepting their dicta on Covid-19 as truth without questioning its logic or rationale. ..."
"... The use of technology to control behaviour by denying holidays to people, denying promotions etc all based on credit scores and similar monitoring has to be seen by the wealthy as a model of what can be achieved by the combination of ruthless force and control over information. ..."
"... All are brainwashed from birth. Its not "capitalism" its is a parasitic banking cabals economy . ..."
"... When the education system has been designed to eliminate the use of critical thinking and the purveyors of propaganda control the vast majority of the MSM, academia plus the creation of a veneer of democracy, it is little wonder so many people have swallowed this lie. ..."
"... many who call themselves atheists worship science( but not science as knowledge as it originally meant) ..."
"... The cabal wants only their narrative( lies as the truth) they want the truth of who we are and that we are co creators in this world unknown to us . ..."
Since death is one idea that has no history except as an idea and not a reality any of us have experienced, it is the most frightening idea there is and also quite simple. It is the ultimate unknown. It has always haunted human beings, whether consciously or unconsciously.

It lies at the root of war, violence, religion, art, love, and civilization. The good and the bad, the beautiful and the ugly, why we like to win and not lose, pass and not fail, "pass on" and not die. It is so funny and so sad. We would be lost without it, even when we feel lost when thinking about it. And it is fundamental for understanding the action and reaction to Covid-19.

Societies have always been people banded together in the face of death. And since people are not just physical beings but symbolic creatures who can think and imagine the past and the future, societies are necessarily mythic symbol systems whose job is not only to protect people physically, but symbolically as well.

Sometimes, however, the protection is a protection racket with racketeers holding people hostage to fabricated fears that keep them locked in a living-death.

Thus death, this most potent imaginative idea and reality that doesn't exist except as a mystery about which anything we say is speculation, can be used for good and evil, depending on who controls society.

Death is the great fear, the human haunting that hangs by a thread over life like the sword of Damocles.

In 1944 in a newspaper column, George Orwell made an astute remark:

There is little doubt that the modern cult of power worship is bound up with the modern man's feeling that life here and now is the only life there is. If death ends everything, it becomes much harder to believe that you can be in the right even if you are defeated . I would say that the decay in the belief in personal immortality has been as important as the rise of machine civilization.

Beliefs, of course, like "personal immortality" and all others, such as the recent rise in the belief in atheism, which is as much a belief as belief in God, are, partially at least, relative to time and place, and develop out of social storytelling. The "hard facts" on which many feel their lives and security rest are themselves dependent upon the symbols which give them legitimacy.

Reality is indeed precarious with society suspended by a web of myths and symbols. It is through cultural and social symbol systems that society's meaning is transmitted to individuals, and it is within the symbol systems that the control and release of action resides.

In today's electronic mass media world, those who control the mass media that control the narrative flow – the storytelling – control the majority's beliefs and actions.

Since society is held together by this myth system – the beliefs and values people live for and live by – that sustains it, societies have always had to offer symbolic "answers" to death. For without a meaningful symbolic for coming to terms with death, human action would be stymied and people would be reduced to what the psychiatrist Allan Wheelis termed "intense, preoccupying yearning."

Today we can hear such yearning everywhere.

Shortly after Orwell made his prescient comment in The Tribune, nuclear weapons were developed and used by the United States to kill hundreds of thousands of innocent Japanese civilians. With those weapons and their use, the ages-old symbolic narrative of life and death was transformed in a flash.

"The significance of the possibility of nuclear death is that it radically affects the meaning of death, of immortality, of life itself," wrote Hans Morgenthau.

The traditional symbolic sources that once served to allow humans to transcend death were fundamentally undercut, and the search for new modes of death transcendence was carried on beneath the portentous covering of the nuclear umbrella.

A qualitative transformation in the meaning of human existence was thus brought about as humans, who had the weapons, replaced the belief in God as the holder of the power over life and death, since nuclear war could result in the extinction of human life, leaving no one left to die.

This is our world today, and it is where the Covid-19 story takes place. A world not just of nuclear fear, but a host of other fears constantly inflamed by the mass media that hypnotize people through the conjuring of death-fear.

In his great work on group psychology, Freud showed us how it was not just mental contagion and the herd instinct that got people to join in group behavior. People could be induced to become little children and obey their leaders because they have "an extreme passion for authority."

When leaders speak, the children hear the inner voices of their parents telling them to be careful, be very careful, the bogeyman is everywhere, so listen and obey. Freud, the Jewish atheist, and Dostoevsky, the Russian Orthodox Christian, were in agreement about people's desire to give up their freedom to authority figures who would allegedly shelter them within their warm embrace.

The easiest way to do this is to convince people that death is stalking them, for the bogeyman is always death in one form or another.

It works to get people to support the terrifying sadism of wars against fabricated "others," who are always portrayed as aliens who are out to kill the good people.

It works to get people to give up their freedoms out of fear of "terrorists," who are said to slide and hide in the interstices of everyday life, ready to pounce and kill at any moment.

And it works to get people to obey orders to protect themselves from terrifying viruses that are lying in wait everywhere to strike them dead.

In his novel The Brothers Karamazov , Dostoevsky said that people want miracles, mystery, and authority, not freedom. His Grand Inquisitor, while a fictional creation, lives on in reality.

For the Grand Inquisitor represents those power elites across the world who wish to cower people into accepting their dicta on Covid-19 as truth without questioning its logic or rationale.

To question has become an act of insubordination deserving death by censorship or the defiling of one's name via the term "conspiracy theorist," a name used by the CIA to dismiss anyone questioning its murder of President Kennedy. Death comes in many forms, and the fear of it has always been used by the powerful to render the common people speechless and obedient.

How can any thinking person, anyone not totally crippled by fear, not question what is going on with the coronavirus disaster when reading what Peter Koenig, a thirty-year veteran economist of the World Bank and World Health Organization, writes in his article The Farce and Diabolical Agenda of a 'Universal Lockdown' :

The pandemic was needed as a pretext to halt and collapse the world economy and the underlying social fabric.

There is no coincidence. There were a number of preparatory events, all pointing into the direction of a worldwide monumental historic disaster. It started at least 10 years ago – probably considerably earlier – with the infamous 2010 Rockefeller Report, which painted the first phase of a monstrous Plan, called the "Lock Step" scenario. Among the last preparatory moves for the "pandemic" was Event 201, held in NYC on 18 October 2019.

The event was sponsored by the Johns Hopkins Center for Public Health, the Bill and Melinda Gates Foundation (BMGF) and the World Economic Forum (WEF), the club of the rich and powerful that meets every January in Davos, Switzerland. Participating were a number of pharmaceuticals (vaccine interest groups), as well as the Centers for Disease Control and Prevention (CDC)'s of the US and – of China.

One of the objectives of Event 201 was a computer simulation of a corona virus pandemic. The simulated virus was called SARS-2-nCoV, or later 2019-nCoV. The simulation results were disastrous, killing 65 million people in 18 months and plunging the stock market by more than 30% -- causing untold unemployment and bankruptcies. Precisely the scenario of which we are now living the beginning.

The Lock Step scenario foresees a number of ghastly and disturbing events or components of The Plan to be implemented by the so called Agenda ID2020, a Bill Gates creation, fully integrated into the UN's Sustainable Development Goals (SDG) – target date for completion – 2030 (also called Agenda 2030, the hidden agenda unknown to most of the UN members), the same target date for completion of the Agenda ID02020.

I ask the question but I am afraid I know the answer: miracle, mystery, and authority usually defeat evidence and simple logic. Fear of death and free thought scare children. The Grand Inquisitor lives on:

But man seeks to bow before that only which is recognized by the greater majority, if not by all his fellow-men, as having a right to be worshipped; whose rights are so unquestionable that men agree unanimously to bow down to it.

Death: A simple idea with such a powerful punch.

---

JoeC ,

It isn't just about the fear of death. It's also the fear of being responsible for the death of others. It's no accident that they've chosen a contagion as our imaginary enemy. We become the visible enemy if we refuse to wear face masks, abide social distance, wash our hands every 30 seconds or refuse a vaccine when it comes to it etc etc. Hence the laws that will follow. We will soon be public enemy number one. The new terrorists. I'm not scared of dying but I'm petrified of being persecuted for not believing this shit. What sort of life is that?

a belief. The author adds his on baggage to an otherwise lucid article, which rather diminishes the other truths he mentions ?

BigB ,

Excellent stuff, with plenty to think about as usual. As a proviso: Ed's sociology and ethnography needs tightening up though.

The big cultural repertoire of myths and symbols has a name; several names actually nomos, Weltanschauung, Weltansicht (cosmographic worldview or wide world sight), and *sensus communis* (the consensual common sense). Which is the consensus of views everyone shares.

The last is from Giambattista Vico: who also said: "Verum esse ipsum factum" ("What is true is precisely what is made [up]"). Which is the verum-factum principle of worldviews. The ideal eternal cosmological history is subjectively made up, culturally constructed, as a consensually maintained worldbuilding and world-maintaining mythological storytelling.

To which the individual is socialised not once – from birth through education – not twice – in the workforce – but continually as a process of cultural individuality making. Which is not all one way, top-down traffic of obedience and control – but a reflexive and causal circularity. The big bunch of historically specific myths and symbols make and maintain the person: just as the person makes and maintains the big bunch of historically specific myths as a consensually maintained worldbuilding and world-maintaining mythological storytelling. The individual self is itself a cultural constructivism.

It cannot be any other way: otherwise there can be no common ground for communication and there is only communication. Or participatory sense-making: no one can have their own language or behavioural repertoire maintained far from the socially regulated consensus and continue to make sense. Maintaining the dictionary definition of words (intension) and the encyclopaedic repertoire of social norms and modes of behaviour is critical to the meaning of the overall order. And there is only the order. Very uneasy order.

The individual finds themselves historically situated in the ordinate nexus of thinking, speaking, and acting in a constrained, shared, and lawfully regulated landscape of language, culture, society, state and market economy. There is no 'outside': except for the retreat into solipsism and ahistoric flights of imagination. We make our own history: but not autonomously and not in circumstances of our own choosing.

Cultural construction and reproduction – and the worldview maintainence of socially constructed reality – is a permanent process. Following the basic processes of social constructivism – as laid out by Berger and Luckman. Which are: habitualisation by subjectivated externalisation and reification by objectivated internalisation as a recurrent, resonant, and reflexive lifelong process.

We are part of the tissue and fabric of socially constructed reality. And socially constructed reality is part of the tissue and fabric of us: the flesh of the cultural worldview.

http://perflensburg.se/Berger%20social-construction-of-reality.pdf

Of course: the biggest lie of the principle of cultural constructivist storytelling is that what is told is naturally objective, true, and real. And some of it is lawfully authoritative (like this old computer epidemiology model I had lying around). Which is what gives the story its universal regulative ordinate control and constative overpower.

I mean, who would want to self-admit they were regurgitating institutionalised and habitualised false beliefs and mistaken abstractive assumptions about the objective nature of things that were just a bunch of made up and recycled socialisation and pacification rites of a cultural constructivist performance?

Truth, self, and social reality itself is constructed by such rites.

And what if the nomos – the ordered and naturalised ordinate principle – which is a cultures own talisman against chaos, indiscipline, and made up shite about virology turns out to be chaotic, restrictive, petrifying and rapidly fossilising as a permanent order of fascising bollox and corporatist control?

If the fossilising order is worse than the disorder it symbolically wards off and guards against: and the culturally created fear of death worse than the natural process of dying then what?

Is it better that the institutionalised and institutionalising lawful ordering is in principle false and an unjust draconian social realism? Or that it is objective, rational, and scientifically real? And eternally and universally valid?

What if a society had been rationalised and institutionalised into a universal analytical reasoning, an empiric objectivity, a historically contingent subjectivity, and a nomological scientific principle that were in fact falsely constructed? And just habitually and consensually maintained as a lawful, juridical, and regulatory idealism of an eternally natural cosmological order? Which just happened to turn out to be totalitarian fascistic co-participatory dumbfuckerry?

That culture would find itself in a headfuck situation of a nomological breakdown of its worldview and its interwoven individual identities most of which would want to shelter in the pretence of being ahistorically situated outside of language, culture, and thought in a nomological no mans land. Which is exactly the abnegation of cultural creativity that precipitated the meaning crisis and breakdown of order.

I'm so glad I do not live in such a culture. That would indeed be terrifying.

😱 😱 😱 😱 😱

aspnaz ,

An interesting article that reminds me of the difference between westerners and the mainland Chinese whom I believe are the model that will used to create the future world.

I am not talking about communism, the Chinese gave up communism ages ago, they are now the world's premier imperialists, using capitalism to drive their influence across the globe. But their control over people is surely the model aspired to by any person wanting to rule the world.

The use of technology to control behaviour by denying holidays to people, denying promotions etc all based on credit scores and similar monitoring has to be seen by the wealthy as a model of what can be achieved by the combination of ruthless force and control over information.

The response of the Chinese to the virus – the lockdown – was seen in the west as China caring for its people, but here in HK it is still commonly seen as China panicking because it thought that the people would be afraid and would turn on the government for not protecting them. It was riot control, not virus control, hence the arrest of people spreading virus rumours.

tonyopmoc ,

Edward Curtin, what you wrote is completely brilliant, in the few minutes it took me to read it, you took me through the vastness of time, and my entire physical and spiritual existence. thank you. tony

Hugh O'Neill ,

Another thought-provoking article, Ed. I was reminded of four quotes:

1. G.K. Chesterton: "When a man ceases to believe in God, he doesn't believe in nothing; he believes in anything"
2. On the dropping of the first atomic bomb, Oppenheimer quoted from Hindu scripture: "Now I am become Death, the destroyer of worlds"
3. JFK's favourite poem was Alan Seeger's "I have a rendezvous with death". Seeger died in 1916
4. Whatever the merits of the poem, JFK was no stranger to death. Likewise, he had adopted Lincoln's prayer: "I know there is a God – and I see a storm coming. If he has a place for me, I believe that I am ready."

RobG ,

Edward, how people can be so easily fooled is an age old question. One hundred years ago they queued up to be slaughtered in the trenches. It was all so senseless it was beyond belief.

"Over the top lads, for King and Country" (the Black Adder comedy programme really captured this).

I'm not sure what else I can say about the stupidity of the human race.

https://www.youtube.com/watch?v=vH3-Gt7mgyM

We are at this point again, and people need to fecking wake-up.

Richard Le Sarc ,

People in the West are brainwashed from birth. They have NO idea that the capitalist system is incompatible with Life on Earth, that it is a form of cancer, that the USA is the greatest force for Evil in history and that businessmen, politicians, MSM presstitutes are psychopaths at best, dullards and ignoramuses at best. And the worst are those that deny death in belief in various 'Gods' who all hate each other and compel them to kill and destroy in his name. The system is collapsing, and that is finally dawning on the brain-dead 'consumers', who will now proceed to consume one another.

All are brainwashed from birth. Its not "capitalism" its is a parasitic banking cabals economy .
Its a monopoly you've just always believed as a debt slave its capitalism and you're free.
They are resetting it, those that understand the minds of the manchild.

charming ,

best book on life i've read https://www.amazon.co.uk/Denial-Death-Ernest-Becker/dp/0285638971

Dungroanin ,

Good stuff Edward,
Most of the 'plan' has been on these boards for months- the one missing is Whitney Webbs latest which exposes the dumb fucks plan to close the 'AI Gap with China'.

'THEY' have never let a good crises go to waste to further their agenda and plans.

Another old adage is about not being able to fool all of the people all of the time.

Death and politicians and media narrative control can also lose their grip. It starts by laughing at them. It's started:

https://twitter.com/altmann_tim/status/1256690738294857731?s=20

THEY will not succeed this time – the narrative is a shattering mirror, that reveals their plans – the BS isn't sticking any more.

crank ,

Confronting our exaggerated fear of dying is the only way out of this prison. Thanks for this article Edward.

John Deehan ,

When the education system has been designed to eliminate the use of critical thinking and the purveyors of propaganda control the vast majority of the MSM, academia plus the creation of a veneer of democracy, it is little wonder so many people have swallowed this lie.

Doug Stillborn ,

The cabal beleives that the truth is irrelevant and that whatever appears to you as truth is what is true to you and the only truth. This is false. The truth is not relative. Einstein knew this and said, time is an illusion albeit a persistent one. If you propagate the idea of atheism and science what you are actually doing is you are relinquishing any responsibility/accountability.

I don't think so Doug . The ideas of " atheism and science " are out there.
But what has happened is that many who call themselves atheists worship science( but not science as knowledge as it originally meant) so its mostly theories taken a facts, pseudoscience. Agree though that time is an illusion.

The cabal wants only their narrative( lies as the truth) they want the truth of who we are and that we are co creators in this world unknown to us .
Notable quotes:
"... In December 1917, Europe was immersed in the First World War -- one of the most vicious, insane wars the world had ever witnessed. After learning about the high casualty toll and the horrific nature of trench warfare, which included the use of poison gas, Britain's prime minister, David Lloyd George, confided in a private conversation to C. P. Scott, editor of the Manchester Guardian: ..."
"... "If people really knew [the truth], the war would be stopped tomorrow. But of course, they don't know, and can't know ." ..."
"... Sadly, we seem to have not learned from history that, once the state is asked by the citizenry to respond to a danger, it will do so with a drastic course of action -- with rights-restricting rules that will never be removed once imposed. This is exactly how societies become despotisms. ..."
"... What happened to the action plan when it was applied to the on-its-heels real-life scenario? Unsurprisingly, it was fully implemented and made fully operational. So, thanks to Event 201's meticulous pandemic planning and WHO's replication of it, the power of the police state is rising to unprecedented levels. Our global overlords and their CDC and WHO and MSM lackeys have succeeded in generating fear in the planet's populace. This pandemic panic has, in turn, caused people to voluntarily, though unwittingly, surrender their hard-won freedoms. These freedoms are articulated in the constitutions of countries around the world, including the US Constitution, with its Bill of Rights -- notably the First Amendment. These documents are now nothing more than meaningless pieces of paper. They may as well be blank. ..."
In December 1917, Europe was immersed in the First World War -- one of the most vicious, insane wars the world had ever witnessed. After learning about the high casualty toll and the horrific nature of trench warfare, which included the use of poison gas, Britain's prime minister, David Lloyd George, confided in a private conversation to C. P. Scott, editor of the Manchester Guardian:

"If people really knew [the truth], the war would be stopped tomorrow. But of course, they don't know, and can't know ."

Just over a century later, here we are, yet again, immersed in a global war. However, this war, which is ostensibly sold to all of us as a battle to "stop the spread of the coronavirus," is in reality a war devised by "the powers-that-shouldn't-be" to remove the last remnants of humanity's inherent freedoms and liberties.

And, just like all of the previous criminal wars throughout human history -- the First World War, the Second World War, the Korean War, the Vietnam War, and every other subsequent conflict -- if people around the world knew the truth about this war, it would come to a screeching halt overnight.

Through all of my years of research in matters relating to war, I have come to understand one very important thing: When human societies lose their freedom, it's usually not because the monarch, the state, or some dictator has overtly taken it away. Rather, it is lost because too many people willingly surrender their freedom in return for protection from some perceived (real or imagined) menace.

That menace is typically manufactured by the state and is designed to stir up such a torrent of fear in the mind of citi zens that they pressure their politicians to implement measures against the fabricated threat.

Unfortunately, it rarely occurs to the public to ask:

Are we simply reacting to an orchestrated threat?

Will the protective measures we're demanding of our leaders actually work?

Or will "the cure" being offered to us be worse than "the disease"?

Sadly, we seem to have not learned from history that, once the state is asked by the citizenry to respond to a danger, it will do so with a drastic course of action -- with rights-restricting rules that will never be removed once imposed. This is exactly how societies become despotisms.

To be sure, there is a seasonal influenza, a coronavirus, currently sweeping around the world, just as the flu does every year, like clockwork. And, yes, this particular coronavirus seems to pose a serious health hazard to the elderly and to anyone with underlying medical issues. However, one crucial question has being avoided by officials and the public alike: Is this outbreak of an infectious disease called COVID-19 serious enough to warrant the draconian countermeasures that all governments -- with the exception of Sweden -- have initiated?

Those counteractions have done a number on communities everywhere:

collapsing local economies and, in a ripple effect, the world economy
sending millions upon millions of people to the unemployment line
imprisoning millions of honest, hard-working citizens in their homes
bankrupting countless mid-size and small businesses (and destroying the dreams and livelihoods of their owners)
bringing out of the woodwork rules-obsessed busybodies who take delight in snitching on neighbours and strangers alike for not "social distancing"
unearthing every petty tyrant whose main mission in life is to ensure that every mask-less person is arrested and carted off to jail
policing quarantined areas with drones
tracking and surveilling all human beings who are ambulatory and have cell phones (if ants carried mobile phones into and out of their mounds, they'd doubtless be subject to triangulation tracking)
increasing stress and the incidence of flaring tempers among the homebound, which has resulted in a sharp escalation of domestic violence
saddling future generations with massive debt that can lead debtors into deep depression, permanent homelessness, possible suicide

Medical professionals are observing the entire state of affairs with increasing alarm. They are questioning the official coronavirus infection rates and noting the detrimental effects of the lockdown. Examples abound.

Take Dr. Erickson , co-owner of Accelerated Urgent Care in Kern County, California, who, with his partner, Dr. Massihi, has gone on record saying that, in contrast to the high numbers of people contracting this coronavirus, there has been only "a small amount of death . . . similar to what we have seen every year with the seasonal flu ."

Stanford University epidemiologist and professor of medicine John Ioannidis has made the same observation. In an April 17 interview , Dr. Ioannidis he claimed that "COVID-19 has an infection fatality rate that is in the same ballpark as seasonal influenza." Moreover, he said, the devastation and deaths caused by the imposed lockdown on the entire world economy "can be far worse than anything the coronavirus can do ." Based on a study he conducted, Dr. Ioannides said that "the data collected so far on how many people are infected and how the epidemic is evolving are utterly unreliable ."

Indeed, we have seen ample evidence of this "utterly unreliable" data -- less euphemistically known as manipulated data -- coming out of Italy. Professor Walter Ricciardi, scientific advisor to Italy's minister of health, referred to a report produced by the Italian COVID-19 Surveillance Group and observed that " only 12 per cent of death certificates have shown a direct causality from coronavirus, while 88 per cent of patients who have died have at least one pre-morbidity -- many had two or three." The report cited by Prof. Ricciardi pointed out that half of the patients who died had three or more other underlying diseases at the time of death .

COVID-19 Lockdown: A Global Human Experiment

In the United States, meanwhile, the death toll figures attributed to the virus are no more accurate. Doctors are being told to write on death certificates that the cause of death is " presumed " to be COVID-19 or that COVID-19 "contributed" to the death , when, in fact, there is absolutely no proof that COVID-19 caused the death, nor did any lab test indicate a COVID-19 positive.

The United Nations' Geneva-based World Health Organization (WHO), which has been entrusted to be an impartial global health guardian, has proven itself no better than national governments at truthfully disseminating critical information. WHO's questionable statistics on COVID-19 only serve to cement its reputation as an organization that, since 2009, has been plagued by corruption, conflict-of-interest scandals linked to Big Pharma, and a lack of transparency. Few citizens are familiar with the WHO's transgressions, and even fewer understand how it is financed.

So let me briefly explain the latter. The WHO's principal advisory group for vaccines and immunization is called the Scientific Advisory Group of Experts (SAGE). This team of so-called "experts" is dominated by individuals who receive significant funding from either the major vaccine makers, from the Bill & Melinda Gates Foundation, or from Wellcome Trust. In his informative article, "Can We Trust the WHO?" author F. William Engdahl writes that, in the latest posting by WHO:

". . . of the 15 scientific members of SAGE, no fewer than 8 had declared interest, by law, of potential conflicts. In almost every case the significant financial funder of these 8 SAGE members included the Bill & Melinda Gates Foundation, Merck & Co. (MSD), Gavi, the Vaccine Alliance (a Gates-funded vaccine group), BMGF Global Health Scientific Advisory Committee, Pfizer, Novovax, GSK, Novartis, Gilead, and other leading pharma vaccine players ."

Moreover, unlike in its early years, when the WHO was primarily funded by UN member governments, today it receives funding from a "public-private partnership," which vaccine companies dominate. The WHO's financial audit for 2017 indicates that by "far the largest private or non-governmental funders of WHO are the Bill & Melinda Gates Foundation together with the Gates-funded GAVI Vaccine Alliance, the Gates-initiated Global Fund to fight AIDS." That year, the Gates Foundation alone donated a staggering $324,654,317 to the WHO, second only to the US government, which contributed $401 million . According to statistics posted in 2018, "the second-largest funder after the US government is still the Bill & Melinda Gates Foundation, which provides 9.8 per cent of the WHO's funds ."

In light of these relationships, it is not surprising that WHO data on COVID-19 has been found to contain repeated errors -- false positives -- and inconsistencies, all of which it refuses to correct. As a result, Oxford University and various countries have ceased using WHO data on coronavirus infection rates.

Because of the inaccurate and incomplete data that WHO has been collecting from around the world, we will never know exactly how many people have died from the virus.

Of course, in order to successfully prosecute their war on our civil liberties, these global overlords must maintain a monopoly on the information that shapes their official narrative.

If they were to release videos of empty hospitals or reveal the very low mortality rates actually associated with the virus, they would not be able to foster the element of fear required to keep the public credulously accepting their every pronouncement and obeying their every edict. It is this single factor of fear, fomented by false information emanating from "trusted sources," which is the vital element our health-state/police-state nannies rely upon as they deliberately, calculatingly fan the flames of the collective hysteria that has engulfed the world.

Why do I say "deliberately, calculatingly"? Because, by now, most readers have undoubtedly seen the smoking gun proof that the COVID-19 pandemic is in fact a plan demic. That smoking gun took the form of a simulation exercise called Event 201.

More aptly termed a drill, Event 201 was held in mid-October of last year, just weeks before the reports of the first recorded case of a contagious novel coronavirus disease starting seeping out of Wuhan, China. Sponsored by the Bill & Melinda Gates Foundation, the John Hopkins Center for Health, and the World Economic Forum, this tabletop exercise simulated "a series of dramatic, scenario-based facilitated discussions, confronting difficult, true-to-life dilemmas associated with response to a hypothetical, but scientifically plausible, pandemic ." That its sponsors have the gall to insist there is no connection between their exercise (I mean "drill") and the near-simultaneous unrolling of the actual "live" event (dubbed COVID-19) speaks to their hubris -- and their hypocrisy.

At best, maybe 10 percent of the entire simulation was devoted to actually helping people infected with the coronavirus. The remainder of the exercise was concerned with how officials would disseminate information and maintain all-important control of the official narrative -- including the statistical narrative. Predictably, the participants discussed strategies for how to silence the misinformation and disinformation that would surely spread in the wake of this "hypothetical" pandemic. In other words, they were super-intent on shutting down any and all information, whether leaked or hacked or accidentally discovered, that was not sanctioned by the Centers for Disease Control (CDC), by WHO officials, and by MSM corporate stenographers.

Key talking points included an elaborate plan of action for governments that would enable them to work in cooperation with social media giants like Facebook and Google and Twitter. Specifically, governments were told how they could troll social media sites and request that any voices countering the official narrative be removed; how they could silence independent journalists, while elevating their own so-called "authoritative voices"; and how they could join forces with Big Pharma companies like Johnson & Johnson to develop a vaccine to ward off the coronavirus .

What happened to the action plan when it was applied to the on-its-heels real-life scenario? Unsurprisingly, it was fully implemented and made fully operational. So, thanks to Event 201's meticulous pandemic planning and WHO's replication of it, the power of the police state is rising to unprecedented levels. Our global overlords and their CDC and WHO and MSM lackeys have succeeded in generating fear in the planet's populace. This pandemic panic has, in turn, caused people to voluntarily, though unwittingly, surrender their hard-won freedoms. These freedoms are articulated in the constitutions of countries around the world, including the US Constitution, with its Bill of Rights -- notably the First Amendment. These documents are now nothing more than meaningless pieces of paper. They may as well be blank.

A few for instances: Facebook is removing all voices that counter the official COVID-19 narrative from its platform. Google is monitoring (read: snooping) to check up on whether people are "social distancing." The Clinton Global Initiative is promoting another Orwellian concept called " contact tracing " (read: total government surveillance grid), which involves monitoring, tracing, and, if need be, quarantining the entire US population. The plan is being sold to the American population as a critical component of a universal healthcare system, when, in reality, if implemented, it will be nothing more than a marketing ploy to disguise the arrival of George Orwell's 1984 .

Throughout the US, companies like VSBLTY and public-private partnerships are spreading a ubiquitous surveillance network of CCTV cameras with the ability to measure heartbeat and social distancing without any legal or legislative restraint -- a true police state dystopia.

Power-grabbing governments the world over have locked down their societies and are dreaming up legislation to stop the spread of "dangerous misinformation" about the pandemic. British MP Damian Collins, for one, is calling for just such measures to silence free speech in the UK. In Canada, Privy Council President Dominic LeBlanc has admitted that the Canadian government is "considering introducing legislation to make it an offence to knowingly spread misinformation that could harm people ."

Not to be outdone, UN Secretary-General Antonio Guterres has announced the creation of "a new United Nations Communication Response initiative to flood the Internet with facts and science while countering the growing scourge of misinformation ." In addition, the Secretary- General, like Canada's Prime Minister Justin Trudeau and various other leaders, is advising us precisely where to place our trust: in vaccines.

Vaccines are not the answer. If the mandatory vaccination agenda is ever implemented by these globalist kingpins, the coup against our fundamental rights and freedoms will be complete. Our governments -- or, more likely, a one world government! -- will force-vaccinate us with our own unique digital ID and chip that, once in place, will further heighten their surveillance of and tighten their control over all human beings. At that point, the police state will be complete and will be here to stay.

Contrary to what Trudeau believes, the way that governments have implemented oppressive edicts to combat the hyped virus is not the "new-normal." Their actions are hardly normal, whether old or new.

Precisely the opposite is true: This is the forever abnormal.

Abnormal because, whether the virus was developed in a bioweapons lab or if it is the annual seasonal influenza, it is a manufactured crisis designed to infuse us with fear, induce us to willingly surrender our freedoms, and steer us away from seeing the ever-scarier, underlying agenda of a technocratic takeover by the New (or Flu!) World Order. (Think AI, 5G, Internet of Things, digital body chips, Data Fusion Centers , the NSA's Project Prism , ad infinitum ).

This collective insanity will come to an end only if we all leave behind the MSM nest of lies and seek out sources -- independent online and in-print investigative journalists like James Corbett, F. William Engdahl, Derrick Broze, Ryan Cristián, Patrick Wood, Jon Rappoport, and countless others -- who have been probing for (and finding and relaying) the truth about world events for anywhere from a decade to several dozen years. We must cease buying into propaganda and accept only provable facts from dependable sites -- the ones that are called "fake news" by the real fakers and fearmongers.

To men like David Lloyd George and his ilk, we reply: Yes, we will learn the truth, and with this knowledge we will stop the war on our liberty and our lives!

*

Note to readers: please click the share buttons above or below. Forward this article to your email lists. Crosspost on your blog site, internet forums. etc.

David Skripac has a Bachelor of Technology degree in Aerospace Engineering. He served as a Captain in the Canadian Forces for nine years. During his two tours of duty in the Air Force he flew extensively in the former Yugoslavia as well as in Somalia, Rwanda, Ethiopia, and Djibouti.

The original source of this article is Global Research Copyright © David Skripac , Global Research, 2020
jadan , Apr 30 2020 16:19 utc | 158

The degree to which government "by and for the people" cannot create consensus is the measure of its failure to represent the people. The government is not trusted because it is undemocratic. Rule By Secrecy is the rule.

Where did the Patriot Act come from? This abridgment of liberty appeared seemingly out of nowhere in October 2001. No representative of the people actually read it and yet it was voted into law. ( Hint: Joe Biden is principally responsible for the Patriot Act )

The surveillance state is well established in our midst and in our minds and the need to promote the general welfare by defending against pandemics will entail more surveillance and more constraints on personal liberty. The degree to which the government must rely on secrecy and denial of the Bill of Rights to remain in power is the degree to which it will earn the fear & loathing of the people and simple mistrust will become violence. When Elon Musk, one of our favorite oligarchs, attacks government for its handling of the pandemic, government should worry.
Jake , says: Show Comment April 23, 2020 at 12:52 pm GMT

Let's place a couple of things together:

1. "The US political culture is that 99.99% of Americans will believe literally ANY lie, no matter how self-evidently stupid, about the rest of the world rather than accepting any unpleasant truth about the US. "

2. "Eventually, and inevitably, this strategic PSYOP upped the ante and FOXnews (logically) aired this true masterpiece: "Sen. Hawley: Let coronavirus victims sue Chinese Communist Party". Truly, this is brilliant. "I lost my job, let the evil Chinese commies pay me back" is music to the ears of most Americans."

This is what Anglo-Zionist religious/political culture produces. And it is not restricted to jingoistic blaming of the peoples of other nations; it also features blaming those who are citizens of the nation but are more outsiders to the WASP Elites that the group doing the blaming. That pattern keeps the non-Elites from ever seeing that their enemy is the national/imperial Elite they serve.

For example, the horrors the Brit WASP Elites and their system inflicted on Lancashire factory workers would have made any real life Simon Legree giddy at the possibilities. And those abused masses could be counted on at every turn to retard their own demands any time the Elites could turn the conversation to how the Irish or Highlanders would come in and take their jobs for even less and ruin their delightful communities. Or how the evil empires on the Continent were causing trouble and to save lives of British soldiers the factory workers must be reasonable.

Orwellian fiction is steeped deeply in the actual ways that WASP Empire operates to grind its own citizens and ue them as mindless pawns to make Anglo-Zionist Elites ever richer, ever more entrenched in power.
Dumbo , says: Show Comment April 12, 2020 at 4:37 pm GMT

@eD

so eventually we will be allowed to go places to work for the rulers or to worship them or their gods.

They are already saying that we will be allowed to work but social meetings will be curtailed for a longer time. An even more atomized and lonely population if you can believe it. Church also will be limited, it's "non-essential".

Apple and Facebook and Google are already including "free" and "voluntarily" in their operating system a tracking option that not only shows our movement but all people we met, to check if we met anyone "infected" -- think about the possibilities for that. Welcome to a Brave New World.
Highly recommended!
If it is like Amazon review system, it is deeply flawed as you can manipulate reviews and bad reviews can be used as revenge for something unrelated. Chinese experiment also outline the danger of Amazon review system.
Notable quotes:
"... It ranks not only every citizen who chooses to participate, but every government official, cop, judge, department, corporation and shoeshine. It's truly universal. There's no privileged ..."
"... It's a popular initiative as much as a government initiative: the Chinese are the most trusting people on earth and they're tired of being scammed online for billions each year ..."
"... It's 90% carrot and 10% stick: the higher your score the easier your life becomes ..."
karlof1 , Apr 12 2020 17:04 utc | 17

At his FB, Pepe Escobar informs us about "THE CHINESE SOCIAL CREDIT SYSTEM – IN DETAIL"

"In my 'Who Profits from the Pandemic' essay – on Consortium News and republished in myriad places, The Saker, Global Research, Unz Review, ZeroHedge, etc. – unfortunately I did not have enough space to detail how the Chinese social credit system works (I had to edit out a lot of info, otherwise the final cut would have more than 5,000 words).

"The system is not Orwellian in a Western sense – or as Orwellian as people who know LESS THAN ZERO about China insist. China is a collectivist society. Yes, this can be used as a mechanism of control – in terms of political dissent - but mostly it aims to facilitate people's lives. It is a VOLUNTARY system.

"A very good academic analysis
is HERE . Keep it for reference

"Godfree Roberts, commenting on my essay on Consortium News, offered a VERY good explanation, which I reproduce here in full.

"1. It's essentially an Amazon Review of everyone by everyone they've ever dealt with. It's exactly like the 'reviews' we give friends (behind their backs?) constantly updated in the same ways.

"2. It ranks not only every citizen who chooses to participate, but every government official, cop, judge, department, corporation and shoeshine. It's truly universal. There's no privileged, hidden operator that's spared, and no one pulling the strings. Government departments, officials, cops, corporations, Supreme Court justices, Congresspeople–everyone gets social credit if they want it (participation is voluntary). Doesn't this sound better than our system, where private corporations rate us and sell the information to other private corporations and government agencies without our permission and with limited access–but offer no reciprocity? Ask TRW for a vendor rating and see how far you get.

"3. It's a popular initiative as much as a government initiative: the Chinese are the most trusting people on earth and they're tired of being scammed online for billions each year. (They're especially trusting of their government which 86% of people say works for everybody and not just for a fortunate few).

"4. It's 90% carrot and 10% stick: the higher your score the easier your life becomes. Japan and the Netherlands, for example, now offer expedited visa processing for Chinese travelers with scores above 750. Landlords waive deposits if you're over 800 and so on.

"5. It's part of China's 2,000-year-old plan to create a datong society in which (to be brief) everybody is taken care of and nobody needs to lock their doors at night–a goal that every Chinese supports and which the government hopes to deliver by 2049.

" In short, our media are interpreting yet another Chinese policy in Western terms. China is nothing like us. Nothing. It's a different civilization and it does things differently ." [My Emphasis]

At his FB, Pepe has also posted a 4-part "Analysis by Alexander Dugin, Edited by Pepe Escobar" that I'll copy/paste in my next comment.

WHERE WE ARE NOW – PART 1 OF 4

Analysis by Alexander Dugin
Edited by Pepe Escobar

"I have read virtually EVERYTHING, East and West, in terms of detailed analysis of our current, game-changing, global stage of siege – not to mention private conversations with top analysts and the tsunami of think tank reports I have to sift through in my inbox.

"The insights by my friend Dugin are right at the very top. I am publishing an edited version in 4 successive, condensed posts. I personally agree with 90% of his conceptualization – especially the notion of the state in mutation (like the virus) turning ever more dictatorial, and the collapse of the global liberal world.

"This is an effort to invite an informed discussion with you – a global audience. Any entity with zero informed comment to offer, or prone to debased ad hominem attacks stay away – and I'm being very polite about it. For now.

"Part 1:

"The coronavirus has already struck a blow from which neither politics, economics, nor ideology will recover. The pandemic would have to have been dealt with by the existing institutions, in normal mode without changing the basic rules:
- neither in politics (meaning no quarantine, no forced isolation, let alone a state of emergency);
- nor in the economy (no remote work, no stopping of production, exchanges and financial- industrial institutions or trading platforms, no vacation, etc.);
- nor in ideology (no restrictions, albeit temporary on essential civil rights, freedom of movement, the cancellation or postponement of elections, referenda, etc.).

"...but all of this has already happened on a global scale, including in Western countries, i.e., in the territory of the 'world government' itself. The very foundations of the global system have been suspended.

"For the 'world government' to take such a step, it had to be forced to do so. By whom?

Part-2:

"The state, mutating as fast as the virus:

"Everywhere in the world - whether openly or by default - a state of emergency has been declared. According to the classics of political thought, and in particular Carl Schmitt, this means the establishment of a regime of dictatorship. The sovereign, according to Schmitt, is he who makes the decision in an emergency situation (Ernstfall), and today this is the state. However, it should not be forgotten that today's state has until the altogether recent last moment been based on the principles of liberal democracy, capitalism, and the ideology of human rights.

"In other words, this state is, in some sense, deciding on the liquidation of its own philosophical and ideological basis (even if such are for now formalized, temporary measures, the Roman Empire still began with the temporary dictatorship of Caesar, which gradually became permanent). Thus, the state is rapidly mutating, just as the virus itself is mutating, and the state is following the coronavirus in this constantly evolving struggle, which is taking the situation ever further from the point of global liberal democracy. All the extant borders which until yesterday seemed to be erased or half-erased are once again gaining fundamental meaning."

Part-3

"New algorithms engendering a new dictatorial state:

"Over the course of this epidemic, a new state is emerging which is beginning to function with new rules. It is very likely that in the process of the state of emergency there will be a shift of power from formal rulers to technical and technological functionaries, e.g., the military, epidemiologists, and institutions especially created for such extreme circumstances.

"As legal norms are suspended, new algorithms of behavior and new practices are beginning to be deployed. Thus is born the dictatorial state, which, unlike the liberal-democratic state, has completely different goals, foundations, principles and axioms. In this case, the "world government" is dissolved, because any supranational strategy loses all meaning. Power is rapidly moving to an ever lower level - but not to society and not to citizens, but to the military-technological and medical-sanitary level. A radically new rationality is gaining force - not the rationale of democracy, freedom, the market and individualism, but that of pure survival, for which responsibility is assumed by a subject combining direct power and the possession of technical, technological, and medical logistics. Moreover, in the network society, such is based on a system of total surveillance excluding any kind of privacy.

"Thus, if at one end we have the virus as the subject of transformation, then at the other end we have military-medical surveillance and punitive dictatorship fundamentally differing in all parameters from the state that we knew until yesterday. It is not at all guaranteed that such a state, in its fight against the secular 'plague gods', will precisely coincide with the borders of existing national entities."

Part-4

"The state of emergency and the collapse of the global liberal order:

"Agamben has been more radical than others and opposed the measures taken against the coronavirus, preferring even death to the introduction of a state of emergency. He clearly saw that even a small step in this direction will change the entire structure of the world order. Entering the stage of dictatorship is easy, but exiting it is sometimes impossible.

"It is impossible to go back to the world order that existed only recently and which seemed so familiar and natural that no one thought about its ephemerality. Liberalism either did not reach its natural end and the establishment of a 'world government', or nihilistic collapse was its original goal, merely covered by an increasingly less convincing and increasingly perverse 'humanist' decor.

"The end of globalization will not mean, however, a simple transition to the Westphalian system, to realism and a system of closed trade states (Fichte). Such would require the well- defined ideology that existed in early Modernity, but which was completely eradicated in late Modernity, and especially in Postmodernity. The demonization of anything remotely resembling 'nationalism' or 'fascism' has led to the total rejection of national identities, and now the severity of the biological threat and its crude physiological nature makes national myths superfluous. The military-medical dictatorship does not need additional methods to motivate the masses.

"The global liberal world has collapsed before our very eyes, just as the USSR and the world socialist system fell in 1991. Our consciousness refuses to believe in such colossal shifts, and especially in their irreversibility. But we must. It is better to conceptualize and comprehend them in advance - now, as long as things have not yet become so acute."

Dugin does provoke the mind to think. I certainly have my own comments to make, but they'll need to wait for later after today's Easter program here at my hermitage on the shoreline where it's a superb Spring day and the grill will be lit to flame broil our small feast.

Authored by Victor Davis Johnson via NationalReview.com,

Truth, due process, evidence, rights of the accused: All are swept aside in pursuit of the progressive agenda.

George Orwell's 1949 dystopian novel Nineteen Eighty-Four is no longer fiction. We are living it right now.

Google techies planned to massage Internet searches to emphasize correct thinking. A member of the so-called deep state, in an anonymous op-ed, brags that its "resistance" is undermining an elected president. The FBI, CIA, DOJ, and NSC were all weaponized in 2016 to ensure that the proper president would be elected -- the choice adjudicated by properly progressive ideology. Wearing a wire is now redefined as simply flipping on an iPhone and recording your boss, boy- or girlfriend, or co-workers.

But never has the reality that we are living in a surreal age been clearer than during the strange cycles of Christine Blasey Ford's accusations against Supreme Court nominee Brett Kavanaugh.

In Orwell's world of 1984 Oceania, there is no longer a sense of due process, free inquiry, rules of evidence and cross examination, much less a presumption of innocence until proven guilty. Instead, regimented ideology -- the supremacy of state power to control all aspects of one's life to enforce a fossilized idea of mandated quality -- warps everything from the use of language to private life.

Oceania's Rules

Senator Diane Feinstein and the other Democrats on the Senate Judiciary Committee had long sought to destroy the Brett Kavanaugh nomination. Much of their paradoxical furor over his nomination arises from the boomeranging of their own past political blunders, such as when Democrats ended the filibuster on judicial nominations, in 2013. They also canonized the so-called 1992 Biden Rule, which holds that the Senate should not consider confirming the Supreme Court nomination of a lame-duck president (e.g., George H. W. Bush) in an election year.

Rejecting Kavanaugh proved a hard task given that he had a long record of judicial opinions and writings -- and there was nothing much in them that would indicate anything but a sharp mind, much less any ideological, racial, or sexual intolerance. His personal life was impeccable, his family admirable.

Kavanaugh was no combative Robert Bork, but congenial, and he patiently answered all the questions asked of him, despite constant demonstrations and pre-planned street-theater interruptions from the Senate gallery and often obnoxious grandstanding by "I am Spartacus" Democratic senators.

So Kavanaugh was going to be confirmed unless a bombshell revelation derailed the vote. And so we got a bombshell.

Weeks earlier, Senator Diane Feinstein had received a written allegation against Kavanaugh of sexual battery by an accuser who wished to remain anonymous. Feinstein sat on it for nearly two months, probably because she thought the charges were either spurious or unprovable. Until a few days ago, she mysteriously refused to release the full text of the redacted complaint , and she has said she does not know whether the very accusations that she purveyed are believable. Was she reluctant to memorialize the accusations by formally submitting them to the Senate Judiciary Committee, because doing so makes Ford subject to possible criminal liability if the charges prove demonstrably untrue?

The gambit was clearly to use the charges as a last-chance effort to stop the nomination -- but only if Kavanaugh survived the cross examinations during the confirmation hearing. Then, in extremis , Feinstein finally referenced the charge, hoping to keep it anonymous, but, at the same time, to hint of its serious nature and thereby to force a delay in the confirmation. Think something McCarthesque, like "I have here in my hand the name . . ."

Delay would mean that the confirmation vote could be put off until after the midterm election, and a few jeopardized Democratic senators in Trump states would not have to go on record voting no on Kavanaugh. Or the insidious innuendos, rumor, and gossip about Kavanaugh would help to bleed him to death by a thousand leaks and, by association, tank Republican chances at retaining the House. (Republicans may or may not lose the House over the confirmation circus, but they most surely will lose their base and, with it, the Congress if they do not confirm Kavanaugh.)

Feinstein's anonymous trick did not work. So pressure mounted to reveal or leak Ford's identity and thereby force an Anita-Hill–like inquest that might at least show old white men Republican senators as insensitive to a vulnerable and victimized woman.

The problem, of course, was that, under traditional notions of jurisprudence, Ford's allegations simply were not provable. But America soon discovered that civic and government norms no longer follow the Western legal tradition. In Orwellian terms, Kavanaugh was now at the mercy of the state. He was tagged with sexual battery at first by an anonymous accuser, and then upon revelation of her identity, by a left-wing, political activist psychology professor and her more left-wing, more politically active lawyer.

Newspeak and Doublethink

Statue of limitations? It does not exist. An incident 36 years ago apparently is as fresh today as it was when Kavanaugh was 17 and Ford 15.

Presumption of Innocence? Not at all. Kavanaugh is accused and thereby guilty. The accuser faces no doubt. In Orwellian America, the accused must first present his defense, even though he does not quite know what he is being charged with. Then the accuser and her legal team pour over his testimony to prepare her accusation.

Evidence? That too is a fossilized concept. Ford could name neither the location of the alleged assault nor the date or time. She had no idea how she arrived or left the scene of the alleged crime. There is no physical evidence of an attack. And such lacunae in her memory mattered no longer at all.

Details? Again, such notions are counterrevolutionary. Ford said to her therapist 6 years ago (30 years after the alleged incident) that there were four would-be attackers, at least as recorded in the therapist's notes.

But now she has claimed that there were only two assaulters: Kavanaugh and a friend. In truth, all four people -- now including a female -- named in her accusations as either assaulters or witnesses have insisted that they have no knowledge of the event, much less of wrongdoing wherever and whenever Ford claims the act took place. That they deny knowledge is at times used as proof by Ford's lawyers that the event 36 years was traumatic.

An incident at 15 is so seared into her lifelong memory that at 52 Ford has no memory of any of the events or details surrounding that unnamed day, except that she is positive that 17-year-old Brett Kavanaugh, along with four? three? two? others, was harassing her. She has no idea where or when she was assaulted but still assures that Kavanaugh and his friend Mark Judge were drunk, but that she and the others (?) merely had only the proverbial teenage "one beer." Most people are more likely to know where they were at a party than the exact number of alcoholic beverages they consumed -- but not so much about either after 36 years.

Testimony? No longer relevant. It doesn't matter that Kavanaugh and the other alleged suspect both deny the allegations and have no memory of being in the same locale with Ford 36 years ago. In sum, all the supposed partiers, both male and female, now swear, under penalty of felony, that they have no memory of any of the incidents that Ford claims occurred so long ago. That Ford cannot produce a single witness to confirm her narrative or refute theirs is likewise of no concern. So far, she has singularly not submitted a formal affidavit or given a deposition that would be subject to legal exposure if untrue.

Again, the ideological trumps the empirical. "All women must be believed" is the testament, and individuals bow to the collective. Except, as in Orwell's Animal Farm, there are ideological exceptions -- such as Bill Clinton, Keith Ellison, Sherrod Brown, and Joe Biden. The slogan of Ford's psychodrama is "All women must be believed, but some women are more believable than others." That an assertion becomes fact due to the prevailing ideology and gender of the accuser marks the destruction of our entire system of justice.

Rights of the accused? They too do not exist. In the American version of 1984 , the accuser, a.k.a. the more ideologically correct party, dictates to authorities the circumstances under which she will be investigated and cross-examined: She will demand all sorts of special considerations of privacy and exemptions; Kavanaugh will be forced to return and face cameras and the public to prove that he was not then, and has never been since, a sexual assaulter.

In our 1984 world, the accused is considered guilty if merely charged, and the accuser is a victim who can ruin a life but must not under any circumstance be made uncomfortable in proving her charges.

Doublespeak abounds. "Victim" solely refers to the accuser, not the accused, who one day was Brett Kavanaugh, a brilliant jurist and model citizen, and the next morning woke up transformed into some sort of Kafkaesque cockroach. The media and political operatives went in a nanosecond from charging that she was groped and "assaulted" to the claim that she was "raped."

In our 1984, the phrase "must be believed" is doublespeak for "must never face cross-examination."

Ford should be believed or not believed on the basis of evidence , not her position, gender, or politics. I certainly did not believe Joe Biden, simply because he was a U.S. senator, when, as Neal Kinnock's doppelganger, he claimed that he came from a long line of coal miners -- any more than I believed that Senator Corey Booker really had a gang-banger Socratic confidant named "T-Bone," or that would-be senator Richard Blumenthal was an anguished Vietnam combat vet or that Senator Elizabeth Warren was a Native American. (Do we need a 25th Amendment for unhinged senators?) Wanting to believe something from someone who is ideologically correct does not translate into confirmation of truth.

Ford supposedly in her originally anonymous accusation had insisted that she had sought "medical treatment" for her assault. The natural assumption is that such a term would mean that, soon after the attack, the victim sought a doctor's or emergency room's help to address either her physical or mental injuries -- records might therefore be a powerful refutation of Kavanaugh's denials.

But "medical treatment" now means that 30 years after the alleged assault, Ford sought counseling for some sort of "relationship" or "companion" therapy, or what might legitimately be termed "marriage counseling." And in the course of her discussions with her therapist about her marriage, she first spoke of her alleged assault three decades earlier. She did not then name Kavanaugh to her therapist, whose notes are at odds with Ford's current version.

Memory Holes

Then we come to Orwell's idea of "memory holes," or mechanisms to wipe clean inconvenient facts that disrupt official ideological narratives.

Shortly after Ford was named, suddenly her prior well-publicized and self-referential social-media revelations vanished, as if she'd never held her minor-league but confident pro-Sanders, anti-Trump opinions . And much of her media and social-media accounts were erased as well.

Similarly, one moment the New York Times -- just coming off an embarrassing lie in reporting that U.N. ambassador Nikki Haley had ordered new $50,000 office drapes on the government dime -- reported that Kavanaugh's alleged accomplice, Mark Judge, had confirmed Ford's allegation. Indeed, in a sensational scoop, according to the Times , Judge told the Judiciary Committee that he does remember the episode and has nothing more to say. In fact, Judge told the committee the very opposite: that he does not remember the episode . Forty minutes later, the Times embarrassing narrative vanished down the memory hole.

The online versions of some of the yearbooks of Ford's high school from the early 1980s vanished as well. At times, they had seemed to take a perverse pride in the reputation of the all-girls school for underage drinking, carousing, and, on rarer occasions, "passing out" at parties. Such activities were supposed to be the monopoly and condemnatory landscape of the "frat boy" and spoiled-white-kid Kavanaugh -- and certainly not the environment in which the noble Ford navigated. Seventeen-year-old Kavanaugh was to play the role of a falling-down drunk; Ford, with impressive powers of memory of an event 36 years past, assures us that as a circumspect 15-year-old, she had only "one beer."

A former teenage friend of Ford's sent out a flurry of social-media postings, allegedly confirming that Ford's ordeal was well known to her friends in 1982 and so her assault narrative must therefore be confirmed. Then, when challenged on some of her incoherent details (schools are not in session during summertime, and Ford is on record as not telling anyone of the incident for 30 years), she mysteriously claimed that she no longer could stand by her earlier assertions, which likewise soon vanished from her social-media account. Apparently, she had assumed that in 2018 Oceania ideologically correct citizens merely needed to lodge an accusation and it would be believed, without any obligation on her part to substantiate her charges.

When a second accuser, Deborah Ramirez, followed Ford seven days later to allege another sexual incident with the teenage Kavanaugh, at Yale 35 years ago, it was no surprise that she followed the now normal Orwellian boilerplate : None of those whom she named as witnesses could either confirm her charges or even remember the alleged event. She had altered her narrative after consultations with lawyers and handlers. She too confesses to underage drinking during the alleged event. She too is currently a social and progressive political activist. The only difference from Ford's narrative is that Ramirez's accusation was deemed not credible enough to be reported even by the New York Times , which recently retracted false stories about witness Mark Judge in the Ford case, and which falsely reported that U.N. ambassador Nikki Haley had charged the government for $50,000 office drapes.

As in 1984 , "truths" in these sorts of allegations do not exist unless they align with the larger "Truth" of the progressive project. In our case, the overarching Truth mandates that, in a supposedly misogynist society, women must always be believed in all their accusations and should be exempt from all counter-examinations.

Little "truths" -- such as the right of the accused, the need to produce evidence, insistence on cross-examination, and due process -- are counterrevolutionary constructs and the refuge of reactionary hold-outs who are enemies of the people. Or in the words of Hawaii senator Mazie Hirono:

Guess who's perpetuating all of these kinds of actions? It's the men in this country. And I just want to say to the men in this country, "Just shut up and step up. Do the right thing, for a change."

The View 's Joy Behar was more honest about the larger Truth: "These white men, old by the way, are not protecting women," Behar exclaimed. "They're protecting a man who is probably guilty." We thank Behar for the concession "probably."

According to some polls, about half the country believes that Brett Kavanaugh is now guilty of a crime committed 36 years ago at the age of 17. And that reality reminds us that we are no longer in America . We are already living well into the socialist totalitarian Hell that Orwell warned us about long ago.

---

NiggaPleeze , 10 seconds ago

National Review? Really? Does it get more evil than them?

Debt Slave , 16 seconds ago

According to some polls, about half the country believes that Brett Kavanaugh is now guilty of a crime committed 36 years ago at the age of 17.

Well half the country are idiots but the important thing to remember in our democracy is that the idiots have the right to vote. And here we are today.

No wonder the founders believed that democracy was a stupid idea. But we know better than they did, right?

Jkweb007 , 37 seconds ago

It is hard for me to believe 50% when in America you are presumed innocent till proven guilty. Is this the spanish inquizition or salem witch trials. If he floats he was innocent. I am shocked that people in congress would make statements, she must be believed, I believe he is guilty. These are people who represent and stand for the constitution that many died in the defense of life liberty and the persuit of happiness. It may be time for that mlilitia that our founding fathers endorsed. If Kavanaugh is rebuked for these accusation our freedom, free speech may be next.

herbivore , 1 minute ago

Peter Griffin knows what's what:

GOSPLAN HERO , 4 minutes ago

Just another day in USSA.

THORAX , 6 minutes ago

One more confirmation that the so called "social justice warriors" -like last night's goons' who shamefully interrupted Senator Cruz's night out with his wife at a private restaurant- are Orwell's projected fascists!

opport.knocks , 20 minutes ago

Bush 2 was in the big chair when he and his cabinet started the USA down the full Orwellian path (Patriot Act, post 911). Kavanaugh and his wife were both members of that government team.

If there is any reason to dismiss him, that would be it, not this post-pubescent sex crap.

If I was a cynical person, I would say this whole exercise is to deflect attention away from that part of his "swampy" past.

Aubiekong , 23 minutes ago

We lost the republic when we allowed the liberals to staff the ministry of education...

CheapBastard , 15 minutes ago

My neighbor is a high school teacher. I asked her if she was giving students time off to protest this and she looked at me and said, "Just the opposite. I have given them a 10 page seminar paper to write on the meaning of Due Process."

So there IS hope.

my new username , 23 minutes ago

This is criminal contempt for the due lawful process of the Congress.

These are unlawful attempts and conspiracies to subvert justice.

So we need to start arresting, trying, convicting and punishing the criminals.

BlackChicken , 23 minutes ago

Truth, due process, evidence, rights of the accused: All are swept aside in pursuit of the progressive agenda.

This needs to end, not later, NOW.

Be careful what you wish for leftists, I'll dedicate my remaining years to torture you with it.

Jus7tme , 22 minutes ago

>>the socialist totalitarian Hell that Orwell warned us about long ago.

I think Orwell was in 1949 was warning about a fascist totalitarian hell, not a socialist one, but nice try rewriting history.

Duc888 , 29 minutes ago

WTF ever happened to "innocent until PROVEN guilty"?

CheapBastard , 19 minutes ago

Schumer said before the confirmation hearings even began he would not let Kavanaugh become SC justice no matter what.

Dems are so tolerant, open minded and respectful of due process, aren't they.
Notable quotes:
"... This is the problem with the Democrats. You might be interested in class issues, and economic equality, and not at all interested in wokeness. But what you're going to get is wokeness, because that is what the power-holding class in the Democratic Party really cares about. As James Lindsay, the left-liberal professor who does heroic work fighting wokeness, told me in our recent interview: ..."
"... Of course [Social Justice Warriors] going to find ways to use this crisis to their advantage. They go around inventing problems or dramatically exaggerating or misinterpreting small problems to push their agenda; why wouldn't they do the same in a situation where there's so much chaos and thus so much going wrong. My experience so far is that people are really underestimating how much of this there will be and how much of it will be institutionalized while we're busy doing other things like tending to the sick and dying and trying not to lose our livelihoods and/or join them ourselves. ..."
"... It's very important to understand that "Critical Social Justice" isn't just activism and some academic theories about things. It's a way of thinking about the world, and that way is rooted in critical theory as it has been applied mostly to identity groups and identity politics ..."
George Scialabba has a wonderful essay about Orwell in Commonweal . Though Scialabba writes in it about Orwell's criticism of the right, this passage jumped out:

Might Orwell's sensitive nose have detected a whiff of cant anywhere on the contemporary left? I suspect he would have cast a baleful eye on identity politics. He would, I think, be dubious about "diversity." Why do every college and corporation in America have a fleet of "diversity" officers? What is gained by ensuring -- at enormous expense -- that every student or employee is proud of his/her culture and that every other student or employee respects it? According to Walter Benn Michaels in The Trouble with Diversity, what is gained is the avoidance of class conflict. "The commitment to diversity is at best a distraction and at worst an essentially reactionary position . We would much rather celebrate cultural diversity than seek to establish economic equality."

Orwell was moderately obsessed with class. He would probably have noted that the explosive growth of inequality in the United States over the past four decades has closely paralleled the explosive growth of the diversity industry, and would have drawn some conclusions. He might have asked: If there were two societies with the same Gini coefficient, but in one of them, the proportion of billionaires by race and gender matched that of the general population, would that society be morally better than the other? Or: If the ratio of CEO to median employee earnings was the same in two societies, but in one of them the proportion of CEOs by race and gender matched that of the general population, would that society be morally better than the other? I'm pretty sure that most diversity bureaucrats would answer "yes" to both questions, and that Orwell would have answered "no."

Orwell was fearless, so a tribute to him shouldn't pull any punches. I think he would suggest that there was something irrational about the way we enforce our most sensitive taboo: the N-word. From the wholesale banning of Huckleberry Finn to the many times teachers and civil servants have been censured, and in one case fired, for using the word "niggardly" (which has no etymological relation to the N-word) to the resignation under pressure recently of a Cambridge, Massachusetts, school committeewoman for using the N-word in a discussion of a proposed high-school course about the N-word, we have often made fools of ourselves and done disadvantaged African Americans no good. As the school superintendent summarized the Cambridge case: the committeewoman "made a point about racist language and used the full N-word instead of the common substitute, 'N-word.' Although said in the context of a classroom discussion, and not directed to any student or adult present, the full pronunciation of the word was upsetting to a number of students and adults who were present or who have since heard about the incident." No one, however, as far as I am aware, has publicly expressed hurt feelings over the fact that the average net worth of African Americans in the Boston area is $8. (Eight, no zeros.) As Benn Michaels observes: "As long as the left continues to worry about [respect], the right won't have to worry about inequality."

I wrote earlier today about actually existing conservatism being more of a "folk libertarianism" than anything resembling philosophical conservatism. But what about actually existing liberalism?

The surprising triumph of Joe Biden, the most normie Democrat in America, tells us something about actually existing liberalism. Illiberal progressivism dominates in academia, the media, and in corporate America's human resources departments. A reader sends in this abstract from a paper published by a Penn professor at the Ivy League university's Wharton School of Business (Trump's alma mater!) in which she argues that the state should

forbid identity-based discrimination but permit refusals of service for projects that foster hate toward protected groups, even where the hate-based project is intimately linked to a protected characteristic (as with religious groups that mandate white supremacy). Far from perpetuating discrimination, these refusals instead promote anti-discrimination norms, and they help realize the vision of the morally inflected marketplace that the Article defends.

You could say that Biden's (not yet assured) victory in the Democratic primaries shows that actually existing liberalism is much less interested in wokeness than in bread-and-butter issues. After all, the more self-consciously woke candidates in the Democratic race didn't get anywhere. I would like to read it that way. But would Biden actually stand up to any wokeness? After all, this is the man who tweeted:

Let's be clear: Transgender equality is the civil rights issue of our time. There is no room for compromise when it comes to basic human rights.

-- Joe Biden (@JoeBiden) January 25, 2020

This is the problem with the Democrats. You might be interested in class issues, and economic equality, and not at all interested in wokeness. But what you're going to get is wokeness, because that is what the power-holding class in the Democratic Party really cares about. As James Lindsay, the left-liberal professor who does heroic work fighting wokeness, told me in our recent interview:

Of course [Social Justice Warriors] going to find ways to use this crisis to their advantage. They go around inventing problems or dramatically exaggerating or misinterpreting small problems to push their agenda; why wouldn't they do the same in a situation where there's so much chaos and thus so much going wrong. My experience so far is that people are really underestimating how much of this there will be and how much of it will be institutionalized while we're busy doing other things like tending to the sick and dying and trying not to lose our livelihoods and/or join them ourselves.

It's very important to understand that "Critical Social Justice" isn't just activism and some academic theories about things. It's a way of thinking about the world, and that way is rooted in critical theory as it has been applied mostly to identity groups and identity politics. Thus, not only do they think about almost nothing except ways that "systemic power" and "dominant groups" are creating all the problems around us, they've more or less forgotten how to think about problems in any other way. The underlying assumption of their Theory–and that's intentionally capitalized because it means a very specific thing–is that the very fabric of society is built out of unjust systemic power dynamics, and it is their job (as "critical theorists") to find those, "make them visible," and then to move on to doing it with the next thing, ideally while teaching other people to do it too. This crisis will be full of opportunities to do that, and they will do it relentlessly. So, it's not so much a matter of them "finding a way" to use this crisis to their advantage as it is that they don't really do anything else.

To be honest, I don't have a lot of confidence in predictions about what valence wokeness (or right-wing culture war themes) will have in this fall's election, given the economic destruction upon us now. I do have confidence, though, that if the left gets into power, this professional class of woke activists will march triumphantly through the institutions of government, and implement their identity-politics utopianism. Do I think that most Democratic voters do, or would, favor that? No, probably not. I imagine they would be voting Democratic primarily to oust Trump, and secondarily because they are more interested in income inequality...

If Orwell were alive today and writing with his superlative critical pen about them, he would struggle to find publication in one of our major liberal journals.

UPDATE: Just now:

I'm sure Critical Social Justice isn't quietly reorganizing things that might matter because of the pandemic Or so I keep being told. https://t.co/LEzvjqbu2B

-- James Lindsay, staying home (@ConceptualJames) March 31, 2020

Rod Dreher is a senior editor at The American Conservative . He has written and edited for the New York Post , The Dallas Morning News , National Review , the South Florida Sun-Sentinel , the Washington Times , and the Baton Rouge Advocate . Rod's commentary has been published in The Wall Street Journal , Commentary , the Weekly Standard , Beliefnet, and Real Simple, among other publications, and he has appeared on NPR, ABC News, CNN, Fox News, MSNBC, and the BBC. He lives in Baton Rouge, Louisiana, with his wife Julie and their three children. He has also written four books, The Little Way of Ruthie Leming , Crunchy Cons , How Dante Can Save Your Life , and The Benedict Option