---
The Secular Stagnation as an Immanent Feature of Post-2008 Neoliberalism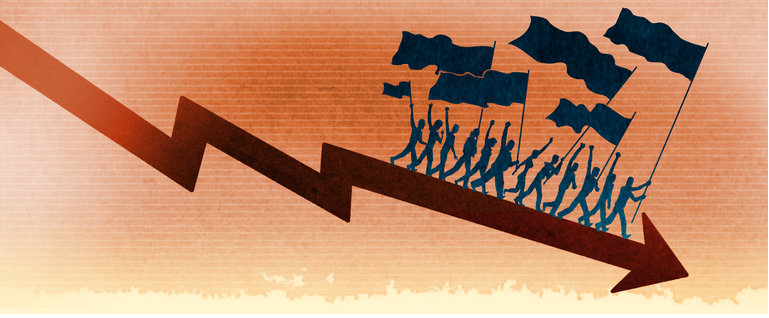 Image courtesy of Koren Shadmi (What's Behind a Rise in Ethnic Nationalism? Maybe the Economy - The New York Times, Oct 14, 2016)
---
Secular stagnation is a term proposed by Keynesian economist Alvin Hansen back in the 1930s to explain the USA dismal economic performance during this period. The period in which sluggish growth and output, and employment levels well below potential, coincide with a problematically low (even negative) real interest rates even in the face of the extraordinarily easy monetary policy. Later a similar phenomenon occurred in Japan. that's why it is often called called Japanification of the economy. Secular stagnation returned to the USA in full force after the financial crisis of 2008 (so called The Long Recession), so this is the second time the USA society experience the same socio-economic phenomenon.
Formally it can be defined as any stagnation that lasts substantially longer then the business cycle (and dominates the business cycle induced variations of economic activities), the suppression of economic performance for a long (aka secular) period. It also can be viewed as the crisis of demand, when demand became systemically weak (which under neoliberalism is ensured by redistribution of wealth up).
The global stagnation we are experiencing is the logical result of the dominance of neoliberalism and a sign of its crisis an a ideology. It is somewhat similar to the crisis of Bolshevik's ideology in the USSR in 60th when everybody realized that the existing society cannot fulfill the key promise of higher living standards. And that over centralization of economic life naturally leads to stagnation. The analogy does not ends here, but this point is the most important.
Neoliberalism replaced over-centralization (with iron fist one party rule) with over-financialization (with iron fist rule of financial oligarchy), with generally the same result as for the economy ( In other words neoliberalism like bolshevism is equal to economic stagnation; extremes meet). The end of cheap oil did not help iether. In a sense neoliberalism might be viewed as the elite reaction to the end of cheap oil, when it became clear that there are not enough cookies for everyone.
This growth in the financial sector's profits has not been an accident; it is the result of engineered shift in the elite thinking, which changed government policies. The central question of politics is, in my view, "Who has a right to live and who does not". In the answer to this question, neoliberal subscribes to Social Darwinism: ordinary citizens should be given much less rather than more social protection. Such policies would have been impossible in 50th and 60th (A Short History of Neo-liberalism)
In 1945 or 1950, if you had seriously proposed any of the ideas and policies in today's standard neo-liberal toolkit, you would have been laughed off the stage at or sent off to the insane asylum. At least in the Western countries, at that time, everyone was a Keynesian, a social democrat or a social-Christian democrat or some shade of Marxist.

The idea that the market should be allowed to make major social and political decisions; the idea that the State should voluntarily reduce its role in the economy, or that corporations should be given total freedom, that trade unions should be curbed and citizens given much less rather than more social protection--such ideas were utterly foreign to the spirit of the time. Even if someone actually agreed with these ideas, he or she would have hesitated to take such a position in public and would have had a hard time finding an audience.
And this change in government polices was achieved in classic Bolsheviks coup d'état way, when yoiu first create the Party of "professional neoliberal revolutionaries". Who then push for this change and "occupy" strategic places like economics departments at the universities, privately funded think tanks, MSM, and then subvert one or both major parties. The crisis of "New Deal Capitalism" helped, but without network of think tanks and rich donors, the triumph of neoliberalism in the USA would have been impossible:
...one explanation for this triumph of neo-liberalism and the economic, political, social and ecological disasters that go with it is that neo-liberals have bought and paid for their own vicious and regressive "Great Transformation". They have understood, as progressives have not, that ideas have consequences. Starting from a tiny embryo at the University of Chicago with the philosopher-economist Friedrich von Hayek and his students like Milton Friedman at its nucleus, the neo-liberals and their funders have created a huge international network of foundations, institutes, research centers, publications, scholars, writers and public relations hacks to develop, package and push their ideas and doctrine relentlessly.

Most economists are acutely aware of the increasing role in economic life of financial markets, institutions and operations and the pursuit of prifits via excotic instruments such as derivatives (all this constituted financialization). This dominant feature of neoliberalism has huge the re-distributional implications, huge effects on the US economy, international dimensions and monetary system, depth and longevity of financial crises and unapt policy responses to them.

They have built this highly efficient ideological cadre because they understand what the Italian Marxist thinker Antonio Gramsci was talking about when he developed the concept of cultural hegemony. If you can occupy peoples' heads, their hearts and their hands will follow.

I do not have time to give you details here, but believe me, the ideological and promotional work of the right has been absolutely brilliant. They have spent hundreds of millions of dollars, but the result has been worth every penny to them because they have made neo-liberalism seem as if it were the natural and normal condition of humankind. No matter how many disasters of all kinds the neo-liberal system has visibly created, no matter what financial crises it may engender, no matter how many losers and outcasts it may create, it is still made to seem inevitable, like an act of God, the only possible economic and social order available to us.
Neoliberalism naturally leads to secular stagnation due to redistribution of wealth up. which undermines purchasing power of the 99%, or more correctly 99.9 of the population. In the USA this topic became hotly debated theme in establishment circles after Summers speech in 2013. Unfortunately it was suppressed in Presidential campaign of 2016. Please note that Sanders speaks about Wall Street shenanigans, but not about ideology of neoliberalism. No candidates tried to address this problem of "self-colonization" of the USA, which is probably crucial to "making America great again" instead of continued slide into what is called "banana republic" coined by American writer O. Henry (William Sydney Porter 1862–1910). Here is how Wikipedia described the term:
Banana republic or banana state is a pejorative political science term for politically unstable countries in Latin America whose economies are largely dependent on exporting a limited-resource product, e.g. bananas. It typically has stratified social classes, including a large, impoverished working class and a ruling plutocracy of business, political, and military elites.[1] This politico-economic oligarchy controls the primary-sector productions to exploit the country's economy.[2]

... ... ...

In economics, a banana republic is a country operated as a commercial enterprise for private profit, effected by a collusion between the State and favoured monopolies, in which the profit derived from the private exploitation of public lands is private property, while the debts incurred thereby are a public responsibility.
This topic is of great importance to the US elite because the USA is the citadel of neoliberalism. It also suggest that the natural way neoliberal economic system based on increasing of the level of inequality (redistribution of wealth up) should behave: after the initial economic boom (like in case of steroids use) caused by financialization of economy (as well as dissolution of the USSR), helped by off-shoring of manufacturing, the destructive effects of this temporary boost come into foreground. Redistribution of wealth up increases inequality which after a certain delay starts to undercuts domestic demand. It also tilts the demand more toward conspicuous consumption (note the boom of luxury cars sales in the USA).
But after inequality reaches certain critical threshold the economy faces extended period of low growth reflecting persistently weak private demand (purchasing power of lower 90% of population). People who mostly have low level service economy jobs (aka MC-jobs) can't buy that much. Earlier giants of American capitalism like Ford understood that, but Wall Street sharks do not and does not want. They operate under principle "Après nous le déluge" ("After us, the deluge").
An economic cycle enters recession when total spending falls below expected by producers and they realize that production level is too high relative to demand. What we have under neoliberalism is Marx's crisis of overproduction on a new level. At this level it is intrinsically connected with the parasitic nature of complete financialization of the economy. The focus on monetary policy and the failure to enact fiscal policy options is the key structural defect of neoliberalism ideology and can't be changed unless neoliberal ideology is abandoned. Which probably will not happen unless another huge crisis hits the USA. That might not happen soon. Bolshevism lasted more then 70 years. If we assume that the "age of neoliberalism" started at 1973 with Pinochet coup d'état in Chile, neoliberalism as a social system is just 43 years old (as of 2016). It still has some "time to live"(TTL) in zombies state due to the principle first formulated by Margaret Thatcher as TINA ("There Is No Alternative") -- the main competitor, bolshevism, was discredited by the collapse of the USSR and China leadership adoption of neoliberalism. While Soviet leadership simply abandoned the sinking ship and became Nouveau riche in a neoliberal society that followed, Chinese elite managed to preserved at least outer framework of the Marxist state and the political control of the Communist party (not clear for how long). But there was a neoliberal transformation of Chinese economy, initiated, paradoxically, by the Chinese Communist Party.
Currently, no other ideology, including old "New Deal" ideology can compete with neoliberal ideology, although things started to change with Sanders campaign in the USA on the left and Trump campaign on the right. Most of what we see as a negative reaction to neoliberalism in Europe generally falls into the domain of cultural nationalism.
The 2008 financial crisis, while discrediting neoliberalism as an ideology (in the same way as WWII discredited Bolshevism), was clearly not enough for the abandonment of this ideology. Actually neoliberalism proved to be remarkably resilient after this crisis. Some researchers claim that it entered "zombie state" and became more bloodthirsty and ruthless.
There is also religious overtones of neoliberalism which increase its longevity (similar to Trotskyism, and neoliberalism can be called "Trotskyism for rich"). So, from a small, unpopular sect with virtually no influence, neo-liberalism has become the major world religion with its dogmatic doctrine, its priesthood, its law-giving institutions and perhaps most important of all, its hell for heathen and sinners who dare to contest the revealed truth. Like in most cults adherents became more fanatical believers after the prophecy did not materialized. The USA elite tried partially alleviate this problem by resorting to military Keynesianism as a supplementary strategy. But while military budget was raised to unprecedented levels, it can't reverse the tendency. Persistent high output gap is now a feature of the US economy, not a transitory state.
But there is another factor in play here: combination of peak (aka "plato" ;-) oil and established correlation of the speed of economic growth and prices on fossil fuels and first of all on oil. Oil provides more than a third of the energy we use on the planet every day, more than any other energy source (How High Oil Prices Will Permanently Cap Economic Growth - Bloomberg). It is dominant fuel for transport and in this role it is very difficult to replace.
That means that a substantial increase of price of oil acts as a fundamental limiting factor for economic growth. And "end of cheap oil" simply means that any increase of supply of oil to support growing population on the planet and economic growth now requires higher prices. Which naturally undermine economic growth, unless massive injection of currency are instituted. that probably was the factor that prevented slide of the US economy into the recession in 2009-2012. Such a Catch-22.
Growth dampening potential of over $100-a-barrel oil is now a well established factor. Unfortunately, the reverse is not true. Drop of oil price to below $50 as happened in late 2014 and first half of 2015 did not increase growth rate of the USA economy. It might simply prevented it from sliding it into another phase of Great Recession. Moreover when economies activity drops, less oil is needed. Enter permanent stagnation.
Also there is not much oil left that can be profitably extracted at prices below $80. So the current oil price slump is a temporary phenomenon, whether it was engineered, or is a mixture of factors including temporary overcapacity . Sooner or later oil prices should return to level "above $80", as only at this level of oil price capital expenditures in new production make sense. That des not mean that oil prices can't be suppressed for another year or even two, but as Herbert Stein aptly noted "If something cannot go on forever, it will stop,"
Imagine the alien spaceship landed somewhere in the world. There would be denial, disbelief, fear, and great uncertainty for the future. World leaders would struggle to make sense of the events. The landing would change everything.
The secular stagnation (aka "end of permanent growth") is a very similar event. This also is the event that has potential to change everything, but it is much more prolonged in time and due to this less visible ("boiling frog effect"). Also this is not a single event, but a long sequence of related events that probably might last several decades (as Japan had shown) or even centuries. The current "Great Recession" might be just a prolog to those events. It is clearly incompatible with capitalism as a mode of production, although capitalism as a social system demonstrated over the years tremendous adaptability and it is too early to write it down completely. Also no clear alternatives exists.
A very slow recovery and the secular stagnation is characteristic of economies suffering from a balance-sheet recession (aka crisis of overproduction), as forcefully argued by Nomura's Richard Koo and other economists. The key point is that private investment is down, not because of "policy uncertainty" or "increased regulation", but because business-sector expectations about future profitability have become dramatically depressed — and rationally so — in a context characterized by heavy indebtedness (of both households and corporations). As businesses see the demand falls they scale down production which creates negative feedback look and depresses demand further.
| | |
| --- | --- |
| The key point is that private investment is down, not because of "policy uncertainty" or "increased regulation", but because business-sector expectations about future profitability have become dramatically depressed — and rationally so — in a context characterized by heavy indebtedness (of both households and corporations). As businesses see the demand falls they scale down production which creates negative feedback look and depresses demand further. | |
There are at least five different hypothesis about the roots of secular stagnation:
Summers's remarks and articles were followed by an explosion of debate concerning "secular stagnation"—a term commonly associated with Alvin Hansen's work from the 1930s to '50s, and frequently employed in Monthly Review to explain developments in the advanced economies from the 1970s to the early 2000s.2 Secular stagnation can be defined as the tendency to long-term (or secular) stagnation in the private accumulation process of the capitalist economy, manifested in rising unemployment and excess capacity and a slowdown in overall economic growth. It is often referred to simply as "stagnation." There are numerous theories of secular stagnation but most mainstream theories hearken back to Hansen, who was Keynes's leading early follower in the United States, and who derived the idea from various suggestions in Keynes's General Theory of Employment, Interest and Money (1936).

Responses to Summers have been all over the map, reflecting both the fact that the capitalist economy has been slowing down, and the role in denying it by many of those seeking to legitimate the system. Stanford economist John B. Taylor contributed a stalwart denial of secular stagnation in the Wall Street Journal. In contrast, Paul Krugman, who is closely aligned with Summers, endorsed secular stagnation on several occasions in the New York Times. Other notable economists such as Brad DeLong and Michael Spence soon weighed in with their own views.3

Three prominent economists have new books directly addressing the phenomena of secular stagnation.4 It has now been formally modelled by Brown University economists Gauti Eggertsson and Neil Mehrotra, while Thomas Piketty's high-profile book bases its theoretical argument and policy recommendations on stagnation tendencies of capitalism. This explosion of interest in the Summers/Krugman version of stagnation has also resulted in a collection of articles and debate, edited by Coen Teulings and Richard Baldwin, entitled Secular Stagnation: Facts, Causes and Cures.5

Seven years after "The Great Financial Crisis" of 2007–2008, the recovery remains sluggish. It can be argued that the length and depth of the Great Financial Crisis is a rather ordinary cyclical crisis. However, the monetary and fiscal measures to combat it were extraordinary. This has resulted in a widespread sense that there will not be a return to "normal." Summers/Krugman's resurrection within the mainstream of Hansen's concept of secular stagnation is an attempt to explain how extraordinary policy measures following the 2007–2008 crisis merely led to the stabilization of a lethargic, if not comatose, economy.

But what do these economists mean by secular stagnation? If stagnation is a reality, does their conception of it make current policy tools obsolete? And what is the relationship between the Summers/Krugman notion of secular stagnation and the monopoly-finance capital theory?

... ... ...

In "secular stagnation," the term "secular" is intended to differentiate between the normal business cycle and long-term, chronic stagnation. A long-term slowdown in the economy over decades can be seen as superimposed on the regular business cycle, reflecting the trend rather than the cycle.

In the general language of economics, secular stagnation, or simply stagnation, thus implies that the long-run potential economic growth has fallen, constituting the first pillar of MISS. This has been most forcefully argued for by Robert Gordon, as well as Garry Kasparov and Peter Thiel.6 Their argument is that the cumulative growth effect of current (and future) technological changes will be far weaker than in the past. Moreover, demographic changes place limits on the development of "human capital." The focus is on technology, which orthodox economics generally sees as a factor external to the economy and on the supply-side (i.e., in relation to cost). Gordon's position is thus different than that of moderate Keynesians like Summers and Krugman, who focus on demand-side contradictions of the system.

In Gordon's supply-side, technocratic view, there are forces at work that will limit the growth in productive input and the efficiency of these inputs. This pillar of MISS emphasizes that it is constraints on the aggregate supply-side of the economy that have diminished absolutely the long-run potential growth.

The second pillar of MISS, also a supply-side view, goes back at least to Joseph Schumpeter. To explain the massive slump of 1937, Schumpeter maintained there had emerged a growing anti-business climate. Moreover, he contended that the rise of the modern corporation had displaced the role of the entrepreneur; the anti-business spirit had a repressive effect on entrepreneurs' confidence and optimism.7 Today, this second pillar of MISS has been resurrected suggestively by John B. Taylor, who argues the poor recovery is best "explained by policy uncertainty" and "increased regulation" that is unfavorable to business. Likewise, Baker, Bloom, and Davis have forcefully argued that political uncertainty can hold back private investment and economic growth.8

Summers and Krugman, as Keynesians, emphasize a third MISS pillar, derived from Keynes's famous liquidity trap theory, which contends that the "full-employment real interest rate" has declined in recent years. Indeed, both Summers and Krugman demonstrate that real interest rates have declined over recent decades, therefore moving from an exogenous explanation (as in pillars one and two) to a more endogenous explanation of secular stagnation.9 The ultimate problem here is lack of investment demand, such that, in order for net investment to occur at all, interest rates have to be driven to near zero or below. Their strong argument is that there are now times when negative real interest rates are needed to equate saving and investment with full employment.

However, "interest rates are not fully flexible in modern economies"—in other words, market-determined interest rate adjustments chronically fail to achieve full employment. Summers contends there are financial forces that prohibit the real interest rate from becoming negative; hence, full employment cannot be realized.10

Some theorists contend that there has been demographic structural shifts increasing the supply of saving, thus decreasing interest rates. These shifts include an increase in life expectancy, a decrease in retirement age, and a decline in the growth rate of population.

Others, including Summers, point out that stagnation in capital formation (or accumulation) can be attributed to a decrease in the demand for loanable funds for investment. One mainstream explanation offered for this is that today's new technologies and companies, such as Google, Microsoft, Amazon, and Facebook, require far less capital investment. Another hypothesis is that there has been an important decrease in the demand for loanable funds, although they argue this is due to a preference for safe assets. These factors can function together to keep the real interest rate very low. The policy implication of secular low interest rates is that monetary policy is more difficult to implement effectually; during a recession, it is weakened and can even become ineffectual.

Edward Glaeser, focusing on "secular joblessness," places severe doubt on the first pillar of MISS, but then makes a very important additional argument. Glaeser rejects the notion that there has been a slowdown in technological innovation; innovation is simply "unrelenting." Likewise, he is far less concerned with secular low real interest rates, which may be far more cyclical. "Therefore," contends Glaeser, "stagnation is likely to be temporary."

Nonetheless, Glaeser underscores secular joblessness, and thus the dysfunction of U.S. labor markets constitutes a fourth pillar of MISS: "The dysfunction in the labour market is real and serious, and seems unlikely to be solved by any obvious economic trend." Somehow, then, the problem is due to a misfit of skills or "human capital" on the side of workers, who thus need retraining. "The massive secular trend in joblessness is a terrible social problem for the US, and one that the country must try to address" with targeted policy.11 Glaeser's argument for the dysfunction of U.S. labor markets is based on recession-generated shocks to employment, specifically of less-skilled U.S. workers. After 1970, when workers lost their job, the damage to human capital became permanent. In short, when human capital depreciates due to unemployment, overall abilities and "talent" are "lost" permanently. This may be because the skills required in today's economy need to be constantly practiced to be retained. Thus, there is a ratchet-like effect in joblessness caused by recessions, whereby recession-linked joblessness is not fully reversed during recoveries—and all this is related to skills (the human capital of the workers), and not to capital itself. According to Glaeser, the ratchet-like effect of recession-linked joblessness is further exacerbated by the U.S. social-safety net, which has "made joblessness less painful and increased the incentives to stay out of work."12

Glaeser contends that, if his secular joblessness argument is correct, the macroeconomic fiscal interventions argued for by Summers and Krugman are off-base.13 Instead, the safety net should be redesigned in order to encourage rather than discourage people from working. Additionally, incentives to work need to be radically improved through targeted investments in education and workforce training.14 Such views within the mainstream debate, emphasizing exogenous factors, are generally promoted by freshwater (conservative) rather than saltwater (liberal) economists. Thus, they tend to emphasize supply-side or cost factors.

The fifth pillar of MISS contends that output and productivity growth are stagnant due to a failure to invest in infrastructure, education, and training. Nearly all versions of MISS subscribe to some version of this, although there are both conservative and liberal variations. Barry Eichengreen underscores this pillar and condemns recent U.S. fiscal developments that have "cut to the bone" federal government spending devoted to infrastructure, education, and training.

The fifth pillar of MISS necessarily reflects an imbalance between public and private investment spending. Many theorists maintain that the imbalance between public and private investment spending, hence secular stagnation, "is not inevitable." For example, Eichengreen contends if "the US experiences secular stagnation, the condition will be self-inflicted. It will reflect the country's failure to address its infrastructure, education and training needs. It will reflect its failure to…support aggregate demand in an effort to bring the long-term unemployed back into the labour market."15

The sixth pillar of MISS argues that the "debt overhang" from the overleveraging of financial firms and households, as well as private and public indebtedness, are a serious drag on the economy. This position has been argued for most forcefully by several colleagues of Summers at Harvard, most notably Carmen Reinhart and Kenneth Rogoff.16 Atif Mian and Amir Sufi also argue that household indebtedness was the primary culprit causing the economic collapse of 2007–2008. Their policy recommendation is that the risk to mortgage borrowers must be reduced to avoid future calamities.17

As noted, the defenders of MISS do not necessarily support a compatibility between the above six pillars: those favored by conservatives are supply-side and exogenous in emphasis, while liberals tend towards demand-side and endogenous ones. Instead, most often these pillars are developed as competing theories to explain the warrant of some aspect of secular stagnation, and/or to defend particular policy positions while criticizing alternative policy positions. However, the concern here is not whether there is the possibility for a synthesis of mainstream views. Rather, the emphasis is on how partial and separate such explanations are, both individually and in combination.
As Krugman said "We now know that the economic expansion of 2003-2007 was driven by a bubble. You can say the same about the latter part of the 90s expansion; and you can in fact say the same about the later years of the Reagan expansion, which was driven at that point by runaway thrift institutions and a large bubble in commercial real estate." In other words blowing bubbles is the fundamental way neoliberal economy functions, not an anomaly.
As much as the USA population is accustomed to hypocrisy of the ruling elite and is brainwashed by MSM, this news, delivered to them personally by the crisis of 2008 was too much for them not question the fundamentals (A Primer on Neoliberalism):
Of course, the irony that those same institutions would now themselves agree that those "anti-capitalist" regulations are required is of course barely noted. Such options now being considered are not anti-capitalist. However, they could be described as more regulatory or managed rather than completely free or laissez faire capitalism, which critics of regulation have often preferred.

But a regulatory capitalist economy is very different to a state-based command economy, the style of which the Soviet Union was known for. The points is that there are various forms of capitalism, not just the black-and-white capitalism and communism. And at the same time, the most extreme forms of capitalism can also lead to the bigger bubbles and the bigger busts.

In that context, the financial crisis, as severe as it was, led to key architects of the system admitting to flaws in key aspects of the ideology.

At the end of 2008, Alan Greenspan was summoned to the U.S. Congress to testify about the financial crisis. His tenure at the Federal Reserve had been long and lauded, and Congress wanted to know what had gone wrong. Henry Waxman questioned him:

Greenspan:

I found a flaw in the model that I perceived is the critical functioning structure that defines how the world works, so to speak.

Waxman:

In other words, you found that your view of the world, your ideology, was not right, it was not working.

Greenspan:

Precisely. That is precisely the reason I was shocked, because I had been going for 40 years or more with very considerable evidence that it was working exceptionally well.

[Greenspan's flaw] warped his view about how the world was organized, about the sociology of the market. And Greenspan is not alone. Larry Summers, the president's senior economic advisor, has had to come to terms with a similar error—his view that the market was inherently self-stabilizing has been "dealt a fatal blow." Hank Paulson, Bush's treasury secretary, has shrugged his shoulders with similar resignation. Even Jim Cramer from CNBC's Mad Money admitted defeat: "The only guy who really called this right was Karl Marx." One after the other, the celebrants of the free market are finding themselves, to use the language of the market, corrected.

— Raj Patel, Flaw , The Value of Nothing, (Picador, 2010), pp.4, 6-7
Now for the second time in history, the challenge is to save capitalism from itself: to recognize the great strengths of open, competitive markets while rejecting the extreme capitalism and unrestrained greed that have perverted so much of the global financial system in recent times. It took such a statesman as Franklin Delano Roosevelt to rebuild American capitalism after the Great Depression. New Deal policies allowed to rebuild postwar domestic demand, to engineer the Marshall Plan to rebuild Europe and to set in place the Bretton Woods system to govern international economic engagement.
With the abolishment of those policies blowing of one bubble after another, each followed by a financial crisis became standard chain of the events. Since 1973 we already have a half-dozen bubbles following by economic crisis. It started with Savings and loan crisis which partially was caused by the deregulation of S&Ls in 1980, by the Depository Institutions Deregulation and Monetary Control Act signed by President Jimmy Carter on March 31, 1980, an important step is a series that eliminated regulations initially designed to prevent lending excesses and minimize failures.
To hide this unpleasant fact neoliberals resort to so called the Great Neoliberal Lie:
The fallacious and utterly misleading argument that the global economic crisis (credit crunch) was caused by excessive state spending, rather than by the reckless gambling of the deregulated, neoliberalized financial sector.

Just as with other pseudo-scientific theories and fundamentalist ideologies, the excuse that "we just weren't fundamentalist enough last time" is always there. The neoliberal pushers of the establishment know that pure free-market economies are as much of an absurd fairytale as 100% pure communist economies, however they keep pushing for further privatizations, tax cuts for the rich, wage repression for the ordinary, and reckless financial sector deregulations precisely because they are the direct beneficiaries of these policies. Take the constantly widening wealth gap in the UK throughout three decades of neoliberal policy. The minority of beneficiaries from this ever widening wealth gap are the business classes, financial sector workers, the mainstream media elite and the political classes. It is no wonder at all that these people think neoliberalism is a successful ideology. Within their bubbles of wealth and privilege it has been. To everyone else it has been an absolute disaster.

Returning to a point I raised earlier in the article; one of the main problems with the concept of "neoliberalism" is the nebulousness of the definition. It is like a form of libertarianism, however it completely neglects the fundamental libertarian idea of non-aggression. In fact, it is so closely related to that other (highly aggressive) US born political ideology of Neo-Conservatism that many people get the two concepts muddled up. A true libertarian would never approve of vast taxpayer funded military budgets, the waging of imperialist wars of aggression nor the wanton destruction of the environment in pursuit of profit.

Another concept that is closely related to neoliberalism is the ideology of minarchism (small stateism), however the neoliberal brigade seem perfectly happy to ignore the small-state ideology when it suits their personal interests. Take the vast banker bailouts (the biggest state subsidies in human history) that were needed to save the neoliberalised global financial sector from the consequences of their own reckless gambling, the exponential growth of the parasitic corporate outsourcing sector (corporations that make virtually 100% of their turnover from the state) and the ludicrous housing subsidies (such as "Help to Buy and Housing Benefits) that have fueled the reinflation of yet another property Ponzi bubble.

The Godfather of neoliberalism was Milton Friedman. He made the case that illegal drugs should be legalised in order to create a free-market drug trade, which is one of the very few things I agreed with him about. However this is politically inconvenient (because the illegal drug market is a vital source of financial sector liquidity) so unlike so many of his neoliberal ideas that have consistently failed, yet remain incredibly popular with the wealthy elite, Friedman's libertarian drug legalisation proposals have never even been tried out.

The fact that neoliberals are so often prepared to ignore the fundamental principles of libertarianism (the non-aggression principle, drug legalisation, individual freedoms, the right to peaceful protest ...) and abuse the fundamental principles of small state minarchism (vast taxpayer funded bailouts for their financial sector friends, £billions in taxpayer funded outsourcing contracts, alcohol price fixing schemes) demonstrate that neoliberalism is actually more like Ayn Rand's barmy (greed is the only virtue, all other "virtues" are aberrations) pseudo-philosophical ideology of objectivism than a set of formal economic theories.

The result of neoliberal economic theories has been proven time and again. Countries that embrace the neoliberal pseudo-economic ideology end up with "crony capitalism", where the poor and ordinary suffer "austerity", wage repression, revocation of labor rights and the right to protest, whilst a tiny cabal of corporate interests and establishment insiders enrich themselves via anti-competitive practices, outright criminality and corruption and vast socialism-for-the-rich schemes.

Neoliberal fanatics in powerful positions have demonstrated time and again that they will willingly ditch their right-wing libertarian and minarchist "principles" if those principles happen to conflict with their own personal self-interest. Neoliberalism is less of a formal set of economic theories than an error strewn obfuscation narrative to promote the economic interests, and justify the personal greed of the wealthy, self-serving establishment elite.

The 1930s, a well researched period of balance-sheet recession, provides some interesting perspective despite large historical distance. Roosevelt was no socialist, but his New Deal did frighten many businesses, especially large business which BTW attempted a coupe to remove him from is position. Fortunately for Roosevelt CIA did not exist yet. And New Deal government projects has been much bigger and bolder, then anything Obama ever tried, because Obama administration was constrained in its action by dominant neoliberal thinking. Like regulatory capture, which is an immanent feature of neoliberalism, there is also less known and less visible ideological capture of the government. Which also makes neoliberalism more similar to bolshevism as this ideological capture and related inability of the USSR elite to modernize the economy on some "mixed" principles, when over-centralization stopped working. It, along with the collapse of the ideology, probably was one of the main reasons of the collapse of the USSR. Chinese leadership managed to do this and introduced "new economic policies"(NEP).
Uner New deal regime when public investment and hence aggregate demand expanded, the economy started to grow anyway. Roosevelt did have a vision and he did convince the electorate about the way to go. Cheap optimism of Reagan, or even audacity of hope "Obama style" were not enough. After all, as Francis Bacon may remind us: "Hope is a good breakfast, but it is a bad supper" (Apophthegms, 1624).
Obama/Bernanke-style attempts to stimulate growth by pure injection of cheap money in this environment not only inflate new bubbles instead of old one, with which the fighting starts. They also lead to massive redistribution of wealth that makes the problem even worse:
Paul Krugman tells us that Larry Summers joined the camp concerned about secular stagnation in his I.M.F. talk last week, something that I had not picked up from prior coverage of the session. This is good news, but I would qualify a few of the points that Krugman makes in his elaboration of Summers' remarks.

First, while the economy may presently need asset bubbles to maintain full employment (a point I made in Plunder and Blunder: The Rise and Fall of the Bubble Economy), it doesn't follow that we should not be concerned about asset bubbles. The problem with bubbles is that their inflation and inevitable deflation lead to massive redistribution of wealth.
Larry Summers was the first establishment economist who conceded that this is the fact (Wikipedia)
... Larry Summers presented his view during November 2013 that secular (long-term) stagnation may be a reason that U.S. growth is insufficient to reach full employment: "Suppose then that the short term real interest rate that was consistent with full employment [i.e., the "natural rate"] had fallen to negative two or negative three percent. Even with artificial stimulus to demand you wouldn't see any excess demand. Even with a resumption in normal credit conditions you would have a lot of difficulty getting back to full employment."[13][14]

Robert J. Gordon wrote in August 2012:

"Even if innovation were to continue into the future at the rate of the two decades before 2007, the U.S. faces six headwinds that are in the process of dragging long-term growth to half or less of the 1.9 percent annual rate experienced between 1860 and 2007. These include demography, education, inequality, globalization, energy/environment, and the overhang of consumer and government debt. A provocative 'exercise in subtraction' suggests that future growth in consumption per capita for the bottom 99 percent of the income distribution could fall below 0.5 percent per year for an extended period of decades".[15]

One hypothesis is that high levels of productivity greater than the economic growth rate are creating economic slack, in which fewer workers are required to meet the demand for goods and services. Firms have less incentive to invest and instead prefer to hold cash. Journalist Marco Nappolini wrote in November 2013:

"If the expected return on investment over the short term is presumed to be lower than the cost of holding cash then even pushing interest rates to zero will have little effect. That is, if you cannot push real interest rates below the so-called short run natural rate [i.e., the rate of interest required to achieve the growth rate necessary to achieve full employment] you will struggle to bring forward future consumption, blunting the short run effectiveness of monetary policy...Moreover, if you fail to bring it below the long run natural rate there is a strong disincentive to increase fixed capital investment and a consequent preference to hold cash or cash-like instruments in an attempt to mitigate risk. This could cause longer-term hysteresis effects and reduce an economy's potential output."[13]
The cost of energy is probably another reason of secular stagnation along with excessive public and private debt. Rising cost of energy is deadly for capitalism. Here are some comments that might clarify the situation:
raskolnikov:

This is the biggest crybaby column Krugman's ever written. He should be ashamed of himself and return his Nobel prize immediately. Has he ever put down Keynes long enough to read a little Marx? Here's Robert Brenner summing it up in 2009:

What mainly accounts for the long-term weakening of the real economy is a deep, and lasting, decline of the rate of return on capital investment since the end of the 1960s.

The failure of the rate of profit to recover is all the more remarkable, in view of the huge drop-off in the growth of real wages over the period.

The main cause, though not the only cause, of the decline in the rate of profit has been a persistent tendency to overcapacity in global manufacturing industries."

There's more, too. Instead of siding with crackpot Summers, Krugman should expand his research and be of some use to us all.

Kievite

I am not sure that it is correct to think about public debt as internal debt. It's all about energy.

That means that public debt is to a large extent foreign due to unalterable oil consumption (and related trade deficits). And that completely changes the situation unless you are the owner of the world reserve currency.

But even in the latter case (exorbitant privilege as Valéry Giscard d'Estaing called it ) you can expect attacks on the status of the currency as world reserve currency. The growth is still supported via militarization, forced opening of foreign markets (with military force, if necessary) and conversion of the state into national security state. But as Napoleon admitted "You can do anything with bayonets except sit on them"

One positive thing about high public (and to a large extent foreign owned) debt in the USA is that it undermines what Bacevich called "new American militarism" (http://www.amazon.com/The-New-American-Militarism-Americans/dp/0195173384). Bacevich argues that this is distinct political course adopted by the "defense intellectuals," the evangelicals, and the neocons. And they will never regret their failed efforts such as Iraq invasion.

From Amazon review:

=== Quote ===

Bacevich clearly links our present predicaments both at home and abroad to the ever greater need for natural resources, especially oil from the Persian Gulf. He demolishes all of the reasons for our bellicosity based on ideals and links it directly to our insatiable appetite for oil and economic expansion. Naturally, like thousands of writers before him, he points out the need for a national energy policy based on more effective use of resources and alternative means of production.

=== End of Quote ==
As Heinberg explained fossil fuels, primarily oil, permeate every aspect of our modern culture - from agriculture to cities and a long-term perspective. In the age of almost 7 billion people demanding more and more of limited resources, the media, politicians and governments tend to only report short-term perspectives and ignore Heinberg's Five Axioms of Sustainability to the extent that these concepts are taboo to be spoken, discussed or thought (Heinberg, Richard (2007) Five Axioms of Sustainability):
1. (Tainter's Axiom): Any society that continues to use critical resources unsustainably will collapse.

Exception: A society can avoid collapse by finding replacement resources.

Limit to the exception: In a finite world, the number of possible replacements is also finite.

...

2. (Bartlett's Axiom): Population growth and/or growth in the rates of consumption of resources cannot be sustained.

...

3. To be sustainable, the use of renewable resources must proceed at a rate that is less than or equal to the rate of natural replenishment.

...

4. To be sustainable, the use of non-renewable resources must proceed at a rate that is declining, and the rate of decline must be greater than or equal to the rate of depletion.

The rate of depletion is defined as the amount being extracted and used during a specified time interval (usually a year) as a percentage of the amount left to extract.

...

5. Sustainability requires that substances introduced into the environment from human activities be minimized and rendered harmless to biosphere functions.

In cases where pollution from the extraction and consumption of non-renewable resources that has proceeded at expanding rates for some time threatens the viability of ecosystems, reduction in the rates of extraction and consumption of those resources may need to occur at a rate greater than the rate of depletion.
Archaeologist Joseph Tainter, in his classic study The Collapse of Complex Societies (1988), demonstrated that collapse is a frequent if not universal fate of complex societies and argued that collapse results from declining returns on efforts to support growing levels of societal complexity using energy harvested from the environment. Jared Diamond's popular book Collapse: How Societies Choose to Fail or Succeed (2005) similarly makes the argument that collapse is the common destiny of societies that ignore resourse constraints. This axiom defines sustainability by the consequences of its absence—that is, collapse.
Adapted from Wikipedia
Excluding the current, there were two period of stagnation in the USA history:
The years following the Panic of 1873 were known as the Long Depression were followed by periods of stagnation intermixed with surges of growth until steadier growth resumed around 1896. The period was characterized by business bankruptcies, low interest rates and deflation. According to David Ames Wells (1891) the economic problems were the result of rapid changes in technology, such as railroads, steam-powered ocean ships, steel displacing iron and the telegraph system.[16] Because there was so much economic growth overall, how much of this period was stagnation remains controversial. See: Long Depression
The Great Depression of the 1930s and the rest of the period lasting until World War II. Post War Economic Problems, Harris (1943) was written with the expectation that the stagnation would continue after the war ended. See: Causes of the Great Depression
Construction of structures, residential, commercial and industrial, fell off dramatically during the depression, but housing was well on its way to recovering by the late 1930s.[17]

The depression years were the period of the highest total factor productivity growth in the United States, primarily to the building of roads and bridges, abandonment of unneeded railroad track and reduction in railroad employment, expansion of electric utilities and improvements wholesale and retail distribution.[17]

The war created pent up demand for many items as factories that once produced automobiles and other machinery converted to production of tanks, guns, military vehicles and supplies. Tires had been rationed due to shortages of natural rubber; however, the U.S. government built synthetic rubber plants. The U.S. government also built synthetic ammonia plants, aluminum smelters, aviation fuel refineries and aircraft engine factories during the war.[17] After the war commercial aviation, plastics and synthetic rubber would become major industries and synthetic ammonia was used for fertilizer. The end of armaments production free up hundreds of thousands of machine tools, which were made available for other industries. They were needed in the rapidly growing aircraft manufacturing industry.[18]

The memory of war created a need for preparedness in the United States. This resulted in constant spending for defense programs, creating what President Eisenhower called the military-industrial complex.

U.S. birth rates began to recover by the time of World War II, and turned into the baby boom of the postwar decades. A building boom commenced in the years following the war. Suburbs began a rapid expansion and automobile ownership increased.[17]

High-yielding crops and chemical fertilizers dramatically increased crop yields and greatly lowered the cost of food, giving consumers more discretionary income. Railroad locomotives switched from steam to diesel power, with a large increase in fuel efficiency. Most importantly, cheap food essentially eliminated malnutrition in countries like the United States and much of Europe.

Many trends that began before the war continued:

The use of electricity grew steadily as prices continued to fall, although at slower rate than in the early decades. More people purchased washing machines, dryers, refrigerators and other appliances. Air conditioning became increasingly prevalent in households and businesses. See:Diffusion of innovations#Diffusion data
Infrastructures: The highway system continued to expand.[17] Construction of the interstate highway system started in the late 1950s. The pipeline network continued to expand.[19] Railroad track mileage continued its decline.
Better roads and increased investment in the distribution system of trucks, warehouses and material-handling equipment, such as forklift trucks continued to reduce the cost of goods.
Mechanization of agriculture increased dramatically, especially the use of combine harvesters. Tractor sales peaked in the mid-1950s.[20]
One of the first researchers who clearly attributed secular stagnation problem to neoliberalism was Alan Nasser, Professor Emeritus of Political Economy and Philosophy at The Evergreen State College. In his September 22, 2005 paper ECONOMIC LAWS, STRUCTURAL TENDENCIES, SECULAR STAGNATION THEORY, AND THE FATE OF NEOLIBERALISM he pointed out the key features of secular stagnation long before Summers started to understand the problem and even befor the economic crash of 2008 ;-)
Alan Nasser Invited presentation, University of Lille,

"We have now grown used to the idea that most ordinary or natural growth processes (the growth of organisms, or popu- lations of organisms or, for example, of cities) is not merely limited, but self-limited, i.e. is slowed down or eventually brought to a standstill as a consequence of the act of growth itself. For one reason or another, but always for some reason, organisms cannot grow indefinitely, just as beyond a certain level of size or density a population defeats its own capacity for further growth."

Sir Peter Medawar, The Revolution of Hope

"A business firm grows and attains great strength, and afterwards perhaps stagnates and decays; and at the turning point there is a balancing or equilibrium of the forces of life and decay. And as we reach to the higher stages of our work, we shall need ever more and more to think of economic forces as those which make a young man grow in strength until he reaches his prime; after which he gradually becomes stiff and inactive, till at last he sinks to make room for other and more vigorous life."

Alfred Marshall, Principals of Economics (1890)

"Though Keynes's 'breakdown theory is quite different from Marx's, it has an important feature in common with the latter: in both theories, the breakdown is motivated by causes inherent to the working of the economic engine, not by the action of factors external to it."

Joseph Schumpeter, Ten Great Economists

In this paper I shall address two major issues. Firstly, I shall discuss the implications for economic theory of a conception of economic laws widely at variance with the empiricist and/or positivist account of what laws are, how they are discovered, and how they are related to theory. At the same time, I will reject one cornerstone of anti-positivist thought, namely the idea that one cannot provide an account of laws that is fundamentally the same for the natural and the social sciences. Thus, I shall argue that an anti-positivist account of laws is entirely compatible with a conception of scientific laws that applies to both the "hard" (natural) and the "soft" (social) sciences. I shall defend this position by showing its application to economics and economic laws. In doing so, I will compare and contrast both natural-scientific (primarily physical) laws and social-scientific (primarily economic) laws. Secondly, I will argue that perhaps the most significant economic law descriptive of mature capitalism is the law of secular stagnation. The latter states that it is the natural tendency of a developed, industrialized capitalist economy to default to a state of chronic excess capacity and underconsumption. And this is itself a result of the tendency in advanced capitalism for the economic surplus (roughly, the difference between the Gross Domectic Product and the cost of producing the GDP) to grow at a rate more rapid than the growth of profitable industrial investment opportunities. In the course of my discussion I will use the United States as a paradigm case, Much as Marx attempted to identify the underlying features of the accumulation process by reference to England during the Industrial Revulution.

This has in fact been the state of global capital since the end of the "Golden Age" and the commencement of the age of globalized Reaganism/Thatcherism, i.e. the Age of Neoliberalism. I date the transition as commencing in 1973, the last year of post-War Keynesian growth rates in the USA. In fact, I will argue, neoliberal economic policy exacerbates capitalism'a tendency to stagnation. Let me begin with an account of economic laws.

LAWS, GENERATIVE MECHANISMS AND TENDENCIES

On the Humean or radical empiricist (positivist) account of laws, the latter are descriptions of observed regularities. Presumably, the scientist observes a "constant conjunction" of different kinds of happening, and infers from the regularity of the conjunction that the latter could not be merely accidental, and so concludes that the observed pattern of regularities must be nomological or law-like. 'Sodium chloride dissolves in water' and 'Metal expands when heated' would be simple examples of the results of this account of how laws of nature are discovered.

That this empiricist account is flawed becomes evident when we consider full-fledged laws of a genuine natural science, e.g. physics. I emphasize that laws are components of theories, which themselves are constitutive of established scientific disciplines, such as physics, chemistry, and biology. In fact, the two "laws" mentioned at the end of the preceding paragraph are not laws of physics at all. Among the genuine laws of physics is, e.g., 'Falling bodies near the surface of the earth accelerate at a constant rate.' This law is certainly not established by the observation of repeated conjunctions of events. On the contrary, actually observed falling bodies in "open systems", that is, in the circumstances of everyday life, conspicuously fail to conform to this law. Yet this is not taken to refute the law. For the law describes the behavior of bodies in a vacuum, that is to say, in a "closed system", one created by the scientist, typically in a laboratory situation. Philosophers of science have tended to ignore the distinction between regularities observed only in closed systems, and conjunctions observed in everyday life, which, as such, have no value as contributions to scientific knowledge. These philosophers have, accordingly, written as if the regularities in question were features of open systems, of nature. This confusion impedes our understanding of all types of laws, from physical to economic.

This failure –until relatively recently- of philosophers of science to properly attend to the importance of laboratory work in the acquisition of scientific knowledge is due to the fact that these philosophers have focused almost exclusively on science as established theory, i.e. as a way of representing the world. They had ignored how these theories were actually established. That is, they paid little attention to experiment, which is a way of intervening in the world. This inattention to what happens in closed systems created in the laboratory led thinkers to miss the importance of the concept of tendencies or dispositions in grasping the concept of a law of science. Let us dwell on this point and its relation to economic laws.

It is not that our knowledge of natural laws is not based on observed regularities. The point, rather, is that these regularities are not found in nature. They are found in closed systems, elaborately designed experimental circumstances found in laboratories. Yet, we correctly believe that what we learn in experimental situations gives us knowledge that is not confined to these situations. We believe that what we learn from observations of repeated patterns in experiments gives us not only knowledge of the behavior of objects in laboratory circumstances, but also knowledge of these same (kinds of) objects as they behave in nature, in the open systems of everyday life. But scientifically significant repeated patterns are not found in the world of daily life. This raises profound epistemological and ontological questions.

The most significant epistemological question arises from the following consideration: Were it not for the intervention of the experimenter, closed-system regularities would not obtain. Hence, the experimenter is a causal agent of the pattern of regularities observed in the laboratory. It is these contrived conjunctions which we invoke to justify our belief in (usually causal) laws. And while these regularities are the (partial) result of the intervention of the experimenter, we do not believe that the experimenter in any way originates the laws whose existence is attested to by the contrived regularities. The question therefore arises: What justifies our (correct) belief that knowledge obtained in closed laboratory systems designed by an agent applies also in open systems, i.e. in nature, which of course is not designed by scientists and does not evidence the regularities found under designed experimental circumstances?

I want to suggest that this question comes to the same as the following question: What must nature be like, and what must experiment reveal, in order for experimental knowledge to be able to be legitimately extended to the world outside of the laboratory, i.e. to nature? Note that this is a Realist question: it asks what we must presuppose about the constitution of the world in order that our experimentally-based scientific beliefs be justified. This is the precise Realist counterpart to Kant's Idealist question: What must we presoppose our minds –as opposed to nature or the world- to be like in order for scientific knowledge to be possible? I will argue that the answer to our Realist question provides the conceptual resources to elucidate the general nature of economic laws and economic theory, and the nature of the subject matter investigated by economists.

I will argue that since we believe that what we learn by experimental observation justifies our claim to knowledge of the experimental objects as they behave in nature, we must assume that these objects possess natural structures, similar to what Aristotle and the scholastics called "natures" or "essences." A natural structure must be conceived as what Critical Realists call a generative mechanism (hereafter, GM). The latter is a specific mode of material organization. What GMs generate are tendencies or dispositions to behave in characteristic ways. The statement that a physical thing or a social institution or structure tends to generate characteristic regularities is a statement of a law. The natural structure of salt, expressed in chemistry as HCl, is such that when it is mixed with water, whose natural structure or organization is expressed as H2O, it tends to dissolve. Gases tend to expand when heated and falling bodies near the surface of the earth tend to accelerate at a constant rate. These are statements of chemical and physical laws. We shall see that precisely the same kind of analysis can be made of laws in economics.

Tendencies are not the same as trends. The latter are merely observed regularities; there need be no implication that an underlying structural feature of the thing in question generates the regularity. This feature of laws is reflected in ordinary language in non-scientific contexts: we might say "He has a tendency to exaggerate." We mean that a disposition to exaggerate is a natural expression of his underlying character. We do not usually mean that he exaggerates whenever it is possible for him to exaggerate. This is part of the meaning of 'tendency.' Thus, tendencies can exist without being exercised. This happens when, e.g. salt is not mixed with water. Salt's nomological tendency to dissolve in water remains its categorical property even in the absence of circumstances in which its tendency to dissolve can be exercised. In addition, tendencies can be exercised without being realized. This is the case in the natural sciences when we observe, in non-laboratory situations, falling bodies accelerating at different rates. Indeed, no falling body in open systems is observed to accelerate at a constant or the same rate. But of course this is not taken to falsify the law of falling bodies. In nature, GMs continue to act in their characteristic ways without producing the patterned outcomes observable in closed experimental systems. This is so because in nature a multiplicity of GMs combine, interact and collide such as to result in the (scientifically irrelevant) flux of phenomena of the everyday world. The realization of a natural tendency can, in other words, be offset by counteracting forces. Thus, empiricism's mistake is to fail to recognize that GMs operate independent of the effects they generate. That is, GMs endure and go on acting (in the way that experimental closure enables us to identify) in nature, i.e. in open systems, where patterned regularities do not prevail. Statements about tendencies are not equivalent, salva veritate, to statements about their effects. Laws may exist and exercise their tendencies or powers even though no Humean "constant conjunctions" are observed. (This would be the case if it happened that the practice of creating closed experimental conditions had never been engaged in, i.e. in a world without science.)

LAWS, GENERATIVE MECHANISMS AND TENDENCIES IN ECONOMICS

GMs are not confined to the natural world. Natural structures are not the only structures there are. Plainly, there are humanely constructed structures. Capitalism is one such structure. Structures of this kind, GMs, that are dynamic by nature, i.e. which are characteristically diachronic, be they natural or socially constituted, share the same ontology. This should not be confused with the radical empiricist (positivist) claim that the natural and the social sciences share the same method. Clearly they do not: closed experimental situations exist but are not typical i istic outcomes ceteris paribus, ie. other things being equal, i.e. ceteris absentibus, other things being absent. When we identify the tendency of a thing, we specify what will happen, as a matter of course, if interfering conditions are absent. That is the point of vacuums in the closed systems created in laboratory experiments: they permit exercised tendencies, i.e. tendencies in operation, to be realized. If we want to know what gases tend to do when acted upon by heat, we eliminate all potential counteracting forces by creating a vacuum in the chamber, so that both gas and heat can express their natures unimpeded.

Thus, implicit in both physical- and social-scientific practice is the crucial distinction between the exercise and the realization (or manifestation) of a tendency. This distinction is essential to structural analysis in economics because of the impossibility of creating the social equivalent of a vacuum in the social sciences, which deal with the open systems of everyday life, where a great many forces and tendencies collide. Accordingly, just as the law of the tendency of falling bodies to accelerate at a constant rate is not falsified by the failure of falling bodies to behave accordingly in open systems, so too, e.g., the law of the tendency of the growth of productive capacity to outpace the growth of profitable investment opportunities -the thesis of secular stagnation theory- is not undermined by the remarkable growth rates of the Golden Age. In both cases, the presence of offsetting factors prevents the structurally generated tendency from being realized or manifested. I argue that the same can be said for any putative economic law.

In social science –and this is most conspicuous in economics, the most theoretically developed of the human sciences- we compensate for the absence of experimentally closed systems by constructing their functional equivalent, which we might call, in terms redolent of Weber, an ideal-typical theoretical model. It is an unfortunate habit (perhaps a tendency in the above-elaborated sense…) of mainstream economists to employ these models as if they described the open-system observable facts of economic life. This is, I suspect, a consequence of the economic empiricist's mistake referred to above, namely to think that GMs, if they must be spoken of at all, are to be conceived as reducible to their effects. (Recall Hume's claim, inspired by his reading of Newton, to expunge all notions of "power", "generation" and "production" from his analyses.) But, as noted above, GMs in both the social and the natural sciences employ unrealistic models, i.e. models which do not pretend to offer the equivalent of a photographic representation of the world. In both natural-scientific experiments and social-scientific ideal-type models, an attempt is made to abstract from the nonessential. We seek to place the spotlight of theory on what is necessary to the situation, system or institution under investigation, and to prescind from the arbitrary and accidental. In economics we seek to identify those features of capitalism that make it what it is. This enables us to identify capitalism's distinct and characteristic tendencies, and to describe what will happen as a result of the exercise of these tendencies, ceteris absentibus.

That there are such tendencies seems to me to be uncontroversial. We all know, for example, that cyclical downturns are not mere empirical contingencies of capitalist development, but structurally generated tendencies which follow inexorably from the specific mode of organization (structure) of capitalism. And like all tendencies, their realization can be offset, as we have seen above, by counteracting factors, such as fiscal and monetary policy. Other examples would be what Marx called the tendencies of capital to concentrate and centralize. The tendency, and corresponding law, with which I will be primarily concerned in this paper is constitutive of the theory of secular stagnation, and is far more likely than the immediately foregoing examples to generate controversy. I refer to the tendency of mature capitalism to suffer from a chronic paucity of profitable industrial investment opportunities, relative to the great magnitude of its investable surplus. Let us look more closely at this tendency.

THE THEORY OF SECULAR STAGNATION

It is worth mentioning that the view that the continuous accumulation of capital is both essential to the normal development of capitalist societies and essentially self-limiting was held by virtually all of the major modern political economists, in the form of one version or another of the doctrine of the falling rate of profit. Adam Smith explained the secular decline of the profit rate by the increasing abundance of capital in a developing capitalist society. Ricardo and Mill believed that the rate of profit would be depressed by the diminishing productivity of the land which would drive up the price of wage goods and therefore of the wages of labor, and so drive down the profits of capital. Marx pointed to the increasing capital-intensity of industry and the paucity of working-class purchasing power relative to the productive capacity of the economy, as the principal threat to the profit rate. And Keynes held that in mature capitalist economies the "marginal efficiency of capital", i.e. the expected rate of return (over cost) on an additional unit of a given capital asset, would tend to decline. All these thinkers had an at least intuitive appreciation of the fact that the growth of capital tends to be terminally self-limiting. (It is worth citing a remark of Joseph Shumpeter at this point:

"Though Keynes's 'breakdown theory is quite different from Marx's, it has an important feature in common with the latter: in both theories, the breakdown is motivated by causes inherent to the working of the economic engine, not by the action of factors external to it.")

In my estimation, no one understood the underlying dynamics of the tendency to stagnation better than the Polish economist Michal Kalecki, who is known to have developed the essentials of Keynes's General Theory before Keynes himself (and to have produced far more elegant mathematical formulations thereof). Perhaps the best way to understand Kalecki's thought is to see him as having argued that certain features of a not-yet-mature industrializing economy persist after the process of industrialization has been accomplished, with the effect that the developed capitalist economy is saddled with a problem of chronic excess capacity. Let me sketch this train of thought.

In the course of their natural growth capitalist economies reach a level of industrial development characterizable as maturity, a point beyond which growth must either cease, or be sustained by exogenous (in a sense to be elucidated below) means. Straight away we are confronted with a rejection of an assumption that is implicit in mainstream neoclassical theory, viz. that both the supply and the demand curves shift, virtually automatically, to the right. On the stagnationist conceptualization of growth or development, the process of development is not everlasting, but rather is at some point accomplished. There is the period, industrialization, during which the economy is developing, and which culminates in a (finally) industrialized or developed infrastructure. At this stage there will have been built up, or "accumulated", a complement of plant and equipment in steel production, machine tools, power stations, transport systems, etc., that is capable of satisfying a level of consumption demand consistent with the moral limits of a reasonably civilized style of life, the constraints imposed by a finite fund of natural resources, and, most importantly for stagnation theory, the limited possibilities of what Marx called "expanded reproduction" imposed by the accumulation process itself.

This account point can be expanded as follows. During any period of industrialization, the growth of the capital goods industry (hereafter, following Marx, Department I, or DI) must outpace the growth of the consumption goods industries (hereafter, again following Marx, Department II, or DII). Indeed, it belongs to the nature of the process of industrialization that the demand for the output of DI cannot be a function of the behavior of consumption demand; during industrialization, investment demand is both rapid and relatively autonomous. For if the principal project is to develop the means of production, then a disproportionate share of national wealth must be devoted to investment/accumulation at the expense of consumption. Strategic capital goods such as transport and communications networks and steel mills cannot be built bit by bit. This is clear with respect to railroads (Recall Keynes's remark that "Two pyramids are better than one, and two masses for the dead better than one; but two railroads from London to York are not necessarily better than one."), but perhaps not as clear with respect to steel facilities.

Suppose 1) that the efficient production of steel requires equipment with the capacity to produce 200,000 tons of steel, and 2) that demand turns out to be for 300,000 tons. The investor has two alternatives, either to forgo an extra market or to take a chance and add another 200.000 tons. On the second alternative, the one virtually assured in a period of (rapid) industrialization, the manufacturer is left with a surplus capacity of 100,000 tons. Here we see, writ small, a crucial source of two basic tendencies of capitalist development, the unrelenting pressure to expand markets, and the tendency to overproduction of a specific kind, namely the overproduction of capital goods, the tendency to overaccumulation. Each of these tendencies is the basis of a corresponding law of economics: Wherever we find a competitive, profit-driven market economy, we must also find a system-driven tendency to expand markets, and: Wherever we find a competitive, profit-driven market economy, we must also find a system-driven tendency for the growth of productive capacity to outpace the growth of effective demand.

As we have seen, all the major classical political economists anticipated the stationary state; they all assumed that the period of development or industrialization would come to an end. Basic industries would be in place, and DI would be capable of meeting all the replacement and expansion demands of DII. Prescinding for the moment from the emergence of new industries, DI would no longer be a source of substantial expansion demand for its own output; most of DI's internal expansion demand would be extinct.

But this is not th hread of classical (and perhaps neoclassical) theory contains the assurance that the capitalist economy provides a mechanism that in the long run counteracts the tendency of the demand for the products of DI to peter out. As one might expect, this is the price mechanism, which brings about, in the circumstances described above, a falling rate of profit (or interest) and thereby a simultaneous check on accumulation and spur to consumption. The causal chain is simple: the fall of the profit rate would lower capital's share of national income, i.e. it would transfer income from capital to labor. Thus, the demand gap created by the sharp waning of DI's expansion demand would be made up by the increase in consumption demand, which would of course mean an expansion in the demand for the output of DII. Moreover, an immediate expansion of DII at the expense of DI in order to assure a rapid transition out of the stationary state would be entirely feasible given the adaptability of certain key industries in DI to new market conditions resulting from the newly-expanded purchasing power of the working class. The construction of new factories could, for example, yield to the construction of new homes.

The theoretical elegance of this scenario is impressive -almost inspirational- but, alas for illusions, the price mechanism does not work this way. For the above-mentioned transfer in national income from capital to labor is supposed to happen when industrialization comes to an end by virtue of its having been accomplished. But from the capitalists' perspective, it is as if nothing counts as industrialization coming to an end. New industries, for example, can create a situation functionally equivalent to industrialization. "Accumulate, accumulate, that is Moses and the prophets."

We have at this point arrived at a picture of a developed capitalist economy which is in a state of permanent industrialization. Excess capacity prevails and working-class income is stagnant or declining. Interestingly, this has in fact been the state of both the U.S. and the global economy since 1973. According to the foregoing analysis, this reflects the fact that the U.S. and global economies are now instances not merely of the exercise of the law of the tendency of mature capitalism to stagnate, but of its realization. To put it differently: these economies are now in their natural state.

But important questions immediately arise. Why are these economies in their natural state now? And if there is a structurally generated tendency for capitalist economies to stagnate, how shall we account for the historically unprecedented growth rates of the Golden Age? I have barely sketched an outline of a response to these challenges above: if there is indeed a tendency for capitalism to stagnate, then there must have been in operation during the Golden Age what I called "counteracting forces and tendencies" which had spent themselves by the mid-1970s. In the absence of new offsetting forces, the tendency to stagnate has, as we should expect, re-asserted itself. These claims require further elaboration, and it is to this task that I now turn.

SECULAR STAGNATION AND TRANSFORMATIONAL GROWTH

In order to account for the actual pattern of capitalist growth in the context of stagnation theory, we must reflect on the kind of growth required by capitalist economic arrangements. Mainstream theory does not distinguish between kinds of growth if and when it addresses the specific requirements of capitalist growth at all. This is, I believe, a serious error. I will begin by introducing the notion of transformational growth, which transforms the entire way of life of society and absorbs exceptionally large amounts of the investible surplus. My point shall be that a capitalist economy cannot sustain growth merely by producing more and more different types of widgets, in the absence of pervasive structural change. Growth sustained in the latter manner is transformational growth.

We are forced to introduce the concept of transformational growth for reasons related to my earlier discussion of the structural features of mature capitalism which generates a chronic tendency to stagnation. I will now embellish this analysis. It should be clear that capitalism cannot grow in the way in which a balloon grows: its growth cannot leave its proportions intact, i.e. such that there are no new products and no new processes of production. This is to say that a capitalist economy either undergoes transformational growth or it stagnates. The argument is as follows.

Investment expands productive capacity, which in turn requires that demand increase at the same rate as potential production. Without the required rate of demand growth, underutilization/excess capacity will discourage further investment or capital accumulation and the result will of course be stagnation. Let us not address this issue in the manner of the neoclassical economist, who seems to assume that both supply and demand curves can be counted on to perennially shift to the right (absent, of course, undue government interference). But this quaint assumption is belied by the enormous literature on the development and indispensability to capitalism of the marketing and advertising industries, which we might view as massive efforts to counteract Keynes's declining marginal propensity to consume by deliberately creating among the consuming masses a full panoply of "manufactured" consumption desires. These considerations point to the need constantly to exogenously stimulate consumption demand in order to narrow the demand gap generated by the tendency to overaccumulation. But they do not yet establish the need to generate a broad, nation-wide pattern of demand required by structural change and transformational growth.

What is needed at this point are concrete examples of the generators of transformational growth, and of exactly how these generators accomplish one of the fundamental features of transformational growth, the mobilization and coordination of the economic resources of the entire country into a grand national project which stimulates demand not merely for this and that consumption good, but for crucial commodities and institutions such as oil, steel rubber, and other primary products, and communication and transportation facilities. What this requires are what Paul Baran and Paul Sweezy termed, in their influential Monopoly Capital (Monthly Review Press, 1966), "epoch-making innovations". Edward Nell and Robert Heilbroner have characterized these same innovations as "transformative innovations". Let me approach transformative innovations by looking at the tendency to stagnation from yet another perspective, one which focuses on the role of competition as a major force behind the growth of both investment and consumption.

Competition reduces the need for investment by tending to increase both productivity and savings. Let us see how this happens. As a result of competition business is under continuous pressure to cut costs and produce more efficiently. To the extent that business succeeds in these respects, productive potential is increased. At the same time, competition also requires business to hold down wages and salaries and to pay out dividend and profit income relatively sparingly. Together, these pressures hold back both worker and capitalist consumption. The result is a tendency for productive capacity to expand faster than consumption. This means that there is no reason for investment to grow, for capital to achieve the required rate of accumulation, unless there are major pressures transforming the way people live. In the absence of such pressures, we may expect stagnation.

There are two dimensions of transformative innovations which are in fact two aspects of the same phenomenon. One dimension is solely technological, and the other points to changes in a population's entire way of life. Neither of these is part of a process of steady, balloon-like growth, nor is either automatically, or normally, generated by the fundamental capitalist dynamics identified by the mainstream textbooks. For this reason I have called the stimulus imparted by these innovations 'exogenous'. Let us look first at the technological dimension of transformative innovation.

This can be identified, after the owl of Minerva has spread its wings, by reflecting on some of the requirements of ideal-typical capitalism. Neoliberals correctly remind us that the bottom line is of course "freedom", primarily the freedom of capital to roam the world seeking markets, sources of cheap labor and investment opportunities. Microecenomic textbooks in fact tend to assume the perfect mobility of both capital and labor.

Let us focus on sources of power, which became especially important after the industrial revolution. Technological development resulted in the virtually total replacement of human and animal muscle power by inanimate sources of power, mainly water and steam. But reliance on water as a source of power places extreme limits on the mobility of capital, and hence on the possibilities of capitalist growth. Water power is site-specific, and the number of rivers and streams is limited. Moreover, the water had to be fast-running and productive facilities had to be located as far downstream as possible. And of course water power is only seasonally available. These restraints alone place an intolerable obstacle to the free and ongoing accumulation of capital. Here we find an overwhelming incentive to switch from water to steam power. This constitutes a huge stimulus to the accumulation of capital on a national scale.

Capitalism requires sources of power that are independent of nature and can be applied constantly wherever they are needed. And these are precisely what steam power made possible. It was now possible to set up productive facilities virtually anywhere; a major fetter to the accumulation of capital was removed. The universal mobility required by capital was now much more fully realized. At this point I want to emphasize that this technological /economic transformation was necessarily accompanied by profound social and cultural changes. For the steam engine's reduction of the seasonality of water power made possible a feature of work that is increasingly common on a global scale: the emergence of modern year-round work habits. With this change comes a dramatic transformation of our notions (and practices) of work and leisure, with all the consequences these have for the felt experience of everyday life. That is an instance of the second dimension of transformative innovation, i.e. its introduction of dramatic cultural changes, changes in the way populations live.

Much the same can be said for the subsequent shift to electrical power, which makes possible trolley cars, refrigerators (as opposed to what used to be called, in the U.S., "ice boxes"), ranges, toasters, radios, washing machines, fans, et al.

The railroad too is a transformative innovation par excellence. Consider the spectacular effects of railroad expansion: internal transport costs are sharply reduced; both new products and new geographical areas are brought into commercial markets; it is now possible to deliver exports to port with unprecedented efficiency, thereby encouraging the extensive development of the export sector; and impetus is provided to the development of the coal, iron and engineering industries. As with the steam engine, these technological and economic benefits wee necessarily accompanied by profound social and cultural changes. The railroads changed the way of life of the people by binding them as never before. The possibility now existed for mass production, mass consumption and indeed mass culture.

And of course the establishment of a national rail network absorbed massive amounts of investible capital, thereby spurring sustainable growth and offsetting the realization of the economic law that capitalist economies tend to stagnate. Apropos: in the latter third of the nineteenth century, railroad investment in the U.S. amounted to more than all investment in manufacturing industries.

And who can doubt that the transformative effects of the introduction of the automobile were epoch-making? The expansion of the automobile industry was the single most important force in the economic expansion of the 1920s. Car production increased threefold during this decade. (The automobile industry produced 12.7% of all manufactured output, employed 7.1% of all manufacturing workers, and paid 8.7% of all industrial wages.) Immediately after World War II the auto industry continued what was to be its breakneck expansion, and the possibilities created thereby constituted what was perhaps the most extensive transformation of the country's way of life in its history.

Consider the stimulus to capital accumulation and employment constituted by the following, each and all a consequence of the increasing automobilization of American society and culture: the migration of the population from the central city to the suburbs and exurbs (first made possible by the streetcar, before the major streetcar operations were bough and then quickly dismantled by the auto companies); the need for surfaced roads, road construction and maintenance, highway construction and maintenance (which had already accounted for 2% of GDP in 1929); the suburbanization of America, with the attendant construction of housing, schools, hospitals, workplaces, and more; the growth of shopping malls; the expansion of the credit industry; the spread of hotels and motels; and of course the growth of the tourism/travel industry. Never before had any population's way of living been transformed so profoundly in so short a period of time. And of course no one has failed to recognize that Americans' main symbol of their most precious possession, their personal freedom/liberty, is their ability to drive, solo, cars that have increasingly come to resemble tanks. Americans' liberty, embodied in the automobile, has become, literally, a commodity.

The long-term growth of the U.S. economy cannot be adequately explained or described without reference to these transformative innovations. None of these are required by the models of capital accumulation found in neoclassical, Keynesian or Marxian growth theory. After the civil war, growth in the last third of the nineteenth century was spurred primarily by the railroads. This stimulus fizzled, as railroad expansion began to slow down, around 1907, when, in spite of extensive electrification of urban (and even some rural) areas, the U.S. economy began a stretch of slow growth, which lasted until the outbreak of World War I. After the end of the War, the economy experienced a brief slump, which was followed by a period of fairly sustained expansion in the 1920s. The latter, as we have seen, was spurred mainly by the growth of the automobile industry. But the rate of growth of the automobile industry slowed down after 1926, and with it the rate of growth of almost all other manufacturing industries. And wages and employment had not risen as rapidly as production, productivity or profits.

In fact, the economic situation in the U.S. at the end of the 1920s bore a remarkable resemblance to the current economic situation in America. After 1926 overcapacity emerged in many key industries, the most significant of these being automobiles, textiles, and residential construction. Contractionary forces are cumulative: excess capacity caused business confidence to decline, with resulting cutbacks in spending on productive capacity in the consumer durables and capital goods industries. The economy was intensely unsound at the end of the 1920s, and the indications at the time were clear. Consumer demand was held down by a steadily growing inequality of income. Thus, an increasing percentage of total purchases were financed by credit in order to foster purchases of consumer durables. About seventy-five percent of all cars were sold on credit. Accordingly, both home mortgages and installment debt grew rapidly. This was the extension of a trend that had begun as early as 1922, when total personal debt began rising faster than disposable income. Thus, underconsumption and traces of excess capacity, key indicators of stagnationist forces, were in effect from the very beginning of the "roaring '20s". These tendencies became increasingly foregrounded over the course of the decade.

Excess capacity in key manufacturing industries was displacing workers from capital-intensive, technologically advanced sectors to industries relatively devoid of technological advance, i.e. service industries such as trade, finance and government. With capital unable to find sufficiently profitable investment opportunities in high-productivity industries, rampant speculative activity ensued, fostered by the growing concentration of income and therefore savings during the decade. More than two thirds of all personal savings was held by slightly over two percent of all families. The wanton optimism of the 1920s led those with substantial savings to want to get richer quickly, and with little effort. The stock market bubble that materialized at the end of the decade seemed to justify the expectations that fortunes could be made overnight in real estate and the stock market. When investors acted on these expectations, the existing bubble became bigger and hence more fragile. To those familiar with the current state of the U.S. economy, the present situation presents itself as history repeating itself -contra Marx- yet again as farce.

FROM GREAT DEPRESSION TO GOLDEN AGE TO NEOLIBERALISM

The mounting instabilities of the economy of the 1920s led to a Depression that was unresponsive to the Roosevelt administration's elevenfold increase in government spending. When U.S. entry into World War II finally brought about a resumption of growth, there was nonetheless an abiding fear among economists that once War spending ceased, the forces and tendencies that had generated the Depression might reassert themselves and exceptionally slow growth could resume. Instead, much to the surprise of many economists, American capitalism began the most sustained period of expansion in its entire history. The period from 1947 to 1973 has come to be called "The Golden Age", and appears, on the face of it, to be a fatal anomaly with respect to secular stagnation theory. After all, if the causes of the Great Depression were structural, and the exogenous stimulus provided by the War was what produced a resumption of growth, how was it possible that the economy, in the absence of powerful exogenous stimulus, exhibited an historically unprecedented period of long-term growth?

I have suggested that sustained national (as opposed to intra-national regional) growth has been engendered by the emergence of transformative innovations, and it is this kind of consideration that I believe offers the most plausible explanation both of Golden-Age expansion and of the petering out of this growth period and the resumption of (global) stagnation. Five stimuli to long-term growth were set in motion after the War, and these were for the most part exogenous in the sense indicated, and essentially limited. I will construe these stimuli as forces counteracting the tendency to stagnation. Once most of these stimuli had spent their potential, stagnationist tendencies re-asserted themselves, and overinvestment became evident once again. With profitable industrial investment opportunities in short supply, the economic surplus was invested instead in what became a vast proliferation of financial instruments. When the bubble created by this process finally burst, it was replaced with a housing bubble. Indeed a variety of bubbles, in financial assets, in housing, in credit, and a substantially overvalued dollar now threaten an historically unparalleled reassertion of the tendency to stagnation. But let us look first at the counteracting forces.

After the War, and as a result of wartime rationing, Americans had accumulated a very large fund of savings, and the time had come when these could finally be spent. This accounted for an immediate surge of consumption spending which temporarily averted the onset of recession. But the effectiveness of this source of spending was soon spent. What truly impelled the sustained growth of the Golden Age was 1) the resumption of a vast expansion of the automobile industry, and with it the stimulation of the broad range of investment and employment opportunities discussed above in connection with automobilization; 2) large-scale economic aid to Europe, which stimulated export demand; 3) a nationwide process of suburbanization, which, in tandem with the expansion of auto production, expanded significantly the demand for the output of every other major industry; 4) the emergence of what president Eisenhower christened the "military-industrial" complex, which provided additional stimulus to the industries most vulnerable to economic instability, the industries of DI, the capital goods sector; and finally 5) the steady and growing expansion of business and especially consumer credit, which in recent years has assumed elephantine proportions.

Three of these factors bear the two most important features of epoch-making innovations. The expansion of the auto industry, suburbanization, and the ever-increasing expansion and extension of credit all absorb massive amounts of investible surplus, and transform the mode of life of the entire population. In so doing they impart a massive push to the macro-growth process. The first two of these have their initial direct effect on investment. The third factor, the growing importance of credit, affects both investment and consumption, but the long-term trend of the credit industry in the U.S., evident now in hindsight, is much more significant in relation to consumption. There is now in the States a credit bubble of menacing proportions, with consumers now in debt to the tune of about107% of disposable income. The Marshall Plan (number 2 above) affected mainly and directly investment and employment, with boosts to consumption following thereupon. By the mid- to late-1970s, the employment-generating capacity of the military had declined. Washington determined, in the light of the defeat in Vietnam, that hi-tech warfare, which is of course technology- rather than labor-intensive, must replace traditional forms of subversion and aggression, in order to render less likely a repeat of the "Vietnam Syndrome."

It is worth mentioning that the military-industrial complex and the vast extension of consumer credit were what constituted what Joan Robinson called "bastard Keynesianism" in the United States. Recall that Keynes had insisted that fiscal and monetary policy were necessary but not sufficient conditions for avoiding stagnation. The tendency to stagnation could be offset for the long run only if some key industries were nationalized, and income redistributed. Nationalization would allow the State to offset lagging demand by providing cheap inputs to the private sector, thereby enabling lower prices. And redistributing income would transfer liquidity from those who had more than they could either consume or invest to those whose consumption demand was severely constrained.

American policymakers saw it as their challenge to reap the effects of nationalization and redistribution without actually nationalizing industries or redistributing income. The solution was ingenious: the military-industrial complex would be the functional equivalent of state-owned industries, and would, as noted above, stimulate the demand for the output of those very firms that produced capital goods. And the extension of consumer credit would allow working people to mortgage future years' incomes and spend more without a corresponding increase in either their private or their social wage.

As mentioned earlier, these forces counteracting the tendency to stagnation were all inherently limited and temporary. By the late 1960s, the automobile industry had achieved maturity, suburbanization had been accomplished, and aid to Europe had not only long ended, but had apparently created for America the economic equivalent of Frankenstein's monster. Europe and Japan were now formidable threats to U.S. economic hegemony. (Germany, for example, has overtaken the U.S. as an exporter of capital goods.) These three colossal absorbers of surplus were now no longer in operation. In the mid-1960s social spending had overtaken military spending as the larger share of government spending. And credit had begun to function as a supplement to declining real income, rather than a further addition to growing income.

These combined developments rendered the post-War counters to the realization of the tendency to stagnation obsolete. The result was the onset of stagnation not only in the U.S. but also worldwide. In America there has been overcapacity in autos, steel, shipbuilding and petrochemicals since the mid- to late-1970s.

This general picture is widely reflected in the business press. Business Week noted that "..supply outpaces demand everywhere, sending prices lower, eroding corporate profits and increasing layoffs" (Jan. 25, 1999, p. 118). The former chairman of General Electric claimed that "..there is excess capacity in almost every industry" (The New York Times, Nov. 16, 1997, p. 3). The Wall Street Journal noted that "..from cashmere to blue jeans, silver jewelry to aluminum cans, the world is in oversupply" (Nov. 30, 1998, p. A17). And The Economist fretted that " the gap between sales and capacity is "at its widest since the 1930s" (Feb. 20, 1999, p. 15). At this time excess capacity in steel is exceeding twenty percent, in autos it has fluctuated around 30%. And these figures look good in comparison to unused capacity numbers in the "industries of the future" of the "New Economy", semiconductors and telecommunications. Not long ago, ninety-seven percent of fibre optic capacity was idle.

MAINSTREAM ECONOMICS AND STAGNATION THEORY

Let us begin with the indisputable fact that the regime of neoliberalism has brought with it a substantial decline in economic growth. The most widely cited study on this issue, produced for the IECD by Angus Maddison, shows that the annual rate of growth of real global GDP fell from 4.9% in 1950-1973 to 3 % in 1973-1998, a drop of 39 %. Theoretical commitments can guide perception: neoliberal economists either denied or ignored the decline in global growth because of their reliance on Say's Law, that it is not possible for total demand to fall below full-capacity supply over the long run. In my earlier remarks I offered an explanation of sluggish growth rates since 1973. Many orthodox economics have done something similar: they have offered explanations of the initial rise in excess capacity. But what has not been explained is why global supply did not eventually adjust itself to the slower rate of demand growth, with the result that in the mid-1970s the global economy would enter a period of sluggish expansion. And it is worth mentioning that even Keynesian macro-theory is inadequate in this regard. It assumes that slow growth in aggregate demand will result in a proportionate decline in the growth of aggregate supply through its effect upon investment and therefore productivity.

An adequate explanation of the sustained character of excess capacity can be constructed from insights from Schumpeter, Marx and the contemporary economist James Crotty. The analysis that follows should be understood within the framework of the version of secular stagnation theory sketched above.

Before the shift to neoliberal policies by Jimmy Carter, Reagan and Thatcher, the global economy was already subject to downward pressures on demand growth resulting from two oil price shocks and the restrictive macro policy imposed in response to oil-price induced inflation. These impediments to demand growth were exacerbated by neoliberal policies. In combination, these forces led to a sharp rise in excess capacity in globally competing industries. At the same time competitive pressures were further intensified by the reduction of the market power of national oligopolies caused by the removal of protectionist barriers to the free movement of goods and money across national boundaries. Accordingly, competitive pressures between nations rose dramatically. In this context, normal stagnationist tendencies operated to further constrain global demand growth and further reproduce industrial capacity faster than either neoclassical or Keynesian theory could comprehend.

The Achilles Heel of neoclassical theory with respect to its inability to account for the persistence of overcapacity during the neoliberal period is its account of competition. So-called "perfect competition" is alleged to lead to maximum efficiency and the elimination of excess capacity. This claim appears inconsistent with the history of real-world, pre- and post-oligopolistic competition. Textbook-like competition has led to periodic market gluts or overproduction crises, price wars, plummeting profits, unbearable debt burdens and violent labor relations. Neoclassical theory banishes these demons with the aid of two assumptions which appear designed explicitly to make them impossible. The first assumption claims that production cost per unit rises rapidly as output increases, and the second that exit from low-profit industries is free or costless. If these assumptions were indeed true, then pure competition could not be shown to have stagnation- or depression-inducing effects. But these assumptions are, I shall suggest, false.

I will begin with the least plausible of these two assumptions. It states that there is free or costless exit from low-profit industries. But productive assets are typically immobile or irreversible, i.e., they are not liquid, and this forces a sizeable loss in the value of a firm's capital should it choose to leave an unprofitable industry. Whether they are sold on a second-hand market or reallocated to a different industry, productive assets will lose substantial value. Capital flowing out of the aerospace industry has been found to sell for one third of its replacement cost. Insolvent telecom firms in the U.S. have sold their assets for 20 cents on the dollar. And isn't this what one would expect? For it is usually poor profit prospects and/or great excess capacity that heighten a firm's incentive to leave an industry. But it is precisely those circumstances which deeply depress the price of industry-specific assets on the second-hand market, since the supply of these assets grows even as the demand for them has collapsed.

Before I turn to the slightly more plausible (yet still false) assumption -that unit production cost rises dramatically as output increases- I will outline the corollary of neoclassical theory itself which neoclassical economists seek to evade by introducing this assumption. The theory tells us that pure competition will force price down until it covers marginal cost. Now if unit production cost remained constant irrespective of the output level, then marginal production cost and average production cost per unit would be equal. When perfect competition forces price to equal marginal cost, total revenue will be equal to total production cost. But in this case there will be no revenue left over either to pay the "fixed" cost of maintaining capital stock in the face of depreciation or obsolescence, or to pay interest and/or dividends to investors. Thus, perfect competition is seen to cause the representative firm to suffer, in each production period, a loss that is equal to fixed costs. Keeping in mind that most important global industries have huge fixed costs, no industry could long survive the consequences of intense competition.

We seem to have found a tendency to stagnation or complete system breakdown where we would least expect to find it - in neoclassical theory itself. But the theory claims to have a response to this embarrassment. It simply denies the claim that appears to entail the undesired consequence, namely the claim that unit production cost remains constant no matter what the output level. Armed now with the (false) assumption that unit production cost rises rapidly as production increases, the conclusion is drawn that marginal cost and price are greater than average unit production cost. Thus, in equilibrium, the gap between price and average production cost is sufficiently large to cover all fixed costs. Let competition be as fierce as you wish, the typical firm will not lose money. Voila!

I have claimed that each of the rescuing assumptions discussed above is false. What would realistic assumptions about marginal cost and the reversibility of invested capital look like? To answer this question we must recognize the distinctive character of the dominant industries of global trade and investment. These industries include steel, autos, aircraft, shipbuilding, petrochemicals, consumer durables, electronics, semiconductors and banking. Studies of this type of industry suggest that marginal cost does not typically rise with output, with the rare exception of cases when the industry is producing near full capacity output. Marginal cost behaves as we would expect in cases of economies of scale: it remains constant or declines as capacity utilization rises. It follows that if free competition forces price to equal marginal cost in these industries, we should count on an ensuing wave of bankruptcies. Here again we see that neoclassical theory, corrected for unrealistic assumptions, seems to commit us to conceptualize mature capitalism as subject to the law of an inherent tendency to stagnation or worse.

The issue I am focusing on here turns on the dynamics of unrestricted competition among oligopolies in the context of economies of scale. The importance of economies of scale underscores the crucial similarity of all the dominant industries, including the new information-technology and telecommunications (ITC) industries. I stress this point because influential neoclassical economists have wanted to claim a significant difference, with respect to overcapacity problems, between the ITC industries and the other dominant industries. For purposes of explaining the persistence of excess capacity under neoliberalism, we want to remember that as scale economies grow, marginal costs fall as fixed costs per unit rise. Thus, the greater the economies of scale, the more destructive becomes the marginal cost pricing required by intense competition. With this in mind, we can more easily see that 1) these dynamics in especially conspicuous operation in the ITC industries, and 2) that such differences as there are between ITC and the other dominant oligopolies are insignificant for the analysis of secular stagnation theory, and of capitalist growth in general.

The key issue right now, recall, is the highly destructive consequences of the tendency of free competition among dominant industries to force price to equal marginal cost. That this is the case is easier to see in the ITC sector than in the other dominant industries. This is because in ITC marginal cost is often close to zero. Producing another copy of software or adding another customer to eBay is virtually costless. This has led many mainstream economists to argue that ITC industries are exempt from the laws of the neoclassical theory of perfect competition. Since ITC firms have marginal costs much lower than their large fixed costs, the argument goes, the possession of at least temporary monopoly power is the only guarantee of an incentive to produce anything at all. Without monopoly pricing power prices will be competed down to marginal cost and fixed costs will be unable to be covered. Thus, the motor of the "new economy" is said to be the constant pursuit of monopoly power. But, contrary to the neoclassical claim, none of this distinguishes significantly between ITC and other key industries. The drive to monopoly power is characteristic of all large corporations in the present age.

As Paul Sweezy argued in his Marshall Lectures, the typical firm in an oligopolized industry strives to be a monopolist. Each firm does this individually, and they all do it collectively. Individual firms seek monopoly status through the sales effort, where the firm's product is put forth as the best in the industry and as different from all the others. Firms within the same industry seek to approach monopoly status by collusion with respect to pricing policy, especially by agreeing to refrain from cutthroat price competition. For reasons developed at length above, therefore, all dominant firms, whether old- or new-economy operations, will tend to achieve monopoly status and to be chronically saddled with excess capacity.

A SCANDALOUSLY BRIEF LOOK AT SLOW-GROWTH CAPITALISM

We are in the midst of another unparalleled period of historical capitalism. Since the onset of stagnation, the median wage in the States has not changed at all for the vast majority of wage workers. Over the past six quarters the gowth of wage income has been negative. A brief sketch of the state of the U.S. economy toward the end of last year highlights features whose most plausible explanation may lie in the fact of secular stagnation. If stagnation theory is accurate, what follows is precisely what we would expect to find. The current state of the U.S. and the global economy is best understood, I believe, against the background too briefly elaborated above. Here is a picture of the U.S. economy today. The key to a healthy economy is job- and income-creating investment in capital goods, which in turn generates a virtuous cycle of further growth in investment, jobs and income. Ominously, the investment, growth, employment and income pictures are unprecedentedly dismal.

Compared to cyclical recoveries between 1949 and 1973, recoveries during the neoliberal period have been weak. Indeed, one or two of the post-1973 upturns has been weaker than some downturns during the Golden Age. Since the stock market collapse of four years ago, the situation has worsened. Growth rates since 2000 have been half their previous average. Even this weak performance required historically unprecedented fiscal and monetary stimulus: 13 rate cuts, three tax cuts, massive government deficits and record growth in money and credit.

Official figures mask the economy's most serious problems. Growth figures are annualized by U.S. statisticians. Thus, the much-touted 7.1% growth rate in the third quarter of 2003 was the one that would emerge after twelve months if the current trend were to continue. The same growth rate would have been reported in the eurozone as 1.8%. This is an uncommonly weak performance.

Investment data are equally misleading. Since the mid-1990s the Bureau of Economic Analysis (BEA) has adjusted upward actual business dollar outlays on computers and related equipment to take into account quality improvements (faster processors, bigger hard drives, more memory). BEA calls this "hedonic adjustment." Accordingly, the BEA estimates that business high-tech investment quadrupled between 1996 and 2002, from $70.9 to $283.7. But in actual dollars spent, the increase was only from $70.9 billion to $74.2 billion, very low by historic standards. The high-tech boom was both greatly exaggerated and misleading. After all, neither profits nor wages are taken in "hedonically adjusted" dollars.

The difference between real and hedonic outlays explains what would otherwise be a paradoxical feature of the years 2000-2003: government was reporting big increases in high-tech investment, while manufacturers were bemoaning declining sales.

Hedonic pricing has accounted for a steadily rising percentage of all reported capital investment. But if we look at actual dollars spent, we find that since 1998 the growth rate of business fixed investment has actually been declining. Real capital investment has in fact not been this weak since the Great Depression.

The fudging of investment figures also obscures the sorry state of the jobs market. The Commerce Department's figures on nonresidential investment for the third and fourth quarters of 2003 reported increases of, respectively, 12.8 and 9.6%. A closer look reveals that the "adjusted" hi-tech sector is the only bright spot, with production and capacity rising, respectively, 24.6% and 11.1% over the past year. But hi-tech is not where significant jobs increases are found. Employment in hi-tech has declined steadily through the so-called "recovery" since its 2001 peak.

In non-hi-tech manufacturing, where investment figures are not adjusted, production from January 2003 to January 2004 rose only 0.9%, while capacity actually declined -0.2%. This represents a record nineteen-straight-month decline in mainline manufacturing capacity. Since it is mainline manufacturing which employs almost 95% of all manufacturing workers, it comes as no surprise that for the first time since the Great Depression the economy has gone more than three years without creating any jobs.

The jobs crisis is even worse than it appears. Here again statistical sleight-of-hand, this time by the Bureau of Labor Statistics (BLS), obscures economic reality. Based on data gathered employing the "net birth/death adjustment," BLS announced in April, 2004, that the long-awaited jobs recovery had finally arrived. Nonfarm payrolls had allegedly surged by a whopping 308,000 in March, 2004. The birth/death model uses business deaths to "impute" employment from business births. Thus, as more businesses fail, more new jobs are imputed to have materialized through business births. This improbable statistical artefact accounts for about half of the reported 308,000 March, 2004 payroll increase.

The birth/death model is based on statistics covering 1998-2002. This was a period of explosive telecom and dot.com startups, quite unlike today's flat economic landscape. Thus, two thirds of the 947,000 new jobs BLS "imputed" for March-May, 2004, were never actually counted by BLS and never reported by any firm.

BlS's household and establishment surveys tell a more sobering story. March employment by private industry actually fell by 175,000, and the number of self-employed workers declined by 288,000. Without the simultaneous increase of 439,000 government jobs, the March job announcement would have been a calamity. And both average weekly hours and total hours worked declined markedly, even as (according to the dubious birth/death findings) the work force increased. This is the first time in U.S. history that net job growth has been negative 26 months into a recovery.

The wage and salary picture has also set grim records. During the current recovery, wage and salary growth has actually been negative, at -0.6%, in contrast to the average increase of 7.2% characteristic of this point into each of the other eight post-War recoveries. In fact, median family income in the post-War period exhibits an ominous trend. From 1947 to 1967, real median family income rose by 75%. But since 1967, it has grown by only 30%.

Labor's losses have been capital's gain: since the peak of the last recovery, in the first quarter of 2001, corporate profits have risen 62.2%, compared to the average of 13.9% at the same point in the last eight recoveries. Never in American history has any recorded recovery had such a lopsided balance in the distribution of income gains between labor and capital.

Given the dismal investment, wage/salary and employment pictures, how has it been possible for consumption to have risen to 71% of GDP in the early nineties, from its prior post-War average of 66%? The answer is a growth rate of consumer debt never seen before in America. For the first time ever, in March 2001, overall debt levels (mortgage debt plus consumer debt, mainly credit card debt and car loans) rose above annual disposable income. And from 2001 to 2004 consumer debt rose from 101% to 116% of disposable income. In the first half of 2004, consumer borrowing has been at its highest ever. It has declined slightly in the meantime. So has consumer spending. Should Americans decide to significantly increase their saving and service debts, while lowering correspondingly their consumption expenditures, the global economy could experience a major disruption.

Up until very recently, consumers had stepped up their borrowing to compensate for slowing income growth. Thus, such growth as the U.S. has experienced in recent years has been almost entirely consumption- and debt-driven. More fundamentally, it has been bubble-driven, fueled principally by bubbles in home values and credit.

Since the collapse of stock market/hi-tech bubbles in 2001, the illusory "wealth effect" has been sustained, and consumer spending thereby encouraged, by another bubble, the enormous inflation of house prices. The biggest increase in household debt came from home mortgage debt, especially home mortgage refinancing. With mortgage rates low and home prices rising, households' home equity ballooned. Bloated home equity then provided rising collateral to underwrite still more borrowing.

What makes this especially problematic is that over the last ten years, the average family has suffered under large increases in health premiums, housing costs, tuition fees and child care costs. As a result, households' and individuals' margin of protection against insolvency has dramatically declined. Filings for personal bankruptcy are approaching a record high.

There are indications that these weaknesses and imbalances in the economy are reaching a critical mass. The mortgage refi boom has fizzled, and consumer spending is beginning to decline. Two years ago the Fed's quarterly Beige Book reported a disturbing shift in the composition of credit spending: more and more families are using their credit cards to finance spending on essentials, such as food and energy.

It is no exaggeration to say that both the U.S. economy and the global economy are hugely dependent on the American consumer's increasing willingness to spend more than (s)he makes. (Imported goods have been a rising proportion of all goods purchased here.) Thus, a decline in U.S. consumer spending portends further declines in investment, jobs and income. From January to July of 2004, consumer spending rose at an annual rate of 2.8%, down from 3.3% in 2003 and 3.1 % in 2002. For perspective, during the boom years 1999-2000, growth rates were 5.1% and 4.7%.

Spending on consumer durables is the most significant indicator of healthy growth, and the drastically lower spending in this area is cause for alarm: spending for consumer durables was down to $23.5 billion in the first seven months of this year, in contrast to $71 billion on 2003 and $58 billion in 2002.

Should consumer spending continue to decline, the economy faces the genuine likelihood of a severe recession. Of course not a single American politician addresses this issue.

What is required is a shift from bubble-, debt-, and consumption-driven growth to investment- and income-driven growth. This in turn necessitates a decline in Americas principal export, jobs. Domestic job growth, a higher minimum wage, tax cuts aimed predominantly at low- and middle-income families, a sharp reduction in defense spending and a redirection of these funds to long-neglected and pressing social needs such as health care reform, the provision of universal pre-school, and across-the-board repair and upgrading of America's deteriorated infrastructure of roads, highways,tunnels and bridges, all these should be at the forefront of a Democratic administration's agenda. The restoration of infrastructure is especially labor intensive, and would generate an enormous number of productive jobs. And as a national project spearheaded by government initiative, government would emerge as a major employer.

All this si entirely incompatible with the overwhelming neoliberal bent of even the most "liberal" political leaders. It was after all Bill Clinton who urinated on the grave of Franklin Roosevelt when he proclaimed "the end of welfare as we know it".

As unfashionable as it is to suggest such a thing at a conference of economists, the only hope for the world's majority seems to be the revival of the kinds of mass movements witnessed here in May of 1968, and throughout the world during the 1960s. And time may be short.

------------------------------

Alan Nasser is Professor emeritus of Political Economy and Philosophy at The Evergreen State College. His book, The "New Normal": Persistent Austerity, Declining Democracy and the Globalization of Resistance will be published by Pluto Press in 2013. If you would like to be notified when the book is released, please send a request to nassera@evergreen.edu
Thomas Palley » Blog Archive » Explaining Stagnation Why it Matters
John Bellamy Foster and Fred Magdoff clearly identify stagnation in their 2009 book The Great Financial Crisis: Causes and Consequences (HERE). They conclude with a section titled "Back to the real economy: the stagnation problem" and they write:

"It was the reality of economic stagnation beginning in the 1970s, as heterodox economists Ricardo Belliofiore and Joseph Halevi have recently emphasized, that led to the emergence of "the new financialized capitalist regime," a kind of "paradoxical financial Keynesianiasm" whereby demand in the economy was stimulated primarily "thanks to asset-bubbles" (Foster and Magdoff, p.129)."

My own 2009 New America Foundation report, "America's Exhausted Paradigm: Macroeconomic Causes of the Financial Crisis and Great Recession", concluded (HERE):

"The bottom line is macroeconomic failure rooted in America's flawed economic paradigm is the ultimate cause of the financial crisis and Great Recession…. Now, there is a grave danger that policymakers only focus on financial market reform and ignore reform of America's flawed economic paradigm. In that event, though the economy may stabilize, it will likely be unable to escape the pull of economic stagnation. That is because stagnation is the logical next stage of the existing paradigm."

That report became a core chapter in my 2012 book, From Financial Crisis to Stagnation, the blurb for which reads (HERE):

"The U.S. economy today is confronted with the prospect of extended stagnation. This book explores why…. Financial deregulation and the house price bubble kept the economy going by making ever more credit available. As the economy cannibalized itself by undercutting income distribution and accumulating debt, it needed larger speculative bubbles to grow. That process ended when the housing bubble burst. The earlier post–World War II economic model based on rising middle-class incomes has been dismantled, while the new neoliberal model has imploded. Absent a change of policy paradigm, the logical next step is stagnation. The political challenge we face now is how to achieve paradigm change."

The big analytical difference between Foster and Magdoff and myself is that they see stagnation as inherent to capitalism whereas I see it as the product of neoliberal economic policy. Foster and Magdoff partake of the Baran-Sweezy tradition that recommends deeper socialist transformation. I use a structural Keynesian framework that recommends reconstructing the income and demand generation mechanism via policies that include rebuilding worker bargaining power, reforming globalization, and reining in corporations and financial markets.

Larry Summers' story of serial bubbles delaying stagnation has substantial similarities with both accounts but he avoids blaming either capitalism or neoliberalism. That is hardly surprising as Summers has been a chief architect of the neoliberal system and remains committed to it, though he now wants to soften its impact. Instead, he appeals to the black box of "secular stagnation" as ultimate cause and suggests fiscal policies that would ameliorate the demand shortage problem. However, those policies would not remedy the root cause of stagnation as they leave the economic architecture unchanged.

Though Summers and Krugman are relative late-comers to the stagnation hypothesis, they have still done a great public service by drawing attention to it. Now that stagnation has been identified, the real debate can begin.

The questions are what caused stagnation and what must be done to restore shared prosperity? There is no guarantee we will answer those questions correctly (my prior is mainstream economists will continue their track record of getting it wrong). But it is absolutely certain we will not get the right answer if we do not ask the right question. So thank you Larry Summers and Paul Krugman for putting stagnation on the table. Let the debate begin.
Larry Summers ("Why Stagnation May Prove To Be The New Normal," The Financial Times, December 15, 2013) suggested the current "lack of demand" is not anomaly but a feature of the current sociao-economic system. He suggested that we have been in the throes of stagnation for a long while, but that has been obscured by years of serial asset price bubbles. His article produced great public debate and marked the point when the idea became mainstream. The debate began with Summers' speech to the IMF's Fourteenth Annual Research Conference in Honor of Stanley Fisher. Summers noted that the panic of 2008 was "an event that in the fall of 2008 and winter of 2009 … appeared, by most of the statistics—GDP, industrial production, employment, world trade, the stock market—worse than the fall of 1929 and the winter of 1930. …"

Tha means the major defeat for "stabilization policies" that were supposed to smooth the capitalist industrial cycle and abolish panics. And the problem preceeds the 2008 panic itself.

The highly misleading unemployment rate calculated by the U.S. Department of Labor notwithstanding, there has been a massive growth in long-term unemployment in the U.S. in the wake of the crisis, as shown by the declining percentage of the U.S. population actually working.

The current situation also refute the key tenet of neoclassical economy (which is pseudo-religious doctrine, so that only increase fanatic devotion of its well-paid adherents). Neoclassical economists insisted that since a "free market economy" naturally tends toward an equilibrium with full employment of both workers and machines, the economy should should quickly return to "full employment" after a recession. This is not the case. See also Secular Stagnation Lawrence H. Summers

There were several uncessful attempts to explaint his situation from neoclassical positions. In Secular Stagnation, Coalmines, Bubbles, and Larry Summers - NYTimes.com Paul Krugman emphasized the liquidity trap – zero lower bound to interest rates which supposedly prevents spending from reaching a level sufficient for full employment.
Larry's formulation of our current economic situation is the same as my own. Although he doesn't use the words "liquidity trap", he works from the understanding that we are an economy in which monetary policy is de facto constrained by the zero lower bound (even if you think central banks could be doing more), and that this corresponds to a situation in which the "natural" rate of interest – the rate at which desired savings and desired investment would be equal at full employment – is negative.

And as he also notes, in this situation the normal rules of economic policy don't apply. As I like to put it, virtue becomes vice and prudence becomes folly. Saving hurts the economy – it even hurts investment, thanks to the paradox of thrift. Fixating on debt and deficits deepens the depression. And so on down the line.

This is the kind of environment in which Keynes's hypothetical policy of burying currency in coalmines and letting the private sector dig it up – or my version, which involves faking a threat from nonexistent space aliens – becomes a good thing; spending is good, and while productive spending is best, unproductive spending is still better than nothing.

Larry also indirectly states an important corollary: this isn't just true of public spending. Private spending that is wholly or partially wasteful is also a good thing, unless it somehow stores up trouble for the future. That last bit is an important qualification. But suppose that U.S. corporations, which are currently sitting on a huge hoard of cash, were somehow to become convinced that it would be a great idea to fit out all their employees as cyborgs, with Google Glass and smart wristwatches everywhere. And suppose that three years later they realized that there wasn't really much payoff to all that spending. Nonetheless, the resulting investment boom would have given us several years of much higher employment, with no real waste, since the resources employed would otherwise have been idle.

OK, this is still mostly standard, although a lot of people hate, just hate, this kind of logic – they want economics to be a morality play, and they don't care how many people have to suffer in the process.

But now comes the radical part of Larry's presentation: his suggestion that this may not be a temporary state of affairs.

2. An economy that needs bubbles?

We now know that the economic expansion of 2003-2007 was driven by a bubble. You can say the same about the latter part of the 90s expansion; and you can in fact say the same about the later years of the Reagan expansion, which was driven at that point by runaway thrift institutions and a large bubble in commercial real estate.

So you might be tempted to say that monetary policy has consistently been too loose. After all, haven't low interest rates been encouraging repeated bubbles?

But as Larry emphasizes, there's a big problem with the claim that monetary policy has been too loose: where's the inflation? Where has the overheated economy been visible?

So how can you reconcile repeated bubbles with an economy showing no sign of inflationary pressures? Summers's answer is that we may be an economy that needs bubbles just to achieve something near full employment – that in the absence of bubbles the economy has a negative natural rate of interest. And this hasn't just been true since the 2008 financial crisis; it has arguably been true, although perhaps with increasing severity, since the 1980s.

One way to quantify this is, I think, to look at household debt. Here's the ratio of household debt to GDP since the 50s:

There was a sharp increase in the ratio after World War II, but from a low base, as families moved to the suburbs and all that. Then there were about 25 years of rough stability, from 1960 to around 1985. After that, however, household debt rose rapidly and inexorably, until the crisis struck.

So with all that household borrowing, you might have expected the period 1985-2007 to be one of strong inflationary pressure, high interest rates, or both. In fact, you see neither – this was the era of the Great Moderation, a time of low inflation and generally low interest rates. Without all that increase in household debt, interest rates would presumably have to have been considerably lower – maybe negative. In other words, you can argue that our economy has been trying to get into the liquidity trap for a number of years, and that it only avoided the trap for a while thanks to successive bubbles.

And if that's how you see things, when looking forward you have to regard the liquidity trap not as an exceptional state of affairs but as the new normal.

3. Secular stagnation?

How did this happen? Larry explicitly invokes the notion of secular stagnation, associated in particular with Alvin Hansen (pdf). He doesn't say why this might be happening to us now, but it's not hard to think of possible reasons.

Back in the day, Hansen stressed demographic factors: he thought slowing population growth would mean low investment demand. Then came the baby boom. But this time around the slowdown is here, and looks real.

Think of it this way: during the period 1960-85, when the U.S. economy seemed able to achieve full employment without bubbles, our labor force grew an average 2.1 percent annually. In part this reflected the maturing of the baby boomers, in part the move of women into the labor force.

This growth made sustaining investment fairly easy: the business of providing Americans with new houses, new offices, and so on easily absorbed a fairly high fraction of GDP.

Now look forward. The Census projects that the population aged 18 to 64 will grow at an annual rate of only 0.2 percent between 2015 and 2025. Unless labor force participation not only stops declining but starts rising rapidly again, this means a slower-growth economy, and thanks to the accelerator effect, lower investment demand.

By the way, in a Samuelson consumption-loan model, the natural rate of interest equals the rate of population growth. Reality is a lot more complicated than that, but I don't think it's foolish to guess that the decline in population growth has reduced the natural real rate of interest by something like an equal amount (and to note that Japan's shrinking working-age population is probably a major factor in its secular stagnation.)

There may be other factors – a Bob Gordonesque decline in innovation, etc.. The point is that it's not hard to think of reasons why the liquidity trap could be a lot more persistent than anyone currently wants to admit.

4. Destructive virtue

If you take a secular stagnation view seriously, it has some radical implications – and Larry goes there.

Currently, even policymakers who are willing to concede that the liquidity trap makes nonsense of conventional notions of policy prudence are busy preparing for the time when normality returns. This means that they are preoccupied with the idea that they must act now to head off future crises. Yet this crisis isn't over – and as Larry says, "Most of what would be done under the aegis of preventing a future crisis would be counterproductive."

He goes on to say that the officially respectable policy agenda involves "doing less with monetary policy than was done before and doing less with fiscal policy than was done before," even though the economy remains deeply depressed. And he says, a bit fuzzily but bravely all the same, that even improved financial regulation is not necessarily a good thing – that it may discourage irresponsible lending and borrowing at a time when more spending of any kind is good for the economy.

Amazing stuff – and if we really are looking at secular stagnation, he's right.

Of course, the underlying problem in all of this is simply that real interest rates are too high. But, you say, they're negative – zero nominal rates minus at least some expected inflation. To which the answer is, so? If the market wants a strongly negative real interest rate, we'll have persistent problems until we find a way to deliver such a rate.

One way to get there would be to reconstruct our whole monetary system – say, eliminate paper money and pay negative interest rates on deposits. Another way would be to take advantage of the next boom – whether it's a bubble or driven by expansionary fiscal policy – to push inflation substantially higher, and keep it there. Or maybe, possibly, we could go the Krugman 1998/Abe 2013 route of pushing up inflation through the sheer power of self-fulfilling expectations.

Any such suggestions are, of course, met with outrage. How dare anyone suggest that virtuous individuals, people who are prudent and save for the future, face expropriation? How can you suggest steadily eroding their savings either through inflation or through negative interest rates? It's tyranny!

But in a liquidity trap saving may be a personal virtue, but it's a social vice. And in an economy facing secular stagnation, this isn't just a temporary state of affairs, it's the norm. Assuring people that they can get a positive rate of return on safe assets means promising them something the market doesn't want to deliver – it's like farm price supports, except for rentiers.

Oh, and one last point. If we're going to have persistently negative real interest rates along with at least somewhat positive overall economic growth, the panic over public debt looks even more foolish than people like me have been saying: servicing the debt in the sense of stabilizing the ratio of debt to GDP has no cost, in fact negative cost.

I could go on, but by now I hope you've gotten the point. What Larry did at the IMF wasn't just give an interesting speech. He laid down what amounts to a very radical manifesto. And I very much fear that he may be right.
A secret question hovers over us, a sense of disappointment, a broken promise we were given as children about what our adult world was supposed to be like. I am referring not to the standard false promises that children are always given (about how the world is fair, or how those who work hard shall be rewarded), but to a particular generational promise—given to those who were children in the fifties, sixties, seventies, or eighties—one that was never quite articulated as a promise but rather as a set of assumptions about what our adult world would be like. And since it was never quite promised, now that it has failed to come true, we're left confused: indignant, but at the same time, embarrassed at our own indignation, ashamed we were ever so silly to believe our elders to begin with.

Where, in short, are the flying cars? Where are the force fields, tractor beams, teleportation pods, antigravity sleds, tricorders, immortality drugs, colonies on Mars, and all the other technological wonders any child growing up in the mid-to-late twentieth century assumed would exist by now? Even those inventions that seemed ready to emerge—like cloning or cryogenics—ended up betraying their lofty promises. What happened to them?

We are well informed of the wonders of computers, as if this is some sort of unanticipated compensation, but, in fact, we haven't moved even computing to the point of progress that people in the fifties expected we'd have reached by now. We don't have computers we can have an interesting conversation with, or robots that can walk our dogs or take our clothes to the Laundromat.

As someone who was eight years old at the time of the Apollo moon landing, I remember calculating that I would be thirty-nine in the magic year 2000 and wondering what the world would be like. Did I expect I would be living in such a world of wonders? Of course. Everyone did. Do I feel cheated now? It seemed unlikely that I'd live to see all the things I was reading about in science fiction, but it never occurred to me that I wouldn't see any of them.

At the turn of the millennium, I was expecting an outpouring of reflections on why we had gotten the future of technology so wrong. Instead, just about all the authoritative voices—both Left and Right—began their reflections from the assumption that we do live in an unprecedented new technological utopia of one sort or another.

The common way of dealing with the uneasy sense that this might not be so is to brush it aside, to insist all the progress that could have happened has happened and to treat anything more as silly. "Oh, you mean all that Jetsons stuff?" I'm asked—as if to say, but that was just for children! Surely, as grown-ups, we understand The Jetsons offered as accurate a view of the future as The Flintstones offered of the Stone Age.

Surely, as grown-ups, we understand The Jetsons offered as accurate a view of the future as The Flintstones did of the Stone Age.

Even in the seventies and eighties, in fact, sober sources such as National Geographic and the Smithsonian were informing children of imminent space stations and expeditions to Mars. Creators of science fiction movies used to come up with concrete dates, often no more than a generation in the future, in which to place their futuristic fantasies. In 1968, Stanley Kubrick felt that a moviegoing audience would find it perfectly natural to assume that only thirty-three years later, in 2001, we would have commercial moon flights, city-like space stations, and computers with human personalities maintaining astronauts in suspended animation while traveling to Jupiter. Video telephony is just about the only new technology from that particular movie that has appeared—and it was technically possible when the movie was showing. 2001 can be seen as a curio, but what about Star Trek? The Star Trek mythos was set in the sixties, too, but the show kept getting revived, leaving audiences for Star Trek Voyager in, say, 2005, to try to figure out what to make of the fact that according to the logic of the program, the world was supposed to be recovering from fighting off the rule of genetically engineered supermen in the Eugenics Wars of the nineties.

By 1989, when the creators of Back to the Future II were dutifully placing flying cars and anti-gravity hoverboards in the hands of ordinary teenagers in the year 2015, it wasn't clear if this was meant as a prediction or a joke.

The usual move in science fiction is to remain vague about the dates, so as to render "the future" a zone of pure fantasy, no different than Middle Earth or Narnia, or like Star Wars, "a long time ago in a galaxy far, far away." As a result, our science fiction future is, most often, not a future at all, but more like an alternative dimension, a dream-time, a technological Elsewhere, existing in days to come in the same sense that elves and dragon-slayers existed in the past—another screen for the displacement of moral dramas and mythic fantasies into the dead ends of consumer pleasure.

Might the cultural sensibility that came to be referred to as postmodernism best be seen as a prolonged meditation on all the technological changes that never happened? The question struck me as I watched one of the recent Star Wars movies. The movie was terrible, but I couldn't help but feel impressed by the quality of the special effects. Recalling the clumsy special effects typical of fifties sci-fi films, I kept thinking how impressed a fifties audience would have been if they'd known what we could do by now—only to realize, "Actually, no. They wouldn't be impressed at all, would they? They thought we'd be doing this kind of thing by now. Not just figuring out more sophisticated ways to simulate it."

That last word—simulate—is key. The technologies that have advanced since the seventies are mainly either medical technologies or information technologies—largely, technologies of simulation. They are technologies of what Jean Baudrillard and Umberto Eco called the "hyper-real," the ability to make imitations that are more realistic than originals. The postmodern sensibility, the feeling that we had somehow broken into an unprecedented new historical period in which we understood that there is nothing new; that grand historical narratives of progress and liberation were meaningless; that everything now was simulation, ironic repetition, fragmentation, and pastiche—all this makes sense in a technological environment in which the only breakthroughs were those that made it easier to create, transfer, and rearrange virtual projections of things that either already existed, or, we came to realize, never would. Surely, if we were vacationing in geodesic domes on Mars or toting about pocket-size nuclear fusion plants or telekinetic mind-reading devices no one would ever have been talking like this. The postmodern moment was a desperate way to take what could otherwise only be felt as a bitter disappointment and to dress it up as something epochal, exciting, and new.

In the earliest formulations, which largely came out of the Marxist tradition, a lot of this technological background was acknowledged. Fredric Jameson's "Postmodernism, or the Cultural Logic of Late Capitalism" proposed the term "postmodernism" to refer to the cultural logic appropriate to a new, technological phase of capitalism, one that had been heralded by Marxist economist Ernest Mandel as early as 1972. Mandel had argued that humanity stood at the verge of a "third technological revolution," as profound as the Agricultural or Industrial Revolution, in which computers, robots, new energy sources, and new information technologies would replace industrial labor—the "end of work" as it soon came to be called—reducing us all to designers and computer technicians coming up with crazy visions that cybernetic factories would produce.

End of work arguments were popular in the late seventies and early eighties as social thinkers pondered what would happen to the traditional working-class-led popular struggle once the working class no longer existed. (The answer: it would turn into identity politics.) Jameson thought of himself as exploring the forms of consciousness and historical sensibilities likely to emerge from this new age.

What happened, instead, is that the spread of information technologies and new ways of organizing transport—the containerization of shipping, for example—allowed those same industrial jobs to be outsourced to East Asia, Latin America, and other countries where the availability of cheap labor allowed manufacturers to employ much less technologically sophisticated production-line techniques than they would have been obliged to employ at home.

From the perspective of those living in Europe, North America, and Japan, the results did seem to be much as predicted. Smokestack industries did disappear; jobs came to be divided between a lower stratum of service workers and an upper stratum sitting in antiseptic bubbles playing with computers. But below it all lay an uneasy awareness that the postwork civilization was a giant fraud. Our carefully engineered high-tech sneakers were not being produced by intelligent cyborgs or self-replicating molecular nanotechnology; they were being made on the equivalent of old-fashioned Singer sewing machines, by the daughters of Mexican and Indonesian farmers who, as the result of WTO or NAFTA–sponsored trade deals, had been ousted from their ancestral lands. It was a guilty awareness that lay beneath the postmodern sensibility and its celebration of the endless play of images and surfaces.

Why did the projected explosion of technological growth everyone was expecting—the moon bases, the robot factories—fail to happen? There are two possibilities. Either our expectations about the pace of technological change were unrealistic (in which case, we need to know why so many intelligent people believed they were not) or our expectations were not unrealistic (in which case, we need to know what happened to derail so many credible ideas and prospects).

Most social analysts choose the first explanation and trace the problem to the Cold War space race. Why, these analysts wonder, did both the United States and the Soviet Union become so obsessed with the idea of manned space travel? It was never an efficient way to engage in scientific research. And it encouraged unrealistic ideas of what the human future would be like.

Could the answer be that both the United States and the Soviet Union had been, in the century before, societies of pioneers, one expanding across the Western frontier, the other across Siberia? Didn't they share a commitment to the myth of a limitless, expansive future, of human colonization of vast empty spaces, that helped convince the leaders of both superpowers they had entered into a "space age" in which they were battling over control of the future itself? All sorts of myths were at play here, no doubt, but that proves nothing about the feasibility of the project.

Some of those science fiction fantasies (at this point we can't know which ones) could have been brought into being. For earlier generations, many science fiction fantasies had been brought into being. Those who grew up at the turn of the century reading Jules Verne or H.G. Wells imagined the world of, say, 1960 with flying machines, rocket ships, submarines, radio, and television—and that was pretty much what they got. If it wasn't unrealistic in 1900 to dream of men traveling to the moon, then why was it unrealistic in the sixties to dream of jet-packs and robot laundry-maids?

In fact, even as those dreams were being outlined, the material base for their achievement was beginning to be whittled away. There is reason to believe that even by the fifties and sixties, the pace of technological innovation was slowing down from the heady pace of the first half of the century. There was a last spate in the fifties when microwave ovens (1954), the Pill (1957), and lasers (1958) all appeared in rapid succession. But since then, technological advances have taken the form of clever new ways of combining existing technologies (as in the space race) and new ways of putting existing technologies to consumer use (the most famous example is television, invented in 1926, but mass produced only after the war.) Yet, in part because the space race gave everyone the impression that remarkable advances were happening, the popular impression during the sixties was that the pace of technological change was speeding up in terrifying, uncontrollable ways.

Alvin Toffler's 1970 best seller Future Shock argued that almost all the social problems of the sixties could be traced back to the increasing pace of technological change. The endless outpouring of scientific breakthroughs transformed the grounds of daily existence, and left Americans without any clear idea of what normal life was. Just consider the family, where not just the Pill, but also the prospect of in vitro fertilization, test tube babies, and sperm and egg donation were about to make the idea of motherhood obsolete.

Humans were not psychologically prepared for the pace of change, Toffler wrote. He coined a term for the phenomenon: "accelerative thrust." It had begun with the Industrial Revolution, but by roughly 1850, the effect had become unmistakable. Not only was everything around us changing, but most of it—human knowledge, the size of the population, industrial growth, energy use—was changing exponentially. The only solution, Toffler argued, was to begin some kind of control over the process, to create institutions that would assess emerging technologies and their likely effects, to ban technologies likely to be too socially disruptive, and to guide development in the direction of social harmony.

While many of the historical trends Toffler describes are accurate, the book appeared when most of these exponential trends halted. It was right around 1970 when the increase in the number of scientific papers published in the world—a figure that had doubled every fifteen years since, roughly, 1685—began leveling off. The same was true of books and patents.

Toffler's use of acceleration was particularly unfortunate. For most of human history, the top speed at which human beings could travel had been around 25 miles per hour. By 1900 it had increased to 100 miles per hour, and for the next seventy years it did seem to be increasing exponentially. By the time Toffler was writing, in 1970, the record for the fastest speed at which any human had traveled stood at roughly 25,000 mph, achieved by the crew of Apollo 10 in 1969, just one year before. At such an exponential rate, it must have seemed reasonable to assume that within a matter of decades, humanity would be exploring other solar systems.

Since 1970, no further increase has occurred. The record for the fastest a human has ever traveled remains with the crew of Apollo 10. True, the commercial airliner Concorde, which first flew in 1969, reached a maximum speed of 1,400 mph. And the Soviet Tupolev Tu-144, which flew first, reached an even faster speed of 1,553 mph. But those speeds not only have failed to increase; they have decreased since the Tupolev Tu-144 was cancelled and the Concorde was abandoned.

None of this stopped Toffler's own career. He kept retooling his analysis to come up with new spectacular pronouncements. In 1980, he produced The Third Wave, its argument lifted from Ernest Mandel's "third technological revolution"—except that while Mandel thought these changes would spell the end of capitalism, Toffler assumed capitalism was eternal. By 1990, Toffler was the personal intellectual guru to Republican congressman Newt Gingrich, who claimed that his 1994 "Contract With America" was inspired, in part, by the understanding that the United States needed to move from an antiquated, materialist, industrial mind-set to a new, free-market, information age, Third Wave civilization.

There are all sorts of ironies in this connection. One of Toffler's greatest achievements was inspiring the government to create an Office of Technology Assessment (OTA). One of Gingrich's first acts on winning control of the House of Representatives in 1995 was defunding the OTA as an example of useless government extravagance. Still, there's no contradiction here. By this time, Toffler had long since given up on influencing policy by appealing to the general public; he was making a living largely by giving seminars to CEOs and corporate think tanks. His insights had been privatized.

Gingrich liked to call himself a "conservative futurologist." This, too, might seem oxymoronic; but, in fact, Toffler's own conception of futurology was never progressive. Progress was always presented as a problem that needed to be solved.

Toffler might best be seen as a lightweight version of the nineteenth-century social theorist Auguste Comte, who believed that he was standing on the brink of a new age—in his case, the Industrial Age—driven by the inexorable progress of technology, and that the social cataclysms of his times were caused by the social system not adjusting. The older feudal order had developed Catholic theology, a way of thinking about man's place in the cosmos perfectly suited to the social system of the time, as well as an institutional structure, the Church, that conveyed and enforced such ideas in a way that could give everyone a sense of meaning and belonging. The Industrial Age had developed its own system of ideas—science—but scientists had not succeeded in creating anything like the Catholic Church. Comte concluded that we needed to develop a new science, which he dubbed "sociology," and said that sociologists should play the role of priests in a new Religion of Society that would inspire everyone with a love of order, community, work discipline, and family values. Toffler was less ambitious; his futurologists were not supposed to play the role of priests.

Gingrich had a second guru, a libertarian theologian named George Gilder, and Gilder, like Toffler, was obsessed with technology and social change. In an odd way, Gilder was more optimistic. Embracing a radical version of Mandel's Third Wave argument, he insisted that what we were seeing with the rise of computers was an "overthrow of matter." The old, materialist Industrial Society, where value came from physical labor, was giving way to an Information Age where value emerges directly from the minds of entrepreneurs, just as the world had originally appeared ex nihilo from the mind of God, just as money, in a proper supply-side economy, emerged ex nihilo from the Federal Reserve and into the hands of value-creating capitalists. Supply-side economic policies, Gilder concluded, would ensure that investment would continue to steer away from old government boondoggles like the space program and toward more productive information and medical technologies.

But if there was a conscious, or semi-conscious, move away from investment in research that might lead to better rockets and robots, and toward research that would lead to such things as laser printers and CAT scans, it had begun well before Toffler's Future Shock (1970) and Gilder's Wealth and Poverty (1981). What their success shows is that the issues they raised—that existing patterns of technological development would lead to social upheaval, and that we needed to guide technological development in directions that did not challenge existing structures of authority—echoed in the corridors of power. Statesmen and captains of industry had been thinking about such questions for some time.

Industrial capitalism has fostered an extremely rapid rate of scientific advance and technological innovation—one with no parallel in previous human history. Even capitalism's greatest detractors, Karl Marx and Friedrich Engels, celebrated its unleashing of the "productive forces." Marx and Engels also believed that capitalism's continual need to revolutionize the means of industrial production would be its undoing. Marx argued that, for certain technical reasons, value—and therefore profits—can be extracted only from human labor. Competition forces factory owners to mechanize production, to reduce labor costs, but while this is to the short-term advantage of the firm, mechanization's effect is to drive down the general rate of profit.

For 150 years, economists have debated whether all this is true. But if it is true, then the decision by industrialists not to pour research funds into the invention of the robot factories that everyone was anticipating in the sixties, and instead to relocate their factories to labor-intensive, low-tech facilities in China or the Global South makes a great deal of sense.

As I've noted, there's reason to believe the pace of technological innovation in productive processes—the factories themselves—began to slow in the fifties and sixties, but the side effects of America's rivalry with the Soviet Union made innovation appear to accelerate. There was the awesome space race, alongside frenetic efforts by U.S. industrial planners to apply existing technologies to consumer purposes, to create an optimistic sense of burgeoning prosperity and guaranteed progress that would undercut the appeal of working-class politics.

These moves were reactions to initiatives from the Soviet Union. But this part of the history is difficult for Americans to remember, because at the end of the Cold War, the popular image of the Soviet Union switched from terrifyingly bold rival to pathetic basket case—the exemplar of a society that could not work. Back in the fifties, in fact, many United States planners suspected the Soviet system worked better. Certainly, they recalled the fact that in the thirties, while the United States had been mired in depression, the Soviet Union had maintained almost unprecedented economic growth rates of 10 percent to 12 percent a year—an achievement quickly followed by the production of tank armies that defeated Nazi Germany, then by the launching of Sputnik in 1957, then by the first manned spacecraft, the Vostok, in 1961.

It's often said the Apollo moon landing was the greatest historical achievement of Soviet communism. Surely, the United States would never have contemplated such a feat had it not been for the cosmic ambitions of the Soviet Politburo. We are used to thinking of the Politburo as a group of unimaginative gray bureaucrats, but they were bureaucrats who dared to dream astounding dreams. The dream of world revolution was only the first. It's also true that most of them—changing the course of mighty rivers, this sort of thing—either turned out to be ecologically and socially disastrous, or, like Joseph Stalin's one-hundred-story Palace of the Soviets or a twenty-story statue of Vladimir Lenin, never got off the ground.

After the initial successes of the Soviet space program, few of these schemes were realized, but the leadership never ceased coming up with new ones. Even in the eighties, when the United States was attempting its own last, grandiose scheme, Star Wars, the Soviets were planning to transform the world through creative uses of technology. Few outside of Russia remember most of these projects, but great resources were devoted to them. It's also worth noting that unlike the Star Wars project, which was designed to sink the Soviet Union, most were not military in nature: as, for instance, the attempt to solve the world hunger problem by harvesting lakes and oceans with an edible bacteria called spirulina, or to solve the world energy problem by launching hundreds of gigantic solar-power platforms into orbit and beaming the electricity back to earth.

The American victory in the space race meant that, after 1968, U.S. planners no longer took the competition seriously. As a result, the mythology of the final frontier was maintained, even as the direction of research and development shifted away from anything that might lead to the creation of Mars bases and robot factories.

The standard line is that all this was a result of the triumph of the market. The Apollo program was a Big Government project, Soviet-inspired in the sense that it required a national effort coordinated by government bureaucracies. As soon as the Soviet threat drew safely out of the picture, though, capitalism was free to revert to lines of technological development more in accord with its normal, decentralized, free-market imperatives—such as privately funded research into marketable products like personal computers. This is the line that men like Toffler and Gilder took in the late seventies and early eighties.

In fact, the United States never did abandon gigantic, government-controlled schemes of technological development. Mainly, they just shifted to military research—and not just to Soviet-scale schemes like Star Wars, but to weapons projects, research in communications and surveillance technologies, and similar security-related concerns. To some degree this had always been true: the billions poured into missile research had always dwarfed the sums allocated to the space program. Yet by the seventies, even basic research came to be conducted following military priorities. One reason we don't have robot factories is because roughly 95 percent of robotics research funding has been channeled through the Pentagon, which is more interested in developing unmanned drones than in automating paper mills.

A case could be made that even the shift to research and development on information technologies and medicine was not so much a reorientation toward market-driven consumer imperatives, but part of an all-out effort to follow the technological humbling of the Soviet Union with total victory in the global class war—seen simultaneously as the imposition of absolute U.S. military dominance overseas, and, at home, the utter rout of social movements.

For the technologies that did emerge proved most conducive to surveillance, work discipline, and social control. Computers have opened up certain spaces of freedom, as we're constantly reminded, but instead of leading to the workless utopia Abbie Hoffman imagined, they have been employed in such a way as to produce the opposite effect. They have enabled a financialization of capital that has driven workers desperately into debt, and, at the same time, provided the means by which employers have created "flexible" work regimes that have both destroyed traditional job security and increased working hours for almost everyone. Along with the export of factory jobs, the new work regime has routed the union movement and destroyed any possibility of effective working-class politics.

Meanwhile, despite unprecedented investment in research on medicine and life sciences, we await cures for cancer and the common cold, and the most dramatic medical breakthroughs we have seen have taken the form of drugs such as Prozac, Zoloft, or Ritalin—tailor-made to ensure that the new work demands don't drive us completely, dysfunctionally crazy.

With results like these, what will the epitaph for neoliberalism look like? I think historians will conclude it was a form of capitalism that systematically prioritized political imperatives over economic ones. Given a choice between a course of action that would make capitalism seem the only possible economic system, and one that would transform capitalism into a viable, long-term economic system, neoliberalism chooses the former every time. There is every reason to believe that destroying job security while increasing working hours does not create a more productive (let alone more innovative or loyal) workforce. Probably, in economic terms, the result is negative—an impression confirmed by lower growth rates in just about all parts of the world in the eighties and nineties.

But the neoliberal choice has been effective in depoliticizing labor and overdetermining the future. Economically, the growth of armies, police, and private security services amounts to dead weight. It's possible, in fact, that the very dead weight of the apparatus created to ensure the ideological victory of capitalism will sink it. But it's also easy to see how choking off any sense of an inevitable, redemptive future that could be different from our world is a crucial part of the neoliberal project.

At this point all the pieces would seem to be falling neatly into place. By the sixties, conservative political forces were growing skittish about the socially disruptive effects of technological progress, and employers were beginning to worry about the economic impact of mechanization. The fading Soviet threat allowed for a reallocation of resources in directions seen as less challenging to social and economic arrangements, or indeed directions that could support a campaign of reversing the gains of progressive social movements and achieving a decisive victory in what U.S. elites saw as a global class war. The change of priorities was introduced as a withdrawal of big-government projects and a return to the market, but in fact the change shifted government-directed research away from programs like NASA or alternative energy sources and toward military, information, and medical technologies.

Of course this doesn't explain everything. Above all, it does not explain why, even in those areas that have become the focus of well-funded research projects, we have not seen anything like the kind of advances anticipated fifty years ago. If 95 percent of robotics research has been funded by the military, then where are the Klaatu-style killer robots shooting death rays from their eyes?

Obviously, there have been advances in military technology in recent decades. One of the reasons we all survived the Cold War is that while nuclear bombs might have worked as advertised, their delivery systems did not; intercontinental ballistic missiles weren't capable of striking cities, let alone specific targets inside cities, and this fact meant there was little point in launching a nuclear first strike unless you intended to destroy the world.

Contemporary cruise missiles are accurate by comparison. Still, precision weapons never do seem capable of assassinating specific individuals (Saddam, Osama, Qaddafi), even when hundreds are dropped. And ray guns have not materialized—surely not for lack of trying. We can assume the Pentagon has spent billions on death ray research, but the closest they've come so far are lasers that might, if aimed correctly, blind an enemy gunner looking directly at the beam. Aside from being unsporting, this is pathetic: lasers are a fifties technology. Phasers that can be set to stun do not appear to be on the drawing boards; and when it comes to infantry combat, the preferred weapon almost everywhere remains the AK-47, a Soviet design named for the year it was introduced: 1947.

The Internet is a remarkable innovation, but all we are talking about is a super-fast and globally accessible combination of library, post office, and mail-order catalogue. Had the Internet been described to a science fiction aficionado in the fifties and sixties and touted as the most dramatic technological achievement since his time, his reaction would have been disappointment. Fifty years and this is the best our scientists managed to come up with? We expected computers that would think!

Overall, levels of research funding have increased dramatically since the seventies. Admittedly, the proportion of that funding that comes from the corporate sector has increased most dramatically, to the point that private enterprise is now funding twice as much research as the government, but the increase is so large that the total amount of government research funding, in real-dollar terms, is much higher than it was in the sixties. "Basic," "curiosity-driven," or "blue skies" research—the kind that is not driven by the prospect of any immediate practical application, and that is most likely to lead to unexpected breakthroughs—occupies an ever smaller proportion of the total, though so much money is being thrown around nowadays that overall levels of basic research funding have increased.

Yet most observers agree that the results have been paltry. Certainly we no longer see anything like the continual stream of conceptual revolutions—genetic inheritance, relativity, psychoanalysis, quantum mechanics—that people had grown used to, and even expected, a hundred years before. Why?

Part of the answer has to do with the concentration of resources on a handful of gigantic projects: "big science," as it has come to be called. The Human Genome Project is often held out as an example. After spending almost three billion dollars and employing thousands of scientists and staff in five different countries, it has mainly served to establish that there isn't very much to be learned from sequencing genes that's of much use to anyone else. Even more, the hype and political investment surrounding such projects demonstrate the degree to which even basic research now seems to be driven by political, administrative, and marketing imperatives that make it unlikely anything revolutionary will happen.

Here, our fascination with the mythic origins of Silicon Valley and the Internet has blinded us to what's really going on. It has allowed us to imagine that research and development is now driven, primarily, by small teams of plucky entrepreneurs, or the sort of decentralized cooperation that creates open-source software. This is not so, even though such research teams are most likely to produce results. Research and development is still driven by giant bureaucratic projects.

What has changed is the bureaucratic culture. The increasing interpenetration of government, university, and private firms has led everyone to adopt the language, sensibilities, and organizational forms that originated in the corporate world. Although this might have helped in creating marketable products, since that is what corporate bureaucracies are designed to do, in terms of fostering original research, the results have been catastrophic.

My own knowledge comes from universities, both in the United States and Britain. In both countries, the last thirty years have seen a veritable explosion of the proportion of working hours spent on administrative tasks at the expense of pretty much everything else. In my own university, for instance, we have more administrators than faculty members, and the faculty members, too, are expected to spend at least as much time on administration as on teaching and research combined. The same is true, more or less, at universities worldwide.

The growth of administrative work has directly resulted from introducing corporate management techniques. Invariably, these are justified as ways of increasing efficiency and introducing competition at every level. What they end up meaning in practice is that everyone winds up spending most of their time trying to sell things: grant proposals; book proposals; assessments of students' jobs and grant applications; assessments of our colleagues; prospectuses for new interdisciplinary majors; institutes; conference workshops; universities themselves (which have now become brands to be marketed to prospective students or contributors); and so on.

As marketing overwhelms university life, it generates documents about fostering imagination and creativity that might just as well have been designed to strangle imagination and creativity in the cradle. No major new works of social theory have emerged in the United States in the last thirty years. We have been reduced to the equivalent of medieval scholastics, writing endless annotations of French theory from the seventies, despite the guilty awareness that if new incarnations of Gilles Deleuze, Michel Foucault, or Pierre Bourdieu were to appear in the academy today, we would deny them tenure.

There was a time when academia was society's refuge for the eccentric, brilliant, and impractical. No longer. It is now the domain of professional self-marketers. As a result, in one of the most bizarre fits of social self-destructiveness in history, we seem to have decided we have no place for our eccentric, brilliant, and impractical citizens. Most languish in their mothers' basements, at best making the occasional, acute intervention on the Internet.

If all this is true in the social sciences, where research is still carried out with minimal overhead largely by individuals, one can imagine how much worse it is for astrophysicists. And, indeed, one astrophysicist, Jonathan Katz, has recently warned students pondering a career in the sciences. Even if you do emerge from the usual decade-long period languishing as someone else's flunky, he says, you can expect your best ideas to be stymied at every point:

You will spend your time writing proposals rather than doing research. Worse, because your proposals are judged by your competitors, you cannot follow your curiosity, but must spend your effort and talents on anticipating and deflecting criticism rather than on solving the important scientific problems. . . . It is proverbial that original ideas are the kiss of death for a proposal, because they have not yet been proved to work.

That pretty much answers the question of why we don't have teleportation devices or antigravity shoes. Common sense suggests that if you want to maximize scientific creativity, you find some bright people, give them the resources they need to pursue whatever idea comes into their heads, and then leave them alone. Most will turn up nothing, but one or two may well discover something. But if you want to minimize the possibility of unexpected breakthroughs, tell those same people they will receive no resources at all unless they spend the bulk of their time competing against each other to convince you they know in advance what they are going to discover.

In the natural sciences, to the tyranny of managerialism we can add the privatization of research results. As the British economist David Harvie has reminded us, "open source" research is not new. Scholarly research has always been open source, in the sense that scholars share materials and results. There is competition, certainly, but it is "convivial." This is no longer true of scientists working in the corporate sector, where findings are jealously guarded, but the spread of the corporate ethos within the academy and research institutes themselves has caused even publicly funded scholars to treat their findings as personal property. Academic publishers ensure that findings that are published are increasingly difficult to access, further enclosing the intellectual commons. As a result, convivial, open-source competition turns into something much more like classic market competition.

There are many forms of privatization, up to and including the simple buying up and suppression of inconvenient discoveries by large corporations fearful of their economic effects. (We cannot know how many synthetic fuel formulae have been bought up and placed in the vaults of oil companies, but it's hard to imagine nothing like this happens.) More subtle is the way the managerial ethos discourages everything adventurous or quirky, especially if there is no prospect of immediate results. Oddly, the Internet can be part of the problem here. As Neal Stephenson put it:

Most people who work in corporations or academia have witnessed something like the following: A number of engineers are sitting together in a room, bouncing ideas off each other. Out of the discussion emerges a new concept that seems promising. Then some laptop-wielding person in the corner, having performed a quick Google search, announces that this "new" idea is, in fact, an old one; it—or at least something vaguely similar—has already been tried. Either it failed, or it succeeded. If it failed, then no manager who wants to keep his or her job will approve spending money trying to revive it. If it succeeded, then it's patented and entry to the market is presumed to be unattainable, since the first people who thought of it will have "first-mover advantage" and will have created "barriers to entry." The number of seemingly promising ideas that have been crushed in this way must number in the millions.

And so a timid, bureaucratic spirit suffuses every aspect of cultural life. It comes festooned in a language of creativity, initiative, and entrepreneurialism. But the language is meaningless. Those thinkers most likely to make a conceptual breakthrough are the least likely to receive funding, and, if breakthroughs occur, they are not likely to find anyone willing to follow up on their most daring implications.

Giovanni Arrighi has noted that after the South Sea Bubble, British capitalism largely abandoned the corporate form. By the time of the Industrial Revolution, Britain had instead come to rely on a combination of high finance and small family firms—a pattern that held throughout the next century, the period of maximum scientific and technological innovation. (Britain at that time was also notorious for being just as generous to its oddballs and eccentrics as contemporary America is intolerant. A common expedient was to allow them to become rural vicars, who, predictably, became one of the main sources for amateur scientific discoveries.)

Contemporary, bureaucratic corporate capitalism was a creation not of Britain, but of the United States and Germany, the two rival powers that spent the first half of the twentieth century fighting two bloody wars over who would replace Britain as a dominant world power—wars that culminated, appropriately enough, in government-sponsored scientific programs to see who would be the first to discover the atom bomb. It is significant, then, that our current technological stagnation seems to have begun after 1945, when the United States replaced Britain as organizer of the world economy.

Americans do not like to think of themselves as a nation of bureaucrats—quite the opposite—but the moment we stop imagining bureaucracy as a phenomenon limited to government offices, it becomes obvious that this is precisely what we have become. The final victory over the Soviet Union did not lead to the domination of the market, but, in fact, cemented the dominance of conservative managerial elites, corporate bureaucrats who use the pretext of short-term, competitive, bottom-line thinking to squelch anything likely to have revolutionary implications of any kind.

If we do not notice that we live in a bureaucratic society, that is because bureaucratic norms and practices have become so all-pervasive that we cannot see them, or, worse, cannot imagine doing things any other way.

Computers have played a crucial role in this narrowing of our social imaginations. Just as the invention of new forms of industrial automation in the eighteenth and nineteenth centuries had the paradoxical effect of turning more and more of the world's population into full-time industrial workers, so has all the software designed to save us from administrative responsibilities turned us into part- or full-time administrators. In the same way that university professors seem to feel it is inevitable they will spend more of their time managing grants, so affluent housewives simply accept that they will spend weeks every year filling out forty-page online forms to get their children into grade schools. We all spend increasing amounts of time punching passwords into our phones to manage bank and credit accounts and learning how to perform jobs once performed by travel agents, brokers, and accountants.

Someone once figured out that the average American will spend a cumulative six months of life waiting for traffic lights to change. I don't know if similar figures are available for how long it takes to fill out forms, but it must be at least as long. No population in the history of the world has spent nearly so much time engaged in paperwork.

In this final, stultifying stage of capitalism, we are moving from poetic technologies to bureaucratic technologies. By poetic technologies I refer to the use of rational and technical means to bring wild fantasies to reality. Poetic technologies, so understood, are as old as civilization. Lewis Mumford noted that the first complex machines were made of people. Egyptian pharaohs were able to build the pyramids only because of their mastery of administrative procedures, which allowed them to develop production-line techniques, dividing up complex tasks into dozens of simple operations and assigning each to one team of workmen—even though they lacked mechanical technology more complex than the inclined plane and lever. Administrative oversight turned armies of peasant farmers into the cogs of a vast machine. Much later, after cogs had been invented, the design of complex machinery elaborated principles originally developed to organize people.

Yet we have seen those machines—whether their moving parts are arms and torsos or pistons, wheels, and springs—being put to work to realize impossible fantasies: cathedrals, moon shots, transcontinental railways. Certainly, poetic technologies had something terrible about them; the poetry is likely to be as much of dark satanic mills as of grace or liberation. But the rational, administrative techniques were always in service to some fantastic end.

From this perspective, all those mad Soviet plans—even if never realized—marked the climax of poetic technologies. What we have now is the reverse. It's not that vision, creativity, and mad fantasies are no longer encouraged, but that most remain free-floating; there's no longer even the pretense that they could ever take form or flesh. The greatest and most powerful nation that has ever existed has spent the last decades telling its citizens they can no longer contemplate fantastic collective enterprises, even if—as the environmental crisis demands— the fate of the earth depends on it.

What are the political implications of all this? First of all, we need to rethink some of our most basic assumptions about the nature of capitalism. One is that capitalism is identical with the market, and that both therefore are inimical to bureaucracy, which is supposed to be a creature of the state.

The second assumption is that capitalism is in its nature technologically progressive. It would seem that Marx and Engels, in their giddy enthusiasm for the industrial revolutions of their day, were wrong about this. Or, to be more precise: they were right to insist that the mechanization of industrial production would destroy capitalism; they were wrong to predict that market competition would compel factory owners to mechanize anyway. If it didn't happen, that is because market competition is not, in fact, as essential to the nature of capitalism as they had assumed. If nothing else, the current form of capitalism, where much of the competition seems to take the form of internal marketing within the bureaucratic structures of large semi-monopolistic enterprises, would come as a complete surprise to them.

Defenders of capitalism make three broad historical claims: first, that it has fostered rapid scientific and technological growth; second, that however much it may throw enormous wealth to a small minority, it does so in such a way as to increase overall prosperity; third, that in doing so, it creates a more secure and democratic world for everyone. It is clear that capitalism is not doing any of these things any longer. In fact, many of its defenders are retreating from claiming that it is a good system and instead falling back on the claim that it is the only possible system—or, at least, the only possible system for a complex, technologically sophisticated society such as our own.

But how could anyone argue that current economic arrangements are also the only ones that will ever be viable under any possible future technological society? The argument is absurd. How could anyone know?

Granted, there are people who take that position—on both ends of the political spectrum. As an anthropologist and anarchist, I encounter anticivilizational types who insist not only that current industrial technology leads only to capitalist-style oppression, but that this must necessarily be true of any future technology as well, and therefore that human liberation can be achieved only by returning to the Stone Age. Most of us are not technological determinists.

But claims for the inevitability of capitalism have to be based on a kind of technological determinism. And for that very reason, if the aim of neoliberal capitalism is to create a world in which no one believes any other economic system could work, then it needs to suppress not just any idea of an inevitable redemptive future, but any radically different technological future. Yet there's a contradiction. Defenders of capitalism cannot mean to convince us that technological change has ended—since that would mean capitalism is not progressive. No, they mean to convince us that technological progress is indeed continuing, that we do live in a world of wonders, but that those wonders take the form of modest improvements (the latest iPhone!), rumors of inventions about to happen ("I hear they are going to have flying cars pretty soon"), complex ways of juggling information and imagery, and still more complex platforms for filling out of forms.

I do not mean to suggest that neoliberal capitalism—or any other system—can be successful in this regard. First, there's the problem of trying to convince the world you are leading the way in technological progress when you are holding it back. The United States, with its decaying infrastructure, paralysis in the face of global warming, and symbolically devastating abandonment of its manned space program just as China accelerates its own, is doing a particularly bad public relations job. Second, the pace of change can't be held back forever. Breakthroughs will happen; inconvenient discoveries cannot be permanently suppressed. Other, less bureaucratized parts of the world—or at least, parts of the world with bureaucracies that are not so hostile to creative thinking—will slowly but inevitably attain the resources required to pick up where the United States and its allies have left off. The Internet does provide opportunities for collaboration and dissemination that may help break us through the wall as well. Where will the breakthrough come? We can't know. Maybe 3D printing will do what the robot factories were supposed to. Or maybe it will be something else. But it will happen.

About one conclusion we can feel especially confident: it will not happen within the framework of contemporary corporate capitalism—or any form of capitalism. To begin setting up domes on Mars, let alone to develop the means to figure out if there are alien civilizations to contact, we're going to have to figure out a different economic system. Must the new system take the form of some massive new bureaucracy? Why do we assume it must? Only by breaking up existing bureaucratic structures can we begin. And if we're going to invent robots that will do our laundry and tidy up the kitchen, then we're going to have to make sure that whatever replaces capitalism is based on a far more egalitarian distribution of wealth and power—one that no longer contains either the super-rich or the desperately poor willing to do their housework. Only then will technology begin to be marshaled toward human needs. And this is the best reason to break free of the dead hand of the hedge fund managers and the CEOs—to free our fantasies from the screens in which such men have imprisoned them, to let our imaginations once again become a material force in human history.
---
---
For the list of top articles see Recommended Links section
Will Biden 'Corruption' Be Off-Limits In First Debate?

---

by Tyler Durden Mon, 09/28/2020 - 21:00 Twitter Facebook Reddit Email Print

Authored by Frank Miele via RealClearPolitics.com,

Chris Wallace, America is watching!

When the "Fox News Sunday" host takes the stage on Tuesday to moderate the first presidential debate of 2020, he will for 90 minutes be the most important person in the world.

His questions, his demeanor, his raised eyebrow will signal to millions of voters how they are to assess the two candidates -- President Donald John Trump and former Vice President Joseph Robinette Biden Jr.

If his questions are piercing for both, if his skepticism is applied equally to both the Republican and Democrat, then all is well in this corner of the world of journalism. But if instead Wallace accuses Trump and coddles Biden, we will have one more instance of media bias, which has become so rampant that President Trump had to christen it with a pet name -- Fake News.

Every day, the supposedly professional press corps cozies up to Biden with softball questions ("Why aren't you more angry at President Trump?" has to be my favorite!) while accusing Trump of being a mass murderer, a racist and a Putin puppet. So conservatives are entirely justified in having low expectations for the debate and for Wallace, who has exhibited symptoms of Trump Derangement Syndrome more than once.

Wallace can ask anything he wants of Trump. I am confident the president will acquit himself admirably, but the litmus test for Wallace playing fair in the debate will be whether or not he asks any hard-hitting questions of Biden -- especially about the new Senate report on the corrupt activities of his son Hunter in Ukraine and elsewhere.

If you have heard anything about the Biden report on CNN and MSNBC, or read about it in your newspapers, chances are you came away thinking that Republicans had made up a series of fake charges against the Bidens. "Nothing to see here. Move along."

The Washington Post , as usual, was at the front of the pack for Fake News coverage. The Post used its headline to focus entirely on Hunter's position on the board of the corrupt Ukrainian energy company Burisma, and claimed that the report doesn't show that the cozy arrangement "changed U.S. policy" -- as if that were the only reason you would not want a vice president's son enriching himself at the trough of foreign oligarchs.

https://lockerdome.com/lad/13084989113709670?pubid=ld-dfp-ad-13084989113709670-0&pubo=https%3A%2F%2Fwww.zerohedge.com&rid=www.zerohedge.com&width=890

The story then spent most of its 35 paragraphs excusing Hunter's behavior either directly or through surrogates such as Democrat senators, and most nauseatingly by quoting Hunter Biden's daughter, Naomi, who "offered a personal tribute to her father" in the form of a series of tweets, including the following:

"Though the whole world knows his name, no one knows who he is. Here's a thread on my dad, Hunter Biden -- free of charge to the taxpayers and free of the corrosive influence of power-at-all-costs politics. The truth of a man filled with love, integrity, and human struggles." Oh my, that's convincing evidence of innocence of wrongdoing. I imagine she also endorses her grandfather for president, for what it's worth.

The three reporters who wrote the Post piece also spin the facts like whirling dervishes. They say that the report by Sens. Ron Johnson and Chuck Grassley "rehashes" known details of the matter. They quote Democrats to say without evidence that the report's key findings are "rooted in a known Russian disinformation effort."

The following passage in particular shows how one-sided the story is:

"Democrats argue that Johnson has 'repeatedly impugned' Biden, and they pointed to his recent comments hinting that the report would shed light on Biden's 'unfitness for office,' as reported by the Milwaukee Journal Sentinel, to argue that the entire investigation was orchestrated as a smear campaign to benefit Trump."

Using the "shoe on the other foot" test, can you ever imagine a similar statement being made in the Washington Post about the Trump impeachment investigation? Let's see. How would that go?

"Republicans argue that Rep. Adam Schiff has 'repeatedly impugned' Trump, and they pointed to his recent comments hinting that the report would shed light on Trump's 'unfitness for office' to argue that the entire investigation was orchestrated as a smear campaign to benefit Biden."

Oh yeah, sure! The chance of reading that paragraph in the Washington Post news pages would have been absolutely zero.

Perhaps even more insidious was the decision by the editors to push the most significant news in the report to the bottom of the Post's story. That is the lucrative relationship that Hunter Biden established in 2017 with a Chinese oil tycoon named Ye Jianming. Biden was apparently paid $1 million to represent Ye's assistant while he was facing bribery charges in the United States.

Even more disturbing, "In August 2017, a subsidiary of Ye's company wired $5 million into the bank account of a U.S. company called Hudson West III, which over the next 13 months sent $4.79 million marked as consulting fees to Hunter Biden's firm, the report said. Over the same period, Hunter Biden's firm wired some $1.4 million to a firm associated with his uncle and aunt, James and Sara Biden, according to the report."

Then, in late 2017, "Hunter Biden and a financier associated with Ye also opened a line of credit for Hudson West III that authorized credit cards for Hunter Biden, James Biden and Sara Biden, according to the report, which says the Bidens used the credit cards to purchase more than $100,000 worth of items, including airline tickets and purchases at hotels and restaurants."

NEVER MISS THE NEWS THAT MATTERS MOST

ZEROHEDGE DIRECTLY TO YOUR INBOX

Receive a daily recap featuring a curated list of must-read stories.

The Post also glossed over payments received by Hunter Biden from Yelena Baturina, who the story acknowledges "is the widow of former Moscow mayor Yuri Luzhkov and is a member of Kazakhstan's political elite." What the story doesn't say is that the payments received by Hunter Biden's companies while Joe Biden was vice president totaled close to $4 million. Does anyone have even the slightest curiosity why Hunter's companies received these payments from a Russian oligarch? As Donald Trump Jr. noted, if he had the same record of taking money from foreign nationals, he "would be in jail right now."

In other words, the headline and the lede of the Washington Post story were entirely misleading. What readers should have been told is that there is a pattern of corruption and inexplicable enrichment in the Biden family that has continued for years and that Joe Biden has turned his back on it.

Seems worthy of the attention of the voters who will determine the nation's leadership for the next four years. So the most important question at the debate Tuesday night is the following: Will Chris Wallace take the same cowardly path as the Washington Post, or will he demand an answer from candidate Biden as to why influence peddling, conflicts of interest and virtual money laundering are acceptable?

Based on Wallace's track record, I'm not holding my breath that we will get either the question or the answer, but if we do, I will happily applaud him as the tough-as-nails journalist he is supposed to be.
play_arrow chubbar , 1 hour ago

Wallace is co-opted, he's a plant. NO way does he ask about corruption or go after Joe.

CosmoJoe , 1 hour ago

All Trump needs to do is jab Biden every time his brain locks up; toss in phrases like "Its OK Joe, take your time". Keep doing that until Biden gets angry and its all over. (Well, its over anyhow, but....)

Karl Malden's Nose , 1 hour ago

He knew how to push Hillary's buttons and even though she's a spaz she's lightyears smarter than Joe. Biden is going to fume and crap his depends because Trump is about to knock him flat on his ***. He'll be stammering to answer while Trump has already moved on to the next gut punch. There's no gotcha's on Trump, only Biden. Trump is plugged in to everything and sharp as a knife. Biden will be struggling to remember his instructions and I'm sure they'll have an ear piece on him he won't hear too clearly.

Hoax Fatigue , 25 minutes ago

Nobody is expecting (((Wallace))) to be fair.

High Vigilante , 1 hour ago

Trump should bring it up, as soon as possible.

There is no guarantee Biden won't skip other debates.

Plus it would make Biden angry and negate the effect of drugs he will be loaded with.

True Historian , 1 hour ago

I have watched Wallace and he is a pretentious pile of excrement. FOX with its "Fair and Balanced" left the station when they were bought out by Disney.

Wallace sample questions:

Trump : When did you stop being a corrupt NAZI/Russian bitch?

Biden : Are you feeling OK today? If not, how can I make you more comfortable.

CosmoJoe , 1 hour ago

Trump had some fairly hostile moderators in the 2016 debates and he held his own. He has to be just as merciless with Biden as he was with Hillary. The news doesn't want to talk about Hunter and his wire transfers from Russia. This is Trump's chance to throw that crap right into the spotlight.

alexcojones , 1 hour ago

Quote : "Every day, the supposedly professional press corps cozies up to Biden with softball questions... while accusing Trump of being a mass murderer, a racist and a Putin puppet."


Why? That's because the so-called "Legacy" media is now the Enemy of The American People.

Soloamber , 1 hour ago

The question is how long can Wallace hide his anti-Trimp bias ?

Mr. Biden ...what is your favorite color ?

President Trump why do you pay no tax ?

Mr. Biden Isn't China our greatest ally ?

President Trump have you heard from Stormy lately ?

Mr . Biden Please provide your wife's first name .

President Trump.... You appear over weight have you had your blood pressure checked ?

Would you agree to do it now ?

Mr . Biden what are some of your greats political achievements in your distinguished political legacy ?

President Trump why have you caused global warming ?

DeplorableGlobalConflictWatch , 1 hour ago

Chris Wallace is a joke. Make sure he's sick and replaced by Tucker Carlson.

RealEstateArbitrage , 1 hour ago

Wally is a plant by the deep state. He is a liar and a fool.

Migao , 1 hour ago

Wallace, like his dad, pretentious snob. Yeah, Trump's a jerk, but he's a lovable jerk. Wallace is a pretentious snob.

JUICE E SMALL IT EMPIRE , 2 hours ago

No, Ukraine and China should be front and center. It is an election year. And the Dems have screwed us royally.
Images deleted: see the original for images
A post by Ovi on peakoilbarrel

Below are a number of oil (C + C ) production charts for Non-OPEC countries created from data provided by the EIA's International Energy Statistics and updated to May 2020. Information from other sources such as the OPEC and country specific sites is used to provide a short term outlook for future output and direction.

Non-OPEC production dropped slowly from a high of 52,638 kb/d in December 2019 to 52,396 kb/d in March 2020. In April that changed when we saw the first big drop in output from the Non-OPEC countries associated with Covid and with the drop in world oil prices. May output collapsed to 45,340 kb/d, which is close to the production level in September 2013.

The projection to September (red square) was made using the September STEO report. It projects that after the low of 45,350 kb/d in May, production will increase by close to 3,500 kb/d to just under 49,000 kb/d in September.

Above are listed the world's 15th largest Non-OPEC producers. They produced 83.6% of the Non-OPEC output in May. On a YoY basis, Non-OPEC production was down by 5,011 kb/d. On a MoM basis, production was down by 5,282 kb/d. World oil production was down by 11,418 kb/d, MoM and 10,318 kb/d YoY.

May saw a drop in output to 2,765 kb/d but rebounded in June to 3,013 kb/d according to this source . Maintenance and extensive turnarounds planned between September and November could shave around 200,000 b/d from Brazil's output.

The EIA shows Canadian production was down in May by 658 kb/d by 248 kb/d to 3,694 kb/d. The CER data is higher because it includes NGPLs in their estimates and is close to 6% of total output.

Canadian oil exports by rail to the US fell from a high of 411,991 b/d in February to a new low of 48,820 kb/d in June.

April 156,242 kb/d May 58,048 kb/d June 48,820 kb/d

At the same time, according to this source , "The Trans Mountain pipeline carried a record-breaking amount of oil to British Columbia from Alberta in August, despite persistent price and demand woes gripping the energy sector as the COVID-19 pandemic drags on".

"We have been full every day during the COVID period. Demand for the pipeline has not softened at all," he told The Globe and Mail in an interview Tuesday.

China's production peaked in June-15 at 4,408 kb/d and has been in a steady decline up to September 2018 where it reached an output low of 3,694 kb/d. According to this source, China's August production increased by 2.6% over last August. Output increased by 59 kb/d to 3,899 kb/d (Red square). However August's output is still slightly lower than the June 2019 output of 3,918 kb/d even though Chinese oil companies have increased their spending to reduce the decline rate.

Kazakhstan production hit a new output high in February, 1,976 kb/d. For May, production dropped by 203 kb/d to 1,738 kb/d. OPEC expects their output to drop by an average 15 kb/d this year.

Mexico's production decreased in May by 85 kb/d to 1,686 kb/d, according to the EIA. Data from Pemex shows that production dropped to 1,647 kb/d in July (red square). Under the OPEC + Declaration of Cooperation, Mexico committed to reduce output by 100 kb/d in May. Their target was almost met.

The EIA reported that Norway's May production was 1,775 kb/d, a decrease of 14 kb/d from April.

According to the Norwegian Petroleum Directorate, "average daily liquids production in July was: 1 739 000 barrels of oil, 296 000 barrels of NGL and 27 000 barrels of condensate. (Red lines)

On 29 April 2020, the Government decided to implement a cut in Norwegian oil production. The production figures for oil in July include this cut of 134 000 barrels per day in the second half of 2020."

In other words, if Norway hadn't made their commitment to reduce production, May's oil output would have been (1,739 + 134) 1,873 kb/d. This output level would have been very close to some earlier highs.

According to the Russian Ministry of energy, Russian production increased by 479 kb/d in August to 9,860 kb/d. July was revised up by 11 kb/d from 9,371 kb/d to 9,382 kb/d.

UK's production decreased by 63 kb/d in May to 1,004 kb/d. According to OPEC, crude production is expected to increase to 1,010 kb/d in June (Red square).

June's production rebounded from May's low by adding 420 kb/d according to the the EIA's August report. May's output was revised up by 15 kb/d in the EIA's September report.

US and Permian oil rigs decreased by 1 to 179 and 121 respectively in the week of September 18. As a percentage, Permian oil rigs represented 67.5% of the total for the week of Aug 21.

According to the September DPR, the 121 rigs operating in the Permian in September will be sufficient to raise production in September by 42 kb/d to 4,150 kb/d.

While WTI has remained close to $40/bbbl, there has been essentially no change in drilling activity since the week of July 17 in the US. There were 180 oil rigs in operation that week vs 179 for the week of September 18.

These five countries complete the list of Non-OPEC countries with annual production between 500 kb/d and 1,000 kb/d. All five are in overall decline. Their combined May production was 3,263 kb/d down 232 kb/d from April's output of 3,495 kb/d. Azerbaijan, Indonesia and India appear to be in a slow steady decline phase. Columbia's production began to drop in March as Brent prices began to drop.

According to Colombia's minister of energy, Maria Fernanda Suarez, ANH president Armando Zamora said if Brent oil prices hit around $35 a barrel national oil output could average around 850,000 barrels a day, down from a previous forecast of 900,000 barrels.

Guyana is a new oil producing country that started production in December 2019. According to this s ource , production was supposed to reach 120 kb/d by June. However gas re-injection issues have delayed its planned production rise. Output in June is expected to be close to 80 kb/d (red square). This new source for oil will offset some of the decline in other countries, which currently is close to 400 kb/d/yr.

NON OPEC W/O US PRODUCTION

This chart shows that oil production in Non-OPEC countries has only increased by 541 kb/d from December 2014 t0 December 2019. It is an indication that these countries as a whole are approaching an output plateau. April is the first month in which the large production drop associated with CV-19 and the plunge in oil prices shows up in this chart. In May 0utput from these countries dropped by 3,293 kb/d to 35,348 kb/d.

Using information from the September STEO, output from the Non OPEC countries W/O the US, is expected to rebound to 37,054 kb/d in September (red square). Looking further out to October 2021, output is predicted to reach 39,692 kb/d. (Blue graph). Note that the October 2021 high is currently expected to be 143 kb/d lower than the December 2019 peak. The 143 kb/d difference is probably well within the margin of error in making these projections.

World Oil Production

World oil production in May decreased by 11,417 kb/d to 71,374 kb/d. This chart also projects world production out to October 2020. It uses the September STEO along with the International Energy Statistics to make the projection. It projects that world production will recover by close to 5,000 kb/d in October 20202 to 76,019 kb/d.

This chart presents world oil production without the US. Note that the November 2016 peak is two years prior to all the world's peak shown in the previous chart. May production was 61,372 kb/d, a decrease of 9,429 kb/d from April.

Using the STEO and the EIA international Energy Statistics, output for September is projected to be 63,768 kb/d, an increase of 2,396 kb/d higher than May.
If we allow the Black Lives Matter movement to become America's Bolshevik Revolution, we will lose our liberty, and many of us will likely lose our lives, as well, for daring to question them. This was never about racism. It has been about power an Black Lives Matter is a Modern Totalitarian Revolution

Classic totalitarian regimes share a number of common characteristics. The rise of these regimes began with a cultural revolution, aimed at angering the citizens against the current system. During that period domestic enemies are designated, and the people in the radical movement aiming at overthrowing the old system rally together against those common enemies, calling it a common struggle, as they adopt a new official ideology that stands significantly apart from the old one. They seek to control every aspect of the lives of their people, enlisting everyone they can to participate in the struggle. Even persons who may belong to enemy classes or groups join up, hoping to receive mercy when the new regime gains control. In Stalin's Russia and Mao's China the enemies were anyone who reminded them of the old system, and anyone who could challenge them if left with enough power. The state enemies were the capitalists, landlords, richer peasants and foreign agents of all kinds. Nazi Germany included those outside the national community, which included socialists (even though Nazism was a form of socialism) and communists, Jews, Christians, and any ethnic minorities that did not fit into the German model of a loyal elite specimen.

The goal of each of the totalitarian regimes of the past were to eliminate the old system, eradicate any history or remnant of the old regimes, and create a dominant single party that stood as a rebellious alternative of the traditional State. Then, once in power, the perceived enemies were murdered or imprisoned, as were many of their allies for the crime of knowing too much. The younger generation was used as a controlling mechanism, taught to tattle on their older counterparts for not being one hundred percent in favor of the new party in charge. The youngsters were uniformed and organized into militias to turn their energies towards advancing the party line, and improving upon the power of the new political elite.

In each case anything that even resembled the free market was eliminated, and the new government controlled the economy. They took over the means of production either by taking control of it and nationalizing it, or through heavy regulations (as we saw in Italy and Germany). The immigration structure was altered, they orchestrated a break-down of morality and what were considered moral norms in their culture, they worked on the destruction of the nuclear family, they forcibly reallocated farmland, they formed a socialist economy that was designed to redistribute the wealth away from the designated domestic enemies into the hands of those revolutionaries who deserved some kind of reparations for what was allegedly lost at the hands of the domestic enemies, and early on looting and rioting was encouraged and championed. Interestingly, the list I just gave you was not just something the NAZIs and communists did, but is also a list of demands currently being voiced by Black Lives Matter.

Public expression was also controlled by past dictatorial regimes so that no dissent could emerge. If dissent was spotted, the party members acted as a mob, actively mobilized to quell the dissent in the name of the "people's struggle" against a constant list of enemies. Again, Black Lives Matter fits the bill on this one, too.

These regimes exaggerated real problems, and real aspects of human nature, and created an on-going revolution against their enemies. It was a common struggle to liberate the people from whomever the leadership designated as an enemy. To not pull the party line was to be socially asleep, or an agent of the enemy, which then would place the person under great scrutiny, and if they remained uncorrected, they would be ridiculed, shamed, and eventually jailed, or murdered.

The fuel was passion, and anger, and a common demand for answers.

Sound familiar?

Black Lives Matter is an embodiment of everything that the 20th Century dictatorships were

Black Lives Matter is an embodiment of everything that the 20th Century dictatorships were. The designated enemies may be different, and some of the alleged struggles may go by slightly different names, but underneath it all, Black Lives Matter is no different than fascism, communism, and any other dictatorial regime one can think of. And the bad part about it is that at this very moment the popularity of Black Lives Matter in the United States is greater, according to polls, than any political party, and any religious organization or sect . The Brown Shirts, Black Shirts, and Bolsheviks are all rolled into one, and they are here to overthrow our U.S. Constitution.

Eventually, Black Lives Matter will lose its appeal, and the players will grow weary of the struggle. The regime will weaken, and when they try to invigorate their revolutionaries for a new fight in order to strengthen the resolve of the regime and its followers, they will find that all of their enemies are dead or in exile, and the problem can no longer be blamed on others. However, it could take half a century, or more, before that happens, and in a Black Lives Matter America the damage will already have been done. The death of liberty and the annihilation of the free market will have left a long path of sorrow and misery following it. By then, the enemy will only be themselves, and as all regimes in history, the struggle will turn inward, and the murders will be against their own. Through the paranoia imaginary enemies will be concocted, where nobody is safe from the suspicions of one's neighbors or children. People begin to vanish, and the party begins to struggle to hold on to control.

Black Lives Matter, like all past dictatorial regimes, has successfully unleashed the passions of many members of the public. The campaigns of terror are in full swing, in the name of protesting, in the name of social justice, and in the name of standing against racism. They claim that science and reason are in their corner, when, like Stalin and Mao of the Soviet Union and Communist China, it is all a great big lie. They claim whites have unfair privilege and must be forced to kneel to their true overlords, as Hitler did with the Jews when he believed it would allow him to create a better Germany. In the end, as with all violent totalitarian regimes, violence will bring them down just as violence brought them into power.

Tucker on the incredible popularity of Black Lives Matter

https://www.youtube.com/embed/22j_OhbnW20

Islamic totalitarianism solidifies in the Middle East, and works to spread across the nations of Europe

As Islamic totalitarianism solidifies in the Middle East, and works to spread across the nations of Europe, Black Lives Matter totalitarianism is working its way through its birthing canal in the United States. Both bear all of the markers of totalitarianism. They work to control the lives, speech, and actions of those below them. They terrorize and murder, committing themselves to endless struggles against a long list of designated enemies. They pose as more than an ideological challenge. They are poised to bring down Western Civilization, which has prospered due to America's Liberty, and free market capitalistic system.

Should we fall, to where may one escape? There is no other place to go. Black Lives Matter is a real threat, an enemy who desires to overthrow America and control this country. There is no criticizing Black Lives Matter. The mobs threaten anyone who holds dissent. It is already happening. People are losing their jobs for criticizing Black Lives Matter, and they are still only a political movement. Black Lives Matter is enjoying complete immunity from criticism while they are not in power. Imagine what will happen if they ever gain a hold on the reins of our system.

It has gone beyond a demand for equality. Equality is no longer acceptable. If one were to say "All Lives Matter," for example, that is now unacceptable, and racist. Only "Black Lives Matter" we are told. White lives don't matter because of what your ancestors allegedly did a couple hundred years ago. Christianity and the American System is based on the idea of equality in the eyes of God, and equality in opportunity (or at least the attempt to create a system that accomplishes such), but now if you say that out loud, you are called a racist, and your very life could be at risk. Dissent is hate speech. You could be fired from your job, or in some cases, fined and jailed for daring to speak out against the rising totalitarian regime known as Black Lives Matter because such murmurings could be considered "hate speech".

The latest demand by Black Lives Matter is ridiculous, yet it is happening. It began with a chant, "defund the police," and now has advanced to cries to abolish the police. The City of Minneapolis is in the process of doing exactly that. When asked on CNN who, then, if the police were gone, should we call in the middle of the night while our house is being burglarized, a member of the Minneapolis city council said that the question "comes from a place of privilege." In other words, if some feel like law enforcement is not on their side, everyone should feel that way, otherwise, you have an unfair privilege, and you are racist.

Black Lives Matter is enjoying a rise to power largely because of the liberal media

Black Lives Matter is enjoying a rise to power largely because of the liberal media. Any counter-arguments against their claims are going unheard. CNN, MSNBC, NPR, the alphabet networks, and any of the other liberal outlets aren't going to report any criticism of Black Lives Matter. And as Hitler's team explained, if you tell a lie often enough, it becomes the truth. In this case, if you tell one side of the story, and the other side is never heard, it becomes true.

Unchallenged claims must be true, therefore, Black Lives Matter must be on to something. The polls say so.

Black Lives Matter is achieving their power in the same way past revolutionaries did. Through force. They break things, they burn things, and they hurt anyone who gets in the way. They believe they deserve whatever they want, and if you don't give it to them, they will take it. Then, on the way out, they will set your business on fire. They occupy, they terrorize, and nobody is willing to stop them, because if you do, you are a racist. They know this. They know you are paralyzed by your fear of them, and fear of being considered racist. They have a message. Step out of line and we will hurt you, your family, or your business. That is the strategy of Black Lives Matter, and it is becoming the strategy of the Democrat Party. If you are afraid to defy the mob, the mob rules.

The Framers of the U.S. Constitution created this system to protect us from the mob. That is why they created a constitutional republic, not a democracy (as some people like to say). Democracy is historically a transitional type of government. When the mobs of democracy begin to take control, which usually accompanies a continuous vote for benefits from the treasury, liberty breaks down and dictators begin to take control.

If we allow the Black Lives Matter movement to become America's Bolshevik Revolution, we will lose our liberty, and many of us will likely lose our lives, as well, for daring to question them. This was never about racism. It has been about power and control since the very beginning. Black Lives Matter seeks to overthrow the U.S. Constitution, and replace our system with a Marxist-based government that destroys liberty and the free market, and places their radical leaders in control of the country. If we don't stop it, and recognize the revolutionary nature of what is going on, America will disappear forever. And, if there is no America, Liberty dies worldwide.

SHOW DISQUS COMMENTS

Douglas V. Gibbs -- Bio and Archives

Douglas V. Gibbs of Political Pistachio Conservative News and Commentary, has been featured on "Hannity" and "Fox and Friends" on Fox News Channel, and other television shows and networks. Doug is a Radio Host on KMET 1490-AM on Saturdays with his Constitution Radio program, as well as a longtime podcaster, conservative political activist, writ
karlof1 , Sep 23 2020 15:56 utc | 84

Escobar reviews the UNGA's first day that revealed Trump's desperation a few alluded to above. Psychohistorian will be pleased to read Pepe's channeling his #1 premise:

" As for the 'rules-based international order,' at best it is a euphemism for privately-controlled financial capitalism on a global scale ." [My Emphasis]

As I wrote yesterday, every national leader I read backed a Multilateral UN and its Charter while including various degrees of reproach for the illegalities of the Outlaw US Empire and its vassals, even the Emir of Qatar :

"The outbreak of the Covid-19 pandemic has reminded us that we live on the same planet, and that multilateral cooperation is the only way to address the challenges of epidemics, climate and the environment in general, and it's also preferable to remember this when dealing with the issues of poverty, war and peace, and realizing our common goals for security and stability....

"And during the unjust and unlawful blockade it is going through it also has securely established its policy founded on respecting the rules and principles of international law and the United Nations Charter, especially, the principle of respecting the sovereignty of states and rejecting intervention in their internal affairs.

"And based on our moral and legal responsibilities towards our peoples, we have affirmed, and we will continue to reaffirm, that unconditional dialogue based on common interests and respect for the sovereignty of states is the way to solve this crisis which had started with an illegal blockade, and whose solution starts with lifting this blockade."

If the Saudi blockade is "unjust and unlawful," then all those imposed by the Outlaw US Empire are also.

Pepe apparently doesn't agree with Lieven's essay and writes:

"Sinophobia is the perfect tool for shifting blame -- for the abysmal response to Covid-19, the extinction of small businesses and the looming New Great Depression -- to the Chinese 'existential threat.'

"The whole process has nothing to do with 'moral defeat' [Lieven] and complaints that 'we risk losing the competition and endangering the world.'

"The world is not 'endangered' because at least vast swathes of the Global South are fully aware that the much-ballyhooed 'rules-based international order' is nothing but a quite appealing euphemism for Pax Americana -- or exceptionalism [Neocolonialism].

"What was designed by Washington for post-World War II, the Cold War and the 'unilateral moment' does not apply anymore."

As the dirty domestic underwear of the Outlaw US Empire becomes more visible to nations, they are emboldened to stand up for themselves and join the Strategic Partnership's Eurasian project.
Tucker: This parading of Ginsburg death wish "is ridiculous and insulting"
Two neoliberal faction of the US elite ("hard neolibs" and "soft neolibs") struggle for power really entered a new phase. BTW control of Supreme Court was always a part of struggle for power.
And this "royal wish" think is just one episode of this entertaining fight. Great spectacle, but friends will unite when the time comes to approve the military budget.
Sabastian Taylor , 23 hours ago

So they expect us to believe the woman who upheld the constitution now wants to break the constitution as her last dying wish. Lol. OKAY!!!

fristname lastname , 1 day ago

"Never let a tragedy go to waist" -every slimy politician

NotYourVictim 1 , 1 day ago

Who cares about her so called dying wish...this is a constitutional republic not the make a wish foundation.

Andryan Tassy , 1 day ago

most dangerous virus is stupidity, and their target mostly is young people

one voice , 3 days ago

First it was a whistleblower. Then it was a unnamed source. Now it's a Dying wish. What's next, a Ouija board?

iswc27 , 15 hours ago

AOC: "Mitch McConnell is playing with fire". Meanwhile, the leftist rioters who agree with her are destroying our cities with real fire!

Blacknight1812 , 1 day ago

AOC sounds like a whining student, complaining that all her entitlements are not enough.

Maria Mammarello , 1 day ago

If we honored every dying woman's wish, well... let's be real, huh?

Zerospacedude , 1 day ago

Why are people so upset about this "final wish" thing? Like it just seems convenient to me and made up; and even if wasn't made up, who gives her the right to dictate how the constitution works. It's obvious the Dems are using this to try and keep the GOP from getting an extra seat on the Supreme Court, and I don't really blame them, GOP would have probably done the same thing, they're both hypocrites.

Jason Redden , 23 hours ago

Lol, she doesn't get to pick. She's not a Queen, your President gets to pick so you Democrats should pipe it down and stop being so dramatic
Notable quotes:
"... Passenger logs for Epstein's four helicopters and three planes have been subpoenaed by Virgin Islands AG Denise George, who recently sued the disgraced financier's estate for 22 counts including human trafficking, child abuse, neglect, prostitution, aggravated rape, and forced labor, according to a Sunday report by the UK Mirror. ..."
"... Epstein pilot David Rodgers previously provided a passenger log in 2009 tying dozens of politicians, actors, and other celebrities to the infamous sex offender – including former US President Bill Clinton, actor Kevin Spacey, and model Naomi Campbell. ..."
"... George has also subpoenaed more than 10 banks – including JPMorgan, Citibank, and Deutsche Bank – in her quest to get to the bottom of the financial edifice Epstein built up before he died. The financial institutions have been ordered to submit documents related to some 30 corporations, trusts, and nonprofit entities tied to the predatory playboy. ..."
VIRGIN ISLANDS AG DEMANDS ENTIRETY OF EPSTEIN FLIGHT LOGS, 'SPARKING PANIC' AMONG WEALTHY PASSENGERS Published: September 22, 2020
Share | Print This

undefined Twitter Facebook Email Pinterest Reddit
SOURCE: RT

The US Virgin Islands Attorney General has subpoenaed 21 years' worth of deceased pedophile Jeffrey Epstein's flight logs, reportedly striking fear in the hearts of high-profile passengers not yet exposed as Lolita Express riders.

Passenger logs for Epstein's four helicopters and three planes have been subpoenaed by Virgin Islands AG Denise George, who recently sued the disgraced financier's estate for 22 counts including human trafficking, child abuse, neglect, prostitution, aggravated rape, and forced labor, according to a Sunday report by the UK Mirror.

In addition to the passenger lists, George has requisitioned " complaints or reports of potentially suspicious conduct " and any " personal notes " the pilots made while flying Epstein's alleged harem of underage girls around the world. She also wants the names and contact information of anyone who worked for the pilots – or who " integrated with or observed " Epstein and his passengers.

Epstein pilot David Rodgers previously provided a passenger log in 2009 tying dozens of politicians, actors, and other celebrities to the infamous sex offender – including former US President Bill Clinton, actor Kevin Spacey, and model Naomi Campbell.

However, lawyers for Epstein's alleged victims have argued that list did not include flights by Epstein's chief pilot, Larry Visoski, who allegedly worked for him for over 25 years.

" The records that have been subpoenaed will make the ones Rodgers provided look like a Post-It note ," a source told the Mirror over the weekend, claiming that George's subpoena had triggered a " panic among many of the rich and famous. "

Epstein's private plane, nicknamed the Lolita Express, counted among its passengers such luminaries as the UK's Prince Andrew, celebrity lawyer Alan Dershowitz, actor Chris Tucker, Harvard economist Larry Summers, Hyatt hotel mogul Tom Pritzker, and model agency manager Jean-Luc Brunel along with Campbell, Spacey, and Clinton (who the logs show flew with Epstein over two dozen times). However, the passengers who enjoyed his other aircraft have not been made public – yet.

George has also subpoenaed more than 10 banks – including JPMorgan, Citibank, and Deutsche Bank – in her quest to get to the bottom of the financial edifice Epstein built up before he died. The financial institutions have been ordered to submit documents related to some 30 corporations, trusts, and nonprofit entities tied to the predatory playboy.

Epstein supposedly committed suicide last year in a Manhattan jail facility, while his accused madam Ghislaine Maxwell remains imprisoned in a Brooklyn detention center awaiting trial on charges related to child trafficking and perjury after her arrest earlier this year. Maxwell's lawyers have struggled to keep documents introduced as part of a recent defamation suit by one of Epstein's alleged victims under seal, insisting the information would deny her a fair trial.
Unfortunately in his brilliant analysis of USA-Russia relations Stephen Cohen never pointed out that the USA policy toward Russia is dictated by the interests of maintaining global neoliberal empire and the concept of "Full Spectrum Dominance" which was adopted by the USA neoliberal elite after the collapse of the USSR.
Like British empire the USA neoliberal empire is now overextended, metropolia is in secular stagnation with deterioration standard of living of the bottom 80% of population, so the USA under Trump became more aggressive and dangerous on the international arena. Trump administration behaves behaves like a cornered rat on international arena.
Notable quotes:
"... On Friday, 18 September, professor Steve Cohen passed away in New York City and we, the "dissident" community of Americans standing for peace with Russia – and for peace with the world at large – lost a towering intellectual and skillful defender of our cause who enjoyed an audience of millions by his weekly broadcasts on the John Batchelor Show, WABC Radio. ..."
"... from the start of the Information Wars against Russia during the George W. Bush administration following Putin's speech at the Munich Security Conference in February 2007, no voice questioning the official propaganda line in America was tolerated. Steve Cohen, who in the 1990s had been a welcome guest on U.S. national television and a widely cited expert in print media suddenly found himself blacklisted and subjected to the worst of McCarthyite style, ad hominem attacks. ..."
"... the opposition to Steve was led by experts in the Ukrainian and other minority peoples sub-categories of the profession who were militantly opposed not just to him personally but to any purely objective, not to mention sympathetic treatment of Russian leadership in the territorial expanse of Eurasia. ..."
"... Almost no one outside our 'dissident' community is concerned about the possibility of Armageddon in say two years' time due to miscalculations and bad luck in our pursuing economic, informational and military confrontation with Russia and China. ..."
"... My point in this discussion is that in the last decade of his life Stephen Cohen became one of the nation's most fearless and persistent defenders of the right to Free Speech. ..."
"... It was forced upon him by The New York Times, The Washington Post and other major media who pilloried him or blacklisted him over his unorthodox, unsanctioned, nonconformist views on the "Putin regime." It was forced upon him by university colleagues who sought to deny his right to establish graduate school fellowships in Russian affairs bearing his name and that of his mentor at Indiana University, Professor Tucker. ..."
"... In the face of vicious personal attacks from these McCarthyite forces, in the face of hate mail and even threats to his life, Steve decided to set up The American Committee and to recruit to its governing board famous, patriotic Americans and the descendants of the most revered families in the country. In this he succeeded, and it is to his credit that a moral counter force to the stampeding bulls of repression was erected and has survived to this day. ..."
On Friday, 18 September, professor Steve Cohen passed away in New York City and we, the "dissident" community of Americans standing for peace with Russia – and for peace with the world at large – lost a towering intellectual and skillful defender of our cause who enjoyed an audience of millions by his weekly broadcasts on the John Batchelor Show, WABC Radio.

A year ago, I reviewed his latest book, War With Russia? which drew upon the material of those programs and took this scholar turned journalist into a new and highly accessible genre of oral readings in print. The narrative style may have been more relaxed, with simplified syntax, but the reasoning remained razor sharp. I urge those who are today paying tribute to Steve, to buy and read the book, which is his best legacy.

From start to finish, Stephen F. Cohen was among America's best historians of his generation, putting aside the specific subject matter that he treated: Nikolai Bukharin, his dissertation topic and the material of his first and best known book; or, to put it more broadly, the history of Russia (USSR) in the 20 th century. He was one of the very rare cases of an historian deeply attentive to historiography, to causality and to logic. I understood this when I read a book of his from the mid-1980s in which he explained why Russian (Soviet) history was no longer attracting young students of quality: because there were no unanswered questions, because we smugly assumed that we knew about that country all that there was to know. That was when our expert community told us with one voice that the USSR was entrapped in totalitarianism without any prospect for the overthrow of its oppressive regime.

But my recollections of Steve also have a personal dimension going back six years or so when a casual email correspondence between us flowered into a joint project that became the launch of the American Committee for East West Accord (ACEWA). This was a revival of a pro-détente association of academics and business people that existed from the mid-1970s to the early 1990s, when, following the collapse of the Soviet Union and the removal of the Communist Party from power, the future of Russia in the family of nations we call the 'international community' seemed assured and there appeared to be no further need for such an association as ACEWA.

I hasten to add that in the original ACEWA Steve and I were two ships that passed in the night. With his base in Princeton, he was a protégé of the dean of diplomats then in residence there, George Kennan, who was the leading light on the academic side of the ACEWA. I was on the business side of the association, which was led by Don Kendall, chairman of Pepsico and also for much of the 1970s chairman of the US-USSR Trade and Economic Council of which I was also a member. I published pro-détente articles in their newsletter and published a lengthy piece on cooperation with the Soviet Union in agricultural and food processing domains, my specialty at that time, in their collection of essays by leaders in the U.S. business community entitled Common Sense in U.S.-Soviet Trade .

The academic contingent had, as one might assume, a 'progressive' coloration, while the business contingent had a Nixon Republican coloration. Indeed, in the mid-1980s these two sides split in their approach to the growing peace movement in the U.S. that was fed by opposition in the 'thinking community' on university campuses to Ronald Reagan's Star Wars agenda. Kendall shut the door at ACEWA to rabble rousing and the association did not rise to the occasion, so that its disbanding in the early '90s went unnoticed.

In the re-incorporated American Committee, I helped out by assuming the formal obligations of Treasurer and Secretary, and also became the group's European Coordinator from my base in Brussels. At this point my communications with Steve were almost daily and emotionally quite intense. This was a time when America's expert community on Russian affairs once again felt certain that it knew everything there was to know about the country, and most particularly about the nefarious "Putin regime." But whereas in the 1970s and 1980s, polite debate about the USSR/Russia was entirely possible both behind closed doors and in public space, from the start of the Information Wars against Russia during the George W. Bush administration following Putin's speech at the Munich Security Conference in February 2007, no voice questioning the official propaganda line in America was tolerated. Steve Cohen, who in the 1990s had been a welcome guest on U.S. national television and a widely cited expert in print media suddenly found himself blacklisted and subjected to the worst of McCarthyite style, ad hominem attacks.

From my correspondence and several meetings with Steve at this time both in his New York apartment and here in Brussels, when he and Katrina van der Heuvel came to participate in a Round Table dedicated to relations with Russia at the Brussels Press Club that I arranged, I knew that Steve was deeply hurt by these vitriolic attacks. He was at the time waging a difficult campaign to establish a fellowship in support of graduate studies in Russian affairs. It was touch and go, because of vicious opposition from some stalwarts of the profession to any fellowship that bore Steve's name. Allow me to put the 'i' on this dispute: the opposition to Steve was led by experts in the Ukrainian and other minority peoples sub-categories of the profession who were militantly opposed not just to him personally but to any purely objective, not to mention sympathetic treatment of Russian leadership in the territorial expanse of Eurasia. In the end, Steve and Katrina prevailed. The fellowships exist and, hopefully, will provide sustenance to future studies when American attitudes towards Russia become less politicized.

At all times and on all occasions, Steve Cohen was a voice of reason above all. The problem of our age is that we are now not only living in a post-factual world, but in a post-logic world. The public reads day after day the most outrageous and illogical assertions about alleged Russian misdeeds posted by our most respected mainstream media including The New York Times and The Washington Post . Almost no one dares to raise a hand and suggest that this reporting is propaganda and that the public is being brainwashed. Steve did exactly that in War With Russia? in a brilliant and restrained text.

Regrettably today we have no peace movement to speak of. Youth and our 'progressive' elites are totally concerned over the fate of humanity in 30 or 40 years' time as a consequence of Global Warming and rising seas. That is the essence of the Green Movement. Almost no one outside our 'dissident' community is concerned about the possibility of Armageddon in say two years' time due to miscalculations and bad luck in our pursuing economic, informational and military confrontation with Russia and China.

I fear it will take only some force majeure development such as we had in 1962 during the Cuban Missile Crisis to awaken the broad public to the risks to our very survival that we are incurring by ignoring the issues that Stephen F. Cohen, professor emeritus of Princeton and New York University was bringing to the airwaves week after week on his radio program.

Postscript

In terms of action, the new ACEWA was even less effective than its predecessor, which had avoided linking up with the peace movement of the 1980s and sought to exert influence on policy through armchair talks with Senators and other statesmen in Washington behind closed doors of (essentially) men's clubs.

However, the importance of the new ACEWA, and the national importance of Stephen Cohen lay elsewhere.

This question of appraising Stephen Cohen's national importance is all the more timely given that on the day of his death, 18 September, the nation also lost Supreme Justice Ruth Ginsburg, about whose national importance no Americans, whether her fans or her opponents, had any doubt.

My point in this discussion is that in the last decade of his life Stephen Cohen became one of the nation's most fearless and persistent defenders of the right to Free Speech. It was not a role that he sought. It was thrust upon him by the expert community of international affairs, including the Council on Foreign Relations, from which he reluctantly resigned over this matter.

It was forced upon him by The New York Times, The Washington Post and other major media who pilloried him or blacklisted him over his unorthodox, unsanctioned, nonconformist views on the "Putin regime." It was forced upon him by university colleagues who sought to deny his right to establish graduate school fellowships in Russian affairs bearing his name and that of his mentor at Indiana University, Professor Tucker.

In the face of vicious personal attacks from these McCarthyite forces, in the face of hate mail and even threats to his life, Steve decided to set up The American Committee and to recruit to its governing board famous, patriotic Americans and the descendants of the most revered families in the country. In this he succeeded, and it is to his credit that a moral counter force to the stampeding bulls of repression was erected and has survived to this day.

©Gilbert Doctorow, 2020

[If you found value in this article, you should be interested to read my latest collection of essays entitled A Belgian Perspective on International Affairs, published in November 2019 and available in e-book, paperback and hardbound formats from amazon, barnes & noble, bol.com, fnac, Waterstones and other online retailers. Use the "View Inside" tab on the book's webpages to browse.]
AntiSpin , Sep 20 2020 17:10 utc | 14

Trump's Attack on Social Security
Has Started!

For eight-and-a-half decades, most Republican legislators (and some Democrats) have been trying to get rid of Social Security .

The first step in Trump's assault on Social Security's funding took effect Sept. 1st.

On Trump's orders, the IRS ordered corporations to stop withholding Social Security contributions from paychecks, through the end of the year.

Speaking on Fox Business recently, Trump advisor Larry Kudlow said that later this year Trump will order the IRS to continue the deferral indefinitely.

Social Security's chief actuary wrote that if Social Security is defunded, some benefits will be reduced next year, and that benefits will disappear entirely by the end of 2023.

If you are, or if you know someone on Social Security, please pass the word!

Fox News 6.2M subscribers SUBSCRIBE For Americans living under coronavirus restrictions, it's a question too rarely asked. In fact it's actively discouraged.
Highly recommended!
Nice take on imbecilization of important and complex topics by the US MSM and politicians.
Money quote about neoliberal Dems like Obama and Biden " But there are others for whom altruism is an alien concept. Self-interest is all they know. These people never pause. They relentlessly press for any advantage, under any circumstances. They see human suffering as a means to increase their power."
Another money quote: "in the hands of Democratic politicians, climate change is like systemic racism in the sky: You can't see it, but it's everywhere and it's deadly."
Notable quotes:
"... But there are others for whom altruism is an alien concept. Self-interest is all they know. These people never pause. They relentlessly press for any advantage, under any circumstances. They see human suffering as a means to increase their power. ..."
"... Joe Biden's closest friend in the world, a prominent Martha's Vineyard kite-surfer called Barack Obama, echoed that message with his trademark restraint. Obama declawed that your "life" depends on voting for Joe Biden. ..."
"... One of the few Republicans who still hold elected office in California, state Assemblyman Heath Flora, last year called on using the state's $22 billion budget surplus to implement vegetation management. ..."
"... Fires don't spread as well without huge connected forests functioning as kindling. It's obvious, which is why it's unthinkable to mention it in some Democratic circles." ..."
September 11. 2020

TUCKER CARLSON, FOX NEWS: Massive wildfires continue to sweep across huge portions of the Pacific Northwest.

In Oregon, half a million residents have been forced to evacuate -- one out of every ten people in the state.

Dozens are dead tonight, including small children. But the fires still aren't close to contained. Watch this report from Fox's Jeff Paul:

Video report

And it continues as we speak, walls of flame consuming everything in their path: homes, animals, human beings. Tragedy on a massive scale.

When something this awful happens, decent people pause. They put aside their own interests for a moment. They consider how they can help. We've seen that kind of selflessness before.

This is, remember, the anniversary of 9-11. But there are others for whom altruism is an alien concept. Self-interest is all they know. These people never pause. They relentlessly press for any advantage, under any circumstances. They see human suffering as a means to increase their power.

These are the people who turn funerals into political rallies and feel no shame for doing it.

As Americans burned to death, people like this swung into action immediately. They went on television with a partisan talking point: Climate change caused these fires, they said. They didn't explain how that happened. They just kept saying it.

In the hands of Democratic politicians, climate change is like systemic racism in the sky: you can't see it, but it's everywhere, and it's deadly. And, like systemic racism, it's your fault: The American middle class did it. They ate too many hamburgers, drove too many SUVs, had too many children.

A lot of them wear T-shirts to work and didn't finish college. That causes climate change too. And, worst of all, some of them may vote for Donald Trump in November.

If there's anything that absolutely, definitively causes climate change -- and literally over a hundred percent of scientists agree with this established fact -- it's voting for Donald Trump. You might as well start a tire fire. You're destroying the ozone layer.

Joe Biden has checked the science, and he agrees. Yesterday, the people on Biden's staff who understand the internet tweeted out an image of the wildfires, along with the message, "Climate change is already here -- and we're witnessing its devastating effects every single day. We have to get President Trump out of the White House."

Again, by voting for Donald Trump, you've made hundreds of thousands of Oregonians homeless tonight. You've killed people.

Joe Biden's closest friend in the world, a prominent Martha's Vineyard kite-surfer called Barack Obama, echoed that message with his trademark restraint. Obama declawed that your "life" depends on voting for Joe Biden.

Hold on a minute, you might say. Doesn't this very same Barack Obama own a $12 million spread right on the ocean in Massachusetts?

At a time when sea levels are rising and we're about to see killer whales in the Rockies? Honestly, it doesn't seem like Obama is overly concerned about climate change? And by the way, didn't he go to law school? When he did become a climate expert?

Those seem like good questions. But lawyers pretending to be scientists are now everywhere in the Democratic Party.

Here's the governor of Washington, Jay Inslee, a proud graduate of Willamette University law school, explaining that he's already figured out the "cause" of the fires. Watch:

INSLEE: Fires are proof we need a stronger liberal agenda Sept 8 TRT: 18 Inslee: And these are conditions that are exacerbated by the changing climate that we are suffering. And I do not believe that we should surrender these subdivisions or these houses to climate change-exacerbated fires. We should fight the cause of these fires.

This is a crock. In fact, there is not a single scientist on earth who knows whether, or by how much, these fires may have been "exacerbated" by warmer temperatures caused by "climate change," whatever that means anymore.

All we have is conjecture from a handful of scientists, none of whom have reached any definitive conclusions.

Daniel Swain, a climate scientist at UCLA, for example, has admitted that it's, quote, "hard to determine whether climate change played a role in sparking the fires."

Meanwhile, investigators have determined that the massive El Dorado fire in California, which has torched nearly 14,000 acres, was caused by morons setting off some kind of fireworks. And then on Wednesday, police announced that a criminal investigation is underway into the massive Almeda fire in Ashland, Oregon.

The sheriff there said it's too early to say what caused the fire, but he's said human remains were found at the suspected origin point. Nothing is being ruled out, including arson.

The more you know, the more complicated it is, like everything. Serious people are just beginning to gather evidence to determine what happened to cause this disaster.

But at the same time, unserious people are now everywhere on the media right now, drowning out nuance. Don't worry about the facts, they say. Just trust us -- the sky orange is orange over San Francisco because households making $40,000 a year made the mistake of voting for a Republican.

Therefore you must hand us total control of the nation's economy. Watch amateur arson detective Nancy Pelosi explain:

PELOSI: Mother Earth is angry. She's telling us, whether she's telling us with hurricanes on the Gulf Coast, fires in the west, whatever it is, the climate crisis is real and has an impact.

Mother Nature is angry. Please. When was the last time Nancy Pelosi went outside? No one asked her. All we know is what she said: climate change caused this. Of course.

No matter the natural disaster -- hurricanes, tornadoes, whatever -- climate change did it. Keep in mind, Nancy Pelosi owns two sub-zero freezers. They cost $10,000 apiece.

We know because she showed them off on national television. Those use a lot of energy. Like Barack Obama, she constantly flies private between her multi-million dollar estates all over the country.

Obviously, she doesn't care about climate change. And neither do her supporters -- otherwise, they'd be trying to destroy the mansions she owns, not the hair salons that expose her hypocrisy.

For the left, this is really about blaming and ritually humiliating the middle-class for the election of Donald Trump. Joe Biden knows that the Pennsylvanians who would be financially ruined by his fracking ban are the same Pennsylvanians who flipped the state red in 2016 for the first time in a generation.

That's the whole point. One of the reasons Joe Biden is barely allowed outside is that he has no problem showing his contempt for the middle-class he supposedly cares so much about.

In 2019, he openly mocked coal miners and suggested they just get programming jobs once they're all fired. Watch:

BIDEN: I come from a family, an area where's coal mining – in Scranton. Anybody, that can go down 300 to 3,000 feet in a mine, sure as hell can learn how to program as well.

Learn to code! Hilarious. Joe Biden should try it. But there isn't time. The world is ending. Last summer, Sandy Cortez [AOC] did the math and calculated we only have 12 years left to live .

If that sounds bad, consider this -- Just four months after that warning, Sandy Cortez tweeted that we only have 10 years to "cut carbon emissions in half."

Think about the math here. We lost two years in just four months. At that rate, we could literally all die unless Joe Biden wins in November. Which is of course what they're saying.

On Tuesday, California Gavin Newsom pretty much said it Newsom abandoned science long ago. Science is too stringent, too western, too patriarchal.

Newsom is a man of faith now. He's decided climate change caused all of this , and that's final. He's not listening to any other arguments. Watch:

NEWSOM: I have no patience. And I say this lovingly, not as an ideologue, but as someone who prides himself on being open to argument, interested in evidence. But I quite literally have no patience for climate change deniers. It simply follows completely inconsistent, that point of view, with the reality on the ground.

People like Gavin Newsom don't want to listen to any "climate change deniers." What's a "climate change denier?" Anyone who thinks our ruling class has no idea how to run their states or protect their citizens.

Are we "climate change deniers" if we point out that California has failed to implement meaningful deforestation measures that would have dramatically slowed the spread of these wildfires?

In 2018, a state oversight agency in California found that years of poor or nonexistent forest management policies in the Sierra Nevada forests had contributed to wildfires.

One of the few Republicans who still hold elected office in California, state Assemblyman Heath Flora, last year called on using the state's $22 billion budget surplus to implement vegetation management.

Fires don't spread as well without huge connected forests functioning as kindling. It's obvious, which is why it's unthinkable to mention it in some Democratic circles."

Presumably, you're also a climate-change denier if you point out that six of the Oregon National Guard's wildfire-fighting helicopters are currently in Afghanistan.

Instead of dropping water to suppress blazes, the Chinook aircraft are busy supplying a war effort that's been going on for nearly 20 years. That seems significant. Has anyone asked Gavin Newsom or Jay Inslee about that? Do any of the Democrats who control these states even care?

The answer, of course, is probably not. It was just last week that Los Angeles mayor Eric Garcetti admitted on-the-record that his city has become completely third-world.

Of course, Garcetti didn't blame himself for this turn of events. He blamed you. Quote: "It's almost 3 p.m," Garcetti tweeted. "Time to turn off major appliances, set the thermostat to 78 degrees (or use a fan instead, turn off excess lights and unplug any appliances you're not using. We need every Californian to help conserve energy. Please do your part."

"Please do your part." Garcetti wants his constituents to suffer to try to solve a problem that Democrats in his state created. Even now, as residents in Northern California are facing sweeping power outages in addition to wildfires.

In the meantime, Gavin Newsom has vowed that 50 percent of California's energy grid will be based on quote "renewable" energy sources within a decade.

That means sources like wind and solar power -- which can't be dialed up to meet periods of extreme demand, like California is seeing right now during its heatwave.

Newsom was asked last month whether he would consider revising this stance given the blackouts that have left millions of Californians without power.

Newsom responded, quote, "We are going to radically change the way we produce and consume energy." In other words, The blackouts will continue until morale improves. So will the wildfires. Get used to it.


Fox News 6.2M subscribers SUBSCRIBE In the hands of Democratic politicians, climate change is like systemic racism in the sky: You can't see it, but it's everywhere and it's deadly. #FoxNews #Tucker

---


tintin3366 , 1 week ago

The fires we had here in Australia were lit by humans. They tried to say it was climate change.


Jadyyn Starlight , 1 week ago

I think "Climate change" is exacerbated by the hot air coming out of these politicians

MAGA COUNTRY , 1 week ago (edited)

This is a direct result of Gavin Newsom eliminating forestation controls. Jerry Brown kept them in place, the only thing he did correctly. Democrats are to blame for all of this.


stelpa66 , 1 day ago

When environmentalists pushed through their "leave forests alone, allow nature to be undisturbed" bs, California and other states stopped clearing underbrush, also known as fire fuel and now we see a perfect example of cause and effect.

Don't get me wrong I am a conservatist , but with common sense , we can't conserve unless we protect and nurture nature to thrive. In fact extremism in environmentalism destroys as we see. People dead, animals dead, homes destroyed, forest destroyed because of extremism.

The narrative to leave forests alone happened long before Trump, believing otherwise makes you a useful idiot. Congratulations.

You could Google this old narrative but will you find it, well it's Google, you have to find the people who heard and lived the so called natural environmental push narrative, we remember and we remember the warnings. Congratulations, your ignorance has caused harm.

Quinten Belfor , 1 week ago (edited)

They were caused by "peaceful" arsonists


Lori Taylor , 2 days ago

Tucker most always speaks the truth. I say "most" bc no one is perfect 😉 Everything he said here was the truth! Thank you Tucker!! 👏🏼
Notable quotes:
"... We are witnessing a political game of chess where the only pieces being moved are the pawns, while the king and queen sit safely on a different board. ..."
---

Keegan Fuhs , 3 weeks ago

The 2020 presidential ticket is literally Americans vs domestic terrorists.


MasterOfThe Universe , 2 weeks ago

Anybody find it ironic that it was a white "guy" yelling uncle tom to the black cop??

Jade Warrior , 2 weeks ago (edited)

"Every kingdom divided against itself comes to ruin, and every city and house divided against itself will not stand"....


Tyrone Shoelaces , 23 hours ago

We are witnessing a political game of chess where the only pieces being moved are the pawns, while the king and queen sit safely on a different board.

Peter Brown , 2 weeks ago

@ 6:29 ""There needs to be unrest in the streets as there is unrest in our lives"" When the elite oligarchy ignore peaceful protests, you get aggressive uprisings. It's human nature and good ol' fashioned patriotism.
Blessed are the peacemakers: for they shall be called the children of God
"... In a world that is increasingly confusing and awash with propaganda, Cohen's death is a blow to humanity's desperate quest for clarity and understanding. ..."
Stephen F Cohen, the renowned American scholar on Russia and leading authority on US-Russian relations, has died of lung cancer at the age of 81.

As one of the precious few western voices of sanity on the subject of Russia while everyone else has been frantically flushing their brains down the toilet, this is a real loss. I myself have cited Cohen's expert analysis many times in my own work, and his perspective has played a formative role in my understanding of what's really going on with the monolithic cross-partisan manufacturing of consent for increased western aggressions against Moscow.

In a world that is increasingly confusing and awash with propaganda, Cohen's death is a blow to humanity's desperate quest for clarity and understanding.

I don't know how long Cohen had cancer. I don't know how long he was aware that he might not have much time left on this earth. What I do know is he spent much of his energy in his final years urgently trying to warn the world about the rapidly escalating danger of nuclear war, which in our strange new reality he saw as in many ways completely unprecedented.

The last of the many books Cohen authored was 2019's War with Russia? , detailing his ideas on how the complex multi-front nature of the post-2016 cold war escalations against Moscow combines with Russiagate and other factors to make it in some ways more dangerous even than the most dangerous point of the previous cold war.

"You know it's easy to joke about this, except that we're at maybe the most dangerous moment in US-Russian relations in my lifetime, and maybe ever," Cohen told The Young Turks in 2017. "And the reason is that we're in a new cold war, by whatever name. We have three cold war fronts that are fraught with the possibility of hot war, in the Baltic region where NATO is carrying out an unprecedented military buildup on Russia's border, in Ukraine where there is a civil and proxy war between Russia and the west, and of course in Syria, where Russian aircraft and American warplanes are flying in the same territory. Anything could happen."

Cohen repeatedly points to the most likely cause of a future nuclear war: not one that is planned but one which erupts in tense, complex situations where "anything could happen" in the chaos and confusion as a result of misfire, miscommunication or technical malfunction, as nearly happened many times during the last cold war.

https://www.youtube.com/embed/kqQbK_6meM8?feature=oembed

"I think this is the most dangerous moment in American-Russian relations, at least since the Cuban missile crisis," Cohen told Democracy Now in 2017. "And arguably, it's more dangerous, because it's more complex. Therefore, we -- and then, meanwhile, we have in Washington these -- and, in my judgment, factless accusations that Trump has somehow been compromised by the Kremlin. So, at this worst moment in American-Russian relations, we have an American president who's being politically crippled by the worst imaginable -- it's unprecedented. Let's stop and think. No American president has ever been accused, essentially, of treason. This is what we're talking about here, or that his associates have committed treason."

"Imagine, for example, John Kennedy during the Cuban missile crisis," Cohen added. "Imagine if Kennedy had been accused of being a secret Soviet Kremlin agent. He would have been crippled. And the only way he could have proved he wasn't was to have launched a war against the Soviet Union. And at that time, the option was nuclear war."

"A recurring theme of my recently published book War with Russia? is that the new Cold War is more dangerous, more fraught with hot war, than the one we survived," Cohen wrote last year . "Histories of the 40-year US-Soviet Cold War tell us that both sides came to understand their mutual responsibility for the conflict, a recognition that created political space for the constant peace-keeping negotiations, including nuclear arms control agreements, often known as détente. But as I also chronicle in the book, today's American Cold Warriors blame only Russia, specifically 'Putin's Russia,' leaving no room or incentive for rethinking any US policy toward post-Soviet Russia since 1991."

"Finally, there continues to be no effective, organized American opposition to the new Cold War," Cohen added. "This too is a major theme of my book and another reason why this Cold War is more dangerous than was its predecessor. In the 1970s and 1980s, advocates of détente were well-organized, well-funded, and well-represented, from grassroots politics and universities to think tanks, mainstream media, Congress, the State Department, and even the White House. Today there is no such opposition anywhere."

"A major factor is, of course, 'Russiagate'," Cohen continued. "As evidenced in the sources I cite above, much of the extreme American Cold War advocacy we witness today is a mindless response to President Trump's pledge to find ways to 'cooperate with Russia' and to the still-unproven allegations generated by it. Certainly, the Democratic Party is not an opposition party in regard to the new Cold War."

"Détente with Russia has always been a fiercely opposed, crisis-ridden policy pursuit, but one manifestly in the interests of the United States and the world," Cohen wrote in another essay last year. "No American president can achieve it without substantial bipartisan support at home, which Trump manifestly lacks. What kind of catastrophe will it take -- in Ukraine, the Baltic region, Syria, or somewhere on Russia's electric grid -- to shock US Democrats and others out of what has been called, not unreasonably, their Trump Derangement Syndrome, particularly in the realm of American national security? Meanwhile, the Bulletin of Atomic Scientists has recently reset its Doomsday Clock to two minutes before midnight."

https://www.youtube.com/embed/owbMRxC382A?feature=oembed

And now Stephen Cohen is dead, and that clock is inching ever closer to midnight. The Russiagate psyop that he predicted would pressure Trump to advance dangerous cold war escalations with no opposition from the supposed opposition party has indeed done exactly that with nary a peep of criticism from either partisan faction of the political/media class. Cohen has for years been correctly predicting this chilling scenario which now threatens the life of every organism on earth, even while his own life was nearing its end.

And now the complex cold war escalations he kept urgently warning us about have become even more complex with the addition of nuclear-armed China to the multiple fronts the US-centralized empire has been plate-spinning its brinkmanship upon, and it is clear from the ramping up of anti-China propaganda since last year that we are being prepped for those aggressions to continue to increase.

We should heed the dire warnings that Cohen spent his last breaths issuing. We should demand a walk-back of these insane imperialist aggressions which benefit nobody and call for détente with Russia and China. We should begin creating an opposition to this world-threatening flirtation with armageddon before it is too late. Every life on this planet may well depend on our doing so.

Stephen Cohen is dead, and we are marching toward the death of everything. God help us all.

---

novictim , 55 minutes ago

People are just now starting to realize that possible alternate path. But the Demoncrats in the USA must first be put down, politically euthanized, along with their neocon never-Trump Republican partners. And that cleaning up is on the way. Trump's second term will be the advancement of the USA-Russia initiative that is so long overdue.

PerilouseTimes , 48 minutes ago

Putin won't let western billionaires rape Russia's enormous natural resources and on top of that Putin is against child molesters, that is what this Russia bashing is all about.

awesomepic4u , 1 hour ago

Sad to hear this.

What a good man. It is a real shame that we dont have others to stand up to this crazy pr that is going on right now. Making peace with the world at this point is important. We dont need or want another war and i am sure that both Europe and Russia dont want it on their turf but it seems we keep sticking our finger in their eye. If there is another war it will be the last war. As Einstein said, after the 3rd World War we will be using sticks and stones to fight it.

Clint Liquor , 44 minutes ago

Cohen truly was an island of reason in a sea of insanity. Ironic that those panicked over climate change are unconcerned about the increasing threat of Nuclear War.

thunderchief , 41 minutes ago

One of the very few level headed people on Russia.

All thats left are anti Russia-phobic nut jobs.

Send in the clowns.

Stephen Cohen isn't around to call them what they are anymore.

Eastern Whale , 55 minutes ago

cooperate with Russia

Has the US ever cooperated with anyone?

fucking truth , 3 minutes ago

That is the crux. All or nothing.

Mustafa Kemal , 49 minutes ago

Ive read several of his books. They are essential, imo, if you want to understand modern russian history.

Normal , 1 hour ago

The bankers created the new CCP cold war.

evoila , 19 minutes ago

Max Boot is an effing idiot. Tucker wiped him clean too. It was an insult to Stephen to even put them on the same panel.

RIP Stephen.

Gary Sick is the equivalent to Stephen, except for Iran. He too is of an era of competence which is and will be missed as their voices are drowned out by neocon warmongers

thebigunit , 17 minutes ago

I heard Stephen Cohen a number of time in John Bachelor's podcasts.

He seemed very lucid and made a lot of sense.

He made it very clear that he thought the Democrat's "Trump - Russia collusion schtick" was a bunch of crap.

He didn't sound like a leftie, but I'm sure he never told me the stuff he discussed with his wife who was editor of the left wing "The Nation" magazine.

Boogity , 9 minutes ago

Cohen was a traditional old school anti-war Liberal. They're essentially extinct now with the exception of a few such as Tulsi Gabbard and Dennis Kucinich who have both been ostracized from the Democrat Party and the political system.
Highly recommended!
These sociopaths are messed up world again.
Authored (mostly satirically) by CJ Hopkins via The Consent Factory,

So, it appears the War on Populism is building toward an exciting climax. All the proper pieces are in place for a Class-A GloboCap color revolution , and maybe even civil war. You got your unauthorized Putin-Nazi president, your imaginary apocalyptic pandemic, your violent identitarian civil unrest, your heavily-armed politically-polarized populace, your ominous rumblings from military quarters you couldn't really ask for much more.

OK, the plot is pretty obvious by now (as it is in all big-budget action spectacles, which is essentially what color revolutions are), but that won't spoil our viewing experience. The fun isn't in guessing what is going to happen. Everybody knows what's going to happen. The fun is in watching Bruce, or Sigourney, or "the moderate rebels," or the GloboCap "Resistance," take down the monster, or the terrorists, or Hitler, and save the world, or democracy, or whatever.
Trump represent new "national neoliberalism" platform and the large part of the US neoliberal elite (Clinton gang and large part of republicans) support the return to "classic neoliberalism" at all costs.
Highly recommended!
The essence of color revolution is the combination of engineered contested election and mass organized protest and civil disobedience via creation in neoliberal fifth column out of "professionals", especially students as well as mobilizing and put on payroll some useful disgruntled groups which can be used as a foot soldiers, such as football hooligans. Large and systematic injection of dollars into protest movement. All with the air cover via domination in a part or all nation's MSM.
Norm Eisen - Wikipedia quote "From 1985 to 1988, between college and law school, Eisen worked as the Assistant Director of the Los Angeles office of the Anti-Defamation League . He investigated antisemitism and other civil rights violations, promoted Holocaust education and advanced U.S.–Israel relations ."
He served as US ambassador in Chich Republic from 2011 to 2014. Based on his experience wrote that book Democracy's Defenders published by The Brookings Institution, a neoliberal think tank, about the role of US embassy in neoliberal revolution in Czechoslovakia (aka Velvet Revolution of 1989) which led to the dissolution of the country into two. BTW demonstrations against police brutality were an essential part of the Velvet Revolution
Notable quotes:
"... Same tactics - color revolutions they (Soros, Nuland/Kagan, Eisen, McCain when alive) used to overthrow Orthodox countries in Eastern Europe. Belarus the latest. Ukraine (Orange, Maidan) 2014. Georgia (Rose rev). Serbia, Montenegro. Use young people who have bad sense of history and are more sympathetic to the "West." ..."
---

This is, without ANY question, one of Tucker's most important segments that he has ever done. IT IS EXTREMELY-RARE THAT """they""" ARE EXPOSED, BY-NAME, SO OPENLY AND DIRECTLY, BUT, IT HAPPENED, TONIGHT.

CJ Daly , 4 days ago

Please bring back Dr. Darren Beattie back. More info. on the color revolutions, Mr. Eisen, crew, and their relationship to mail in voting fraud and their impact on the 2020 election is needed. If Mr. Eisens methods are to be used in the 2020 election mass awareness is needed.

john doe , 2 days ago

This is not about Trump. The endgame of the deep state is to enslave people through social division. The election is a wrestling match for entertainment.

Chuck Emmorll , 2 days ago

Norm Eisen's loyalty? Israel?

viewoftheaskew , 3 days ago (edited)

Norm Eisen..., "Obama's Ethics Czar" wow that's a triple oxymoron lol.

Hapa Nice Day , 3 days ago (edited)

Purple is the color of this revolution. Remember the outfits Bill and Hillary wore when Hillary conceded to Trump.

Dave being , 2 days ago

Sounds like what's happening in Venezuela.

John Singer , 1 day ago

The deep state are plotting against the American people 24/7. Russia hoax was a coup, they will try it again.

sandra macey , 3 days ago

Sheesh, he looks scared. I hope he's being well protected now. Darren is a very brave man who is trying to tell the citizens of the US that there is malice aforethought towards the President and this election. It is now not a choice between Republicans or Democrats, it is a fight between good and evil. I'm sure Trump and his team are aware of the playbook and will do everything they can to sort this, with God's help. It may get hairy, but trust the plan.

I have a feeling dems will "rig for red" to frame republicans for voter fraud, overlooking the overwhelming amount of voter fraud in favor of Biden Harris. Causing outrage and calls to remove the President from office and saying Biden actually won. When he really did not. Be prepared. Stay strong.

Peter Jones , 3 days ago

Same tactics - color revolutions they (Soros, Nuland/Kagan, Eisen, McCain when alive) used to overthrow Orthodox countries in Eastern Europe. Belarus the latest. Ukraine (Orange, Maidan) 2014. Georgia (Rose rev). Serbia, Montenegro. Use young people who have bad sense of history and are more sympathetic to the "West."

american people still don't know and can't understand what's happening and what their government is doing, even right now it's happening in Belarus, it happened in Ukraine, Venezuela, Hong Kong and etc. and now it's happening in your own country, wake up people and don't forget who's behind all this - a NGO founded by CIA called NED (National endowment for democracy), Soros and his NGOs and the deep state.
Highly recommended!
The narrative is based on Wikipedia article
Notable quotes:
"... Russian military leaders view the "colour revolutions" as a "new US and European approach to warfare that focuses on creating destabilizing revolutions in other states as a means of serving their security interests at low cost and with minimal casualties. ..."
"... the activities of radical public associations and groups using nationalist and religious extremist ideology, foreign and international nongovernmental organizations, and financial and economic structures, and also individuals, focused on destroying the unity and territorial integrity of the Russian Federation, destabilizing the domestic political and social situation -- including through inciting "color revolutions" -- and destroying traditional Russian religious and moral values ..."
Wikipedia:

Worldwide media use the term Colour Revolution (sometimes Coloured Revolution ) to describe various related movements that developed in several countries of the former Soviet Union , in the People's Republic of China and in the Balkans during the early-21st century. The term has also been applied to a number of revolutions elsewhere, including in the Middle East and in the Asia-Pacific region, dating from the 1980s to the 2010s. Some observers (such as Justin Raimondo and Michael Lind ) have called the events a revolutionary wave , the origins of which can be traced back to the 1986 People Power Revolution (also known as the "Yellow Revolution") in the Philippines .

Participants in colour revolutions have mostly used nonviolent resistance , also called civil resistance . Such methods as demonstrations, strikes and interventions have aimed to protest against governments seen as corrupt and/or authoritarian and to advocate democracy , and they have built up strong pressure for change. Colour-revolution movements generally became associated with a specific colour or flower as their symbol. The colour revolutions are notable for the important role of non-governmental organisations (NGOs) and particularly student activists in organising creative non-violent resistance .

Such movements have had a measure of success as for example in the Federal Republic of Yugoslavia 's Bulldozer Revolution (2000), in Georgia 's Rose Revolution (2003) and in Ukraine 's Orange Revolution (2004). In most but not all cases, massive street-protests followed disputed elections or requests for fair elections and led to the resignation or overthrow of leaders regarded by their opponents as authoritarian . Some events have been called "colour revolutions", but differ from the above cases in certain basic characteristics. Examples include Lebanon's Cedar Revolution (2005) and Kuwait 's Blue Revolution (2005).

Russia and China share nearly identical views that colour revolutions are the product of machinations by the United States and other Western powers and pose a vital threat to their public and national security.

Revolution
Location
Date started
Date ended
Description
Yellow Revolution
Philippines
22 February 1986
25 February 1986
The 1986 People Power Revolution (also called the " EDSA " or the "Yellow" Revolution) in the Philippines was the first successful non-violent uprising in the contemporary period. It was the culmination of peaceful demonstrations against the rule of then-President Ferdinand Marcos – all of which increased after the 1983 assassination of opposition Senator Benigno S. Aquino, Jr. A contested snap election on 7 February 1986 and a call by the powerful Filipino Catholic Church sparked mass protests across Metro Manila from 22–25 February. The Revolution's iconic L-shaped Laban sign comes from the Filipino term for People Power, " Lakás ng Bayan ", whose acronym is " LABAN " ("fight"). The yellow-clad protesters, later joined by the Armed Forces , ousted Marcos and installed Aquino's widow Corazón as the country's eleventh President, ushering in the present Fifth Republic .
Coconut Revolution
Papua New Guinea
1 December 1988
20 April 1998
Long-standing secessionist sentiment in Bougainville eventually led to conflict with Papua New Guinea. The inhabitants of Bougainville Island formed the Bougainville Revolutionary Army and fought against government troops. On 20 April 1998, Papua New Guinea ended the civil war. In 2005, Papua New Guinea gave autonomy to Bougainville.
Velvet Revolution (Czechoslovakia)
Czechoslovakia
17 November 1989
29 December 1989
in 1989, a peaceful demonstration by students (mostly from Charles University ) was attacked by the police – and in time contributed to the collapse of the communist government in Czechoslovakia.
Bulldozer Revolution
Yugoslavia
5 October 2000
The 'Bulldozer Revolution' in 2000, which led to the overthrow of Slobodan Milošević . These demonstrations are usually considered to be the first example of the peaceful revolutions which followed. However, the Serbians adopted an approach that had already been used in parliamentary elections in Bulgaria (1997) , Slovakia (1998) and Croatia (2000) , characterised by civic mobilisation through get-out-the-vote campaigns and unification of the political opposition. The nationwide protesters did not adopt a colour or a specific symbol; however, the slogan " Gotov je " (Serbian Cyrillic: Готов је , English: He is finished ) did become an aftermath symbol celebrating the completion of the task. Despite the commonalities, many others refer to Georgia as the most definite beginning of the series of "colour revolutions". The demonstrations were supported by the youth movement Otpor! , some of whose members were involved in the later revolutions in other countries.
Rose Revolution
Georgia
3 November 2003
23 November 2003
The Rose Revolution in Georgia, following the disputed 2003 election , led to the overthrow of Eduard Shevardnadze and replacing him with Mikhail Saakashvili after new elections were held in March 2004. The Rose Revolution was supported by the Kmara civic resistance movement.
Second Rose Revolution
Adjara (Georgia)
20 February 2004
May-July 2004
Following the Rose Revolution in Georgia, the Adjara crisis (sometimes called "Second Rose Revolution" or Mini-Rose Revolution ) led to the exit of Chairman of the Government Aslan Abashidze from office.
Orange Revolution
Ukraine
22 November 2004
23 January 2005
The Orange Revolution in Ukraine followed the disputed second round of the 2004 Ukrainian presidential election , leading to the annulment of the result and the repeat of the round – Leader of the Opposition Viktor Yushchenko was declared President, defeating Viktor Yanukovych . The Orange Revolution was supported by PORA .
Purple Revolution
Iraq
January 2005
Purple Revolution was a name first used by some hopeful commentators and later picked up by United States President George W. Bush to describe the coming of democracy to Iraq following the 2005 Iraqi legislative election and was intentionally used to draw the parallel with the Orange and Rose revolutions. However, the name "purple revolution" has not achieved widespread use in Iraq, the United States or elsewhere. The name comes from the colour that voters' index fingers were stained to prevent fraudulent multiple voting. The term first appeared shortly after the January 2005 election in various weblogs and editorials of individuals supportive of the U.S. invasion of Iraq. The term received its widest usage during a visit by U.S. President George W. Bush on 24 February 2005 to Bratislava , Slovak Republic, for a summit with Russian President Vladimir Putin . Bush stated: "In recent times, we have witnessed landmark events in the history of liberty: A Rose Revolution in Georgia, an Orange Revolution in Ukraine, and now, a Purple Revolution in Iraq."
Tulip Revolution
Kyrgyzstan
27 February 2005
11 April 2005
The Tulip Revolution in Kyrgyzstan (also sometimes called the "Pink Revolution") was more violent than its predecessors and followed the disputed 2005 Kyrgyz parliamentary election . At the same time, it was more fragmented than previous "colour" revolutions. The protesters in different areas adopted the colours pink and yellow for their protests. This revolution was supported by youth resistance movement KelKel .
Cedar Revolution
Lebanon
14 February 2005
27 April 2005
The Cedar Revolution in Lebanon between February and April 2005 followed not a disputed election, but rather the assassination of opposition leader Rafik Hariri in 2005. Also, instead of the annulment of an election, the people demanded an end to the Syrian occupation of Lebanon . Nonetheless, some of its elements and some of the methods used in the protests have been similar enough that it is often considered and treated by the press and commentators as one of the series of "colour revolutions". The Cedar of Lebanon is the symbol of the country, and the revolution was named after it. The peaceful demonstrators used the colours white and red, which are found in the Lebanese flag. The protests led to the pullout of Syrian troops in April 2005, ending their nearly 30-year presence there, although Syria retains some influence in Lebanon.
Blue Revolution
Kuwait
March 2005
Blue Revolution was a term used by some Kuwaitis to refer to demonstrations in Kuwait in support of women's suffrage beginning in March 2005; it was named after the colour of the signs the protesters used. In May of that year the Kuwaiti government acceded to their demands, granting women the right to vote beginning in the 2007 parliamentary elections. Since there was no call for regime change, the so-called "blue revolution" cannot be categorised as a true colour revolution.
Jeans Revolution
Belarus
19 March 2006
25 March 2006
In Belarus, there have been a number of protests against President Alexander Lukashenko , with participation from student group Zubr . One round of protests culminated on 25 March 2005; it was a self-declared attempt to emulate the Kyrgyzstan revolution, and involved over a thousand citizens. However, police severely suppressed it, arresting over 30 people and imprisoning opposition leader Mikhail Marinich .

A second, much larger, round of protests began almost a year later, on 19 March 2006, soon after the presidential election . Official results had Lukashenko winning with 83% of the vote; protesters claimed the results were achieved through fraud and voter intimidation, a charge echoed by many foreign governments. Protesters camped out in October Square in Minsk over the next week, calling variously for the resignation of Lukashenko, the installation of rival candidate Alaksandar Milinkievič , and new, fair elections.

The opposition originally used as a symbol the white-red-white former flag of Belarus ; the movement has had significant connections with that in neighbouring Ukraine, and during the Orange Revolution some white-red-white flags were seen being waved in Kiev. During the 2006 protests some called it the " Jeans Revolution " or "Denim Revolution", blue jeans being considered a symbol for freedom. Some protesters cut up jeans into ribbons and hung them in public places. It is claimed that Zubr was responsible for coining the phrase.

Lukashenko has said in the past: "In our country, there will be no pink or orange, or even banana revolution." More recently he's said "They [the West] think that Belarus is ready for some 'orange' or, what is a rather frightening option, 'blue' or ' cornflower blue ' revolution. Such 'blue' revolutions are the last thing we need". On 19 April 2005, he further commented: "All these coloured revolutions are pure and simple banditry."

Saffron Revolution
Myanmar
15 August 2007
26 September 2007
In Myanmar (unofficially called Burma), a series of anti-government protests were referred to in the press as the Saffron Revolution after Buddhist monks ( Theravada Buddhist monks normally wear the colour saffron) took the vanguard of the protests. A previous, student-led revolution, the 8888 Uprising on 8 August 1988, had similarities to the colour revolutions, but was violently repressed.
Grape Revolution
Moldova
6 April 2009
12 April 2009
The opposition is reported to have hoped for and urged some kind of Orange revolution, similar to that in Ukraine, in the follow-up of the 2005 Moldovan parliamentary elections , while the Christian Democratic People's Party adopted orange for its colour in a clear reference to the events of Ukraine.

A name hypothesised for such an event was "Grape Revolution" because of the abundance of vineyards in the country; however, such a revolution failed to materialise after the governmental victory in the elections. Many reasons have been given for this, including a fractured opposition and the fact that the government had already co-opted many of the political positions that might have united the opposition (such as a perceived pro-European and anti-Russian stance). Also the elections themselves were declared fairer in the OSCE election monitoring reports than had been the case in other countries where similar revolutions occurred, even though the CIS monitoring mission strongly condemned them.

There was civil unrest all over Moldova following the 2009 Parliamentary election due to the opposition claiming that the communists had fixed the election. Eventually, the Alliance for European Integration created a governing coalition that pushed the Communist party into opposition.

Green Movement
Iran
13 June 2009
11 February 2010
Green Movement is a term widely used to describe the 2009–2010 Iranian election protests . The protests began in 2009, several years after the main wave of colour revolutions, although like them it began due to a disputed election, the 2009 Iranian presidential election . Protesters adopted the colour green as their symbol because it had been the campaign colour of presidential candidate Mir-Hossein Mousavi , whom many protesters thought had won the elections . However Mousavi and his wife went under house arrest without any trial issued by a court.
Melon Revolution
Kyrgyzstan
6 April 2010
14 December 2010
The Kyrgyz Revolution of 2010 in Kyrgyzstan (also sometimes called the "Melon Revolution") led to the exit of President Kurmanbek Bakiyev from office. The total number of deaths should be 2,000.
Jasmine Revolution
Tunisia
18 December 2010
14 January 2011
Jasmine Revolution was a widely used term for the Tunisian Revolution . The Jasmine Revolution led to the exit of President Ben Ali from office and the beginning of the Arab Spring .
Lotus Revolution
Egypt
25 January 2011
11 February 2011
Lotus Revolution was a term used by various western news sources to describe the Egyptian Revolution of 2011 that forced President Mubarak to step down in 2011 as part of the Arab Spring , which followed the Jasmine Revolution of Tunisia. Lotus is known as the flower representing resurrection, life and the sun of ancient Egypt. It is uncertain who gave the name, while columnist of Arabic press, Asharq Alawsat, and prominent Egyptian opposition leader Saad Eddin Ibrahim claimed to name it the Lotus Revolution. Lotus Revolution later became common on western news source such as CNN. Other names, such as White Revolution and Nile Revolution, are used but are minor terms compare to Lotus Revolution. The term Lotus Revolution is rarely, if ever, used in the Arab world.
Pearl Revolution
Bahrain
14 February 2011
22 November 2014
In February 2011, Bahrain was also affected by protests in Tunisia and Egypt. Bahrain has long been famous for its pearls and Bahrain's speciality. And there was the Pearl Square in Manama, where the demonstrations began. The people of Bahrain were also protesting around the square. At first, the government of Bahrain promised to reform the people. But when their promises were not followed, the people resisted again. And in the process, bloodshed took place (18 March 2011). After that, a small demonstration is taking place in Bahrain.
Coffee Revolution
Yemen
27 January 2011
23 November 2011
An anti-government protest started in Yemen in 2011. The Yemeni people sought to resign Ali Abdullah Saleh as the ruler. On 24 November, Ali Abdullah Saleh decided to transfer the regime. In 2012, Ali Abdullah Saleh finally fled to the United States(27 February).
Jasmine Revolution
China
20 February 2011
20 March 2011
A call which first appeared on 17 February 2011 on the Chinese language site Boxun.com in the United States for a "Jasmine revolution" in the People's Republic of China and repeated on social networking sites in China resulted in blocking of internet searches for "jasmine" and a heavy police presence at designated sites for protest such as the McDonald's in central Beijing, one of the 13 designated protest sites, on 20 February 2011. A crowd did gather there, but their motivations were ambiguous as a crowd tends to draw a crowd in that area. Boxun experienced a denial of service attack during this period and was inaccessible.
Snow Revolution
Russia
4 December 2011
18 July 2013
Protests started on 4 December 2011 in the capital, Moscow against the results of the parliamentary elections, which led to the arrests of over 500 people. On 10 December, protests erupted in tens of cities across the country; a few months later, they spread to hundreds both inside the country and abroad. The name of the Snow Revolution derives from December - the month when the revolution had started - and from the white ribbons the protesters wore.
Colourful Revolution
Macedonia
12 April 2016
20 July 2016
Many analysts and participants of the protests against President of Macedonia Gjorge Ivanov and the Macedonian government refer to them as a "colourful Revolution", due to the demonstrators throwing paint balls of different colours at government buildings in Skopje , the capital.
Velvet Revolution (Armenia)
Armenia
31 March 2018
8 May 2018
In 2018, a peaceful revolution was led by member of parliament Nikol Pashinyan in opposition to the nomination of Serzh Sargsyan as Prime Minister of Armenia , who had previously served as both President of Armenia and prime minister, eliminating term limits which would have otherwise prevented his 2018 nomination. Concerned that Sargsyan's third consecutive term as the most powerful politician in the government of Armenia gave him too much political influence, protests occurred throughout the country, particularly in Yerevan , but demonstrations in solidarity with the protesters also occurred in other countries where Armenian diaspora live.

During the protests, Pashinyan was arrested and detained on 22 April, but he was released the following day. Sargsyan stepped down from the position of Prime Minister, and his Republican Party decided to not put forward a candidate. An interim Prime Minister was selected from Sargsyan's party until elections were held, and protests continued for over one month. Crowd sizes in Yerevan consisted of 115,000 to 250,000 people at a time throughout the revolution, and hundreds of protesters were arrested. Pashinyan referred to the event as a Velvet Revolution. A vote was held in parliament, and Pashinyan became the Prime Minister of Armenia.

Many have cited the influence of the series of revolutions which occurred in Central and Eastern Europe in the late 1980s and early 1990s, particularly the Velvet Revolution in Czechoslovakia in 1989. A peaceful demonstration by students (mostly from Charles University ) was attacked by the police – and in time contributed to the collapse of the communist government in Czechoslovakia. Yet the roots of the pacifist floral imagery may go even further back to the non-violent Carnation Revolution of Portugal in April 1974, which is associated with the colour carnation because carnations were worn, and the 1986 Yellow Revolution in the Philippines where demonstrators offered peace flowers to military personnel manning armoured tanks.

Student movements

The first of these was Otpor! ("Resistance!") in the Federal Republic of Yugoslavia, which was founded at Belgrade University in October 1998 and began protesting against Miloševic' during the Kosovo War . Most of them were already veterans of anti-Milošević demonstrations such as the 1996–97 protests and the 9 March 1991 protest . Many of its members were arrested or beaten by the police. Despite this, during the presidential campaign in September 2000, Otpor launched its " Gotov je " (He's finished) campaign that galvanised Serbian discontent with Miloševic' and resulted in his defeat.

Members of Otpor have inspired and trained members of related student movements including Kmara in Georgia, Pora in Ukraine, Zubr in Belarus and MJAFT! in Albania. These groups have been explicit and scrupulous in their practice of non-violent resistance as advocated and explained in Gene Sharp 's writings. The massive protests that they have organised, which were essential to the successes in the Federal Republic of Yugoslavia, Georgia and Ukraine, have been notable for their colourfulness and use of ridiculing humor in opposing authoritarian leaders.

Critical analysis

The analysis of international geopolitics scholars Paul J. Bolt and Sharyl N. Cross is that "Moscow and Beijing share almost indistinguishable views on the potential domestic and international security threats posed by colored revolutions, and both nations view these revolutionary movements as being orchestrated by the United States and its Western democratic partners to advance geopolitical ambitions."

Russian assessment

According to Anthony Cordesman of the Center for Strategic and International Studies , Russian military leaders view the "colour revolutions" as a "new US and European approach to warfare that focuses on creating destabilizing revolutions in other states as a means of serving their security interests at low cost and with minimal casualties."

Government figures in Russia , such as Defence Minister Sergei Shoigu (in office from 2012) and Foreign Minister Sergei Lavrov (in office from 2004), have characterised colour revolutions as externally-fuelled acts with a clear goal to influence the internal affairs that destabilise the economy, conflict with the law and represent a new form of warfare. Russian President Vladimir Putin has stated that Russia must prevent colour revolutions: "We see what tragic consequences the wave of so-called colour revolutions led to. For us this is a lesson and a warning. We should do everything necessary so that nothing similar ever happens in Russia".

The 2015 presidential decree The Russian Federation's National Security Strategy ( О Стратегии Национальной Безопасности Российской Федерации ) cites "foreign sponsored regime change" among "main threats to public and national security," including

the activities of radical public associations and groups using nationalist and religious extremist ideology, foreign and international nongovernmental organizations, and financial and economic structures, and also individuals, focused on destroying the unity and territorial integrity of the Russian Federation, destabilizing the domestic political and social situation -- including through inciting "color revolutions" -- and destroying traditional Russian religious and moral values

Chinese view

Articles published by the Global Times , a state-run nationalist tabloid, indicate that Chinese leaders also anticipate the Western powers, such as the United States, using "color revolutions" as a means to undermine the one-party state. An article published on 8 May 2016 claims: "A variation of containment seeks to press China on human rights and democracy with the hope of creating a 'color revolution.'" A 13 August 2019 article declared that the 2019 Hong Kong extradition bill protests were a colour revolution that "aim[ed] to ruin HK 's future."

The 2015 policy white paper "China's Military Strategy" by the State Council Information Office said that "anti-China forces have never given up their attempt to instigate a 'color revolution' in this country."

Azerbaijan

A number of movements were created in Azerbaijan in mid-2005, inspired by the examples of both Georgia and Ukraine. A youth group, calling itself Yox! (which means No!), declared its opposition to governmental corruption. The leader of Yox! said that unlike Pora or Kmara , he wants to change not just the leadership, but the entire system of governance in Azerbaijan. The Yox movement chose green as its colour.

The spearhead of Azerbaijan's attempted colour revolution was Yeni Fikir ("New Idea"), a youth group closely aligned with the Azadlig (Freedom) Bloc of opposition political parties. Along with groups such as Magam ("It's Time") and Dalga ("Wave"), Yeni Fikir deliberately adopted many of the tactics of the Georgian and Ukrainian colour revolution groups, even borrowing the colour orange from the Ukrainian revolution.

In November 2005 protesters took to the streets, waving orange flags and banners, to protest what they considered government fraud in recent parliamentary elections. The Azerbaijani colour revolution finally fizzled out with the police riot on 26 November, during which dozens of protesters were injured and perhaps hundreds teargassed and sprayed with water cannons.

Bangladesh Main article: 2013 Shahbag protests

On 5 February 2013, protests began in Shahbag and later spread to other parts of Bangladesh following demands for capital punishment for Abdul Quader Mollah , who had been sentenced to life imprisonment, and for others convicted of war crimes by the International Crimes Tribunal of Bangladesh . On that day, the International Crimes Tribunal had sentenced Mollah to life in prison after he was convicted on five of six counts of war crimes . Later demands included banning the Bangladesh Jamaat-e-Islami party from politics including election and a boycott of institutions supporting (or affiliated with) the party.

Protesters considered Mollah's sentence too lenient, given his crimes. Bloggers and online activists called for additional protests at Shahbag. Tens of thousands of people joined the demonstration, which gave rise to protests across the country.

The movement demanding trial of war criminals is a protest movement in Bangladesh, from 1972 to present.

Belarus

In Belarus , there have been a number of protests against President Alexander Lukashenko , with participation from student group Zubr . One round of protests culminated on 25 March 2005; it was a self-declared attempt to emulate the Kyrgyzstan revolution, and involved over a thousand citizens. However, police severely suppressed it, arresting over 30 people and imprisoning opposition leader Mikhail Marinich .

A second, much larger, round of protests began almost a year later, on 19 March 2006, soon after the presidential election . Official results had Lukashenko winning with 83% of the vote; protesters claimed the results were achieved through fraud and voter intimidation, a charge echoed by many foreign governments. Protesters camped out in October Square in Minsk over the next week, calling variously for the resignation of Lukashenko, the installation of rival candidate Alaksandar Milinkievič , and new, fair elections.

The opposition originally used as a symbol the white-red-white former flag of Belarus ; the movement has had significant connections with that in neighbouring Ukraine, and during the Orange Revolution some white-red-white flags were seen being waved in Kiev. During the 2006 protests some called it the " Jeans Revolution " or "Denim Revolution", blue jeans being considered a symbol for freedom. Some protesters cut up jeans into ribbons and hung them in public places. It is claimed that Zubr was responsible for coining the phrase.

Lukashenko has said in the past: "In our country, there will be no pink or orange, or even banana revolution." More recently he's said "They [the West] think that Belarus is ready for some 'orange' or, what is a rather frightening option, 'blue' or ' cornflower blue ' revolution. Such 'blue' revolutions are the last thing we need". On 19 April 2005, he further commented: "All these colored revolutions are pure and simple banditry."

Burma Main article: Saffron Revolution

In Burma (officially called Myanmar), a series of anti-government protests were referred to in the press as the Saffron Revolution after Buddhist monks ( Theravada Buddhist monks normally wear the colour saffron) took the vanguard of the protests. A previous, student-led revolution, the 8888 Uprising on 8 August 1988, had similarities to the colour revolutions, but was violently repressed.

China Main articles: Chinese democracy movement and 2011 Chinese pro-democracy protests

A call which first appeared on 17 February 2011 on the Chinese language site Boxun.com in the United States for a "Jasmine revolution" in the People's Republic of China and repeated on social networking sites in China resulted in blocking of internet searches for "jasmine" and a heavy police presence at designated sites for protest such as the McDonald's in central Beijing, one of the 13 designated protest sites, on 20 February 2011. A crowd did gather there, but their motivations were ambiguous as a crowd tends to draw a crowd in that area. Boxun experienced a denial of service attack during this period and was inaccessible.

Fiji Main articles: 2009 Fijian constitutional crisis and Fijian general election, 2014

In the 2000s, Fiji suffered numerous coups. But at the same time, many Fiji citizens resisted the military. In Fiji, there have been many human rights abuses by the military. Anti-government protesters in Fiji have fled to Australia and New Zealand. In 2011, Fijians conducted anti Fijian government protests in Australia. On 17 September 2014, the first democratic general election was held in Fiji.

Guatemala Main article: 2015 Guatemalan protests

In 2015, Otto Pérez Molina , President of Guatemala, was suspected of corruption. In Guatemala City, a large number of protests rallied. Demonstrations took place from April to September 2015. Otto Pérez Molina was eventually arrested on 3 September. The people of Guatemala called this event "Guatemalan Spring".

Moldova

The opposition is reported to have hoped for and urged some kind of Orange revolution, similar to that in Ukraine, in the follow-up of the 2005 Moldovan parliamentary elections , while the Christian Democratic People's Party adopted orange for its colour in a clear reference to the events of Ukraine.

A name hypothesised for such an event was "Grape Revolution" because of the abundance of vineyards in the country; however, such a revolution failed to materialise after the governmental victory in the elections. Many reasons have been given for this, including a fractured opposition and the fact that the government had already co-opted many of the political positions that might have united the opposition (such as a perceived pro-European and anti-Russian stance). Also the elections themselves were declared fairer in the OSCE election monitoring reports than had been the case in other countries where similar revolutions occurred, even though the CIS monitoring mission strongly condemned them.

There was civil unrest all over Moldova following the 2009 Parliamentary election due to the opposition claiming that the communists had fixed the election. Eventually, the Alliance for European Integration created a governing coalition that pushed the Communist party into opposition.

Mongolia

On 25 March 2005, activists wearing yellow scarves held protests in the capital city of Ulaanbaatar , disputing the results of the 2004 Mongolian parliamentary elections and calling for fresh elections. One of the chants heard in that protest was "Let's congratulate our Kyrgyz brothers for their revolutionary spirit. Let's free Mongolia of corruption."

An uprising commenced in Ulaanbaatar on 1 July 2008, with a peaceful meeting in protest of the election of 29 June. The results of these elections were (it was claimed by opposition political parties) corrupted by the Mongolian People's Party (MPRP). Approximately 30,000 people took part in the meeting. Afterwards, some of the protesters left the central square and moved to the HQ of the Mongolian People's Revolutionary Party – which they attacked and then burned down. A police station was also attacked. By the night rioters vandalised and then set fire to the Cultural Palace (which contained a theatre, museum and National art gallery). Cars torching, bank robberies and looting were reported. The organisations in the burning buildings were vandalised and looted. Police used tear gas, rubber bullets and water cannon against stone-throwing protesters. A 4-day state of emergency was installed, the capital has been placed under a 2200 to 0800 curfew, and alcohol sales banned, rioting not resumed. 5 people were shot dead by the police , dozens of teenagers were wounded from the police firearms and disabled and 800 people, including the leaders of the civil movements J. Batzandan, O. Magnai and B. Jargalsakhan, were arrested. International observers said 1 July general election was free and fair.

Pakistan Main articles: Lawyers' Movement and Movement to impeach Pervez Musharraf

In 2007, the Lawyers' Movement started in Pakistan with the aim of restoration of deposed judges. However, within a month the movement took a turn and started working towards the goal of removing Pervez Musharraf from power.

Russia Main articles: Russian opposition , Dissenters' March , Strategy-31 , and 2011–13 Russian protests

The liberal opposition in Russia is represented by several parties and movements.

An active part of the opposition is the Oborona youth movement. Oborona claims that its aim is to provide free and honest elections and to establish in Russia a system with democratic political competition. This movement under the leadership of Oleg Kozlovsky was one of the most active and radical ones and is represented in a number of Russian cities. During the elections of 8 September 2013, the movement contributed to the success of Navalny in Moscow and other opposition candidates in various regions and towns throughout Russia. The "oboronkis" also took part with other oppositional groups in protests against fraud in the Moscow mayoral elections.

Since the 2012 protests, Aleksei Navalny mobilised with support of the various and fractured opposition parties and masses of young people against the alleged repression and fraud of the Kremlin apparatus. After a strong campaign for the 8 September elections in Moscow and the regions, the opposition won remarkable successes. Navalny reached a second place in Moscow with surprising 27% behind Kremlin-backed Sergei Sobyanin finishing with 51% of the votes. In other regions, opposition candidates received remarkable successes. In the big industrial town of Yekaterinburg, opposition candidate Yevgeny Roizman received the majority of votes and became the mayor of that town. The slow but gradual sequence of opposition successes reached by mass protests, election campaigns and other peaceful strategies has been recently called by observers and analysts as of Radio Free Europe "Tortoise Revolution" in contrast to the radical "rose" or "orange" ones the Kremlin tried to prevent.

The opposition in the Republic of Bashkortostan has held protests demanding that the federal authorities intervene to dismiss Murtaza Rakhimov from his position as president of the republic, accusing him of leading an "arbitrary, corrupt, and violent" regime. Airat Dilmukhametov , one of the opposition leaders, and leader of the Bashkir National Front , has said that the opposition movement has been inspired from the mass protests of Ukraine and Kyrgyzstan. Another opposition leader, Marat Khaiyirulin , has said that if an Orange Revolution were to happen in Russia, it would begin in Bashkortostan.

South Korea Main article: Candlelight Revolution

From 2016 to 2017, the candlelight protest was going on in South Korea with the aim to force the ousting of President Park Geun-hye . Park was impeached and removed from office, and new presidential elections were held.

Uzbekistan Main article: 2005 Andijan unrest

In Uzbekistan , there has been longstanding opposition to President Islam Karimov , from liberals and Islamists. Following protests in 2005, security forces in Uzbekistan carried out the Andijan massacre that successfully halted country-wide demonstrations. These protests otherwise could have turned into colour revolution, according to many analysts.

The revolution in neighbouring Kyrgyzstan began in the largely ethnic Uzbek south, and received early support in the city of Osh . Nigora Hidoyatova , leader of the Free Peasants opposition party, has referred to the idea of a peasant revolt or 'Cotton Revolution'. She also said that her party is collaborating with the youth organisation Shiddat , and that she hopes it can evolve to an organisation similar to Kmara or Pora. Other nascent youth organisations in and for Uzbekistan include Bolga and the freeuzbek group.

Uzbekistan has also had an active Islamist movement, led by the Islamic Movement of Uzbekistan , most notable for the 1999 Tashkent bombings , though the group was largely destroyed following the 2001 NATO invasion of Afghanistan .

Response in other countries

When groups of young people protested the closure of Venezuela's RCTV television station in June 2007, president Hugo Chávez said that he believed the protests were organised by the West in an attempt to promote a "soft coup" like the revolutions in Ukraine and Georgia. Similarly, Chinese authorities claimed repeatedly in the state-run media that both the 2014 Hong Kong protests – known as the Umbrella Revolution – as well as the 2019–20 Hong Kong protests , were organised and controlled by the United States.

In July 2007, Iranian state television released footage of two Iranian-American prisoners, both of whom work for western NGOs, as part of a documentary called "In the Name of Democracy." The documentary purportedly discusses the colour revolutions in Ukraine and Georgia and accuses the United States of attempting to foment a similar ouster in Iran.

Other examples and political movements around the world

The imagery of a colour revolution has been adopted by various non-revolutionary electoral campaigns. The 'Purple Revolution' social media campaign of Naheed Nenshi catapulted his platform from 8% to become Calgary's 36th Mayor. The platform advocated city sustainability and to inspire the high voter turn out of 56%, particularly among young voters.

In 2015, the NDP of Alberta earned a majority mandate and ended the 44-year-old dynasty of the Progressive Conservatives . During the campaign Rachel Notley 's popularity gained momentum, and the news and NDP supporters referred to this phenomenon as the "Orange Crush" per the party's colour. NDP parodies of Orange flavoured Crush soda logo became a popular meme on social media.
Highly recommended!
Notable quotes:
"... yes, Norm Eisen was Obama's ethics Czar ..."
"... From Dictatorship to Democracy ..."
"... Washington Free Beacon ..."
"... One NGO called the Transatlantic Democracy Working Group (TDWG) was bold or reckless enough to draw the parallels between the Color Revolution in Belarus and the events playing out against Trump explicitly ..."
"... Now, would the reader care to take a guess as to who runs the Transatlantic Democracy Working Group? If you guessed Norm Eisen, you would be correct. ..."
Revolver Exclusive -- Meet Norm Eisen: Legal Hatchet Man and Central Operative in the "Color Revolution" Against President Trump

In our report on Never Trump State Department official George Kent , Revolver News first drew attention to the ominous similarities between the strategies and tactics the United States government employs in so-called "Color Revolutions" and the coordinated efforts of government bureaucrats, NGOs, and the media to oust President Trump.

Trending: Tweet of the Day: Dem. Sen. Blumenthal Threatens -- 'Nothing' Off The Table If GOP Forces Vote on SCOTUS Pick

Our recent follow-up to this initial report focused specifically on a shadowy, George Soros linked group called the Transition Integrity Project (TIP), which convened "war games" exercises suggesting the likelihood of a "contested election scenario," and of ensuing chaos should President Trump refuse to leave office. We further showed how these "contested election" scenarios we are hearing so much about play perfectly into the Color Revolution framework sketched out Revolver News' first installment in the Color Revolution series.

This third installment of Revolver News ' series exposing the Color Revolution against Trump will focus on one quiet and indeed mostly overlooked participant in the Transition Integrity Project's biased election "war games" exercise -- a man by the name of Norm Eisen.

As the man who implemented the David Brock blueprint for suing the President into paralysis and his allies into bankruptcy , who helped mainstream and amplify the Russia Hoax, who drafted 10 articles of impeachment for the Democrats a full month before President Trump ever called the Ukraine President in 2018 , who personally served as special counsel litigating the Ukraine impeachment, who created a template for Internet censorship of world leaders and a handbook for mass mobilizing racial justice protesters to overturn democratic election results, there is perhaps no man alive with a more decorated resume for plots against President Trump.

Indeed, the story of Norm Eisen – a key architect of nearly every attempt to delegitimize, impeach, censor, sue and remove the democratically elected 45th President of the United States – is a tale that winds through nearly every facet of the color revolution playbook. There is no purer embodiment of Revolver's thesis that the very same regime change professionals who run Color Revolutions on behalf of the US Government in order to undermine or overthrow alleged "authoritarian" governments overseas, are running the very same playbook to overturn Trump's 2016 victory and to pre-empt a repeat in 2020. To put it simply, what you see is not just the same Color Revolution playbook run against Trump, but the same people using it against Trump who have employed it in a professional capacity against targets overseas -- same people same playbook.

In Norm Eisen's case, the "same people same playbook" refrain takes an arrestingly literal turn when one realizes that Norm Eisen wrote a classic Color Revolution regime change manual, and conveniently titled it "The Playbook."

Just what exactly is President Obama's former White House Ethics Czar ( yes, Norm Eisen was Obama's ethics Czar ), his longtime friend since Harvard Law School, who recently partook in war games to simulate overturning a Trump electoral victory, doing writing a detailed playbook on how to use a Color Revolution to overthrow governments? The story of Norm Eisen only gets more fascinating, outrageous, and indispensable to understanding the planned chaos unfolding before our eyes, leading up to what will perhaps be the most chaotic election in our nation's recent history.

-- -- -- -- -- -- -

"I'd Rather Have This Book Than The Atomic Bomb"

Before we can fully appreciate the significance of Norm Eisen's Color Revolution manual "The Playbook," we must contextualize this important book in relation to its place in Color Revolution literature.

As a bit of a refresher to the reader, it is important to emphasize that when we use the term "Color Revolution" we do not mean any general type of revolution -- indeed, one of the chief advantages of the Color Revolution framework we advance is that it offers a specific and concrete heuristic by which to understand the operations against Trump beyond the accurate but more vague term "coup." Unlike the overt, blunt, method of full scale military invasion as was the case in Iraq War, a Color Revolution employs the following strategies and tactics:

A "Color Revolution" in this context refers to a specific type of coordinated attack that the United States government has been known to deploy against foreign regimes, particularly in Eastern Europe deemed to be "authoritarian" and hostile to American interests. Rather than using a direct military intervention to effect regime change as in Iraq, Color Revolutions attack a foreign regime by contesting its electoral legitimacy, organizing mass protests and acts of civil disobedience, and leveraging media contacts to ensure favorable coverage to their agenda in the Western press. [Revolver]

This combination of tactics used in so-called Color Revolutions did not come from nowhere. Before Norm Eisen came Gene Sharp -- originator and Godfather of the Color Revolution model that has been a staple of US Government operations externally (and now internally) for decades. Before Norm Eisen's "Playbook" there was Gene Sharp's classic "From Dictatorship to Democracy," which might be justly described as the Bible of the Color Revolution. Such is the power of the strategies laid out by Sharp that a Lithuanian defense minister once said of Sharp's preceding book (upon which Dictatorship to Democracy builds) that "I would rather have this book than the nuclear bomb."

Gene Sharp

It would be impossible to do full justice to Gene Sharp within the scope of this specific article. Here are some choice excerpts about Sharp and his biography to give readers a taste of his significance and relevance to this discussion.

Gene Sharp, the "Machiavelli of nonviolence," has been fairly described as "the most influential American political figure you've never heard of." 1 Sharp, who passed away in January 2018, was a beloved yet "mysterious" intellectual giant of nonviolent protest movements , the "father of the whole field of the study of strategic nonviolent action." 2 Over his career, he wrote more than twenty books about nonviolent action and social movements. His how-to pamphlet on nonviolent revolution, From Dictatorship to Democracy , has been translated into over thirty languages and is cited by protest movements around the world . In the U.S., his ideas are widely promoted through activist training programs and by scholars of nonviolence, and have been used by nearly every major protest movement in the last forty years . 3 For these contributions, Sharp has been praised by progressive heavyweights like Howard Zinn and Noam Chomsky, nominated for the Nobel Peace Prize four times, compared to Gandhi, and cast as a lonely prophet of peace, champion of the downtrodden, and friend of the left . 4

Gene Sharp's influence on the U.S. activist left and social movements abroad has been significant. But he is better understood as one of the most important U.S. defense intellectuals of the Cold War, an early neoliberal theorist concerned with the supposedly inherent violence of the "centralized State," and a quiet but vital counselor to anti-communist forces in the socialist world from the 1980s onward.

In the mid-1960s, Thomas Schelling, a Nobel Prize-winning nuclear theorist, recruited 29-year-old Sharp to join the Center for International Affairs at Harvard , bastion of the high Cold War defense, intelligence, and security establishment. Leading the so-called "CIA at Harvard" were Henry Kissinger, future National Security Advisor McGeorge Bundy, and future CIA chief Robert Bowie. Sharp held this appointment for thirty years. There, with Department of Defense funds, he developed his core theory of nonviolent action: a method of warfare capable of collapsing states through theatrical social movements designed to dissolve the common will that buttresses governments, all without firing any shots. From his post at the CIA at Harvard, Sharp would urge U.S. and NATO defense leadership to use his methods against the Soviet Union. [Nonsite]

We invite the reader to reflect on the passages in bold, particularly their potential relevance to the current domestic situation in the United States. Sharp's book and strategy for "non violent revolution" AKA "peaceful protests" has been used to undermine or overthrow target governments all over the world, particularly in Eastern Europe.

Gene's color revolution playbook was of course especially effective in Eastern Bloc countries in Eastern Europe:

Finally, there is no shortage of analysis as to the applicability of Sharp's methods domestically within the USA in order to advance various left wing causes. This passage specifically mentions the applicability of Sharp's methods to counter act Trump.

Ominous stuff indeed. For readers who wish to read further, please consult the full Politico piece from which we have excerpted the above highlighted passages. There is also a fascinating documentary on Sharp instructively titled " How to Start a Revolution ."

This is all interesting and disturbing, to say the least. In its own right it would suggest a compelling nexus point between the operations run against Trump and the Color Revolution playbook. But what does this have to do with our subject Norm Eisen? It just so happens that Eisen explicitly places himself in the tradition of Gene Sharp, acknowledging his book "The Playbook" as a kind of update to Sharp's seminal "Dictatorship to Democracy."

And there we have it, folks -- Norm Eisen, former Obama Ethics Czar, Ambassador to Czechoslovakia during the "Velvet Revolution," key counsel in impeachment effort against Trump, and participant in the ostensibly bi-partisan election war games predicting a contested election scenario unfavorable to Trump -- just happens to be a Color Revolution expert who literally wrote the modern "Playbook" in the explicitly acknowledged tradition of Color Revolution Godfather Gene Sharp's "From Dictatorship to Democracy."

Before we turn to the contents of Norm Eisen's Color Revolution manual, full title "The Democracy Playbook: Preventing and Reversing Democratic Backsliding," it will be useful to make a brief point regarding the term "democracy" itself, which happens to appear in the title of Gene Sharp's book "From Dictatorship to Democracy" as well.

Just like the term "peaceful protestor," which, as we pointed out in our George Kent essay is used as a term of craft in the Color Revolution context, so is the term "democracy" itself. The US Government launches Color Revolutions against foreign targets irrespective of whether they actually enjoy the support of the people or were elected democratically. In the case of Trump, whatever one says about him, he is perhaps the most "democratically" elected President in America's history. Indeed, in 2016 Trump ran against the coordinated opposition of the establishments of both parties, the military industrial complex, the corporate media, Hollywood, and really every single powerful institution in the country. He won, however, because he was able to garner sufficient support of the people -- his true and decisive power base as a "populist." Precisely because of the ultra democratic "populist" character of Trump's victory, the operatives attempting to undermine him have focused specifically on attacking the democratic legitimacy of his victory.

In this vein we ought to note that the term "democratic backsliding," as seen in the subtitle of Norm Eisen's book, and its opposite "democratic breakthrough" are also terms of art in the Color Revolution lexicon. We leave the full exploration of how the term "democratic" is used deceptively in the Color Revolution context (and in names of decidedly anti-democratic/populist institutions) as an exercise to the interested reader. Michael McFaul, another Color Revolution expert and key anti-Trump operative somewhat gives the game away in the following tweet in which the term "democratic breakthrough" makes an appearance as a better sounding alternative to "Color Revolution:"

Most likely as a response to Revolver News' first Color Revolution article on State Department official George Kent, former Ambassador McFaul issued the following tweet as a matter of damage control:

What on earth then might Color Revolution expert and Obama's former ambassador to Russia Michael McFaul, who has been a key player agitating for President Trump's impeachment, mean by "democratic breakthrough?"

Being a rather simple man from a simple background, McFaul perhaps gave too much of this answer away in the following explanation (now deleted).

Trump has lost the Intelligence Community. He has lost the State Department. He has lost the military. How can he continue to serve as our Commander in Chief ?

— Michael McFaul (@McFaul) September 5, 2020

With this now-deleted tweet we get a clearer picture of the power bases that must be satisfied for a "democratic breakthrough" to occur -- and conveniently enough, not one of them is subject to direct democratic control. McFaul, Like Eisen, George Kent, and so many others, perfectly embodies Revolver's thesis regarding the Color Revolution being the same people running the same playbook. Indeed, like most of the star never-Trump impeachment witnesses, McFaul has been an ambassador to an Eastern European country. He has supported operations against Trump, including impeachment. And, like Norm Eisen, he has actually written a book on Color Revolutions (more on that later).

Norm Eisen's The Democracy Playbook: A Brief Overview:

A deep dive into Eisen's book would exceed the scope of this relatively brief exposé. It is nonetheless important for us to draw attention to key passages of Eisen's book to underscore how closely the "Playbook" corresponds to events unfolding right here at home. Indeed, it would not be an exaggeration to say that regime change professionals such as Eisen simply decided to run the same playbook against Trump that they have done countless times when foreign leaders are elected overseas that they don't like and want to remove via extra-democratic means -- "peaceful protests," "democratic breakthroughs" and such.

First, consider the following passage from Eisen's Playbook:

If you study this passage closely, you will find direct confirmation of our earlier point that "democracy" in the Color Revolution context is a term of art -- it refers to anything they like that keeps the national security bureaucrats in power. Anything they don't like, even if elected democratically, is considered "anti-democratic," or, put another way, "democratic backsliding." Eisen even acknowledges that this scourge of populism he's so worried about actually was ushered in with "popular support," under "relatively democratic and electoral processes." The problem is precisely that the people have had enough of the corrupt ruling class ignoring their needs. Accordingly, the people voted first for Brexit and then for Donald Trump -- terrifying expressions of populism which the broader Western power structure did everything in its capacity to prevent. Once they failed, they viewed these twin populist victories as a kind of political 9/11 to be prevented by any means necessary from recurring. Make no mistake, the Color Revolution has nothing to do with democracy in any meaningful sense and everything to do with the ruling class ensuring that the people will never have the power to meddle in their own elections again.

The passage above can be insightfully compared to the passage in Gene Sharp's book noting ripe applications to the domestic situation.

It is instructive to compare the passage in Eisen's Color Revolution book to the passage in Michael McFaul's Color Revolution book

First off, it is absolutely imperative to look at every single one of the conditions for a Color Revolution that McFaul identifies. It is simply impossible not to be overcome with the ominous parallels to our current situation. Specifically, however, note condition 1 which refers to having a target leader who is not fully authoritarian, but semi-autocratic. This coincides perfectly well with Eisen's concession that the populist leaders he's so concerned about might be "illiberal" but enjoy "popular support" and have come to power via "relatively democratic electoral processes."

Consulting the above passage from McFaul's book, we note that McFaul has been perhaps the most explicit about the conditions which facilitate a Color Revolution. We invite the reader to supply the contemporary analogue to each point as a kind of exercise.

A semi-autocratic regime rather than fully autocratic
An unpopular incumbent (note blanket negative coverage of Trump, fake polls)
A united and organized opposition (media, intel community, Hollywood, community groups, etc)
An ability to quickly drive home the point that voting results were falsified -- See our piece on the Transition Integrity Project
Enough independent media to inform citizens of falsified vote (see full court press in media pushing contested election narrative, social media censorship)
A political opposition capable of mobilizing tens of thousands or more demonstrators to protest electoral fraud ( SEE BLACK LIVES MATTER AND ANTIFA )

On point number four, which is especially relevant to our present situation, Eisen has an interesting thing to say about the role of a contested election scenario in the Orange Revolution, arguably the most important Color Revolution of them all.

Finally, let's look at one last passage from Norm Eisen's Color Revolution "Democracy Playbook" and cross-reference it with McFaul's conditions for a Color Revolution as well as the situation playing out right now before our very eyes:

A few things immediately jump out at us. First, the ominous instruction: "prepare to use electoral abuse evidence as the basis for reform advocacy." Secondly, we note the passage suggesting that opposition to a target leader might avail itself of "extreme institutional measures" including impeachment processes, votes of no confidence, and, of course, the good old-fashioned "protests, strikes, and boycotts" (all more or less peaceful no doubt).

By now the Color Revolution agenda against Trump should be as plain as day. Regime change professionals like McFaul, Eisen, George Kent, and others, who have refined their craft conducting color revolutions overseas, have taken it upon themselves to use the same tools, the same tactics -- quite literally, the same playbook -- to overthrow President Trump. Yet again, same people, same playbook.

We conclude this study of key Color Revolution figure Norm Eisen by exploring his particularly proactive -- indeed central role -- in effecting one of the Color Revolution's components mentioned in the Eisen Playbook -- impeachment.

-- -- -- –

The Ghost of Democracy's Future

We mentioned at the outset of this piece that Norm Eisen is many things -- a former Obama Ethics Czar (but of course), Ambassador to Czechoslovakia, participant in the now notorious Transition Integrity Project, et cetera. But he earned his title as "legal hatchet man" of the Color Revolution for his tireless efforts in promoting the impeachment of President Trump.

The litany of Norm Eisen's legal activity cited at the beginning of this piece bears repeating.

As the man who implemented the David Brock blueprint for suing the President into paralysis and his allies into bankruptcy , who helped mainstream and amplify the Russia Hoax, who drafted 10 articles of impeachment for the Democrats a full month before President Trump ever called the Ukraine President in 2018 , who personally served as DNC co-counsel for litigating the Ukraine impeachment

If that resume doesn't warrant the title "legal hatchet man" we wonder what does? We encourage interested readers or journalists to explore those links for themselves. By way of conclusion, it simply suffices to note that much of Eisen's impeachment activity he conducted before there was any discussion or knowledge of President Trump's call to the Ukrainian President in 2018 -- indeed before the call even happened. Impeachment was very clearly a foregone conclusion -- a quite literal part of Norm Eisen's Color Revolution playbook -- and it was up to people like Eisen to find the pretext, any pretext.

Despite their constant invocation of "democracy" we ought to note that transferring the question of electoral outcomes to adversarial legal processes is in fact anti-Democratic -- in keeping with our observation that the Color Revolution playbook uses "democracy" as a term of art, often meaning the precise opposite of the usual meaning suggesting popular support.

Perhaps the most important entry in Eisen's entry is the first, that is, Eisen's participation in the infamous David Brock blueprint on how to undermine and overthrow the Trump presidency.

The Washington Free Beacon attended the retreat and obtained David Brock's private and confidential memorandum from the meeting. The memo, " Democracy Matters: Strategic Plan for Action ," outlines Brock's four-year agenda to attack Trump and Republicans using Media Matters, American Bridge, Citizens for Responsibility and Ethics in Washington (CREW) , and Shareblue.

The memo contains plans for defeating Trump through impeachment , expanding Media Matters' mission to combat " government misinformation ," ensuring Democratic control of the Senate in the 2018 midterm elections , filing lawsuits against the Trump administration, monetizing political advocacy , using a "digital attacker" to delegitimize Trump's presidency and damage Republicans, and partnering with Facebook to combat "fake news." [Washington Free Beacon]

This leaked memo was written before President Trump took office, further suggesting that all of the efforts to undermine Trump have not been good faith responses to his behavior, but a pre-ordained attack strategy designed to overturn the 2016 election by any means necessary. The Color Revolution expert who suggests impeachment as a tactic in his Color Revolution "playbook" was already in charge of impeachment before Trump even took office -- -Citizens for Responsibility and Ethics in Washington (CREW) is run by none other than Norm Eisen.

But the attempt to overturn the 2016 election using Color Revolution tactics failed. And so now the plan is to overthrow Trump in 2020, hence Norm Eisen's noted participation in the Transition Integrity Project. Looking around us, one is forced to ask the deeply uncomfortable question, "transition into what?"

To conclude, we would like to call back to a point we raised in the first piece in our color revolution series. In this piece, we noted that star Never Trump impeachment witness George Kent just happens to be running the Belarus desk at the State Department. Belarus, we argued, with its mass demonstrations egged on by US Government backed NGOS, its supposed "peaceful protests" and of course its contested election results all fit the Color Revolution mold curiously enough.

One NGO called the Transatlantic Democracy Working Group (TDWG) was bold or reckless enough to draw the parallels between the Color Revolution in Belarus and the events playing out against Trump explicitly. In response to a remark by a twitter user that the TDWG's remarks about Belarus suggested parallels to the United States, the TDWG ominously replied:

Now, would the reader care to take a guess as to who runs the Transatlantic Democracy Working Group? If you guessed Norm Eisen, you would be correct.

Stay tuned for more in Revolver.news' groundbreaking coverage of the Color Revolution against Trump. Be sure to check out the previous installments in this series.
Israel raises an important question about the role on neoliberal MSM is spreading COVID-19 panic.
Notable quotes:
"... Sinaisky claims that they brought the pandemics upon us because of the high debt problem, or by their inability to continue colonial plunder. Alternatively, a notable commenter to his text suggests that it was done because of overproduction of capital. In other words, the bank-lending rate is so close to zero, or even negative, that the whole machinery of capitalism was deluged in a flood of capital, and needed a major war, or indeed a global pandemic, to use it up. ..."
"... Because of this freak combination of forces, Sweden left its health policy in the hands of local professionals and remained free, while its neighbouring countries transferred the responsibility to globalist politicians and embraced quarantine. ..."
"... Thus the liberal Blairite media (beginning with the NY Times and the Guardian) played a key part in the Corona crisis. They were the piper; but who ordered the piper? ..."
...Do the US plutocrats (that is, the American über-wealthy) control all that? I think they would be amazed to learn that, especially "for generations", bearing in mind that the US was not a very significant factor before the WWI. In my view, the rich are not that smart. But the network exists; I have called its obscure controllers The Masters of Discourse .

Sinaisky claims that they brought the pandemics upon us because of the high debt problem, or by their inability to continue colonial plunder. Alternatively, a notable commenter to his text suggests that it was done because of overproduction of capital. In other words, the bank-lending rate is so close to zero, or even negative, that the whole machinery of capitalism was deluged in a flood of capital, and needed a major war, or indeed a global pandemic, to use it up.

Finally, Sinaisky claims that "atomization of society, breaking up community solidarity, eroding all non-monetary connections between people, destroying family relations and weakening blood ties, is a long-standing plutocratic project. Now, using this fake pandemic, the plutocrats have gone even further, now they train us to see each other not as friend, not as brother, not even as a source of profit, but mainly as a source of mortal infection." I wonder what makes him think that is an object of plutocratic desire? Certainly rich people want to make money and have more power, agreed. Is it necessary for them to atomise society? Who will they and their kids socialize with in such a ruined world?

I am not sure that there is a human agency with such goals. A non-human factor is a much more suitable culprit. In the old days, such a culprit was called Satan, and there were mighty organisations aka churches that fought Satan. In a charming movie, Luc Besson's Fifth Element, 'Love' defeats 'the Shadow', the personified evil that was about to obliterate Earth. Call it Satan, call it Shadow, the thing surely has human collaborationists in the mainstream media. I wrote about it in a piece called The Shadow of Zog . Indeed media should be sorted out in order to deal with it.

Sweden, this lucky country that avoided lockdown and its consequences, was saved by a rare media misstep. (This story has never been published though it is known to many Swedes.) Corona propaganda was carried out by the same liberal Bonnier-owned newspaper, DN (Dagens Nyheter), that played up Greta Thunberg. (Sinaisky's senses served him right: indeed Covid is a new Greta multiplied by a factor of 50). The Greta campaign had as its favourite high horse flygskam , or flight-shaming. Stop taking flights to lower carbon emissions , was the idea. Now we have no flights at all, so this movement disappeared after achieving its goals.

In February 2020, the DN organised a week-long sleeper train culture trip to North Italy for the Greta-following liberal elite. A berth on this train was priced starting at ten thousand Euros. The group went up to the Italian Alps and down to the Carnival in Venice and finally returned home, full to the brim with interesting experiences and coronavirus infections. A few days after the train returned to Stockholm, the disease broke out at large. Many of the liberal journalists that travelled on the Corona Express (as the train became known) fell sick, and their close relatives suffered, too. This incident caused the death of many elderly Jews, parents or uncles of those liberal journalists. It was a media phenomenon, and the Jewish media reported that the death rate among Swedish Jews was 14 times higher than their share of the population (well, it is not as bad as it sounds; only nine very old Jews died, all over 80).

As the people in authority knew all about the Corona Express, the liberal lobby was too ashamed to call for quarantine against the disease they has carried to Sweden. (Or they did call, but in sotto voce.) Furthermore, the DN was their only significant liberal media outlet, as Bonnier had sold his TV channel to a state-owned company in December 2019, making heaps of money but losing his ability to influence people.

Because of this freak combination of forces, Sweden left its health policy in the hands of local professionals and remained free, while its neighbouring countries transferred the responsibility to globalist politicians and embraced quarantine.

Thus the liberal Blairite media (beginning with the NY Times and the Guardian) played a key part in the Corona crisis. They were the piper; but who ordered the piper?

Israel Shamir can be reached at adam@israelshamir.net
The only other broad avenue for the people to get unbiased information is from a few news shows that don't toe the liberal line -- most notably "Tucker Carlson Tonight" on Fox News. Since the riots began at the end of May, Carlson has taken it upon himself to expose the corruption of not just the media but the liberal elected establishment that has implicitly endorsed violence, racism, and disorder in the name of what is perversely called social justice. I've called Carlson a modern-day Cassandra because his clear-eyed assessment of the danger America faces has been met with scorn, denial and derision. But name-calling, advertising boycotts, and continued threats of violence against him and his family have not deterred Carlson from his declared mission to be "the sworn enemy of lying, pomposity, smugness and groupthink."

In that regard, Carlson has long used his show to ferret out information hidden in the bowels of government and get it to the people -- bypassing the media guards who increasingly see it as their sworn role to restrict the free exchange of ideas. On Carlson's Sept. 1 show, author Chris Rufo discussed his research into how critical race theory has infiltrated the federal government. I was shocked by just how bad the situation is, something we would never learn from CNN or MSNBC.

https://lockerdome.com/lad/13084989113709670?pubid=ld-dfp-ad-13084989113709670-0&pubo=https%3A%2F%2Fwww.zerohedge.com&rid=www.zerohedge.com&width=890

"It's absolutely astonishing how critical race theory has pervaded every institution in the federal government," Rufo told Carlson.

"What I have discovered is that critical race theory has become, in essence, the default ideology of the federal bureaucracy and is now being weaponized against the American people."

He gave three examples of what he called "cult indoctrination." For instance, he told of a trainer who "told Treasury [Department] employees essentially that America was a fundamentally white supremacist country and 'virtually all white people uphold the system of racism and white superiority.'"

When Rufo explicitly urged Trump "to immediately issue an executive order abolishing critical-race-theory training from the federal government," I thought to myself how that was a smart move. It just might work. It's no secret that Trump watches Fox News. So why not make a direct appeal to the president while you are on one of those shows? It's the only way most guests would ever have a chance to get the president's attention. And in this case it worked.

Just three quick days later, Trump did exactly what Rufo proposed -- he issued an executive order through the director of the Office of Management and Budget to "cease and desist from using taxpayer dollars to fund [the] divisive, un-American propaganda training sessions" where federal employees are told that "virtually all White people contribute to racism."

When Trump reacted to Rufo's revelations the same way that I and millions of people watching Tucker Carlson's show reacted - with outrage - I realized just how dangerous Carlson is to the hegemony of the far left. His show is metaphorically the tunnel under the Berlin Wall that allows direct communication between the pro-liberty, pro-American middle class and the freedom fighters in the White House , bypassing both the bureaucracy and the stunningly dishonest media that control the flow of information in and out of the Trump administration.

In order to keep our metaphor geographically, if not politically, correct, we should think of the mainstream media as the Stasi, the East German secret police who were notoriously brutal -- and effective -- in suppressing free thought and dissent from the party line. They were not just the "enemy of the people," as Trump has labeled the worst of the modern media; they were the "enemy of the truth."

That role has never been clearer than it was last week when Bob Woodward, the legacy commander of the media's Main Directorate for Reconnaissance, issued his report on what he found when he infiltrated the White House. Or at least what he purported to find.

According to Woodward, Trump perfidiously misled the American public about the scope and danger of the China virus because he called the virus "deadly stuff" in February before any Americans had died. Also because Trump knew "it goes through the air." I mean you have to be notoriously stupid, or just plain incurious, not to have figured out by February that COVID-19 was a deadly peril. Does Woodward think that Trump shut down air travel from China at the end of January just because he wanted to hurt the tourist industry?

Of course the new virus was deadly, but as Trump patiently explained to the thick-headed Woodward then, and still has to explain to the rest of the White House press corps virtually every day, there is no purpose served by terrifying the public. The president told Woodward that the virus was "more deadly than even your strenuous flus." That turned out to be true, but flus are also kept under control by widespread vaccination and therapeutics. Does Woodward need to be reminded that the much more deadly pandemic of 1918 was caused by the Spanish flu ?

Of course he does, because it's not helpful to the media's narrative that Donald Trump is a dangerous buffoon who must not be reelected. How could the country survive another four years with a president who insists on doing things his own way, who won't be cowed by the Stasi media, who considers it his duty to improve on conventional wisdom instead of surrendering to it.

Which brings us back to Chris Rufo and his pipeline -- or should I say tunnel access -- to the president. The obstinacy of Tucker Carlson, his unwillingness to take a knee to orthodoxy, has made him the most dangerous person in America (after Trump) to the far-left overlords. And when Trump acted on Rufo's entreaty regarding critical race theory, it led to near hysteria as the Stasi media realized that its Berlin Wall had been breached.

As Carlson himself reported on Tuesday, Sept. 8, "To the news media, all of this was a disaster. They claim to be journalists, but they despise actual reporting like Chris Rufo's. His coverage showed that they are complicit in an anti-American lie that is deeply unpopular with actual Americans, and they didn't take it well."

Among the many critics of Carlson for providing the president with accurate information about what is being done in his name in the federal bureaucracy, perhaps the loudest was CNN's Brian Stelter, the virtual communications director for the Stasi media.
Authored by Jeffrey Tucker via The American Institute for Economic Research,

Just when the fear starts to subside, and growing public skepticism seems to push governors into opening, something predictable happens . The entire apparatus of mass media hops on some new, super-scary headline designed to instill more Coronaphobia and extend the lockdowns yet again.

It's a cycle that never stops. It comes back again and again.

A great example occurred this weekend. A poll appeared on Friday from the Kaiser Family Foundation. It showed that confidence in Anthony Fauci is evaporating along with support for lockdowns and mandatory Covid vaccines.

The news barely made the headlines, and very quickly this was overshadowed by a scary new claim: restaurants will give you Covid!

It's tailor-made for the mainstream press. The study is from the CDC, which means: credible. And the thesis is easily digestible: those who test positive for Covid are twice as likely as those who tested negative to have eaten at a restaurant.

"Eating and drinking on-site at locations that offer such options might be important risk factors associated with SARS-CoV-2 infection," the study says.

Very scary!

Thus the implied conclusion: don't allow indoor dining! Otherwise Covid will spread like wildfire!

https://lockerdome.com/lad/13084989113709670?pubid=ld-dfp-ad-13084989113709670-0&pubo=https%3A%2F%2Fwww.zerohedge.com&rid=www.zerohedge.com&width=606

After six months of this Corona Kabuki dance, driven by alarmist media and imposed by wacko, power-abusing governors and mayors, I've become rather cynical about the whole enterprise, so I mostly ignore the latest nonsense.

In this case, however, I decided to take a closer look simply because so many millions of owners, workers, and customers have been treated so brutally in the "War on Restaurants."

It turns out, of course, that this is not what the study said. What's more interesting is to consider exactly what's going on here. The study was based on interviews with 314 people who had been tested of their own volition. It included 154 patients with positive test results and 160 control participants with negative test results.

The interviews took place two weeks following the tests, and they concerned life activities two weeks prior to getting the test.

Before we go on here, remember that what alarmed people about Covid was the prospect of dying. The study says nothing about this subject, nor about hospitalization. It's a fair assumption that the positive cases being interviewed here got it (presumably, if the tests are accurate, which they are not ) and got over it.

This alone is interesting simply because it reveals how much the whole subject has been changed: the pandemic has become a casedemic.

Now, to the question of life activities. In the study, based on answers to a survey, the following were not correlated in any significant degree with positive cases of Covid:

Wearing a mask or not wearing a mask

Going to church

Riding on public transportation

Attending large house parties

Going to the gym

Going to the office

Going to the hair salon

Going shopping

Now one might suppose, if you think the study has any merit, that this would be the headline.

The massive power of the state has been deployed all over the United States and the world to force the closure of churches, gyms, offices, salons, and malls. This all happened and is still happening. Also mask mandates became the new normal. The public has been invited by health authorities to jeer at, denounce, and turn in anyone who doesn't have a cloth strapped to his or her face.

All of this happened in complete contradiction to every commercial right, property right, or normal human freedoms. We threw it all away in the name of virus control. Our lives have been completely upended and our assumptions about our rights and liberties have been overturned.

And yet here is a study that is unable to document any correlation between these life activities and catching the disease.

That's an amazing conclusion that could have generated headlines like:

Salons Won't Get You Sick, CDC Reports

You Won't Catch Covid at the Gym, CDC Shows

No, Your Hairstylist Doesn't Spread the Coronavirus

Scared to Go Shopping? Don't Be, Says the CDC

Your Mask Is Pointless, New Study Says

Church Goers Shouldn't Fear Sickness, Scientists Reveal

Study: Your House Party Didn't Spread the Virus

And so on. But none of this was to be. Not one single story in the mainstream press said anything like this, even though this was all implied by the CDC study.

The one place that the study revealed a positive correlation between positive cases and life activities was going to restaurants.

So that's what got the alarmist headlines. Yes, these are all real.

And so on for thousands of times in every mainstream venue. They are all competing for clicks in the great agenda of extending lockdowns and feeding public fear as much as possible. So the worst-possible spin on this slightly sketchy study gets all the headlines.

Thus is it burned into many people's minds that restaurants are really disease-spreading venues. Go out to eat and you might die!

And here is what makes this even stranger. The interviewers never asked the people in the survey whether they were eating indoors or outdoors, as incredible as that seems. The authors admit this:

"Of note, the question assessing dining at a restaurant did not distinguish between indoor and outdoor options."

Why not? Did they just forget to ask? What's going on here?

Which is to say that even if the results are meaningful – and there's so much about this study that is murky and error prone – they are practically useless for knowing what to do about it. If there is no distinction between indoor and outdoor, all speculation about ventilation or crowds or the presence of food and so on, is utterly pointless.

Without knowing that, we are at a loss to figure out any answer to the question of why and what to do. Instead, the message comes down to: don't go out to eat.

Here is how bad the science has become. In the discussion, the authors write the following:

"Direction, ventilation, and intensity of airflow might affect virus transmission, even if social distancing measures and mask use are implemented according to current guidance. Masks cannot be effectively worn while eating and drinking, whereas shopping and numerous other indoor activities do not preclude mask use."

Here is what is weird: the study itself supports none of that paragraph.

---

The survey never asked about ventilation because the people who made the survey somehow forgot to make a query concerning indoor vs. outdoor dining . As for masks, the study did in fact ask respondents about mask wearing and the results showed no correlation between the sickness and whether and to what extent people were wearing masks!

In other words, that paragraph in the discussion is contradicted in two places by the authors' own study.

In addition, the authors themselves point to an intriguing issue: the people in the survey might have biased their answers based on their personal knowledge of the test results.

Think about it this way. The people who had a positive Covid test are more likely to ask themselves the great question: how did I get this? Going to restaurants is such a rare activity these days that it stands out in one's mind. When the survey asked people if they had gone out to eat, it is possible that the memory of the Covid positive person might be more likely to blame the restaurant, whereas the Covid negative person might be more likely to have forgotten the locale of every meal in the last 30 days.

In other words, the real result of the study might be: Covid patients are more likely to scapegoat restaurants than gyms, churches, and salons.

Alas, none of these interesting considerations appear in the media-rendered version of this study: panic and keep the lockdowns in place!

Lockdowns have become a conclusion in a desperate search for evidence. Imagine if you undertook a study of C-positive vs. C-negative cases and asked the people if they mostly wear lace-up or slip-on shoes. If you come up with some positive correlation, the CDC will publish you and a media panic will ensue.

This is precisely where we've been for six solid months now. The media has become the handmaiden of lockdown tyranny, blasting out simplistic versions of sketchy studies to keep the panic going as long as possible. And the public, which is far too trusting of the media and its capacity for rational and accurate reporting, eats it up.

For now. Once the dust settles on all of this, it seems highly likely that media science reporting will lose credibility for a generation. It certainly deserves that fate.

Meanwhile, an entire industry is being creamed .


play_arrow Walter Melon , 3 hours ago

Same CDC that said this the other day:

"Cloth masks that are used to slow the spread of COVID-19 offer little protection against wildfire smoke. They do not catch small particles found in wildfire smoke that can harm your health."

Just checking if that's the same CDC.

LA_Goldbug , 3 hours ago

Wow !!!!!

Nice find :-)

honest injun , 3 hours ago

At what point does the man on the street realize that he has been had? It took me about 2 weeks, 6 months ago to realize what Fauci and his cronies were saying was nonsense. Smart people that I know, took months to reach the same conclusion but many people are still buying the disinfo.
I was mildly amused by Paul Sperry's recent tweet announcing as "breaking news" that Obama's CIA Director, John Brennan, set up a Task Force to target Donald Trump. This should not be considered something "new." I reported on this almost one year ago (October 2019 to be precise). You can check out the original pieces here and here . The following provides an updated, consolidated piece.

While chatting in late October 2019 with a retired CIA colleague, he dropped a bombshell–he had learned that John Brennan set up a Trump Task Force at CIA in early 2016. One of my retired buddy's friends, who was still on duty with the CIA in 2016, recounted how he was approached discreetly and invited to work on a Task Force focused on then Presidential candidate Donald Trump. The Task Force members were handpicked instead of following the normal procedure of posting the job. Instead of opening the job to all eligible CIA personnel, only a select group of people were invited specifically to join up. Not everyone accepted the invitation, and that could be a problem for John Brennan

A "Task Force" normally is a short term creation comprised of operations officers (i.e., guys and gals who carry out espionage activities overseas) and intelligence analysts. The purpose of such a group is to ensure all relevant intelligence capabilities are brought to bear on the problem at hand. I am not talking about an informal group of disgruntled Democrats working at the CIA who got together like a book club to grouse and complain about the brash real estate guy from New York. It was a specially designed covert action to try to destroy Donald Trump.

A "Task Force" is a special bureaucratic creation that provides a vehicle for bring case officers and analysts together, along with admin support, for a limited term project. But it also can be expanded to include personnel from other agencies, such as the FBI, DIA and NSA. Task Forces have been used since the inception of the CIA in 1947. Here's a recently declassified memo outlining the considerations in the creation of a task force in 1958. The author, L.K. White, talks about the need for a coordinating Headquarters element and an Operational unit "in the field", i.e. deployed around the world.

While a "Task Force" can be a useful tool for tackling issues of terrorism or drug trafficking, it is not appropriate or lawful for collecting on a U.S. candidate for the Presidency. But Brennan did it with the blessing of the Director of National Intelligence, Jim Clapper.

A Task Force operates independent of the CIA " Mission Centers " (that's the jargon for the current CIA organization chart).

So what did John Brennan do? My friends said that a Trump Task Force was running in early 2016 and may have started as early as the summer of 2015. Recruitment to Task Force included case officers (i.e., men and women who recruit and handle spies overseas), analysts and admin personnel were recruited. Not everyone invited accepted the offer. But many did.

But this was not a CIA only operation. Personnel from the FBI also were assigned to the Task Force. We have some clues that Christopher Steele's FBi handler, Michael Gaeta, may have been detailed to the Trump Task Force ( see here ).

So what kind of things would this Task Force do? The case officers would work with foreign intelligence services such as MI-6, the Italians, the Ukrainians and the Australians on identifying intelligence collection priorities. Task Force members could task NSA to do targeted collection. They also would have the ability to engage in covert action, such as targeting George Papadopoulos. Joseph Mifsud may be able to shed light on the CIA officers who met with him, briefed on operational objectives regarding Papadopoulos and helped arrange monitored meetings. Was the honey pot (i.e., the attractive woman) named Azra Turk, who met with George Papadopoulos, part of the CIA Trump Task Force?

The Task Force also could carry out other covert actions, such as information operations. A nice sounding euphemism for propaganda, and computer network operations. There has been some informed speculation that Guccifer 2.0 was a creation of this Task Force.

In light of what we have learned about the alleged CIA whistleblower, Eric Ciaramella, there should be a serious investigation to determine if he was a part of this Task Force or, at minimum, reporting to them.

When I described this development last November to one friend, a retired CIA Chief of Station, his first response was, "My God, that's illegal." We then reminisced about another illegal operation carried out under the auspices of the CIA Central American Task Force back in the 1980s. That became known to Americans as the Iran Contra scandal.

We know one thing for certain about he work of this Task Force–it failed to produce any intelligence to corroborate the specious claim that Donald Trump was colluding with the Russians. Even though the despicable Brennan has continued to insist that Trump was/is under the thumb of Putin, he failed to provide any substantive information in the January 2017 Intelligence Community Assessment that supported the claim.

---

Deap , 08 September 2020 at 11:38 PM

The curious "leaks" of Michael Cohen tapes on both Cuomo and Zucker, broadcast by Tucker Carlson, makes me think Cohen also has some Trump tapes.

Cohen of course would be be more than willing to drop any Trump tapes into Tucker Carlson's lap too - or at least work a tease dropping these bit player tapes on others first to weasel a Trump pardon for Cohen at the 11th hour, in return for not dumping his Trump tapes pre-election on Carlson's lap too.

Do you think these "leaked" Cohen tapes are just coincidentally coming out now - or was Micheal Cohen a fifth column all along, and even in direct cahoots with Brennan too? Other Trump business partners were IC assets, why not Cohen who would do anything for a buck and publicity.

Deap , 08 September 2020 at 11:49 PM

The night before the Mueller report came out pundit Brennan on prime time TV (whomever he was working for CNN, MSNBC?) claimed Trump would be facing multiple indictments.

The next day when his distinguished punditry proved 100% false, Brennan then claimed on prime time TV his source (sources?) were obviously wrong. And they moved quickly on to the next topic.

Brennan was obviously operating off of some form of inside intelligence (or just making things up for effect and a paycheck?) .

Just a few lines were uttered on both nights, but now in retrospect, Brennan did admit some sort of intelligence gathering group was passing on this critical information to him - bogus or not. He claimed was in some sort of insider loop.

It would be good to review both those pre-and post Mueller report statements now. Who was he hoodwinking and should he have been paid for his "insights"?

Deap , 08 September 2020 at 11:52 PM

Was Brennan's "source" Michael Cohen?

walrus , 09 September 2020 at 06:33 AM

Cohen is a know nothing "would be if they could be". I have described this type before. He had no access to Trump, the person, as opposed to a tenuous business relationship with Trump the company.

Fred , 09 September 2020 at 08:06 AM

"But Brennan did it with the blessing of the Director of National Intelligence, Jim Clapper. " Obama isn't mentioned at all? I wonder who was actually running the show.

turcopolier , 09 September 2020 at 08:48 AM

Fred
IMO Obama was VERY careful about this.

Fred , 09 September 2020 at 09:10 AM

Col.,

I'm sure he was. He's being very careful about all the current actions on the left too. He'll be running what's left of the democratic party, if they don't succeed in bringing down the constitutional republic this election.

TV , 09 September 2020 at 10:25 AM

So, where's Durham?
Hiding under his desk or.....making a deal for a partnership in a big time DC law firm (the swamp)?

Jack , 09 September 2020 at 10:58 AM

Sir,

For a community organizer Obama is pretty crafty. He found favor with the Chicago big money who backed him for the Illinois legislature and then the Senate. And then directly to the presidency. Now he's best friends with David Geffen and Richard Branson and hangs out with the billionaire class.

He is the "puppeteer" of the Democratic Party, IMO. I'm convinced that if Biden fails, Michelle will run and likely beat an establishment Republican in 2024.

plantman , 09 September 2020 at 11:56 AM

Larry,

Who do you think was the ringleader in this operation: Brennan, Comey or Clapper?
To me, it seems most likely that it was Brennan (with Obama's reluctant approval). Comey and Clapper don't strike me as the kind of guys who would risk everything on an operation that could backfire.

What I'd really like to know is whether Director Brennan communicated with elites outside the agency who might have encouraged the spying to begin with. Can you clarify this point? Does the CIA take orders or instructions from powerful-connected elites outside of the agency??

scott s. , 09 September 2020 at 12:01 PM

It seems we know that NSA identified unreasonable queries of their comms database in 2016, leading Adm Rodgers to shut off access. Immediately after, we see FBI getting involved and setting up Crossfire Hurricane. After the election, we see FBI working with DoJ NSD to move the op into a special counsel organization which then runs the op. It appears the Senate Select Committee (Burr/Warner) was complicit in the op, not to mention Schiff.

FakeBot , 09 September 2020 at 12:37 PM

I'm not sure Obama wants to run the Democratic party. It's likelier he wants to secure his legacy and play a supportive role within the party rather than lead it.

Deap , 09 September 2020 at 01:58 PM

Obama's community organizing skills are null. It was only a title; never an actual product. He will remain the token figure head of the party; but hot heads under the radar are now its life and blood of the Democrat party today. With no small dose of our tax dollars.

Democrats produce nothing; they only consume. There is a brewing turf war within the Democrat party between their historic connection to the government unions and the new socialists - two very different forces with two very different goals. Ironically, the Democrat government unions created the new wave of Democrat socialists.

Watch how this play out - Biden is clueless about what is now seething under his titular party head. Didn't Biden promise he would put Alexandra Cortez in a key administrative position?

akaPatience , 09 September 2020 at 02:09 PM

I remember the eye-opening essay about the CIA Trump task force, especially in light of Brennan's self-assured posture that only briefly slumped (along with all of his brethren on the Left) when the Mueller report finally came out and dashed such great expectations. We can only hope that the Durham probe will expose and at the very least somehow strongly condemn and spell out WITH EVIDENCE in no uncertain terms any seditious activity. After hearing that Trey Gowdy doubts any more prosecutions will come of the probe, I'm not going to hold my breath for perp walks.

Laughably, the Left's still beating that same old Russian Dead Horse though. Just as with the DNC's lackluster national convention, I'm surprised, almost shocked actually, that in spite of the overwhelming support of the "creative class", Democrats can't come up with a better hoax. On the other hand I can't remember the last time I was dying to see a new film, buy a new book or recording, or tune into a new TV drama, so while it could just be me, I suspect the "creative class" ain't quite what it used to be...

Re: Michael Cohen comments: I have to agree with walrus and take exception to the MSM characterization of Cohen as "Trump's personal attorney". My husband and I have a small real estate company but even so, we've simultaneously employed several attorneys for various personal and business needs and our holdings are minuscule compared to Trump's. SO I seriously doubt that the MSM's inference about Cohen's role and insight into Trump's private and business dealings - that he knows all - is greatly exaggerated.

Deap , 09 September 2020 at 04:16 PM

Cohen does not need to "know all", if he was recording Trump. He just has to dole out a few juicy sound bites prior to Nov, with our without context when they did contact each other pre-2016.

Cohen's chance to make Trump squirm since Cohen just demonstrated he was willing to do this to Cuomo and Zucker - so will he or won't he IF he has Trump tapes too - just crude talk at this point would not be welcome as Trump tries to take the edge off his usual "gruff" personality.

No magic carpet to the White House for anyone. I also think people don't like giving any race like this away too early in the game - all the prior elections have swung back and forth almost daily, until they finally broke on election day.

Even John McCain and Romney were still nip and tuck until the final hours if one watched certain indicators. Ironically, the only race called conclusively before election day was Clinton-Trump 2016, and we know how that finally worked out. So more cat (Trump) and mouse (Biden) on a seesaw for a few more months.

All of which begs to say, where the heck is the Durham Report and when will we start seeing accountability for Democrat/Obama high crimes and misdemeanors?

There is a deep cynicism even in California that "no one gets punished" for anything any more, unless you are unlucky enough to be a law abiding, responsible person. Everyone else gets a free ride and a double standard of justice - and it is causing a lot of anger out here. "Law and order" is a building hunger our west.

Christie , 09 September 2020 at 05:00 PM

I hope Larry or someone on this forum can discuss this new Mondoweiss piece, pertaining mostly to the G2, Flynn, and Steele material:

https://mondoweiss.net/2020/09/israel-is-cited-often-in-senate-report-as-link-to-russian-interference-but-our-media-ignore-the-connection/

Various independent media journalists covered the 'favor' Flynn did for Israel, but not the MSM.

This Lee Smith piece may have been discussed here before, but if not, comments would be welcome on that as well.

"How Russiagate Began with Obama's Iran Deal Domestic Spying Campaign",

https://www.tabletmag.com/sections/news/articles/russiagate-obama-iran

nbsp; Bill H , 09 September 2020 at 05:48 PM

Where is the Durham Report? Hahaha. We've had the Durham Report. One small fish indicted. That's it. Were you really expecting more?

I said when the "investigation" was first made public that it was a red herring, a tool to keep us from making noise because we would be pinning our hopes on this "report" that would make everything wonderful. I said then that it would never be anything but a pacifier dangling in front of our noses, like a carrot keeping a donkey dragging the cart along.

nbsp; akaPatience , 09 September 2020 at 06:08 PM

Correction: I meant to say I DON'T doubt the MSM's characterization of Cohen's insight is exaggerated.

Back to the main topic: I wonder if, as in the FBI anti-Trump efforts, there's any damning CIA electronic evidence like texts or emails?

Deap , 10 September 2020 at 12:22 AM

This article came out in May 2020 - essentially why did Obama want to frame Flynn?

It was Iran-gate; not Russia-Gate that drove the Obama spying and the Russia-gate cover-up, according to this author.. Was this the motivation for the Trump Task Force in your post- to spy on Team Trump to learn if they were going to undo Obama's Iran "legacy", particularly since Flynn was advising them? https://www.tabletmag.com/sections/news/articles/russiagate-obama-iran

The Flynn Spygate unraveling is far more credible as Iran-gate, and ties up many of the very loose ends, much better than the Russia-gate nonsense. If this is the more credible explanation of Obama's Spygate, what happened after this article was published several months ago in May, during the height of the "pandemic". Has this theory been debunked?

And is its current article re-circulation right now tying Obama to Iran-gate spying the reason Adam Schiff, out of no where, is back to screaming Russia-gate yet again?

And everyone else on the left is back to screaming high crimes, misdemeanors and impeachment ......yet again. Gheesh - long and complicates article but it did gel for me. Including explaining the always mysterious role played by Samatha Powers, the Queen of US Unmaskers.

Still waiting to hear more about Obama's Ambassador to that tiny Italian enclave San Marino, that got in his licks unmasking Flynn too. Who was he fronting at the time. And why San Marino?

Deap , 10 September 2020 at 12:52 AM

Connecting the dots - Obama's San Marino Ambassador unmasks Micheal Flynn

The Atlantic Media Company, parent company of the Atlantic Magazine the wife of Obama's former US Ambassador to Italy - Linda Douglass -, who himself had been curiously caught up among the many 11th hour unmaskings of Gen Flynn. For as yet undisclosed reasons.

Atlantic Magazine, part of the Atlantic Media Group, now partly owned by Steve Job's very wealthy widow Laurane Jobs and rabid anti-Trumper, is taking great delight dropping bogus bombs against Trump, that can't even last for a 24 hour credibility cycle. With the promise of many more to come.

Will Linda Douglass be delving into her husband and San Marino Ambassador's great treasure trove of Obama era unmaskings to provide these daily TDS hit pieces? A classified no-no. Or just continue to make stuff up.

Or does this recent leftist media hit piece frenzy mean Russia-gate, Iran-gate and/or Obama Spy-gate is finally going to be broken open?

Such a small, small world. Why was Obama's Ambassador to San Marino unmasking Micheal Flynn? And his wife just happens to now work for the Atlantic Magazine.

j. casey , 10 September 2020 at 10:51 AM

Mr. Johnson:

May I suggest an article updating the recent moves in the Flynn case? Looks like the prosecution is playing to time?

Thanks.

nbsp; Jimmy_W , 10 September 2020 at 12:25 PM

Deap,
Iran-Gate might be the motivating, proximate cause for Obama to approve the overall "counterintelligence" mission. With Russia-Gate the legal cover / excuse. For Brennan / Comey / et al, however, it does not seem like the personal reason for their involvement. The Trump anti-Borg inclinations is probably what motivated the Borg to go after him.

Artemesia , 10 September 2020 at 02:28 PM

Deap, my initial reaction to your mention of an Italian connection was to point to Michael Ledeen, Flynn's co-author and, apparently, consultant - colleague.

Ledeen is known for his Italian connections -- he is thought to have been responsible for the yellow-cake fabrication that pushed along Iraq war.

But the SanMarino connection appears to be on the other side of the ledger that Ledeen inhabits -- tho one should put nothing past that crafty warmonger.

https://militarist-monitor.org/profile/michael-ledeen/

"Iran has long been Ledeen's bête noir, arguing that .the country has been heavily involved in supporting attacks against U.S. forces in hotspots across the globe.[9] "No matter how well we do, no matter how many high-level targets we eliminate, no matter how many cities, towns, and villages we secure, unless we defeat Iran we will always be designing yet another counterinsurgency strategy in yet another place. We are in a big war, and Iran is at the heart of the enemy army." '

If Flynn's anti-Iran sentiments are as unhinged as Ledeen's, then I have little sympathy for his troubles, even though it appears that Ledeen's view prevailed in the Trump administration. Flynn: twice back-stabbed.

I followed John Kerry's and Wendy Sherman's negotiations carefully; I listened to hours and hours of the Congressional debates over the deal -- not a treaty, the debates seemed a sop to Congress; I listened as Iranian representatives (Mousavian, iirc) explained that the Deal was not good for Iran and most Iranians understood that, but that Iranians would go along to show good faith; because they were backed into a corner; and because of the belief that an Iran that was engaged in robust trade with Europeans & others would "come in from the terror cold." I was at American University when Obama announced that the JCPOA was affirmed.

From an "America First" perspective I endorse(d) Obama's vision, as the Forward article explained it:

"[JCPOA} was his instrument to secure an even more ambitious objective -- to reorder the strategic architecture of the Middle East.

Obama did not hide his larger goal. He told a biographer, New Yorker editor David Remnick, that he was establishing a geopolitical equilibrium "between Sunni, or predominantly Sunni, Gulf states and Iran." According to The Washington Post's David Ignatius, another writer Obama used as a public messaging instrument, realignment was a "great strategic opportunity" for a "a new regional framework that accommodates the security needs of Iranians, Saudis, Israelis, Russians and Americans."

The catch to Obama's newly inclusive "balancing" framework was that upgrading relations with Iran would necessarily come at the expense of traditional partners targeted by Iran -- like Saudi Arabia and, most importantly, Israel. Obama never said that part out loud, but the logic isn't hard to follow: Elevating your enemy to the same level as your ally means that your enemy is no longer your enemy, and your ally is no longer your ally."

From my America First pov, "rebalancing" USA relations such that Israel -- not a formal ally and never a trustworthy informal ally (ask survivors of USS Liberty), and other states in MidEast all held positions on a more level playing field in the eyes of American foreign policy, is appealing.

The Forward article failed to mention Ledeen, but it was, unsurprisingly, unapologetically pro-Israel and from a decidedly Jewish perspective.


The Forward's tone and underlying assumptions were and are offensive to me.




Keith Harbaugh , 10 September 2020 at 05:28 PM

Regarding the statement
"The Task Force members were handpicked instead of following the normal procedure of posting the job.
Instead of opening the job to all eligible CIA personnel, only a select group of people were invited specifically to join up."
Two questions naturally arise:
Who was doing the selection, and
was the politics of the candidates a factor, perhaps a very big factor, in the selection process?

For another case where "the right people" were requested by a political officer, consider this:
Flynn Docket #231 (dated 2020-06-24), Strzok's Notes, quotes "P" saying:
"Make sure you look at this [matters dealing with Flynn] - have the right people on it".
This was also mentioned in a Senate floor speech by Chuck Grassley:
https://www.grassley.senate.gov/news/news-releases/grassley-flynn-investigation-what-did-obama-and-biden-know-and-when-did-they-know

"Right" to whom, and by what criteria?
Did the FBI director not know this was an important matter, which required the best investigators?
In any case, we can see who was put on it, such Trump-haters as Strzok, Page, and Clinesmith.
Just Trump's bad luck, or something more deliberate?

Deap , 10 September 2020 at 06:20 PM

Artemesia, thanks for your insights.

There was not really an "Italian" connection in the Iran-gate piece bur rather the curiosity why Obama's Italian ambassdor had interests in unmasking Michael Flynn, since his name showed up on the odd list of Obama persons who did unmask Flynn.

His name being there - Ambassador Phillips - may have been there due to his other Obama connections, or his wife Linda Douglass' Obama connections. Or his wife's current connection to the tabloid Atlantic Magazine.

Not really anything Italian per se, or even wee San Marino. Other than perhaps a mutual veneration for things Machiavellian-as this unfolding story twists and turns..
---

Priss Factor , says: Website Next New Comment September 11, 2020 at 4:09 am GMT

911 Truth for Grown ups

https://www.youtube.com/embed/7B7Tn2T5VDk?feature=oembed

omegabooks , says: Next New Comment September 11, 2020 at 4:44 am GMT

Funny how "new normals" are rushing at us .9-11 was the new normal only 19 years ago, and 19 years later going on 20, a new "new normal" is upon us. The next "new normal" will only be a few years away, 9 at the most Agenda 2030 and all that. By then, AI-enhanced RNA/DNA altered "new humanity" will be upon us, and anyone not in this new "new normal" will be outcast, shunned, shamed, and unemployed and if retired will not be able to get their SS and MC.

I don't care, screw the Great Reset!

Ralph B. Seymour , says: Next New Comment September 11, 2020 at 4:50 am GMT

"As it stands, there's only one thing we do know: the establishment at the core of the Hegemon and the drooling orcs of Empire will only adopt a Great Reset if that helps to postpone a decline accelerated on a fateful morning 19 years ago."

What?

I thought Covid 19 was a tool that the establishment is using to spark a Reset. And that Agenda 21 is part of a Reset.

So why would the establishment object to a "decline"?

Pft , says: Next New Comment September 11, 2020 at 5:12 am GMT

9/11 was just the first operation of the 21st century designed to accelerate the disintegration of society and economy to achieve Agenda 21 . It was actually a continuation of the 1975 TLC Project Democracy (sardonically named) that was kicked off by the Carter administration in 1977 and went into warp speed under Reagan/Bush. Its continued ever since but is picking up speed with the agreement of Agenda 21 in the 90's and its update Agenda 2030 in 2015. 2020 is the start of the final phase which will accomplish all of the Sustainable Development Goals of Agenda 2030, which is basically means total control over every individual and all resources.

Its pretty much been an Open Conspiracy. Those who refused to question 9/11 will double up on their blue pills to deny the Plandemic and expect a return to normal, dooming their descendants to a life of serfdom should they be lucky enough to avoid the culling.

The new Normal will make some dystopian films seem like utopia. Watch some old movies and TV series to remind you of old normal. They wont be available much longer unless you have the DVD or VHS and a machines to play it. The tapes and discs age so don't last forever. Books will last longer but those with digital collections will one day fund them disappeared

Miro23 , says: Next New Comment September 11, 2020 at 5:26 am GMT

The beating heart of this matrix is – what else – the Strategic Intelligence Platform, encompassing, literally, everything: "sustainable development", "global governance", capital markets, climate change, biodiversity, human rights, gender parity, LGBTI, systemic racism, international trade and investment, the – wobbly – future of the travel and tourism industries, food, air pollution, digital identity, blockchain, 5G, robotics, artificial intelligence (AI).

Since the US is a global has-been with most of its industry gone and living on debt – it's probably useful for it to claim leadership of a "Strategic Intelligence Platform". It can bury US problems internationally (same as it did with the dollar reserve) but in a more comprehensive way than simple Globalization (only economic). If the USA NWO claims international leadership of everything on all fronts, then they become the arbiters (in their opinion) of everything everywhere on the grounds of a higher morality.

It actually looks more like the folie de grandeur of a old alcoholic than the foundation of a new religion – and not something to pay attention to – apart from the fact that he tends to get violent with anyone who disagrees.

Intelligent Dasein , says: Next New Comment September 11, 2020 at 5:41 am GMT

Regarding your 50 questions, the fact that German and Russian intelligent warned the FBI about an imminent Muslim terrorist attack is not compatible with the idea that there was a controlled demolition.

Majority of One , says: Next New Comment September 11, 2020 at 5:46 am GMT

Ah yes, the Beast reveals itself as a sensurround global hamster cage with a plethora of control mechanisms hardwired through emergent software memes in celebration of the planned future of total abstraction. Abstract reality. The hubris of the plutocratic, oligarchic and technocratic elites is of a Promethean orgasm of trans humanistic values systematically gorging itself on their perceived future of an enserfed humanity comprised of those who will compromise truth, honor, justice, beauty and love–all in the service of mammon.

Not only is human nature to be subsumed to a mechanistic mindset gone ballistic in the visions of absolute domination, but the ongoing assault on the natural world will be a by-product of this Re-set. Stated simply, these schemers are playing God and have assembled the tool-kit, which in their minds, will allow for no compromise, no mistakes. These people are either spiritually vacuous or are imbued with an evil that totally negates a natural order which is cosmic and universal in scope. Ultimately their dreams and schemes will implode like the legendary Tower of Babel. Creation is not about to be undone by those who have convinced themselves that they can control everything.

Mother Nature is not a mere lump of matter. She is a sentient being who is cosmically connected and connective. Consider the storms, the blizzards, the fires and the systematic destruction of our very atmospheres, to say nothing of oceanic life in all its magnificent manifestations. Mama is not in a good mood and when she has had all she can take ..

R.C. , says: Next New Comment September 11, 2020 at 5:59 am GMT

"Strategic Intelligence Platform" should be renamed something like "s Strategic Intelligence Millennial Platform" (SIMP)
R.C.

TheTrumanShow , says: Next New Comment September 11, 2020 at 7:37 am GMT

@Intelligent Dasein

" the fact that German and Russian intelligent (sic) warned the FBI about an imminent Muslim terrorist attack is not compatible with the idea that there was a controlled demolition."

How so? The US architects of a controlled demolition could have quite easily created fake "chatter" and fake "intelligence" about an imminent Muslim terrorist attack.

Thomasina , says: Next New Comment September 11, 2020 at 8:15 am GMT

@Intelligent Dasein be found on Youtube titled "Former NIST Employee Speaks Out On World Trade Centre Towers Collapse Investigation". It's 31 minutes long, but he says the following at approximately 18 minutes in:

"Look at the symmetry. These buildings come straight down, or almost straight down.

Asymmetric damage does not lead to symmetric collapse. It's very difficult to get something to collapse symmetrically because it is the Law of Physics that things tend towards chaos. Collapsing symmetrically represents order, very strict order.

It is not the nature of physics to gravitate towards order for no reason. It will gravitate towards chaos. It is very difficult to get a building to collapse symmetrically."

dimples , says: Next New Comment September 11, 2020 at 8:25 am GMT

I can't make any sense out of this article. It reads like a lot of stock sentences jumbled together by a computer program.

Nancy Pelosi's Latina Maid , says: Next New Comment September 11, 2020 at 8:35 am GMT

@PetrOldSack actor/author, how could he be, our cherished "thinkers" are as few and making up as they go, seconded by the crude second tier public domain politicians, the corporate mongers, them being even less prone to visionary skill. This "thing" can go wrong in all kinds of ways, but real it is, and some derivative globally altered reality is there to stay. Brusquely, genuinely."


The Atlantic tells us that "Overall, bots are responsible for 52 percent of web traffic" and I think we're looking at Exhibit A.

https://www.theatlantic.com/technology/archive/2017/01/bots-bots-bots/515043/
skrik , says: Next New Comment September 11, 2020 at 8:48 am GMT
@Intelligent Dasein

an imminent Muslim terrorist attack is not compatible with the idea that there was a controlled demolition

Q: Why not? In fact, just as the 3 WTC towers were pre-loaded with explosives, so the alleged hijacker-piloted a/cs and resulting photogenic explosions were pre-planned 'Hollywood special effects' as critical components. How else to convince the insouciant punters, except with a well-scripted and executed 'whiz-bang?' Then, see the reports of putative Muslim hijackers doing dope and/or booze with lap-dancing bar-girls beforehand. You do yourself a disservice by denying *humongously obvious* controlled demolition. Tip: Try not to be silly.
EL PMIS , says: Next New Comment September 11, 2020 at 8:52 am GMT
To unravel the enigma i wonder if one does not need to go completely eurocentric.
1848 unraveling the empires or at last a planting of the seeds.

1948 the new_world order is established. With its counterpart in the east. Essentially a ynraveling of 1848 which was a crystallisation of the 30 year was and the peace of westphalia. Neither established empire being a nation while a very different nationbuiling started in europe compared to the pre-great war.

2048, no doubt some kind of replacing the new_world order with a new world_order.
One way or anothr to serve europes plutocrats. And with an eye on unraveling the previous 1948 situation. Soviets are gone, so now the disunited states of america has to go and be reduced to a new balkans.
Perhaps sweeping away europe too this time. Arabobantustan unable to sustain a developed economy certainly is on the timeline for europe.

Now. Regardless of whether the ghost of Herr Weishaupt is hanging around, the timeline is awfully useful for anyone like the anglozionist cabal of assorted late 1800s multimillionaires and their respective business empires cross inheritances into socalled NGOs. The names being quite well known like rockefeller, carnegie, rhodes etc.

Then again maybe no one really knows what they are doing anymore and there is no plan at all, just many very confused very badly planned plans. And all that will ensue is chaos and destruction and no order afterwards worthy of the name. 150 years of pisspoor mismanagement tends to have such consequences.
Alfred , says: Next New Comment September 11, 2020 at 9:34 am GMT
@Robert White billion from its Term Securities Lending Facility. It wasn't until May 31, 2008, when JPMorgan Chase closed its deal with Bear Stearns. However, the GAO reported that Bear Stearns "was consistently the largest PDCF borrower until June 2008." The Fed shows that Bear Stearns continued to receive funds until June 23, 2008.

Did the Fed Begin Secret Bailouts in 2007 Before Anyone Knew of the Pending Crisis? | Armstrong Economics
gotmituns , says: Next New Comment September 11, 2020 at 9:49 am GMT
9/11 – inside job – implosion.
Timur The Lame , says: Next New Comment September 11, 2020 at 10:05 am GMT
This article pretty much sums it up as best as I can understand. I had often stated to people of similar mind to watch for the next major 'move' after 9/11, it will be a dandy because with possibly a few white knuckle moments, the Masters will have concluded that they can get away with ANYTHING, internet or no. Truth simply fails to get traction in the minds of the majority of 'screen zombies' and the majority is all they ever needed.

Now where things might get really scary is if/when they decide to implement the great cull. From a dispassionate perspective, it is something they simply have to do. In 1950 the world population was about 2 billion. Now it is about 8 billion. If a population graph was drawn from say, 50,000 years ago it would be long and flat and then it would shoot up near vertically at the end.

The problem now of course is that with technology and agricultural machinery of all sorts the system doesn't even require the population of 1950. I recall one Master being on record as mentioning 500 million as being ideal. That is somewhat more than a cull.

Some fools say that a war is imminent for that express purpose. Sorry wars (even nuclear, which would affect the Masters too), won't result in the butcher's bill required. Only a global pandemic could conceivably attain the goal and like a neutron bomb, leave the infrastructure intact.

But this Covid is a hoax you say. Probably so, but what about this proverbial 'second wave' that is repeated like a Hare Krishna mantra everywhere. What if they released a REAL nasty virus (which we know they have somewhere) that has a proven vaccine for the 1% and then let the fun begin knowing full well that they would not be fingered for it because a pandemic is already on the move?

If it doesn't happen this fall then I may be wrong in my speculation. I always hope to be wrong when dealing with topics of unfathomable evil.

Cheers-
Liza , says: Next New Comment September 11, 2020 at 10:18 am GMT
@Majority of One

Mama is not in a good mood and when she has had all she can take ..

Or, as some folks like to say, "God is mad". But it's all the same thing. Maybe the schemers should be forced to read The Fisherman's Wife. However, they probably won't have any little hovel to go back to.
Robjil , says: Next New Comment September 11, 2020 at 10:51 am GMT
@skrik neither eyewitness testimony nor a visual documentation of the boarding process.
19 hijackers myth taken as " fact" by the 9/11 Commission. Any contradictions of this myth were ignored by this Commission.
•By ignoring the numerous and glaring contradictions regarding the identities of the alleged hijackers, the 9/11 Commission manifested its intent to maintain the official myth of 19 Muslim terrorists.

•By refusing to allow interviews with personnel who were responsible for passengers boarding the four aircraft of 9/11, the airlines manifested their intent to conceal evidence about the circumstances of the aircraft boarding.
Svevlad , says: Next New Comment September 11, 2020 at 11:30 am GMT
Sooo

Torch the power plants, you say?
Abdul Alhazred , says: Next New Comment September 11, 2020 at 11:38 am GMT
When 9/11 occurred my immediate thoughts went back to an January 2001 when Lyndon LaRouche warned that if John Ashcroft were to become Attorney General that then one could look forward to a new Reichstag fire type situation occurring within the context of the fact that the world financial system was finished and that the financial oligarchy was prepared to throw over the chess board so to speak.

LaRouche was right and because his understanding of history was correct as it is based upon a method of hypothesis that had already demonstrated the trajectories of economic collapse and attendant political operations long before, with an understanding of how to get out of the mess as demonstrated in history, particularly the Renaissance.

Of note here is a recent article of interest, which helps tell why LaRouche is hated!

https://larouchepac.com/20200908/antifa-back-future-1967-68-counterintelligence-primer-further-investigation-and-action
Hank Rearden678 , says: Next New Comment September 11, 2020 at 11:58 am GMT
This is a very interesting, all encompassing article, well done indeed. For a simpler and perhaps more digestible and more narrowly focused look at the SARS-Cov2 issue specifically, this is a worthwhile video https://www.youtube.com/watch?v=sQE7S6c-SCk&t=50s
Alfred , says: Next New Comment September 11, 2020 at 12:16 pm GMT
@gotmituns

9/11 – inside job – implosion.

Lots of micro nukes. Plenty of distractions from alleged "conspiracy theorists" in the pay of you know who.

The nanothermite theory was a psyop from the beginning to hide the nuclear event at the towers.

Startling: The Story of the 9/11 Breath-though that Solved it all and debunked the 'truthers' forever

annamaria , says: Next New Comment September 11, 2020 at 12:21 pm GMT
@PetrOldSack ght in wars or participated in other combat operations in at least 24 countries. The destruction inflicted by warfare in these countries has been incalculable for civilians and combatants Between 2010 and 2019, the total number of refugees and IDPs globally has nearly doubled from 41 million to 79.5 million .
These babies-loving American X-tians and other Samantha Powers and Obamas, have arranged quite a spectacular mass slaughter of children of all ages to please the "deciders" (Masters of the Universe).
None of the murderous idiots has been punished, yet Assange the truthteller is in a high-security prison Belmarsh, handled by the same murderous scum. Kali , says: Next New Comment September 11, 2020 at 12:24 pm GMT
@PetrOldSack

My annotations are incomplete, but a mere "what comes to mind".

I would be interested to read them complete.
I appreciate your comment.

Thanks.

With love,
Kali.
Kali , says: Next New Comment September 11, 2020 at 12:53 pm GMT
@Majority of One eation is not about to be undone by those who have convinced themselves that they can control everything.
I couldn't agree more with this.
The intelligence of Existance Itself, the very Nature of Being is anathema to to those specs of dirt who would attempt to determine the will of God.
The same sentience which is manifest in Man is repeated and applified throughout all of existance. How could it be any other way when everything we experience is fractal? Just as God may be experience at the centre of our very Being, so the same God is observed within the All of Everything.
Thank you for your comment.
With love,
Kali. Johnny Walker Read , says: Next New Comment September 11, 2020 at 12:55 pm GMT
A great look into what is going on, and what is still to come. Yet the sleeping, brain dead, face diapered, mind controlled masses of the global corporation formerly known as he United States spend every waking hour saying "hooray for our guy". Never once does it occur to the sheeple both are puppets, controlled by the international banksters and their minions.

One of these morons has undeniable ties to the Russian mob, while the other has deep ties to the Chinese Communist Party. If that weren't bad enough, they both swear undying loyalty to that little shit stain in the Middle East which seems to project more influence on world politics than the two formerly mentioned giants.

I know it is no accident the printing of this article occurred on the anniversary date of the last, greatest mind fuck to hit America since Dec. 7th, 1941. I guess the infidels have been shown a lesson and the world is now safe for a one world government technocratic Corporatocracy.

So here's to 3/11/2020(my official date for the roll out of the CV hoax), the ushering in of a new slave system, and the idiocy and gullibility of the global citizenry.

So enjoy your new bosses, as they are going to be far more tyrannical than your old.


https://www.youtube.com/embed/Un5oEdfrm_A?feature=oembed
skrik , says: Next New Comment September 11, 2020 at 1:01 pm GMT
@Robjil ry:'
[I see that the 1st image is not visible, kindly try this link:
alleged 'recovered' flight recorder ]
Q: How soft was that ground, anyway? Does anyone 'believe' that part of the official 9/11 narrative? Haw. Only the 'insouciant punters' were ever hoodwinked by such offensive, lying rubbish, all faithfully echoed by the 'lame-stream media.' rgds
ploni almoni , says: Next New Comment September 11, 2020 at 1:04 pm GMT
@Intelligent Dasein

Condoleeza Rice resisting at Congressional enquiry "N-o-o-o" and then admitting in a faint there was an "intelligence report" that said said "Ben Laden planning to use airplanes in terrorist attack" was play acting to confirm what they wanted people to believe. You will remember that you were taught to prepare in advance "red herrings" and leave deliberate confusions behind you to cover your trail.
Johnny Walker Read , says: Next New Comment September 11, 2020 at 1:18 pm GMT
@Majority of One

Here's hoping you're right, but I must say I have my doubts.
Getaclue , says: Next New Comment September 11, 2020 at 1:29 pm GMT
@Robert White traitors and infiltrated enemies not by any brilliance of the vicious Chinese Communist mass murderers -- if you like the idea of taking a van ride for expressing your anti-Government thoughts you'll love the ChiCom "Model" being installed here now on all of us -- Ron Unz would be one of the first for the van ride if he tried to run a site like this in China by the way -- there is zero disputing this fact. David Rockefeller gave us the CFR, Trilateral Commission etc. and of course the WHO and: https://vigilantcitizen.com/latestnews/the-true-agenda-of-the-who-a-new-world-order-modeled-after-china/
skrik , says: September 11, 2020 at 1:45 pm GMT
@Alfred Haw. Or was that suppressed as well, along with the bulk-wreckage [=crime-scene evidence] which was destroyed by being exported as scrap? Haw again.

Nitty-gritty: There is no need to posit any 'exotics,' from nukes to DEW; standard explosives [both with OR without thermite/mate; only the 'best' tools = most suitable would have been deployed]; standard explosives could quite easily do the job, for example det-cord threaded into the floor-slab conduits can fully explain both the absence of floor in the rubble plus the billowing pyroclastic white dust-clouds [incidentally, explaining scorched vehicles]. And so it goes. A term for such reasoning = Occam's razor.
Highly recommended!
In short black people are used as pawns in the political struggle between two neoliberal clans fighting for power, using students without perspectives of gaining meaningful employment as a ram. We saw this picture before in a different country. And riots do reverse gains achieved in civil right struggle since 1960th, so they are also net losers. Racial tensions in the USA definitely increased dramatically.
Notable quotes:
"... Bottom line: "Critical Race Theory", "The 1619 Project", and Homeland Security's "White Supremacist" warning represent the ideological foundation upon which the war on America is based. The "anti-white" dogma is the counterpart to the massive riots that have rocked the country. These phenomena are two spokes on the same wheel. They are designed to work together to achieve the same purpose. The goal is create a "racial" smokescreen that conceals the vast and willful destruction of the US economy, the $5 trillion dollar wealth-transfer that was provided to Wall Street, and the ferocious attack on the emerging, mainly-white working class "populist" movement that elected Trump and which rejects the globalist plan to transform the world into a borderless free trade zone ruled by cutthroat monopolists and their NWO allies. ..."
"... This is a class war dolled-up to look like a race war. Americans will have to look beyond the smoke and mirrors to spot the elites lurking in the shadows. There lies the cancer that must be eradicated. ..."
"... The current situation cannot exist without the complicity of the secret services and the police. The heads of the secret services are either part of the cabal or close their eyes in fear ..."
"... There can be no single oligarch. It must be a larger group but very united by fear and a common goal. This can only be achieved if they are all Jews or Masons. Or both under a larger umbrella like some kind of pedo-ritual killing-satan worshiper. Soros can't do it alone. ..."
"... Of course politicians are corrupt and complicit but usually they are not the leaders ..."
MIKE WHITNEY 2,100 WORDS 165 COMMENTS REPLY

Here's your BLM Pop Quiz for the day: What do "Critical Race Theory", "The 1619 Project", and Homeland Security's "White Supremacist" warning tell us about what's going on in America today?

They point to deeply-embedded racism that shapes the behavior of white people They suggest that systemic racism cannot be overcome by merely changing attitudes and laws They alert us to the fact that unresolved issues are pushing the country towards a destructive race war They indicate that powerful agents -- operating from within the state– are inciting racial violence to crush the emerging "populist" majority that elected Trump to office in 2016 and which now represents an existential threat to the globalist plan to transform America into a tyrannical third-world "shithole".

Which of these four statements best explains what's going on in America today?

If you chose Number 4, you are right. We are not experiencing a sudden and explosive outbreak of racial violence and mayhem. We are experiencing a thoroughly-planned, insurgency-type operation that involves myriad logistical components including vast, nationwide riots, looting and arson, as well as an extremely impressive ideological campaign. "Critical Race Theory", "The 1619 Project", and Homeland Security's "White Supremacist" warning are as much a part of the Oligarchic war on America as are the burning of our cities and the toppling of our statues. All three, fall under the heading of "ideology", and all three are being used to shape public attitudes on matters related to our collective identity as "Americans".

The plan is to overwhelm the population with a deluge of disinformation about their history, their founders, and the threats they face, so they will submissively accept a New Order imposed by technocrats and their political lackeys. This psychological war is perhaps more important than Operation BLM which merely provides the muscle for implementing the transformative "Reset" that elites want to impose on the country. The real challenge is to change the hearts and minds of a population that is unwaveringly patriotic and violently resistant to any subversive element that threatens to do harm to their country. So, while we can expect this propaganda saturation campaign to continue for the foreseeable future, we don't expect the strategy will ultimately succeed. At the end of the day, America will still be America, unbroken, unflagging and unapologetic.

Let's look more carefully at what is going on.

On September 4, the Department of Homeland Security issued a draft report stating that "White supremacists present the gravest terror threat to the United States". According to an article in Politico:

" all three draft (versions of the document) describe the threat from white supremacists as the deadliest domestic terror threat facing the U.S. , listed above the immediate danger from foreign terrorist groups . John Cohen, who oversaw DHS's counterterrorism portfolio from 2011 to 2014, said the drafts' conclusion isn't surprising.

"This draft document seems to be consistent with earlier intelligence reports from DHS, the FBI, and other law enforcement sources: that the most significant terror-related threat facing the US today comes from violent extremists who are motivated by white supremac y and other far-right ideological causes," he said .

"Lone offenders and small cells of individuals motivated by a diverse array of social, ideological, and personal factors will pose the primary terrorist threat to the United States," the draft reads. "Among these groups, we assess that white supremacist extremists will pose the most persistent and lethal threat."..(" DHS draft document: White supremacists are greatest terror threat " Politico)

This is nonsense. White supremacists do not pose the greatest danger to the country, that designation goes to the left-wing groups that have rampaged through more than 2,000 US cities for the last 100 days. Black Lives Matter and Antifa-generated riots have decimated hundreds of small businesses, destroyed the lives and livelihoods of thousands of merchants and their employees, and left entire cities in a shambles. The destruction in Kenosha alone far exceeds the damage attributable to the activities of all the white supremacist groups combined.

So why has Homeland Security made this ridiculous and unsupportable claim? Why have they chosen to prioritize white supremacists as "the most persistent and lethal threat" when it is clearly not true?

There's only one answer: Politics.

The officials who concocted this scam are advancing the agenda of their real bosses, the oligarch puppet-masters who have their tentacles extended throughout the deep-state and use them to coerce their lackey bureaucrats to do their bidding. In this case, the honchos are invoking the race card ("white supremacists") to divert attention from their sinister destabilization program, their looting of the US Treasury (for their crooked Wall Street friends), their demonizing of the mostly-white working class "America First" nationalists who handed Trump the 2016 election, and their scurrilous scheme to establish one-party rule by installing their addlepated meat-puppet candidate (Biden) as president so he can carry out their directives from the comfort of the Oval Office. That's what's really going on.

DHS's announcement makes it possible for state agents to target legally-armed Americans who gather with other gun owners in groups that are protected under the second amendment. Now the white supremacist label will be applied more haphazardly to these same conservatives who pose no danger to public safety. The draft document should be seen as a warning to anyone whose beliefs do not jibe with the New Liberal Orthodoxy that white people are inherently racists who must ask forgiveness for a system they had no hand in creating (slavery) and which was abolished more than 150 years ago.

The 1619 Project" is another part of the ideological war that is being waged against the American people. The objective of the "Project" is to convince readers that America was founded by heinous white men who subjugated blacks to increase their wealth and power. According to the World Socialist Web Site:

"The essays featured in the magazine are organized around the central premise that all of American history is rooted in race hatred -- specifically, the uncontrollable hatred of "black people" by "white people." Hannah-Jones writes in the series' introduction: "Anti-black racism runs in the very DNA of this country. "

This is a false and dangerous conception. DNA is a chemical molecule that contains the genetic code of living organisms and determines their physical characteristics and development . Hannah-Jones's reference to DNA is part of a growing tendency to derive racial antagonisms from innate biological processes .where does this racism come from? It is embedded, claims Hannah-Jones, in the historical DNA of American "white people." Thus, it must persist independently of any change in political or economic conditions .

. No doubt, the authors of The Project 1619 essays would deny that they are predicting race war, let alone justifying fascism. But ideas have a logic; and authors bear responsibility for the political conclusions and consequences of their false and misguided arguments." ("The New York Times's 1619 Project: A racialist falsification of American and world history", World Socialist Web Site)

Clearly, Hannah-Jones was enlisted by big money patrons who needed an ideological foundation to justify the massive BLM riots they had already planned as part of their US color revolution. The author –perhaps unwittingly– provided the required text for vindicating widespread destruction and chaos carried out in the name of "social justice."

As Hannah-Jones says, "Anti-black racism runs in the very DNA of this country", which is to say that it cannot be mitigated or reformed, only eradicated by destroying the symbols of white patriarchy (Our icons, our customs, our traditions and our history.), toppling the existing government, and imposing a new system that better reflects the values of the burgeoning non-Caucasian majority. Simply put, The Project 1619 creates the rationale for sustained civil unrest, deepening political polarization and violent revolution.

All of these goals conveniently coincide with the aims of the NWO Oligarchs who seek to replace America's Constitutional government with a corporate Superstate ruled by voracious Monopolists and their globalist allies. So, while Hannah-Jones treatise does nothing to improve conditions for black people in America, it does move the country closer to the dystopian dream of the parasite class; Corporate Valhalla.

Then there is "Critical Race Theory" which provides the ideological icing on the cake. The theory is part of the broader canon of anti-white dogma which is being used to indoctrinate workers. White employees are being subjected to "reeducation" programs that require their participation as a precondition for further employment . The first rebellion against critical race theory, took place at Sandia Labs which is a federally-funded research agency that designs America's nuclear weapons. According to journalist Christopher F. Rufo:

"Senator @HawleyMO and @SecBrouillette have launched an inspector general investigation, but Sandia executives have only accelerated their purge against conservatives."

Sandia executives have made it clear: they want to force critical race theory, race-segregated trainings, and white male reeducation camps on their employees -- and all dissent will be severely punished. Progressive employees will be rewarded; conservative employees will be purged." (" There is a civil war erupting at @SandiaLabs ." Christopher F Rufo)

It all sounds so Bolshevik. Here's more info on how this toxic indoctrination program works:


"Treasury Department


The Treasury Department held a training session telling employees that "virtually all White people contribute to racism" and demanding that white staff members "struggle to own their racism" and accept their "unconscious bias, White privilege, and White fragility."


The National Credit Union Administration

The NCUA held a session for 8,900 employees arguing that America was "founded on racism" and "built on the blacks of people who were enslaved. " Twitter thread here and original source documents here .

Sandia National Laboratories

Last year, Sandia National Labs -- which produces our nuclear arsenal -- held a three-day reeducation camp for white males, teaching them how to deconstruct their "white male culture" and forcing them to write letters of apology to women and people of color . Whistleblowers from inside the labs tell me that critical race theory is now endangering our national security. Twitter thread here and original source documents here .

Argonne National Laboratories

Argonne National Labs hosts trainings calling on white lab employees to admit that they "benefit from racism" and atone for the "pain and anguish inflicted upon Black people. " Twitter thread here .

Department of Homeland Security

The Department of Homeland Security hosted a Training on "microaggressions, microinequities, and microassaults" where white employees were told that they had been "socialized into oppressor roles. " Twitter thread here and original source documents here ." (" Summary of Critical Race Theory Investigations" , Christopher F Rufo)

On September 4, Donald Trump announced his administration "would prohibit federal agencies from subjecting government employees to "critical race theory" or "white privilege" seminar. ..

"It has come to the President's attention that Executive Branch agencies have spent millions of taxpayer dollars to date 'training' government workers to believe divisive, anti-American propaganda ," read a Friday memo from the Office of Budget and Management Director Russ Vought. "These types of 'trainings' not only run counter to the fundamental beliefs for which our Nation has stood since its inception, but they also engender division and resentment within the Federal workforce The President has directed me to ensure that Federal agencies cease and desist from using taxpayer dollars to fund these divisive, un-American propaganda training sessions."

The next day, September 5, Trump announced that the Department of Education was going to see whether the New York Times Magazine's 1619 Project was being used in school curricula and– if it was– then those schools would be ineligible for federal funding. Conservative pundits applauded Trump's action as a step forward in the "culture wars", but it's really much more than that. Trump is actually foiling an effort by the domestic saboteurs who continue look for ways to undermine democracy, reduce the masses of working-class people to grinding poverty and hopelessness, and turn the country into a despotic military outpost ruled by bloodsucking tycoons, mercenary autocrats and duplicitous elites. Alot of thought and effort went into this malign ideological project. Trump derailed it with a wave of the hand. That's no small achievement.

Bottom line: "Critical Race Theory", "The 1619 Project", and Homeland Security's "White Supremacist" warning represent the ideological foundation upon which the war on America is based. The "anti-white" dogma is the counterpart to the massive riots that have rocked the country. These phenomena are two spokes on the same wheel. They are designed to work together to achieve the same purpose. The goal is create a "racial" smokescreen that conceals the vast and willful destruction of the US economy, the $5 trillion dollar wealth-transfer that was provided to Wall Street, and the ferocious attack on the emerging, mainly-white working class "populist" movement that elected Trump and which rejects the globalist plan to transform the world into a borderless free trade zone ruled by cutthroat monopolists and their NWO allies.

This is a class war dolled-up to look like a race war. Americans will have to look beyond the smoke and mirrors to spot the elites lurking in the shadows. There lies the cancer that must be eradicated.

---

Verymuchalive , says: September 8, 2020 at 2:47 pm GMT

A good article, but no mention of who exactly these oligarchs are. Or why so many of them are Jewish.
Or why so many Zionist organisations support BLM and other such groups.
Mike, not mentioning these things will not save you. You will still be cancelled by Progressive Inc.

Justvisiting , says: September 9, 2020 at 3:08 am GMT

@lloyd

This "all whites are racist" meme seems to be a variation on the Christian doctrine of "original sin".

I reject all of it as obscene nonsense used by sociopaths (the actual folks who were born with original sin) in an attempt to control us.

exiled off mainstreet , says: September 9, 2020 at 3:23 am GMT

This seems like a good explanation of what is happening. I wonder whether too many people will fall for the propaganda, though. It is the classic effort to get the turkeys to support thanksgiving.

sonofman , says: September 9, 2020 at 3:26 am GMT

The deserved progress and concessions achieved by the civil rights struggles for the Black community is in danger of deteriorating because Black leadership will not stand up and vehemently condemn the rioting and destruction and killing, and declare that the BLM movement does not represent the majority of the Black American culture and that the overexaggerated accusations of "racism" do not necessitate the eradication and revision of history, nor does it require European Americans to feel guilt or shame. There is no need for a cultural revolution. The ideology and actions of BLM are offensive and inconsistent with American values, and Black leaders should be saying this every day, and should be admonishing about the consequences. They should also use foresight to see how this is going to end, because the BLM and their supporters are being used to fight a war that they can never win. And when it's over, what perception will the rest of America have of Black people?

TG , says: September 9, 2020 at 4:13 am GMT

"This is a class war dolled-up to look like a race war."

Quadruple kudos! Yes! Because of this ending statement, I have no quibbles! Yes!

Redman , says: September 9, 2020 at 4:40 am GMT

@sonofman g to TPTB. Better to have an amorphous slogan to donate money to than an actual organization with humans, goals and ideas which can be held up to the light and critically examined.

The whole sudden race thing is a fraud to eliminate the electoral support Trump had amassed among blacks before Corona and Fentanyl Floyd. In line with what Whitney says, the globalists need to take down Trump. And the race card has always been the first tool in the DNC's toolkit. When all else fails, go nuclear with undefined claims of racism.

Almost every big magazine has a black person on the cover this month. Probably will in October too. Coincidence? Sure it is.

TimeTraveller , says: September 9, 2020 at 4:52 am GMT

They indicate that powerful agents -- operating from within the state– are inciting racial violence to crush the emerging "populist" majority that elected Trump to office in 2016 and which now represents an existential threat to the globalist plan to transform America into a tyrannical third-world "shithole".

I'm shocked that they're trying to sell this Q-tier bullshit about Trump fighting the deep state.

The reality about Trump is that he is the release valve, the red herring designed to keep whitey pacified while massive repossessions and foreclosures take place, permanently impoverishing a large part of the white population, and shutting down the Talmudic service-based economy, which is all that is really left. It is Trump's DHS that declared a large part of his white trashionalist base to be terrorists.

The populist majority never had anyone to vote for. This system will never give them one. They aren't bright enough to make it happen.

Tony Hall , says: September 9, 2020 at 5:14 am GMT

@sonofman

Agree. Barack Obama in particular will go down in history a real disgrace to the legacy of the US presidency. He is violating the sacred trust that the people of the United States invested in him. What a fraud!

omegabooks , says: September 9, 2020 at 5:23 am GMT

Good post Mr. Whitney especially about "white supremacy" garbage .which has only been going on since the 90s! You know, Waco, Ruby Ridge, Elohim City and Okie City, militias, "patriot groups," etc. This really is nothing new. And, since so many remember the "white supremacy" crapola was crapola back in the 90s, I'd say everyone pretty much regardless of race over the age of 40 knows there is, as it says in Ecclesiastes in the Bible, "there is nothing new under the sun." And, if you home schooled your kids back then, then you kids know it as well. Fact is this: the DHS as with every other govt. agency is forced to blame "white supremacy" for every problem in this country because who the heck else can they blame? Jews? Bwahahahahahahahahahahahahahahh when pigs fly After all, Noahide just might be around the corner ..

Dr. Doom , says: September 9, 2020 at 5:25 am GMT

BLM is funded almost entirely by George Soros...

No Friend Of The Devil , says: September 9, 2020 at 5:33 am GMT

BLM is just one of the tools in their bag, in addition to AIPAC, ADL, NOW, in addition to dozens of others.

Typical divide and conquer ploy...

Dube , says: September 9, 2020 at 5:35 am GMT

@TG

"This is a class war dolled-up to look like a race war."

Elegant.

Mefobills , says: September 9, 2020 at 6:28 am GMT

Sheriffs have a lot of legal power. Ultimately, the battle is privatized money power vs Joe Citizen/Sheriffs.

This sheriff is working a Constitutional angle that says: Local Posse (meaning you.. Joe citizen) working with the Sheriff department to protect your local community. Richard Mack is teaching other Sheriffs and (some Police) what their Constitutional power is, and that power doesn't include doing bidding of Oligarchs.

Sheriffs are elected, and their revenue stream is outside of Oligarchy:

https://www.youtube.com/embed/5DFtE4ihWrs?feature=oembed

Exalted Cyclops , says: September 9, 2020 at 6:31 am GMT

So Donald Trump suddenly discovers that racial Bolshevism is the official policy of his own executive branch – a mere 3 years and 8 months after assuming the position

... Looks like the same old flim-flam they pull every four years. No matter who wins, the Davos folks continue to run the circus and fleece the suckers dry.

Miro23 , says: September 9, 2020 at 6:37 am GMT

It all sounds so Bolshevik.

Because it is. Substitute "the ethnic Russian middle class are class enemies" for "Anglo-American are all racists" and there you have it. Permission for a small organized minority to eliminate a whole class on ideological grounds...

idealogus , says: Website September 9, 2020 at 6:48 am GMT

I live in a former communist country in Eastern Europe with corrupt politicians, oligarchs and organized crime.
America was a country with a minor corruption and in which the oligarchs, although influential, were not united in a small group with decisive force. Now America is slowly slipping into the situation of a second-hand shit-hole country.
Is that I can see the situation more clearly than an American citizen who still has the American perception of his contry the way it was 30 years ago.
Essential thing:
1) The current situation cannot exist without the complicity of the secret services and the police. The heads of the secret services are either part of the cabal or close their eyes in fear .
2) There can be no single oligarch. It must be a larger group but very united by fear and a common goal. This can only be achieved if they are all Jews or Masons. Or both under a larger umbrella like some kind of pedo-ritual killing-satan worshiper. Soros can't do it alone.
3) Of course politicians are corrupt and complicit but usually they are not the leaders
4) BLM are exactly the brown shirts of the new Hitler.
Soon we will se the new Hitler/Stalin/ in plain light.

Wally , says: September 9, 2020 at 6:59 am GMT

@Verymuchalive i>

Thirty black children murdered recently; zero by police / BLM & 'the media' say nothing:
https://www.outkick.com/blm-101-volume-7-the-lives-of-innocent-black-kids-do-not-matter/
BTW:
– Last year, the nationwide total for all US police forces was 47 killings of unarmed criminals by police during arrest procedures.
– 8 were black, 19 were white.
Though blacks, relative to their numbers, committed a vastly higher number of crimes, hence their immensely greater arrest rate.

animalogic , says: September 9, 2020 at 8:00 am GMT

@Justvisiting urally, it is nonsense -- nasty, power-hungry, censorious nonsense.
It is the opposite of scientific or empirical thought -- science can not accept theories which are not capable of falsification. (Take astrology -- actually, don't ! -- what ever conclusion it comes to can never be wrong : Dick or Jane didn't find love ? Well, one of Saturn's moons was retrograde & Mercury declensed Venus (I don't know what it means either) . or Dick went on a bender & Jane had a whole bad hair week.
Frankly, to play these pre-modern tricks on us is just grotesquely insulting. That some are falling for it is grotesquely depressing.

Digital Samizdat , says: September 9, 2020 at 9:58 am GMT

Another ringer from Mike Whitney! Keep 'em comin', brother.

We are not experiencing a sudden and explosive outbreak of racial violence and mayhem. We are experiencing a thoroughly-planned, insurgency-type operation that involves myriad logistical components including vast, nationwide riots, looting and arson, as well as an extremely impressive ideological campaign.

Yup. TPTB have been grooming BLM/Antifa for this moment for at least 3-4 years now, if not longer. Here's a former BLMer who quit speaking out three years ago about the organization's role in the present 'race war':

https://www.youtube.com/embed/ULJtBdI7Aj0?feature=oembed

Franz , says: September 9, 2020 at 10:43 am GMT

Honesty at last!

Department of Homeland Security was a ... Trojan Horse from the start.

Aristotle , says: September 9, 2020 at 12:06 pm GMT

@anonymous

It is very clever politics and (war) propaganda. You break down and demoralise your enemies at the same time as assuring your own side of it's own righteous use of violence.

SimplePseudonymicHandle , says: September 9, 2020 at 1:17 pm GMT

This is a class war dolled-up to look like a race war. Americans will have to look beyond the smoke and mirrors to spot the elites lurking in the shadows.

Nailing it.

4. They indicate that powerful agents -- operating from within the state– are inciting racial violence to crush the emerging "populist" majority that elected Trump to office in 2016 and which now represents an existential threat to the globalist plan to transform America into a tyrannical third-world "shithole".

Which of these four statements best explains what's going on in America today?

If you chose Number 4, you are right.

If we believe this – we need to act like it. These are "enemies, foreign and domestic ". This isn't ordinary politics, it arguably transcends politics.

What hope is there without organization?

And whatever is done – don't give them ammunition. The resistance must not be an ethno-resistance.

Ilya G Poimandres , says: September 9, 2020 at 2:42 pm GMT

@Mefobills

Trump is ignorant, but not unwilling to learn.

The action on critical race theory happened a day (or so) after Tucker Carlson had a 6 minute segment on it.

https://www.youtube.com/embed/rBXRdWflV7M?feature=oembed

He definitely doesn't dither.

But he is either naive or a bad manager, as his hires are deadly to his aims. And the management criticism is big, because as a leader that is mostly what he does.

That he gets information to affect US policy for good, from outside of his circle of trusted personnel, is a sad state of affairs.

Justvisiting , says: September 9, 2020 at 2:54 pm GMT

@idealogus class="comment-text">

America was a country with a minor corruption

That is not correct–you have been misled by the mass media.

As Michael said in Godfather III,

All my life I was trying to get up in society where everything is legal, but the higher I go the more crooked it becomes.

I first "saw the light" years ago after reading this book:

https://read.amazon.com/kp/card?preview=inline&linkCode=kpd&ref_=k4w_oembed_EkhZDCHOQSUcFd&asin=1561712493&tag=kpembed-20

Later in life I had the "opportunity" to be "in the room" where the big crooks play–nasty nasty stuff.

Anonymous [125] Disclaimer , says: September 9, 2020 at 2:58 pm GMT

@Robert Dolan ds that it would have ended on day one were it not officially sanctioned and the rioters protected from prosecution. Why hasn't the Janet Rosenberg/Thousand Currents/Tides Foundation connection with the BLM/DNC/MSM cabal, as well as with Antifa and social media, been the major investigation on Fox News? Why haven't Zuckerberg, Zucker, et al been arrested for incitement to commit federal crimes, including capital treason to overthrow the duly elected president? (Just a few rhetorical questions for the hell of it.) What's so galling is that the cops and federal agents are being used as just so many patsies who are deployed, not to protect, but deployed to look like fools and be held up for mockery as pathetic exemplars of white disempowerment.

EdwardM , says: September 9, 2020 at 3:07 pm GMT

The officials who concocted this scam are advancing the agenda of their real bosses, the oligarch puppet-masters who have their tentacles extended throughout the deep-state and use them to coerce their lackey bureaucrats to do their bidding.

Agree, but where is President Trump? He was supposed to appoint undersecretaries and assistant secretaries and deputy undersecretaries and Schedule C whippersnappers on whose desks such outrages are supposed to die.

I've thought from the beginning that this lack of attention to "personnel as policy" -- with Trump overestimating the ability of the ostensible CEO to overcome such intransigence -- was one of his major failures. I am sympathetic, as there are not many people he could trust to be loyal to his agenda, much less to him, but this is a disaster in every agency

Iva , says: September 9, 2020 at 3:23 pm GMT

Few years ago I watch a clip secretly recorded in Ukrainian synagogue where Rabi said "first we have to fight Catholics and with Muslims it will be an easy job" ...

anonymous [400] Disclaimer , says: September 9, 2020 at 3:31 pm GMT

Thanks to Mr Whitney for being able to cut through the fog and see what's going on behind it. The term "white supremacist" wasn't much in public use at all until the day Trump was elected then suddenly it was all over the place. It's like one of those massive ad campaigns whose jingle is everywhere as if some group decided on it as a theme to be pushed. They're really afraid that the white working class population will wake up and see how the country is being sold out from underneath their feet hence the need to keep it divided and intimidated. Like all the other color revolutions everywhere else they strike at the weak links within the country to create conflict, in the US case it's so-called diversity. There's billions available to be spent in this project so plenty of traitors can be found, unwitting or otherwise, to carry out their assignments. The billionaire class own most of the media and much else and see the US as their farm. They have no loyalty whatsoever and outsource everything to China or anywhere else they can squeeze everything out of the workers. They want a global dictatorship and admire the Chinese government for the way it can order its citizens around.

David Erickson , says: September 9, 2020 at 4:19 pm GMT

@TimeTraveller

You are exactly right. Trump is doing his part (knowingly or unknowingly, but probably knowingly) to accomplish the NWO objectives. He was not elected in 2016 in spite of NWO desires, as most Trump supporters think, but rather precisely BECAUSE of NWO desires.

The NWO probably also wants him to win again this year, and if so then he will win. The reason the NWO wanted him in 2016 (and probably wants him to win again) was primarily to neutralize the (armed) Right in this country so they wouldn't effectively resist the COVID-19 scamdemic lockdown tyranny and BLM/Antifa riots.

Chet Roman , says: September 9, 2020 at 4:20 pm GMT

@Trinity While I tend to agree with you that it looks like a race war, the question is why is it happening now? If it were just a race war promoted by radicals in BLM and Antifa, it does not explain the nationwide coordination (let's face it the faces of BLM and Antifa are not that smart or connected), the support and censorship of the violence by the MSM and the support of Marxist BLM by corporations to the tune of hundreds of millions of dollars. This is a color revolution in the making and may come to a peak after Nov. 3rd. Whitney is on to something, there is much more going on behind the "smoke and mirrors" and AG Barr (if he's not part of it) should be investigating it.

Tommy Thompson , says: September 9, 2020 at 5:09 pm GMT

They indicate that powerful agents -- operating from within the state– are inciting racial violence to crush the emerging "populist" majority that elected Trump to office in 2016 and which now represents an existential threat to the globalist plan to transform America into a tyrannical third-world "shithole".

I keep reading such nonsense in the comments above. the so-called populist majority does not get it, Trump is not placed here to stop the Globalist agenda, that is an electioneering stunt. Look at what he has actually and really done.

How has he stopped the Globalist move forward?? By the Covid plandemic being allowed to circle the globe and shut down the US economy and social norm? By moving our high tech companies to Israel? Giving Israel and their Wall Street allies what is left of US credit wealth? Draining the swamp with even more Zio-Neocon Swamp creatures in the govt than ever? Moving the embassy to Jerusalem and all requests per Netanyahu's wish list? A real anti-Globalist stand? Looting the Federal Reserve for the Wall Street high fliers, who garnered more wealth during the crash test run of March-April and are sure to make out with even more for the coming big crash?

Phoney stunts of stopping immigration or bashing China. Really? China is still rising propelled by Wall Street and Banker funds. I have not seen any jobs coming home, lost more than ever in US history this year. Only lost homes for the working and middle classes.

How is Populist America standing up for their constitutional rights which is being shredded a little more each day? Standing up for their Real Interests, which are eroded and stolen on an almost daily basis by Trump's NY Mafia and Wall Street Oligarchs. Jobs gone for good and government assistance to the needy disappearing, as that is against the phoney Republic individualism, that you must make it on your own. Right just like the big goverment assistance always going to the big money players and banks, remember as they are too big to let fail!

Dreaming that Trump is going to save White America from the Gobalists is just bull corn . From whom BLM? Proven street theatre that will disappear on command. I actually have come to learn that some Black leaders are speaking out intelligently for street calm and distancing themselves from BLM.

Problem with the USA is the general population is so very dumbed down by 60 years of MSM – TV s and Hollywood mind control programming that the public prefers professional actors like Reagan and Trump over real politicians, and surely never chose a Statesman or real Patriotic leader. the public political narrative is still set by Fox , CNN and MSNBC .

The deep state is so infiltrated and overwhelmed with Zio and Globalist agents, that it is now almost hopeless to fix. Sorry to point out but Trump is best described as the Dummy sitting on his Ventriloquist's lap (Jared Kushner).

Situation is near hopeless as even here on Ron Unz Review the comments are so disappointing, almost 80% are focused on the Race as the prime issue and supportive of Trump fakery (not that I support Biden and Zio slut Kamil Harris either).

In sum, beyond putting their MAGA hats on, White America is more focused more on playing Cowboy with their toy guns, AR's and all than really getting involved politically to sort things out to get American onto a better track. Of course, this is not taken seriously as it might call for reaching out to other American communities that are even more disenfranchised: African- Americans and Latinos.

TimeTraveller , says: September 9, 2020 at 5:11 pm GMT

@David Erickson nted him in 2016 (and probably wants him to win again) was primarily to neutralize the (armed) Right in this country so they wouldn't effectively resist the COVID-19 scamdemic lockdown tyranny and BLM/Antifa riots.

Covid and BLM/ANTIFA are just window dressing for the financial turmoil. "Look over here whitey, there's a pandemic" and "look over here whitey, there's a riot" is much preferred to whitey shooting the sheriff who comes to take his stuff.

Wave the flag and bible while spreading love for the cops, and the repossessions and evictions should go off without a hitch. Yes, Trump is a knowing participant.
SunBakedSuburb , says: September 9, 2020 at 5:55 pm GMT
@Commentator Mike

"My impression is that BLM, Antifa and other protestors are well aware of this"

Like all good Maoists the cult white kids of antifa rigidly adhere to the mission statement and stick the inconvenient truth in the back of their mushy minds. BLM ... is a mercenary.
Trinity , says: September 9, 2020 at 10:26 pm GMT
Can you imagine any other groups rioting and destroying American cities for over 3 months? Imagine if the Hells Angels or some other White biker gang was doing what Antifa and BLM are doing? Hell, imagine if it were a bunch of Hare Krishnas pulling this shit off? Hell, I think the local mayors, police, and other law enforcement employees wouldn't even take this much shit even if the rioters were Girl Scouts. We are talking 3-4 months of lawlessness, assaults, rapes, murders ( cold blooded premeditated murders at that) and still the people in charge let this shit go on night and day. IF the POTUS doesn't have the authority or the power to stop shit like this from going on then what the hell do we even vote for anyhow? Granted, I see the reason for not being ruled by a dictatorship, but who in the hell can justify letting these riots go on? One can only assume that both the republicants and the demsheviks are fine with these riots because no one seems in a hurry to shut them down or arrest the hombres funding these riots. Who is housing and feeding the rioters? Who is paying their travel expenses? I'm sure most everyone in Washington knows who the people are behind these riots but don't expect any action anytime soon.
Dick French , says: September 9, 2020 at 10:29 pm GMT
This is a class war dolled-up to look like a race war. Americans will have to look beyond the smoke and mirrors to spot the elites lurking in the shadows. There lies the cancer that must be eradicated.

That's true to a large degree, but

It is indeed an attempt to liquidate the working and lower middle class. Most of the American working and lower middle class, obviously not all, is White. So predictably we have these calls for White Genocide. Agreed and good to see the tie-in with the Coronavirus Hoax lock downs, too, which also spread the devastation into minority communities under the guise of public safety.

The one question that remains unanswered is why the major cities were targeted for destruction. Obviously these are the playgrounds of the oligarchs and have been decimated. We will learn soon enough.
Skeptikal , says: September 10, 2020 at 12:07 am GMT
@Redman

The Reverend William Barber is the only genuine black leader I am aware of.
And he makes a pointn of not speaking only for blacks, but for all disadvantaged communities, including poor whites. IMO he is the real deal, and I very much hope he takes the lead in articulating genuine community values of respect and equality for all, including basics such as decent health care and food access.

The pressure exerted on someone like Barber by the BLM forces in the media and other institutions is enormous.

I wish Ron Unz would invite him to write something for the UR.
Whitewolf , says: September 6, 2020 at 3:53 am GMT

@KenH

BLM is all about anti-white activism, black supremacy and the forcible transfer of white wealth to blacks but Tucker Carlson keeps insisting that BLM is a smokescreen for class struggle.

The way that BLM are acting now they could almost be called pro-White activists. They certainly don't make diversity look like a strength or something that would be in any way shape or form desirable.
July 30, 2017 Sean Adl-Tabatabai News

https://newspunch.com/awan-brothers-wasserman-schultz-threats/

The Awan Brothers aided former DNC chief Debbie Wasserman Schultz in making threatening voice modulated phone calls to attorneys suing the DNC for election fraud.

Lt. Colonel Tony Schaffer told Fox News that Schultz ordered the Awan Brothers to scare off the lawyers due to the threat they pose in exposing widespread election fraud committed by the Democratic Party in 2016.

Disobedientmedia.com reports: If substantiated, the claims may have significance for the DNC fraud lawsuit proceedings, and add to the growing controversy surrounding the recent arrest of Imran Awan on bank fraud charges.

Jared Beck, and attorney litigating the DNC Fraud Lawsuit noted on Twitter :

Likbez, August 24, 2020 10:58 pm

I think "its' economy, stupid!" in 2020.

To be clear; none more deserving of dignity than the working people of America; they keep the nation running; they are America's better angels; and, they deserve to be better paid.

Those are lofty words. But what to do when there is not enough cookies for everybody. That's when economic ruptures occur (with one form being Minsky moments)

IMHO we need another Keynes now. Here is a quote from Keynesianism, Social Conflict and Political Economy, By Massimo De Angelis

In a sense, going back to Joan Robinson, the idea of rupture within the notion of historical time can also be found in Keynes, although with an important difference. Here the emphasis put on irreversibility implies of course qualitative change, and indeed the emphasis is put on the changing conditions underlying economic phenomena. Thus, for example, Joan Robinson discusses the notion of scarcity in relation to historical time:

The question of scarce means with alternative uses becomes self‐ contradictory when it is set in historical time, where today is an ever-moving break between the irrevocable past and the unknown future. At any moment, certainly, resources are scarce, but they have hardly any range of alternative uses.

The workers available to be employed are not a supply of "labor", but a number of carpenters or coal miners. The uses of land depend largely on transport; industrial equipment was created to assist the output of particular products.

To change the use of resources requires investment and training, which alters the resources themselves. As for choice among investment projects, this involves the whole analysis of the nature of capitalism and of its evolution through time. (Robinson 1977: 8)

Although the emphasis on rupture is introduced, in this historical time, "where today is an ever moving break between the irrevocable past and the unknown future," the sense of the "break," of rupture, is confined within the problems of capitalist accumulation, of the problems posed by the right proportions of, following Robinson's example, carpenters and coal miners.

History here does not present alternatives and defines itself clearly and simply as "historical objectivism" in the continuum of the capitalist relation, as contemplation of "what really was," that is, the "irrevocable [capitalist] past," and speculations about an "unknown [capitalist] future."

In Keynes, the unknown character of this future is translated in the status of the long run expectations of the investors which, to emphasize the difficulty of their modeling, in turn depends on their "animal spirits."

In Keynes, rupture as revolutionary, transcendental, rupture exists only in the form of a threat, implicit in the theoretical apparatus, in the difficulty to endogenize variables, in the reliance on "psychological factors," on investors' animal spirits which mysteriously respond to hints of this historical rupture, in the recognition of the difficulty to model behavioral functions, etc.

This threat is recognized through the status of long run expectations of the investors.

In the case of the liquidity trap, in which the infinitely elastic demand for money curve is used to portray a situation of hoarding that is, of capital's refusal to put people to work the threat is hanging over investors who perceive a gloomy future without hope for their profit.

The truly unknown future from the capitalists' perspective, the true moment of rupture in their temporal dimension, is recognized in order to be avoided, to organize the rescue of the capitalist relation of work. For this reason Keynes is not talking about given functional relations, and is presupposing a moving marginal efficiency of capital schedule (Minsky 1975.

The future is there to puzzle the investors in the present. The aim of economic theory is to inform economic policy to limit the puzzle within the borders of the capitalist relation of work. Although Keynes' theoretical apparatus is presupposing uncertainty for the future, this uncertainty is seen with the sense of urgency typical of a world in transition. In the discussion of the postwar Keynesian orthodoxy, it will be seen how this sense of urgency was lost, and the concept of time in economic theory changed, although it was far from returning to the "timeless models" of the classical period.

Walter , Aug 24 2020 14:11 utc | 99

@ 95 another rolling stone that illuminates the US necrotic process...unregulated dumping of radwaste

tinyurl[dot]com/v3pva55

Evidently they actually spray the stuff on roads and, well, it's puckininsane stupid.

"..thing in this stuff and ingesting it are the worst types of exposure," Stolz continues. "You are irradiating your tissues from the inside out." The radioactive particles fired off by radium can be blocked by the skin, but radium readily attaches to dust,..."

(Honestly, I know it's hard to believe, but several immediate neighbors, possibly 1/3 of the town, actually expect to be levitated to heaven in "rapture". Thus, according to their a priori assumption, the poisoning is perfectly ok."

Anyway, both the bizarre beliefs and the idiotic actions (including with radwaste) are, like Trump, a product, a manifestation. We agree.

About Rockefeller - Corbett Report has a very deep examination of that family and their less well-known policy set.

Highly recommended!

Realist , says: August 21, 2020 at 12:17 pm GMT

It took balls for Carlson to have Anya Parampil on his show last night. He has had her on before, so he knows what she is like she tells it like it is. He will get shit for that.

I don't think he agrees with everything she said but agrees with some of it.

https://www.youtube.com/embed/_UuJB0l1YUY?feature=oembed

---

Derer , says: August 21, 2020 at 5:07 am GMT

American main stream media is not informing and reporting but is actually Goebbels-like propaganda for the Democrats. Fox is only retaliating with opposing views. Imagine Walter Cronkite being advocate for one party – that would be scandalous. However the present insects on CNN, MSNBC, NYT or WP and other dishonest outlets have no guts to stand up against their owners disloyalty to this country.

mark green , says: August 21, 2020 at 10:11 am GMT

Insightful overview. Giraldi explores the most important topic in American life. And one of the most neglected: MSM distortions, omissions, sanctimony, propaganda, deception and gaslighting. Stomach-turning drek –all of it.

Americans are in a half-Zombie state because of what they see on TV, and cannot discuss on social media.

Hollywood, elite media, and Big Tech are the gatekeepers [ of the neoliberal power].

... ... ....

Really No Shit , says: August 21, 2020 at 10:31 am GMT

The shysters at WPO and NYT think that once they have misdirected the voters for their goal into voting for Joe Biden, it can pick up things where they left off and fix it without any problems but what they don't realize is that the train has left the station and now it's barreling down the dark abyss from where there is no return to safety.

Realist , says: August 21, 2020 at 12:17 pm GMT

It took balls for Carlson to have Anya Parampil on his show last night. He has had her on before, so he knows what she is like she tells it like it is. He will get shit for that.

I don't think he agrees with everything she said but agrees with some of it.

https://www.youtube.com/embed/_UuJB0l1YUY?feature=oembed

Realist , says: August 21, 2020 at 12:22 pm GMT

@No Friend Of The Devil

The Deep State has unbelievable amounts of money to buy these corrupt, avaricious assholes.

anon [240] Disclaimer , says: August 21, 2020 at 12:50 pm GMT

@Dr. H. Fhaunrich

a one party state, entirely run by the far left in tandem with major corporations.

Only stupid Americans would confuse the Uniparty as a "far left". It's the Uniparty of the Rich People, but this idiot thinks it is "far left".

RoatanBill , says: August 21, 2020 at 12:57 pm GMT

@Tommy Thompson he military is responsible for or how Israel is treated, how corporations are handed free billions upon billions, etc, and its largely business as usual. All the noise about Trump the disruptor is just that, noise. He hasn't disrupted anything of note.

As long as the two political parties exist, voting is for people who want to believe a lie. Deep down they know, absolutely know, that the system is rigged but they can't let themselves fully believe that because that would mean there is no hope. They would realize that they live in a sophisticated soft military dictatorship that has stolen $21 Trillion dollars and is the actual gov't of the country. That realization is unpalatable and hence rejected.

Miro23 , says: August 21, 2020 at 1:53 pm GMT

@Derer

However the present insects on CNN, MSNBC, NYT or WP and other dishonest outlets have no guts to stand up against their owners disloyalty to this country.

It's not a simple as that. All the media people know that it's a rotten system, but if they step out of line – they lose their jobs – and make themselves unemployable anywhere else.

IMO it's not a question of standing up – which is pointless – but using organized subversion. After all, this is what Jewry have been doing for decades in targeting Anglo run organizations and it works. It's your friend and collaborator who is really your enemy.

hough it was quickly overshadowed by the big-ticket appearances of Barack Obama and Kamala Harris, Elizabeth Warren's Tuesday address to the Democratic National Convention deserves some consideration.

A probable VP nominee before the events of the summer made race the deciding factor, Warren is an able representative of what might be called the "non-socialist populist" branch of the Democratic Party. Her economic populism -- though it does have an unmistakably left-wing flavor -- has caught the eye of Tucker Carlson, who offered glowing praise of her 2003 book The Two-Income Trap ; her call for "economic nationalism" during the primary campaign earned mockery from some corners of the Left and a bit of hesitant sympathy from the Right. A few days ago in Crisis , Michael Warren Davis referred to her (tongue at least somewhat in cheek) as " reactionary senator Elizabeth Warren ."

There is some good reason for all of this.

As I watched the first half of Warren's speech (before she descended into the week's secondary theme of blaming the virus on Donald Trump) I couldn't help but think that it belonged at the Republican National Convention. Or, rather, that a GOP convention that drove home the themes addressed by Senator Warren on Tuesday would be immensely more effective than the circus I'm expecting to see next week.

Amid a weeklong hurricane of identity politics sure to drive off a good number of moderates and independents, Warren offered her party an electoral lifeline: a policy-heavy pitch gift-wrapped as the solution to a multitude of troubles facing average Americans, especially families.

It was rhetorically effective in a way that few other moments in the convention have been. Part of this is due to the format: a teleconferenced convention left most speakers looking either like bargain-bin Orwell bogeymen or like Pat Sajak presenting a tropical vacation as a prize on Wheel of Fortune. But Warren, for one reason or another, looks entirely at home in a pre-school classroom.

The content, however, is crucial too. Warren grounded her comments in experiences that have been widely shared by millions of Americans these last few months: the loss of work, the loss of vital services like childcare, the stress and anxiety that dominate pandemic-era life. She makes a straightforward case for Biden: his policies will make everyday life better for the vast majority of American families. She focuses on the example of childcare, which Biden promises to make freely available to Americans who need it. This, she claims, will give families a better go of things and make struggling parents' lives a whole lot easier.

It's hard not to be taken in. It's certainly a more compelling sales pitch than, "You're all racist. Make up for it by voting for this old white guy." It's the kind of thing that a smart campaign would spend the next three months broadcasting and repeating every chance they get. (The jury is still out as to whether Biden's campaign is a smart one.) This -- convincing common people that you're going to do right by them -- is the kind of thing that wins elections.

But there's more than a little mistruth in the pitch. Warren shares a touching story from her own experience as a young parent, half a century ago:

When I had babies and was juggling my first big teaching job down in Texas, it was hard. But I could do hard. The thing that almost sank me? Child care.

One night my Aunt Bee called to check in. I thought I was fine, but then I just broke down and started to cry. I had tried holding it all together, but without reliable childcare, working was nearly impossible. And when I told Aunt Bee I was going to quit my job, I thought my heart would break.

Then she said the words that changed my life: "I can't get there tomorrow, but I'll come on Thursday." She arrived with seven suitcases and a Pekingese named Buddy and stayed for 16 years. I get to be here tonight because of my Aunt Bee.

I learned a fundamental truth: nobody makes it on their own. And yet, two generations of working parents later, if you have a baby and don't have an Aunt Bee, you're on your own.

Are we not supposed to ask about the fundamental difference between Elizabeth Warren's experience decades ago and the experience of struggling parents now? Hint: she had a strong extended family to support her, and her kids had a broad family network to help raise them. Not too long ago, any number of people would have been involved in the raising of a single child. ("It takes a village," but not in the looney Clinton way.) Now, an American kid is lucky to have just two people helping him along the way. As we've all been reminded a hundred times, the chances that he'll be raised by only one increase astronomically in poor or black communities.

Shouldn't we be talking about that? Shouldn't we be talking about the policies that contributed to the shift? It's a complex crisis, and we can't pin it down to any one cause. But a slew of left-wing programs are certainly caught up in it. An enormous and fairly lax welfare state has reduced the necessity of family ties in day-to-day life to almost nil. Diverse economic pressures have made stay-at-home parents a near-extinct breed, and left even two-income households struggling to make ends meet. (Warren literally wrote the book on it.) Not to mention that the Democrats remain the party more forcefully supportive of abortion and more ferociously opposed to the institution of marriage (though more than a few Republicans are trying real hard to catch up).

Progressive social engineering has ravaged the American family for decades, and this proposal only offers more of the same. It's trying to outsource childcare to government-bankrolled professionals without asking the important question: Whatever happened to Aunt Bee?

Republicans need an answer. We need to be carefully considering what government has done to accelerate the decline of the family -- and what it can do to reverse it. Some of the reformers and realigners in the party have already begun this project in earnest. But it needs to be taken more seriously. It needs to be a central effort of the party's mainstream, and a constant element of the party's message. Grand, nationalistic narratives about Making America Great Again mean nothing if that revival isn't actually felt by people in their lives and in their homes.

If we're confident in our family policy -- and while it needs a good deal of work, it's certainly better than the Democrats' -- we shouldn't be afraid to take the fight to them. We should be pointing out, for instance, that Warren's claim that Biden will afford greater bankruptcy protections to common people is hardly borne out by the facts: Biden spent a great deal of time and effort in his legislative career doing exactly the opposite. We should be pointing out that dozens of Democratic policies have been hurting American families for decades, and will continue to do so if we let them. We should sell ourselves as the better choice for American families -- and be able to mean it when we say it.

If we let the Democrats keep branding themselves as the pro-family party -- a marketing ploy that has virtually no grounding in reality -- we're going to lose in November. And we're going to keep losing for a long, long time.

Did Bill slept with Maxwell? You can expect anything from this sex addict...

Notable quotes:

"... During a fueling stop at a small airport in Portugal, Epstein confidante Ghislaine Maxwell urged Davies to give the former president a massage. ..."

As if it weren't awkward enough for the party that bills itself as a defender of women to feature Bill Clinton at its convention, photos of the ex-president with one of Jeffrey Epstein's victims surfaced on the day of his speech.

The UK's Daily Mail published exclusive pictures on Tuesday showing Clinton receiving a massage in 2002 from 22-year-old Chauntae Davies, who was allegedly raped by billionaire Epstein repeatedly over a period of four years. The massage occurred while Clinton, along with actors Kevin Spacey and Chris Tucker, flew with Epstein on the pedophile's infamous private jet, nicknamed the Lolita Express, on a humanitarian trip to Africa.

According to the newspaper, Clinton complained of having a stiff neck after falling asleep on the plane. During a fueling stop at a small airport in Portugal, Epstein confidante Ghislaine Maxwell urged Davies to give the former president a massage. Clinton, who was 56 at the time, then allegedly said to Davies, "Would you mind giving it a crack?" The photos show Davies massaging Clinton's neck and shoulders as he leans back in his seat at what looks to be a small airport lounge.

Davies, who worked for Epstein as a masseuse, said Clinton was a "perfect gentleman during the trip and I saw absolutely no foul play involving him."

ALSO ON RT.COM Bill Clinton hung out with Epstein because of affair with late financier's madame Maxwell, new book alleges

Nevertheless, the images serve as an untimely reminder of the many sexual misconduct allegations made against Clinton during his years in politics and of his relationship with Epstein, a convicted sex offender who allegedly killed himself last year at the Metropolitan Correctional Center in New York while awaiting trial on new sex trafficking charges.

A Clinton spokesman has said the former president knew nothing about Epstein's crimes and flew on the financier's jet only four times, but flight logs showed that he traveled on the plane dozens of times in 2002 and 2003. Davies and other alleged victims said in a 2020 Netflix documentary on Epstein that he had secret surveillance cameras at his properties to gather blackmail-worthy dirt on his powerful friends.

"The question is, why were they taking pictures of Bill Clinton receiving a massage?" UK journalist Paul Joseph Watson said on Tuesday on Twitter. "And we already know the answer."

The Daily Mail didn't say where it obtained the exclusive photos. Maxwell is currently in jail in New York awaiting trial on charges that she facilitated Epstein's abuse of girls as young as 14.

ALSO ON RT.COM Clintons & Obamas headline DNC speaker list, showing Democrats gazing backward not forward

Other Twitter users suggested that far more incriminating pictures are being held back. "Epstein took pics and videos of everything, and the FBI has it all," one said. Another said: "If they took pictures of this, there are most definitely worse things recorded just waiting to come out against people."

Others said Clinton should be kept away from the Democratic National Convention, including one who tweeted: "Bruh, no way they can let this man speak tonight." Another said: "And this guy is headlining the DNC tonight. Can't make this up."

From J.D. Vance's appearance last night on Tucker Carlson Tonight Vance has just said that the donor elites of the GOP are out of touch with the party's base. More:

CARLSON: But more broadly, what you are saying, I think is, that the Democratic Party understands what it is and who it represents and affirmatively represents them. They do things for their voters, but the Republican Party doesn't actually represent its own voters very well.

VANCE: Yes, that's exactly right. I mean, look at who the Democratic Party is and look, I don't like the Democratic Party's policies.

CARLSON: Yes.

VANCE: Most of the times, I disagree with them. But I at least admire that they recognize who their voters are and they actually just as raw cynical politics do a lot of things to serve those voters.

Now, look at who Republican voters increasingly are. They are people who disproportionately serve in the military, but Republican foreign policy has been a disaster for a lot of veterans. They are disproportionately folks who want to have more children. They are people who want to have more single earner families. They are people who don't necessarily want to go to college but they want to work in an economy where if you play by the rules, you can you actually support a family on one income.

CARLSON: Yes.

VANCE: Have Republicans done anything for those people really in the last 15 or 20 years? I think can you point to some policies of the Trump administration. Certainly, instinctively, I think the President gets who his voters are and what he has to do to service those folks. But at the end of the day, the broad elite of the party, the folks who really call the shots, the think tank intellectuals, the people who write the policy, I just don't think they realize who their own voters are.

Now, the slightly more worrying implication is that maybe some of them do realize who their voters are, they just don't actually like those voters much.

CARLSON: Well, that's it. So I watch the Democratic Party and I notice that if there is a substantial block within it, it's this unstable coalition, all of these groups have nothing in common, but the one thing they have in common is the Democratic Party will protect them.

VANCE: Yes.

CARLSON: You criticize a block of Democratic Voters and they are on you like a wounded wombat. They will bite you. The Republicans, watch their voters come under attack and sort of nod in agreement, "Yes, these people should be attacked."

VANCE: Yes, that's absolutely right. I mean, if you talk to people who spent their lives in D.C. I know you live in D.C.

CARLSON: Yes.

VANCE: I've spent a lot of my life here. The people who spend their time in D.C. who work on Republican campaigns, who work at conservative think tanks, now this isn't true of everybody, but a lot of them actually don't like the people who are voting for Republican candidates these days.

The Unraveling of America

Anthropologist Wade Davis on how COVID-19 signals the end of the American era

By WADE DAVIS

Russia-China "Dedollarization" Reaches "Breakthrough Moment" As Countries Ditch Greenback For Bilateral Trade by Tyler Durden Thu, 08/06/2020 - 21:55 Twitter Facebook Reddit Email Print

Late last year, data released by the PBOC and the Russian Central Bank shone a light on a disturbing - at least, for the US - trend: As the Trump Administration ratcheted up sanctions pressure on Russia and China, both countries and their central banks have substantially "diversified" their foreign-currency reserves, dumping dollars and buying up gold and each other's currencies.

Back in September, we wrote about the PBOC and RCB building their reserves of gold bullion to levels not seen in years. The Russian Central Bank became one of the world's largest buyers of bullion last year (at least among the world's central banks). At the time, we also introduced this chart.

We've been writing about the impending demise of the greenback for years now, and of course we're not alone. Some well-regarded economists have theorized that the fall of the greenback could be a good thing for humanity - it could open the door to a multi-currency basket, or better yet, a global current (bitcoin perhaps?) - by allowing us to transition to a global monetary system with with less endemic instability.

Though, to be sure, the greenback is hardly the first "global currency".

Falling confidence in the greenback has been masked by the Fed's aggressive buying, as central bankers in the Eccles Building now fear that the asset bubbles they've blown are big enough to harm the real economy, so we must wait for exactly the right time to let the air out of these bubbles so they don't ruin people's lives and upset the global economic apple cart. As the coronavirus outbreak has taught us, that time may never come.

But all the while, Russia and China have been quietly weening off of the dollar, and instead using rubles and yuan to settle transnational trade.

Since we live in a world where commerce is directed by the whims of the free market (at least, in theory), the Kremlin can just make Russian and Chinese companies substitute yuan and rubles for dollars with the flip of a switch: as Russian President Vladimir Putin once exclaimed , the US's aggressive sanctions policy risks destroying the dollar's reserve status by forcing more companies from Russia and China to search for alternatives to transacting in dollars, if for no other reason than to keep costs down (international economic sanctions can make moving money abroad difficult).

In 2019, Putin gleefully revealed that Russia had reduced the dollar holdings of its central bank by $101 billion, cutting the total in half.

https://lockerdome.com/lad/13084989113709670?pubid=ld-dfp-ad-13084989113709670-0&pubo=https%3A%2F%2Fwww.zerohedge.com&rid=www.zerohedge.com&width=890

And according to new data from the Russian Central Bank and Federal Customs Service, the dollar's share of bilateral trade between Russia and China fell below 50% for the first time in modern history.

Businesses only used the greenback for roughly 46% of settlements between the two countries. Over the same period, the euro constituted an all-time high of 30%. While other national currencies accounted for 24%, also a new high.

As one 'expert' told the Nikkei Asian Review, it's just the latest sign that Russia and China are forming a "de-dollarization alliance" to diminish the economic heft of Washington's sanctions powers, and its de facto control of SWIFT, the primary inter-bank messaging service via which banks move money from country to country.

The shift is happening much more quickly than the US probably expected. As recently as 2015, more than 90% of bilateral trade between China and Russia was conducted in dollars.

Alexey Maslov, director of the Institute of Far Eastern Studies at the Russian Academy of Sciences, told the Nikkei Asian Review that the Russia-China "dedollarization" was approaching a "breakthrough moment" that could elevate their relationship to a de facto alliance.

"The collaboration between Russia and China in the financial sphere tells us that they are finally finding the parameters for a new alliance with each other," he said. "Many expected that this would be a military alliance or a trading alliance, but now the alliance is moving more in the banking and financial direction, and that is what can guarantee independence for both countries."

Dedollarization has been a priority for Russia and China since 2014, when they began expanding economic cooperation following Moscow's estrangement from the West over its annexation of Crimea. Replacing the dollar in trade settlements became a necessity to sidestep U.S. sanctions against Russia.

"Any wire transaction that takes place in the world involving U.S. dollars is at some point cleared through a U.S. bank," explained Dmitry Dolgin, ING Bank's chief economist for Russia. "That means that the U.S. government can tell that bank to freeze certain transactions."
The process gained further momentum after the Donald Trump administration imposed tariffs on hundreds of billions of dollars worth of Chinese goods. Whereas previously Moscow had taken the initiative on dedollarization, Beijing came to view it as critical, too.

"Only very recently did the Chinese state and major economic entities begin to feel that they might end up in a similar situation as our Russian counterparts: being the target of the sanctions and potentially even getting shut out of the SWIFT system," said Zhang Xin, a research fellow at the Center for Russian Studies at Shanghai's East China Normal University.

Examples given show quite clearly that "cancel mob" is an established form of the political struggle. And in this case the reasons behind the particular attack of the "cancel mob" is far from charitable.

Cancel culture my ass Justice for Brad Hamilton Roy Edroso Jul 14 38 30

You remember way back before social media and Thomas Chatterton Williams , when Phil Donahue lost his MSNBC show because he opposed the War in Iraq ? And the Dixie Chicks got the pre-Twitter equivalent of Twitter-mobbed for criticizing George W. Bush? ("Toby Keith famously joined the fray by performing in front of a backdrop that featured a gigantic image of Natalie Maines beside Saddam Hussein.") Ah, those carefree, pre-cancel-culture days!

Might's well also flash forward to 2001, NFL.com :

Mendenhall loses endorsement deal over bin Laden tweets

[Steelers running back] Rashard Mendenhall's candid tweets about Osama bin Laden's death and the 9/11 terror attacks cost him an endorsement deal.

NFL.com senior analyst Vic Carucci says Rashard Mendenhall has become an example of the risks that social media can present to outspoken pro athletes.

Athletic apparel manufacturer Champion announced Thursday that it had dropped the Pittsburgh Steelers running back after he questioned the celebrations of bid Laden's death and expressed his uncertainty over official accounts of the Sept. 11, 2001 attacks in New York, suburban Washington and Pennsylvania.

Things haven't gotten any better. I've already written about Springfield, Mass. police detective Florissa Fuentes, who got fired this year for reposting her niece's pro-Black Lives Matter Instagram photo. Fuentes is less like Donohue, the Chicks, and Mendenhall, though, and more like most of the people who get fired for speech in this country, in that she is not rich, and getting fired was for her a massive blow.

Speaking of Black Lives Matter, here's one from 2019 :

The controversy began after [Lisa] Durden's appearance [on Tucker Carlson], during which she defended the Black Lives Matter movement's decision to host a Memorial Day celebration in New York City to which only black people were invited. On the show, Durden's comments included, "You white people are angry because you couldn't use your white privilege card to get invited to the Black Lives Matter's all-black Memorial Day Celebration," and "We want to celebrate today. We don't want anybody going against us today."

Durden was then an adjunct professor at Essex County College, but not for long because sure enough, they fired her for what she said on the show. (Bet Carlson, a racist piece of shit , was delighted!) The college president defended her decision, saying she'd received "feedback from students, faculty and prospective students and their families expressing frustration, concern and even fear that the views expressed by a college employee (with influence over students) would negatively impact their experience on the campus..."

Sounds pretty snowflakey to me. I went looking in the works of the signatories of the famous Harper's letter against cancel culture for some sign that any of them had acknowledged Durden's case. Shockingly, such free speech warriors as Rod Dreher and Bret Stephens never dropped a word on it.

Dreher does come up in other free-speech-vs-employment cases, though -- for example, from 2017, Chronicle of Higher Education :

Tommy Curry, an associate professor of philosophy at Texas A&M University at College Station, about five years ago participated in a YouTube interview in which he discussed race and violence. Those remarks resurfaced in May in a column titled "When Is It OK to Kill Whites?" by Rod Dreher in The American Conservative.

Mr. Curry said of that piece that he wasn't advocating for violence and that his remarks had been taken out of context. He told The Chronicle that online threats had arrived in force shortly after that. Some were racial in nature.

At the same time the president of the university, Michael K. Young, issued a statement in which he appeared to rebuke the remarks made by Mr. Curry...

In his column on Curry , Dreher said, "I wonder what it is like to be a white student studying under Dr. Curry in his classroom?" Imagine worrying for the safety of white people at Texas Fucking A&M!

Curry got to keep his job, but only after he "issued a new statement apologizing for how his remarks had been received," the Chronicle reported:

"For those of you who considered my comments disparaging to certain types of scholarly work or in any way impinging upon the centrality of academic freedom at this university," [Curry] wrote, "I regret any contributions that I may have made to misunderstandings in this case, including to those whose work is contextualized by understanding the historical perspectives of events that have often been ignored."

Sound like show-trial stuff, doesn't it -- the kind of show-trial stuff Dreher is always claiming liberals are bringing to the United States . (Though he doesn't seem to mind when Vladimir Putin does it .) Yet I never heard him or any conservative lament this shameful episode.

Bottom line: Most of us who work for a living are at-will employees -- basically, the boss can fire us if they don't like the way we look at them or if they don't like what they discover we feel about the events of the day. There are some protections -- for example, if you and your work buddies are talking about work stuff and the boss gets mad, then that may be considered " concerted activity " and protected -- but as Lisa Guerin wrote at the nolo.com legal advice site, "political views aren't covered by [Civil Rights] laws and the laws of most states. This means employers are free to consider political views and affiliations in making job decisions."

Basically we employees have no free speech rights at all. But people like Stephens and Dreher and Megan McArdle who cry over how "the mob" is coming after them don't care about us. For window dressing, they'll glom onto rare cases where a non-rich, non-credentialed guy gets in trouble for allegedly racist behavior that he didn't really do -- Emmanuel Cafferty, it's your time to shine ! -- but their real concern isn't Cafferty's "free speech" or that of any other peon, it's their own miserable careers.

Because they know people are starting to talk back to them. It's not like back in the day when Peggy Noonan and George F. Will mounted their high horses and vomited their wisdom onto the rabble and maybe some balled-up Letters to the Editor might feebly come back at them but that was it. Now commoners can go viral! People making fun of Bari Weiss might reach as many people as Bari Weiss herself! The cancel culture criers may have wingnut welfare sinecures, cushy pundit gigs, and the respect of all the Right People, but they can't help but notice that when they glide out onto their balconies and emit their received opinions a lot of people -- mostly younger, and thoroughly hip that these worthies are apologists for the austerity debt servitude to which they've been condemned for life -- are not just coughing "bullshit" into their fists, but shouting it out loud.

This, the cancel culture criers cry, is the mob! It threatens civilization!

Yet they cannot force us to pay attention or buy their shitty opinions. The sound and smell of mockery disturbs their al fresco luncheons and weddings at the Arboretum . So they rush to their writing desks and prepare sternly-worded letters. Their colleagues will read and approve! Also, their editors and relatives! And maybe also some poor dumb kids who know so little of the world that they'll actually mistake these overpaid prats for victims and feel sorry for them.

Well, you've already heard what I think about it elsewhere: Protect workers' free speech rights for real, I say -- let them be as woke, as racist, or as obstreperous they wish off the clock and the boss can't squawk. The cancel culture criers won't go for that deal; in fact such a thing has never entered their minds -- free-speech is to protect their delicate sensibilities, not the livelihoods of people who work with their hands!

And in the new tradition of the working class asking for more rather than less of what they want, I'll go further: I give not one flaming fuck if these assholes suffocate under a barrage of rotten tomatoes, and I think Brad in Fast Times at Ridgemont High got a raw deal from All-American Burger and should be reinstated with full back pay: That customer deserved to have 100% of his ass kicked!

likbez 08.01.20 at 7:00 pm

Your comment is awaiting moderation.

@Jason Weidner 07.31.20 at 9:29 pm (73)

This is a brilliant response to the idea of "cancel culture": https://edroso.substack.com/p/cancel-culture-my-ass?fbclid=IwAR30mrg9sIVo6RqRbNDHGgNIcj2OgELyb9mg_mydF12a-5d5Ht6q9oCkWk4

Examples given show quite clearly that "cancel mob" is an established, albeit somewhat dirty, form of the political struggle. Often the reasons behind the particular attack of the "cancel mob" is far from charitable. Orwell's 1984 describes an extreme form of the same.

Notable quotes:

"... Case in point, reporting today on the newly disclosed Ghisline Maxwell documents only mentioned Prince Andrew and not a word about Bill Clinton ..."

"... believe James Murdoch was part of the "we are all gonna die in <11 years" Green New Deal school of thought. ..."

"James Murdoch, the younger son of media mogul Rupert Murdoch, has resigned from the board of News Corporation citing "disagreements over editorial content".

In a filing to US regulators, he said he also disagreed with some "strategic decisions" made by the company.

The exact nature of the disagreements was not detailed.

... ... ..,

I watch a lot of TeeVee news on all the major networks including the two Foxnews channels.

It has become apparent to me over the last year or so that there is an internal ideology contest at Fox between the hard core conservatives like Dobbs. Carlson, Mark Levin, Bartiromo, Degan McDowell, etc. and a much more liberal set of people like Chris Wallace, Cavuto and the newer reporters at the White House. I expect that the departure of James Murdoch will result in more uniformly conservative reporting and commentary on Fox. I say that presuming that James Murdoch was a major force in trying to push Foxnews toward the left.

I am surprised that Murdoch sent his son to Harvard. pl

https://www.bbc.com/news/business-53617966

https://en.wikipedia.org/wiki/James_Murdoch

---

Deap , 01 August 2020 at 12:19 PM

Been noticing a lot of irresponsible reporting of late in the WSJ - not on the opinion page, but in some pretty sloppy reporting with a lot of editorial bias in what is included and what is intentionally left out.

Case in point, reporting today on the newly disclosed Ghisline Maxwell documents only mentioned Prince Andrew and not a word about Bill Clinton . Doesn't WSJ know its readers draw from multiple media sources that have provided original content? Everyday there are several similar, bias by omission, articles.

One can only hope newly constituted management team will finally get rid of Peggy Noonan.

Deap , 01 August 2020 at 12:22 PM

I believe James Murdoch was part of the "we are all gonna die in <11 years" Green New Deal school of thought.

Highly recommended!

So Obama managed to beat Clinton? Incredible achievement !

Tucker Carlson described former President Obama as "one of the sleaziest and most dishonest figures in the history of American politics" after his eulogy at the funeral of civil rights icon Rep. John Lewis (D-Ga.) on Thursday.

© The Hill tucker Carlson

Carlson, who also described the former president as "a greasy politician" for calling on Congress to pass a new Voting Rights Act and to eliminate the filibuster, which Obama described as a relic of the Jim Crow era that disenfranchised Black Americans, in order to do so.

"Barack Obama, one of the sleaziest and most dishonest figures in the history of American politics, used George Floyd's death at a funeral to attack the police," Carlson said before showing a segment of Obama's remarks.

Watch the latest video at foxnews.com

Notable quotes:

"... Cardinal & Pine ..."

"... The American Conservative ..."

"... The American Conservative. ..."

"... The New York Times ..."

"... The American Conservative ..."

"... Citizen's United ..."

he non-profit that sent the Democratic Party haywire during the Iowa Caucus earlier this year has a new strategy: creating partisan news outlets in key states across the country ahead of the 2020 election. With the financial backing of Hollywood, hedge fund managers, and Silicon Valley, Acronym's Courier Newsroom may just change local journalism and politics forever.

Courier Newsroom , created by the dark-money (not required to disclose donors) progressive non-profit Acronym, states that they were created to restore trust in journalism by helping to rebuild local media across the country. The opposite of this is true. Their true goal? Winning elections in key states.

https://lockerdome.com/lad/13045197114175078?pubid=ld-dfp-ad-13045197114175078-0&pubo=https%3A%2F%2Fwww.theamericanconservative.com&rid=www.theamericanconservative.com&width=838

Acronym CEO Tara McGowan, in a leaked memo obtained by Vice, has stated that the goal of establishing Courier Newsroom is to defeat Republicans on the new frontier of Internet political advertising. McGowan attributes Trump's 2016 success to the campaign's ability to "shape and drive mainstream media coverage" through an influx of internet spending. Courier seeks to counter this by challenging Trump on social media. By definition, Courier serves as a political advertising operation for the Democratic Party rather than a legitimate media source.

Calling for a new approach to political advertising, McGowan lambasted Hillary Clinton's failed media strategy for its over-reliance on spending on traditional media, "In 2016, the Hillary Clinton for President campaign raised an estimated $800 million online -- and spent a large majority of it on television and radio advertisements." The 2016 election has proven to be the reason for the creation of Courier Newsroom.

McGowan explicitly states that the papers are being used to boost political results, " The Dogwood will not only function to support the flipping of both State House and State Senate chambers in Virginia this November, but will serve as a vehicle to test, learn from and scale best practices to new sites as we grow." The Dogwood , as of the time of the writing of the leaked memo, was intended to be the prototype for future courier new sites.

Courier has established news sites across key 2020 states including: Copper Courier (Arizona), The Dogwood (Virginia), Up North News (Wisconsin), The Gander (Michigan), Cardinal & Pine (North Carolina), The Keystone (Pennsylvania), and The Americano (nationwide, intended for Latino audiences). Courier extensively utilizes social media to promote stories made by the publications, generating clicks in order to shape public voter opinion.

https://imasdk.googleapis.com/js/core/bridge3.400.1_en.html#goog_884035211 Ad ends in 15s Next Video × Next Video J.d. Vance Remarks On A New Direction For Pro-worker, Pro-family Conservatism, Tac Gala, 5-2019 Cancel Autoplay is paused

Courier stories are written with the intent of mobilizing women and young people. McGowan writes that Courier does this by "framing issues from health care to economic security in a way that provides these voters with more personal and local relevance than they are often targeted through traditional political ads." While these are real stories, they are packaged with the intent on provoking a positive reaction from certain demographics of the population, in order to spur them to vote for the Democratic Party this November. Courier itself has conceded that they exist solely to challenge Republicans on social media.

Courier Newsroom Editor-in-Chief Lindsay Schrupp disagreed with the concerns regarding journalistic integrity of its writers and service. Schrupp told The American Conservative the following,

Courier Newsroom and its affiliated sites are independent from ACRONYM. We maintain an editorial firewall, just like any other media company, and the managing editor of each site, in addition to me as editor in chief, has ultimate discretion and control over content published. Painting all partisan-leaning outlets with the same brush is dangerous and too often creates false equivalency between very different types of newsrooms. All outlets in the Courier Newsroom network operate with integrity and adhere to traditional journalistic standards. It's offensive to our journalists -- many of whom have won state, regional and national awards for their reporting -- to try to make a direct comparison to partisan outlets on the right that often don't publish bylines, don't hire experienced or even local reporters, don't comply with basic fact-checking standards, and don't do original reporting in the regions where they operate. Courier aims to combat the misinformation spread by such right-wing sites pretending to be "local news" by providing readers with transparently progressive local reporting.

According to data from Facebook Ad Library, between May 2018 and July 12, 2020 Courier Newsroom spent $1,478,784 on Facebook ads on topics that include social issues, elections or politics. Conservative alternatives , such as the Daily Wire or Breitbart, have spent considerably less money on Facebook advertising. Breitbart spent $11,404 since March 2018 and the Daily Wire spent $418,578 since March 2018 according to Facebook's ad library.

Courier's political agenda is obvious. By looking into their Facebook ad-buys, Courier Newsroom has spent extensively on vulnerable Democrats who came into office in the 2018 midterms. These pieces, while factual, highlight the accomplishments of narrowly elected Democrats.

Among those that are frequently featured in mass ad-buys on Facebook are:

Reps. Cindy Axne , AbbyFinkenauer , Lauren Underwood , Andy Kim, Elissa Slotkin , Antonio Delgado , and Jared Golden . These Representatives all represent crucial swing-districts; all but Rep. Fikenauer's district voted for Donald Trump in 2016. Americans for Public Trust reported that Rep. Andy Kim received at least $40,000 dollars worth of positive Facebook advertising by Courier ad-buys. Other highlighted candidates likely have received a similar amount in positive coverage.

"Courier Newsroom's goal is to help elect Democrats. The site doesn't say that, but its founder, Tara McGowan, has made this clear." Gabby Deutch of Newsguard, a journalism watchdog focused on identifying fake news, tells The American Conservative. Deutch claims that Courier is different from other partisan news outlets because their intentions are not clearly stated. Courier instead argues that they are seeking to fill a void left in local journalism.

According to The New York Times in a story published in 2019, 1 in 5 local newspapers have been forced to shut down forever. Political groups, such as Acronym, are poised to revitalize local journalism with a new twist -- political advertising. Deutch warned The American Conservative of this worrying development, "With fewer local newspapers -- a decline that's gotten even worse due to the financial havoc wreaked by the pandemic -- there's room for political groups to fill the void, playing off people's trust in local news. So they make a site that looks like local news but has few (if any) reporters in the state, and then create content to woo voters."

There are examples on the right side of the spectrum too, she points out, including the conservative Star network (Michigan Star and Tennessee Star are two examples) and AlphaNewsMN, a conservative Minnesota site. "Readers deserve to know the agenda of the websites where they get their news."

Browsing North Carolina's Courier news site Cardinal & Pine, one finds it brands itself as "local news for the NC community." Newsguard' s assessment of Courier, is indeed true, with the overwhelming majority of stories highlighting the successes of North Carolina Democrats such as Governor Roy Cooper, attacking Republicans such as vulnerable Senator Thom Tillis, and promoting Democratic policy positions -- notably as it relates to COVID-19 and BLM social justice protests. Similarly, Virginia's Courier news site, The Dogwood, did not publish an article detailing Virginia's biggest scandal of 2019: Governor Northam's controversial blackface yearbook photo. Nor can one find any reference of Tara Reade, Joe Biden's sexual assault accuser who entered the public eye earlier this spring.

Even more striking, is that as a 501(c)(4), Acronym is not required to disclose donors. Acronym in 2018 received $250,000 from New Venture Fund which is managed by Arabella. Through its dark-money ties, Arabella has raised $2.4 billion dollars since 2006, making it one of the largest financiers in American politics. Arabella's influence came into the limelight during the 2018 mid-term elections, in which they raised the most ever by a left-leaning political non-profit. Courier Newsroom is, in other words, entirely funded by secret donors that likely have significant ties to the Democratic Party and the Super PACs bankrolling the 2020 election.

Acronym has invested millions of dollars to establish these papers across the country with plans to continue their expansion into local media across the country in preparation for the 2020 election and beyond. Acronym has claimed that they are separate from Courier and allow the creators to produce their own independent ideas, although, tax documents have revealed them to be full owners .

"This is all probably legal," says Bradley Smith, former Chairman of the FEC and foremost scholar on campaign finance. "What surprises me is that more entities–especially on the conservative side, since the majority of traditional media already lean left–don't do this. But there are examples on the right–for example, NRA Radio." Donors can be kept secret, as under Citizen's United , the 'periodicals' of 501(c)(4) groups do not have to be filed with FECA. (Federal Election Campaign Act) Smith believes organizations such as Courier will likely be a part of a greater trend in local journalism across the country.

Pacronym, also under the Acronym umbrella, is a Democratic Super-PAC charged with the single goal of electing Joe Biden. Pacronym ads present similar content to what one would see on a Courier publication, focusing heavily on the failures of Trump's handling of COVID-19, the struggling of small-businesses across key-swing states (North Carolina, Arizona, Pennsylvania, and Wisconsin), and Joe Biden's proposed response to the virus.

Courier, with the same goal, repurposes ideas by PACs and the Democratic Party by attaching a 'news' label for legitimacy. "The anti-Trump ads from Courier focus on the same points as Pacronym and other Democratic political groups, but if they look like news articles, the audience sees them differently than the same content coming from a politician," According to Deutch at Newsguard.

Pacronym donors are publicly disclosed, and may have present a clue into Courier Newsroom's finances. Some notable financiers of Pacronym include billionaire hedge fund manager Seth Klarman, Hollywood icon Steven Spielberg and his wife Kate Kapshaw, a billionaire heiress to the Levi Strauss brand Mimi Haas, and silicon valley's very own LinkedIn founder Reid Hoffman. Pacronym has targeted a $75 million-dollar digital ad campaign, primarily using Facebook, against President Trump for the upcoming election.

Acronym is also involved in another scandal, notably the 2020 Iowa Democratic caucus. Shadow Inc, also operating under Acronym's umbrella, was established with the purpose of digitally registering and mobilizing voters. Shadow Inc's leadership primarily consisted of 2016 ex-Clinton campaign staff. Shadow Inc received a contract by the Iowa Democratic Party for $63,183 to develop an application to help count votes in the Iowa Caucus. Shadow Inc's application, the IowaReporterApp, failed to properly report the caucus, leading to a delayed result. Campaigns, pundits, and election officials were confused due to the inconsistencies found in the results.

Candidate Pete Buttigieg claimed victory despite the caucus results not having been properly released. According to data by the FEC, Pete Buttigieg's campaign paid Shadow Inc. $21,250 for "software rights and subscriptions" in July 2019. Acronym CEO Tara McGowan's husband, Michael Halle, was a senior strategist for the Pete Buttigieg campaign. Michael Halle's brother, Ben Halle, was Pete Buttigieg's Iowa Communications Director. Many have suspected foul play, or at least incompetence.

Courier Newsroom is distinct from both fake-news and astro-turf operations that came into the public eye during the 2016 election. Rather than produce fake content with the intent to mislead, Courier articles are legitimate and are written by real writers. In the leaked Acronym memo, CEO Tara McGowan claimed that the Democratic Party was losing "the media war."

In 2014 the National Republican Congressional Committee established fake news websites and paid to boost them on Google. These websites were deceptive with the intent on defeating the opposing candidate. Although, these websites publicly disclosed that they were paid for by the committee at the bottom of the article. Courier's funding remains undisclosed.

PACs, in tandem with a surge in online political advertising, have weaponized newsrooms to present misleading news for electoral success.
Alberto Bufalino is a student at Wake Forest University in North Carolina and TAC's summer editorial intern.

---

Good on them. That's how the game is played.

Tom Riddle M Orban • 20 hours ago

I don't know . . . It's bad enough that the republic has to deal with a broad swath of people getting their news from terrible facebook feeds. It's why America has a president selling beans and promoting demon sperm doctors, and why it's one of the few countries that can't keep covid down despite it's resources.

I don't think trying to get the rest of getting our news from people that operate at the level of Ben Shapiro, Tucker Carlson, and Breitbart is praiseworthy.

M Orban Tom Riddle • 20 hours ago • edited

You are right in principle.
We have this six hundred pound Citizens United crapping all over the room though.
I too wish that the game was played by different rules. But this is not Switzerland and we need to win first.

Tom Riddle M Orban • 18 hours ago

Is it clear though that repealing Citizens United would change this? The Double Plus Wealthy are already funding the top online websites to the tune of millions of dollars a year, and the funders of the Federalist are famously anonymous despite the Federalist basically being an arm of the Republican party/embarrassment to thinking.

I am happy though that the anonymous funders of the Courier are not sponsoring fake news that makes their readers dumber, unlike *checks the article** the National Republican Congressional Committee . Yowza.

Baruch Dreamstalker Tom Riddle • 11 hours ago

Repeal of Citizens United would make it possible to regulate who funds whom. It would not guarantee the outing of arrangements like Courier. Give me a leaked memo any day.

Notable quotes:

"... Associated Press ..."

"... OneWorld.press ..."

"... Washington Post ..."

U.S. Officials Disseminate Disinformation About 'Virus Disinformation' Getald , Jul 29 2020 17:44 utc | 1

In another round of their anti-Russian disinformation campaign 'U.S. government officials' claim that some websites loosely connected to Russia are spreading 'virus disinformation'.

However, no 'virus disinformation' can be found on those sites.

The Associated Press as well as the New York Times were briefed by the 'officials' and provided write ups.

AP : US officials: Russia behind spread of virus disinformation

Two Russians who have held senior roles in Moscow's military intelligence service known as the GRU have been identified as responsible for a disinformation effort meant to reach American and Western audiences, U.S. government officials said. They spoke to The Associated Press on condition of anonymity because they were not authorized to speak publicly.

The information had previously been classified, but officials said it had been downgraded so they could more freely discuss it. Officials said they were doing so now to sound the alarm about the particular websites and to expose what they say is a clear link between the sites and Russian intelligence.

Between late May and early July, one of the officials said, the websites singled out Tuesday published about 150 articles about the pandemic response, including coverage aimed either at propping up Russia or denigrating the U.S.

Among the headlines that caught the attention of U.S. officials were "Russia's Counter COVID-19 Aid to America Advances Case for Détente," which suggested that Russia had given urgent and substantial aid to the U.S. to fight the pandemic, and "Beijing Believes COVID-19 is a Biological Weapon," which amplified statements by the Chinese.

The first mentioned piece, Russia's Counter-COVID Aid To America Advances The Case For A New Detente , is by the well known author Andrew Korybko, a U.S. political analyst living in Moscow. It was published at OneWorld.press . The essay discussed the Russian Coronavirus aid flown in early April from Russia to the U.S. The analyst concludes that such aid can be seen as the beginning of a new détente between the U.S. and Russia.

There is zero 'virus disinformation' in the Korybko piece. The aid flight did happen and was widely reported. In a response to the allegations the proprietors of O neWorld point out that Secretary of State Mike Pompeo in a recent Q&A also alluded to a new détente with Russia. Was that also 'virus disinformation'?

The second piece the 'officials' pointed out, Beijing believes COVID-19 is a biological weapon , was written In March by Lucas Leiroz, a "research fellow in international law at the Federal University of Rio de Janeiro". It is an exaggerating analysis of the comments and questions a spokesperson of the Chinese Foreign Ministry had made about the possible sources of the Coronavirus.

The original spokesperson quote is in the piece. Referring to additional sources the author's interpretation may go a bit beyond the quote's meaning. But it is certainly not 'virus disinformation' to raise the same speculative question about the potential sources of the virus which at that time many others were also asking.

The piece was published by InfoBRICS.org, a "BRICS information portal" which publishes in the languages of the BRICS countries (Brazil, Russia, India, China, South Africa). It is presumably financed by some or all of those countries.

Another website the 'U.S. officials' have pointed out is InfoRos.ru which publishes in Russian and English. The AP notes of it:

A headline Tuesday on InfoRos.ru about the unrest roiling American cities read "Chaos in the Blue Cities," accompanying a story that lamented how New Yorkers who grew up under the tough-on-crime approach of former Mayors Rudy Giuliani and Michael Bloomberg "and have zero street smarts" must now "adapt to life in high-crime urban areas."

Another story carried the headline of "Ukrainian Trap for Biden," and claimed that "Ukrainegate" -- a reference to stories surrounding Biden's son Hunter's former ties to a Ukraine gas company -- "keeps unfolding with renewed vigor."

U.S. officials have identified two of the people believed to be behind the sites' operations. The men, Denis Valeryevich Tyurin and Aleksandr Gennadyevich Starunskiy, have previously held leadership roles at InfoRos but have also served in a GRU unit specializing in military psychological intelligence and maintain deep contacts there, the officials said.

InfoRos calls itself a 'news agency' and has some rather boring general interest stuff on its site. But how is its writing in FOX News style about unrest in U.S. cities and about Biden's escapades in the Ukraine 'virus disinformation'? I fail to find any on that site.

In 2018 some "western intelligence agency" told the Washington Post , without providing any evidence, that InfoRos is related to the Russian military intelligence service GU (formerly GRU):

Unit 54777 has several front organizations that are financed through government grants as public diplomacy organizations but are covertly run by the GRU and aimed at Russian expatriates, the intelligence officer said. Two of the most significant are InfoRos and the Institute of the Russian Diaspora.

So InfoRos is getting some public grants and was allegedly previously run by two people who before that worked for the GU. What does that say about the current state and the content it provides? Nothing.

The NYT adds that hardly anyone is reading the websites the 'U.S. officials' pointed out but that their content is at times copied by more prominent aggregator sites:

"What we have seen from G.R.U. operations is oftentimes the social media component is a flop, but the narrative content that they write is shared more broadly through the niche media ecosystem," said Renee DiResta, a research manager at the Stanford Internet Observatory, who has studied the G.R.U. and InfoRos ties and propaganda work.

There are plenty of sites who copy content from various outlets and reproduce it under their name. But that does not turn whatever they publish into disinformation.

All the pieces mentioned by AP and NYT and attributed to the 'Russian' sites are basically factual and carry no 'virus disinformation'. That makes the 'U.S.officials' claims that they do such the real disinformation campaign.

And the AP and NYT are willingly falling for it.

People being prepared for Russia having the worlds first covid19 vaccine, the US will of course say it was stolen from them. Infantile politicians create infantile press to feed infantile articles to adult children. Critical thinking skills do not exist in the US population.

---

vk , Jul 29 2020 17:44 utc | 2

There's a corporativist aspect to all of this.

The development of propagation of information/disinformation through the internet eroded the power of the old newspapers/news agencies. It's not that this or that particular website is getting more views, but that the web of communications - the the imperialistic blunders + decline of capitalism post-2008 -, as a whole, weakened what seemed to be an unshakeable trust on the MSM (the very fact that this term exists already is historical evidence of their loss of power).

And this process manifests itself not only in loss of power, but also loss of money: this is particularly evident in the social media, where Facebook (Whatsapp + Facebook proper) and Google are beginning to siphon advertisement money from both TV and the traditional newspapers (printed press). When those traditional printed newspapers went digital, they behaved badly, by using paywalls - this marketing blunder only accelerated their decline in readership and thus further advertisement money, generating a vicious cycle for them.

The loss of influence of public opinion for the MSM also inaugurated another very important societal shift: the middle class' loss of monopoly over opinion and formation of opinion. Historically, it was the role of the middle class to be highly educated, to go to academia (college) and, most importantly, to daily read the newspapers while eating the breakfast. The middle class was the class of the intellectuals by definition, thus served as the clerical class of the capitalist class, the priests of capitalism. With the popularization of the internet, the smartphone and social media, this sanctity was broken or, at least, begun to deteriorate. We can attest this class conflict phenomenon by studying the rise of the term "expert" as a pejorative one. In the West's case, this shift begun through the far-right side of the political spectrum, but the shift is there.

The popularization of what was once a privilege is nothing new in capitalism. The problem here is that capitalism depends on infinite growth to merely exist (i.e. it can't survive on zero growth, it is mathematically impossible), so it has to "monetize" what still isn't monetize in order to find/create more vital space (Lebensraum - a term coined by the hyper-capitalist Nazis) for its expansion and thus survival. Hence the popularization of college education in the USA (then in Europe). Hence the popularization of daily news through the internet/social media. This process, of course, has its positives and negatives (as is the case with every dialectical process) - the fall of the MSM is one of the positives.

So, in fact, when the likes of AP, Reuters, NYT, WaPo, Guardian, Fox, CNN spread disinformation against "alt-media", they are really just protecting their market share - the fact that it implies in suppression of freedom of speech and to mass disinformation and, ultimately, to war and destruction, is merely collateral damage of the business they operate in. They are, after all, capitalist enterprises above all.

bevin , Jul 29 2020 18:16 utc | 3

Excellent analysis, as always, by b. And vk's points are very pertinent too. One tiny quibble: I doubt that the Nazis coined, though they certainly popularised, the term lebensraum.
There is an air of desperation about these campaigns against "Russian" "disinformation" massive changes are occurring, and, because they are so vast, they are moving relatively slowly.
The old media model, now totally outdated, was the first thing to fall. Now capitalism itself is collapsing as a result of the primary contradiction that, left to itself, the marketplace will solve all problems.
As Washington, where magical thinking is sovereign, is demonstrating, left to itself the hidden hand will bring only misery, famine, death and the Apocalypse. This was once very well understood, as a brief look at the history of the founding of the UN will show, now it is the subject of frantic denial by capitalism's priesthood who have grown to enjoy the glitter and sensuality of life in a brothel. It is a sign of their mental decay that they can do no better than to blame Russians.

jayc , Jul 29 2020 18:23 utc | 4

One should presume the anonymous officials responsible for this ground-breaking report (sarc) are close to the various "combatting Russian disinformation" NGOs. They are merely living up to the mission statements of their benefactors. AP and NYTimes are being unprofessional and spreading fake news by failing to reveal their sources. It's mind-numbing - the BS one must wade through.

donkeytale , Jul 29 2020 18:42 utc | 5

VK @ 2

Good point however with one glaring contradiction in your thinking.

You make valid a very criticism of capitalism yet you tend to applaud Chinese capitalist growth (although you tend to deny Chinese capitalist growth is capitalist, a feat of breathtaking magical thinking).

The great Chinese wealth is fully 75% invested in bubblicious real estate valuations of non-commercial real estate built on a mountain of construction debt. Sound familiar?

The irony is Chinese growth since 2008 has been goosed along entirely by the very same financialized hyper capitalist traits as US: great gobs of debt creating supply-side "growth", huge amounts of middle wealth tied to asset inflated bubbles, and of course the resulting income and wealth inequality that rivals US inequality and continues to increase over time.

I snorted coffee out my nose when Gruff tried to totally excuse Chinese income inequality for being only slightly less than US level....how about the truth? Chinese inequality is heinous, only slightly less than the also heinous US level.

The diseased working class in China only has an an arm and two legs hacked off while the diseased US working class is fully quadriplegic. Much, much better to be a fucked over by globalization Chinese citizen! Lmao

psychohistorian , Jul 29 2020 19:19 utc | 6

@ b who ended his posting with
"
And the AP and NYT are willingly falling for it.
"

Sorry b, but AP and NYT are active participants in the disinformation campaign of failing empire and are not falling for anything

The folks that are falling for it are the American public that has lost its ability to discriminate with the fire hose volume of lies told to them on a daily basis.

Empire is in the process of defeating itself which is the only safe way of ending the tyranny of global private finance. I commend China and Russia for having the patience and fortitude to hold the safe space for the dysfunctional social contract having private control of the lifeblood of human commerce to self destruct.

JohnH , Jul 29 2020 19:21 utc | 7

This is SO hilarious! The propagandists are worried about Russian virus dis-information when most dis-information has come from the US government in the person of Trump and from the CDC, which spent months discrediting the effectiveness of face masks!!!

Theses propagandists need to get real jobs dealing with real world problems.

JohnH , Jul 29 2020 19:21 utc | 8

This is SO hilarious! The propagandists are worried about Russian virus dis-information when most dis-information has come from the US government in the person of Trump and from the CDC, which spent months discrediting the effectiveness of face masks!!!

Theses propagandists need to get real jobs dealing with real world problems.

jason , Jul 29 2020 19:25 utc | 9

there has been no national response to coronavirus but there must be a national acceptance that this national non-response is China's fault. and any sources reporting truthfully about the US or disseminating statements easily found elsewhere, as long as they are Russian, Chinese, Venezuelan, Cuban, Iranian, etc., is pure disinformation. How brittle and weak the US is. Where's the Pericles to say to the Spartans, "enter our city and inspect our defenses"? The US is a nation of heavily-armed mice and sheep.

btw, the China love on display around here is pretty funny. in that the Chinese government has mounted a national response to a very serious threat, China is a nation in a way that the US is not. There is no US or we would not have 50 states doing different things in response to the corona outbreak. the US is already dead. But China is a thoroughly authoritarian capitalist state. they are who they are in a dialectic competition with the US and other capitalist powers, not because of some Maoist-Confucian amalgam that inspires such wisdom in their brilliant leaders, who are just as quick to destroy their environment for capitalist gain as anyone on this planet is. The decline of the US will not make China or Russia or any "emerging" power less authoritarian or violent. au quite the contraire. They are Shylocks who will try to better instruction.

However, none of this is of concern to people in the US, whose only concern is the Nazi spawn who've been running "the West" for much longer than the last 75 years. but it's time to kill the bitch, not let it keep screwing us and breeding.

div> Russia's rush to have the first COVID vaccine will be viewed by the propagandists as just another evil attempt by Putin to embarrass the US. Should it prove safe and effective, you can bet that it will be banned in USA, because anything Russian is by definition bad.
https://www.zerohedge.com/geopolitical/russia-hopes-register-worlds-first-covid-19-vaccine-aug-12

Posted by: JohnH , Jul 29 2020 19:30 utc | 10

Russia's rush to have the first COVID vaccine will be viewed by the propagandists as just another evil attempt by Putin to embarrass the US. Should it prove safe and effective, you can bet that it will be banned in USA, because anything Russian is by definition bad.
https://www.zerohedge.com/geopolitical/russia-hopes-register-worlds-first-covid-19-vaccine-aug-12

Posted by: JohnH | Jul 29 2020 19:30 utc | 10

Clueless Joe , Jul 29 2020 19:46 utc | 11

As others already said, this is a bit rich, considering that virus disinformation comes from Trump himself, both live and on Twitter, quoting genuine hacks and megalomaniac doctors, depending on the week.
Reality check: Russians will be able to travel across the world way before Americans, for obvious healthcare reasons.

dh , Jul 29 2020 19:50 utc | 12

@2 I would think adblocking has a lot to do with it too. I'm always surprised that it has been allowed to continue.

moon , Jul 29 2020 20:13 utc | 13

Posted by: bevin | Jul 29 2020 18:16 utc | 3

Bevin, I agree, I once had a short exchange on Mondoweiss about the term Lebensraum, it had been used in some type of marketing by my favorite Swizz supermarket. Which then, apparently caused an uproar. The term Lebensraum on its own is rather innocent. Leben (life) Raum (space), a noun compound. Context matters. And I am sure I checked it, and Micros definitively did not use it in any type of world conquering settler context. I haven't stumbled yet across a Micros supermarket anywhere outside Switzerland, ;)

Here is link to the German Wiki entry via Google translate:
https://tinyurl.com/Wikipedia-Lebensraum

vk , Jul 29 2020 20:24 utc | 14

@ Posted by: donkeytale | Jul 29 2020 18:42 utc | 5; Posted by: jason | Jul 29 2020 19:25 utc | 9

Err... this post is not about China.

I think you are the rabid ideologues seeing ghosts, not me.

Perimetr , Jul 29 2020 20:34 utc | 15

AGREE with psychohistorian @ 6

The NTT no longer qualifies as "the paper of record". More like toilet paper if nothing better can be found.

Perimetr , Jul 29 2020 20:35 utc | 16

apologies, meant NYT, i.e. New York Times

barovsky , Jul 29 2020 20:38 utc | 17

I'm under the impression that Info Ros is a Russian government-funded, supported, backed, site, it certainly looks like it and its reportage is decidedly 'neutral'.

donkeytale , Jul 29 2020 20:40 utc | 18

VK @ 14

Actually my comment illustrated the inconsistency of your critique of capitalism post-2008 but nice slide away. Two thumbs up. Way up.

blum , Jul 29 2020 20:41 utc | 19

This is SO hilarious! The propagandists are worried about Russian virus dis-information when most dis-information has come from the US government in the person of Trump and from the CDC, which spent months discrediting ...
Posted by: JohnH | Jul 29 2020 19:21 utc | 8

This is close to my overall take on matters. But I wouldn't put so much emphasis on face masks but on something along the lines of Covid is notthing but a flu. Face masks were initially discussed quite controversially everywhere.

For Georgio Agamben too, strictly a favorite of mine, it was simply another State of Exception too. Suppressive biopolitics:
https://www.journal-psychoanalysis.eu/coronavirus-and-philosophers/

************

Were it gets interesting is here:
A report published last month by a second, nongovernmental organization, Brussels-based EU DisinfoLab, examined links between InfoRos and One World to Russian military intelligence. The researchers identified technical clues tying their websites to Russia and identified some financial connections between InfoRos and the government.

Gotta add that institution to my link list collection on matters.
EU disinfo Lab
https://www.disinfo.eu/publications/how-two-information-portals-hide-their-ties-to-the-russian-news-agency-inforos

They have a competitor which seems Bruxelles based too, Patrick Armstrong alerted me to a while ago:
https://euvsdisinfo.eu/
EUvsDisinfo is the flagship project of the European External Action Service's East StratCom Task Force

************

But yes, on first sight InfoRos seems to be neatly aligned with US alt-Right-Media in basic outlook. More than with the US MSM.

And now I first have to read what has been on Andrew Korybko's mind lately. ;)

blum , Jul 29 2020 20:42 utc | 20


sorry didn't close html tag.

uncle tungsten , Jul 29 2020 21:20 utc | 21

Integrity Initiative strikes again. AP and NYT rush faithfully to print. Journalist gets an extra dime.

Rutherford82 , Jul 29 2020 22:13 utc | 22

Many Americans of all walks of life do not trust their own government, yet most people here seem to have faith that their media outlets are telling the truth. How do you break through to the public that has utter faith in whatever newspaper or television channel they prefer and highlight the lies in a way which gains real traction?

I believe it takes leadership, which, for Americans, mean celebrities have to endorse the idea or it likely won't be taken seriously. This cult of celebrity is mirrored on social media platforms, where millions flock to be a part of some beautiful person's beautiful photograph or some known personalities acceptable opinion du jour.

There is a great bond gripping the minds of American media consumers. They have trained their entire lives to worship at the cult of celebrity and this is the key to breaking the entire media landscape down for them.

This also is the key to unlocking the voices of those who know better with regards to media lies, but keep silent out of fear.

Will a Joe Rogan or Tucker Carlson be able to break the spell? I think it will never happen based on how Hollywood gatekeeps celebrity and based on how hopelessly apathetic most are to Julian Assange.

Ben Barbour , Jul 29 2020 22:36 utc | 23

Lol I write for One World. I'm an American who has never had a piece edited or been told what to write. I was allowed to write a piece about Russia where I was critical of their policy of backing the STC in Yemen (I thought it was bad to divide Yemen). No one makes anybody tow any specific line. I decided not to publish my piece on Russia and the STC in Yemen because I didn't find the topic interesting enough, but I was 100% allowed to be critical of Russia.

If it's a GRU outfit then it's a bad one.

Hoarsewhisperer , Jul 29 2020 23:14 utc | 24

Lol I write for One World. I'm an American who has never had a piece edited or been told what to write.
...
Posted by: Ben Barbour | Jul 29 2020 22:36 utc | 23

Is it possible that you're just the in-house joke at OW?
If they don't care that you'd write "tow" instead of "toe" or that you're too lazy/thoughtless to reproduce the full name of the entity for which STC is an acronym, before using the acronym, then it suggests that One World's Editorial Standards are as lax as your own :-)

Jen , Jul 29 2020 23:29 utc | 25

"... Two Russians who have held senior roles in Moscow's military intelligence service known as the GRU have been identified as responsible for a disinformation effort meant to reach American and Western audiences, U.S. government officials said. They spoke to The Associated Press on condition of anonymity because they were not authorized to speak publicly ..."

Of course GRU agents always work in pairs, guided only by the mysterious telepathic powers of the Russian President and no-one or nothing else, as Alexander Petrov and Ruslan Boshirov did in Salisbury in March 2018 when they supposedly tried to assassinate or send a warning to Sergei Skripal, and as Dmitri Kovtun and Andrei Lugovoy did in London in November 2006 when they apparently put polonium in a pot of tea served to Alexander Litvinenko in full view of patrons and staff at a hotel restaurant. It's as if each agent carries only half a brain and each half is connected to its complement by the corpus callosum that is Lord Vlademort Putin's thoughts beaming oing-yoing-yoing-like through the atmosphere until they find their targets.

And of course US government officials always speak on condition of anonymity.

As Agence Presse News puts it:

"... The information had previously been classified, but officials said it had been downgraded so they could more freely discuss it. Officials said they were doing so now to sound the alarm about the particular websites and to expose what they say is a clear link between the sites and Russian intelligence ..."

So if US government officials can now freely discuss declassified news, why do they insist on being anonymous? This would be the sort of news announced at a US national press club meeting with Matt Lee in the front row asking awkward and discomfiting questions.

norecovery , Jul 29 2020 23:35 utc | 26

The malicious cultivation (including Gain of Function research) and implantation of this biowarfare agent (and other ones such as Swine Fever) by the U.S. Intelligence services in various places around the world (especially in China and Iran), the intentional faulty responses and deceptive statistics administered by the monopoly-controlled medical establishment, the feigned inability to provide adequate testing, care, and treatment, along with planned economic destruction as a means of restoring investor losses and control of populations through stifling of dissent, are at the heart of the deflection and projection of blame. That broadly-based subject is barely discussed in alternative media and is totally obfuscated in MSM, because the "denier-debunkers" dispute the possibility of such extreme malice existing in our institutions, in spite of previous experience with events such as 9/11 and the '08 financial crisis.

Hoarsewhisperer , Jul 29 2020 23:48 utc | 27

...
So if US government officials can now freely discuss declassified news, why do they insist on being anonymous?
...
Posted by: Jen | Jul 29 2020 23:29 utc | 25

Precisely.
My guess is that they don't know when to quit.
and/or
They embrace the Mythbusters motto...
"If a thing's worth doing, it's worth overdoing."

Benson Barbour , Jul 29 2020 23:54 utc | 28

"Is it possible that you're just the in-house joke at OW?
If they don't care that you'd write "tow" instead of "toe" or that you're too lazy/thoughtless to reproduce the full name of the entity for which STC is an acronym, before using the acronym, then it suggests that One World's Editorial Standards are as lax as your own :-)"

Posted by: Hoarsewhisperer | Jul 29 2020 23:14 utc | 24

Fair point on tow vs toe. That's why editing exists when writing articles. As for the STC part, that is common knowledge if you follow basic geopolitics. When making a post in a comment thread, should I write out "Islamic State of Iraq and Syria" before using the acronym ISIS? If I am posting in a comment thread about Iran, do I need to write out "Mujahedin-e Khalq" instead of just using MEK?

It just displays a massive level of ignorance on your part. Nice try though.

Hoarsewhisperer , Jul 30 2020 0:29 utc | 29

...
It just displays a massive level of ignorance on your part. Nice try though.
Posted by: Benson Barbour | Jul 29 2020 23:54 utc | 28

Thanks. Do you realise that you've just wasted 50+ words explaining why BB didn't bother writing the 3 words that STC stands for?

VietnamVet , Jul 30 2020 0:59 utc | 30

Global media moguls are blaming the 1,000 American deaths per day from the Wuhan coronavirus on Donald Trump to finally get him out of the way. But they are silent on their and the Democrats complicity in the death toll due to the lack of a national public health system or the funding to pay for it.

The USA is going to hell. A scapegoat is needed. For the media and Democrats, Russia is to blame. Anybody else rather than themselves, the true culprits. Donald Trump blames China for the pandemic if he acknowledges it at all but that is where all of Tim Cook's iPhones are made. Blaming China is globalist heresy.


Jackrabbit , Jul 30 2020 1:03 utc | 31

norecovery @Jul29 23:35 #26

I think there's a reasonable case to be made that this is what has occurred.

And, if true, it is covered up by sly suggestions that nCov-19 was man-made with hints or a smug attitude that convey the message that China created the virus. As well as a virtual black-out in Western media of Chinese suggestions that the virus may have started in USA or been planted in Wuhan.

But then, I already stand accused of attributing magical powers of self-interested foresight and boldness to US Deep-State due to my belief that Trump was their choice to lead USA in 2016. And so I expect you're theory will receive the same derision. Yet Empires have not been shy about killing millions when it was in their interest to do so.

In any case, I've written many times that USA/West's unwillingness to fight the virus has been dressed up as innocent mistakes. Even if the West wasn't the source of the virus they have much to answer for. Yet very few have taken note of the way that USA/West have played the pandemic to advance their interests - from lining the pockets of Big Pharma to blaming China for their own "incompetence" (a misnomer: the power-elite are very competent at advancing their interests!).

Inconvenient Truths:


!!

Kay Fabe , Jul 30 2020 1:29 utc | 32

It seems disinformation has been redefined to mean information that counters someone else's (yours) belief. We pretend to be in an Age of Reason but really, we have just replaced religious beliefs with secular beliefs. Science has been taken over by pseudoscientists that have replaced priests. The conflict of interest by the science/priests who profit from their deceptions is beyond criminal.

To know what is the truth you just have to look at whats being censored. Nobody being censored for supporting mask mandates, claiming vaccines are safe, and not questioning the blatant data manipulation of COVID cases that anyone with an open mind and IQ of 100 , and who reads the data, definitions and studies can see through.

It seems people on both sides of the fence have replaced their brains with their chosen ideology. Its like watching a Christian, Jew and Muslim arguing which is the best or true religion. No point in it.

james , Jul 30 2020 1:33 utc | 33

thanks b!

so, lets say GRU agents are feeding russian propaganda sites... how does that compare to all the CIA-FBI agents and has been hacks working for the western msm?? seems a bit rich for the pot to be calling a kettle black, even if they are lying thru their teeth! i am sure if someone did a story on how many CIA - m16 people are presently working with the western msm, they would have a story with some legs... this shite from anonymous usa gov't officials is just that - shite..

@ Ben, or Benson Barbour .. thanks for your comments!

Prof K , Jul 30 2020 1:50 utc | 34

Anyone notice that the Democrats still haven't presented any plan whatsoever to flatten the curve in the US? They are just as bad as Trump.

Seer , Jul 30 2020 1:55 utc | 35

Ben Barbou @ 23

Lol I write for One World. I'm an American who has never had a piece edited or been told what to write. I was allowed to write a piece about Russia where I was critical of their policy of backing the STC in Yemen (I thought it was bad to divide Yemen). No one makes anybody tow any specific line. I decided not to publish my piece on Russia and the STC in Yemen because I didn't find the topic interesting enough, but I was 100% allowed to be critical of Russia.

There's such a thing as self-censorship. Mainstream US news has effectively brought up folks to be this way: stay in line or become unemployed- doesn't need to be stated. Not aimed at you, but it needs to be said (und understood).

Ben Barbour , Jul 30 2020 3:14 utc | 36

@35 That's a very good point. I completely agree. Self-censorship and group think are two of the biggest problems in modern journalism/analysis. One World consistently publishes pro-Pakistan and pro-China articles. When I was first sending them submissions, I did a piece on US vs China in Sudan and South Sudan. I considered omitting China's culpability in escalating the conflicts, and instead focus on laying the blame squarely at the feet of the US. In the end I told the truth about both countries' imperialist escalations (to the best of my ability).

There is a lot of incentive to self-censor at just about any outlet. It's more comfortable to fit in with a site's brand.

In the case of the Russia-STC article, I really just found the subject matter to be thin. Russia's support of the STC is mostly just diplomatic. Not a lot to write about.

AntiSpin , Jul 30 2020 3:55 utc | 37

Think you can't possibly be more outraged than you already are?

Try this --
The Government's Weapon Against Reality Winner: COVID-19
By John Kiriakou, Reader Supported News
27 July 20
https://readersupportednews.org/opinion2/277-75/64239-the-governments-weapon-against-reality-winner-covid-19


One Too Many , Jul 30 2020 4:09 utc | 38

Posted by: Hoarsewhisperer | Jul 30 2020 0:29 utc | 29

Google or duckduckgo "STC in Yemen". First hit, it's not that hard.

J W , Jul 30 2020 5:39 utc | 39

Posted by: james | Jul 30 2020 1:33 utc | 33

Small wonder that food from Anglozionists is so bad, they love being in the kitchen but they can't stand the heat.

ak74 , Jul 30 2020 5:40 utc | 40

The Americans are increasingly unhinged in their spittle-flecked accusations against not only Russia, but also China, Iran, Venezuela, etc.

It's so pathetic as to be humorous.

Underlying the USA's Two Minutes of Hate campaigns, however, is a deeper disease that defines Americans as a nation and as a people.

Namely, Americans have an inbred fundamentalist belief in their own Moral Superiority as the Beacon of Liberty, Land of the Free, blah, blah, blah--no matter how many nations they have bombed back to the Stone Age, invaded, colonized, regime changed, sanctioned, or economically raped in the name of Freedom and Democracy™.

Donald Trump is half correct.

The United States of America is truly a great nation alright--but great only in terms of its deceit, great in terms of its delusions, and great in terms of the horrors that it has inflicted on much of the world.

Comparing America to the Nazis would be a high insult ... to Nazi Germany, as the Third Reich only lasted about 12 years, while the American Reich has unfortunately lasted well over 200 years and gotten away with its crimes against humanity by possessing what are likely the greatest propaganda machine and political deception in human history: the American Free Press and the world historic lie called "American Freedom."

Harold Pinter in his 2005 Nobel Literature Prize speech briefly but powerfully exposes this heart of American darkness:

"The crimes of the United States have been systematic, constant, vicious, remorseless, but very few people have actually talked about them. You have to hand it to America. It has exercised a quite clinical manipulation of power worldwide while masquerading as a force for universal good. It's a brilliant, even witty, highly successful act of hypnosis.

I put to you that the United States is without doubt the greatest show on the road. Brutal, indifferent, scornful and ruthless it may be but it is also very clever. As a salesman it is out on its own and its most saleable commodity is self love. It's a winner."

https://www.nobelprize.org/prizes/literature/2005/pinter/25621-harold-pinter-nobel-lecture-2005/

Blue Dotterel , Jul 30 2020 6:23 utc | 41

And the disinformation in the USA continues.
https://www.rt.com/usa/496578-fauci-coronavirus-eye-protection/

"Top US immunologist Dr Anthony Fauci is now saying citizens are not "complete" in protecting themselves from the Covid-19 pandemic unless they go beyond wearing a mask and add in eye protection like goggles, too."

More provocation from the oligarchy. Now, that masks are becoming less controversial, time to step up the provocation, division and control.

Fauci is also behind the anti-hydroxychloroquine propaganda, as well, that even b has swallowed. This, despite it being used effectively in other countries. All of this simply because Trump supports it (ergo, it must be bad) and Big Pharma (who control Fauci,
CDC abd WHO) can't profit significantly from its use.

Of course vacines are still an issue:
https://www.globalresearch.ca/kennedy-jr-warns-parents-about-danger-using-largely-untested-covid-vaccines-kids/5719566

"During the course of the debate, Kennedy also talked about the regular vaccines most people take, from Hepatitis B to the flu shot, emphasizing that no proper testing had ever been done, which is mandatory for any other medication. Vaccines "are the only medical product that does not have to be safety-tested against a placebo," he explained."

Kennedy said

"it's not hypothetical that vaccines cause injury, and that injuries are not rare. The vaccine courts have paid out four billion dollars" over the past three decades, "and the threshold for getting back into a vaccine court and getting a judgment – [the Department of Health and Human Services] admits that fewer than one percent of people who are injured ever even get to court."

So, how well has the Russian vaccine been tested? Does anyone know?




Blue Dotterel , Jul 30 2020 6:40 utc | 42

It is interesting how USAians are being played by the oligarchy.

On foreign policy, the dems and reps are in basic agreement and the propaganda is to bring the masses together to hate Russia, Chaina and anyone else who the Western (US) oligarchy has targeted.

Domestically, unity is the enemy of the oligarchy. The masses must be controlled through division and diversion, so the dems and reps play good cop, bad cop (bad and good being relative to the supporter) to ensure the masses are diverted from important oligarch issues to issues of irrelevance to the oligarchs, but easily manipulated emotionnally by the oligarchs for the beast.

It seems so obvious, and yet, works so well.

vato , Jul 30 2020 7:31 utc | 43

Posted by: VietnamVet | Jul 30 2020 0:59 utc | 30

"[...]Donald Trump blames China for the pandemic if he acknowledges it at all but that is where all of Tim Cook's iPhones are made. Blaming China is globalist heresy."


Then why do you phrase it the "Wuhan coronavius" yourself?

Jams O'Donnell , Jul 30 2020 7:59 utc | 44

Posted by: ak74 | Jul 30 2020 5:40 utc | 40

Thanks for that link.

Mark2 , Jul 30 2020 9:32 utc | 45

For those interested in corona virus truth,
I am interested in the question -- - was it spread by negligence or deliberately?
That question must be relivant to this debate on MOA.
I ask this now becouse -- --
Tonight on bbc 'panorama' there investigating the spread of the virus from Hospital to care homes !! I'm told there is some pretty shocking information exposed.
Some may wish to catch that prog. Heads up.

I just add an obversation. -- western psychopathic disinformation and projection has led to a confused public. A public deciding to disengage with politics. To the gain of the psychopaths.

H.Schmatz , Jul 30 2020 10:41 utc | 46

A new candidate to the demonization and disinfo operations has been added...Germany...which has been labeled "delinquent" by the POTUS...in a clear exercise of projection...

https://www.rt.com/news/496584-germany-withdrawl-troops-gas/

Of course, to not be insulted or labeled delinquent, you must act as these other countries enumerated by Southcom commander, to work for the US ( not your country...) and moreover pay for it....Typical mafia extortion, isn´t it?

uncle tungsten , Jul 30 2020 10:49 utc | 47

norecovery #26


That broadly-based subject is barely discussed in alternative media and is totally obfuscated in MSM, because the "denier-debunkers" dispute the possibility of such extreme malice existing in our institutions, in spite of previous experience with events such as 9/11 and the '08 financial crisis.

YES to that and thank you for that post. That the institutions of state and private sectors are the incubators and propagators of extreme malice is axiomatic in the UKUSAI and its five eyed running dogs is beyond doubt. They attack and scorn any critic or unbeliever. They assault and pillory truth speakers and those who might question 'their narrative'.

Then if all that fails the hunt them down and make preposterous claims about them being anti semitic of anti religion or anti their nation.

Mendacity is the currency of the permanent state and its minions and they need to be outed and shamed and challenged at every opportunity.

uncle tungsten , Jul 30 2020 11:00 utc | 48

VietnamVet #30

Wuhan coronavirus you say?

Fort Detrick coronavirus would be on the mark and as you most likely know, you cannot trust the USA lying eyes once you have served them in their killing fields.

Even that right wing ex special forces advocate Steve Pieczenic testifies to the fact of a deadly virus in USA in November/December plus his beloved bloggers say way earlier than that around Maryland etc. Then there is the small problem of the 'vaping' illness that generated lots of pneumonia like fatalities in June/July. And then the instant closure of Fort Detrick due to its leaking all over the place through a totally inadequate waste water treatment plant that couldn't scrub a turd let alone a virus.

Fort Detrick Virus is closer to the reality imo.

William Gruff , Jul 30 2020 11:00 utc | 49

The problem with presstitutes, possibly including Ben Barbour , (disclaimer: I've never read any media products that particular individual generated) goes beyond the point made by Seer @35 . To be sure, there is no chance that a presstitute would bite the hand that feeds it, but there is more depth to the problem of why they all suck so badly, at least the ones in the US. While journalism degrees are the university equivalent of Special Education (nowadays referred to as "Exceptional Student Education" , which is very fitting for students from such an "exceptional" nation), they still prepare the future presstitute to understand that their capitalist employers have interests beyond their immediately apparent ones. That is, more important to a capitalist employer than tomorrow's sales and profits is the preservation of capitalism itself.

But the problem is deeper still. The presstitute that is successfully employed by a capitalist enterprise will invariably be one that knows not to criticize the employer's business, the capitalist system it depends upon, and the empire that improves that employer's profitability. More importantly, that successful hireling will additionally have been brainwashed from infancy that all of these things are good and necessary aspects of the modern world that need to be ideologically defended. The prospective presstitute will be one that not only voluntarily, but eagerly serves its capitalist masters varied interests. After all, when there are plenty of whores to choose from, would you hire one that requires explicit instructions on every last thing you expect from them and just follows those instructions mechanically or the the one that puts effort into figuring out what would please you and delivers that with enthusiasm? Keeping this dynamic in mind will allow one to better understand the capitalist mass media's products.

Steve , Jul 30 2020 11:24 utc | 50

The contempt at which the American ruling class hold their citizens is galling. The US corporate media operates as if their targeted audience are all morons.

moon , Jul 30 2020 11:37 utc | 51

you cannot trust the USA lying eyes once you have served them in their killing fields. ...
Posted by: uncle tungsten | Jul 30 2020 11:00 utc | 48

that's not a good argument, uncle t. But yes I wondered to to what extent VV or good old VietnamVet has been won over to the Trump diction.

blum , Jul 30 2020 11:39 utc | 52

I wondered to to
I wondered too to what extent VV seemingly has been ...

William Gruff , Jul 30 2020 12:00 utc | 53

Mark2 @45: "...was it [ novel coronavirus] spread by negligence or deliberately?"

Most likely both.

There is evidence to suggest that the virus was circulating in the US prior to it being discovered in China. While it is possible this could have been the results of testing the transmissibility of the virus, it seems more probable that it was an accidental release from Fort Detrick. This would explain the facility being shut down last year. Military facilities are never shut down simply for breaking a few rules but because those rule violations led to something unpleasant.

An accidental release, coupled with the fact that the synthetic origin of the virus would become apparent to scientists worldwide, resulted in a need to quickly establish an alternate explanation for the virus. Since the US was losing its trade war with China, and use of a bioweapon to turn the tide was already gamed out and on the table anyway, the virus (or possibly a very similar strain that had been pre-selected for the attack) was deliberately sprayed around a market in Wuhan.

The CDC and CIA probably thought that the virus was contained in the West and that since it was a surprise to the Chinese it would run rampant there and result in their economy shutting down and their borders being closed, decoupling China from the world. With the Chinese treating the virus as a bio attack and defeating its spread, followed by the virus rampaging through the West, the dynamic changed. Now in order for the virus to decouple China it must become endemic in the West. The Chinese must be made to close their borders in fear of becoming infected from the rest of the world. To make this backup plan a reality, and to get the economies moving again as fast as possible, some western leaders have decided to accelerate the spread in the hopes of quickly developing "herd immunity" . Taking out some retirees whom the capitalists view as a burden on the economy is just some nice icing on the cake.

Mark2 , Jul 30 2020 12:04 utc | 54

@ 51 & @ 52
I'd say not ! I'm confided Vietnam Vet is doing 'balenced' Reporting ! The subject of this post. Take another look at both this post and his comment. A lesson in how to be unbiased but truthfull.
Soooo any one got a definition of fake news.
Mine would be Truth before personal agenda.

oldhippie , Jul 30 2020 12:18 utc | 55

Self censorship works well.

Straight cash payoffs work well too.

CIA has had total control of media for 70 years now. It was a priority when they set up shop.

Mark2 , Jul 30 2020 12:19 utc | 56

William Gruff @ 53
I think yours is just about the most clear and concise summary of this whole virus catastrophe that I have seen so far. And that's a hell of a statement !
Unrelated I wonder what would have happened if the Chinese whistle blower had not blown the whistle ? Now that's one to ponder ? As bad as this all is world wide, where would be right now ? Dose not bare thinking about.

vig , Jul 30 2020 12:21 utc | 57

Posted by: Mark2 | Jul 30 2020 12:04 utc | 54

What are you trying to tell me? Anyone that does not acknowledge the virus originated in China and that China didn't respond as fast as it could have? And more polemically: there is some kind of African Marxist heading WHO who obfuscated China's late information to the WHO?

There is a dot of truth in everything. There is also a dot of truth in the fact that Trump or his relevant admin was informed early enough.

Mark2 , Jul 30 2020 12:27 utc | 58

Big @ 57
What ?

jadan , Jul 30 2020 12:35 utc | 59

We've been acquainted with this virus about 7 months or so and it is difficult to separate reliable information from disinformation. We know very little about it, eg, we don't know whether those who recover can be reinfected. Is it like the common cold, against which there is no immunity? We just have to assume that the Trump virus has infected every level of the administration so that there is ignorance and unadulterated stupidity from the lowest level in the ministry of propaganda to the secretary of state and, of course, the president himself currently celebrating the wisdom of an animist/Christian hybrid doctor from Africa spewing the foulest disinformation one can imagine.

vig , Jul 30 2020 12:46 utc | 60

Big @ 57
What ?
Posted by: Mark2 | Jul 30 2020 12:27 utc | 58

babbling: look if this is the good old VV from SST, I wouldn't want to nail him on the usage of Wuhan virus. But on the larger content of his comment, I am wondering.

Full discovery: I entered the US conspiracy universe shortly after 9/11. I'll probably never forget there was this one commenter that completely out of then current preoccupations within the diverse theories, you recall?, suggested that the Chinese were approaching via the Southern borders.

There surely should be a way how the US and Russia

vig , Jul 30 2020 12:48 utc | 61

There surely should be a way how the US and Russia

There surely should be a way how the US and Russia repartition their claims. After all historically the Russian had some type of partly real Yellow threat too ... :)

Mark2 , Jul 30 2020 12:54 utc | 62

Vig @ 60
Thanks for clearing that up. Cheers

Hannibal , Jul 30 2020 12:56 utc | 63

Can probably trace this back to the "integrity initiative" and/ or the Atlantic Council. That's a web worth untangling with transparency.

Spot on James @ 33

One Too Many , Jul 30 2020 13:05 utc | 64

Posted by: Mark2 | Jul 30 2020 12:19 utc | 56

Except the "whistle blower" was not a whistle blower since local, provincial, and nations institutions were already advised or in the process of being advised. Dr Wenliang posted his information in a private chatroom with other medical professionals on December 30th. Timeline of events:

Dec 27 -- Dr. Zhang Jixian, director of the respiratory and critical care medicine department of Hubei Provincial Hospital, files a report to the hospital stating that an unknown pneumonia has developed in three patients and they are not responding to influenza treatment.

Dec 29 -- Hubei Provincial Hospital convened a panel of 10 experts to discuss the now seven cases. Their conclusion that the situation was extraordinary, plus information of two similar cases in other hospitals, prompted the hospital to report directly to the municipal and provincial health authorities.

Dec 30 -- The Wuhan Municipal Health Commission issued an urgent notification to medical institutions under its jurisdiction, ordering efforts to appropriately treat patients with pneumonia of unknown cause.

Dec 31 -- The National Health Commission (NHC) made arrangements in the wee hours, sending a working group and an expert team to Wuhan to guide epidemic response and conduct on-site investigations. The Wuhan Municipal Health Commission released a briefing on its website about the pneumonia outbreak in the city, confirming 27 cases and telling the public not to go to enclosed public places or gather. It suggested wearing face masks when going out. The Wuhan Municipal Health Commission released briefings on the pneumonia outbreak in accordance with the law. WHO's Country Office in the PRC relayed the information to the WHO Western Pacific Regional Office, then to the international level headquarters.

Jan 1 -- The NHC set up a leading group to determine the emergency response to the epidemic. The group convened meetings on a daily basis since then.

Jan 2 -- The Chinese Center for Disease Control and Prevention (China CDC) and the Chinese Academy of Medical Sciences (CAMS) received the first batch of samples of four patients from Hubei Province and began pathogen identification. The NHC came up with a set of guidelines on early discovery, early diagnosis and early quarantine for the prevention and control of the viral pneumonia of unknown cause.

Jan 3 -- Dr. Wenliang signs a statement not to post unsubstantiated rumors.

There's no "whistle blowing" as the information of the cases were already going up the chain of command. These are facts that can be sourced by multiple media outlets. I can't believe this fallacy keeps floating and doesn't flush.


Lurk , Jul 30 2020 13:52 utc | 65

In retrospective analyses, SARS-COV-2 was found in routinely collected samples of European sewage water dating back to at least december 2019. A french doctor reviewed archived medical samples and imagery from patients who had fallen mysteriously ill in the latter half of 2019 and also found that some had been early cases of COVID-19.

The real coronavirus whistle-blower is a doctor in Washington state USA who tested for the virus in Januari 2020 and was silenced by USA medical and federal authorities.

I am afraid that there will never be a sincere investigation into the real cause of the "vaping disease" that caused many deaths from sudden respiratory failure in the USA in the summer of 2019. Tell me again when Ft. Detrick labs was shut down exactly?

Lurk , Jul 30 2020 13:59 utc | 66

@ Hannibal | Jul 30 2020 12:56 utc | 63

Don't forget to mention Mark2's employer, the 77th brigade . We're in an information war , after all.

Piotr Berman , Jul 30 2020 14:00 utc | 67

What are you trying to tell me? Anyone that does not acknowledge the virus originated in China and that China didn't respond as fast as it could have? And more polemically: there is some kind of African Marxist heading WHO who obfuscated China's late information to the WHO?

There is a dot of truth in everything. There is also a dot of truth in the fact that Trump or his relevant admin was informed early enough.

Posted by: vig | Jul 30 2020 12:21 utc | 57

vig repeats widely spread arguments, basically, the "official propaganda" from offices related to an orange-American (excessive time spend on golf courses changes skin color, perhaps in combination with sunscreen, without sunscreen you would get a "redneck look").

1. Origin: somewhat debatable, but any virus has to originate somewhere. Every country was on receiving end of pathogens from other countries.

2. China did not respond as fast as it could have. Now, how fast and effective was USA? One has to note that clusters of fatal lung infections happen regularly, but this is because of mutations that increase impact on health, while separate mutations increase (or decrease) the transmission. Draconian measures are necessary if you get both, but you do not lock cities, provinces, introduce massive quarantine programs until you know that they are necessary. For the same reasons, the response in Western Europe and USA was not as fast as it could have.

3. "African Marxist heading WHO mislead poor naive Americans". What is the budget of American intelligence, and American disease control? Do they collect information, do they have experts? In particular, American authorities knew pretty much what Chinese authorities knew, and they had benefit of several weeks of extra time to devise wise strategy. Giving this benefit to people with limited mental capacities has a limited value. Perhaps China is at fault here too, Pompeo reported about pernicious impact of Chinese Communist Party on PPT meeting in USA, that could have deleterious impact on education and thus on mental capacities.

Pompeo himself may be a victim. He excelled as a West Point student, but if the content of education was crappy, diligence impacted his brain deeper and not for the better. But nobody attempts to blame CCP for that.

vk , Jul 30 2020 14:17 utc | 68

@ Posted by: Mark2 | Jul 30 2020 12:19 utc | 56

It would've changed nothing.

For starters, the "whistleblower" wasn't a whistleblower at all: he thought he had found a resurgence of SARS, not a new pandemic. Secondly, the head of respiratory diseases at the region already was investigating some cases of a "mysterious pneumonia" since end of November or mid-December - so the investigation already was well under way.

Discovering a new disease is not magic: a doctor cannot simply go the market, see a random person, and claim he/she discovered a new virus. Doctors are not gods: they can only diagnose the patients under their care.

The point of discord that the Western MSM capitalized upon was the fact that some random officer from the local police intercepted his private social media and made him sign a letter of reprimand. No Law is ever perfect, and these episodes of false triggers do happen even in Western Democracies.

Little known fact (one which the Western MSM censored) is that the so-called "whistleblower" was a member of the CCP. After knowing the details of the situation (including that the disease was already being investigated), he quickly realized the state-of-the-art and went to the frontlines to fight the pandemic - as any member of the CCP would've done. Revolutionary communist parties have this tradition that comes since the Bolshevik Party, where the leadership always leads by example. The Bolsheviks themselves lost the vast majority of their elite in the Civil War, as they always led in the front (vanguard). Fidel Castro himself led his army in the front when the invasion of the Bay of Pigs begun. So, it is not surprising this doctor, once having the facts on the field, quickly shut up and went to the frontline as a vanguard soldier.

After the whole truth came to the forefront, the Western MSM quickly begun to meltdown over the fake story they fantasized, and the Taiwanese MSM invented a story of some another whistleblower who had discovered the virus "at the end of November". That one never truly gained traction, and silently died out.

But all of this is moot point for the West, because Trump and the other European liberal powers refused to believe either that the virus was real or that it could reach them until February the next year.

But all of this

Den lille abe , Jul 30 2020 14:17 utc | 69

I think it is OK that b nails the US makes yet another display of stupidity.... on the other hand I presume that b also has other things to care about, I mean exposing the US as a "fake" nation is a full time job!
Americans have at least the last 50 years been known for fails, even Churchill commented something like "the Americans will fail numerous times, but eventually they will get it right" well that was back then! Today it is fail upon fail. I know that there must be bright people over there, but it is my sincere impression, that they are a very small minority. Maybe their schooling system has all gone bonkers ?
"3% of all Americans believe the Earth is flat! WTF!!!
America is on a steep slope downward.

Den lille abe , Jul 30 2020 14:31 utc | 70

I am personally not worried much about Covid 19, although I am 63 and live in Sweden, the "black Sheep" in Europe because of our rather lax restrictions, the Swedes themselves are rather good at keeping distance and using common sense.
I am much more worried that the American culture of ignorance, brain farts, stupidity and low IQ media will infest my country further and maybe completely ruin it.
Especially by the junk that comes out of Hollywood, pure Sh*t served nice and hot!
I am happy I know, I have not got to endure further 30 years of this.

Prof K , Jul 30 2020 14:52 utc | 71

A few months ago, b posted a link to a Canadian vlogger who lives in Nanning, China. The vlogger took us on a tour of a so called Wet Market. Here, the vlogger takes us to another Wet Market tour. He does a good job dispelling racist stereotypes and showing real life in China.

Mark2 , Jul 30 2020 14:56 utc | 72

One to many @ 64
Thanks ! So there was a group of whistle blowers then. It's down to definitions again. Perhaps mine is a little more loose. But it's of no concern.
For the sake of this excellent thread, perhaps we could all be a little less pedantic. VK ?

cirsium , Jul 30 2020 15:19 utc | 73

@uncle tungsten, 11:00 Jul 30

Also relevant - Crimson Contagion - the pandemic simulation run by the US government from January to August 2019 and was based on an infectious coronavirus coming from a food market in China

PleaseBeleafMe , Jul 30 2020 15:23 utc | 74

@Dla 69,70

Everywhere u go in this world you'll find some version or an "murican" in every country. Even a country like modern first world Switzerland has its "mountain folk".
In my personal experience with Americans I'm most often pleasantly surprised at their levels of sophistication and introspection over their American experiences. An enjoyable and as pleasant a people as anywhere. This may be clouded by mostly meeting these people outside of the US where unless tourists are well educated and travelled and by default more aware of a negative view of their homeland that exists outside of the US. For some reason most of these Americans I've met abroad are decidedly non republican in nature and are mostly
from California and North and North Eastern States. Fellow future Canadians I would call them.
The other side of the coin is when I've travelled to the states. Texas, Florida, Arizona. Whew! What a difference. I've learned that talking politics is impossible and the natives are almost entirely ignorant of anything outside their bubble. Outside of talking points there is no information behind their arguments. Their knowledge of the outside world is incredibly lacking and the view of the US in it is overwhelmingly positive.
It isn't Americans its America and its leadership, its influences, systems and all the other shit that make the US the salad it is. The people r redeemable.


William Gruff , Jul 30 2020 15:34 utc | 75

Calling the professionals doing their jobs in China "whistleblowers" is inaccurate. "Whistleblower" implies revealing information that others are trying to hide. In this case the suggestion is that the Chinese government was trying to hide the outbreak. This is nonsense as the Chinese government was unaware of an outbreak until after the relevant professionals had determined that there was an outbreak. There is no way the Chinese government could have known about an outbreak before the outbreak was identified by the professionals tasked with identifying outbreaks. The only ones who knew about the outbreak before the outbreak occurred were the US "intelligence community" .

Highly recommended!

Notable quotes:

"... I agree that globalism is/will be heading into the dumpers, but I see no chance that US-based manufacturing is going to make any significant come-back. ..."

"... What market will there be for US-manufactured goods? US "consumers" are heavily in debt and facing continued downward pressures on income. ..."

"... There will certainly be, especially given the eye-opener of COVID-19, a big push to have medical (which includes associated tech) production capacities reinvigorated in the US. ..."

"... More "disposable" income goes toward medical expenditures. Less money goes toward creating export items; wealth creation only occurs through a positive increase in balance of trade. And on the opposite end of the spectrum, death, the US will likely continue, for the mid-term, to export weaponry; but, don't expect enough growth here to mean much (margins will drop as competition increases, so figure downward pressure on net export $$). ..."

"... the planet cannot comply with our economic model's dependency on perpetual growth: there can NOT be perpetual growth on a finite planet. US manufacturing requires, as it always has, export markets; requires ever-increasing exports: this is really true for all others. Higher standards of living in the US (and add in increasing medical costs which factor into cost of goods sold) means that the price of US-manufactured goods will be less affordable to peoples outside of the US. ..."

"... I'll also note that the notion of there being a cycle, a parabolic curve, in civilizations is well noted/documented in Sir John Glubb's The Fate of Empires and Search for Survival (you can find electronic bootlegged copies on the Internet)- HIGHLY recommended reading! ..."

"... All of this is pretty much reflected in Wall Street companies ramp-ups in stock-buy-backs. That's money that's NOT put in R&D or expansion. I'm pretty sure that the brains in all of this KNOW what the situation is: growth is never coming back. ..."

"... Make no mistake, what we're facing is NOT another recession or depression, it's not part of what we think as a downturn in the "business cycle," as though we'll "pull out of it," it's basically an end to the super-cycle ..."

"... We are at the peak (slightly past peak, but not far enough to realize it yet) and there is no returning. Per-capita income and energy consumption have peaked. There's not enough resources and not enough new demand (younger people, people that have wealth) to keep the perpetual growth machine going. ..."

Seer , Jul 3 2020 10:34 utc | 125

NemesisCalling @ 28

I agree that globalism is/will be heading into the dumpers, but I see no chance that US-based manufacturing is going to make any significant come-back.

The world's economy is in contraction. Although capital, what actual capital exists, will have to try and do something "productive," it is confronted by this fact, that everything is facing contraction. During times of contraction it's a game of acquisition rather than expanding capacity: the sum total is STILL contraction; and the contraction WILL be a reduction in excess, excess manufacturing and labor.

What market will there be for US-manufactured goods? US "consumers" are heavily in debt and facing continued downward pressures on income. China is self-sufficient (enough) other than energy (which can be acquired outside of US markets). Most every other country is in a position of declining wealth (per capita income levels peaked and in decline). And manufacturing continues to increase its automation (less workers means less consumers).

There will certainly be, especially given the eye-opener of COVID-19, a big push to have medical (which includes associated tech) production capacities reinvigorated in the US. One has to look at this in The Big Picture of what it means, and that's that the US population is aging (and in poor health).

More "disposable" income goes toward medical expenditures. Less money goes toward creating export items; wealth creation only occurs through a positive increase in balance of trade. And on the opposite end of the spectrum, death, the US will likely continue, for the mid-term, to export weaponry; but, don't expect enough growth here to mean much (margins will drop as competition increases, so figure downward pressure on net export $$).

Lastly, and it's the reason why global trade is being knocked down, is that the planet cannot comply with our economic model's dependency on perpetual growth: there can NOT be perpetual growth on a finite planet. US manufacturing requires, as it always has, export markets; requires ever-increasing exports: this is really true for all others. Higher standards of living in the US (and add in increasing medical costs which factor into cost of goods sold) means that the price of US-manufactured goods will be less affordable to peoples outside of the US.

And here too is the fact that other countries' populations are also aging. Years ago I dove into the demographics angle/assessment to find out that ALL countries ramp and age and that you can see countries' energy consumption rise and their their net trade balance swing negative- there's a direct correlation: go to the CIA's Factbook and look at demographics and energy and the graphs tell the story.

I'll also note that the notion of there being a cycle, a parabolic curve, in civilizations is well noted/documented in Sir John Glubb's The Fate of Empires and Search for Survival (you can find electronic bootlegged copies on the Internet)- HIGHLY recommended reading!

All of this is pretty much reflected in Wall Street companies ramp-ups in stock-buy-backs. That's money that's NOT put in R&D or expansion. I'm pretty sure that the brains in all of this KNOW what the situation is: growth is never coming back.

MANY years ago I stated that we will one day face "economies of scale in reverse." We NEVER considered that growth couldn't continue forever. There was never a though about what would happen with the reverse "of economies of scale."

Make no mistake, what we're facing is NOT another recession or depression, it's not part of what we think as a downturn in the "business cycle," as though we'll "pull out of it," it's basically an end to the super-cycle.

We will never be able to replicate the state of things as they are. We are at the peak (slightly past peak, but not far enough to realize it yet) and there is no returning. Per-capita income and energy consumption have peaked. There's not enough resources and not enough new demand (younger people, people that have wealth) to keep the perpetual growth machine going.

Highly recommended!

Corrupt Fauci, stupid customers. IT the same neoliberal story of profiteering as a virtue all over again.

The government bought by Big Pharma, and Big Pharma out or control with questionable drugs and methods are two side of the same coin

On Monday, Gilead disclosed its pricing plan for Gilead as it prepares to begin charging for the drug at the beginning of next month (several international governments have already placed orders). Given the high demand, thanks in part due to the breathless media coverage despite the drug's still-questionable study data, Gilead apparently feels justified in charging $3,120 for a patient getting the shorter, more common, treatment course, and $5,720 for the longer course for more seriously ill patients. These are the prices for patients with commercial insurance in the US, according to Gilead's official pricing plan.

As per usual, the price charged to those on government plans will be lower, and hospitals will also receive a slight discount. Additionally, the US is the only developed country where Gilead will charge two prices, according to Gilead CEO Daniel O'Day. In much of Europe and Canada, governments negotiate drug prices directly with drugmakers (in the US, laws dictate that drug makers must "discount" their drugs for Medicare and Medicaid plans).

But according to O'Day, the drug is priced "far below the value it brings" to the health-care system.

However, we'd argue that this actually isn't true. Remdesivir was developed by Gilead to treat Ebola, but the drug was never approved by the FDA for this use, which caused Gilead to shelve the drug until COVID-19 presented another opportunity. Even before the first study had finished, the company was already pushing propaganda about the promising nature of the drug. Meanwhile, the CDC, WHO and other organizations were raising doubts about the effectiveness of steroid medications.

Months later, the only study on the steroid dexomethasone, a cheap steroid that costs less than $50 for a 100-dose regimen, has shown that dexomethasone is the only drug so far that has proven effective at lowering COVID-19 related mortality. Remdesivir, despite the fact that it has been tested in several high quality trials, has not.

So, why is the American government in partnership with Gilead still pushing this questionable, and staggeringly expensive, medication on the public?

Highly recommended!

divide and conquer 1. To gain or maintain power by generating tension among others, especially those less powerful, so that they cannot unite in opposition.

Notable quotes:

"... In its most general form, identity politics involves (i) a claim that a particular group is not being treated fairly and (ii) a claim that members of that group should place political priority on the demand for fairer treatment. But "fairer" can mean lots of different things. I'm trying to think about this using contrasts between the set of terms in the post title. A lot of this is unoriginal, but I'm hoping I can say something new. ..."

"... The second problem is that neoliberals on right and left sometimes use identity as a shield to protect neoliberal policies. As one commentator has argued, "Without the bedrock of class politics, identity politics has become an agenda of inclusionary neoliberalism in which individuals can be accommodated but addressing structural inequalities cannot." What this means is that some neoliberals hold high the banner of inclusiveness on gender and race and thus claim to be progressive reformers, but they then turn a blind eye to systemic changes in politics and the economy. ..."

"... Critics argue that this is "neoliberal identity politics," and it gives its proponents the space to perpetuate the policies of deregulation, privatization, liberalization, and austerity. ..."

"... If we assume that identity politics is, first and foremost, a dirty and shrewd political strategy developed by the Clinton wing of the Democratic Party ("soft neoliberals") many things became much more clear. Along with Neo-McCarthyism it represents a mechanism to compensate for the loss of their primary voting block: trade union members, who in 2016 "en mass" defected to Trump. ..."

likbez 12.27.19 at 10:21 pm

John,

I've been thinking about the various versions of and critiques of identity politics that are around at the moment. In its most general form, identity politics involves (i) a claim that a particular group is not being treated fairly and (ii) a claim that members of that group should place political priority on the demand for fairer treatment. But "fairer" can mean lots of different things. I'm trying to think about this using contrasts between the set of terms in the post title. A lot of this is unoriginal, but I'm hoping I can say something new.

You missed one important line of critique -- identity politics as a dirty political strategy of soft neoliberals.

See discussion of this issue by Professor Ganesh Sitaraman in his recent article (based on his excellent book The Great Democracy ) https://newrepublic.com/article/155970/collapse-neoliberalism

To be sure, race, gender, culture, and other aspects of social life have always been important to politics. But neoliberalism's radical individualism has increasingly raised two interlocking problems. First, when taken to an extreme, social fracturing into identity groups can be used to divide people and prevent the creation of a shared civic identity. Self-government requires uniting through our commonalities and aspiring to achieve a shared future.

When individuals fall back onto clans, tribes, and us-versus-them identities, the political community gets fragmented. It becomes harder for people to see each other as part of that same shared future.

Demagogues [more correctly neoliberals -- likbez] rely on this fracturing to inflame racial, nationalist, and religious antagonism, which only further fuels the divisions within society. Neoliberalism's war on "society," by pushing toward the privatization and marketization of everything, thus indirectly facilitates a retreat into tribalism that further undermines the preconditions for a free and democratic society.

The second problem is that neoliberals on right and left sometimes use identity as a shield to protect neoliberal policies. As one commentator has argued, "Without the bedrock of class politics, identity politics has become an agenda of inclusionary neoliberalism in which individuals can be accommodated but addressing structural inequalities cannot." What this means is that some neoliberals hold high the banner of inclusiveness on gender and race and thus claim to be progressive reformers, but they then turn a blind eye to systemic changes in politics and the economy.

Critics argue that this is "neoliberal identity politics," and it gives its proponents the space to perpetuate the policies of deregulation, privatization, liberalization, and austerity.

Of course, the result is to leave in place political and economic structures that harm the very groups that inclusionary neoliberals claim to support. The foreign policy adventures of the neoconservatives and liberal internationalists haven't fared much better than economic policy or cultural politics. The U.S. and its coalition partners have been bogged down in the war in Afghanistan for 18 years and counting. Neither Afghanistan nor Iraq is a liberal democracy, nor did the attempt to establish democracy in Iraq lead to a domino effect that swept the Middle East and reformed its governments for the better. Instead, power in Iraq has shifted from American occupiers to sectarian militias, to the Iraqi government, to Islamic State terrorists, and back to the Iraqi government -- and more than 100,000 Iraqis are dead.

Or take the liberal internationalist 2011 intervention in Libya. The result was not a peaceful transition to stable democracy but instead civil war and instability, with thousands dead as the country splintered and portions were overrun by terrorist groups. On the grounds of democracy promotion, it is hard to say these interventions were a success. And for those motivated to expand human rights around the world, it is hard to justify these wars as humanitarian victories -- on the civilian death count alone.

Indeed, the central anchoring assumptions of the American foreign policy establishment have been proven wrong. Foreign policymakers largely assumed that all good things would go together -- democracy, markets, and human rights -- and so they thought opening China to trade would inexorably lead to it becoming a liberal democracy. They were wrong. They thought Russia would become liberal through swift democratization and privatization. They were wrong.

They thought globalization was inevitable and that ever-expanding trade liberalization was desirable even if the political system never corrected for trade's winners and losers. They were wrong. These aren't minor mistakes. And to be clear, Donald Trump had nothing to do with them. All of these failures were evident prior to the 2016 election.

If we assume that identity politics is, first and foremost, a dirty and shrewd political strategy developed by the Clinton wing of the Democratic Party ("soft neoliberals") many things became much more clear. Along with Neo-McCarthyism it represents a mechanism to compensate for the loss of their primary voting block: trade union members, who in 2016 "en mass" defected to Trump.

Initially Clinton calculation was that trade union voters has nowhere to go anyways, and it was correct for first decade or so of his betrayal. But gradually trade union members and lower middle class started to leave Dems in droves (Demexit, compare with Brexit) and that where identity politics was invented to compensate for this loss.

So in addition to issues that you mention we also need to view the role of identity politics as the political strategy of the "soft neoliberals " directed at discrediting and the suppression of nationalism.

The resurgence of nationalism is the inevitable byproduct of the dominance of neoliberalism, resurgence which I think is capable to bury neoliberalism as it lost popular support (which now is limited to financial oligarchy and high income professional groups, such as we can find in corporate and military brass, (shrinking) IT sector, upper strata of academy, upper strata of medical professionals, etc)

That means that the structure of the current system isn't just flawed which imply that most problems are relatively minor and can be fixed by making some tweaks. It is unfixable, because the "Identity wars" reflect a deep moral contradictions within neoliberal ideology. And they can't be solved within this framework.

Highly recommended!

Notable quotes:

"... "The extraordinary destruction of white and Asian businesses in many instances wiping out a family's lifetime work, the looting of national businesses whose dumbshit CEOs support the looters, the merciless gang beatings of whites and Asians who attempted to defend their persons and their property, the egging on of the violence by politicians in both parties and by the entirely of the media including many alternative media websites, shows a country undergoing collapse. ..."

"... This is why it is not shown in national media . Some local media show an indication of the violent destruction in their community, but it is not accumulated and presented to a national audience. Consequently, Americans think the looting and destruction is only a local occurrence I just checked CNN and the BBC and there is nothing about the extraordinary economic destruction and massive thefts." ..."

"... Why has the media failed to show the vast destruction of businesses and private property? Why have they minimized the effects of vandalism, looting and arson? Why have they fanned the flames of social unrest from the very beginning, shrugging off the ruin and devastation while cheerleading the demonstrations as a heroic struggle for racial justice? Is this is the same media that supported every bloody war, every foreign intervention, and every color-revolution for the last 5 decades? Are we really expected to believe that they've changed their stripes and become an energized proponent of social justice? ..."

"... The scale and coordination alone suggests that elements in the deep state are probably involved. We know from evidence uncovered during the Russiagate probe, that the media works hand-in-glove with the Intel agencies and FBI while–at the same time– serving as a mouthpiece for elites. ..."

"... That hasn't changed, in fact, it's gotten even worse. The uniformity of the coverage suggests that that same perception management strategy is being employed here as well. Even at this late date, the determination to remove Trump from office is as strong as ever even though, in the present case, it has been combined with the broader political strategy of inciting fratricidal violence, obliterating urban areas, and spreading anarchy across the count ..."

"... This isn't about racial justice or police brutality, it's about regime change, internal destabilization, and martial law. ..."

"... What the Black Lives Matter movement does not understand is that they are being used by the billionaire white capitalists who are fighting to push the working class even lower ..."

"... The rightful grievance over racism against blacks is now used to get Trump since Russia Gate, Impeachment, the corona scandal ..."

"... The protests are merely a fig leaf for a "color revolution" that bears a striking resemblance to the more than 50 CIA-backed coups launched on foreign governments in the last 70 years ..."

"... "Use a grievance that the local population has against the system, identify and support those who oppose the current government, infiltrate and strengthen opposition movements, fund them with millions of dollars, organize protests that seem legitimate and have paid political instigators dress up in regular clothes to blend in." ..."

"... "The logistical capabilities of antifa+ are also impressive. They can move people around the country with ease, position pallet loads of new brick, 55 gallon new trash cans of frozen water bottles and other debris suitable for throwing on gridded patterns around cities in a well thought out distribution pattern. Who pays for this? Who plans this? Who coordinates these plans and gives "execute orders?" ..."

"... Antifa+ can create massive propaganda campaigns that fit their agenda. These campaigns are fully supported by the MSM and by many in the Congressional Democratic Party. The present meme of "Defund the Police" is an example. This appeared miraculously, and simultaneously across the country. I am impressed. Yesterday the frat boy type who is mayor of Minneapolis was booed out of a mass meeting of radicals in that fair city because he refused to endorse abolishing the police force. ..."

"... Colonel Lang is not the only one to marvel at Antifa's "logistical capabilities". The United States has never experienced two weeks of sustained protests in hundreds of its cities at the same time. ..."

"... it points to extensive coordination with groups across the country, a comprehensive media strategy (that probably preceded the killing of George Floyd), a sizable presence on social media (to put people on the street), and agents provocateur whose task is to incite violence, loot and create mayhem. ..."

"... This a destabilization campaign similar to the CIA's color revolutions designed to topple the regime (Trump), install a puppet government (Biden), impose "shock therapy" on the economy ..."

"... "The BLM represents the forefront of an effort to divide Americans along racial and political lines, thus keeping race and identity-based barbarians safely away from more critical issues of importance to the elite, most crucially a free hand to plunder and ransack natural resources, minerals, crude oil, and impoverish billions of people whom the ruling elite consider unproductive useless eaters and a hindrance to the drive to dominate, steal, and murder . ..."

"... The protest movement is the mask that conceals the maneuvering of elites. The real target of this operation is the Constitutional Republic itself ..."

"... that explains why anti-fa attack Yellow Vests in Germany. The Yellow Vests are the true people's movement and as shown in the video below it is not about the left and the right for the yellow vest but common people fed up with the system ..."

"... Watch every frame of this. It shows the government-media complex and their little thugs, ANTIFA, in perfect collusion to interfere with the regular Germans trying to stop the Satanic communist-Globo homo project. ..."

"... My bro is one of the few people flying, for work. He says the only people on the airlines are antifa thugs moving all around the country. ..."

"... Won't these riots create a wave of revulsion among the silent majority and consolidate Trump's support base? ..."

"... Is Antifa a group of deep state agitators? That's the question. In the Sunday edition of the New York Times– the official propaganda organ of US elites– an article is entirely devoted to creating "plausible deniability" that Antifa is behind the violence in the protests that have swept the country. ..."

"Revolutions are often seen as spontaneous. It looks like people just went into the street. But it's the result of months or years of preparation. It is very boring until you reach a certain point, where you can organize mass demonstrations or strikes. If it is carefully planned, by the time they start, everything is over in a matter of weeks." Foreign Policy Journal

Does anyone believe the nationwide riots and looting are a spontaneous reaction to the killing of George Floyd?

It's all too coordinated, too widespread, and too much in-sync with the media narrative that applauds the "mainly peaceful protests" while ignoring the vast destruction to cities across the country. What's that all about? Do the instigators of these demonstrations want to see our cities reduced to urban wastelands where street gangs and Antifa thugs impose their own harsh justice? That's where this is headed, isn't it?

Of course there are millions of protesters who honestly believe they're fighting racial injustice and police brutality. And more power to them. But that certainly doesn't mean there aren't hidden agendas driving these outbursts. Quite the contrary. It seems to me that the protest movement is actually the perfect vehicle for affecting dramatic social changes that only serve the interests of elites. For example, who benefits from defunding the police? Not African Americans, that's for sure. Black neighborhoods need more security not less. And yet, the New York Times lead editorial on Saturday proudly announces, " Yes, We Mean Literally Abolish the Police–Because reform won't happen." Check it out:

"We can't reform the police. The only way to diminish police violence is to reduce contact between the public and the police .There is not a single era in United States history in which the police were not a force of violence against black people. Policing in the South emerged from the slave patrols in the 1700 and 1800s that caught and returned runaway slaves. In the North, the first municipal police departments in the mid-1800s helped quash labor strikes and riots against the rich. Everywhere, they have suppressed marginalized populations to protect the status quo.

So when you see a police officer pressing his knee into a black man's neck until he dies, that's the logical result of policing in America. When a police officer brutalizes a black person, he is doing what he sees as his job " (" Yes, We Mean Literally Abolish the Police–Because reform won't happen" , New York Times)

So, according to the Times, the problem isn't single parent families, or underfunded education or limited job opportunities or fractured neighborhoods, it's the cops who have nothing to do with any of these problems. Are we supposed to take this seriously, because the editors of the Times certainly do. They'd like us to believe that there is groundswell support for this loony idea, but there isn't. In a recent poll, more than 60% of those surveyed, oppose the idea of defunding the police. So why would such an unpopular, wacko idea wind up as the headline op-ed in the Saturday edition? Well, because the Times is doing what it always does, advancing the political agenda of the elites who hold the purse-strings and dictate which ideas are promoted and which end up on the cutting room floor. That's how the system works. Check out this excerpt from an article by Paul Craig Roberts:

"The extraordinary destruction of white and Asian businesses in many instances wiping out a family's lifetime work, the looting of national businesses whose dumbshit CEOs support the looters, the merciless gang beatings of whites and Asians who attempted to defend their persons and their property, the egging on of the violence by politicians in both parties and by the entirely of the media including many alternative media websites, shows a country undergoing collapse.

This is why it is not shown in national media . Some local media show an indication of the violent destruction in their community, but it is not accumulated and presented to a national audience. Consequently, Americans think the looting and destruction is only a local occurrence I just checked CNN and the BBC and there is nothing about the extraordinary economic destruction and massive thefts." (" The Real Racists", Paul Craig Roberts, Unz Review)

Roberts makes a good point, and one that's worth mulling over. Why has the media failed to show the vast destruction of businesses and private property? Why have they minimized the effects of vandalism, looting and arson? Why have they fanned the flames of social unrest from the very beginning, shrugging off the ruin and devastation while cheerleading the demonstrations as a heroic struggle for racial justice? Is this is the same media that supported every bloody war, every foreign intervention, and every color-revolution for the last 5 decades? Are we really expected to believe that they've changed their stripes and become an energized proponent of social justice?

Nonsense. The media's role in concealing the damage should only convince skeptics that the protests are just one part of a much larger operation. What we're seeing play out in over 400 cities across the US, has more to do with toppling Trump and sowing racial division than it does with the killing of George Floyd. The scale and coordination alone suggests that elements in the deep state are probably involved. We know from evidence uncovered during the Russiagate probe, that the media works hand-in-glove with the Intel agencies and FBI while–at the same time– serving as a mouthpiece for elites.

That hasn't changed, in fact, it's gotten even worse. The uniformity of the coverage suggests that that same perception management strategy is being employed here as well. Even at this late date, the determination to remove Trump from office is as strong as ever even though, in the present case, it has been combined with the broader political strategy of inciting fratricidal violence, obliterating urban areas, and spreading anarchy across the country.

This isn't about racial justice or police brutality, it's about regime change, internal destabilization, and martial law. Take a look at this article at The Herland Report:

"What the Black Lives Matter movement does not understand is that they are being used by the billionaire white capitalists who are fighting to push the working class even lower and end the national sovereignty principles that president Trump stands for in America .

The rightful grievance over racism against blacks is now used to get Trump since Russia Gate, Impeachment, the corona scandal and nothing else has worked. The aim is to end democracy in the United States, control Congress and politics and assemble the power into the hands of the very few

It is all about who will own the United States and have free access to its revenues: Either the American people under democracy or globalist billionaire individuals." (" Politicized USA Gene Sharp riots is another attempted coup d'etat – New Left Tyranny" The Herland Report

That sounds about right to me. The protests are merely a fig leaf for a "color revolution" that bears a striking resemblance to the more than 50 CIA-backed coups launched on foreign governments in the last 70 years. Have the chickens have come home to roost? It certainly looks like it. Here's more from the same article:

"Use a grievance that the local population has against the system, identify and support those who oppose the current government, infiltrate and strengthen opposition movements, fund them with millions of dollars, organize protests that seem legitimate and have paid political instigators dress up in regular clothes to blend in."

So, yes, the grievances are real, but that doesn't mean that someone else is not steering the action. And just as the media is shaping the narrative for its own purposes, so too, there are agents within the movement that are inciting the violence. All of this suggests the existence of some form of command-control that provides logistical support and assists in communications. Check out this excerpt from a post at Colonel Pat Lang's website Sic Semper Tyrannis:

"The logistical capabilities of antifa+ are also impressive. They can move people around the country with ease, position pallet loads of new brick, 55 gallon new trash cans of frozen water bottles and other debris suitable for throwing on gridded patterns around cities in a well thought out distribution pattern. Who pays for this? Who plans this? Who coordinates these plans and gives "execute orders?"

Antifa+ can create massive propaganda campaigns that fit their agenda. These campaigns are fully supported by the MSM and by many in the Congressional Democratic Party. The present meme of "Defund the Police" is an example. This appeared miraculously, and simultaneously across the country. I am impressed. Yesterday the frat boy type who is mayor of Minneapolis was booed out of a mass meeting of radicals in that fair city because he refused to endorse abolishing the police force.

Gutting the civil police forces has long been a major goal of the far left, but now, they have the ability to create mass hysteria over it when they have an excuse ." ("My take on the present situation", Sic Semper Tyrannis)

Colonel Lang is not the only one to marvel at Antifa's "logistical capabilities". The United States has never experienced two weeks of sustained protests in hundreds of its cities at the same time. It's beyond suspicious, it points to extensive coordination with groups across the country, a comprehensive media strategy (that probably preceded the killing of George Floyd), a sizable presence on social media (to put people on the street), and agents provocateur whose task is to incite violence, loot and create mayhem.

None of this has anything to do with racial justice or police brutality. America is being destabilized and sacked for other purposes altogether. This a destabilization campaign similar to the CIA's color revolutions designed to topple the regime (Trump), install a puppet government (Biden), impose "shock therapy" on the economy pushing tens of millions of Americans into homelessness and destitution, and leave behind a broken, smoldering shell of a country easily controlled by Federal shock troops and wealthy globalist mandarins. Here's a short excerpt from an article by Kurt Nimmo at his excellent blog "Another Day in the Empire":

"The BLM represents the forefront of an effort to divide Americans along racial and political lines, thus keeping race and identity-based barbarians safely away from more critical issues of importance to the elite, most crucially a free hand to plunder and ransack natural resources, minerals, crude oil, and impoverish billions of people whom the ruling elite consider unproductive useless eaters and a hindrance to the drive to dominate, steal, and murder .

It is sad to say BLM serves the elite by ignoring or remaining ignorant of the main problem -- boundless predation by a neoliberal criminal project that considers all -- black, white, yellow, brown -- as expliotable and dispensable serfs. " (" 2 Million Arab Lives Don't Matter ", Kurt Nimmo, Another Day in the Empire)

The protest movement is the mask that conceals the maneuvering of elites. The real target of this operation is the Constitutional Republic itself. Having succeeded in using the Lockdown to push the economy into severe recession, the globalists are now inciting a fratricidal war that will weaken the opposition and prepare the country for a new authoritarian order.

---

Godfree Roberts , says: Website Show Comment June 14, 2020 at 3:39 am GMT

the media narrative that applauds the "mainly peaceful protests" while ignoring the vast destruction to Hong Kong where there was neither police violence nor racial discrimination. Look like the same organizing principles were used in both places.

Malla , says: Show Comment June 14, 2020 at 6:33 am GMT

Of course that explains why anti-fa attack Yellow Vests in Germany. The Yellow Vests are the true people's movement and as shown in the video below it is not about the left and the right for the yellow vest but common people fed up with the system, a true grass roots movement of the people. And Anti-fa, the Whores of the Satanic elites attack them. Why would anti-fascists attack the common man?

https://www.bitchute.com/embed/raZCHzKjrjA/

Watch every frame of this. It shows the government-media complex and their little thugs, ANTIFA, in perfect collusion to interfere with the regular Germans trying to stop the Satanic communist-Globo homo project.

PetrOldSack , says: Show Comment June 14, 2020 at 1:14 pm GMT

Few arguments in contra of the article. Can any-one conceive of there being a competition between BLM rioting organizing and covertly supporting, and Corona-19, where the elites were very cohesive internationally in the face.

The target, Trump, the man with no policies, the implement nothing, is it such a worthy target to a fraction of the power elites? That would speak for shallowness on their behalf. Creating back-ground noise to fade out the re-organizing of society, regardless of actors as Trump could be an acceptable explanation. "Keep the surplus population busy. Keep the attention on the streets".

There is a trade-off. The international elites see the exposure of the US internal policies, the expenditure of energy, do they regard the situation as something to copy-paste, an interesting experiment, or as weakness to be taken advantage of? Probably the first, then BLM covert support chains perfectly with Corona-19, and scales things up.

nickels , says: Show Comment June 14, 2020 at 1:36 pm GMT

My bro is one of the few people flying, for work. He says the only people on the airlines are antifa thugs moving all around the country.

ICD , says: Show Comment June 14, 2020 at 1:39 pm GMT

"Black neighborhoods need more security not less."

Police are not security, they're repression. Anybody of any color who thinks they're safer with heavily armed bureaucrats blundering around is a moron.

And since when does reductions in guard labor equal austerity? There are several economic rights that should not be derogated, but assholes with guns impounding cars is not one of them. If the residents of a community are asking for more cops, that's one thing. They are not. Law enforcement budgets are stuffed up the ass of residents and often municipalities. Look into e.g. the MA "strong chief" enabling acts. States have massive unfunded pension liabilities in large part because of police featherbedding. That's what's being pushed by the "deep state" (you mean CIA.) The evident CIA use of provocateurs is aimed at justifying further increases in repressive capacity.

anonymous [299] Disclaimer , says: Show Comment June 14, 2020 at 2:34 pm GMT

Now this is the ideal solution:

https://www.lawofficer.com/america-we-are-leaving/

OK bye! Don't let the door hit your fat ass on the way out! Stupid and delusional though pigs are, it's dimly dawning on them that America considers them crooked loudmouthed violent assholes. Here's a typical one exercising what Gore Vidal called the core competence of police, whining.

Boo hoo hoo, asshole, go home and beat your wife or eat a gun or whatever it is you dream of doing in retirement, cause the states can't afford your crooked unions' pensions in this induced depression. Cut these white man's welfare jobs.

Escher , says: Show Comment June 14, 2020 at 3:48 pm GMT

Won't these riots create a wave of revulsion among the silent majority and consolidate Trump's support base?

Mike Whitney , says: Website Show Comment June 14, 2020 at 3:51 pm GMT

Is Antifa a group of deep state agitators? That's the question. In the Sunday edition of the New York Times– the official propaganda organ of US elites– an article is entirely devoted to creating "plausible deniability" that Antifa is behind the violence in the protests that have swept the country.

Why is the Times so concerned that its readers might have a different opinion on this matter? Why do they want to convince people that the protests-riots are merely spontaneous outbursts of anti-racist sentiment? Could it be because the Times job is to create a version of events that suits the interests of the elites it serves? Here's a few excerpts from today's piece titled "Federal Arrests Show No Sign That Antifa Plotted Protests":

While anarchists and anti-fascists openly acknowledged being part of the immense crowds, they call the scale, intensity and durability of the protests far beyond anything they might dream of organizing. Some tactics used at the protests, like the wearing of all black and the shattering of store windows, are reminiscent of those used by anarchist groups, say those who study such movements. (plausible deniability)

Anarchists and others accuse officials of trying to assign blame to extremists rather than accept the idea that millions of Americans from a variety of political backgrounds have been on the streets demanding change. Numerous experts also called the participation of extremist organizations overstated. (plausible deniability)

"A significant number of people in positions of authority are pushing a false narrative about antifa being behind a lot of this activity," said J.M. Berger, the author of the book "Extremism" and an authority on militant movements. "These are just unbelievably large protests at a time of great turmoil in this country, and there is surprisingly little violence given the size of this movement.".. (plausible deniability)

In New York, the police briefed reporters on May 31, claiming that radical anarchists from outside the state had plotted ahead of protests by setting up encrypted communications systems, arranging for street medics and collecting bail funds.

Within five days, however, Dermot F. Shea, the city's police commissioner, acknowledged that most of the hundreds of people arrested at the protests in New York were actually New Yorkers who took advantage of the chaos to commit crimes and were not motivated by political ideology . John Miller, the police official who had briefed reporters, told CNN that most looting in New York had been committed by "regular criminal groups." (plausible deniability)

Kit O'Connell, a longtime radical leftist activist and community organizer in Austin, said that shortly after Mr. Trump's election, the group took part in anti-fascist protests in the city against a local white supremacist group and scuffled separately with Act for America, an anti-Muslim organization.

"They've been an influence at the protests but they're not in charge -- no one's really in charge," Mr. O'Connell said. (plausible deniability)
https://www.nytimes.com/2020/06/11/us/antifa-protests-george-floyd.html

Why is the Times acting like Antifa's attorney? Why are the trying to minimize the role of professional agitators? Why is the Times so determined to shape the public's thinking on this matter?

Doesn't this suggest that Antifa and other groups operating within the protest movement are actually linked to agencies in the deep state that are conducting another operation against the American people?

Brian Reilly , says: Show Comment June 14, 2020 at 4:00 pm GMT

@anonymous anonymous, I have been encouraging cops to quit for a long time. They are protecting the wrong people, being used to protect people in the ruling class that hate and despise cops just a little less than they hate and despise the rest of us civilians.

To the issue at hand, black people should only be policed, arrested, charged, prosecuted, defended, judged, and (if found guilty) punished by other blacks. No white person should have anything to do with it. Any white person policing negros in America is making a huge mistake, and should immediately quit.

The pensions are not going to be paid, and the crazy, Soros paid for black people are going to make it impossible for a white cop pretty soon anyway. Might as well walk before they make you run.

anonymous [263] Disclaimer , says: Show Comment June 14, 2020 at 4:13 pm GMT

Don't worry about BLM, which is corporate phoney bullshit protest, easter parades and internet posturing. The blacks in the street don't fall for that shit. Look what happens when coopted oreos try to herd everybody back to tame marching:

https://www.blackagendareport.com/ooh-la-la-atlantas-mayor-keisha-and-civil-rights-myths-black-mecca

Fuck Killer Mike
Fuck TI
Fuck KKKeisha

The provocateurs are not influencing them. The sellout house negroes are not influencing them. They know what they want. The regime is shitting its pants. If they scapegoat Trump and purge him, Biden will inherit the same problem only worse.

botazefa , says: Show Comment June 14, 2020 at 4:53 pm GMT

@Escher

Won't these riots create a wave of revulsion among the silent majority and consolidate Trump's support base?

That's what I am wondering too. It makes more sense to me that the elites driving these BLM riots are those who support Trump. Terrify people and threaten the existence of police is a good way to get elderly white voters out of their covid lockdowns on election day.

botazefa , says: Show Comment June 14, 2020 at 5:03 pm GMT

@Mike Whitney

Doesn't this suggest that Antifa and other groups operating within the protest movement are actually linked to agencies in the deep state that are conducting another operation against the American people?

Do we really want to suggest the CIA is committing treason against the American people? Isn't it more likely that the Times is agitating against the CIA for other reasons? Reasons Carlos Slim could explain?

Mike Whitney , says: Website Show Comment June 14, 2020 at 5:13 pm GMT

For those who haven't read Pepe Escobar's latsest on BLM, here's a couple clips:

Black Lives Matter, founded in 2013 by a trio of middle class, queer black women very vocal against "hetero-patriarchy", is a product of what University of British Columbia's Peter Dauvergne defines as "corporatization of activism".

Over the years, Black Lives Matter evolved as a marketing brand, like Nike (which fully supports it). The widespread George Floyd protests elevated it to the status of a new religion. Yet Black Lives Matter carries arguably zero, true revolutionary appeal. This is not James Brown's "Say It Loud, I'm Black and I'm Proud". And it does not get even close to Black Power and the Black Panthers' "Power to the People".

Black Lives Matter profited in 2016 from a humongous $100 million grant from the Ford Foundation and other philanthropic capitalism stalwarts such as JPMorgan Chase and the Kellogg Foundation.

The Ford Foundation is very close to the U.S. Deep State. The board of directors is crammed with corporate CEOs and Wall Street honchos. In a nutshell; Black Lives Matter, the organization, today is fully sanitized; largely integrated into the Democratic Party machine; adored by mainstream media; and certainly does not represent a threat to the 0.001%.

https://www.unz.com/pescobar/syria-in-seattle-commune-defies-the-u-s-regime/

I rest my case.

Brás Cubas , says: Show Comment June 14, 2020 at 5:16 pm GMT

Mike is one of the more interesting writers in Unz. He occasionally writes some irreflected lines, though:

Of course there are millions of protesters who honestly believe they're fighting racial injustice and police brutality. And more power to them.

Those "honest" people are actually useful idiots, and the last thing I want is to give them more power.

anonymous [306] Disclaimer , says: Show Comment June 14, 2020 at 5:20 pm GMT

IMO the best evidence for state provocation is this traditional strange-fruit lynching,

https://www.rt.com/usa/491698-robert-fuller-hanging-tree-california/

an evident ham-handed attempt to make this all about race. The real threat to this police state is racial and international solidarity against state predation – the stuff that got Fred Hampton killed,

"when I talk about the masses, I'm talking about the white masses, I'm talking about the black masses, and the brown masses, and the yellow masses, too We say you don't fight racism with racism. We're gonna fight racism with solidarity. We say you don't fight capitalism with no black capitalism; you fight capitalism with socialism."

or Angela Davis and the Che-Lumumba club. BAP is right back on this and the resonating international demonstrations show that that's the right track. The whole world sees what this is about, except for a few fucked-over US whites.

anbonymous , says: Show Comment June 14, 2020 at 5:31 pm GMT

botazefa, of course the CIA is committing treason against the American people. Where were you when they whacked JFK, then RFK? Where were you when they blew up OKC? Where were you when they released anthrax on the Senate, infiltrated and protected 9/11 terrorists, assigned more terrorists to MITRE to blind NORAD, blew up the WTC for the second time, and exfiltrated the Saudi logisticians?

Anybody unaware that CIA has been pure treason from inception is (1) retarded XOR (2) a CIA traitor.

Do you really want to tell us trust the CIA?

obwandiyag , says: Show Comment June 14, 2020 at 6:05 pm GMT

Sorry. The assholes on this asshole site will not let you say that what is important is how the super-billionaires control us. They are going to insist that it's niggerniggernigger all the way home and that's all there is to it. You would think they were paid. Or really, really stupid.

Realist , says: Show Comment June 14, 2020 at 6:19 pm GMT

@botazefa

Do we really want to suggest the CIA is committing treason against the American people?

Oh, hell yes the FBI and a significant portion of the federal government.

Juliette Kayyem , says: Show Comment June 14, 2020 at 6:29 pm GMT

When Gina, she-wolf of Udon Thani, got busted for trying to overthrow the United States government with Russiagate, she hung onto her job by rigging the succession with all the Brennan traitors who ran the Russiagate coup.

https://gosint.wordpress.com/2020/06/14/one-year-ago-cia-new-order-of-succession-june-14-2019/#more-21679

So we should expect that Gina will now stage a couple massacres like Kent State and Jackson State, because that's how CIA ratfucked Nixon when he didn't knuckle under.

Gina's extra motivated to stay on top because she's criminally culpable for systematic and widespread torture:

https://nsarchive.gwu.edu/briefing-book/intelligence-torture-archive/2018-04-26/gina-haspels-cia-torture-file

CIA wanted a DCI who would kill another president (even after JFK and Reagan) to preserve CIA's impunity.

Realist , says: Show Comment June 14, 2020 at 6:29 pm GMT

@Mike Whitney Excellent article and I believe excellent analysis of the situation.

Where we may differ is with Trump's complicity in Deep State efforts. I believe Trump is a minion of the Deep State. His actions and inactions can not be explained any other way.

Mike Whitney , says: Website Show Comment June 14, 2020 at 7:28 pm GMT

Let's assume for a minute, that Pepe Escobar is correct when he says this:

"Black Lives Matter profited in 2016 from a humongous $100 million grant from the Ford Foundation and other philanthropic capitalism stalwarts such as JPMorgan Chase and the Kellogg Foundation .

The Ford Foundation is very close to the U.S. Deep State. The board of directors is crammed with corporate CEOs and Wall Street honchos. In a nutshell; Black Lives Matter, the organization, today is fully sanitized; largely integrated into the Democratic Party machine; adored by mainstream media; and certainly does not represent a threat to the 0.001%.

https://www.unz.com/pescobar/syria-in-seattle-commune-defies-the-u-s-regime/

If this is true–and I believe it is– then Black Lives Matter is no different than USAID or any of the other NGOs that are used to incite revolution around the world. If this is true, then there is likely a CIA link to these protests, the main purpose of which is to remove Trump from office.

So Black Lives Matter= activist NGO linked to US Intel agencies= Regime Change Operation

But there is something else going on here too, (that many readers might have noticed) that is, the way social media has been manipulated to put millions of young people on the street in order to promote the agenda of elites.

How did they manage that?

How did they get millions of young people to come out day after day (14 days so far) in over 400 cities to protest an issue about which they know very little aside from the media's irritating reiteration of "systemic racism", (a claim that is not supported by the data.)

IMO, we are seeing the first successful social media saturation campaign launched probably by the Pentagon's Office Strategic Communications or a similar outfit within the CIA. Having already taken control over the entire mainstream media complex, the intel agencies and their friends at the Pentagon are now wrapping their tentacles around internet communications in order to achieve their goal of complete tyrannical social control.

As always, the target of these massive covert operations is the American people who had better pull their heads out of the sand pronto and come up with a plan for countering this madness.

Anon [184] Disclaimer , says: Show Comment June 14, 2020 at 7:29 pm GMT

@anonymous The elephant in the room, that seems to be ignored by all is the simple fact that Hispanics are working class heroes. And they outnumber the blacks, and hate their guts for the most part. Not the scrawny punks withe Che t-shirts, but the actual working types that are less than thrilled to deal with the weak. Notice how no Hispanic barrios have EVER been f ** ked with, no matter when the race riot? There is an open fatwa from La Eme regarding blacks that has never been rescinded. Has a lot to do with the kneegro exodus from the LA area, which correlates with the lack of looting in the formerly black areas. Which the MSM prefers to ignore. The happy idiots are mugging for the cameras on a daily basis in Hollywood, but the Hispanic run Sheriff's office has no problem with popping gas and defending businesses. Also note that the MSM only reports on areas when a local government craters to the mob. LA County was under curfew for 7 days due to a mob of looters that numbered perhaps 2000. If that Jew mayor (with the Italian surname) had not allowed the looting, then we would have seen the kind of 36 hour turnaround like we had with Rodney King. The ethnic group that ignores the MSM and stands up for its own people will win in the end. Right now we are looking more toward the kind of Celtic/Meso-American alliance that is well known in the penal system. These groups can exist side by side, with each ignoring the other. Blacks, on the other paw seem to be unable to keep to themselves, at least on the ghetto level, and will always be an issue for civilization. It's time we stop calling for a generic and all-inclusive White establishment. The race traitors and weaklings forfeit that right. When Celts, Italians, Germans, etc. were proud and independent, there was strength. It's time to return to that ideal. Only the negroid actually lumps all whites together, which the Jews use as a divisive tool. Strength should be idolized, rather than weakness exploited.

Hail Victory

botazefa , says: Show Comment June 14, 2020 at 7:30 pm GMT

@anbonymous

Do you really want to tell us trust the CIA?

I'm saying that the NYT is not necessarily mouthpiece *only* for the Deep State. As for your JFK assassination – Senate Anthrax – 9/11 etc, those are considered conspiracy theories and I've never been persuaded otherwise. I've read up on the theories and they are not strong.

I don't know what a retarded XOR is except as it relates to logic diagrams and I don't work for the CIA.

botazefa , says: Show Comment June 14, 2020 at 7:32 pm GMT

@Realist

Oh, hell yes the FBI and a significant portion of the federal government

Fair enough.

Priss Factor , says: Website Show Comment June 14, 2020 at 8:02 pm GMT

Do Deep State Elements Operate Within the Protest Movement?

It's called Jewish lawfare for Antifa, Jewish control of media, and Jewish cult of Magic Negro.

Even though Jews led the Gentric Cleansing campaigns against blacks by using mass immigration, globo-homo celebration, and white middle class return to cities, the Jews are now pretending be with the blacks and throwing the immigrants, white middle class, and homos to the black mobs.

Priss Factor , says: Website Show Comment June 14, 2020 at 8:05 pm GMT

@obwandiyag Super billionaires control nations, but an average person is more likely to get mugged, raped, or murdered by a Negro.

schnellandine , says: Show Comment June 14, 2020 at 9:47 pm GMT

@Anon

simple fact that Hispanics are working class heroes

Some are. Most aren't. And the 'not'% grows with selective Americanization (not assimilation). Still, I'll take them over the blacks, even with their generally inferior (to White) culture.

Whites are better with separation from them along with blacks. Whatever the prime driver, both groups have poisoned America, likely beyond repair. Conquistador gonnna conquistador.

Stepinfetchit has a dream , says: Show Comment June 14, 2020 at 10:07 pm GMT

M. Whitney in comment 21 clarifies his view of BLM as the impetus for this rebellion. That does not square with the reports of people on the street.

BLM is exactly analogous to BDS: a controlled opposition of feckless halfassed gestures designed to distract from the real movement. You hear BLM apparatchiks whining about getting their movement hijacked because people in the streets show solidarity with oppressed groups worldwide – and youe hear BLM getting booed by the people they're trying to corral. BLM's mission is putting words in the protestors' mouths. You hear Democrat BLM spokesmodels trying to distort calls for police abolition and no more impunity. And real protestors call bullshit.

BLM works on dumb white guys: hating on BLM makes them feel very edgy and defiant. Black Lives Matter! Blue Lives Matter! Black! Blue! Black! Blue! Catnip for dumbshits, courtesy of CIA. Keeps them away from the really subversive stuff, which makes perfect sense for whites too.

https://blackagendareport.com/

Cause CIA's fucking us all. They're hostis humani generis.

R.C. , says: Show Comment June 14, 2020 at 10:47 pm GMT

Do Deep State Elements Operate Within the Protest Movement?
Does a one legged duck swim in circles?

Ann Nonny Mouse , says: Show Comment June 14, 2020 at 11:42 pm GMT

@ICD Look into whether the training of cops has been outsourced and privatized. Or simply shortened to save money.

And ask why the police are even armed when in Communist China they are not, and traditionally in the non-American West they were not, now are in imitation of America.

ICD , says: Show Comment June 15, 2020 at 12:18 am GMT

Ann Nonny Mouse, truer words were never spoken. Chinese cops have these cute little nightsticks, and sometimes they will bop a guy and the guy just stands there and says Ow and the cops continue to reason with him, no restraint, incapacitation, any of that shit. British cops used to be that way, they used to reason with you. Now they're all American style Assholes, if not Israeli concentration camp guards. Just nuke FOP HQ in Memphis.

Koch sees privatization as a future profit center and a chance to control the cops himself. They're not trainable, they're too fucking stupid. We all did fine without pigs up through most of the 19th century. Hue and cry works fine. Fire all the cops and replace them with unarmed women social workers. That's all they are, prodigiously incompetent social workers.

ThreeCranes , says: Show Comment June 15, 2020 at 12:46 am GMT

Too, those many businesses with all that unsold inventory sitting around gathering dust due to Covid isolation will benefit from insurance payments covering their losses due to looting. The cherry on top.

niteranger , says: Show Comment June 15, 2020 at 1:18 am GMT

@Mike Whitney Whitney:

Are you just clueless or what? Did you notice the names of the Antifa leaders that have been exposed? They are Amish Right? They are Jews and they will always be Jews! Soros and other Jews have been running this game for a long time. Where have you been? SDS in Chicago no Jews there right!

The CIA and the FBI overwhelmed with Jews can you count? All the professors who have been destroying whites with their fake studies blaming everything wrong in the world on Whites and Western Civilization. The entire Media owned by who?

Either you were dropped out of a spaceship a few days ago or you are a total idiot and can't see the forest before trees.

Try this: The Percentage of all Ivy League Presidents, top adminstrators, deans etc take a guess then go count them and see which group they belong to.

Loup-Bouc , says: Show Comment June 15, 2020 at 1:38 am GMT

Does anyone believe the nationwide riots and looting are a spontaneous reaction to the killing of George Floyd?

It's all too coordinated, too widespread, and too much in-sync with the media narrative .

* * *

This a destabilization campaign similar to the CIA's color revolutions designed to topple the regime (Trump), install a puppet government (Biden), impose "shock therapy" on the economy pushing tens of millions of Americans into homelessness and destitution, and leave behind a broken, smoldering shell of a country easily controlled by Federal shock troops and wealthy globalist mandarins.

One must wonder: How could the CIA and the U.S. Democrat establishment foment and coordinate all of the Black Lives Matter protests occurring in Canada, several nations of South and Central America, the U.K., Ireland, throughout the European Union, and in Switzerland, the Middle East (Turkey, Iran ), and in Asia (Korea, Japan .) and New Zealand, Australia, and Africa?

Mr. Whitney: Neither magic nor bigotry-induced hallucinations can forge a tenable conspiracy theory.

Biff , says: Show Comment June 15, 2020 at 1:43 am GMT

@botazefa

and I don't work for the CIA.

Plausible deniability

MrFoSquare , says: Show Comment June 15, 2020 at 2:12 am GMT

I think the primary reason the mainstream media doesn't want the general public, especially those living outside the major cities, to understand the extent of the destruction and violence that spread in a highly-coordinated fashion across America, is that this would be cause for alarm among a majority of Americans who would demand more Law & Order, which would redound to Trump's benefit.

Notice Trump is countering by tweeting "LAW & ORDER!"

Here is Trump tweeting "Does anyone notice how little the Radical Left takeover of Seattle is being discussed in the Fake News Media[?] That is very much on purpose "

Does anyone notice how little the Radical Left takeover of Seattle is being discussed in the Fake News Media. That is very much on purpose because they know how badly this weakness & ineptitude play politically. The Mayor & Governor should be ashamed of themselves. Easily fixed!

-- Donald J. Trump (@realDonaldTrump) June 14, 2020

The outcome of the election in November could hinge on the urgency the public places on the issue of Law & Order. Hence the media's all out effort to minimize the extent of the Anarchy and Violence and the financial sponsorship, planning, and coordination behind it.

Loup-Bouc , says: Show Comment June 15, 2020 at 2:18 am GMT

@Mike Whitney Mr. Whitney:

Please see my comment of June 15, 2020 at 1:38 am GMT (comment # 34). I must apologize for that comment's insufficiency (owed to my posting that comment before I happened upon your comment to which this comment replies). Had I encountered your comment earlier, my June 15, 2020 at 1:38 am GMT comment (comment # 34) would have observed that you are triumphantly illogical as you are a world class crackpot.

obwandiyag , says: Show Comment June 15, 2020 at 2:42 am GMT

@ICD You said it. Police Departments country-wide are stuffed up the wazoo with more cash than they can spend. But what do they cry? Poor us. Poor us. We ain't got no money.

This is what they, and by they, I mean all our owners and their overseers, always do. They cry poverty when they are rolling in loot.

That way you get more loot!

Duh.

Biff , says: Show Comment June 15, 2020 at 3:08 am GMT

Do Deep State Elements Operate Within the Protest Movement?

Yes, and the left(unwittingly) will help them with their cause, and the right will cowardly hide right behind the deep state as protection from the violent left.

Revolutions made easy!

Brought to you by the blob incorporated.

JohnPlywood , says: Show Comment June 15, 2020 at 5:01 am GMT

@Priss Factor You are extremely unlikely to receive any of those things from a "Negro". 90% of Americans are unlikely to even see more than ten black people in their entire lives.

I wish you psychotic fucking female idiots on this website who are constantly blathering about black people could realize how annoying you are to the 90% of white people who are not living in or next to black ghettos. Please STFU and allow discourse to trend in more pertinent directions, and move away from black people if you're so paranoid about them.

Robert Dolan , says: Show Comment June 15, 2020 at 5:57 am GMT

Of course Antifa works for the deep state jews.

It was obvious after C 'ville.

Antifa has the full support of all of the 3 letter agencies;
ADL
FBI
CIA
DNC
DOJ

This is the very same Bolshevik scum the poor Germans had to deal with.

Al Liguori , says: Website Show Comment June 15, 2020 at 6:01 am GMT

@Mike Whitney The (((media))) have an uphill battle in convincing us to deny the evidence of our eyes -- black-hooded white punks throwing bricks through storefronts then inviting joggers to loot.

That is why so many platforms, even "free speech" GAB, are wildly censoring counter-narratives.

Thomasina , says: Show Comment June 15, 2020 at 6:37 am GMT

@Brian Reilly Stephen Molyneux said that police forces were originally geared to operate under white Christian societies where there was a high level of trust and people were law-abiding. I remember when I was a kid, we didn't even lock our doors. Our bikes were left out on the front lawn, sometimes for days, weeks, and nobody took them. Nobody locked their car doors. People just didn't steal other people's stuff. When a cop tried to pull you over, you didn't hit the gas pedal and take off. You didn't run from the cops; you were polite to them and they were polite to you.

Tucker Carlson said that Blacks are now asking for their own hospitals (I forget what city this was) and their own doctors and nurses. Blacks schools, Black police forces.

Tribes don't mix. Their culture is different than our culture. Why should they change for us, and why should we change for them?

It is a marriage that does not work. Either send them back to Africa (best solution) or give them Mississippi and put up a big wall. Then let them pay for their own upkeep – all of it. Good luck with that.

Sean , says: Show Comment June 15, 2020 at 6:47 am GMT

Yesterday the frat boy type who is mayor of Minneapolis was booed out of a mass meeting of radicals in that fair city because he refused to endorse abolishing the police force.

Mayor Jacob Frey got elected at his extremely young age by flanking on the Left with anti police rhetoric, He is the the originator of this crisis; as soon as the video of Floyd's death was public Frey publicly and literally called the four cops murderers and said he was powerless to have them arrested. That was a false accusation of police impunity, because the supposedly powerless Frey was able to order the police to vacate their own station thus letting the demonstrators take over and burn it. Yet to draw back a bit the Deep State if worried about other states.

That event Frey largely created was the key moment of this whole thing. Trump could have nipped it in the bud by had sending in troops immediately the Minneapolis 3rd Precinct was burnt down. Crushing the riots in that city and preventing the example infecting the demonstrations in other cities. and turning them into cover for riots. Trump did not want to be seen as Draconian although it would not have been at all violent, because no one is going to challenge the army's awesome presence once it arrived on the streets,as worked in the Rodney King riots.

The real target of this operation is the Constitutional Republic itself. Having succeeded in using the Lockdown to push the economy into severe recession, the globalists are now inciting a fratricidal war that will weaken the opposition and prepare the country for a new authoritarian order.

George Floyd had foam visible at the corners of his mouth when the police arrived. Autopsy tests revealed Fentanyl and COVID-19: both from Wuhan. I Can't Breath is America gearing up to confront and settle accounts with Xi's totalitarian state.

Current events might seem to be a setback for the US, but provide the opportunity for a re-set with the black community, with a potential outcome of resolving race tensions that have been a cause of dissension and internal weakness, just as during the Cold War racial integration was thought essential by anti communists like Nixon. America is gearing up to settle accounts with China, which is a Deep State new Cold War. While it is a possibility that whites could lose control of their society, and see it fall into the hands of an explicitly anti -acist elite/ minorities alliance, the Deep State is not the same as the hyper capitalist elite whose growing wealth depends on China.

Do Deep State Elements Operate Within the Protest Movement?

Yes, and it is a good thing.

Thomasina , says: Show Comment June 15, 2020 at 7:56 am GMT

@Mike Whitney The Duran did an excellent video titled "Social Media 'Unchecked Power'" where they talk about Trump and Barr going after the tech companies and their virtual monopolies with an executive order.

At 33:45 they state that Microsoft (Bill Gates) invested $1 billion and the CIA invested $16 million into Facebook when it was still operating as a university network. The CIA were one of the first investors in Facebook.

https://www.youtube.com/embed/OwPVQ8N8hhk?feature=oembed

Why the hell was the CIA investing $16 million to get Facebook off the ground? Hmmm. Could it be because Facebook would be instrumental in controlling the narrative?

The young people, who have no experience and no real knowledge of history, are being taken in by these social media companies who are playing on their emotions. Any dissenting opinions are blocked or banned. Very dangerous.

Gast , says: Show Comment June 15, 2020 at 8:12 am GMT

@Loup-Bouc Well, the "deep state" is just an euphemism for the jewish power structure, and all those places you named are run be jews. That jews cooperate in extended conspiracies without regard of borders should be common knowledge for every observer of history and current politics. I see nothing far-fetched. Honestly, my mind would boggle if I should explain, how the Antifa gets away with those things it always gets away with, if it wasn't controlled by the "deep state". And I couldn't explain the international cooperation either.

GMC , says: Show Comment June 15, 2020 at 8:15 am GMT

As Pepe' Escobar said – Americans looting is a natural thing – just look at how the US Military has stolen the gaz and oil from Iraq, Syria, Libya, etc. and is trying like hell for the Venezuelan oil fields. Not to mention where all their gold, silver and billions of dollars have gone. The list of the USG looting criminal record is unprecedented . It's a Family Tradition. Enjoyed the article !

Thomasina , says: Show Comment June 15, 2020 at 8:37 am GMT

@MrFoSquare The Capitol Hill area of Seattle that has been taken over as an "autonomous zone" by the protesters is really rather laughable.

One of the first things they did was put up what they called "light fencing". Oh, so when THEY put up walls, that's perfectly fine. When Trump tries to do it, that's evil and racist. Borders are A-okay when they're doing it.

They've colonized an area for themselves. I thought the Progressive Left was against colonialism, taking someone else's property. Isn't that what they've done? They've taken over whole neighborhoods.

And they've got armed patrol guards checking people as they enter. If you're not in agreement with their ideology, you're not allowed to enter. So apparently it's okay to have border controls when they're running the world.

They're doing everything they profess to be against. Hilarious.

Thomasina , says: Show Comment June 15, 2020 at 8:48 am GMT

@niteranger Along with the tech and social media companies, Hollywood, State Department, Department of Justice.

Some Guy sdfsdfs , says: Show Comment June 15, 2020 at 8:59 am GMT

@Brian Reilly "anonymous, I have been encouraging cops to quit for a long time."

Dude, why? I don't want to get jacked by some thug or some immigrant policeman from Honduras. And I can't defend myself because it would be a hate crime.

Thank God for white cops.

peter mcloughlin , says: Show Comment June 15, 2020 at 9:02 am GMT

There are underlying motives, or "hidden agendas", beneath the authentic struggle for justice. The greatest motive is for power: either to retain it or gain it. The need or desire for power can be identified in every conflict in history.
https://www.ghostsofhistory.wordpress.com/

Thomasina , says: Show Comment June 15, 2020 at 9:23 am GMT

@Realist So you think that everything they've done to Trump has been one big show and he's been in on it? The pussy tape, Stormy Daniels, spying on his campaign, the leaking, the Steele Dossier, Russiagate, Ukrainegate, his impeachment, lying to the FISA Courts by the FBI, CIA's involvement, Mueller Report, DNC server, Clinton and Loretta Lynch on the tarmac, fake news media, sanctuary cities, courts disobeying his executive orders, Covid-19, protests – all of it has been a ruse to fool us into thinking that Trump is a legitimate opposition?

What, it's better to have the citizens split politically 50/50? That way there's never a majority who start throwing their weight around and making trouble for the elite looters? Keep the people fighting among each other and divided?

Trump has gone through all of this, but he's just faking it? Are we Truman from the Truman Show?

I guess you could be right, but what if you're not? What if Trump is actually an outsider? He's never really ever been part of the elite, not really. If he is truly an outsider, then these people have been a party to an attempted coup against a duly-elected President.

And if so, then that's sedition and they should hang.

Just a random Polish guy , says: Show Comment June 15, 2020 at 9:35 am GMT

@PetrOldSack Trump is just a puppet, well maybe a bit more, of the part of the MIC and Deep State that apparently has a different agenda. This is not to say that they are "good people" but they seem to want to keep the US as a functioning republic and a major power. Maybe they have some plans re the other group(s) in the elites that are extremely dangerous for those groups. Which would explain why those groups ("globalists") want to remove those elements of influence people behind Trump get from the fact that he is the president. This explains why fake Covid-19 was so pumped by the media and when that apparently did not work they moved on to BLM "color revolution". It is interesting how all of this plays out, as it will decide the fate of the world. Ironically, Xi, Putin and other leaders that represent groups wanting to maintain (some) sovereignty of their states have a common enemy, even as their states are in competition, namely "globalist" elements within their own power structures.

James N. Kennett , says: Show Comment June 15, 2020 at 9:39 am GMT

One of the goals of the British security service, MI5, is to control the leader or deputy leader of any subversive organisation larger than a football team. The same is likely true in every country.

The typical criticism of MI5 is that it is too passive, and does not use its knowledge to close down hostile groups. In Algeria, the opposite happened: the Algerian security service infiltrated the most extreme Islamist group in the 1990s and aggravated the country's civil war by committing massacres, with the goal of creating public revulsion for the Islamists.

This range of possibilities makes it hard to figure out what the Deep State and other manipulators are doing.

Thomasina , says: Show Comment June 15, 2020 at 9:47 am GMT

@Sean Frey is a weak Leftist. The equally weak Governor (another Leftie) needed to handle the situation. He didn't. Trump told him that the feds would help if he asked; he didn't.

This is all on the state and local governments. They did nothing except to tell the cops to stand down while the city got looted and burned.

If Trump had sent in the military, they would have screamed blue murder. They probably would have called for his impeachment. Of course, that's what they wanted Trump to do. Thank goodness Trump didn't fall for their trap.

Commentator Mike , says: Show Comment June 15, 2020 at 9:58 am GMT

So the NYT has joined the vanguard af the American People's Revolution?! People change sides and not all organisations are uniform, even the CIA. There has to be some organisation to these protests and whoever is providing it, I doubt the protesters are complaining, but want even more of it, and for it to be more effective, widespread and to grow. And finding protesters is no problem now or in the future considering the state of the economy, business closures, rising unemployment, expensive education. What are all these young people supposed to do? Sit at home playing video games, surfing porn, watching TV? Or go on a holiday? Now in these circumstances? I guess they're bored with all that so they may as well hit the streets and stay on the streets as they'll be on the streets anyway when they get evicted because they can't pay the rent. And as they're being impoverished they may as well steal what they can. And obviously they don't fear arrest and are happy to get a criminal record since even a clean sheet won't get them a job in the failing economy, and they know that. I'm sure many want a solution that will provide for their future. But who is providing it? So it's on them to create it. Of course politicians will want to use them and manipulate them for their own ends. And the elites, and the deep state too. And sure there are Jews in it as in anything. And sure they're fat, ugly, and degenerate – they're Americans reflecting their own society. But where it goes nobody knows

Commentator Mike , says: Show Comment June 15, 2020 at 10:12 am GMT

@Sean So the Chinks killed George Floyd, and not the cops. LOL.

animalogic , says: Show Comment June 15, 2020 at 10:55 am GMT

@Mike Whitney "Is Antifa a group of deep state agitators? That's the question."
99% of them wouldn't have a clue as to any larger strategic direction. Sorry,
but to repeat myself: "useful idiots".

onebornfree , says: Website Show Comment June 15, 2020 at 11:01 am GMT

"Do Deep State Elements Operate Within the Protest Movement?"

Well, duh! It seems likely that the entire George Floyd murder on camera was a staged event, its even possible that he/it was never really killed. See:

PSYOP? George Floyd "death" was faked by crisis actors to engineer revolutionary riots, video authors say

" Numerous videos are now surfacing that directly question the authenticity of the claimed "death" of George Floyd by Minneapolis police. Several trending videos appear to reveal striking inconsistencies in the official explanations behind the reported death of Floyd. These videos appear to reinforce the idea that the George Floyd incident was, if not entirely falsified, most definitely planned and rigged in advance. It is already confirmed that the Obama Foundation was tweeting about George Floyd more than a week before he is claimed to have died. "

"Obviously, since Barack Obama doesn't own a time machine, the only way the Obama Foundation could have tweeted about George Floyd a week before his death is it the entire event was planned in advanced.

Note: We do not endorse every claim in each of the videos shown below, but we believe the public has the right to hear dissenting views that challenge the official narratives, and we believe public debate that incorporates views from all sides of a particular issue offers inherent merit for public discourse.

Numerous video authors are now spotting stunning inconsistencies in the viral videos that claim to show white cops murdering George Floyd in broad daylight. Without exception, these video authors, many of whom are black, believe:

at least one of the "police officers" was actually a hired crisis actor who has appeared in other staged events in recent years.

that the black man depicted in the viral videos is not, in fact, an individual named George Floyd.
that the responding medical personnel were not EMTs but were in fact mere crisis actors wearing police costumes.

Each of the video authors shown below reveals still images and video clips that they say support their claims. Here's an overview of some of the most intriguing videos and the summary of what those videos are saying: .":

https://jamesfetzer.org/2020/06/mike-adams-psyop-george-floyd-death-was-faked-by-crisis-actors-to-engineer-revolutionary-riots-video-authors-say/

Regards, onebornfree

animalogic , says: Show Comment June 15, 2020 at 11:05 am GMT

@Mike Whitney I think you are correct Mike. IF blm got $100 million from anyone it follows that they are beholden -- & the only entities capable of such "generosity" are "establishment" it therefore follows that BLM are beholden (controlled) by the establishment ( .the deep state .)

Really No Shit , says: Show Comment June 15, 2020 at 11:09 am GMT

Now the New York Times thinks that the black, brown, white and yellow lives are dispensable does it mean their own GRAY lives matter more to the rest of us? No, it does not!

Christophe GJ , says: Show Comment June 15, 2020 at 11:09 am GMT

The scale and coordination alone suggests that elements in the deep state are probably involved.

It seems right and logical.
But what I don't understand, is why the deep state elite don't understand that in the end the collapse of the "traditional society" will touch them too in their private life. In the long run the ruining of the US will ruin everybody in the US including them. Don't they get it ? Maybe they are intoxicated by their own lies are are begining to lose their lucidity. Like Al Pacino intoxicated by his own coke in scarface.

Digital Samizdat , says: Show Comment June 15, 2020 at 11:10 am GMT

@obwandiyag Meanwhile, who's paying for BLM and Antifa?

Biff , says: Show Comment June 15, 2020 at 11:22 am GMT

@JohnPlywood Triggered troll

animalogic , says: Show Comment June 15, 2020 at 11:33 am GMT

@MrFoSquare What we need are some solid numbers:
How many arrested? (& who are they?)
How many properties destroyed?
Dollars worth of damage?
Which cities had the worst damage?
A social media "history" of protest/riot posting ?
Where/who are responsible for brick/frozen water bottle stashes?
Travel histories of notable offenders?
Links between "protesters" & the media ?
Money? Who/what/when/how was all this funded on a day-to-day basis.
And so on.

John Thurloe , says: Show Comment June 15, 2020 at 11:48 am GMT

Mike Whitney doesn't know the first thing. It takes a lot of organizing time and personnel to properly prepare and lead in the field any large public protest. There are people experienced in this. Getting them together and deploying their capability is required.

These protests are classic unplanned, spontaneous actions. At least the first major wave of them. Only after some time will parties try to lead, organize. Or manipulate.

First thing, it's like trying to herd cats. So, you need marshals. Lots of them. Ably led, and clearly seen. Just to try and steer a protest down one street or to some point. You need first aid available, provision for seniors and children. Water. Knowledgeable people to deal with the media.

People who know what they're doing to deal with senior police. With city transit, buses, taxis. Hospitals, road construction, fire departments. A good protest cleans itself up too so provide the means for that. Loudspeakers, music – all this an more has to be organized. By some people.

And 100% of this or even a hint of organizing is not evident at these protests. And the evidence is easy to see. Organizers advertise too for volunteers. Everything in plain sight for those with eyes to see.

If you are stupid enough to think that some handful of fruitcakes from some official agency could even find their way to a protest, actually have a clue how to conduct themselves and not get laughed at or just ignored – there's no hope for you. You know nothing about protests and are pedalling fantasy.

Gryunt Linglebrunt, 7th Level Bard , says: Show Comment June 15, 2020 at 12:13 pm GMT

@obwandiyag As usual, you're completely delusional. Most police departments are in the exact same boat as the municipalities that fund them: one downturn (like, say, a public lockdown followed by public disorder and looting) from going right to the wall.

There won't be any need to "defund" police; most of America's cities and towns are soon to be on the bread line, looking for those Ctrl-P federal dollars. Quarterly deficits of twenty trillion, here we come!

Uomiem , says: Show Comment June 15, 2020 at 12:33 pm GMT

@Thomasina The power elite have different factions and they fight each other to a point, but they do not try to expose each other. This is why none of Trump enemies are going to be put in prison.

This is why Trump supports don't know what Genie Engery is, not that they would care.

The scum Trump appointed should tell you what side he's on.

Dr. X , says: Show Comment June 15, 2020 at 12:39 pm GMT

I don't know if Antifa is run directly by the three-letter FedGov agencies. But I do know that the university is the breeding ground for these vermin, and all universities, even "private" ones, are largely funded by the governmnent, and are tax exempt.

So yes, the government is behind Antifa.

Niebelheim , says: Show Comment June 15, 2020 at 12:42 pm GMT

@schnellandine The Hispanics in America are similar to waves of Italians in the late 19th and early 20th Centuries, except the numbers are far larger and never ending, which impacts assimilation. The Hispanics are the ones doing the hard physical labor for low pay, and they are the ones in American society to invest in learning the skill to perform some of those backbreaking, low paying jobs well. They are the Super Marios of today. Many of them ply their trades as small businessmen. They are thankful for their jobs and the people they serve.
Many are loving, salt-of-the-earth type people who genuinely love their blanco friends. Howard Stern thinks their music sucks but at least they sing songs about el corazon, music of the heart and of love. (No one is comparable to the Italians in that department, but what do you suppose happened to the beautiful love music produced by black male vocalists as late as a generation ago?) Except for the fact that Hispanics come from countries with long traditions of corrupt, El Patron governments which unfortunately they want to enact here as a social safety net, they are often traditional in their attitudes about religion and family. Of course, they get in drunken brawls, abuse their women, and the graft and incompetence in their institutions can be outrageous. The reason they flee here is because the world they've created themselves in the shithole places they've leaving isn't as good as the West created by Caucasian cultures. The law abiding, decent family people I'm speaking of prosper alongside of whites and many come to recognize that whites and Hispanics can build a common destiny that's far preferable to the direction black agitators are taking blacks in America.

Realist , says: Show Comment June 15, 2020 at 12:45 pm GMT

@Thomasina

So you think that everything they've done to Trump has been one big show and he's been in on it? The pussy tape, Stormy Daniels, spying on his campaign, the leaking, the Steele Dossier, Russiagate, Ukrainegate, his impeachment, lying to the FISA Courts by the FBI, CIA's involvement, Mueller Report, DNC server, Clinton and Loretta Lynch on the tarmac, fake news media, sanctuary cities, courts disobeying his executive orders, Covid-19, protests – all of it has been a ruse to fool us into thinking that Trump is a legitimate opposition?

Absolutely.

Keep the people fighting among each other and divided?

Yes, but the elite do not fear the majority they are in complete control through insouciance and stupidity on the majority.

I guess you could be right, but what if you're not? What if Trump is actually an outsider?

He's not his actions and inactions are impossible to logically explain away he is a minion of the Deep State.

Old and Grumpy , says: Show Comment June 15, 2020 at 12:49 pm GMT

@botazefa Does either Trump or the GOP strike you as opposition when all they do is snivel. This operation is about demoralizing the silent majority.

Desert Fox , says: Show Comment June 15, 2020 at 12:50 pm GMT

The protest movement is directed and controlled by the same zionists who control the government and their goal is the destruction of America and they are being allowed to do the wrecking and destruction that they are doing, as this helps full fill the zionist communist takeover of America.

To see where this is leading read up on the bolshevik-communist revolution in Russia and the communist revolution in China and Cuba and Cambodia, and there is the future of America.

Realist , says: Show Comment June 15, 2020 at 12:55 pm GMT

@John Thurloe You are gullibility personified or a troll.

Old and Grumpy , says: Show Comment June 15, 2020 at 1:02 pm GMT

@Christophe GJ They enjoy human suffering. Who knows maybe their compensation is linked to dead bodies. The deep state types will dwell in gate communities that will never be breached. The perks of owning both segments of the "opposition." As for the CIA's owners, a sharp depopulation has been their goal for some time. Why it has to be so ghoulish and prolong is anyone's guess.

Avalanche , says: Show Comment June 15, 2020 at 1:06 pm GMT

@Brian Reilly "To the issue at hand, black people should only be policed, arrested, charged, prosecuted, defended, judged, and (if found guilty) punished by other blacks."

Yeah, some city tried that. To try to satisfy the "Get White police out of our neighborhoods" they did -- they re-orged and sent only black cops into black neighborhoods, and let the White cops police the White neighborhoods. And the BLACK POLICE SUED to end that! They were, they claimed (and legitimately, too!) being treated unfairly by making THEM police the most violent, the most dangerous, the most deadly neighborhoods, and "protecting" the White cops from that duty by letting only the White cops work the nice neighborhoods. They WON too!

This commenter gets it when he wrote the following. http://stuffblackpeopledontlike.blogspot.com/2015/05/will-last-white-person-to-leave.html

(note: "IKAGO" = "I know a good one." the all-too-often excuse from the unawakened!)
=====================
I don't mourn the loss of Baltimore. Or Detroit, Chicago, Gary, Atlanta, etc etc etc.

It is ultimately a huge benefit to have Negroes concentrated in these huge teeming Petri dishes.

As always I advocate the complete White withdrawal from these horrible urban sh_tholes, and as always I advocate that since Negroes do not want to be policed, to immediately stop policing them.

And to anyone who might be naive enough to say "hey, there are good people in those neighborhoods, who try to work and raise their kids, who obey the law and who abhor the lawlessness and rioting as much as anyone" . my response is that these same IKAGO's voted for a Negro president, for Negro mayors, Negro city council members, Negro police chiefs and Negro school superintendents, and now they are getting exactly what they deserve, good and effing hard.

I have ZERO sympathy for blacks.
=====================

And the new rule:
Remember when seconds count, the police are not even obligated to respond.

jadan , says: Show Comment June 15, 2020 at 1:11 pm GMT

Of course "deep state elements" operate in protests! What A STUPID question, Whitney. All kinds of political tricksters, manipulators, provocateurs, idiots, fools, people suffering from ennui, you name it Mike, they're involved. And yes, the murder of the black man in Minneapolis was the trigger.

That's not the only cause of social unrest. There are lots of reasons that drive the displeasure of the mass of people and it's not the silly "deep state". Before you use that term, if you want any sort of salute from intelligent people, you need to define your terms. Or are just just waving a red flag so you can attract a bunch of stupid Trumpsters?

There's a whole lot of deep state out there, good buddy. Just examine the federal budget and whatever money you cannot assign to a particular institution or specific purpose, that is funding your your "deep state". It's billions and billions. But there is no Wizard of Oz behind the curtain to spend it all on nefarious purposes. Sure, the deep state destroyed the WTC and killed a few thousand people. These hidden operators can do things civilians can only imagine, but they cannot create movements, Whitney. You just can't fool all of the people all of the time.

Are you having a touch of brain degeneration, Mike, like dear autocrat in the White House?

Chet Roman , says: Show Comment June 15, 2020 at 1:15 pm GMT

A great article. While Trump may have some ties to the Deep State, I doubt very much that he is their puppet. He won the nomination because he was against some of the Deep States key policies. He even tried to implement his policies but mostly failed due to traitors in his administration and all the coordinated coup attempts.

One recent development that causes me to think that this article is spot on is the blatant attacks by retired generals and even currently serving generals against a sitting president. Even Defense Sec. Esper (the Raytheon lobbyist) criticized Trump's comments on the Insurrection Act, which was totally unnecessary since Trump only said that he had the authority to use it.

The coordinated criticism of the generals just reminds me of how similar it is to the coordinated effort by the CIA, FBI, State Department and NSA to use the Russiagate hoax and impeachment hoax to remove Trump. The riots, the money funneled from BLM to Biden 2020, support of Antifa by the MSM and the generals treasonous actions are not coincidences.

the_old_one , says: Show Comment June 15, 2020 at 1:28 pm GMT

I'm surprised by the generally low level of the responses.

Mr. Whitney:

There haven't been 'millions' of protestors, maybe some thousands.
Please list the "valid grievances" that negros hold concerning the cops; are the cops supposed to raise black IQ? These riots need to be suppressed pronto; don't waste your time waiting for the fat orange buffoon to do anything.

Negros have no 'communities', and never will.

I'm wondering why Mr. Unz thinks he is required to let leftists like Whitney post here.

(1)-There is a 'deep state'
(2)-(1) does NOT imply that negros are a noble race.

You may now resume sympathizing with rioters.

Justvisiting , says: Show Comment June 15, 2020 at 1:39 pm GMT

@botazefa The international protests are what is called a _clue_.

Protesting white supremacy in Japan–really?

https://globalnews.ca/news/7064204/george-floyd-protesters-japan-new-zealand/

This is obviously international deep state activity–they are up to no good.

Digital Samizdat , says: Show Comment June 15, 2020 at 2:11 pm GMT

@Thomasina CHAZ sounds a bit like a second Israel, doesn't it!

anonymous [400] Disclaimer , says: Show Comment June 15, 2020 at 2:18 pm GMT

The opening statement is quite true. They've apparently been organizing under the radar for some years now. Diversity is our greatest weakness and these fissures that run through the country can be exploited. Blacks have been weaponized and used as the spearpoint along with the more purposeful real Antifa (lots of wannabes walking around clad in black). Everything has really been well coordinated and the Gene Sharp playbook followed. These 'color revolution' employees are actually all over the globe, funded by various front groups and NGOs. The money trail often leads to various billio