---
Casino Capitalism: Neoliberalism in Western countries
"When the capital development of a country becomes a by-product of the activities of a casino, the job is likely to be ill-done" ~ John Maynard Keynes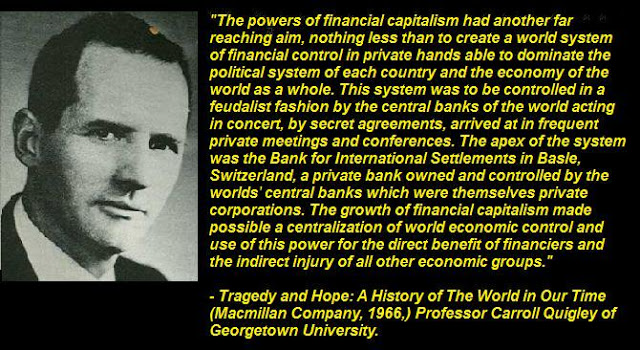 PseudoScience > Who Rules America > Neoliberalism
Due to the size the introduction moved to Casino Capitalism: Neoliberalism in Western countries
---
---
bevin , Dec 13 2019 17:15 utc | 75

Corbyn's defeat was entirely due to the treachery of the engrained leadership of the Labour Party.

While the membership is generally radical and socialist, 80% of the MPs, local councillors, Union Officers and party officials were put there by the Blairites and are almost impossible to remove from the offices in which they have enormous potential influence.
Corbyn was in an almost impossible position but his mistake was, characteristically, to assume a higher degree of good will and loyalty to the 'cause' than most MPs, careerists, contemptuous of ordinary people and desperate for the approval-in a society which is famous for its social snobbery- of the ruling Establishment.

It is significant that, whereas Johnson expelled dozens of MPs from the Tory party, Labour expelled only one-Chris Williamson on the basis of an obviously idiotic charge of antisemitism on his part.

Sometimes left wing winners have to be ready to fight to the death to secure the mandates they are given and in doing so to damage the opposition. In this case the Blairites.

Sometimes betraying the working class and the poor takes the form of refusing to be ruthless.

The irony is that Corbyn is by far the longest standing critic of the EU in British public life, as the Blairites very quickly charged when the referendum on the EU (" a highly democratic organisation" in Laguerre's astonishing judgement) was won by the 'wrong side'. And in 2017 he campaigned on the promise to 'get Brexit done". It was only out of a refusal to confront the Remainers, including most of his Shadow Cabinet, that the hybrid policy to implement the Blairite Peoples Vote was adopted.
I imagine that the Remainers in the Labour Party and the Blairites of every sort will be saddened by the public's renewed mandate for Brexit, but their dominant emotion will be euphoria that the left was defeated, neo-liberalism still reins unchallenged and imperialism maintained in British Foreign Policy.

If the Labour Party now sticks to its principles it will purge itself of its Fifth Columns and use the breathing space before the next election to re-organise itself as a socialist party.

To do this it needs firstly, to establish a newspaper, secondly to build a Youth wing, thirdly to institute a national system of political education so that every member understands what socialism is and takes a part in its construction. And fourthly that Labour becomes the organising focus for both Unions organising the unorganised and social movements defending tenants, the poor, disabled and vulnerable.

But this is all very unlikely, the party structure is biassed against democracy, it is almost impossible to impose the will of the membership on the people who run the party. And ought to be run out of it.

JC was crucified, by authority of the Empire, at the urging of the Israeli authorities in Jerusalem and with the invaluable assistance of corrupt traitors among his own people
by John Quiggin on December 14, 2019

Now that Brexit is almost certainly going to happen, I'm reposting this piece from late 2016 , with some minor corrections, indicated by strike-outs. Feel free to have your say on any aspect of Brexit.

Since the collapse of faith in neoliberalism following the Global Financial Crisis, the political right has been increasingly dominated by tribalism Trumpism. But in most cases, including the US, this has so far amounted to little more than Trilling's irritable mental gestures . To the extent that there is any policy program, it is little more than crony capitalism. Of all the tribalist Trumpist groups that have achieved political power the only ones that have anything amounting to a political program are the Brexiteers.

The sustainability of tribalism Trumpism as a political force will depend, in large measure, on the perceived success or failure of Brexit. So, what will the day after Brexit (presumably, sometime in March 2019) look like, and more importantly, feel like? I'll rule out the so-called "soft Brexit" where Britain stays in the EU for all practical purposes, gaining some minor concessions on immigration restrictions. It seems unlikely and would be even more of an anti-climax than the case I want to think about.

Hidari 12.14.19 at 9:14 am (no link)

Doubtless one of the attractions of Brexit at least to those who thought it up (Farrage etc.) is that it is a completely token rebellion: it appears to change very much while in reality changing very little.

Only one thing:

'On the contrary, it seems pretty clear that all EU citizens will get permanent residence, even those who arrived after the Brexit vote.'

Are we completely sure about this?

'One thing that this post missed completely is that Brexit is an entirely English project, imposed on the Scots and Irish. That's become more and more evident, and looks sure to dominate the days after Brexit happens.'

I kept on putting this point forward in various CT threads, getting, for some reason, massive pushback*, despite the fact that it is obviously true and always has been. Perhaps a colour coded map of the 'new' UK (which shows, essentially, the entirety of England as blue, with the exception of larger conurbations), the Welsh speaking ('outer') parts of Wales as green, essentially the entirety of Scotland as yellow, and the majority of the North of Ireland as being green, will make that point for me.

*I'm not sure why, but I think it's something to do with an unwillingness to see that in all four sections of the 'United' Kingdom we are seeing an eruption of nationalism: the SNP in Scotland, Sinn Fein in NI, Plaid in Wales and of course the Tories in England, with the Tories now functioning as, so to speak, the political wing of UKIP, or, if you want, UKIP/the Brexit Party with the 'rough edges' shaved off.

'Liberal' intellectuals have always had a blind spot for nationalism, and have always tended to reason that because nationalism is 'irrationalism' or whatever, that no one could 'really' think that way and that, therefore, nationalism doesn't 'really' exist. It obviously does, as a 1 second glance at the 'new' UK map will demonstrate.

likbez 12.14.19 at 4:57 pm (no link)

Everything Trump does is consistent with regular conservatism

I respectfully disagree. It is not. Paleoconservatives hate Trump. Neocons for some strange reason also hate Trump, although it is not clear why -- he completely folded and conduct their foreign policy. Which is as far from classic conservatism as one can get.

I view Trumpism as specific for the USA flavor of "national neoliberalism" -- domestic neoliberalism without neoliberal globalization, or with globalization of a different type. The one based on bilateral treaties where stronger state can twist hands of the weaker state and dictate the conditions -- kind of neo-imperialism on steroids ( neoliberalism always was neo-imperial in foreign policy toward weaker states) .

The irony of Corbin defeat is that he was/is a critic of the EU imperialism, which by-and-large is Franco-German imperialism (EU role in Yugoslavia, Iraq, Ukraine, Libya, Syria, Greece) . The EU is not the dominant superpower, so it can't bully the US or China, or Russia. It can do it only when dealing with lesser powers. That's why it's difficult for anyone living inside a major EU-member to actually notice such a behavior: the desire to crush resistance of any lesser country and to force it to abide by its very own rules, whether the other countries want it or not.

The Blairites euphoria that the left was defeated, and neoliberalism still reins supreme is IMHO unwarranted. Neoliberalism as an ideology is dead and that means that Labour Party in its current form is dead as well. The same is true about the US Dems. They can achieve some tactical successes but they can't overturn their strategic defeat.

And Brexit means more close alliance with the USA (in a form of subservience) as alone GB can't conduct previous imperialist policies. It was punching above her weight within the EU (with Scripals false flag as the most recent example, see Tony Kevin take on the subject https://consortiumnews.com/2019/12/08/a-determined-effort-to-undermine-russia ) , and this opportunity no longer exists.
---

Manthong , 2 hours ago link

Does Alcatraz have enough wall space to accommodate all

Bricker , 3 hours ago link

The majority of the US would be in favor of shutting the FBI down.

j0nx , 3 hours ago link

No. We cannot.

ZENDOG , 3 hours ago link

35,000 Humans work directly for the FBI.
Break up Silicon Valley, they are trying to take over the world, they think they are above the gov't and the Constitution!

Joe OConnor , 7 hours ago

Big Corp and unions influence gov to much as well as foreign lobbyists Listen to the American people
When Liberal governments fail to provide answers for economic despair the road is paved for strong-armed, bloviating fascists. And the more desperate things become fascism will only get stronger if history is any indication.
ban nock on Fri, 12/13/2019 - 6:18am and the analogies with Sanders and the US only go so far.

Politics in the US, Britain, and Europe in general are being upended, I'd caution against pigeon holing things into the old left/right, Dem/Repub, Tory/Labor, scenario.

Britain's Labor similar to America's Democratic Party has lost lots of it's legitimacy with working people. Globalisation has decimated cities like Liverpool and Manchester. Labor didn't support Brexit, the biggest issue in politics in Britain. Being a part of the EU allowed workers from Eastern Europe to enter England and directly compete for low skilled jobs.

Labor in England also included upper middle class woke culture, which is very pro EU and anti Brexit. It's impossible to imagine a pro Brexit leader in Labor just as much as it is impossible to imagine working class people in England supporting the loss of their jobs via Remain. People voted for their economic self interests, can you blame them? As in the US there are more working class voters than there are upper middle class intellectuals.

Boris Johnson promised increased funding for the National Health Service, not tearing it down as many seem to suggest. Whether he does so is yet to be seen, but I wouldn't read his win as a rejection of the social safety net. Socialism is for many some kind of intellectual game, the working class is much less interested in ideas, and much more interested in health care, higher wages, and better conditions overall.

Ever since I watched Bernie Sanders' rise in the primaries in 16 I've felt he would be a much stronger general election candidate than he is in the primaries. As contrary as Trump might seem to hard core political junkies, Trump did steal many of Sander's memes and use them in the general election. Most wage earners actually do feel powerless in the face of the corporate overclass, they feel things getting worse not better.

To have even a snowball's chance in the pre primaries, the endless positioning and twitter wars that have occurred for months prior to even our first primary, Sanders is now committed to many of the same positions as the woke side of the Democratic Party. There might well be a big enough drop off of Hispanics, African Americans, and Working Class Dems of all hues to lose this thing again, even if Sanders wins the primary. The Democratic Party has lost working people even as it has gained Country Club Republicans from the suburbs.

Last night as the results were obvious I watched the old DK, the NYT, and other web sites. Stunned Silence. It's as if they didn't realize 2016 happened and were surprised all over again.
The impeachment . The two articles of impeachment are so anemic as to invite ridicule.

1. "Abuse of power" by expressing concern over thievery by Ukrainians and Americans? This is a charge? The Washington Post has been running a series of articles based on "leaked" US Afghan IG reports and interviews with people involved in that wretched place. These articles reveal the massive scale of the thievery that lost America enormous amounts of money taken through graft and bribery. Was it unreasonable for this president to solicit the Ukrainian president's cooperation in trying to deal with a similar situation in that country. He mentioned Uncle Joe Biden and his drug addled son? Well, why not? The younger of the two has IMO been used as the family bag man for collecting protection money. Joe Biden himself looks to me to be a political version of Jimmy Hoffa the mobbed up Teamsters boss of long ago, but, with less charm, "a little for you, a lot for me," etc. He was potentially a rival for the 2020 election? He was not then a candidate. Is every human or semi-human to be exempt from investigation and prosecution because he MIGHT become a political rival? The Democrats know full well this would be absurd.

2. "Obstructing congress" What we are seeing in the behavior of the Democratic majority in the House and minority in the senate is an attempt to seize control of the federal government using the constitutional powers to "advise and consent" on appointments and the ability to impeach in the House.. They have not yet tried to impeach federal judges appointed by the other party but IMO they will try that soon. In this article of impeachment they claim that the president has obstructed their function by relying on the doctrine of Executive Privilege to deny them access to his present and past staff. Trump did not invent this doctrine. It is a well established feature of American law. Without it no president could conduct internal policy discussions or confidential discussions with foreign leaders. The Democrats know full well that the principal of Executive Privilege is often contested in the courts. That is what they should have done this time, but instead they have chosen to charge the president for impeachment for claiming Executive Privilege. They do not claim this is a violation of law. They merely stamp their feet and scream that they are unhappy and want him gone.


This farce will end in a trial in the US Senate with the Chief Justice of SCOTUS presiding. The Republicans control the senate and will not allow Trump to be deposed. The senate can dismiss the charges by a simple majority vote and that is what Senator Lindsey Graham wants to see happen. Trump does not want that. He wants to be tried for the purpose of turning the tables on the Democrats.

I think he is correct in wanting that. If that occurs, witnesses must be subpoenaed and examined in open court. The Bidens must be so called to demonstrate the reasonable nature of Trump's concern over their behavior in Ukraine . pl

---

Enrico Malatesta , 13 December 2019 at 12:52 PM

I don't think that Trump gets what he wants from the Senate - the Swamp is too deep in the US Congress.

James Lung , 13 December 2019 at 01:21 PM

Just wondering. Suppose the Senate dismisses the Impeachment. Won't the Chief Justice have to rule on the question of whether or not there is at least probable cause for the democrats' determination that this is probable cause to Impeach?

Factotum said in reply to James Lung... , 13 December 2019 at 09:32 PM

Chief Justice could rule on a demurrer which would dismiss the case without a trial - failure to present prima facie elements of the underlying charge. Therefore nothing of fact is triable - case dismissed.

Which is probably why Democrats ditched the more specific treason, bribery and extortion charges, leaving only the garbage can of "abuse of power" and "obstruction" behind. By what standards of evidence are both those remaining elements - abuse of power and obstruction -- even tried, let alone judged?

blue peacock said in reply to srw... , 13 December 2019 at 03:10 PM

That's obvious.

Biden on camera bragging about a quid pro quo to fire a prosecutor examining corruption at a company where Biden's son is on the board taking a fat paycheck with no experience or expertise to have that position.

Bill Wade , 13 December 2019 at 01:39 PM

Am wondering if President Trump can force the trial or if he has to defer to Senator Graham's wishes? TIA

Diana C , 13 December 2019 at 01:41 PM

I agree that Trump should get his wish. He has endured a lot of false "reporting." And those untruths need to be shown for what they are. I wonder if Mitch McConnell would be able to arrange that despite Graham.

I know that Trump's personality attracts that sort of shocked response from some people. Heck, I'm a Republican and was first also opposed to Trump because of his personality. But I'm of the opinion that the Democrats and their fawning media characters have earned a lot of the same sort negative responses and disgust on the part of the people because their personalities are pretty off-putting also.

I'm still suffering from cognitive dissonance because Adam Schiff has somehow actually remained in his elected position. I can't imagine a high school principal allowing someone who does "parody" to continue as a student council candidate.

I do believe that Nancy Pelosi may be really sinking into dementia or alcoholism--just on the basis of her inability to control her dentures. To have those two criticize the character of Trump really seems strange. I feel that I'm watching a Dickens novel performed on national news each day. I can't laugh, though, because this is happening in reality.

JohninMK , 13 December 2019 at 02:04 PM

Given the corruption on both sides of the Senate it is probable that no-one wants an in depth trial during which unwanted facts might accidentally appear. Much better to whisk it through without it touching the sides so to speak.

OK so Trump doesn't get the exoneration he wants but then nothing will explode in his face. Its not a win win but then its not a lose either and it is unlikely to seriously affect his chances next November. Plus as a quid pro quo he might have got his defence spending increase and the trade bill through.

turcopolier , 13 December 2019 at 02:57 PM

johninMK

"the corruption on both sides of the Senate" OK Brit. Explain to us in detail what you think is the "corruption on both sides of the seanate."

John Merryman said in reply to turcopolier ... , 13 December 2019 at 10:14 PM

I'm trying to remember the site I read it on, maybe south front, where the point was made the graft flows through these governments we give billions to, back through the various institutes and global initiatives the US politicians set up. McCain and Clinton being the two mentioned. So neither side wants it looked into too deeply.

turcopolier , 13 December 2019 at 03:02 PM

SRW

A conversation between two heads of state is not and should not be conducted as though the subject matter of the conversation is subject to the rules and assumptions of a court of justice.

turcopolier , 13 December 2019 at 03:04 PM

james Lung

No. Their vote would end the matter. The chief justice would not have a role if the senate votes not to have a trial.

blue peacock , 13 December 2019 at 03:15 PM

Col. Lang

Graham has a vested interest in not having an extensive trial with many witnesses as it may uncover his own culpability in the Ukraine corruption. And of course may drag in Saint McCain too!

His and Mitch's argument to Trump likely would be, that with no trial they can guarantee acquittal but with a trial they can't.

turcopolier , 13 December 2019 at 03:20 PM

blue peacock

There is no chance that that the senate will remove Trump from office. None!

Paul Damascene , 13 December 2019 at 03:39 PM

An article in the Duran indicates that and why Senate Republicans may buck Trump's wishes, as they are as deep in Ukraine corruption as any of the Dems are. Lindsay, the late John M and Sleep Joe are perhaps the most deeply planted ...

Fred -> Paul Damascene... , 13 December 2019 at 06:37 PM

Paul,

You mean that with the same investigative power the Obama administration had he has none of the alleged evidence on senators you allude to? What a wonderful implication from a Cyprus based media outlet founded in 2016 and run by the host of an RT political show.
https://mediabiasfactcheck.com/the-duran/

Dave Schuler , 13 December 2019 at 03:46 PM

As of today Trump's approval rating is 43.9% and Congress's approval rating is 24%. I gather that the House Democrats don't realize how unpopular they are and how many Americans support "obstruction of Congress". Are they trying to turn Trump into a national hero?

Harper , 13 December 2019 at 03:57 PM

In the legitimate focus on the impeachment, a stunning revelation in the Horowitz report has been largely overlooked. In January 2017, the FBI conducted three interviews with the key source to Christopher Steele for his dossier. He told interviewed on all three occasions that the material he passed on to Steele was gossip and second and third-hand rumors with no proof. He even said that the sexual allegations were actually a joke and he never meant for them to be taken serious. The FBI in seeking the follow-on FISA warrant merely reported they interviewed Steele's source and he was "cooperative and candid." No content reported.

In addition, Horowitz found email exchanges between FBI and CIA, in which the FBI inquired if Carter Page was a CIA source. Three times the CIA responded "yes." But the FBI agent preparing the affidavit for the FISA renewal lied and wrote "no" to the question of Page's CIA work. That was the false statement Horowitz referred to.

These are serious crimes by FBI officials and they should not go unnoted in the MSM or left to be ignored. I hope that Durham is carefully reading every word of the Horowitz report for points of criminal misconduct to present to his Federal grand jury.

You can't fully discuss impeachment of Trump without going back to the first cause, and in this case it was clearly criminal misconduct by Federal law enforcement.

Cortes , 13 December 2019 at 04:59 PM

b of Moonofalabama speculates

https://www.moonofalabama.org/2019/12/the-impeachment-deal-between-the-house-and-the-senate.html#comments

that a bipartisan agreement exists that the Democrats can introduce the impeachment but the majority Republicans will vote it out without trial.

An approach which seems plausible. But after nigh on four full years of a campaign against initially a candidate and for the majority of the time the holder of the presidential office involving lurid allegations might not a trial be helpful in restoring some public confidence in the body politic? And in reducing the levels of vitriol.

turcopolier , 13 December 2019 at 06:25 PM

cortes

I have warned people against using SST as a bulletin board for other blogs. why should I not ban you?

turcopolier , 13 December 2019 at 06:31 PM

Paul Damascene

What is "the Duran?"

robt willmann , 13 December 2019 at 09:14 PM

Earlier today a person asked me what was going to happen in the impeachment trial, and I said that the senate will decide that after the case gets to them. The rules of procedure and rules of evidence (if any!) will be determined by the senate.

The U.S. Constitution says in Article 1, section 3 that--

"The Senate shall have the sole Power to try all Impeachments. When sitting for that Purpose, they shall be on Oath or Affirmation. When the President of the United States is tried, the Chief Justice shall preside: and no Person shall be convicted without the Concurrence of two-thirds of the Members present.

"Judgment in Cases of Impeachment shall not extend further than to removal from Office, and disqualification to hold and enjoy any Office of honor, trust, or profit, under the United States: but the Party convicted shall nevertheless be liable and subject to Indictment, Trial, Judgment, and Punishment, according to Law".

Yesterday, Senate Majority Leader Mitch McConnell (Repub. Kentucky) appeared on the Sean Hannity television show on FoxNews and said in essence that how a trial will proceed is up in the air, as he explains at the 1 minute mark until 2 minutes and 17 seconds into the video--

https://www.youtube.com/watch?v=LJ-qnp9QLV8

McConnell, as usual, carefully maintains his position, and says that everything he does about an impeachment trial, "I am coordinating with White House counsel". And, "There will be no difference between the president's position and our position as to how to handle this to the extent that we can".

What McConnell is obviously doing is protecting himself no matter what the political effect of the content of the trial may be.

He says: "We all know how it's going to end. There is no chance the president is going to be removed from office".


turcopolier , 13 December 2019 at 10:24 PM

John Merryman

It is worse than that. Groups of current or former high level employees band together to bid on large scale development contracts. They have local partners and the loot is tremendous.
Danny , December 13, 2019 at 3:31 pm

Warren's awkward attempts to portray herself as a woman of color, even if a etsy weeny tiny bit, always seemed strange to me, ignoring the resume nonsense. It makes sense with the realization that Women of Color, have become a new politically privileged class, in spite of some of them being not very oppressed.

Indian (subcontinent) women come from a tradition of a caste based society of wealth and privilege. The most succesful ones intuitively home in on and game American race-based identity politics in spite of their advantages, such as being one of the wealthiest religious groups in the nation,
https://www.pewresearch.org/fact-tank/2016/10/11/how-income-varies-among-u-s-religious-groups/

No Bernie style economic class based socialism for them, no way. It's maintain privilege, Silicon Valley corporate caste based salaries, Republican reductionism, Hillary hopium and yet, they proudly proclaim their affiliation with real women of color, on whose backs they surf, like last generation's black cleaning women, the grandparents of which might have actually been slaves.
3 examples: Nimrata Nikki Randhawa, Neera Tanden and Kamala Harris.

drumlin woodchuckles , December 14, 2019 at 12:49 am

Women-of-color in general are not a privileged class. The not-very-poor women of color are perhaps a newly privileged class.

The Goldman Sachs women-of-color have become a new privileged class, in line with the tenets of Goldman Sachs Feminism. " The arc of history is long, and it bends towards rainbow gender-fluid oligarchy."
barrisj , December 13, 2019 at 3:35 pm

From al-Monitor's ME lobbying update note:

Spotlight on defense authorization bill: Saudi Arabia wins big with assist from Kushner

The White House secured a major reprieve for Saudi Arabia this week by convincing Congress to drop several provisions from its annual defense bill before the House passed it on Wednesday. The Senate is expected to vote on the bill next week. Gone are sanctions on key Saudi officials for the murder of journalist Jamal Khashoggi and restrictions on US support for Riyadh's campaign in Yemen. The New York Times reports that President Donald Trump's son-in-law and senior adviser Jared Kushner – who reportedly maintains a direct WhatsApp line with Crown Prince Mohammed bin Salman – played a key role in the negotiations.

The United Arab Emirates also came out ahead as the final bill removes language taking aim at the $8 billion in emergency arms sales to Gulf countries that Trump authorized in May citing the threat of Iran. The UAE had lobbied against these provisions and also opposed calls for a report detailing the "military activities" of the UAE, Saudi Arabia and other international actors in Libya. . The final bill no longer singles out specific countries but still requires "a detailed description of the military activities of external actors" in the country.

https://linkst.al-monitor.com/view/5d1841f924c17c7feec17e30b8vfs.u9/46c21583

We always stick by our friends, through thick and thin and murder, and war crimes, and terrorism, and well, all of it. After all, what are friends for?
Tomonthebeach , December 13, 2019 at 5:10 pm

As Dean Baker pointed out in his book Rigged, the neoliberal capitalism of America is rigged to benefit the top 1%. After all, they were the architects. Most Americans appreciate that. Nevertheless, the vast majority willingly wade into its rigged quicksand. All economies are rigged in the sense that there is a structure to it all. Moreover, the architects of that system will ensure there is something in it for themselves – rigged. Our school system does not instruct Americans on how their own economic system works (is rigged), so most of us become its victims rather than its beneficiaries.

Books by Liz Warren and her daughter offer remedial guidance on how to make the current US economic system work for the average household. So, in a sense, Liz comes across as an adherent to the system she is trying to help others master .

This seems to be a losing proposition for candidate Warren because most Americans want a new system with new rigging; not a repaired system that has been screwing them for generations.
Russ , Dec 13 2019 7:09 utc | 33

A big part of why Labor and Corbyn lost so badly is the complete abdication of "the Left" on Brexit. The left were supposed to be anti-globalists, in which case their task was to join battle offering an egalitarian, left-populist version of Brexit which would have benefited the people.

Instead, faced with a real decision and a real opportunity they punted and ran home to globalist mama. This removed one of the main reasons to bother supporting them.

---

MFB , Dec 13 2019 8:19 utc | 36

Thing is, this destroys the left in Britain. The right in Labour had been in control since the early 1980s, and Corbyn's leadership victory was an accident which will not be given a second chance. Now what will replace Corbyn will not be Blairism, it will be something well to the right of Blairism, something much more like the DNC in the United States.

In other words, this is not a defeat of a party, it is a catastrophe for anyone seeking to struggle against the triumph of neoliberal barbarism. Oh, and it makes the probability of the end of the world through environmental catastrophe or nuclear war much higher. So apart from the ideological catastrophe it's also a human calamity.

Tsar Nicholas , Dec 13 2019 8:29 utc | 37

Corbyn destroyed hismelf. He performed quite well, unexpectedly so, in 2017 because he said that he would honour the result of the 2016 referendum. Yesterday the electors punished him for reneging on that and telling 17.4 million voters that they were wrong.

It was the less well off who voted to Leave, and it was the less well off who yesterday deserted Labour in droves. They have had enough of being told that they are in the wrong by a middle class elite who would be repelled if they ever actually met someone from the working class.

Bemildred , Dec 13 2019 9:41 utc | 39

I find it interesting that so much effort was expended to defeat Corbyn, over such a long period, when apparently it was so little needed.

I am no expert on UK politics, but it does look like Brexit was the issue that Boris won on. Everybody is sick of it and wants if over with.

Norwegian , Dec 13 2019 9:59 utc | 40

Posted by: Bemildred | Dec 13 2019 9:41 utc | 39

I am no expert on UK politics, but it does look like Brexit was the issue that Boris won on. Everybody is sick of it and wants if over with.

I am no expert on UK politics either, but from my point of view in Norway the main issue to be resolved is dismantling the EU, and it looks like the Brexit vote and this election confirms that many in the UK see it the same way. Whether it will happen is another question.

I voted NO in the 1994 Norwegian referendum on the question of becoming member of "European Community". One of the arguments in the debate at that time was that the "European Community" was aiming to become a union and a superstate. Those who argued that way were called lots of things, including conspiracy theorists. Today we are not members of the EU, but all the "regulations" are forced upon us anyway. The EU is a non-democratic nightmare that must be demolished.

I don't expect much good from the Tories, I don't exclude another betrayal of the Brexit cause, but we shall see. Corbyn lost on his betrayal of Brexit, that is for sure. I sympathize with Corbyn, but betraying the Brexit referendum is a no-no.

What the UK needs is real progressives that see the EU as the globalist project it is. It also means that the "climate crisis" must be recognised as a political tool created by the same forces. Corbyn failed on both accounts and therefore he lost.

vk , Dec 13 2019 11:38 utc | 46

Now that the official results are out, I'll comment on the British elections.

If Corbyn had won and taken us out of the EU we would have gone all Venezuela. If he'd won and kept us in the EU we'd have gone all Greece. The result is the best of the bad options available.

- Valiant_Thor, 26m ago

This comment on The Guardian encapsulates the average Conservative voter for these 2019 elections.

The UK is really at a crossroads: it is too tiny and poor in natural resources to implement socialism, but it is declining as a capitalist power.

I don't think the average British really thinks Venezuela is socialist or that Corbyn's policies would make them very poor, but I think they are afraid of the sanctions and embargoes they would suffer from the USA if they dared to try to go back to social-democracy.

This defeat may also be historic: this could go to History as the end of social-democracy. Social-democracy was already dead as an effective political force after the oil crisis of 1974-5, but at least it was able to polarize with neoliberalism in the ideological field and had some prestige that far outlived itself (to the point it was the main propaganda weapon that ultimately convinced Gorbachev to destroy the USSR, and to the point it was able to convince historians like Hobsbawn that it had actually "won the war" after 2008). Now it isn't considered even credible by half of the population of one of the few countries it was able to govern and fully influence in the post-war period.

In Rosa Luxemburg's last article (a few days before she was executed), she finally admitted defeat to the Bolsheviks. "We must separate the essential from the non-essential", she wrote. And the essential, she completed, was the fact that the Bolsheviks were right and the German Social-Democrats were wrong. It happened again, almost 100 years later.
Formerly T-Bear , Dec 12 2019 22:30 utc | 13

@ Michael Droy | Dec 12 2019 20:57 utc | 5

(Brexit anger is about wage inequality - like US Trump support. 35 years, GDP doubled, median earnings up 10% in UK, 0% in US. If the media wrote about basic economics everyone would know this. Instead the bottom 75% have plain unfocussed anger with Trump/Brexit being lightening rods to direct it).

It might be wise to be careful here about assumptions used. First off, cognisance of population changes will not automatically translate into employed working sector changes, many factors intervene preventing a direct relationship. Secondly, having a accurate GDP measure from beginning to end of the period observed is crucial (to avoid apples vs. oranges comparisons) so that changes in productive sources (and their employed numbers) are accounted for (law offices rarely employ as many as heavy industrial firms). The history of price/wage inflation or loss of exchange value of currency will affect reported GDP statistics as well. Thirdly is measuring the general education and skill level of those employed, as those decrease so do earnings/salaries/wages. Fourthly, look at the change in social protections provided to the population in question, these protections have a cost that must be met, their absence has an even greater cost to income obtained but rarely appearing on the economic balance sheets. Regulatory capture by monopoly, sovereign & trust-fund management removes business restrictions and passes those costs to those employed. Try putting this on a bumper-sticker for your car.

In the U.S. the population had increased in double digits from the census of 1950 (150.9 millions) to 2010 (308.7 millions). Working income had not significantly increased from 1970's, Purchasing Power Parity of 1970 dollar and 2019 dollar is unobtainable information. GDP statistics are of the nature of apples vs. oranges, measuring unrelated economic production; it can be done but isn't (for reasons political) [an income of US$400,000 in 1915 would translate into a 1980's income of about US$ 8.5 millions; the economies were still roughly speaking nearly the same still and comparable, as wealth distributions were becoming again].
---

integer , December 13, 2019 at 11:01 pm

Bernie Sanders Has a Big Jeremy Corbyn Problem Noah Rothman – Commentary Magazine

Corbyn rendered his party toxic. His penchant for standing in solidarity with terrorists and anti-Semites opened a seal out of which a cascade of anti-Jewish sentiments poured, engulfing his party in scandal. His brand of radical socialism was insufferably hidebound. His expressions of sympathy for history's greatest criminals were thoughtlessly dogmatic. The Labour Party under Corbyn drifted so far toward overt Jew-hatred that Britain's chief rabbi denounced the institution. The Archbishop of Canterbury agreed with that assessment, as did 85 percent of the country's Jews. There was no ambiguity here.

Sanders may be insulated from the charge that he shares these suspicious sentiments because he is Jewish, but this clear pattern raises some disturbing questions. It is incumbent on the press to ask them. To at least a degree, Sanders clearly evinces some of Corbyn's instincts on policy, but his affiliations suggest a similar tolerance for the radical left's occasionally anti-Semitic indulgences.

Plenue , December 13, 2019 at 11:17 pm

Not often that I see an article that is almost entirely comprised of outright lies.

integer , December 13, 2019 at 11:40 pm

Rothman's rant was published two days after the following article by Sanders:

How to Fight Antisemitism Bernie Sanders – Jewish Currents

Opposing antisemitism is a core value of progressivism. So it's very troubling to me that we are also seeing accusations of antisemitism used as a cynical political weapon against progressives. One of the most dangerous things Trump has done is to divide Americans by using false allegations of antisemitism, mostly regarding the US–Israel relationship. We should be very clear that it is not antisemitic to criticize the policies of the Israeli government.

Ending that occupation and enabling the Palestinians to have self-determination in an independent, democratic, economically viable state of their own is in the best interests of the United States, Israel, the Palestinians, and the region. My pride and admiration for Israel lives alongside my support for Palestinian freedom and independence. I reject the notion that there is any contradiction there. The forces fomenting antisemitism are the forces arrayed against oppressed people around the world, including Palestinians; the struggle against antisemitism is also the struggle for Palestinian freedom . I stand in solidarity with my friends in Israel, in Palestine, and around the world who are trying to resolve conflict, diminish hatred, and promote dialogue, cooperation, and understanding.

[emphasis mine]
Authored by Mac Slavo via SHTFplan.com,

In a truly bizarre and insane moment during the ongoing impeachment hearing, democrat Congressman Hank Johnson asked fellow lawmakers to imagine the teenage daughter of Ukraine's president tied up in Trump's basement. Apparently, he wanted to summon mental images of an "imbalance of power" between the two world leaders.

"They're standing there, President Trump is holding court. And he says, 'Oh, by the way, no pressure.' And you saw President Zelensky shaking his head as if his daughter was downstairs in the basement, duct-taped," Johnson said, drawing laughter from the room.

Decimus Lunius Luvenalis , 1 hour ago link

That dude was a judge. A judge that adjudicated cases.
Authored by Martin Sieff via The Strategic Culture Foundation,

The Democratic leaders in Congress really should have checked with Central Casting before picking the stars of their passion play: "The Impeachment and Destruction of Donald Trump."

Former National Security Council staffer Fiona Hill was supposed to appear as a principled and dignified heroine. Instead, her virulent hate, ignorance and contempt for Russia were apparent to all. And she looked uncannily identical to the late Alan Rickman playing Severus Snape in the Harry Potter movies.

Congressman Adam Schiff chaired the House Intelligence Committee hearing and was supposed to be the wise, fearless and incorruptible chairman. Instead, the camera's cruel, unblinking eye revealed him as a buffoon – and a sinister one at that.

Schiff's round bald dome was identical to Mussolini's and his ridiculous bulging eyes are those of Christopher Lloyd's evil cartoon villain Judge Doom in the Hollywood movie "Who Framed Roger Rabbit?"

The supposedly heroic Lieutenant Colonel Alexander Vindman of the National Security Council was even worse – Presented as an all-American Patriot, instead he resembled the thick, hulking brutal thug that Hollywood Central Casting always chooses to play endless Russian intelligence service or criminal villains in thousands of bad primetime TV shows.

Kurt Volker was almost as bad. He was the quiet cool, calm, bespectacled villain – always a CIA bureaucrat and usually played by Ronnie Cox – who wants to feed Matt Damon, Brad Pitt, Steven Seagal or Bruce Willis to the villains.

And of course – the Real Hero could not appear at all. The Whistleblower's identity is being jealously guarded – though as Senator Rand Paul has pointed out, everyone knows who he is and – far from being a Disinterested Pure Hero, he was a CIA veteran and former senior National Security Council official outspoken in his contempt for the President of the United States: In other words, yet another anonymous Deep State manipulator and apparatchik.

No doubt he will be revealed as the winner on the Fox Television Channel's popular show, "The Masked Singer."

Or perhaps he will reveal himself in an exclusive interview with a fawning Rachel Maddow, still masked and identified as "The Lone Ranger."

( Is this The Whistleblower ?)

Now Rand Paul does have the looks, the bearing, the moral fervor and the dramatic character to play the hero in this botched fiasco of a drama. But there is only one small problem. He is on the other side. He has forcefully publicly defended President Donald Trump.

Gravity – Albert Einstein assures us – "bends" light (A dubious assertion at best but at least Einstein, unlike Schiff and Company Looked the Part he always played – Lovable, Child-Like Jewish Genius Who Never Gets a Hair Cut) And Trump Derangement Syndrome (TDS) has bent the brains of movie directors Nancy Pelosi and Schiff.

Trump Derangement Syndrome: a fearful, incurable affliction more terrible and humiliating than Alzheimer's: Better to forget who you are than remember you are a hate-crazed, foaming at the mouth, credulous idiot who will believe anything.

Like all policy wonks of their aging generation of corrupt and complacent Baby Boomers, House Speaker Nancy Pelosi and House Judiciary Committee Chairman Schiff have salivated at the thought of inflicting a "Watergate 2" impeachment drama comeuppance on Donald Trump.

But the Villain of Watergate, Richard Nixon, was indeed an inept and more than slightly sinister creep (and lifelong liberal). He looked the part and he exuded pious bogus ineptitude on camera his entire career. (Nixon's inspiration for how he projected himself on television was clearly Jack Webb playing Sergeant Joe Friday in the wonderfully badly acted "Dragnet" police series on US television in the 1950s.)

By contrast, Donald Trump channels John Wayne, the most popular and enduring movie star in American history:

Trump is a physically big and fearless New York construction businessman turned immensely successful popular entertainer. He, like Wayne is a natural athlete. It is a matter of public record ignored by all fearful liberal wimps that Trump really was offered a contract after college to be Major League Baseball player for the Phillies, but he turned it down to focus on his business career.

Working class American Heartland men and women over 40 instinctively loved Wayne and therefore they love Trump too. Aging American feminists like Hillary Clinton and Elizabeth Warren – and the further they are over 50, the more rabid and rage crazed and insane they become – hated Wayne and are traumatized by his resurrection as a defining national culture hero nearly four decades after his physical death echoing in the figure of Trump.

It was Trump's genius at silent reaction shots that ridiculed 17 Republican Congress members, Senators and Governors in the 2015-16 campaign before he even began to turn his wit and video skills on Hillary Clinton – a creepy Richard Nixon clone if there was one.

Trump was crafted by Fate and his brilliant media career from The Apprentice to Worldwide Wrestling Central Casting to be the Hero of Impeachment. Making him the villain reverses the entire emotional dynamic of the drama. It is like casting James Stewart as Nixon. (At worst, Trump is classic King Kong eternally plagued by those pesky biplanes: And everybody roots for Kong)

Liberals who loved Watergate went into emotional frenzies over Nixon's imagined humiliation at the hands of such ludicrous pompous and overpaid fools as Dan Rather of CBS.

Pelosi and her laughably misnamed "advisers" have learned nothing from all this. This week, we are seeing yet more interminable biased show-trial hearings and the even more ludicrous Jerrold Nadler has taken center stage. He looks like Frankenstein's dwarf –servant Igor in Mel Brooks' classic 1973 comic horror movie " Young Frankenstein ."

The bottom line on why Impeachment has failed so miserably to whip up a storm or convince anyone beyond the already committed "Trump Must Go", babies-throwing-tantrums across Liberal America lies in the childishness and elemental incompetence of its cast and directors. Being repulsive and ridiculous human beings themselves, they have no clue how obvious it would be that they would appear that way to everyone else.
drumlin woodchuckles , December 14, 2019 at 12:42 am

If Sanders got nominated, he could do what you suggest. He ( or surrogates) . could also coin the phrase The Cowardly Lyin' . . . Trump . . . with a picture of Trump's facial features photoshopped into the center of the face of the Cowardly Lion from the Wizard of Oz. It would be a clever political pun and a memorable visual image. I give it away for free to anyone who wants to use it.

But the CenDems don't want to see Sanders nominated. Or Warren or Gabbard. So they will do all they can to prevent it. The only hope Sanders or Warren or Gabbard has for winning the nomination is to win it on the First Ballot. The only way one of them can do that is if All of their delegates uNANimously combine ALL their delegate votes behind ONE of those three candidates. And ALL the combined delegates for those three candidates would have to ALL uNANimously aGREE to do that . . . and which one to do it for. Because the First Ballot is the one only single chance that the Decent Three have to prevent a Catfood Nominee by getting one of themselves nominated. The CenDems actively and fervently prefer losing with C. Anof Catfood than winning with Sanders or Warren or Gabbard.

As Yoda would say . . . " First Ballot or First Ballot Not! There is no Second Ballot."

If the Decent Three cannot collectively co-win the nomination for one of themselves on Ballot Number One, all they will have left is to obstruct every effort to stop the balloting for a Brokered Convention. They have to make the ballotng go on and on and on . . . until Balloting becomes such torture for the Catfood Delegates that the Catfood Conventioneers will give in to whatever the Decent Three choose to extort from the Catfood Leadership to make the pain stop.
D. Fuller , December 13, 2019 at 6:31 pm

It would be amusing to watch. However, the end result is a lose-lose for The United States no matter who wins.

Crook(D) v Crook(R) is the perception – much as it is with impeachment with Pelosi playing the part of Biden – with Trump standing a good chance to win. As of right now, the 2020 election is Democrats to lose. They are doing a great job of that so far and it is not even 2020.

Centrist Democrats will be trying to court the same voters – suburban center-right Republicans – that Trump will be angling to get. Should it be Biden that wins the nomination.

If Sanders somehow is nominated and Trump refuses to engage in debats? Run a "Trump Tucks Tail and Runs" campaign with a massive highlight of his policy failures. Trump excels in the arena of personal attacks. Biden would lose. Sanders could keep it clean and focused on policy, dropping nuke after nuke on Trump. With Biden? Given how Centrist Democrats and Republicans are both guilty of cooperating on issues such as Syria, Libya, Wall Street, torture, Iraq, etc?

Centrist Democrats have no powder or if they do? Their powder is all wet. It was amazing the number of policy attacks and opportunities that Centrist Democrats had to use against Trump in 2016 yet were too afraid to. Opting for personal attacks. I still remember that ambush by Andersen Cooper and Hillary Clinton against Trump at the 2nd(?) debate discussing the allegations against Trump regarding rape, etc.

Never mind that Hillary Clinton had Bill with his prior allegations of sexual abuse. That was the lamest ambush I've ever seen. You could practically see Hillary Clinton's vein pop out on her forehead when Trump responded. I thought she was going to have a stroke. That ambush wasted approximately 25 minutes of debate time and achieved less than nothing.

As we've seen with the latest funding bill? Centrist Democrats gave Trump what he wanted. So, what do Centrist Democrats have to run on?

Practically nothing.
In a rare interview on Fox News' "Hannity" Thursday night, Senate Majority Leader Mitch McConnell (R-KY) expressed certainty that President Donald Trump would stay in office despite the fact that there has yet to be a vote on impeachment .

"There's no chance the President's going to be removed from office," McConnell told Hannity.

Further, McConnell said he expects all Republicans and even some Democrats to vote against impeachment.

"This is a thoroughly political exercise. It's not like a courtroom experience, It's a political exercise. They've been trying to do this for three years. They've finally screwed up their courage to do it," McConnell said.

He continued,

" It looks to me like it may be backfiring on them particularly in swing districts that the Speaker's party managed to win in order to get the majority. Most of the nervousness I see on this issue with politicians since it's a political process is on the Democratic side."

House Democrats charged the President with abuse of power and obstruction of congress earlier this week. Soon after, the House Judiciary Committee began debating those charges. They were expected to hold an official vote late Thursday after debating the articles for fourteen hours, but the Committee's Chairman Jerrold Nadler (D-NY) delayed that vote .
---

zagonostra , December 13, 2019 at 2:37 pm

>Fair:Epstein

This goes so much deeper, as Whitney Webb points out below, there are much broader implications beyond the depraved pedophile aspect.

Epstein's links to intelligence have since been confirmed. The CIA-Mossad links to Epstein were detailed in a recent MintPress investigative series and several mainstream media reports have corroborated Epstein's time as a self-described "financial bounty hunter" who hunted down embezzled funds and also hid stolen money for powerful people and governments.

references allude to Epstein's shady business activities in the New York and Palm Beach real estate markets from the mid-1980s to the late-1990s that were used to launder massive amounts of money for organized crime and intelligence. It is likely for this reason that Epstein's real estate activities during this period have been so deliberately ignored by the U.S. press, even though other aspects of his financial activities were heavily scrutinized in recent months.

Indeed, in examining Epstein's involvement in real estate markets, particularly in New York, it becomes clear that those activities have no shortage of controversial tie-ins to the current U.S. presidential administration as well as major New York power players involved in suspect financial activity immediately prior to the September 11 attacks as well as the 2008 financial crisis.

https://www.mintpressnews.com/category/epstein-investigation/

Pat , December 13, 2019 at 4:02 pm

I would be vastly surprised if Epstein's ties to the NY real estate markets doesn't include most of the major players not just the Trump organization. The outlier real estate moguls would be those without ties to controversial partners and organized crime.

boydownthelane , December 13, 2019 at 5:27 pm

With regard to ""There will come a day where we will realize Jeffrey Epstein was the most prolific pedophile this country has ever known.":

The focus is on Epstein, but it doesn't belong there. What about the adolescent females who have been victimized? Does anyone here have a clue or give a damn about what it means psychologically for the rest of their lives? And what about the hundreds or thousands of politicians, judges, media people, cultural leaders, et al who have been intimidated, blackmailed, compromised? What does that mean for politics, the economy, justice, etc.?

" this is how these games are played. If you look carefully, you will see them widely. Inform, enlighten, while throwing in doubletalk and untruths. The small number of people who read such books and articles will come away knowing some history that has no current relevance and being misinformed on other history that does. They will then be in the know, ready to pass their "wisdom" on to those who care to listen. They will not think they are average.

But they will be mind controlled, and the killer cat will roam freely without a bell, ready to devour the unsuspecting mice."

https://www.unz.com/article/the-art-of-doublespeak-bellingcat-and-mind-control/
By Anat R. Admati, the George G.C. Parker Professor of Finance and Economics at Stanford University Graduate School of Business (GSB), a Director of the GSB Corporations and Society Initiative, and a senior fellow at Stanford Institute for Economic Policy Research. Originally published at ProMarket

Author's note: This essay is based on a speech I gave at the Stigler Center 2019 Conference on Political Economy of Finance. Whereas the content refers to my experiences as an academic with expertise in finance and economics, the key ideas apply to other areas in business schools and beyond. I hope colleagues will reflect on the harm from silos and on our opportunities as academics to benefit society.

In the real world, it turned out, important economic outcomes are often the consequences of political forces. During 2010, people within regulatory bodies told me privately that false and misleading claims were affecting key policy decisions. They urged me to help clarify the issues and I felt compelled to become involved. Despite years of research and advocacy , however, flawed claims persist and still have an impact. (A recently updated document lists and debunks 34 such claims.)

Many of my experiences in the last decade, which involved extensive interactions outside as well as within academia, were sobering. I saw confusion, willful blindness , political forces, various and sometimes subtle forms of corruption, and moral disengagement , first hand. The harm from economists ignoring political economy became increasingly evident. There was no way for me to return to ignoring the issues.

It was also impossible to explain my experiences using economics alone. In writing an essay in 2016 for a book on Finance in a Just Society edited by a philosopher, I went beyond economics and finance and drew from scholarship in political science, law, sociology, and social psychology. My essay was entitled " It Takes a Village to Maintain a Dangerous Financial System ."

Sadly, among the enablers of our inefficient and distorted financial system are economists and academics. Perhaps most shocking, a fallacious claim about the impact and "cost" of more equity funding, which contradicts basic teachings in corporate finance, has been included in many versions and editions of banking textbooks authored by prominent academic and former Federal Reserve governor Frederic Mishkin. (See Section 3.3 here or Chapter 8 of The Bankers' New Clothes .)A risk manager in one of the largest banks, whom I met in 2016 at a conference attended almost exclusively by practitioners and regulators and who had dropped out of a top doctoral program in finance, quipped in an email after quoting from an academic paper: "with such friends [as academics], who needs lobbyists?"

Lobbyists, who engage in "marketing" ideas to policymakers and to the public, are actually influential. They know how to work the system and can dismiss, take out of context, misquote, misuse, or promote research as needed. If policymakers or the public are unable or unwilling to evaluate the claims people make, lobbyists and others can create confusion and promote misleading narratives if it benefits them. In the real political economy, good ideas and worthy research can fail to gain traction while bad ideas and flawed research can succeed and have an impact.

Luigi Zingales highlighted political economy issues within our profession in a 2013 essay entitled " Preventing Economists' Capture " and in his 2015 AFA presidential address entitled " Does Finance Benefit Society ?" Zingales notes and laments a pro-business and pro-finance bias within economics and finance and the pervasive blindness to issues such as corporate fraud and political forces. "Awareness of the risk of [economists'] capture is the first line of defense," he writes in his 2013 essay. I agree that the issues are real yet often denied or ignored, and that recognizing problems is essential for addressing them.

Governance and political economy challenges are pervasive beyond banking, where I encountered them so clearly. For example, corporate governance research, including my own coauthored papers (in 1994 and 2009 ) on shareholder activism, has focused almost exclusively on conflicts between shareholders and managers, effectively assuming that competitive markets, contracts, and laws protect everyone except for the narrowly-defined "shareholder" -- who is implicitly assumed to own only one corporation's shares and to care only about the price of those shares.

Having observed governance and policy failures in banking, I realized that the focus on shareholder-manager conflicts is far too narrow and often misses the most important problems. We must also worry about the governance of the institutions that create and enforce the rules for all. How power structures and information asymmetries play out within and between institutions in the private and public sectors is critical.

A 2017 Journal of Economic Perspectives Symposium on the modern corporation includes an essay I wrote on the distortions that arise as a result of the focus in corporate governance on financialized targets that purport to capture "shareholder value" when combined with political economy forces that can lead to governments failing to set and enforce proper rules. The symposium also includes an essay by Luigi Zingales on how political and market power feed off each other. We both noted that more public awareness and understanding of these problems is essential for addressing them.

Economists and academics have numerous opportunities to be helpful by looking more frequently out of their windows, expanding their domain beyond "solved political problems," collaborating across disciplines, and bringing back a more holistic approach to their work. Small changes in this direction are starting to happen, as the Stigler Center's conferences on the political economy of finance show, but we can and should do much more.

Numerous research topics are ripe for more study by theorists and empiricists. Within the following long list of topics (still a partial one) there are low-hanging fruits and more challenging problems that may require interdisciplinary reach and which tenured academics are in a particularly privileged position to take on: whistleblower policies, the impact of consumers, employees, and politicians on corporate actions, accounting rules for derivatives, the effectiveness of boards, audits and auditors regulation, the design of bankruptcy laws, money laundering, corporate fraud, the organization and pricing of deposit insurance, debt subsidies, the role of financial literacy and ideology in policy discussions, the structure and governance of regulatory agencies and central banks, lobbying of multinational corporations, the governance of international bodies such as Financial Stability Board, Basel Committee, and IMF, and the political economy of corporate enforcement.

Anat Admati. Photo by Nancy Rothstein

Engaging with policy issues in our research and teaching, and even engaging in advocacy when appropriate and effectively lobbying on behalf of the public (for example by writing comment letters or opinion pieces ) can be valuable and important. Policy involvement, however, requires not only disclosing potential conflicts of interest but, most importantly, scrutinizing research carefully to ensure it is adequate for guiding policy. A problem I have become acutely aware of is that economists and others can be cavalier in claiming that research is relevant for real-world application without such scrutiny.

As a theorist, I know models have unrealistic and sometimes stylized assumptions, yet models can bring important insights, and theoretical and empirical papers that capture key features of the real world can be useful for policy. It takes a big leap of faith, however, and can actually do more harm than good, to claim that models whose assumptions greatly distort the real world are adequate for real-world applications. Specific examples are discussed in the first paper I wrote with Peter DeMarzo, Martin Hellwig, and Paul Pfleiderer (Sections 5-7), the omitted chapter from the book I wrote with Martin Hellwig, Paul Pfleiderer's paper on the misuse of models in finance and economics (which starts with the old joke about the economist assuming a can opener on a deserted island and, among other things, compares economics and physics) and a recent presentation by Paul Pfleiderer that discusses the role of assumptions in theoretical and empirical research and which includes great visuals.

The key takeaways if research is claimed to be relevant for the real world are:

Just because a model claims to "explain" something in the real world does not give it logical or actual validity . Even if we may never have the data to be able to reject a model, there are ways to apply casual empiricism ("if this model was true, we would observe x and we don't"), and we must be especially careful if a model contradicts other plausible explanations for what we see. (Consider: "cigarette smoking improves people's health" as an "explanation" of why people smoke.) Just because a model can be "calibrated" does not give it logical or actual validity .

Applying inadequate economic models to policy in the real world is akin to building bridges using flawed engineering models. Serious harm may follow.

We can also enrich our teaching and connect more dots for our students by developing interdisciplinary courses and by bringing out the bigger picture, at least occasionally, in teaching standard courses. For example, basic corporate finance courses show how to calculate the debt tax shield, and we should point out that there is no good reason for the tax code to subsidize debt relative to equity and that this tax code can create distortions. We can also ask whether shareholders as individuals actually want a company in which they hold shares to pursue " positive Net Present Value " projects that involve pollution or deceptive marketing of harmful products.

Many students are anxious to have such discussions. There is a broad sense today that standard business practices and dysfunctional governments have exacerbated economic, social, and political problems. We must find ways to broaden the discussion beyond our narrow lanes. Academic silos are part of the problem, and we should break them to be part of the solution.

Finally, we can and should engage in trying to ensure that governments and other institutions serve society. If only conflicted experts engage in the process of creating rules, especially on important issues that appear technical and confusing such as accounting standards or financial regulation, we get what Karthik Ramanna calls " thin political markets " and our assumptions about markets are more likely to be false. Academics may be in the best position to inform policy, expose flawed or poorly enforced rules, and help hold power to account. We cannot assume others will be able or willing to do it without our help.

Governance and politics are key to outcomes everywhere. Related issues about power and control and about the respective roles of governments and private sector institutions are playing out prominently today in the technology sector. A course I taught recently about the internet allowed me to compare and contrast the finance and internet sectors. The Stigler Center has laudably been informing policy related to digital platforms .

In a recent Harvard Business Review piece, I argue that business schools should practice and promote "civic-minded leadership" much more than they currently do. (The text is also available here .) I hope more academics and academic institutions recognize and embrace the great opportunities we have to try to make the world a better place.

---

aj , December 13, 2019 at 10:41 am

Does anyone know of a good book (or series of books) that discusses the history and evolution of economics. Ideally, I'm looking for something that discusses particular political philosophers (e.g Adam Smith, Marx, Keynes, Mises, etc.) in sequence. What I'm interested in is not only their ideas, but also their histories–what were the circumstances of their lives that lead to their ideas and how did the political environment they found themselves in contribute. Also, how were the philosophies adopted or corrupted by followers (e.g. Marx and Russian communism, Adam Smith and neoliberalism). I have yet to find a truly comprehensive book that has this info. I would expect a title something like "History of Political Economy." Any suggestions from the NC commentariate?

The Historian , December 13, 2019 at 12:33 pm

So far I haven't found one book that covers it all. And most books I do find try to describe all economic thought in terms of the author's particular belief system, which to me isn't all that helpful. So I read a lot of books on history, economics, and archeology to try and piece together an accurate story. And I still have not read nearly enough to have a complete picture.

One website that has been of great help finding sources is:
http://www.hetwebsite.net/het/introd.htm

Good luck to you. If you do find a great book, let us all know!

aj , December 13, 2019 at 1:04 pm

If I was much smarter I'd try to do it on my own. Sadly, I'm only mildly intelligent and a crappy writer. Somebody get Michael Hudson on this so I can read it. I'll start the Kickstarter campaign.

Sol , December 13, 2019 at 3:25 pm

+1

It's much like religion in that introspection and study is generally confined to the walled-garden-containing-all-that-is-true-in-this-world of choice.

Alfred , December 13, 2019 at 4:01 pm

This question intrigued me enough to explore what the Library of Congress catalog has to offer in response to it. The short answer, based on a good deal of rather fancy searching, is not much -- in English. The subject heading, "Economics–History," is the one that LC applies to the history of economics as a discipline. However, it retrieves so many citations as to be all but useless, even when those results are sorted chronologically, because it has been applied to so many works that treat narrow rather than broad sub-topics. LC has numerous books sharing the straightforward title, History of Economic Thought; they range in date from 1911 on. The oldest is by Lewis F. Haney. The latest of them seems to be the 2nd "updated" edition of History of Economic Thought, by E. K. Hunt (2002).

The Library of Congress has also established the subject heading "Political economy–history." However, it is attached to only one title that covers the topic broadly: Histoire de la pensée économique : abrégé des analyses et des théories économiques des origines au XXe siècle / Alain Redslob (2011). Despite characterizing itself as a 'summary' the book comes in at a hefty 355 pages. LC classifies this work at HB75. A title search on "Political Economy" yields, to my eye, only one somewhat recent work that seems to offer a general treatment: Political economy / Dan Usher (2003). Coming in at 427 pages, it is classified as "Economics" and classed at HB171.5. LC applies the heading 'Economics–Historiography" to eleven works of which the most relevant here may be: History and historians of political economy / Werner Stark ; edited by Charles M.A. Clark (1994). As a check of those results a bit of googling turned up a set of essays edited by Maxine Berg under the title, Political Economy in the Twentieth Century (1990), which set out to represent thinking outside the 'mainstream' of neoclassical or Keynesian traditions. LC classes it at HB87.

For books titled "History of Political Economy" it looks like one would have to go back into the 19th century, to discover works bearing just such a title by John K. Ingram (1888; reprinted 2013 by Cambridge UP) and Gustav Cohn (1894), thus apparently from the point where the Berg essays begin. I have read nothing by any of the authors I've mentioned here; am just posting the outcome of my searching fwiw.

eg , December 13, 2019 at 8:17 pm

I have, but haven't yet finished, "An Economist's Guide to Economic History" by Blum and Colvin. If the text itself is insufficient, the bibliography ought to be pretty comprehensive.

witters , December 13, 2019 at 8:37 pm

John Kenneth Galbraith – 2 books.

Economics in Perspective: a critical perspective
History of Economics:The Past as the Present

skippy , December 13, 2019 at 9:21 pm

Yes Galbraith Sr was the last classical that pointed out the failings of the payed for PR merchants that some have called economists and to rub salt in that wound claim dominate economics has no value based biases.

aj , December 13, 2019 at 11:33 pm

From the book descriptions these are probably my best start. It makes sense it would be JK Galbraith. Thanks a bunch.

Deplorado , December 14, 2019 at 12:33 am

Richard Wolff (of Democracy at Work) has one but I'm not able to search for the title. Just google/qwant his name and a title that you will recognize as what you are looking for will appear.

I've skimmed that book and it seemed accessible and neatly putting together timelines and major inflection points in the development or economics.

anon in so cal , December 13, 2019 at 10:44 am

"In the real world, it turned out, important economic outcomes are often the consequences of political forces."

Sorry to sound mean, but, duh.

"The key takeaways if research is claimed to be relevant for the real world are:

Just because a model claims to "explain" something in the real world does not give it logical or actual validity. Even if we may never have the data to be able to reject a model, there are ways to apply casual empiricism ("if this model was true, we would observe x and we don't"), and we must be especially careful if a model contradicts other plausible explanations for what we see. (Consider: "cigarette smoking improves people's health" as an "explanation" of why people smoke.)"

Did the individuals she is addressing ever take a required undergraduate course in research methods?

lyman alpha blob , December 13, 2019 at 12:53 pm

You beat me to it with that first quote.

Not understanding that is like believing that money does actually grow on trees. I don't understand how this could be a revelation to supposedly intelligent people with advanced degrees.

somecallmetim , December 13, 2019 at 7:22 pm

It's the advanced degrees that do it, reducing the supposedly to possibly, or maybe formerly

skippy , December 13, 2019 at 9:24 pm

The problem with mainstream economics is its concept of theory to start with, but, you'll get that with ideological funding.

diptherio , December 13, 2019 at 12:12 pm

You've got Evonomic's newsletter sign-up text box, copy-pasted in here, along with the article text. Guessing that wasn't intentional. Mentioning it just in case.

Susan the Other , December 13, 2019 at 1:50 pm

I signed up. Couldn't hurt if it's free.

skippy , December 13, 2019 at 9:25 pm

I hear the first step into any ideologically driven construct is an expression of free [will].

John Wright , December 13, 2019 at 12:24 pm

This has "Academics may be in the best position to inform policy, expose flawed or poorly enforced rules, and help hold power to account. We cannot assume others will be able or willing to do it without our help."

Given the funding method for much of academics (wealthy patrons, wealthy think tanks, wealthy companies and wealthy parents) is it reasonable to expect that academics will truly speak truth to power?

In my view, the article implies a more vigilant economic profession COULD be important in influencing policy.

But I have doubts this could occur.

Economics and economists may be used in the same way that an insurance company executive told me that outside consultants were sometimes chosen at his firm.

He suggested that consultants were sometimes selected because they were expected to agree with what management wanted to do.

One could suggest that similar dynamics exist for newspaper editorial writers.
If editorial writers were to go counter to their expected editorial content (right or left), they could well be expecting their future paychecks would be at risk.

Western economics has evolved to serve TPTB, not the common good.

One can see that outside voices, such as Steve Keen and Michael Hudson, are relegated to outside the mainstream.

It is not because Keen and Hudson are incorrect.

flora , December 13, 2019 at 12:38 pm

And on top of that, as Nassim Nicholas Taleb and others have regularly pointed out, achieving a high degree of efficiency typically comes at the expense of safety.

An old Star Trek episode titled The Trouble With Tribbles is about Star Fleet and Klingons disputing ownership of a planet which can grow vast amounts of food grains. In one short scene the Klingons claim ownership based on their more efficient exploitation of resources (more efficient than the Federation) which, they claim, gives them 'rights' to own the planet. To which either McCoy or Kirk say to themselves, "Oh yes, they're efficient all right. Ruthless, but efficient."

Another Amateur Economist , December 13, 2019 at 1:22 pm

And on top of that, as Nassim Nicholas Taleb and others have regularly pointed out, achieving a high degree of efficiency typically comes at the expense of safety.

No system ever operates at a greater efficiency than at the moment before its collapse.

Just something to think about, Capitalism rewarding efficiency rather than sustainability or robustness. Both of these require the expenditure of resources, costs, which subtract from potential profits.

Susan the Other , December 13, 2019 at 2:05 pm

Yes, exactly. I liked this piece, long overdue for me. But what exactly is "efficiency"? I agree that there is no good reason for the tax code to subsidize debt if, if, adequate financing is otherwise available. Hence the question: Why is there no alternative? I dunno about small changes but I'm pretty sure we need to be able to downshift, as opposed to spinning out disastrously. There's this too: finance itself (because financial time is much faster than ordinary time) is more desperate, even frantic, to maintain its survival in a competitive "economy" so that as finance turns into financialization it achieves critical mass. And in order just to hang on and not explode requires massive infusions of new money just so finance can stay on top of their own monster. Some rodeo. The first good regulation for economic security might be to extend financial time – reducing the necessity for huge turnover profits. But doing so in a way that preserves finance in a tame and domestic manner. Like preventing all the animals in the barn from eating exponential volumes of alfalfa and producing mud slides of manure in order that the noble farmer doesn't lose his tennies whilst mucking . Thereby reducing the risks inherent in equity finding – which for a sole proprietor (should any still exist) is also known as crushing debt.

Steve H. , December 13, 2019 at 3:06 pm

> The first good regulation for economic security might be to extend financial time – reducing the necessity for huge turnover profits.

In ecology there is a tau function, the delay time. Predator population lags prey variation and can stabilize systems. And Theo Compernelle gives details about delaying response time, as the productivity of a work session drops with the number of interruptions. The Oct 28 Links included the article "Asynchronous Communication: The Real Reason Remote Workers Are More Productive", along similar lines.

This seems to go against instant messaging, hi frequency trading, and OODA loops. But those seem to operate best in disregulated situations. To extend financial time – what would that do to speculation?

Edit: Also, Taleb had something on taking data points too often leading to noisy results.

Susan the Other , December 13, 2019 at 3:43 pm

tau function seems to apply here. so as not to eat the seed corn. by extending financial time I meant slow it way down, in my mind that means extending obligations over a much longer period. That might also mean many fewer financings, less opportunity to speculate. tau is interesting; nice to know nature has this one figured out.

farmboy , December 13, 2019 at 7:50 pm

speculation is the "money" in financial markets. lenghten time=0 opportunity=0liquidity
on the other hand maybe another LTCM can be avoided.
pet theory, financial markets and all their attendend complexity exist to abosrb blasting high energy, innovation to assure survival,nutjob i know

skippy , December 13, 2019 at 9:33 pm

The McCrazzypants part about that is interruption or increased lag in information is denoted in the loss of billions in productivity.

Not that it actually translates to better outcomes for the bulk of humanity or life on this orb.

Another Amateur Economist , December 13, 2019 at 11:41 pm

I'm thinking that one possibility would be money that expires after a set amount of time. Say one year. Money could not then be used as an asset. It would have to be continuously and reliably spent. All assets would be physical. For one thing, we would know what society really possessed, as opposed to the imaginary stuff/asset money is.

Danny , December 13, 2019 at 1:32 pm

When I was a little boy, obsessing over Christmas presents, it seemed to me that politics was economics and that economics was about the extraction of resources from the earth, and from human beings, with all kinds of shenanigans about timing.

No matter how much I learn, it seems that not much has changed.

David Laxer , December 13, 2019 at 2:10 pm

NARRATIVE ECONOMICS
https://cowles.yale.edu/sites/default/files/files/pub/d20/d2069.pdf

Glen , December 13, 2019 at 2:17 pm

Thank you for this post! Political economics is a much better name for this pseudo science. If aerospace engineers were wrong as often as theses clowns airplanes would routinely fall out of the air.

And as Boeing so aptly demonstrates, putting the MBA PMC types in charge of the engineers, also results in airplanes falling out of the air.

But huge props to Steve Keen for calling this out!

Arthur Dent , December 13, 2019 at 4:58 pm

Paul Samuelson and Milton Friedman took the "animal spirits" out of economics and turned it into a mathematical model. However, the behavioral economics and psychological research has shown that people are hard-wired in ways that make the mathematical models flawed and erroneous.

As a design engineer, we use lots of complex modeling but ultimately our design blueprints and specifications are not rigidly based on these models because people and/or robots have to build and operate the things. So there is a fair amount of simplification and clarification that has to happen to have something built without major errors and then operated without major errors, as well as maintained with varying levels of attention and funding. These require a fair amount of understanding about how humans process and execute things and/or the limitations on what can be programmed into robots and computers.

I point out to junior engineers that the people who will build and operate the systems did not necessarily graduate in the top 25% of their high school class unlike the designers. However, many of them have different skill sets that the designers don't have, such as how to operate heavy equipment and do physical trade activities. So we need to design systems to a common denominator that work from design and operations viewpoints.

In economics, we are seeing the systems being biased by focusing on theoretical models that don't actually work in practice because they don't account for what people actually do compared to what a "rational" model says they should do. Hence the crap about "trickle-down" that never actually works in practice in tax cut plans for the wealthy. Similarly, complex private healthcare systems in the US don't remotely follow a "perfect information" model that would allow the "invisible hand" to produce efficiency. so we get massive bloat and rentiere models that prey on consumers. However, that has become a feature, not a bug, on K-street.

flora , December 13, 2019 at 7:45 pm

Thank you X 10. Samuelson and Friedman claimed they could take the "animal spirits", aka human nature however defined, out of economics. The claim amounts to saying they could measure, quantify, model, and manipulate human responses to changing situations, which amounts to a claim of god-like understanding of human mental capacities. How do they measure a human? Reason and logic and measurable outputs are only a part – and how large a part is as yet undetermined – in human awareness and decision making. Logic is a good servant but a bad master, as the saying goes. Samuelson and Friedman construct a 'rational man' without ever questioning the epistemology of their construct. (Mary Shelly might recognize the conceit.)

eg , December 13, 2019 at 8:24 pm

You might like Pilkington's "The Reformation in Economics" (one that I have finished)

Paul Hirschman , December 13, 2019 at 11:12 pm

Michael Hudson is perhaps the best place to start. (Bill Black is a close second. Author of "The Best Way to Rob a Bank is to Own One.")

Really, if one's education includes a healthy dose of history, anthropology, sociology, politics, and social theory, it's tempting to suggest that economics is a self-important and smug discipline. Wow, politics affects markets, property relations, and conflict over economic surplus! Wow. Good to know. And someone just told me that human beings aren't as rational as economists assume. Wow again. Thanks.
Jasher , 6 hours ago link

12 For we wrestle not against flesh and blood, but against principalities, against powers, against the rulers of the darkness of this world, against spiritual wickedness in high places.

Ephesians 6 King James Version (KJV)
,
Kratoklastes , says: December 12, 2019 at 3:42 am GMT
started by an unemployed Englishman named Eliot Higgins

Good on him – being able to create a thing that rises to such prominence in such a short space of time speaks volumes about this Higgins guy's entrepreneurial ability. And if he wasn't mobbed-up to begin with, he sure as fuck is now – which is a double- mitzvah (for him).

If he did so starting from being unemployed, then anybody who turned down a job application from the guy must be kicking themselves. (' Unemployed ' is obviously used pejoratively in the blockquote; 'Englishman' is purely-descriptive).

.

Also, the entire article accepts Bernays' conclusion, but disagrees as to which objectives should be pursued.

Bernays' conclusions are hardly controversial: most people are gullible imbeciles . It's not clear to me how much more empirical evidence we need before that becomes just a thing that everyone with an IQ above 115 accepts.

So the question then becomes " OK, now what? ".

As usual, the right answer is " Depends " – and not just for those with bladder control problems.

If you want to do things that are just , exploiting gullible imbeciles would appear to violate the playing conditions. It would be hors jeu ; not done; just not cricket .

As the Laconian famously said . " IF ."

For those for whom the 'if' condition returns 'false', it does very little to bleat about how awful they are. You're not going to cause a little switch in their brain to flick on (or off?), whereupon they realise the error of their ways and make a conscious decision to leave the gullible imbeciles unexploited.

It's even unlikely to affect their victims (remember, they're imbeciles) – because otherwise some infra-marginal imbeciles would have to process their way through quite a bit of cognitive dissonance, and they're not wired for introspection (or processing).

So the sole real purpose (apart from κάθαρσις catharsis ) is prophylaxis (προ + φύλαξις – guarding ). Both good enough aims obviously the writer is the one who gets the cathartic benefit, but who is going to be on heightened alert as a result of this Cassandra -ish jeremiad -ing?

Non-imbeciles don't need it; imbeciles won't benefit.

Here's the thing: the gullible imbeciles are going to be exploited by someone .

.

This is something that people of my persuasion struggle with. It boils down to the following:

Let's assume that a reprehensible thing exists already, and is unlikely to be overthrown by my opposition to it. Should I just participate and line my pockets?

The resources used are going to be used whether I participate or not, so it may as well be me who gets them. After all, I will put them to moral uses – and while inside, I can do things that are contrary to the interests of the reprehensible thing.

There is no satisfactory counter-argument to that line of reasoning, and yet I reject it.

Then again: I was dropped on my head as an infant, so YMMV.

HAIL KEK
SolentBound , 10 Dec 2019 15:05

A few days ago, veterans' group VoteVets endorsed Pete Buttigieg. It has previously supported Tulsi Gabbard. Details:

New York Times, "Liberal Veterans' Group Endorses Pete Buttigieg in 2020 Race": https://www.nytimes.com/2019/12/04/us/politics/pete-buttigieg-votevets-endorsement.html
Notable quotes:
"... Public choice economics has big influence and a bad name. It is a school of economic thought that has at different times been associated with scholars at the University of Rochester, Virginia Tech, and George Mason University. ..."
"... Samuelson, in his famous and influential textbooks, saw a clear role for government in regulating markets. Public choice scholars vehemently disagreed . For political and theoretical reasons, they instead saw government as a fountain of corruption. Public choice economists argued that government regulations were the product of special interest groups that had "captured" the power of the state, to cripple rivals and squeeze money from citizens and consumers. Regulations were not made in the public interest, but instead were designed to bilk ordinary citizens. ..."
"... The conventional story is that as Warren moved from the right to the left, she abandoned the public choice way of thinking about the world, in favor of a more traditional left-wing radicalism. A more accurate take might be that she didn't abandon public choice, but instead remained committed to its free-market ideals, while reversing some of its valences. ..."
"... A recent popular history book, which qualified as a finalist for the National Book Award, depicts public choice as a kind of stealth intellectual weapons program , developed by economist James Buchanan to provide Chilean President Augusto Pinochet with the justification for his dictatorial constitution, and the Koch brothers with the tools to dismantle American democracy. ..."
"... Warren's ideas have a close family resemblance to those of Olson, a celebrated public choice theorist. (Perhaps she has read him; perhaps she has just reached similar conclusions from similar starting points.) Olson, like other public choice scholars, worried about the power of interest groups. He famously developed a theory of collective action that shows how narrowly focused interest groups can dominate politics, because they can organize more cheaply and reap great benefits by setting rules and creating monopolies at the expense of the ordinary public. This means that government programs often actively harm the poor rather than helping them. ..."
"... Olson also castigated libertarian economists for their "monodiabolism" and "almost utopian lack of concern about other problems" so long as the government was chained down. He argued that the government was not the only source of economic power: Business special interests would corrupt markets even if the government did not help them. ..."
"... Warren shares far more intellectual DNA with Mancur Olson and his colleagues than with traditional socialism. However, there are important differences. Olson wrote his key work in the 1980s, before the globalization boom. His arguments for free trade depend on the assumption that open borders will disempower special interests. ..."
Elizabeth Warren's politics seem like a tangle of contradictions. She wants free markets, but also wants to tax billionaires' capital. Her enemies on the right claim that she is a socialist , but Warren describes herself as "capitalist to my bones."

Warren's politics are so confusing because we have forgotten that a pro-capitalist left is even possible. For a long time, political debate in the United States has been a fight between conservatives and libertarians on the right, who favored the market, and socialists and liberals on the left, who favored the government.

It has been clear since 2016 that the traditional coalition of the right was breaking up. Conservatives such as U.S. President Donald Trump are no fans of open trade and free markets, and even favor social protections so long as they benefit their white supporters. Now, the left is changing too.

Warren is reviving a pro-market left that has been neglected for decades, by drawing on a surprising resource: public choice economics. This economic theory is reviled by many on the left, who have claimed that it is a Koch-funded intellectual conspiracy designed to destroy democracy. Yet there is a left version of public choice economics too, associated with thinkers such as the late Mancur Olson. Like Olson, Warren is not a socialist but a left-wing capitalist, who wants to use public choice ideas to cleanse both markets and the state of their corruption.

Public choice economics has big influence and a bad name. It is a school of economic thought that has at different times been associated with scholars at the University of Rochester, Virginia Tech, and George Mason University. Public choice came into being in fervent opposition to the mainstream of economics, which was dominated by scholars such as Paul Samuelson.

Samuelson, in his famous and influential textbooks, saw a clear role for government in regulating markets. Public choice scholars vehemently disagreed . For political and theoretical reasons, they instead saw government as a fountain of corruption. Public choice economists argued that government regulations were the product of special interest groups that had "captured" the power of the state, to cripple rivals and squeeze money from citizens and consumers. Regulations were not made in the public interest, but instead were designed to bilk ordinary citizens.

Perhaps the most influential version of public choice was known as law and economics. For decades, conservative foundations supported seminars that taught judges and legal academics the principles of public choice economics. Attendees were taught that harsh sentences would deter future crime, that government regulation should be treated with profound skepticism, and that antitrust enforcement had worse consequences than the monopolies it was supposed to correct. As statistical research by Elliott Ash, Daniel L. Chen, and Suresh Naidu has shown , these seminars played a crucial role in shifting American courts to the right.

Warren was one of the young legal academics who attended these seminars , and was largely convinced by the arguments. Her early work on bankruptcy law started from public choice principles, and displayed a deep skepticism of intervention.

The conventional story is that as Warren moved from the right to the left, she abandoned the public choice way of thinking about the world, in favor of a more traditional left-wing radicalism. A more accurate take might be that she didn't abandon public choice, but instead remained committed to its free-market ideals, while reversing some of its valences. Her work as an academic was aimed at combating special interests, showing how the financial industry had shaped bankruptcy reforms so that they boosted lenders' profits at borrowers' expense. Notably, she applied public choice theory to explain some aspects of public choice, showing how financial interests had funded scholarly centers which provided a patina of genteel respectability to industry's preferred positions.

Now, Warren wants to to wash away the filth that has built up over decades to clog the workings of American capitalism. Financial rules that have been designed by lobbyists need to be torn up. Vast inequalities of wealth, which provide the rich with disproportionate political and economic power, need to be reversed. Intellectual property rules, which make it so that farmers no longer really own the seeds they sow or the machinery they use to plant them, need to be abolished. For Warren, the problem with modern American capitalism is that it is not nearly capitalist enough. It has been captured by special interests, which are strangling competition.

It is hard to see how deeply Warren's program is rooted in public choice ideas, because public choice has come to be the target of left-wing conspiracy theories. A recent popular history book, which qualified as a finalist for the National Book Award, depicts public choice as a kind of stealth intellectual weapons program , developed by economist James Buchanan to provide Chilean President Augusto Pinochet with the justification for his dictatorial constitution, and the Koch brothers with the tools to dismantle American democracy.

For sure, the mainstream of public choice is strongly libertarian, and the development of the approach was funded by conservative individuals and foundations. What left-wing paranoia overlooks is that there has always been a significant left-wing current of public choice, and even a potent left-wing radicalism buried deep within public choice waiting to be uncovered. The free-market ideal is a situation in which no actor has economic power over any other. As many of Warren's proposals demonstrate, trying to achieve this ideal can animate a radical program for reform.

Warren's ideas have a close family resemblance to those of Olson, a celebrated public choice theorist. (Perhaps she has read him; perhaps she has just reached similar conclusions from similar starting points.) Olson, like other public choice scholars, worried about the power of interest groups. He famously developed a theory of collective action that shows how narrowly focused interest groups can dominate politics, because they can organize more cheaply and reap great benefits by setting rules and creating monopolies at the expense of the ordinary public. This means that government programs often actively harm the poor rather than helping them.

However, Olson also castigated libertarian economists for their "monodiabolism" and "almost utopian lack of concern about other problems" so long as the government was chained down. He argued that the government was not the only source of economic power: Business special interests would corrupt markets even if the government did not help them.

The result, according to Olson, was that societies, economies, and political systems became increasingly encrusted with special-interest politics as the decades passed. Countries benefited economically from great upheavals such as wars and social revolutions, which tore interest groups from their privileged perches and sent them tumbling into the abyss.

Olson wanted to open up both politics and the economy to greater competition, equalizing power relations as much as possible between the many and the few. He argued that under some circumstances, powerful trade unions could benefit the economy. When unions and business groups were sufficiently big that they represented a substantial percentage of workers or business as a whole, they would be less likely to seek special benefits at the expense of the many, and more likely to prioritize the good of the whole. Olson also believed strongly in the benefits of open trade, not just because it led to standard economic efficiencies, but because it made it harder for interest groups to capture government and markets. Northern European economies such as Denmark, which combine powerful trade unions with a strong commitment to free markets, represent Olsonian politics in action.

---

Warren shares far more intellectual DNA with Mancur Olson and his colleagues than with traditional socialism. However, there are important differences. Olson wrote his key work in the 1980s, before the globalization boom. His arguments for free trade depend on the assumption that open borders will disempower special interests.

As economists such as Dani Rodrik and political scientists such as Susan Sell have shown, this hasn't quite worked out as Olson expected. Free trade agreements have become a magnet for special interest groups, who want to cement their preferences in international agreements that are incredibly hard to reverse. The U.S. "fast track" approach to trade negotiations makes it harder for Congress to demand change, but allows industry lobbyists to shape the administration's negotiating stance. Investor-state dispute resolution mechanisms provide business with a friendly forum where they can target government rules that hurt their economic interests. All of this helps explain why Warren is skeptical of arguments for the general benefits of free-trade agreements: they aren't nearly so general as economists claim.

Close attention to Warren's public choice influences reveals both her radicalism and its limits. Like Olson, she is committed to the notion that making capitalism work for citizens will require changes that border on the revolutionary. The sweeping proposals she makes for changes to America's gross economic inequality, its economic relations with the rest of the world, its approach to antitrust legislation, and its tolerance of sleazy relationships among politicians, regulators, and industry are all aimed at creating a major upheaval. Where she proposes major state action, as in her "Medicare for All" plans, it is to supplant market institutions that aren't working, and are so embedded in interest group power dynamics that they are incapable of reform.

Yet this is a distinctly capitalist variety of radicalism. Socialists will inevitably be disappointed in the limits to her arguments. Warren's ideal is markets that work as they should, in contrast to the socialist belief that some forms of power are inherent within markets themselves. Not only Marxists, but economists such as Thomas Piketty, have suggested that the market system is rigged in ways that will inevitably favor capital over the long run. The fixes that Warren proposes will at most dampen down these tendencies rather than remove them.

If Warren wins, she will not only disappoint socialists. Her proposals may end up being too radical for Congress, but not nearly radical enough to tackle challenges such as climate change, which will require a rapid and dramatic transformation of the global economy if catastrophe is to be averted. Libertarians and mainstream public choice scholars will attack her from a different vantage point, arguing that she is both too skeptical about existing market structures and too trusting of the machineries of the state that she hopes to use to remedy them. State efforts to reform markets can easily turn into protectionism.

What Warren offers, then, is neither a socialist or deep green alternative to capitalism, nor a public choice justification for why regulators ought to leave it alone. The bet she is making is that capitalism can solve the major problems that the United States faces, so long as the government tackles inequality and defangs the special interests that have parasitized the political and economic systems. Like all such bets, it is a risky one, but one that might transform the U.S. model of capitalism if it succeeds.

Henry Farrell is a professor of political science and international affairs at George Washington University.
Sanders/Tulsi combination might be viable and can probably defeat Trump
Sanders (D)(1): "Don't Think Sanders Can Win? You Don't Understand His Campaign" [Keeanga-Yamahtta Taylor, New York Times ]. "Mr. Sanders has reached the typically invisible, downwardly mobile working class with his language of "class warfare." He has tapped into the anger and bitterness coursing through the lives of regular people who have found it increasingly impossible to make ends meet in this grossly unequal society . Since Mr. Trump's election, "class," when it's discussed at all, has been invoked for its hazy power to chart Mr. Trump's rise and potential fall. Recall the endless analyses of poor and working-class white voters shortly after his election and the few examinations of poor and working-class people of color. But the Sanders campaign has become a powerful platform to amplify the experiences of this multiracial contingent. Under normal circumstances, .

This has meant its support for Mr. Sanders's candidacy has been hard to register in the mainstream coverage of the Democratic race. But these voters are crucial to understanding the resilience of the Sanders campaign, which has been fueled by small dollar donations from more than one million people, a feat none of his opponents has matched. Remarkably, he also has at least 130,000 recurring donors, some of whom make monthly contributions." • Unsurprising, when you think about it. Of course the working class is multiracial. Far more so than the Democrat based in the 10%.

Sanders (D)(2): "Defense Industry Gives More To Bernie Than Any 2020 Candidate" [ The American Conservative ]. "Despite his frequent votes against defense bills, Senator Bernie Sanders has collected more presidential campaign contributions from defense industry sources than any other candidate, including Donald Trump. That's according to data on 2020 funding at the OpenSecrets.org website, which is sponsored by the Center for Responsive Politics . As of early December, Sanders had out-collected Trump $172,803 to $148,218 in defense industry contributions, a difference of 17 percent. And his margin had been growing in October and November . Sanders also out-collected all of his Democratic rivals . The implications for the relationship of defense industry contributors to Sanders and the others may, or may not, be everything you might assume. Defense industry PACs, and the corrupting influence they have over compliant politicians, are not the source of this money . Instead, it all comes from what the OpenSecrets.org data show as "Individuals" From OpenSecrets.org, it appears that Sanders has thousands of individual contributions from people who identified affiliations with Boeing and Lockheed Martin, though no donations appear to amount to the legal maximum, and most seem to be from engineers, technicians, and other non-management types." • Nevertheless, industry influence is industry influence, and the writer brings up, as they ought, the basing of the F-35 in Vermont.

Sanders (D)(3): "Bernie Sanders is breaking barriers with young Latinos. Now he just needs them to vote" [ CNN ]. "Recent polling suggests that Sanders has a clear advantage with young Latino voters, who could, with even a modest growth in turnout, fundamentally alter the composition -- racially and ideologically -- of the Democratic electorate." • This is so hilarious. For years , liberal Democrats have waited for demographics to do their work for them. Now Latinx voters have arrived -- and Sanders is hijacking them with a policy-based appeal. And he doesn't need to carry hot sauce in his purse or call himself mi abuelo !

Sanders (D)(4): "Grandpa Slacks Are The New Dad Jeans" [ Elle ]. "When you think of style icons, Bernie Sanders is probably low on your list. I'm not referencing campaign trail Bernie, with his hypebeast parka and sleek navy suit . I'm all about Bernie off-duty: the one who visits Ariana Grande concerts or walks around in stained button downs. His style should be dissected with the same fervor we approach female politicians. Feel the Bern, because at a second glance, his style is, looks at notes, cool . Canceling student debt is nice and all, but let's praise his presidential crusade for the next it-pant: grandpa slacks." • This here is what they call earned media. Next week: Hair styles.

UPDATE Sanders (D)(5): "The Trailer: What Nevada could mean for Bernie Sanders" [ WaPo ]. On the Weigel flight jacket incident ( yesterday ): "It was a warm moment, it led local news, and it grew organically from the Sanders strategy to win Nevada. The senator from Vermont has poured money into organizing, just like in other early states, with the campaign planning to hire its 100th Nevada staffer by this weekend. And just like in other early states, Sanders focuses his speeches on voters with something to lose . more than Iowa or New Hampshire, it could prove whether the Sanders strategy is working at scale, ready to be expanded into the next 47 states." • Nevada is Harry Reid's patch, and Reid supports Warren. The Nevada press, aided by the local Democrat establishment, faked the chair-throwing incident at the state Democrat convention. And the Culinary Workers have concerns about #MedicareForAll vs. their union plans. So Nevada is no cakewalk for Sanders, despite his strong Latinx support.

Warren (D)(1): "ELIZABETH WARREN" [ Indivisible ]. "Elizabeth Warren is the top-scoring candidate on the scorecard because she's got both a bold progressive vision for our country and the day-one democracy agenda we need to make that vision a reality. She also earns the top score for building grassroots power." • Oh.
"Why this expert warns that a voting watchdog has 'lost its way' -- and our elections are at risk" [ Alternet ]. "Verified Voting, the national advocacy group seeking accountable election results, has been "providing cover" for untrustworthy new voting systems and the public officials buying them, according to an esteemed academic board member who has resigned in protest

To be accused by the inventor of its "gold-standard" audit solution of selling out while states and counties are buy voting technology that will be used into the 2030s is remarkable .

Stark and other critics say that the cards produced by a so-called ballot-marking device (BMD) may not be accurate because potentially insecure software sits between a voter's fingers and the printout.

Thus, Stark contends that his audit tool cannot assess if the reported result is correct. Also, BMD systems are far more costly than hand-marked ballot systems, he and other critics have said.

They note that the acquisition costs are followed by per-machine service agreements designed to generate millions in annual revenues for vendors." • On BMDs, see NC here .
Authored by Brandon Smith via Alt-Market.com,

I get the question often, though one would think it's obvious - Who are these "globalists" we refer to so much in the liberty movement? Sometimes the request comes from honest people who only want to learn more. Sometimes it comes from disinformation agents attempting to mire discussion on the issue with assertions that the globalists "don't exist". The answer to the question can be simple and complex at the same time. In order to understand who the globalists are, we first have to understand what they want.

We talk a lot about the "globalists" because frankly, their agenda has become more open than ever in the past ten years. There was a time not long ago when the idea of the existence of "globalists" was widely considered "conspiracy theory". There was a time when organizations like the Bilderberg Group did not officially exist and the mainstream media rarely ever reported on them. There was a time when the agenda for one world economy and a one world government was highly secretive and mentioned only in whispers in the mainstream. And, anyone who tried to expose this information to the public was called a "tinfoil hat wearing lunatic".

Today, the mainstream media writes puff-pieces about the Bilderberg Group and even jokes about their secrecy. When members of Donald Trump's cabinet, Mike Pompeo and Jared Kushner, attended Bilderberg in 2019, the mainstream media was wallpapered with the news .

When the World Government Summit meets each year in Dubai, attended by many of the same people that attend Bilderberg as well as shady mainstream icons and gatekeepers like Elon Musk and Neil deGrasse Tyson, they don't hide their discussions or their goals, they post them on YouTube .

I remember when talking about the US dollar being dethroned and replaced with a new one world currency system and a cashless society controlled by the IMF was treated as bizarre theory. Now it's openly called for by numerous leaders in the financial industry and in economic governance . The claim that these things are "conspiracy theory" no longer holds up anymore. In reality, the people who made such accusations a few years ago now look like idiots as the establishment floods the media with information and propaganda promoting everything the liberty movement has been warning about.

The argument on whether or not a globalist agenda "exists" is OVER. The liberty movement and the alternative media won that debate, and through our efforts we have even forced the establishment into admitting the existence of some of their plans for a completely centralized global system managed by them. Now, the argument has changed. The mainstream doesn't really deny anymore that the globalists exist; they talk about whether or not the globalist agenda is a good thing or a bad thing.

First , I would point out the sheer level of deception and disinformation used by the globalists over the past several decades. This deceptions is designed to maneuver the public towards accepting a one world economy and eventually one world governance . If you have to lie consistently to people about your ideology in order to get them to support it, then there must be something very wrong with your ideology.

Second , the establishment may be going public with their plans for globalization, but they aren't being honest about the consequences for the average person. And, there are many misconceptions out there, even in the liberty movement, about what exactly these people want.

So, we need to construct a list of globalist desires vs globalist lies in order to define who we are dealing with. These are the beliefs and arguments of your run-of-the-mill globalist:

Centralization

A globalist believes everything must be centralized, from finance to money to social access to production to government. They argue that centralization makes the system "more fair" for everyone, but in reality they desire a system in which they have total control over every aspect of life. Globalists, more than anything, want to dominate and micro-manage every detail of civilization and socially engineer humanity in the image they prefer.

One World Currency System And Cashless Society

As an extension of centralization, globalists want a single currency system for the world. Not only this, but they want it digitized and easy to track. Meaning, a cashless society in which every act of trade by every person can be watched and scrutinized. If trade is no longer private, preparation for rebellion becomes rather difficult. When all resources can be manged and restricted to a high degree at the local level, rebellion would become unthinkable because the system becomes the parent and provider and the source of life. A one world currency and cashless system would be the bedrock of one world governance. You cannot have one without the other.

One World Government

Globalists want to erase all national borders and sovereignty and create a single elite bureaucracy, a one world empire in which they are the "philosopher kings" as described in Plato's Republic.

As Richard N. Gardner, former deputy assistant Secretary of State for International Organizations under Kennedy and Johnson, and a member of the Trilateral Commission, wrote in the April, 1974 issue of the Council on Foreign Relation's (CFR) journal Foreign Affairs (pg. 558) in an article titled 'The Hard Road To World Order' :

" In short, the 'house of world order' will have to be built from the bottom up rather than from the top down. It will look like a great 'booming, buzzing confusion,' to use William James' famous description of reality, but an end run around national sovereignty, eroding it piece by piece, will accomplish much more than the old-fashioned frontal assault."

This system would be highly inbred, though they may continue to give the masses the illusion of public participation and "democracy" for a time. Ultimately, the globalists desire a faceless and unaccountable round table government, a seat of power which acts as an institution with limited liability, much like a corporation, and run in the same sociopathic manner without legitimate public oversight. In the globalist world, there will be no redress of grievances.

Sustainability As Religion

Globalists often use the word "sustainability" in their white papers and agendas, from Agenda 21 to Agenda 2030. Environmentalism is the facade they employ to guilt the population into supporting global governance, among other things. As I noted in my recent article 'Why Is The Elitist Establishment So Obsessed With Meat' , fake environmentalism and fraudulent global warming "science" is being exploited by globalists to demand control over everything from how much electricity you can use in your home, to how many children you can have, to how much our society is allowed to manufacture or produce, to what you are allowed to eat.

The so-called carbon pollution threat, perhaps the biggest scam in history, is a key component of the globalist agenda. As the globalist organization The Club Of Rome, a sub-institution attached to the United Nations, stated in their book 'The First Global Revolution' :

" In searching for a common enemy against whom we can unite, we came up with the idea that pollution, the threat of global warming, water shortages, famine and the like, would fit the bill. In their totality and their interactions these phenomena do constitute a common threat which must be confronted by everyone together. But in designating these dangers as the enemy, we fall into the trap, which we have already warned readers about, namely mistaking symptoms for causes. All these dangers are caused by human intervention in natural processes. and it is only through changed attitudes and behaviour that they can be overcome. The real enemy then is humanity itself."

In other words, by presenting human beings as a species as the great danger, the globalists hope to convince humanity to sublimate itself before the mother earth goddess and beg to be kept in line. And, as the self designated "guardians" of the Earth, the elites become the high priests of the new religion of sustainability. They and they alone would determine who is a loyal servant and who is a heretic. Carbon pollution becomes the new "original sin"; everyone is a sinner against the Earth, for everyone breaths and uses resources, and we must all do our part to appease the Earth by sacrificing as much as possible, even ourselves.

The elites don't believe in this farce, they created it. The sustainability cult is merely a weapon to be used to dominate mass psychology and make the populace more malleable.

Population Control

Globalists come from an ideological background which worships eugenics – the belief that genetics must be controlled and regulated, and those people they deem to be undesirables must be sterilized or exterminated.

The modern eugenics movement was launched by the Rockefeller Foundation in the early 1900's in America , and was treated a a legitimate scientific endeavor for decades. Eugenics was taught in schools and even celebrated at the World's Fair. States like California that adopted eugenics legislation forcefully sterilized tens of thousands of people and denied thousands of marriage certificates based on genetics. The system was transferred to Germany in the 1930's were it gained world renown for its inherent brutality.

This ideology holds that 4% or less of the population is genetically worthy of leadership, and the elites conveniently assert that they represent part of that genetic purity.

After WWII the public developed a distaste for the idea of eugenics and population control, but under the guise of environmentalism the agenda is making a comeback, as population reduction in the name of "saving the Earth" is in the mainstream media once again . The Question then arises - Who gets to decide who lives and who dies? Who gets to decide who is never born? And, how will they come to their decisions? No doubt a modern form of eugenics will be presented as the "science" used to "fairly" determine the content of the population if the elites get their way.

Narcissistic Sociopathy

It is interesting that the globalists used to present the 4% leadership argument in their eugenics publications, because 4% of the population is also consistent with the number of people who have inherent sociopathy or narcissistic sociopathy , either in latent or full-blown form, with 1% of people identified as full blown psychopaths and the rest as latent. Coincidence?

The behavior of the globalists is consistent with the common diagnosis of full-blown narcopaths, a condition which is believed to be inborn and incurable. Narcopaths (pyschopaths) are devoid of empathy and are often self obsessed. They suffer from delusions of grandeur and see themselves as "gods" among men. They believe other lowly people are tools to be used for their pleasure or to further their ascendance to godhood. They lie incessantly as a survival mechanism and are good at determining what people want to hear. Narcopaths feel no compassion towards those they harm or murder, yet crave attention and adoration from the same people they see as inferior. More than anything, they seek the power to micro-manage the lives of everyone around them and to feed off those people like a parasite feeds off a host victim.

Luciferianism

It is often argued by skeptics that psychopaths cannot organize cohesively, because such organizations would self destruct. These people simply don't know what they're talking about. Psychopaths throughout history organize ALL THE TIME, from tyrannical governments to organized crime and religious cults. The globalists have their own binding ideologies and methods for organization. One method is to ensure benefits to those who serve the group (as well as punishments for those who stray). Predators often work together as long as there is ample prey. Another method is the use of religious or ideological superiority; making adherents feel like they are part of an exclusive and chosen few destined for greatness.

This is a highly complicated issue which requires its own essay to examine in full. I believe I did this effectively in my article 'Luciferians: A Secular Look At A Destructive Globalist Belief System' . Needless to say, this agenda is NOT one that globalists are willing to admit to openly very often, but I have outlined extensive evidence that luciferianism is indeed the underlying globalist cult religion. It is essentially an ideology which promotes moral relativism, the worship of the self and the attainment of godhood by any means necessary – which fits perfectly with globalism and globalist behavior.

It is also the only ideological institution adopted by the UN , through the UN's relationship with Lucis Trust, also originally called Lucifer Publishing Company . Lucis Trust still has a private library within the UN building today .

So, now that we know the various agendas and identifiers of globalists, we can now ask "Who are the globalists?"

The answer is – ANYONE who promotes the above agendas, related arguments, or any corporate or political leader who works directly with them. This includes presidents that claim to be anti-globalist while also filling their cabinets with people from globalist organizations.

To make a list of names is simple; merely study the membership rosters of globalists organizations like the Bilderberg Group, the Council On Foreign Relations, the Trilateral Commission, Tavistock Institute, the IMF, the BIS, World Bank, the UN, etc. You will find a broad range of people from every nation and every ethnicity ALL sharing one goal – A world in which the future for every other person is dictated by them for all time; a world in which freedom is a memory and individual choice is a commodity only they have the right to enjoy.

* * *

If you would like to support the work that Alt-Market does while also receiving content on advanced tactics for defeating the globalist agenda, subscribe to our exclusive newsletter The Wild Bunch Dispatch . Learn more about it HERE .
The short story is that these stanks are stronger than ever in terms of their ability to build support for what their funders task them to do, laundering the fingerprints on the rigged outcome to make it all look like the honest work of unbiased academics.

Corporate media, even in the old days where they were not as bad, would not dig into the stanks' shorts too deeply, as they had a symbiotic relationship. The media used them for "expert" sourcing in getting their geopolitical articles done and looking classy.

There is no way to get rid of the stanks now, as they are too deeply entrenched. It would take funding like they have to construct an "anti-stank" – a new batch of non-stanks that were not in the tank Jim W. Dean ]

Jim's Editor's Notes are solely crowdfunded via PayPal
Jim's work includes research, field trips, Heritage TV Legacy archiving & more. Thanks for helping. Click to donate >>

by Valery Kulikov with New Eastern Outlook , Moscow, and the Institute of Oriental Studies of the Russian Academy of Sciences , a research institution for the study of the countries and cultures of Asia and North Africa

– First published December 09, 2019 –

For the longest time the so-called "think tanks" have been an indispensable element of the American political system. These days there are well over two thousand such "analytical centers" operating in the US, which exceeds the combined total in other major international players such as India, China, Argentina, Germany, and the UK.

The first noticeable spike in the number of think tanks across America occurred in the post-WWII years when such "analytical centers" assumed the duty of upholding the emerging unipolar world order within which Washington reigned above all other nations.

In fact, most of them were created primarily by the military, interested in developing a strategy for accumulating large volumes of politically relevant information, which would have been impossible without the employment of civilian specialists possessing diverse skill sets that allowed them to become proficient at geostrategic analysis.

Thus, in 1956, the US Secretary of Defense headed by Charles Erwin Wilson demanded that a total of America's five largest universities join their efforts in establishing a non-profit research organization called the Institute for Defense Analysis (IDA). In less than a decade, this entity grew into a massive scientific institution employing well over 600 people.

In the 1960s, there were over 200 think tanks operating simultaneously all across America. The most famous and influential among them were the so-called "government-funded centers", among them the RAND Corporation, the Institute for Defense Analysis, the Institute for Naval Analysis, and the Aerospace Corporation, all of which were directly supported by the US Congress, which would allocate up to 300 million dollars annually to support their operations.

However, in addition to those thinks tanks funded by the state, there was a rapidly growing number of privately-owned analytical centers that were funded by special interests who decided to use these entities to advance their own agendas, thus indirectly influencing American domestic and foreign policies by launching various campaigns.

There where various charitable foundations that came in handy, providing gifts and public donations and allowing their analysts to profit from various publications. During the period from 1957 to 1964, when the very term "think tanks" was coined, the total turnout of those entities increased to 15 billion dollars annually.

At the peak of the think tank craze in the United States -- from 1960 to 1970 -- more than 150 billion dollars were spent on their operations. Today, the budget of the RAND Corporation alone exceeds the threshold of 12 billion dollars a year.

Initially, this American think tank empire was used to overcome crises and develop long-term strategies, with custom-tailored recipes provided to American politicians for approaching various regions of the world. In the 1960s, they were tasked with finding solutions to the problems associated with the Vietnam War, the declining role of the US dollar in global financial markets and the internal instability of the United States.

That's when globalist projects were born, which were designed in such a way that they would divert the attention of the general public from the most acute social problems at home.

Thus, by the end of the previous century, American think tanks turned themselves into an active decision-making tool in the US, as they were not just using "external financing" to advance the agendas of their benefactor s , but were also capable of putting forward respected analysts supporting their cause, with the controlled mass media promoting their narrative.

The close interconnection of the large think tanks and the US government structures is confirmed by American politicians and businessmen changing high-profile positions within the government with positions in these entities.

From the point of view of political rotation, those think tanks serve as a training ground for future high-ranking officials of upcoming administrations, where the establishment handpicks and approves these figures who will eventually get elected. And while one party is in power, the other sends its front-liners back to the think tanks.

A vivid example of this phenomenon is the track record of Donald Trump's former advisor on matters of national security, John Bolton, who at different periods of his political career was employed by three different think tanks – the Jewish Institute for National Security of America (JINSA), the Institute for Advanced Strategic and Political Studies (IASPS) and the Council on Foreign Relations (CFR).

Besides this, as you may know, he was Under Secretary of State for Arms Control and International Security Affairs under George W. Bush, a member of the New American Century (PNAC), and in 2007 joined the American Enterprise Institute (AE), that is also an NGO.

Upon receiving specific tasks from behind the scenes interests, elites and various departments, these think tanks began developing various foreign policy concepts, training experts and representatives while preparing public opinion for certain developments through the media, like the advancement of "color revolutions" or the reemergence of some "evil powers" attempting to compete with Washington.

Aside from the well-publicized example of the RAND Corporation, you can look at StrategEast, which is described as the strategic center for political and diplomatic decisions. The main stated objective of StrategEast is the development of programs for specific states on the basis of their susceptibility to various Western (American) values.

Behind this idyllic concept hides the following: StrategEast analysts collect information on the possibility of creating a pro-American society within targeted territories that are of interest to the United States.

For instance, from the mid-80s onwards, Washington was interested in the Soviet Union, and its republics, which resulted in the Baltic states, and then Georgia and Ukraine joining the list of US allies due to the programs developed by StrategEast. Today, they are busy researching the Central Asian states, so it doesn't take much imagination to predict what will happen next.

In the initial stages, StrategEast programs provide a recipe to drive a country away from its traditional cultural values, so that it can be turned into an anti-Russian stronghold (as was done in the Baltic countries, Georgia, and Ukraine) or into their anti-Chinese equivalent (like is happening now with the countries of Central and Southeast Asia).

In Central Asia, for example, American "experts" have begun to impose the idea of translating the national alphabet from Cyrillic to Latin under a very strange pretext that it would then make life easier for local Internet users (while failing to explain why the incredibly complex Japanese and Chinese characters do not impede the ability of users in Japan and China to use the Internet).

In parallel with linguistic and cultural Westernization, the local public is being prepared for the possibility of massive protests so that it won't object to "color revolutions" that engineered to follow.

As we're witnessing the new Cold War going into full swing, there must be an objective assessment of the activities of US think tanks, as their "concepts" and "projects" should be approached with a clear understanding of the fact that they advance certain interests that do not necessarily correspond with the national interests of other countries.

Valery Kulikov, expert politicologist, exclusively for the online magazine 'New Eastern Outlook'
All pigs are equal, but some are more equal then other...
Jewish hedge fund manager Henry Laufer keeps a low profile.

Laufer and his business partner Jim Simons burned $14 million on Hillary Clinton in 2016. He is currently spending $2.8 million on figures like Nancy Pelosi and disgraced, corrupt Congresswoman Debbie Wasserman-Shultz's re-election campaign.

The Laufers are also generous patrons of Media Matters for America, the anti-free speech organization that has made multiple attempts to get Tucker Carlson off the air.

Paul Singer [***] (GOP)

If you're wondering why so many prominent conservative figures are **** stars and homosexuals, it's all downstream from international *** Paul Singer.

Singer, who puts the "vulture" in "vulture capitalist," is one of the country's top funders of homosexual activism and the reason the Republican party did not fight against gay marriage. He was instrumental in paying to obtain the infamous "Steele Dossier," which falsely claimed Donald Trump was being blackmailed by Vladimir Putin with video of prostitutes urinating on him in Russia. He has a wide array of politicians, journalists and other influential people in his pocket, largely dedicated to pushing hawkish Israel policies, homosexuality and discrediting critics of capitalism .

Going into 2020, the hedge fund oligarch is pouring $3.4 million dollars into Lindsey Graham's PAC , the WFW Fund (dedicated to financing female conservatives) and the American Unity PAC (a group dedicated to advancing homosexual activists inside the Republican party).

---

SpeechFreedom , 6 hours ago link

While the JEWS that run and own google decide your fate, their *** buddies are doing this to your U.S. political system:

'Zionist Money Already Corrupting the 2020 Elections'

by Eric Striker

"WATCHING THE last Democratic debate, you would think the candidates were vying for an electorate that is 90% Black and illegal alien.

Issues like jobs, infrastructure, even foreign policy were largely ignored.

The [***] parasites in the shadows making a mockery out of representative democracy have good reason to be confident: they are already starting to corrupt the 2020 elections.

Open Secrets analyzed the most recent donor data for the top 10 political donors going into next year's first quarter.

Unsurprisingly, 8 out of 10 of these fat cats are Jews.

Henry and Marsha Laufer [JEWS] (Democrat)

Jewish hedge fund manager Henry Laufer keeps a low profile.

Laufer and his business partner Jim Simons burned $14 million on Hillary Clinton in 2016.

He is currently spending $2.8 million on figures like Nancy Pelosi and disgraced, corrupt Congresswoman Debbie Wasserman-Shultz's re-election campaign.

The Laufers are also generous patrons of Media Matters for America, the anti-free speech organization that has made multiple attempts to get Tucker Carlson off the air.

Karla Jurvetson [***] (Democrat)

Jurvetson, whose real surname is Tinklenberg, is a physician who recently divorced billionaire Steve Jurvetson.

Her ex-husband is a big player in Silicon Valley, known for hosting drug-fueled orgies where mentally disturbed tech CEOs dress up like bunny rabbits.

Paul Singer [***] (GOP)

If you're wondering why so many prominent conservative figures are **** stars and homosexuals, it's all downstream from international *** Paul Singer.

Singer, who puts the "vulture" in "vulture capitalist," is one of the country's top funders of homosexual activism and the reason the Republican party did not fight against gay marriage. He was instrumental in paying to obtain the infamous "Steele Dossier," which falsely claimed Donald Trump was being blackmailed by Vladimir Putin with video of prostitutes urinating on him in Russia. He has a wide array of politicians, journalists and other influential people in his pocket, largely dedicated to pushing hawkish Israel policies, homosexuality and discrediting critics of capitalism .

Going into 2020, the hedge fund oligarch is pouring $3.4 million dollars into Lindsey Graham's PAC , the WFW Fund (dedicated to financing female conservatives) and the American Unity PAC (a group dedicated to advancing homosexual activists inside the Republican party).

Deborah Simon [***] (Democrat)

The *** Simon inherited her money from her property development father, Melvin Simon, of Simon Property Group. The elder Simon was the subject of multiple lawsuits when he ripped off his shareholders and paid himself a $120 million dollar bonus.

Deborah has so far spent $3.5 million dollars on various Democratic PACs, including $1 million dedicated to bankrolling David Brock's operations.

Bernard Marcus [***] (GOP)

Bernard Marcus, the Jewish emigre who founded Home Depot, was one of the a handful of billionaires to give Donald Trump big donations during his 2016 presidential run.

Now, Zionist activist Marcus has set aside $4.6 million dollars to keep Senate Majority leader Mitch McConnell and House Minority Leader Kevin McCarthy, both up for re-election in 2020, in his pocket.

George Soros [***] (Democrat)

Soros is one of many Jewish finance-capitalists corrupting our politics. He spent $20 million during the 2016 election.

Today, Soros looks to be the big fish in small bowls by targeting prosecutorial races. This is dangerous, as few people pay much attention to District Attorney races, even though these figures have the power to put innocent people in prison and let guilty people go free.

The $5.1 million he's utilizing this quarter have all gone to his new "Democracy PAC," which played a major role in getting extremist prosecutors elected in Virginia. Soros also famously provided $1.7 million dollars to fellow *** Larry Krasner, who ran for prosecutor in Philadelphia as a literal supporter of Black Lives Matter.

Superficially these elections are low stakes, so even a few hundred thousands dollars can guarantee a landslide victory for the most absurd and extreme candidates. Soros' money going into 2020 promise to accelerate the US judicial system's decline into anarcho-tyranny .

Tom Steyer [***] (Democrat)

Steyer is yet another Jewish hedgefund manager with a penchant for lavish political spending.

Steyer funds countless neo-liberal think-tanks and Democratic party causes. Now, he is planning to blow $100 million on his highly unpopular presidential run.

This billionaire who made much of his money in the coal industry is now primarily pushing climate change , which is really just austerity through the backdoor . This quarter, he has spent $6.5 million on his own Super PAC, NextGen Climate Action.

Donald Sussman [***] (Democrat)

This hedgefund *** leads in donations during this period.

Sussman is Paul Singer's former business partner and played a major role in the billionaire cabal that tried to win the Democrats the whole Congress in 2018.

He is giving $7.5 million to various Democratic party PACs, and has a special interest in Cory Booker's flagging campaign -- currently polling at 3%.

yungmiwong , 7 hours ago link

Please think about it, folks. These companies thrive on H1B Visas and foreign talent. With the social power invested in these companies, the foreign-born employees create yet another conduit of foreign election influence.

pitz , 7 hours ago link

The H-1Bs have ruined the industry. So much American talent is underemployed or unemployed simply because they can't get noticed amidst the oceans of foreign nationals.

Epstein101 , 10 hours ago link

Big Tech Oligarchs' Best Tool for Censoring the Internet: The Jewish ADL

The so-called "Anti-Defamation League," like every Jewish interest group, doesn't practice what it preaches. In fact, the ADL under CEO Johnathan Greenblatt is one of the main organizations working to defame its political enemies and to censor free speech online. Their cause? As usual, securing Jewish ethnic interests.

Fluff The Cat , 9 hours ago link

This is what it all boils down to in the end. All the censorship is at the behest of the ADL and crony CEOs (mostly Jewish) working in tandem to attack free speech on the internet...
If Trump gets re-elected, if Big Tech continues to evade accountability, if imperial adventures continue abroad, if migrant farmworkers cannot feed their families, you can trace it back to this Tuesday, and the actions a House Speaker took while nobody was paying attention .
-- David Dayen, The American Prospect (emphasis added)

As the Impeachment Drama lumbers to a 2020 conclusion, morphing into its variant selves and sucking life from every other story the media most folks attend to are inclined to tell, unwatched things are happening in its shadow.

Nancy Pelosi has used end-of-year urgency and the impeachment distraction to pass four pieces of major legislation, three of which will become law, all on the same day.

NAFTA 2.0 is one of them. Richard Trumka, head of the AFL-CIO, agreed under pressure to approve Pelosi's House version of NAFTA 2.0, rebranded "USMCA," or United States-Mexico-Canada Agreement, for obvious reasons. This is a deal he should never have made, yet he made it.

Consider who Trumka is -- a bridge between the neoliberal mainstream of the Democratic Party and the (presumably further left) labor movement that supports and sustains it. In other words, he's the person who blesses neoliberal policies as "progressive" (thus retaining mainstream Democratic Party approval) while modifying those policies in the margins to be less terrible (thus retaining the approval of progressives, who want to think of him as opposed to neoliberalist policies).

He's the person, in other words, who makes the labor movement look less like a puppy of the Democratic Party establishment to progressives, while keeping the labor movement (and himself) firmly in the Party establishment tent. The drama of "Will Trumka approve USMCA?" we recently witnessed exemplified this role.

To anyone with two cells in their brain, it was obvious as soon as the question was asked that he would approve USMCA. The stage was set; his arrival on it announced; the spotlight was ready and bright. Would he really walk onto this stage at this late date and say no to Party leaders? Of course not.

Would he have been able to stay in his lofty perch if he had? His job was to bless the cake after it had been baked, not to unbake it.

What pressure was Trumka under? First, obviously, from the Democratic Party and its billionaire donors, to give them what they and the Republicans -- and Donald Trump -- all wanted, a neoliberal-lite trade deal that could become in Nancy Pelosi's words "a template for future trade agreements a good template."

Second, Trumka was under pressure from his union base itself (so say some, including David Dayen in the piece linked below), many of whom are Trump supporters, to give President Trump a signature first-term victory, just in time for the start of his second-term campaign.

Do I believe this latter explanation? No, but I believe Trumka believes it. And if indeed it is true that Trumka has to serve Trump, at least in part, in order to serve his own base, it's further evidence of the careerism of his actions, in contrast to behavior from actual labor-movement principles.

Here's Dayen on this sordid tale (emphasis added):

Pelosi got AFL-CIO president Rich Trumka to sign off on the U.S.–Mexico-Canada Agreement (USMCA), handing Trump a political victory on one of his signature issues. Predictably, White House Press Secretary Stephanie Grisham immediately gushed, calling USMCA "the biggest and best trade agreement in the history of the world."

It's, um, not that. Economically, USMCA is a nothingburger; even the most rose-colored analysis with doubtful assumptions built in shows GDP growth of only 0.06 percent per year. There's one good provision: the elimination of the investor-state dispute settlement (ISDS) provision that allowed corporations to sue governments in secret tribunals over trade violations. There's one bad provision: the extension of legal immunity for tech platforms over user-generated content, put into a trade deal for the first time. This will make the immunity shield, codified in Section 230 of the Communications Decency Act, much harder to alter in the future. Pelosi has called this deal a "template" for future agreements, though trade reformers have called it a bare minimum floor.

Pelosi tried to remove the immunity shield , but abandoned the request. She did succeed in removing a provision for Big Pharma that extended exclusivity periods for biologics. The Sierra Club has termed the deal an " environmental failure " that will not have binding standards on clean air and water or climate goals. But the threshold question on the USMCA was always going to be labor enforcement: would the labor laws imposed on Mexico hold, improving their lot while giving U.S. manufacturing workers a chance to compete? There was also the open question of why the U.S. would reward Mexico with a trade deal update when trade unionists in the country continue to be kidnapped and killed.

In his statement, Trumka lauds the labor enforcement, noting provisions that make it easier to prove violations (including violence against workers), rules of evidence for disputes, and inspections of Mexican facilities, a key win. But I've been told that the AFL-CIO did not see the details of the text before signing off, which is unforgivable , especially on trade where details matter. There was no vote by union leaders , just a briefing from the AFL-CIO.

At least one union, the Machinists, remains opposed , and others were noncommittal until they see text. The Economic Policy Institute, which is strongly tied to labor, called the agreement " weak tea at best ," a tiny advance on the status quo that will not reverse decades of outsourcing of U.S. jobs.

Meanwhile, back at the Trump re-election ranch:

While the economics are negligible (and potentially harmful on tech policy), on the politics activists are losing their mind at the prospect of a Trump signing ceremony, with labor by his side, on a deal that he will construe as keeping promises to Midwest voters . "Any corporate Democrat who pushed to get this agreement passed that thinks Donald Trump is going to share the credit for those improvements is dangerously gullible," said Yvette Simpson, CEO of Democracy for America, in a statement. Only a small handful of Democratic centrists were pushing for a USMCA vote, based mostly on the idea that they had to "do something" to show that they could get things done in Congress. Now they've got it, and they'll have to live with the consequences.

I guess helping re-elect the " most dangerous president ever " pales in comparison to passing bipartisan-approved neoliberal trade deals.

One of Richard Trumka's jobs, if he wants to stay employed, is to make sure neoliberal Party leaders like Nancy Pelosi are happy and well served while simultaneously keeping progressives thinking that Big Labor is still in their corner even on issues the donor class most cares about.

At that he does very well, and did so here.
Notable quotes:
"... Ciaramella notably contacted House Intelligence Committee Chairman Adam Schiff's (D-CA) office before filing his complaint , on a form which was altered to allow for second-hand information, after going to a Democratic operative attorney who will neither confirm nor deny his status as the whistleblower. ..."
NY Post Editorial Board Names Eric Ciaramella As Whistleblower by Tyler Durden Fri, 12/13/2019 - 10:30 0 SHARES

The New York Post Editorial Board has named CIA analyst Eric Ciaramella as the whistleblower at the heart of the Trump impeachment saga, confirming an October 30 report by RealClearInvestigation 's Paul Sperry which has been widely cited in subsequent reports.

Eric Ciaramella poses for a photo with former President Barack Obama at the White House. (Via the Washington Examiner )

Whistleblower lawyers refuse to confirm or deny Ciaramella is their man. His identity is apparently the worst-kept secret of the Washington press corps . In a sign of how farcical this has become, Rep. Louie Gohmert (R-Texas) said his name as part of a series of names during a live hearing Wednesday night aired on television. He never called him the whistleblower, just said he was someone Republicans thought should testify, yet Democrats angrily denounced the "outing." If you don't know the man's name, how do you know the man's name? - New York Post

Ciaramella, a registered Democrat, is a CIA analyst who specializes in Russia and Ukraine, and ran the Ukraine desk at the National Security Council (NSC) in 2016. He previously worked for then-NSC adviser Susan Rice, as well as Joe Biden when the former VP was the Obama administration's point-man for Ukraine. He also worked for former CIA Director John Brennan, and was reportedly a highly valued employee according to RedState ' s Elizabeth Vaughn. He also became former National Security Adviser H.R. McMaster's personal aide in June 2017, was called out as a leaker by journalist Mike Cernovich that same month.

He also worked with Alexandra Chalupa , a Ukrainian-American lawyer and Democratic operative involved in allegations that Ukraine meddled in the 2016 US election by releasing the so-called 'Black Ledger' that contained Paul Manafort's name.

In 2017, former White House chief strategist Steve Bannon wanted Ciaramella kicked off the National Security Council over concerns about leaks.

Earlier this year, Ciaramella ignited the Democratic impeachment efforts against President Trump when, using second-hand information, he anonymously complained that Trump abused his office when he asked Ukraine to investigate corruption allegations against Joe Biden and his son Hunter, as well as claims related to pro-Clinton election interference and DNC hacking in 2016.

Ciaramella notably contacted House Intelligence Committee Chairman Adam Schiff's (D-CA) office before filing his complaint , on a form which was altered to allow for second-hand information, after going to a Democratic operative attorney who will neither confirm nor deny his status as the whistleblower.

Mzhen , 3 minutes ago link

Steve Bannon was only on the National Security Council for two months, and was removed in early April 2017 at the direction of the President. So the story about Bannon valiantly trying to save the day is probably more of his resume padding.

Epstein101 , 5 minutes ago link

He looks like the sort of guy who follows Rachel Maddow on Twitter, and is still 'friends' with several of his ex-girlfriends.
(Bloomberg Opinion) -- In testimony before Congress this week, Lieutenant Colonel Alexander Vindman, an Army officer with more than 20 years of service, told lawmakers that he had heard the president try to pressure Ukraine's president to unearth dirt on a political rival. In response, the president's allies have decided to make an issue of Vindman's birthplace. They say his infanthood in Kiev -- he left at age 3 -- reveals something about his character and his allegiances. They are right, but in exactly the wrong way.

Here, you should pardon the expression, are some facts and a little bit of history. When Vindman was born on June 6, 1975, Ukraine was enveloped in the Soviet Union. At birth, Vindman would have been added temporarily to his parents' internal passports, a document that all Soviet citizens were required to carry starting at 16, mostly to make sure they were not residing somewhere without official permission.

That passport contained the infamous "fifth line" or "pyati punkt," in Russian, which had been created under Josef Stalin and listed the holder's "nationality." Vindman was born in Ukraine, but that line would not have said "Ukrainian" unless his parents had chosen to defy the law. It would have said "Jew."

In the Soviet Union, Jews were considered separate and apart from other nationalities, especially in two of the republics, Russia and Ukraine, where the local party enforcers were particularly happy to do the Kremlin's dirty work. You could be born in Minsk or Pinsk, or Omsk or Tomsk, or even Alexandrovsk or Petropavlovsk, and if you were born to Jewish parents, your passport was likely stamped "Jew."

When I first learned this, upon arriving in Moscow in May 1983 as a reporter for the Associated Press, I was outraged. I saw it like the Nazi's yellow star. I couldn't imagine how Jewish people could stand it.

Until one day, I put that question to Naum Meiman, a Jewish mathematician who was part of Andrei Sakharov's circle of dissidents. The answer was simple and humbling.

He didn't want "Russian," or any other so-called Soviet nationality, in his passport. Russians didn't consider him Russian, officially or otherwise, and he didn't want the label. "I'm a Jew who is forced to live in Russia, not a Russian," he said more than once.

I am certainly not speaking for Vindman, whom I do not know, but I have never met a Jew who fled the Soviet Union and felt any kind of loyalty to the country -- one where Jews were spurned from birth and then imprisoned within the state's borders until it decided to allow them to leave. In those days, the Soviet Union revoked émigré's citizenships, in what was supposed to be a final act of deep humiliation, but was invariably a badge of pride.

"Here we have a U.S. national security official who is advising Ukraine while working inside the White House, apparently against the president's interest," Fox News host Laura Ingraham told viewers Monday.

The circumstances of Vindman's birth argue for a different interpretation. They show him to be part of a tradition of 20th century Eastern European Jews who suffered under tyrannies of the left and the right. These people fled the first chance they had to a country that would accept them as fellow citizens, one where they would not be constantly questioned about their loyalties. For many decades, that country was the United States.

To contact the author of this story: Andrew Rosenthal at andyrosenthal269@gmail.com
Retired Brigadier General Peter Zwack spoke to "Nightline" ahead of Vindman's testifying before the House Intelligence Committee during a public impeachment hearing of President Trump.

Former democrat

21 days ago Mr Vindman looks more like a doorman, than a Army Officer in that uniform ! Larry

21 days ago

What's that "thing" on his ring finger (appears wooden)? Is that from his partner "Husband"? In my US Army years, soldiers were dishonorable discharged from this "Criminal Offense" !
Former Attorney General Eric Holder, the first AG in history to be held in both criminal and civil contempt by Congress for failing to turn over ' Fast and Furious ' documents, says that current Attorney General William Barr is "nakedly partisan" and unfit for office.

In a Wednesday night op-ed in the Washington Post , Holder - who previously described himself as President Obama's 'wing-man,' wrote that Barr is employing "the tactics of an unscrupulous criminal defense lawyer" by vilifying critics of President Trump.

Holder slammed Barr's recent comments at a Federalist Society event, in which the AG "delivered an ode to essentially unbridled executive power" by "dismissing the authority of the legislative and judicial branches."

When, in the same speech, Barr accused "the other side" of "the systematic shredding of norms and the undermining of the rule of law," he exposed himself as a partisan actor, not an impartial law enforcement official. Even more troubling -- and telling -- was a later (and little-noticed) section of his remarks, in which Barr made the outlandish suggestion that Congress cannot entrust anyone but the president himself to execute the law. -Eric Holder

"It undermines the need for understanding between law enforcement and certain communities and flies in the face of everything the Justice Department stands for," wrote Holder, adding "I and many other Justice veterans were hopeful that he would serve as a responsible steward of the department and a protector of the rule of law."

So - Eric Holder thinks Barr should be an "impartial law enforcement official," and not a "partisan actor," yet described himself in a 2013 interview as President Obama's "wing-man."

In 2012, 'scandal-free' Obama claimed executive privilege over Fast and Furious documents "gunwalking" operation sought by House investigators investigating the death of Border Patrol agent Brian Terry at the hands of foreign nationals who used a weapon obtained through illegal straw purchases orchestrated by Obama's ATF.

Holder blasted the contempt votes as "politically motivated" and "misguided."

---

Silentwistle , 8 minutes ago link

You know, when everyone speaks of people who should be in jail we always forget about Holder. Thanks for reminding us again what a POS Holder is.

Salsa Verde , 13 minutes ago link

I dream of the day when families in Mexico who's loved one's were killed by F&F guns get their hands on Holder and tear him to pieces.

Tachyon5321 , 17 minutes ago link

As a result of his stupidity, Attorney General Eric Holder's actions killed US Boarder and Mexican police . Holder should have been charged with homicide for the murders of the US Boarder Gaurds.

mtumba , 21 minutes ago link

The Obama turds continue to float to the top of the toilet bowl.

Cthonic , 19 minutes ago link

clinton turd

http://jimbovard.com/blog/2014/08/27/eric-holder-waco-coverup/

two hoots , 23 minutes ago link

Holder is another protection card to play, yesterday it was Bill Clinton. They are reaching desperation, bottom of the barrel, and soon all will be naked and exposed. Easy to lose sight of the damage to our nation wrought by this one party that puts it's survival and needs above us all.
It is tempting to see this as a function of political correctness. Americans, and others around the world, who have found themselves on the "wrong side of history" (as determined by the cultural elite in an endless cycle of epistemological door closing) have long been shut out of conversations, their views deemed beyond the pale of acceptable discourse in enlightened modern societies. Google, Facebook, Twitter -- are these corporations, and their uber-woke CEOs, just cranking the PC up to eleven and imposing their schoolmarmish proclivities on the billions of people who want to scrawl messages on their electronic chalkboards?

Not so, says reformed leftist -- and current PC target -- Michael Rectenwald. The truth of Stanford and Harvard alumni's death grip on global discourse is much more complicated than just PC run amok. It is not that the Silicon Valley giants are agents of mass surveillance and censorship (although mass surveillance and censorship are precisely the business they're in). It's that the very system they have designed is, structurally, the same as the systems of oppression that blanketed and smothered free expression in so much of the world during the previous century. In his latest book, Google Archipelago , Rectenwald outlines how this system works, why leftism is synonymous with oppression, and how the Google Archipelago's regime of "simulated reality" "must be countered, not only with real knowledge, but with a metaphysics of truth."

Google Archipelago is divided into eight chapters and is rooted in both Rectenwald's encyclopedic knowledge of the history of science and corporate control of culture, as well as in his own experiences. Before retiring, Rectenwald had been a professor at New York University, where he was thoroughly entrenched in the PC episteme that squelches real thought at universities across North America and beyond. Gradually, Rectenwald began to realize that PC was not a philosophy, but the enemy of open inquiry. For this reason, and because Rectenwald is an expert in the so-called digital humanities and the long history of scientific (and pseudo-scientific) thinking that feeds into it, Google Archipelago is not just a dry monograph about a social issue. By turns memoir, Kafkaesque dream sequence, trenchant rebuke of leftist censorship, and intellectual history of woke corporate political correctness, Google Archipelago is a welcoming window into a mind working happily in overdrive.

There is much in Google Archipelago addressing the lie that Google, Facebook, and Twitter are neutral platforms for free-ranging debate. This is not so much, because, statistically and empirically, it is irrefutable that Silicon Valley is hostile to non-Beltway-leftist opinions, but because, much more damningly, their woke-capital corporate structures are themselves iterations of massification, propaganda, and deep social control. For Rectenwald, the "Google archipelago" is not PC version 2.0; it is Marxism, version 1,000 (and raised by several orders of magnitude to boot).

For example, in the first and second chapters of Google Archipelago , Rectenwald lays out how the various elements of woke-capitalist ideological repression work together in actual practice. Rectenwald's chief example is the Gillette ad campaign of January 2019, in which a company whose products (razor blades and shaving cream) are purchased, of course, was said to insult the very essence of its customers by belittling manhood as "toxic." Why would a razor blade company go out of its way to alienate the people who buy the majority of razorblades? The answer is surprising. Rectenwald tells us Gillette was not simply responding to a renewed PC craze by running the "toxic masculinity" ad. Gillette, from the beginning, has been a pioneer in designing systems to mold public opinion and shape individuals into easily pliable socialist masses. King Camp Gillette, the founder of what is now the Gillette company, hated competition and sought to make, as he put it, a "world corporation." Through this corporation, the ignorant plebs around the globe could be impelled to do what their social and intellectual superiors -- the leaders of the "world corporation" -- thought was in their best interest. This "singular monopoly," as Rectenwald puts it, would control the material and mental makeup of the entire world. Quoting King Camp Gillette's biographer, Rectenwald adds, "It was almost as if Karl Marx had paused between The Communist Manifesto and Das Kapital to develop a dissolving toothbrush or collapsible comb."

Rectenwald outlines a direct line of descent from this earlier corporate socialism of razor blades and "collapsible comb[s]" to the "authoritarian leftism" of the present digital age, authoritarian leftism being "the operational ethos of the Google Archipelago." The Google Archipelago's "wokeforce" practices what Rectenwald calls "avant-garde identity politics extremism," the organizing principle for deciding which parts of society are in revolt against PC and need to be excised from the archipelago of allowed opinion. The internet did create the "information superhighway," as was endlessly exclaimed by politicians and nascent digitalistas during the late 1990s. But it also amplified the structures of woke corporate control that had been in place since the beginning of globalized leftism, Marxian "capitalist" finance, and elite-led collectivism -- precisely the kind of inversion of free enterprise and perversion of the free market practiced by King Camp Gillette and his socialist comrades a hundred and more years before. The Google Archipelago is not a product of the personal computer, but of another kind of political correctness, the PC that is the manifestation of the same old human urge to control others and bring the world under the sway of one's will.
ComeAndTakeIt , 9 hours ago link

Being a "progressive trendy techy" is an identity and a lifestyle. They have a dress code. A unique lexicon. Similar mannerisms and methods of speaking. An approved system of beliefs regarding politics and society.

For all intents and purposes the "tech industry" is a giant freakish cult.
john , Dec 11 2019 18:01 utc | 11

james says:

..all i mostly see is the needed collapse and waiting for that to happen..

someone around here said recently that it should be smooth sailing for the USA for at least another 150 to 200 years, so indeed to make a prediction it's enough you have vocal cords.

interestingly though, Dmitry Orlov, who has invested much of his overall thesis in the process of collapse (of the US empire) recently predicted its happening in his lifetime At this point, I am tempted to go out on a limb and predict that if all goes well (for me) I will still be alive when this collapse actually transpires
Bavarian , 1 hour ago link

The wheels of justice turn slowly but grind exceedingly fine - Earl Warren
emmanuelthoreau , 7 minutes ago link

Watch the dates.

Clinton was impeached on December 19, 1998. The multiple Senate votes to acquit were on February 12, 1999.

Arlen Specter flaked out with a "not proven" vote. You'll get something like that this time, too.

Same ****. Wake up, Neo. They'll literally do this on the SAME DAYS.
DJG , , December 9, 2019 at 7:52 pm

This observation by Lambert Strether sums it up: "Karlan's wasn't even footnoted, whether to facts, or to law." She is supposedly a professor of law, supposedly advising the Congress about the process of impeachment. She didn't even try to do her job. One may not agree with Turley, although the long excerpt brings a broad perspective to what is criminality and to how much criminality we now consider normal in the U.S. government. To his credit, Turley marshals facts into a synthesis.

What the Republicans don't seem to get is that will to power isn't all that matters and that their commitment to economic degradation and looting the citizenry have thrown them into a crisis (as the paleo-conservatives keep pointing out). Among liberals like Pelosi (and Karlan), the cluelessness is breathtaking. American liberalism is in a profound crisis, with Karlan's disquisition being particulary breathtaking for clichés-a-minute, sheer vulgar thinking, and kitsch.

This is the end. For those of us on the left, and I hesitate to advise non-action, it may be time simply to let these two rotten structures and ways of thinking collapse. It is like watching two ghost ships engaged battle, desparately trying to sink one another into a putrid ocean.

On a lighter (!) note, I will quote Gramsci:

The crisis consists precisely in the fact that the old is dying away and the new cannot yet be born; during this break in continuity, unhealthy events of every kind are happening.

La crisi consiste appunto nel fatto che il vecchio muore e il nuovo non può nascere: in questo interregno si verificano i fenomeni morbosi piú svariati.

Antonio Gramsci -- Prison Notebooks
flora , , December 9, 2019 at 7:58 pm
An old lawyer adage: If you have the facts on your side, pound the facts. If you have the law on your side, pound the law. If you have neither the facts nor the law , pound the table.

Karlan was pounding the table.
LEEPERMAX , 2 minutes ago link

BOTH the AG and federal prosecutor Durham REJECT the findings. Durham has the ability to conduct a criminal investigation that Horowitz did not. Given this, the IG found evidence to criminally refer FBI officials and campaign spies.

-- GEORGE PAPADOPOULOS (@GEORGEPAPA19) DECEMBER 9, 2019

Remember: the Durham probe became a CRIMINAL investigation as soon as he left Rome with information on Mifsud. IG said he wasn't working for the FBI. Leaves only one other option: CIA, and why Brennan and his team have all lawyered up. Bye bye, Brennan.

-- GEORGE PAPADOPOULOS (@GEORGEPAPA19) DECEMBER 9, 2019
Notable quotes:
"... Karlan was pounding the table. ..."
"... Starting to see a pattern. Absolute contempt for the plebs. ..."
flora , , December 9, 2019 at 7:58 pm

An old lawyer adage: If you have the facts on your side, pound the facts. If you have the law on your side, pound the law. If you have neither the facts nor the law , pound the table.

Karlan was pounding the table.

Bituman_2000

Starting to see a pattern. Absolute contempt for the plebs.
The congress decline is now visible. Other institutions will follow.
Much depends on how long "plato oil" will hold and Seneca cliff arrives.
Notable quotes:
"... First the institutions will decline. Second, the State will decline. Third, the economy will decline and only after this "phase 3" that we'll be able to se the real desintegration of the USA. ..."
"... More probable would be the gradual secession of some States after the economy has degraded enough. I wouldn't consider the loss of one peripheral State as the formal end of the USA, but if it goes to the stage of it losing more or less the Southern States or the Midwest States, then I think some historians would use these as a useful event to mark the formal end of the USA. ..."
"... the USA will remain a very influent regional superpower for the foreseeable future. It would have to take the entire capitalist structure to fall for the USA to really enter its disintegration phase. I've talked with some Marxists, and the most optimistic of them believe the USA still has some 150-200 years of tranquil existence. Of course, we're not psychics, so they are all wild guesses. ..."
vk , Dec 9 2019 17:02 utc | 106

@ Posted by: Passer by | Dec 9 2019 16:39 utc | 102

Well, the only USA that matters to the rest of the world is the USA-as-the-world's-sole-superpower. If that version of the USA disappears, then we would be talking about a completely different geopolitical architecture ("multipolar").

The USA itself doesn't need to collapse or disintegrate for that to happen.

My opinion is that the USA is losing its "sole superpower" status, albeit at a very slow pace. It couldn't be another way, since the USA is a nuclear superpower, so its competitors must deactivate its hegemony slowly and gently.

I also believe the USA will disappear some day, but in a different way than the USSR. Since the USA is a capitalist economy, it will desintegrate rather than collapse, and this disintegration will happen more a la Roman Empire (Crisis of the Third Century and beyond) rather than a la USSR. Capitalism has an anarchic way of producing and distributing its wealth, resulting in a decentralized web of institutions. First the institutions will decline. Second, the State will decline. Third, the economy will decline and only after this "phase 3" that we'll be able to se the real desintegration of the USA.

I don't believe the USA will fall by conquest, mostly because it has MAD, second because its geographic location favors a defensive war of its territory. More probable would be the gradual secession of some States after the economy has degraded enough. I wouldn't consider the loss of one peripheral State as the formal end of the USA, but if it goes to the stage of it losing more or less the Southern States or the Midwest States, then I think some historians would use these as a useful event to mark the formal end of the USA.

But before that, I believe the USA will remain a very influent regional superpower for the foreseeable future. It would have to take the entire capitalist structure to fall for the USA to really enter its disintegration phase. I've talked with some Marxists, and the most optimistic of them believe the USA still has some 150-200 years of tranquil existence. Of course, we're not psychics, so they are all wild guesses.
Notable quotes:
"... Ms. Rion spoke with Ukrainian former Prosecutor General Yuriy Lutsenko who outlines how former Ambassador Marie Yovanovitch perjured herself before Congress . ..."
"... What is outlined in this interview is a problem for all DC politicians across both parties. The obviously corrupt influence efforts by U.S. Ambassador Yovanovitch as outlined by Lutsenko were not done independently. ..."
"... Senators from both parties participated in the influence process and part of those influence priorities was exploiting the financial opportunities within Ukraine while simultaneously protecting Joe Biden and his family. This is where Senator John McCain and Senator Lindsey Graham were working with Marie Yovanovitch. ..."
Former Ukrainian Prosecutor Exposes Yovanovich Perjury, George Kent's Motive To Impeach Trump by Tyler Durden Mon, 12/09/2019 - 19:40 0 SHARES

Authored by Sundance via the Conservative Treehouse

In a fantastic display of true investigative journalism, One America News journalist Chanel Rion tracked down Ukrainian witnesses as part of an exclusive OAN investigative series. The evidence being discovered dismantles the baseless Adam Schiff impeachment hoax and highlights many corrupt motives for U.S. politicians.

Ms. Rion spoke with Ukrainian former Prosecutor General Yuriy Lutsenko who outlines how former Ambassador Marie Yovanovitch perjured herself before Congress .

https://www.youtube.com/embed/KgKGjoIkaXU

What is outlined in this interview is a problem for all DC politicians across both parties. The obviously corrupt influence efforts by U.S. Ambassador Yovanovitch as outlined by Lutsenko were not done independently.

Senators from both parties participated in the influence process and part of those influence priorities was exploiting the financial opportunities within Ukraine while simultaneously protecting Joe Biden and his family. This is where Senator John McCain and Senator Lindsey Graham were working with Marie Yovanovitch.

Imagine what would happen if all of the background information was to reach the general public? Thus the motive for Lindsey Graham currently working to bury it.

You might remember George Kent and Bill Taylor testified together.

It was evident months ago that U.S. chargé d'affaires to Ukraine, Bill Taylor, was one of the current participants in the coup effort against President Trump. It was Taylor who engaged in carefully planned text messages with EU Ambassador Gordon Sondland to set-up a narrative helpful to Adam Schiff's political coup effort.

Bill Taylor was formerly U.S. Ambassador to Ukraine ('06-'09) and later helped the Obama administration to design the laundry operation providing taxpayer financing to Ukraine in exchange for back-channel payments to U.S. politicians and their families.

In November Rudy Giuliani released a letter he sent to Senator Lindsey Graham outlining how Bill Taylor blocked VISA's for Ukrainian 'whistle-blowers' who are willing to testify to the corrupt financial scheme.

Unfortunately, as we are now witnessing, Senator Lindsey Graham, along with dozens of U.S. Senators currently serving, may very well have been recipients for money through the aforementioned laundry process. The VISA's are unlikely to get approval for congressional testimony, or Senate impeachment trial witness testimony.

U.S. senators write foreign aid policy, rules and regulations thereby creating the financing mechanisms to transmit U.S. funds. Those same senators then received a portion of the laundered funds back through their various "institutes" and business connections to the foreign government offices; in this example Ukraine. [ex. Burisma to Biden]

The U.S. State Dept. serves as a distribution network for the authorization of the money laundering by granting conflict waivers , approvals for financing (think Clinton Global Initiative), and permission slips for the payment of foreign money. The officials within the State Dept. take a cut of the overall payments through a system of "indulgence fees", junkets, gifts and expense payments to those with political oversight.

If anyone gets too close to revealing the process, writ large, they become a target of the entire apparatus. President Trump was considered an existential threat to this entire process. Hence our current political status with the ongoing coup.

Ambassador Marie Yovanovitch, Senator Lindsey Graham and Senator John McCain meeting with corrupt Ukraine President Petro Poroshenko in December 2016.

It will be interesting to see how this plays out , because, well, in reality all of the U.S. Senators (both parties) are participating in the process for receiving taxpayer money and contributions from foreign governments.

A "Codel" is a congressional delegation that takes trips to work out the payments terms/conditions of any changes in graft financing. This is why Senators spend $20 million on a campaign to earn a job paying $350k/year. The "institutes" is where the real foreign money comes in; billions paid by governments like China, Qatar, Saudi Arabia, Kuwait, Ukraine, etc. etc. There are trillions at stake.

[SIDEBAR: Majority Leader Mitch McConnell holds the power over these members (and the members of the Senate Intel Committee), because McConnell decides who sits on what committee. As soon as a Senator starts taking the bribes lobbying funds, McConnell then has full control over that Senator. This is how the system works.]

The McCain Institute is one of the obvious examples of the financing network. And that is the primary reason why Cindy McCain is such an outspoken critic of President Trump. In essence President Trump is standing between her and her next diamond necklace; a dangerous place to be.

So when we think about a Senate Impeachment Trial; and we consider which senators will vote to impeach President Trump, it's not just a matter of Democrats -vs- Republican. We need to look at the game of leverage, and the stand-off between those bribed Senators who would prefer President Trump did not interfere in their process.

McConnell has been advising President Trump which Senators are most likely to need their sensibilities eased. As an example President Trump met with Alaska Senator Lisa Murkowski in November. Senator Murkowski rakes in millions from the multinational Oil and Gas industry; and she ain't about to allow horrible Trump to lessen her bank account any more than Cindy McCain will give up her frequent shopper discounts at Tiffanys.

Senator Lindsey Graham announcing today that he will not request or facilitate any impeachment testimony that touches on the DC laundry system for personal financial benefit (ie. Ukraine example), is specifically motivated by the need for all DC politicians to keep prying eyes away from the swamps' financial endeavors. WATCH:

https://www.youtube.com/embed/HnMb1R1XsyM

This open-secret system of "Affluence and Influence" is how the intelligence apparatus gains such power. All of the DC participants are essentially beholden to the various U.S. intelligence services who are well aware of their endeavors.

There's a ton of exposure here (blackmail/leverage) which allows the unelected officials within the CIA, FBI and DOJ to hold power over the DC politicians. Hold this type of leverage long enough and the Intelligence Community then absorbs that power to enhance their self-belief of being more important than the system.

Perhaps this corrupt sense of grandiosity is what we are seeing play out in how the intelligence apparatus views President Donald J Trump as a risk to their importance.

---

bhakta , 48 minutes ago link

It is all about cash. Nothing else matters to these people in DC.

Helg Saracen , 42 minutes ago link

Everyone loves money. I like money. The only question is how to earn them. Neither I, nor you, nor many of us will cross a certain moral and ethical line (border), but there are people without morality, without ethical standards, without conscience. We all look the same outwardly, but we are all completely different inside.

Colonel Klinks Ghost , 59 minutes ago link

Jesus Christ I'm glad McStain is gone. So many other corrupt officials need a good brain cancer.

Helg Saracen , 47 minutes ago link

You are an evil person. It was a tragedy. Surgeons failed to save the unfortunate tumor from McCain. ;)

Helg Saracen , 1 hour ago link

Ukraine is Obama's **** , this is not Trump's ****. Trump's stupidity was only one - he got into this ****. I wrote, but I repeat - USA acted as the best friend in relation to Russia, having taken off a leech from Russia and hanging it on itself. Do you know such an estate of Rothschilds - called Israel and its role in the life of USA?

So, Ukraine was for the Russians the same Israel in terms of meaningless spending. Look at Vlad, in 2014 he looked like a fox who was eating a chicken, and on January 1, 2020 he will look like a fox who eating a whole brood of chickens. I think he has portraits of Obama and Trump in his bedroom.

Cat Daddy , 4 hours ago link

Yes, indeed. Lindsey will bury the story, he is on the take. Your tax dollars at work. By the way, the Fed picked up all of the Ukies gold for safekeeping at 33 Liberty St. NY, with Yats permission, of course.... https://www.zerohedge.com/news/2014-11-18/ukraine-admits-its-gold-gone

hanekhw , 4 hours ago link

A glimpse into how elected officials accumulate millions, retire wealthy, pampered and privileged....and I'm not talking pensions I'm talking corruption. Obama, Biden, Hillary, Kerry, Holder, Rice and ALL the senior Obama Administration officials knew of each other's corrupt sinecures.

Soloamber , 4 hours ago link

I am willing to give Graham the benefit of doubt because the alternative means some serious **** is coming .

The politicians have gotten comfortable that people will do nothing . BIG mistake .

Biden seems see oblivious to what he's done and perhaps this explains it . It's ******* routine .

Lets see their financial records from the day they were elected to the present .

SoDamnMad , 20 minutes ago link

You will find very little information. City of London offshore trusts cover their tracks.

Dumpster Elite , 4 hours ago link